If you're thinking of visiting some of the cutest small towns in Tennessee, then this is the perfect list for you! Tennessee is mostly known for its bigger cities, like Memphis and Nashville. But there are tons of small Tennessee towns that are just as fun to explore.
A lot of the rural towns in Tennessee have an economy focused on the nearby landscape. So a lot of these towns are near great State Parks, the Great Smoky Mountains, and more. A few of them are situated closer to some of Tennessee's bigger cities as well. You'll find a real mix of landscapes and activities in all of these small towns in Tennessee.
Whether you want to explore the Jack Daniels Distillery, spend the day at Dollywood, or find some amazing Tennessee waterfalls, there is a small Tennessee town on this list for you. So, lets take a look at some of the cutest small towns in Tennessee!
15 Cutest Small Towns In Tennessee
Jonesborough
The town of Jonesborough is about an hour outside of Asheville, North Carolina, and two hours from Knoxville, Tennessee. So if you are driving the Blue Ridge Parkway or exploring Knoxville, it's a good Tennessee small town to take a detour to. One of the best things about Jonesborough is it's Downtown district.
Most of the town's festivals and activities happen on the main street of the Downtown district. There is the Storytelling Festival, the Jonesborough Day Festival, and a Christmas Festival. When it's not festival season, you can stroll down the main street and step into one of the unique shops.
There are also great locally-owned restaurants and places to grab dessert. Jonesborough is a cute town in Tennessee that is definitely worth a stop. If you are looking for a quaint and classic small-town vibe, Jonesborough is perfect.
Click Here To Check Rates: VRBO.com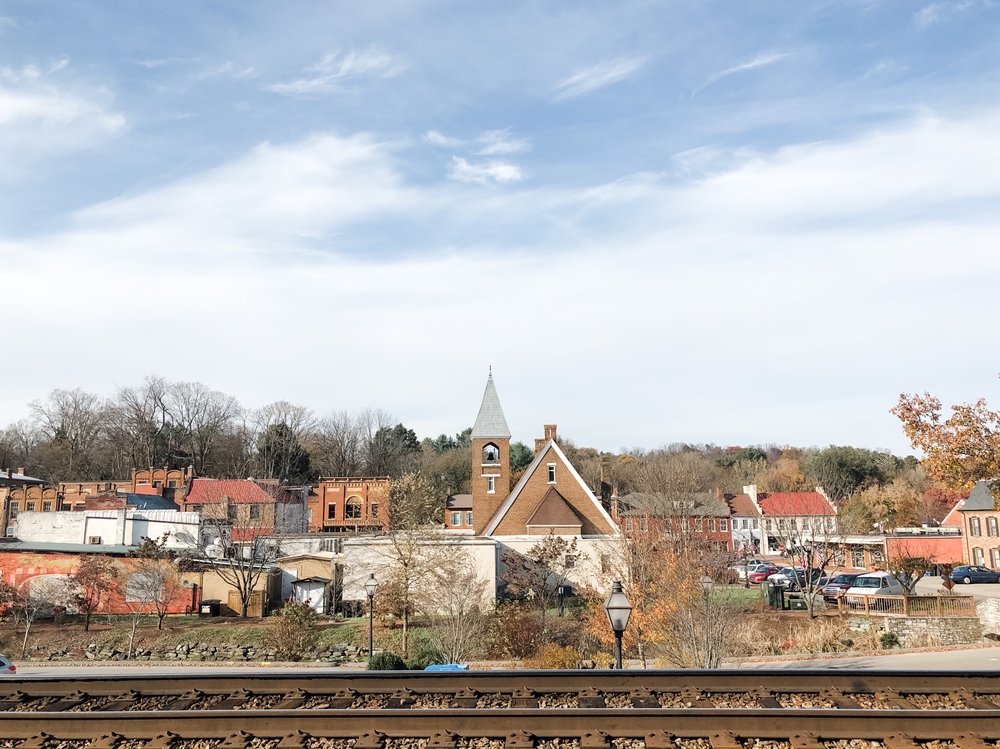 Columbia
Columbia is considered to be in the Nashville metropolitan area. That makes it a great small town in Tennessee to visit when you are in Nashville. The town has the nickname 'Mule Town' because it was once a popular area for Mule breeding. The town even hosts Mule Days, a yearly street festival that celebrates the town's livestock history.
Outside of Mule Days, there are plenty of other things to do. With a vibrant Downtown district, you're sure to find something that interests you. It's a pretty classic Southern small town oozing with architectural charm. Downtown you'll find breweries, boutiques, and trendy restaurants to explore and enjoy.
It's also one of the best small cities in Tennessee if you are looking to admire art. Columbia Arts District is comprised of a section of the city where local artists live and work. There is a building full of artist's studios, galleries, and shops. There are also bakeries, distilleries, and gardens to admire in the Columbia Arts District.
Click Here To Check Rates: VRBO.com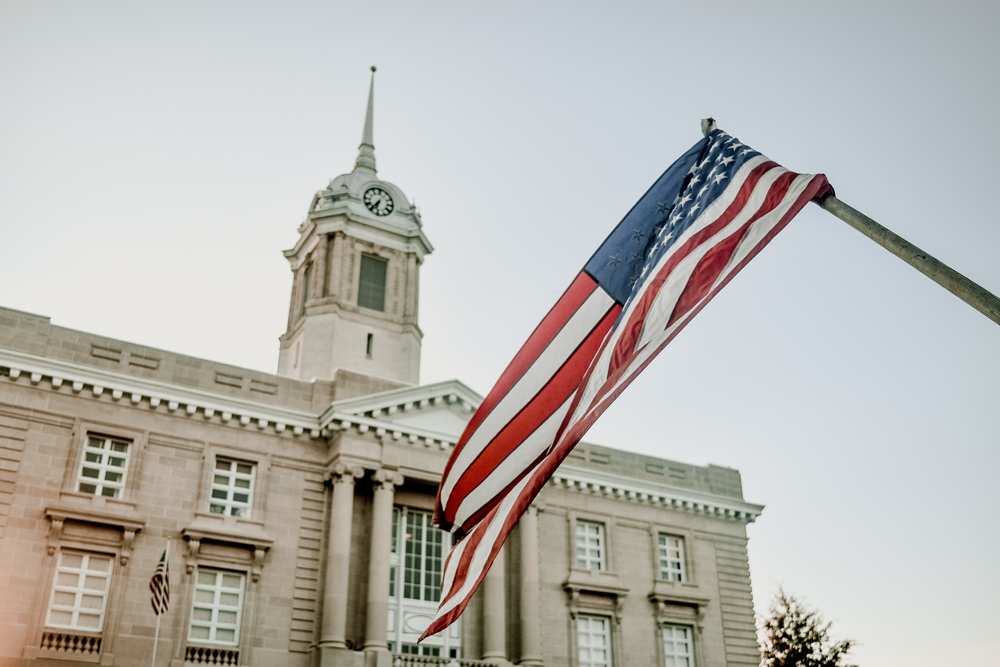 Tullahoma
The cute Tennessee town of Tullahoma is known as "Tennessee's Rising Star". Tullahoma was born thanks to the railroad line, and now is a vibrant small city in Tennessee that is a world leader in engineering and flight research. Near this cute small town in Tennessee you can also find a beautiful natural area.
The Tims Ford State Park is a beautiful 3,546 park located on the Tims Ford Reservoir. It is home to one of the most picturesque lakes in Tennesse, the Tims Ford Lake, hiking trails, and even cabins you can rent. Many people choose the cozy cabins at Tims Ford to rent when they visit Tullahoma.
Back in Tullahoma, you'll find plenty of great things to do and see. You can find distilleries, breweries, amazing restaurants, and quaint coffee shops when you are looking for a bite to eat. Tullahoma also has some unique boutiques, the Beechcraft Heritage Museum, and a working farm you can tour. It is a wonderful little town offering a slice of the classic Tennessee small town experience.
Click Here To Check Rates: VRBO.com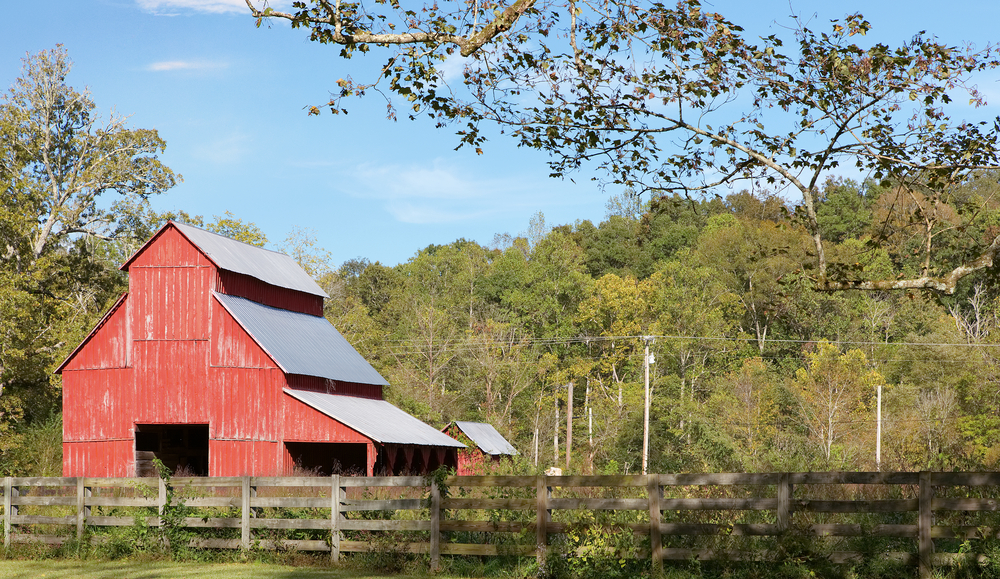 Franklin
When you visit Franklin you'll love strolling through their popular Historic Downtown district. It is listed on the National Register of Historic Places and features charming historic buildings that you'd find on a classic American Main Street. Franklin's Historic Downtown is 16 blocks and bursting with activities, shops, and more.
The town was founded in 1799 and began to grow during the Victorian period. You can see the Victorian influence in the architecture throughout the Historic Downtown. As you walk the 16 blocks you'll find some really unique places. There are boutique shops, locally owned and operated restaurants, and some awesome antique stores to explore.
Franklin also has various events happening throughout the year. In the Summer you can catch a free concert in the park or the Watermelon Festival. Because this Tennessee small town was founded in 1799, it also has a history involving the Civil War. Nearby, you can find the Carnton house which was built by a former Franklin Mayor in 1826. You can tour the house and learn how the Civil War affected the small town.
Click Here To Check Rates: VRBO.com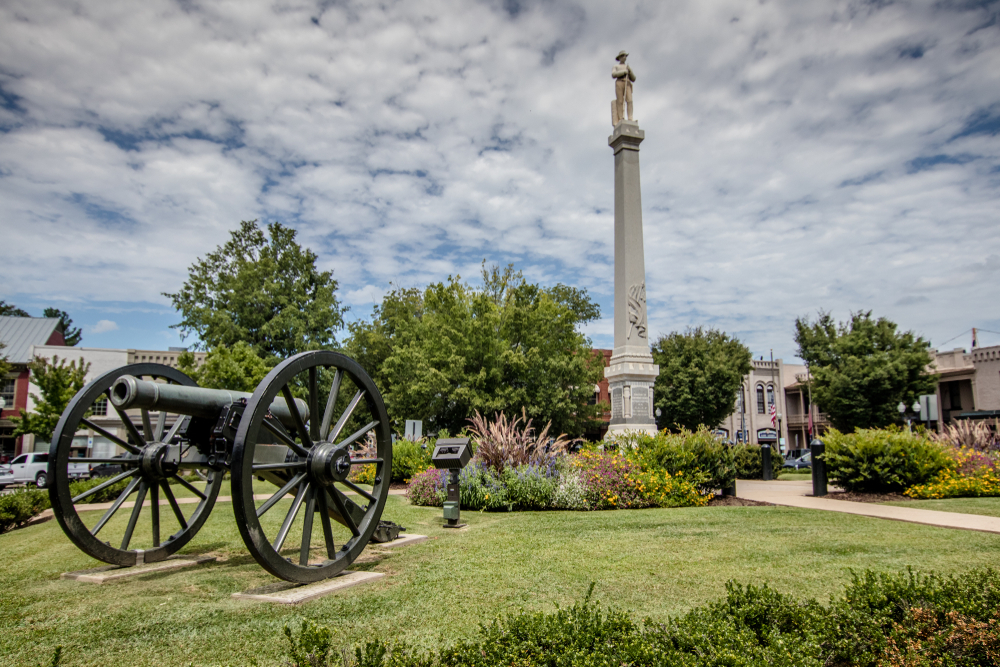 Pigeon Forge
Fan's of Dolly Parton will be familiar with Pigeon Forge. The small Tennessee town of Pigeon Forge is the home to Dollywood, Dolly Parton's amusement park. But there are also tons of other things to do in Pigeon Forge. It is a pretty popular Tennessee town, but it still has that small-town charm and feel.
You will absolutely want to enjoy a day, or at least an afternoon, at Dollywood. With over 150 acres of amusement attractions, food stalls, and more, it's a super fun way to spend a day in Pigeon Forge. It is family friendly and a very popular Tennessee attraction, so plan your day accordingly and be prepared for some crowds.
If you want to avoid some of the bigger crowds, there are some other amazing parts of Pigeon Forge to explore. In Old Mill Square you'll find some wonderful restaurants, one-of-a-kind boutiques, and even an interactive pottery shop. This is also one of the best places for Fall Foliage in Tennessee!
The town also has a Titanic Museum, caverns, a year-round Christmas shop, and a garden where you can feed birds. If you are looking for one of the most family-friendly small towns in Tennessee, Pigeon Forge is perfect for you.
Click Here To Check Rates: VRBO.com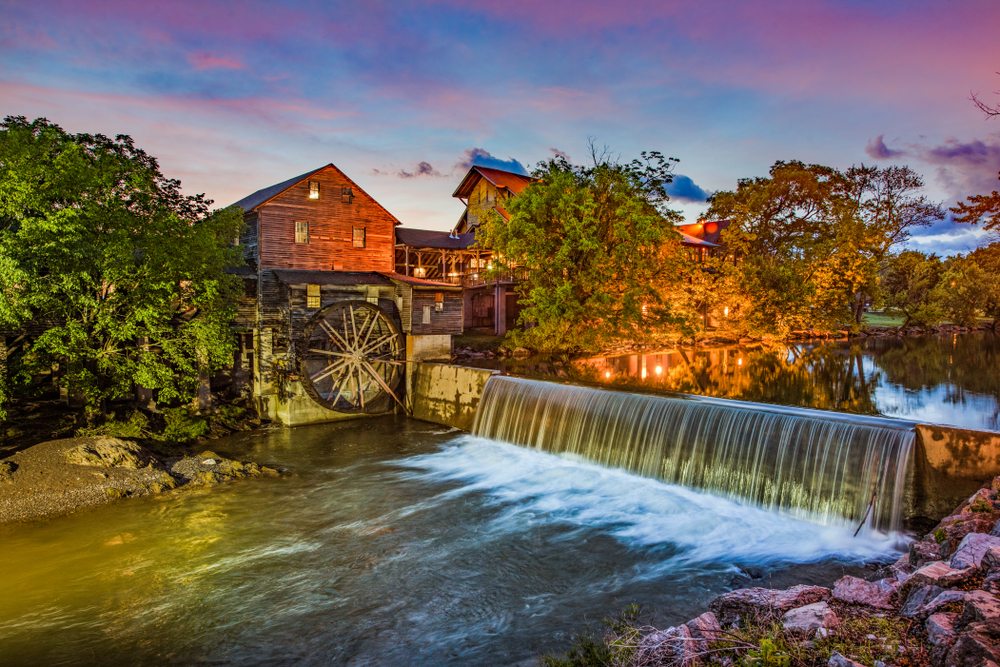 McMinnville
Halfway between Nashville and Chattanooga, you'll find one of the best rural towns in Tennessee. McMinnville is another great family-friendly small town with a unique reputation. The town is known as the Nursery Capital of the World, because of the hundreds of plant nurseries that call McMinnville home. If you love landscaping and plants, you'll love McMinnville.
But McMinnville isn't all plants, there are other things to do there as well. You can tour the Black House, the 'oldest remaining residence in McMinnville'. It was built in 1825 and is now a house museum where you can learn about life in the mid-late 1800s in rural Tennessee.
If history museums and tours aren't really your thing, McMinnville is also the home to the Cumberland Caverns. The Cumberland Caverns are the state's largest show cave and are also one of the most extensive caves in Tennessee. It has become a popular tourist destination for those in the area and touring them is a really cool way to learn about local McMinnville history. McMinnville is a Tennessee small town that has a little something for everyone.
Click Here To Check Rates: VRBO.com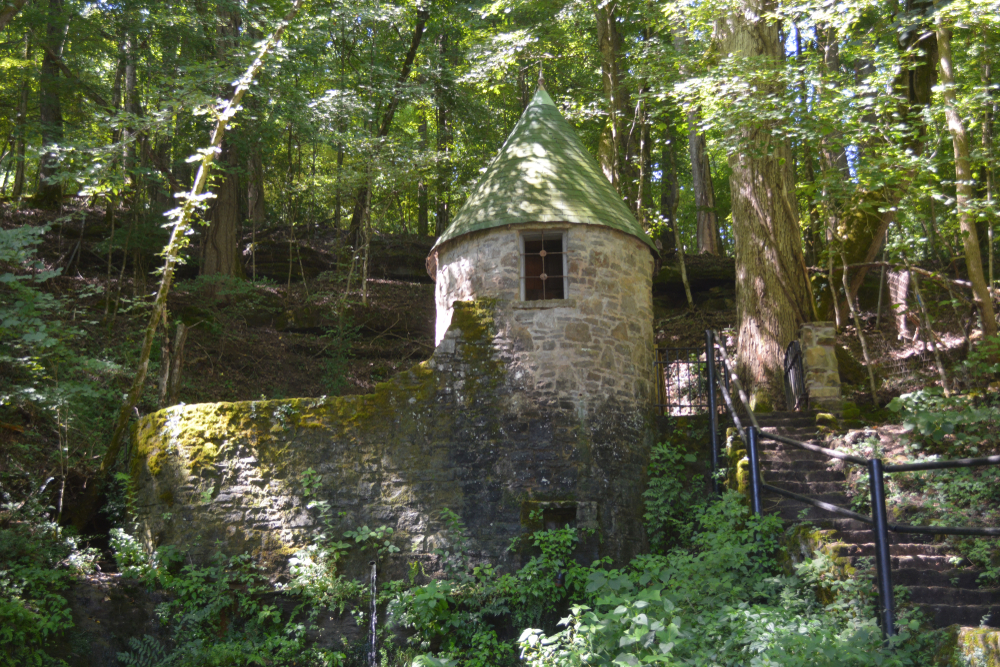 Gatlinburg
Gatlinburg is another one of our favorite small towns in Tennessee because there are so many things to do. The town is situated right near the Great Smoky Mountains, which makes it a great stop on any mountain trips. Gatlinburg is a wonderful small town in Tennessee that has something to interest everyone.
If you are looking for outdoor adventures, Gatlinburg is a great home base for exploring the Great Smoky Mountains. The area is especially beautiful in the Fall and it is one of the best places in Tennessee to see Fall foliage. Even if you just take a drive around the Great Smoky Mountains National Park, it's a great activity in Gatlinburg.
The town itself is also full of things to do. You can sip moonshine at the local distillery, ride the Gatlinburg Mountain Coaster, and even go on a ghost walk through the town. Stroll the streets, grab a bite to eat at a local restaurant, and stop in to one of the unique boutiques. There are just so many things you can do in Gatlinburg, and that's what makes it one of the best small towns in Tennessee.
Click Here To Check Rates: VRBO.com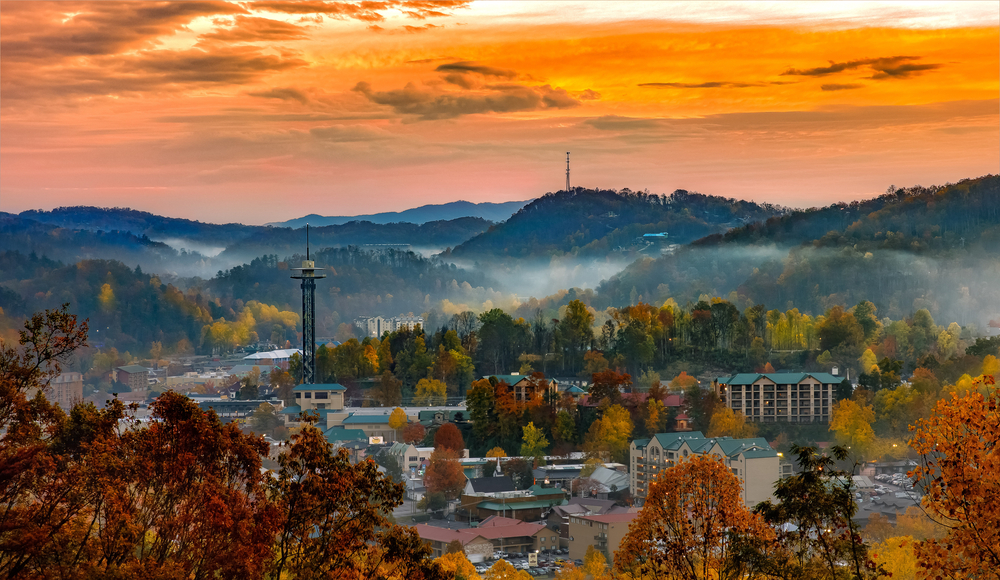 Greeneville
Greeneville is the second oldest town in Tennessee and was named in honor of the Revolutionary War hero, Nathanael Greene. Like most Tennessee small towns, the main attraction in Greeneville is it's Historic Downtown area. Set against the mountains, the charming small town is incredibly picturesque.
In the Downtown District, you'll find brick sidewalks, quaint historic churches, and historic buildings and homes. Greeneville has also been the home and birthplace of several notable Americans. Davy Crockett, the famous Frontierman, was born in Greeneville. The 17th President of the United States, Andrew Johnson, also called Greeneville home at one point.
Now, you can tour Johnsons early home and the homestead. There are various museums and exhibits on the property that highlight different aspects of Johnsons' life. You can tour the tailor shop where he worked and see the Johnson family burial gardens. You can also see the birthplace of Davy Crockett, which has a replica cabin of the one Crockett was born in.
Click Here To Check Rates: VRBO.com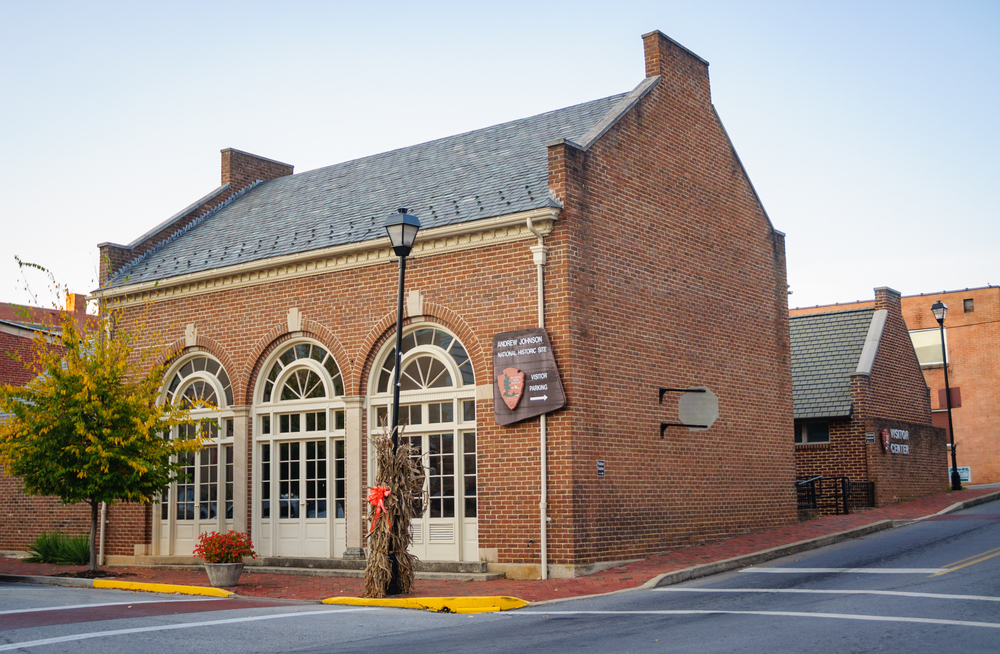 Murfreesboro
If you are staying in Nashville and looking for a break from the city, head to Murfreesboro. Murfreesboro is about 30 minutes outside of Nashville and is a super cute Tennessee small town. It's a college town and home to Tennessee's largest college, Middle Tennessee University.
Murfreesboro has a lot of Civil War history, like the Stones River National Battlefield. It has paved trails you can walk and learn about the battle that took place there. Another piece of that Civil War history is the Oaklands Mansion. The mansion was once a plantation that had enslaved peoples working on it. During the battle it was on the frontlines, and Union soldiers were camped on the front lawn. You can tour the mansion and learn more about the battle, the houses history, and more.
Just outside of the lines of the battlefield is the Cannonsburgh Village, which is a replica village. It represents what life would have been like in Tennessee in the 1830s. There is a general store, a grist mill, a one room school room, and other buildings that would have been in use during the 1830s. Murfreesboro is one of the best small cities in Tennessee if you want to learn about Civil War and Tennessee history.
Click Here To Check Rates: VRBO.com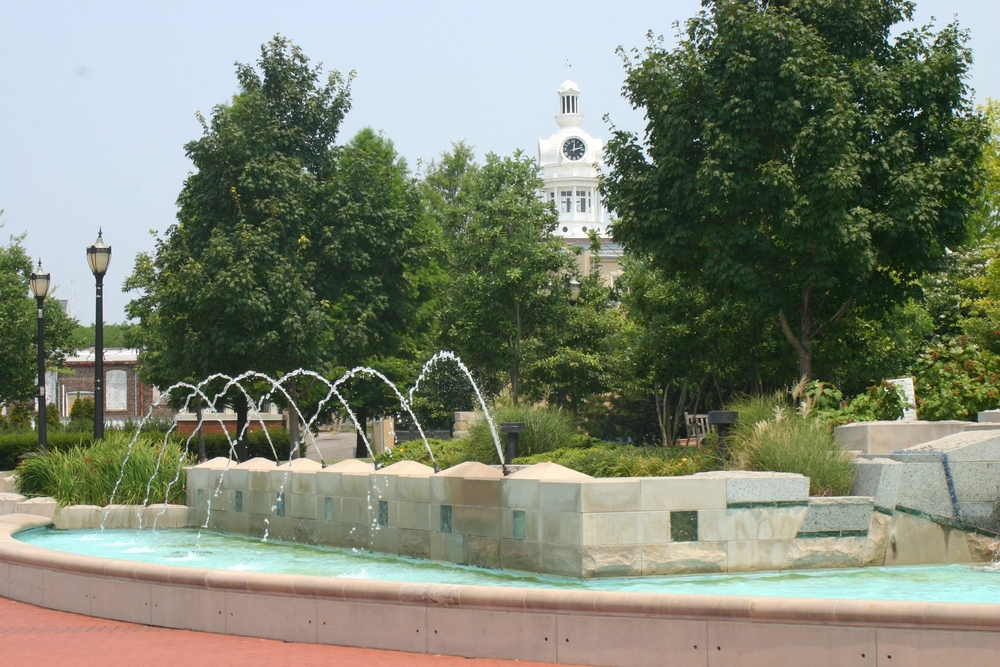 Lynchburg
The town of Lynchburg is one of the best Tennessee small towns if you are looking to try some delicious food. Lynchburg is one of the stops on the Tennessee Foodie Road Trip because of its awesome restaurants. One, in particular, Barrel House BBQ, is a well-known bbq restaurant in the state.
But there are plenty of other options of things to do if you aren't a big bbq fan. Lynchburg is also home to the Jack Daniels Distillery. Yes, that Jack Daniels! The historic area of Lynchburg is a charming old fashioned Main Street. With beautiful historic buildings that are now shops, restaurants, and museums, you'll have a great time exploring the town.
In the summer, Lynchburg hosts a music festival that has become a popular event. Or there is Frontier Freedom Days which is a fun family friendly festival. The town also likes to celebrate the holidays throughout the year. You'll find an event happening in Lynchburg for almost every major holiday, including Fourth of July, Halloween, and Christmas.
Click Here To Check Rates: VRBO.com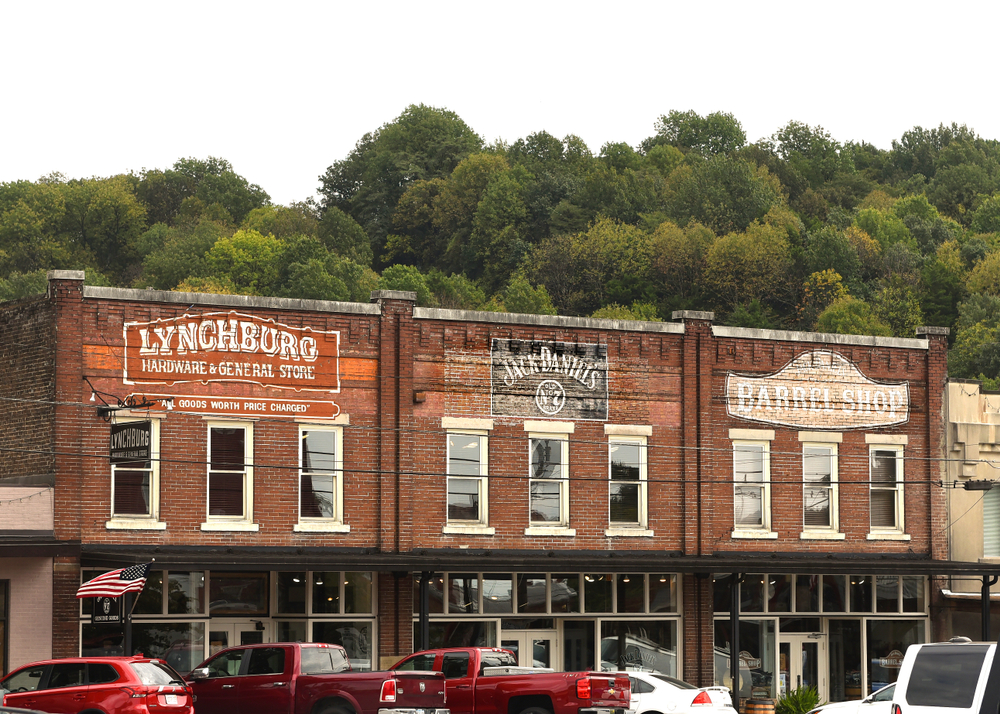 Jackson
Also known as 'The Hub City', Jackson is almost in the center of Tennessee and is the regional trade center of Tennessee. Because Jackson is a thriving center for business, there are tons of things to do there. Jackson purposefully caters to the interests of people traveling for business. So if you don't have a lot of time, but want to see some cool stuff, Jackson is a great place to explore.
There is a TV and Movie Car Museum, the International Rockabilly Hall of Fame, and a Railroad Museum. All are great options if you want to see something a little more unique, you definitely wont find them anywhere else in Tennessee. Jackson also has a a sort of living-history village. Casey Jones Village has a working farm, period restaurants, old homes you can tour, and even an authentic 1880s ice cream parlor.
Another great option of things to do in Jackson is to catch a baseball game at the Jackson ballpark. The Jackson Generals are a minor league team that call Jackson home. During the Summer you can catch a home game and enjoy classic ballpark food. There are ton fun things to do in Jackson which makes it one of the best small cities in Tennessee.
Click Here To Check Rates: VRBO.com
Shiloh
Another Tennessee small town with a Civil War history is Shiloh. The battlefield in Shiloh, which is now the Shiloh National Military Park, was where over 110,000 American's lost their lives in the battle to free enslaved peoples. It is now one of the best preserved battlefields in the country and is where the first major battle in the 'Western Theater' occurred during the Civil War.
You can also tour the Cherry Mansion, which Ulysses S. Grant made his headquarters during the Battle of Shiloh. If you aren't interested in Civil War history, Shiloh is still a very cute small town to explore. It has a charming historic district where you can find unique shops, restaurants, and more.
Shiloh also has a Native American history. At the Tennessee River Museum you'll learn all about the people who first called the area home. You'll get to see important artifacts from the area's history like the Shiloh Effigy Pipe, over 200 fossils, and so much more. Shiloh is the perfect small town in Tennessee for history lovers.
Click Here To Check Rates: VRBO.com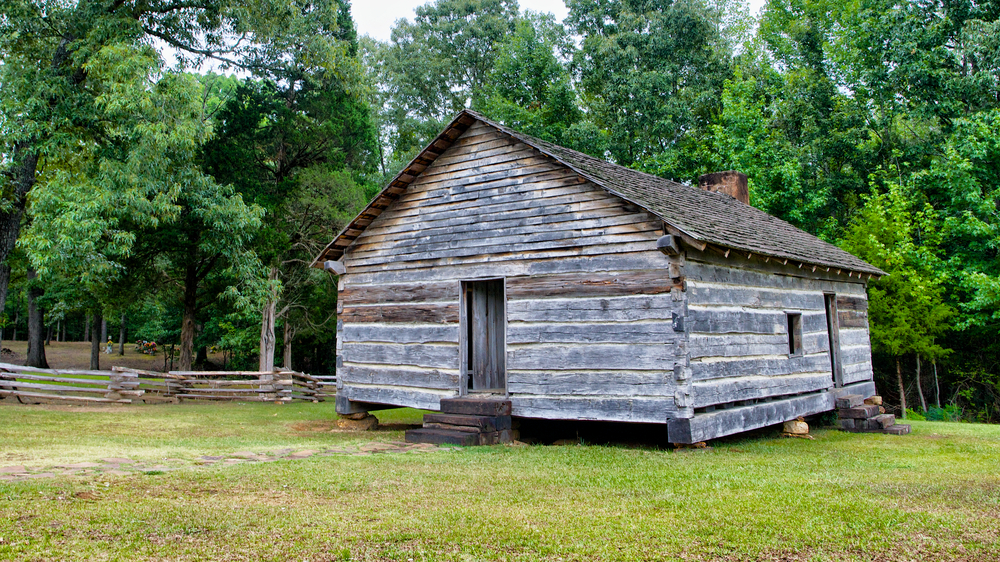 Paris
Paris Tennessee is best known for it's Eiffel Tower Park. There is a reason the small town has the same name as the famous French capital. It was named in honor the famous French military man, and hero of the American Revolution, Marquis de Lafayette. Every Paris needs it's own Eiffel Tower, so in the early 1990's a group of students built a replica Eiffel Tower that now sits in the cute small town of Paris.
It is the 12th largest Eiffel Tower replica in the world and is surrounded by a beautiful park. You can find fun family friendly activities like swimming, a playground, and a disc golf course. There are also paved trails winding through the park. The town leans into it's name, and in the historic district you'll find shops and restaurants that looked like they've been dropped in the middle of Tennessee from the streets of Paris, France.
Nearby there are two other parks that you can explore. The Paris Landing State Park and Kentucky Lake is the meeting point of the Tennessee River outside of Paris. You can enjoy water sports, hiking, and camping at the State Park and near the lake. There are also some amazing restaurants and places to grab a sweet treat. Paris is a Tennessee small town that is super unique and full of fun activities.
Click Here To Check Rates: VRBO.com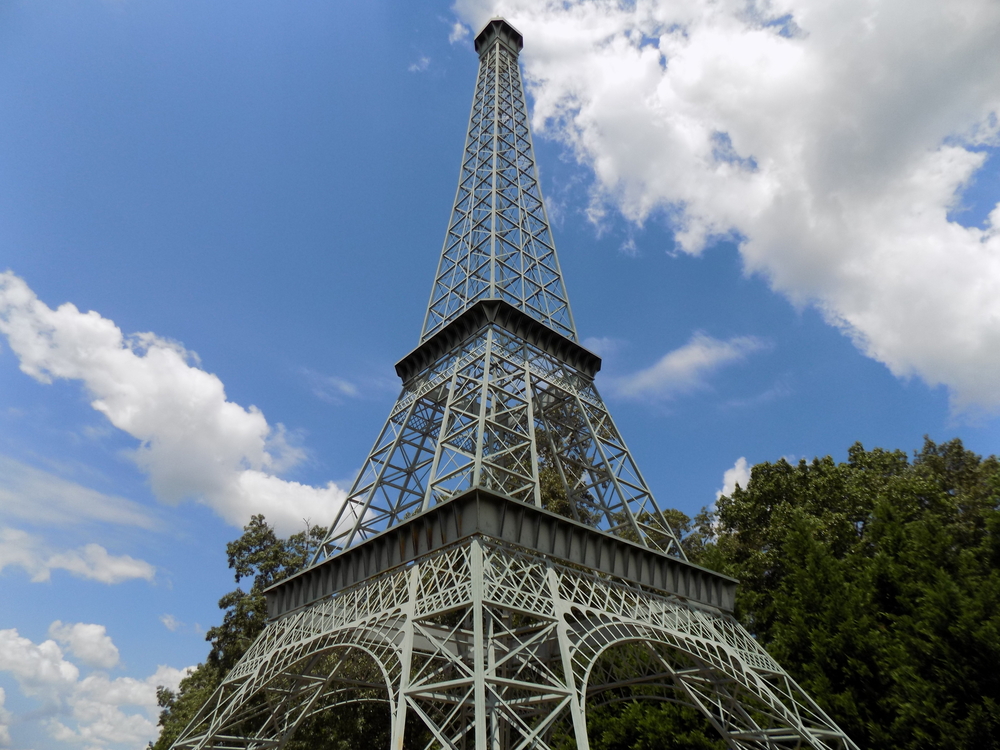 Townsend
If you are looking for a small town nestled in the Great Smoky Mountains, head to Townsend. It is close to both Gatlinburg and Pigeon Forge. A lot of the activities in the town are outdoor activities or ones that highlight the history and culture of the area.
Head to Caves Cove to experience a unique open air museum. It is an 11 mile loop where you can bike, walk, or even drive. Along the loop you'll find historical buildings, beautiful landscapes, and a working gristmill. At sunrise or sunset you'll get to see some stunning views along the Smokies.
You can also explore the Tuckaleechee Caverns, which is known as 'The Salamander Capital of the World' and has some really cool rock formations. At the Great Smoky Mountains Heritage Center you'll learn all about the area's history and even admire artifacts that date back to 3000 B.C. On top of all of that, you'll also be right near one of the entrances to the Great Smoky Mountains. So you absolutely must explore the beautiful park.
Click Here To Check Rates: VRBO.com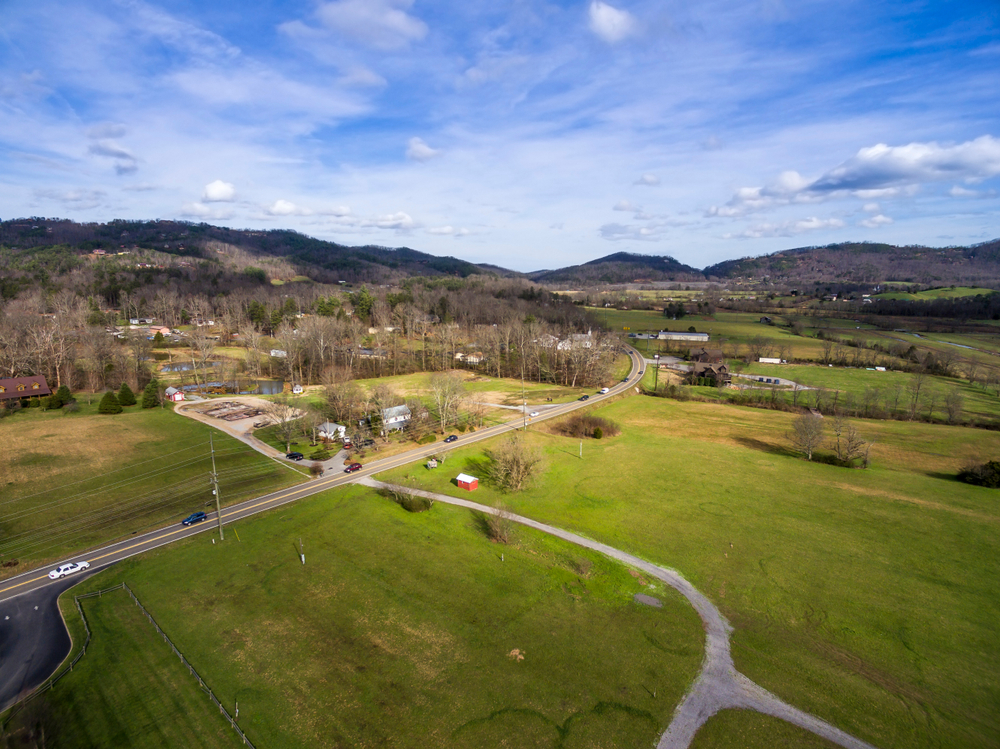 Morristown
For such a small town, Morristown is bursting with things to do and see. It is about halfway between Knoxville and Bristol in Eastern Tennessee. Morristown is also known as the 'Disc Golf Capital of Tennessee' and has a combination of outdoor activities and city activities.
If you want to enjoy the outdoors, Morristown is the home to Cherokee Lake and Panther Creek State Park. It's also a short drive from the Great Smoky Mountains National Park and Cumberland Gap National Historic Park. At all of these amazing parks you can enjoy hiking, biking, and even some watersports.
In the historic district of Morristown you'll find a classic American Main Street. It also has the only 2-story sidewalk system in the United States which is a unique attraction. There are unique boutiques, delicious restaurants, and art galleries to explore. Morristown also has a few museums like the Crockett Tavern Museum and the General Longstreet Museum. You can easily find something to do in Morristown, which makes it one of the best small towns in Tennessee.
Click Here To Check Rates: VRBO.com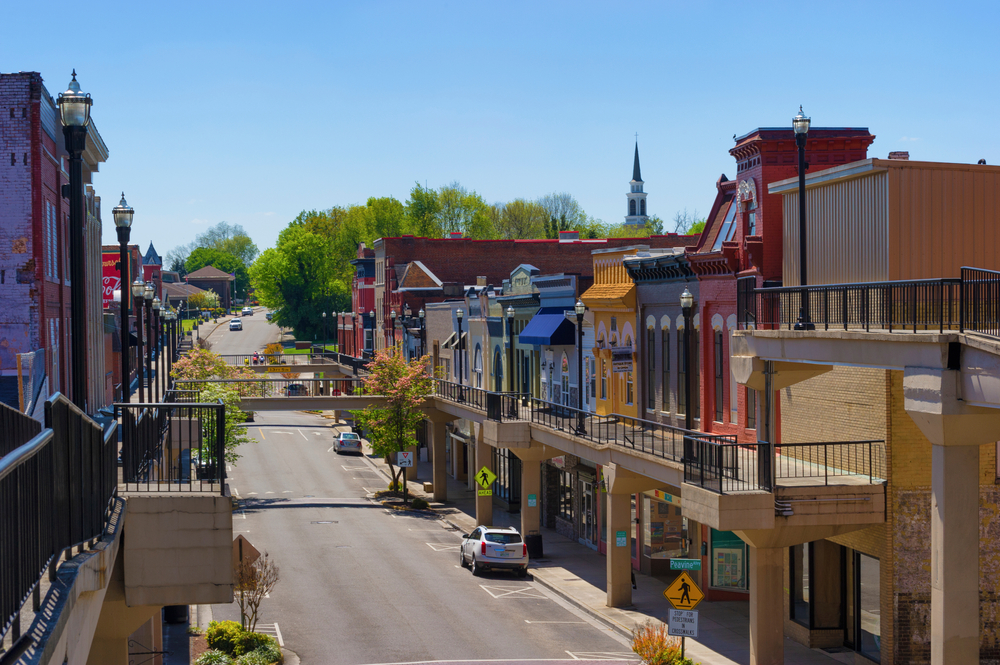 Tennessee is full of charming small towns, many of which have a unique and diverse history. Whether you are looking for some fun outdoors, a relaxing weekend of shopping and dining, or a combination of both, there is a Tennessee small town just waiting for you to come and explore.