If you are looking for the best glamping in Arkansas, you have come to the right place! We have carefully selected 15 of the best, often romantic, frequently unusual and always memorable places for you to stay in the Natural State! Surrounded by some of Arkansas's most beautiful lakes, rivers and hot springs, these tents, treehouses and yurts will take your breath away!
Arkansas is known for its extreme weather and regular thunderstorms, which makes glamping even more of an adventure! If you're lucky, maybe you'll even find a diamond, seeing that Arkansas is famous for diamond discoveries! If you're planning your trip to Arkansas don't forget to check out our bucket list of things to do in Arkansas!
Glamping is a combination of the words glamorous and camping. Did you know that combining two words like this is known as a portmanteau? Anyway! Glamping in Arkansas! Here we go!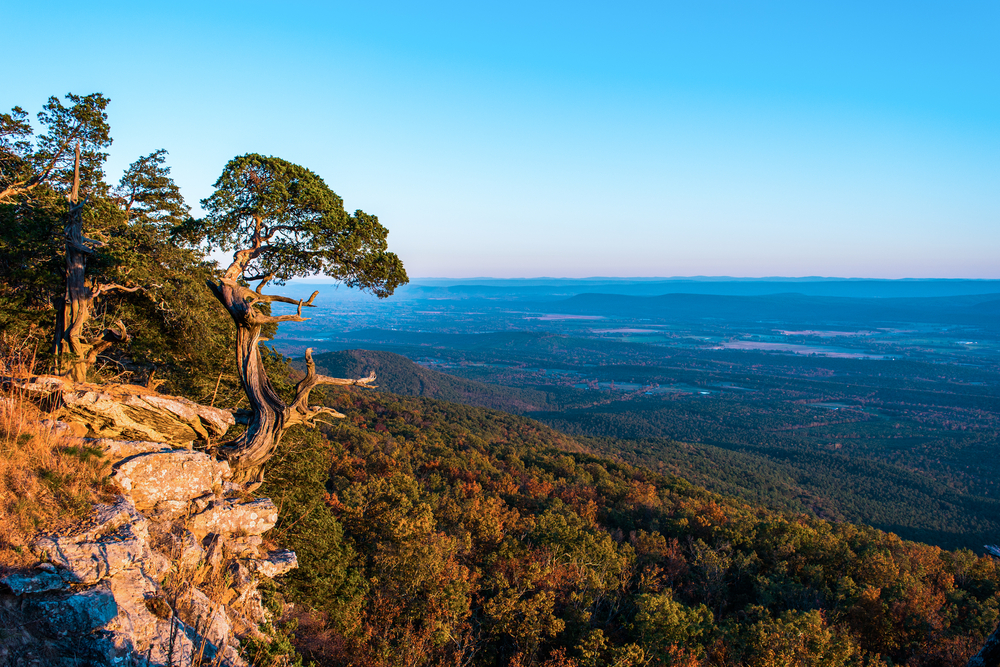 15 Coolest Places for Glamping in Arkansas
The Nest of Hot Springs
We kick off our list with the Nest of Hot Springs, a truly deluxe property that should be at the top of anyone's bucket list for glamping in Arkansas.
This stunning tent (yes it's a tent!) is built on stilts over the Hot Springs valley floor. Offering complete privacy, you can chill out in the massive hot tub or enjoy a glass of wine overlooking the stunning valley views. There's even an outdoor shower, yes really! This is truly one of the best romantic getaways in Arkansas!
Facilities at this glorious place include a king-size bed, TV, stocked kitchenette including a microwave. The bathroom has a full-sized bath, and amenities including shampoo, conditioner, and bath salts are included for use. Oh, and did we mention they have fluffy bathrobes as well! Outside, in addition to the hot tub, shower, and stunning teak furniture, there's also a grill.
The Nest is romantic glamping in Arkansas at its absolute finest. Trust us, you NEED to arrange a visit – check out VRBO.com for rates!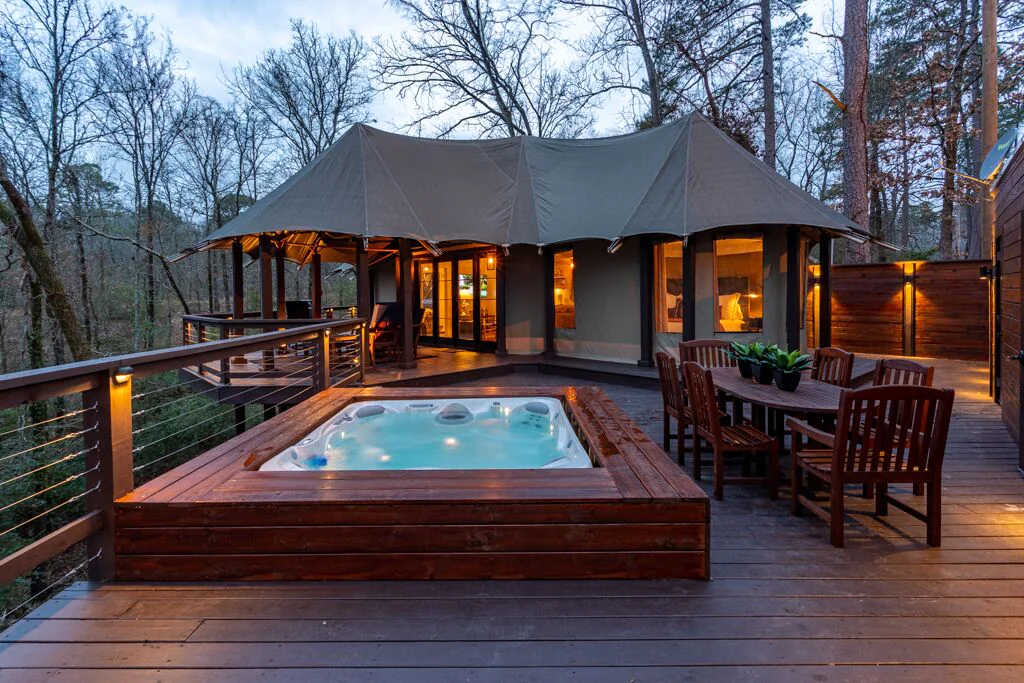 Old Washington Farmstay
If you love to mix a little history into your Arkansas glamping, we invite you to step back in time with a visit to the Old Washington Farm Stay. This 175-year-old log cabin, which sleeps four, is located on a working farm and you are invited to mingle with the animals.
Don't worry though, you won't have to live like it's eighteen-forty-something. This delightful cabin is packed with all the best conveniences of 21st-century living – a stocked kitchen, oven, claw foot bathtub, with outside features including patio decking with furniture and picnic tables. There's also a swimming pool!
With farm fresh breakfast provided (their breakfast is the BEST – think egg and cheese strata, homemade pastry, farm fresh yogurt, and freshly squeezed orange juice, yum!) it won't take long to feel at home here among the beautiful woods on the edge of Washington State Park. Check it out today at VRBO.com!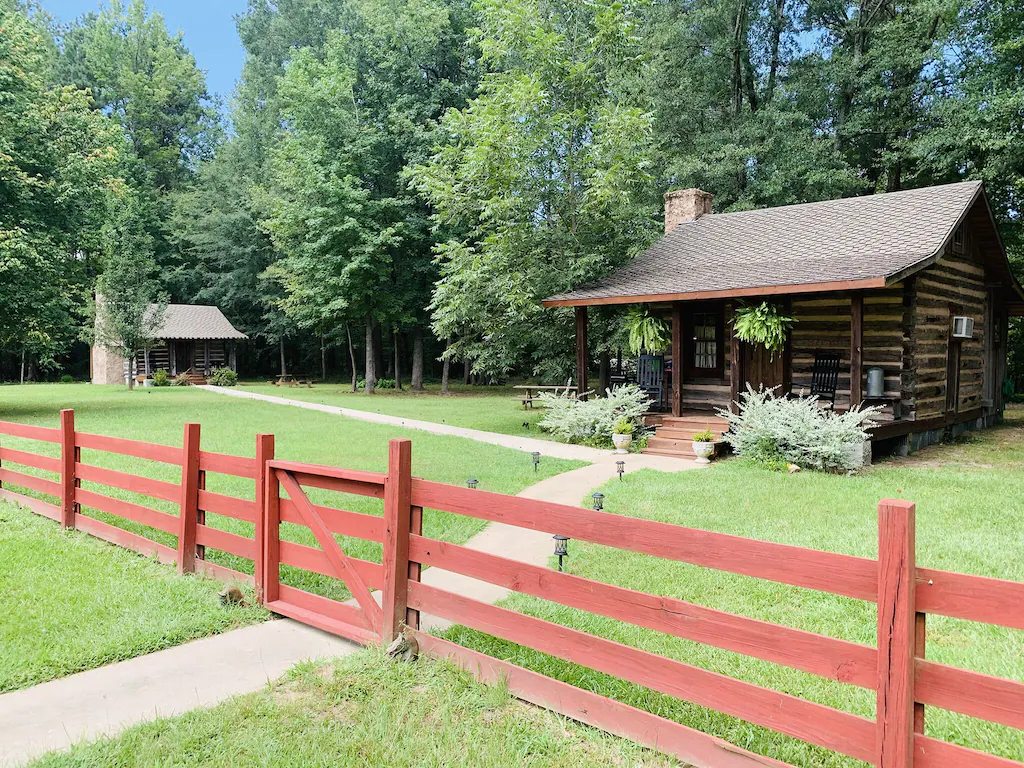 Tropical Treehouse surrounded by Jungle Gardens
If you're looking for something really unique next time you're glamping in Arkansas, we recommend a stay 35 feet off the ground, at the Tropical Treehouse surrounded by jungle gardens!
Located in Caddo, this amazing treehouse sleeps five people, making it a perfect vacation spot for friends. Located on 250 acres of private property you will not get bored with all the exploring to be done. There are four lakes, a jungle garden, five miles of hiking trails, and even a canal complete with a riverboat. Whaaaat! If you want to explore further afield, Lake DeGray State Park is only 15 minutes away.
Facilities include air conditioning and heating, a fully stocked kitchen, a private balcony for the master bedroom, a washing machine and dryer, wifi, and TV with cable. With only five star reviews to boot, this treehouse in Arkansas is a must-see! Book this gem today! Check out rates at VRBO.com.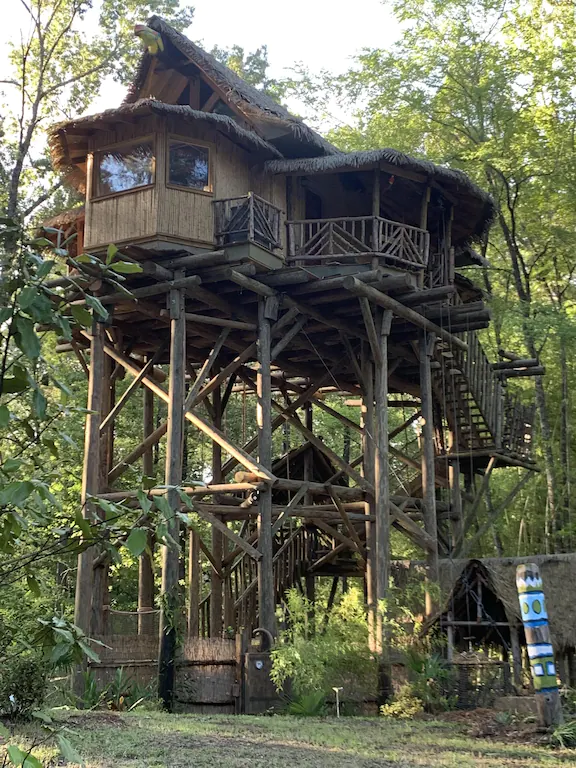 Yurt Living in the Woods
If you're looking for a unique glamping experience in Madison County, look no further than Yurt Living in a Beautiful Woods Setting! This property, which sleeps four, is located on a 20-acre property (one acre of which is a well-stocked fishing pond!). It is truly peak yurt camping in Arkansas, with a raised deck that completely surrounds the yurt, in a picturesque landscape.
Facilities include a full kitchen, hot tub, wifi, dishwasher, grill, and a spiral staircase! Cool! This yurt also has some exciting attractions within a short driving distance, including Ozark Highlands Trailhead on the Pig Trail Scenic Byway (40 minutes), War Eagle Cave (30 minutes), and Razorback Stadium (30 minutes on non-game days). Sassafras Winery, Kings River Falls, and Hobbs State Park are also close by!
If you're looking at yurts in Arkansas for your vacation, check out rates today at VRBO.com!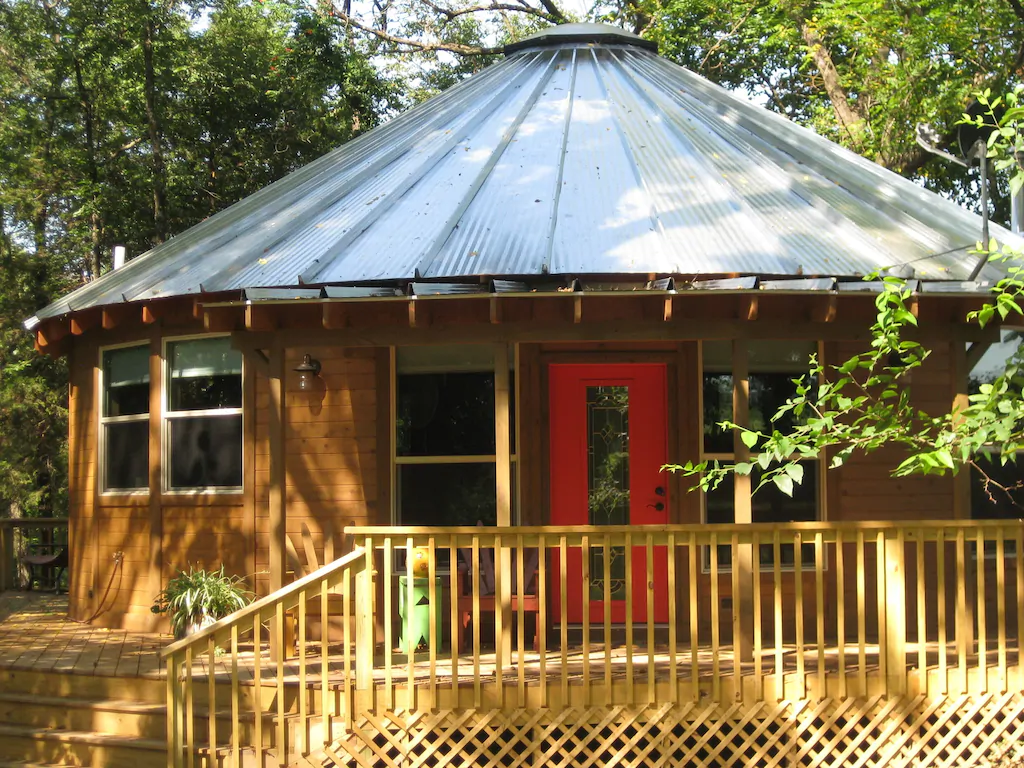 Private Treehouse at Lake Catherine
Arkansas glamping means amazing treehouses, and this Private Treehouse at Lake Catherine is no exception! This gorgeous treehouse, which sleeps six, is set on a 40-acre property, which borders the stunning Lake Catherine.
With a whopping 2000 feet of private shoreline, you will not get bored exploring, with woods, trails, and creeks waiting for you to find them. With wildlife including deer, chipmunks, and squirrels as well as many different bird species, nature lovers will rejoice staying here! In the right season, you can also pick wild blackberries, muscadines, and blueberries. What a treat!
Facilities here include a fully stocked kitchen, microwave, coffee machine, TVs, and air conditioning. Outside there's a wraparound porch with plenty of seating including a porch swing! There's also a picnic area and grill. If you're looking for treehouses in Arkansas, check out rates at VRBO.com!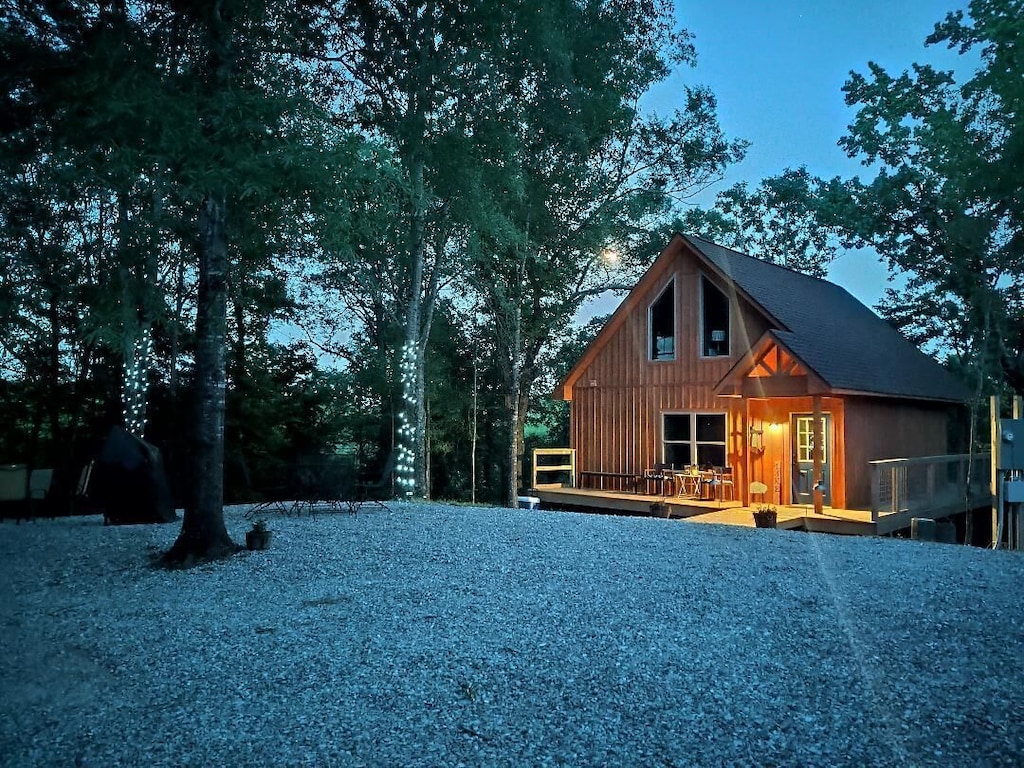 Iris Hill Glamping – Ted Pod
For a unique Arkansas glamping experience, we recommend Iris Hill Glamping in the Ted pod! What is a Ted pod? We hear you say. Well, the Ted pod is a fully contained tiny home in the wilderness. This adorable little place, which sleeps two, is frequented by local farm animals and wild animals alike!
Facilities include TV, wifi, microwave, coffee, and tea. with a fire pit and BBQ outside. There are two additional pods located on this property so if you're looking to travel with friends but still have your own space, this is definitely the place for you! Our favorite thing about staying here is sitting and watching the stars in the deep night. With little light pollution to dampen them, it is a wondrous sight to behold.
And if you're keen on glamping near Eureka Springs, this place is it! Eureka Springs is only five minutes away! Check out rates today at VRBO.com! Stay four nights and the fifth is free!
Make sure to check out our list of Best Things To Do In Eureka Springs if you are planning to visit!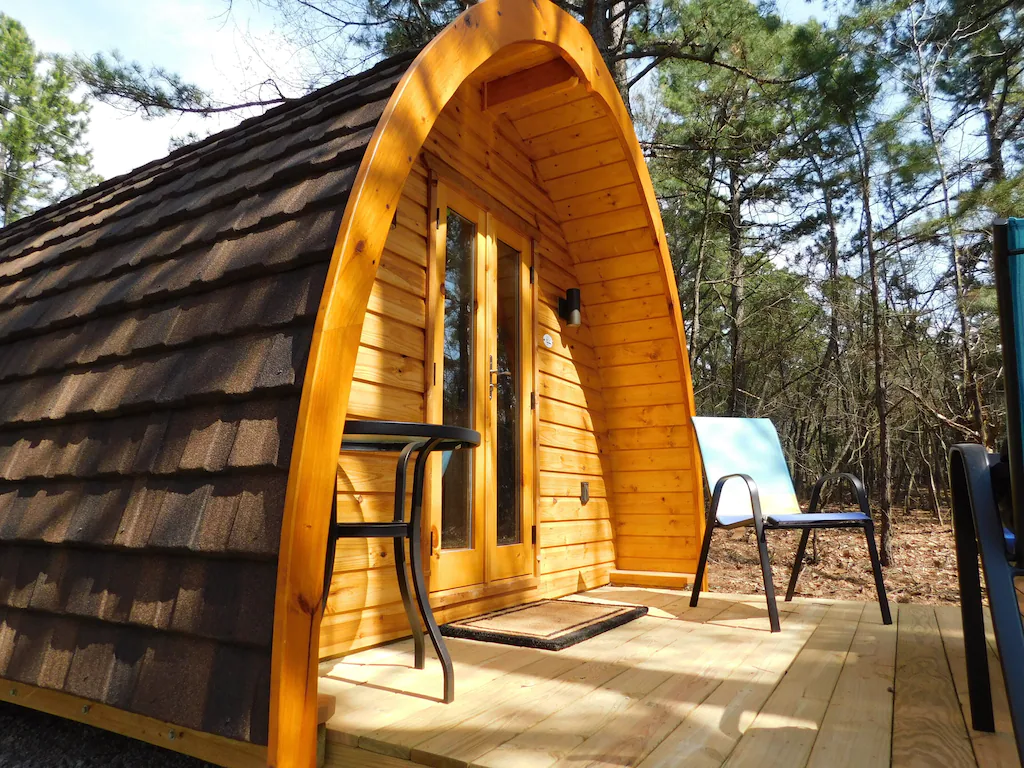 Coyotes Rest at Lake Lucerne
Coyotes Rest is a delightful log cabin right over Lake Lucerne. The very best thing about it is the porch that wraps around the whole cabin. And, with outdoor furniture to kick back in, you can enjoy the beautiful lake and in the shade of the leafy green surrounding trees. There are stunning views from every window!
This one-bedroom cabin has been lovingly restored while maintaining a rustic mood. Featuring a full kitchen, combined bath and shower, and wood stove, Coyotes Rest has all the modern life conveniences. And while there is wifi, and a TV with cable, we're pretty sure you'll be too busy outside making the most of the deck to notice! If you're super lucky you might even get a visit from a local deer or two! Incredible!
Coyotes Rest is one of our favorite spots for glamping in Arkansas and we know you'll love it too! Check out rates at VRBO.com!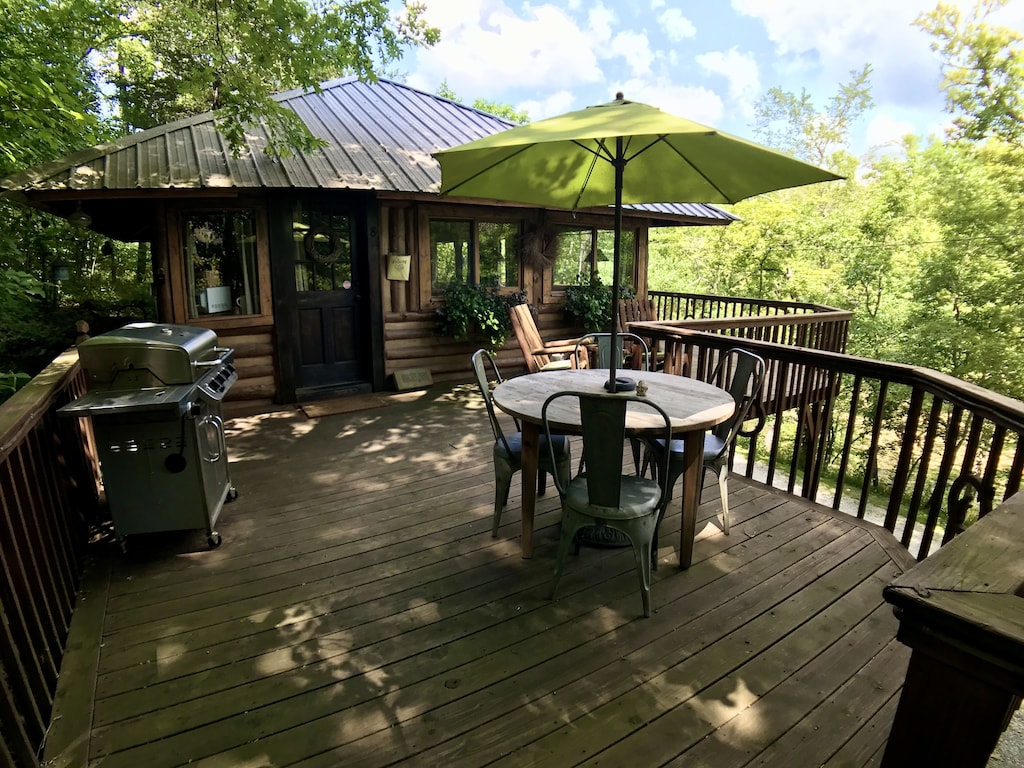 Ozark Mountain Hideout
If you are keen for glamping in the Ozarks, you will want to check out Ozark Mountain Hideout! They call themselves an amazing glamping location and they are right! This cabin is a delightful throwback to years gone by, with rustic pine floors and paneling – even the bed is handmade from logs! Amazing!
Facilities include a fridge, coffee maker and kettle. They even provide vintage books for you to read, so thoughtful! Outside there's also a covered front porch, fire pit, and a hot tub! Oh yeah!
This cabin sleeps up to three and is really recommended for travelers who are immersing themselves in the Ozarks and looking for an authentic adventure! For a cozy getaway, a throwback to simpler times, and the best of Arkansas glamping, check our rates today at VRBO.com!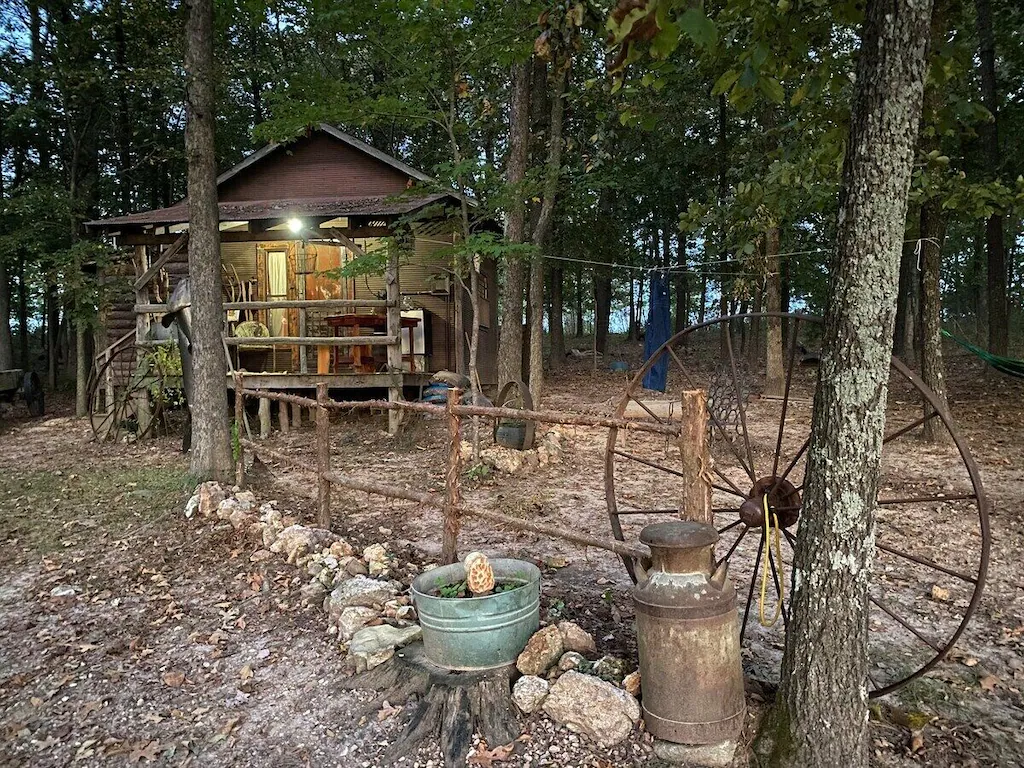 Sunset Bluff Treehouse on Bull Shoals Lake
One of our favorite places for glamping in Arkansas is the Sunset Bluff Treehouse on Bull Shoals Lake!
This waterfront property in Diamond City sleeps four and gives direct access to the stunning Bulls Shoal Lake. Nearby is Diamond Hills Golf Club and Bunker Grill, and the Ozarks are only a 40-minute drive. Facilities include a full kitchen, wifi, TV, gas grill, fire pit, hammock, outdoor lounge furniture, and even lake gear. There's also a full wraparound deck for you to kick back and enjoy the gorgeous view.
Bulls Shoal Lake offers trout, bass, and crappie fishing, as well as boating, swimming, and water skiing. The Sugarloaf Harbor Marina is only a short walk from the treehouse! If swimming, boating, and fishing are your jam, you'll want to add this great place to your Arkansas bucket list! We love it here and we know you will too! Check out rates at VRBO.com!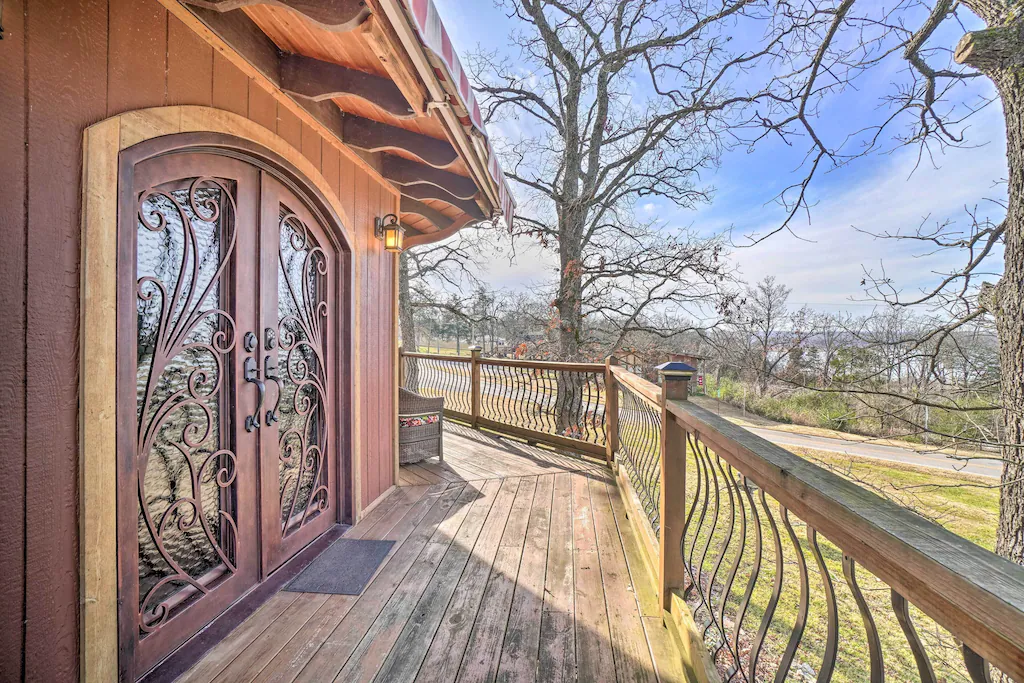 Caboose 103 in Cedar Township
Okay. Okay. Ladies and gentlemen, may we present to you… Arkansas glamping… in a caboose. Introducing Caboose 103 in Cedar Township! You heard it here, you can choose to center your glamping adventure in an authentic caboose. If you've dreamt of sleeping in a stationary train carriage, and seriously, who hasn't, this is the place for you. It also has its own private driveway and is super secluded!
As if staying in a caboose isn't enough of a treat, this caboose also has a hot tub! This is some next level glamping in Arkansas. The caboose is actually sitting on the railway tracks it once used to travel on. Facilities include a kitchenette, private bathroom, charcoal grill and TV with DVD player. There's also a spacious and shaded deck with views of the woods.
We love this place! What's not to love! Check out rates at VRBO.com.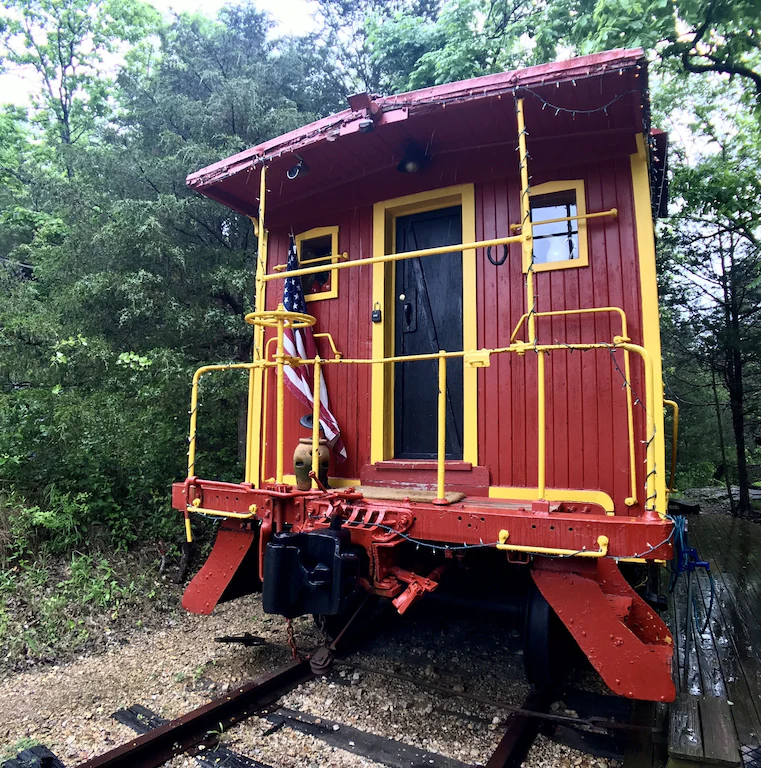 The 87 Getaway Secluded Treehouse Escape
If you NEED to stay in a treehouse, and honestly, don't we all? We have got just the ticket for you! The 87 Getaway Secluded Treehouse Escape is a delightful cabin nestled high among the trees! Arkansas is glamping at its best!
This delightful spot sleeps four, and with a king-size bed and fold-out sofa bed, it's perfect for families. Other facilities include a stocked kitchen and TV with streaming services. AND, by the way… they also have a hot tub! Outside there's also a hammock, as well as a fire pit and grill.
With a deck surrounding the whole treehouse, you won't really have any reason to want to leave! But with plenty of acreage to this property, you will no doubt love checking out and exploring this gorgeous spot! If you are looking for the best glamping in the Ozarks, this spot is for you! Check out rates for this magical spot at VRBO.com!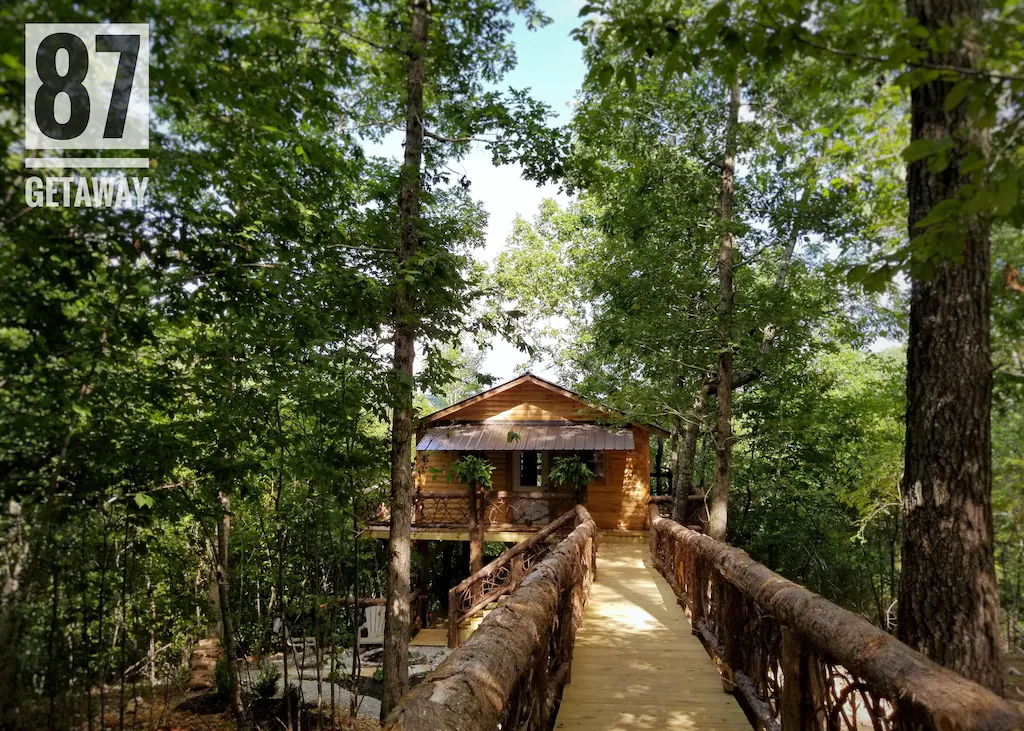 Canyon View Luxurious Treehouse Cabin
Whether you're looking for romantic glamping in Arkansas or a getaway with your friends, we know you'll love the Canyon View Luxurious Treehouse Cabin! The beating heart of this beautiful property is the sweeping views of the valley below. Our favorite feature of this property is by far the amazing balcony, where you can sit and watch the sunrise over the mountains. Wow! You could also do this lying down because there's also a hammock!
If you're visiting with friends, this cabin sleeps up to eight, including a delightful loft bedroom. Other facilities include a fully stocked kitchen with oven, microwave, dishwasher, wifi, and TV. The bathroom features a spa bath – yes! – and a super luxurious shower which includes a waterfall and huge shower head! Outside there is also a gas fire table.
For glamping in the Ozarks, check out this beauty! Rates are available at VRBO.com.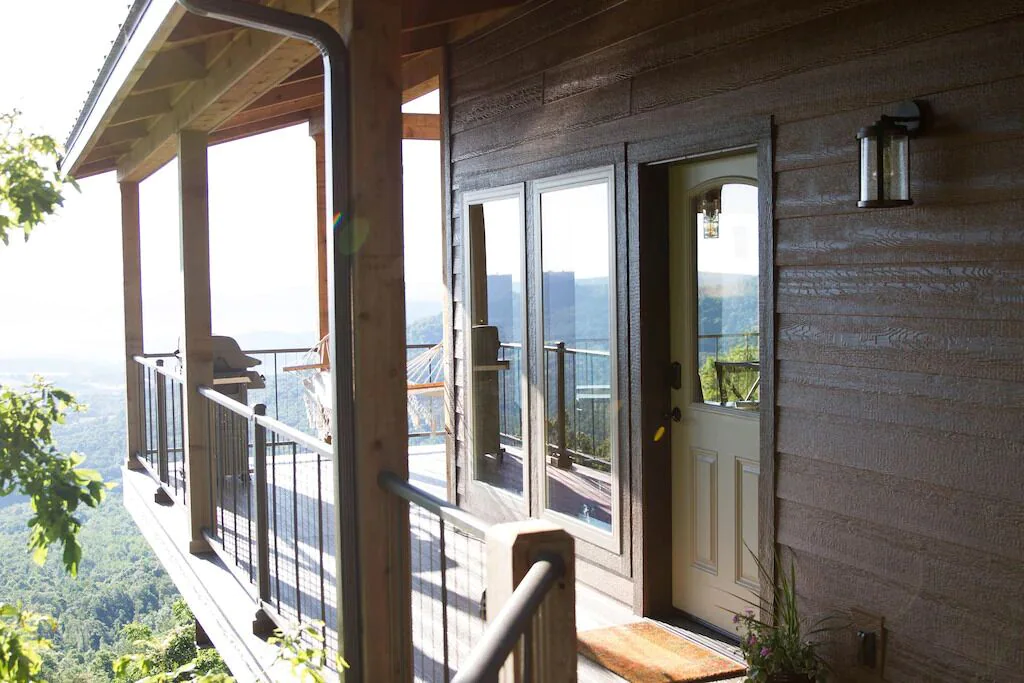 Secluded A-Frame Cabin
For a glamping adventure in Arkansas that's between the Ozark and Ouachita Mountains, look no further than this Secluded A-Frame Cabin in the Tri-Peak area of the natural state!
This cabin, which sleeps seven, is spread across three levels. Sweeping views of the stunning surrounding are to be seen on two of the levels. Facilities include a fully stocked kitchen, coffee machine, washing machine, and wood fireplace. Outside there's a grill, hammock, and dining furniture.
The best thing about this great place is that four fantastic Arkansas state parks are all within an hour's drive! Amazing! This delightful cabin feels so secluded you will be happy to kick back and take some time to chill out and watch the world go by. For the very best of glamping near the Ozarks, check out rates today at VRBO.com!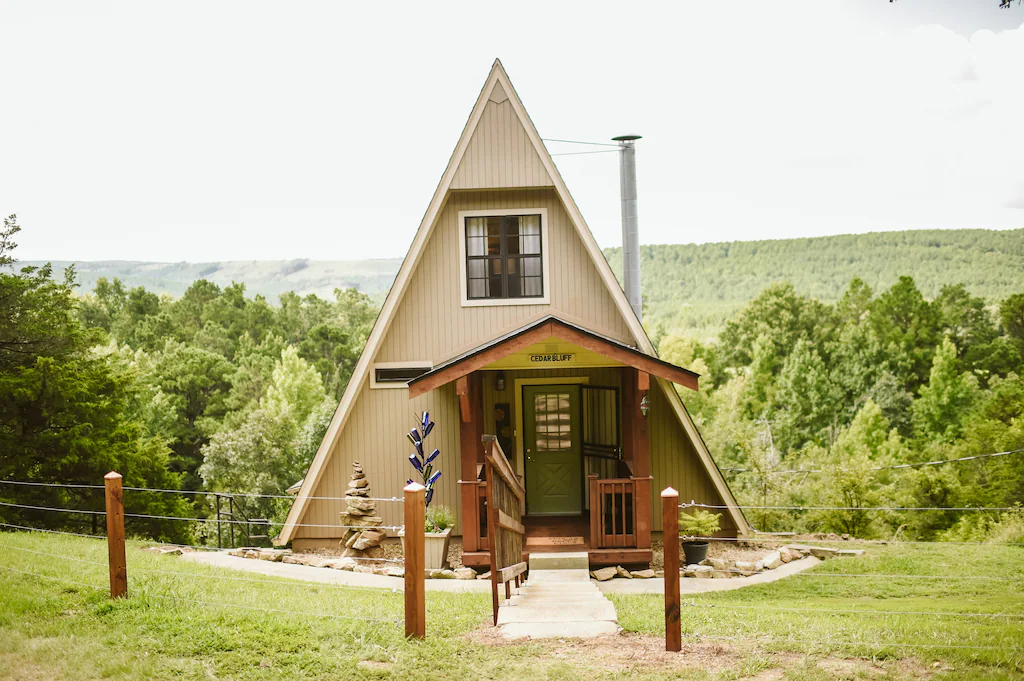 Cedar Springs Cabin
If you want to put the glam into glamping in Arkansas, you'll definitely want to check out Cedar Springs Cabin! This one-of-a-kind cabin somehow captures the very best of rustic and modern simultaneously.
Sleeping up to five, Cedar Springs Cabin includes facilities such as a floating bed, and a stocked kitchen with an oven and coffee machine. There's even a day bed outside, as well as an outdoor kitchen, charcoal grill and a massive, 22-foot-tall tepee! Wow!
Located only ten minutes from Bathhouse Row in Hot Springs and Hot Springs Village. There are heaps to do at Hot Springs Village which has beautiful lakes and even a golf course. But with so much on offer at Cedar Springs Cabin (did we mention the giant Jenga, cornhole, buried bus theatre room?!) you may not want to leave for any sightseeing! For the very best of glamping near Hot Springs, check out rates today at VRBO.com!
Mount Magazine View Cottage/Cabin
If you're looking for adventure in your Arkansas glamping trip, you won't want to miss Mount Magazine View Cottage/Cabin – A Great Escape in Arkansas! This recently renovated accommodation can be found at the bottom of Mount Magazine, which is the highest point between the Rockies and the Alleghenies.
Facilities include air conditioning, TV, books, and games. Outside there's a fully furnished deck, hammocks, and a covered porch. If you're lucky you might get a visit from some local wildlife including deer, coyotes, and owls. Hoot hoot!
Nearby activities include swimming, rock climbing, bike riding, hiking, boating, golfing, fishing, tennis, antique stores, wineries, museums and even hang gliding! You will not run out of things to do here, and that's if you can drag yourself away from the property, whether you're exploring the woods or just relaxing in the cottage! We love this place and we know you will too! Check out rates today at VRBO.com!