Even though it is a smaller state, there are plenty of fun things to do in Arkansas. It is filled with cute small towns, bigger cities, and unique experiences that you will not find anywhere else. Found on the edge of the Midwest and the South, Arkansas is aptly known as the Natural State because of all the pure, untouched wilderness the state has to offer.
I grew up traveling to Arkansas for the last 30 years so I know exactly the specific fun things to do in Arkansas for adults and kids and what activities you should skip. This is what I would suggest to a friend, my family, and now to you!
Arkansas is also a great place to visit if you like camping and outdoor recreation. On the other hand, Arkansas is also ideal if you like exploring bustling cities while visiting historic sites. No matter what your hobbies or idea of a good time, Arkansas will satisfy your needs for a memorable vacation.
Keep reading to learn about what to do in Arkansas and get your pen and paper ready to start creating your Arkansas bucket list!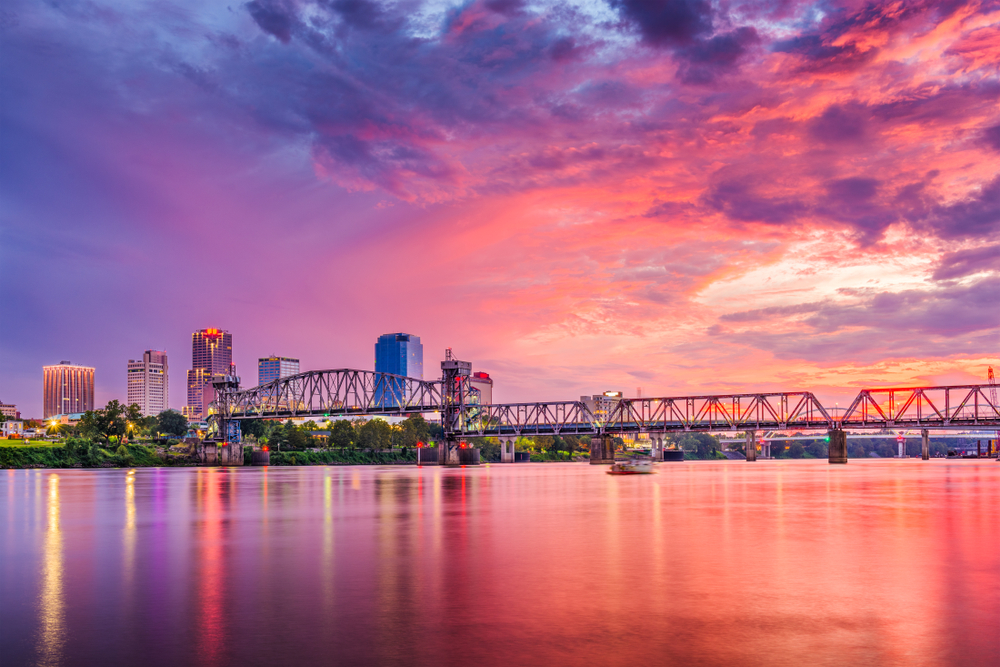 20 Fantastic Things To Do In Arkansas
Search for Treasure at Crater of Diamonds State Park
Visiting the Crater of Diamonds State Park is one of the best fun things to do in Arkansas for adults and kids alike. This is one of the only places in the world where the public can search for diamonds and take home their treasure. Found in Murfreesboro, Arkansas, this 37-acre field is the surface of a volcanic crater.
You can also learn about the science of the area at the Diamond Discovery Center. Then it is time to rent your equipment and start digging for diamonds and other gemstones. While there are over 33,000 diamonds that have been found here since the area was designated a state park, you are not likely to strike it rich.
Most diamonds found are only about the size of a match stick head. When you are done searching, take your finds to get weighed and registered. This is one of the best activities in Arkansas to do for all ages!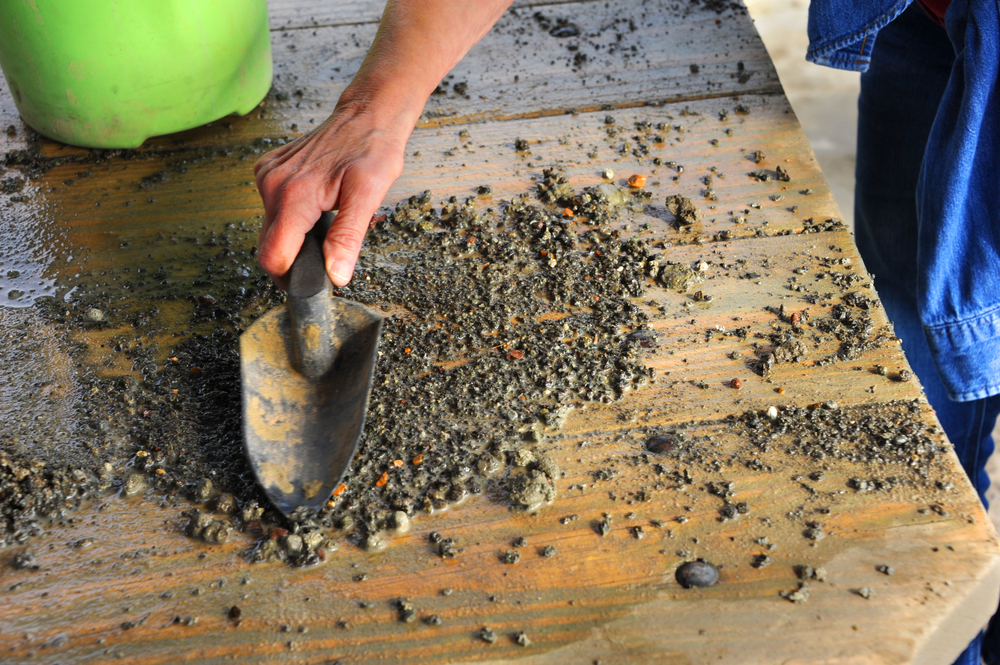 Soak at Hot Springs National Park
Hot Springs National Park is rich in both natural beauty and history. Come here to hike the twenty-six miles of forest trails and find great views at the Hot Springs Mountain Tower. Make sure to visit the Fordyce Bathhouse Museum and Visitor Center while you soak up one of the best Arkansas activities.
While there is nowhere to soak outside, you can appreciate the natural, thermal springs in some of the spas along Bathhouse Row. These historic buildings will give you a chance to relax and unwind. Before you leave the park, make sure to stock up on the super healthy and natural water from the springs.
It is also home to some of the best resorts in Arkansas that you would love for a getaway!
There are plenty of fountains where you can fill water bottles! You do not want to miss this beautiful experience, it is a must-see in Arkansas!
Don't forget to check out the nearby town for some more Hot Springs Activities!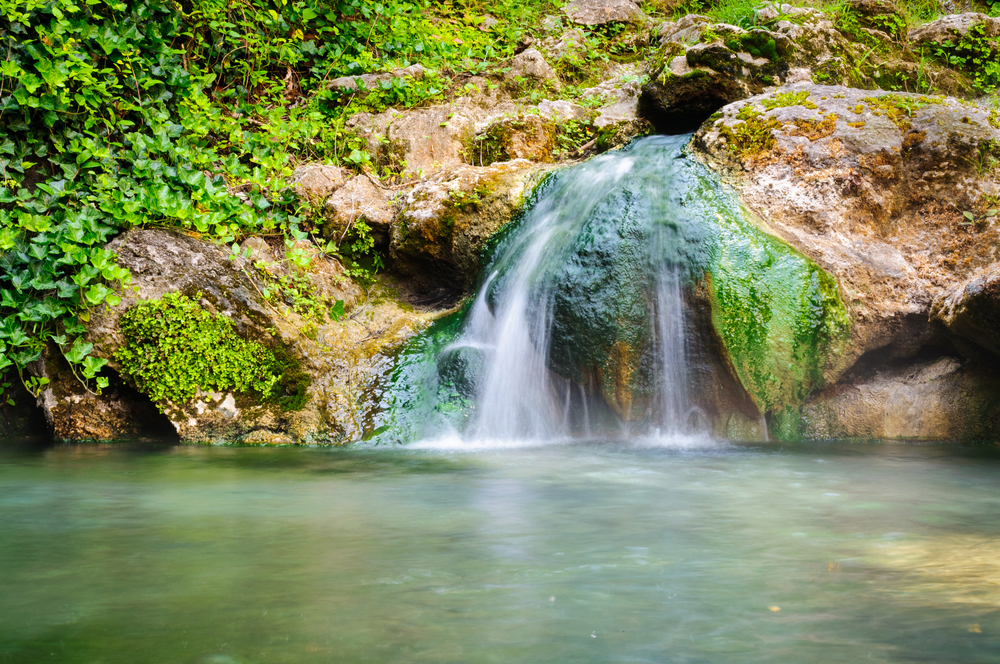 Head Down into Blanchard Springs Caverns
Next up is the Blanchard Spring Caverns which should be on your bucket list of things to do in Arkansas with kids. You will head underground and discover the gorgeous springs and caverns. There are multiple trails through this natural wonder to be explored.
Each tour is led by a guide who will teach you along the way. The trails vary in length, difficulty, and accessibility, but each will leave you breathless. If you visit in the summer, the cave is a great way to cool down since it remains at about 58 degrees Fahrenheit year-round.
This is an amazing and fun thing to do in Arkansas for anyone who wants to introduce their kids to geology and earth science.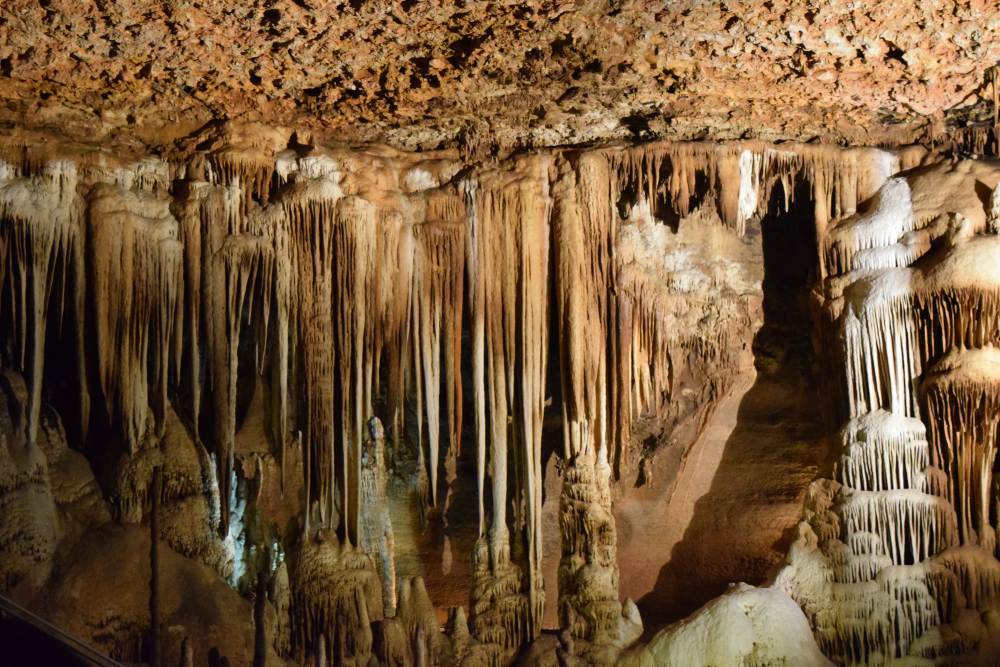 Shop at Little Rock River Market
There are many cool things to do in Little Rock, Arkansas, including shopping in the historic Little Rock River Market District. Here, you will find a lively downtown vibe that must be experienced when you visit the Arkansas capital city.
This district is full of farmer's markets, boutique shops, artists, and live music. There is also a sculpture garden. This is a great place in Little Rock to grab a meal or enjoy occasional events or concerts. If you have kids, bring them to the awesome Riverfront Park which is one of the best things to do in Little Rock for families.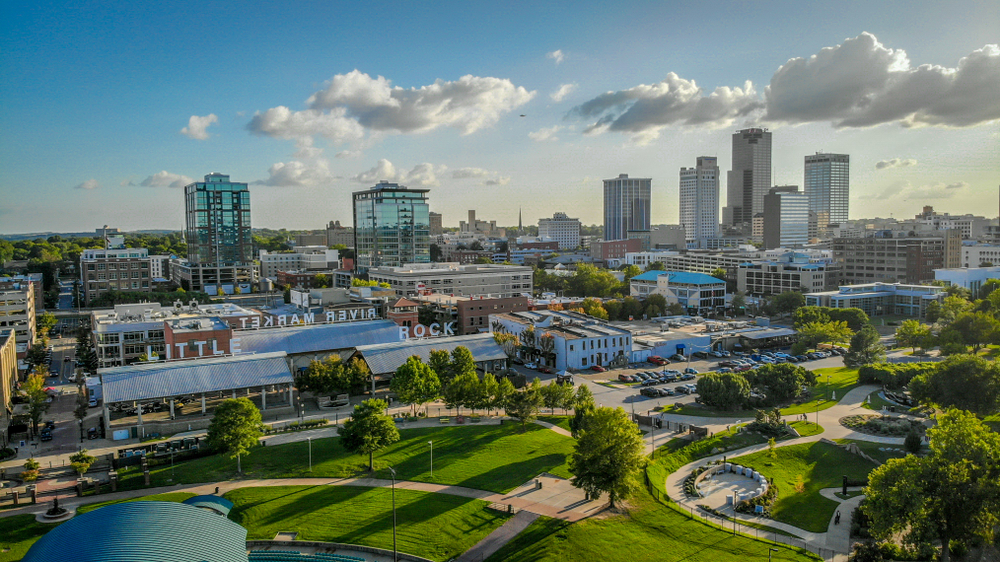 Step Back in Time at the Old Mill
While in Little Rock, you should also check out the Old Mill to feel transported back in time. This picturesque building is surrounded by pretty landscaping and running water.
It was built as a re-creation of an 1880s mill. An interesting note about the mill is that it was featured in the opening scene of the 1939 classic Gone With The Wind. Movie buffs will love to say they've been here. This is truly one of the best romantic getaways in Arkansas!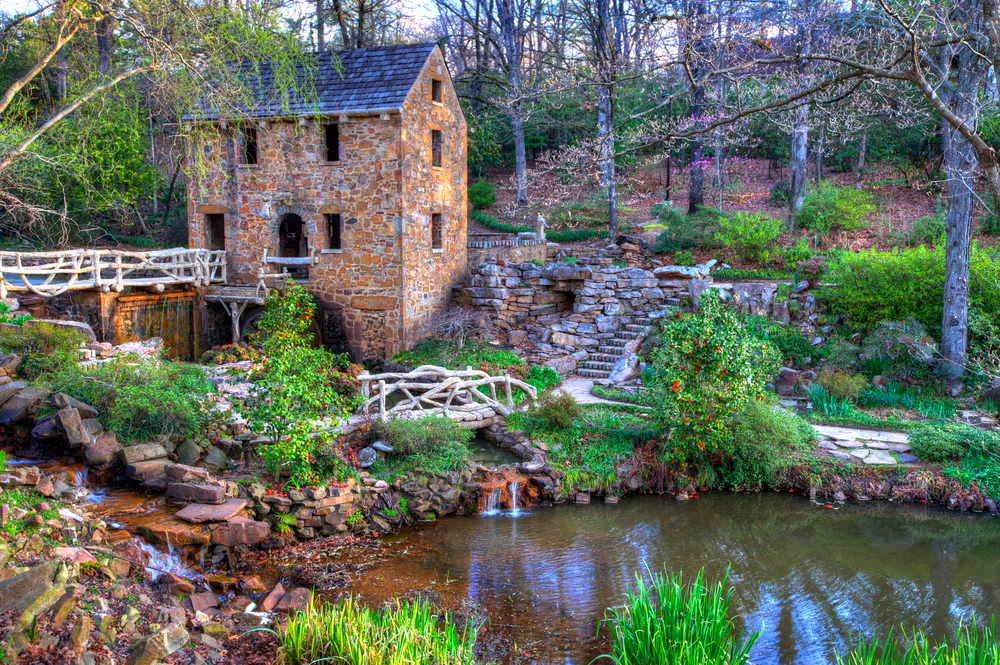 Learn About Black History at Little Rock Central High School
In 1957, Little Rock Central High School became the site of a now-famous civil rights event. After the Brown v. Board of Education's desegregation ruling, nine African American students, known as the Little Rock Nine, came to this once all-white school for an education but were faced with protests and violence.
In the end, President Dwight D. Eisenhower sent federal troops to help the students enter the building. Visiting this National Historic Site is something important to do in Arkansas so you can become more knowledgeable about this dynamic moment in U.S. history.
Book a guided tour that will lead you to many important civil rights locations in Little Rock, including the high school. The Little Rock Central High School is one of the top Arkansas must-see attractions for history and the civil rights movement.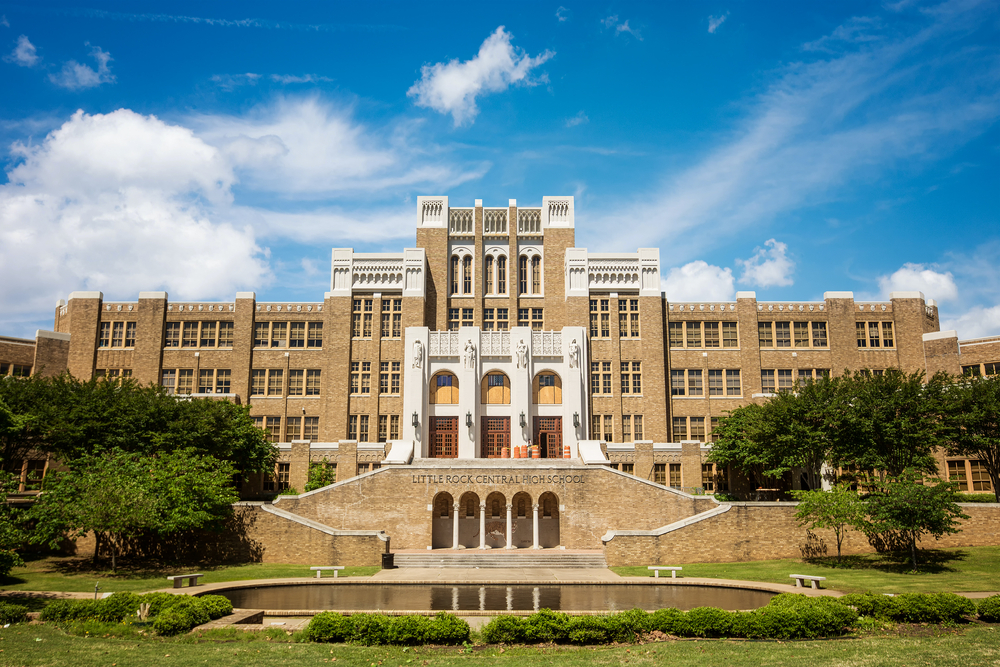 See Art at Crystal Bridges Museum
Crystal Bridges Museum of American Art is located in Bentonville and is one of the best things to do in Arkansas for art lovers. This beautifully crafted museum features galleries full of American art and culture.
You will see work here by the likes of Andy Warhol, Georgia O'Keeffe, and Norman Rockwell. Be sure to put See Art on your list of Arkansas sightseeing because this museum is also great for nature lovers. The property boasts a lovely 120-acre park including ponds, gardens, walking trails, and outdoor sculptures.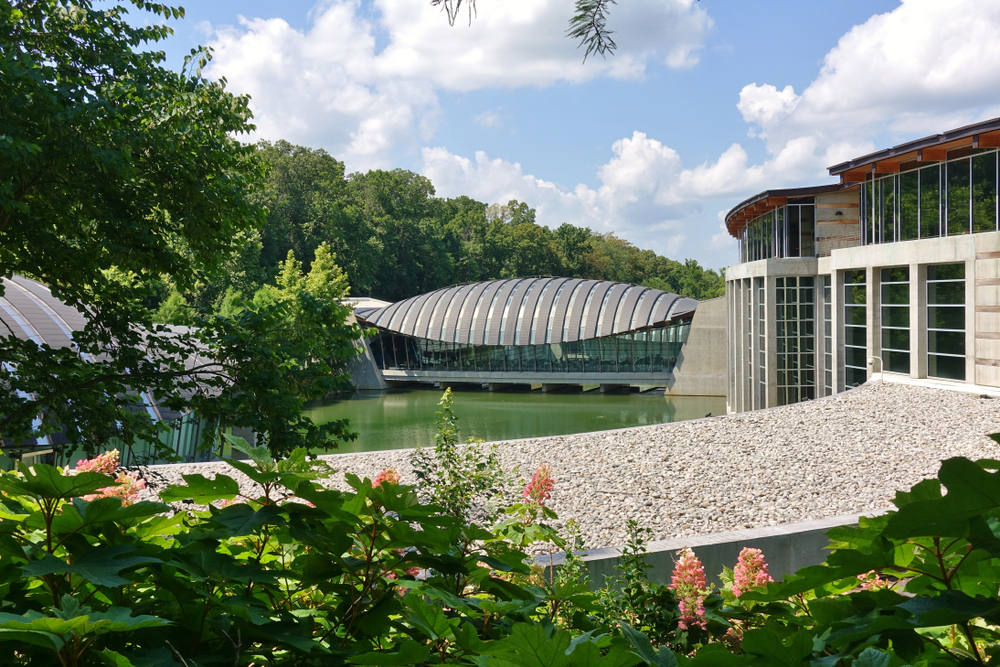 Kayak Down the Buffalo National River
Established in the 1970s as the first national river in the U.S., the Buffalo National River is a popular place to visit in Arkansas. This scenic river flows freely for over 130 miles and cuts through the Ozark Mountains.
The most common thing to do at Buffalo National River is to get out on the water in a kayak or canoe and paddle among the trees and towering bluffs. There are also hiking trails and historic structures to discover. If you are looking for a calming time in nature, then the Buffalo National River has all the Arkansas vacation activities you are looking for.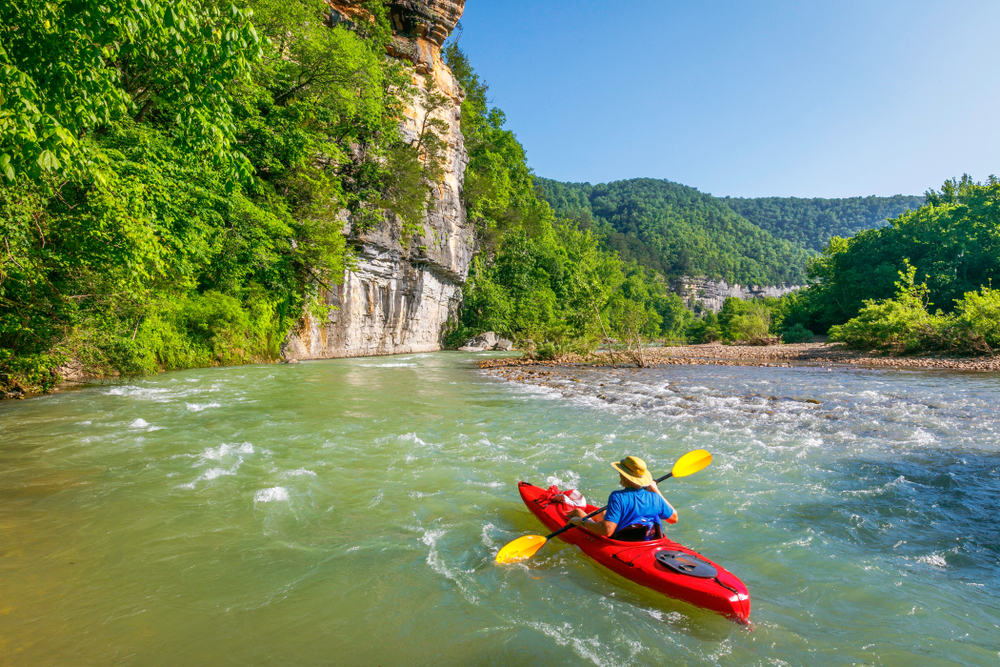 Hike in Mount Magazine State Park
At 2,753 feet, Mount Magazine is the highest point in Arkansas. You will love spending some time in one of Arkansas's best state parks as you search for all of the amazing lookout points. Other fun activities to do here include mountain biking, ATV riding, rock climbing, and hang gliding.
When in the area make sure to eat at the Skycrest Restaurant to enjoy a meal with a view. There are also really nice lodges and cozy cabins if you wish to make Mount Magazine State Park your home base while seeing all the fun places in Arkansas.
Nearby, you can also find a lot of cool places for Glamping in Arkansas!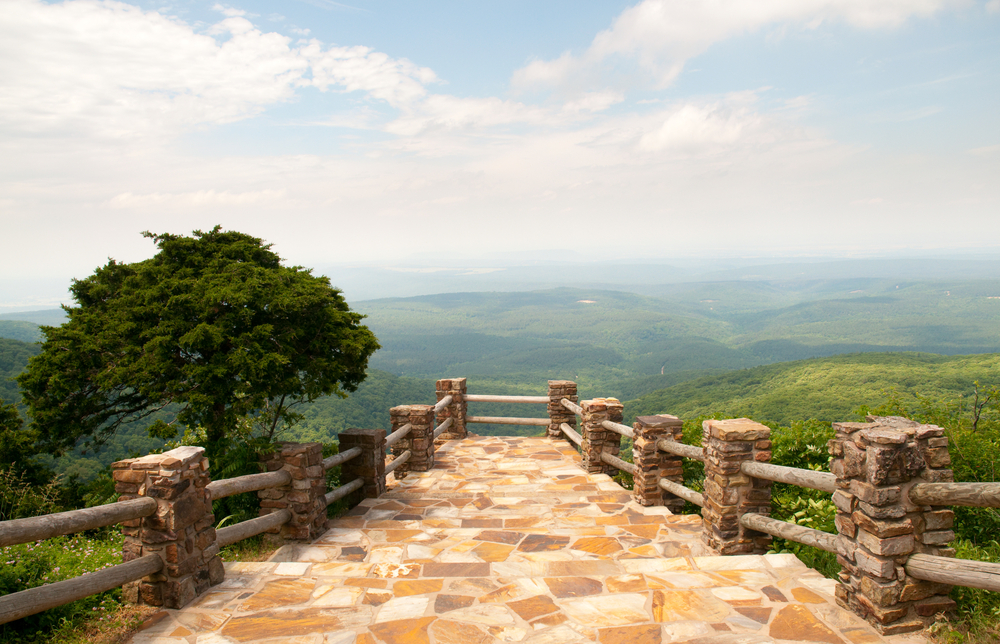 Walk Beautiful Downtown Eureka Springs
Downtown Eureka Springs is the only American downtown listed on the National Register of Historic Places. So you know it has to be extra special.
The Main Street of Downtown Eureka Spring has beautiful Victorian, Queen Anne, and Romanesque architecture. As you stroll along, you will find many unique local shops, art galleries, and restaurants. To add more interest to your trip, take a tram tour through town while learning the history of the place.
Make sure to check out our list of Best Things To Do In Eureka Springs if you are planning to visit!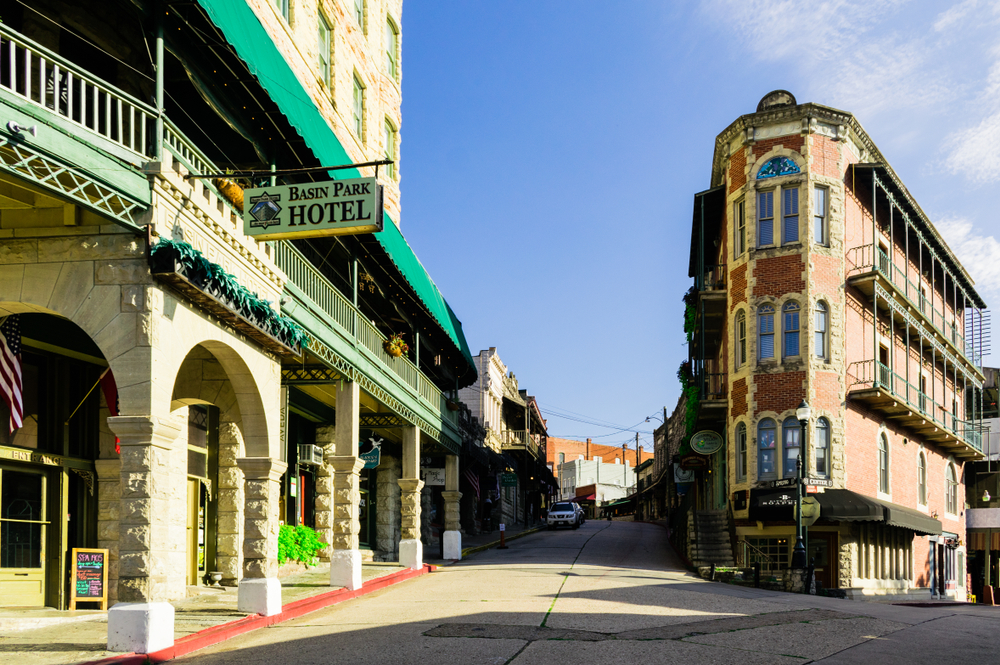 Discover Pretty Thorncrown Chapel
Surrounded by trees outside of Eureka Springs, you will find the Thorncrown Chapel. This unique church was built in 1921 by architect E. Fay Jones, who was mentored by Frank Lloyd Wright. The style of the church is called "Ozark Gothic". And it was created to be one with nature from a different perspective.
Because of the stunning glass walls at the Thorncrown Chapel, the changing light and shadows constantly alter the appearance of the outside gardens. Attend a Sunday service or visit for free during its open hours.
If you fall in love while at the chapel you can book this gorgeous property as a wedding venue! No matter what angle you look at it the Thorncrown Chapel is one of the best and free things to do in Arkansas!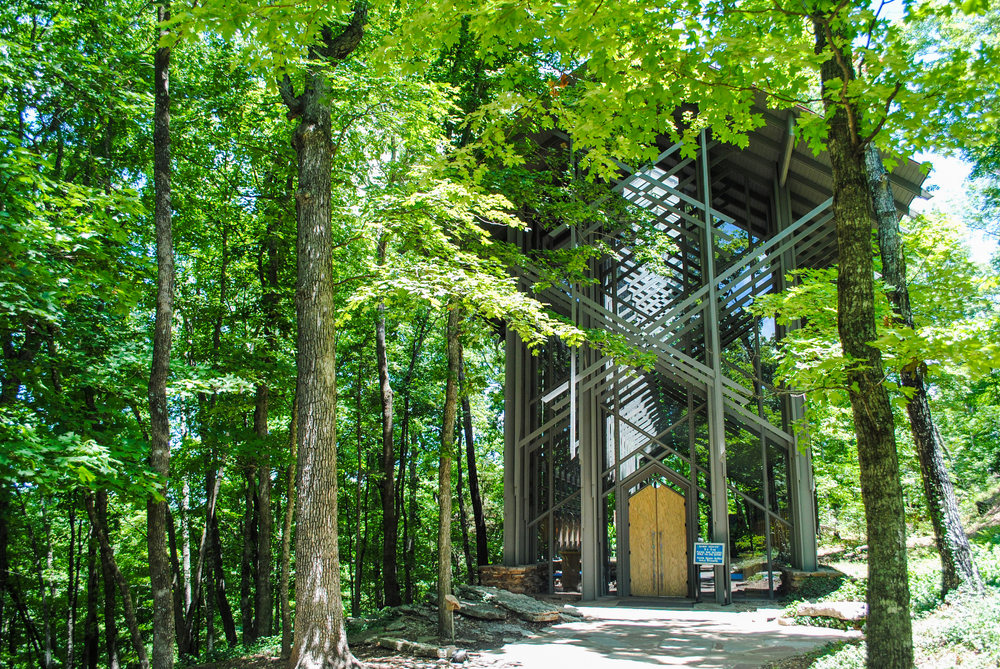 Spot Ghosts at the Crescent Hotel & Spa
The historic, 1886 Crescent Hotel & Spa is known as America's Most Haunted Hotel and has been featured on many ghost-hunting shows. The Crescent Hotel is still running and is a great place to stay in Arkansas if you love luxury, amazing spa treatments, and paranormal activity.
You can book a ghost tour, or check out their website for Eureka Spring Paranormal activity events. This will always be one of the best things to do in Arkansas at night, for any age. Just be sure to pack a few extra changes of clothes in case you get too scared.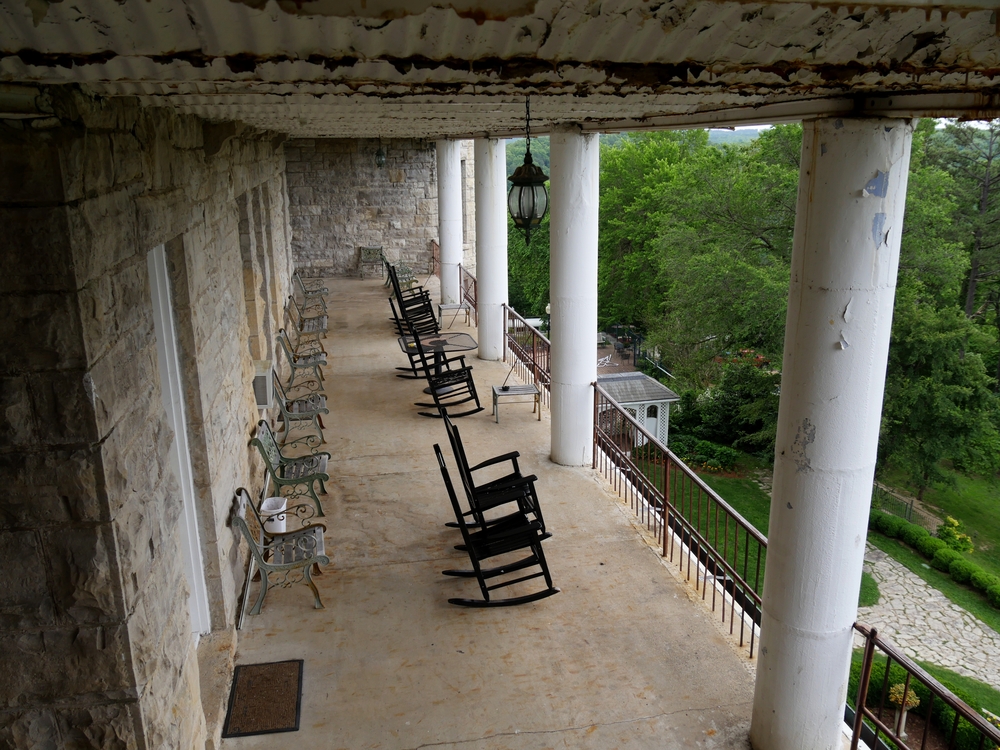 View Big Cats at the Turpentine Creek Wildlife Refuge
Another thing to do in Eureka Springs is visit the Turpentine Creek Wildlife Refuge. This is one of the best Arkansas attractions for families. The refuge is home to an assortment of rescued wild cats and bears.
This is not a zoo, and the refuge puts the health of the animals and the education of guests first. While here, take a guided tour to learn about the habitats of the furry residents.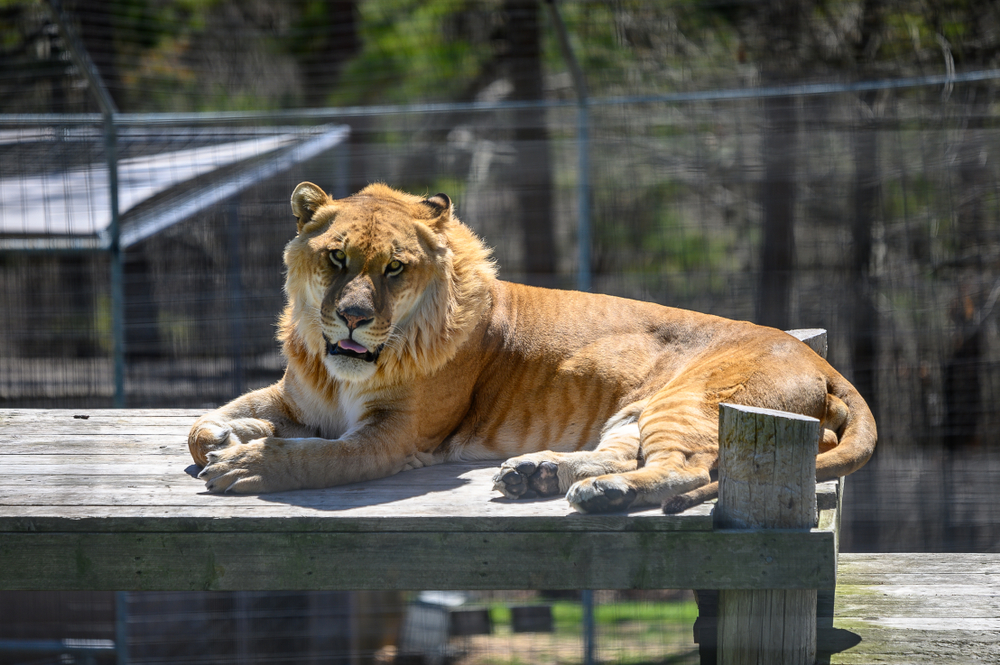 Find Natural Beauty at the Botanical Gardens of the Ozarks
The Botanical Gardens of the Ozarks is one of the best things to do in Fayetteville. There are twelve themed gardens to explore, each focusing on the natural Arkansas environment.
Children will especially love the Children's Garden and the Sensory Garden, where you can get hands-on with the plants. There is also a butterfly house to admire. There are also many fun events throughout the year.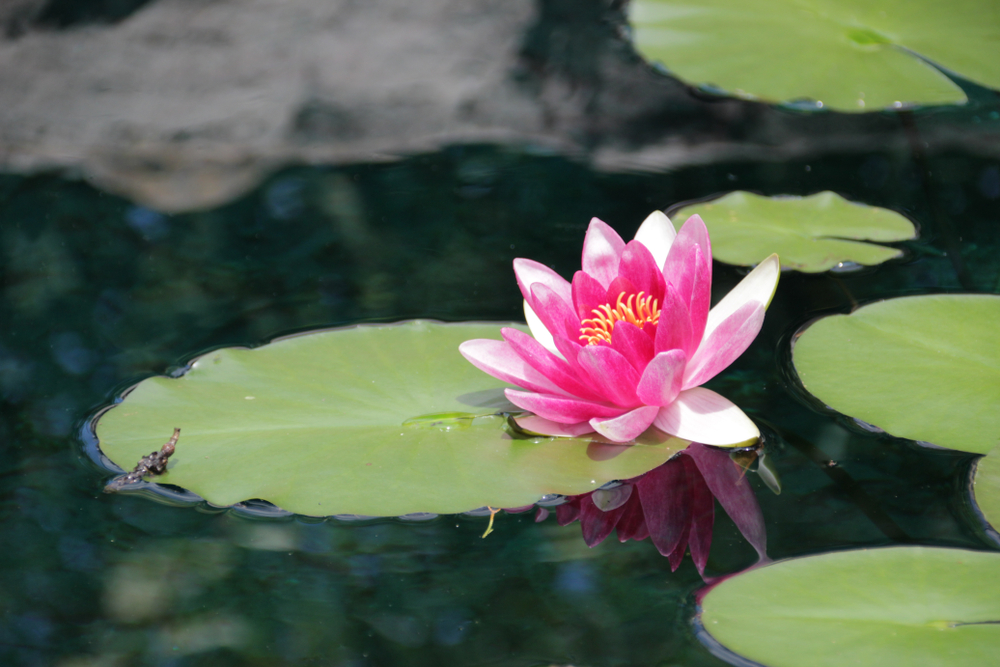 Stop by the Walmart Museum
Visiting the Walmart Museum is something you do just to say you've been. Found in Bentonville, the Walmart Museum is right next-door to Walton's 5&10, the second store Sam Walton ever bought in 1950.
He continued to buy more stores and grow his business before the first real Walmart opened in 1962 in Rogers, Arkansas. The rest, as they say, is history. Sam Walton was at one point the richest man in America.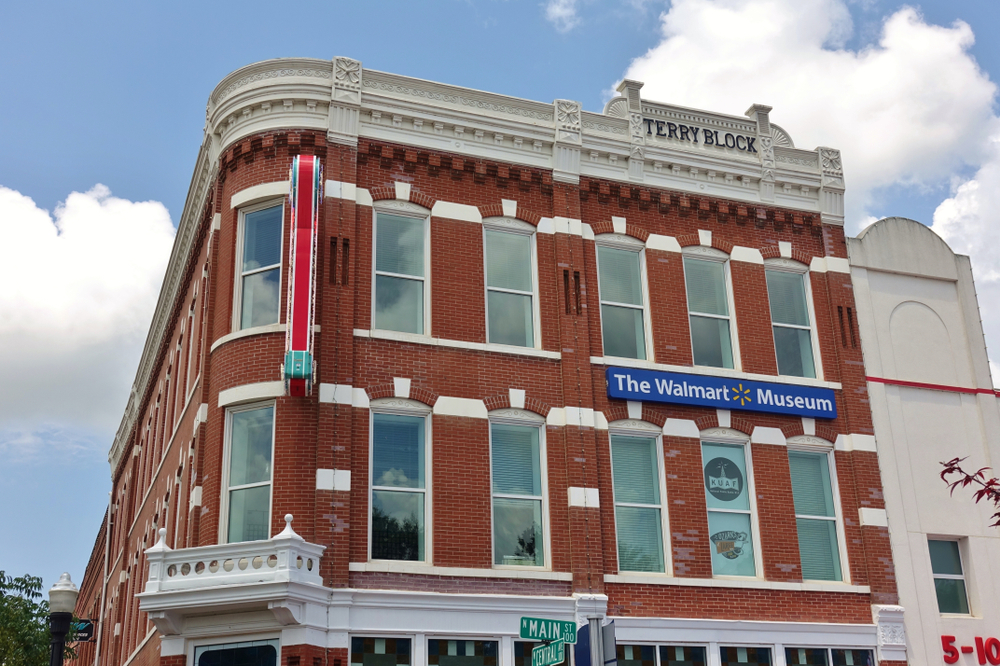 Stroll Through Garvan Woodland Gardens
Located at the University of Arkansas, the Garvan Woodland Gardens is another of the most beautiful places to visit in Arkansas. These spanning botanical gardens are nestled in the mountains and next to a lake. Walk along the amazingly landscaped trails and admire the many fantastic bridges.
I think that Arkansas is one of the super underrated and less crowded places for fall foliage. Garvan Woodland Gardens is one of the best places to see Fall Foliage in Arkansas so make sure to visit if you are there during Autumn.
You will find a gorgeous chapel, lovely wildflower fields, a cool model train garden, and an amazing treehouse. If you are looking for romantic things to do in Arkansas, the Garvan Woodland Gardens do not disappoint.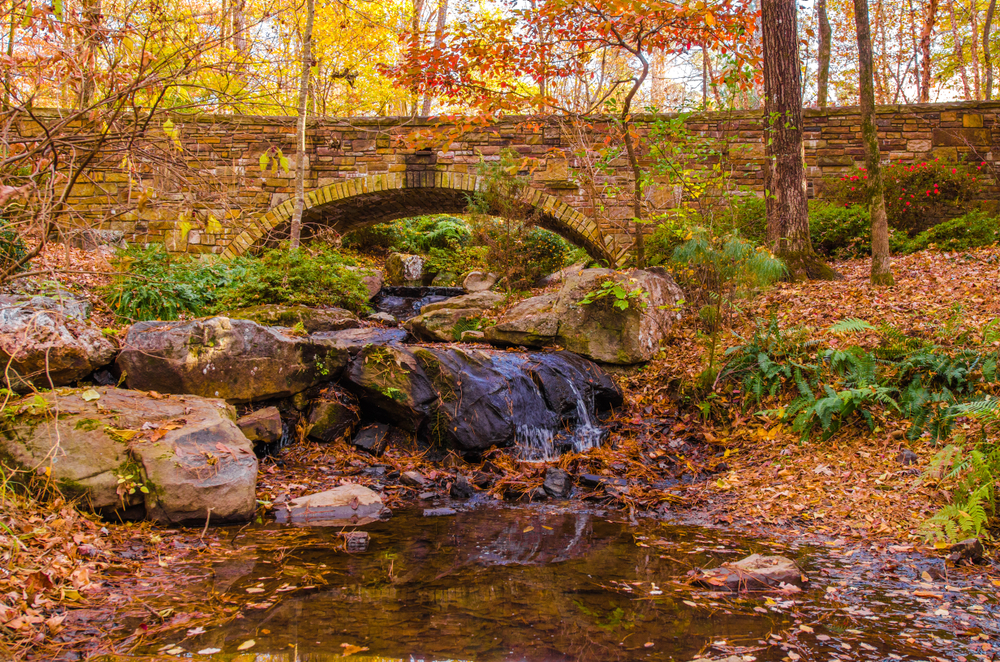 Get Your Hands Dirty at Wegner Quartz Crystal Mines
The Wegner Quartz Crystal Mines in Mount Ida is another interesting and unique thing to do in Arkansas for treasure hunters. This location is similar to Crater of Diamonds State Park except you will be digging for gorgeous quartz crystals.
These gemstones are larger than the tiny diamonds at the state park and are eye-catching after a good wash. There are a few different experiences you can enjoy here and it is fun for the whole family. And, yes, you get to keep everything you find! Mining for Quartz may not seem like one of the best things to do in Arkansas for couples, but just imagine if you find your love a brand new quartz for practically free!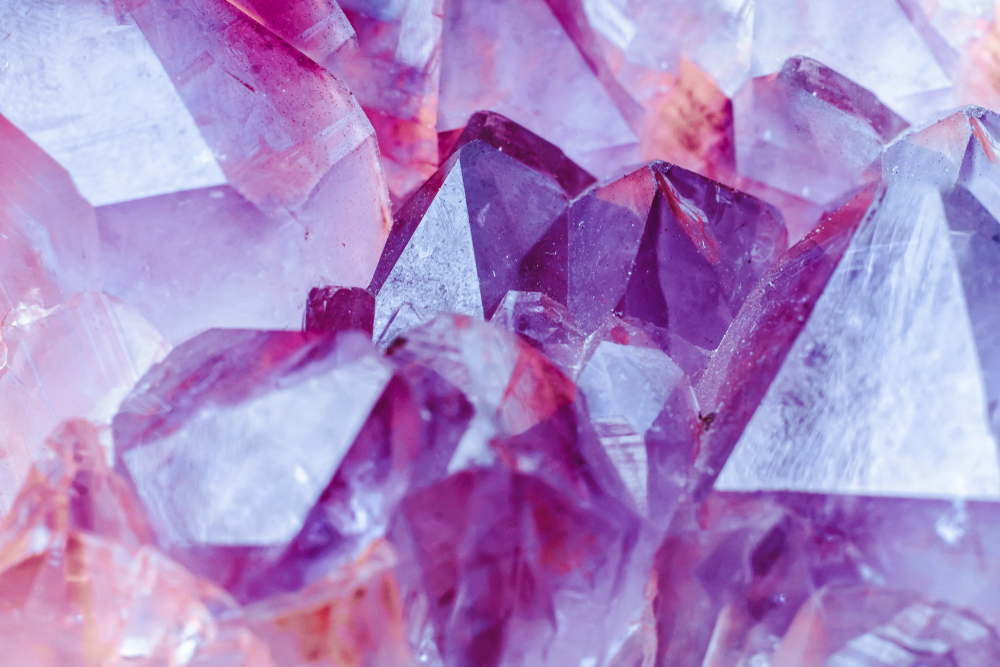 Enjoy Waterfalls at Petit Jean State Park
Petit Jean State Park was Arkansas' first state park, and it is clear why this gorgeous area was chosen. The park holds many natural features such as Petit Jean Mountain, Cedar Creek Canyon, and Lake Bailey. The beautiful Cedar Falls is one of the best views in the park. A two-mile round-trip hike will lead you to this 95-foot waterfall hidden in the trees.
Spend your time in this park becoming one with nature and making great memories. You will love all of the hiking trails and jaw-dropping overlooks. You can also go fishing, kayaking, and boating. There are swimming pools and playgrounds for the children here as well. If you are waterfall lover, Arkansas is full of them!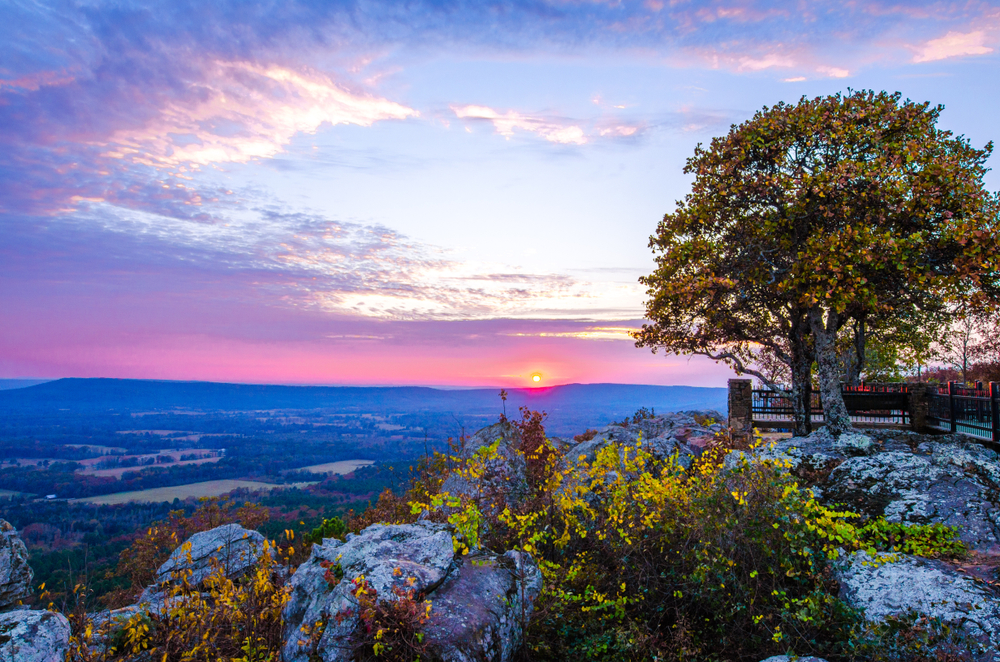 Visit Johnny Cash's Childhood Home
If you didn't already know Johnny Cash moved with his family to Dyess, Arkansas, in 1935 when he was only a few years old. He spent most of his childhood in one home that has been restored and opened up to the public.
Before you visit Johnny's childhood home check out the local Dyess Colony Visitors Center. Here you will learn about how the Dyess Colony was formed as part of the New Deal. Plus, some exhibits show the impact of living in Dyess had on Johnny Cash's music. This is one of the top things to do in Arkansas for adults who love the country music icon Johnny Cash.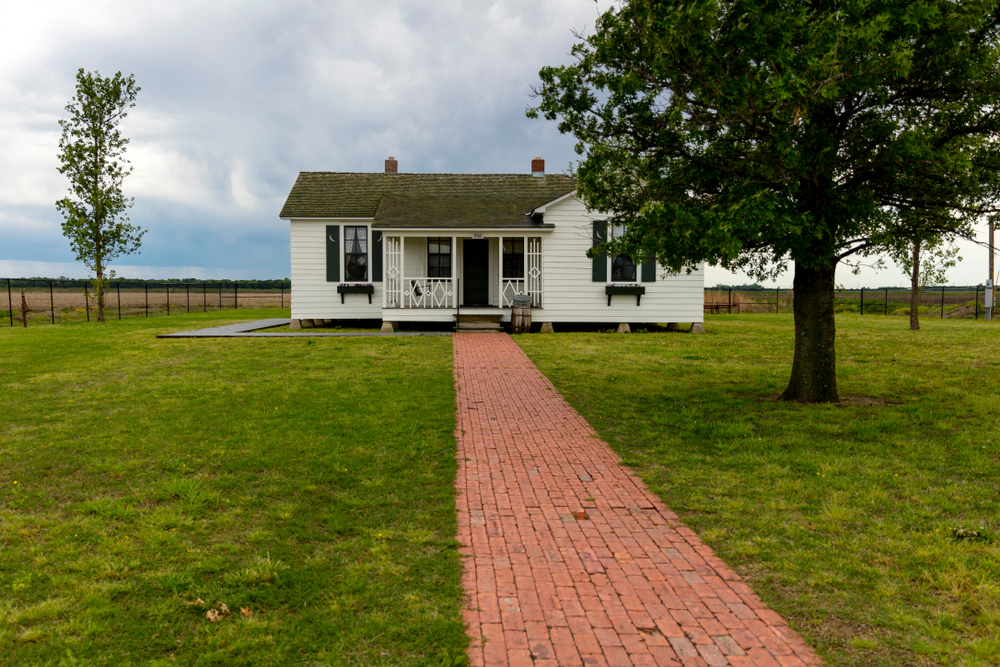 Camp at Devil's Den State Park
Up next on this list of things to do in Arkansas is another amazing state park. This pretty, natural area is one of the best places to visit in Northwest Arkansas and offers many camping options if you want to spend more than one day exploring all the things to see in Arkansas.
Camp Devil's Den is known for its unique rock formations, caverns, and rock dam. Lake Devil also provides a place to swim, boat, and fish. There are also many hiking trails to explore, the most popular are the Devil's Den Trail, which is a short 1.5-mile loop hike, and the Yellow Rock Trail. This is a bit longer coming in at about 3 miles round trip.
Both are an amazing way to spend your day walking around one of the best state parks and most unique things to do in Arkansas!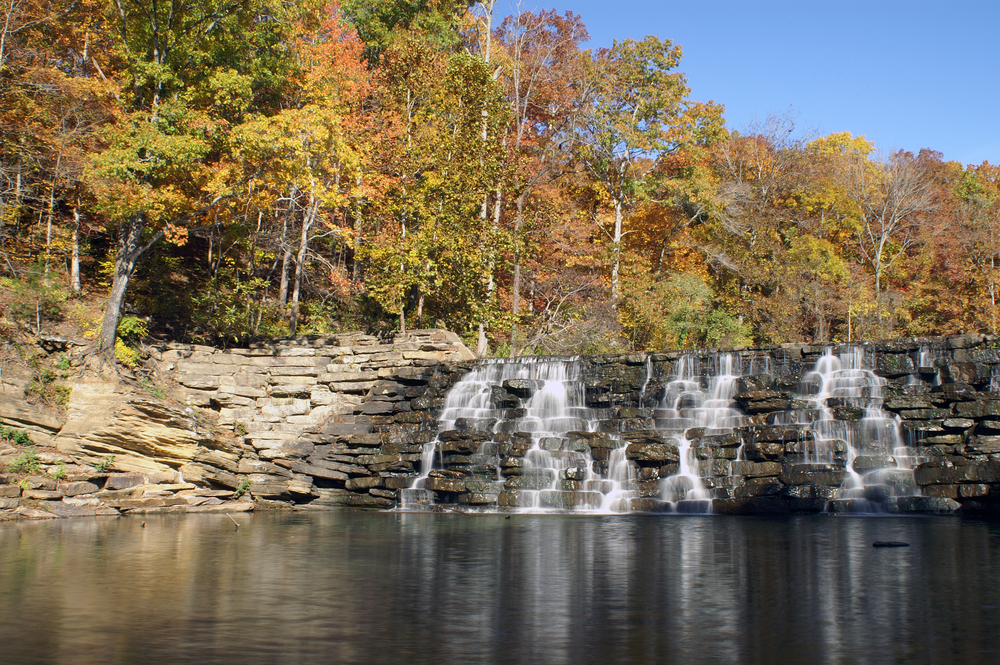 Take a Scenic Train Ride On the Arkansas & Missouri Railroad
One of the fastest ways to knock out all the what to see in Arkansas is to hop aboard one of the scenic train rides. Most routes will take you along the Ozark Mountains through stunning landscapes, forests, and alongside rivers.
One of the most popular routes is the Springdale to Van Buren. This is a four-hour round trip route that will take you along the Boston mountain range, and over the Arkansas River while passing through the amazing countryside.
The train ride itself is comfy and air-conditioned and almost every seat has a clear view out of the huge windows. During the nicer months of the year sit in one of the open-air cars to feel the crisp air hitting your face. Do miss out on seeing all the best things to do in Arkansas from the comfort of the railroad.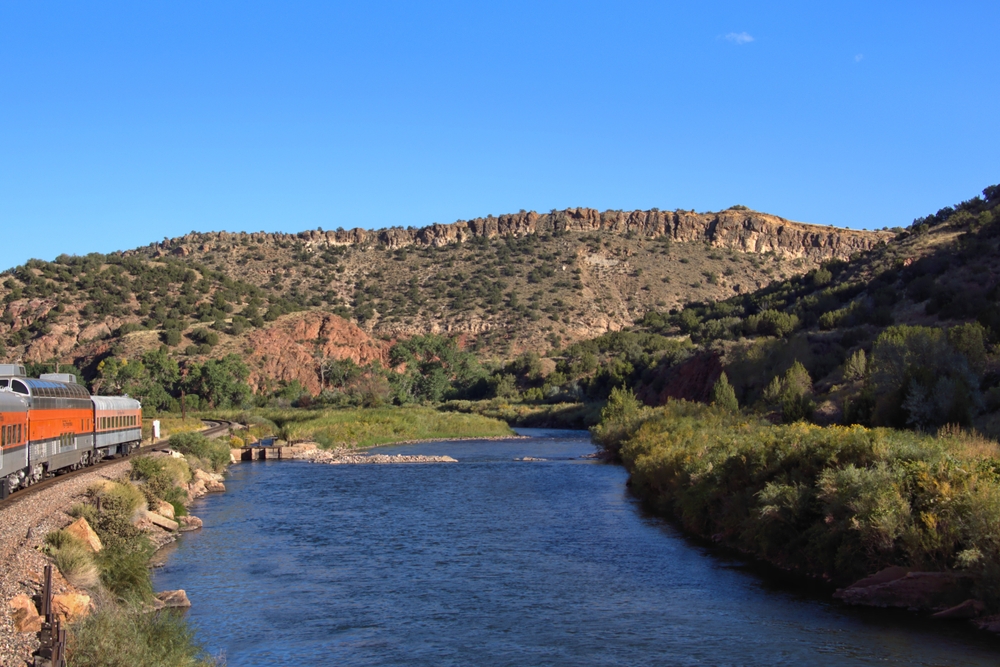 Zipline at the Ozark Mountain
Looking for adrenaline on your trip to Arkansas? You cannot beat zip-lining through the Ozark Mountains. There are four different routes to choose from. From a short line to get you used to flying, to the final course the will have you flying over 50 miles per hour over the tree lines.
Before you start the instructors are careful to teach you protocol and safety, but then you are ready to go! Be sure to check out the official website to see when to visit, but they are open all year long and are always one of the best things to do in Arkansas with kids.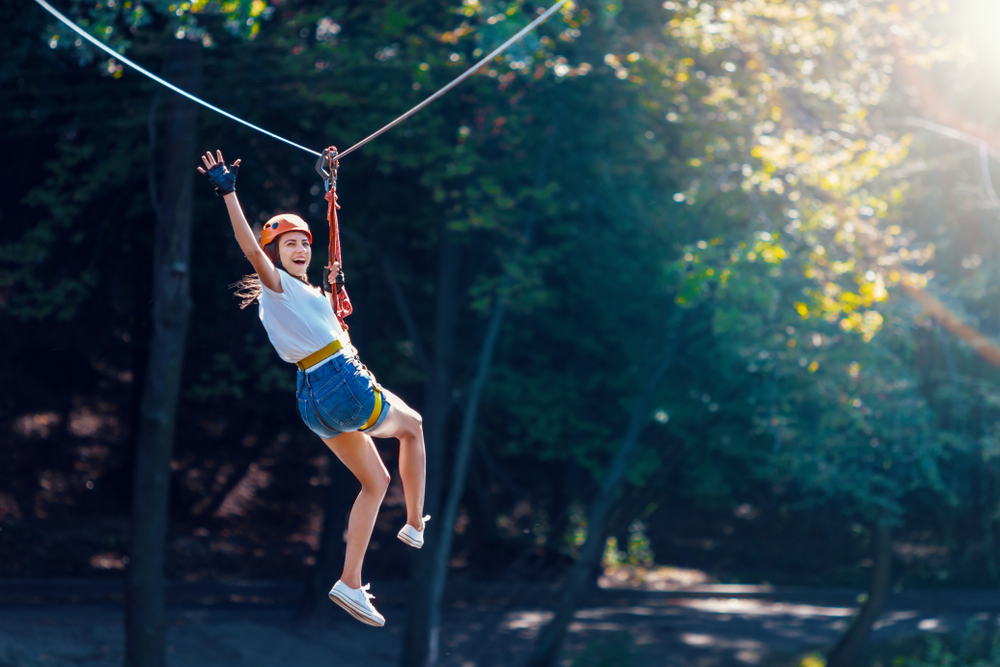 Visit Mark Twain's Childhood Home in Hannibal
Do not leave out the great American author Mark Twain on your Arkansas bucket list. His childhood home in Hannibal was built back in the 1840s and was the inspiration for some of Twain's best sellers. Including "The Adventures of Tom Sawyer" and "Huckleberry Finn".
The inside has been transformed to appear as it was in the 19th century. With antique furniture and household pieces. But the tour doesn't just stop at his home. There is also a Mark Twain Cave, or take a riverboat ride along the parts of the Mississippi River referenced in many of his books.
You will love visiting Hannibal for its charm, and to see what inspired Mr. Twain to become one of America's most beloved writers.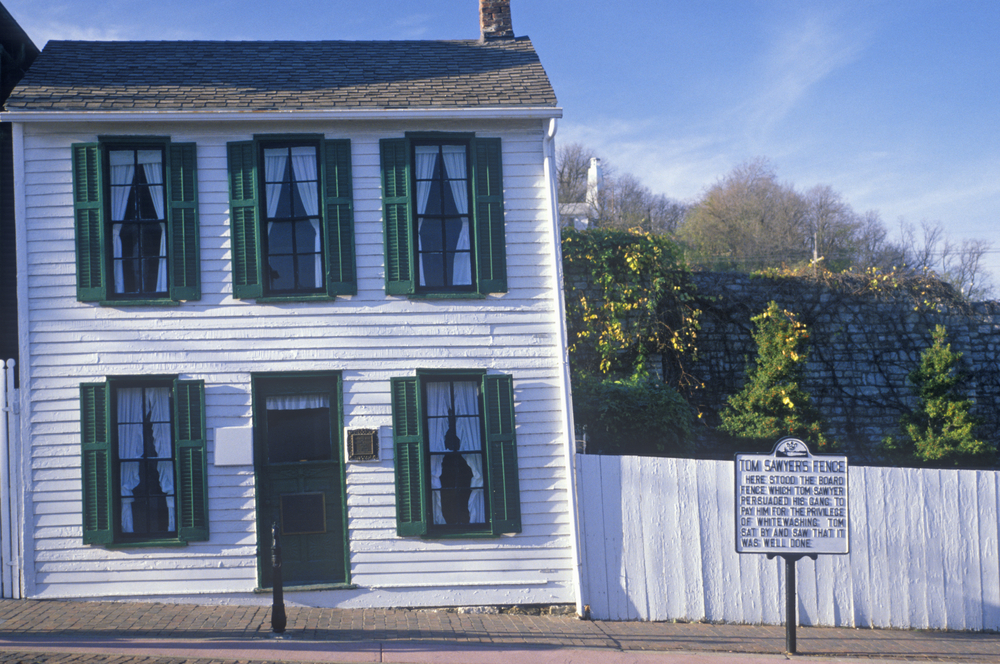 Arkansas might be often overlooked compared to many Southern states, but it shouldn't be! There are so, so many fun things to do in Arkansas, and it makes a great weekend getaway for anyone in the Midwest who does not want to drive too far. From natural wonders to cool and lively cities, Arkansas has something for every type of traveler. There are so many tourist attractions in Arkansas to fill your time.