If you are looking for your next adventure, try glamping in Virginia. Glamping is a fun spin on typical tent camping. You still get to enjoy the best things about camping, but with a little bit of spice added in. Glamping in Virginia has been around for years now, with plenty of locations to choose from.
Virginia is a beautiful southern state with a climate that is perfect for glamping. If you are in search of inspiration for your next Virginia getaway, there are many Virginia State Parks that are a lovely place to start. Try glamping near Charlottesville, Virginia Beach, or in western Virginia, this list has it all. Get ready to see the best places for glamping, also known to some as luxury camping in Virginia.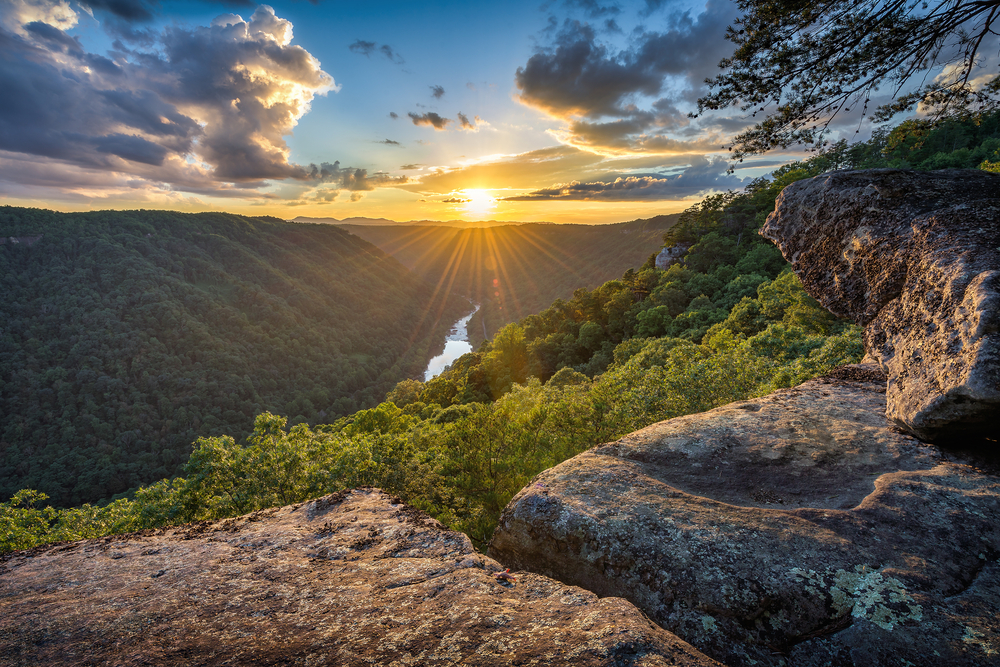 15 Coolest Places for Glamping in Virginia
A Warm and Cozy 50′ Houseboat
Try out glamping in A Warm and Cozy 50′ Houseboat. This cozy boat is located on the Richmond Yacht Basin in Richmond, Va. There is so much to do while staying on this Houseboat. You can enjoy fishing from the porch and catch some fish to eat for lunch. If that's not your style walk to the nearby restaurant Lily Pad Cafe and have a seat on the porch for a beautiful river view.
This bright blue houseboat can sleep up to 4 people and has a full kitchen on board. There are nearby walking trails, museums and Richmond has amazing nightlife. You won't have to unplug on your glamping trip in Virginia, this houseboat comes with full internet, a washer and dryer, air conditioning, and a cozy fireplace. This is a perfect choice for some luxury camping in Virginia.
Check rates here: vrbo.com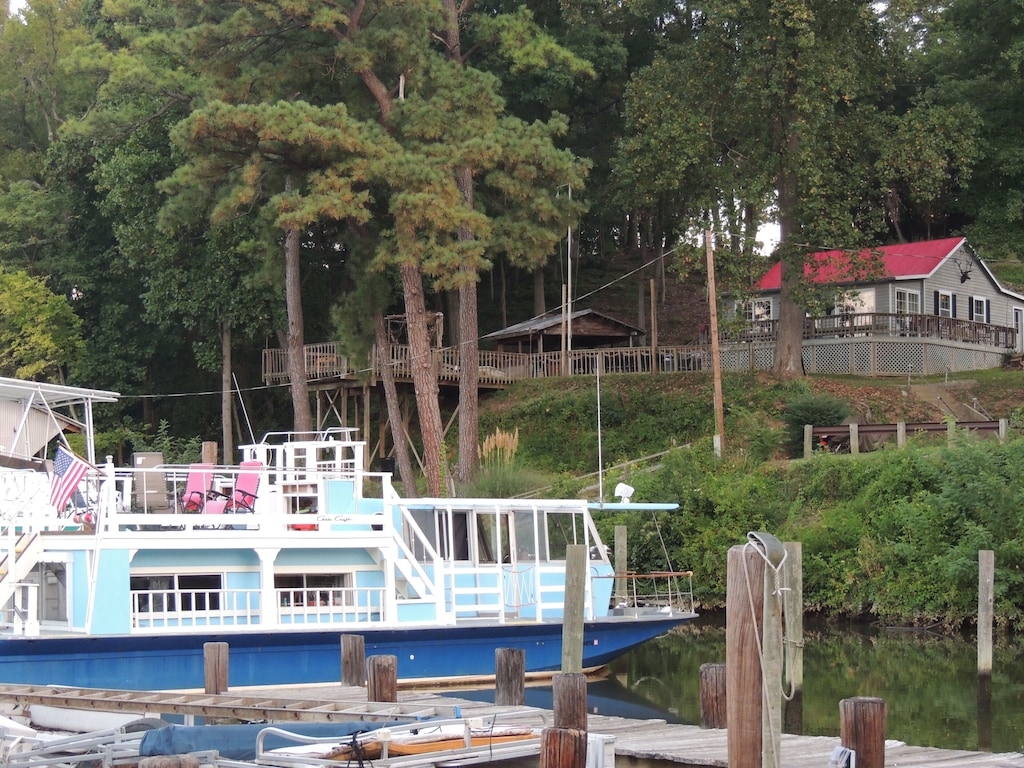 Hobbit House
This adorable Hobbit House is for all the Lord of the Ring fans, it is appropriately named The Shire. It sleeps up to four guests and pets are welcome to join. The Hobbit House is in the Shenandoah Valley is close to hiking and biking trails. If that's not your style the Shenandoah National Park is just a close drive away. This is also one of the best Romantic Getaways In Virginia!
This Shire is no ordinary shire, it offers so many amenities you will forget you are supposed to be camping. It comes with a SiriusXM radio, and with a grill outside ready for those long summer nights. Cozy up in front of the wood-burning fireplace, for a weekend of romantic glamping in Virginia.
Check rates here: vrbo.com
Elegant Yurt Camping In Virginia
This Elegant Yurt has everything you need to enjoy yurt camping in Virginia. The interior has been decorated to match the glamping vibe, with farmhouse touches throughout. Enjoy the views of the Buffalo Mountain range while sitting in the fresh air on the back deck. There is a washer and dryer plus a full-size kitchen with all the accessories to enjoy cooking for yourself.
Spend your glamping trip with a hike on the nearby trails, or hop in the hot tub for a soak. Up to 4 people can stay in the yurt, plus there is a queen size bed up in the cutest loft. You won't have to unplug here, there is wifi included. There are local wineries, hiking trails, and restaurants in the area. This is one of the cutest yurts in Virginia, you would love it.
Check rates here: vrbo.com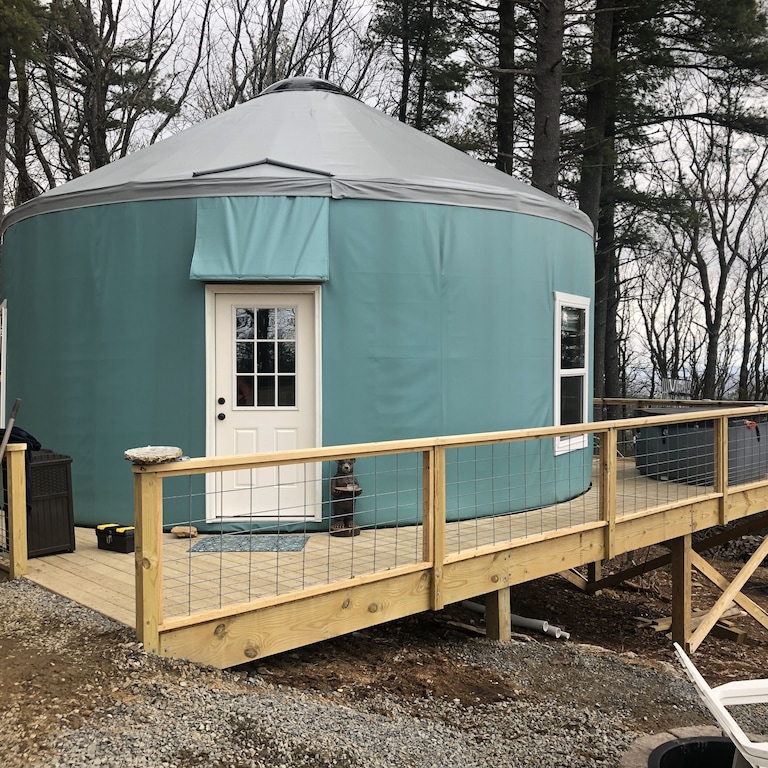 Charming Glamping Experience
Try this Charming Glamping Experience for your next vacation. This is the perfect weekend getaway for couples to enjoy luxury camping in Virginia. There is a full kitchen and a charcoal grill with a picnic table out back to enjoy your meals out in the fresh air.
Disconnect in this charming cabin, they don't provide wifi for the full experience of being out in the woods. Get outside and enjoy the great outdoors and then come back to the warmth of your cabin. With heating and air conditioning, you will always be comfortable. Yurt camping in Virginia has never been so charming.
Check rates here: vrbo.com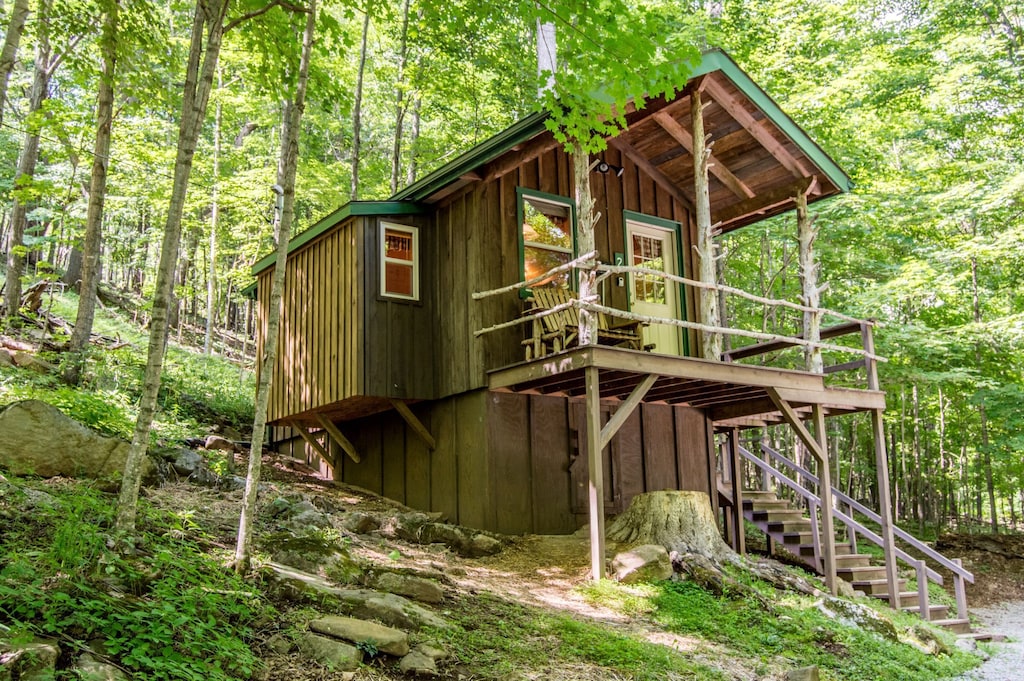 Yurt on the Blue Ridge Parkway with views
Stay at this Yurt on the Blue Ridge Parkway it is one of the coolest places for glamping in Virginia. This yurt has all you will ever need for your vacation. Enjoy the full kitchen, fireplace, internet, and a washer and dryer. The views on the deck from the hot tub are amazing and, it is sanitized after every guest.
You can enjoy zip-lining, rock climbing, a magical tree sanctuary, and is a short drive to the beautiful Chateau Morrisette Winery. If you decide to take a mountain hike in the Blue Ridge Mountains you will be rewarded with stunning views. With only one room this would be a wonderful place for romantic glamping in Virginia.
Check rates here: vrbo.com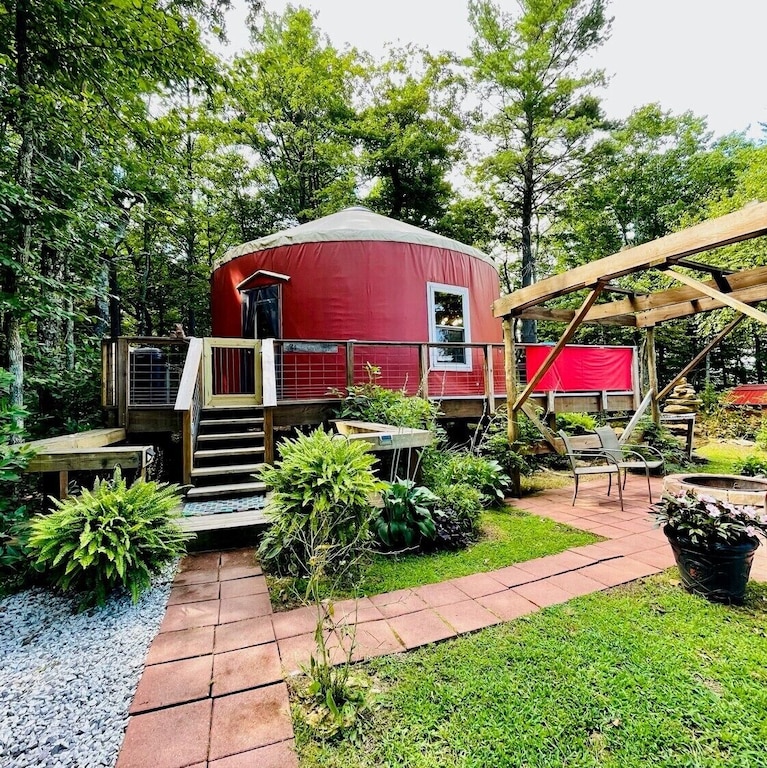 Waterfront Glamping at its Finest
This next yurt the, Waterfront Glamping at its Finest says it all. Located in Rock Tavern River Kamp you can book this yurt any time of the year. The George Washington forest is within walking distance of your yurt, enjoy fishing in the lake or go for a hike on the nearby trail, Kennedy's Peak.
Pets are welcome to stay in the yurt, as well as up to 4 people. You will be comfortable with air conditioning and heating for the ultimate luxury camping in Virginia experience. Explore the nearby town of Luray with the famous Luray Caverns.
Check rates at: Vrbo.com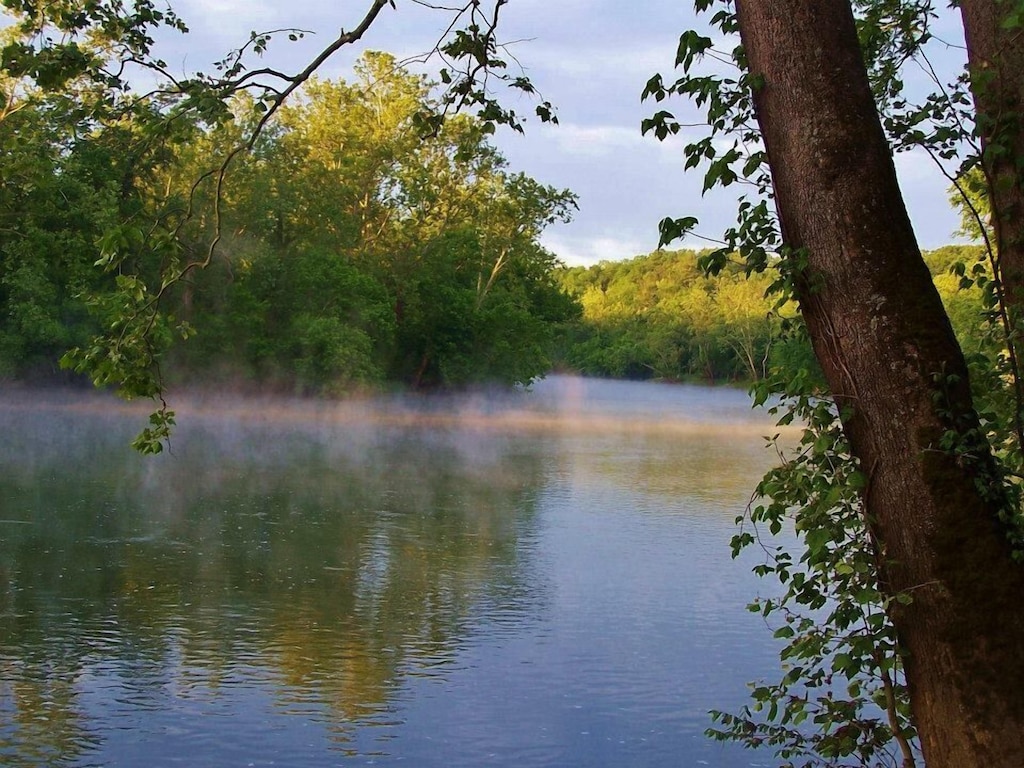 The Retreat at Sandbridge Beach
The Retreat at Sandbridge Beach is the cutest RV for glamping in Virginia. It is located right on the Back Bay waterfront. Sandbridge is a beautiful beach town in Northern Virginia Beach. Sandbridge is more like an island than just a beach. With one road in and one road, you will enjoy the slower beach lifestyle here. There is so much to do while glamping in near Virginia Beach.
While staying at The Retreat at Sandbridge you will have full access to the clubhouse with two outdoor pools, a boat ramp to release kayaks, plus tennis and basketball courts. There is plenty of hiking in the Back Bay National Wildlife Refuge and False Cape State Park, and don't forget about the beautiful Atlantic Ocean. You will have so much fun on your next Virginia glamping trip to Sandbridge Beach.
Check rates at: Vbro.com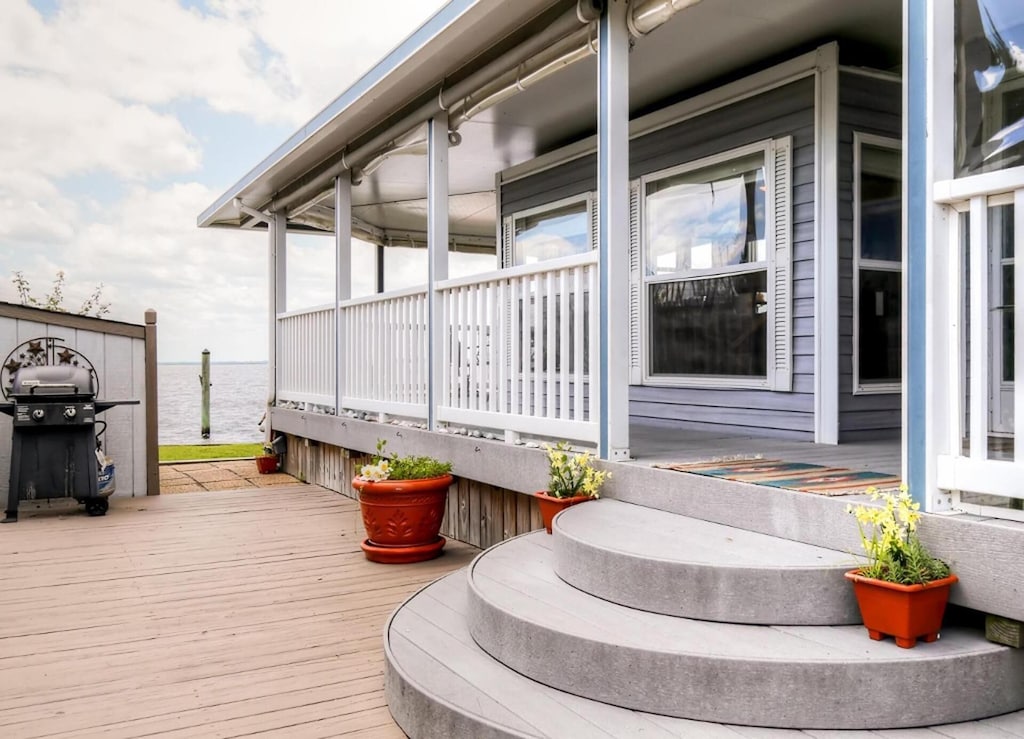 A Rustic-Chic Cabin Hideaway
A Rustic-Chic Cabin Hideaway is one of the best cabins for glamping in Virginia. A few miles from the Shenandoah National Park you will be able to enjoy beautiful views of the Blue Ridge Mountains from your backyard. Right off Skyline Drive, it is easy to get to and has plenty of entertainment nearby.
For a rustic-chic feel, the interior of the cabin is wooden throughout but don't worry there is a comfy king-size bed, full-size kitchen, and internet. Relax in the hot tub after your long day of hiking, and grill up something yummy for the true feel of luxury camping in Virginia.
Check rates here: Vrbo.com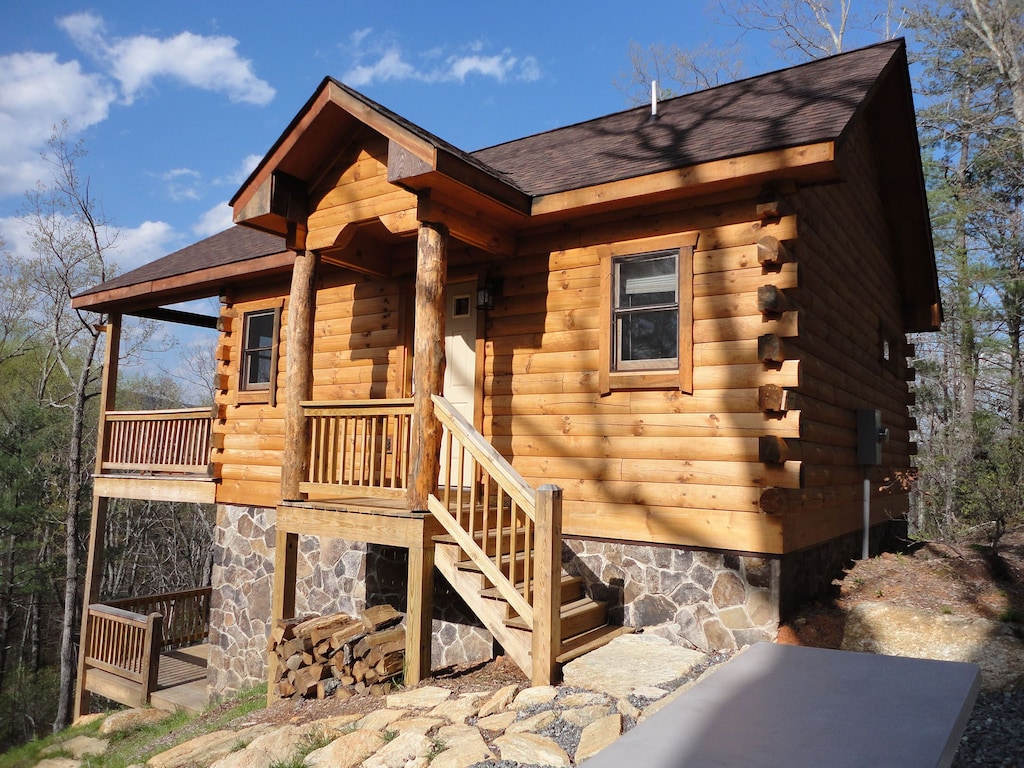 Private Retreat with Hot Tub
Check out this Private retreat with a hot tub for glamping near Charlottesville, Va. This adorable A-frame house is located near a creek in Fairy Stone State Park. Included in your stay is a pass to the nearby Virginia State Park where you can take advantage of the hiking trails, kayaking, or swimming in the lake.
Unplug on your weekend away and plugin in the record player. Or spend your time relaxing in the hammock on the screened-in porch. Enjoy cooking with the wood stove in the full kitchen or the charcoal grill outback. This private retreat is on 7 acres and would be a wonderful trip for glamping in Virginia.
Check rates here: Vrbo.com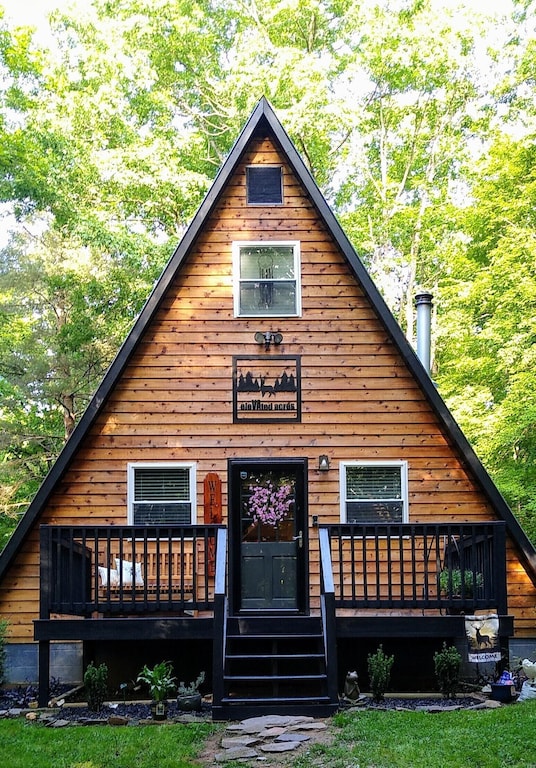 Tiny Escape with Dry Sauna and Mountain Views
For a unique experience of glamping in Virginia try the Tiny Escape. This super cute tiny house almost looks like a big wine barrel on wheels. They have thought of everything for your stay here with a dry sauna, bathroom, and full-size kitchen for cooking.
Perfect for couples there is only space for two in this tiny house, and children are not allowed. Take in the beautiful views of the mountains on the comfy porch swings in the summer. If you visit in the winter you can gaze out at the sunset through the beautiful skylight while on your next trip glamping in Virginia.
Check rates here: vrbo.com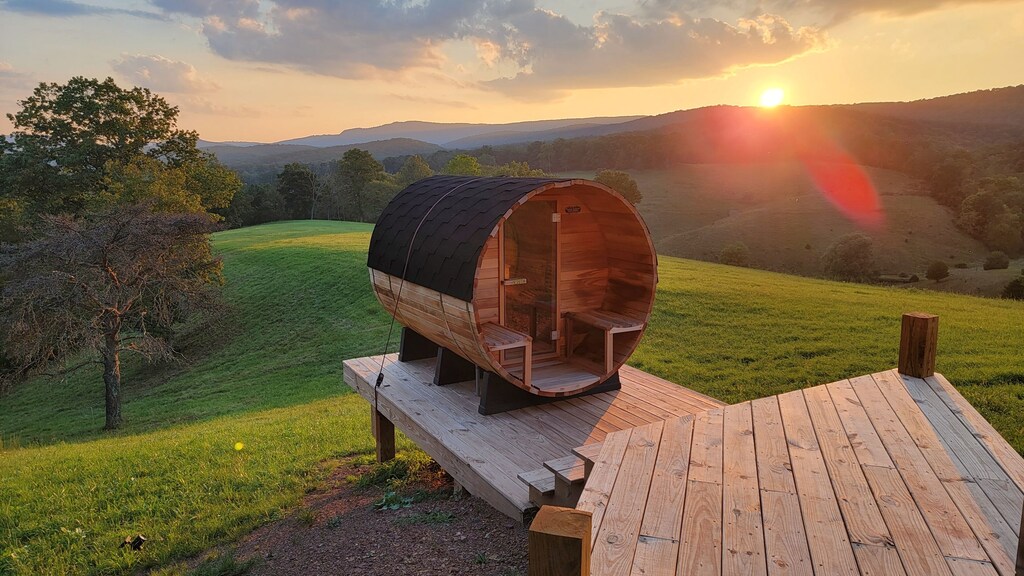 Mountain Retreat in Tiny Cabin
Mountain Retreat in Tiny Cabin is located in the mountains of Mount Jackson. While spending your vacation here you will be able to cook in the kitchen with a full stove and refrigerator or go grab lunch and a drink at one of the nearby wineries. Mount Jackson has many popular hiking trails that are beautiful any time of year.
Don't let the term glamping fool you, this is luxury camping in Virginia. This cabin has been recently redone with all the finest touches. There is a big comfy bed and a fire pit outside to enjoy those long summer nights with your friends or family.
Check rates here: Vrbo.com
Yurt at Stillhouse Farm
Yurt at Stillhouse Farm has to be one of the best yurts in Virginia. With room for up to 6 guests, you could bring your whole family glamping here. Located near farms you might see sheep, cattle, and chickens running around in the forest.
While on your private back deck you will be able to hear the nearby stream for such a relaxing vibe. There are two fire pits in the back yard a small one close to the yurt and one closer to the water for a bigger bonfire. There is internet here and a full kitchen for cooking meals.
Check rates here: Vrbo.com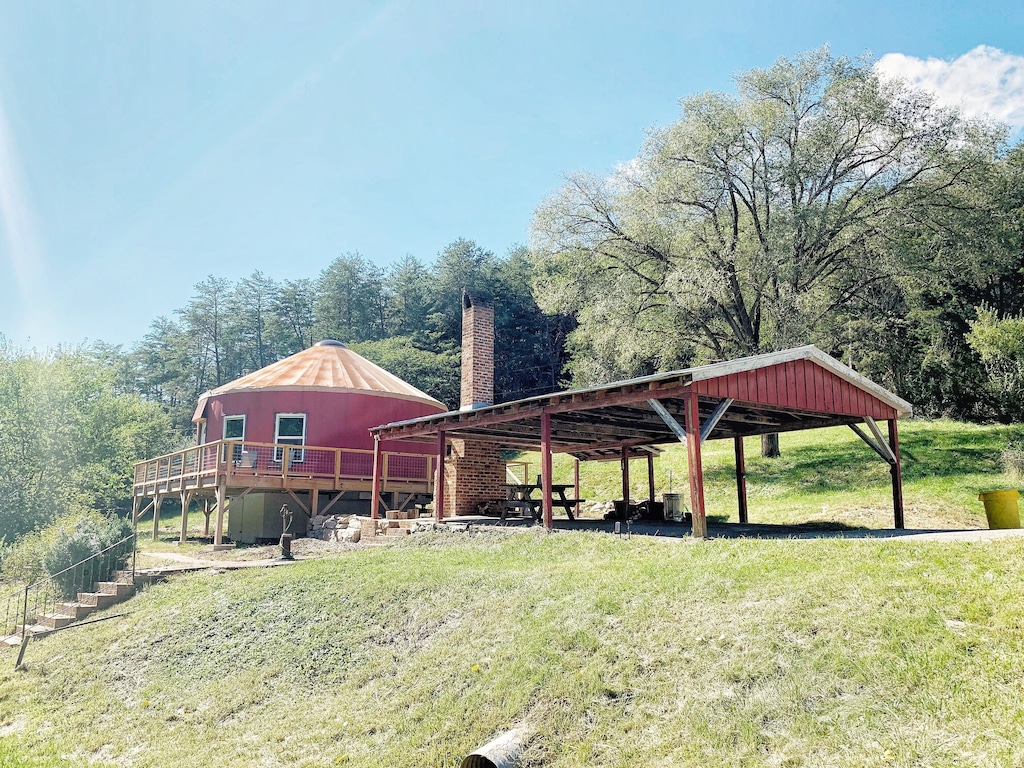 The Sounds of Nature
For luxury camping in Virginia try The Sounds of Nature cabin for your next trip. There is so much to do out in nature, you can go fly fishing for rainbow trout at the fly fishing stream under 3 miles away, or hike the Appalachian trails nearby. Try cozying up by the fireplace and enjoy the view from the beautiful windows. There is also a rock walk wall shower with two showerheads.
For a fun trip, day take the 30-minute drive to the Trail Grayson Highlands State Park and check out the famous Virginia wild ponies that live there. If you are visiting on a weekend there is a Saturday farmers market during the warmer seasons for all your fresh fruits and vegetables.
Check rates here: vrbo.com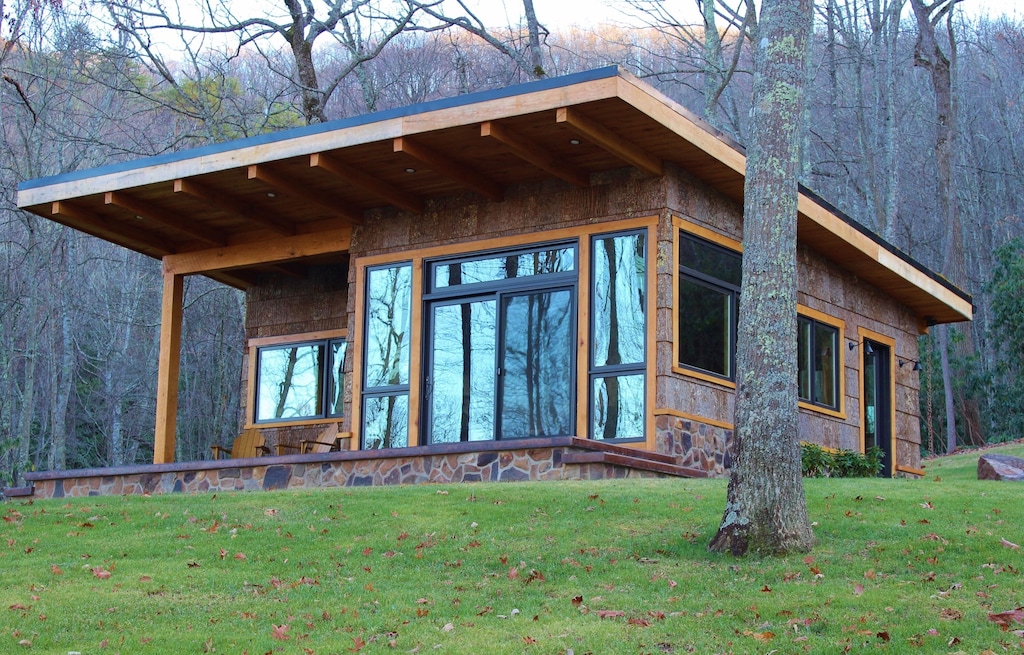 Skoolie Glamping with Wide Open Views
For a funning glamming in Virginia trip try the Skoolie Glamping with Wide Open Views. An old converted school bus is such a fun way to explore the outdoors. For rooms up to 6 people you can bring the whole family on a glamping trip they will never forget. Located in Nelson county, you will be on a private 3-acre lot for genuine camping feel with all the luxuries of home.
There is a full electric set up with hot water, a bathroom and a kitchen big enough to prepare all your meals. You can even sleep peacefully in any season with the air conditioner and heater system. But the real magic of this bus is the outside views. Enjoy them with the picnic table and fire pit out front. They left nothing out during the rebuild of the 30-foot old bluebird bus.
Check rates here: vrbo.com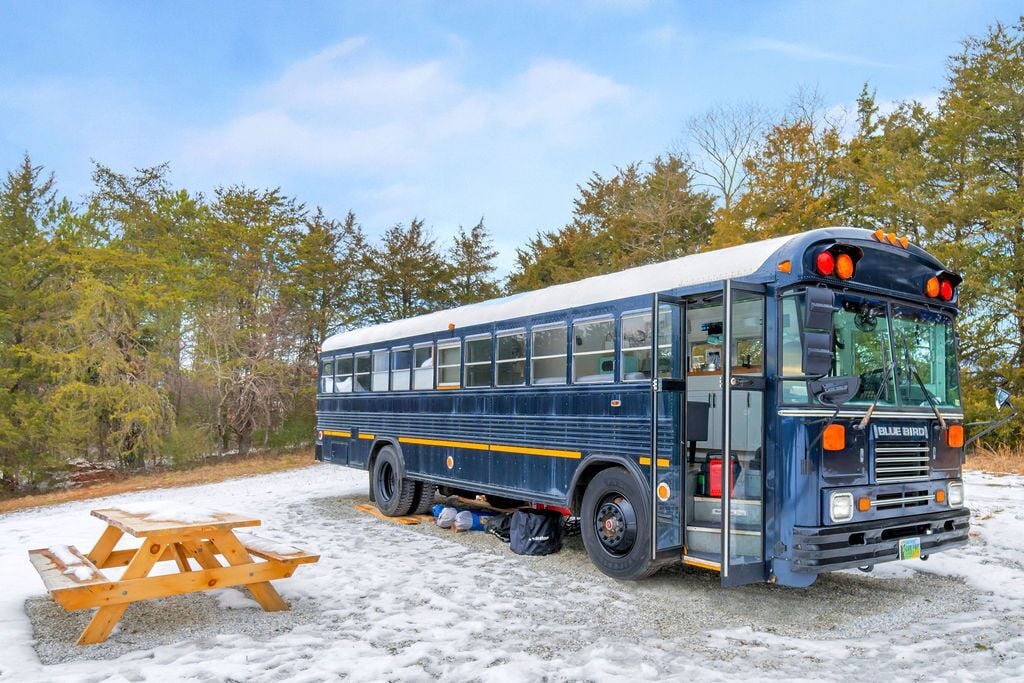 Renovated Octagonal Barn
Try glamping in Virginia at this retro Renovated Octagonal Barn. Located a short walk from Main St. in Warrenton, Virginia this barn has everything you need for a perfect vacation. With a full kitchen and bathroom, you can enjoy the great outdoors with the luxury of indoor plumbing.
Have a bonfire in the backyard with the fire pit and chairs for relaxing. There is room for up to 6 guests in the octagonal barn, and they do allow for parties and events if you fall in love with the space and want to host a party.
Check rates here: Vbro.com