If you are ready to explore some of the best beaches in Alabama, we've got you covered! Alabama has a lot to offer visitors. From space history and country music to peanuts and natural beauty, the Cotton State is an exciting place full of good food, history, and intriguing locations. The beautiful beaches in the state are just the cherry on top.

When it comes time to find a beach to visit, you have a lot of options. You can find beaches that are handicap accessible, beaches with shining white sand, lake beaches, and more. Whether you need a beach that is great for a family, an easily accessible beach, or anything in between, you can find it in Alabama!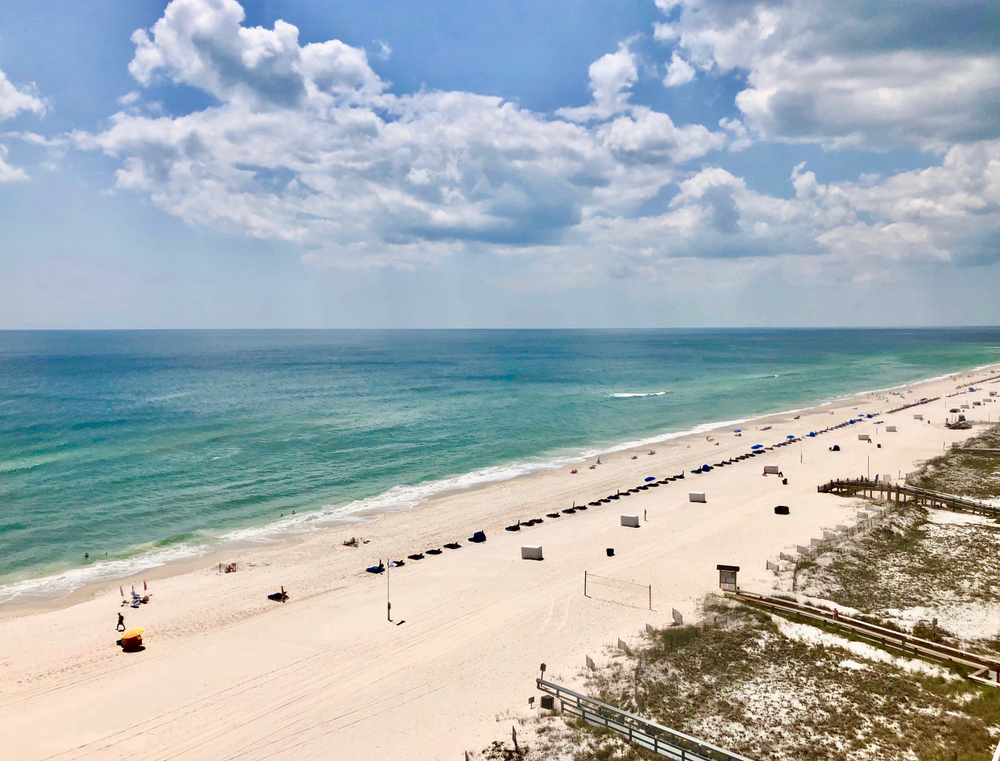 14 Best Beaches In Alabama You Must Visit
Lagoon Pass Beach
When looking for good beaches in Alabama, be sure to check out Lagoon Pass Beach. This beach in Gulf Shores is located on West Beach Boulevard. The pass is a shallow waterway that connects Little Lagoon to the Gulf of Mexico. It's located around three miles from Highway 59 and offers a unique beach experience for you when you are in the area.

You will need to pay a small fee to use this beach which gives you a parking spot and access to the beach, restrooms, and showers. For those who prefer shallow or calmer water and for those traveling with kids, you will love Lagoon Pass Beach. The calm and shallow waters are perfect for kids to wade in and to practice skimboarding.
Dauphin Island East End Public Beach
When looking for pretty beaches in Alabama, you won't want to overlook the Dauphin Island Public Beach. This beach is along the Gulf Coast, and like most Gulf Coast beaches, it has sparkling white sand. This beautiful location in Alabama is one of the most stunning areas of the state. If you are busy forming your Alabama bucket list, make sure to add Dauphin Island Public Beach!

You will find the beach on the eastern part of the island next to Historic Fort Gaines. The main differences between East End Beach and West End Beach are that East End Beach is free and has fewer amenities. What this means is that East End Beach is almost never crowded. If you need a beautiful beach where you have space to truly relax, this beach is for. There is a nearby cafe, aquarium, and bird sanctuary as well.
Make sure to check out our list of the best cities and small towns in Alabama for inspiration on where to visit next!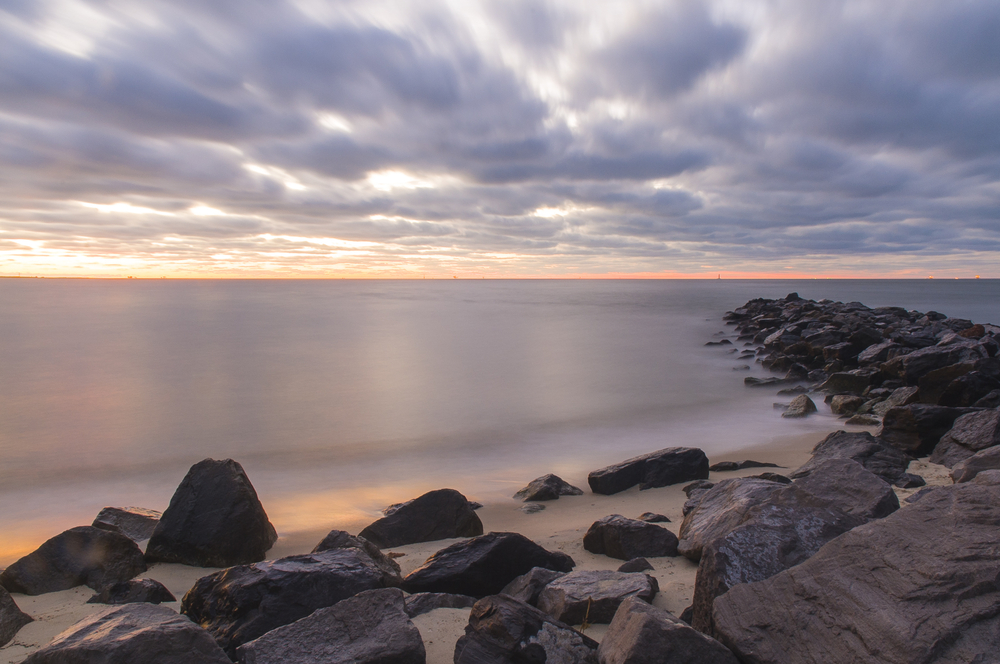 Lake Martin Beach
Lake Martin Beach is among the best beaches of Alabama. Located in Tallapoosa County, Lake Martin is a popular location during the summer months. One of the best things about Lake Martin is that water skiing, paddle boarding, and swimming are all easier when compared to the ocean. If you want to enjoy the water without crashing waves, Lake Martin is perfect for this.

For those traveling with friends or family, Lake Martin's white sandy beaches are the perfect locale. You can play cornhole, have a picnic, relax in a hammock, lounge around in a float on the water, rent a boat, and more during your visit to the lake. Sometimes stepping off of the beaten path is just what you need to make your trip a memorable one. If you have only been looking for beaches along the coast, you may be surprised to find that some of the most amazing beaches in Alabama are located further inland.
Gulf Shores Main Public Beach
The Main Public Beach in Gulf Shores is one of the best ocean beaches in Alabama! (This beach is also referred to as Gulf Place Beach.) It features many things to do, including beach bars, various eateries, pavilions, beach volleyball, watersports, picnic areas, and of course, stunning sandy beaches. If you are traveling on Highway 59, it will dead-end at this Main Beach area.

For those who enjoy being active, this is the beach for you. With the beach volleyball courts and watersports opportunities, it doesn't get much better than the Main Public Beach. There is a small fee for visiting this beach. The fee covers all-day parking that is close to the sand. You'll also have access to restrooms and showers on site. If you are planning on spending the day on the beach, you will be happy to know that there are plenty of picnic areas on the beach. (It's also handicap accessible!)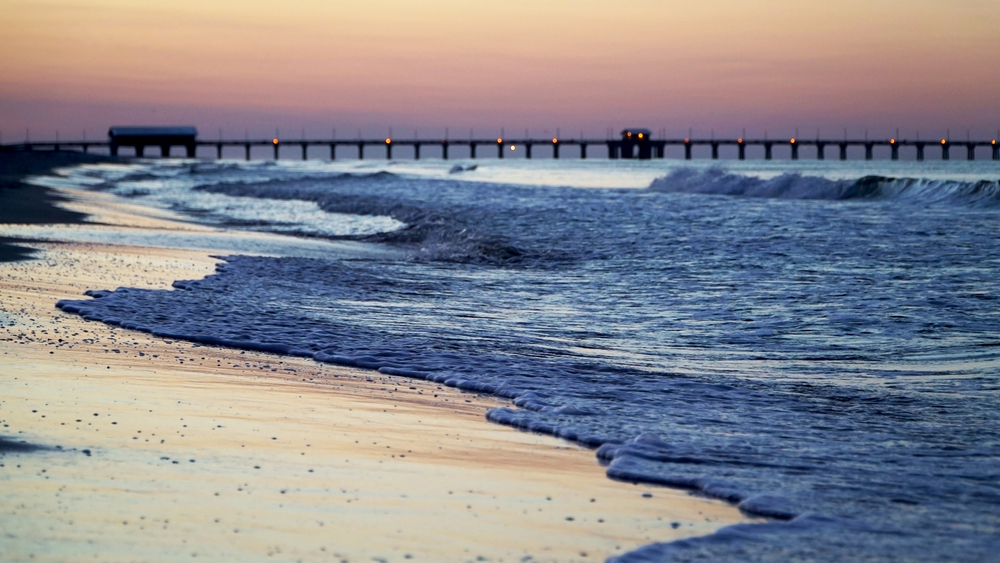 Romar Beach
Romar Beach is among the best white sand beaches in Alabama. Located in Orange Beach, you can find Romar at Perdido Beach Boulevard, around seven miles from Highway 59. Romar Beach is the perfect beach for a walk along the water's edge, a picnic, shelling, or sitting to enjoy the crashing waves.

This beach is expansive and has super soft white sand. A set of stairs will take you down to the sand, where you will be greeted with stunning bluish-green water. When you visit Romar Beach, you will be nearby Shelby Lakes, Hugh S. Branyon Backcountry Trail, the Gulf State Park Pier, and the fun Adventure Island theme park.
Fort Morgan Beach
When looking for Alabama beach vacations, you may want to find a beach that is a bit of a secret. Fort Morgan Beach is not as popular as other destinations in the state, but don't let this fool you; it isn't lacking in any of the amenities that you have grown to expect from beaches in Alabama.

You can find many luxurious vacation rentals along Fort Morgan Beach. You'll also find fun for any type of traveler. Whether you are looking for deep-sea fishing opportunities, pet-friendly things to do, golf, a variety of dining opportunities, umbrella rentals, or dolphin and sea turtle viewing, you can find it all around Fort Morgan Beach.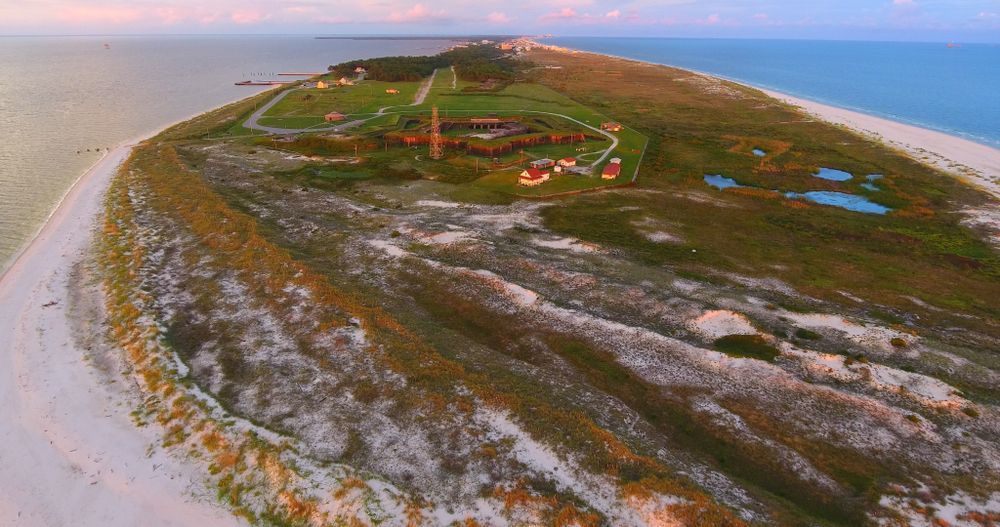 Gulf State Park Pavillion Beach
Gulf State Park is one of the best state parks in Alabama, and it's home to beautiful Alabama beaches. The Pavillion Beach is all-natural and typically uncrowded. There is tons of space to spread out, making it perfect for families, large groups, or anyone who is looking to avoid crowds. Just six miles from Highway 59, you will find this picturesque beach among the sea oats and sand dunes.

You will find that this beach is very popular among surf fishers. If you want to try your hand at surf fishing, this is the perfect place to try it. As the name suggests, there is a pavilion on site. The newly built pavilion has air-conditioned bathrooms, private showers, shady spots to relax or picnic, a huge fireplace for chill days, and of course, amazing views.
Cotton Bayou Beach
Without a doubt, Orange Beach is one of the best Alabama beach towns, and it's home to one of the best beaches in Alabama, Cotton Bayou Beach. It is a small beach that you can find at the intersection of Highway 161 and Highway 182. Sitting in front of a row of condos, this little beach is equipped with restrooms and outdoor showers. However, keep in mind that this is a no-dog beach. For dog-friendly beaches, try Dauphin Island Beach, Fort Morgan Historical Site Bayside Beach, River Sandbar Park, or May Day Park.

If you have been wanting to try your hand at sea fishing, you can try fly fishing or rod and reel fishing at Cotton Bayou. You're able to find gulf flounder, spotted sea trout, king mackerel, red drum, redfish, and flounder in the area. The best times of day to fish at Cotton Bayou are between 1 am and 7 pm. To top it off, this is a free public beach that has nearby trails and stores for your convenience.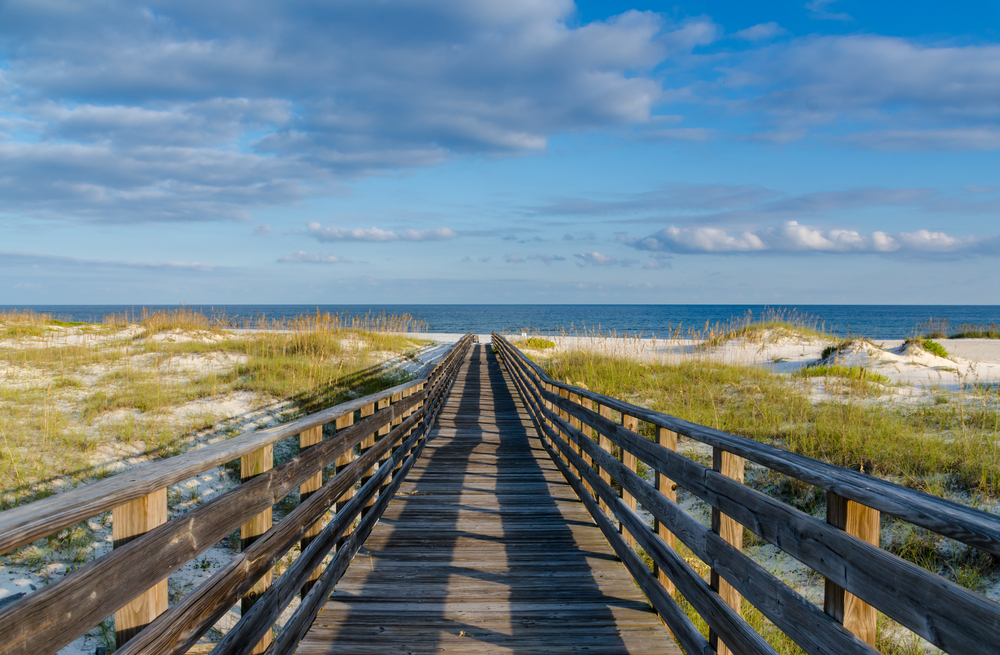 Pinywood Island
Pineywood Island is home to some of the best Alabama beaches. This island is located in Lake Martin in Tallapoosa County. The only way to reach the island is via watercraft. Renting a pontoon or paddling out to the island is a super fun activity to participate in when you are in Alabama. This little island is home to one of the most pristine beaches in Alabama.

Once you reach the island, you can set up some chairs, hang in a hammock, swim, play outside games like corn hole, have a picnic, and more. If you plan on spending the whole day on the island to enjoy the beach, consider bringing a grill and portable table so that you can grill out for lunch and dinner. There is nothing better than cooking out and lounging on the sand all day on Pineywood Island Beach.
Robinson Island Beach
Another dreamy island, Robinson Island, has one of the best gulf coast beaches in Alabama. This little island is very popular among boaters in the area. Like Bird Island, Robins Island's neighbor, it protects the local flora and fauna. These two islands are actually considered a single park that acts as a sanctuary.

To visit Robinson Island Beach, you should keep in mind that glass is not allowed, no pets are allowed, and it's important that you bring trash bags to clean up after yourself while on the island. Once you reach the island, you can enjoy a piece of stunning white sand that most people who visit the area will never get to experience. It's also important to note that you shouldn't try to access the interior parts of the island as these are protected shorebird nesting sites.
Florida Point Beach
This simply stunning beach is one of the best Alabama gulf coast beaches. If you love Florida panhandle beaches, you will love Florida Point Beach. The pure white sandy beach spread across a mile-long peninsula in the Gulf State Park. This beach is actually one of the least visited beaches in the area, which is super surprising considering its beauty. For those looking to step away from the crowds, consider visiting Florida Point.

Florida Point Beach is one of the best Gulf Coast Beaches that you simply can't miss. You will love that there is free parking and that you will have easy access to other beaches neighboring this one. Keep in mind that you will want to arrive fairly early because visitors to the nearby beaches may take up all the parking spots for Florida Point. The water here is a bit calmer than other beaches in the area, and you will have views of the main strip from the sand.
North Beach Park
When you think about the best beaches in Alabama, your mind probably runs towards Orange Beach or Gulf Shores. Let's shake things up a bit by taking a look at North Beach Park. This seriously underrated beach is located in Fairhope, Alabama. You can watch seabird, let your little one play with the sand diggers on the beach, use the exercise equipment on the beach, walk the boardwalks, or picnic under the shady pavilion while you are there. Of course, you can enjoy all of the typical beach activities like swimming and sunbathing as well.

The park itself has a paved walking trail, views of Mobile Bay, a duck pond, and a pier. If you are the type of traveler that likes to stay active on your journeys, the Beach Park Tree Trail is a great way to do so. On the trail, you can see nearly five hundred different species of trees. The park is dog-friendly (as long as they are leashed), is popular with photographers because of the stunning backdrop, and is perfect for kids, thanks to the playground equipment on site.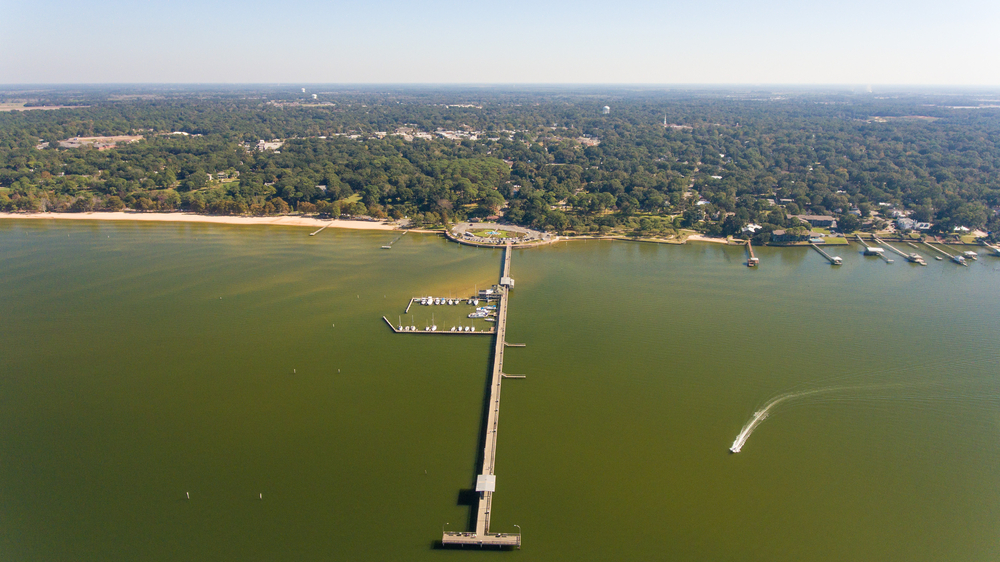 Double Oak Lake Beach
When it comes to lake beaches in Alabama, Double Oak Lake Beach is one of the best. For family travelers in need of calm water and quiet relaxation, Double Oak Beach is the place to be. The beach has restrooms, and a part of the water is separated with buoys to show the safe areas to swim.

This lake beach is located in Oak Mountain State Park and gives you the perfect jumping-off point for many other fun activities. You can participate in kayaking, fishing, paddle boating, volleyball, picnicking, and more while you are in the state park. This beach has become quite popular over the years, especially among families, so if you are visiting in peak season, you will want to arrive early to grab a preferable parking spot and spot on the beach.
Alabama Point East
Orange Beach is one of many cute beach towns in the American South and is home to many amazing beaches in Alabama, like Alabama Point East. When exploring the Alabama coastline, Alabama Point East is something that you won't want to miss. Located just .3 miles from the Perdido Pass Bridge, Alabama Point East has more than 6,000 feet of expansive, sandy beach. Not to mention sand dunes, picnic areas, outdoor showers, boardwalks, and restrooms as well.

The white sand of Alabama Point East Beach is out of this world, making it one of the best beaches in the state. It may be more convenient to visit one of the most popular beaches, but the wide stretches of white sand, a long boardwalk, and the natural beauty of Alabama Point East Beach make it well worth a visit over many of the other popular beaches in the area.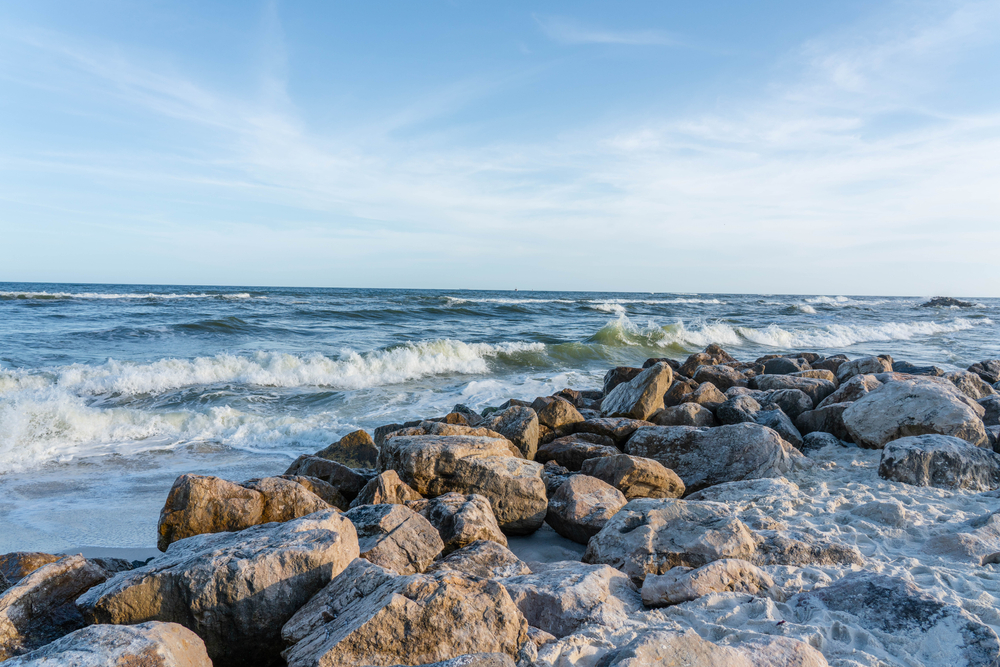 Alabama is a state of breathtaking natural beauty, and visiting one of the state's many beaches is the perfect way to experience this beauty for yourself. If you are planning a trip to one of the beaches in Alabama, you have your work cut out for you when it comes to deciding which one to choose. If you get the opportunity, you may even want to visit a couple of them! No matter if you are looking for a lake getaway, an uncrowded adventure, or a journey that includes all of the creature comforts, you can find what you are looking for in Alabama.

So, which of these beaches will you be visiting first?