So you're looking for some haunted places in Georgia? Well, look no further, we have got you covered! The Peach State may be known for its southern charm and for it's cute small towns, but there are no ends of ghost stories in Georgia that are sure to give you the creeps!
Georgia may be known for its stunning natural scenery, but we can't ignore the dark past that Georgia has. It was the headquarters of the Confederate Army and the place where many bloody battles took place such as the burning of Atlanta. For a state with such a tumultuous past, it comes as no surprise that it is said that many spirits still haunt it.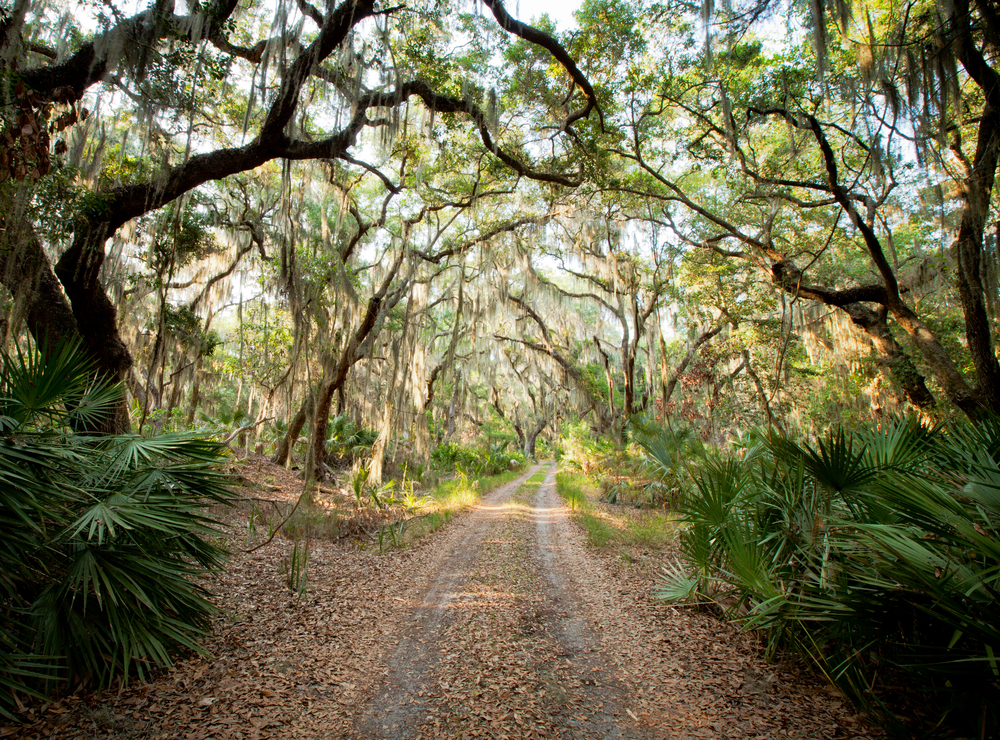 The Olde Pink House, Savannah
With it's gorgeous pink exterior, you wouldn't think that The Olde Pink House would actually be one of the most haunted places in Georgia! You definitely should not be deceived by appearances when it comes to haunted places.
The old colonial mansion is located in Savannah's Historic District, one of the most beautiful places in Georgia in our opinion! It's a very popular restaurant that is known for it's great food, but it has also made a name for itself in the paranormal world, as it is believed to be haunted by its original owner, James Habersham Jr. who completed the build of it in 1789, who would die only ten years later due to suspicious circumstances.
There's a lot of question marks around his death. Whilst his death certificate simply states his cause of death was 'declining health', many believe it was actually a cover up for a suicide in the basement after he discovered his wife was cheating on him. However, there is no historical evidence to back up this theory.
Mr Habersham Jr. was known for his typical souther hospitality, and this trait is said to have followed him into the afterlife. He has often been seen in Colonial clothing in the tavern, drinking ale and people watching. When the place became a restaurant, its said that he would straighten tables and put chairs back into their place. He is also thought to be the one lighting the candles on the tables, as employees have said that they would leave the restaurant area for a second, only to return seconds later to see that all of the candles on the tables have been lit, even when there is nobody else there at the time.
If you're hoping to get a glimpse of the ghost of James Habersham Jr. it is best to visit during the months of October and March as he likes to avoid the Savannah summer heat – who would've thought!?
There are several other spirits known to haunt The Olde Pink house, including a crying woman on the second floor, a friendly war veteran, former house servants, and, sadly, ghosts of children who are thought to be slaves have often been sighted playing in the tavern, which used to be the basement.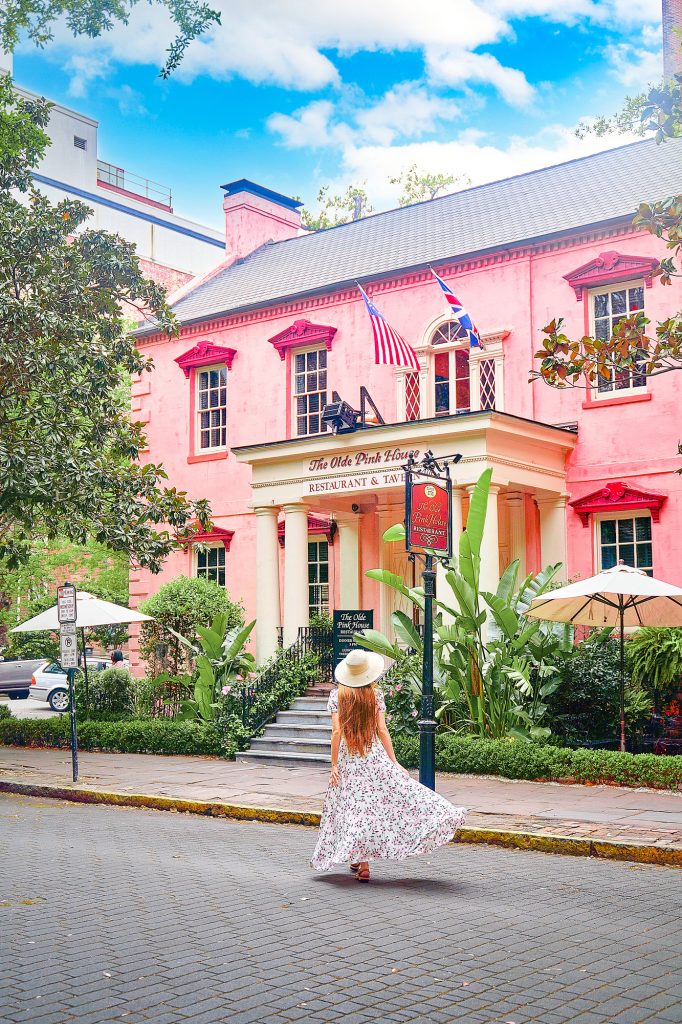 Oakland Cemetery, Atlanta
It probably comes as no surprise that a cemetery has become known as one of the most haunted places in Georgia.
Situated in Atlanta, Oakland Cemetery was constructed in 1850. As well as being the final resting place of celebrities such as Margaret Mitchell and Bobby Jones, there are also almost 3000 confederate soldiers buried at this cemetery. Spanning across 40 acres, there are around 70,000 people total buried here.
Apparitions are known to appear at night, walking up and down the graves. Some even in Confederate Army Uniform. But the most well known supernatural occurance here has become known as 'the roll call of the dead'. This happens at night where disembodied voices calling names in a military-like fashion are heard, sometimes you can also hear the responses!
This haunted place in Georgia definitely isn't for the faint of heart!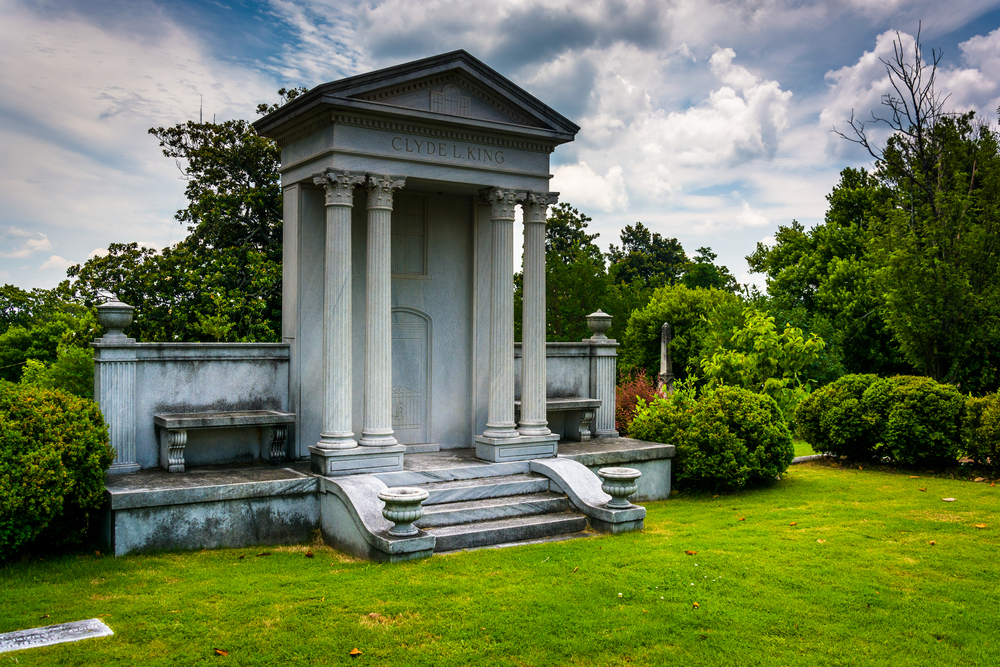 The Ellis Hotel, Atlanta
The Ellis Hotel was originally opened as the Winecoff Hotel in 1913 and has since become known as one of the most haunted hotels in Georgia. At the time, the 15 story building towered over all of the other hotels and was built out of brick and stone and was dubbed 'fireproof'. Sadly, this would not be the case as a fire that started on the third floor in 1946 would tragically take the lives of 119 people. Many believed the number would not be this high if the building had sprinklers and fire exits. It became known as the 'Titanic of Hotel Fires'.
Today, many of the staff of The Ellis Hotel have reported huge amounts of strange and paranormal activity. The elevator is known to have a mind of its own and take guests to the wrong floors even though there is no mechanical explanation for this. There have been cases of footsteps, objects moving, disembodied screams and voices, and there have even been cases of guests seeing reflections of people screaming in the windows.
What is perhaps the most disturbing though, is that the smoke alarm will mysteriously go off by itself in unoccupied rooms at 2:48 am, the exact time the fire started!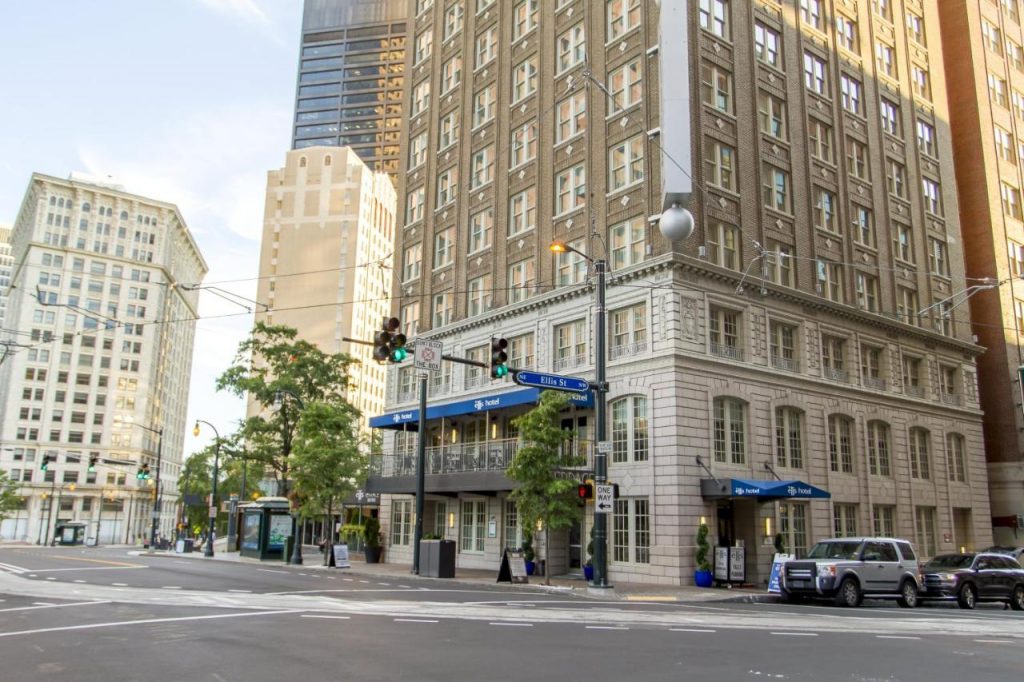 Old Candler Hospital, Savannah
The Old Candler Hospital was the first opened in 1804 and was the first hospital to open in Savannah and the second oldest hospital to be continuously operating in the nation. Over the years, it has become known as one of the most haunted places in Georgia, a true paranormal hotspot.
The hospital is now in ruins, but it saw Georgia through one of the worst epidemics that America has ever seen; the Yellow Fever epidemic. There were so many deaths that morgue tunnels had to be built to transport the dead bodies underground. They would be left there during the day and transported at night to be buried at Forsyth Park. This tunnel is thought to be one of the most haunted parts of the hospital, with many people hearing voices, footsteps, and some people have also been touched.
Another paranormal tale is that of the Candler Oak Tree, which has become known as 'The Hanging Tree'. It's a 330-year-old tree and has many stories of people seeing ghostly bodies hanging from the tree at night.
You can book a ghost tour to see Old Candler Hospital – you can check out our blog post for all of the options!
Hay House, Macon
This 1800-square-foot colonial mansion was declared a National Historic Landmark in 1947 and is one of the best examples of colonial houses in the state. It also made a name for itself for being one of the most haunted places in Georgia too!
Hay House has only ever housed two families in its entire existence, which is certainly an accomplishment considered the house was finally built in 1859. Today, the house is open to the public for tours, they even do ghost tours on the first friday of every month.
It's said that the third floor is the most active place in the house. A lot goes on in this house! Many guests and caretakers have reported seeing an apparition of an elderly woman in the hallways and hearing really strange sounds throughout the house. The sounds cannot be determined where they came from. Chandeliers have also been known to swing violently on the ceiling, doors open and close on their own, and lights often appear they have a mind of their own… Hay House certainly seems to live up to its name as one of the most haunted places in Georgia!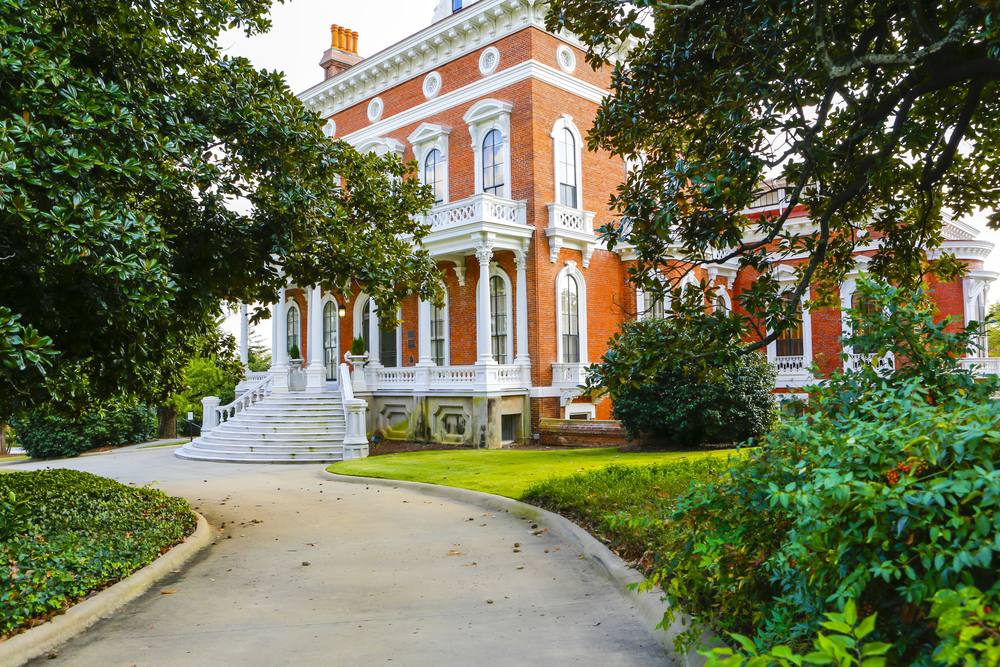 The 17Hundred90 Inn & Tavern, Savannah
This charming inn is located on East President Street and is actually the oldest hotel in Savannah. For that reason, it is incredibly popular amongst tourists, history buffs, and paranormal experts alike.
The ghost that is thought to haunt the 17Hundred90 is one of the most well-known ghosts in Georgia, Anne Powell. Anne was a young girl who fell to her death in room 204. Although there are many different accounts of her death, a couple of things remain the same; that she was 17 and pregnant. Some say from a sailor, some say a lost love, but Anne is known to be an active presence in room 204 and the top floor of the inn.
Many, many guests have had different run-ins with Anne over the years, and it has become abundantly clear that she likes to mess with those who stay in the inn. Guests have reported having their stuff moved from the room, only for it to be found outside in the courtyard, people have heard voices and crying, and have even woken up to a ghostly apparition appearing over them, only for her to jump out the window – seriously creepy!
If you're brave enough to stay in room 204, be prepared to sign a waiver as some guests haven't even made it through the night as they felt their bedsheets being tugged!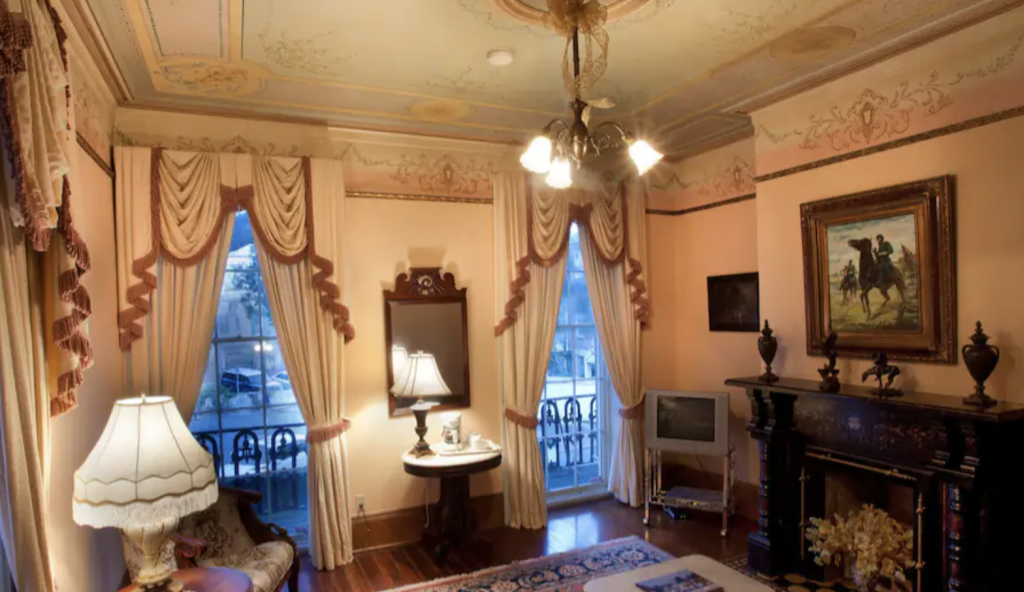 Heritage Hall, Madison
Heritage Hall has become a popular destination amongst ghost hunters as it is known as being one of the most haunted places in Georgia.
The Greek Revival home was built in 1811 and is located in downtown Madison. It has been open to the public daily since 1977 and remains one of Madison's most visited attractions. And who can blame them? The building is absolutely beautiful, even with a pretty creepy reputation!
It is thought that the ghost who haunts Heritage Hall is that of Virginia Nisbet, a woman who died in the master bedroom in 1851 while giving birth.
The master bedroom has subsequently become known as 'The Ghost Room' and there is so much activity that goes on in it that many people have refused to enter it! Guests have heard a female voice speaking to them only to find nobody there, there have been reports of people seeing an apparition of a woman lying on the bed, and sounds of a baby crying. It's as heartbreaking as it is scary!
The Marshall House Hotel
With this Hotel's history, it comes as no surprise that The Marshall House Hotel has become known as a haunted hotel in Georgia.
Mary Marshall built the house in 1851 with the intention of it becoming a hotel. It would later be used during the civil war as a temporary hospital, and then again during the yellow fever epidemic. As you can imagine, a lot of residual energy remains and a lot of death was seen in these walls. Human remains were even found in the 1990s during renovations, and the place became a crime scene, but it was later believed that these bones were from the amputated limbs of civil war soldiers.
There have been countless reports of paranormal activity at The Marshall House Hotel, particularly on the second and fourth floors. Faucets have been known to turn on and off by themselves, disembodied voices echo through the halls, loud, crashing noises in the middle of the night, and doorknobs that look like they are trying to be opened from the outside – no thanks!
Many guests have also reported smelling the same foul smell on different floors; the smell of rotting flesh. There have been many sleepless nights at this hotel, with female guests reporting being touched inappropriately on their thighs and the sound of bouncing balls and marbles coming from the hallways waking them in the middle of the night.
If you're brave enough to check-in, you can check rates on Booking.com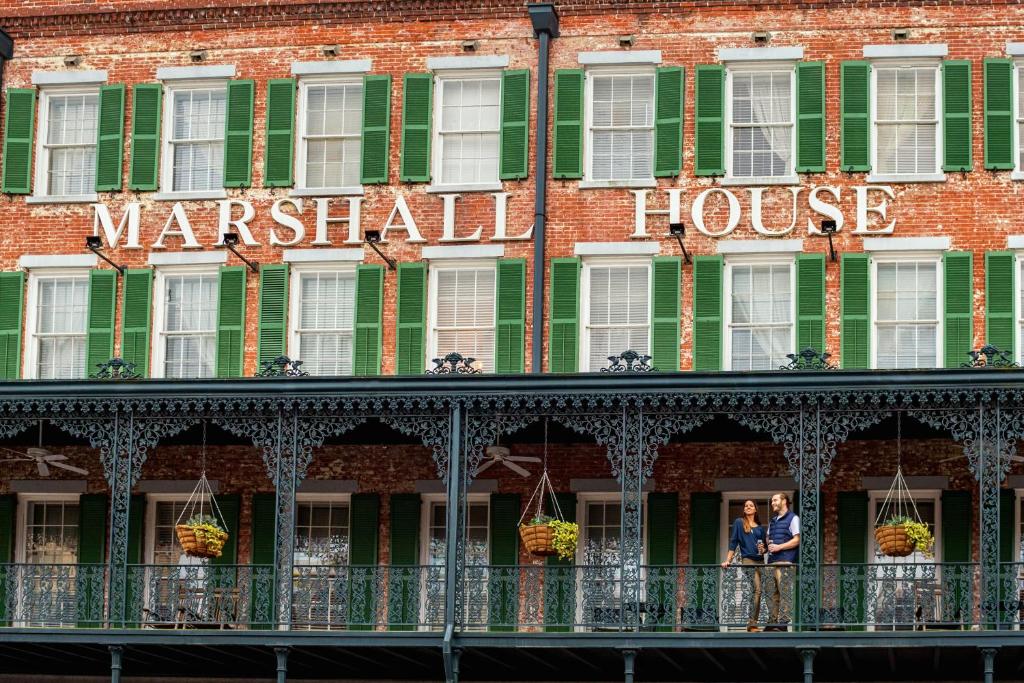 Moon River Brewing Company
The Moon River Brewing Company is one of the nicest restaurants in Savannah, especially if you are looking to dine in one of the most haunted places in Georgia!
Popular TV shows Ghost Hunters and Ghost Adventures have both shot at this location, which gives you a little bit of an insight to just know well-known this microbrewery is to be haunted.
Once upon a time, the Moon River Brewery was one a hotel built in 1821 by Elazer Early, but has since become a place with a tragic and violent past.
The building was used as a hospital many names, most notably during the yellow fever epidemic. Tragically, many people, mostly children, died on the upper floors of the outbreak.
The building has also seen a lot of violence. In 1832, Dr Phillip Minus shot James Stark inside the hotel. Stark was a known drunk and a trouble maker in life, and it is said he is still stuck in his old ways during death, too.
There are many different hauntings going on at the Moon River Brewing Company, so much so that it has become known as one of the most haunted places in the entire US! Perhaps the most well known ghost has become known as 'Toby' who resides in the basement. The basement is considered the most active floor on the house, and Toby is known to get physical. Staff have felt someone brush up against them when nobody is there, and Toby is also known to push people! Sudden cold spots are also super common down there, too.
The second floor of the Brewery is where James Stark was shot, and it believed that he is the one responsible for throwing bottles of liquor and the grabbing, pushing, and shoving of guests.
The third and the top floor of the Moon River Brewing Company is where it gets creepy, and where the building's 'most haunted place in Savannah' title comes from. On the third floor, a woman in white who has been called Mrs. Johnson has appeared as a full bodied apparition many times. This was also the floor where many yellow fever patients died, so children talking and playing is heard quite often. There has also been accounts of people being shoved really hard down the stairs, too.
Interestingly, the top floor is the staff's least favourite floor to be on, even though it has the least activity. The atmosphere is said to be really sad and heavy, and the quietness compared to the other floors is unsettling.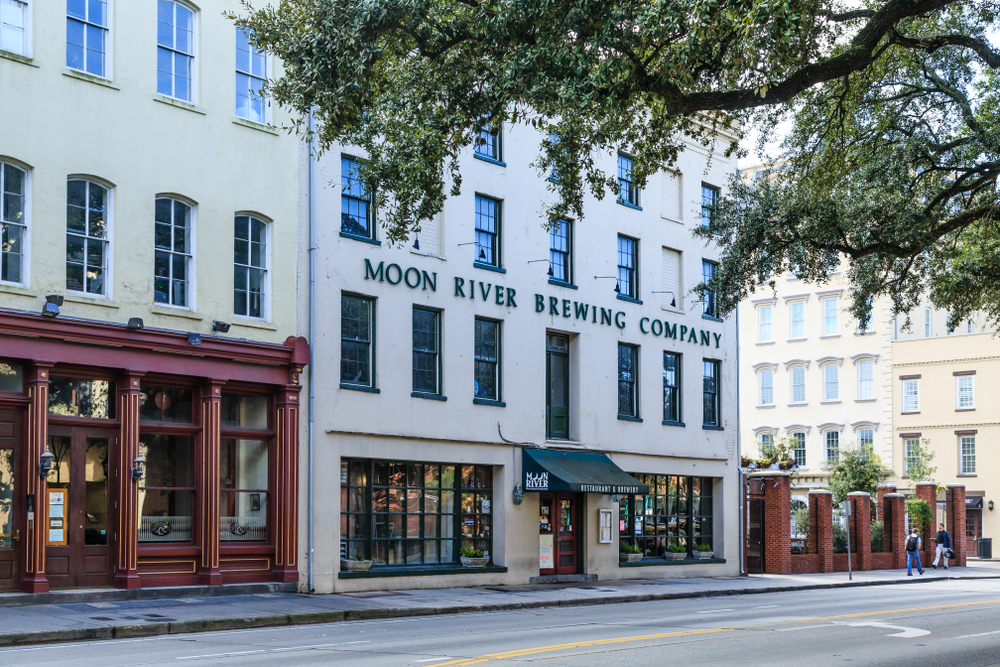 St. Simons Lighthouse
There is something a little eerie about light houses, isn't there? Especially ones with as dark of a history as St. Simon's.
The lighthouse was constructed on St. Simons Island in 1872 to replace the one destroyed in the Civil War. 8 years later in 1880, Frederick Osborne was the lighthouse keeper with his assistant. Both Osborne and his assistant lived in the Lighthouse, and problems began when Osborne spoke "in an inappropriate manner" to the wife of the assistant.
The assistant ended up shooting Osborne and he died of his wounds. Even though the assistant was arrest, he was later acquitted of the murder.
Since then, there have been many reports of a ghostly figure walking the walls of the lighthouse. Many believe it is Osborne carrying out his nightly routine of inspecting the lighthouse. There has even been occasions where mechanical problems have seemingly fixed themselves!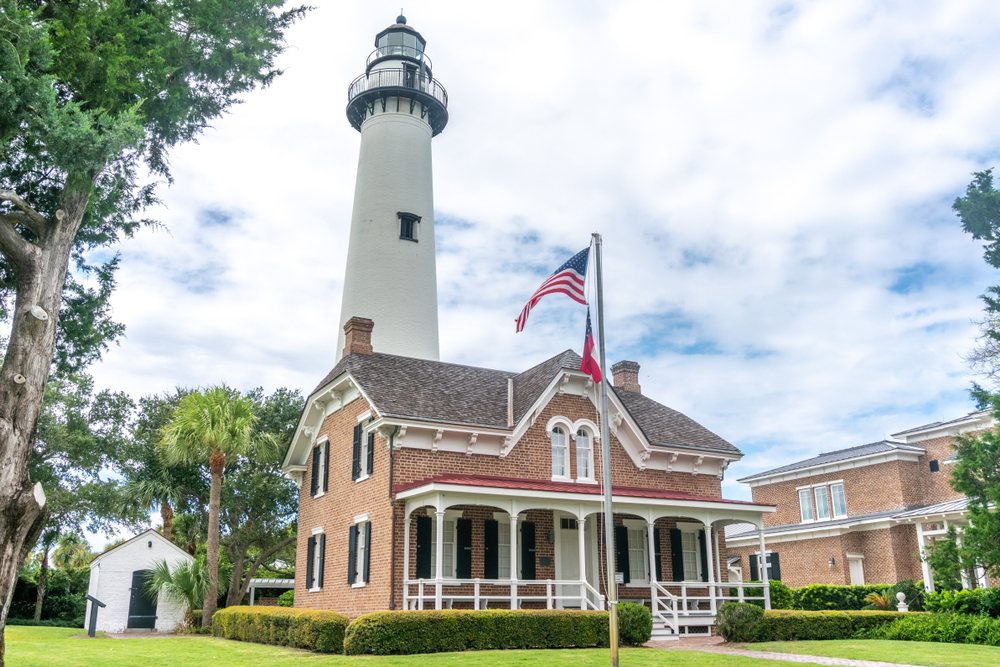 Sorrel Weed House
If you know anything about Savannah, you probably know about the Sorrel Weed House. It is notorious for being one of the most haunted places in Georgia due its civil war past.
The house was built between 1835 and 1840 for Francis Sorrel, who would sadly see a lot of tragedy. Just five years after marrying his first wife, Lucinda, she would die. He then married her sister, Matilda, who would unfortunately go insane and also die. It is believed that she threw herself off the balcony.
Furthermore, the house is built on the grounds where The Siege of Savannah took place, which was one of the bloodiest hours in the American Revolution. So it is fair to say that this House has seen a lot of death.
Today, the Sorrel Weed House is a historic landmark and a museum, and it is also said to be extremely haunted. Many people have reported seeing a woman dressed in black walking around the site, and it is thought that it is Matilda, Francis' second wife looking for a companion to spend eternity with – yikes!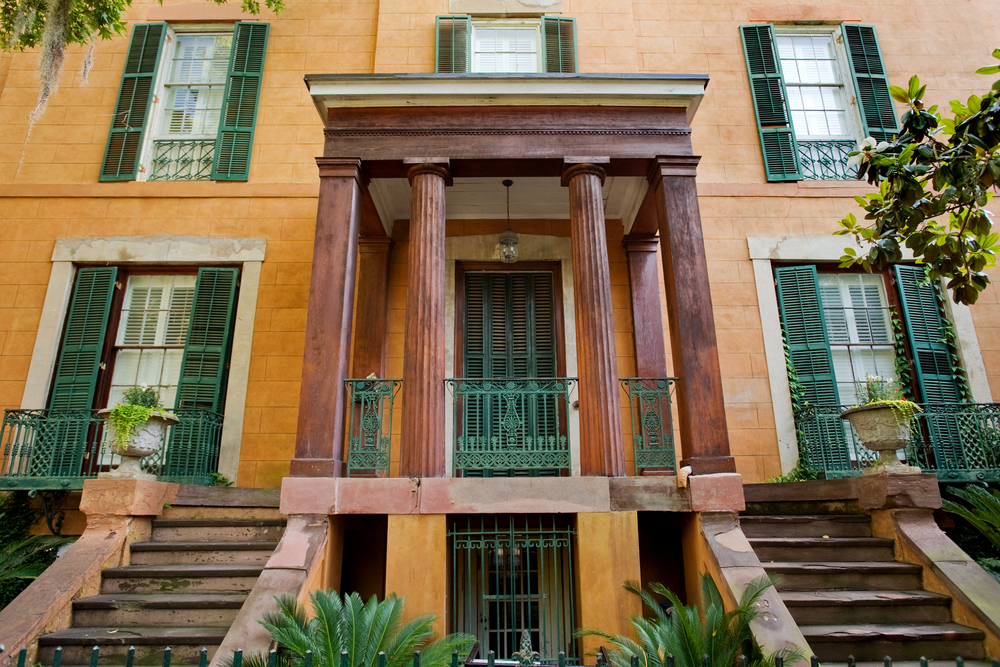 And that concludes our list of some of the most haunted places in Georgia! We hope that you are seriously spooked and plan on stopping by some of the creepiest places that Georgia has to offer on your next trip!