If you're looking for the best restaurants in Savannah you have come to the right place!
This historic, Georgia town is packed full of spectacular dining options and we've put together a list of the ones you don't want to miss!
Savannah is well-known for being one of the most charming cities in the South but over the years it has also become a culinary destination with a wide variety of cuisines and innovative dining experiences.
Within the historic city center, you can find everything from elegant cafes inside landmark mansions to modern eateries with creative menus and local institutions that have been around for more than a century.
Whether you're longing to indulge in the mouth-watering, Southern soul food Savannah is famous for or you're on the hunt for creative dishes you can't find anywhere else, there are plenty of incredible restaurants in Savannah to choose from that will satisfy any craving.
Savannah is already a must for any Southern itinerary, but the phenomenal food is worth a visit in itself.
Keep reading to discover the restaurants with the best Savannah food!
Planning your trip to Savannah last minute?
Make sure to book ahead! Hotels and tours often sell out the closer you get to your trip. Here are our top picks for Savannah!
Top Experiences And Tours In Savannah:
Top Hotels In Savannah: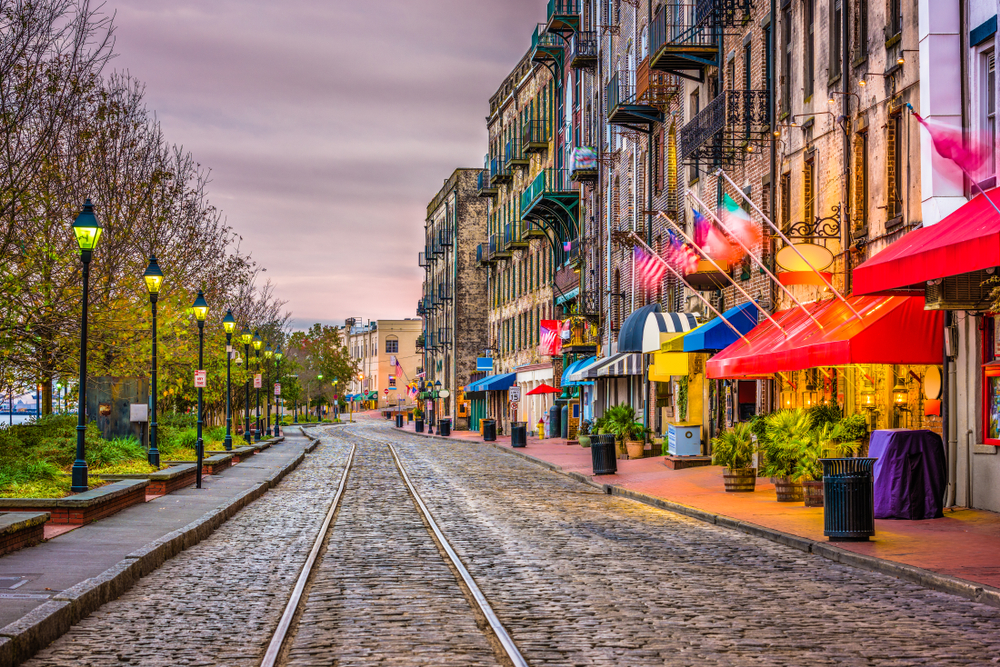 20 Best Restaurants In Savannah, GA, You Must Try
The Olde Pink House
Set in a historic mansion dating back to 1771, the Olde Pink House is one of the most famous restaurants in Savannah.
With an opulent interior embodying the elegant southern charm and a timeless yet innovative menu, the Olde Pink House is the perfect Savannah dining experience for a special occasion or lavish night out.
It is one of the best Savannah photo spots too because of its pastel-pink exterior.
The menu features gourmet twists on classic Southern soul food. Start your meal off with a unique appetizer such as Southern sushi, smoked shrimp and southern grits rolled up inside coconut-coated crusted nori.
Choose from a variety of entrees such as the almond-encrusted tilapia, deep-dish chicken pot pie, filet mignon, or the crispy fried lobster tail served with sweet chili dijon.
The Olde Pink House is located in the heart of the historic district and is one of the most popular restaurants in Savannah for seafood.
It's a good idea to make a reservation and secure a table or be prepared to line up to snag one of the first-come-first-serve tables that fill up quickly.
Interestingly, the Olde Pink House is also known as one of the most haunted places in Georgia!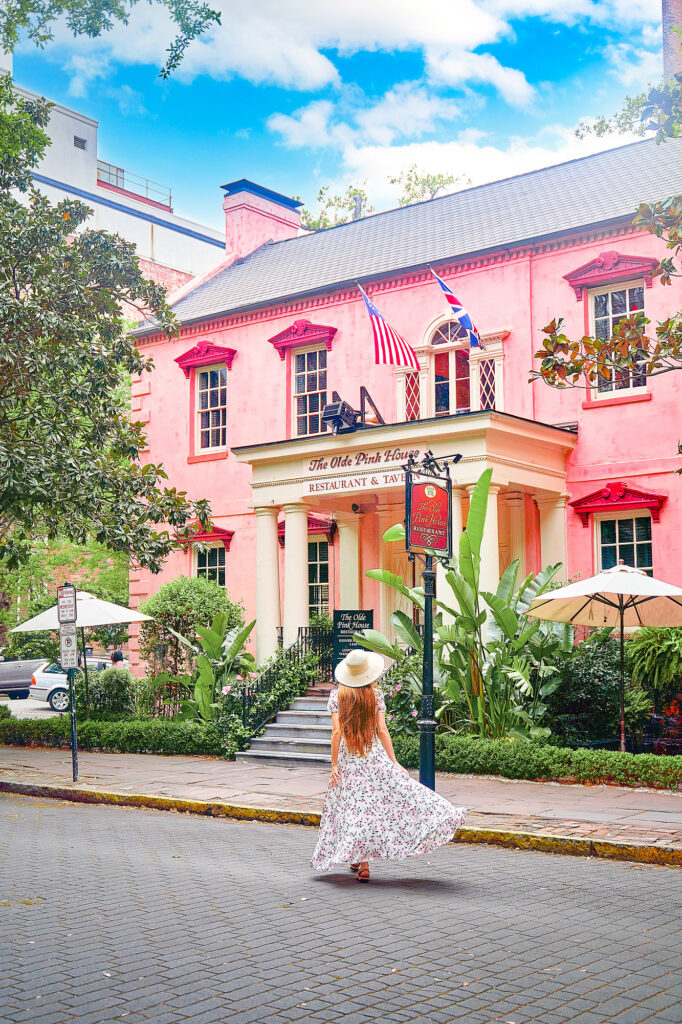 Vic's on the River
Located inside a historic, 19th-century cotton warehouse, Vic's on the River is one of the best restaurants in downtown Savannah for an upscale dining experience.
Classic Southern fare is served alongside stunning views of the Savannah River in an elegant atmosphere.
Start your meal with a delicious appetizer such as fried green tomatoes with goat cheese and balsamic glaze or crawfish beignets topped with Tobasco syrup.
Entree options include classic Southern staples like shrimp and grits and braised short ribs as well as seafood specialties such as blackened shrimp pasta and pecan fried flounder.
Vic's on the River is located on River Street. It is one of the most popular Savannah restaurants so be sure to make a reservation to secure a table and avoid a long wait.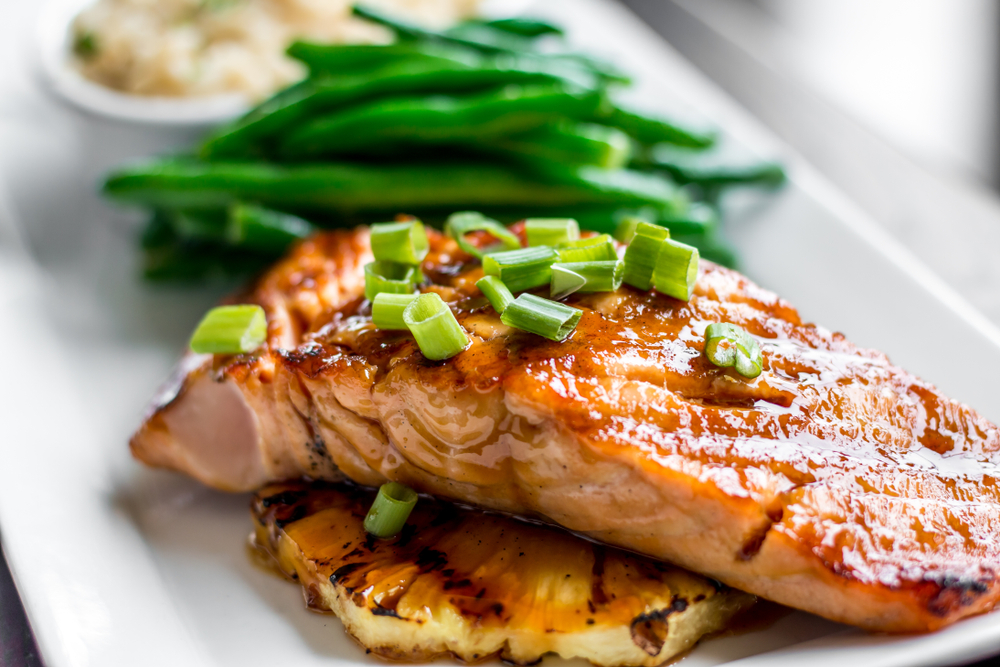 The Grey
The Grey is set in a former 1930s Greyhound bus depot that has been completely transformed into a stunning retro-modern eatery.
You will love this fine dining in Savannah experience with contemporary Southern food.
The brunch menu offers delicious specialties such as crab beignets, fried chicken and hotcakes, and biscuits and gravy served with country ham. The bar serves up lighter fare like salted fish croquettes and shrimp cocktails.
Dinner is served as a 4-course or 6-course meal with seasonal offerings that vary each night. Reservations are recommended.
If you're short on time, stop by the Grey Market, a counter-serve restaurant just down the street from The Grey.
With a menu created by the same chefs that dreamed up The Grey, you can expect the same quality of food with the convenience of a grab-and-go market.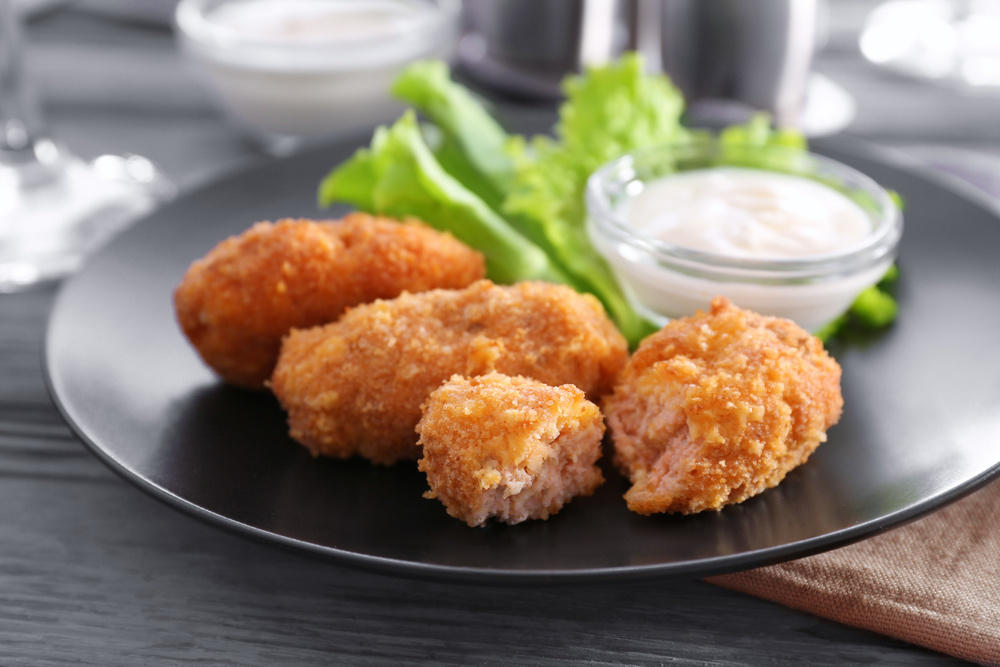 Mrs. Wilkes Dining Room
If you're looking for a quintessential Savannah dining experience, head to Mrs. Wilkes Dining Room.
Family-owned since 1943, this restaurant is one of the most popular destinations for lunch in Savannah.
Strangers and friends alike gather around the communal tables where large helpings of food are passed around family-style.
The menu changes daily, but you can expect to enjoy Southern staples such as fried chicken and meatloaf served alongside macaroni and cheese, mashed potatoes, collard greens, and baked beans.
Spots at the communal tables are first come first serve, so arrive early to snag a seat at one of the best restaurants in Savannah, Georgia.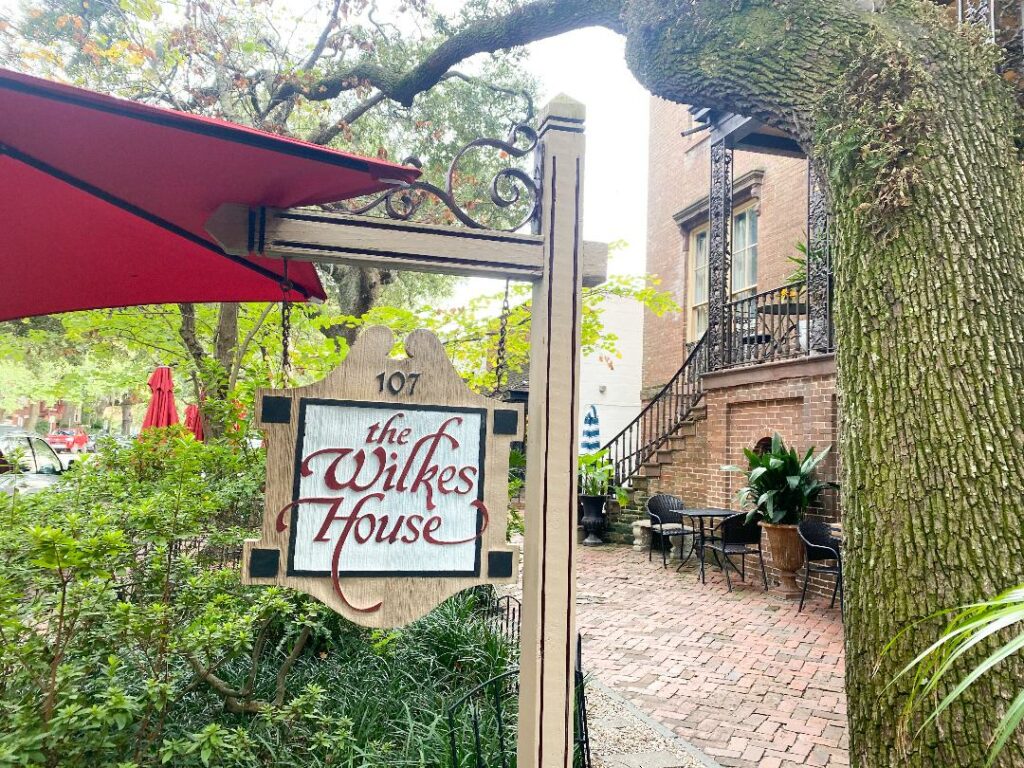 The Collins Quarter
This trendy Australian-owned café serves up Southern comfort food with an international twist. If you are looking for the best brunch in Savannah, head here!
With two locations offering equally delicious menus in modern surroundings, the Collins Quarter is one of the best restaurants in Savannah for unique menu options you can't find anywhere else!
The downtown location on Bull Street offers an all-day brunch menu with unique creations such as bananas foster French toast and shakshouka-style grits.
The dinner menu features inventive options like olive oil-poached salmon and braised short ribs topped with sunchoke puree.
The Forsyth Park location serves delicious creations for weekend brunch such as shrimp and grits topped with chipotle-tomato fondue and raspberry French toast topped with lemon curd.
For dinner, choose from unique options like saffron fettuccini, bahn mi flatbread, and Chilean sea bass.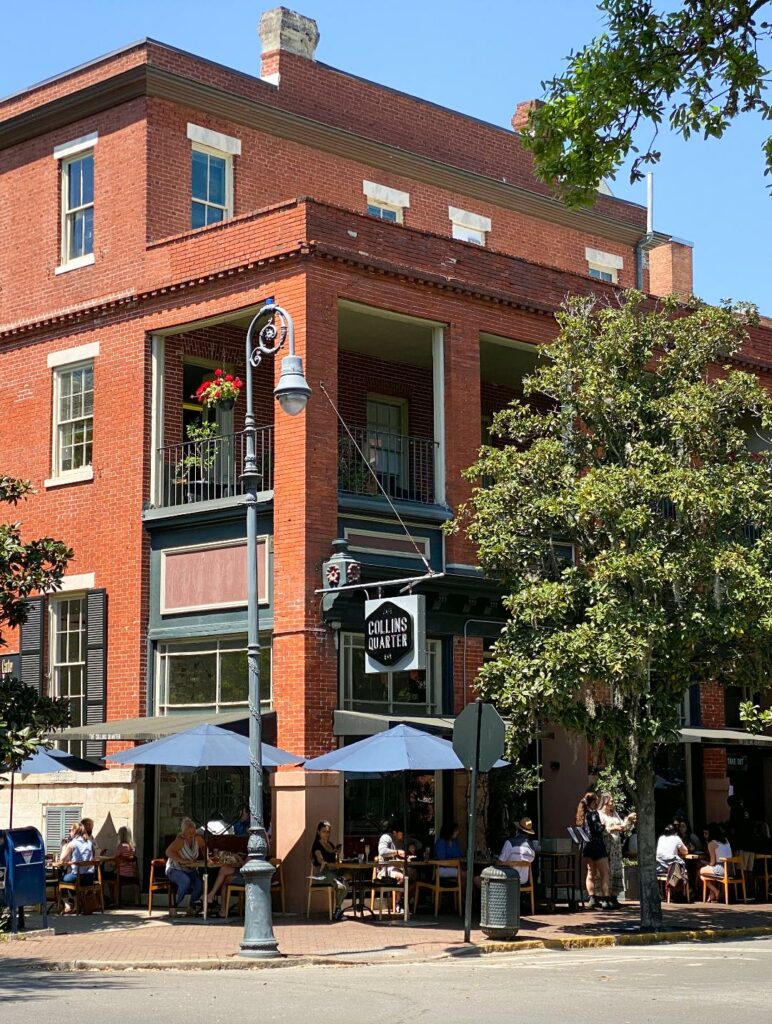 Clary's Cafe
If you're looking for the best breakfast in Savannah, the world-famous Clary's Café should be at the top of your list!
Clary's has been a part of the city since the 1930s when it first opened as a drug store before becoming one of the best restaurants in Savannah, GA.
The breakfast menu features mouth-watering breakfast staples such as biscuits smothered in sausage gravy, country-fried steak and eggs, buttermilk griddle cakes, and stuffed French toast.
Clary's also offers Southern seafood breakfast specialties including crab cakes benedict and seafood omelets.
Clary's is one of the best places to eat in Savannah for tourists and locals alike, so be sure to arrive early to avoid a long wait. You will enjoy some of the best seafood in Savannah!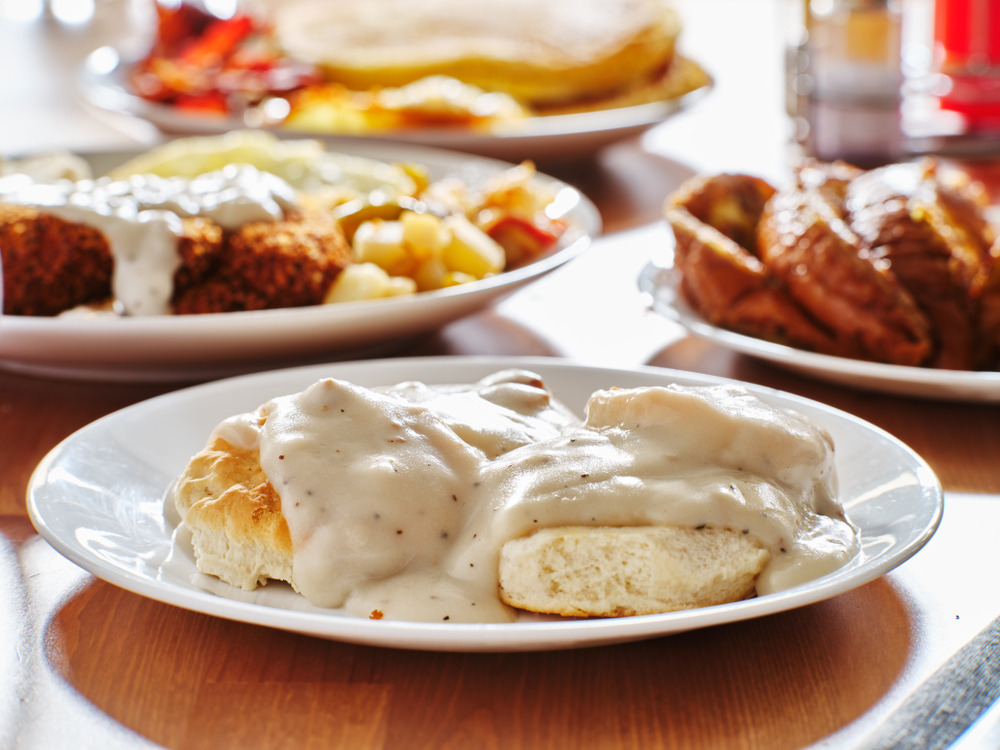 Fox and Fig Cafe
Fox and Fig Café is one of the best health-conscious Savannah restaurants. It serves up plant-based meals so delicious, you would never guess they are entirely vegan!
Leave your preconceptions at the door of this hip and modern café and experience innovative plant-based cuisine that will impress even the pickiest of eaters.
Try the smoky mac, made with smoked cashew cheese, or indulge in the hearty chickpea stew with coconut cream. Breakfast is served all day so you can treat yourself to the gunslinger pancakes or chia porridge any time of day.
Fox and Fig is also one of the best coffee shops in Savannah, serving up classic espresso drinks made with a variety of plant milks.
Finish off your delicious plant-based meal with one of their specialty drinks such as the spiced lavender mocha or the horchata latte.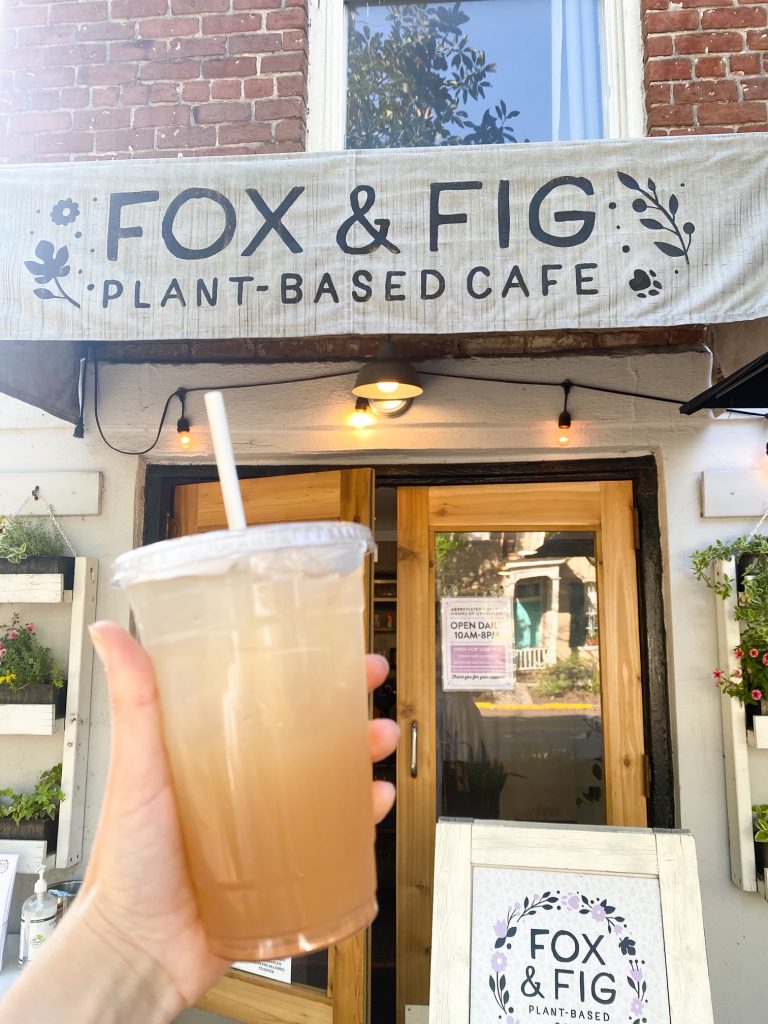 The Pirates' House
Dating back to 1753, the Pirates' House was once an inn for sailors and pirates from around the world. The building has survived through the centuries and was lovingly renovated in the 1940s into a restaurant.
Today, The Pirates' House is one of the most unique places to eat in Savannah, offering tasty food amongst pirate-themed decor.
The Pirates' House menu features fresh seafood such as shrimp gumbo, mango chili glazed salmon, and the angry seas pasta.
Other tasty options include the award-winning honey pecan fried chicken. The pirate influence continues onto the dessert menu with sweets such as spiced rum creme brulee and bourbon pecan pie.
The Pirates' House is one of the best restaurants in Savannah's historic district and is located just one block from the Savannah River on East Broad Street.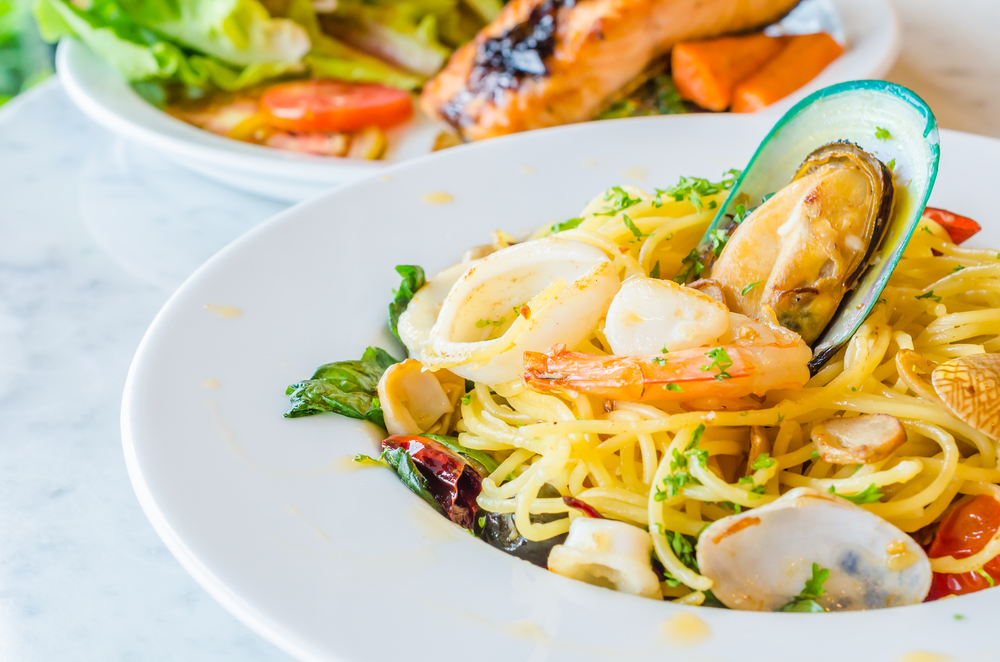 Leopold's Ice Cream
No visit to Savannah is complete without a stop at Leopold's Ice Cream, one of the best restaurants in Savannah for dessert!
Leopold's has been a Savannah institution since 1919 and has been popular with locals, tourists, and even celebrities ever since.
Leopold's offers a selection of fresh deli specialties such as shrimp salad sandwiches, hot soups, salads, and an array of pastries and pies for lunch or dinner.
However, you can't leave without trying the homemade ice cream Leopold's is world-famous for.
There are many delicious ice cream flavors to choose from ranging from their signature classics like rum bisque to seasonal flavors such as blueberry cheesecake and rose petal cream.
They even offer non-dairy flavors so everyone can experience the famous Leopold's taste.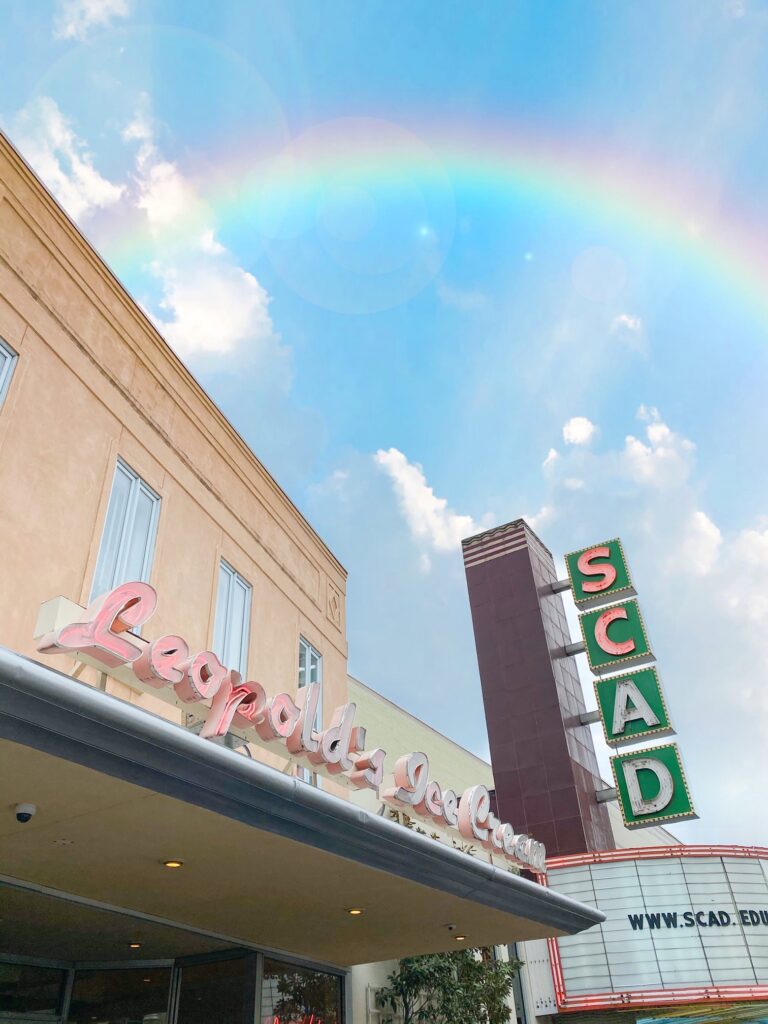 Wiley's Championship BBQ
This unassuming local joint has been consistently voted one of the best BBQ restaurants in Savannah and has even been ranked among the best BBQ restaurants in the USA!
It is well worth the short drive outside of the city center to get a taste of the award-winning food.
The menu features mouth-watering BBQ favorites such as pulled pork, brisket, smoked chicken, and ribs. Add a side of their self-described "best beans on the planet," coleslaw, or mac and cheese.
Be sure to save room for a slice of peanut butter pie or a helping of classic Southern banana pudding.
Wiley's Championship BBQ is located just 7 miles east of downtown Savannah, hidden in a small shopping center right off of the Islands Expressway.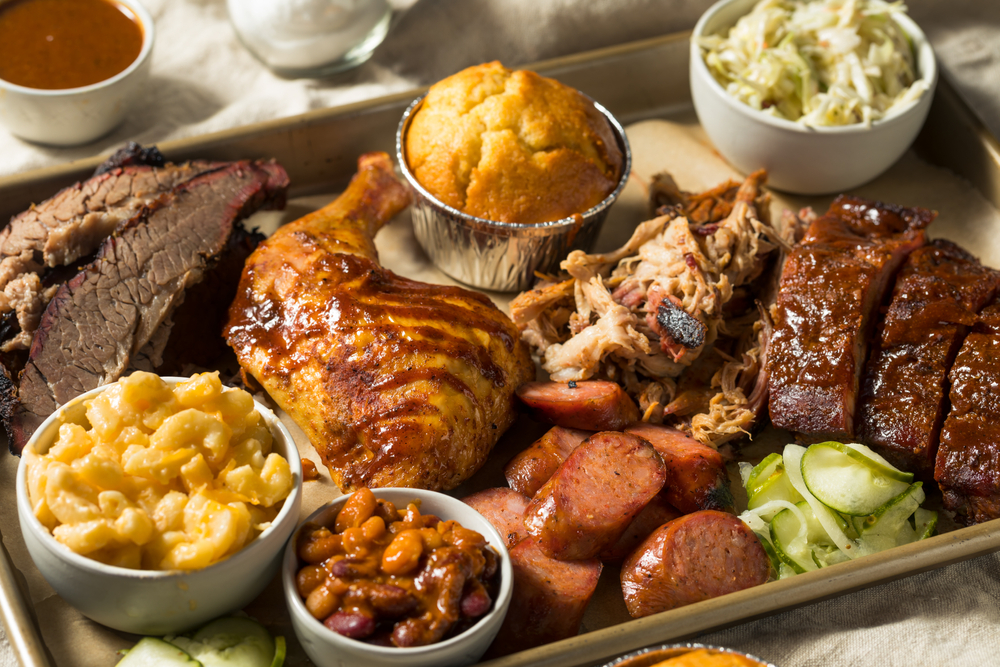 Treylor Park
For unique menu items, you can't find anywhere else, head to Treylor Park, one of the most innovative and good restaurants in Savannah!
The vintage chic vibe will draw you in and the extensive menu featuring creative spins on classic dishes will make you want to come back for more.
Sample inventive menu options such as the fried chicken and pancake tacos topped with strawberry salsa, PB&J chicken wings, cheesesteak eggrolls served with beer cheese dipping sauce, or the Treylor Park pot pie served in a deep-fried tortilla.
Top off your meal with a bacon brownie and a unique signature cocktail.
Treylor Park is open late and the full menu is served all day so there is never a bad time to stop by.
It is one of the most popular restaurants in Savannah among both tourists and locals so reservations are recommended if you plan on dining at a peak time.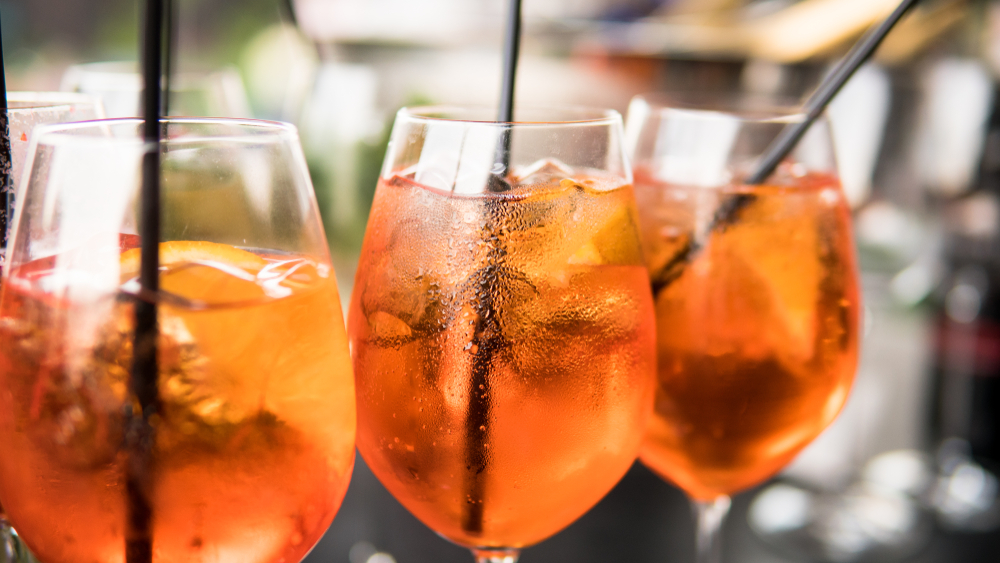 The Wyld Dock Bar
Trade in the crowded city center for some fresh air and enjoy locally sourced seafood and casual American fare along with peaceful river views.
The Wyld Dock Bar is one of the best places to eat in Savannah if you're looking for a laid-back lunch or dinner with a local vibe.
Watch the boats float by and the sun go down over the river while you indulge in seasonal specialties such as the shrimp roll with tarragon mayo, adobo marinated fish tacos, or blue crab chowder.
Finish off your meal with a key lime pie and wash it all down with a refreshing sangria or boozy slush.
The Wyld Dock Bar is located a short 15-minute drive southeast of the city center. You won't regret making the trip to one of the best restaurants in Savannah, Georgia.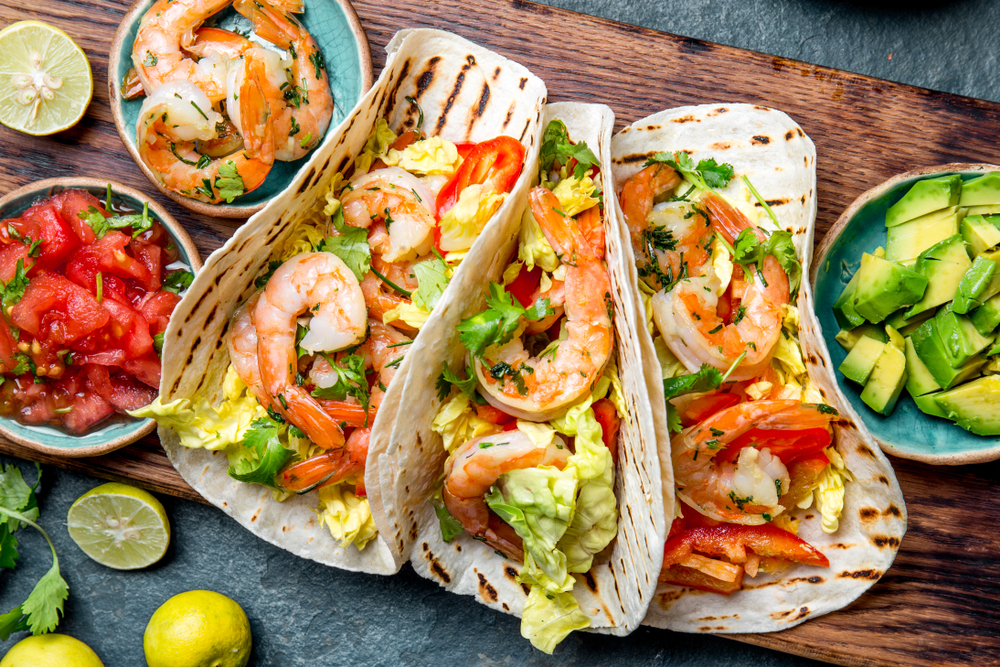 Husk Savannah
Innovative ingredient-driven cuisine is served in a historic mansion in the heart of the Landmark District at Husk Savannah.
This elegant eatery is one of the best places for the best dinner in Savannah if you're looking to find fresh and authentic locally sourced ingredients.
As the executive chef states, "If it doesn't come from the South, it doesn't come through the door."
The menu changes daily depending on the seasonal ingredients provided by local producers.
You can expect to find artistic creations such as smoked heritage pork with chestnut and juniper, pecan tortellini, or quail with sweet potato and cocoa nibs.
Husk Savannah serves dinner seven days a week and offers brunch on Sundays. Reservations are encouraged to ensure you don't miss out on this one-of-a-kind Savannah dining experience!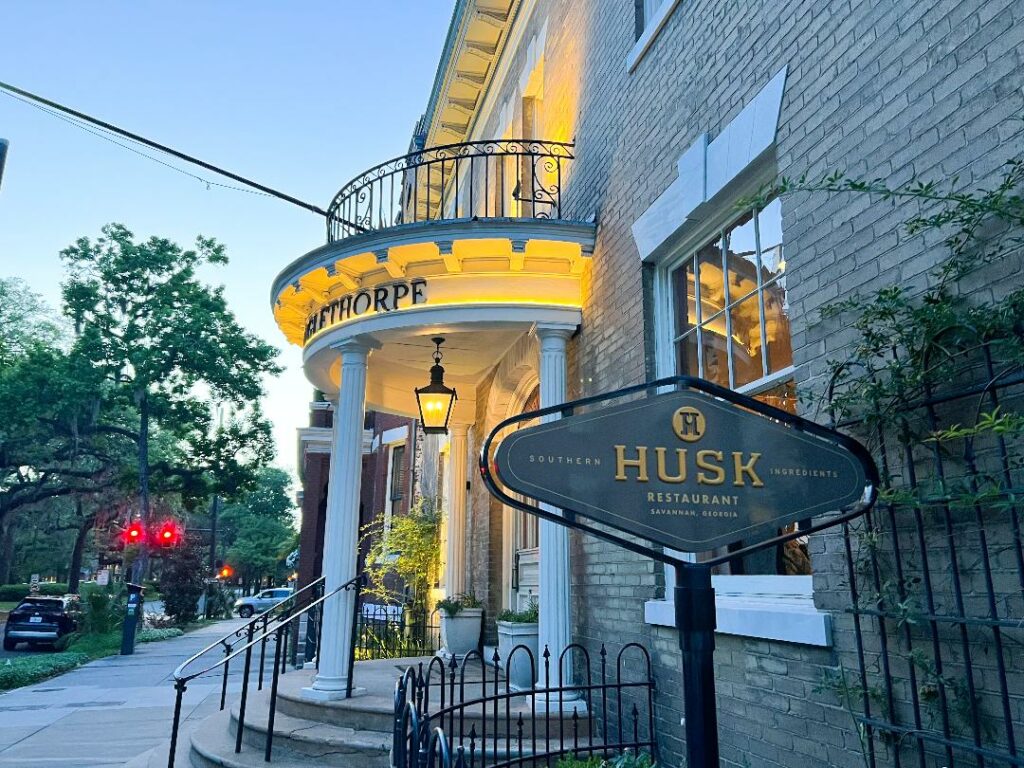 The Vault
Located inside a historic bank building, the Vault is a contemporary Asian fusion and sushi eatery with an industrial-chic vibe.
The Vault is one of the best Asian restaurants in Savannah and with a prime location in the heart of the historic district.
The extensive menu features Asian classics along with creative selections such as roasted duck dumplings served with ponzu sauce, Korean BBQ tofu steamed buns, and the banker's shrimp tacos topped with mango and kimchi dressing.
If you're wondering where to eat in Savannah that will satisfy both meat eaters and vegetarians, the Vault is a perfect option.
Both the standard menu and the sushi menu offer plenty of options to accommodate any dietary restriction or preference.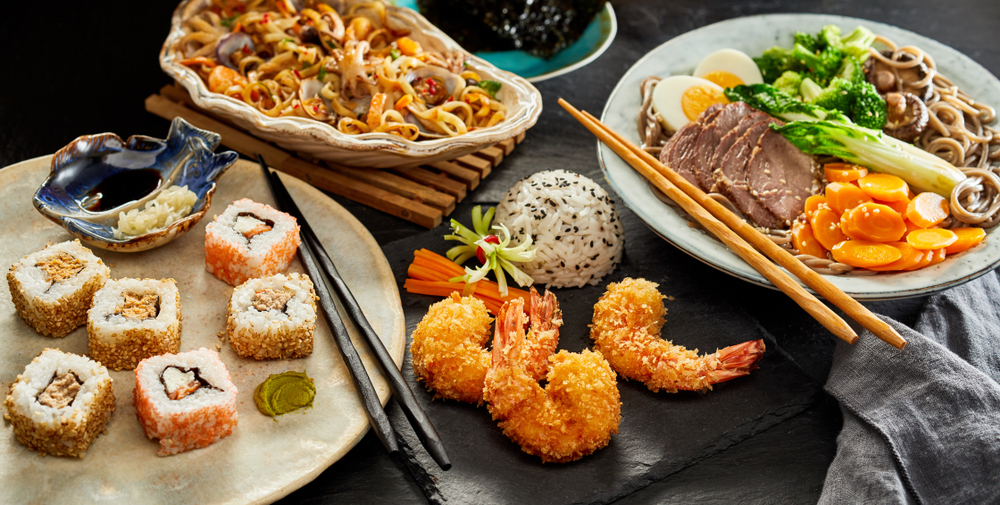 Crystal Beer Parlor
Located inside a 100-year-old former grocery store, Crystal Beer Parlor has been a local favorite since the 1930s. It was one of the first establishments in Savannah to serve alcohol after the end of prohibition.
The menu features Southern soul food alongside an extensive selection of beer.
The mouth-watering food selection includes hearty burgers, country-fried chicken fingers, and fresh seafood specialties such as Southern baked deviled crab.
Finish off your meal with a classic Georgia peach cobbler and wash it all down with a cold craft beer.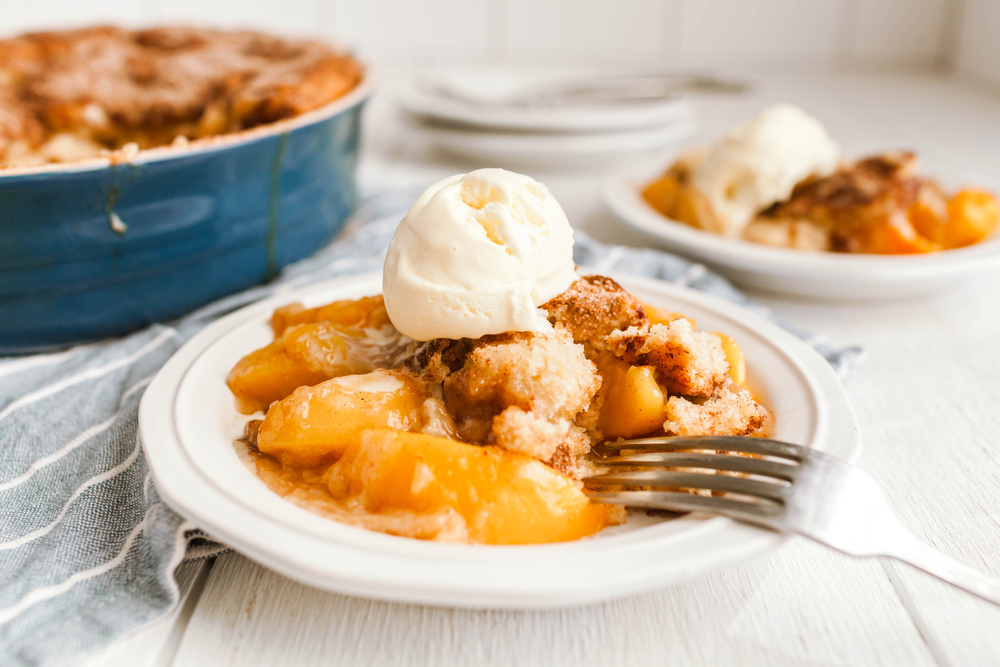 The Lady and Sons
This iconic eatery located in a historic building in downtown Savannah was founded in 1996 by none other than the Southern cooking legend herself, Paula Deen.
It is one of the best Savannah restaurants and serves up the quintessential Southern comfort food Paula is known for.
The family-style menu features down-home classics to share with the table such as the "best ever" Southern fried chicken, slow-roasted pot roast, and classic chicken and dumplings.
Choose from delicious side items like baked mac and cheese and creamed potatoes, then finish off your meal with a slice of the famous ooey gooey butter cake.
Southern food fans travel from all over the world to dine at the Lady and Sons so reservations are strongly encouraged to ensure you don't miss out on the chance to indulge in some of the best food in Savannah.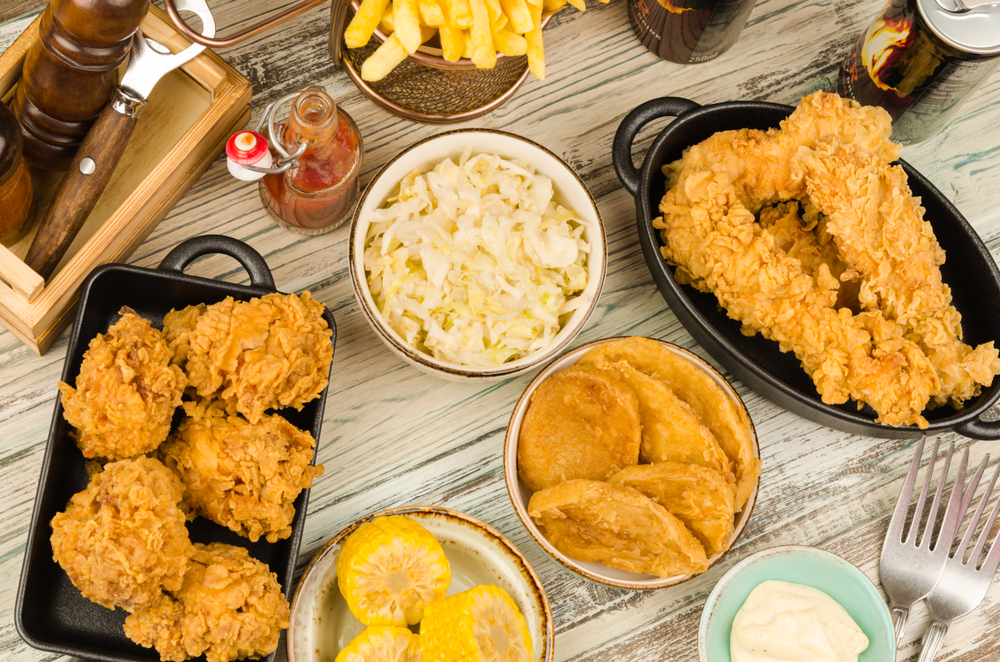 Kayak Kafe
Kayak Kafe in the middle of the historic downtown is a great place for the best lunch in Savannah. After walking around town, you will have built up an appetite.
This locally-owned restaurant is all about being healthy and green. They have meals for all diets, including gluten-free, vegetarian, and vegan.
If you need some fresh and light found after indulging in heavy, Southern food, Kayak Kafe has the menu for you.
They offer a ton of salads such as the Wild GA Shrimp Salad, Southwestern Chicken Caesar, and Olympic Greek.
Soups, sandwiches, tacos, burritos, and more are also available.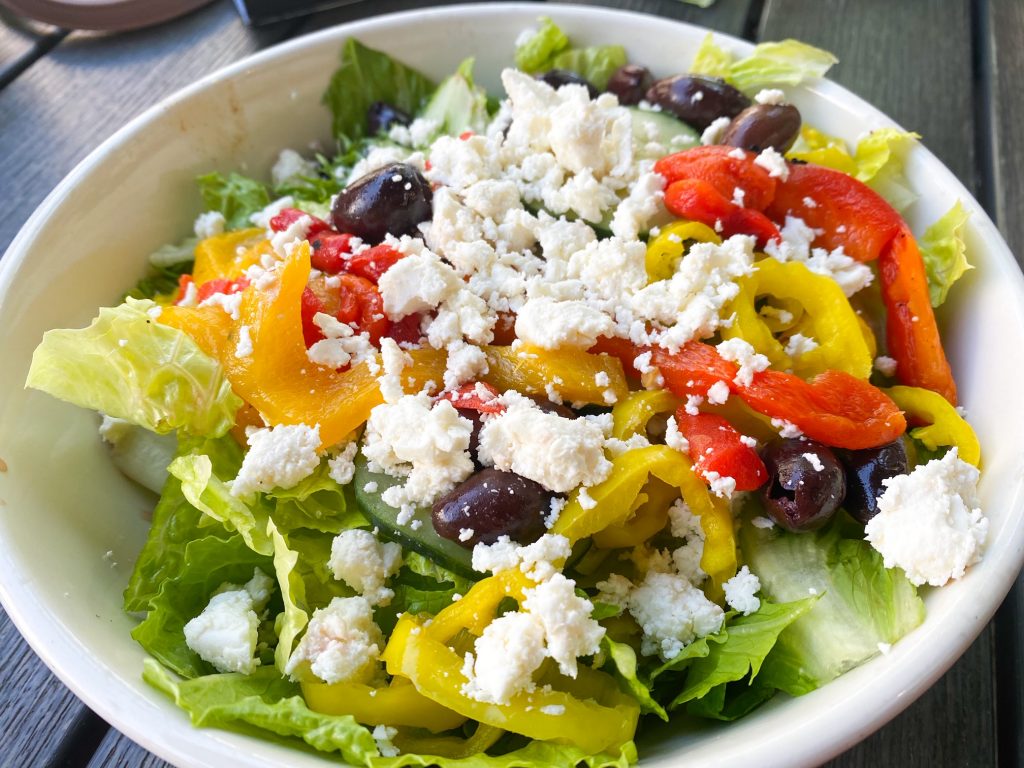 Flying Monk Noodle Bar
The Flying Monk Noodle Bar is one of the top Savannah restaurants for your Asian food craving. The fresh, handmade noodles will leave your mouth watering!
Start your meal with yummy egg rolls or edamame dumplings.
For the main course, there are noodle soups, noodle dishes, or rice dishes. Choose from pho, ramen, pad Thai, fried rice, and so much more!
The menu even shows the country each recipe is inspired. From Thailand to Japan to Laos and beyond, you will get a great taste of Asian cuisine!
The drink menu will allow you to taste sake and Asian cocktails.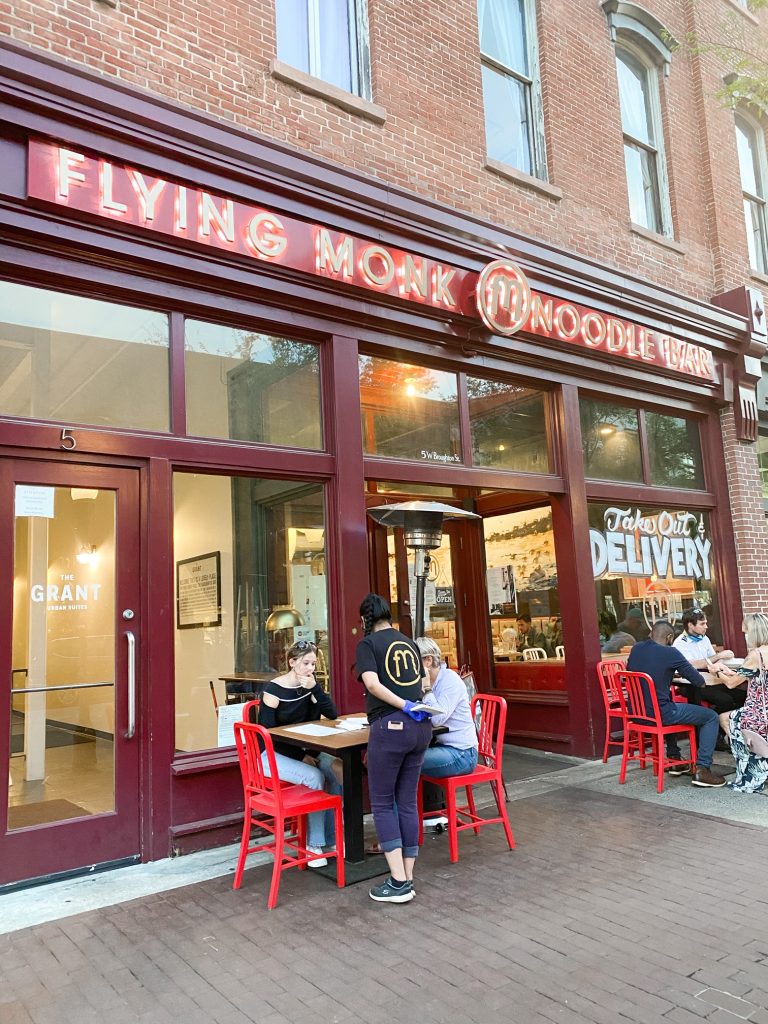 Zunzi's
Just a block from Chippewa Square, Zunzi's is a tasty South African-inspired sandwich shop that was founded in 2005.
This place is known for its great vibe. You can sit down with your meal or grab something to go. Reserve a table in advance since it can get busy.
The French bread sandwiches all have fun names like the Conquistador, Godfather, and Fisherman's Deck.
If you want something vegetarian, try the Johnny Roll with vegan meatballs or the Rising Sun with a ton of grilled vegetables.
Try a South African tea to round out your dining experience.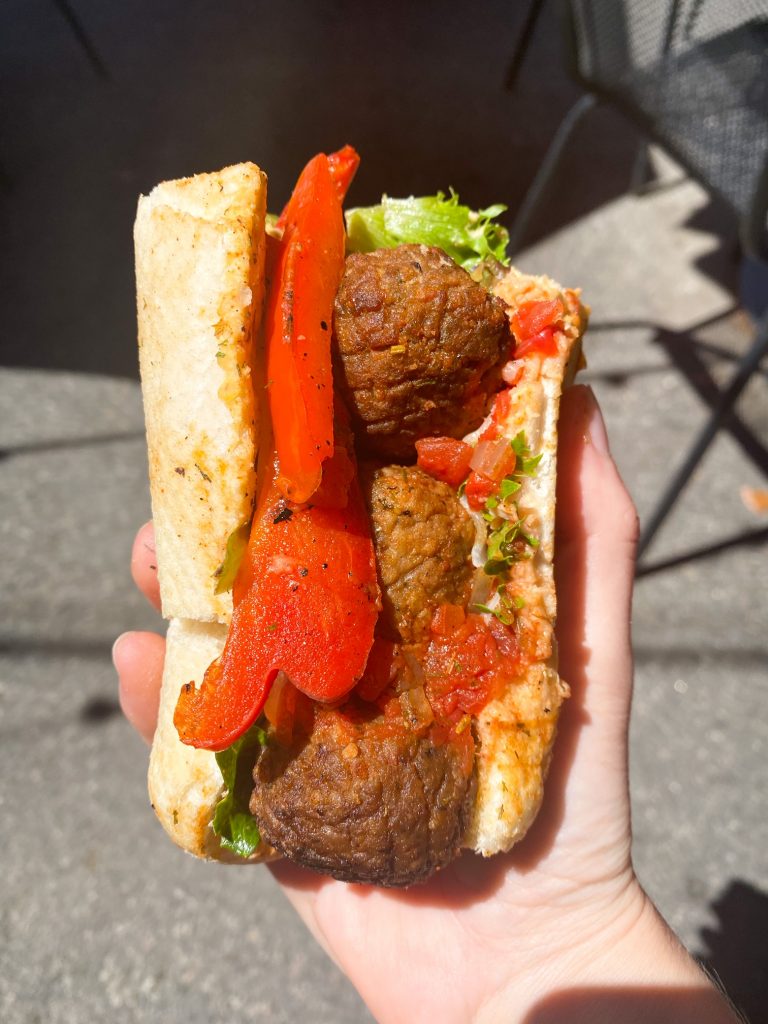 Six Pence Pub
The Six Pence Pub is picturesque on the outside with a red British telephone booth that makes a great photo-op!
Also located next to Chippewa Square, this authentic British pub was voted best pub by Savannah Magazine in 2021. It has been a staple in Savannah for over twenty years.
Order a pint of craft beer along with both American and British classics. Try Scotch eggs, Welsh rarebit, bangers and mash, or a ploughman's lunch.
There are many other soups, salads, and sandwiches on the menu as well. Make sure to peruse the drink menu too.
This is one of the best places to eat during a 3-day Savannah trip!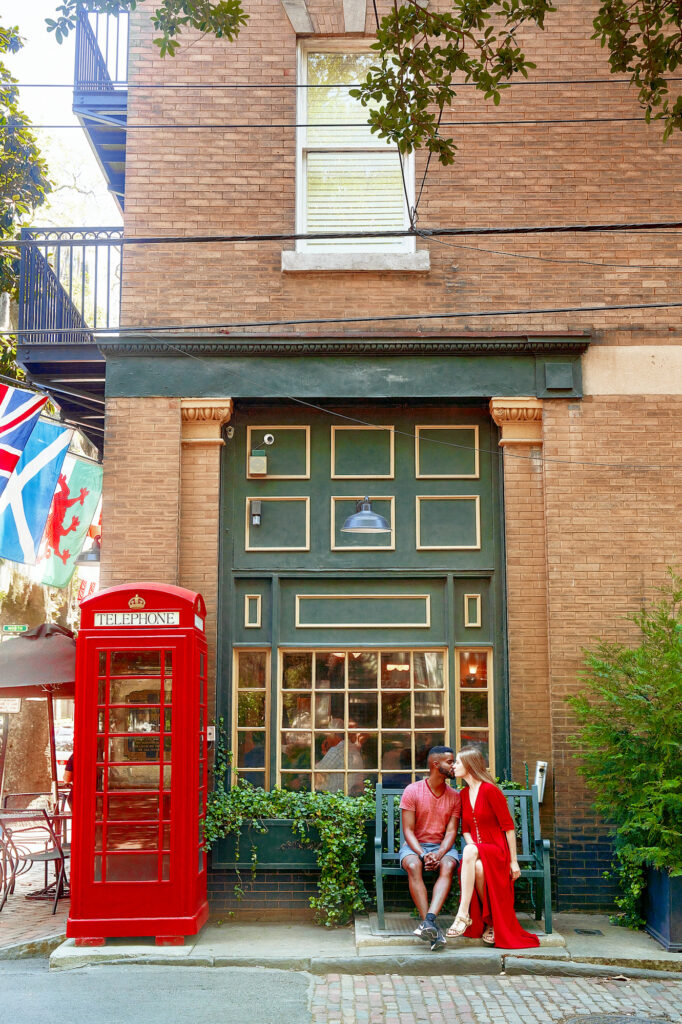 We hope this Savannah dining guide made you hungry and inspired you to explore all of the incredible dining options this charming Southern town has to offer!
Next, check out our guide on where to stay in Savannah!