Are you looking for cool secret places and hidden gems in Virginia to explore? Then you've come to the right place! Virginia is the northernmost state in the American South. It is often called 'the birthplace of the nation' because it is where European settlers had their first permanent settlement. So there is tons of history in Virginia. But there are also some really interesting secret places in Virginia to explore!
Virginia is a beautiful state and has a wide variety of landscapes. On one side of the state, there are beautiful mountains and on the other side, you can dip your toes into the ocean. All of this variety makes for beautiful hidden places in Virginia to explore. From some of the best nature spots in Virginia to more off-the-beaten-path things in Virginia, this state has it all.
No matter what you're interested in during your travels, we guarantee there's a fun Virginia hidden gem on this list for you to explore. We've made sure to include a variety of activities and attractions for just that reason. You'll find State Parks, charming towns and villages, and other unique places to visit in Virginia on this list. So, let's take a look at some of the best 15 secret places and hidden gems in Virginia.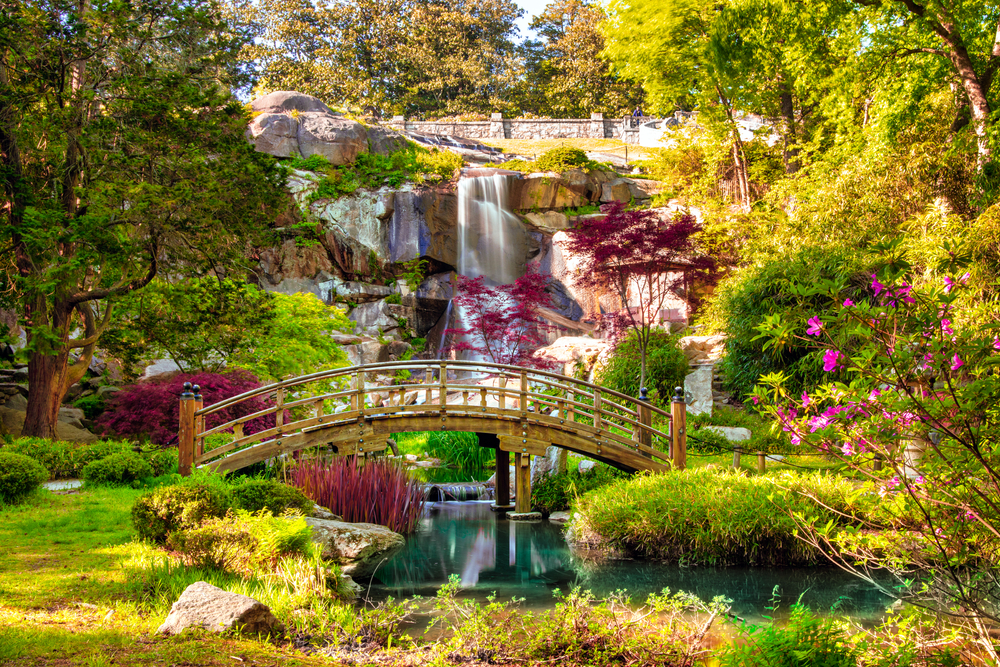 15 Secret Places And Hidden Gems In Virginia
Natural Chimneys Park
The Natural Chimneys Park is located in Augusta County Virginia. You can find it in western VA near Shenandoah National Park. Shenandoah National Park is an extremely popular National Park in VA that makes up part of the Appalachian Mountain Range. Centuries ago, the Shenandoah Valley was once home to an inland sea. As the water receded over the centuries, unique rock formations were carved into the landscape of the valley.
One of those unique rock formations is also one of the best nature spots in Virginia. Natural Chimneys Park consists of 7 natural chimneys. They stand over 120 feet tall and overlook the pastoral Shenandoah Valley. Depending on what angle you view the natural chimneys, they take on different forms. They can look like chimneys, medieval castle turrets, and whatever else your imagination can come up with. If you're looking to see some unique off-the-beaten-path things in Virginia, head to Natural Chimneys Park.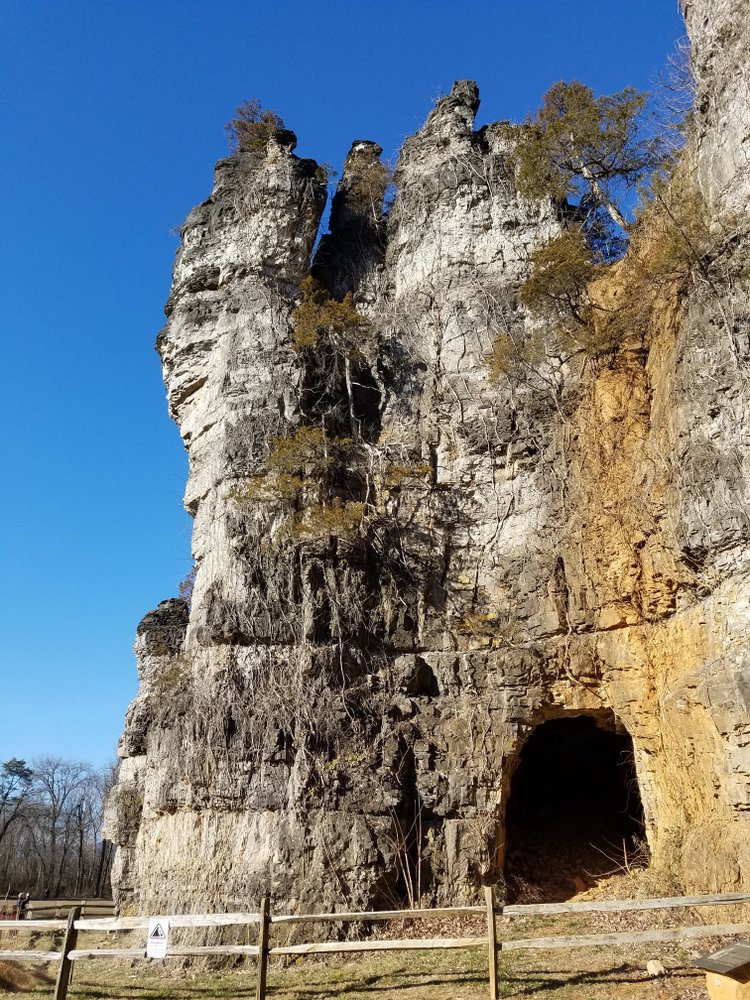 The Grave Of Stonewall Jackson's Arm
You've probably heard of the Confederate General, Stonewall Jackson. But, did you know that his left arm has its own final resting place? Believe it or not, it does. While we do not agree with what the General was fighting for, this story and the tomb is a really unique piece of American history.
The story goes, that when Jackson was met by the Union Army in May of 1863 in Chancellorsville VA, his left arm was shot three times and was shattered. In an effort to save the General, his left arm was amputated. Jackson would eventually die a week later of pneumonia, caught at the battlefield hospital.
Supposedly, his Chancellor, Reverand Tucker Lacy, thought the arm belonged to a man that was too important to be placed with the rest of the battlefield remains. So, he wrapped it in a blanket, took it home, and buried it in his family's cemetery. He then put a stone marker up, designating the spot where it was buried. The rest of Jackson was buried in Lexington, VA.
If you're looking for a strange off-the-beaten-path thing in Virginia to see, you can't get any weirder than the burial spot of a Confederate General's left arm. While it can't be confirmed that the remains of the arm are still there, it's definitely a weird and unique place to visit in Virginia.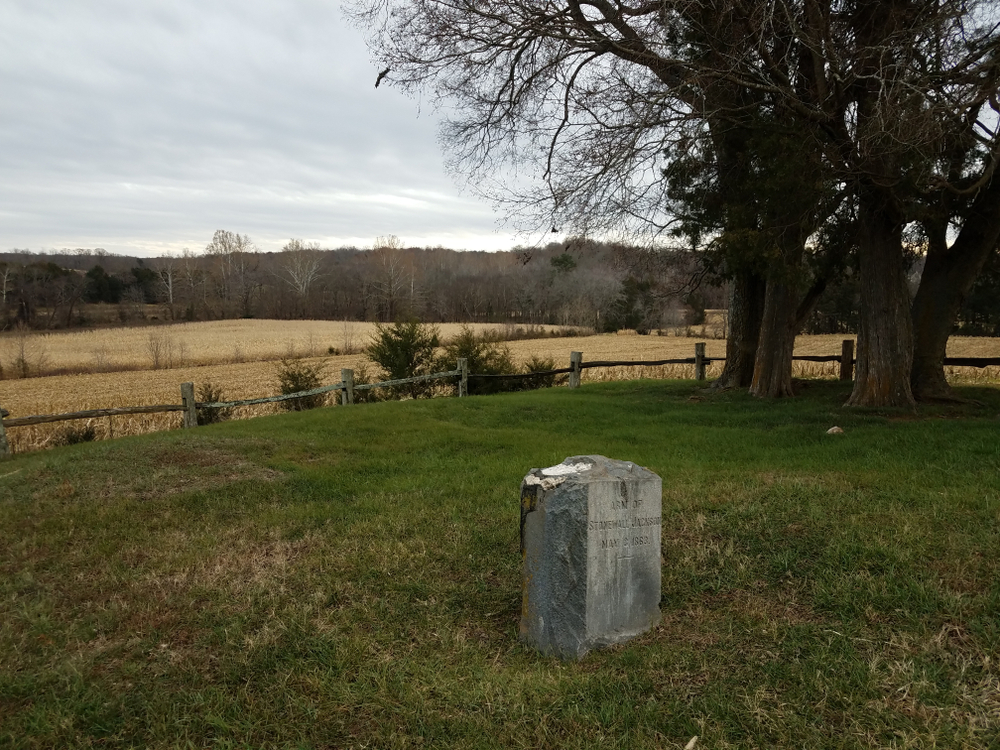 Old City Hall, Richmond
The Richmond Old City Hall was the city hall from 1894 until the 1970s. It is a stunning castle that was designed by the architect Elijah E. Myers. The massive structure takes up an entire city block and connects the different city districts in the middle. It is a Gothic Revival style building and is a designated National Historic Landmark. On the left side of the stunning building, there is a 195-foot tall clock tower.
The exterior of the building is made up of gray granite. The granite was locally sourced from quarries along the James River. Inside the building, there are skylights over an atrium and a grand staircase. When it was used as City Hall, it housed city officials' offices and court offices.
Today, it is a private office building. However, the first floor of the building is open to the public. You can visit it for free and walk around the open first floor Monday through Friday, from 8 am to 5 pm. It's easily one of the prettiest Virginia hidden gems.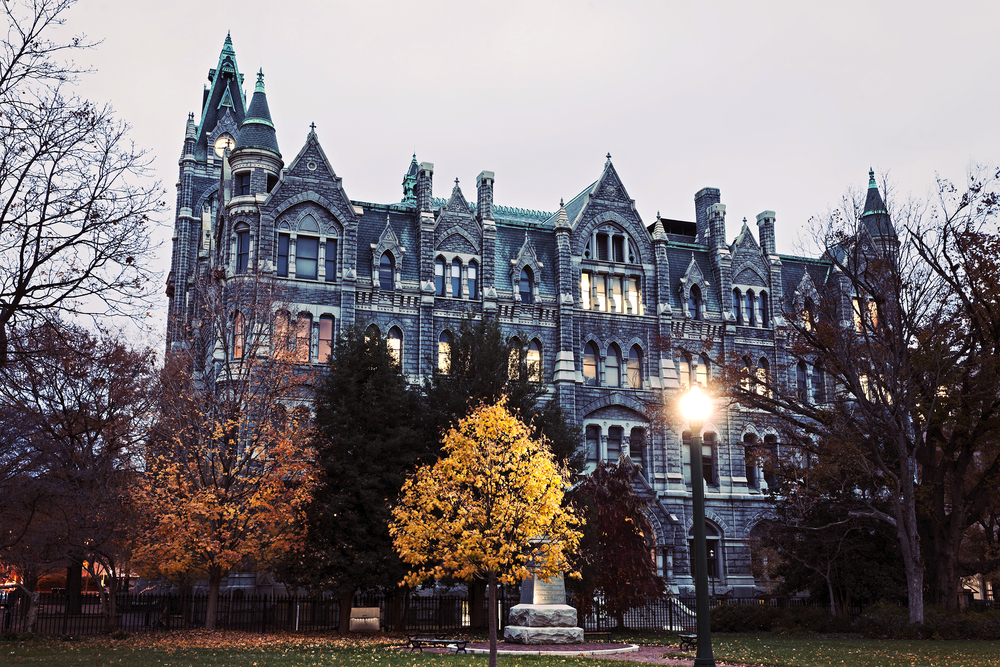 The Natural Bridge State Park
The Natural Bridge State Park is one of the best nature spots in Virginia. It's one of the best places to visit in VA. You can find it in western Virginia, near the Appalachian Mountains. In fact, it's just about an hour south of the Northern entrance to the Blue Ridge Parkway. So, it's a great stop while you're touring the northern portion of the parkway in Virginia.
Dedicated in 2016, Natural Bridge State Park is one of the youngest State Parks in VA and is actually the 37th State Park. The main attraction of the State Park is the Natural Bridge. The Natural Bridge is 215 feet tall and was naturally carved out of limestone in a gorge by Cedar Creek. This would have happened over millions of years. While it may be the main attraction, the Natural Bridge is not the only reason to visit this secret place in Virginia.
All around the Natural Bridge, you'll find a beautiful landscape. There is a lush forest, rolling meadows, and lots more. You can hike on over 7 miles of well-maintained hiking trails. There is also a 30-foot cascading waterfall known as Lace Falls and the Mohican Indian Village. The Mohican Indian Village is near the park's visitor center and is a wonderful living history museum. Reenactors show how Native Americans and European settlers would have used the land during the different seasons to survive. The entire park is one of the best-hidden gems in Virginia.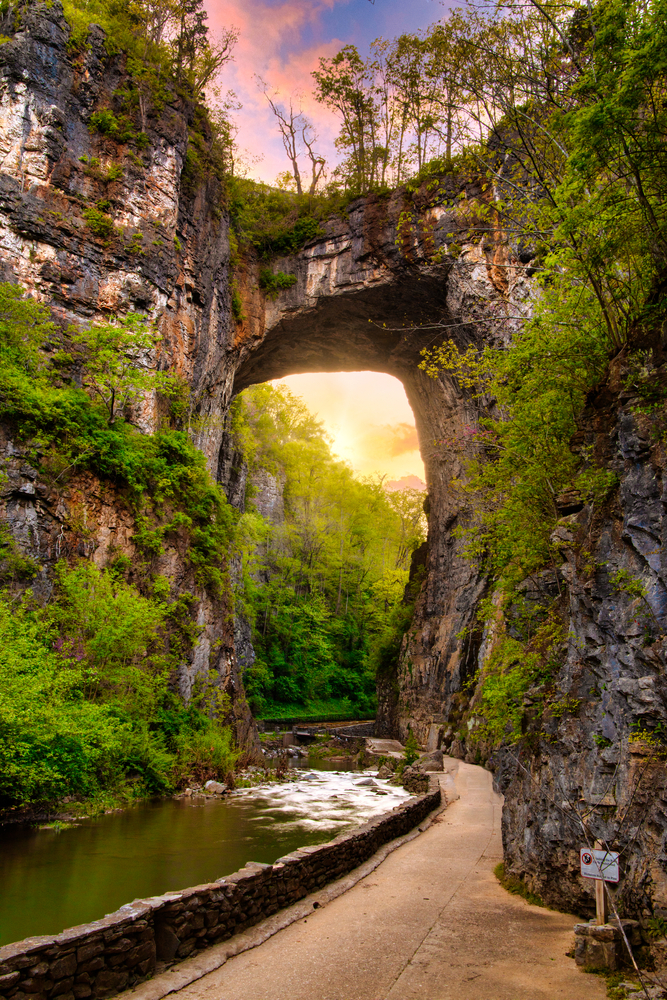 Burke's Garden
Burke's Garden is one of the prettiest hidden gems in southwest Virginia. Often called 'God's Thumbprint', the garden is actually a valley created from a sunken dome on the Appalachian Mountian range. The dome and the subsequent erosion have created an incredibly fertile farming landscape. It's also absolutely gorgeous and surrounded by mountain tops on all sides.
You can find Burke's Garden in Tazewell County, near Bluefield. It was at one time home to Native American villages and eventually German settlers. Many of the ancestors of the original German immigrants still live in Burke's Garden. The area gets its name from the first European settler, whose potato peels supposedly turned into massive potato plants in the valley.
Every September on the first Saturday, the town holds its annual Fall Festival. Many of the farms open up for visitors and you'll be able to sample local foods. The town itself is also one of the oldest historic towns in VA and there are quite a few things you can do there.
There is a general store, historic buildings, a 12-mile bike path, and access to the Appalachian Trail. No matter how you spend your time in Burke's Garden, we're sure you'll agree that it's one of the best-hidden places in Virginia to explore.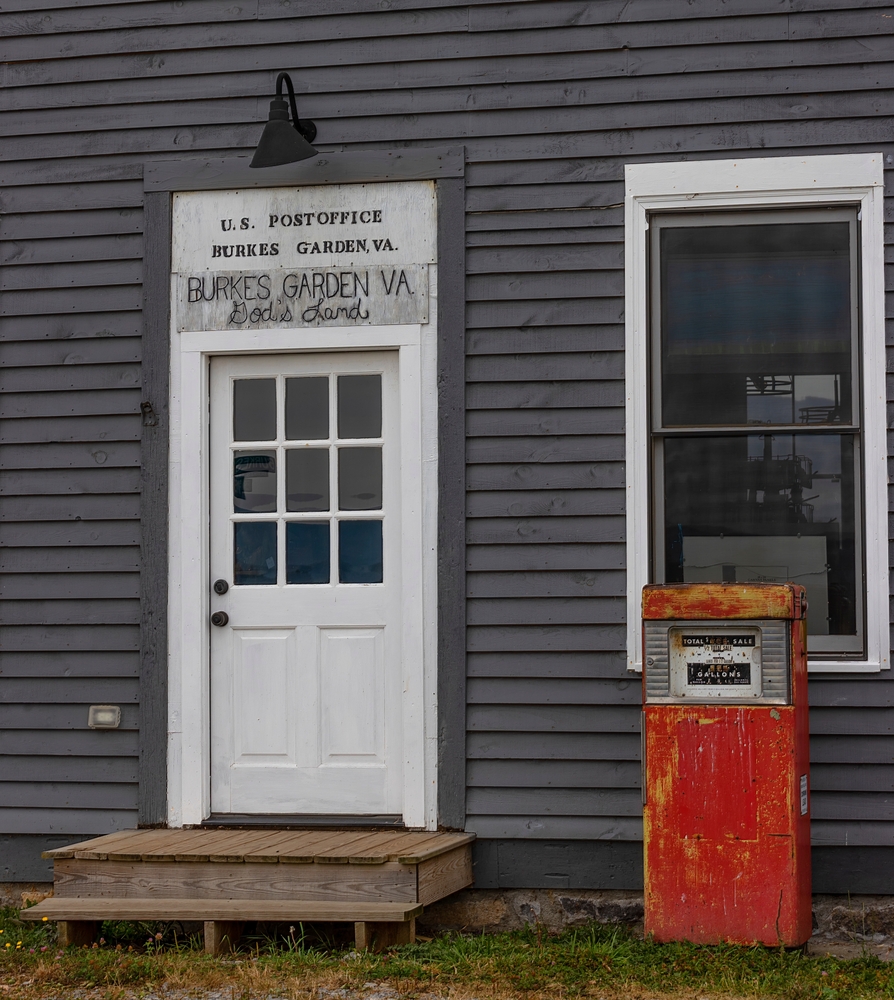 Maymont
Maymont is a historic estate located in Richmond. The beautiful mansion sits on over 100 acres of well-maintained landscaped grounds. There are gardens, an arboretum, feed-friendly goats, native wildlife habitats, and a nature center. You can explore all of that and the mansion. The grounds, gardens, farm, and wildlife habitats are open daily from 10 am to 5 pm. It is suggested that you leave at least a $5 donation when you visit.
The Robins Nature Center is open Friday through Sunday from 10 am to 5 pm. There is an $8 entrance fee for adults and $6 for children. The Maymont Mansion is open Friday through Sunday with varying tour times throughout the day. There is another $8 and $6 entrance fee for a tour of the mansion. However, it is well worth it. The money helps fund the continued operation of the mansion, the grounds, and the nature center so that they are around in the future for others to enjoy.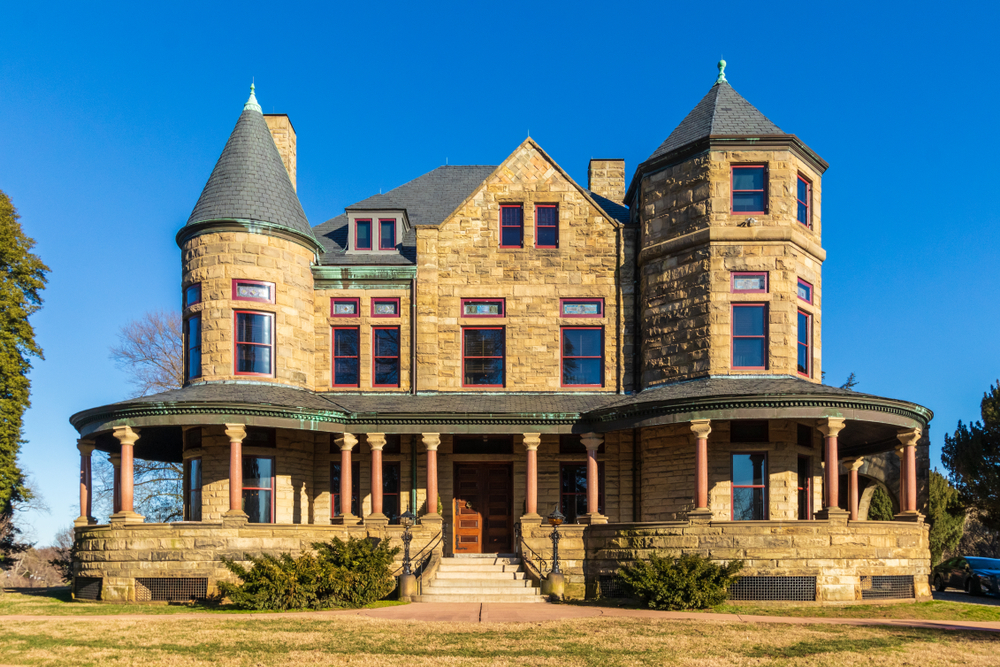 The Bluebell Trail
In the Bull Run Regional Park, you'll find one of the best hidden gems in northern Virginia. Just off of the Bull Run Occoquan Trail near Atlantis Waterpark you'll find the beautiful Bluebell Trail. The Bluebell Trail is a one-and-a-half-mile loop. It is a great hiking trail for all ages and skill levels to explore the forest around Bull Run, year-round.
However, in mid-April, the Bluebell Trail truly shines. That is when over 25 varieties of wildflowers, including gorgeous Bluebells, are in full bloom. Because it is so pretty, it can get pretty crowded in April. But if you don't mind the crowds, a spring walk on the Bluebell Trail is one of the best secret places in Virginia to explore. Bring your camera and make sure you take some pictures of these stunning wildflowers while you're there!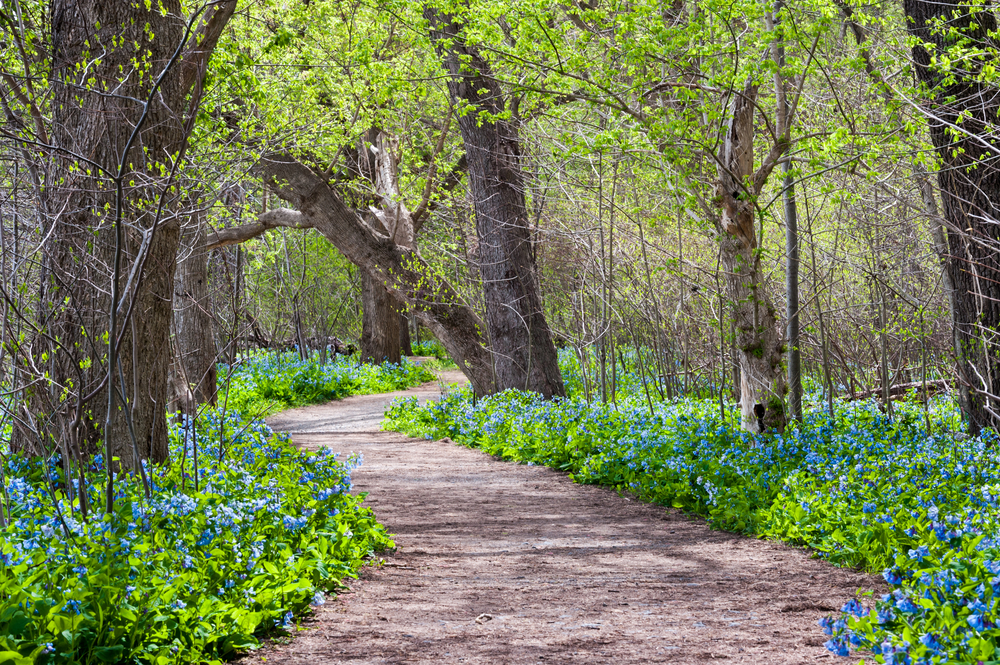 The Great Stalacpipe Organ
One of the best Virginia hidden gems can be found in the Luray Caverns near Shenandoah National Park. The Luray Caverns are easily the best caverns to tour in VA and they are the largest caverns in the eastern US. The caverns themselves are pretty popular, but they aren't what we are considering one of the best hidden gems in Virginia. No, what we consider one of the best Virginia hidden gems is the Great Stalacpipe Organ that is actually within the caverns.
It was built in 1954 and is played on every tour of the caverns. However, when most people tell you about the caverns and why you should tour them, they often forget this super cool VA hidden gem. The Stalacpipe Organ is a lithopone that has been specially made to play in Luray Caverns. Instead of blowing through pipes, the organ blows through 37 natural stalactites. With the perfect acoustics in the cavern, hearing the Stalactite Organ play is one of the coolest off-the-beaten-path things in Virginia you can experience.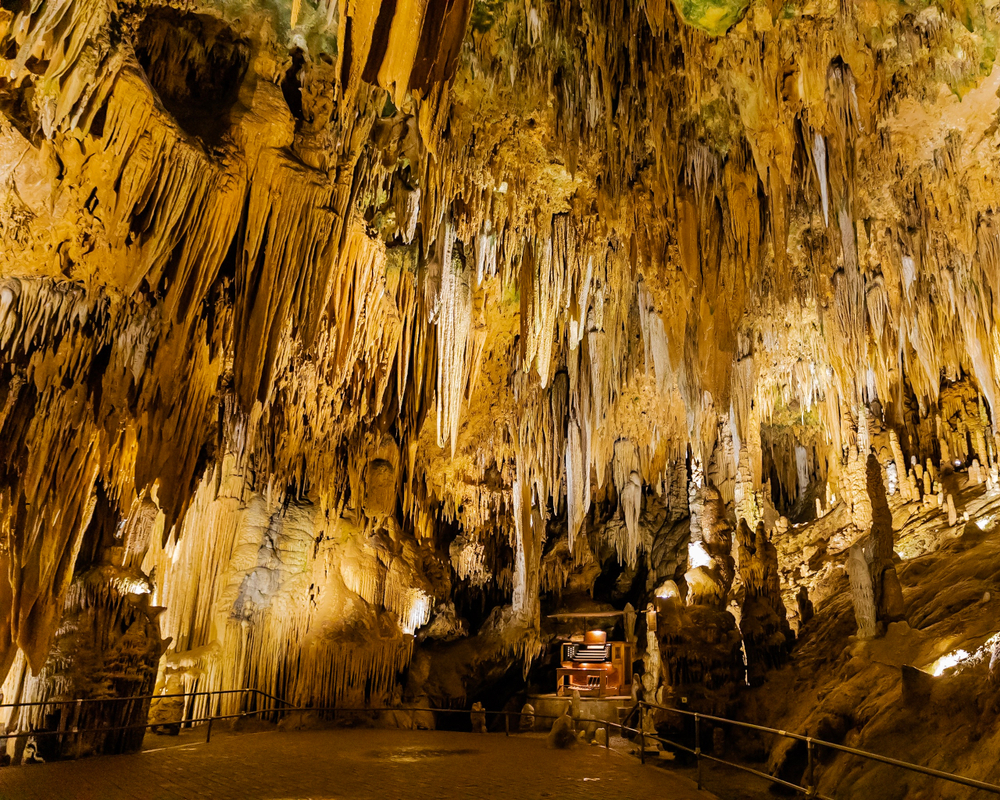 Hollywood Cemetery
Another one of the most unique places to visit in Virginia can be found in Richmond. The Hollywood Cemetery is something we absolutely suggest seeing in Richmond on your next trip. Most people don't think to tour a cemetery when they are traveling to a new city. But they should, especially if it's the Hollywood Cemetery.
So what makes the Hollywood Cemetery so special? It's not just a cemetery, it's also a nationally recognized arboretum. That's because this cemetery is also one of the best nature spots in Virginia. It houses some of the best examples of native fauna in the state of Virginia. It was established in 1847 on the banks of the James River.
The cemetery is 135 acres of rolling hills and valleys speckled with historic tombstones and stately trees. When it was originally planned, the designer, Jon Notman, made a point to keep as many of the natural trees as possible. It's also the final resting place of two Presidents: President James Monroe and President John Tyler. Its combination of national and natural history makes it one of the most unique places to visit in Virginia.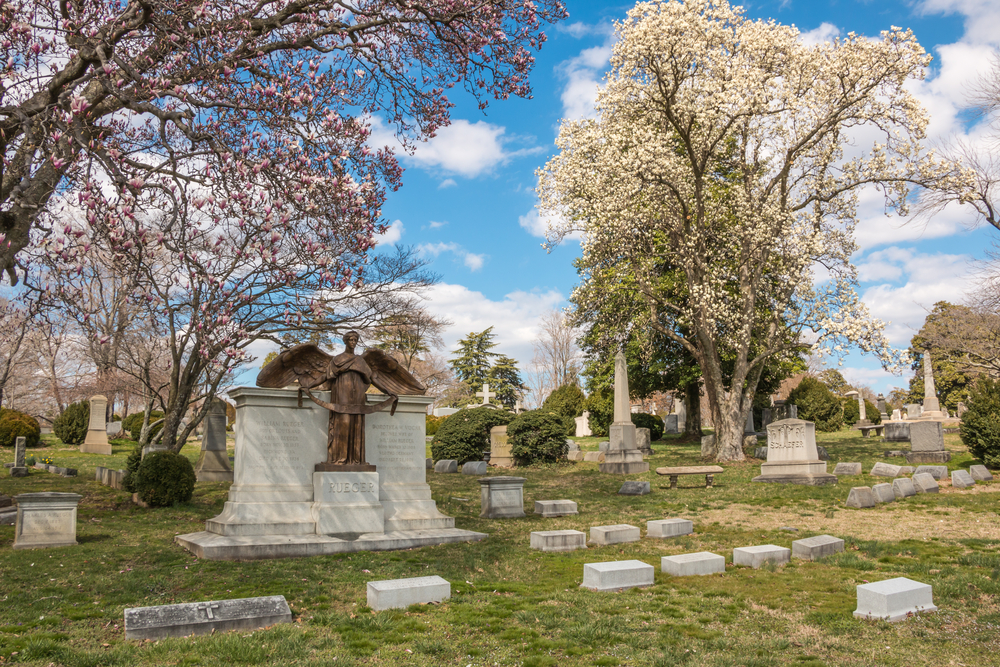 Virginia's Little Switzerland And The Highland Country
Virginia's Highland Country and Little Switzerland is one of the best hidden gems in western Virginia. Highland Country is actually located in Highland County, in the Alleghany Mountains of Virginia. The area is super close to Monongahela National Forest, which is another great place to explore. Highland County is often called 'Virginia's Little Switzerland'. That's because it features similar stunning mountain landscapes.
It is part of the Shenandoah Valley region and sits right along the border to West Virginia. There are many reasons to visit this picturesque secret place in Virginia. One of the most popular times to visit is during the annual Highland Maple Festival. The Maple Festival takes place every March for two weekends. You'll be able to harvest your own maple syrup and enjoy tons of maple goodies. In the fall, the county has a Hands and Harvest Festival that is also pretty popular.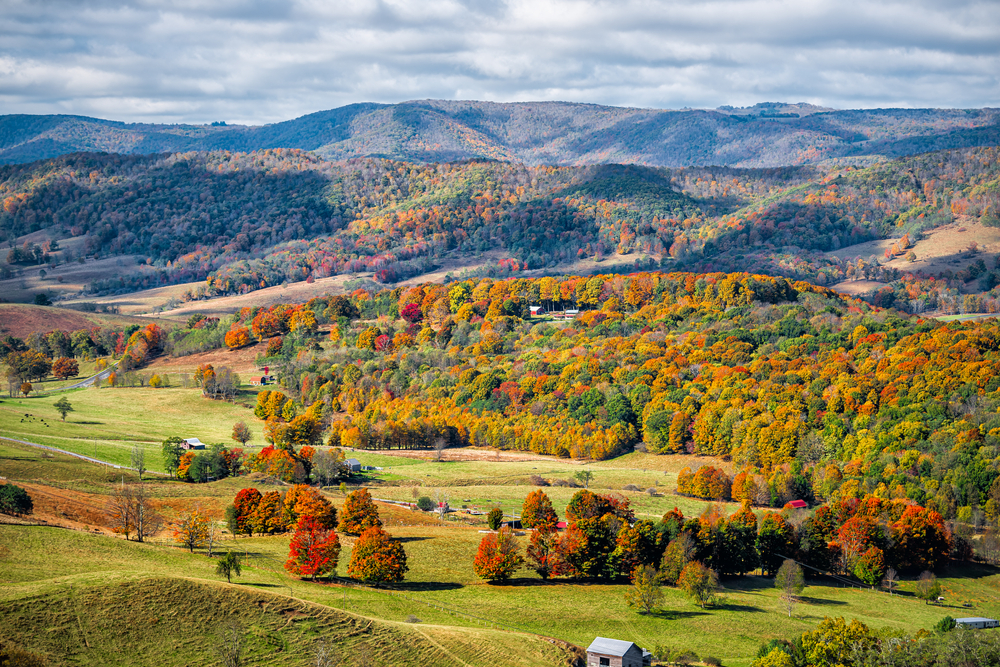 Mount Rogers National Recreation Area
The Mount Rogers National Recreation Area is one of the best hidden gems in southwestern Virginia. It's often considered one of the best day hikes in southwest Virginia, yet it's not well known. Mount Rogers is home to the tallest peak in Virginia, so the hike is not for the faint of heart. Less skilled hikers can hike part of the mount, but the full summit hike is probably best suited for more experienced hikers. You'll need to be prepared to spend hours hiking uphill to the summit of Mount Rogers.
Mount Rogers is 5,279 feet tall, which is what makes it the tallest peak in VA. The 9-mile in-and-out trail is one of the most interesting hiking trails in the state. Even if you only hike part of it. You'll get to see incredible views of George Washington and Jefferson National Forest that surrounds the peak. All along the trail, there are also wild blueberries that are safe to eat, beautiful wildflower patches, and feral highland ponies that roam the mount. It's one of the prettiest Virginia hidden gems, no matter how much of it you hike.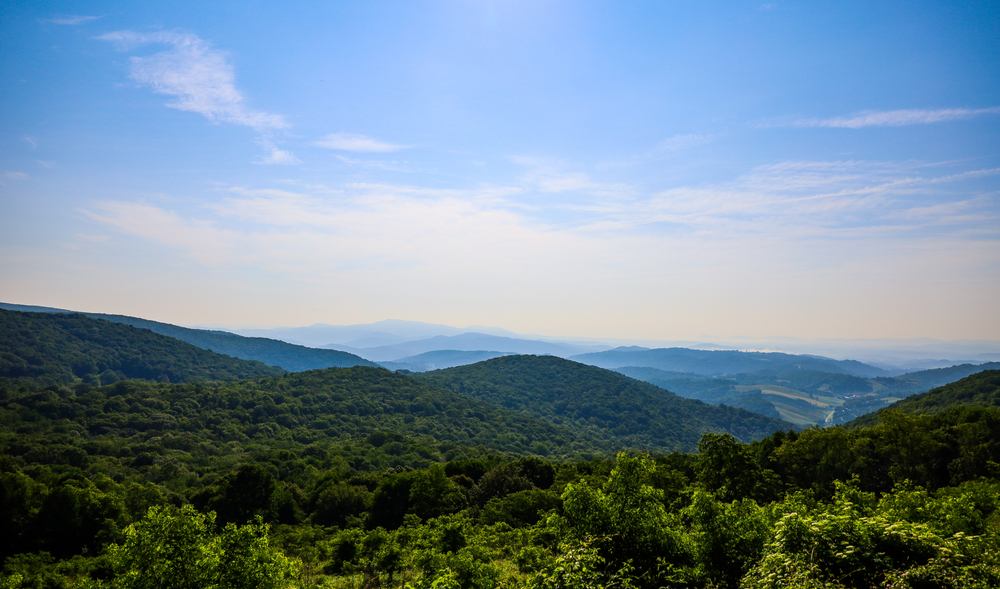 Great Falls Park
Great Falls Park is a National Park Service Site located in McLean, VA. It is named for the waterfall that is created by the powerful rushing waters of the Potomac River. The waterfall flows over jagged rocks into the narrow Mather Gorge. It is a beautiful VA waterfall that we definitely suggest visiting. Along with this beautiful waterfall, Great Falls Park has 800 acres of wildlife to explore, plus its only 15 miles away from Washington DC!
Before it became a National Park Service Site, Great Falls Park was actually a thriving trading post. In fact, throughout most of its history, that's been its main purpose. Both the Native Americans and later European settlers used it as a popular trading post. It was also a popular place for fishing and once the canal was built, there was even a small town and an amusement park. Great Falls Park has a unique history that you'll be able to explore while you visit.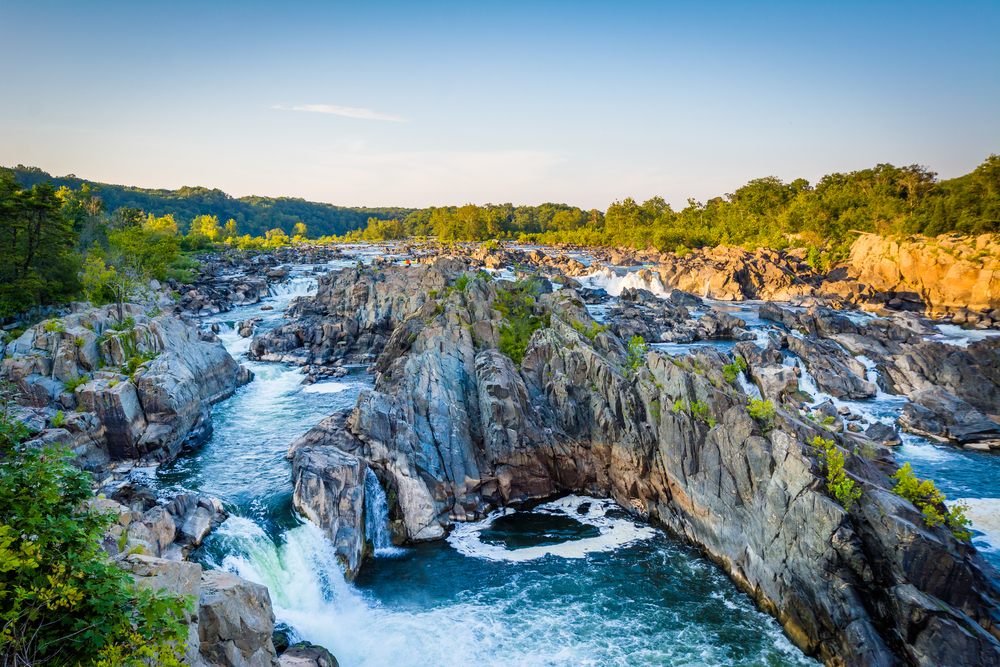 Edgar Allan Poe Museum
Throughout the East Coast, there are several Edgar Allan Poe Museums. Each museum is housed in a significant place for the author. In Baltimore, you can tour his home as a young adult and actually visit his final resting place. In NYC, there is a Poe museum in a house Poe once lived in. There is even a Poe historic site on Sullivan's Island in South Carolina and in Philadelphia, PA. In Richmond Virginia, you'll find another Edgar Allan Poe Museum.
The Richmond Poe Museum is the biggest of all of them. However, it's the only one that is not actually housed in a building Poe ever lived in. Instead, it serves as a place to commemorate the time Poe spent in Richmond. It was in Richmond that Poe would write several of his most famous poems and stories, including The Raven, and The Fall of the House of Usher.
Within the museum, you'll find the world's largest collection of Poe artifacts. They have rare manuscripts, letters, and the famous daguerreotype of Edgar Allan Poe. You'll also be able to see some of Poe's personal items, like clothing, furniture, and writing utensils. If you're a Poe lover, then this is one of the coolest secret places in Virginia to visit.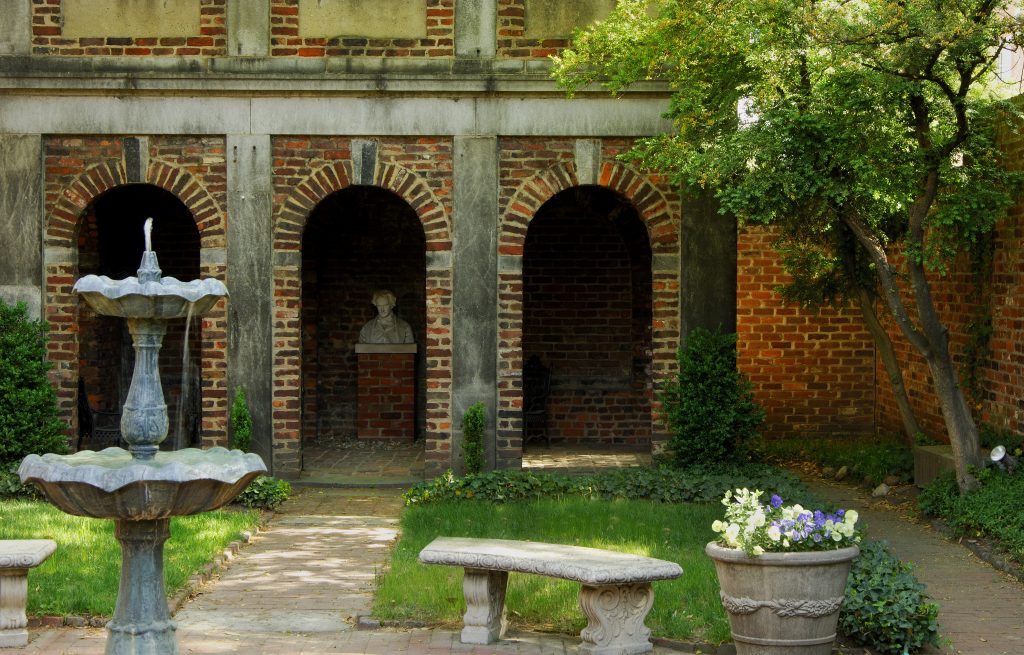 The Devil's Bathtub Trail
Over the years, the Devil's Bathtub Trail has started to gain in popularity. However, we still think it's one of the best hidden gems in Virginia. You can find the Devil's Bathtub Trail in Scott County, VA. Because it has started to become more popular, it is starting to suffer from environmental issues due to over-visiting. So, if you decide to visit this secret place in Virginia, please be respectful and remember to leave it better than you found it.
It is a more difficult trail because you'll have to occasionally scramble over boulders and walk through water. You'll want to visit when the water conditions are low to avoid getting too wet. The Devil's Bathtub is a naturally occurring smooth swimming hole with a small waterfall. There are two ways to get to it, either a 7-mile round trip loop with no creek crossings. Or a shorter hike, but that forces you to cross a total of 13 creeks. Either way, you'll probably return to your car tired and wet.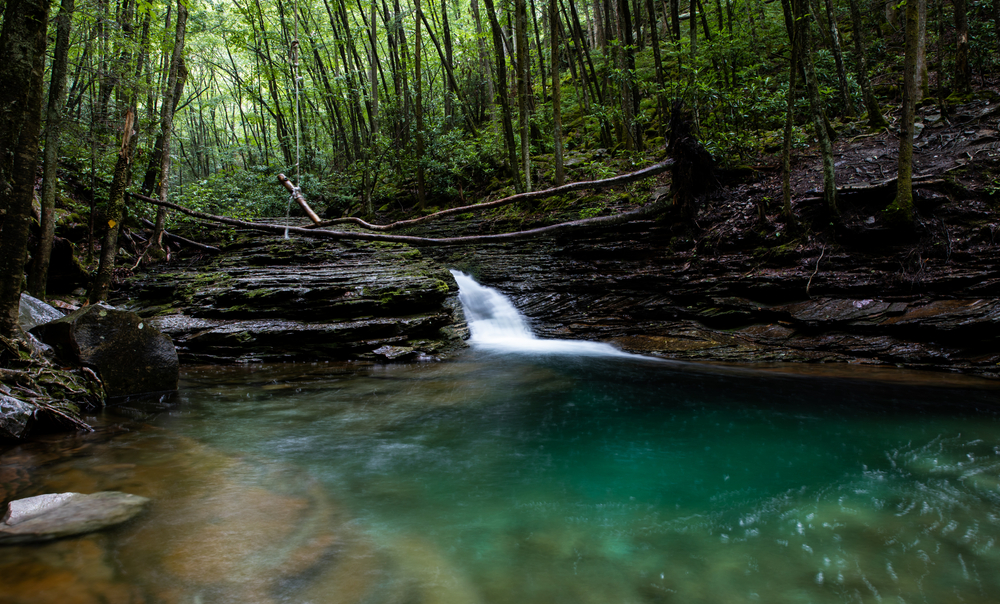 Starlite Drive-In
As of 2019, there were only about 321 Drive-In Movie Theaters left in the US. In the 1950s, there were over 4,000. One of these last remaining Americana landmarks is the Starlite Drive-in. It is located in Christiansburg Virginia. The Starlite Drive-in is one of the most unique places to visit in Virginia because it is a cultural American icon. If you've never experienced a Drive-in movie theater, then you'll definitely want to visit Starlite.
The Drive-in theater is open seasonally from the late Spring into early Fall. They typically show two movies a night and the same two movies on Friday and Saturday. It costs $8 per adult and $5 per kid to enter the Drive-in. That is a deal you can't find at a traditional movie theater! Plus, it's a really cool experience. The Drive-in also has a concession stand where you can get movie classics like popcorn and candy, but also full meals like hamburgers and hotdogs.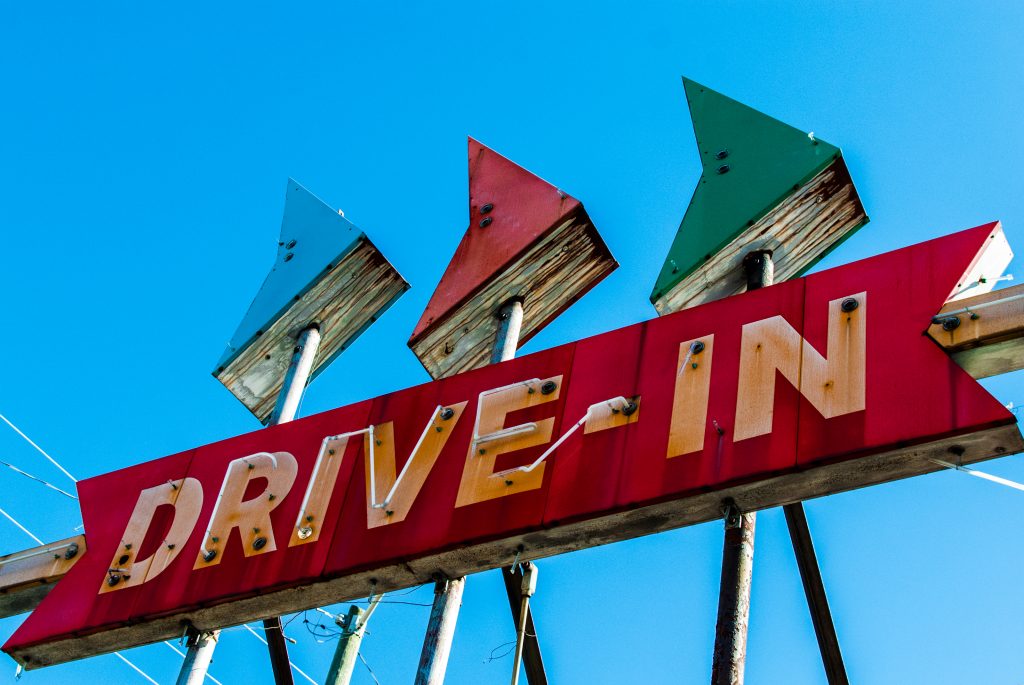 There are so many amazing hidden gems in Virginia. From quirky historic sites, castles, Drive-in movie theaters, and stunning natural areas. No matter what piques your interest, there is a unique place to visit in Virginia for you to explore. If you've had the opportunity to see any of these secret places in Virginia, we'd love to hear about it in the comments.