If you are looking for the best places to visit in Virginia, you have come to the right place!
There is such a variety of vacation destinations in Virginia and any type of traveler will want to add this Southern state to their bucket list.
Virginia holds so much natural beauty as well as historic significance. American history buffs, photographers, hikers, and architecture lovers will be amazed at the number of places to go in Virginia.
They say Virginia is lovers, so if you are planning a romantic getaway, you could not pick a better place. There are plenty of small towns to hole up in away from the world.
Let's dive into these fun Virginia tourist attractions!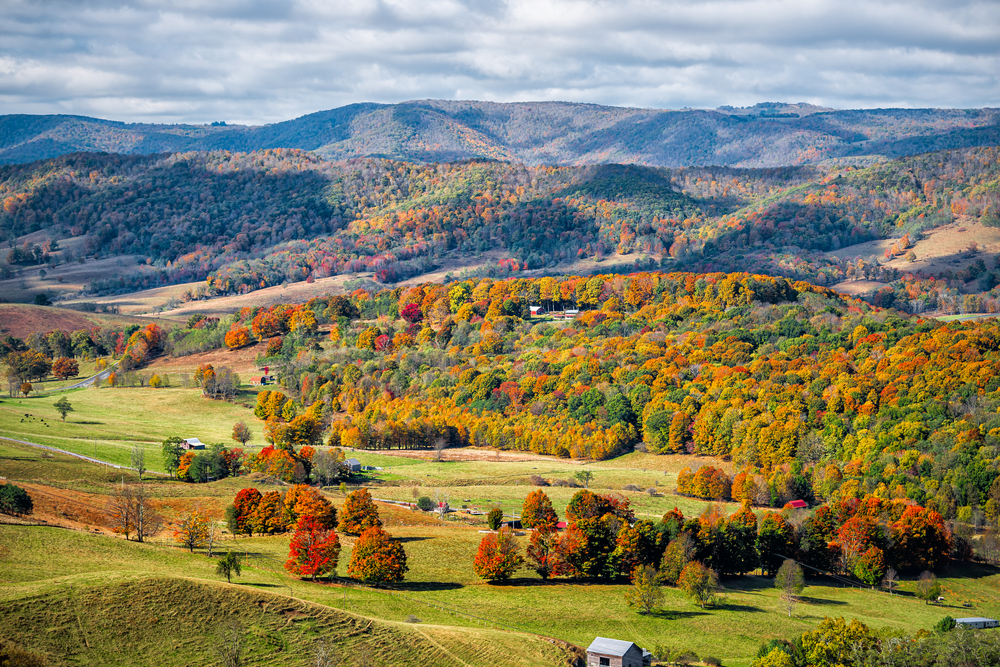 17 Best Places To Visit In Virginia (+ Unique Vacation Spots)
Williamsburg
There are so many fun and unique things to do in Williamsburg. This small town is jammed packed with historic buildings, art museums, and wineries.
Colonial Williamsburg is one of the top tourist places to visit in Virginia. You can step back in time as you explore 300 acres of restored buildings from the 17th and 18th centuries. There are horse-drawn carriages to ride in and demonstrations of historic trades. This is also one of the best Romantic Getaways In Virginia!
Williamsburg is also a great place in the South to take part in a ghost tour. There are a lot of restless spirits in this historic town. If you are more interested in eating than being spooked, a food tour will bring you to some great-tasting seafood. Don't forget to check out our list of Best Restaurants In Williamsburg for your visit.
Where to Stay: Williamsburg Inn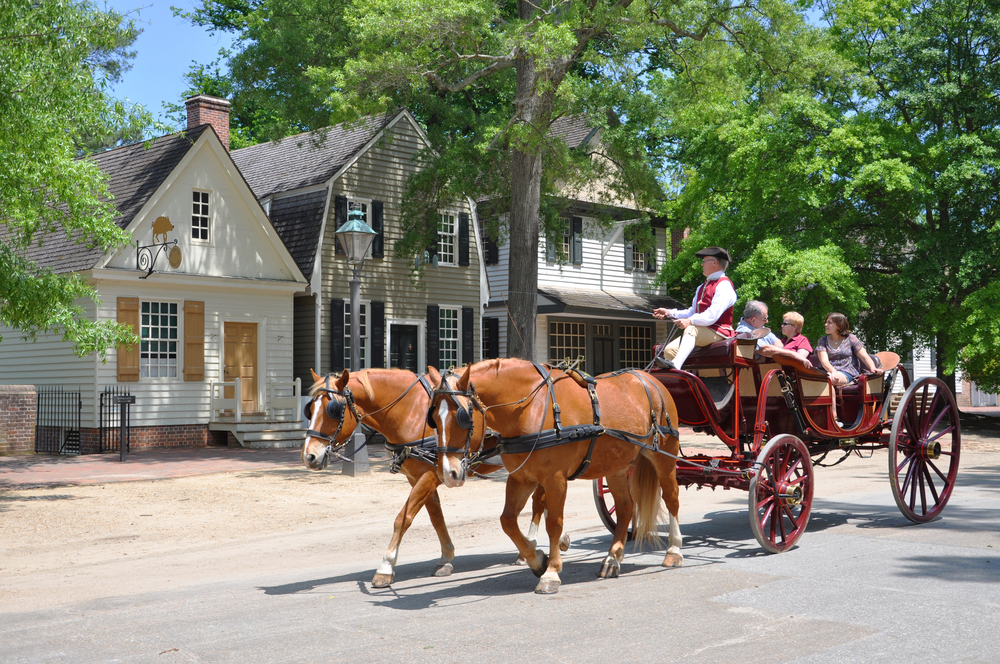 Shenandoah National Park
Shenandoah National Park is 100% one of the best natural places to visit in Virginia. This national park encompasses part of the Blue Ridge Mountains and deserves a top spot on your Virginia itinerary.
There are over five hundred miles of hiking trails to explore, including a portion of the famous Appalachian Trail. The trails have sweeping vistas, waterfalls, and wildlife to discover.
Become one with nature as you birdwatch, fish, and stargaze. This is also one of the best places for fall foliage in Virginia.
Come camp in this beautiful park or rent a scenic cabin where you can make great memories with your family or significant other.
Where to Stay: Lazy Bear Lodge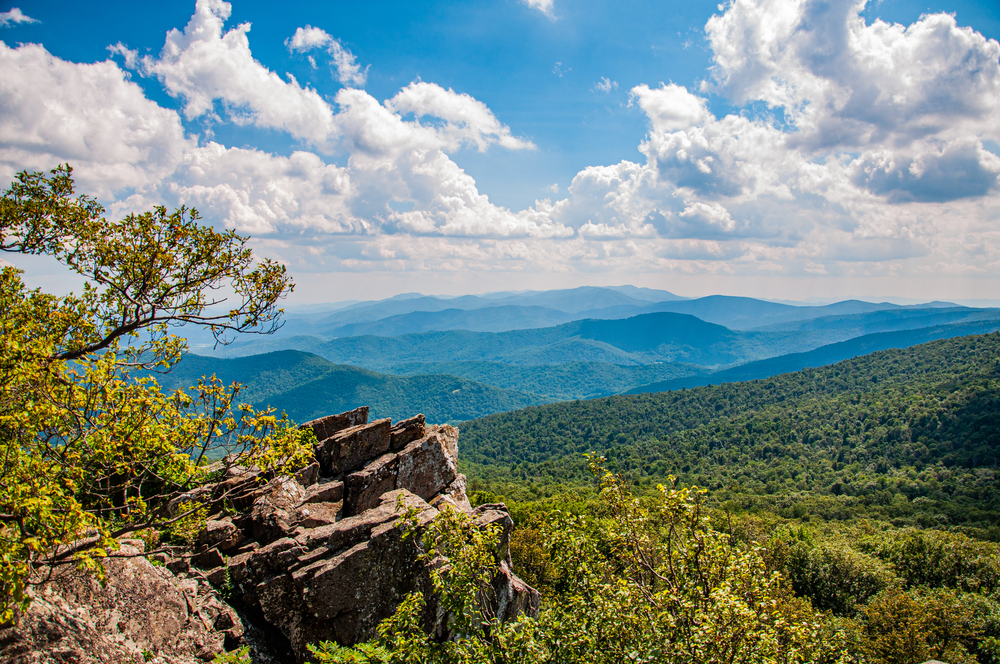 Natural Bridge State Park
The Natural Bridge of Virginia is an amazing piece of natural history. This has been one of the best Virginia tourist attractions since the 18th century. It wowed George Washington and caused Thomas Jefferson to purchase the land it stood on from King George III for twenty shillings.
Today, you can come and be awed by this 215-foot tall limestone arch. Along with the bridge, the park includes scenic forests, meadows, and waterfalls. There are over seven miles of hiking trails to explore.
Make sure to check out the re-created Monacan Indian Village. If you are looking for a place to stay, you can check into the beautiful and historic Natural Bridge Hotel.
Where to Stay: Natural Bridge Hotel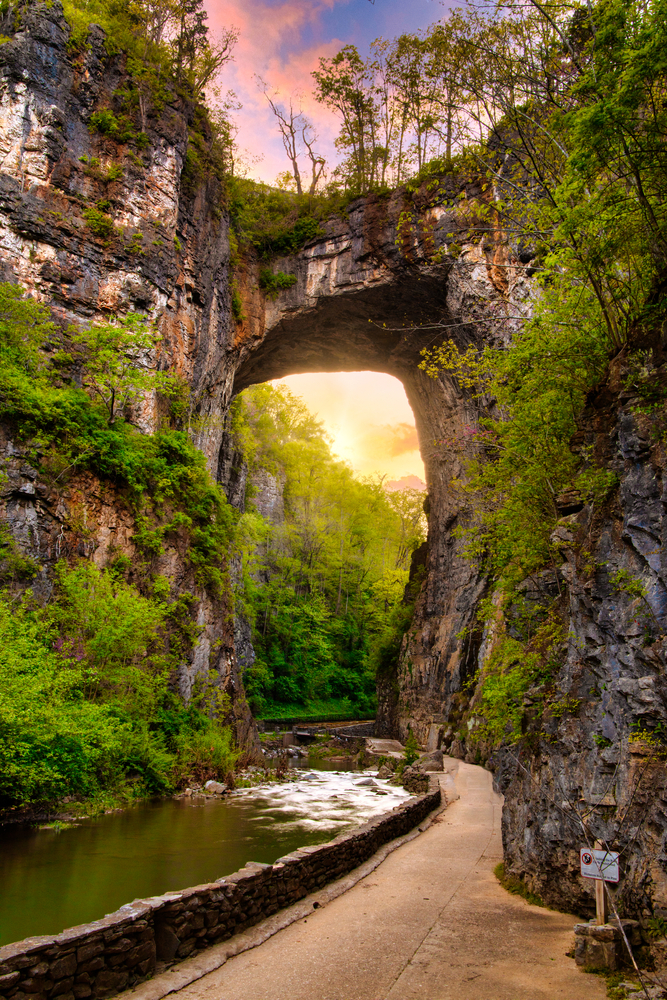 Virginia Beach
Virginia Beach boasts some of the best beaches in the South. This is easily one of the best places to visit in Virginia if you are craving a relaxing day in the sun.
There are three beaches here creating fourteen miles of sandy shoreline. Create the perfect Virginia vacation for the whole family by swimming, surfing, boating, or trying out fun water sports.
If you somehow get bored of the beach, you can check out the boardwalk. You can ride a bike here or spend time shopping and eating. Virginia Beach also has a great nightlife scene.
Where to Stay: Hampton Inn Virginia Beach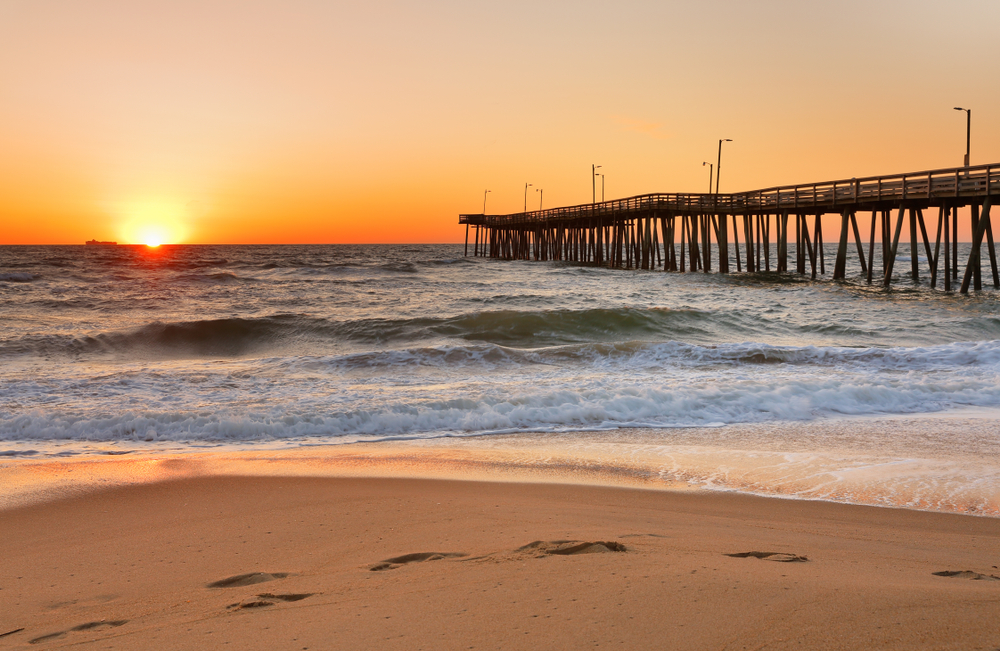 Luray Caverns
Head underground and into the awe-inspiring Luray Caverns. This National Natural Landmark was discovered in 1878 and is now one of the most unique places to visit in Virginia. Both kids and adults will be blown away by this natural wonder.
The caverns are 164 feet underground and remain at a cool 54 degrees Fahrenheit all year. There are a ton of fascinating stalagmites, stalactites, and pools of water. The guided tour takes you a mile and a half through the cave system.
Interestingly, the world's largest musical instrument is found in this cave. The Great Stalacpipe Organ is made from stone and sounds like a xylophone.
Where to Stay: The Cavern on Hawksbill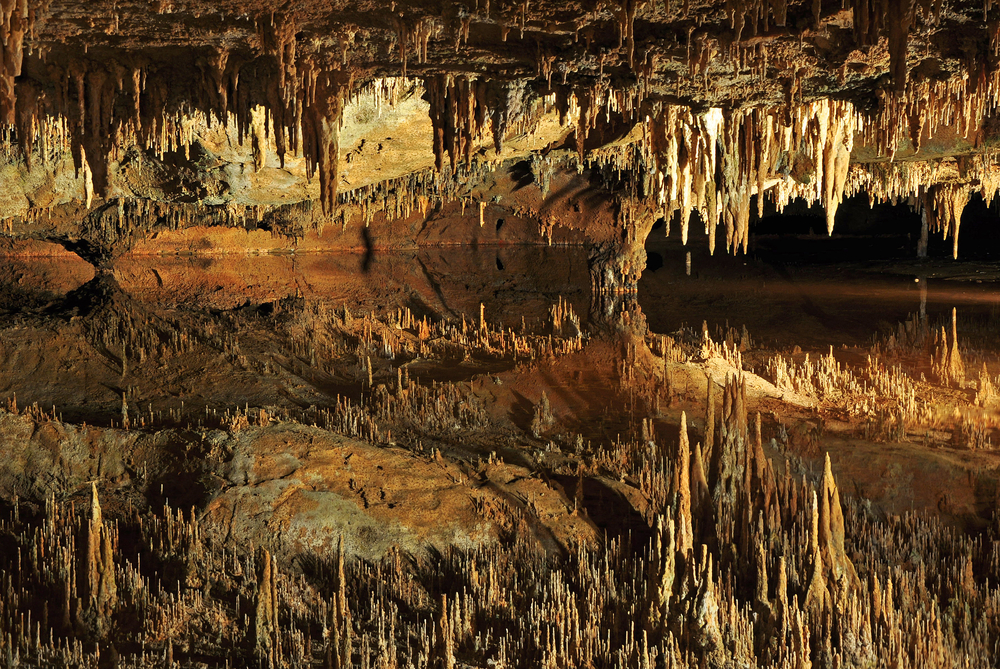 Norfolk
Norfolk is found on the Chesapeake Bay and is best known for having the largest naval base in the world. There is a lot of American and military history here, but even if that does not interest you, you should still visit Norfolk.
This Virginia city has a bustling downtown with great restaurants, shops, and lively nightlife. There is a fantastic, diverse food scene if you want to give your taste buds a treat.
Visit the Nauticus National Maritime Center on the Elizabeth River to find interactive and educational exhibits about ships and naval history. Nature lovers will want to stroll the beautiful Norfolk Botanical Gardens while art fans can soak up culture at the Chrysler Museum of Art.
Where to Stay: Norfolk Waterside Marriott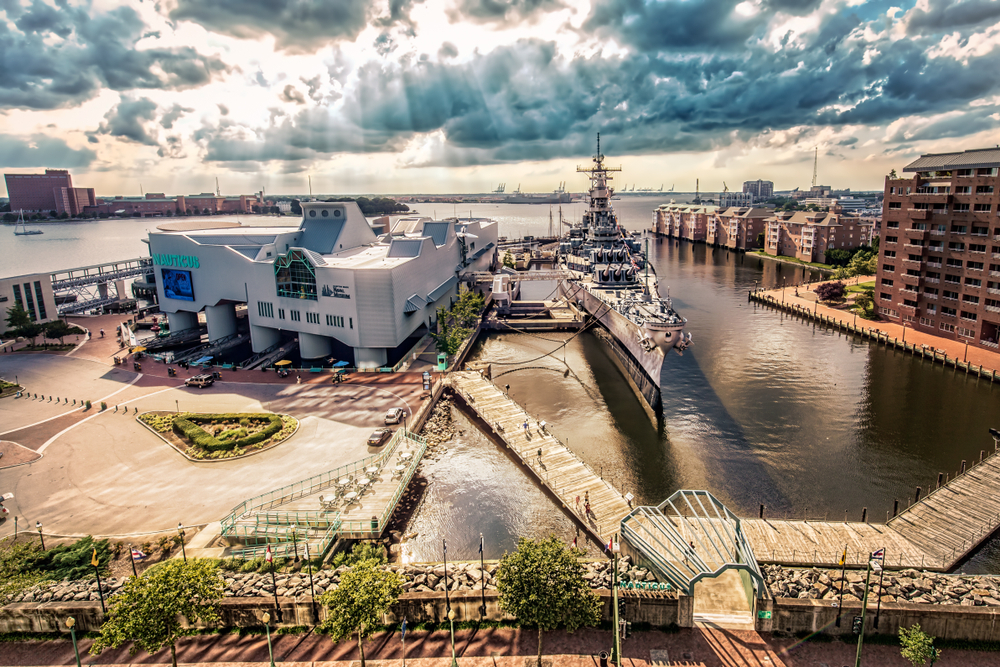 Alexandria
Alexandria, found just outside of Washington D.C., is one of the prettiest small towns in Virginia. The Old Town Historic District is picturesque with cobblestone streets and historic buildings that hold antique shops, boutiques, and local restaurants.
George Washington lived in Alexandria, and you can visit places he frequented, like Christ Church and Gadsby's Tavern. You can also tour the grand George Washington Masonic National Memorial, which was designed to look like the ancient Egyptian Alexandria lighthouse.
Alexandria also has a variety of history and art museums, beautiful historic homes, and pretty gardens. It is easy to say this is one of the best vacation destinations in Virginia! This is one of our favorite things to do in Northern Virginia!
Where to Stay: The Alexandrian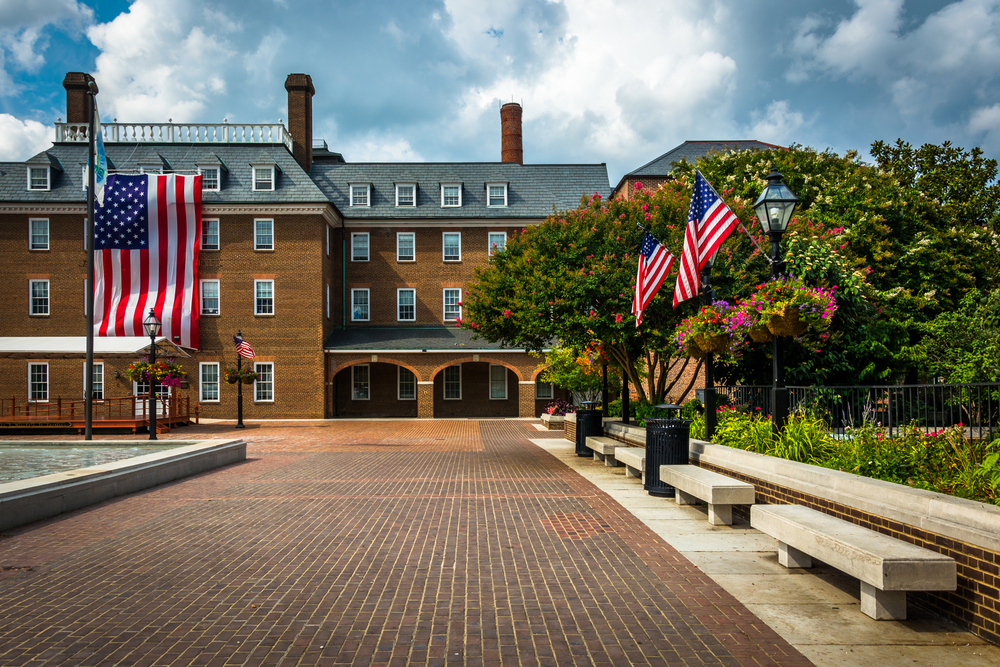 Chincoteague National Wildlife Refuge
If you have a horse lover in your family, the Chincoteague National Wildlife Refuge is definitely one of the best places in Virginia to visit. Is there anything more magical than watching wild horses walk along a sandy beach?
The Chincoteague ponies are descended from the horses of Spanish settlers. These ponies are stout and fat because of their sea-salted diet.
Along with the ponies, this area is great for bird watching. There are a ton of shorebirds here. Other wildlife you might spot includes sika deer, red foxes, and fox squirrels.
This is also a fun place to snorkel since there are shipwrecks to explore. Fishing and crabbing are also popular pastimes.
Where to Stay: Ariel`s Grotto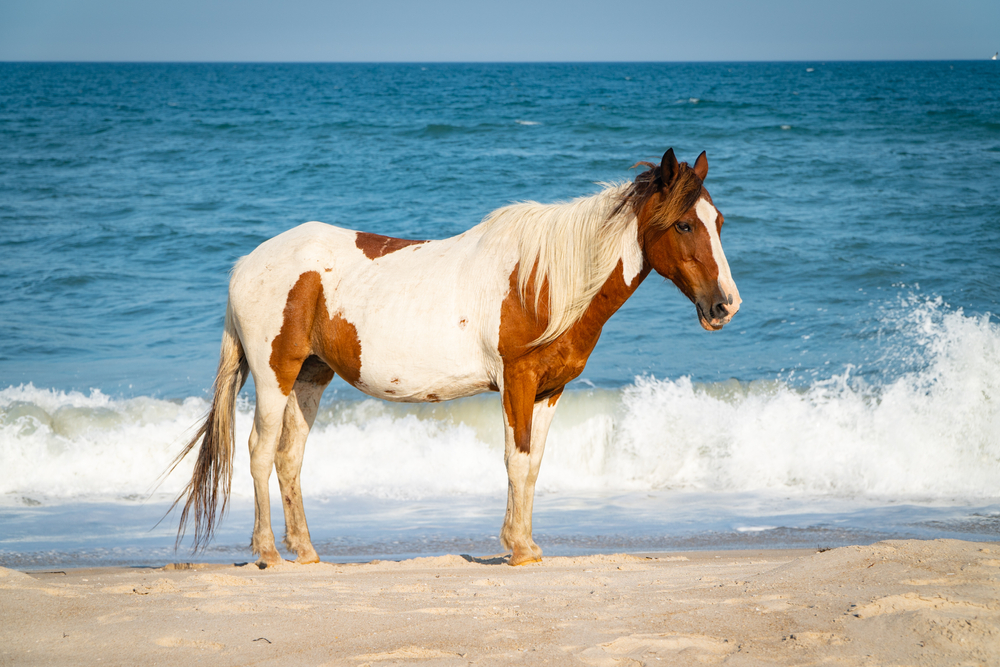 George Washington Birthplace National Monument
George Washington's birthplace burned down in 1776, but a recreated house now stands in its place. It is found near Colonial Beach next to Popes Creek. The new house was built in what would have been an upper-class style and is filled with period furniture.
You can tour the home and see history reenactors do demonstrations. You can also explore the Colonial Herb and Flower Garden to learn about colonial gardening.
At the Colonial Living Farm, you will find Red Devon oxen that are actually descended from Washington's livestock. How interesting is that?! The farm also uses traditional farming methods.
Where to Stay: Dennison Street Inn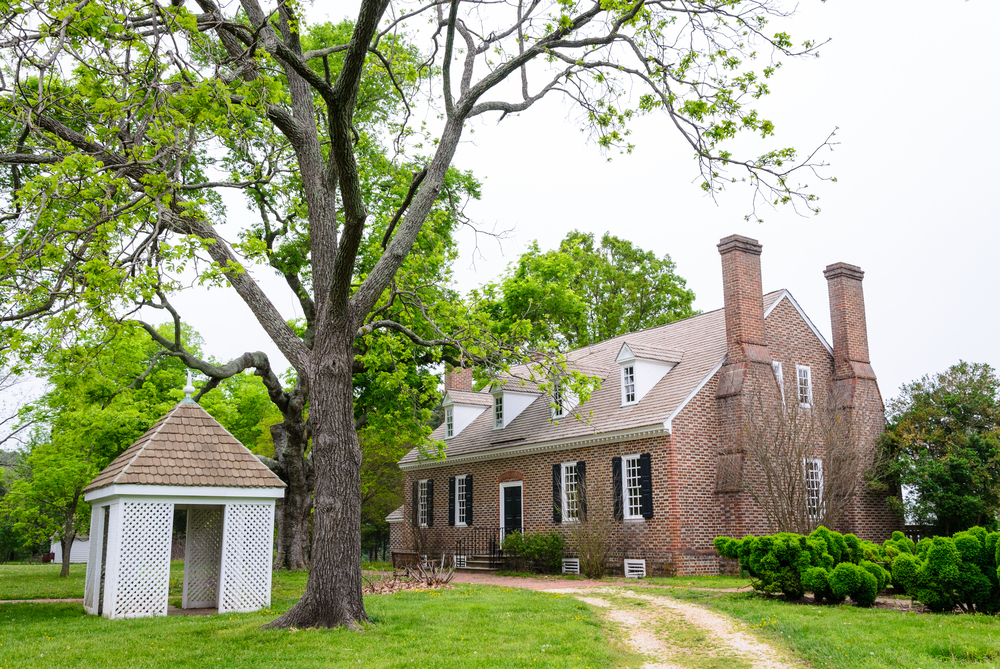 Roanoke
Roanoke is a beautiful mountain town perfect for a weekend getaway or a stop on a Blue Ridge Parkway road trip. With an adorable, historic downtown and amazing mountain views, you can't find a more idyllic place to visit in Virginia.
Mill Mountain is a popular place to hike. At the top, you will find the iconic 90-foot tall Mill Mountain Star. The 600-acre Mill Mountain Park also features a playground, wildflower garden, and Discovery Center.
If you are an avid museum-goer, you can visit the Virginia Museum of Transportation, the Taubman Museum of Art, or the Roanoke Pinball Museum.
Roanoke is also a great place to do a craft beer tour or a tasting at a winery. A bike ride along the Roanoke Valley Greenways is an awesome way to see the region. Overall, Roanoke offers some of the best sightseeing in Virginia.
Where to Stay: The River House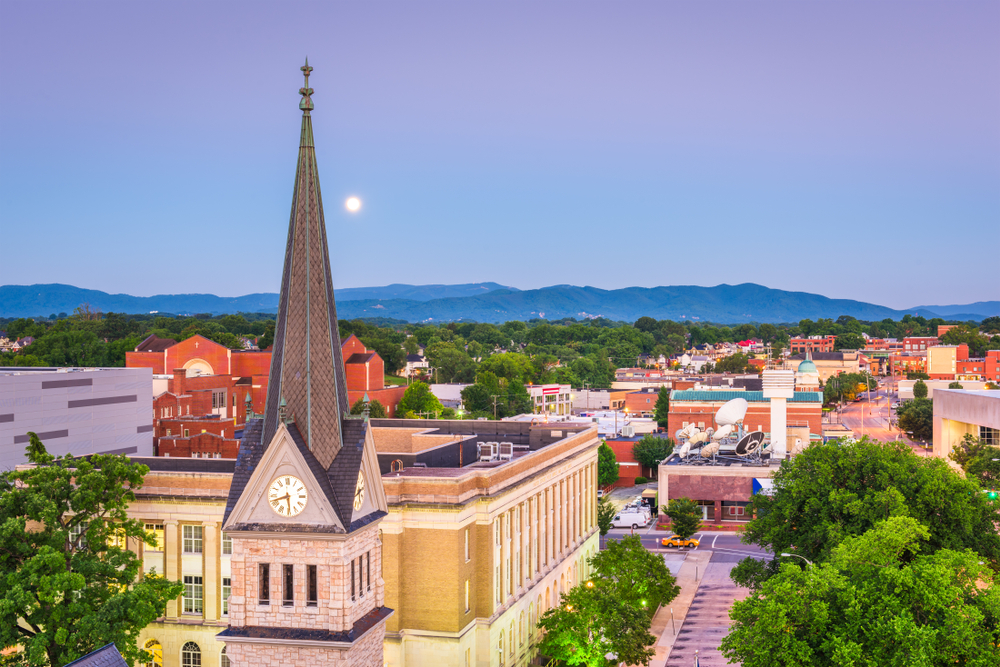 Manassas National Battlefield Park
The Manassas National Battlefield Park was the site of two Civil War battles. The First and Second Battles of Bull Run took place in 1861 and 1862 respectively. The battles are also known as the First and Second Battles of Manassas.
The battleground has been preserved, and you can now take guided tours to learn about the history made here. There is also a museum with artifacts from the battles.
Visit Stone House, which was used as a hospital. There are hiking trails here as well. It is a great place for birdwatching.
Where to Stay: Holiday Inn Manassas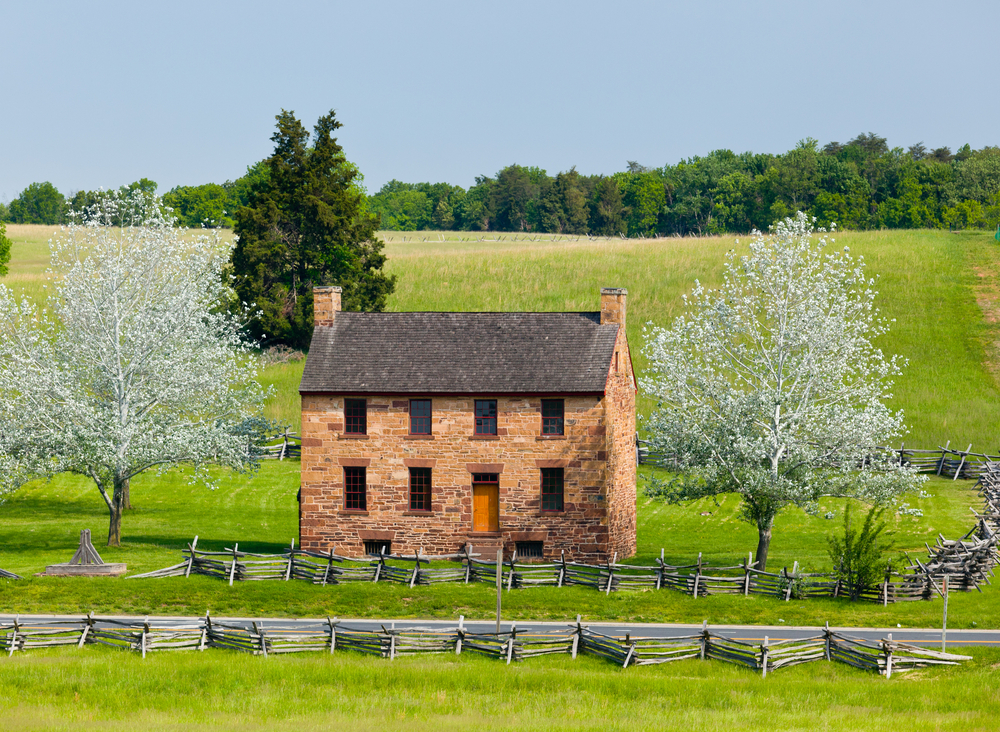 Arlington National Cemetery
The Arlington National Cemetery is one of the most well-known cemeteries in the country. It is found just across the Potomac River from Washington D.C.
Come here to pay your respects to 400,00 veterans and fallen soldiers. Two U.S. presidents are buried here as well, William Howard Taft and John F. Kennedy. The Tomb of the Unknown Soldiers is also found here.
Even though it is a graveyard, it is one of the prettiest places to visit in Virginia. The tombstones are all bright right and perfectly lined up. In spring, the trees are full of flowers and in the fall, there is fiery foliage.
Where to Stay: Hilton Arlington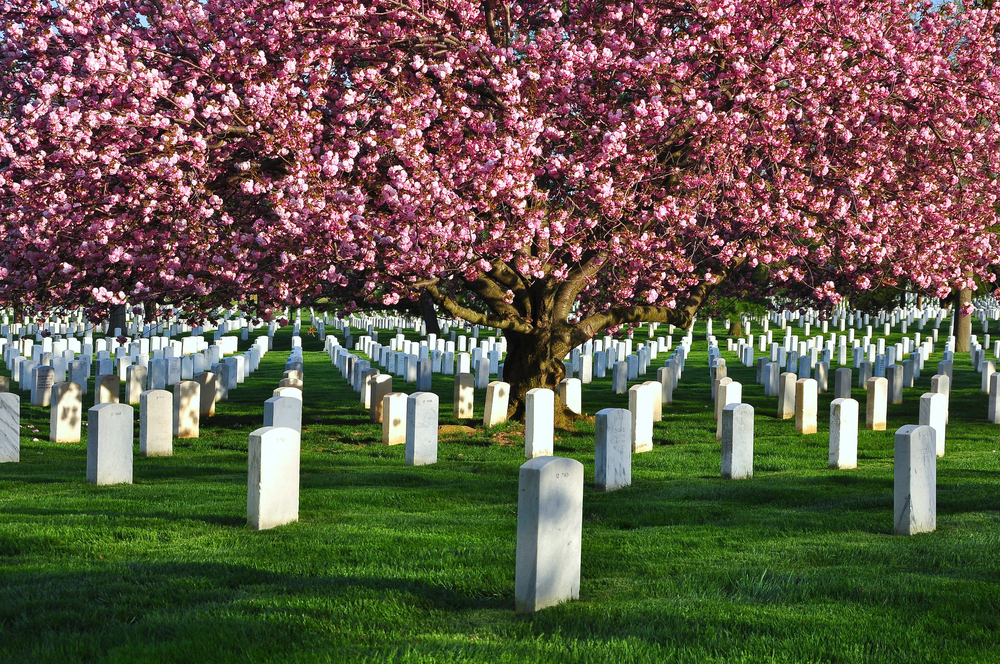 Monticello
Monticello was the home of Thomas Jefferson, the third U.S. president. It is a grand mansion that he designed himself. This is one of the most visited historic homes in Virginia.
This National Historic Landmark is full of exhibits and interactive displays so you can be immersed in learning about history. Along with the building, you can explore the beautiful grounds and gardens.
This home is found in Charlottesville and is a must-see Virginia attraction for anyone interested in American history.
Where to Stay: Graduate Charlottesville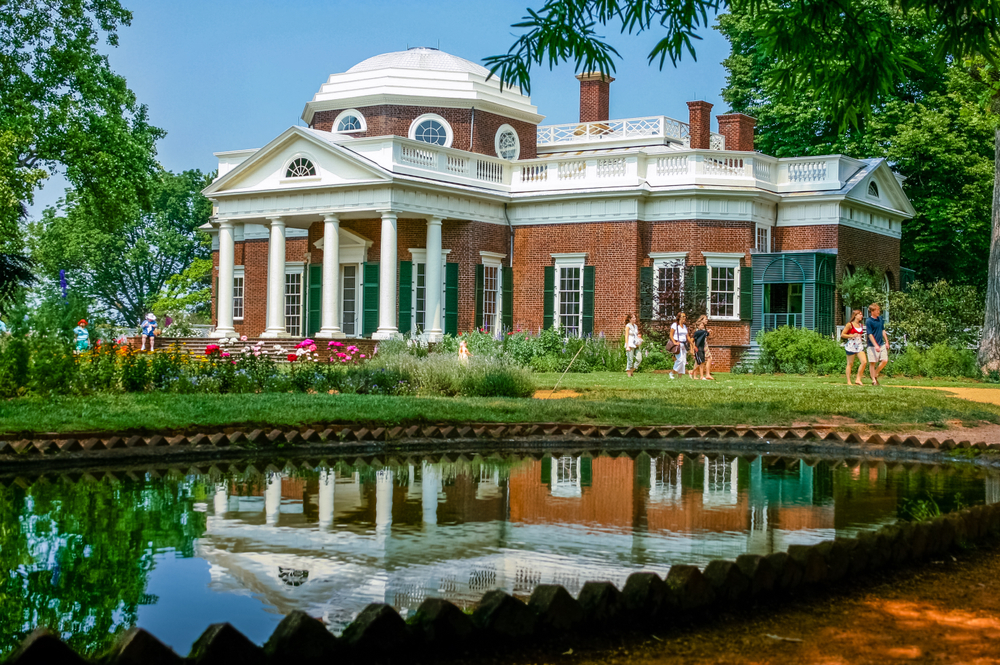 Mount Vernon
Mount Vernon is another presidential home in Virginia, this one belonging to the first U.S. president, George Washington. He lived here for forty-five years until he died here in 1799. You can also find his final resting place at Mount Vernon.
Inside, you will find beautiful 18th-century furnishings while outside there are manicured gardens. The estate also includes a farm, mill, distillery, museums, and more.
Become one of the million visitors this home receives per year when you add it to your Virginia itinerary.
Where to Stay: Best Western Mount Vernon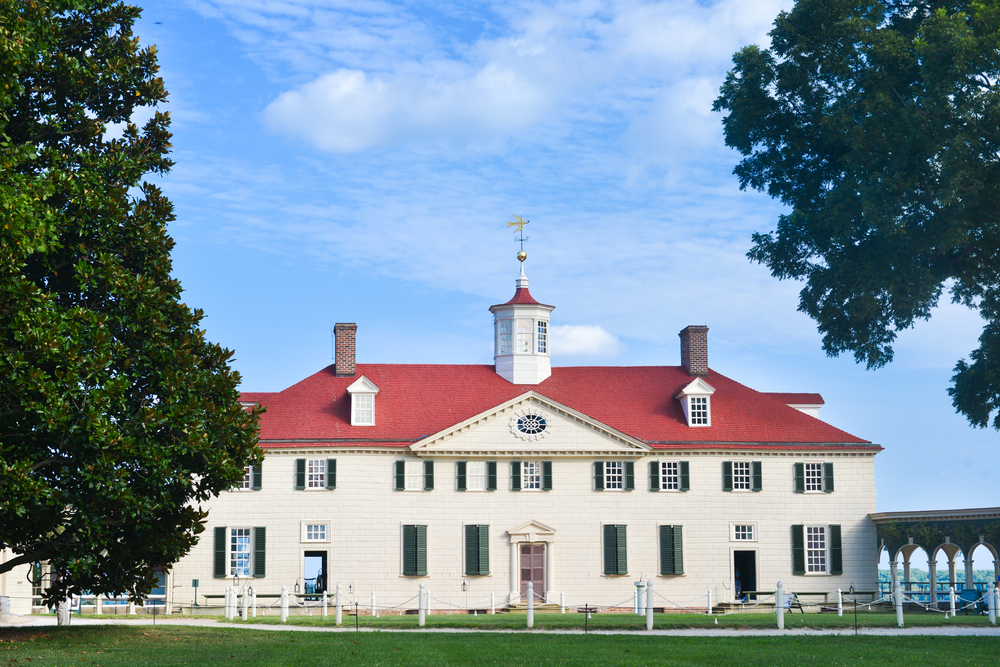 Great Falls Park
Great Falls Park features some of the best waterfalls in Virginia. This scenic area is found along the Potomac River near the Maryland border.
The waterfalls here are not super big, but they are dramatic as they rush over rocky outcroppings. If you are a daredevil, you can hop in a kayak and paddle through the white water currents.
There are also great hiking trails here that provide amazing views. If you are a nature lover, this is definitely one of the best places to visit in Virginia.
Where to Stay: Quality Inn Tysons Corner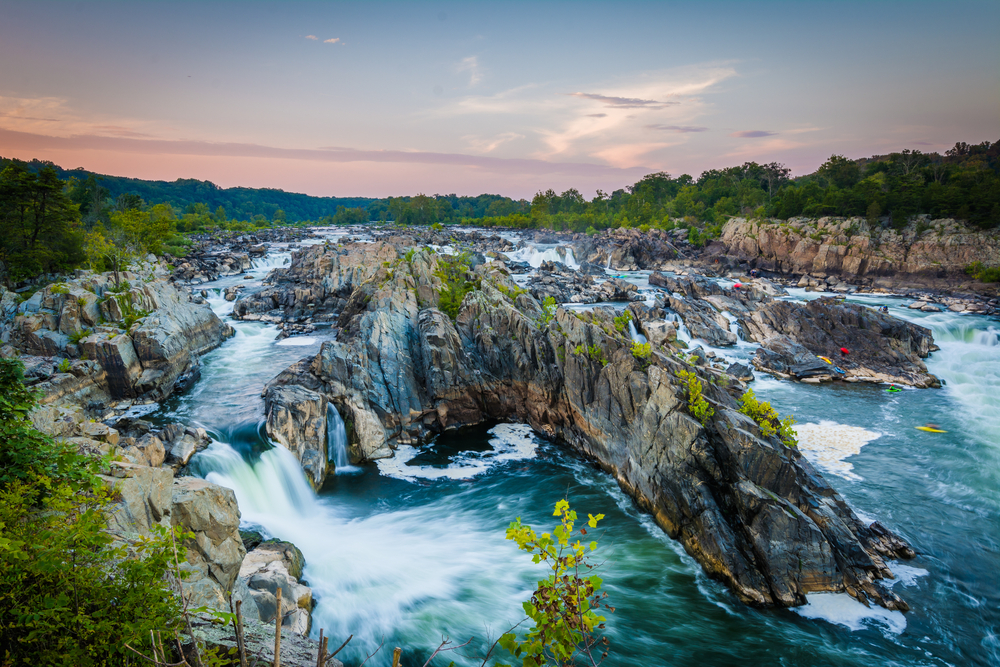 Maymont
Visiting Maymont is one of the best things to do in Richmond. This enchanting 100-acre historic estate and park are some of the prettiest places to see in Virginia.
Built in 1980, Maymont Mansion still stands like a storybook home. The inside acts as a time capsule for the Gilded Age and cosmopolitan wealth. A tour here will guide you into the past. If you come in December, you can enjoy a unique Victorian Christmas.
Maymont is surrounded by an assortment of themed gardens, including an Italian and Japanese Garden. There are expansive lawns and walkways perfect for a beautiful stroll.
If you love animals, stop by the Robins Nature Center or the Maymont Farm. Kids will love feeding the goats at the petting zoo.
Where to Stay: Linden Row Inn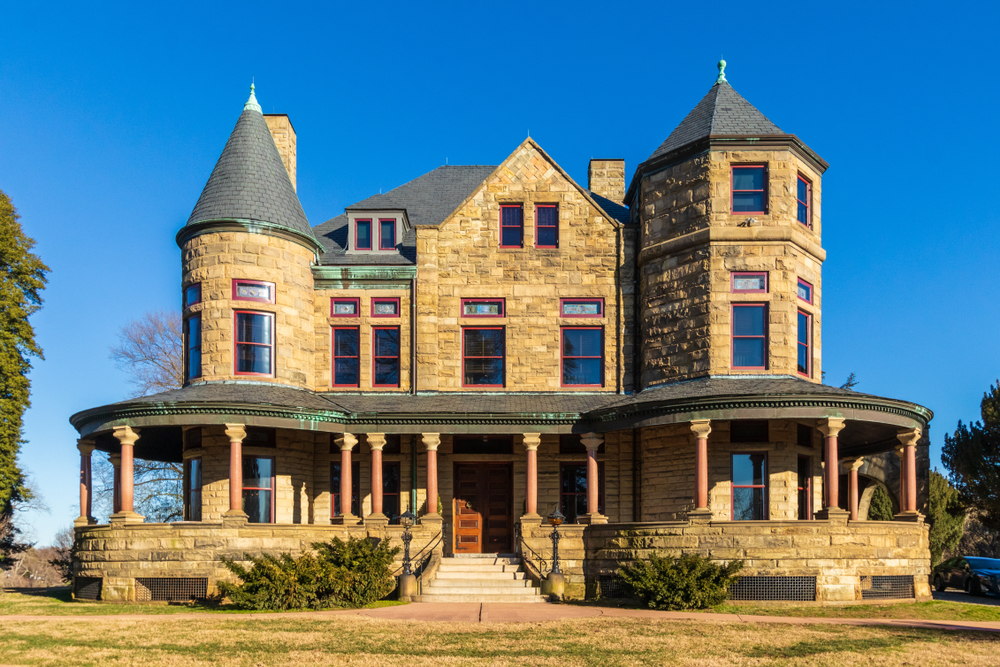 Winchester
Winchester is another of the best small towns to visit in Virginia. This is one of the best places to go in Virginia for Civil War history. While you are at it, make sure to take a look at our list of the best things to do in Winchester VA.
You can visit the Stonewall Jackson's Headquarters Museum, Civil War Orientation Center, and the Cedar Creek Battlefield. The Museum of the Shenandoah Valley will teach you about the art, history, and culture of the region. George Washington's Office Museum holds some personal items of the president.
There are plenty of historic homes in town, too, including the 1754 Abram's Delight and the Patsy Cline Historic House. There are also a good amount of apple orchards and breweries in the area.
Where to Stay: Little Blue Cork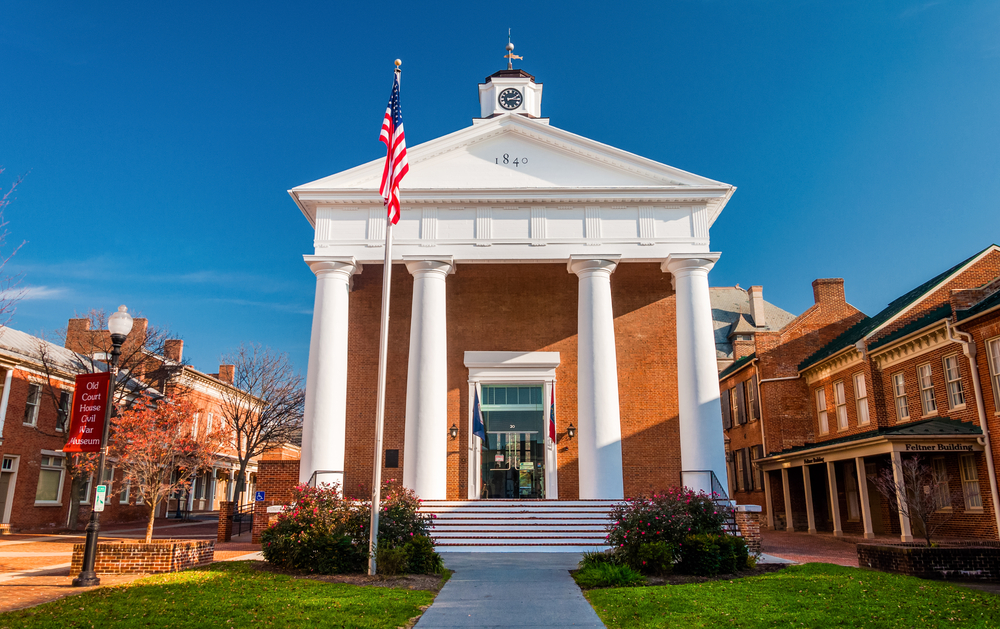 There are so many beautiful Virginia vacation spots it is hard to narrow it down. There are things to do in Virginia for every type of traveler, whether you love nature, history, architecture, or cute towns. Hopefully, you can enjoy some of these fun places to visit in Virginia on your next trip to the South.