If you are looking for the best islands in North Carolina, look no further, we have got you covered! If you love all things pirates, the beach, being outdoors, the barrier islands off the coast of NC are absolutely going to be your jam.
From turtle conservation areas and howling at the moon to visiting light houses and eating some of the finest seafood going, North Carolina islands have so much to offer. No two islands are the same, with some virtually undeveloped, dedicated to the preservation of threatened wildlife, while others offer a more traditional tourism experience with water parks and shopping.
While some islands are for day trips only, do not be deterred. A day trip to an undeveloped barrier island is guaranteed to be an enriching experience that will leave you feeling a new appreciation for our natural world. And every single one offers the unrivaled beauty of the beach. What more is their to love? While we're on the subject of beaches, for more about the best beaches in North Carolina, check out our list!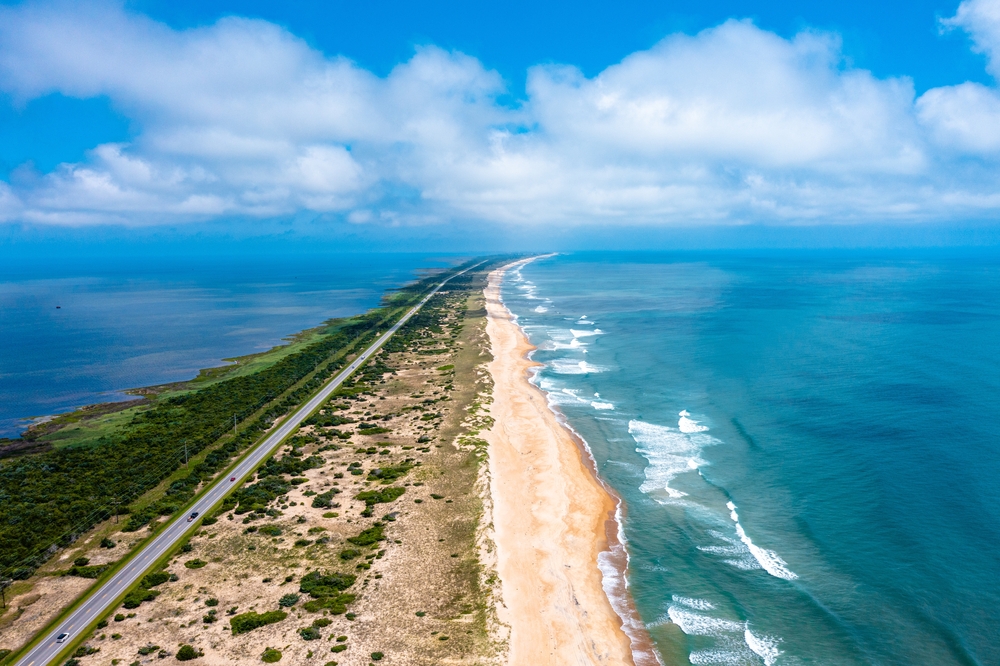 15 Prettiest Islands In North Carolina To Escape To
Masonboro Island Reserve
We kick off our list with Masonboro Island Reserve. Accessible only by boat (with ferry services available), this gorgeous island is truly a pristine paradise that will capture the hearts of nature lovers for sure! It's definitely one of our favorite islands in North Carolina!
Masonboro Island is just five miles south of Wilmington NC, Masonboro offers a range of diverse landscapes including beaches, marshes, tidal flats, sand dunes and shrub vegetation. Masonboro is also visited by several different varieties of sea turtle! It is truly one of the best things to do in Wilmington!
OMG! While loggerhead turtles are the most common visitors, leatherbacks, green and Kemp's ridleys turtles also visit to nest. Cute! Turtle season is May to August. Other wildlife you'll spot if you're lucky include racoons, opossums, white tailed deer, marsh rabbits, red foxes, and cotton mice!
If you're eager to stay longer than a day trip, primitive camping is allowed! For the very best of unspoiled barrier islands in North Carolina, chuck Masonboro Island Reserve onto your bucket list for sure!
Don't forget to check out the best restaurants in Wilmington while you are nearby!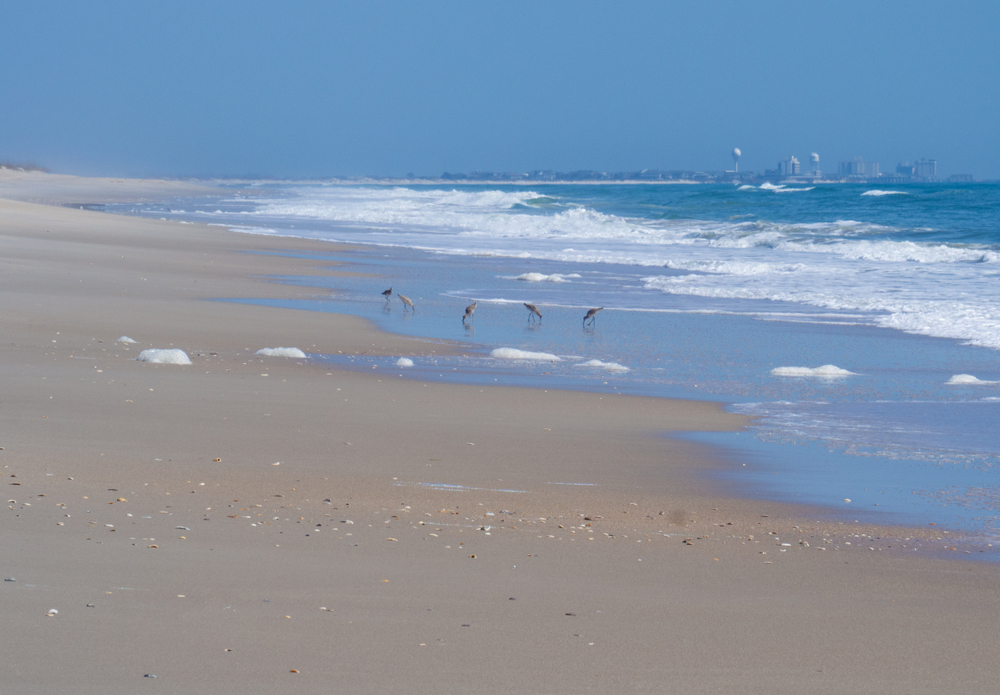 Topsail Island
Topsail Island is all about pirates! According to local legends, pirates used to hide in the water between the mainland and the island, waiting for ships to pass that they could plunder! Terrifying! Amazing! One of our favorite islands in North Carolina!
Today, Topsail Island is a 26 miles of stunning beaches, delightful turtles, and natural, unspoiled vegetation. There's a range of different types of accommodation, with something to suit every budget.
While you're there, you can fish off the Jolly Roger Pier (yeah they really embrace this piracy thing), swim, visit the Karen Beasley Sea Turtle Rescue Center, rent a boat, and check out the great restaurants on offer. We also highly recommend a visit to Quarter Moon Books and Gifts, which has been around for decades and for good reason too – it's a must see store.
By the way, the pirate legends also say that Blackbeard hid treasure on Topsail Island, but it's never been found. Something else to look out for! For one of the best island vacations in NC, Topsail Island is it! Don't forget to check out our list of Best Things to Do In North Carolina!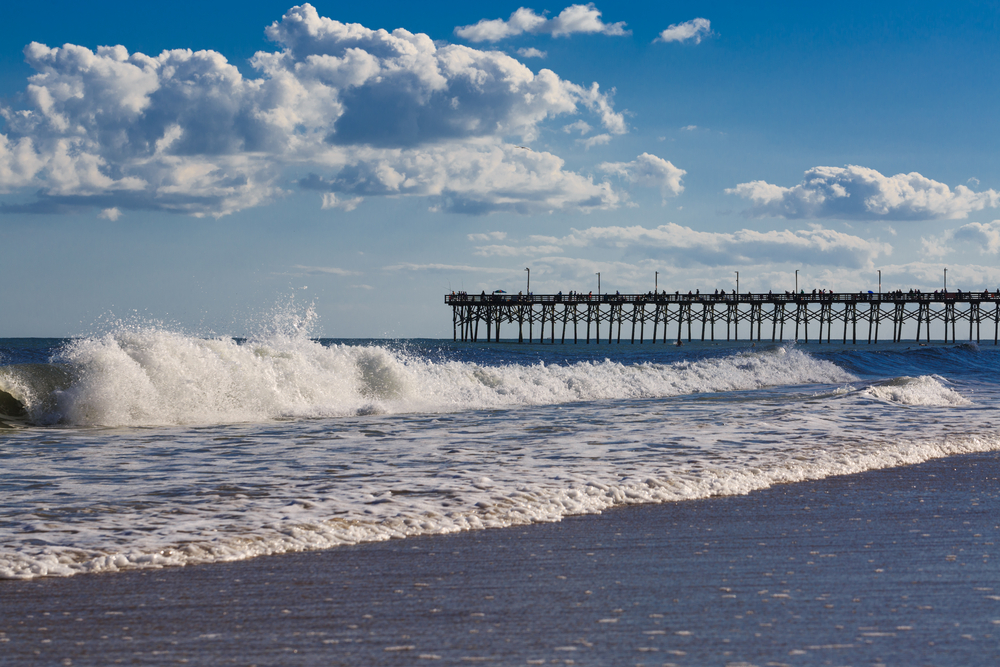 Bird Island Reserve
We love Bird Island Reserve and we know you will agree it is one of the prettiest islands in North Carolina! A pristine, undeveloped wilderness across nearly 1500 acres, Bird Island is a nature lover's paradise. Here you will find loggerhead turtles and seabeach amaranth (a plant nestled in the dunes) – both species are listed as threatened, so to see them in their natural environment is truly a privilege.
One of the best things about Bird Island Reserve is that you can literally walk there! That's right, it is close enough to the mainland that you can simply walk across! Amazing! Camping is not allowed here, so your visit will be limited to a day trip only. But do not let that deter you, there is plenty to fill a day and leave you feeling sated. For the best of islands off the NC coast, definitely add Bird Island Reserve to your bucket list!
Hatteras Island
Hatteras Island is a true gem of North Carolina coastal islands. Locals say the area abounds with charm and hospitality and they are spot on. Hatteras Island was protected from overdevelopment nearly a century ago, when the Cape Hatteras National Seashore was established. As well as seven villages, Hatteras Islands has all the best of natural wonders on offer, including woods, beaches, dunes and marshes.
You can spend your time here swimming, visiting lighthouses, taking epic photos, fishing. Or just kick back on the beach and watch the pelicans living their best lives. What's not to love about that? There's also the Pea Island National Wildlife Refuge (tricky name but it's still on Hatteras Island!) if are keen to get up close and personal with some of the local inhabitants.
Visit outerbanks.org to find out more and plan your trip to Hatteras Island! It's definitely one of the best islands in NC!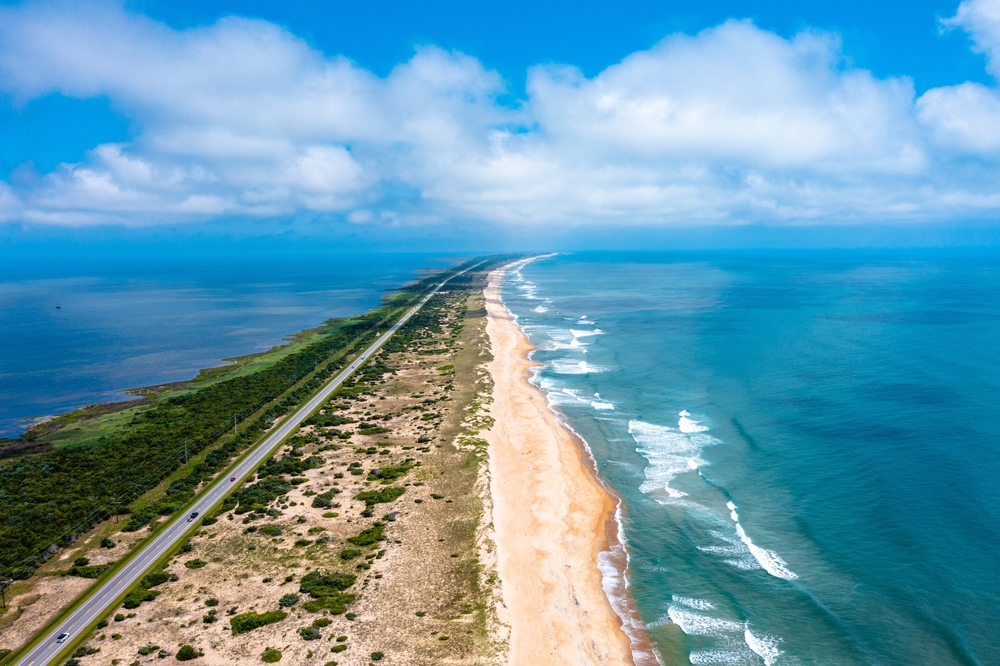 Ocracoke Island
Ocracoke Island is truly one of the most special of all the islands off North Carolina. Why's that? Because, being only accessible by boat means that it has a unique atmosphere. It is a beachy paradise with a treasure trove of pirate attraction! Arr! This is truly one of the most romantic getaways in North Carolina!
Ocracoke Island comprises 15 miles of largely undeveloped land, and a lovely village filled with shops, restaurants, attractions, and places to stay. While you're there we recommend a visit to the lighthouse, and the nearby Springer's Point Nature Reserve. Here you will find yourself among cedars, pine trees and oak trees as you amble towards the delightful Pamlico Sound beach. If you're looking for some pirate history, you'll want to check out Teach's Hole Blackbeard Exhibit and Pirate Store. Aye aye!
Find out more about this delightful NC coastal island at Outerbanks.com! Rich in history and culture, it is sure to be a memorable stop on your North Carolina vacation!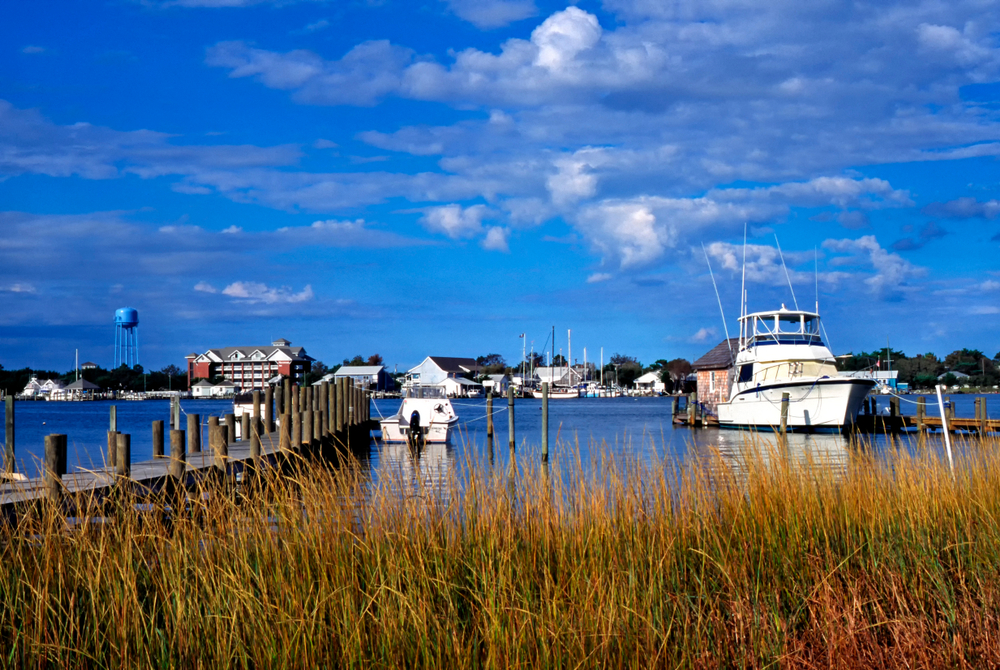 Bodie Island
We absolutely love Bodie Island, it's an overlooked jewel among the North Carolina coastal islands. Home to over 400 different species of birds, aspiring ornithologists will have an incredible time here. And if you're not into birds, believe us, you soon will be! Bodie Island is also home to one of the most secluded fishing beaches among all the North Carolina islands.
By the way, when you say Bodie Island… it should sound like you're saying Body Island. Get it right to blend right in! You may also notice that Bodie Island is technically a peninsular, but don't let that stop you adding it to your bucket list! This happened because of storms closing the inlet over many centuries, which only adds to the rich history of this beautiful place. Definitely check out Outerbanks.com for more information! You will soon see why it's made our list of best islands off the coast of NC!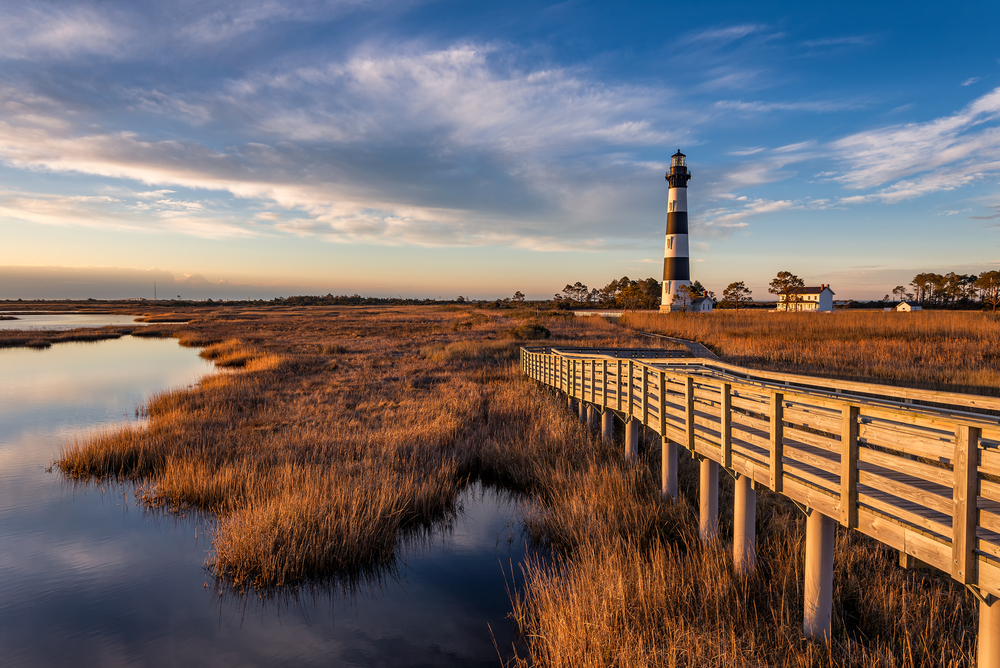 Shackleford Banks
With so many undeveloped barrier islands in North Carolina to choose from, it can be difficult to know which are most worth your precious time. Shackleford Banks is definitely one to add to your list, and if you're looking to kick back on the beach, feel the salty fresh air, the briny sea and the sand between your toes, this is where you want to be.
Only accessible by boat, even getting to Shackleford Banks is an adventure. Experienced kayakers can even kayak across! How cool! While you're there you will want to spend some time looking for seashells – Shackleford Banks is renowned for its huge variety of seashells including scotch bonnets, moon sails, colorful scallops, sand dollars, augers and olive shells!
Find out about Shackleford Banks at Outerbanks.com! We know you'll love this idyllic NC coastal island – we definitely can't wait to go back!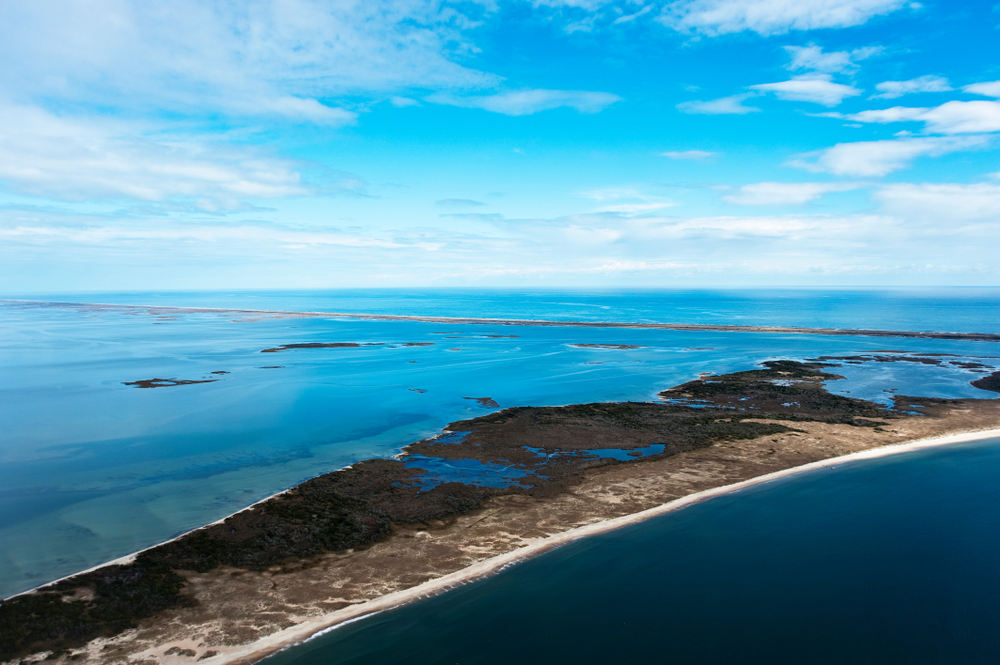 Roanoke Island
Roanoke Island is unique among a cluster of unique barrier islands in North Carolina! This is because, sitting behind other islands, it is not exposed to the Atlantic Ocean in the same way other islands are. But don't let this deter you, it is a magical place, one of our favorite islands of NC!
While you will find more tourists here than many other islands, we recommend including it in your itinerary to mix it up and make sure you are making the most of your NC islands vacation. This also means there is heaps to do on Roanoke Island including the North Carolina Aquarium, the Fort Raleigh National Historic Site, and the stunning Elizabethan Gardens. Truly there is something here for everyone, and we know that you could spend a whole week here and not see it all.
Roanoke Island is easily one of the best islands off the coast of NC, and we know you will love it!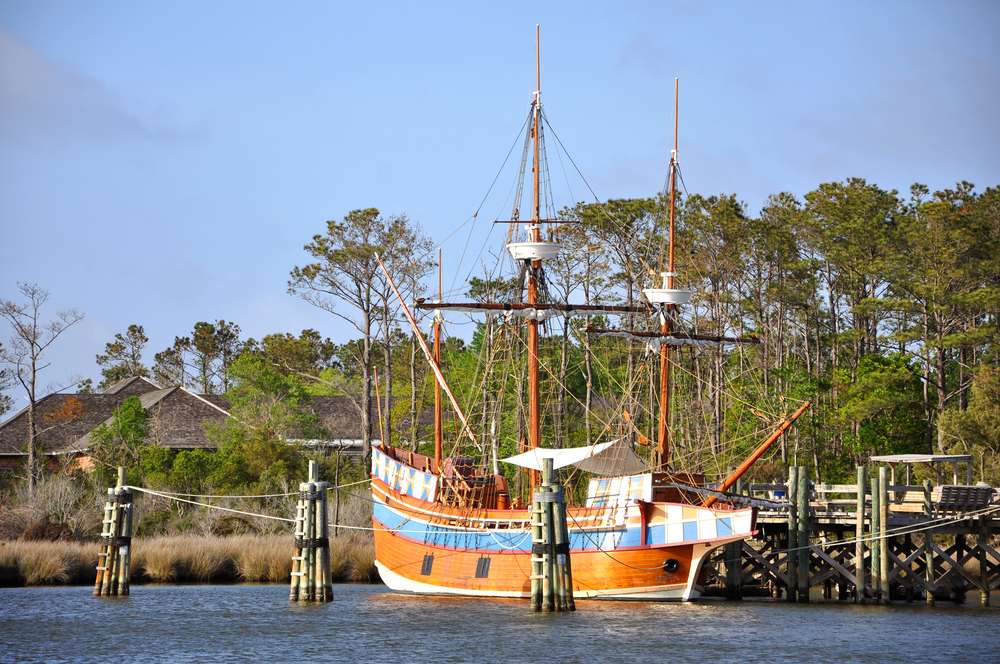 Pleasure Island
Here at Southern Trippers, we love a bit of pleasure, and there's nowhere you'll find more of it than Pleasure Island, one of the most lovely islands off the coast of North Carolina.
Whether you're vacationing for a day, or a week, Pleasure Island is definitely one to add to your itinerary. With year round events such as music festivals, a golf tournament, even a kite festival, there is something on the calendar for everyone. And that's in between all the swimming, fishing, shell hunting you will fill your days with! There's plenty of accommodation to be found here too, with options to suit all budgets and needs.
Pleasure Island is also home to some fantastic restaurants, including the Deckhouse, which serves some of the freshest, most delicious seafood you will ever eat. If you want the very best of islands in NC, you'll want to stop by Pleasure Island.
Lea-Hutaff Island
That name is a bit of a mouthful, but don't let that deter you from adding one of the most beautiful islands off the coast of North Carolina to your vacation bucket list!
Lea-Hutaff is truly an authentic NC barrier island experience – like many others it is undeveloped and home to many species of coastal flora and fauna. While it can be tricky to get there, we feel this only adds to the sense of adventure and isolation, which means that when you're there, chances are you won't be surrounded by people and can immerse yourself in this stark, stunning wilderness. Lea-Hutaff is accessible only by boat, or you could even kayak there! Our favorite fact about this island is that it was previously privately owned, and purchased by several government agencies, so that wildlife can continue to flourish there, protected, for generations to come.
If you only ever visited one island in NC, you wouldn't be disappointed if it was this one!
Figure Eight Island
If you're looking for something fancy in your North Carolina coastal islands frolicking, look no further than Figure Eight Island. Figure Eight is a privately owned island that's nicknamed the Hamptons of the South – and for good reason, it's been the playground of prominent Americans for generations, including former Vice President Al Gore.
Because Figure Eight is privately owned, the only way to access it is to rent a property on the island. But the great news is that there are holiday rentals available, so you can vacation like a celebrity (and maybe even among celebrities).
With all the wonderful usual activities to while away your time – fishing, shelling, swimming, bird watching – you can kick back in luxury at this exclusive NC barrier island. Imagine beach combing in the presence of Al Gore! Or pulling up your kayak alongside Robert Downey Jr! Weird! But makes for a great story!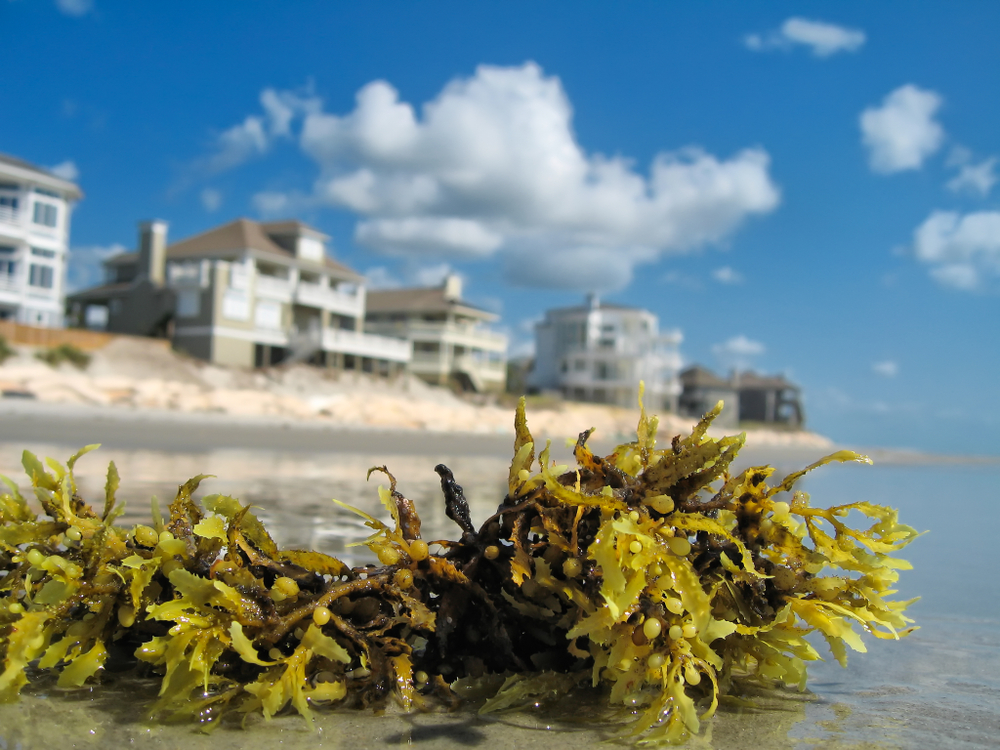 Oak Island
At the southern end of the islands off North Carolina you will find Oak Island. Oak Island is 12 miles of picturesque coastline that you will simply adore. The most magical thing about Oak Island is that, because it faces south, you can enjoy exquisite views of both the sunrise and sunset over the ocean.
There's heaps to do on Oak Island. Besides the usual, swimming, kayaking, fishing and boating, there's also golf, fantastic restaurants, and lots of shopping options. But easily our favorite attraction at Oak Island is the pier! World famous for being one of the best places in the world to fish for king mackerel.
With plenty of accommodation options to suit every need, Oak Island has something for everyone, and we know you will love exploring this NC coastal island paradise just like we do!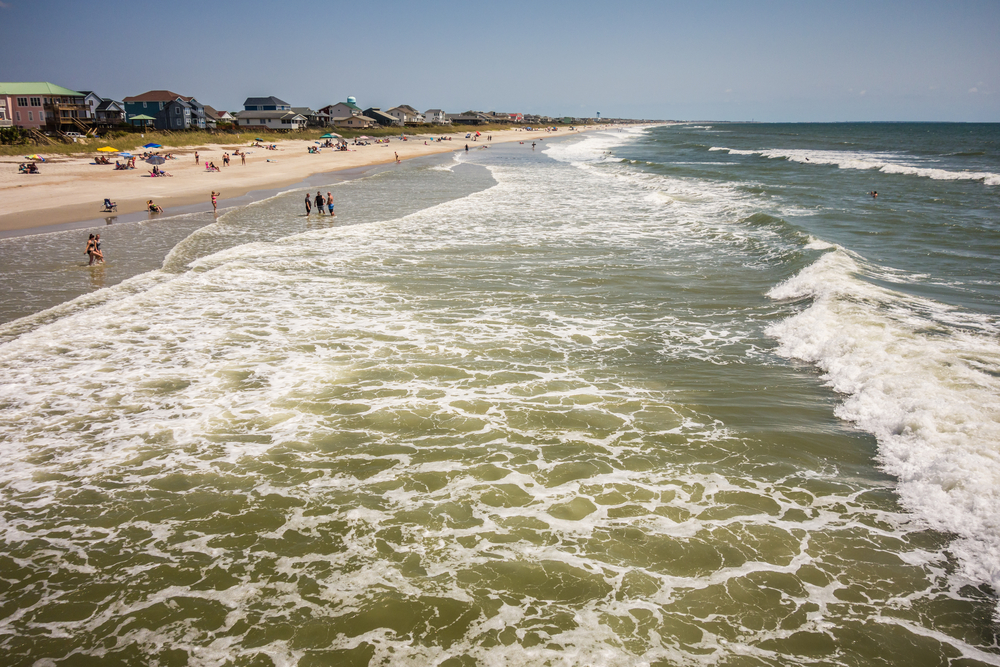 Bogue Banks Island
Bogue Banks Island – funny name, fantastic place! Bogue Banks Island is a classic North Carolina coastal island, home to five beach communities, with plenty to offer holiday-makers of every kind.
Whether it's checking out on of the piers, jumping into the ocean, explore the sand dunes or make friends with a friendly fish at the aquarium, or go full tourist at the water park and arcade. We love it here for the quiet beaches and delightful walking trails. Wherever you are on this glorious island there are stunning views waiting to capture your imagination.
With a range of accommodation options, the only decision left is how long you can stay on here! Whether you're looking to get lost in nature or immerse yourself in recreational activities you are sure to agree that Bogue Banks Island is one of the best islands in NC!
Bald Head Island
There is SO much to love about Bald Head Island, it's is one of the star islands in North Carolina.
Our favorite thing about it here is the activities. For example, every full moon there is a gathering, fittingly called Howl at the Moon, where locals and tourists alike share food and good times on the beach. Or there's Turtle Trots, a monthly five kilometre race where participation fees go towards the Bald Head Island's Conservancy's Sea Turtle Protection Program. There's a lighthouse weekend, a pirates weekend, an ultramarathon! There is something for everyone and the hardest thing is choosing when to visit because that means choosing one awesome event over another! But that's cool, all the more reason to come back, and you'll want to – trust us!
Bald Head Island is easily one of our top NC coastal islands and we think you will love it just as much!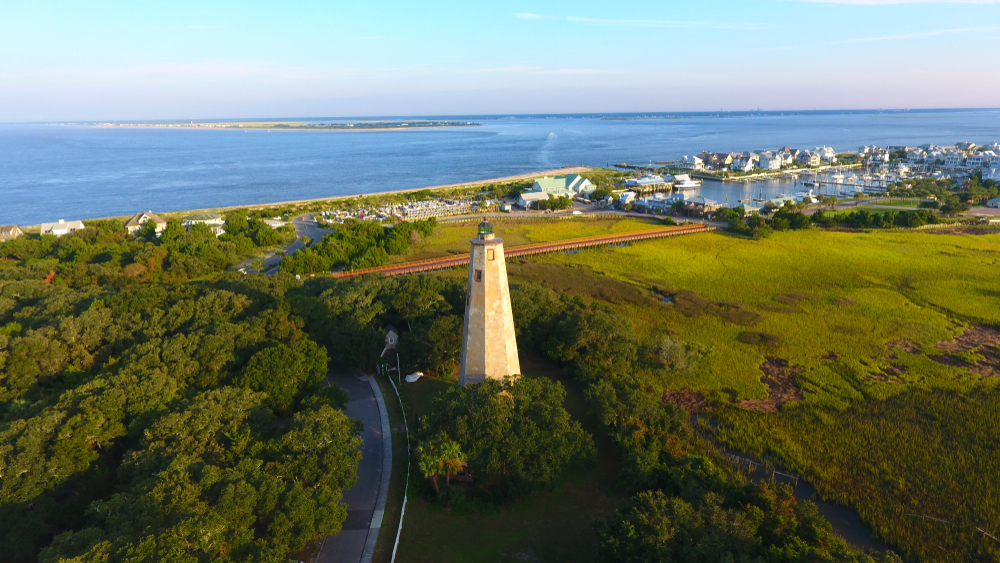 Harkers Island
Harkers Island is the last on this list but it is certainly not least! There is so much to do here, it's the ideal spot for one of the best family island vacations in North Carolina.
Check out the Cape Lookout National Seashore Visitor Center or the Core Sound Waterfowl and History Museum, visit the local boutiques, or just make the most of being on and island and hit the beach – feel the warm sand beneath your feet, soak yourself into a brine in the sea, or hold your face up to the salty fresh air and warm sunshine. Hire a paddleboard and explore the island from the water. Whatever you choose, you cannot lose!
With heaps of accommodation options across the island, you are really spoilt for choice here. Harkers Island is also home to sensational restaurants – we recommend a visit to the Fish Hook Grill for an abundance of fresh, local seafood. It is absolutely one of the top islands in North Carolina.