If you are on vacation or looking for a fun weekend get-a-way, then you simply must check out some of the best beaches in North Carolina!
North Carolina, a state famous for its barbeque and stunning views of the Blue Ridge mountains, is also home to some of the most beautiful beaches on the east coast. Extending out with about 322 miles of shoreline, this state is no stranger to the beauty and wonder of the Atlantic Ocean as it meets the beaches in North Carolina.
From Outer Banks beach to Sunset beach, here is a list of the best beaches in North Carolina that you must visit!
12 Best beaches in North Carolina you must visit!
Atlantic beach
Located on one of the barrier islands, Atlantic beach is one of the beaches in North Carolina with a hint of southern charm. Well known for its welcoming and friendly locals, this beach offers several walking trails that take you around some of the icons of the area such as Pelican Street Pier and through the east end of town, right through the Cottage District.
As one of the best beaches in North Carolina, there is a focus on seafood with local restaurants. One of the restaurants, Bahia Beach House & Surf Bar, offers local sustainable menu options with fantastic dishes like their Local Yellowfin Tuna Bowl. These are only some of the reasons why Atlantic beach is on our list of best beaches in North Carolina.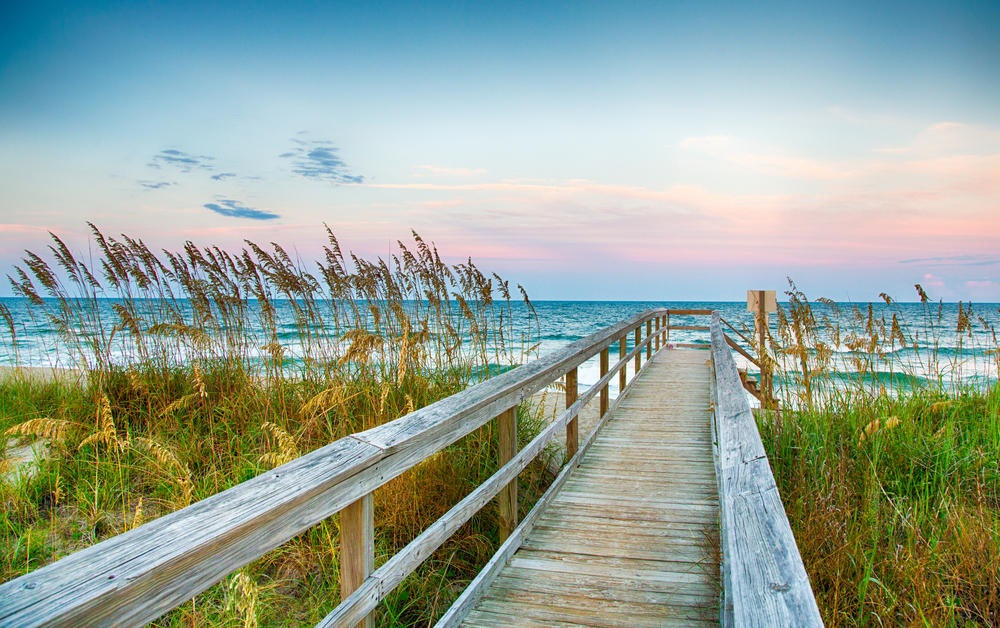 Wilmington beach
As one of the best beaches in North Carolina, Wilmington beach is about 18 miles from the city's walkable riverside district. With the Carolina Beach boardwalk that has ranked in the top 10 boardwalks nationally in the Food and Wine magazine, this beautiful beach and vintage-style area have a lot of history to go and explore.
One of the best activities to do for any history buff in Wilminton beach is to take a water taxi out to the USS North Carolina (BB-55). This battleship served in the U.S. Navy during World War II and was the first in its class to be commissioned and built with a focus on speed. Keep in mind that this exhibit closes around 4:00PM EST, so if you are going to stop by this beach, then you will want to do so early on during your trip.
Between the rich history and the great food, this had to go on our best beaches in North Carolina list. It is truly one of the best things to do in Wilmington!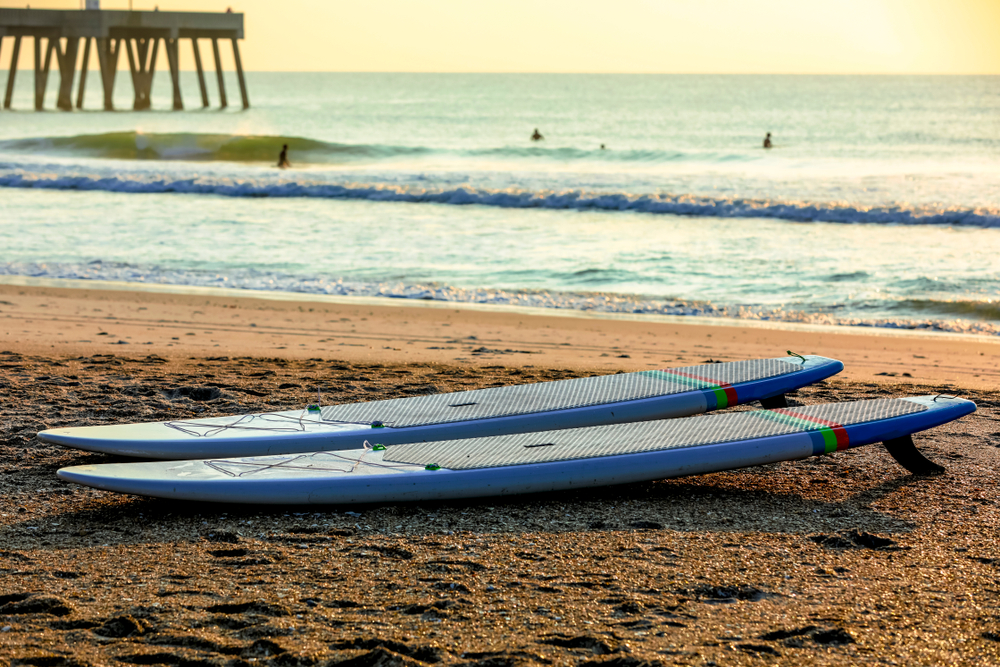 Sunset beach
Cited by National Geographic as one of the best beaches in the world, Sunset beach is a beach for those seeking solitude and quiet. A scenic walk around Bird Island is often recommended for newcomers as its sights of endless sand and sea bring out a tranquil feeling that busier beaches do not offer.
As with several of our best beaches in North Carolina, this beach is rich with history, and what we recommend to get you started is to take a tour of the state's oldest lighthouse, nicknamed "Old Baldy". Built around 1817, this lighthouse has 105 stairs and is around 110 feet tall. Despite 200 years of sitting on the coast and dealing with a variety of weather shifts, Old Baldy, though inactive, still remains standing. Placed at the outlet of historic Cape Fear, this part of Bald Head Island is only accessible by ferry or private boat, so it is recommended that you check out the tour packages that are offered on Tuesdays, Fridays, and Saturdays.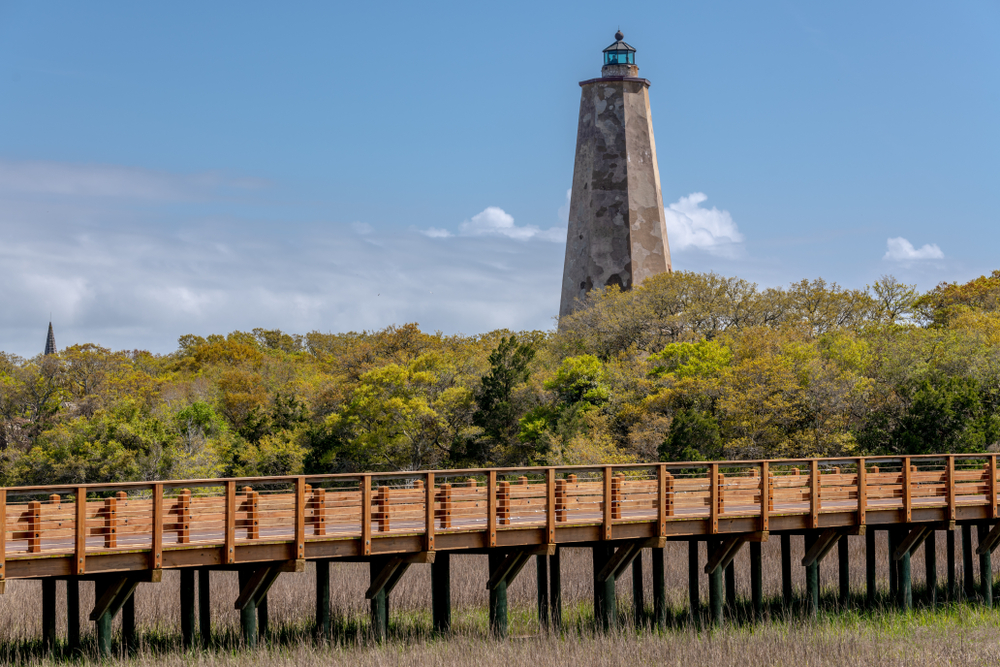 Ocean Isle beach
Ocean Isle beach is a beach for those looking for adventure! This North Carolina beach is packed with things to do like joining in on some local surfing, zip-lining through The Swamp Park's Outpost, and watching baby sea turtles go on their very first oceanic journey. Without a doubt, this beach will have something for everyone in your party to enjoy.
The must-do at this beach is a tour of the award-winning Silver Coast Winery. The labels for their top-shelf creations are designed by local artists, and many of those artists are featured in the on-site art gallery. There is also a monthly craft class offered called "A Crafters Paradise" that reminds you a lot of "Painting with a Twist," where you can drink and create a work of art during your time there. Hours are limited, and reservations for the tours and winetasting must be made at least twenty-four hours in advance, so make sure you call and plan ahead for this adventure.
If you like touring wineries, then you should check out this list of beautiful vineyards and wineries in North Carolina.
Wrightsville beach
With a town slogan of "Easy to Get Here. Easy to Stay." you'll know you've come to the right spot if you are looking for quick and easy beach access. One of the coolest features of this beach in North Carolina is that you can watch the sunrise on one side of the island, and admire the sunset from the other side, something most beaches around the world can't offer!
You would never know by looking out over the water that there are nearly 200 shipwrecks right offshore! Scuba expeditions are the way to go at this beach if you can. Scuba diving often requires prior training and certification before arrival, so check with the local vendor you are going through to see what they recommend.
But if you are not certified to dive, don't worry! You could head to Johnnie Mercer's Fishing Pier for endless hours of fishing or even take on a scenic bird-watching adventure as you cruise between the different islands and inlets, and you will still enjoy all the sights Wrightsville Beach has to offer.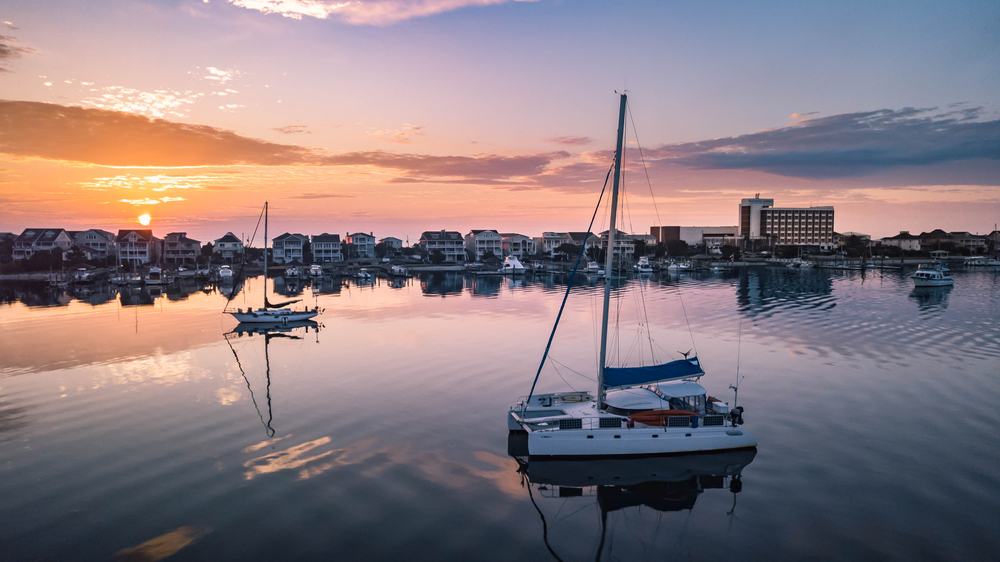 Emerald Isle
Emerald Isle offers around twelve miles of stunning Atlantic Ocean views. As a part of the Crystal Coast, this small-town gem of Bogue Inlet is a collective hot spot for watersports and fishing.
Needless to say that we would recommend checking out some of the local fishing charters such as Teezher, Nancy Lee, or Pirates Life 4 Us, as a part of your stay here. Make sure to check out some of the Best Things To Do In Emerald Isle!
We would also recommend that you check out some local eateries like Flip Flops Donut Shop (with a 100-year-old original donut recipe) and Snapperz Grill and Steam Bar (with a menu featuring fresh seasonal offerings that are all local). Both eateries offer casual dining that your party will enjoy, and both places are North Carolina exclusive that you can't find anywhere else so be sure to check them out while you are there!
Side note: speaking of unique places, Muttigans is the place you want to go if you are bringing along your canine companion. This local eatery serves up some great lattes and also doubles over as a pet supply store with some top-choice health-conscious dog treats.
If sitting on a porch swing sipping coffee while your dog enjoys a yummy goodie sounds like your ideal vacation, then you must stop in at this beach in North Carolina. Don't forget to check out our list of the Best Islands In North Carolina if you want to explore!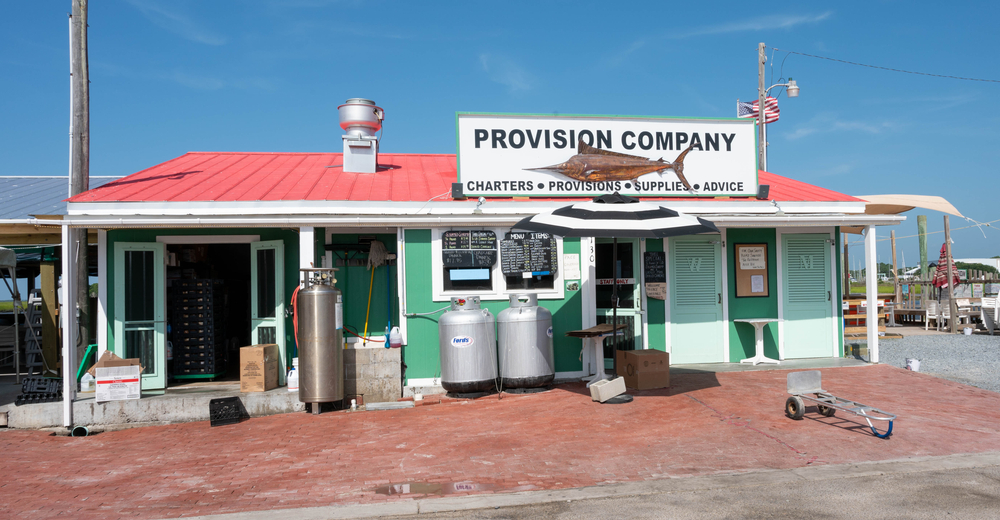 Holden beach
If you are looking for a family-friendly beach that can accommodate a change in your daily pace, then Holden beach has you covered. Named by National Geographic Traveler as one of the best family beaches in the entire country, this playful haven can lighten up any vacation so that everyone in the family has something to enjoy. Some of the great activities families can do together include biking around town or kayaking along the Intracoastal Waterway. With a small-town vibe and some truly southern beauty that can't be found anywhere else, many families often visit this beach in North Carolina yearly.
Holden beach is home to the North Carolina Festival by the Sea, a festival that is culturally diverse and highlights a variety of arts, and, of course, local seafood. This two-day event usually happens in late October and features a variety of entertainment and children-focused activities. But don't worry, there is a lot for adults to enjoy too!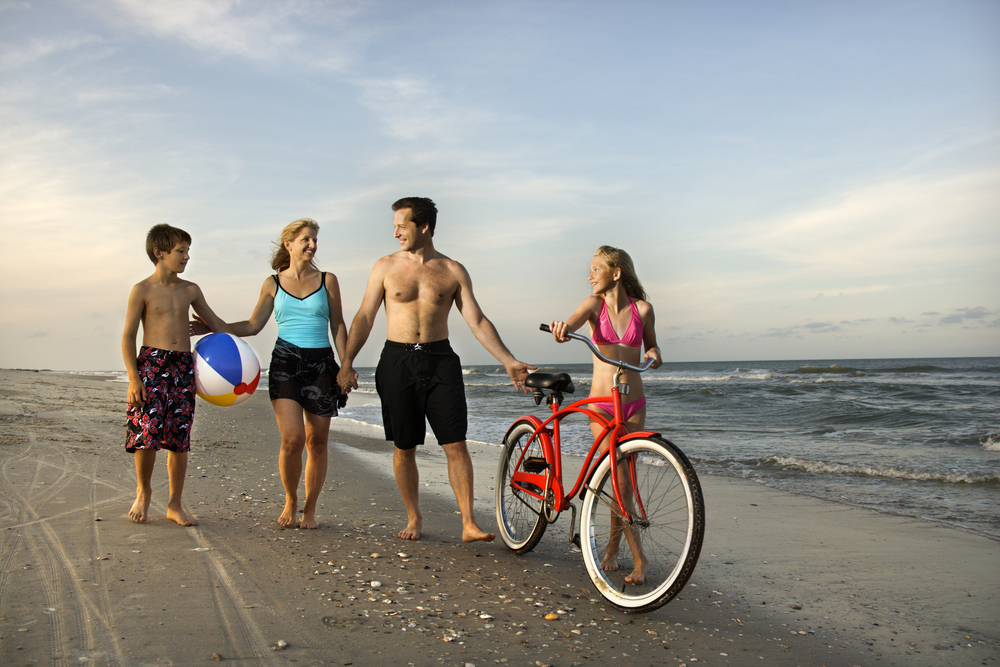 Calabash beach
The whole atmosphere at Calabash beach feels like you have stepped into a painting of a traditional fishing village, complete with a fish market and harbor houses. This quaint town seems almost fictional with how fun the locals are, how jaw-dropping the ocean views are, and with how lively the beach life is.
However, there is a reason why this beach is known as the "Seafood Capital of the World." Although it is unclear where the origins of the batter-fried recipe came from, it is hard to deny the unique combination of light crispy coating and freshly caught seafood as being at home anywhere else than Calabash beach. Walking along the shoreline, you can stop in at any number of seafood restaurants like Calabash Seafood Hut, or Beck's Restaurant, and treat yourself to the local specialty of fried seafood that doesn't taste like any other fried food you've had before.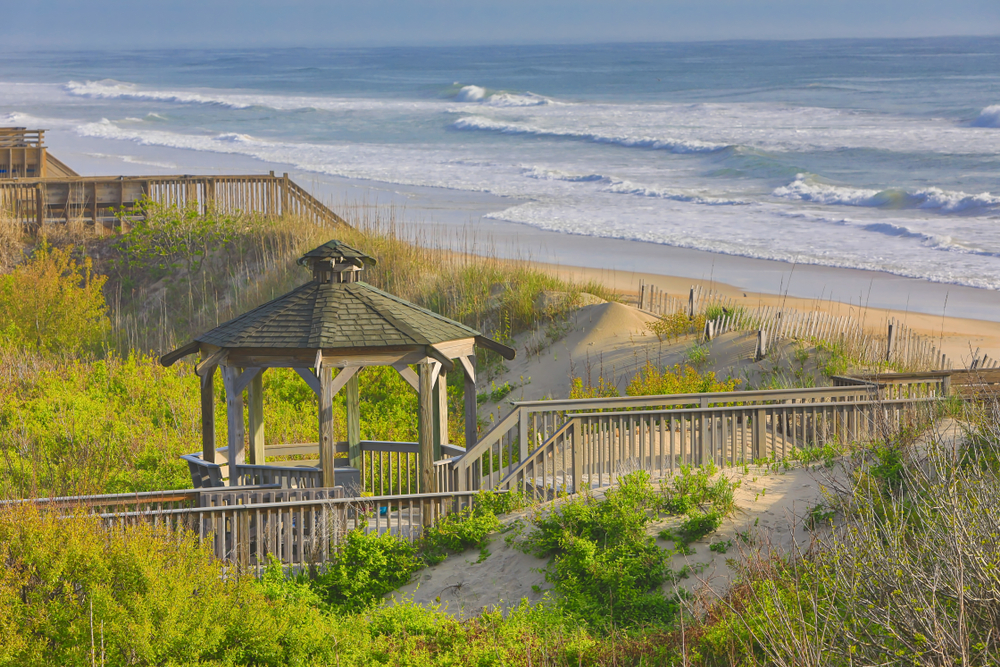 Topsail beach
This twenty-six-mile barrier island is the model of southern hospitality. While this was once the site of a top-secret rocket launch mission, Topsail beach seems to be one of the quieter beaches in North Carolina. Even during peak season in the summer, this beach rarely reaches capacity and is a great place to chill out if you are wanting to enjoy a comfortable beach read, or soak up the sun without people tripping over you.
If you stop by Topsail beach on your vacation get-a-way, a great place to visit would be the Kenneth D. Batts Family Park. The views from this park are incredible! With areas to enjoy an intimate picnic with loved ones and a boardwalk that extends for miles over the local marshes, it is hard not to pass up this beautiful stop.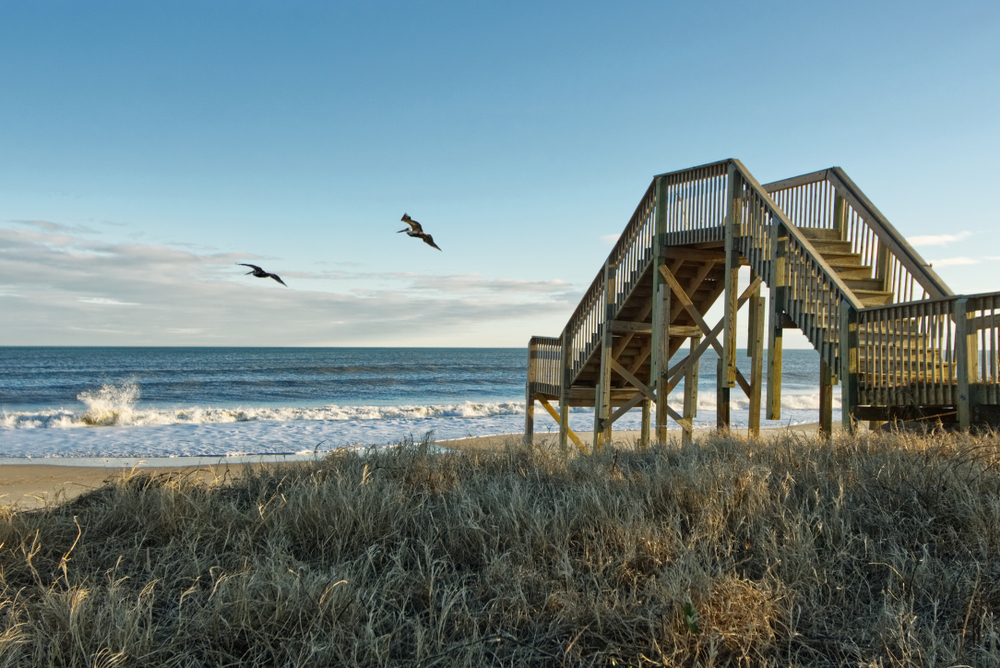 Caswell beach
Caswell beach offers both a fun beach and rich marsh surrounded by many vacation homes and rentals. This beach is home to North Carolina's newest lighthouse. Built around 1958, this 153-foot urethral goliath stands and watches over some thirty miles of coastline.
Although the Oak Island Lighthouse is still active, you can go for a tour inside of it. Tours for the lighthouse must be made at least two weeks in advance and directly through the Oak Island Lighthouse website.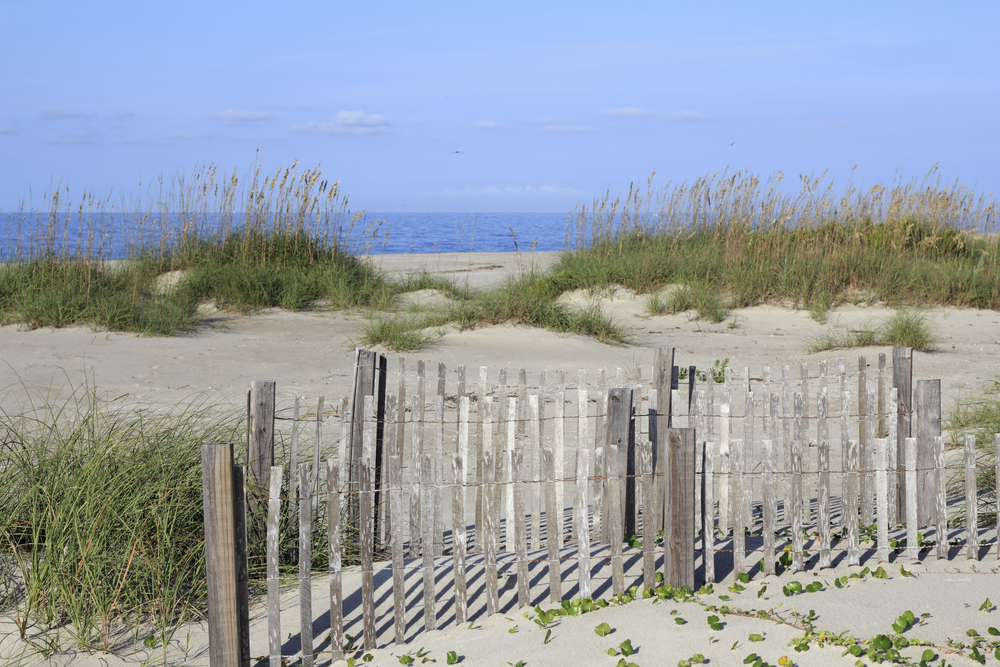 Shallotte beach
Shallotte beach is, of all the beaches on this list, going to feel the most like home-away-from-home. There are some familiar chains (like Jersey Mike's and McDonald's) in terms of food, but don't let that turn you away from this gorgeous beach! There is plenty of space to walk the coast and gaze out over the scenic Atlantic Ocean.
When you are ready for a change of pace, there are over thirty championship golf courses for you to take a swing at. The courses range from beginner to advanced, and if you have never played before not to worry! Most of these golf locations offer lessons, some with discounts if you are staying at an affiliate hotel. Some big names in PGA like Arnold, Byrd, and Kate have created courses here, so you have a chance to play like the pros!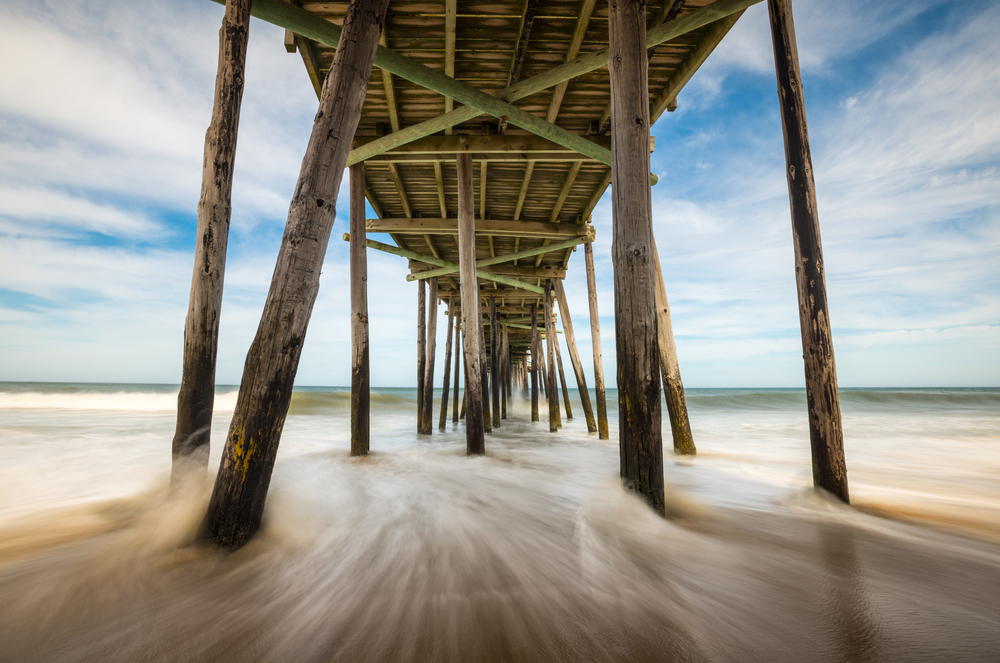 Outer Banks beaches
Outer Banks beaches are a collection of villages and beaches that are spread out over miles alongside an extended two-lane highway. Each beach has its own specialty, and here are some of the ones you'll want to keep an eye on when planning your vacation:
Duck beach is pet-friendly, allowing dogs to be off leash but is not open to the public. You would have to stay on property for access.
Buxton beach is the one closest to Cape Hatteras and currently houses the tallest lighthouse in the state.
Kitty Hawk beach is great for surfing as it usually has some of the biggest waves on record for the Atlantic Coast.
Southern Shores beach has limited parking, but gives public access to the beaches! Make sure you get there early if you want a relaxing day at the beach.
Frisco beach has camping groups for you to rent, and they allow 4×4 beach driving.
While you are at it, check out some of the best things you can do in the Outer Banks that everyone will love!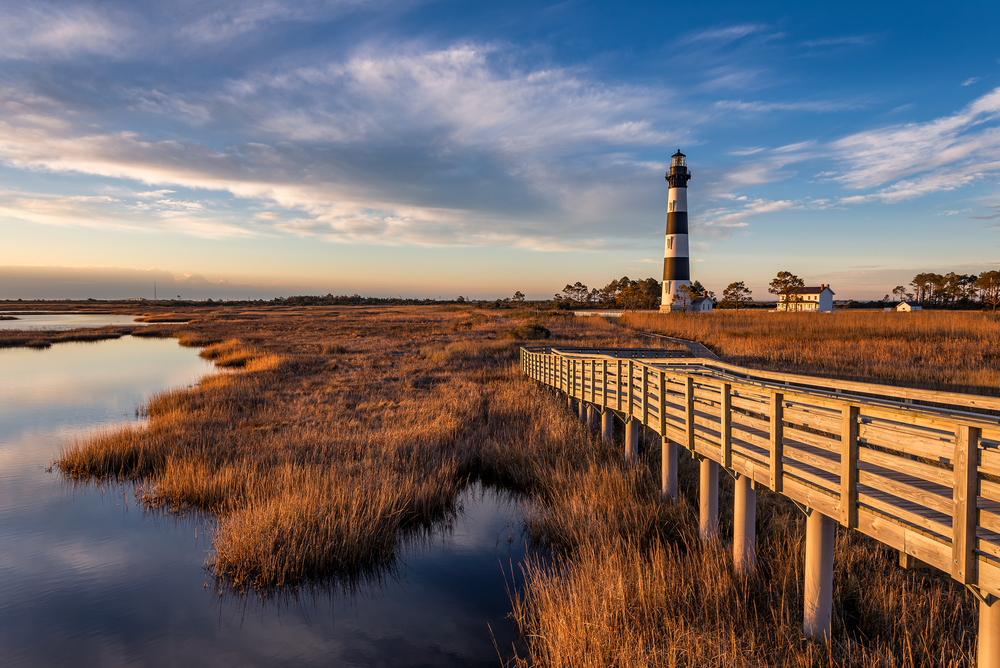 If you are looking for some of the best vacation places in North Carolina, then these beaches are for you! From the quiet Topsail beach to the adventurous Ocean Isle beach, there is a little something for everyone at the beaches along North Carolina's coast.
When planning your next trip, be sure to check out some of our other posts featuring this gorgeous state!