Are you thinking of visiting the islands in Virginia but do not know where to start? You are in the right place because here you will learn about all the beautiful islands off the coast of VA.
Some of these Virginia coastal islands have wild ponies that live right on the shore that are so beautiful you will never forget your time spend there. You are going to love the local cultures of these beach towns and you may never want to leave.
Island life is much slower-paced and more laid back so get ready to enjoy life on island time. A few of the barrier islands in Virginia you can only reach by kayak, boat, or if you book a tour. But on most of these beautiful islands, you can rent yourself a house, cottage, or hotel room. So pack your bags and grab your sunscreen and get ready to have the time of your life!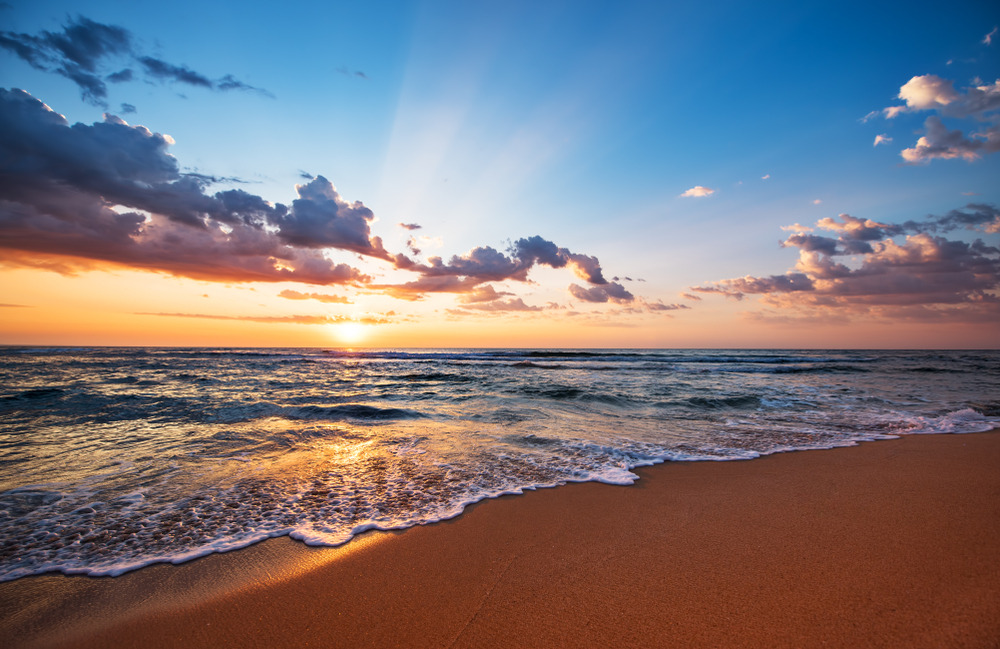 9 Prettiest Islands in Virginia You Must Visit
Cedar Island Virginia
Up first is one of the prettiest islands in Virginia, and the birds think so too. Cedar Island is one of the most important islands for bird migration and because of this, there is none to very little structure.
People are welcome to come and visit for the day and take photos, fish, or explore but there is no overnight camping allowed. You are not allowed to have a vehicle and pets are prohibited as well, this is so you do not harm the wildlife.
The best way to get here would be to either kayak or take a boat and there are plenty of tour guides to help you find your way around. You are going to love seeing this beautiful island in Virginia with its presence shoreline.
They did have big plans back in the 1950s to divide Cedar Island and make an island community. But it was eventually overturned by the state and it become a wildlife sanctuary instead.
All of this epic nature is one of the best things about living in Virginia!
Myrtle Island VA
Myrtle Island is another one of the barrier islands in Virginia off the coast of the Eastern Shore. This beautiful island is open to the public year-round and it was one of the first islands in Virginia to become a part of the Nature Conservancy's Virginia Coast Reserve. This means that the land is protected against acquisition and conservation.
You can only reach this island by kayak or boat and it is one of the most remote islands off the coast of Virginia. You are welcome to hike along the shore on Mytyle Island but they ask that you stay out of the marshes, and mudflaps, and respect the signs for bird nesting. There are plenty of salt marshes, creeks, and even oyster reefs to see here if you decide to take a paddle tour or rent a boat.
Chincoteague Island
Chincoteague Island is one of the most popular islands in Virginia. This is where you will see the beautiful and famous wild ponies of Chincoteague Island.
Every year on the last Thursday in July the ponies are guided across the water by the fire department. The island hosts a week-long festival for this event with carnival rides, games, and plenty of yummy food.
Tens of thousands of people attend this wonderful event every year. But if you are not planning on visiting in July the island still has plenty to keep you occupied.
You are going to love all of the trails on the island, there is an adventure course and boat tours, and you can always lounge on the beach. This is one of the best islands in Virginia to visit if you are looking for a laid-back and local experience.

Assateague Virginia
Assateague is one of the best Virginia islands for camping. There are campsites available for RVs, tents, and horses, and there are even a few campsites you can paddle or boat to. You must make your reservation online and they fill up fast. One of the best things about camping here is that you will be right on the beach and they let you have beach bonfires.
If you are not into camping there are cabins available in the state park to rent to. One of the main attractions here is the beautiful red and white lighthouse. It is open to climb from the spring to the fall but closed during the winter. You can also ride horses on the beach, rent a boat, and hike or bike along the beautiful wildlife trails. You are going to love visiting one of the best islands off the coast of Virginia.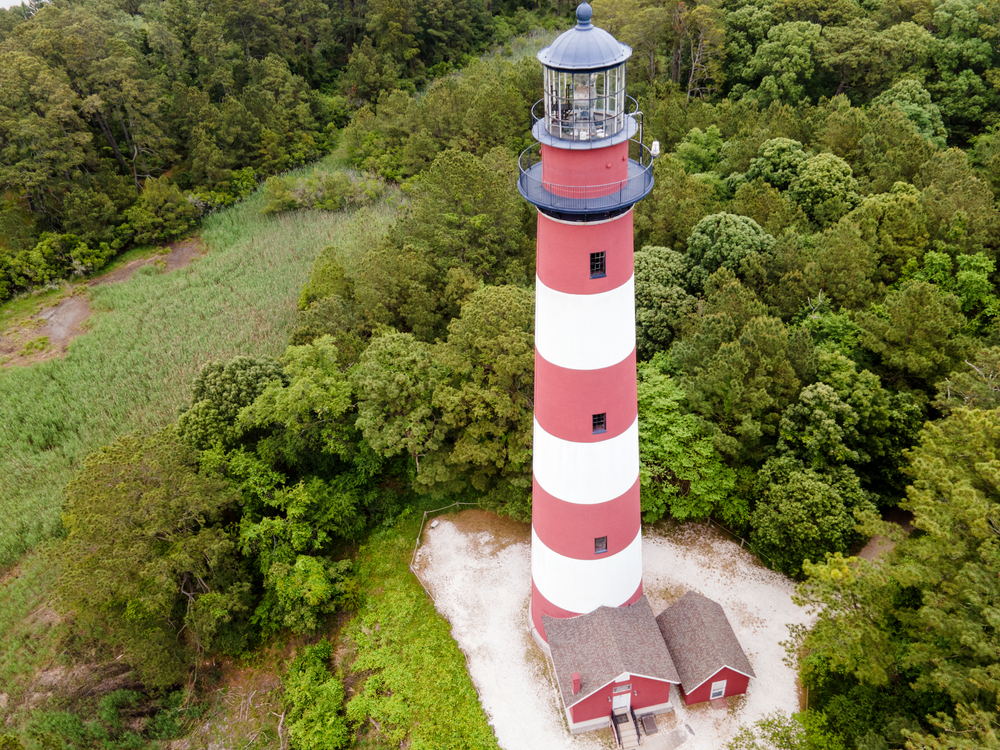 Tangier Island
to Tangier Island has made national headlines for the local dialect. Even though this is one of the cutest islands in Virginia the locals here have a Cornish-country accent that you will not hear anywhere else. The original settlers were from Wales and since the island was isolated for so long they created a community here with their language.
Other than just the language they are also known to have some of the best softshell crabs. Today you can take a short hour ferry ride over to the island from Onancock Wharf. You can catch it every day at 10 am and will drop you back off around 430 pm. With only one main street and two restaurants and a history museum, you will not get lost exploring.
If you wanted to stay on the island there are no hotels. But there are a few B&Bs and small cottages to rent. There is a beautiful beach to relax on and only 700 residents. So you will get a slow-placed vacation if that is what you are in the mood for. There are not many cars on the island because most locals have a golf cart, bike, or walk. If you wanted to bring your bike over the ferry does allow you to for a small fee. You should put Tainger Island high up on your list of the best islands in Virginia to visit, you will not regret it.
Hog Island VA
Hog Island is another one of the barrier islands in Virginia. Here you will find beautiful and untouched marshes just southeast of Exmore in Northampton County. There is an interesting history on Hog Island. Back in 1672 twenty-two English settlers claimed this for themselves and named it Machipongo Island.
Throughout the 1800s until early 1930 there was a town called Broadwater. In its high time, there were up to 250 people there. But due to the years of erosion and the impact of hurricanes, the island is unhabitable today. This does not mean that you cannot visit. The section of Hog Island that is owned by The Nature Conservancy is open to visitors every day of the week from sunrise to dusk.
Just like the other islands in Virginia, you must follow all posted rules and not disturb the wildlife. If you are planning on visiting between April to August you are not allowed to wander passed the high tide line. Be sure to plan out your trip before you go because the waterways are always changing.
Fishermans Island, Virginia
You must plan ahead if you want to visit one of the prettiest islands in Virginia. If you have ever been across the Chesapeake Bay Bridge tunnel going from Virginia Beach to the Eastern Shore then you have already seen Fishermans Island.
They think that this beautiful island was formed about 200 years ago. To visit this island, you must plan and book a guided tour.
You are not allowed to kayak or boat there without permission. And the tours are only available on Saturdays from October to February. Fisherman's Island is very important in the migration of wild birds. Here they are always doing some kind of research and help to ensure the sustainability of the local wildlife populations.
Check out some of our favorite beaches in Virginia Beach and nearby!
Brown's Island in Richmond
Brown's Island is a bit different from the other islands in Virginia on this list. This island is located in Richmond VA between the James River and 12th street. This is a smaller island that is known for music festivals. And it also has some of the best views in all of Richmond. It is a part of the lovely canal walk in Richmond. You can visit from sunrise to sunset every day of the year.
Belle's Isle, the Manchester Bridge, and the Richmond and Petersburg railways are visible from the island. Be sure to check the Brown's Island website if you are in the area to see what upcoming festivals and shows are going on. You can also plan your event and reserve part of the island for a party. This is one of the coolest islands in Virginia that has an urban vibe.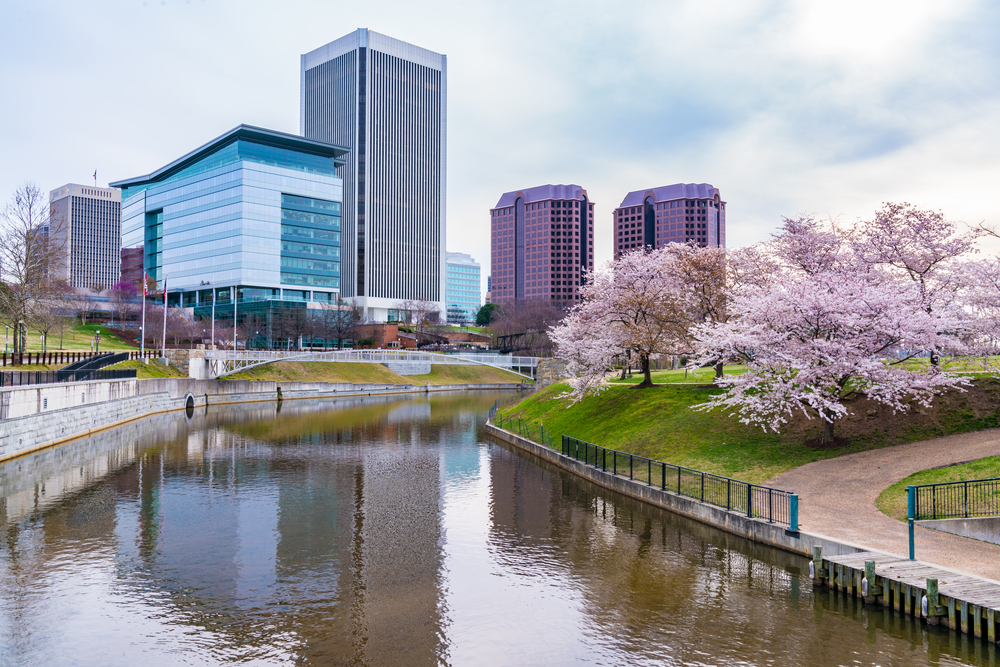 Gwynn's Island
Gywnn's Island is another one of the islands in Virginia in the Chesapeake Bay. This cute island is accessible only by a swing bridge. There is a very interesting story of how this beautiful island got its name. It is said that Hugh Gwynn who was a Jamestown colonist from England was out exploring and heard a child call for help. What he found was a young girl who had fallen from her boat and needed help. This young girl happened to be Pocahontas and her dad, the Chief, was so happy she was saved that he gifted the island to Gwynn.
Since then the island has become an oasis to the local people who live there and almost every home has its private beach. There are a few restaurants down at the marina to enjoy. The Gwynn's Island Museum is where you will learn all about the rich history of one of the oldest islands in Virginia. You can rent a bungalow-type home or stay at the campground.
Wallops Island in Virginia
Wallops Island is one of the smaller islands in Virginia because it stretches only 6 square miles. This island is just south of Chincoteague Island and is a popular destination for travelers. One of the coolest reasons people visit Wallops Island is because you can watch the NASA rocket launches here.
There is a visitor center where you can learn about all the space projects that have been happening on Wallops Island since 1945. Most people stay in one of the many accommodations on Chincoteague Island when visiting Wallops Island. Making it perfect to visit both Virginia islands on one trip.