Looking to get away from it all to experience Georgia's natural beauty? If so, Providence Canyon State Park is the place to go!
With stunning views, exciting hikes, and great camping, a trip to Providence Canyon will provide visitors with a one-of-a-kind experience you won't find anywhere else. The canyon is a majestic natural marvel that includes rare wildlife, lots of Georgia red clay, and scenery that will make you fall in love with west-central Georgia.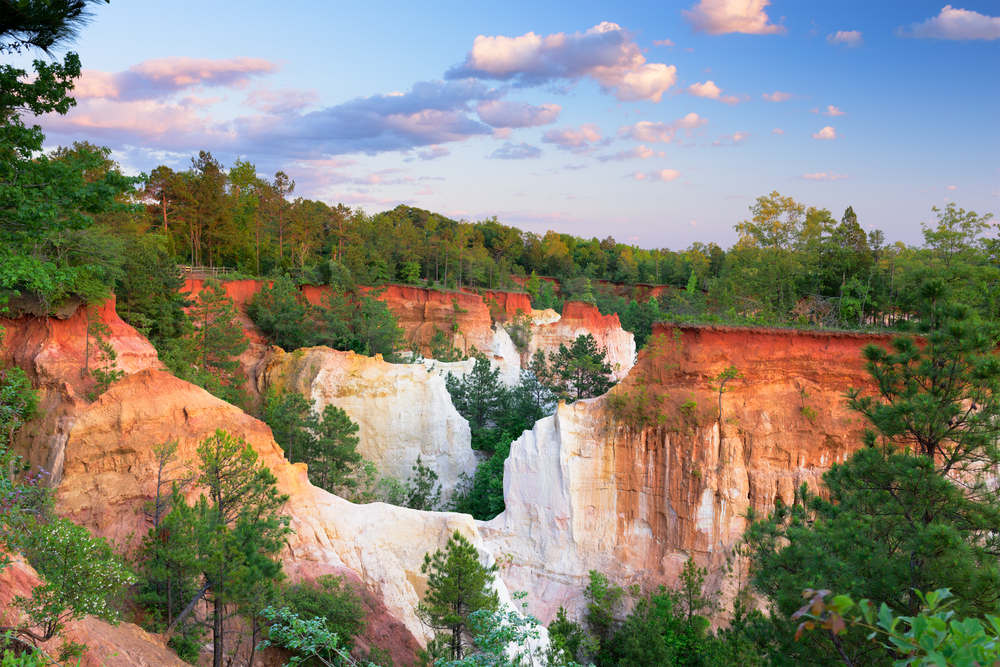 What is Providence Canyon State Park?
Providence Canyon State Park is fondly known as Georgia's "Little Grand Canyon," which was created partly due to natural features and poor farming practices in the 19th century.
The park features many canyons and gullies, the deepest of which is 150 feet down.
With plenty of hiking and camping options, Providence Canyon is a popular spot in west-central Georgia to take in the natural wonder of the area and enjoy a day with friends and family in the wilderness.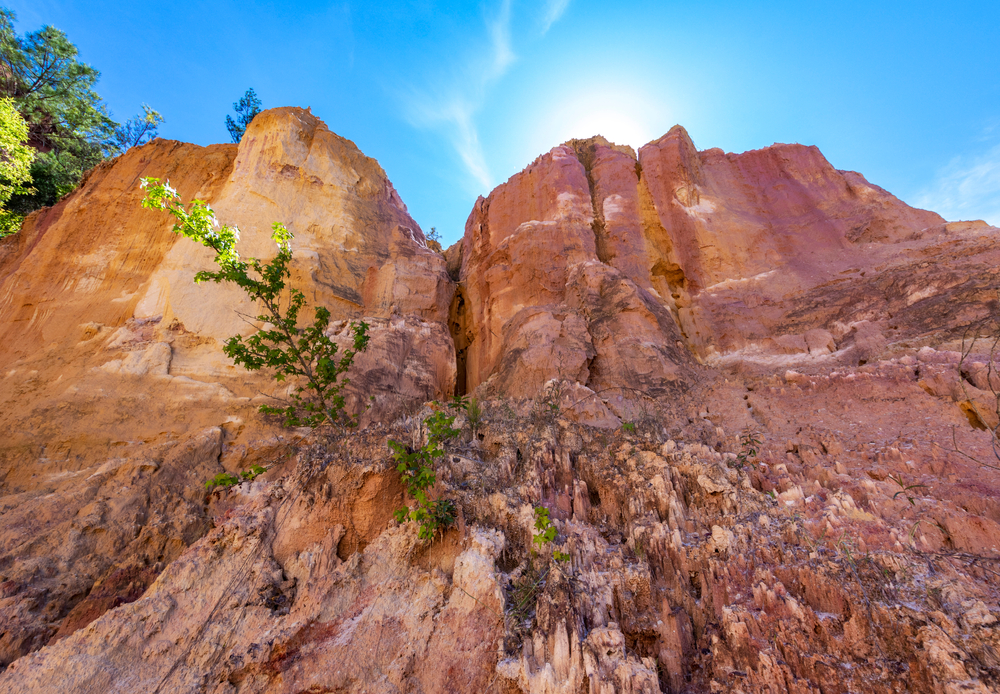 Where is Providence Canyon located?
Providence Canyon is located in Stewart County, Georgia, about 7 miles from Lumpkin. The closest nearby city is Columbus, which is about 30 to 40 minutes away.
Providence Canyon makes a great day trip from Columbus and is one of the best things to do when visiting the city!
Here is the address for Providence Canyon: 8930 Canyon Rd, Lumpkin, GA 31815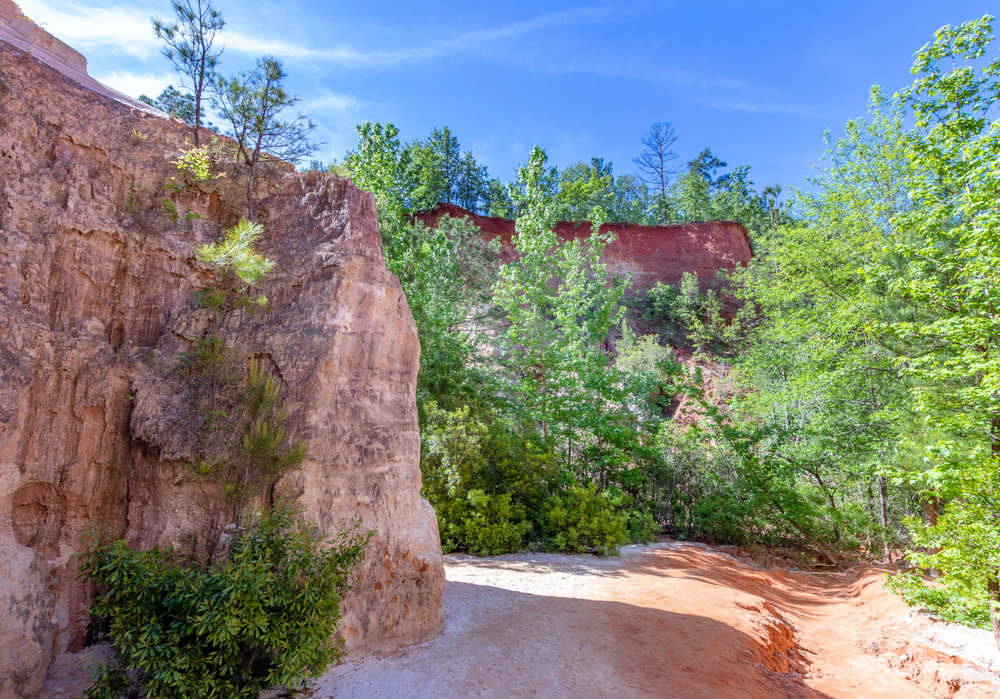 How much does it cost to visit Providence Canyon?
Visitors to Providence Canyon State Park are expected to pay a $5 parking fee, which is standard at all Georgia state parks. These fees help fund upkeep, renovations and repairs to state park facilities.
If you're planning to visit multiple parks during your time in Georgia (or throughout the year), it would be worth it to look into an annual park pass. It's $50 and covers parking fees at all Georgia state parks for a year.
Otherwise, Providence Canyon is absolutely free. There are no gift shops or food options within the park, so you are totally there to enjoy the natural wonders of Georgia. You can leave your wallet in the car!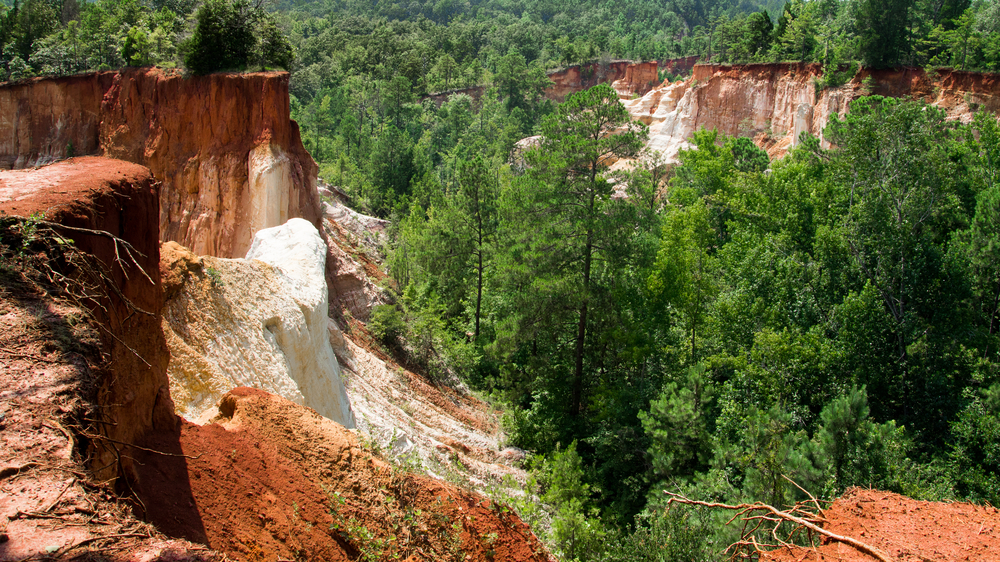 What time does Providence Canyon open and close?
Providence Canyon is open during daylight hours which changes throughout the year.
From September 15-April 14 the park is open from 7:00 A.M. to 6:00 P.M. If you're visiting from April 15-September 14, you can enjoy the park from 7:00 A.M. to 9:00 P.M.
The Visitor's Center is open from 8:00 A.M. to 5:00 P.M. year round.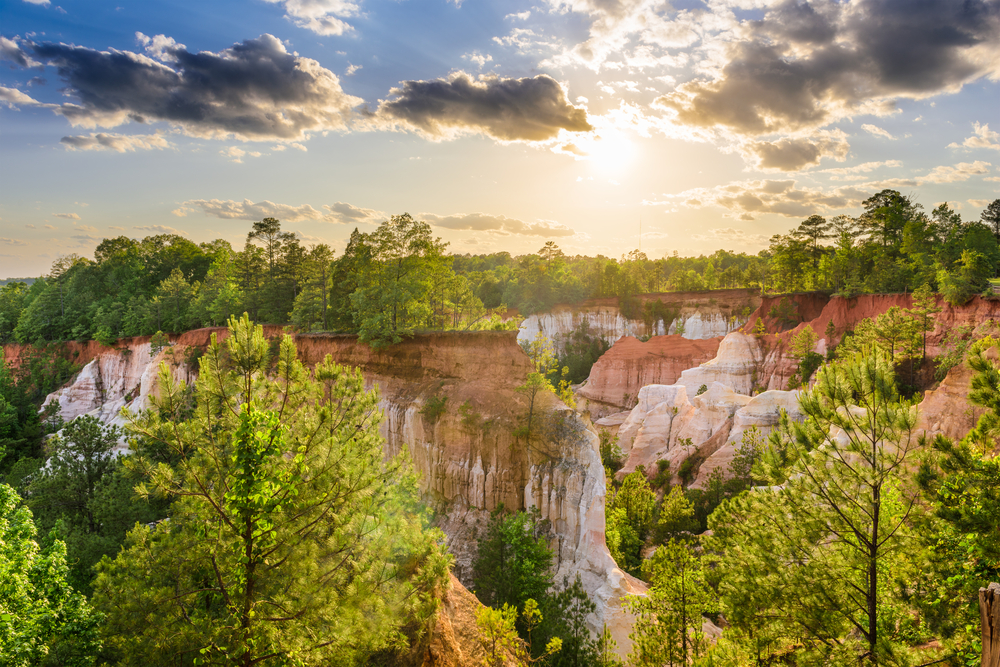 Crowds at Georgia's Little Grand Canyon
Providence Canyon has grown in popularity over the last few years, and has a tendency to experience large crowds on pretty days.
Park staff will limit capacity on crowded days, so it's great to arrive early. Doing so can help you beat the crowds and beat the heat. West-central Georgia has a tendency to become very muggy and humid, especially in the summer months, but temperatures can be quite pleasant in the morning.
It's also a great idea to visit on an overcast day. Crowds flock to the park when there's a bright, blue sky overhead, but tend to stay away when the clouds roll in. This is a great option if you're looking to visit in the afternoon, and want to make into the park.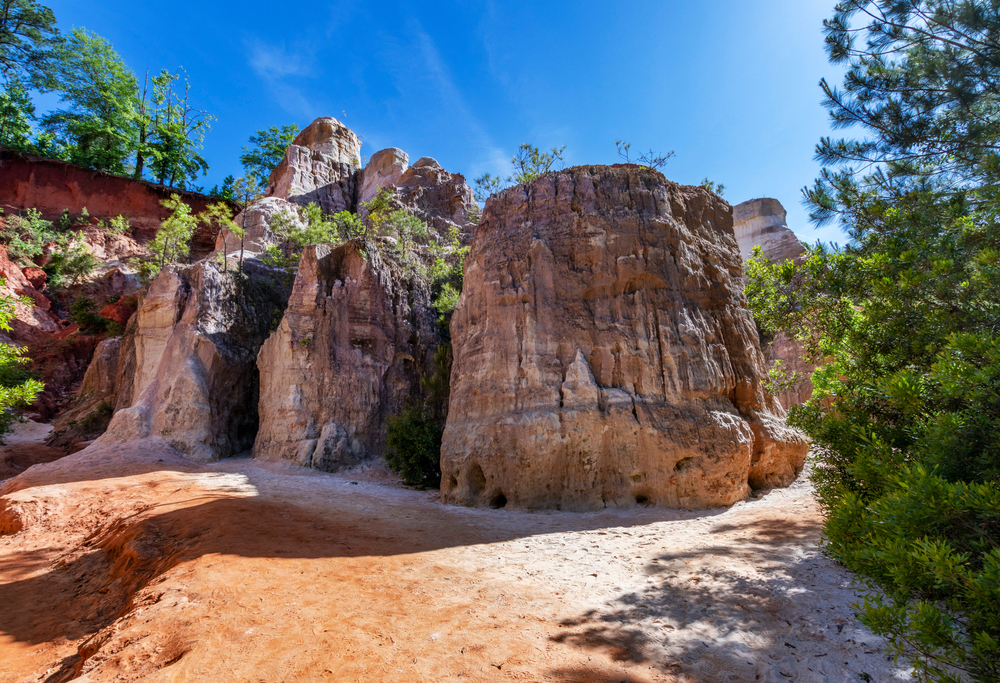 Camping at Providence Canyon State Park
Providence Canyon offers two different camping options within the park. Both pioneer and backcountry campsites are available to make the most of your Providence Canyon camping experience.
Camping is open year-round, and reservations should be made in advance through the state park website as camping spots are limited.
Pioneer campsites allow dogs and include a grill, fire ring, and picnic table. Parking is available nearby. There is no water or electricity access at these sites, so make sure to bring your own as needed.
Backcountry campsites are meant to be hiked to, so pack what you can carry. The hike to these sites can be strenuous and is best left to experienced hikers and campers. Sites can accommodate up to 10 people, and also allow dogs. There is access to a fire ring, but all other needs must be provided for by the campers.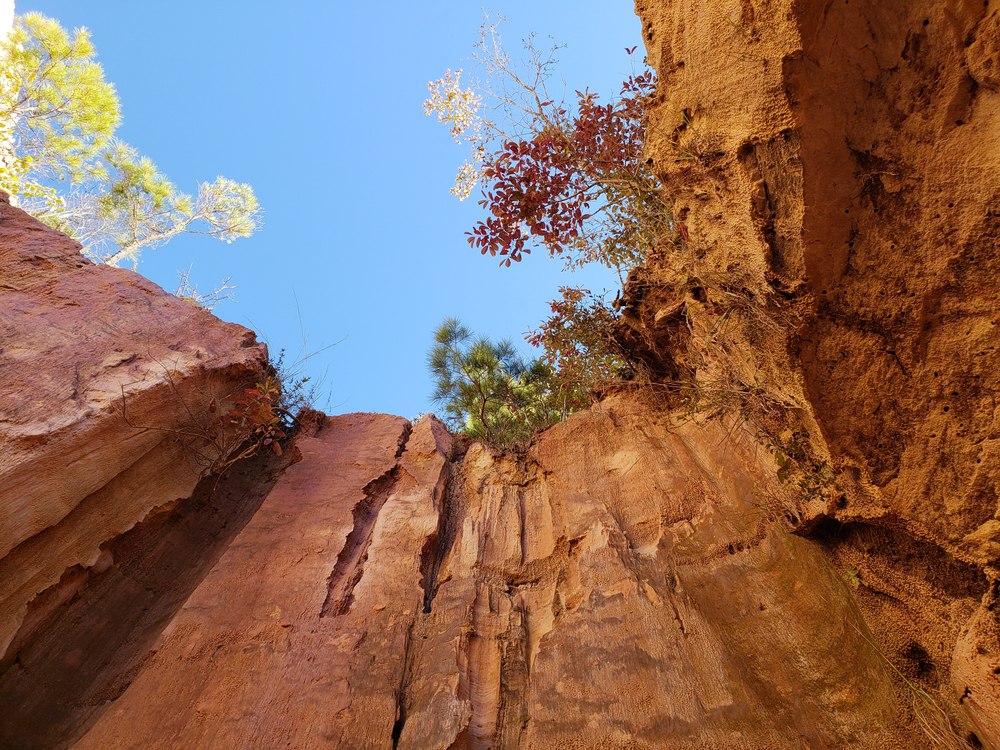 Hiking at Providence Canyon State Park
Providence Canyon boasts 10+ miles of trails to enjoy during your visit. All trails start at the Visitor's Center, and after walking down into the canyon, guests can choose which canyons to explore from there. The walk down is pretty easy, but can be a bit steep going back up. Children are frequent visitors to the park, so if you're bringing little ones it's best to know that there is a lot of walking involved in a trip to Providence Canyon, and some of it can be on the steep side.
Once you're in the canyon guests can explore the 2.5 mile Canyon Loop Trail, which is the most popular trail in the park. It's an easy walk and allows visitors access to all the wonder that Providence Canyon has to offer. You can see and explore canyons 1 through 9 on this trail. It's about a 2-hour walk, though you might want to allow for more time to take in all the sites while you traverse the canyon floor. While hiking along this trail, remember that the canyon soils can be very fragile, so no climbing is allowed.
For a more advanced hiking option, try the Backcountry Trail. It's a 6-mile loop and includes rugged terrain that is off the beaten path. This is a hike for more experienced hikers and is not suitable for young children. From this trail, hikers can experience more native wildlife to the area, like the very rare plum leaf azalea.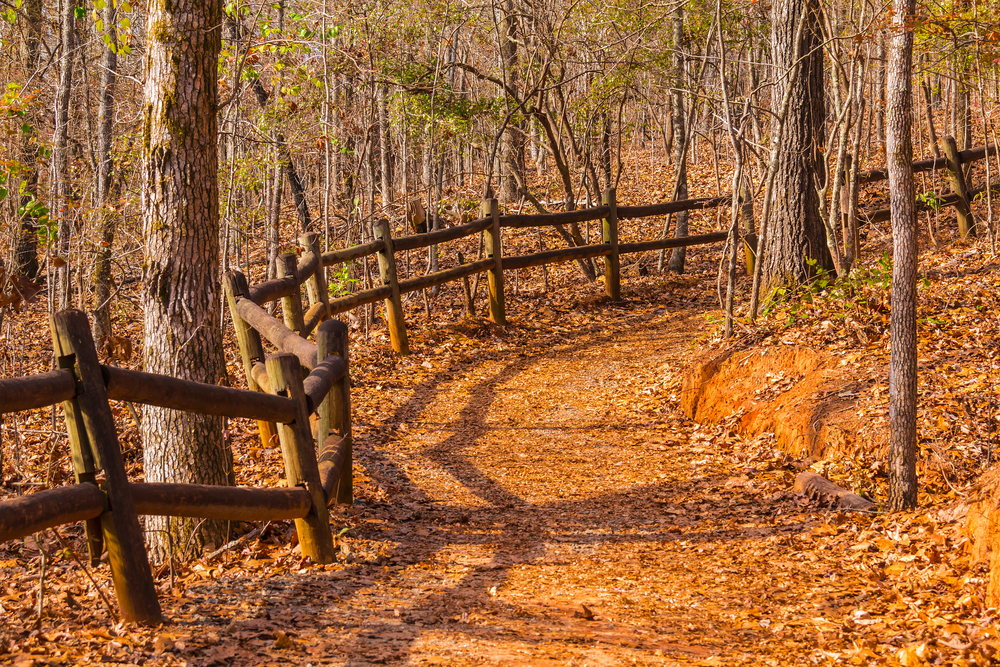 Animals at Georgia's Grand Canyon
Hikers and campers visiting Georgia's Grand Canyon have the opportunity to spot many residents who call this area home. Deer, raccoons, and armadillos are sighted frequently along the canyon trails.
Visitors have also been known to spot wild turkeys, rabbits, and red foxes though these sightings are less common.
For bird watchers, you can spot woodpeckers, Georgia's state bird, the brown thrasher, cedar waxwings, northern cardinals, and more!
Watch out for snakes along the canyon's many creek beds – a variety of snakes, lizards, and frogs live in the area!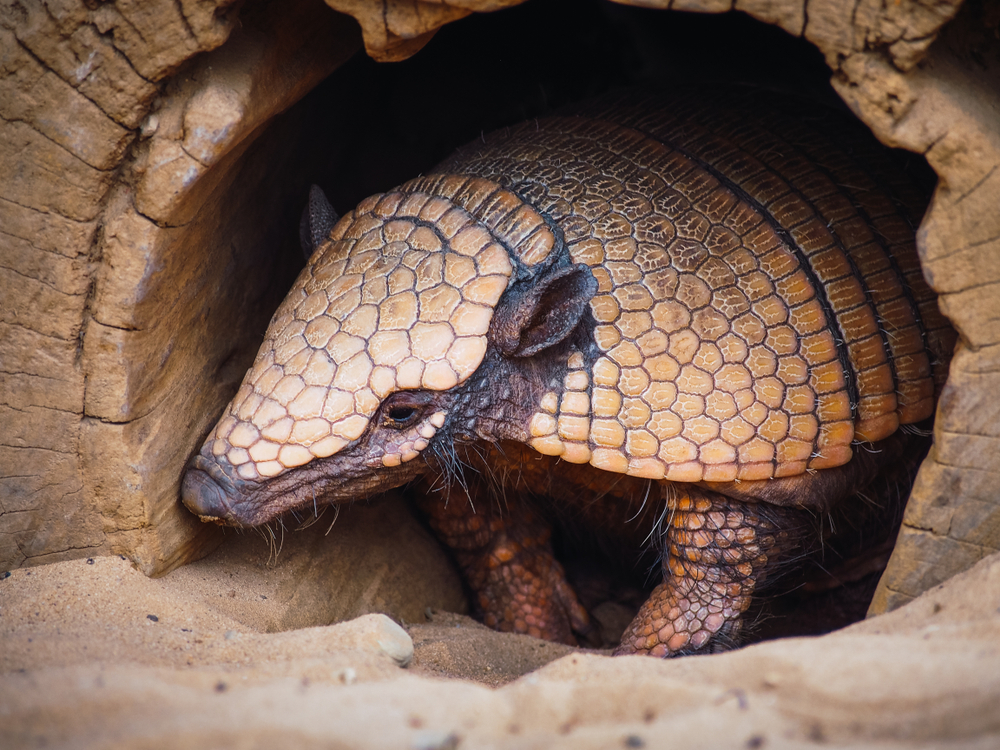 Quick Tips for Providence Canyon
The canyon floor can be quite muddy and wet. Sometimes hikers will walk through low creeks on the trails, depending on whether or not the area has just seen rainfall. Wear shoes that can get messy, perhaps even shoes that can walk through water. Flip flops are not a great choice, as the area is also very rocky, and steep.
Providence Canyon is a great experience to include kids in, but the hike down into and out of the canyon can be tiring. Make sure your kids are up for the challenge before your visit!
Bring water and snacks! Even if you are just hiking for an hour or so, the park does not have food available and nearby food options are going to be at least a 15-minute drive. It can get very hot in this part of Georgia, especially in the summer months, so you will want to make sure you can stay hydrated during your visit.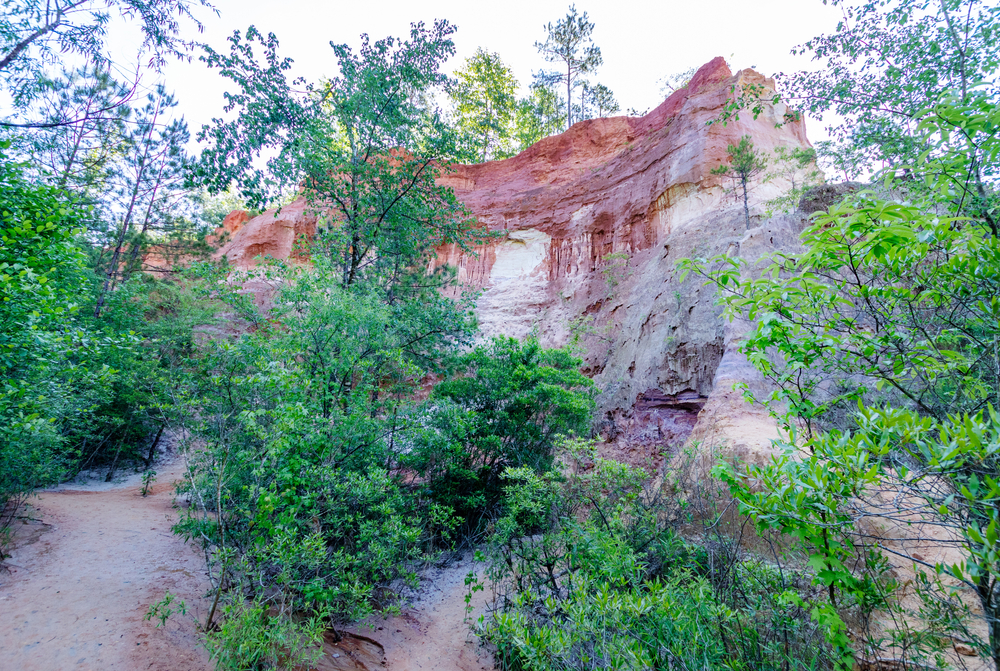 Where to Stay Near Providence Canyon State Park
Stay in nearby Columbus to make the most of your trip to the area. Providence Canyon is about a 30 minute drive from the city's downtown area, and an easy half-day trip.
Downtown Columbus is full of shops and great restaurants, all of which are within walking distance of lots of cute rentals. The downtown area also includes an active nightlife scene with bars, outdoor concert spaces, and theatres all within a few blocks.
It's a great place to call "home base" when you're centering a trip around a visit to Providence Canyon State Park!
Sunny Southern Manse
If you're looking for a quaint little bungalow with a touch of history, the Sunny Southern Manse is one of the best places to stay near Providence Canyon! Located in Columbus' downtown historic district, this home is within walking distance of all the activities that downtown Columbus has to offer.
Built in the 1800's, the home has been updated with modern amenities to make your stay perfect. You can even bring your pet along for the trip!
Enjoy an afternoon on the covered porch, drinking sweet tea while rocking in the swing – it doesn't get more southern than this!
The kitchen is fully updated with a gas range, and the home comes equipped with television and internet access to keep you connected. With charming decor that combines the charm of yesterday with the comforts of today and a stellar location, it doesn't get much better than the Sunny Southern Manse when staying near Providence Canyon.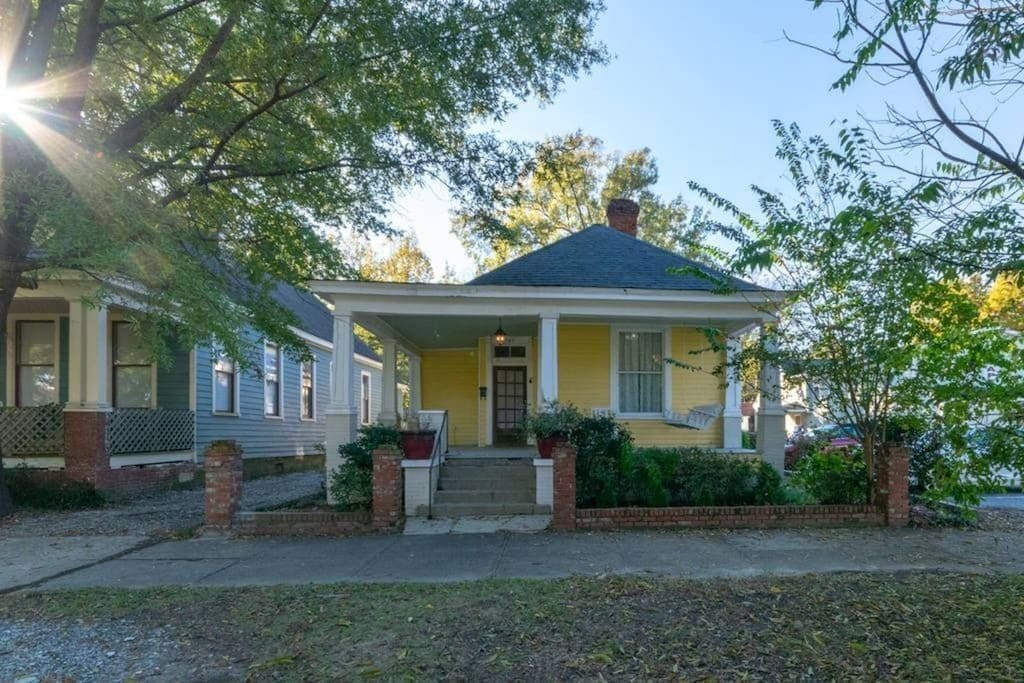 Americana Cottage
Americana Cottage is also located in Columbus' downtown historic district, and steps away from the best the city has to offer. From here, it would be about a 30-minute drive to the gates at Providence Canyon State Park.
With two bedrooms, and a fold-out sofa in the living room, this cottage can accommodate up to six people, and your four-legged friends. The cottage boasts a fenced backyard, along with a grill – perfect for a cookout on a hot, summer evening!
The kitchen is fully stocked and ready for you to whip up your favorite meal after you've spent a day exploring Providence Canyon and the surrounding area.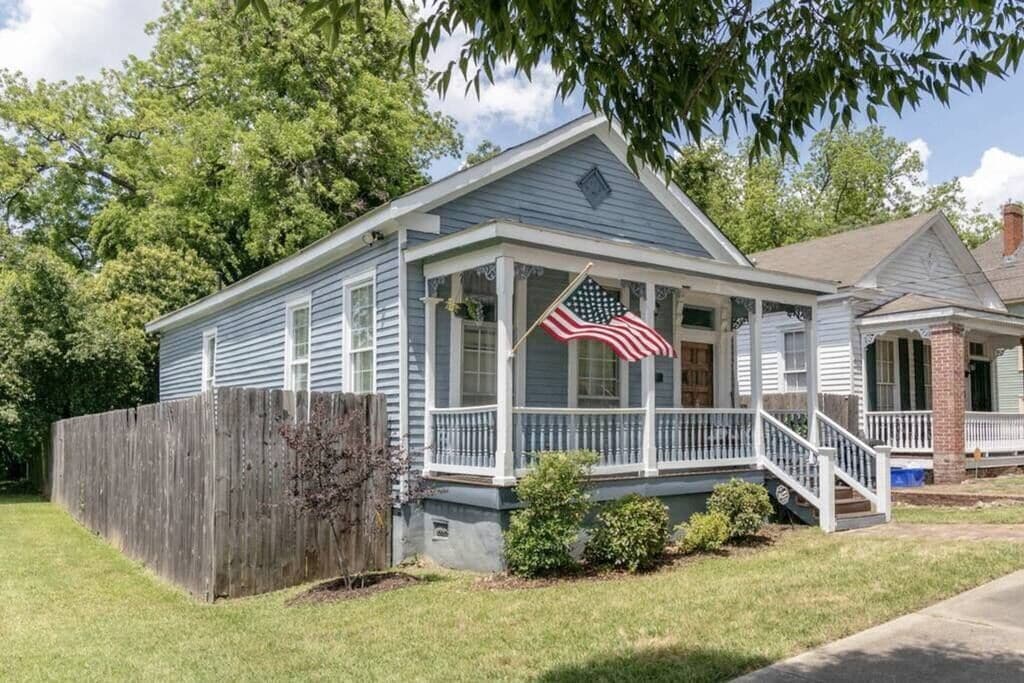 Heart of Downtown Craftsman
Another historic home available to host you on your stay, the Heart of Downtown Craftsman is an excellent choice for places to stay near Providence Canyon!
This home includes 3 bedrooms, 2 full bathrooms, and sleeps up to 10 people – perfect if you're traveling with a larger group!
The cozy, fully updated kitchen is stocked and ready for use, and the modern decor flawlessly complements the historic renovation of this house. Pets are allowed, so feel free to bring your furry friend with you.
The home features a lovely covered front porch, a great spot to enjoy a lazy afternoon. It is also within walking distance of the renowned Columbus Riverwalk, an excellent walk or bikeway to all of the amenities of downtown Columbus.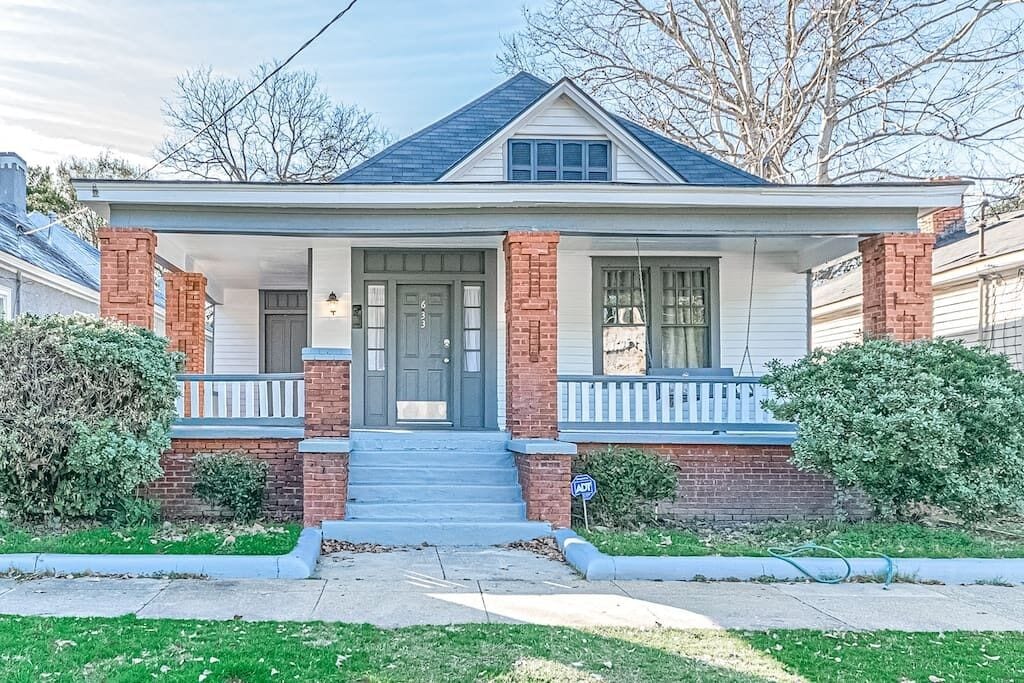 Providence Canyon is an excellent place to spend a day in Georgia. With remarkable views, interesting history, and plenty of activities, you can't go wrong with a visit here. Enjoy your trip!