Are you looking for a list of the best restaurants in Gatlinburg, Tennessee? We have you covered with the best food in Gatlinburg!
Gatlinburg, TN is one of the great small towns in the south with the Great Smokey National Park, or the fireflies at Granddaddy Mountain, or the Doc Collier Distillery, you will have worked up an appetite. This is a town you can enjoy year-round from summer to fall season!
From Italian, to Mexican, to amazing breakfast restaurants that will keep you full for hours of exploring the Smokey Mountains, to Southern comfort foods, Italian and Pizza restaurants, casual lunch spots, upscale steakhouse and an interactive dining experience at the Melting Pot you are sure to enjoy any of these restaurants in Gatlinburg.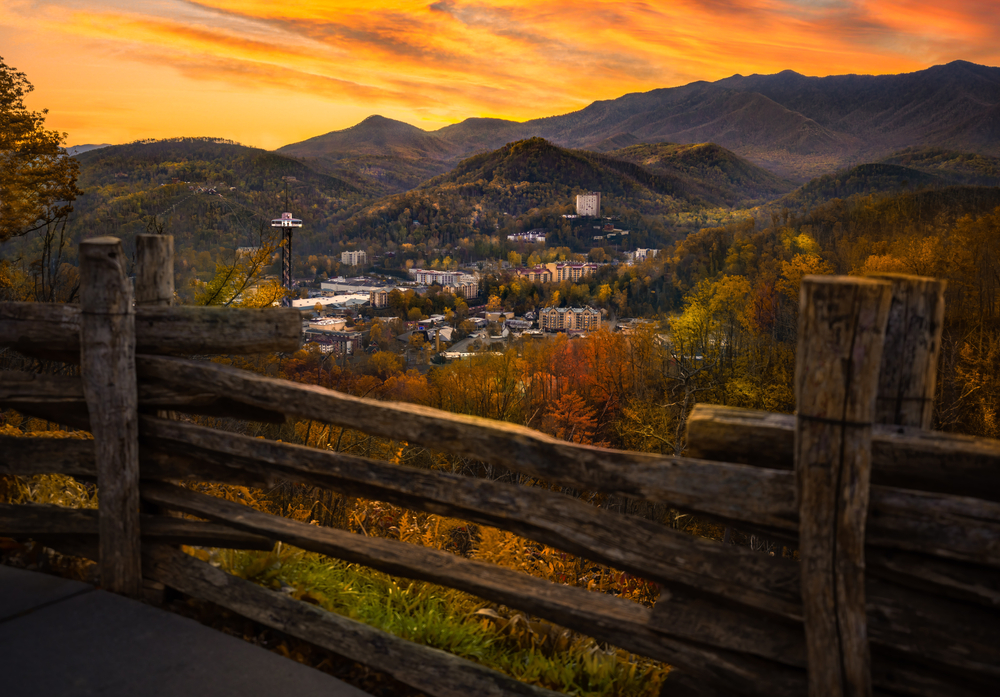 15 Best Restaurants In Gatlinburg TN You Must Try
Best Italian Restaurant
While the name Best Italian Restaurant may seem like a play on words, this chain with two locations both on the Parkway and in Elks Plaza is a favorite of tourists and residents alike. They keep the menu simple by sticking to classic dishes served in big portions!
From the fresh baked signature garlic rolls topped with cheese, to pasta dishes such as spaghetti marinera with mushrooms or meatballs, vegetable or meat lasagna, chicken florentine or marsala, to Chef Paul's seafood medley and veal parmigiana you are in for a treat whether looking for a vegetarian friendly restaurant or classic Italian food in Gatlinburg.
The pizza is New York style thin crust, and you must try the Brazilian Bechamel sauce with white sauce with peppers onions and veggies or the Deluxe with pepperoni, sausage and beef. Or try one fo the many calzones.
Crockett's Breakfast Camp
Since 1840, Crockett's Breakfast camp as been one of the best restaurant sin Gatlinburg, TN. This rustic restaurant transports you back to the 1800's with its wooden walls while serving up a delicious home cooked breakfast. While there is always a wait to eat here, you can join the waitlist on their website!
Every egg dish, like the scrambblers or omelettes is served with Cherokee sweet corn pone, candied apples, fresh fruit, grits or hunt camp has browns along with toast or a biscuit. Choose from breakfast classics such as Tennessee French toast, Griddle cakes with an assortment of toppings from candied apples to southern pecans and Wild berry comptoe. Or go fro the house dish the Crockett Maples with chopped steak and eggs, Huevos rancheros or Elk Mountain Burrito served in a skillet.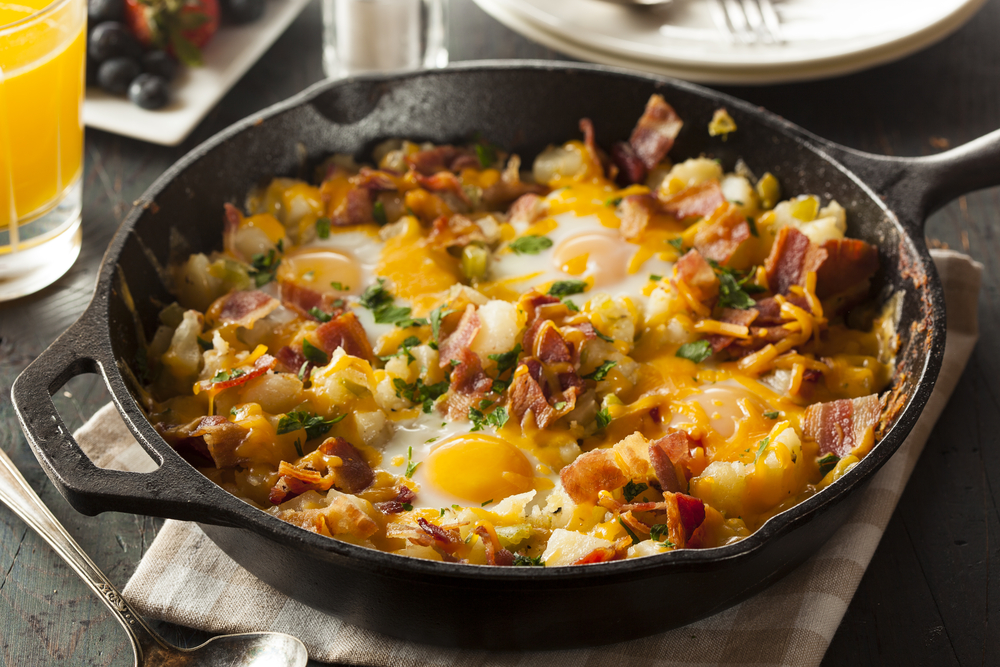 Big Daddy's Pizzeria
If you are looking for pizza restaurants in Gatlinburg head to Big Daddy's Pizzeria. You will find a 550 degree brick and coal pizza oven cooking the fresh homemade one of a kind pizzas.
From the wood fired wings and pretzel bites or an antipasto platter, all great options to start the meal. The pizza menu includes a low carb pizza with a sausage crust, in addition to the traditional pies.
Classics include cheese, boo boo bomber (pepperoni), the Mama Mia (Italian style) to speciality pies like Smokey Mountain Cheesecake, Porky Pie with pulled pork and BBQ or a. Taco pie. If none of those sound good, you can always create your own.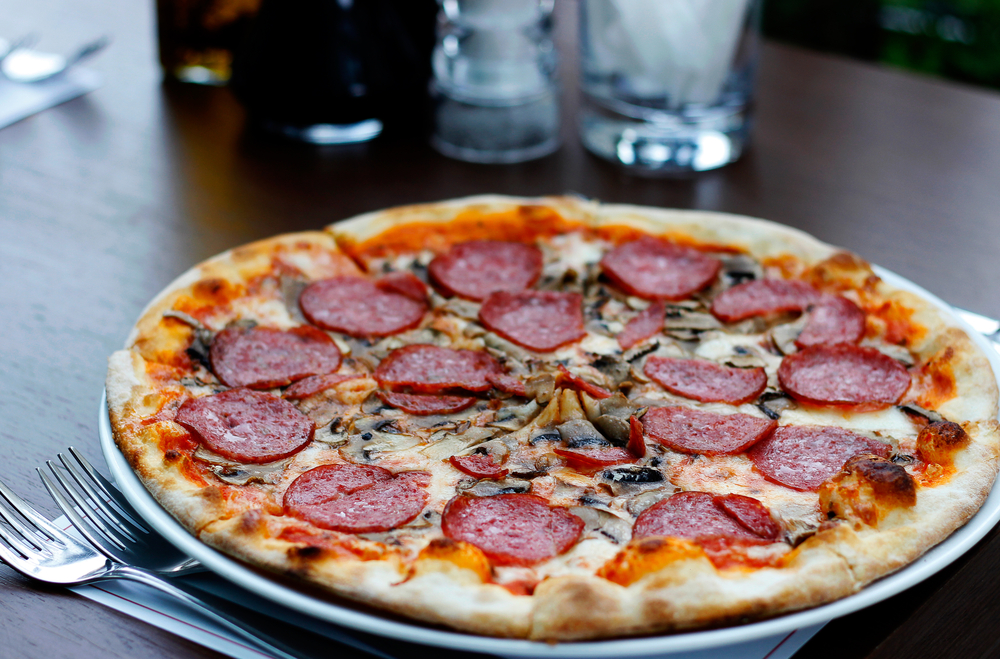 Flapjacks Pancake Cabin
If you are looking at breakfast restaurants in Gatlinburg, put Flapjacks Pancake Cabin on your list. They have seven locations, and are known for the amazing homemade pancakes inspired by grandmas recipe.
Not to worry they serve all the traditional breakfast foods as well. All of the skillet meals come with two pancakes and you can choose from corned beef hash skillet or the Walkers cabin with eggs and biscuit and gravy.
The pancakes come in a wide assortment of flavors – almost anything you can think of,. From sticky bun, to Reese's, mixed fruit, chocolate chip, pecan and more!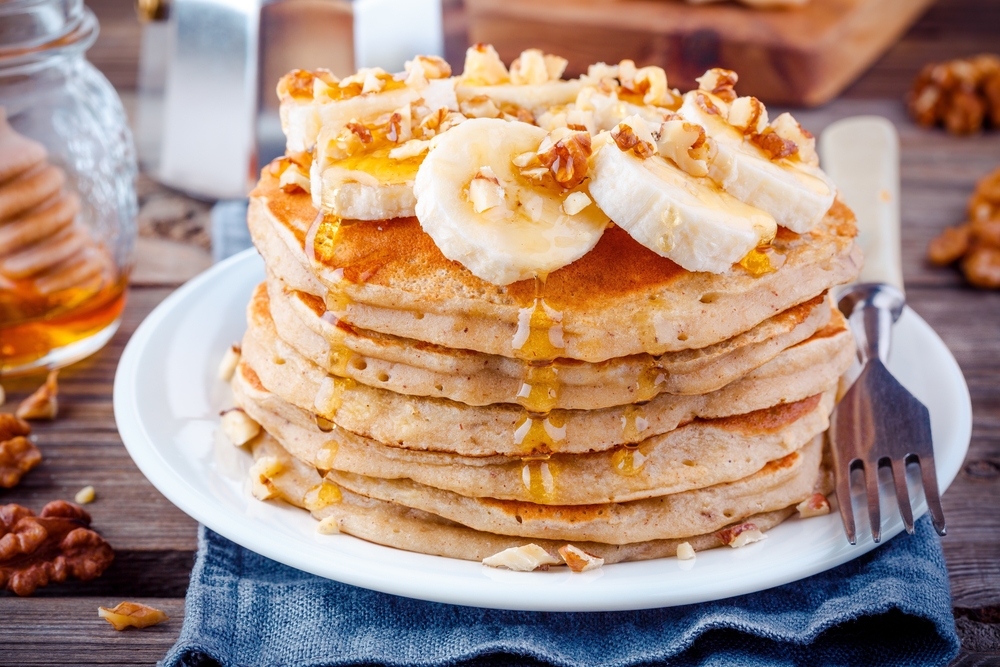 Park Grill
Park Grill is located right next to the entrance of the Great Smokey Mountain National Park and serves up a taste of the Smokies! Open for both lunch and dinner this is a great option if looking for food options near the park.
Southern inspired appetizers include fried pickles, fries green tomatoes, fries mac and cheese and fried chicken skins. On the casual menu choose from angus burger, pulled pork sandwich, chicken sandwich. Or try the bbq sampler, moonshine chicken or angus filet.
You will want to save room for dessert. Try the blackberry cobbler, Jack Daniels creme brûlée, Nanners banana pudding, or try them all with the dessert sampler.
Locco Burro
Locco Burro is. Great options for those craving Mexican and looking for places to eat in Gatlinburg. This Tex-mex cantina strives to serve fresh and delicious food. Known for their table side guacamole, margaritas, street tacos and more this is a great spot to dine. Plus the restaurant features Gatlinburg's only rooftop bar with views of the Smokey Mountains.
Start with the table side guacamole, street corn, or the fiesta sampler for a bit of everything. Everyone raves about the world famous fajitas where the meat is wood grilled with onions and peppers and homemade tortillas. Choose from steak, chicken or vegetarian.
Other favorites include the Marisco tacos with fresh seasonal fish, the chimichangas a deep fried burrito, shrimp Brochette with cheese and smoked bacon plus tacos and burritos. If you are up for the challenge and think you can eat a 5 lb chihuahua, a spicy dish in 30 minutes you eat for free!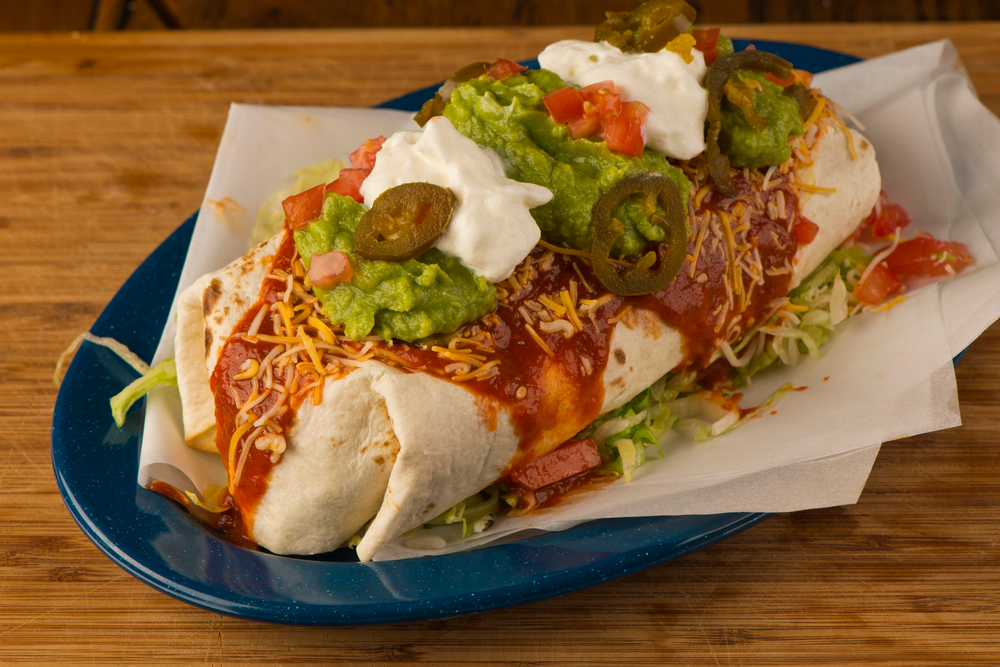 Crawdaddys
If you are looking for low country boil types of food in Gatlinburg, Crawdaddy's is your place. The cajun inspired menu features fresh seafood with a fun New Orleans flare. On Friday and Saturday nights there is live karaoke, and a large outdoor patio to enjoy.
To start order the Mardi Gras platter with alligator bites, chicken tenders, onion rings and fried frog legs, or if not wanting to be that adventurous go for the crawfish boil with crawfish, potatoes and corn! Seafood favorites include oysters on the half shell, lobster and shrimp roll, crab cake sandwich, po boys, seafood platter.
For menu items from the grill they serve a bacon wrapped cajun sirloin, blackened chicken pasta, jambalaya and red beans and rice! You can add any of the boil options to your entree.
Pancake Pantry
Since 1960, the Pancake Pantry has been one of the best Gatlinburg restaurants. Located in the Village, this family owned restaurant has expanded over the last 50 years serving guests unique dishes and comforting favorites. Ope for both breakfast and lunch 7 days a week.
They serve over 24 different types of pancakes, alongside waffles, egg dishes, hash browns and more. All of which are made fresh in house including the syrups and compotes. This is the place to try something new, from sweet potato pancakes, to Parisienne crepes ( thin pancakes), pigs in a blanket with sausage between the layers, the Smokey Mountain buckwheat, and Swedish pancakes with lingonberries.
All the egg dishes are served with 3 buttermilk pancakes alongside your choice of ham, or bacon. The specials at Pancake Pantry include the morning star with has browns covered in fried egg and cheese , alongside delicious omelettes.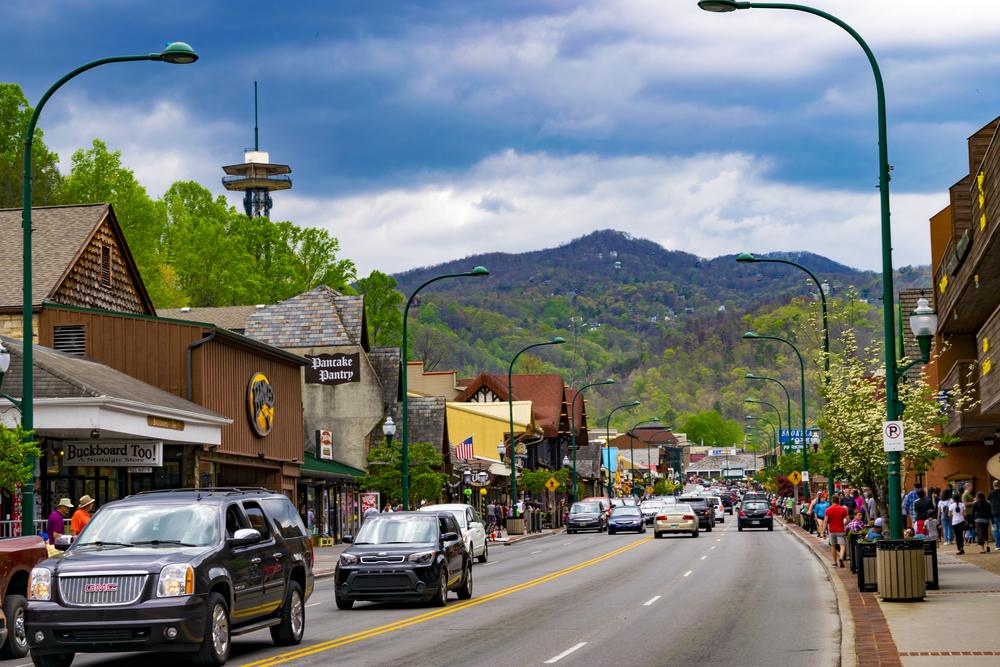 Gatlinburg Brewing Company
After a day spent exploring Gatlinburg, head to the Gatlinburg Brewing company for some craft beer and craft pizza! This is great late night spot as well as they are open daily from 12 pm to 1 am and family friendly.
Not to worry they also serve appetizers great for sharing like cheese breads, wings, and pretzel with beer cheese as well as an assortment of salads. On the craft pizza menu you will find cauliflower crust as well as traditional, and an assortment of toppings like beer braised sausage and beef alongside all your traditional toppings.
On the beer menu you will find the GPA IPA, Gatty Light a cream ale, Breakfast Juice a Pale Ale, Highland Drew a Scottish Ale, Uncertain times a Schwarzbier, and Leconte Triple a Belgian. They have 15 beers on tap for you to try.
Peddler Steakhouse
If you are looking for more upscale restaurants in Gatlinburg Tennessee head to the Peddler Steakhouse. Located at the entrance of the Great Smokey Mountain National Park, the restaurant has a long standing history of serving elevated dishes with friendly service and atmosphere that is all about showcasing the mountains and Little Pigeon River.
All of the entrees here include house salad, and side dish as well as hot bread (just make sure to ask!). Pair with custom cut steaks such as NY strip, Rib eye, Filet Mignon or Prime Rib. Try the fresh rainbow trout, grilled shrimp or blackened chicken breast. IF you can't make up your mind, not to worry just order one of the combination entrees with you choice of two options!
Leave room for dessert such as the hot blackberry cobbler, Krisit's chocolate cake, or the Peanut Butter Mud Pie or the Kahula Creme Brûlée.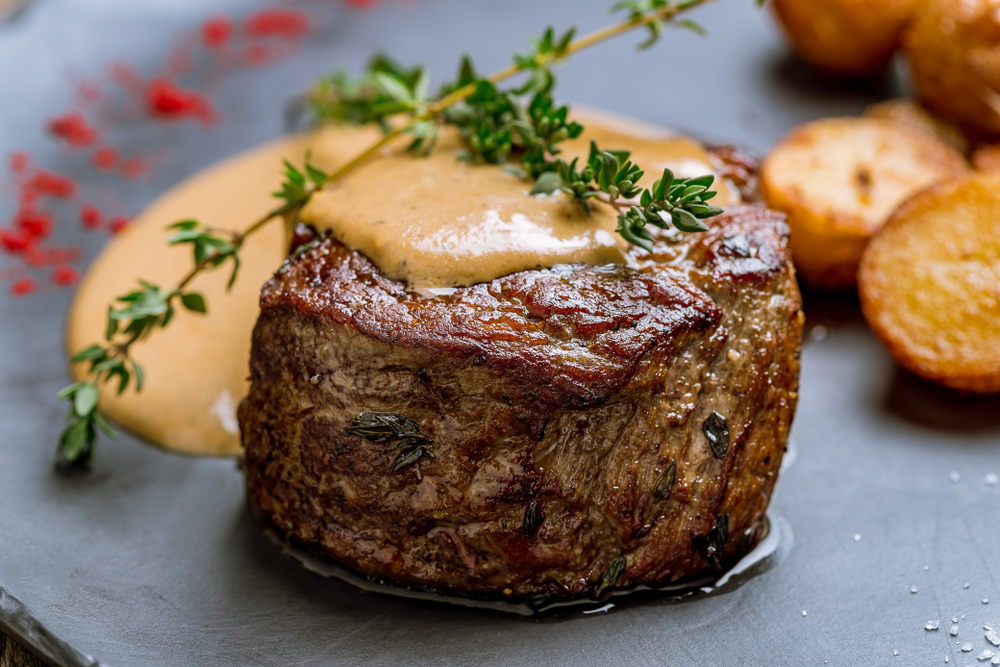 Cherokee Grill and Steakhouse
The Cherokee Grill and Steakhouse is another steakhouse in Gatlinburg, right across from the Peddler. The upscale mountain lodge restaurant also serves a Sunday brunch from 11 am to 2 pm. And happy hour from 4-7 pm Monday to Thursday.
All Brunch entrees are served with bacon cheddar grits or potatoes. Choose fro Benedicts, eggs Cherokee grill, omelets, waffles. For more savory options there are burgers, salads, Smokey Mountain fried chicken, Her crusted out and steaks.
For the dinner menu start with the smoked filet of trout or the charbroiled shrimp in drawn butter. From the Freid Chicken and Rotisserie chicken to Char Grilled Wild Alaskan salmon, to Prosperity Pork chops there is wide assortment. From the Grill choose between the NY Strip, Prosperity Steak marinated in olive oil and Worcestershire butter, the Boursin Filet, Prime Rib on Fridays and Saturdays, or the Filet Mignon all served with fresh bread and your choice of side.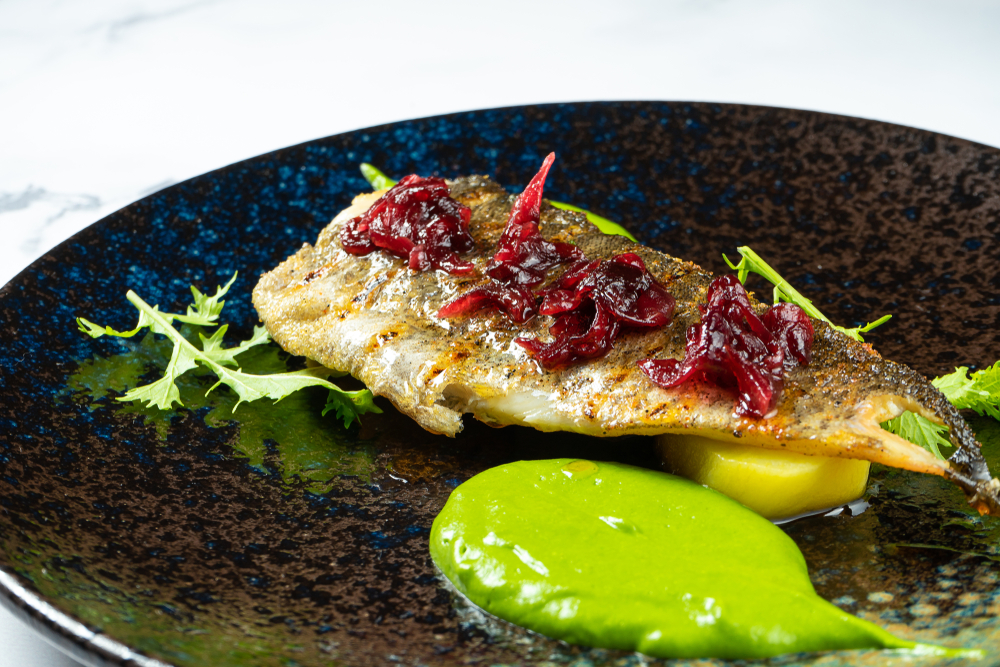 The Melting Pot
The Melting Pot is a fondue restaurant where guests can use the tabletop grill to cook their own meal. This is a fun family friendly dining spot with an interactive experience and upscale food. You can park at Bearskin Parking Garage and bring your ticket for validation.
They offer a 4 course meal for two as well as a la carte. Choose from cheese fondue such as spinach artichoke, Wisconsin cheddar, Classic Alpine, Fiesta, and Loaded Bake Potato. Add your choice of dipping items from shrimp, steak, chicken, lobster tail, veggie pot, or choose your own selection. You then choose your cooking style from veggie broth, mojo, and more.
For the chocolate fondu you can order the original, pure chocolate either white, milk or dark, the flaming turtle with caramel, bangs foster, or the Ying and Yang a mix of white and dark chocolate. All are served with a variety of sweet treats and fruit.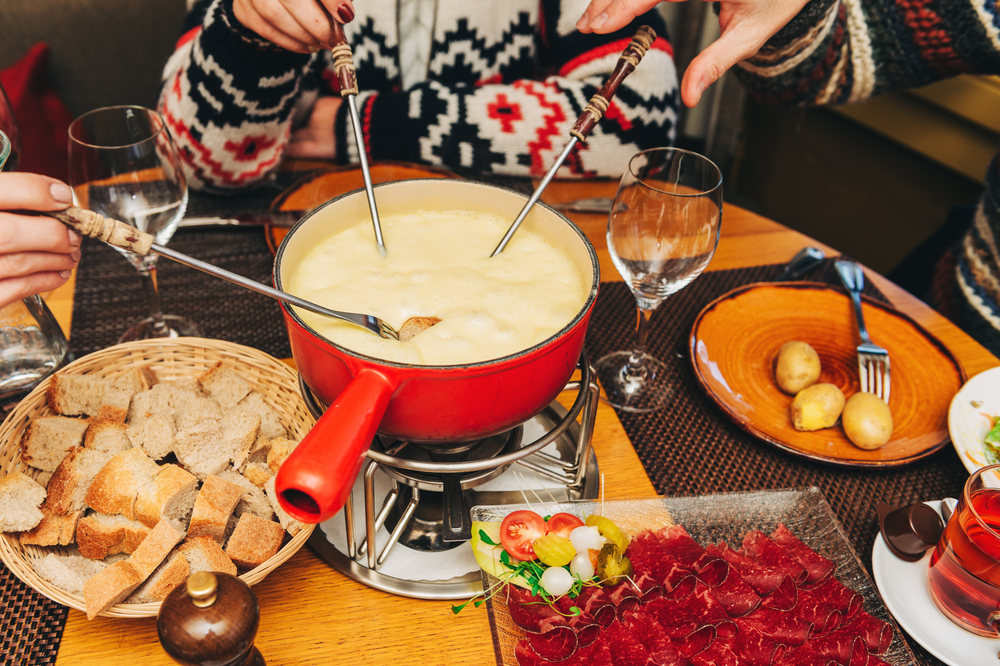 Tennessee Jed's
Tennessee Jed's is a great option for lunch places to eat in Gatlinburg. They also serve breakfast, have amazing coffee and are known for their fast and fresh food. Open daily from 8:30 am to 3:30 pm.
Choose between a selection of breakfast sandwiches like sausage, egg and cheese, quiche of the day, or if dining on Friday or Saturday you can order biscuit and gravy. For lunch they serve sandwiches ranging from BBQ, BLT, Rueben, Turkey Bacon Ranch, Cuban, Hot Ham and Swiss, Hot Dogs, Frito Pies with chili and cheese as well as salads.
The Hofbrauhaus Restaurant & The Cheese Cupboard
The Hofbrauhaus Restaurant is found inside the village center alongside 27 other restaurants and shops. Downstairs you will find the Cheese Cupboard, and upstairs is the Hofrbrauhaus Restaurant. Since 1969 the Cheese Cupboard have been providing Gatlinburg with imported cheese, chocolate and other European delicacies. The Hofbrauhaus is a German inspired pub.
If you are looking to grab snacks and head back to your accommodations this is a great place to stock up. If looking to eat while in town head upstairs and enjoy the menu of sandwiches like customer favorite Rueben, the Frankfurter, Bratwurst, Pastrami and Cheese, Polish Sausage or Corned Beef and Rye.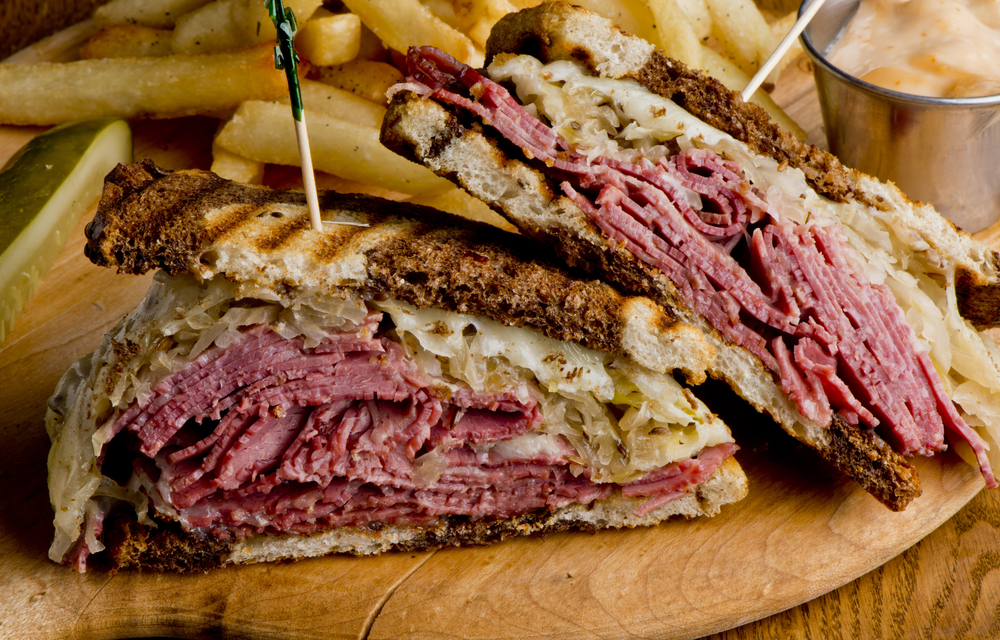 Timbers Log Cabin Restaurant
The Timbers Log Cabin is one of the more causal places to eat in town. This is one of the locally owned restaurants in Gatlinburg that is vegetarian and vegan friendly, serving up southern American food out of a little log cabin. They serve breakfast all day, and everything is made to order.
On the all day breakfast menu you will find eggs, French toast, pancakes, served with house potatoes that everyone raves about. For lunch choose between burgers, hot dogs, shrimp and grits, sandwiches. Everything is made in house and will remind you of your families home cooked dishes. There is a large patio area you can sit at with umbrellas at each table.