Are you looking for places to go shopping in Savannah? You have come to the right place. This article will walk you through shopping in downtown Savannah, River Street shops in Savannah, and boutiques in Savannah that are well worth taking your time to visit.  We are going to help you make your Savannah shopping experience easy to organize and more enjoyable. 
Shopping in Savannah, Georgia offers a unique and diverse shopping experience. You will find unique souvenirs, artisan one-of-a-kind keepsakes, chic clothing shops, and local art galleries are great places to grab a unique piece. Whatever you like you will find it in Savannah.
The great thing about shopping in Savannah is that you get to spend time in this beautiful city. You can stroll the historic streets, spend time in the historic City Market or hang out in the vintage and artistic Starland area. Savannah might even convince the non-shopaholics that shopping can be an enjoyable experience.
When you need to rest your weary feet you will find lots of coffee shops, restaurants, and cafes to enjoy the lovely local produce. Trust us you will really enjoy your Savannah shopping experience. And after the shopping has finished why not take a haunted tour Savannah is known for its haunted spots.
So are you ready to get your purse at the ready, but on your comfortable shoes and explore shopping in Savannah, Georgia.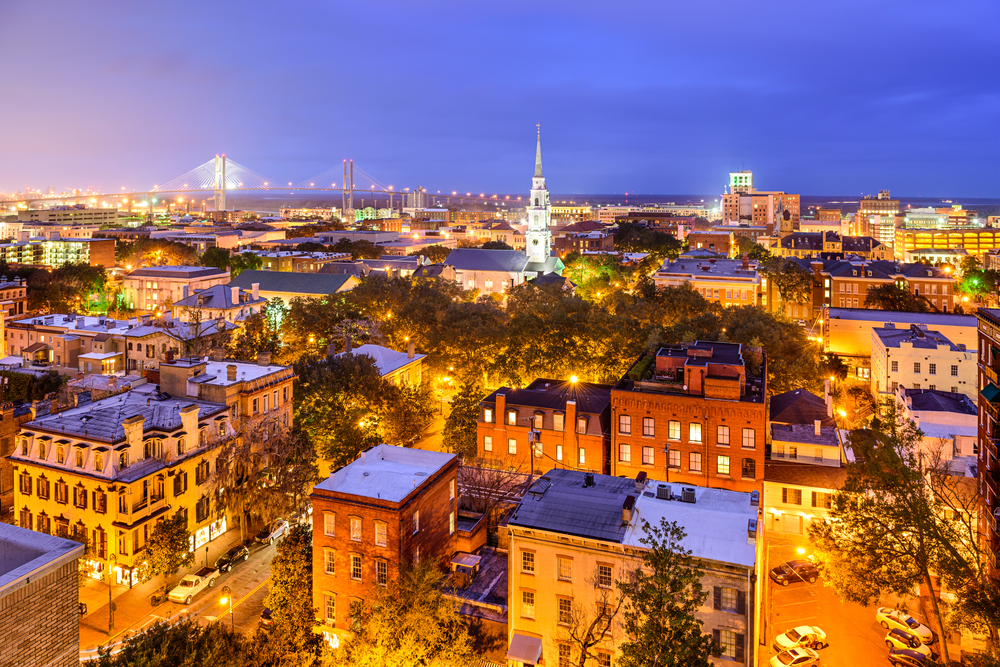 Wright Square For Boutique Stores
If you are looking for boutiques in Savannah then Wright Square has some of the most beautiful. Wright Square is the cities second largest square and is well worth a visit in itself. There is a monument here for Native American leader Tomochichi which is what most people flock here for.
Wright Square and the adjacent streets are packed with first-rate shopping experiences. From galleries, confectioners, antique stores, and cafes. You could easily lose a few hours and a lot of cash in the area. It's simply stunning. There are lots of unusual shops in this area from one selling organic dog treats to another selling old-fashioned streets.
In December the shops here stay open late and showcase their unique gifts so if you are there then definitely check it out.
There are also plenty of cafes to sit for a while and watch the world go by if the shopping gets a bit much.
This is one of these areas where you can never spend enough and never stay long enough, you will always want more more more.
This is just a lovely way to spend some time and money and is a great place to go shopping in Savannah.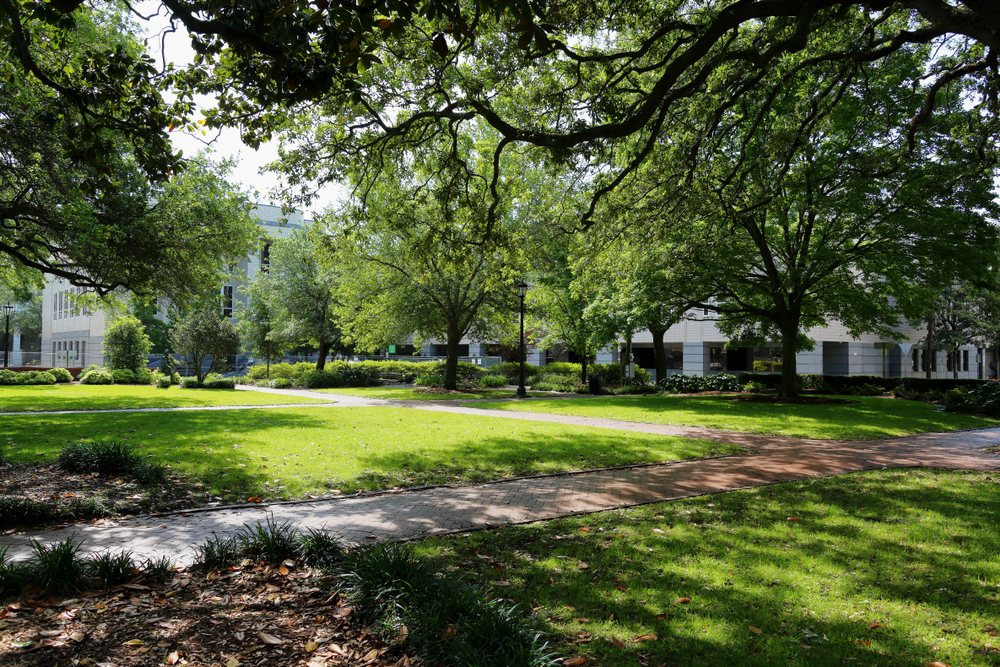 Abercorn Walk For The Perfect Dress
One of the newest shopping areas in Savannah, if you are in for that perfect dress then this is the place to be. Just a few miles from downtown Savannah this mall is full of trendy affordable and upscale shops.
So if you are looking for a brand new outfit , some accessories or homeware then this is the place for you. You will find all the chic stores here including a organic grocery store.
12 Oaks Shopping Center For Bridal Dresses
Not necessarily a place that attracts the tourist but the several local businesses here make it worth the trip. And if you are looking for bridal shops in Savannah then BleuBelle Bridal Salon is a dream.
There are also lots of budget-friendly shops here and visits to the Savannah Wine Cellar where you can sample up to 40 varieties of wine are a joy.
The center also has some fashionable designer clothes and it's a great way to spend a few hours doing something a little different.
River Street For Souvenirs
If you are not in the area for very long and you really want the shopping in Savannah experience then this is the place to go. The River Street shops in Savannah offer you everything.
As the name suggests this street is by the river and if you have seen pictures of Savannah before chances are this street was in one of them. If you are looking for typical Savannah souvenirs then this is the place to go.
You will find the usual t-shirts and magnets but don't let that put you off. Firstly this place is just beautiful it's all cobblestones streets and beautiful buildings. You will also find lots of collectors shops like The Peanuts Shop, Books on Bay, and a shop that specializes in civil art artifacts.
River Street has a little bit of everything so is a great place to take the whole family. Don't miss a visit to River Street Sweets which really is a delight. You will also find lots of restaurants and bars some lovely galleries, and an open-air marketplace.
River Street is the real Savannah shopping experience.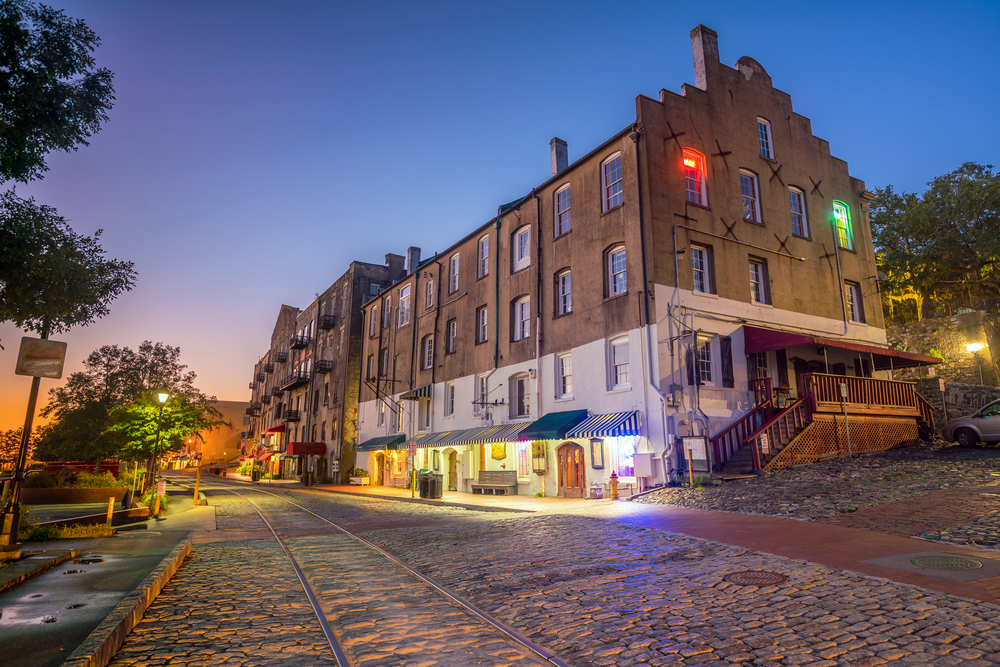 Habersham Antiques Market For A Great Find
If you are after an antique then head to Thomas Square and visit the Habersham Antiques & Collectibles. With more than 70 dealers here you are bound to find that perfect item just made for you.
Housed in a former grocery store, many of the cool details still remaining today. These historic details are used innovatively in the market. Who wants a rug, just look for the meat hooks.
It's a large area and a great place to get lost in looking at all the curiosities. Such a unique place and a great way to while away the hours. Shopping in Savannah doesn't get much better than this.
Oglethorpe Mall For Southern Style
If you are someone who likes a typical mall that this is the place to go. With more than 100 stores, a food court, and a free children's play area this might be your idea of heaven.
It's Savannahs oldest shopping mall even though it has recently been updated and has all the shops you might expect Belk is well worth a visit, a department store that is known for its Southern style.
15 minutes away from the main city it's a good place to go if you want to get away from it all. Spend a few hours here if it's raining or the children need to release some energy at the play area. Oh, and the food court has a carousel and train ride.
Tanger Outlets For A Bargain
If you can't resist a good outlet mall then Savannah has one of those too. 15 minutes away from downtown this outlet in savannah opened in 2015 and attracts hundreds each week.
Expect it to be busy and expect to get a bargain. You will find brands all typical to outlet malls with most of the high-end chains here.
If you want your shopping in Savannah to bring you a bargain then this is the place to go.
City Market For Culture
The original city market welcomed traders in the 18th century to sell their goods in the open-air market. Its namesake today is home to several art galleries and artists who have space in the market's Art Center.
You will also find lots of gift shops as well as artisan shops and specialty retailers. With four blocks to explore we guarantee you will find what you need.
And if you get bored of shopping there are lots of places to grab a snack or a meal. This is a place full of down-to-earth culture.
This open-air experience housed in a restored warehouse is unique and filled with atmosphere. And if you are there at night it gets even better with live music.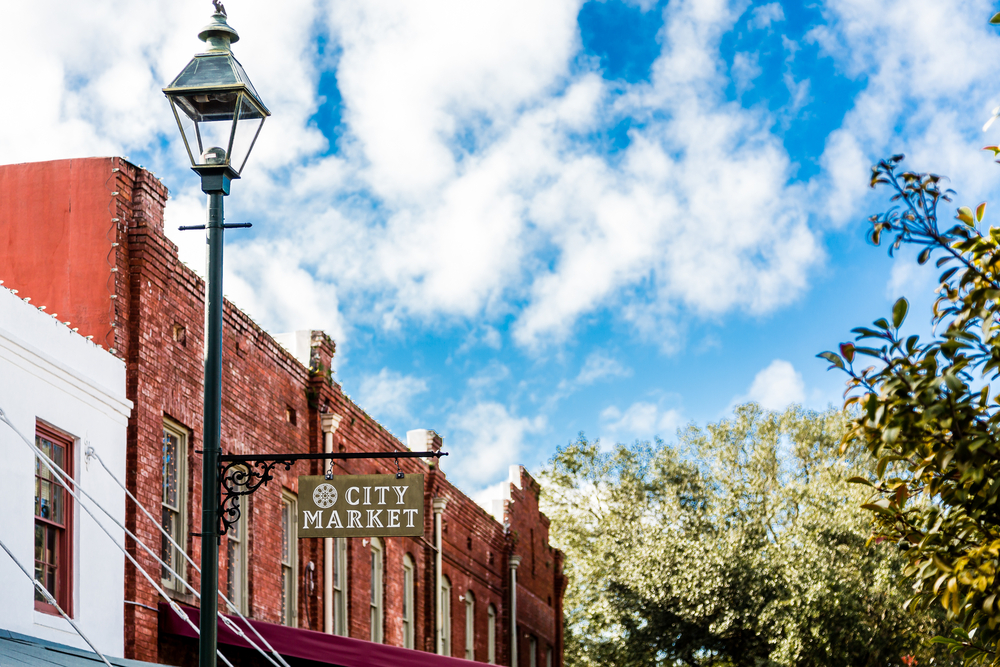 SHOPSCAD For A Unique Find
If you want something unique and totally Savannah head to the ShopSCAD, a retail store operated by the Savannah College of Art and Design.
The store features jewelry, decor, paintings, pottery, photography, apparel, and other gift items designed by the college's students and alumni.
Many of the items in this shop have been featured in prestigious magazines such as vogue. is the perfect way to take a piece of Savannah home. You can really get something special here.
Items are added daily so if you really love art pieces we recommend you creaking in a few times during your stay. With over 70 artists providing items for the shop you are bound to find something that suits your style.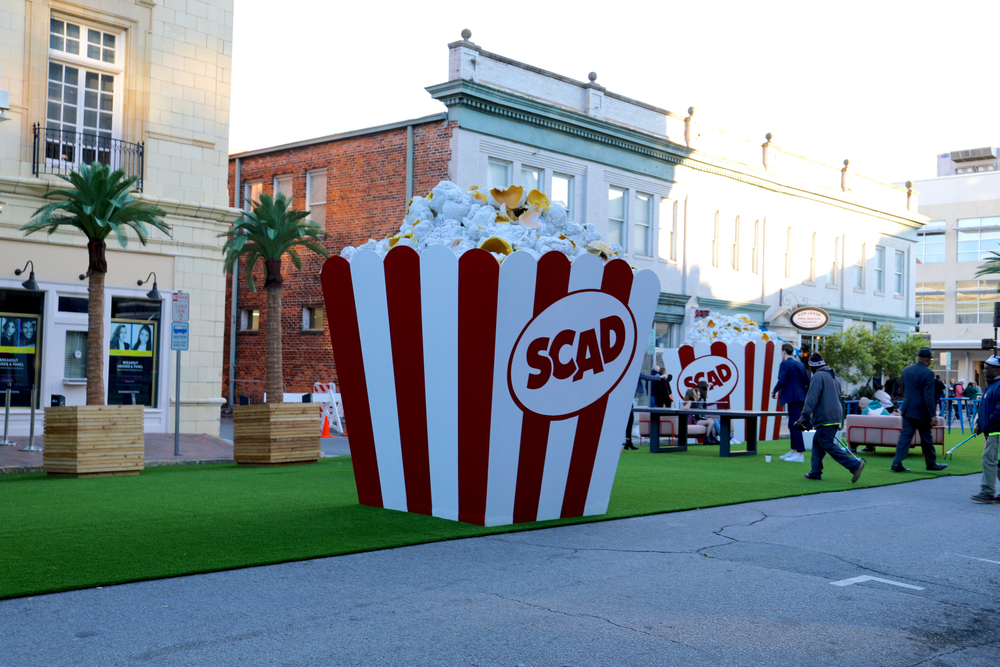 Sandfly For Something Different
A historic neighborhood near the Ise of Hope Sandfly has become one of the trendiest shopping centres outside of downtown Savannah.
Places of interest are Norwood Market on Skidaway Road, Newton's Corner on Ferguson Avenue, and the Sandfly Five Oaks Shopping Center and Sandfly Market Place. You will find a wide variety of shops, boutiques, and the market has some amazing vintage jewelry.
It's a great place to spend a morning or afternoon. While you are there why not take in one of the great restaurants. Sandfly Bar-B-Q is well worth a visit.
If you want to go out of your way a little then Sandfly is worth a visit. It's got all the charm you could want and a real vibe.
Broughton Street for Savanannah Finds
Located in the heart of the historic district Broughton Street has some great shops and has a real local feel. Shopping in downtown savannah doesn't get much better than this.
There are popular chain stores, galleries, and hip boutiques. It's a happening place and a popular destination. You will find most of the well-known retailers in this area but the best shops are the locally owned business.
Make sure you check out the Savannah Bee Company, Savannah Satchels, and Leopold's Ice Cream to name but a few.
The street has everything and is a great place to explore if you are time limited and want to get a feel for Savannah.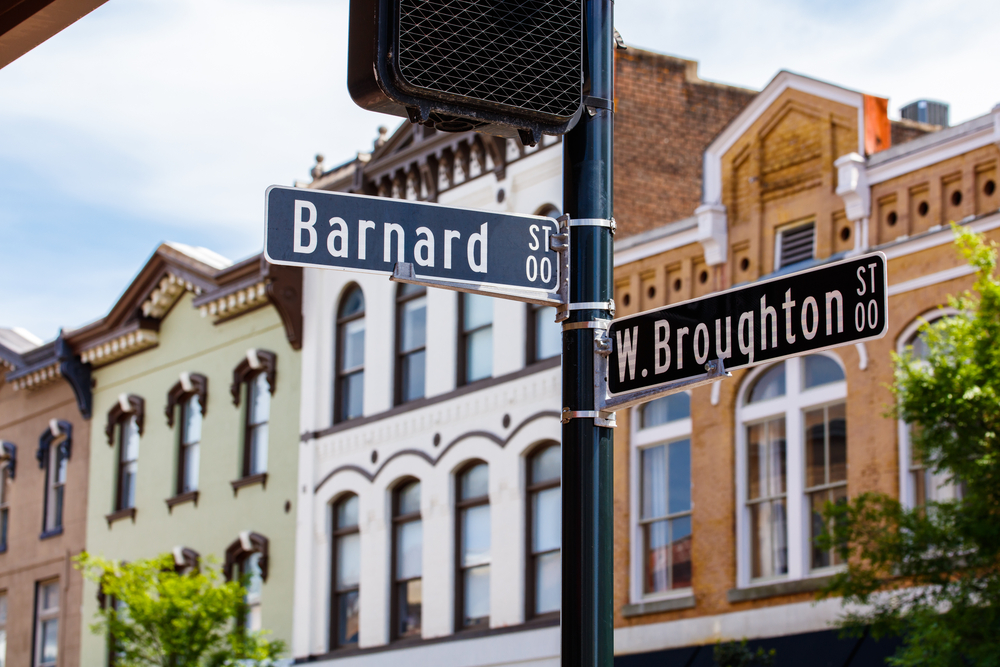 Savannah really is a charming and beautiful city with lots to see and do. Wherever you go shopping in Savannah you are in for a real treat.
If you are short on time check out the boutiques in Savannah, the River Street shops in savannah, and definitely go shopping in downtown savannah. If you have a little more time venture out to Sandfly and pay the Savannah College of Art and Design. shop a visit.
We hope you have an amazing time.