Do you want to find the perfect spot for Glamping in Alabama? Then you have come to the right place! We will cover some of the best glamping rentals in Alabama in this post!
Alabama has some amazing spots to visit! If you are looking for some fun things to do while you are enjoying your Alabama glamping, you can always check out our favorite weekend getaway ideas!
No matter what you are looking to do in Alabama, we will help you find the perfect place to stay!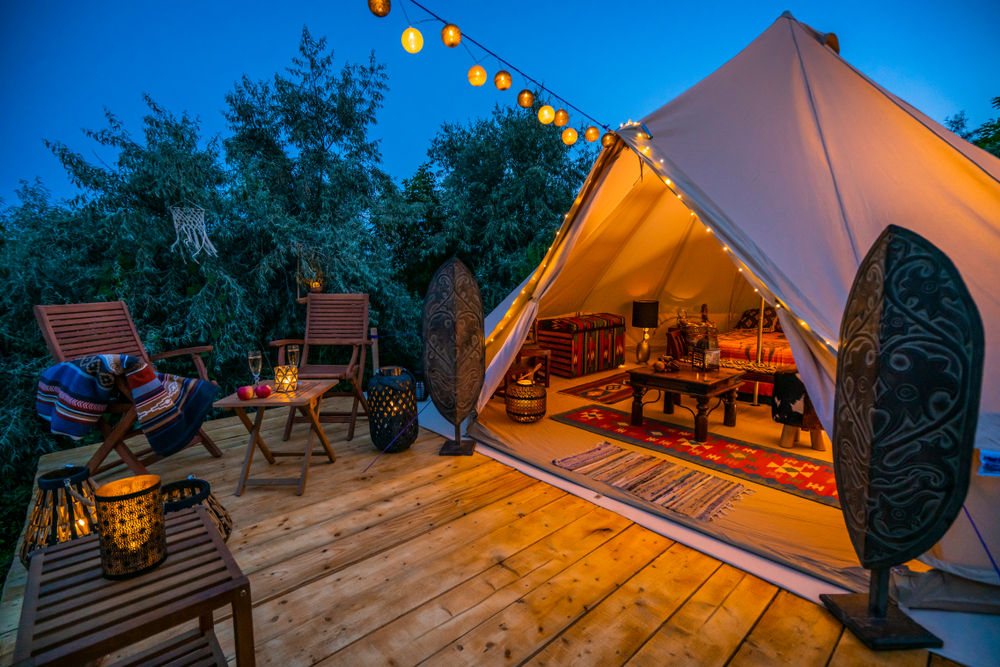 10 Magical Places For Glamping In Alabama
Wanderlust Treehouse
If you are looking for where to glamp in Alabama, then look no further than the Wanderlust Treehouse!
This beautiful tree house is located on forty secluded acres. You have access to a lake as well. This is a beautiful space to get away and disconnect from the world. This is a 1 bedroom 1 bath treehouse. The bathroom is simply gorgeous and features an amazing soaking tub where you can recharge. This is hands down one of the most beautiful treehouses in Alabama, couples even use it as a background for their elopements!
The location of this beautiful tree house is only about an hour from Birmingham or Huntsville. There is also a lake that you can go boating on nearby, lots of hiking, waterfalls, and horseback riding. You will not lack in things to do while you stay here.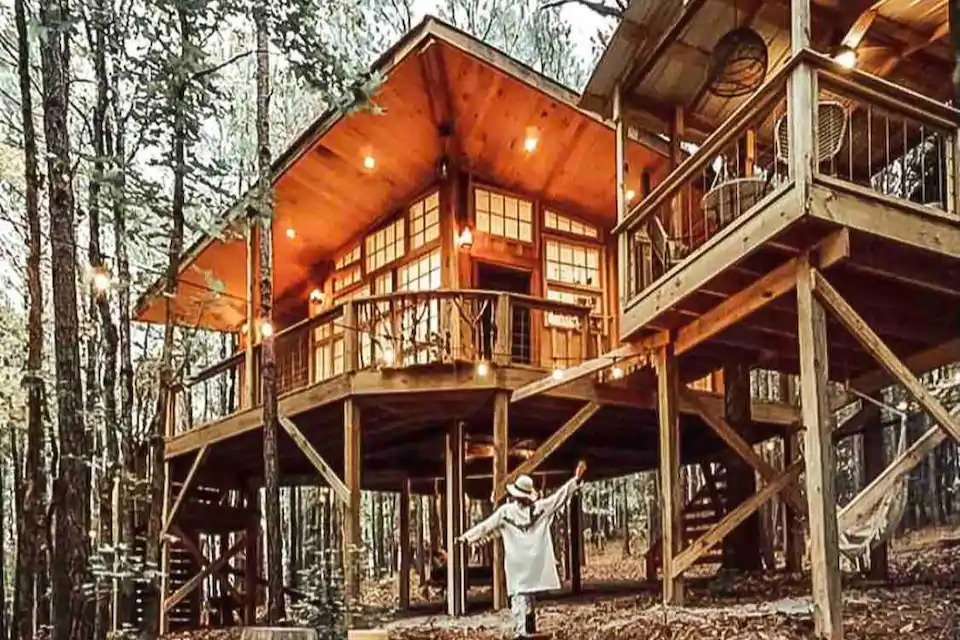 Silver Bullet Airstream
No best glamping in Alabama list would be complete without an Airstream. There is something about staying in these iconic RVs that you cannot pass up! The Silver Bullet is a fun way to go glamping! This Airstream has a convenient electric vehicle charger.
This adorable space offers a comfortable feather bed, a small bathroom with a rain shower, and a small kitchen space! There is an outdoor fire pit for you to enjoy as well. The caravan can accommodate 2 guests.
As for the outdoor space, this is located on a twenty-acre farm. There are horses along with other animals you will be able to see. And you can even pick your own herbs from the garden. This is a beautiful space to enjoy the outdoors and gaze at the stars!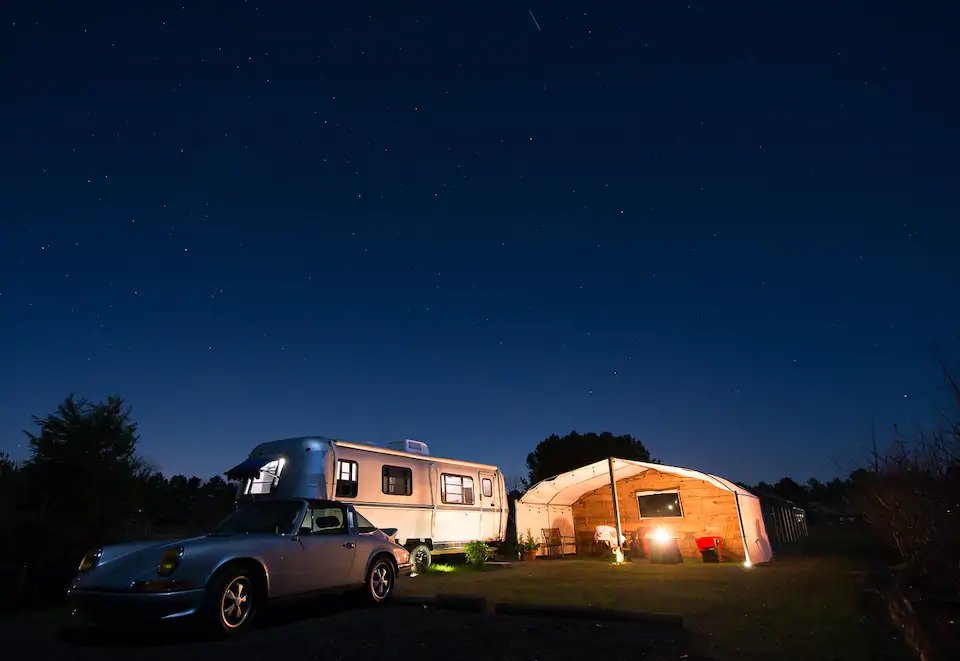 Yurt in Logan Martin Lake
Are you looking to do some yurt camping in Alabama? Then we have just the spot for you! Check out this Yurt in Logan Martin Lake!
This cute yurt has 5 bedrooms, a kitchen, and a bathroom. Up to eight people can stay here! It has roomy with a fun feeling to it!
This yurt is close to Logan Martin Lake. You'll get a great view of it from the private deck. So make sure to enjoy some time on the water as you unwind in this unique place!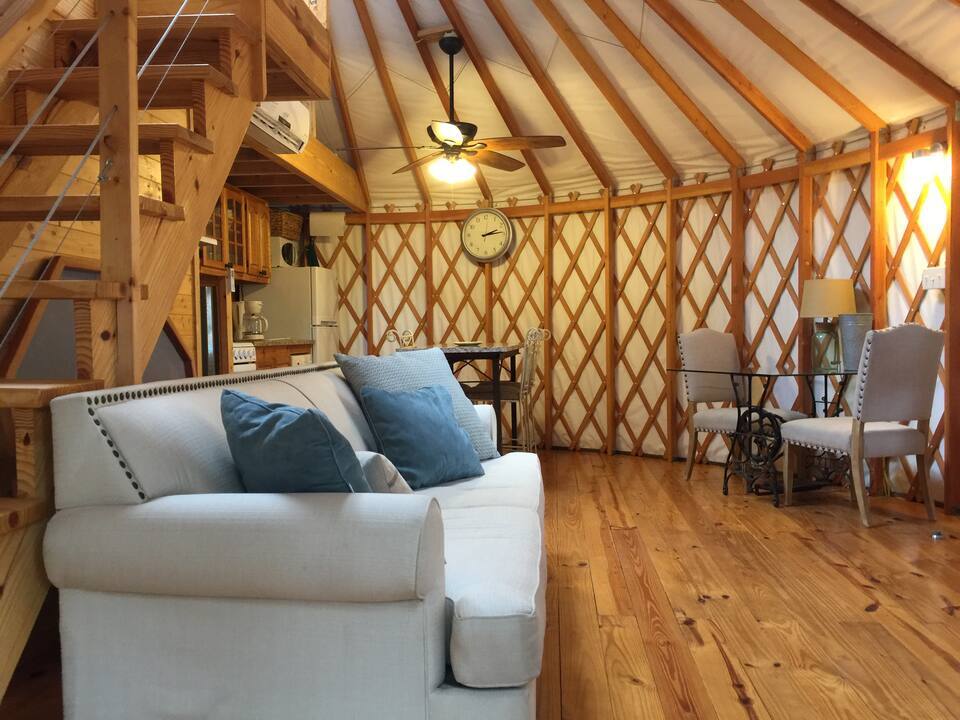 The Barn
Are you looking for the best glamping places in Alabama? Make sure to add The Barn to your list. It is not often that you get to say you stayed in a barn, so this is an experience not to pass up. The Barn is a refurbished barn that has been transformed into a guest house.
This Alabama glamping space is such a fun opportunity! The Barn has four beds and can fit up to five guests! There is also a full kitchen and bathroom, so it is the ultimate luxury glamping opportunity.
During your stay you will have access to the 3.5 acres that it is located on. If you want to get away to the country, but still have some conveniences of everyday life, then this is the place to book!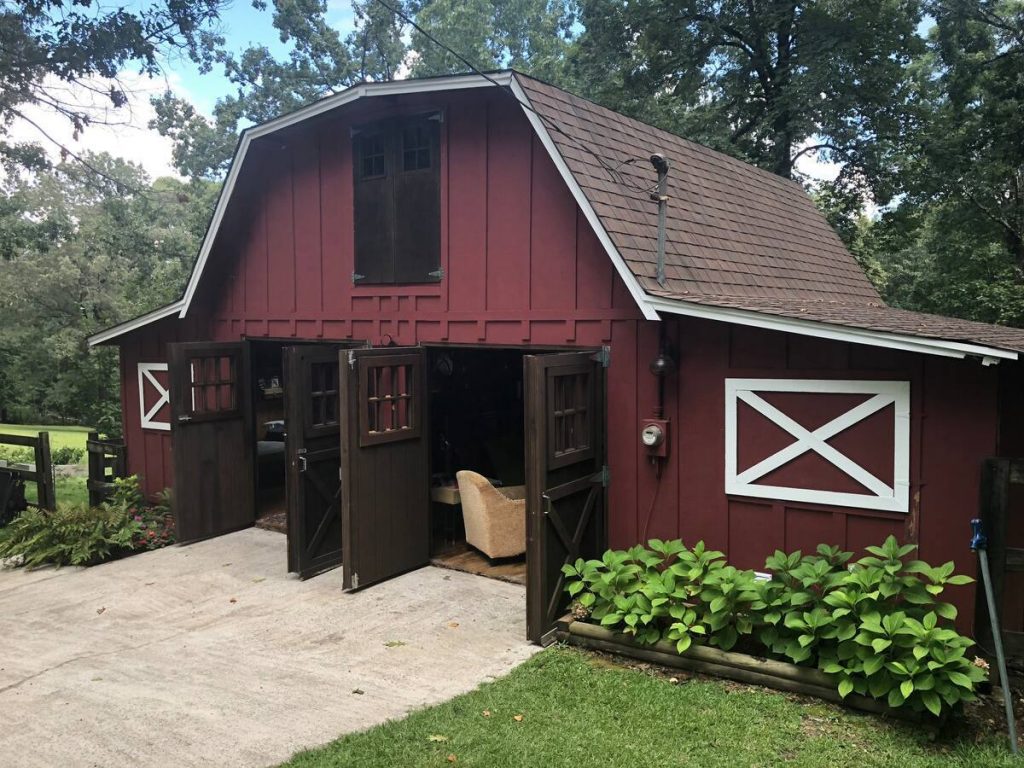 Romantic Cottage
This picturesque treehouse-style cottage is located above the adorable Miracle Pottery Shop in Valley Head, Alabama. This is truly a special place for a cozy glamping getaway.
This is a 1 bedroom 1 bathroom cottage. It is 550 square feet. There is a shared deck, a community fire pit, and an outdoor gas grill so you can soak up great Alabama outdoors. It is decorated ina really warm and homey style that makes you want to drink tea and read by the electric fireplace.
If you're looking for glamping places in Alabama, this location is perfect! The adorable cottage is located 7 miles from DeSoto State Park and 22 miles from Little River Canyon National Preserve.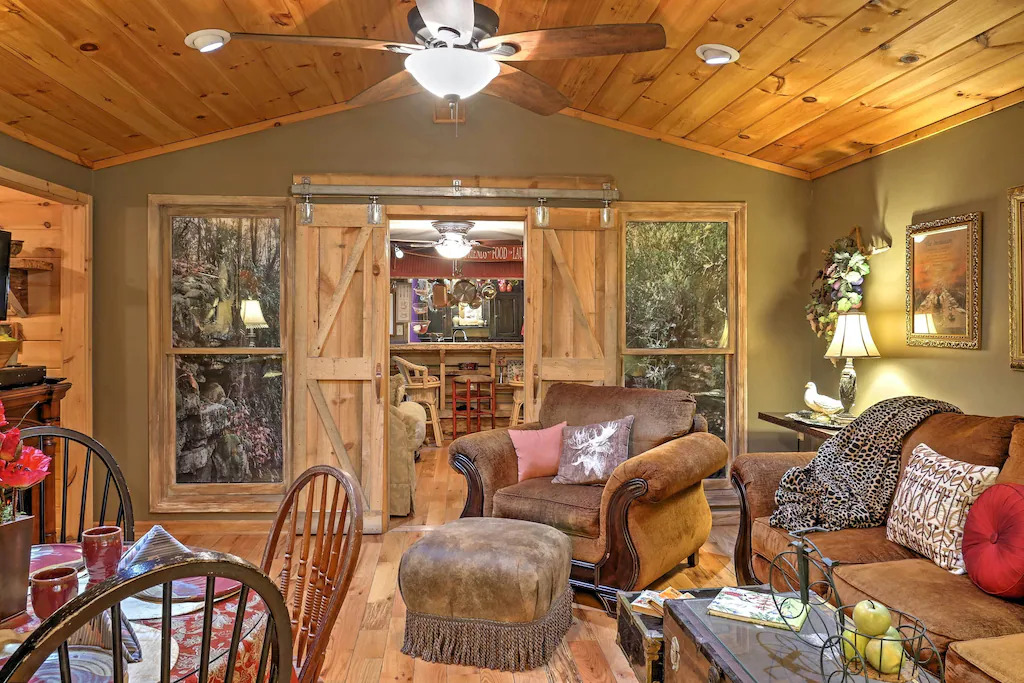 Coyote Treehouse
When you are looking for where to glamp in Alabama, consider the Coyote Treehouse! It is a truly unique spot worth checking out!
This is a perfect romantic getaway for 2 guests with an outdoor shower, hot tub, and fire pit. The treehouse has an amazing view of the creek below and the woods surrounding it. Please note there are no children or pets allowed at this VRBO.
This treehouse is 228 square feet. They manage to fit in an indoor bathroom and a small kitchenette with a microwave and Keurig. There is also an outdoor grill for cooking up something lovely at the end of your day in the beautiful Alabama woodland.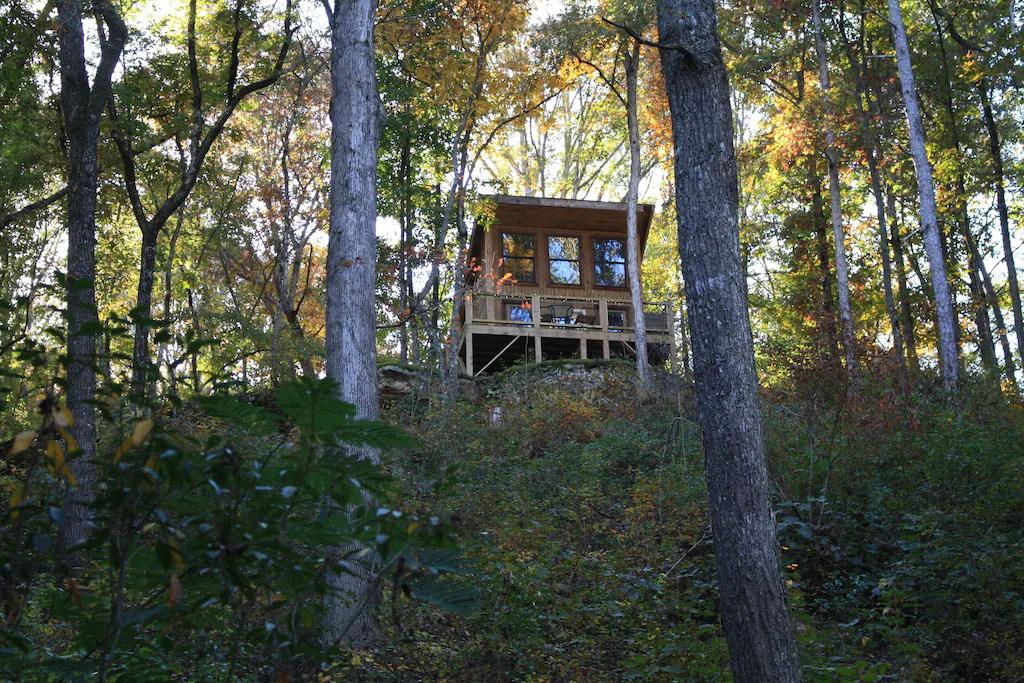 On The Rocks Tiny House
Are you looking for a cute tiny house in Alabama to stay at? Then check out On the Rocks Tiny House!
When you are looking to go glamping in Alabama, how about getting away to a quiet lake? This beautiful tiny house has a remote feeling without being too far out. If you want to get away and enjoy a serene lake view while sipping on your morning coffee, then this is the spot for you!
This little space is perfect for two. If you want to get away with your partner and enjoy a change of scenery, you cannot go wrong with this tiny house!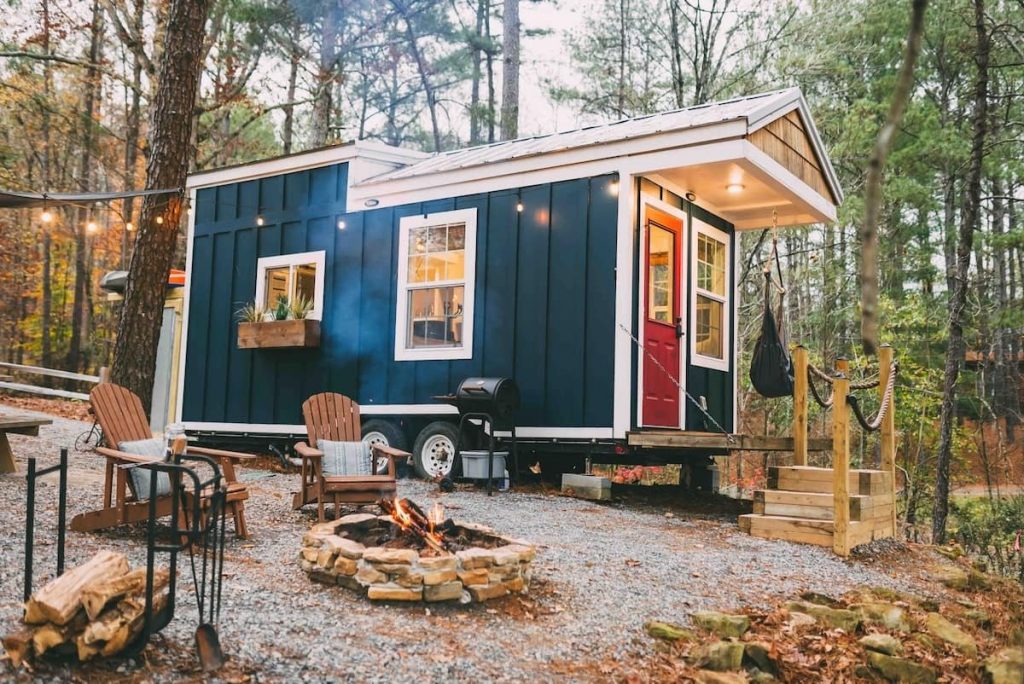 Lakeside Cabin
If you want to be near a lake while luxury camping in Alabama, it'd be hard to find anything closer than this! The Lakeside Cabin even has a private dock and boat launch.
The lakeside cabin is a mobile home that can sleep 7 guests. It has 4 beds in 2 bedrooms. There is 1.5 bathrooms. The mobile home is 780 square feet and has a lovely screened in porch. The kitchen and bathroom make this an excellent alternative to traditional camping.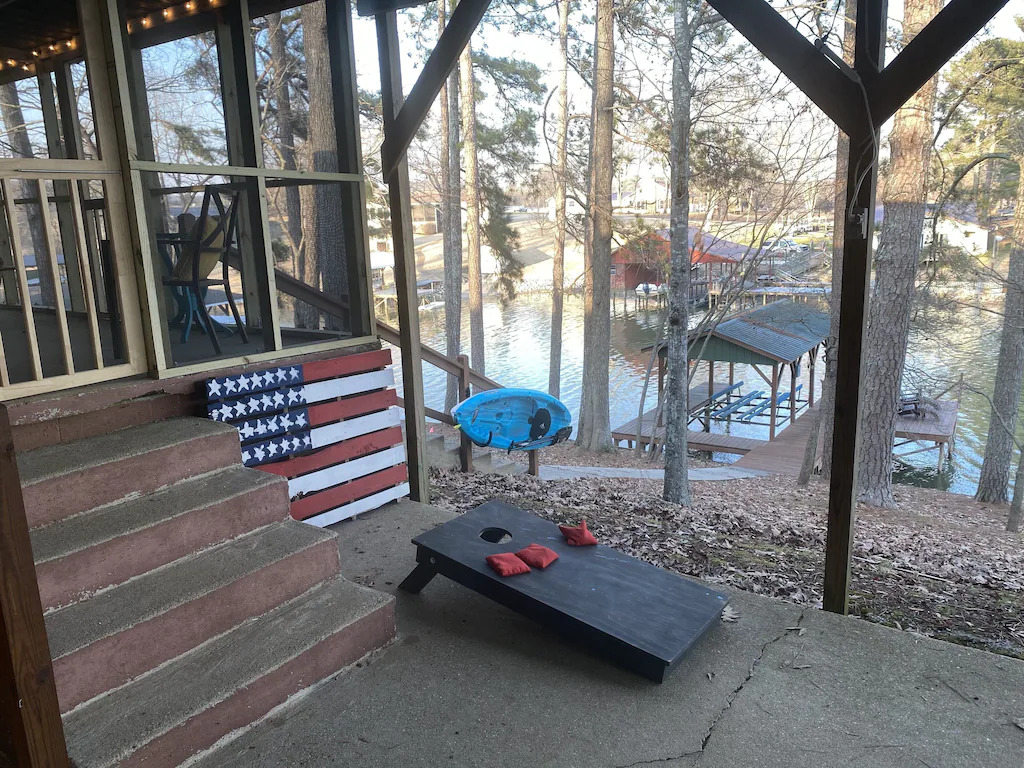 Lake Martin Mobile Home
Are you looking for a convenient lake getaway? Then take a look at this Lake Martin Mobile Home!
This VRBO has direct access to Lake Martin. It even has a private boat slip, steps down into the lake, and 150 feet of private waterfront. So if you are looking for some lake time, this is the place for you! Just bring your water gear, and you are all set!
This space sleeps up to 8 people. It has 4 bedrooms and 2 full bathrooms. It also includes a small kitchen, bathroom, and even a washer and dryer! This is a great little space to go enjoy the lake.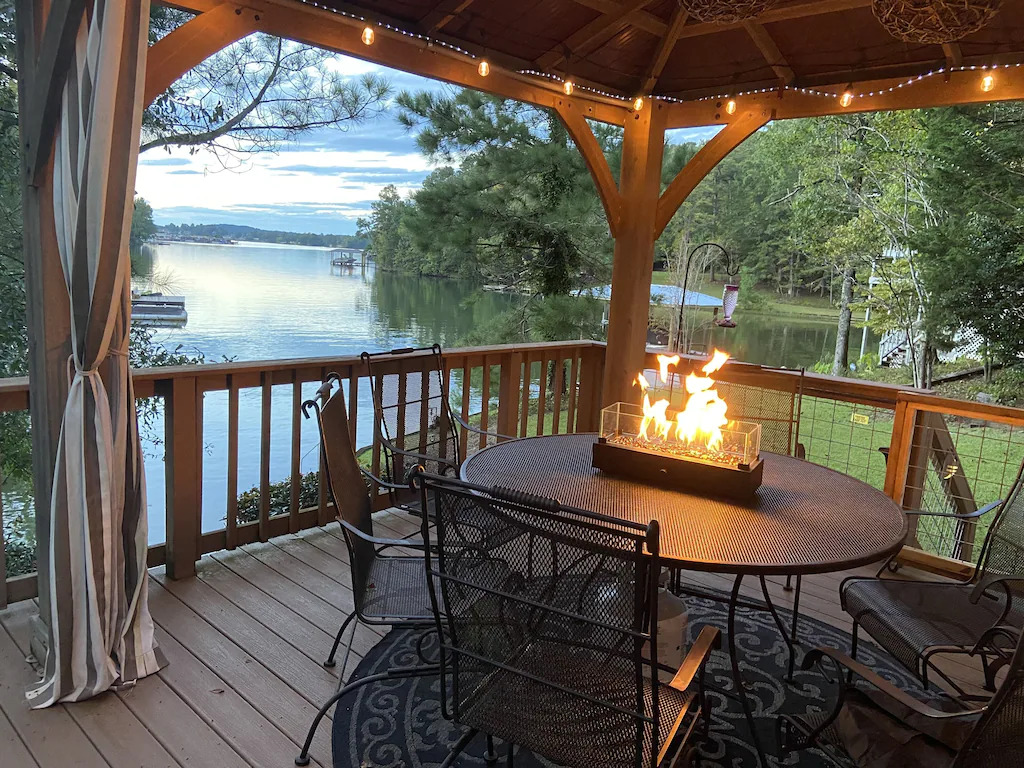 Treehouse Retreat
Closing out our list of where to glamp in Alabama with this show-stopping treehouse! This is a stunning example of treehouses in Alabama.
This Valley Head vacation rental truly has it all air conditioning, tv, wifi, an on-site pottery studio, and a communal fire pit. The woodland views from the 320-square-foot treehouse are just lovely. You'll be lulled to sleep by the sound of the streams and creeks running off nearby Lookout Mountain. This treehouse is located between the cute artsy towns of Valley Head and Mentone.
This is a 1 bedroom 1 bathroom unit appropriate for 1 or 2 guests. It has an indoor bathroom and a kitchenette that has a microwave, refrigerator, coffee maker, and toaster. There are lots of delicious restaurants nearby for you to check out. If you're looking to balance amenities with relaxing in nature on your vacation, this is the Alabama glamping VRBO for you.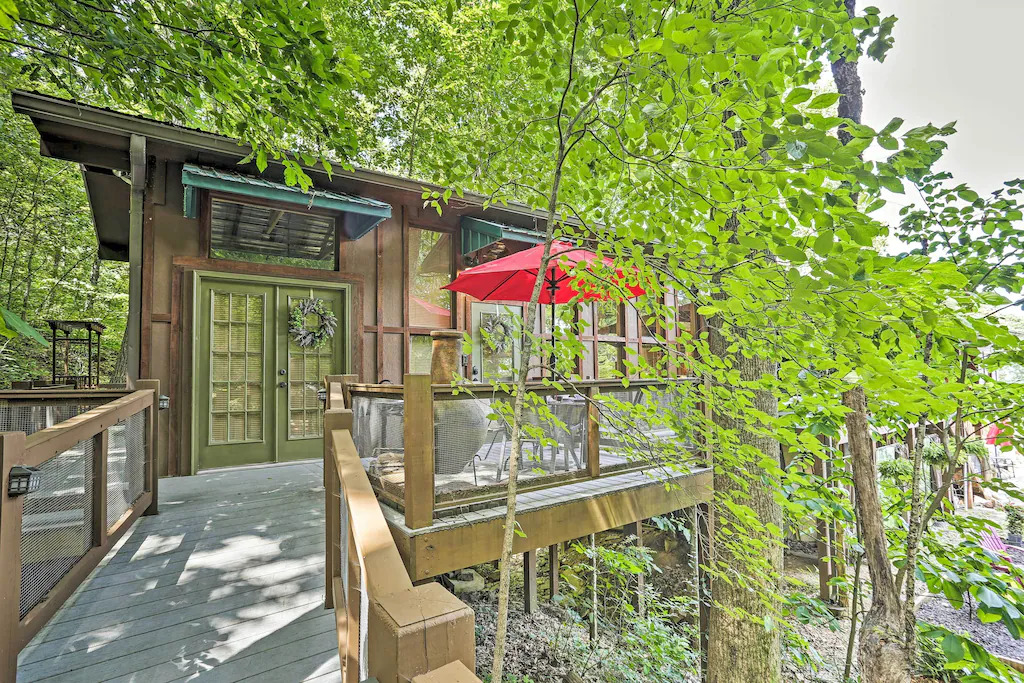 No matter what style of glamping in Alabama you prefer, there are some great choices! We hope that you enjoy your getaway, and be sure to tell us which one you decided to stay at!