Picture this: you've got your entire day planned, but now you need to find things to do in Atlanta at night. Great! We've got you covered!
Traveling can be stressful when trying to figure out everything you want to do and all the sights that you want to see. That's where we can help! This list has some places you might have heard of, and some places you have never heard of! But that's what's going to make this trip memorable!
We've found tours, bars, speakeasies, and some other hidden gems you may not have known about! Atlanta is the perfect spot to take an adventure, so why not add each of these to your epic weekend in Atlanta itinerary!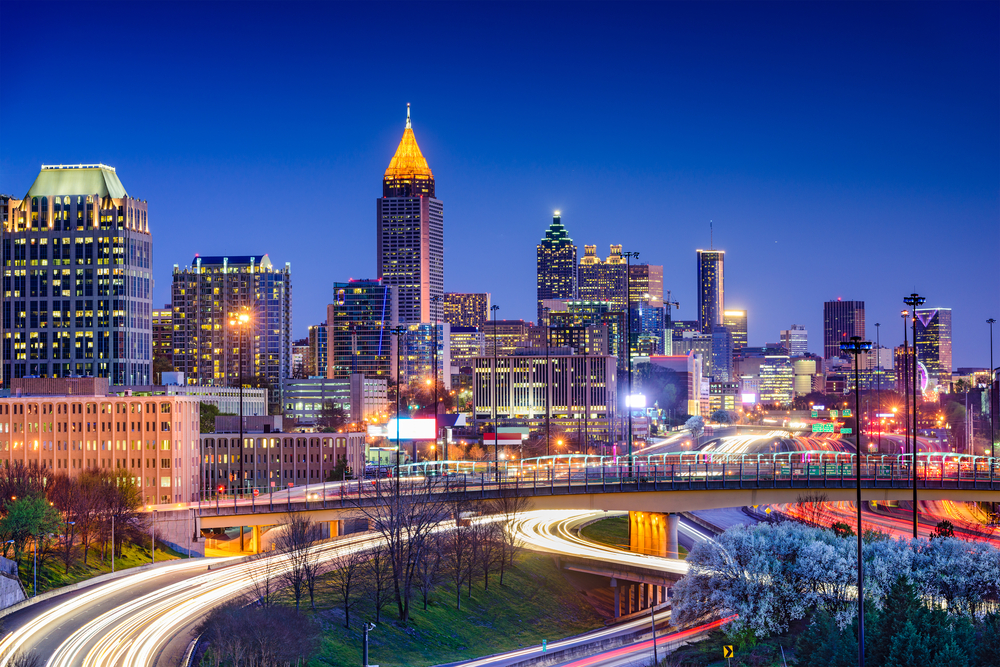 15 Best Things To Do In Atlanta At Night
Skyview Ferris Wheel
At the top of the list of things to do in Atlanta, you have to check out the Skyview Ferris Wheel!
Located in Downtown Atlanta, this Ferris wheel provides visitors with the most spectacular view of the city! This Ferris wheel takes you 20 stories high, so we hope you aren't afraid of heights! But trust us when we say that it will give you the best view of the city!
You'll get to ride in a private, climate-controlled gondola that can fit 6 people! So if you're traveling with a small group, this is a perfect way to start the night before going out on the town!
The ride lasts roughly 6-7 minutes, so there's plenty of time for you to enjoy the view of the city at night. Plus, there's even a VIP package. If you choose to go the VIP route, the gondola seats 5 instead of 6, and you'll be seated in Ferrari-styled seats, be able to look out of a glass floor to see below you, and you'll even get to enjoy a longer ride!
If this is your first time in Atlanta, GA, this is a perfect place to start!
Check Ticket Rates Here: GetYourGuide.com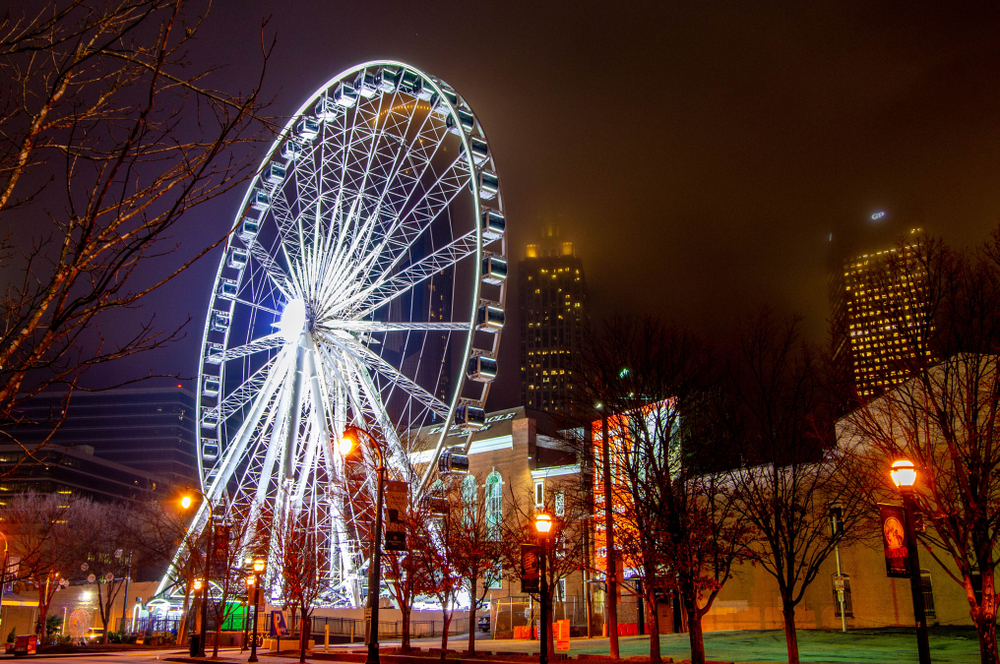 Haunted Buildings And Ghosts Tour
A ghost tour is one of the things to do in Atlanta at night that is perfect for thrill-seekers!
This roughly hour-and-a-half walking tour will take you through 7 of the spookiest locations in the city! Starting at Babs Midtown, where a haunted house used to be, the tour will take you through other historically scary locations around town. You'll have a guide, so make sure to find the person holding a lantern!
You'll hear the story of the town's most gruesome serial killers, and even get to visit a Goodwill Donation Center that is known to be haunted by the spirits within the dolls and statues inside! If you don't feel like you need to sleep with the light on after this tour, you are a thrill-seeking professional!
The tour is a walking tour, so it's important to remember to wear comfortable shoes. This tour happens rain or shine, so be sure to dress for the weather!
Check Ticket Rates Here: GetYourGuide.com
City Lights Night Tour
A city light night tour is one of the best things to do in downtown Atlanta at night!
This tour will take you to famous Atlanta landmarks, cool filming locations for movies or television shows, and some of the most popular attractions in Atlanta!
This won't be just any lights tour, though! Your guide will tell you interesting facts about the locations and the city as you drive through the tour. You'll see places like the Mercedes Benz Stadium, Centennial Olympic Park, and The King Center!
This is one of the best things to do in Atlanta with kids! With so many sights to see and so may lights decorating the sky, it's no wonder people continue to come back for this tour!
The tour is roughly 2 and a half hours, so make sure you plan for the time of the tour!
Check Ticket Rates Here: GetYourGuide.com
Georgia Aquarium
We know what you're thinking, what aquarium is ever open into the evening hours? Well don't worry, this aquarium has special events that take place at night! This is truly one of the best things to do in Atlanta.
The Georgia Aquarium is known for being one of the best things in Atlanta to do at night for adults thanks to their "adults only" events! These events are typically centered around conservation efforts or educational purposes, but there is usually always a nice wine tasting and some food to go along with it!
These types of events are perfect for marine life lovers and anyone that just wants to experience the aquarium at night! Why wouldn't you?
This aquarium is one of the coolest aquariums, not only in Atlanta, GA, but in America! It is the only known aquarium that houses the largest shark species, the Whale Shark! Now that would be a sight to see!
These events don't take place every night, so always look ahead when you're planning your trip!
Check Ticket Rates Here: GetYourGuide.com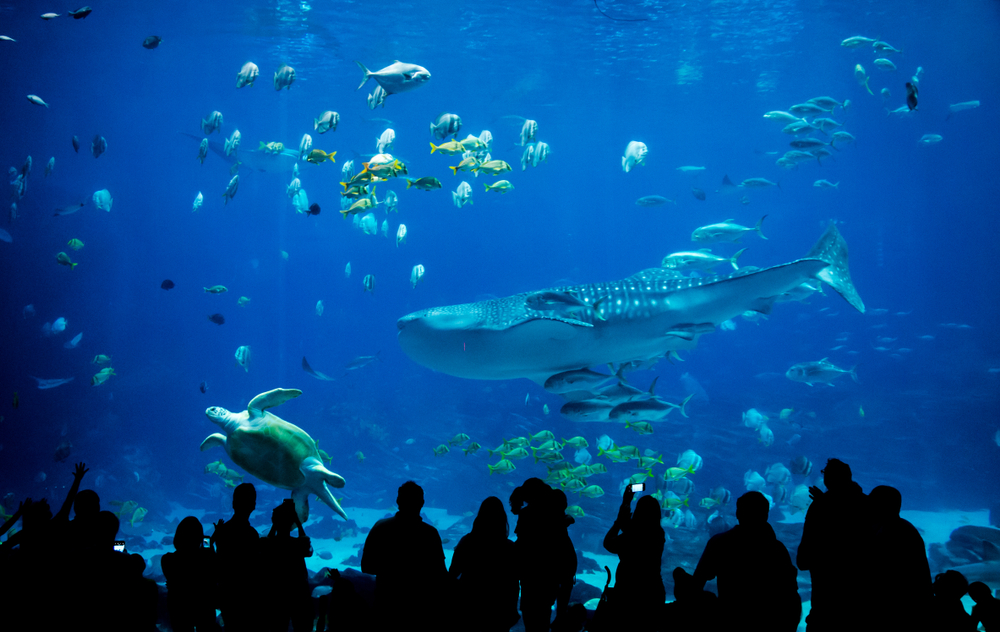 Laughing Skull Lounge
Laughing Skull Lounge is one of the best attractions in Atlanta for adults that are over 21!
This is a comedy club that people come from all over to visit during their stay in Atlanta! This club has open mic nights, and houses tons of local comedians!
Laughing Skull Lounge has been open since 2010, and has attracted comedy lovers every night that they have a show! Their most popular show is the Best of Atlanta Showcase where they have 8 comedians each give a 10-minute show to the crowd!
This is one of the best things to do at night before heading out to a late dinner, or even after an early dinner! Your stomach will be sore from laughing, and you'll end the night getting to expand your comedian knowledge!
"Stranger Things" Filming Location Tour
A "Stranger Things" filming locations tour is one of the best things to do in Atlanta for the entire family! Especially fans of the popular show!
There are typically two slots for this tour, and tickets sell out quickly! One time slot is in the early morning, while the other is in the late afternoon. Because the tour is so long, this tour seeps into the evening hours making it a cool right before dinner experience!
This tour is 3 hours long, and you are driven on a guided tour through the popular and very recognizable filming locations for the show.
You'll even get to see Hawkins Middle School!
This is a private tour for just your group, so you don't have to worry about being in a crowded car or being overwhelmed by the amount of people!
We know this will be a great experience for you and your group!
Check Ticket Rates Here: GetYourGuide.com
Atlanta Zoo
Like the aquarium, the Atlanta Zoo is also one of the best activities do to in Atlanta at night, even if it's only on some rare nights!
On certain nights, the Atlanta Zoo opens for children and their families to spend the night at the zoo and explore what the zoo has to offer by flashlight! The Atlanta Zoo calls this fun event their Family Night Crawler!
It's a little pricey, depending on your budget, but it's a great time for the kids to spend some time with the animals under the special care of the zoo workers, and it's a great experience for the whole family!
This begins soon after the zoo gates close for the day, and ends right before the zoo opens back up the next day! Who doesn't want to spend time at night with all of the animals in the zoo?
These nights don't happen every night, so it's important to plan ahead before your visit to make sure you're coming at the right time!
Check Ticket Rates Here: GetYourGuide.com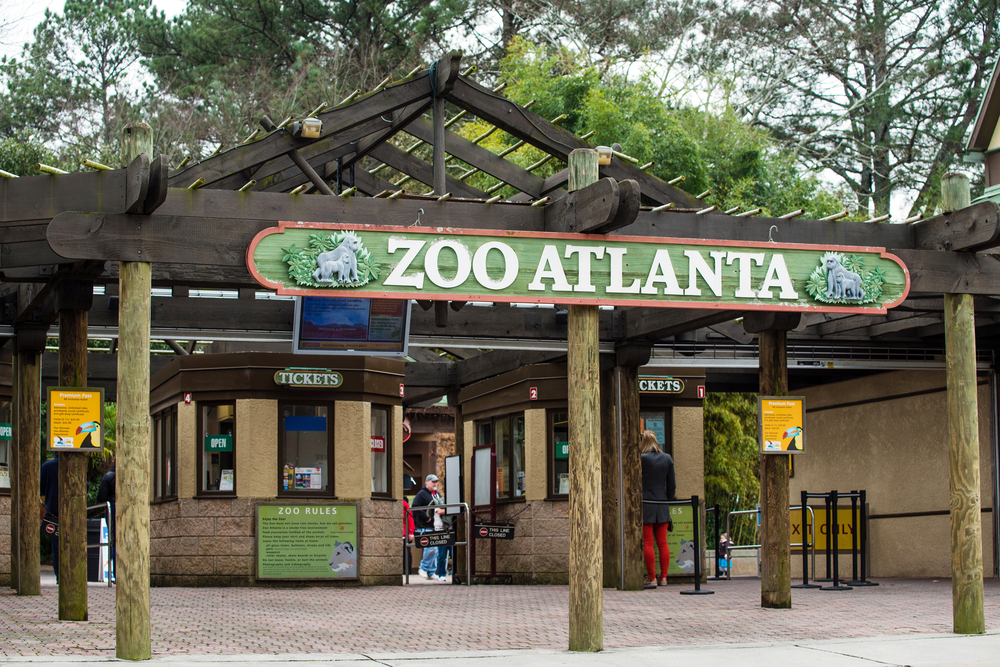 Dad's Garage
Dad's Garage is the perfect place to check out more comedy! Except for this time, you'll be able to experience some of the local popular improv shows and even take a few classes!
They have numerous shows that you can purchase tickets for in advance. Each show typically starts around 8 pm and the duration is usually 2-3 hours! If you're looking for a super late-night experience, they even have some shows that don't start until after 10 pm!
If you're holding a night event, you can even hire the people that perform at Dad's Garage to perform at your event! It's definitely something to consider when traveling for a business convention or business event!
This is the perfect place to take a date or a group after a nice dinner in downtown Atlanta!
We know you won't regret it!
Atlanta Botanical Gardens
The Atlanta Botanical Gardens is another one of the best attractions in Atlanta to see at night!
While there is not a nightly activity every night, depending on the time of year, you may just get lucky!
During the holidays, typically starting from late November through early January, you can experience the garden at night filled with holiday decor! Lights shimmering all over acting as the perfect holiday family activity during one of those holiday travel adventures!
Other than the holidays, the Atlanta Botanical Garden also is known for its Cocktails in the Garden. This is an event that starts late evening until about 8:30 pm, and is typically a summer to the beginning of fall event! Here, you can enjoy the garden at its most beautiful time and sip on delicious cocktails while listening to live music!
This is one of the best things to do in Atlanta at night that we know you'll make time for!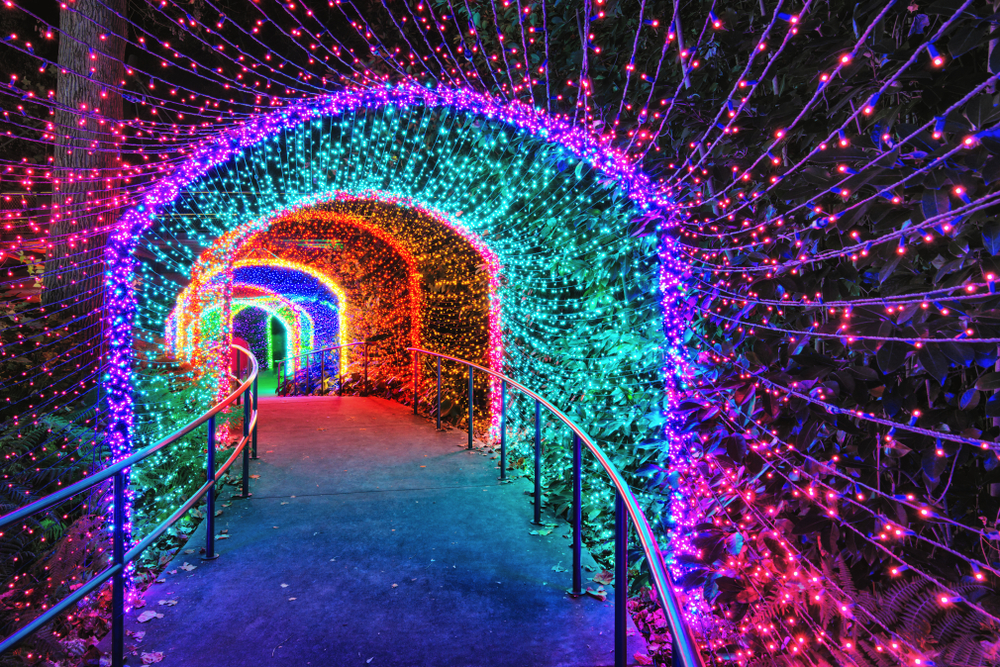 The Hamilton's Roaring Social
By far, one of the best things to do in Atlanta at night for adults is a speakeasy!
The Roaring Social is located on the speakeasy level, of course, of the Hamilton Hotel. As you head down the elevator, you're likely to find yourself back in the Roaring Twenties in terms of decor and overall atmosphere!
While experiencing as close to a speakeasy as we'll ever find around, you can enjoy some specially crafted cocktails, delicious food, and even live music.
If that doesn't make you want to go then maybe you'll be intrigued by the bowling lanes that are on this level!
To be honest, it'd be pretty cool to head back home and say you traveled back in time!
Midtown Bowl
Midtown Bowl is one of the best activities in Atlanta to do at night with kids! Or without kids, either one!
Midtown Bowl has been an Atlanta staple since 1960, and not much has changed since then! People have spent their nights here for years, and for some, it's even been a family tradition.
From parties, to work events, to just plain fun times, people make sure to spend at least a portion of their visit at Midtown Bowl! They offer more than just bowling, there's even a food and drink menu!
If you're feeling competitive, Midtown Bowl is also home to a great bowling league! Depending on how long your stay is, you may want to try it out!
We know Midtown Bowl is a great experience for you and your family, or even just a date night during your trip to Atlanta, so don't skip this fun experience!
Krog Street Market
If you're hungry but don't know what you want, or perhaps your group can't all decide on a place to eat, fear not! Krog Street Market is one of the best places to see in Atlanta, GA!
This market is sometimes referred to as a food hall, but it is much more than that! This stretch of Atlanta is full of numerous restaurants and food places to stop and eat. Beyond that, there are a ton of retail places to stop and shop!
This 3-mile stretch provides not only tourists with a great experience, but locals, too! Locals to Atlanta are known for spending entire days with their families within Krog Street Market. It's not possible to see it all in a few hours, so this is for sure an entire evening's worth of a visit!
Krog Street Market is a great place if you love to eat, and you love to shop, and we love both!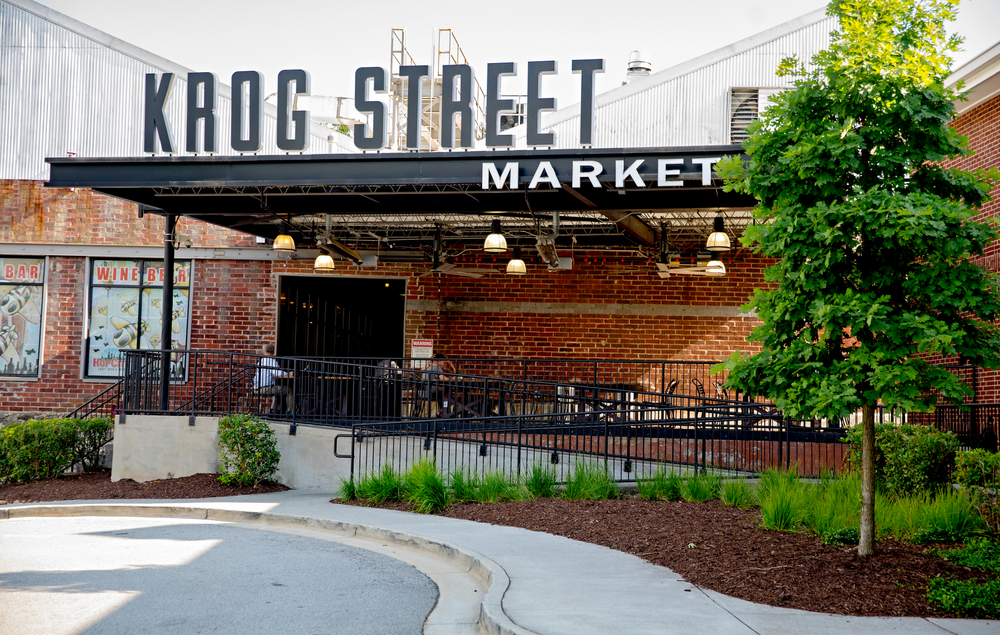 Starlight Drive-In
Starlight Drive-In has been around since 1949, so you know that this is one of the best things to do in Atlanta at night if it's been around that long!
Open 7 days a week, this movie theater plays all the new movies and gives you a great experience along the way! One catch is you must be mindful of the weather during your visit as the theater may close due to inclement weather!
This theater has a delicious snack bar with all the movie treats you could ever think of! You can host an event here if you're on a business trip, or maybe you want to throw a celebration during your trip! Either way, this movie theater is a great place to start!
Plus, on the weekends from 6 am-3 pm, they have a flea market! It's almost like a two-for-one deal at this Atlanta attraction!
Red Phone Booth
Red Phone Booth is another speakeasy that you must check out during your visit to Atlanta!
It's not just the speakeasy that makes it one of the best things to do in Atlanta at night, but it's the way you enter the speakeasy that will make it the most memorable!
In order to enter this speakeasy, you have to enter through a red telephone booth, hence the name of the cocktail bar!
Once inside, you'll get to select delicious cocktails, small bar-type snacks, and even cigars for purchase! It doesn't get much more speakeasy than that!
This is a great place to visit after a night out, and a cool way to impress those with you once you enter through the phone booth!
Revery RV Bar
This Atlanta bar is one of the best activities to do at night, specifically if you're over the age of 21! You must be 21 or older to enter, so make this night one for adults only!
Revery RV Bar is a great place for those that like to have a good time and play a good game. Virtual reality games to be exact! Here, you'll find a full bar, great food, a live DJ, and the option to soak in some virtual reality gaming!
This bar states that the best time for gaming is before 10 pm, and the best time for a party is 10 pm to close! If you want to enjoy both, you'll have a ton of time to spend here!
This is one of the best attractions because it's a bar experience that you don't see too often, if ever! This one-of-a-kind experience is reason enough to check it out during your stay!
The Masquerade
Music lovers will find The Masquerade as one of the best things to do in Atlanta!
This music venue hosts some of the most diverse groups of artists, and gives visitors a little bit of everything!
From indie artists to well-known names like Nirvana and The Foo Fighters, this music venue has provided a great experience and a lot of memories for anyone that sees a show here.
Unless you're wanting to see a specific artist, this is a great venue to just buy tickets for and experience a show. They have a show nearly every night, and some nights they have multiple shows going on! This is because the venue has 3 venues so more than one show can go on at a time.
This was even the location for the first Warped Tour ever!
You won't want to miss out on this Atlanta experience!
Centennial Olympic Park
If you're coming to Atlanta, you won't want to miss coming to Centennial Olympic Park. During the night, during the day, but especially at night, you won't want to skip this!
One reason you'll want to make this part of your trip is because of the view of the city lights at night! You can sit in Centennial Olympic Park and just enjoy the view and check out the stars!
You can also check out the Fountain of Rings that kids enjoy playing in during the hot months!
This is one of the best things in Atlanta to do at night because they are known for hosting live music shows and fireworks show throughout the year!
This is one spot you can't miss!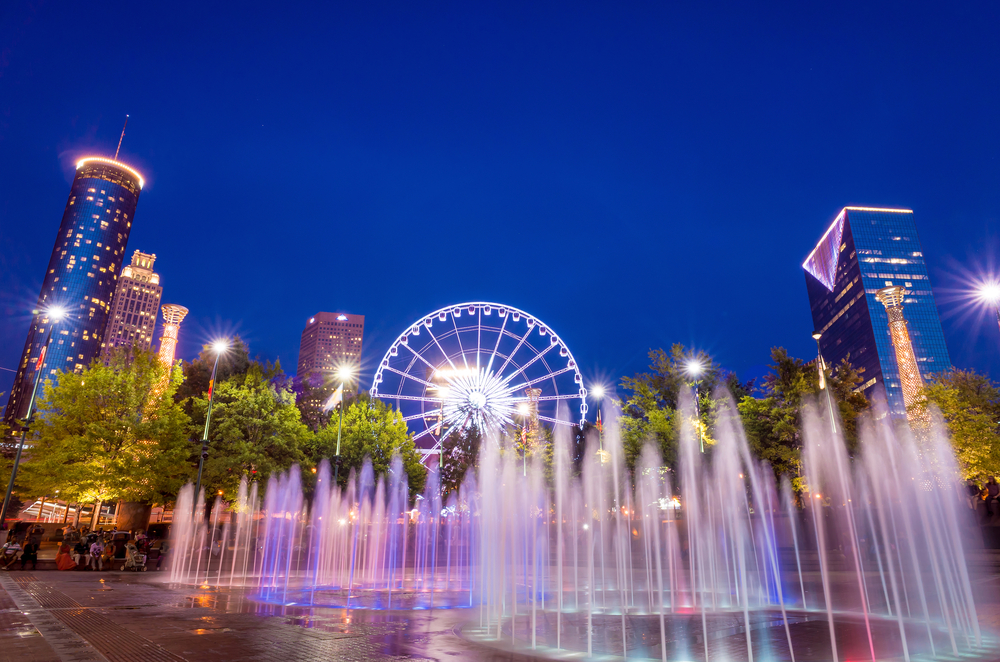 Whether you're traveling alone, with a group, or with the family, this list has a huge selection of the best things to do in Atlanta at night!
From bowling to speakeasies, tours, and aquariums, there's a little something for everyone to enjoy. We know that after viewing this list, your things to see in the Atlanta list just got bigger!