If you are looking to spend 3 days in Atlanta, this itinerary is for you! It is perfect for those looking for an epic weekend in Atlanta! We have put together the best spots, things to do, places to eat, and places to stay for a weekend getaway in Atlanta.
Whether you arrive by car, plane or train we have customized the perfect trip to Atlanta! If you are looking to spend a weekend in Atlanta we have the perfect three-day itinerary for you to enjoy whether visiting solo, with friends, family or children.
From visiting all the main attractions and museums like the Aquarium, World of Coca-Cola, and Centennial park to biking along one of the popular Beltway trails discovering parks, food halls, and historical buildings to a trip out to Stone Mountain.
Bring your comfy walking shoes as we have made the most of your days, packed full of adventure for a fantastic weekend in Atlanta.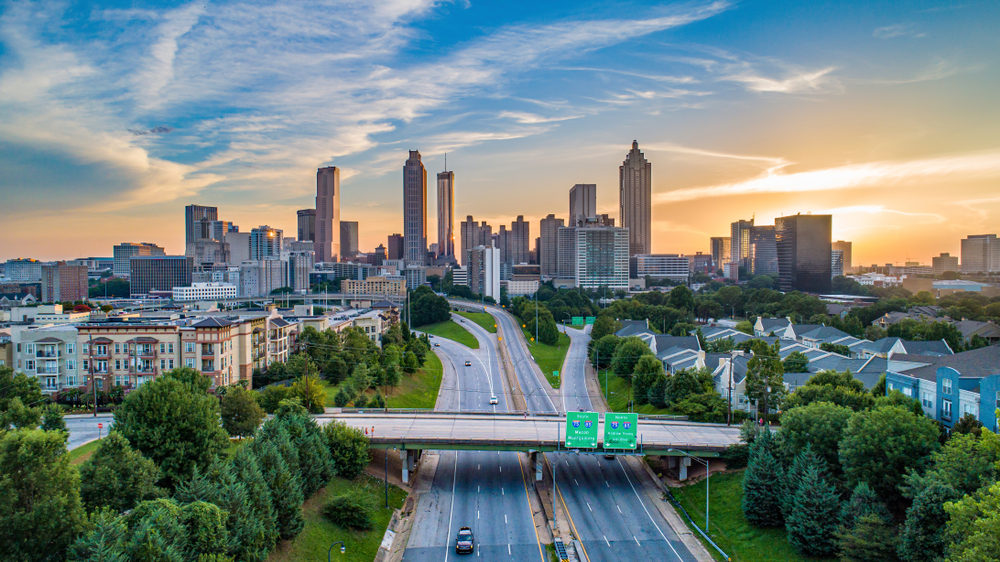 3 Days in Atlanta: A Epic Weekend in Atlanta Itinerary
Getting To Atlanta
Getting to Atlanta for your weekend getaway is very easy! You can easily fly directly into Atlanta International Airport from just about anywhere in the United States or abroad. The MARTA train connects the airport to downtown in about 20 minutes, Midtown in 30 minutes, and Buckhead in 40 minutes.
If you live within driving distance you can drive to Atlanta and make a road trip out of the trip. Or there are several bus options to arrive into Atlanta such as greyhound, megabus and there is also an Amtrak station if you are taking the train.
Getting Around During Your Atlanta Weekend Trip
One of the best ways to get around Atlanta during your weekend trip is to make use of public transportation. The MARTA operates both bus, streetcar and rail lines allowing you to reach pretty much anywhere in the city and surrounding suburbs. You can purchase a Breeze card for $2 ( good for 3 years) and load money. A three day pass is just $16.
As the 21st most walkable city in the United States, you can also walk around and explore the area if you are staying in one neighborhood or area.
Ride-share options like Lyft and Uber are popular choices as are scooter and bike rentals that you will find throughout the city. If you are driving into the city, not to worry you can find parking garages in pretty much any area.
Day 1 -Downtown Atlanta and Attractions
On the Atlanta itinerary for Day 1 you will want to head to Downtown Atlanta is where you will find some of Atlanta's best attractions. From museums to the aquarium, zoo, park, and more! This is the day of your Atlanta weekend trip that will be packed with a visit to all the attractions. Wear your walking shoes, and dress comfortably for both visits to indoor museums as well as outdoors.
Stop 1 – Breakfast At Atlanta Breakfast Club
You can start your morning off at Atlanta Breakfast Club, a modern and retro diner serving up Southern breakfast staples!
From French toast, and pancakes, to chicken and waffles, gulf shrimp and grits to traditional southern breakfast with eggs, potatoes, and meat, to fried green tomato biscuits and biscuits and gravy you will find it all here to keep you full while you visit the Downtown Atlanta attractions.
We also have a list of the Best Brunch In Atlanta if you want to check out other options!
Stop 2: Georgia Aquarium
Right across the street from Atlanta Breakfast Club you will find the Georgia Aquarium less than a 2-minute walk. It is actually the largest aquarium in the world. A visit here will both entertain you and educate you on the animals in the exhibits as well as offering touch tanks.
From whale sharks, sea lions, manta rays, penguins, dolphins, beluga whales, whale sharks, alligators, sharks, and more you will be able to view the over 10 million gallons of fresh and saltwater tanks inside the aquarium.
Georgia Aquarium Skip-the-Line Tickets: Book Here!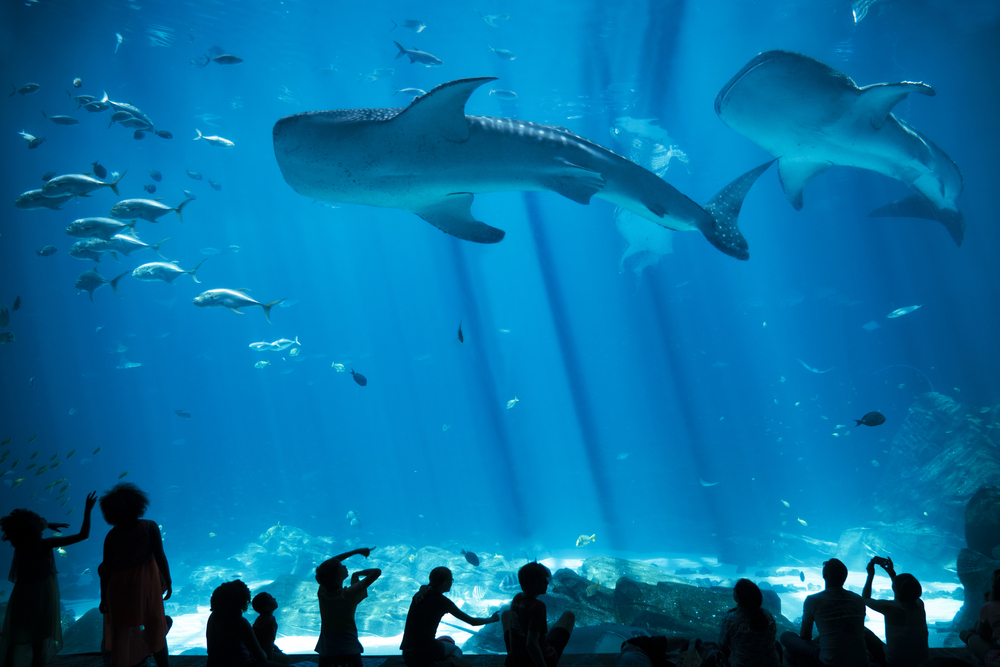 Stop 3: National Center for Civil and Human Rights
The National Center for Civil and Human rights is an important museum to visit to understand how the Civil Rights Movement started, in the birthplace of Dr. Martin Luther King Jr, and how it connects to human rights challenges today.
The center exhibits aim to explain Civil Rights, human rights through exhibits that are informative and interactive. You can hear the Freedom Riders, learn about non-violent protests, and more during the 90 minute visit. The museum is open Thursdays, Friday and Sunday from 12 pm to 5 pm and on Saturdays from 10 am to 5 pm. Tickets are $16.

The Atlanta CityPASS includes admission to Atlanta's most famous attractions, Including The National Center for Civil and Human Rights!: Get It Here!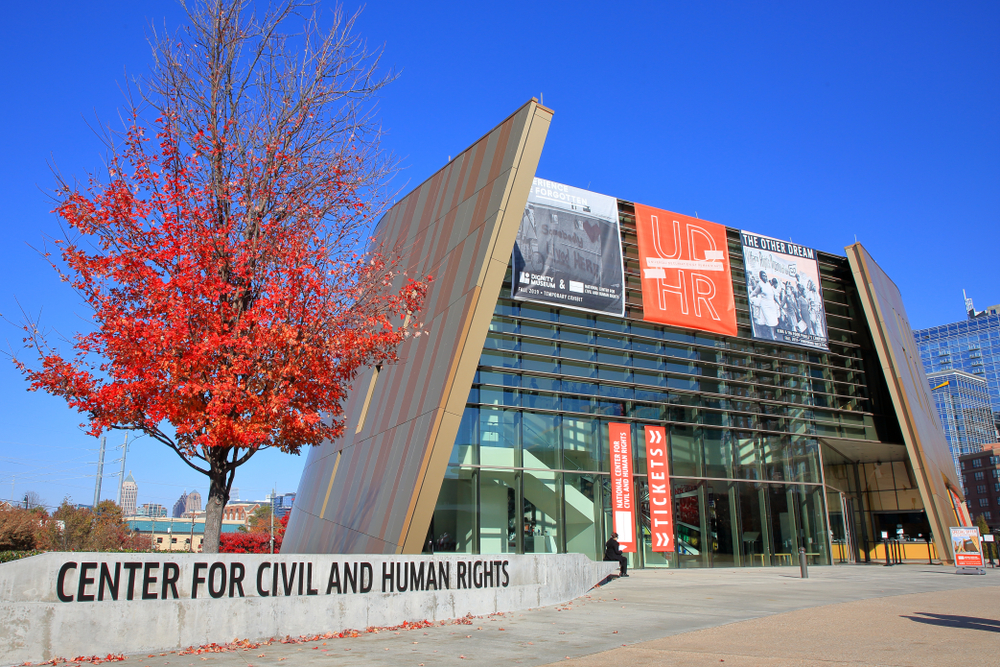 Step 4: Lunch at Der BierGarten
Der Biergarten is one of Atlanta's German Beer Gardens and the perfect place to relax outdoors after spending the morning exploring museums in Atlanta.
This authentic German restaurant features a full list of German Beers and on the food menu everything from Bratwurst and sausages to Weiner Schnitzel, Kasespatzle ( noodles and cheese), and desserts like Apfelstrudel with vanilla ice cream.
Stop 5: World of Coca-Cola
The World of Coca-Cola is the perfect place for the whole family. This is one of the most popular attractions in Atlanta. They start the visit off by offering you a can of coke when you enter. After entering you can watch a movie on the history of Coke, wander through exhibits, head to the pop art gallery, visit the scent discovery zone and then head to the tasting room where you can try different types of drinks from all over the world.
The World of Coca-Cola is Open from 10 am to 5 pm daily and admission is $18 for those 13 and older, and $14 for those 3-12. For those with children, a next great stop is the Children's Museum of Atlanta right across the street from the World of Coca-Cola.
The Atlanta CityPASS also includes The World of Coca-Cola!: Book It Here!
Stop 6: Centennial Olympic Park
After spending most of your morning indoors it is time to head outdoors and explore Centennial Olympic Park. This also tops our list for one of the best free things to do in Atlanta!
This 22-acre park is in the heart of Downtown Atlanta and features fountains and water features, grassy areas, and gardens as well as the fountain of rings that celebrate the 20th anniversary of the Summer Olympics held in 1996.
Head to the Sky View Ferris wheel while in the park, to board one of the 42 climate-controlled gondolas providing guests with views of downtown Atlanta from 20 stories in the air. This is truly one of the best things to do in Atlanta at night!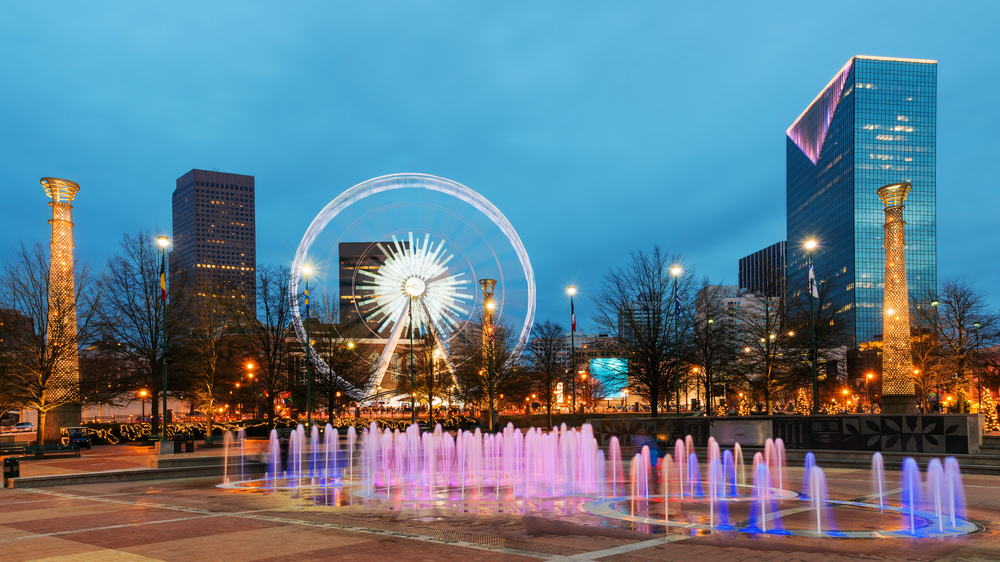 Stop 7: College Football Hall of Fame
Located in Centennial Park are, the College Football Hall of Fame is a must-visit for any sports fan. This interactive museum features over 50 exhibits, an indoor 45-yard football field, and the quad where you can see the over 775 college teams that are on the helmet wall. Open 10 am to 5 pm tickets are $22.99 for adults and $17.99 for children.
The Atlanta CityPASS includes access to the College Football Hall of Fame!: Get It Here!
Stop 8: Street Car
From the Centennial Olympic Park, you can hop on the Streetcar, and take it down Auburn and Edgewood Avenue riding through the historic King District, Piedmont area, and Georgia State University.
You can hop off at any of the stops such as the King Historic District where you can explore Ebenezer Baptist Church, the Memorial Rose Garden, Martin Luther King Jr. National Historic Park and more.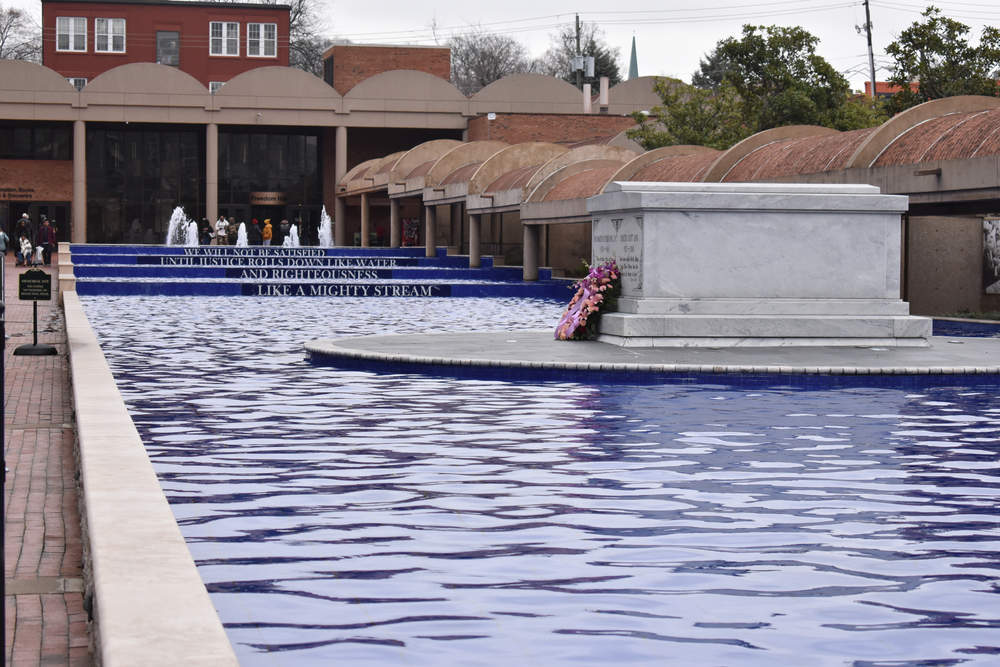 Stop 9: Dinner at the Slutty Vegan ATL
After a long day, enjoy a vegan meal at the popular Slutty Vegan ATL. This popular counter spot serves up delicious plant-based burgers with a variety of toppings and fries. This is truly one of the best things to do in Atlanta.
Day 2 – Midtown Outdoor Adventures
For day 2 on the Atlanta Itinerary will have you exploring all the outdoor attractions in Atlanta. From parks to Botanical Gardens to Trails and food halls. You will begin your morning by heading to Midtown area of Atlanta, where you will find Piedmont Park, Atlanta Botanical Gardens and the Beltline Eastside Trail.
Stop 1: Piedmont Park
This is the perfect place to come on Saturdays. You can take a 60-90 minute History Tour of Piedmont Park led by docent volunteers that explain the history of the park and the development of Atlanta. You can sign up online.
You can wander around and explore the Atlanta Green Market on Saturdays from 9 am to 1 pm, where you can find local farmer market finds. Perfect for breakfast or a snack before heading to the botanical gardens. Pack a bathing suit and you can enjoy the Piedmont Park Aquatics Center pool during the summer. It is free from 3 to 5 pm on weekdays. This is truly one of the best areas to stay in Atlanta!

Enjoy a private tour of Piedmont Park! Book Here!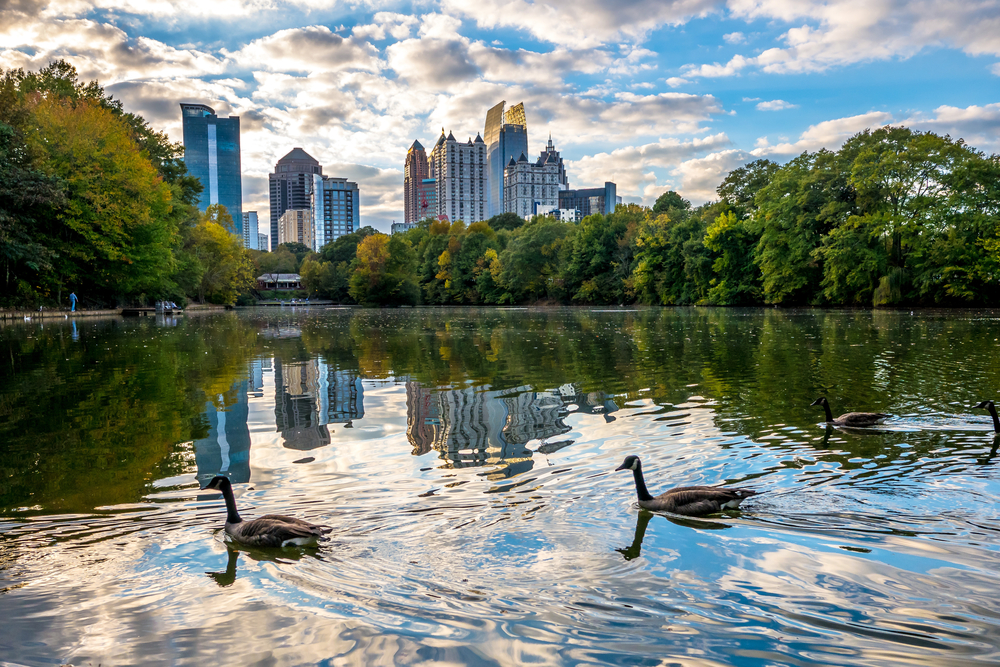 Stop 2: Atlanta Botanical Gardens
The Atlanta Botanical Gardens is a 30 acre garden located next to Piedmont Park in Midtown Atlanta. The mission is to develop and maintain plant collections. You can craft your own itinerary here from family adventure, flying solo, romance, losing yourself, or art and music based on the suggestion of the garden!
If you are spending a weekend in Atlanta during the holiday season make sure to book tickets for the Garden Lights where the entire garden is decked out in holiday lights.

Enjoy a private tour of The Atlanta Botanical Gardens! Book here!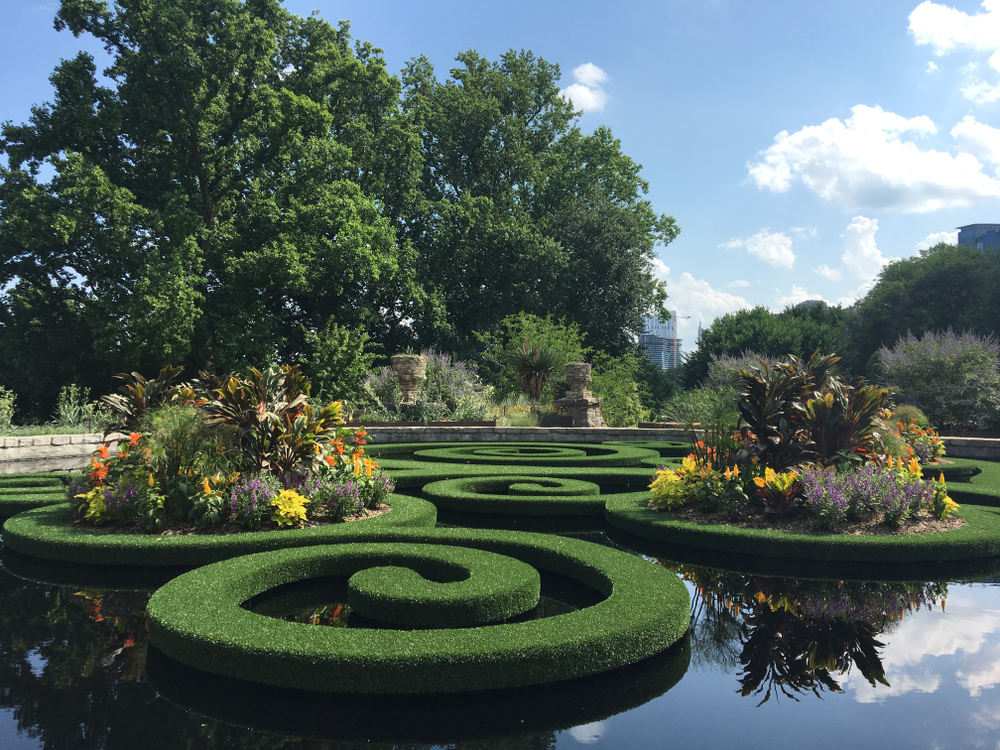 Stop 3: Eastside Beltline Trail
Running from Piedmont Park to Reynoldstown this 3 miles trail is on an old rail car line. The best way to get around is to rent bikes from one of the many bike-share rental shops.
Bike towards the Historic Fourth Ward Park and ride along Clear Creek Basin, and then continue your ride to Krog Street Market for lunch.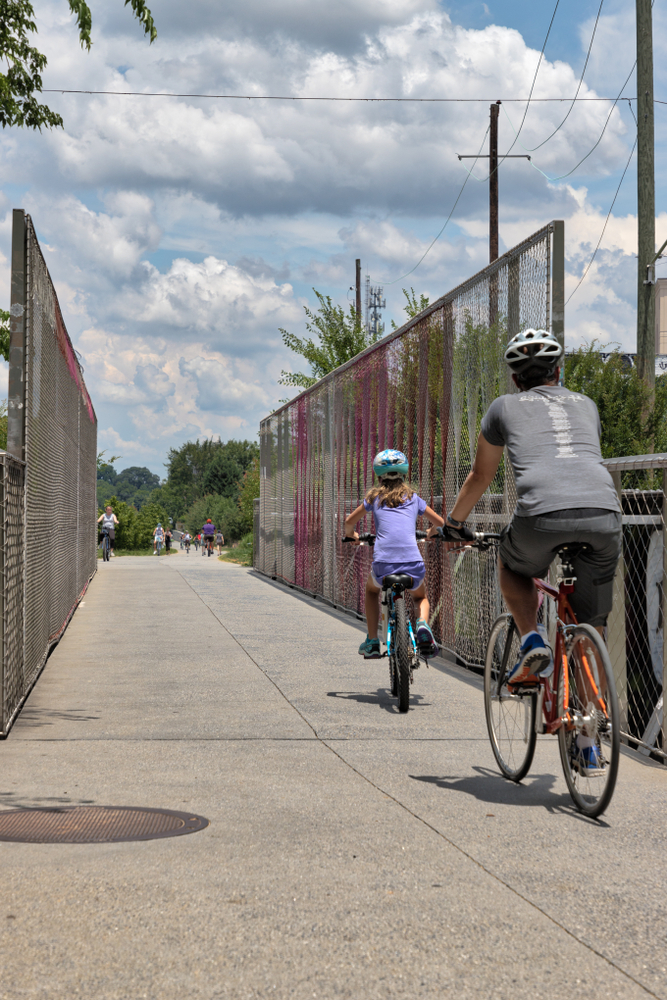 Stop 4: Lunch at Krog Street Market
Krog Street Market is housed in a 1920s Atlanta warehouse where you can find a variety of restaurants and shops. This is a great place to stop for lunch as everyone can choose what they want to eat from Indian, to dumplings, Mexican, Soul food, pizza, bakery, and more!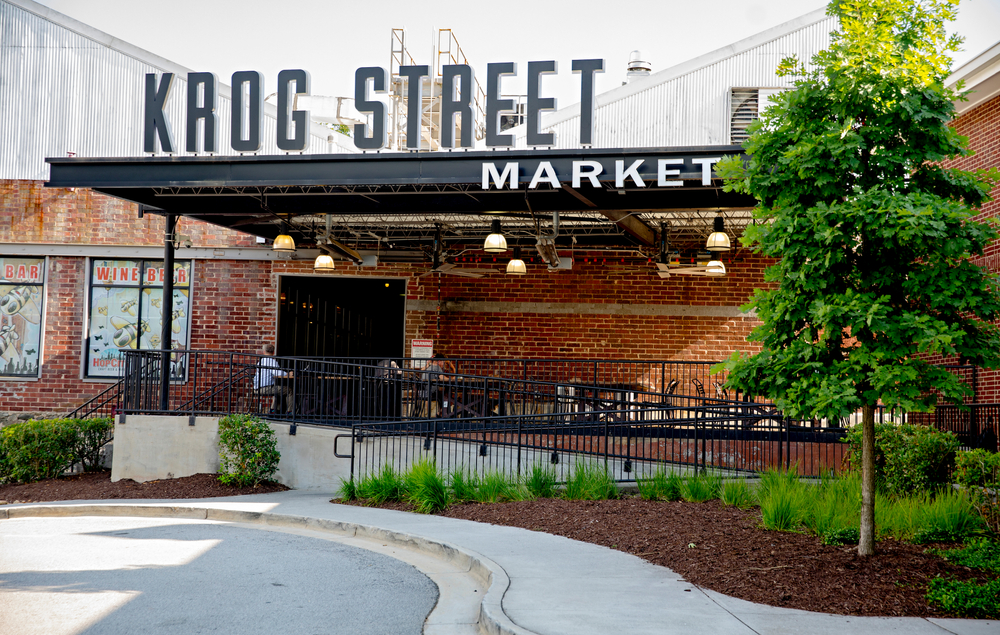 Stop 5: Ponce City Market
Ponce City Market has it all from a food hall, restaurants and retail shopping. The perfect way to spend an evening. Before 4 pm you can access the Rooftop where you will enjoy Skyline Park, and RFD social, as well as mini golf, boardwalk games, Hegge Tower ride, and the 3-story slide. On Saturdays after 5 pm it turns to 21 and over!
Downstairs in the market area, you will find a variety of restaurants in the food hall area. The perfect way to end a day exploring outdoors in Atlanta.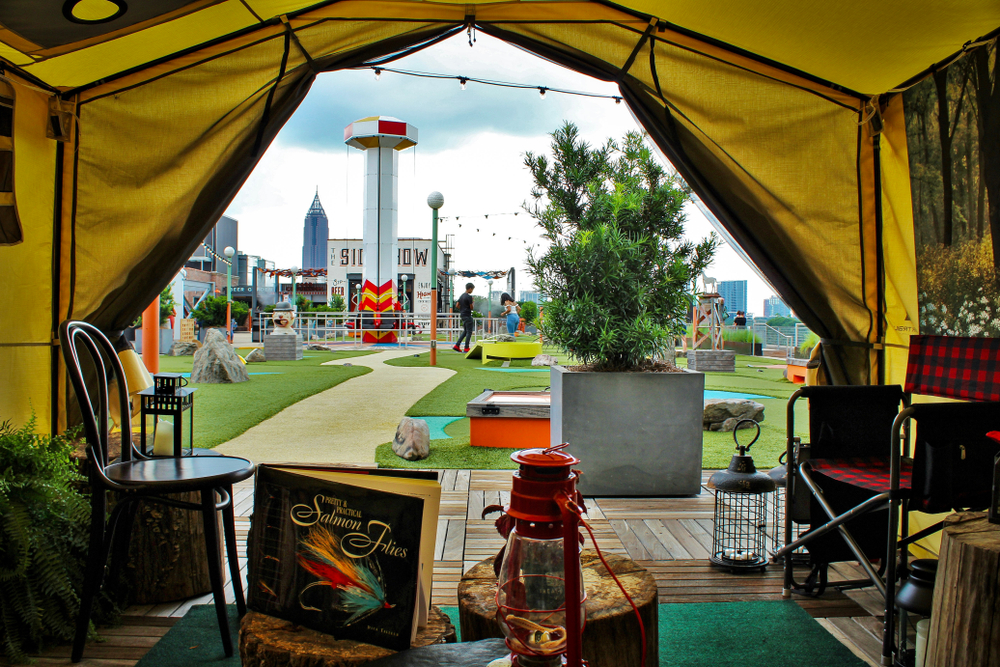 Day 3 – Stone Mountain
For day 3 of this Atlanta weekend itinerary, you will head to Stone Mountain just outside of Atlanta. Not to worry if you don't have a car you can use public transportation you will use Marta and transfer to bus 119.
Stop 1 – Breakfast at Sweet Potato Cafe
Luckily on Sunday, they serve a brunch buffet at Sweet Potato Cafe located right near Stone Mountain. Brunch is $15 and served from 11 am to 3 pm. The menu features quiche, waffles, fried chicken with southern sides, grits, bacon and more! After filling up it is time to head to Stone Mountain.
Stop 2 – Stone Mountain
Stone Mountain is known as Atlanta's backyard and offers over 15 miles of hiking trails and a 1.5 mile hike to the summit where you will be awarded with amazing views of the downtown Atlanta city.
Stone Mountain features the largest piece of exposed granite in the world with carvings of three Generals and was where Martin Luther King said "let freedom ring".
You can take the summit sky ride to the top if you don't want to hike. Or take the scenic railroad for the 30 minute trip that takes you 5 miles past Stone Mountain with a history of the area.
Where to Stay In Atlanta
For where to stay in Atlanta, we have suggested two VRBO locations one in midtown and one in the downtown area perfect if you are traveling with friends or family and want space to spread out. We have also suggested two highly-rated hotels in the Atlanta area that are in fantastic locations.
The Urban Glass Tree House is one of the places to stay for a weekend getaway in Atlanta! Located near the midtown area, just two blocks from both Atlanta Station and GA Tech campus this open floor plan home features a mix of modern glass, and rustic setting this two-bedroom, two-bathroom sleeps up to 7 guests!
If you are visiting Atlanta with a large group this new modern home, is perfect as it can sleep, 11 people. Best of all it is nestled in the heart of the city, close to the city's attractions. After exploring Atlanta, relax on the rooftop deck!
The Artmore Hotel in Midtown Atlanta is another fantastic option for where to stay during your trip. Located near the MARTA arts center stop, Piedmont Park, Botanical gardens, and more you are just minutes from both the Downtown and Buckhead area. This hotel is pet-friendly, has a large outdoor courtyard, and gets rave reviews!
The Chandler Hotel Atlanta, A Curio Collections by Hilton has been voted as one of the best hotels in Atlanta. This hotel offers up southern hospitality in downtown Atlanta. Located inside the Candler building the hotel is close to Mercedes Benz Stadium, State Farm Arena, World of Coca-Cola, Georgia Aquarium, and more.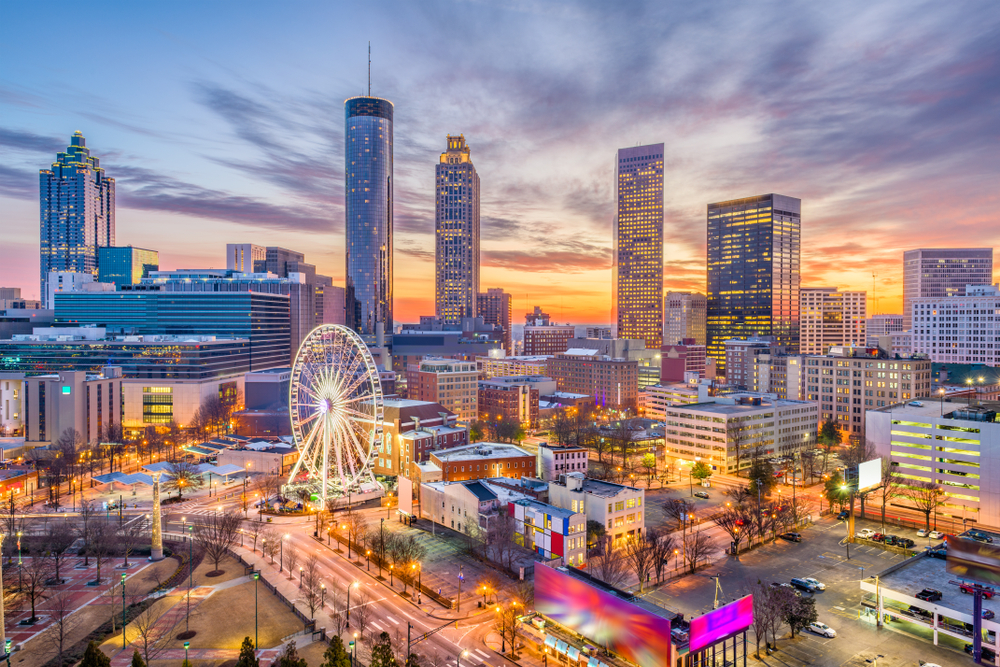 Where to Eat During Your 3 Days In Atlanta
Atlanta is known for its delicious take on soul food. This trendy city is full of flavor and ingenuity. There are a number of fresh, new restaurants that give a new take on classic foods from Atlanta!
Ms. Icey's Kitchen takes the classic chicken and waffles recipe and takes it a step further with sweet potato waffles. The sweetness of the waffles pairs perfectly with the crispy chicken, and the hot sauce on top is the icing on top.
Craving some classic drive-in food? The world-renowned Varsity has been serving guests classic drive-in food since 1928. Located right next to Georgia Tech, this restaurant is full of college charm!
IF looking for vegan food head to SluttyVegan ATL! With over 25,000- 5 Star reviews this hip counter service restaurants serve up plant-based patties piled high with toppings and other vegan eats. Get there early and be prepared to wait in line!
Bone's Restaurant is the place to visit for a special occasion weekend getaway in Atlanta. This fine dining restaurant is the top steakhouse in Atlanta and is open nightly from 5:30 to 9 pm for dinner and does have a dress code. The menu features Southern-inspired dishes that are locally sourced from farms, gardens, and coastlines in Georgia. Try the large assortment of steak offerings.