Are you looking for the best things to do in Atlanta? You are in the right place. In this article, we will walk you through the best activities in Atlanta so you can plan your Atlanta getaway.
Atlanta, Georgia is an incredible city, not only is it full of history but it was incredibly influential on America. The city mixes nature, arts, and urban neighborhoods seemingly to create something vibrant and unusual. 
Not only was Atlanta the birthplace of Civil Rights leader Martin Luther King Jr but it's also one of the most popular Hollywood filming locations in the south. Stranger Things, The Walking Dead, and The Hunger Games series have all been filmed here.
Whether you are looking for something to do in Atlanta at night or thinking of a romantic Atlantic break this city can deliver.
The Atlanta restaurants are diverse and offer some great opportunities for family get-togethers and intimate date nights. Attractions in Atlanta offer something for everyone and whatever you like to do you will find it here.
With unique attractions, world-class museums, incredible entertainment and some lovely green spaces Atlanta is somewhat of a hidden southern gem.
So are you ready to see which Atlanta tourist attractions we have chosen for you? Grab a chair, get a pen and paper and let us walk you through the best things to do in Atlanta, Georgia.
And if you still need some help with your planning then our 3 days in Atlanta itinerary will be a really useful resource for you too.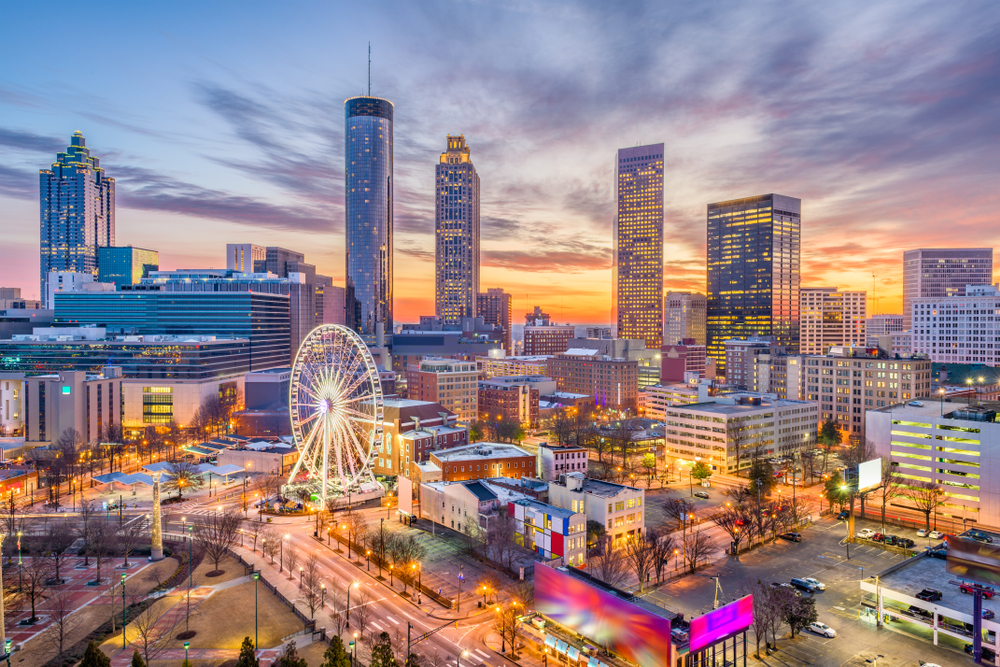 15 Best Things To Do In Atlanta GA You Shouldn't Miss
Get Fishy At Georgia Aquarium
One of the most popular things to do in Atlanta, a trip here is a must. With hands-on exhibits, engaging experiences, and over 11 million gallons of aquatic space there is nowhere quite like this place. This is one of the things to do in Atlanta with kids.
The aquarium features some incredible animals such as beluga whales, whale sharks, manta rays, penguins, sea otters, dolphins, and many more. It's somewhat of an aquatic adventure around the globe here through seven permanent exhibits.
This really is an incredible place to visit and is bound to keep everyone happy young or old. One of the top things in Atlanta for sure.
Book Here: Atlanta: Georgia Aquarium Skip-the-Line Tickets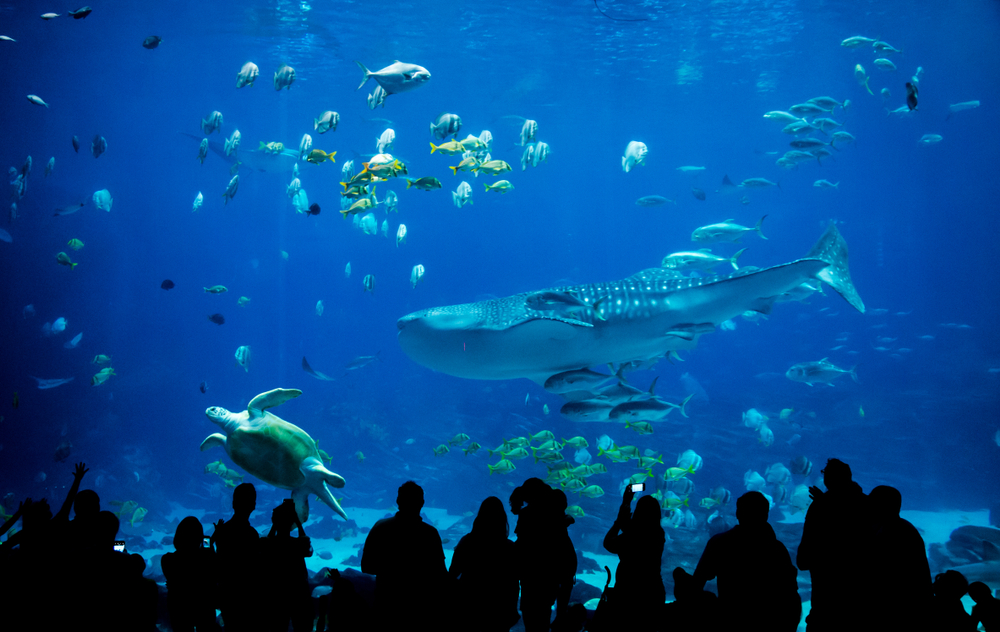 Tickle Your Tastebuds At World Of Coke
One of the more unique things to do in Atlanta. Yes, the World Of Coke really does celebrate the fascinating story of Coca-Cola.
There are multiple exhibits here all designed to teach you something about this popular drink.
You can sample more than 100 different beverages from around the world, guess a variety of scents used in Coke, and of course purchase some iconic merchandise.
This is one of the best Atlanta activities that the children will love just be prepared for the sugar rush afterward. One of the places to visit in Atlanta particularly if the weather isn't on your side.
Book Now: World of Coca-Cola: Skip-the-Ticket-Line Entry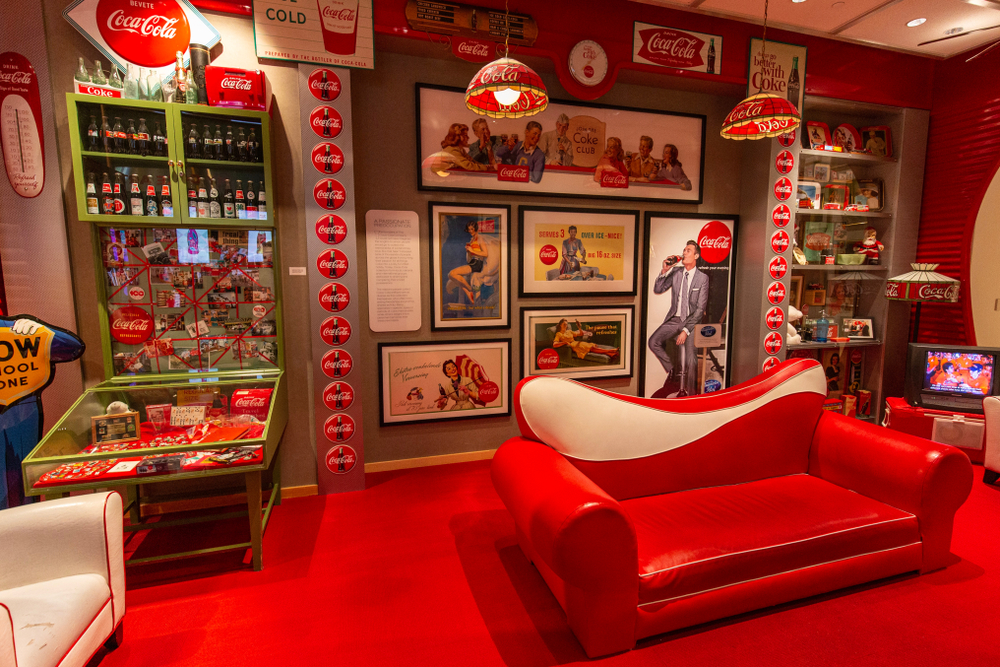 Marvel At Atlanta Botanical Gardens
If want to spend some time surrounded by nature then how about a trip to the Atlanta Botanical Garden? Calling this just nature feels odd it's nature tamed into something truly spectacular.
The exhibits constantly change and every time you visit this place differs in some way. The diverse and vibrant plant life will make everyone happy from children to grandparents this place is a dream.
The themed gardens are excellent. There is a Japanese garden a rose garden, and The Kendeda Canopy Walk but it's the sculptures and fountains that steal the show here.
There is so much to do and see here it makes a great afternoon or day trip. It's one of the best botanical gardens in Georgia and one of the fun things to do in Atlanta that everyone will love.
This is one of the best Atlanta activities for those that love flowers, gardening, and nature.
Book Now: A City in a Forest Private Nature Tour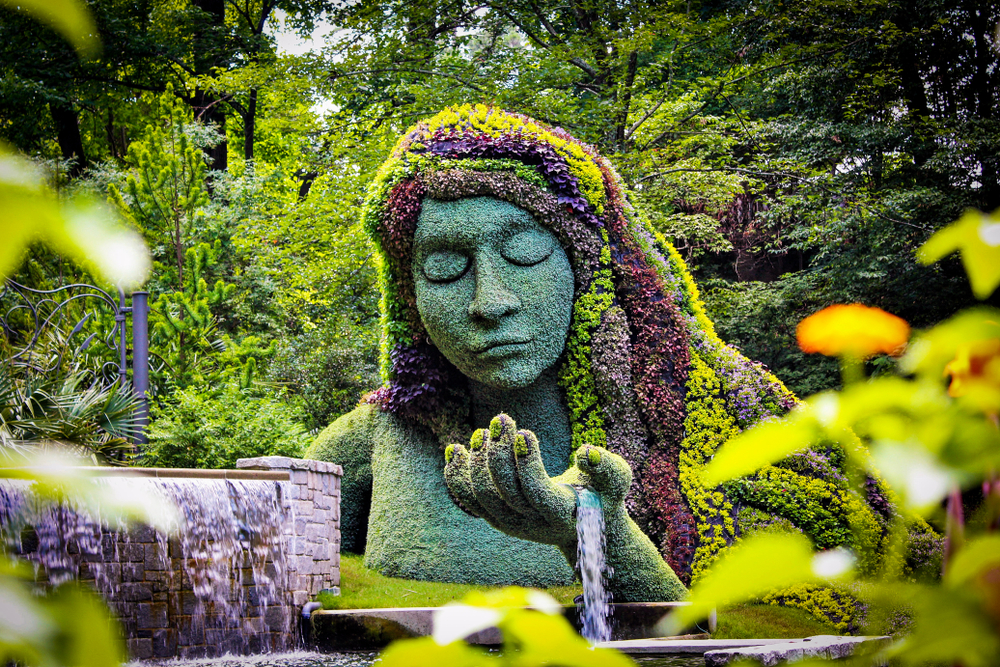 Get Nostalgic At The Center for Puppetry Arts, Worlds of Puppetry Museum
If you are wondering what to do in Atlanta with children, wonder no more. The Center for Puppetry Arts is fun for the children and somewhat of a nostalgic trip for the adults.
The museum houses a treasury of puppets and is most famous for housing the most comprehensive collection of Jim Henson puppets and artifacts in the world.
You can see performances, take workshops, operate a pullet plus lots more.
This is one of the cool things to do in Atlanta GA that you just can't miss.
Book Now: Atlanta: Center for Puppetry Arts, Worlds of Puppetry Museum
Follow In Hollywood's footsteps.
If you love movies then Atlanta is going to blow your mind. This city is a favorite for filming and is known as the Hollywood of the south. In fact, more films are often filmed here than in California
Fans of Baby Driver will recognize lots of places in the city. This film highlighted local businesses, the famous downtown area, and various neighborhoods.
Most people will know that the Walking Dead or at least the early stages of it were filmed here. Who can forget when Rick rides on horseback into an abandoned Atlanta? The show's fictional town Woodbury is filmed in Senoia about 40 minutes south of the city.
The Swan House was Snow's mansion in The Hunger Games and a West Midtown area of Atlanta is the home of District 12.
Many scenes from Stranger Things were filmed here. The Hawkins National Laboratory is here and the 80s shopping center was shot here too.
Covington, roughly 30 minutes east of Atlanta was the home of The Vampire Diaries.
Marvel's Top Superhero Franchises: Guardians of the Galaxy, Captain America, Ant-Man, and Spider-Man was also filmed here.
Honestly, we could go on and on. The best way to see all the places is to take one of the many tours around the city.
This is one of those unique things to do in Atlanta that you never forget.
Book Now The Walking Dead Private Filming Locations Tour, Movie Filming Locations Tour, Stranger Things" Film Locations Tour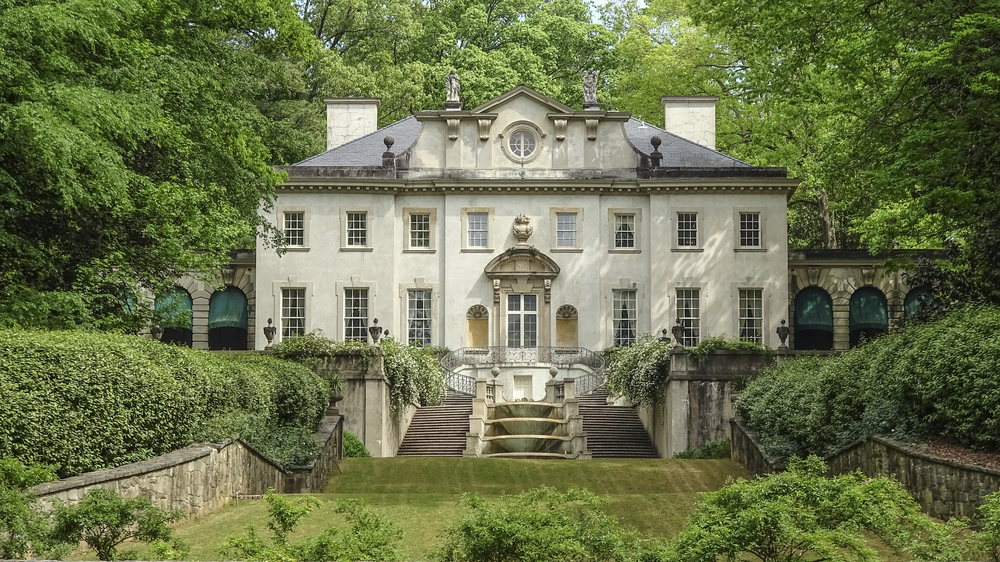 Explore The Atlanta BeltLine
The Atlanta Belt Line started as a Georgia Tech graduate thesis and is now one of the most fun things to do in Atlanta.
Before the Civil War Atlanta was known as the terminus because of all the railroads that met here. This 22-mile railway loop around the downtown area has now been repurposed into a multi-use paved path lined with native plants and art installations.
When it's fully complete it will connect 45 neighborhoods, including 33 miles of trails and 2000 acres of park space. Making it one of the largest, most wide-ranging urban redevelopment programs in the United States.
The Eastside Trail is a great place to start as it skirts along the edge of Piedmont Park and downtown Atlanta finishing at the Ponce City Market.
This is one of the things to do in downtown Atlanta that will really give you a feel for the area.
Book Now: Food Tour of Inman Park and the Atlanta Beltline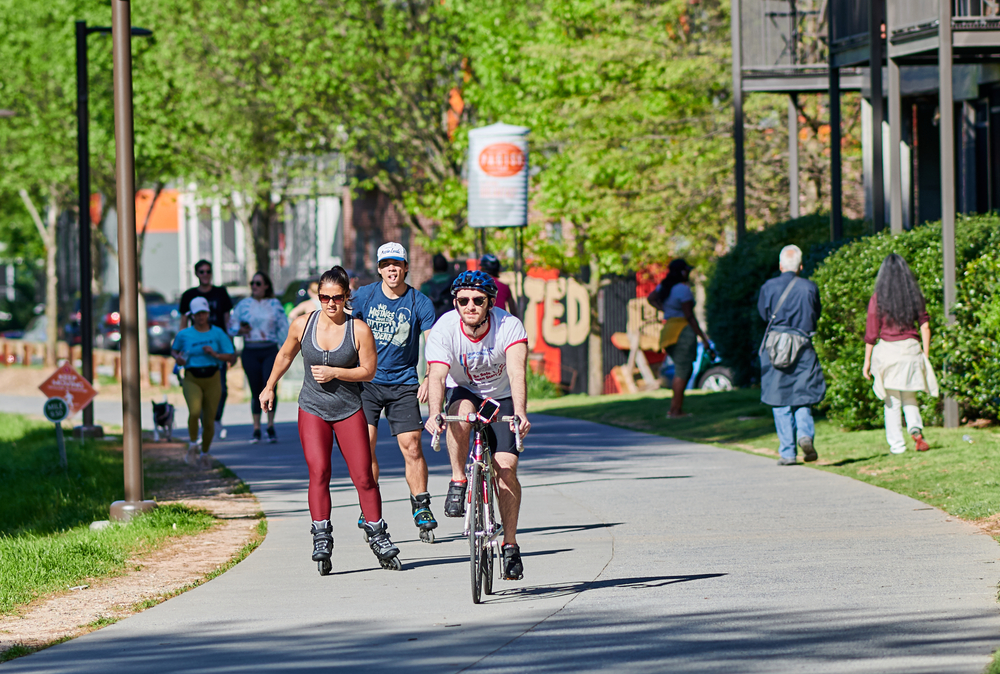 Learn At The Martin Luther King Jr National Historic Park
In this park, you will find the Ebenezer Baptist Church and the birthplace of Martin Luther King Jr Leader of America's civil rights movement
Here you can explore the childhood home of Martin Luther King Jr and visit the church where he became a minister and began to change American history.
This is one of the free things to do in Atlanta and the tour of his childhood home is free and led by NPS rangers.
After a visit here head to the Freedom Hall Complex or Fire Station No. 6 to learn more about this incredible man.
When visiting Atlanta a visit here really is a must in our eyes.
Book Now: Martin Luther King Historic District Walking Tour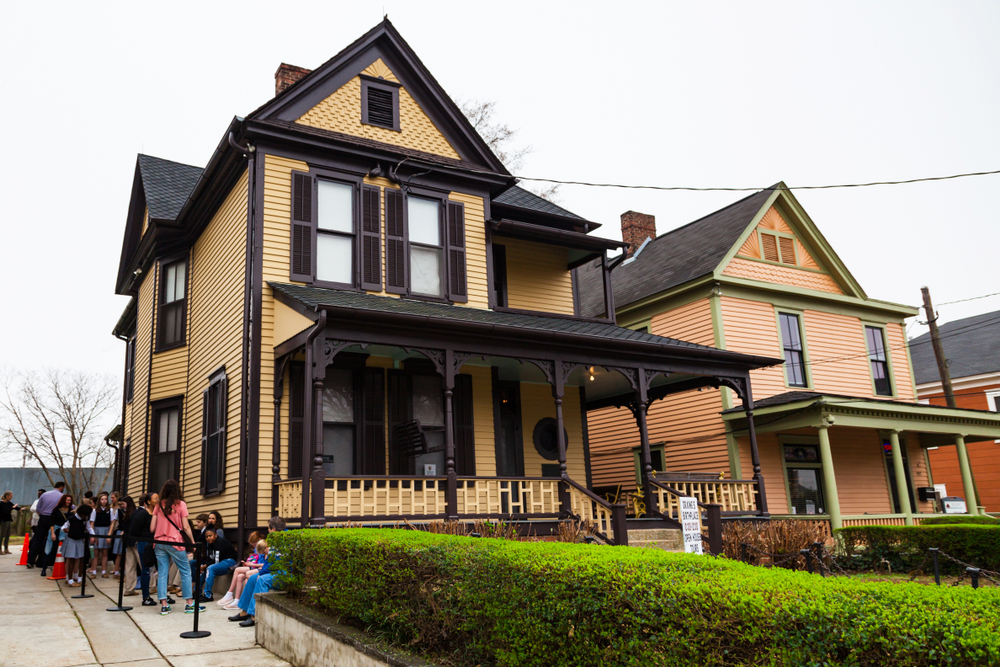 Walk Around Oakland Cemetery
With miles of walking trails among the headstones, decorative sculptures, and mausoleums Oakland Cemetery makes one of the more unusual Atlanta tourist attractions.
This 48 -acre public park is the resting place for over 70,000 including "Gone With the Wind" author Margaret Mitchell Maynard Jackson, Atlanta's first African-American mayor, and golfer Bobby Jones who co-founded The Masters.
It's an incredibly beautiful place that is easy to get lost in and while away some time exploring. Bell Tower Ridge is a beautiful spot to stop at as many of the most ornate mausoleums are in the area.
It's one of the free things and there are guided tours offered too. It's not as macabre as it sounds, in fact for many Atlantians this is their local park.
This is one of the best things to do in Atlanta for adults who love to explore on foot.
See The Sights On A 1.5-Hour Highlight Trolley Tour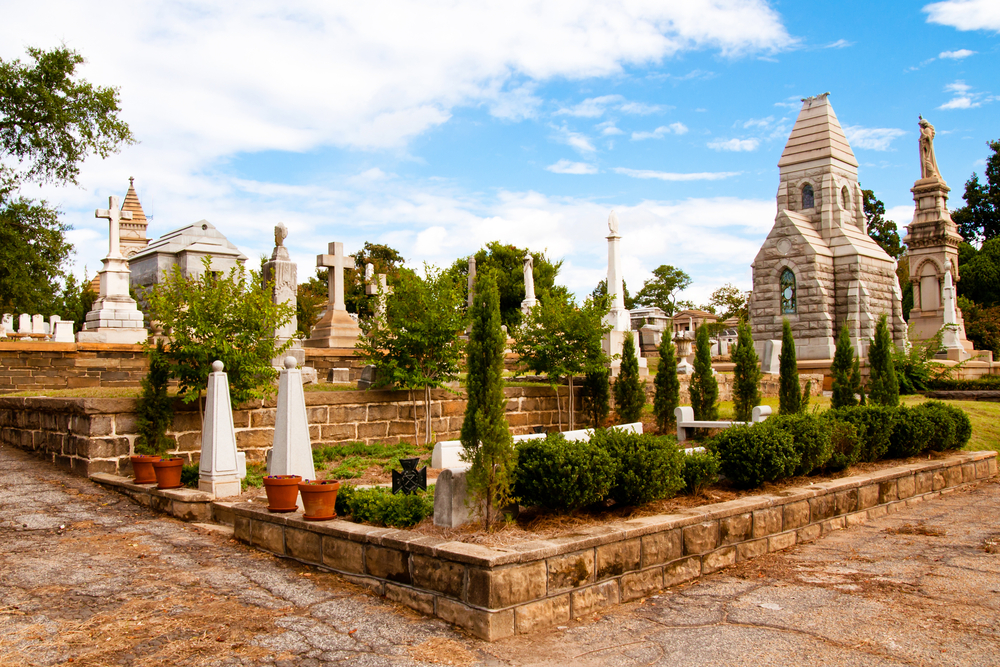 Get Arty At The High Museum of Art
In the midtown Atlanta arts district, this museum is huge, in fact, it's one of the biggest in the southeast.
The building itself is impressive but what lies within the walls is even more so. You will find a bit of everything here from photography to the classics from decorative arts to new and interactive installations.
This isn't your typical art gallery. At the time of writing, exhibits include Stephen Burks: Shelter in Place which explores ideas concerning domesticity creatively, and an exhibition dedicated to grids and how they show up in your lives.
If you only have time for one museum make it this one. It's one of the best things to do in Atlanta for adults.
See More of The City Book A Atlanta 5-Hour City Tour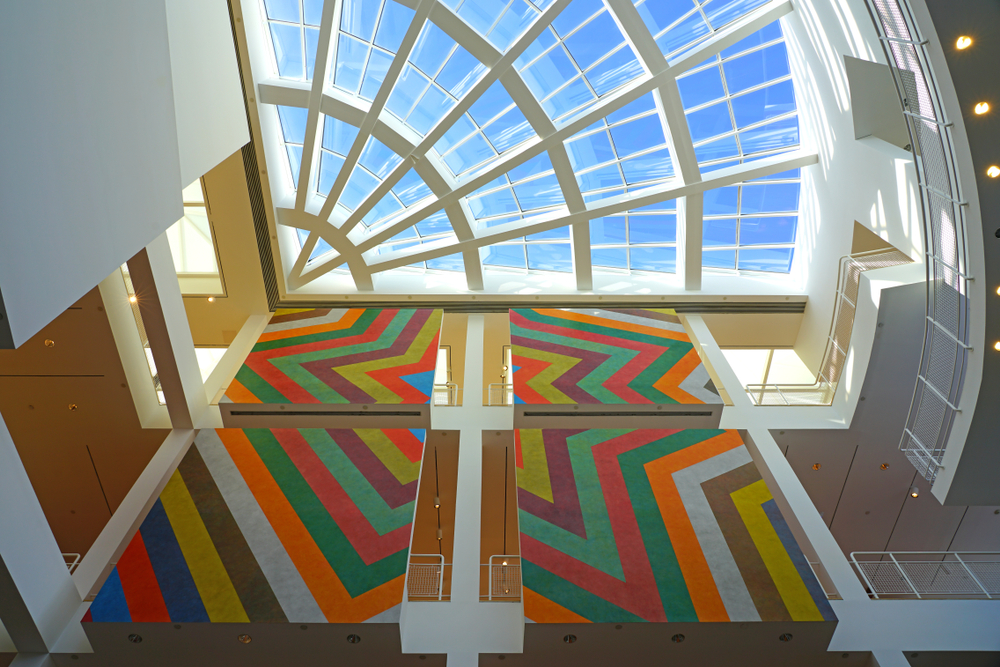 Spend Time At The Atlanta History Center
Founded in 1926 by a group of Atlantians wanting to preserve the city's history The Atlanta History Center highlights the political and cultural history of the city.
The center houses an impressive collection of Civil War art and artifacts, has written commentary on the Native American history of Georgia and contains local Folk Art.
The campus here is 33 acres to explore and features historic homes, archives, exhibitions, and the Swan House.
The Swan House was once home to the wealthiest family in Atlantia but you will probably recognize it as Snows Mansion in the Hunger Games.
This is a great way to gain insight into Atlanta and its roots. It's one of the top things in Atlanta to visit.
Learn More About The City On A Electric Car City Tour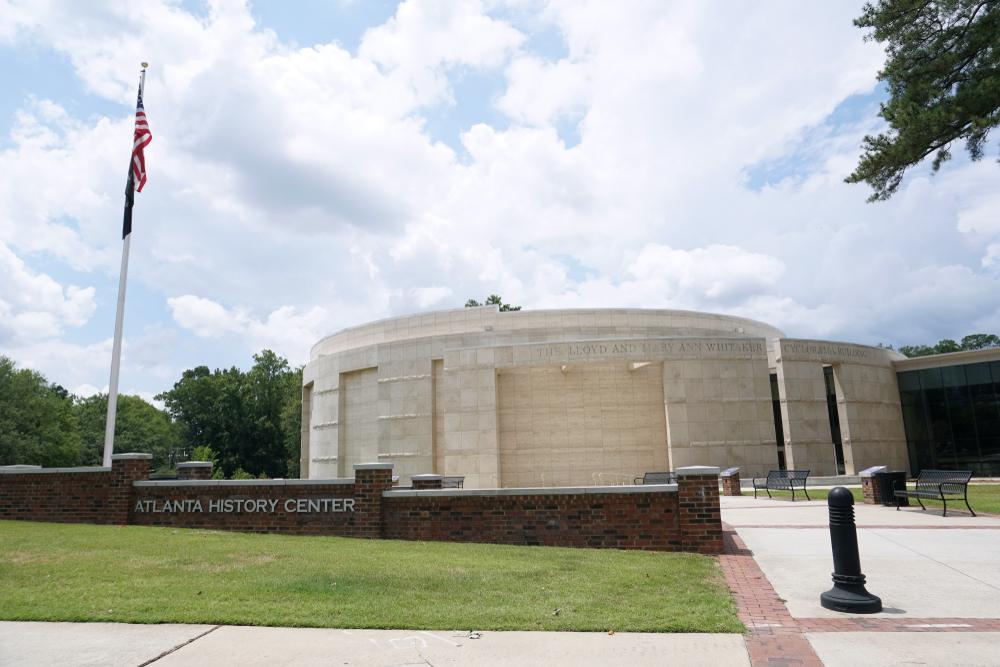 Get Foodie At Ponce City Market
This market isn't just any market it's the southeast's largest brick structure covering 2.1 million square feet, yes it's huge.
If are after a great breakfast in Atlanta or some of the best restaurants this is the place to come. It's a foodie's heaven here. Or maybe you will want to come here for your Atlanta brunch restaurant if you don't want to wake up early!
It's also shopping heaven with so many lovely local boutiques and places that will be delighted to take your money.
There are also workshops regularly taking place here like candle making, cooking, and wine tasting. Oh, and for a small fee, you can play vintage carnival games on the rooftop.
This is one of the best things to do in Atlanta, Georgia. Honestly, a visit here is a must. it Is the kind of palace you have to see to believe.
If you are wondering what to do in Atlanta and there is a group of you, head here it will please everyone.
Book Now: Ponce City Market 2.5-Hour Weekend Food Tour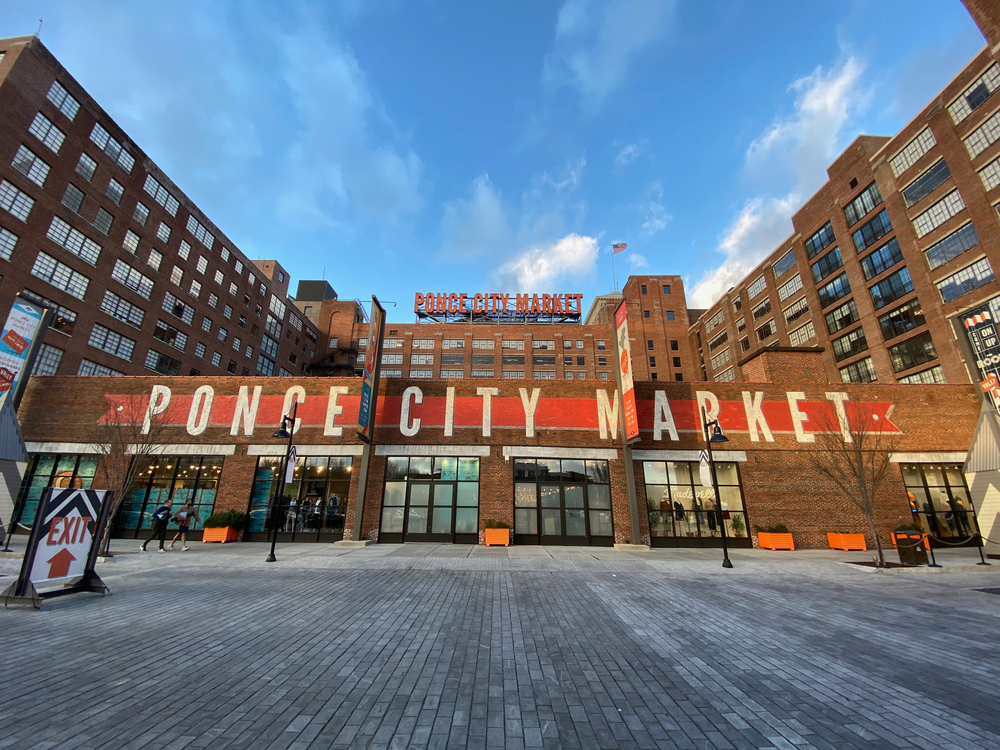 Get Food Along Buford Highway
Burford Highway has to be experienced to be understood. It's essentially a highway roughly 40 minutes northeast of downtown Atlanta but it's so much more than that. It's a real testament to the diverse city Atlantis is and a foodie paradise.
Along the stretch close to the city you will find every manner of international cuisine, including Vietnamese, Peruvian, Chinese, Malaysian, Korean, Cuban, and Mexican. It's one of the best things to do near Atlanta.
Whatever kind of cuisine you want you can get it here and if you don't see something you like just drive a bit further and bingo.
If you feel that you get to know a city by the food then this is the palace for you. Go with an empty stomach and follow your nose you are bound to find something delicious.
This is one of the places to go near Atlanta especially if you love food. It's one of the best things to do in Atlanta at night.
Get Scholarly At The Center for Civil and Human Rights
This glass building rises from the pavement as if making a statement. Opened in 2014 it celebrates the American Civil Rights Movement and the global Human Rights Movement.
The museum includes three levels of galleries, and a walk-through exhibit on American Civil Rights starting in the 1950s.
The museum also explores the communities' fights for equality that are still ongoing today. It also touches on civil rights across the world.
If you are interested in learning more about civil rights then this is one of the best activities in Atlanta for you.
Book Now: From Civil War to Civil Rights Private Tour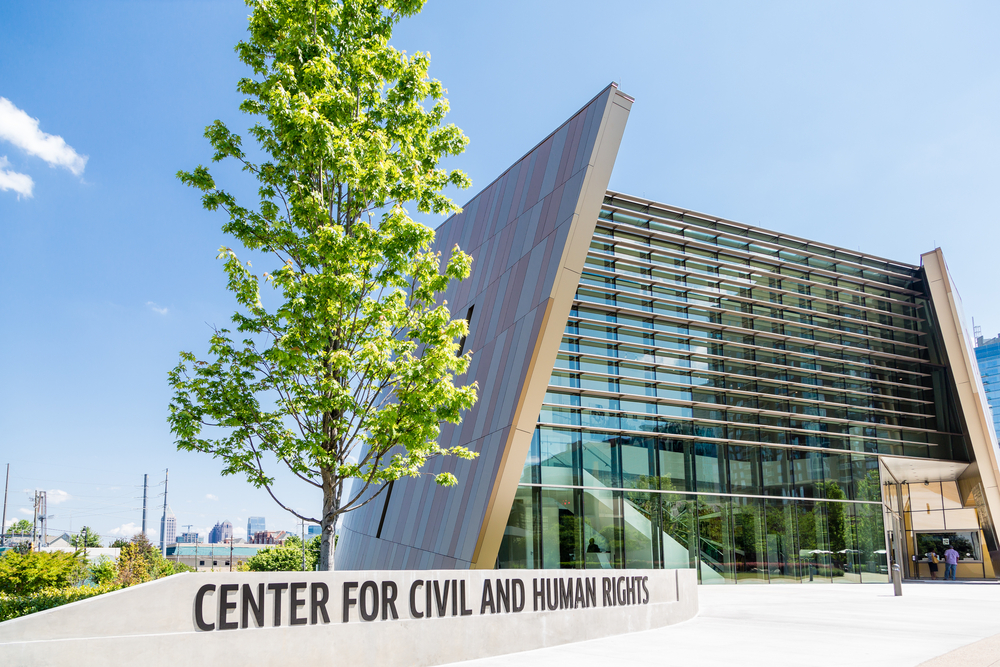 Get Spooked On The Doll's Head Trail
If you are someone who likes things a little more scary and macabre then how about a walk down the Doll's Head Trail?
At the site of an abandoned 19th-century brick factory, you will find this trail created with found objects to create found art. It's one of the best things to do in Atlanta for couples, especially those who like things a little differently.
It's a 125-acre preserve here with clay pits that have since become man-made ponds. This area is such an interesting example of how nature always reclaims the land.
Devised by local carpenter Joel Slaton The Doll's Head Trail is an art project created from discarded doll parts and other trash that was on the site.
While doll heads are predominately here there is found art made from everything imaginable here and people are encouraged to make and leave their own.
All the art you see on the trail was found within the park which is an ingenious way of making people clean up the litter.
The trailhead is marked by a sign that says "litter makes the angels cry."
This is definitely one of the more cool things to do in Atlanta. It's also I feel one of the best things to do in Atlanta at night if you're brave enough.
Book Now Haunted Buildings and Ghosts Tour
Entertain the Kids At Legoland Discovery Center
If you are looking for a family-friendly you have found it. This is definitely one of the best things to do in Atlanta with kids
A visit here is always fun and a great way to entertain bored children.
Here you will find rides, attractions galore with a 4D Cinema, and places to build your own epic lego creations. It's one of the best Atlanta activities for the small ones.
You can hop aboard a royal chariot to save the princess, see famous LEGO characters on the big screen, control an enchanted cart on Merlin's Apprentice Ride and see an Atlanta cityscape made entirely out of LEGO Bricks – over 1.5 million to be exact.
There is so much to do here too much to mention here but let's just say there is no way your children will get bored here.
Book Now: LEGOLAND® Discovery Center Atlanta
Get Out In The Sun At Piedmont Park
If the sun is out then this is one of the best things to do in downtown Atlanta. You have more than 200 acres to explore here and you can do as much or as little as you want.
It's the most wonderful place to enjoy a picnic and let the children run wild for a bit. There are paved trails throughout also making it a great place for a bike ride too.
There's a pool and splash pad, several playgrounds, and a market every Saturday.
It's a great place to spend some time and one of the places to visit in Atlanta, GA.
Book Now: Downtown, Midtown, or Eastside Segway Tour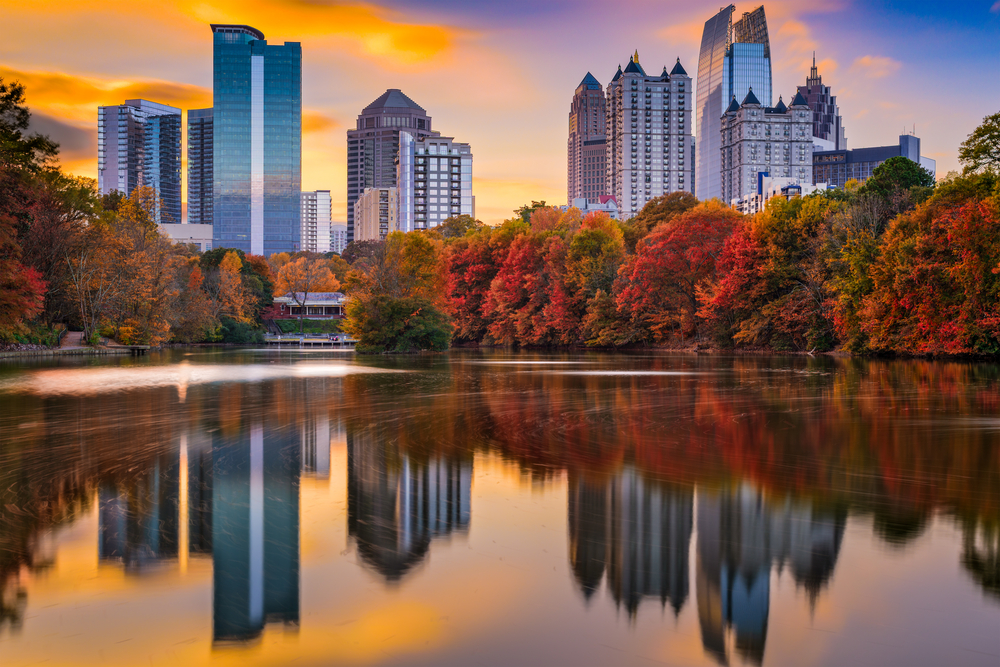 As you can see when it comes to the best things to do in Atlanta, Ga there are so many to choose from. The attractions in Atlanta are incredible and there is so much to see and do.
We have included here what we think are the best Atlanta activities but of course, it's only the start of what is on offer here. We hope you enjoy your trip visiting Atlanta and please come back and tell us all about it.