The search for the best VRBO in Charleston is at its end here! Whether you are looking for fun in the sun or a stroll through history, this list is sure to have your next vacation location. Dining in or going out in Charleston will have all foodies raving and planning their next trip back to Charleston!
Planning your trip to Charleston last minute?
Make sure to book your hotels and tours in Charleston in advance to ensure availability! The longer you wait, the more difficult it gets. Here are our top picks for your trip:
Top Tours And Experiences In Charleston:
Top picks for places to stay in Charleston:
When you stay at a VRBO location you will often have the feel of home with some flare! Some will have full kitchens so you will be able to cook if you are looking for a night in after you explore the historic roads and museums.
Others will have easy access to the beach. Charleston is full of small surprises that will make for an exciting trip! Planning your next vacation is made easy with this list of the best VRBO in Charleston. Looking for something different? Check out our list of the best boutique hotels in Charleston!
15 Best Charleston VRBO Vacation Rentals (Cottages, Beach houses, And More!)
Timeless Renovated House
Getting a taste of what life was like in Charleston before modern devices are made simply and beautifully at this Timeless Renovated House in Downtown Charleston. You will have everything you could want from one of the best Charleston VRBOs. Enjoy the exposed brick inside the home provides a modern feel and the wood doors and fixtures have the homey feel of the south. The home is 1000 square feet and sleeps 4 adults and is welcoming to children of all ages.
Staying 'home' is made luxury with the fully equipped kitchen and gas stove. The patio has comfortable rocking chairs to enjoy the breeze from the sea that is just a short drive away. The host has graciously provided a Big Green Egg grill along with the charcoal, and utensils to make your stay even more comfortable! This home is renovated with bits of history including heart pine material dating back to about 1600! It is no wonder this is one of the top picks of VRBO in Charleston.
Click Here To Check Rates On VRBO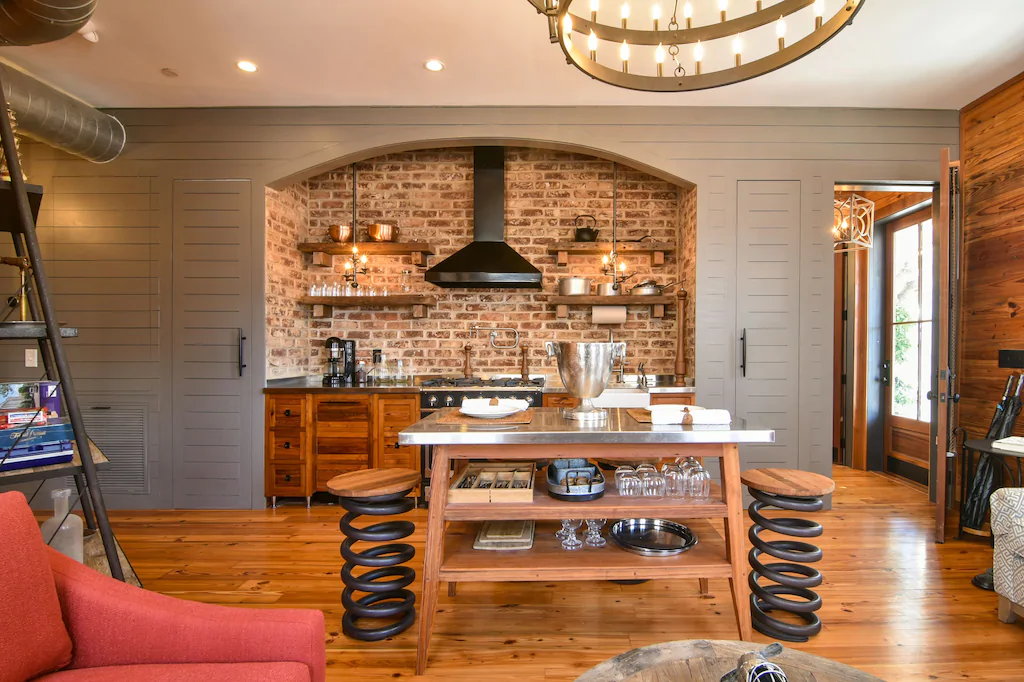 Romantic Loft Apartment
You will surely fall in love with this Romantic Loft Apartment in historic downtown Charleston! This is the perfect location for exploring Charleston by foot or quick car rides. If taking a leisurely bicycle ride suites your fancy, the host has two readily available for you to use on your explorations. Getting to restaurants and local to-dos are made convenient due to the location and yet is still its own private space. With so many Unique And Fun Things To Do In Charleston, it will be hard to choose where to start!
Being comfortable is easy when staying at this VRBO in Charleston. The kitchen and bathrooms are fully equipped for a slow start to a day as you wake up in this warm modern loft. Although there is a coffee maker just for you, there is a coffee shop just a few doors down to make mornings just right throughout your visit. Feel free to relax on the patio while listening to the bustle of the town. The central location is excellent for exploring, unwinding, and taking in all Charleston has to offer!
Click Here To Check Rates On VRBO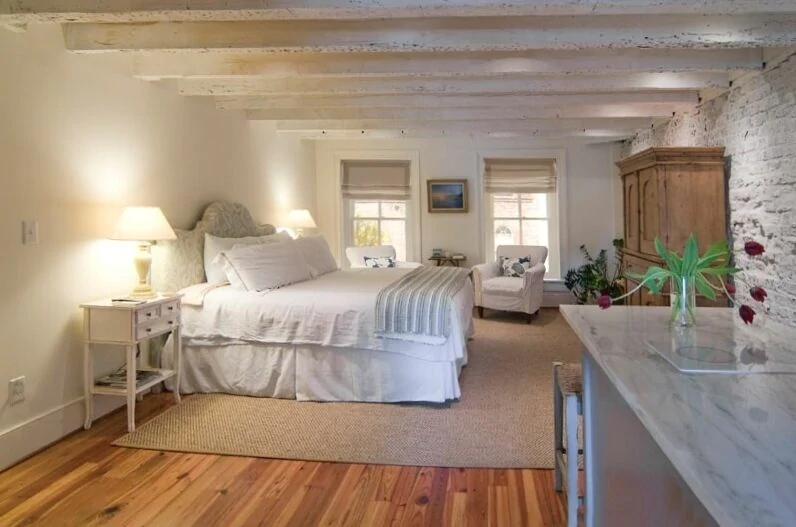 Modern Townhome
For a small group looking to stay near Charleston, consider this Modern Townhome close to Folly Beach and Charleston! Located on James Island you will have a peaceful stay for up to four guests!
You are only a short drive from restaurants or to grocery stores if you want to take advantage of the full kitchen and gas-powered grill. There is a fenced-in courtyard that holds your grill, a bench that seats six, and lovely gardening. This is truly one of the best places to stay in Charleston. This area is not to be missed.
Comfort abounds at this VRBO in Charleston! The home includes games for children, beach towels, and chairs, along with beach towels for your sandy day adventures! Fewer things to pack? Yes, please!
Click Here To Check Rates On VRBO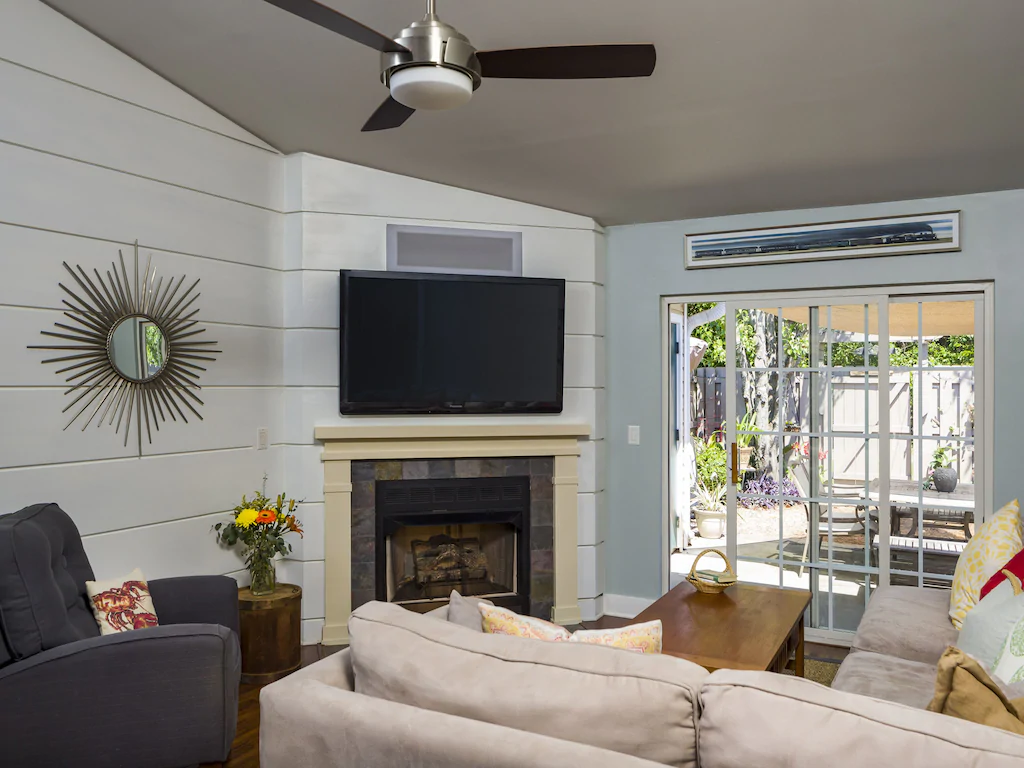 Charming Studio
A quaint stay is a click away when you stay at this Charming Studio in the heart of historic downtown Charleston! Right across the street from City Market, you will have no problems getting where you want to go as it is a central location in Charleston. Whether you are celebrating or getting a weekend away, this VRBO in Charleston is a wonderful place to stay.
There is a pleasant patio with lounge chairs. It is a sublime spot for resting after a day of walking through Charleston! Your stay here is met with impeccable decor mixing the modern necessities with the charm of a time not too forgotten in this historic city.
Click Here To Check Rates On VRBO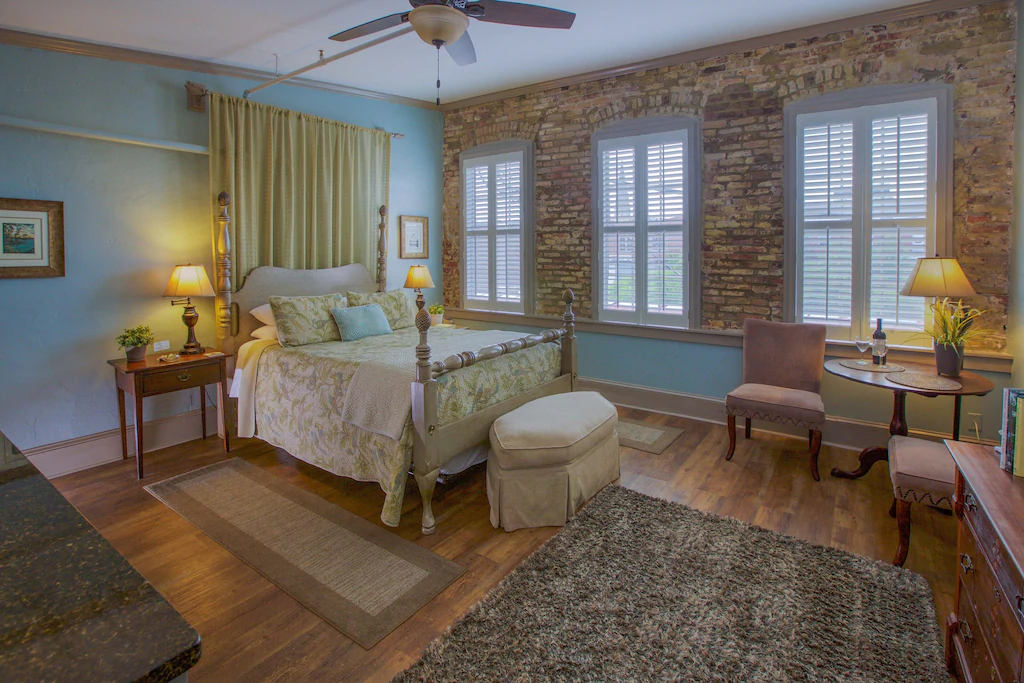 Belle Mer Ocean Front
Do you hear the sea beckoning? That's the sound of the ocean meeting the beach right outside the Belle Mer oceanfront home. You will have 10 rooms that can sleep 28 people in this home located in Isle of Palms outside of Charleston! The home has everything you and your guests may need for a luxurious stay. This really does make for a fabulous vacation destination. Don't forget to check out our list of the best Islands In South Carolina if you want to explore more!
If you do not wish to get the saltwater in your hair or warm sand in your toes, the home features an infinity-edge pool and hot tub to make this a true escape! While the beachfront is a big highlight of this extraordinary home, you are not far from civilization either! A brief car ride will get you to any of the other sights to see in Charleston. This is truly one of the best beach houses in Charleston for your next gathering!
Click Here To Check Rates On VRBO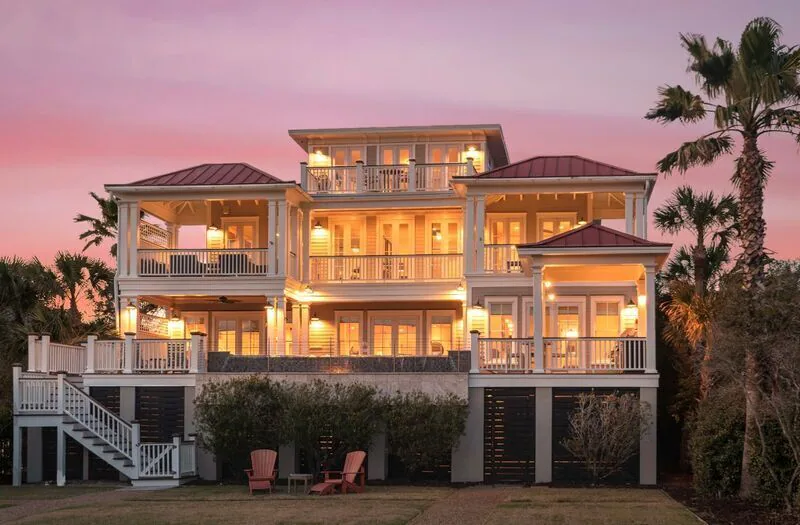 Surfsong Oceanfront
A beautiful getaway awaits at the Surfsong Oceanfront home! While you may be looking to stay at a VRBO in Charleston, it worth the 40-minute drive to stay at this luxurious establishment. It is an 8 bedroom home that sleeps, 17 people! All four of the master suites have a flawless ocean view. With more amenities than fingers to count on you are going to have an exceptional stay! You can go from the couch to the beach in mere moments using the personal boardwalk leading you to the shores of Kiawah.
Among the many features is putting green to keep your golfing arm in practice while on vacation or get competitive on the shuffleboard court! There is a pool along with a whirlpool spa for a more relaxing time. If you are looking to explore, there are 8 adult bikes, 5 child bikes, and miles of bike trails to enjoy! For winding down there is no short supply of TVs or patio areas to seek comfort.
Click Here To Check Rates On VRBO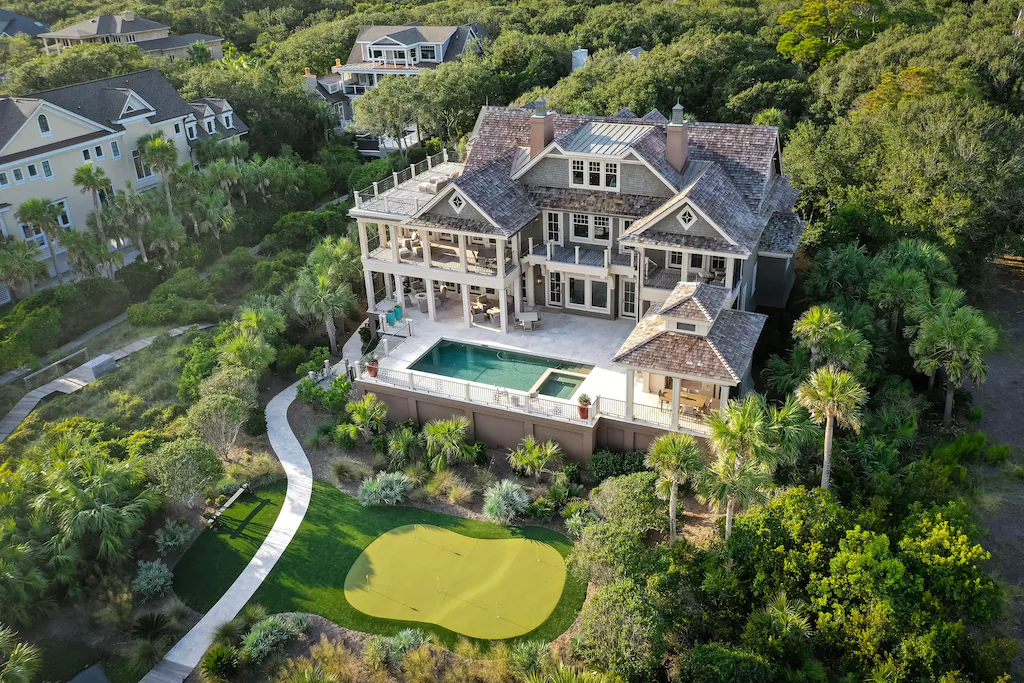 Charming Charleston Studio Cottage
If you are looking for a quieter vacation rental then the Charming Charleston Studio Cottage is going to supersede your expectations! The quaint stay is tucked away enough for privacy and still just minutes from downtown. This bungalow cottage is on the owner's property however it is separated and there is not a shared space.
It is tastefully decorated inside with a fully equipped kitchen, living room, one queen bed, and sofa sleeper. As you mosey outside to the patio you will find a grill along with a fire pit and seats to enjoy the outdoors without going far. For more adventure, West Ashley Greenway is a paved walk space going through wetlands and neighborhoods and is only a few minutes walk away along with many restaurants! You will also be a small drive away from several beaches including Folly Beach. It is clear that this charmer is one of the best homes on VRBO in Charleston!
Click Here To Check Rates On VRBO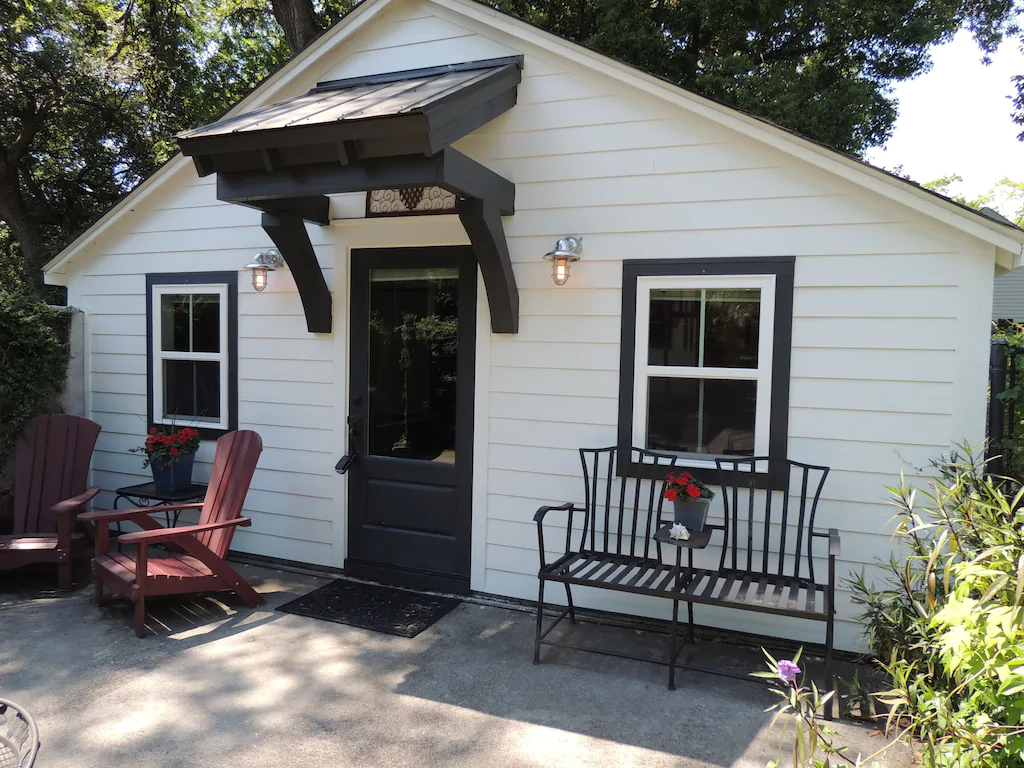 Luxury Condo
A room with a view? You got it! This Luxury Condo in Historic Charleston will take your breath away with a waterfront view! From sunrise to sunset over the Ashley River, this is the perfect VRBO in Charleston to consider for your next trip. With white marble counters and baths mixed with stainless appliances and fixtures, you will swoon over the modern comfort. The building of condos has a gym and pool that you are free to take advantage of on your stay.
This one-bedroom getaway has all you could desire with the convenience of being downtown Charleston. There is an abundance of restaurant options, shopping centers, and areas to casually stroll to take in the town's amazing architecture. Charleston vacation rentals are always a treat and this luxury condo is sure to be an outstanding pick!
Click Here To Check Rates On VRBO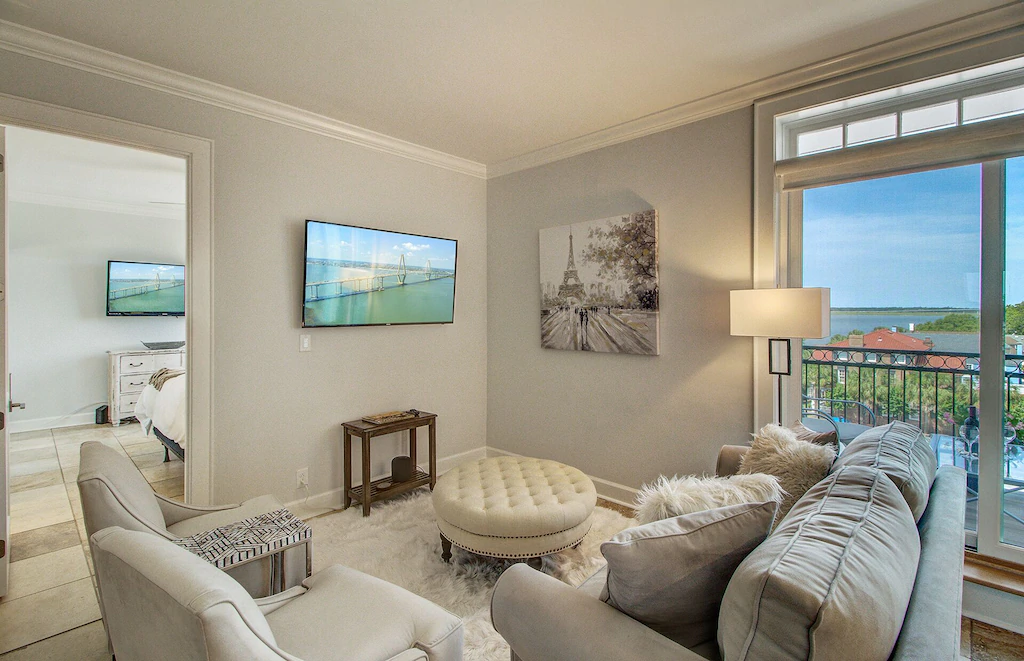 Lord Ashley
If you take a splash of modern and mix in a hint of cottage you get the graceful Lord Ashley house! The four-bedroom masterpiece will sleep 8 and deliver warmth that only a VRBO in Charleston could provide! Sunlight pours into the home from the large windows revealing a well decorated and furnished home. A show-stopping porch holds a daybed swing and seats you may just want to stay in all day! Be sure to bring a good book! The backyard holds outside dining seats to enjoy your meals as well.
Lord Ashley has a master bedroom with a king bed while two rooms have queens and one has two twin beds. It is ideal for families and their children to experience! Allen Park can be seen from the porch so you will have easy access to a piece of history. All the amenities of Charleston are in close proximity so your itinerary won't include long commutes!
Click Here To Check Out Rates On VRBO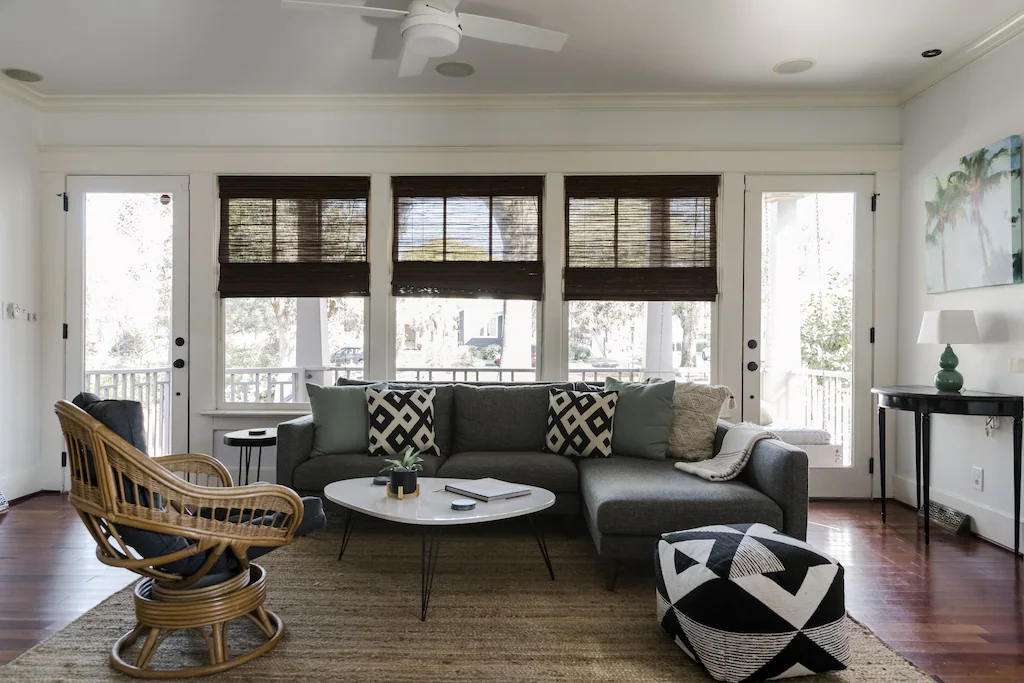 The Indigo Cottage
Tiny cottage dreams come true at The Indigo Cottage! As a one bedroom that sleeps four this space has so much to offer! Rustic decor meets the modern grace of the home and will bring comfort to your short or extended stay. You will be on the property of the owners, although the cottage itself is separate.
The kitchen has all the utensils and equipment to feel at home in this vacation rental. You are less than 10 miles from downtown and snuggled in the neighborhood of West Ashley. There are plantations and gardens to explore in the area along with delectable restaurants! For a quiet stay, The Indigo Cottage is the way to go.
Click Here To Check Rates On VRBO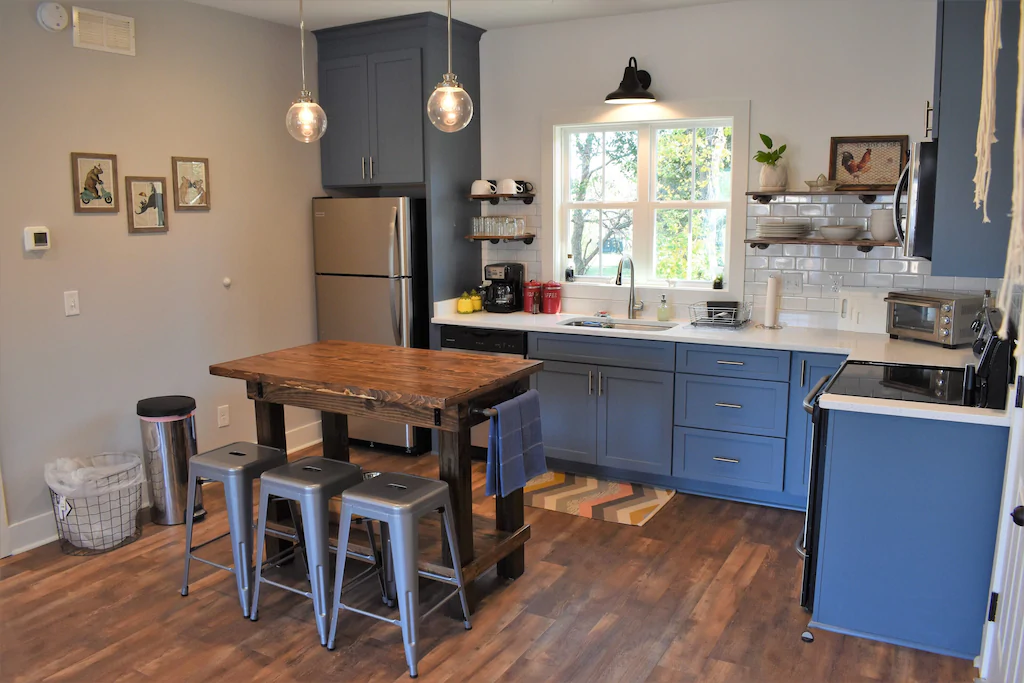 Castle Mugdock
Located in Sullivan's Island is Castle Mugdock Fairy-Tale Gothic Castle! You read that right. Let your inner royal free at this one-of-a-kind VRBO. The spacious fortress comes with six bedrooms to sleep up to 14 people. Arch doors, a spiral staircase, turret roof terrace with seating? As you wish! No fairy godmother required.
There is a pool to take a dip in and you are a quick drive from the beach or to Charleston! There are many local markets and places to eat within just a few miles. When you return from your quest you can even take comfort using the fireplace in the great living space. This piece of history is yours to experience!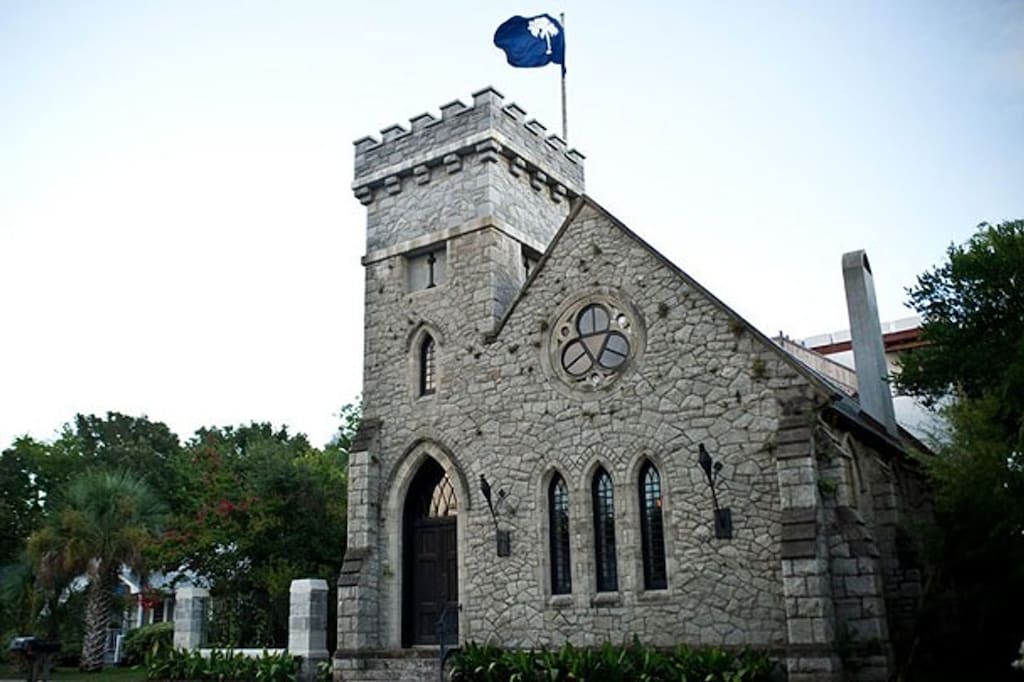 Jacob Rabb House
If you like to immerse yourself into history then the Private Historic Charleston Home and Garden is the bee's knees! This home was established in 1851 and is located in the downtown Historic District. The elegance of the three-bedroom home is seen from the outside and history is felt within! The home was one of the only in Ansonborough to survive the Fire of 1861. The home has many historic awards such as the Carolopolis Award given by the Preservation Society of Charleston.
Only a block away from Market Street, museums, ghost tours, Home and Garden tours, and even private carriage rides. Talk about traveling in style! You won't want to miss this VRBO in Charleston. The home itself has a patio with rocking chairs to watch the travelers and carriages pass by. There are three floors of rustic bliss inside the home that will leave you with no wants! Exposed brick, gold fixtures, washers and dryers, and a balcony with chairs. You may never want to leave!
Click Here To Check Rates On VRBO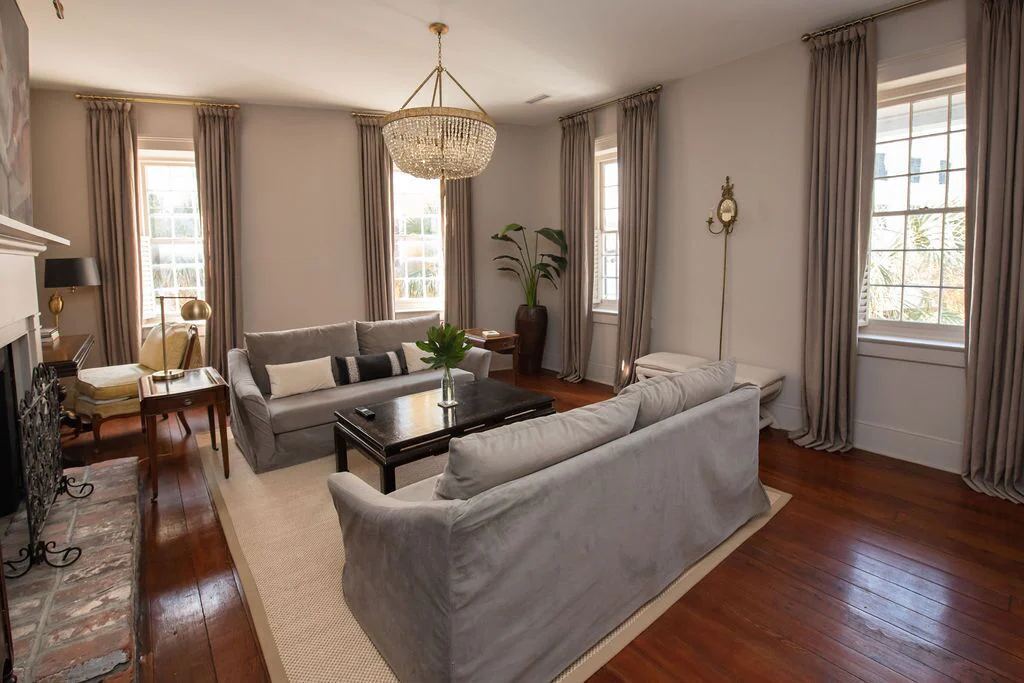 Stunning House in Downtown
This nine-bedroom Stunning House in Prime Downtown is a great option for your next group outing to Charleston! With eight bathrooms, you and your guests will have plenty of privacy during your stay. The home is composed of three separate units but can be rented as whole sleeping 27 total!
You are just three blocks from Upper King Street and all the excitement downtown Charleston has to offer. The home is excellent for whatever you are celebrating or get-together you are planning. Being minutes away from shopping, eateries, and museums make this one the best VRBO in Charleston!
Click Here To Check Rates On VRBO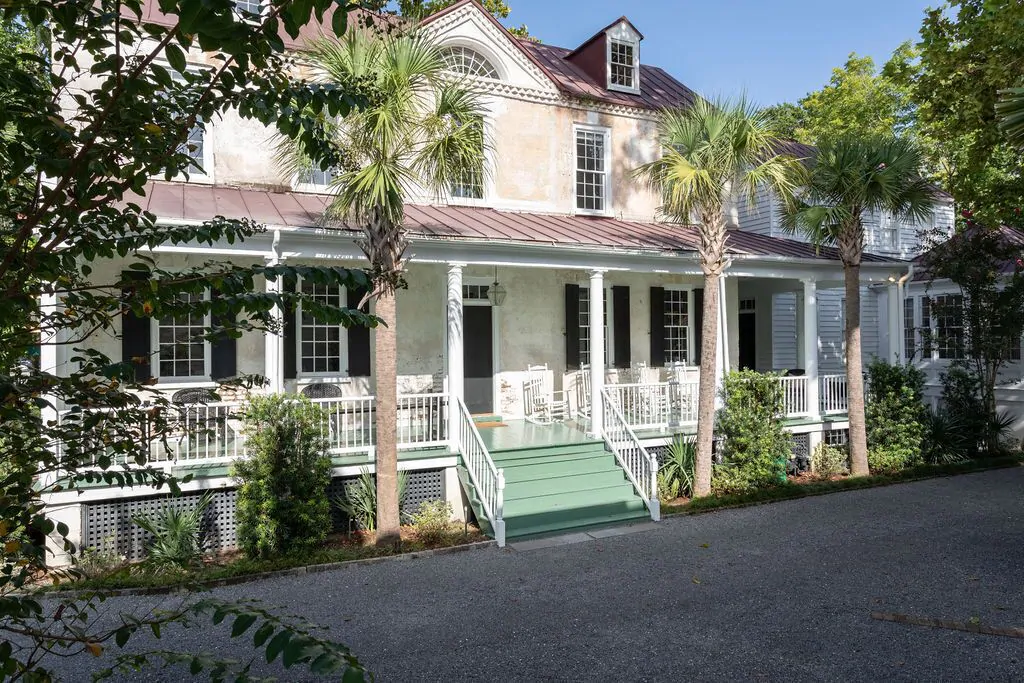 Queen's Quarters
Regal places to stay in Charleston are no match for the Queen's Quarters! This luxury two-bedroom apartment is located inside a bed and breakfast. You will be greeted with a "Get Started" breakfast basket from your host. The gourmet kitchen will also have all the necessary utensils for whipping up your own dishes during your stay!
You will be surrounded by elegance from the ceiling with exposed beams, contemporary art, and sophisticated furnishings. You and your guests are sure to feel like royalty at this VRBO in Charleston! Not only are you inside one of the grandest apartments, but you are also in the heart of Charleston. That's right. You are a hop, skip and jump away from famous restaurants and appealing to-dos! It's time to check Charleston off your list, isn't it?
Click Here To Check Rates On VRBO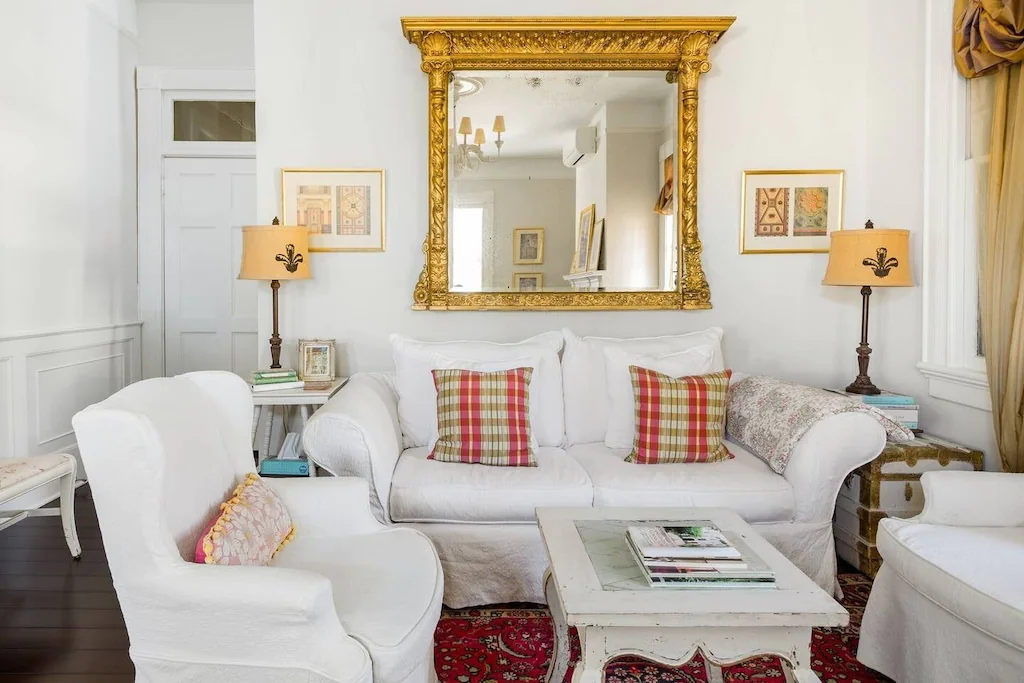 The Little Pink House on The Peninsula
A sweet getaway for up to three will be delightful when you stay at The Little Pink House on The Peninsula! Being one of the best vacation rentals in Charleston, it can not be said enough how alluring this quaint apartment is! The residence is part of a larger house and is (you guessed it!) pink! This couple's nest is adorably decorated. Comfort overflows at this captivating home.
There are several porch areas to rest after a full day out on the town. After all, you are near are the delicious local restaurants and close to King Street and the Historic District. You will find the convenience of a central location while still being private. This VRBO in Charleston is one for the books!
Click Here To Check Rates On VRBO