If you are searching for the best and most unique things to do in Charleston, South Carolina, look no further!
A visit to this beautiful city really is one of the best things to do in South Carolina for the whole family!
From the historic buildings to the welcoming people, Charleston is full of true Southern charm. This is one of my favorite cities to visit in the South!
This small city is known for its beautiful architecture, cobblestone streets, delicious food, and coastal views.
Just by walking down the streets, you can find many places to explore and the best Charleston activities to keep you entertained.
Planning your trip to Charleston last minute?
Make sure to book your hotels and tours in Charleston in advance to ensure availability! The longer you wait, the more difficult it gets. Here are our top picks for your trip:
Top Tours And Experiences In Charleston:
Top picks for places to stay in Charleston:
While many places are must-sees when visiting, there are also many unique places to visit in Charleston when you wander beyond the popular spots.
There are hidden alleyways with storied pasts, tours that take you to haunted places, and restaurants that have an intriguing history to go with their cuisine.
There is so much to experience in Charleston. Whether you're looking to spend the day on the water or immerse yourself in the rich history and culture, here is a list of what to do in Charleston!
If you are planning a Southern trip but are not sure whether to choose Savannah or Charleston, check out my complete guide comparing the cities. You can't go wrong with either!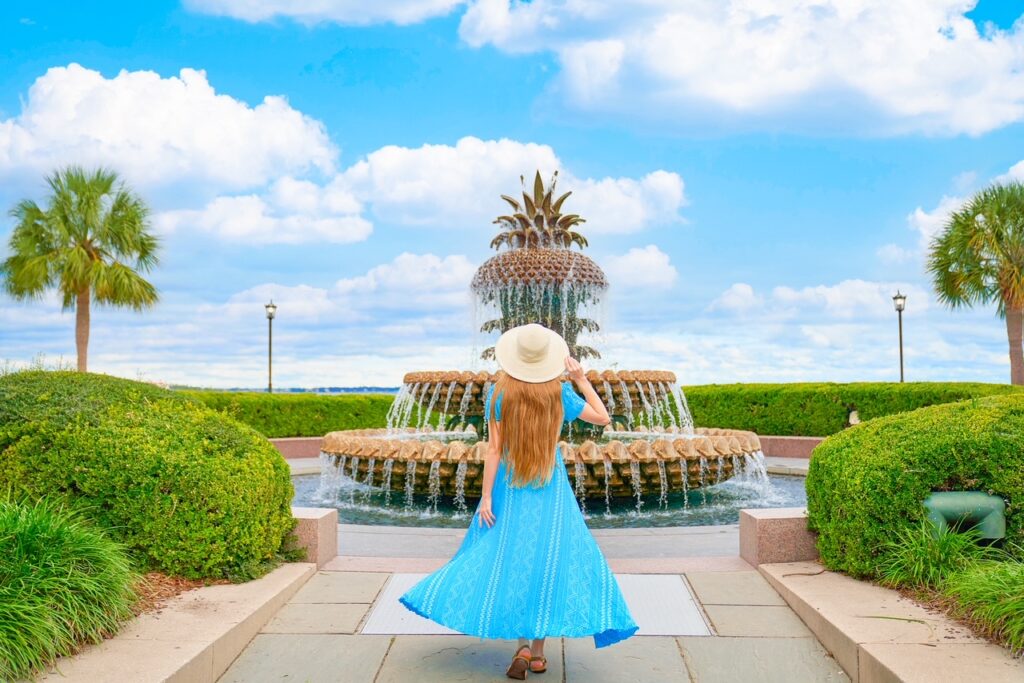 20 Fun And Unique Things To Do In Charleston, SC
Wander Along Rainbow Row
Charleston is a bright, vibrant city full of sunshine and many colorful buildings. But none are as recognizable as Rainbow Row, a stretch of 13 pastel-colored Georgian houses located on East Bay Street.
It is the perfect location for a photo opportunity as these colorful buildings stand out between the palm trees lining the street.
These homes were first constructed around 1740 and used by merchants. After the Civil War, this area was run-down until 1931 when they were revitalized and painted bright colors.
Now, it is one of the most popular areas in the city.
Rainbow Row is located in an ideal area to walk around and is one of the best free things to do in Charleston!
This is truly one of the best places to stay in Charleston. This area is not to be missed.
Charleston is one of the most romantic getaways in the South and with streets like this, it is easy to see why!
Book Here: Charleston: History and Architecture Guided Walking Tour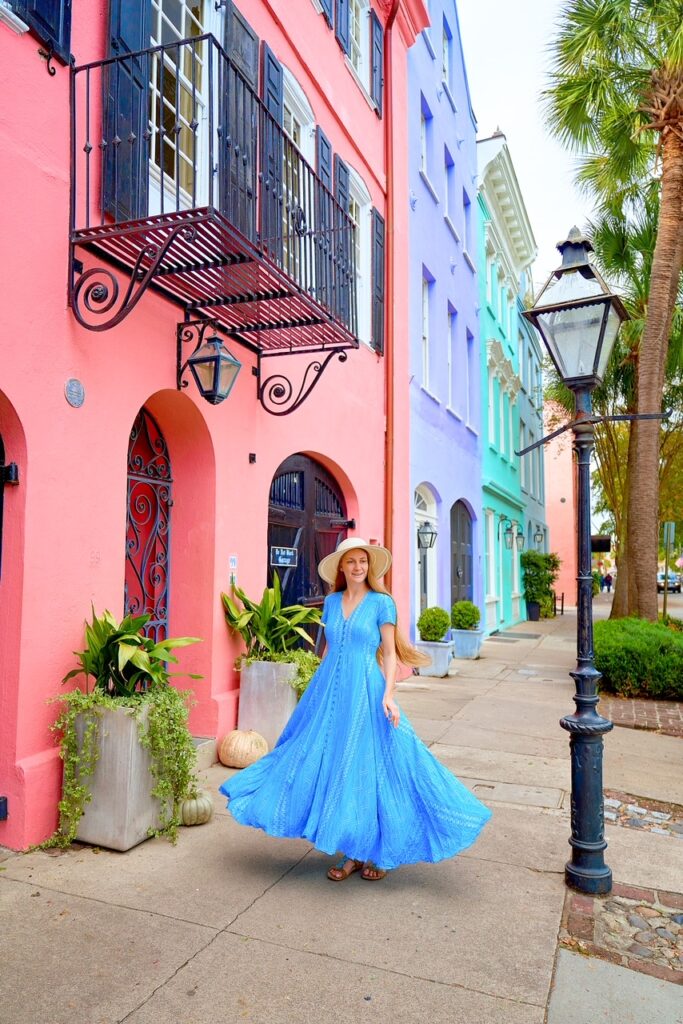 Stop By Philadelphia Alley
There's a hidden passageway often missed when visiting Charleston.
Philadelphia Alley is a beautiful brick and cobblestone path that has the quaint charm the city is famous for. Walking down it feels like stepping back in time.
This quiet alley might seem ordinary, but there's a unique history attached to it.
Also known as "Dueler's Alley," it is said that back in the 1700s this was the location where people would settle disputes. A famous story is one of the Whistling Doctor who participated in a duel but met his demise in Philadelphia Alley.
One of the fun things to do in Charleston is just to wander down different streets and pathways, never knowing what history may be stumbled upon.
When strolling around, don't miss out on seeing this fascinating alley!
Book Here: Charleston: Historical Walking Tour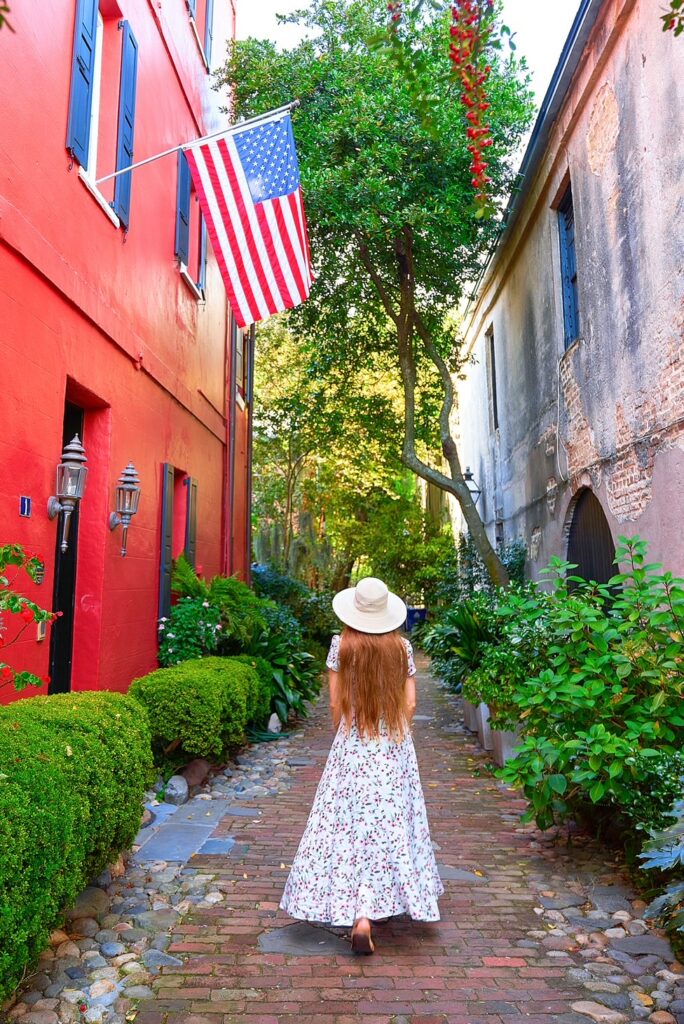 Learn History at Fort Sumter
One of the best things to do in Charleston for history lovers is a visit to Fort Sumter.
This is one of the most significant locations in US history as it was here that the first shots in the American Civil War were fired.
Now it is a national park open to visitors. Inside the fort are park rangers that will tell some of the history and stories about when it was in use.
There is also a museum inside with many artifacts and information about Charleston's involvement in the war.
Even those who aren't huge history buffs can enjoy this tour! To get to Fort Sumter and back, there is a relaxing ferry ride across the Charleston Harbor with views of the city skyline, the famous Ravenel Bridge, and the USS Yorktown.
It's the perfect way to get on the water and see Charleston from a different angle. Keep an eye out for dolphins!
Book Here: Charleston: Fort Sumter Entry Ticket and Ferry Ride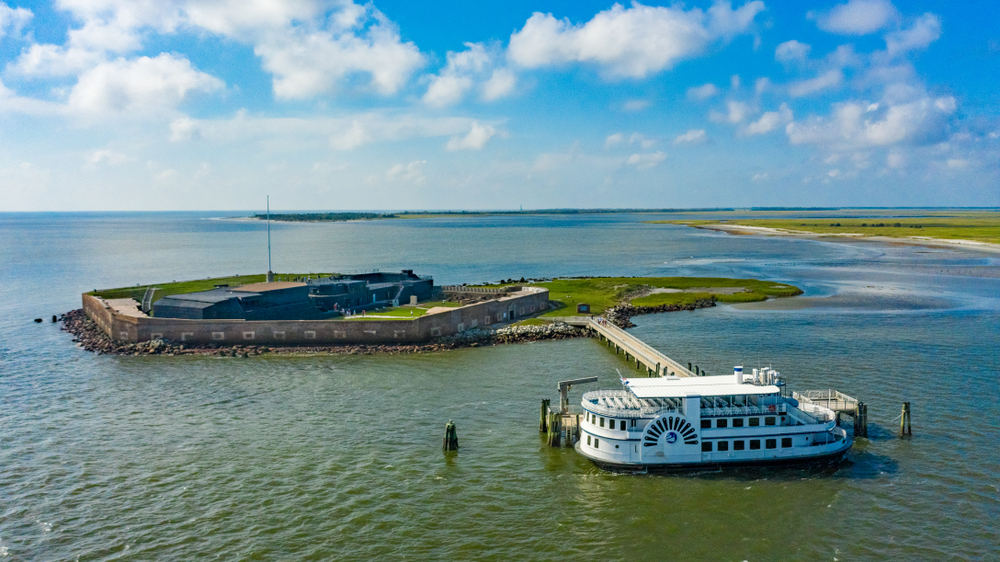 Photograph the Angel Oak
The Angel Oak is an absolutely gorgeous tree located about 25 minutes from downtown Charleston. It is worth the drive for anyone interested in nature or looking for a photoshoot location.
This expansive tree is thought to be 400-500 years old and has survived many hurricanes, floods, and earthquakes. Its largest branch spans almost 200 feet!
It is really a sight to behold and must not be missed! If you are looking for hidden gems in Charleston, this is one to add to your list.
Pretend you have stepped into Middle Earth as you admire this exquisite piece of nature and snap some pictures.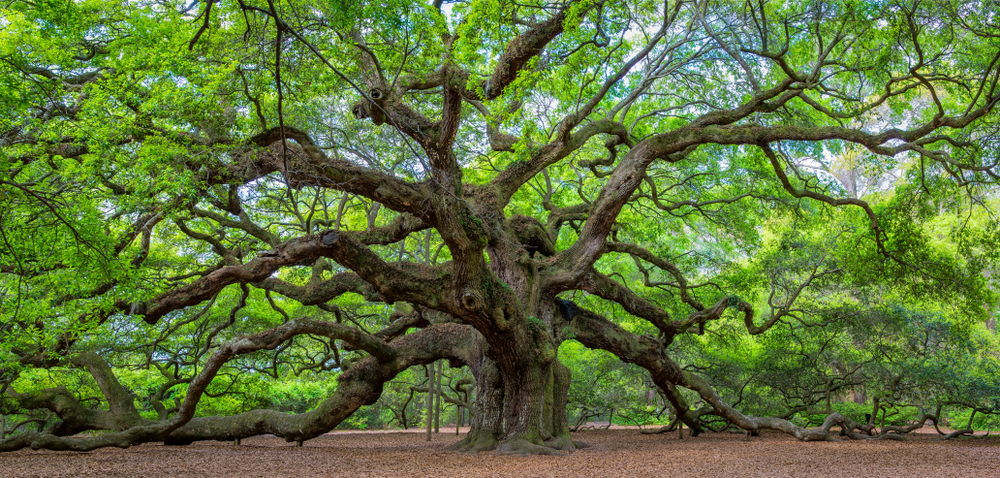 Visit the South Carolina Aquarium
The South Carolina Aquarium has many native animals and plants, from the state's mountains to the sea. Located on Charleston Harbor, the views from the aquarium also give a chance to see dolphins in their natural habitat!
The largest exhibit is the Great Ocean Tank, which is the deepest tank in North America, filled with fish, sharks, and even a sea turtle.
There is also a touch tank where guests can touch horseshoe crabs, Atlantic stingrays, and other animals.
Another section inside the aquarium is the Sea Turtle Care Center which takes in injured sea turtles and rehabilitates them until they are able to be released back into the wild.
In this area, guests are able to see the sea turtles and learn about the care they receive from staff and volunteers of the aquarium.
With knowledgeable staff and many interactive elements, the South Carolina Aquarium is one of the best things to do in Charleston with kids!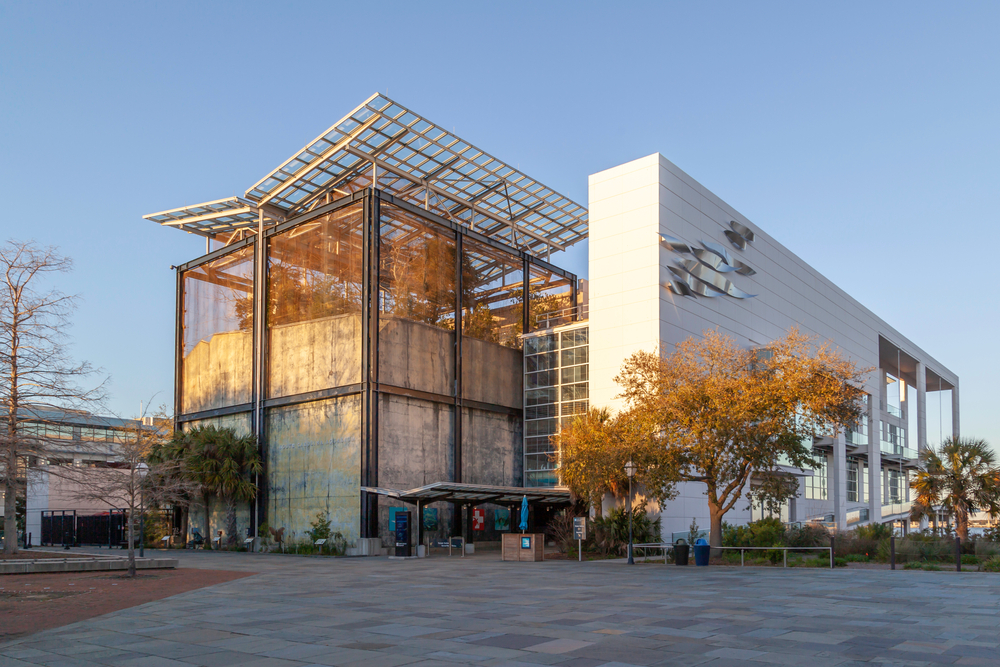 Tour the Charleston Tea Garden
Located on an ideal island in the Charleston area, the Charleston Tea Garden is the perfect place to see how tea is grown and made in South Carolina.
Take a trolley tour around the 127-acre tea field and take the informative factory tour that shows what happens to the tea leaves to make the different teas.
The Charleston Tea Garden gift shop offers the chance to taste-test the nine flavors produced on their premises. This includes the American Classic Tea, which is the only brand of tea made exclusively with 100 percent American-grown tea.
The gift shop sells all the teas produced here as well as several hundred tea-related items.
As America's only tea garden, this is one of the most unique things to do in Charleston for couples.
Even those who aren't tea lovers can enjoy the views of the beautiful land and the magnificent trees growing at the Charleston Tea Garden!
Book Here: Charleston: Wadmalaw Island Wine Tasting and Tea Garden Trip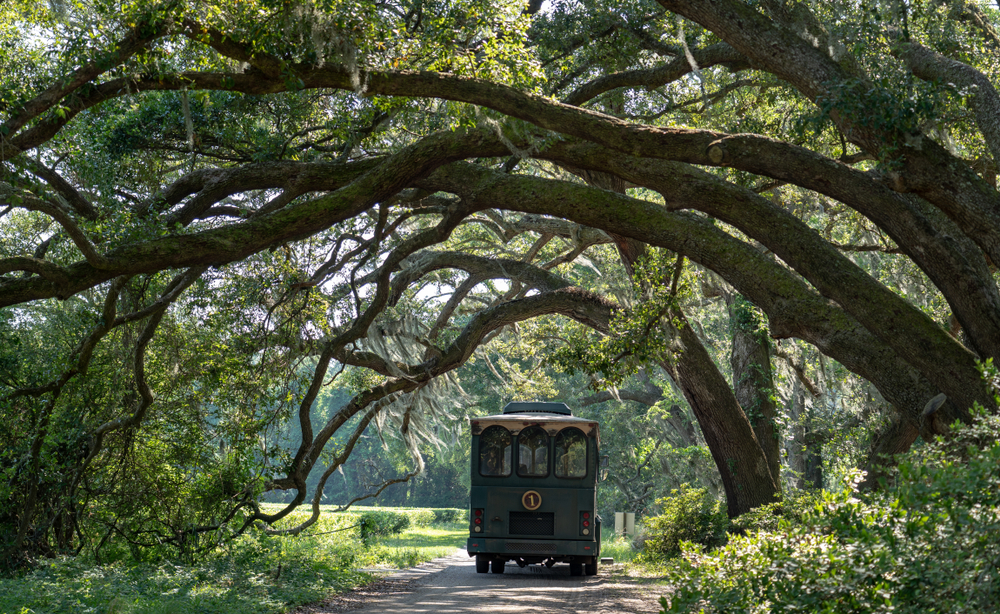 Shop at the Historic Charleston City Market
Charleston is known for its history and culture, and a great way to find both is at the Historic Charleston City Market.
Built in the early 1800s, it is one of the oldest public markets in the country and is full of unique goods made in Charleston.
It is here that many local artisans sell their work. Anything from paintings, photographs, jewelry, clothing, food, and so much more.
Some artisans can even be seen working on their art, especially those weaving sweetgrass baskets, an art primarily concentrated in South Carolina's Lowcountry and a special Charleston tradition.
One of the fun things to do in Charleston is to explore the open market to see the many small and unique shops, meet the artisans, and even purchase the perfect Charleston souvenir!
The market is also one of the best places to visit during Christmas in Charleston!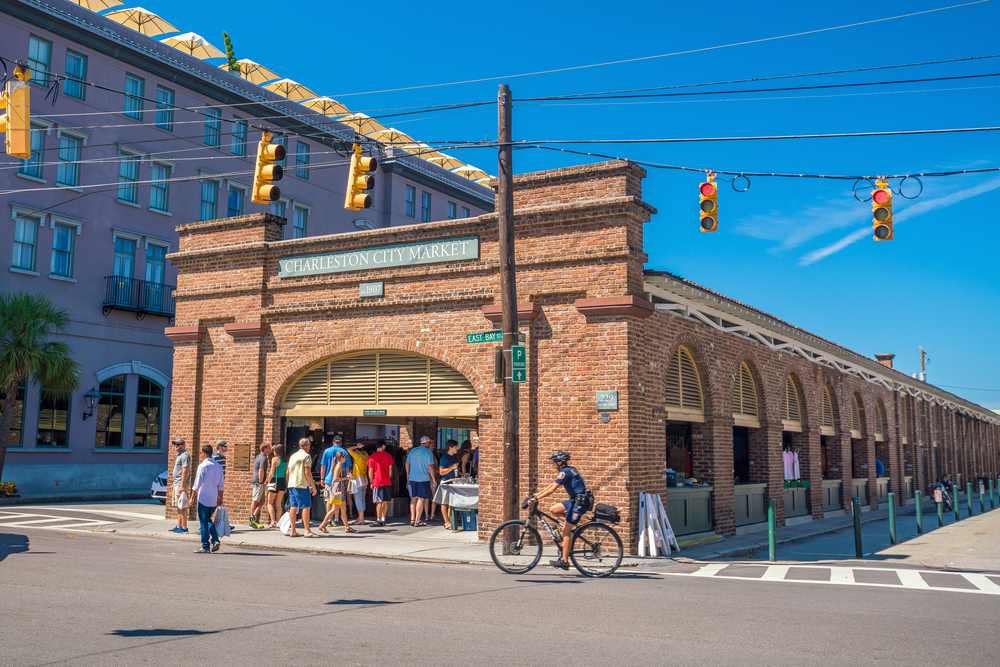 Explore the Edmondston-Alston House
Located on the Battery with stunning views overlooking the harbor, the Edmondston-Alston House Tour is one of the best things to do in Charleston.
Inside the 1800s house is a vast collection of art, furniture, books, and silver owned by the family who lived there. Walking through the house gives guests the opportunity to see how people in Charleston may have lived during this time.
Guests are guided through the different rooms and then brought outside to the piazza to see the views of the Charleston Harbor.
The Confederate commander who gave the order to fire cannons on Fort Sumter which started the American Civil War stood and observed the bombardment from this piazza.
The beautifully decorated Edmondston-Alston House is a wonderful way for guests to explore the inside of a historic Charleston home and even imagine what life would have been like in the past.
There are many more house museums in town if you are looking for more of the top things in Charleston for history buffs.
Don't forget to check out some of the cutest bed and breakfasts in Charleston!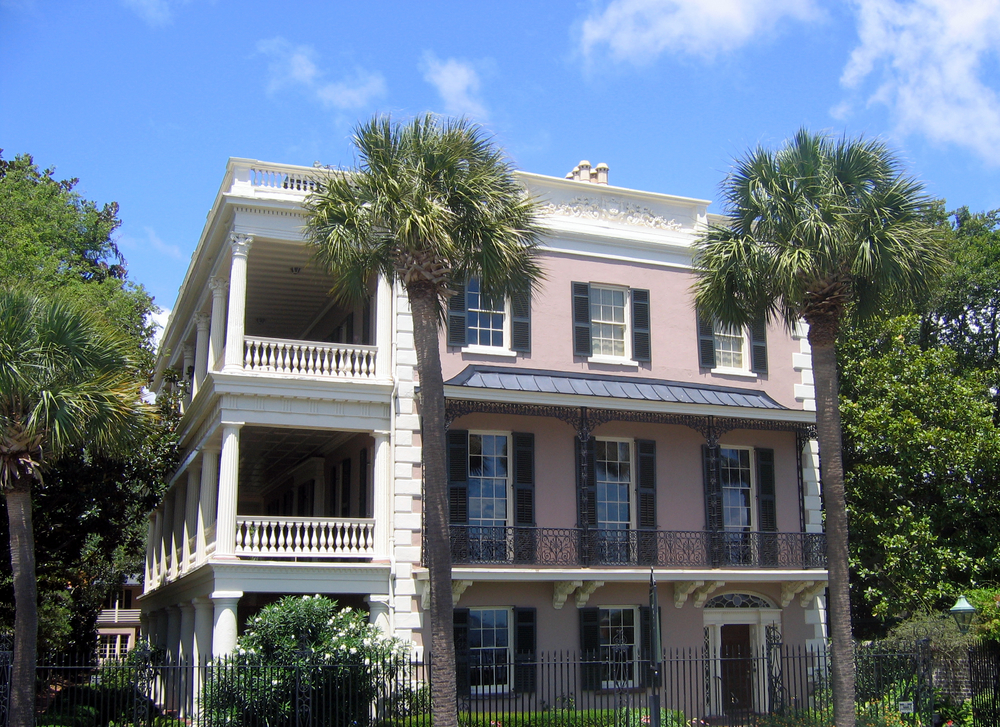 Get Spooked on a Ghost Tour
Charleston may be known for being a bright, vibrant city, but is also known as being one of the most haunted cities in the United States.
For people who are interested in being spooked, ghost tours are always fun things to do in Charleston at night!
Many ghost tours are available in Charleston, each giving guests the chance to hear the darker history of the city and giving access to some of the most haunted places in the South.
The guides may lead guests through the Old Exchange and Provost Dungeon for former war prisoners, to the cemetery where Annabelle Ravenel is rumored to be buried, and to jails where Charleston's worst criminals lived and died.
Ghost tours are the perfect way to see more of Charleston and learn its hidden history. You might have the chance to see a Charleston ghost!
Book Here: Charleston: 90-Minute Ghost & Graveyard Walking Tour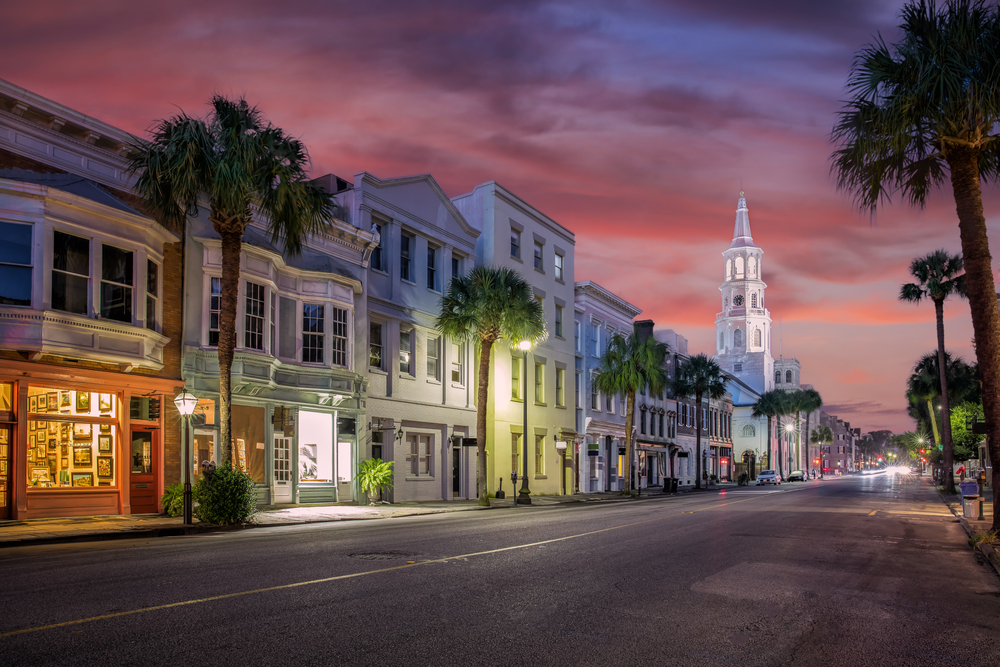 Eat at Poogan's Porch
Food in Charleston is always rated as some of the best in the world, and Poogan's Porch is no exception.
This restaurant has delicious Lowcountry cuisine perfect for lunch and dinner all while being served inside a beautiful building. They also serve the best brunch in Charleston!
Poogan's Porch is a restored and converted Victorian house located on quaint Queen Street.
Along with the amazing food, this restaurant is also known for having its own ghost story.
It was named after the dog, Poogan, who lived here until 1979. There are tales of visitors seeing the ghost of the dog as well as the ghost of the previous owners.
One of the best things to do in Charleston is to eat true Southern cuisine, and Poogan's Porch is one of the best restaurants in Charleston to do so!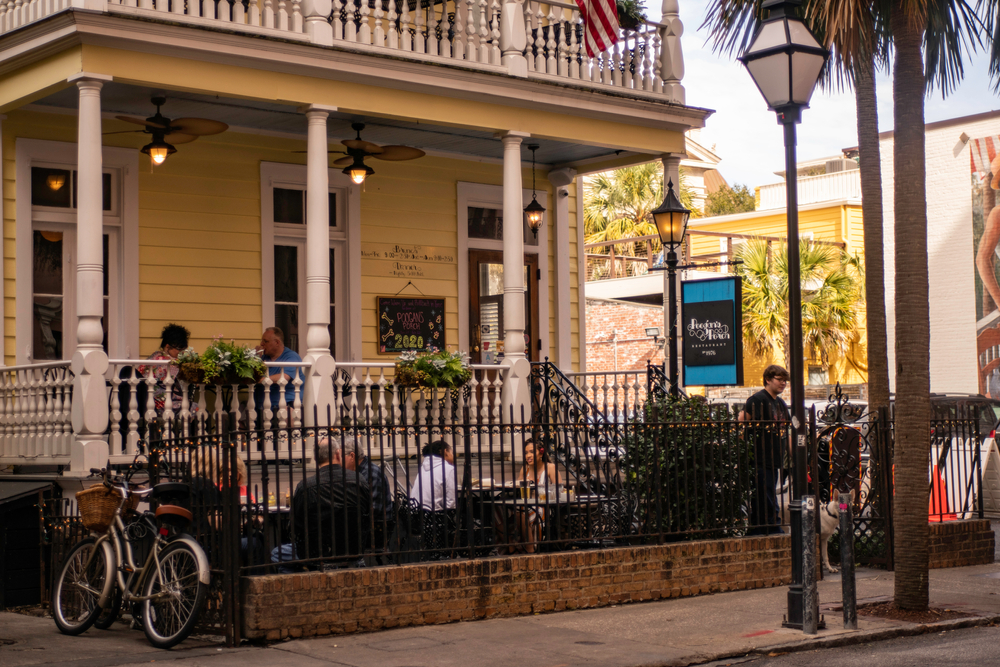 See a Show at the Dock Street Theater
For anyone interested in the arts scene, a stop by the Dock Street Theater is necessary!
Originally built in 1736, the theater was the first in the United States made exclusively for theater performances. The first opera performance in the U.S. also took place here.
The theater was destroyed in the Great Fire of 1740 and then rebuilt in 1809.
The theater is currently owned by the city of Charleston and operates year-round, showcasing productions from local artists as well as touring companies.
Visiting the Dock Street Theater and seeing quality performances is one of the unique Charleston activities!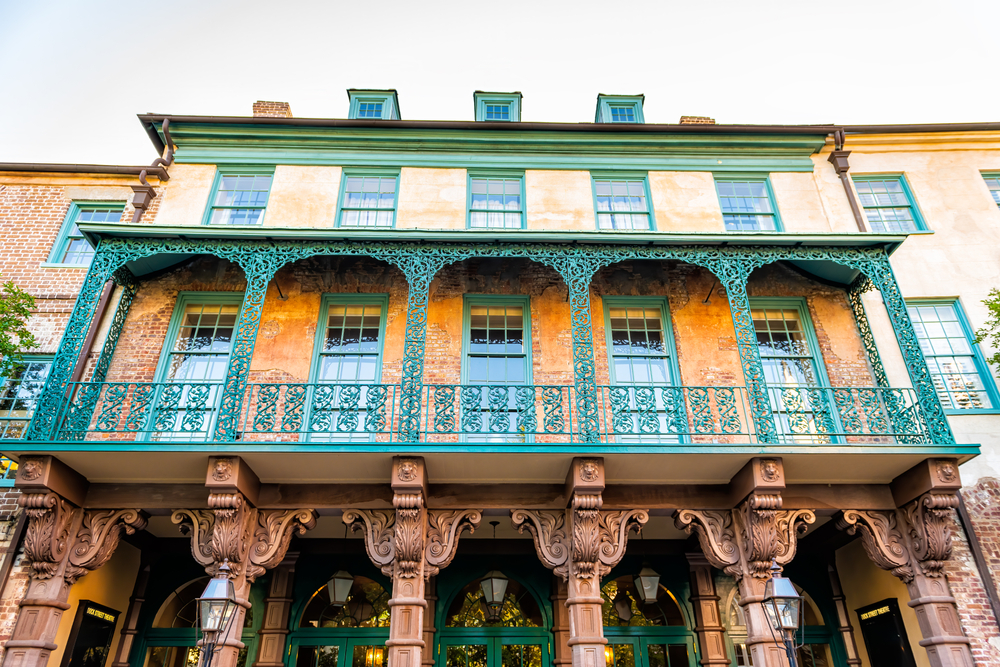 Take a Ride on the Schooner Pride
The Schooner Pride is a replica of the 18th-century tall ships that used to sail in the Charleston Harbor and offers sailing tours of the area.
One of the best things to do in Charleston is to spend some time on the water and there's no better way than sailing with the wonderful crew aboard the Schooner Pride.
Guests can relax and enjoy the breathtaking views as the ship sails through the harbor, passing the city of Charleston, the Ravenel Bridge, Fort Sumter, and many other staples in the city.
There is the option of taking the afternoon sail where guests can marvel at the wildlife and have a chance to see dolphins swimming nearby or at sunset to see the beautiful colors light up the sky.
The Schooner Pride is a perfect way to experience life on the water in Charleston!
Book Here: Charleston: Schooner Sailing Harbor Tour & Dolphin Watch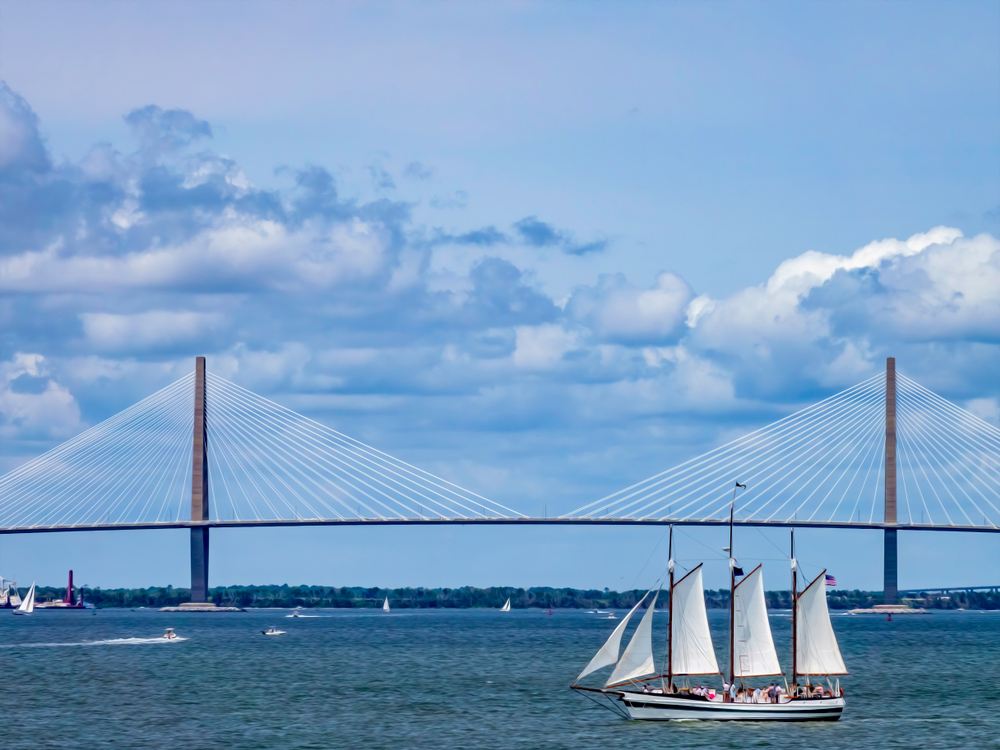 Step Back in Time at Aiken-Rhett House
When looking for one of the most unique things to do in Charleston, the Aiken-Rhett House Museum is the perfect stop.
While most buildings in Charleston have been renovated or restored, this house has been preserved. The furniture, architecture, paint, and decor are all as they were in the mid-1850s.
The Aiken-Rhett House Museum is open for guests to take a self-guided audio tour through the preserved home.
Visitors can learn the history of the people who resided here, including the lives of those enslaved on the property.
It is truly an eye-opening tour that gives a deeper look into some of Charleston's past.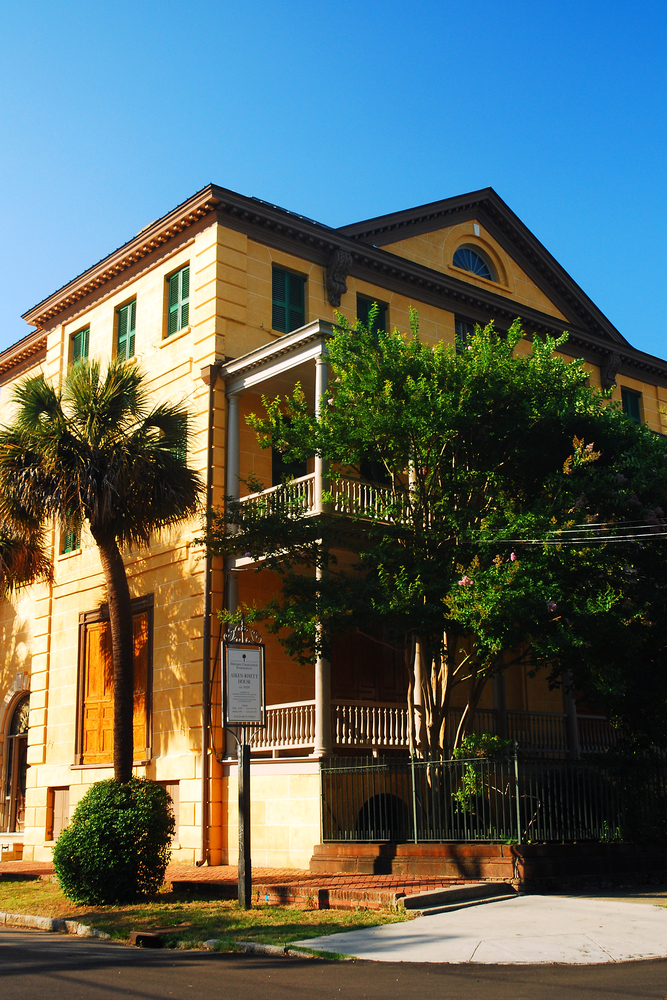 Find Amazing Views from Ravenel Bridge
For visitors looking to get some steps in while enjoying a nice view, walking the Ravenel Bridge is one of the best activities in Charleston.
The 2.5-mile-long bridge, recognized for its cable-stayed design, overlooks the Charleston Harbor and leads from the city of Charleston to Mount Pleasant.
While the bridge offers some of the most beautiful views from the top, some visitors might be swayed by their fear of heights.
In this case, there is a pier located under the bridge that offers the same views from a lower standpoint. Both the bridge and the pier allow visitors to see some of the most stunning views of Charleston!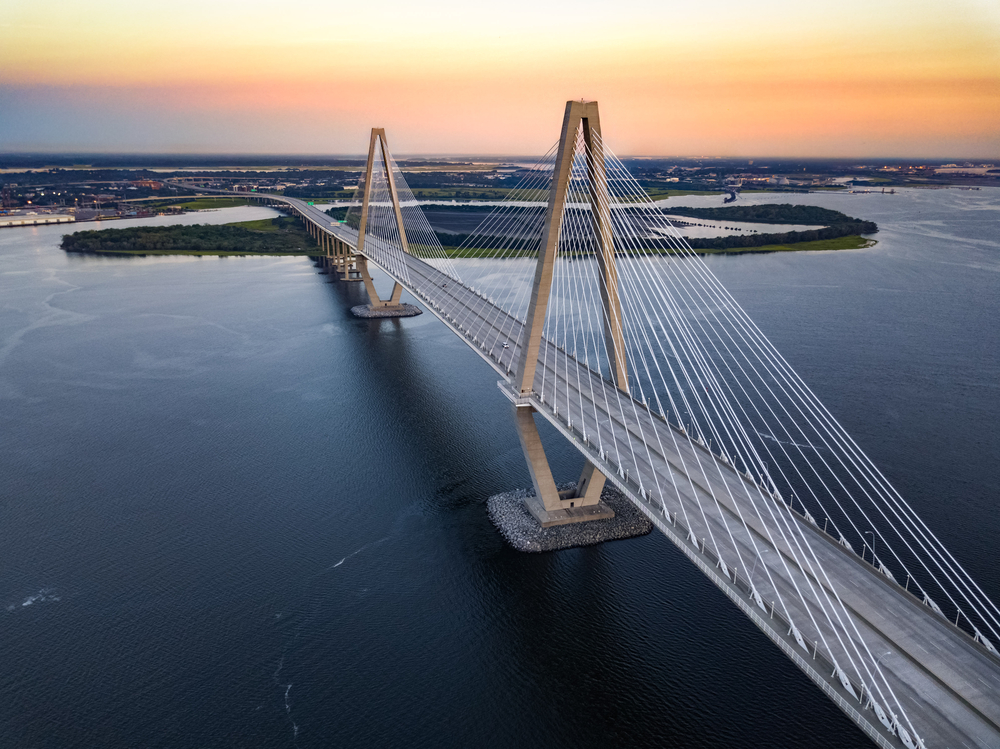 Old Slave Mart Museum
While slavery is a dark spot in American history, it is important to learn about this time.
You can do just that at the Old Slave Mart Museum which is housed where enslaved people had been auctioned.
The historic building was constructed in 1856. It was used in the slave trade until 1863. At one point, close to 40% of enslaved people entered the US through Charleston.
The Old Slave Mart was first used as a museum in 1938. It was not until 2007 that it became the museum it is today with a dedication to teaching about slavery.
You will find many artifacts, documents, illustrations, and personal accounts.
Many staff members can trace their lineage back to those who once passed through the mart.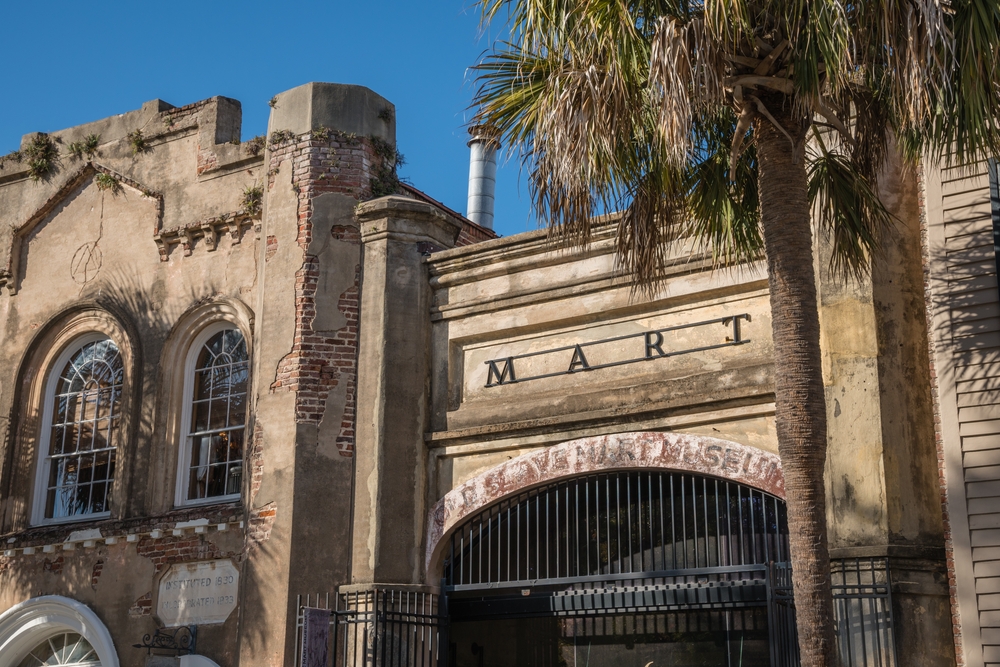 Watch Sunset from Waterfront Park
One of the most recognized areas in Charleston is Joe Riley Waterfront Park.
From the fun Pineapple Fountain in the center to the pier extending into the harbor, this eight-acre park is one of the best things to do in Charleston with kids.
Visitors can walk around the area and see views of the Ravenel Bridge, Fort Sumter, and the USS Yorktown from across the water.
Visitors can sit on the swings on the pier, watch the boats passing by, or look for wildlife in the water.
After a long day of walking around the city, Waterfront Park is the perfect place to relax! It is a great place to watch the sunset too!
A visit here is a must during a weekend in Charleston, South Carolina!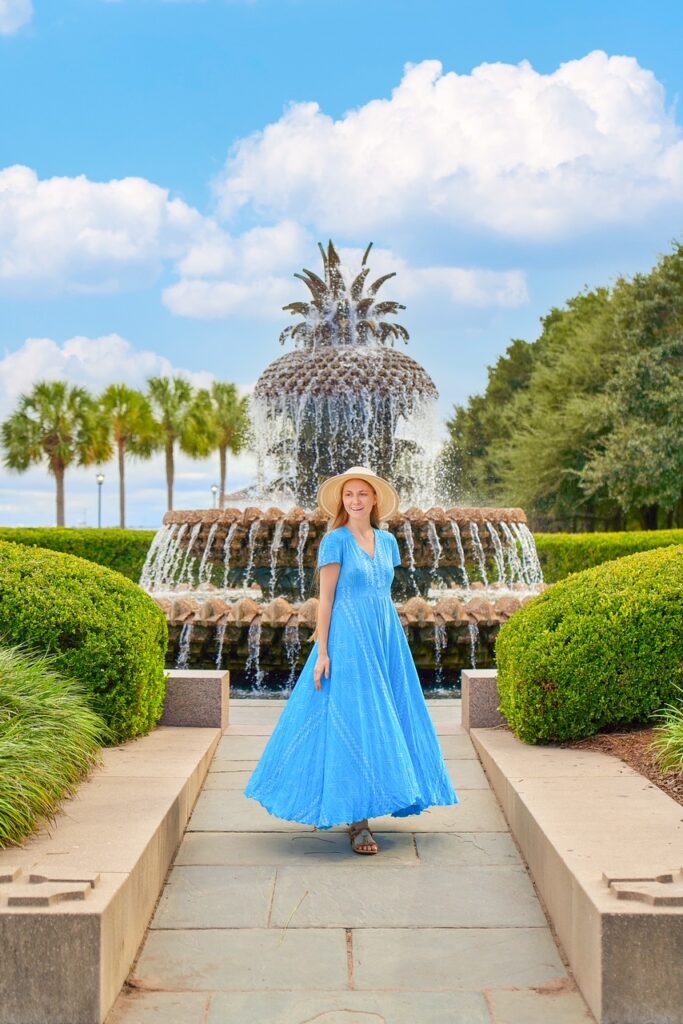 Visit the Islands and Beaches Near Charleston
If you want to enjoy a beach day, you do not have to venture far. There are so many great islands and beaches in Charleston to explore.
Folly Beach is about 20 minutes south and offers a beautiful escape from the city. Along with being perfect for sunbathing and swimming, this is one of the best beaches in South Carolina for surfing.
On the undeveloped Sullivan's Island, you will find amazing stretches of beaches as well as many lighthouses, historic buildings, and Fort Moultrie National Historical Park. This is one of the top islands in South Carolina for a beach vacation!
Looking for luxury things to do near Charleston? Head to Isle of Palms with its many resorts, golf courses, restaurants, and beaches.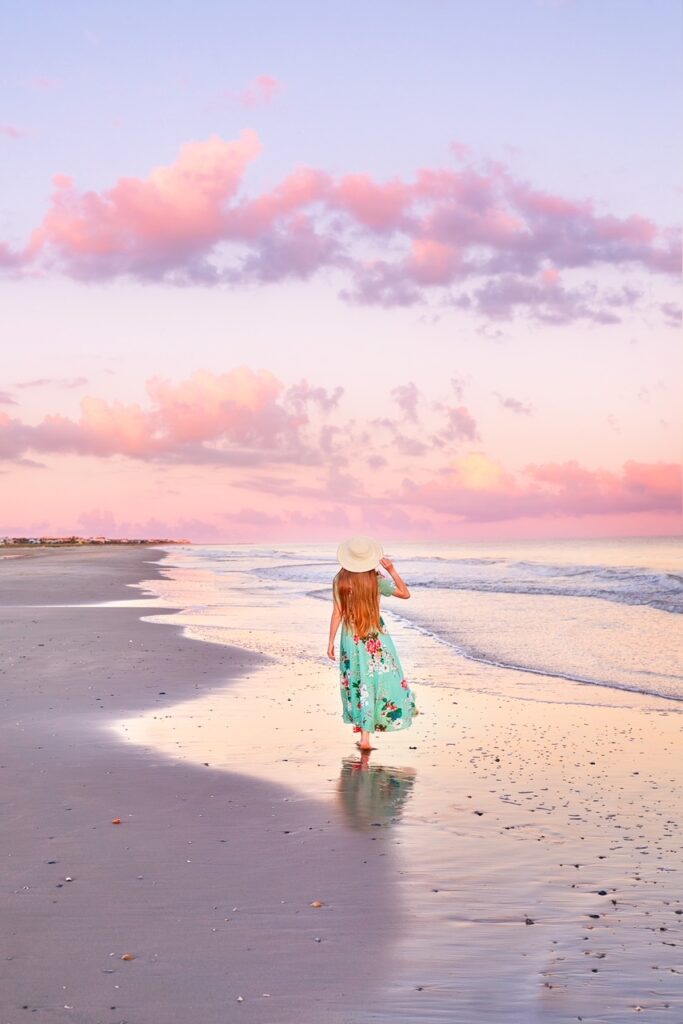 Take a Charleston Culinary Tour
Foodies will want to take a food tour in order to try the best Southern meals offered in Charleston.
Taking a guided tour takes the guesswork out of finding the top restaurants and food options in the city. Enjoy delicious shrimp and grits, hushpuppies, she-crab soup, Lowcountry BBQ, and more yummy dishes.
In between stops at local eateries, you will walk the pretty streets and learn about the history of the city from your tour guide.
When visiting Charleston, SC, you must take a culinary tour since food is a great way to learn about a location. This is a great activity for the whole family.
Maybe you'll discover a great place for breakfast in Charleston!
Book Here: Charleston: Historic Downtown Food Tour with Tastings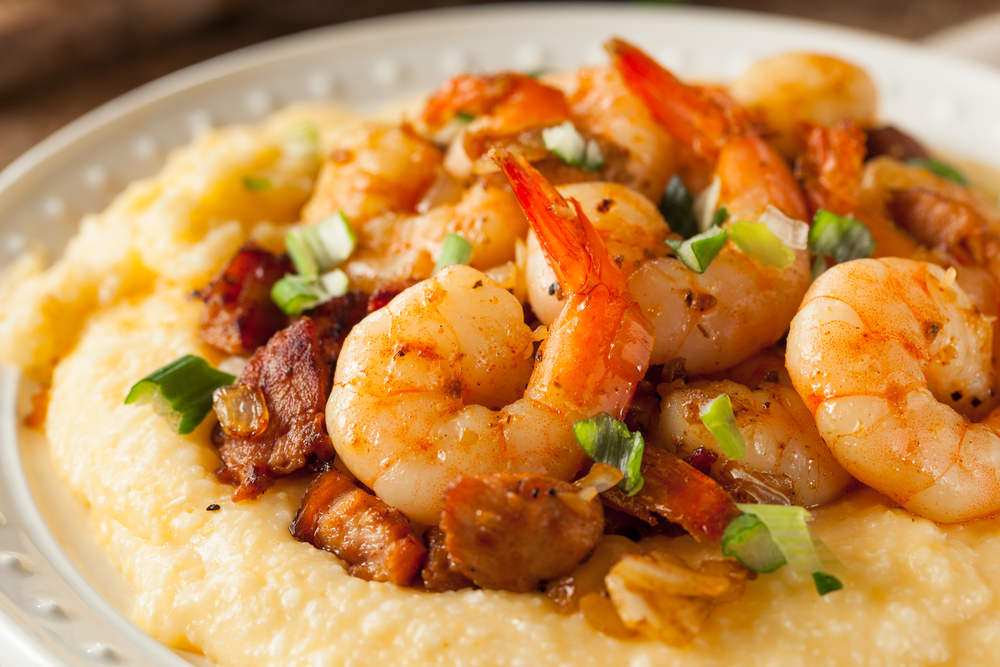 Grab a Drink at Camellias
Looking for a chic place for a drink in town? Camellias is a beautifully designed, premier champagne lounge at Hotel Bennett.
Named the Most Instagrammable Restaurant in South Carolina by Food Network, this is one of the best things to do in Charleston for adults wanting a relaxing bar scene.
You will adore the pink decor, crystal chandelier, and reclaimed marble.
The food menu features caviar, charcuterie, and local seafood. The is also an extensive champagne and wine selection.
The tasty cocktails include Honey I'm Comb, To Peach Their Own, and Keep Your Gin Up.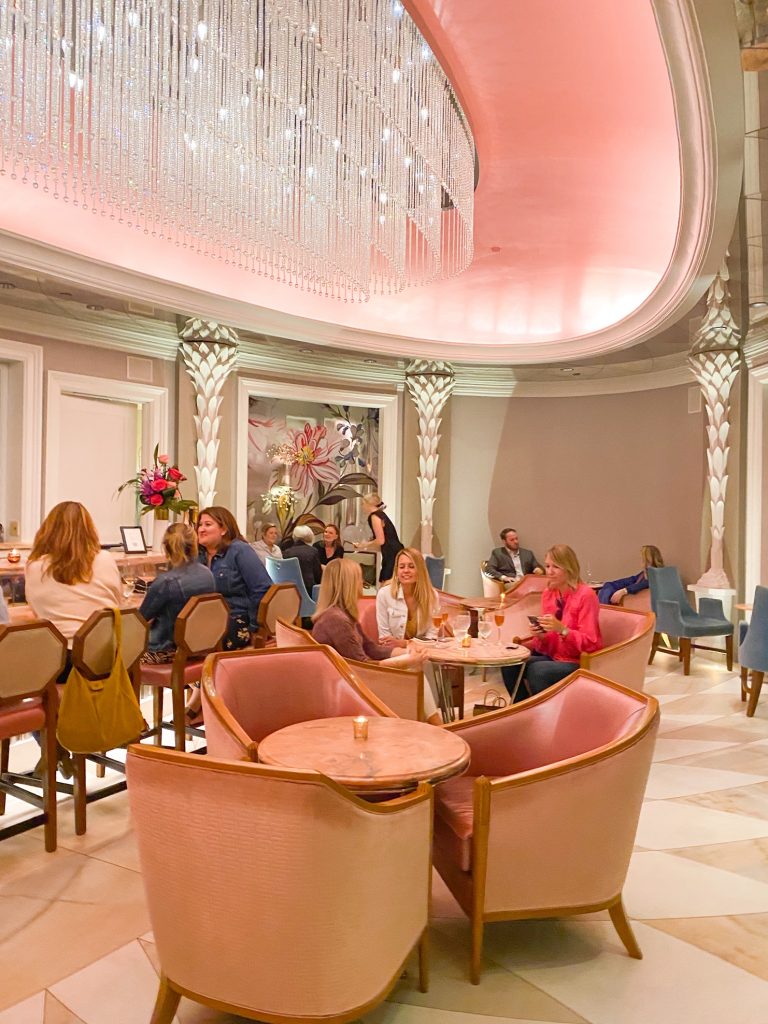 Shop on King Street
King Street is the historic shopping district in Charleston. According to U.S. News & World Report, it is one of America's Best Shopping Streets.
Whether you buy anything or just window shop, this is a great place in town for a stroll among beautiful buildings.
There are all sorts of goods for sale on this street. Shop for bridal gowns, antiques, candles, jewelry, books, vintage clothing, home decor, and more.
Purchase designer goods while supporting local businesses.
You will also find many trendy art galleries, restaurants, and bars. Check into one of the best boutique hotels in Charleston, too.
If you love shopping while traveling, you have to include King Street on your Charleston itinerary.
Book Here: Charleston: King Street Shopping Tour with Drinks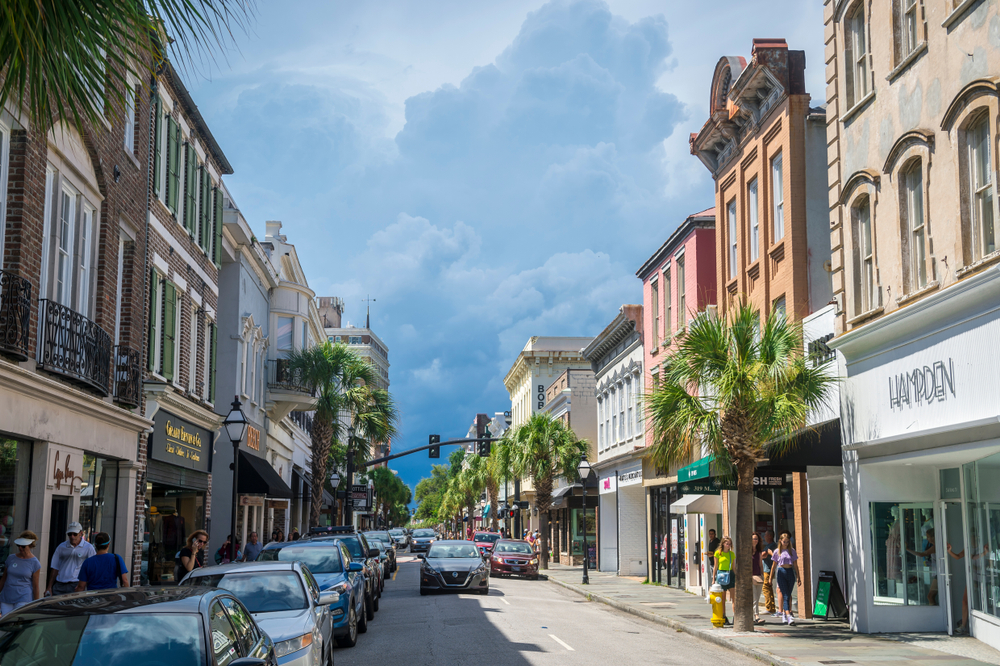 A Note About Visiting Plantations in Charleston
When searching for attractions in Charleston, you will often see things like Boone Hall Plantation, Magnolia Plantation, and Middleton Place pop up.
We want to take a moment to say that we recommend against visiting these locations. Based on personal experience, plantations tend to glorify slavery and sugarcoat the enslaved people's experience.
Touring homes built by slaveowners or hosting weddings where enslaved people were forced to work feels inappropriate.
While it is important to learn about this harrowing time in American history, we believe there are better ways to do so like visiting the Old Slave Mart Museum.
We encourage you to make your own decisions on visiting Charleston plantations, but please keep this in mind when planning your trip.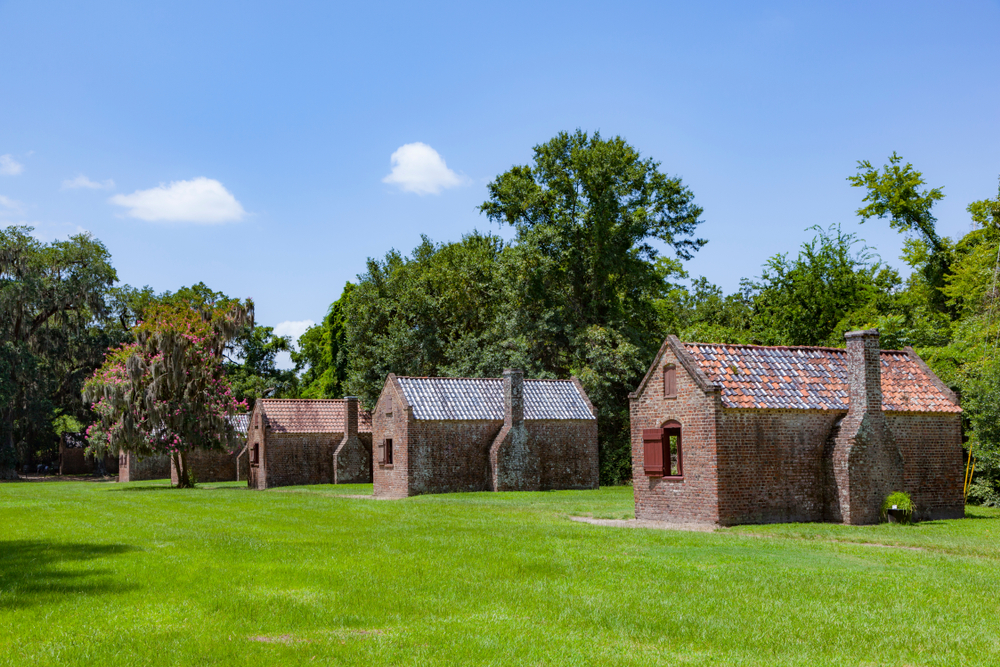 What About Carriage Rides in Charleston?
Another popular activity in Charleston we would advise against is taking horse-drawn carriage rides. This is for the sake of the horses.
The animals are often overworked or made to pull carriages in hot temperatures. Horses in Charleston and elsewhere are occasionally injured or even collapse while working.
Working in an urban setting side by side with cars is also not good for the horses' health or overall well-being.
There are so many other fun things to do in Charleston that it is easy to avoid taking a carriage tour.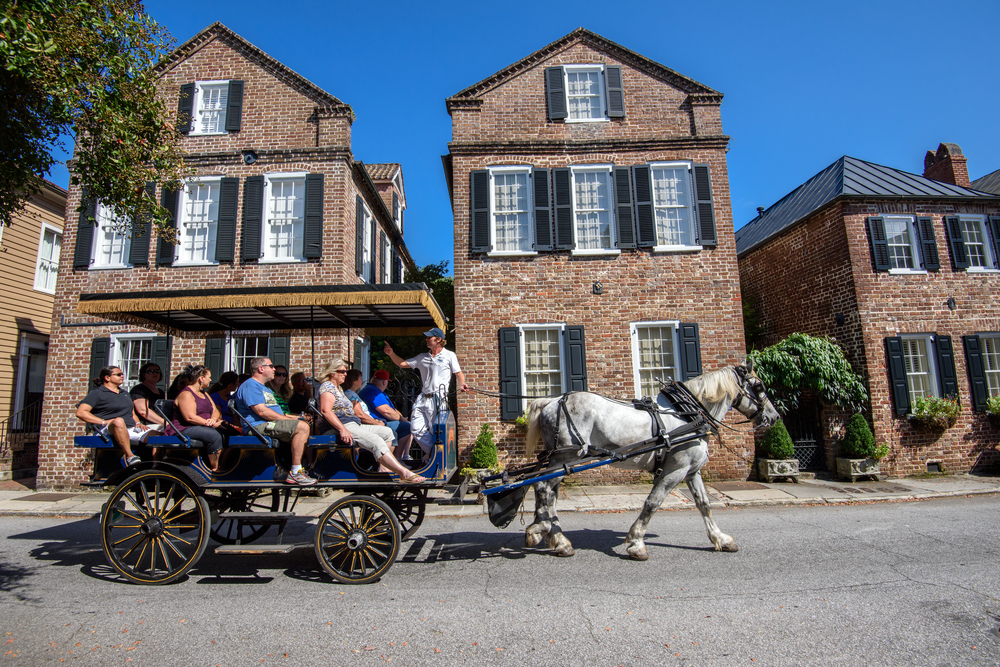 Hopefully, you have found some cool things to do in Charleston this weekend!
Next, check out some more of the best weekend getaways in South Carolina!