If you are looking for the best Restaurants In Baltimore, you have come to the right place! If you have never been to Baltimore or Maryland, you should know that they take their food very seriously. Especially their crab dishes. You will find plenty of crab shacks, upscale fine dining, and trendy breakfast restaurants.
This port side city is full of fun things to do, so you are going to need to find where and what to eat in Baltimore so you keep your energy up! There are spots here all around town with a bunch in the popular inner harbor. Baltimore has a lovely culinary scene and you will be able to find any and every time of food here.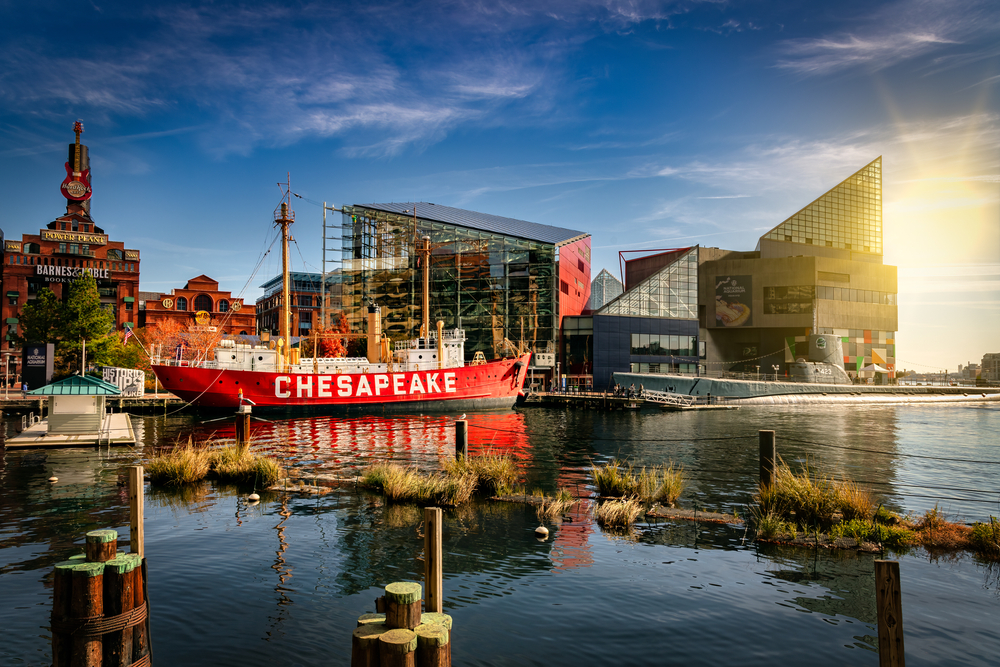 15 Best Restaurants in Baltimore MD You Must Try!
Jimmy's Seafood
Up first is one of the most popular restaurants in Baltimore, Jimmy's Seafood. People come from all over the state for their famous crabcakes. Most places use filling in their crab cakes but at Jimmy's, you can expect big lump meat. You can order any type of seafood here from fried shrimp to fresh mussels.
Jimmy's Seafood has a very family-friendly environment but, it would also make an amazing date night out. Swing by any time of the day they are open for lunch or dinner, starting at 11 am. The bar area stays open late until 2 am every night. Come in early on the weekends starting at 10 am to enjoy the best bunch and seafood in Baltimore Maryland!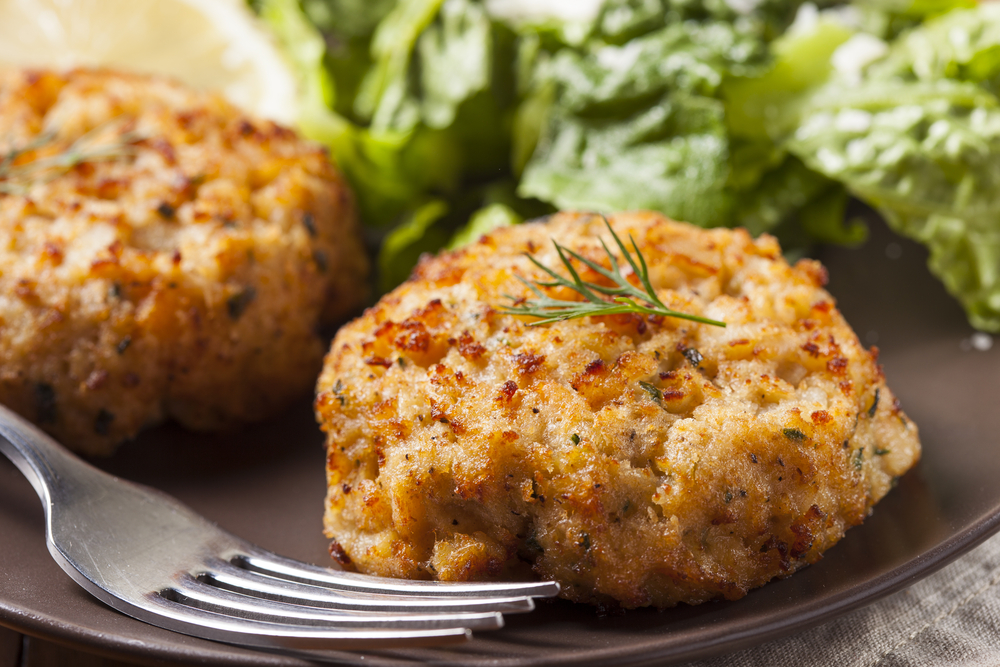 Woodberry Kitchen
If you are looking for where to eat in Baltimore the Woodberry Kitchen is always serving fresh, new local food. They have been open for over 15 years and only use local, seasonal, and fresh items. The vibe is warm and welcoming with a cozy vibe, which makes it an amazing place for a date night out.
Many people opt for the small plate option and order a bunch of plates to share family style. Both dinner and brunch get very busy so reservations are required. Head over to the website you can make a reservation for inside or out on the cute patio.
This is a great place to add as a stop on your Weekend In Baltimore Itinerary!
Maximon
When eating at Maximon you will have amazing Mexican food with a southern fusion. Both inside and out are incredibly beautiful. Expect to experience a fine dining environment on the beautiful Patapsco River. Plus, they have some of the best food in Baltimore. You can visit early before you start your day for breakfast. Try the buttermilk pancakes or freshly made omelets. Plan for dinner around sunset and enjoy the live Latin or Jazz music.
Maximon serves mostly tapas plates and sources as much as they can from local suppliers. The mussels and ceviche are always fresh and a crowd favorite. If you trying with someone who doesn't like seafood their beef ribs and wagyu steaks are just as good.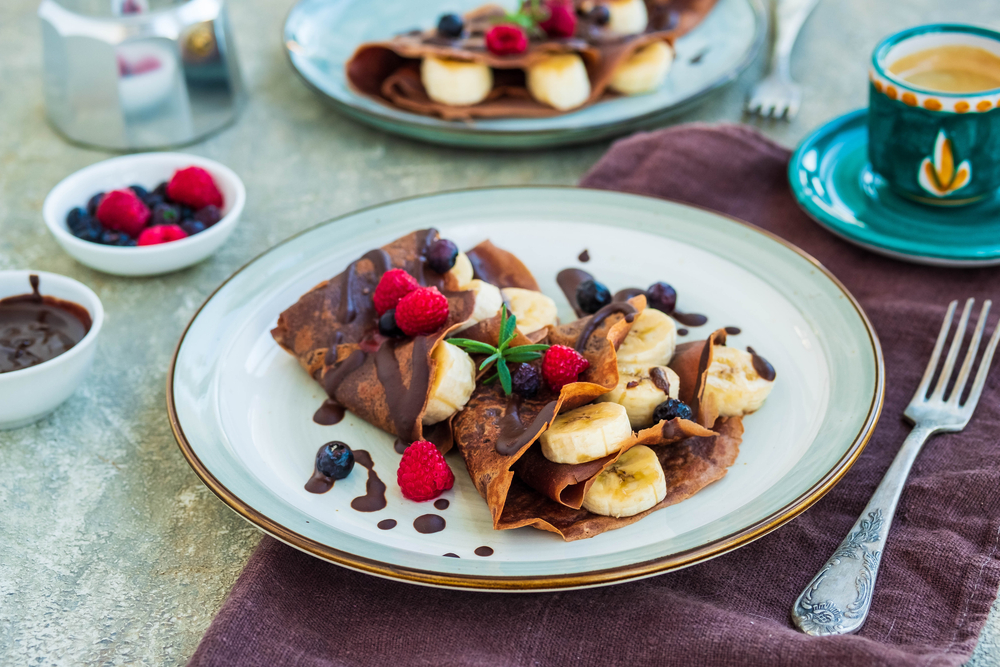 La Scala Ristorante Italiano
You are going to love dining at La Scala, they are one of the best Baltimore restaurants for breakfast, lunch, and dinner. You will find them in the heart of Little Italy and serve authentic Italian food.
Treat yourself to the lobster Regin or try the local's favorite the Veal scallopini. What makes it so special is the scallopini has Maryland crab and shrimp in a white wine sauce. All the pasta dough is homemade in-house daily.
Head over to their website to make a reservation to ensure you get a table. The super cute patio is open during the warmer months and fills up fast. When you are visiting Little Italy you have to stop here it is one of the best restaurants in Baltimore.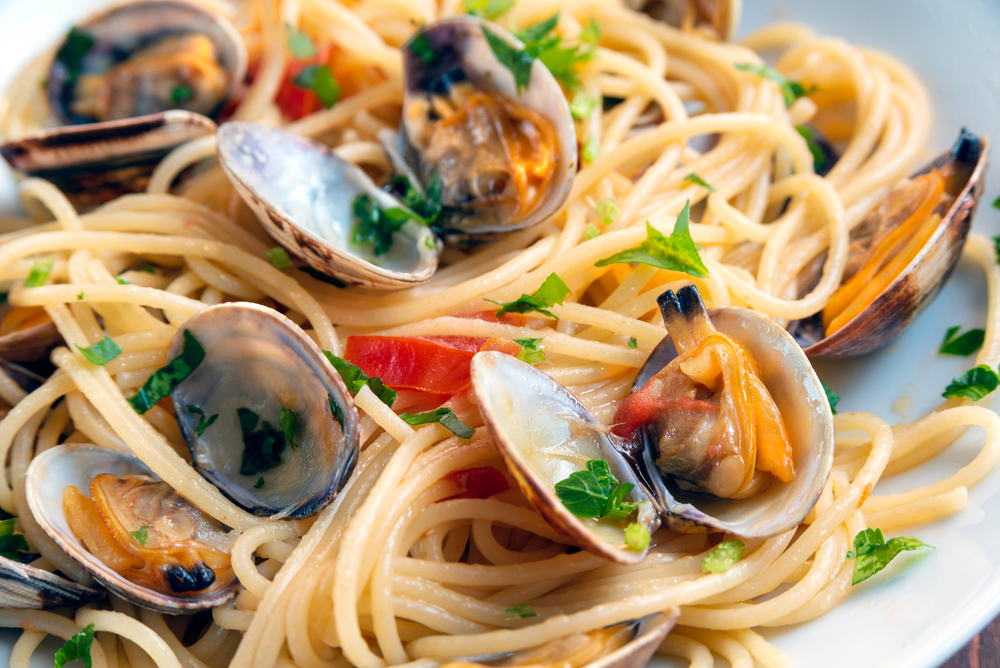 Barcocina
If you love tacos and looking for places to eat in Baltimore, Barcocina is your place. They are a hip waterfront Mexican restaurant in the inner harbor. On the menu, you will find a large variety of specialty tacos. The Korean BBQ, roasted brisket, and Peruvian chicken tacos are some of the top sellers.
For all the vegetarians out there, you have to try the buffalo cauliflower ones. For a heartier dish, shrimp pasta or quesadillas are a great option. Barcocina also serves brunch every day until 11 am with fun hashbrowns tacos and fresh cocktails. Try grabbing a table outside around sunset, the views are amazing.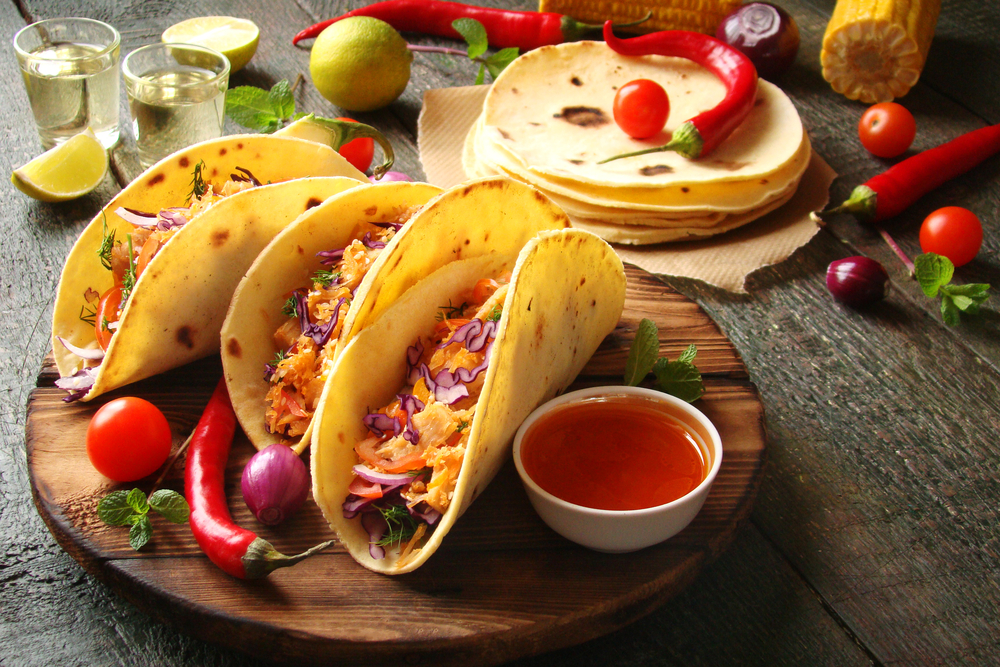 Papi Cuisine
Start your meal off with one of their small plates, or if you are in a big group order a bunch for the table. The crab cake or surf and turf french fires are incredible. The atmosphere is fun and the service is top-notch. Papi Cuisine is a top spot for the best dining in Baltimore, so it is best to make a reservation for lunch or dinner.
If you do not reverse a table beforehand you can still head in and grab a table at the first come first serve bar area. Some of the favorite items on the menu are Jerk lamb chops, stuffed salmon, and of course crab cakes. Or order two main dishes to enjoy one of the combo options. They also have an option where you can create your own pasta with fresh seafood, veggies, or meat options.
Twist Fells Point Restaurant
There are so many reasons why people come back to Twist Fells Point restaurant over and over again. Besides all of the delicious American-Mediterranean food, the BYOB option is another reason to go. Fells Point restaurant also has the best brunch in Baltimore.
The variety of french toast and pancakes could make even the pickiest eater happy. You can add items like fresh fruits, dark chocolate chunks, or toasted almonds. For dinner options, seafood is always fresh and local. The yummy greek burger or the lamb chops are also great menu items filled with flavor.
Azumi
For the best Baltimore food, Azumi is where you need to be. They have sushi, fresh seafood, delicious salad, and juicy steaks on the menu. They are inside one of the luxury hotels in Baltimore, the Four Seasons. Dress to impress and head out for a fine dining experience. The view from the dining room is almost as good as the wagyu fried rice.
The sushi menu is full of your favorite rolls and a few specialty rolls the chefs create. Order the chef's Sashimi or Nigiri plates for the freshest and best sushi and sashimi pieces. There is also what they call the "flame room" where they cook the food right Japanese steak house style. Be sure to make a reservation for the main dining room or flame room because they do get busy!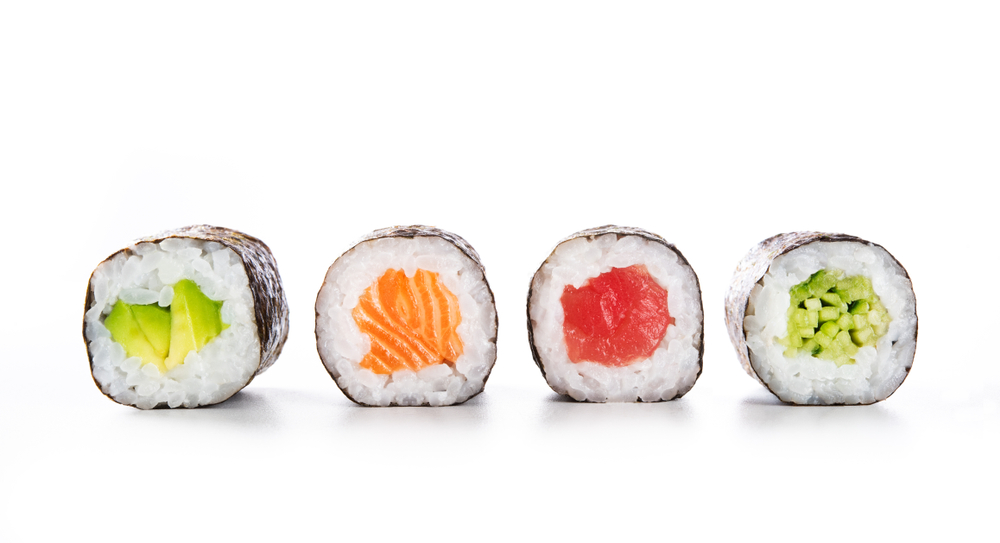 Tagliata Chophouse
For authentic Italian dining in Baltimore Tagilata will hit the spot. Everything from the sauce to the bread is done right. The atmosphere is sophisticated and romantic with a live pianist playing in the dining room on most nights.
Some of the most loved dishes are the squid ink pasta with crab, salmon bruschetta, and dry-aged steaks. The servers will help you pair your wine from the huge section in the seller. The lunch menu is a bit smaller with homemade pasta, antipasti, and fresh salads with all the toppings.
The Food Market
The Food Market is an open kitchen concept inside an old grocery store. This would be one of the good restaurants in Baltimore for a birthday celebration or a fun night out because they have big picnic-style seating. The fare is usually American cuisine with fun cocktails. The menu changes with the seasons to ensure that everything stays fresh and healthy.
Some of the staples to try are the shea crab soup, and beer cheese pretzels, and be sure to save room for the bread pudding, it is legendary. Stop by anytime from 5 pm to 9 pm to grab yourself the best dinner in Baltimore.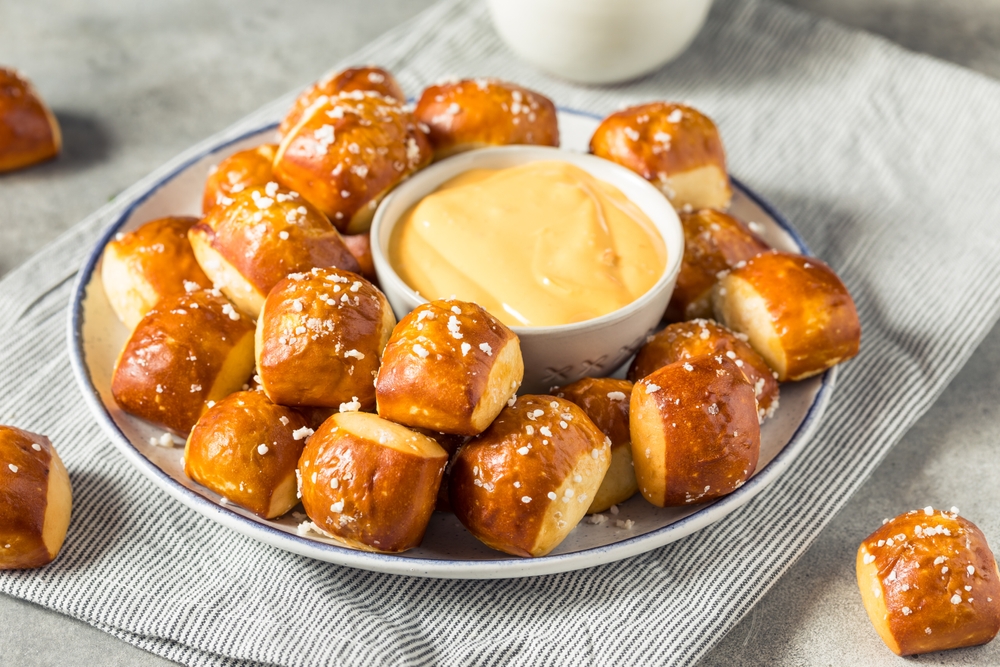 Sotto Sopra
Sotto Sopra is an Italian fusion restaurant in the best part of the city. When dining here you will be around the best art galleries in the city. Many people plan to take a tour around the galleries to build up an appetite. Sotto Sopra is beautifully decorated with high-class touches. Stop by early, they open at 12, for the best lunch in Baltimore.
You can stop by for a quick pizza and try one of the local craft beers on tap. Or you can grab a table and take your time ordering appetizers, meals, and desserts. The chocolate fondant is very recommended. For main courses, there is risotto di Gamberi, which is made with local shrimp, different cuts of steak, and so many pasta choices.
Rusty Scupper Restaurant & Bar
Rusty Scupper is more like a landmark than just a restaurant. They have been serving up freshly caught seafood for over 30 years and are one of the very best Baltimore harbor restaurants. The restaurant has an old-world feel to it, with a gorgeous view of the harbor from every table. There is indoor seating or grab a table on the upper deck for a special view. You can stop by for brunch on the weekends starting at 10:30 am.
The dinner menu is full of local and tourist favorites like charbroiled whole fish, surf and turfs, and freshly made soups and salads. There is a little bit of something for everyone here. If you cannot decide what to get the Rusty Scupper Tower is a seafood mix with all the best and freshest catches of the day.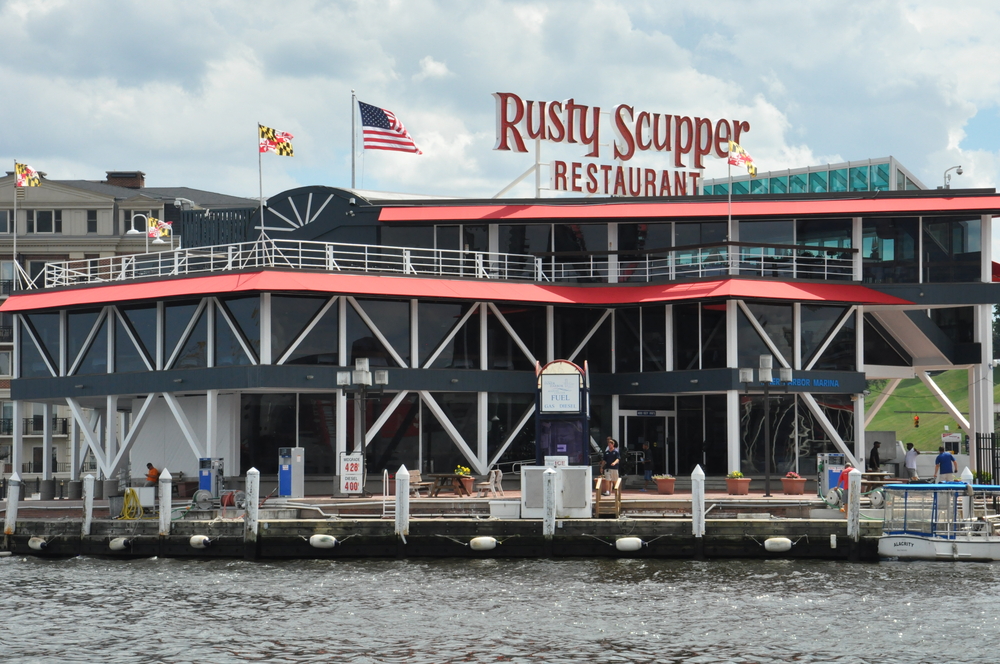 Fogo de Chão Brazilian Steakhouse
Fogo de Chão is one of the best restaurants in Baltimore for families. Here you can experience the all-you-can-eat steakhouse that Brazil is so famous for. All of the meats are roasted over an open flame and the wait staff brings around large pieces and cuts every piece fresh for you. It is not all just steak either, the Parmesan Garlic Roasted Pork is a crowd favorite.
They also have a fresh salad bar that is self-serve with plenty of fresh options on there. On the weekends you can enjoy the special brunch menu with wagyu steak and all-you-can options as well. If you are looking for a fun night out to treat yourself the Fogo de Chão would be the perfect place for you.
Blackwall Hitch
Blackwall is located down by market place in Downtown inside an old building that was built back in 1911. The outside patio has an amazing view of the harbor and makes for a great night out on the town. You can stop by for lunch and dinner ont he week days and for the weekends they open early for a fabulous brunch.
If you make it time for happy hour you can sit at the bar and enjoy special priced items. The menu if full of great choices like flat breads, crab options, grilled porkchops, or the baked brie burger is a smash. You do not want to miss out eating at one of the restaurants in downtown Baltimore with a view.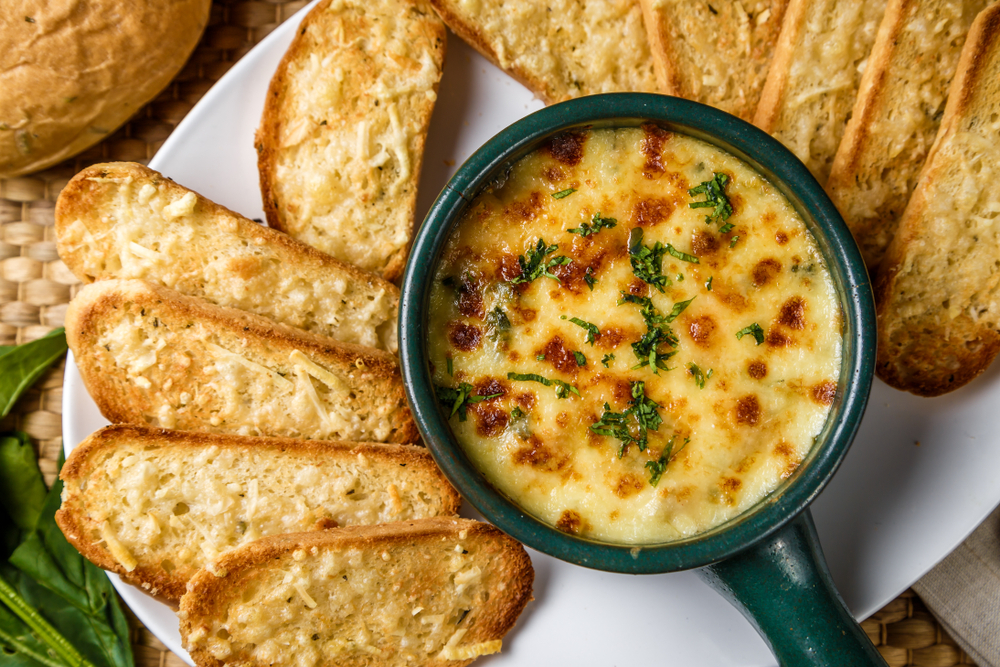 Nick's Fish House
If you could only pick one of the waterfront restaurants in Baltimore go to Nick's Fish House and grab a table on the deck if the weather is nice. The menu is full of seafood options like lobster mac and cheese, stuffed shrimp, crab cakes, and an amazing cream of crab soup. If you are looking for a snack the deck fries are full of lump crab meat and a special sauce.
After a long day, you can order yourself one of the many draft beers or try a refreshing Maryland Mule. For dessert, they have a decadent chocolate cake, apple cobbler, or a yummy bread pudding. This is one of the best restaurants in Baltimore for not only food but happy hour too!
Miss Shirley's Cafe, Inner Harbor
If you are looking for the best breakfast in Baltimore Miss Shirlyes has a seat for you. There are two different Miss Shirley Cafes. One in the inner harbor and another location in Rolan Park. Plus, they serve brunch every day of the week.
You can expect local southern favorites like fried green tomatoes, chicken and waffles, and shrimp with gits. You can also get lighter fares like egg white omelets or nana's grapefruit brulee. If you are a sweet lover the funky monkey bread, banana chocolate chip muffins, and coffee donuts. Miss Shirley's Cafe has been voted over and over as one of the best restaurants in Balitmore Maryland.