If you're wondering where to stay in Nashville this is the accommodations guide for you! There are so many amazing hotels, vacation rentals, bed and breakfasts, and more in this wonderful city. And lucky for you, we have narrowed down some of the best ones!
Planning your trip to Nashville last minute?
Make sure to book your hotels and tours in Nashville in advance to ensure availability! The longer your wait, the harder it gets. Here are our top picks for your trip:
Top Experiences And Tours In Nashville:
Top Picks For Hotels In Nashville:
Nashville is a city known for legendary country music venues, its great food, fun nightlife, and more. You will not find a city that plays such a big role in music's history– where else can you find the Grand Ole Opry or Ryman Auditorium? Nashville is known as Music city for a reason– and because of that, there are plenty of places to stay in Nashville.
This guide features the best hotels in Nashville and more. There is no more need to worry about where to stay in Nashville– because we have got you covered! So book a stay, and enjoy Music City! (And if you're looking for more: check out our things to do article or our suggested itinerary!).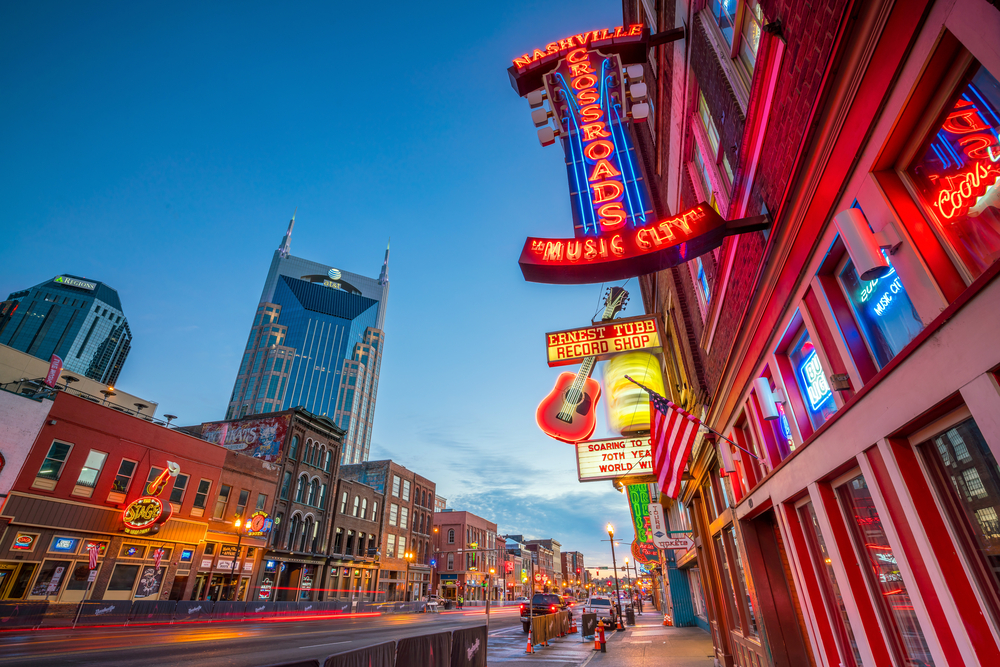 Understanding Nashville Neighborhoods
When considering where to stay in Nashville, you can't really go wrong. Each neighborhood has a distinct character to it. Some even argue that the vibe in each neighborhood makes it feel like you are visiting multiple places inside one city!
The best places to stay in Nashville range from the skyline in SoBro to the Honky-Tonk Highway of Downtown. Or if you want something recently re-imagined, check out The Gulch, Midtown (AKA Music Row) or even the West End. All these places are the best areas to stay in Nashville, so it may be hard to pick just one to visit. Have you considered staying in multiple neighborhoods on your trip?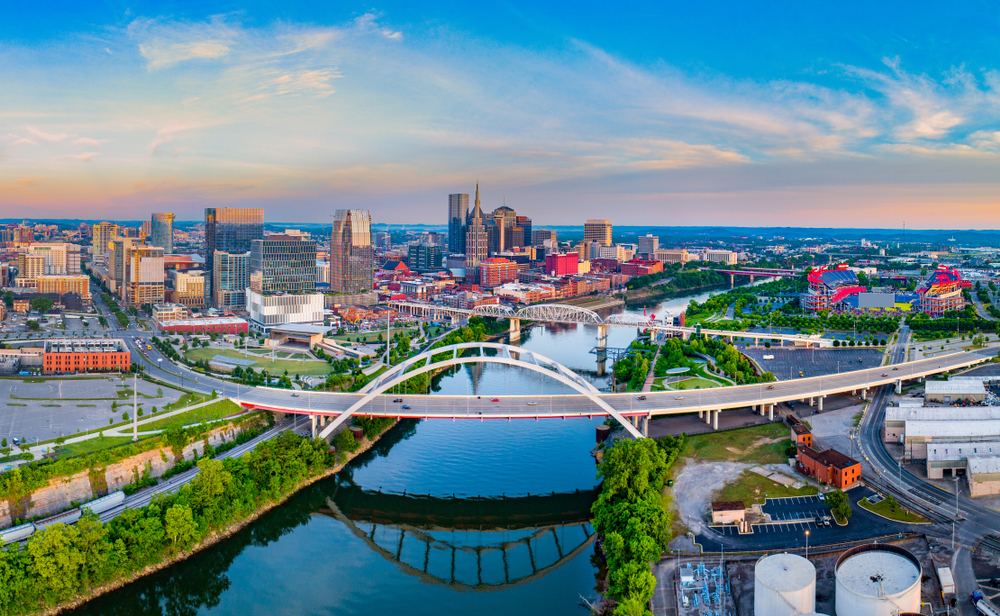 SoBro is Where to Stay for First Timers
If you just so happen to be visiting Tennessee's capital for the first time, Sobro is the best neighborhood to stay in Nashville. This lovely neighborhood is within walking distance of Downtown and is up and coming! With new hotels opening, the Country Music Hall of Fame, and gorgeous skyline views, you don't want to miss Sobro!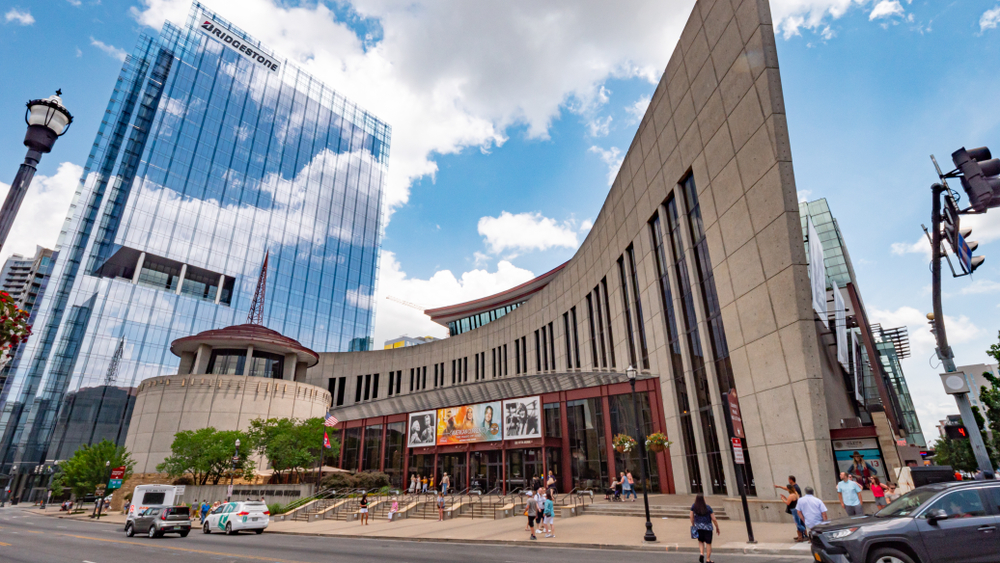 Best Places to Stay in Sobro, Nashville
Sentral SoBro
Of all the best hotels in Nashville, Sentral SoBro has to be there! When considering lodging in Nashville, this hotel is located just 9 minutes from the Bridgestone Area. This means there are popular points of interest nearby, like the Johnny Cash Museum and more!
Better yet, these gorgeous rooms are perfect for those who are considering where to stay in Nashville with kids because each room is fully furnished. That's right– you get a kitchen!! Combined with a shared lounge and a huge outdoor pool, the sun terrace is also fantastic. It may be a place to consider for the best vacation rentals in Nashville as well. Here you can stay a while!
Check Rates: Booking.com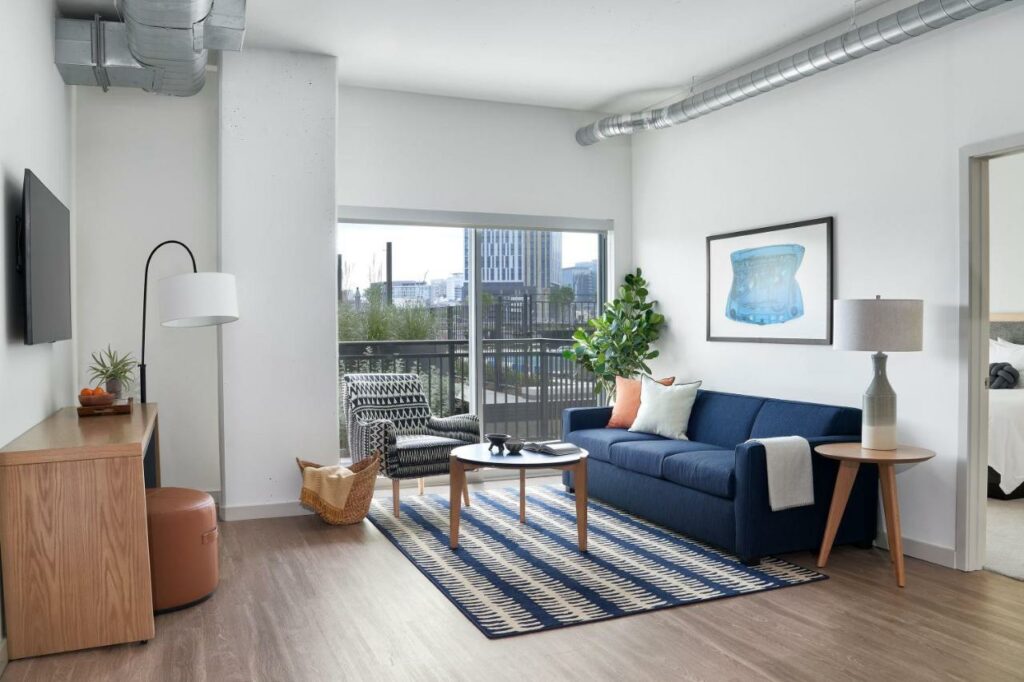 Country Music Hall of Fame, SoBro/Downtown Area
Who says you can't find paradise in Nashville? With this modern resort, this studio is perfect for escapism, and it really is where to stay in Nashville. Combining "island" vibes with Nashville's attractions, you will be able to relax with the king-size bed, sofa, and more.
Better yet? When considering lodging in Nashville, this is one of the best places to stay in downtown Nashville (aka SoBro)! You are only 5 minutes from the Country Music Hall of Fame, and 25 minutes from the Grand Ole Opry. Being close to nightlife will have you so excited– and the rooftop deck is also to die for here!
Check Rates: VRBO.com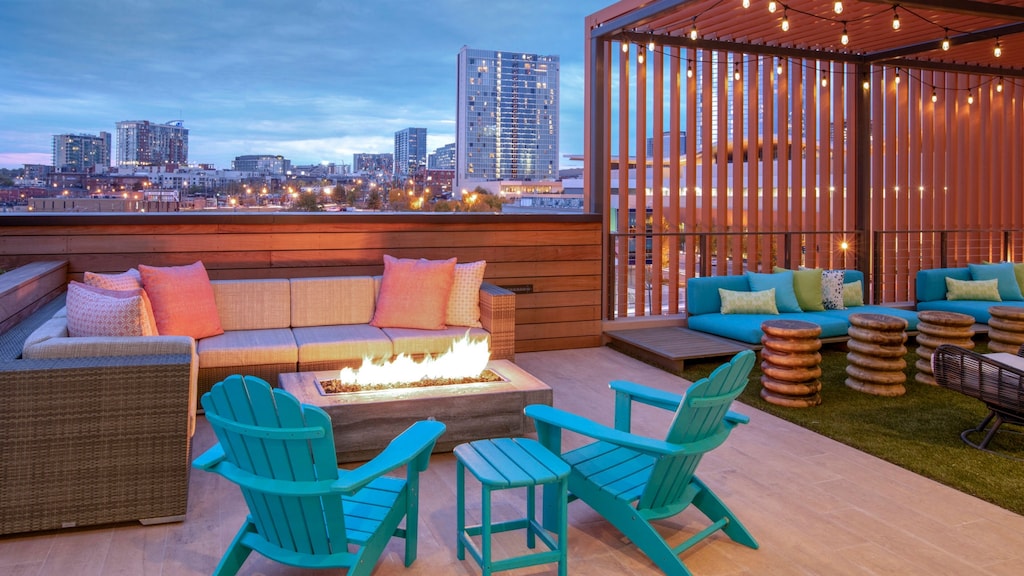 Downtown Nashville is the Best Area for Nightlife and Dining
No matter where you choose to stay in Nashville, you won't be disappointed. But if you need some more entertaining experiences with nightlife and great food, pick downtown!
From sightseeing all the classic, touristy places, to getting down at honky Tonks, downtown is for you! This area features many of Nashville's attractions in addition to venues, bars, museums, historic landmarks, and many of the best Nashville restaurants. So if you want to walk down Broadway (nicknamed "Nashvegas" make sure to grab a drink, and then check out something like the Johnny Cash Museum!
Make sure to check out our epic list of the Best Things To Do In Nashville At Night for nightlife and more!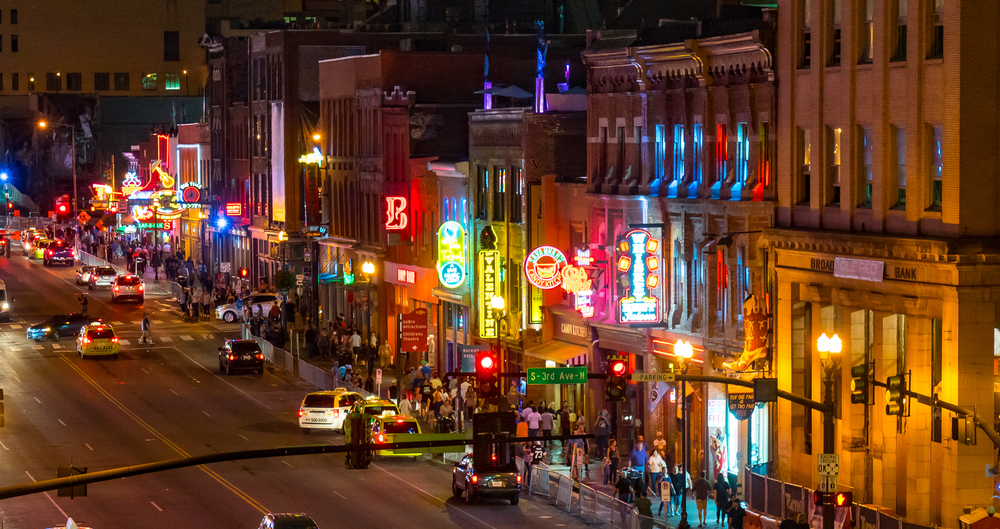 Best Places to Stay in Downtown for Sightseeing
Homewood Suites by Hilton Nashville Downtown
The best neighborhood to stay in Nashville has to be downtown. The close proximity to major attractions, great food, and wonderful experiences have it all. But when you factor in stunning lodging like the Homewood suites, you really won't want to leave!
Homewood suites is only steps from popular attractions. And with rooms that have kitchenettes, daily breakfast, and reception with wine, beer, and light bights, it is the perfect way to ease into your downtown adventures. With easy parking, family rooms, and being pet friendly, you might just want to stay here forever.
Check Rates: Booking.com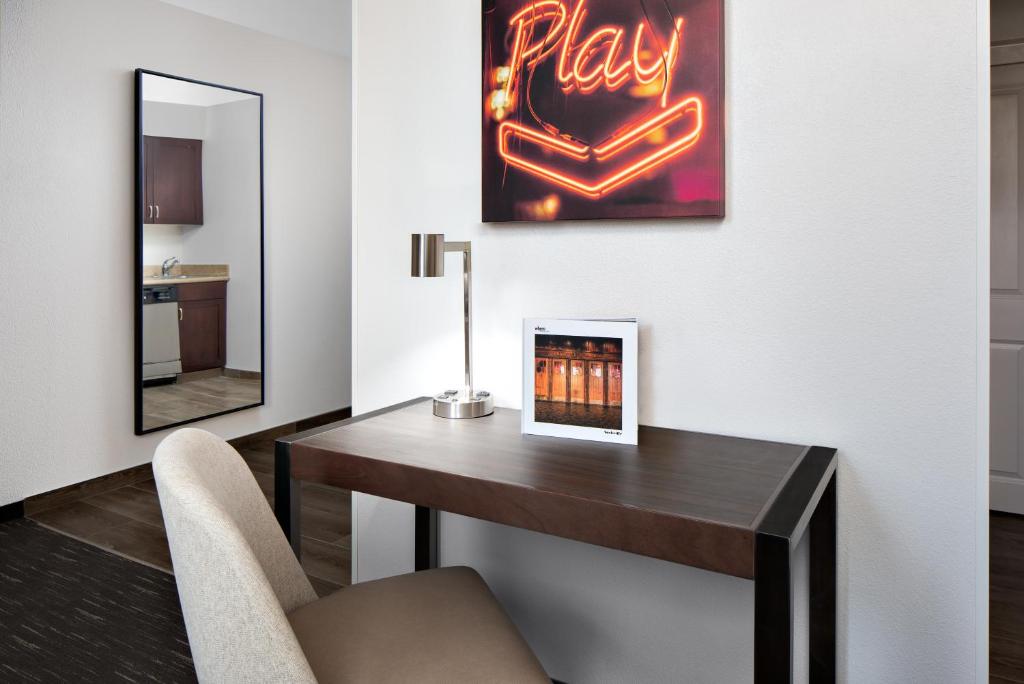 Sheraton Grand Nashville Downtown
Stay in the heart of Nashville at the Sheraton. With only being a 5-minute walk from the Ryman Auditorium, and the Bridgestone Arena, this property is in the middle of everything. Plus, the city views are to die for. It is perfect Nashville accommodations!
Better yet, while this is not one of those bed and breakfasts in Nashville, there are fun on-site dining options that have great food. The Library Bar and Skye Lounge are hip and entertaining and perfect to stay for your downtown adventures. The rooms here are also well designed, cozy, and private. So while you will love spending time outdoors seeing the skyline, you'll also enjoy being inside here!
Check Rates: Booking.com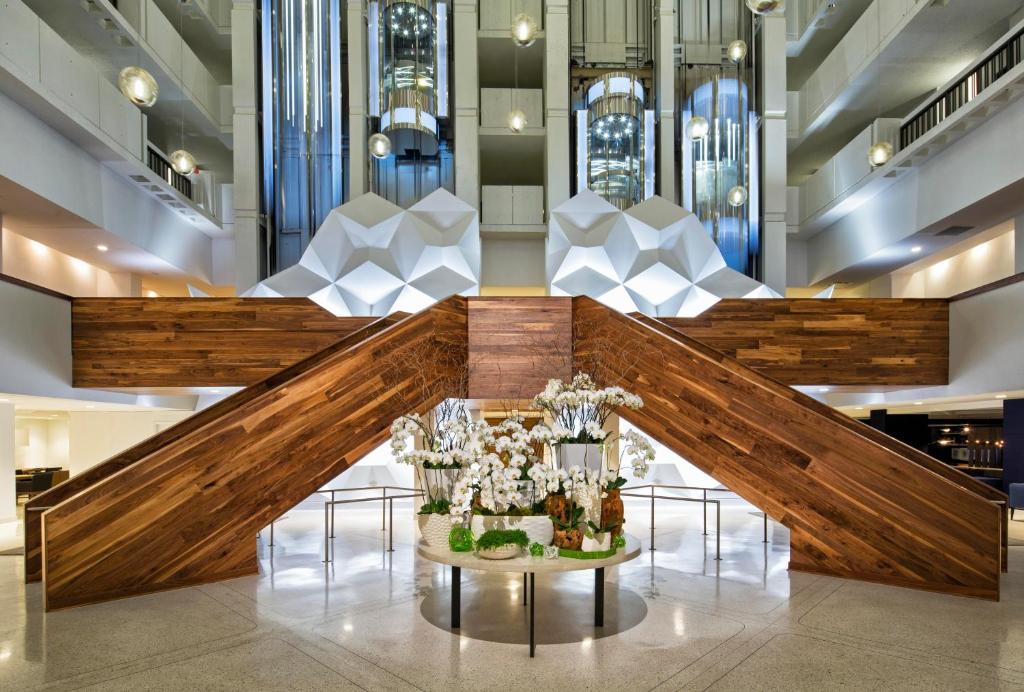 Riverfront Delight on the Cumberland: Downtown Condo
We know when choosing where to stay in Nashville that you have plenty of options. But renting vacation rentals that allow you to have whole condos to yourself just might be the way to go! This Riverfront condo is less than half a mile away from Broadway and Downtown Nashville. Plus, the stunning views of the Cumberland River are to die for!
This Condo is traditional in style but totally comfortable for you and your space. It will be the perfect "home" for your vacation. The French doors that lead to the views of the river are iconic, and having a kitchen bar and balcony will allow you to rest and relax and enjoy every minute of your vacation.
Check Rates: VRBO.com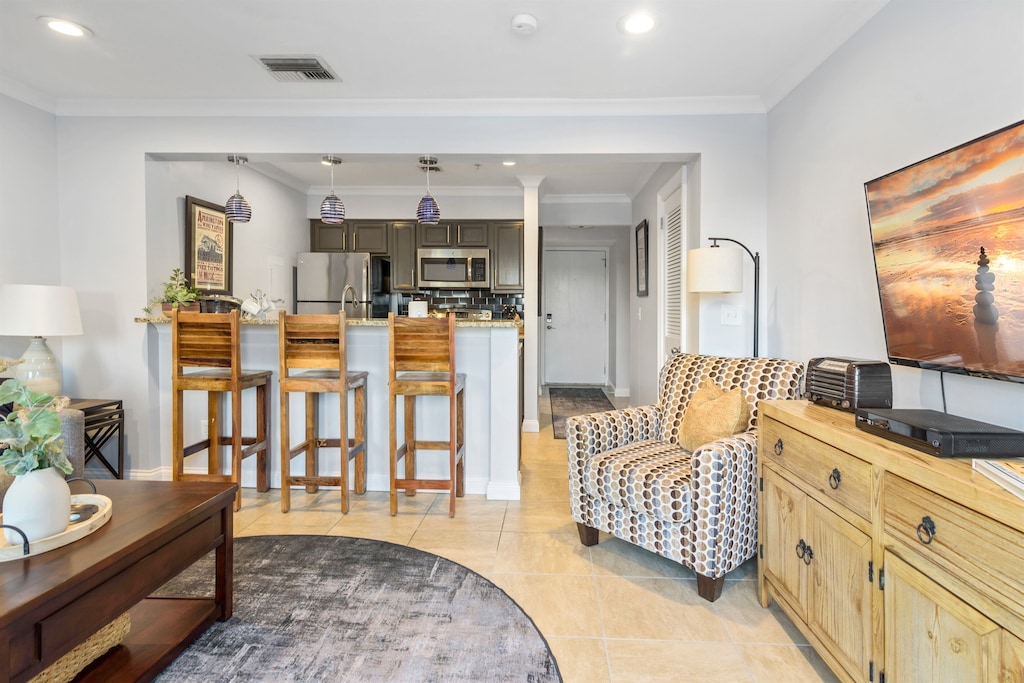 Music Valley is the Best Area in Nashville for Families
Looking for where to stay in Nashville with kids? No worries! We've got you covered in Music Valley. You would be staying just northeast of East Nashville here, meaning you are away from the crowds and loudness of downtown itself.
Despite not being near downtown, Music Valley is still ripe with tourist opportunities. Visit the Opry, or even the Opry Mills, which is the largest shopping center in Nashville. Most hotels tend to be a bit cheaper here, and with the tourist attractions being nearby, including the Opryland Resort. Check out the 9-acre atrium for free– even if you don't stay there!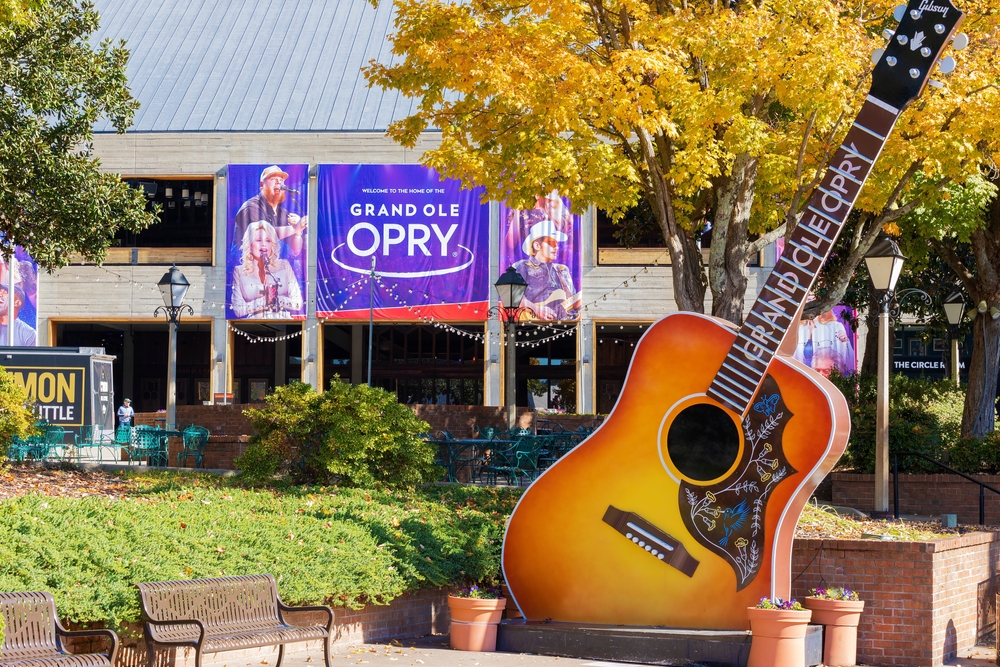 Best Places to Stay in Music Valley
Gayland Opryland Resort & Convention
Traveling with kids and family doesn't have to be stressful, especially when considering where to stay in Nashville and finding Gayland Opryland as an option! This resort is in the middle of Music Valley, which is perfect for families.
Make sure to check out our list of the Best Resorts In Tennessee!
This resort features indoor gardens, winding rivers, waterfalls, 15 restaurants, bars, and stores. There is something for everyone– even the water experience known as "Sound Waves." With so much to do at the resort, you and your family won't be bored when out and about, or just staying in!
Check Rates: Booking.com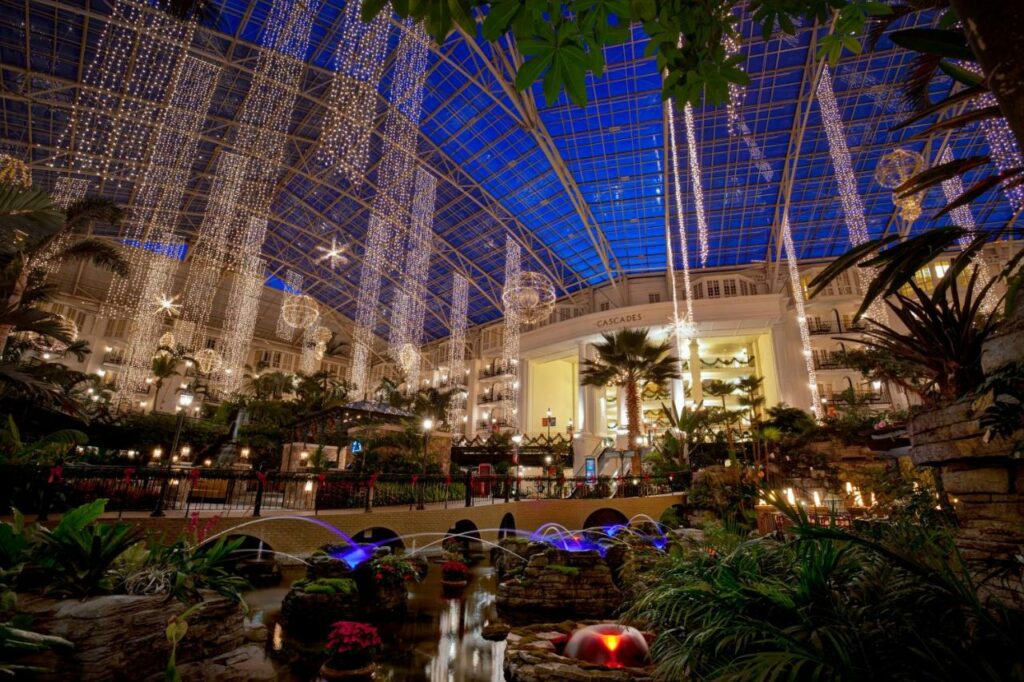 The Inn at Opryland, a Gaylord Hotel
If you are looking for something a little more quaint than the resort mentioned above, check out the Inn at Opryland. This hotel is much more casual, but still has tons to offer: with an indoor pool, fitness center, room service, and two on-site restaurants, there is still much to do!
People love the location here: tourist attractions like the Country Music Hall and the shopping and dining excitement of downtown is only 15 miles away. Thankfully here, however, you are in a quieter area so you can get some rest! Book today!
Check Rates: Booking.com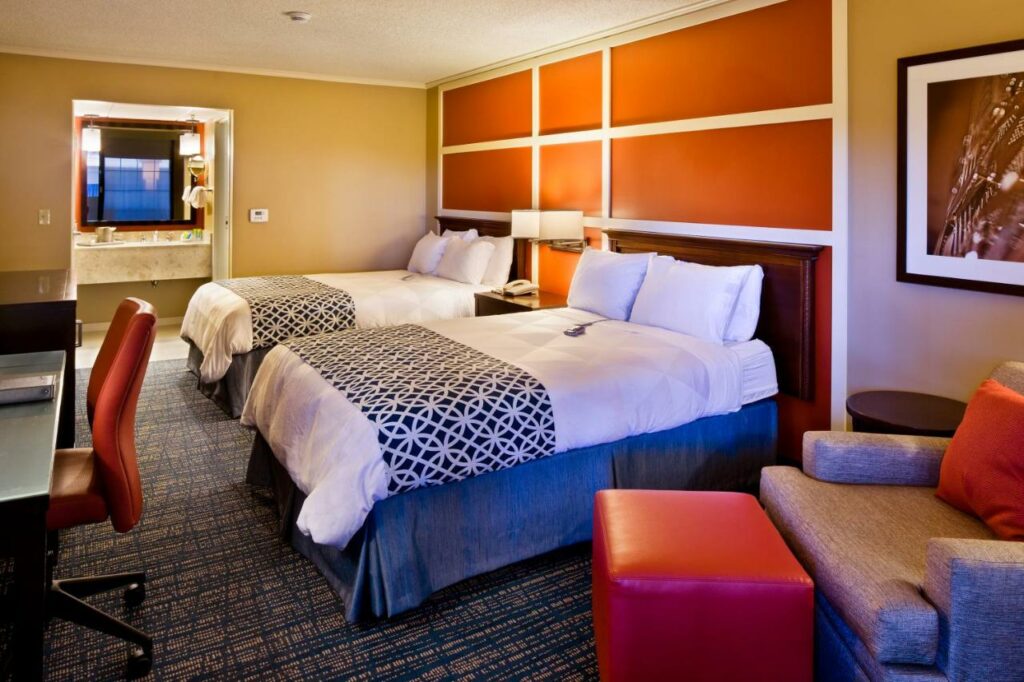 Willow Springs/Spread Out in East Nashville/Pet Friendly
Families can be big, so traveling requires more space. When considering where to stay in Nashville and appropriate Nashville lodging, it may require you to consider booking a home. This 4 bedroom 2 bath is close to Opryland and in a perfect urban area.
Kids will love the large lots, open spaces, and big trees on the property. Plus a creek? No one will want to leave! Keep your family busy with trailheads and more. So stay in a neighborhood within a Nashville neighborhood, you won't be disappointed.
Check Rates: VRBO.com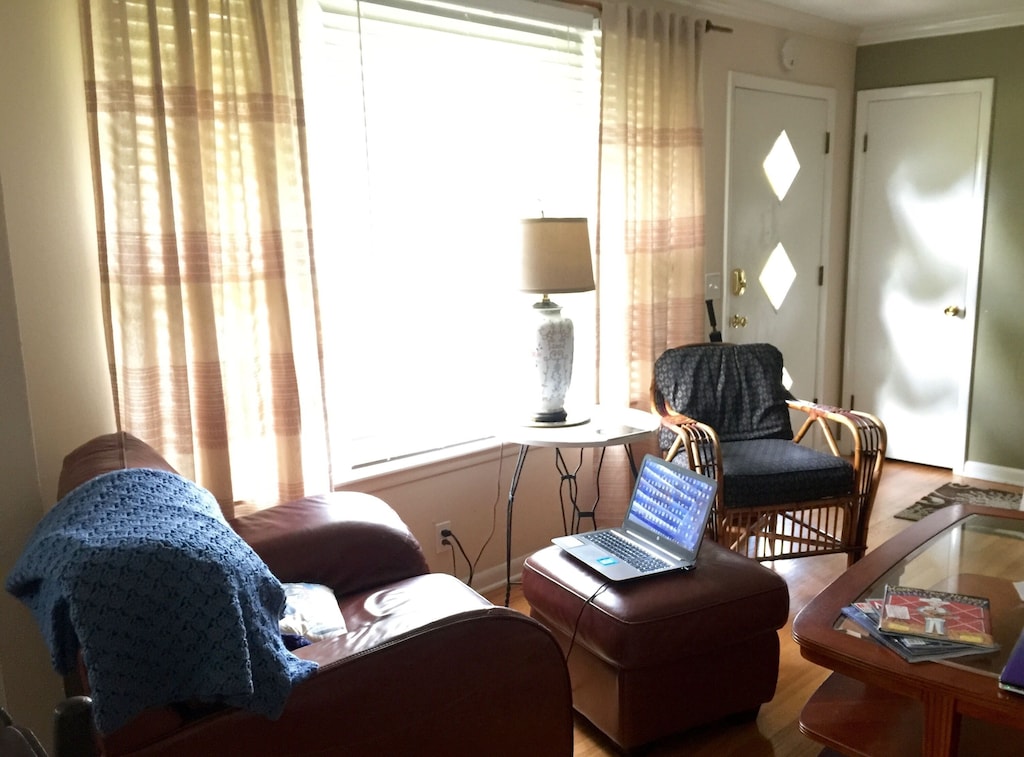 Midtown is the Best Place to Stay in Nashville for Music
Midtown lies West of Downtown and is popular for locals and tourists. It is not as crowded as downtown, but don't mistake that for a lack of entertainment. In fact, this neighborhood is full of adventure! Especially as Midtown is iconically known as Music City.
Music lovers flock to the local venues that host artists who perform a variety of genres. Bars and clubs are always putting on shows, so there truly is never a dull moment. And factoring in that Vanderbilt University is in Midtown? You know you've got some talent in that student population!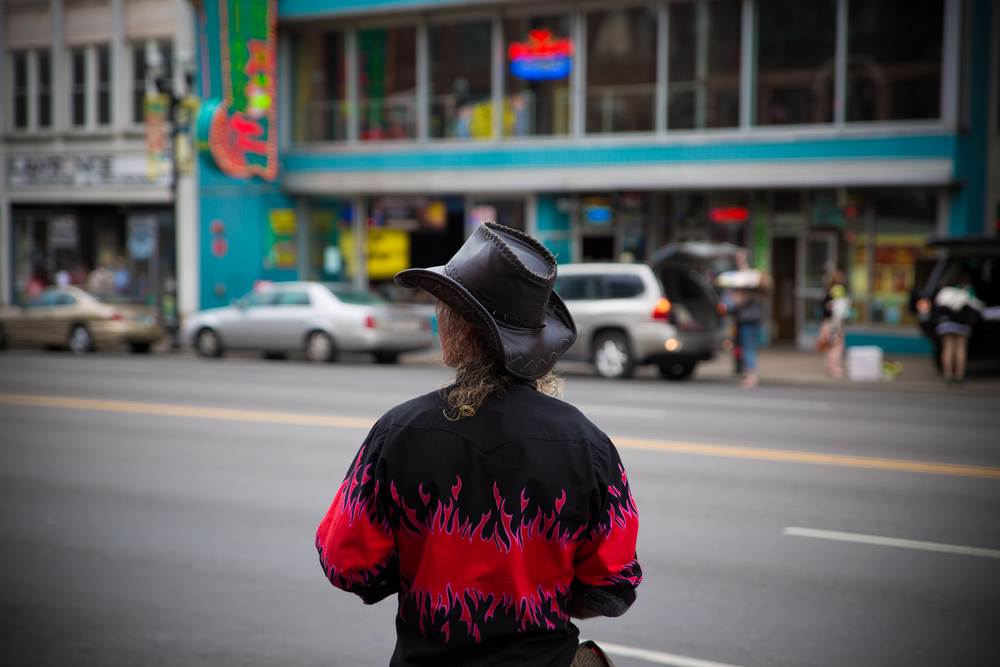 TownePlaces Suites by Marriott Nashville Midtown
Looking for where to stay in Nashville, and specifically within Midtown? Check out TownePlaces! These Suites are associated with Marriott and has a restaurant, fitness center, bar, and lounge on-site. The rooms are spacious and comfortable too! And there is a buffet breakfast!
But most people love the points if interest close by: from Vanderbilt to the Roman Auditorium and more, the close location is perfect for those who want to spend time outside of the hotel. So book a room and relax by the snack bar or seating rooms!
Check Rates: Booking.com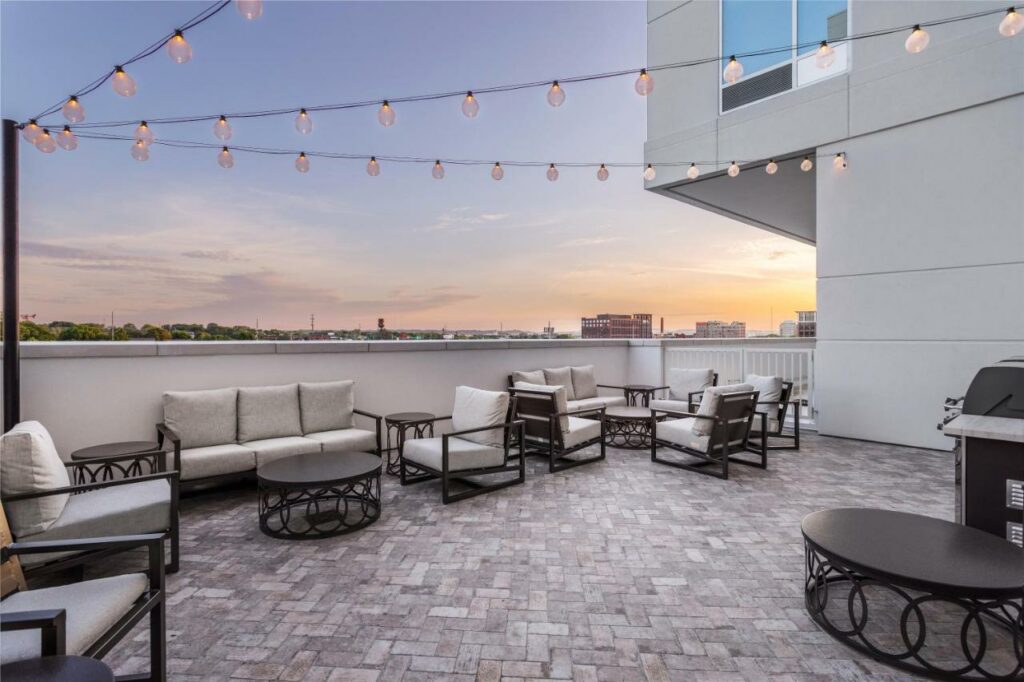 Graduate, Nashville
Lodging in Nashville doesn't have to be boring! In fact, you MUST check out the Graduate. Only 1,300 feet from Vanderbilt University, this hotel always has something going on. Visit the rooftop bar for skyline views, eat at the restaurant on site, or sing your heart out at the karaoke bar.
An a la carte breakfast is available each morning too– so this is almost like a bed and breakfast in Nashville! But if you miss breakfast hours, the Poindexter Cafe is always open. Just be careful– these modern designed rooms can sell out when the University has large events!
Check Rates: Booking.com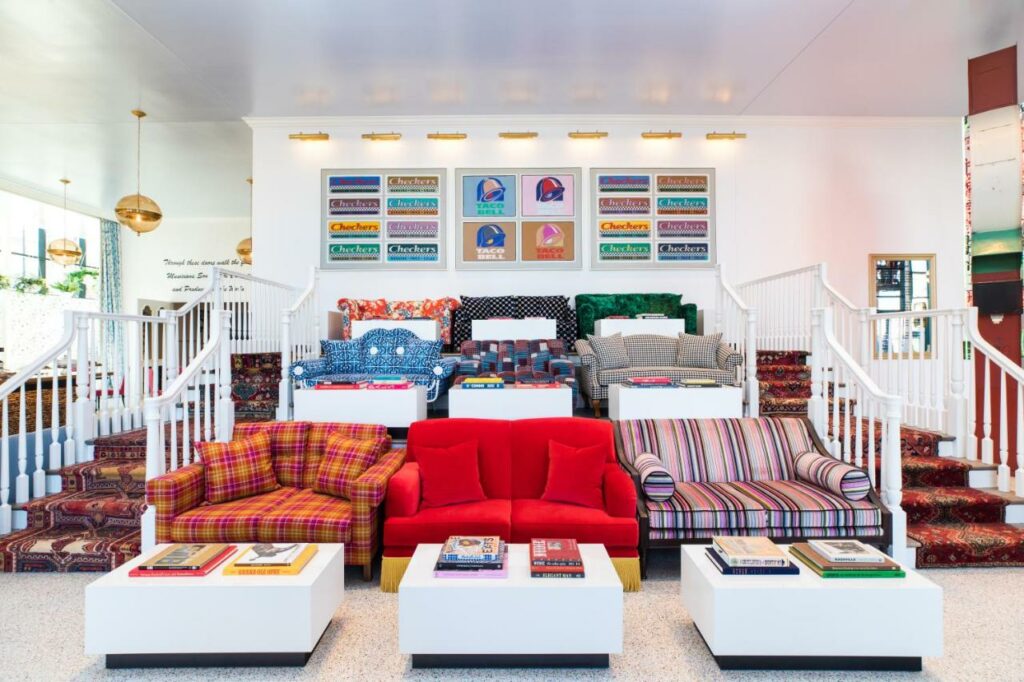 Boutique Hotels are Where to Stay in Nashville for Historic Charm
There is always so much to see and do in Nashville. With the vibrant music scene, nightlife, and overall culture, there is much to do! And this also means that with an exciting city, comes exciting hotels.
Boutique hotels in Nashville come in all shapes and sizes. They are diverse and unique, and all over the city. From cool ones, to romantic ones, the historic charm will not leave you disappointed, so book today!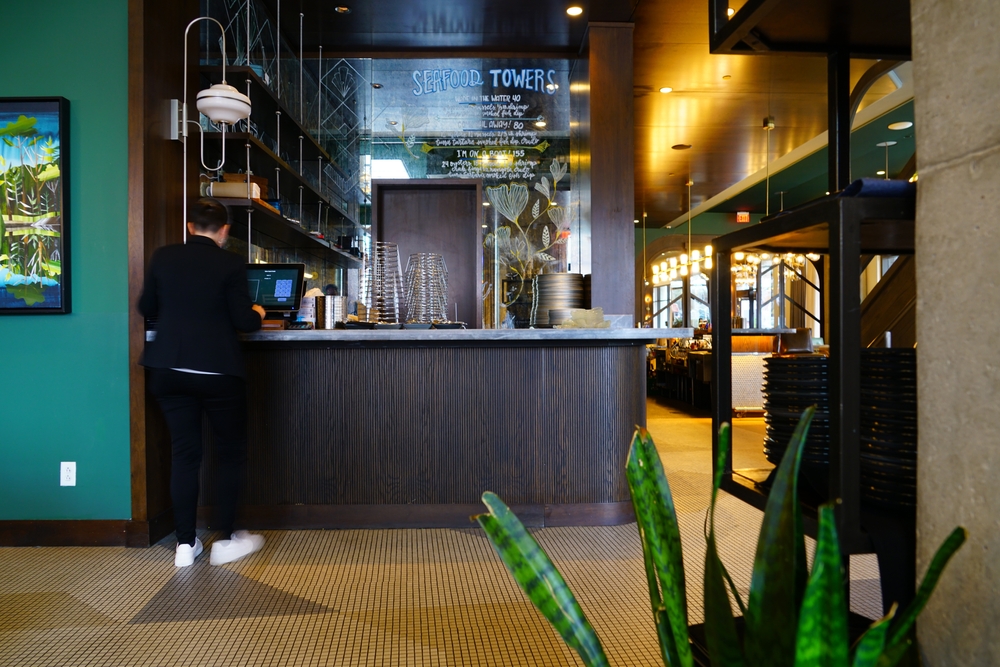 Best Boutique Hotels in Nashville
21c Museum
This hotel is much more than just a hotel. 21c Museum is home to a 10,500-square-foot exhibition space and a rotating art gallery making it where you want to stay in Nashville! As you would expect the hotel has an arty feel with artwork from 21c's co-founder, Laura Lee Brown adorning the walls. Even the bar and restaurant are full of paintings and sculptures.
Everything here screams culture and comfort and it's the little touches that matter. Goo Goo Clusters are in rooms, craft beers in the bar, and Malin and Goetz bath products in the bathroom. This is one of the trendy hotels in Nashville where fashionable and understated luxury mixes with quirky extras. This is definitely one of the best boutique hotels in Nashville.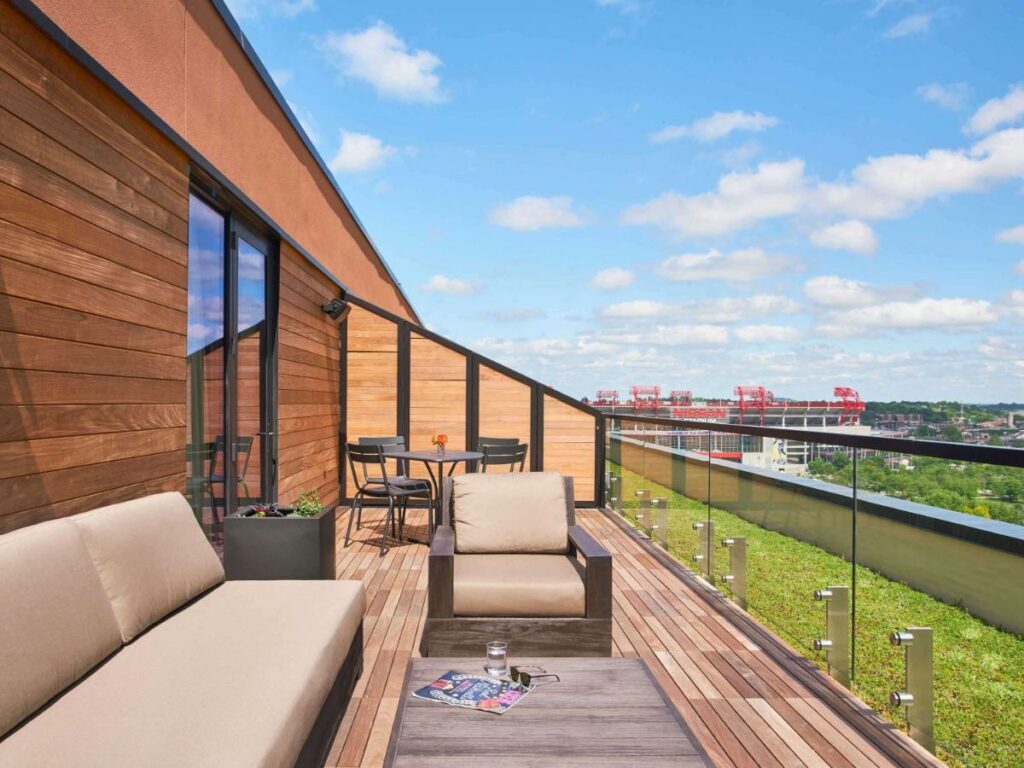 Caroline House Nashville Historic Inn
A five-minute drive from Nashville Broadway is one of the cutest Nashville boutique hotels. Caroline House Nashville Historic Inn is located in a beautiful property with simple, yet gorgeous rooms. The Inn also has a restaurant a fitness center and a spa area.
A snack bar/deli is also on-site as well as a lovely garden. There are only 4 rooms on site so it is on the smaller side. If you are looking to stay in one of the cute hotels in Nashville then this is it. Boutique hotels in Nashville don't come much smaller and perfectly formed than this.
Check Rates: Hotels.com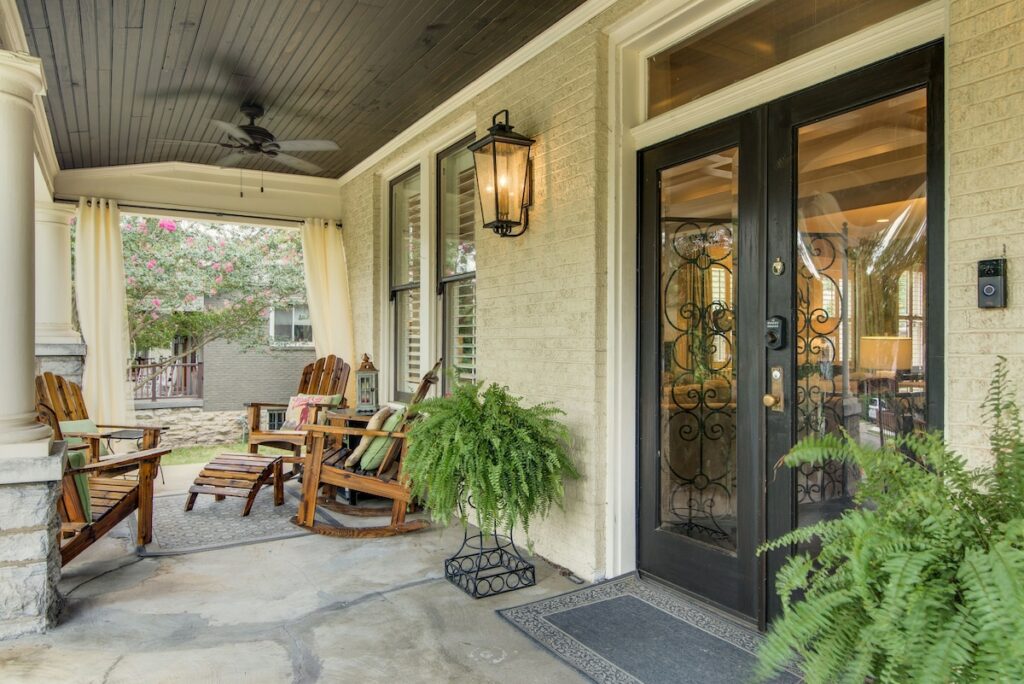 The Gulch: The Most Unique Place to Stay in Nashville
Since we talked about Boutique hotels, it only seems appropriate to mention the Gulch Neighborhood, which is located between Downtown and Midtown! It's a small area, but it is trendy and up and coming!
Here you can find boutiques, spas, and fantastic dining. There is always live music going on– especially bluegrass! And Art lovers will love the First Art Museum and the Art Deco architecture. From clubs and all your high-end wants and needs, you'll never be bored at the Gulch!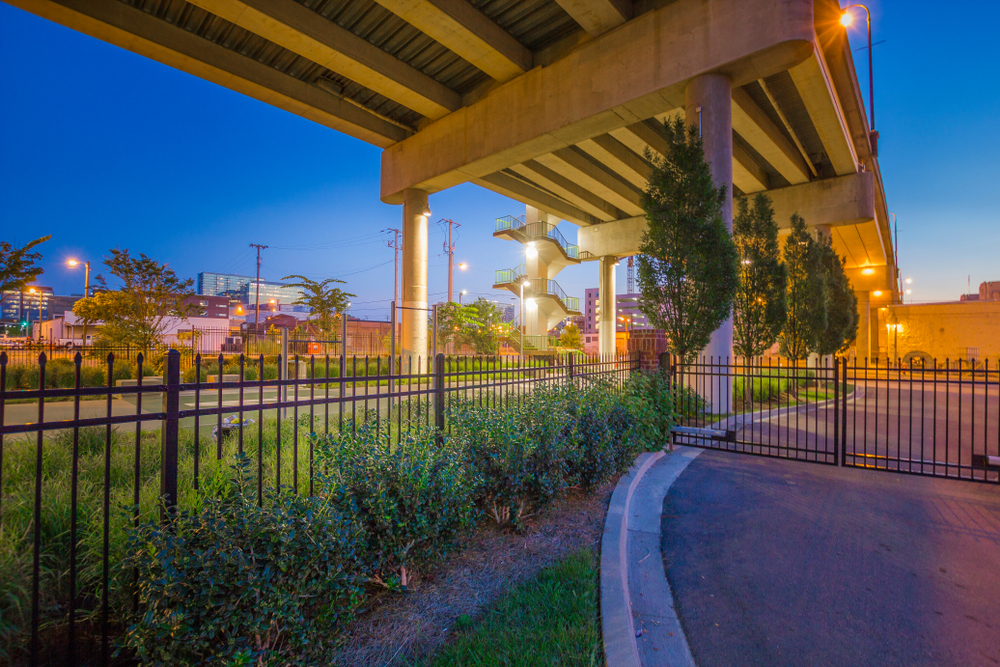 Best Hotels in The Gulch
Thompson Nashville
Considering where to stay in Nashville TN has never been easier! Book at the Thompson for a great experience and scenic views. This hotel is almost boutique-like, with its contemporary designs and on-site restaurants. The seafood-focused Southern cuisine is to die for!
With large event spaces, great popular locations nearby, and things like rooftop bars that feature regional beers and crafted cocktails, you may never want to leave!
Check Rates: Booking.com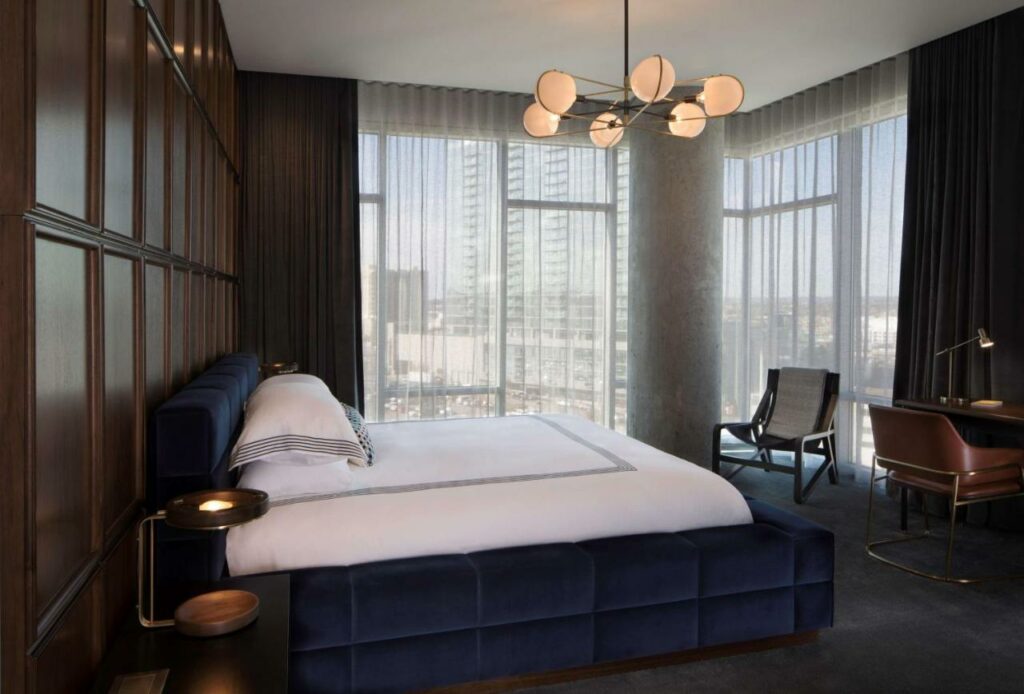 Stylish Loft Near Downtown Nashville
Renting and staying at apartments may be a better option for lodging in Nashville. The Gulch in particular is a pricey neighborhood, so check out places like this Stylish Loft in addition to other hotels.
This Loft has great access to everything! It is only 1 mile from Honky Tonk Row and is easy to navigate when going to and from. The walkable paths to nearby restaurants, coffee shops, and shopping has people want to stay forever– and considering this is a 1 bedroom, 2 bathrooms with a kitchen and living room, you might agree!
Check Rates: VRBO.com
And there you have it, folks! A breakdown of where to stay in Nashville based off of neighborhoods. You really can't go wrong with any neighborhood or hotel in all honesty, because Nashville is just the best! There are so many things to do, places to eat at, and memories to make. Have a blast and enjoy the music!