Alabama offers a diverse range of places to see and activities to do for visitors. From beaches to bayous, from big cities to caverns, this state offers something for everyone. You will definitely want to check out the best Airbnbs in Alabama as you plan your next trip!
Vacation rentals are a unique way to get to know the best local spots. They offer more privacy than hotels, and there are options for a range of budgets, making them an ideal place for travelers to stay. Whether you are looking for a beach house, cabin, or even a treehouse, check out our favorite Alabama Airbnbs for an unparalleled experience!
Make sure to check out our list of the best cities and small towns in Alabama for inspiration on where to visit next!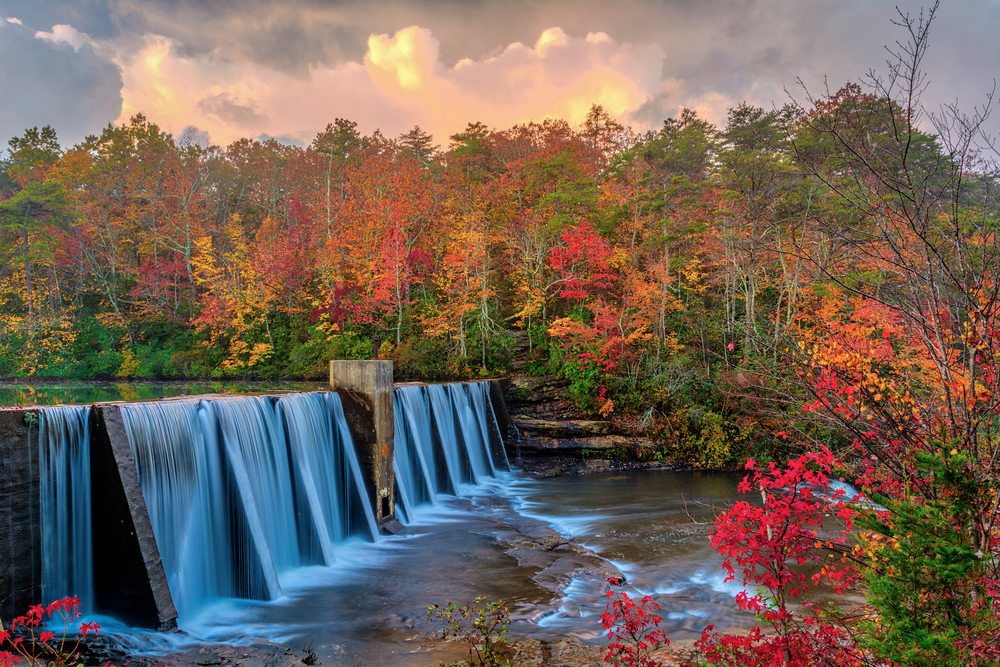 16 Best Airbnbs In Alabama (Beach Houses, Cabins, & More!

)
Gulf Shores Beach House
If you are planning a trip to Gulf Shores, be sure to check out Villa Delphinus. Named after the dolphin constellation, this cottage has incredible ocean views. Relax on the beautiful white sand beach as you enjoy beach front access.
The wrap around porch offers panoramic views of the ocean, making it the perfect place to catch the sunset or gaze at the stars as you listen to the sound of the waves crashing beneath you. This three bedroom three bathroom home can host up to seven guests and is pet friendly.
Other amenities include parking, washer and dryer access, as well as a fully equipped kitchen and BBQ grill. This home is truly a destination for beach lovers, and is one of the best Airbnbs in Gulf Shores!
Check Rates: VRBO.com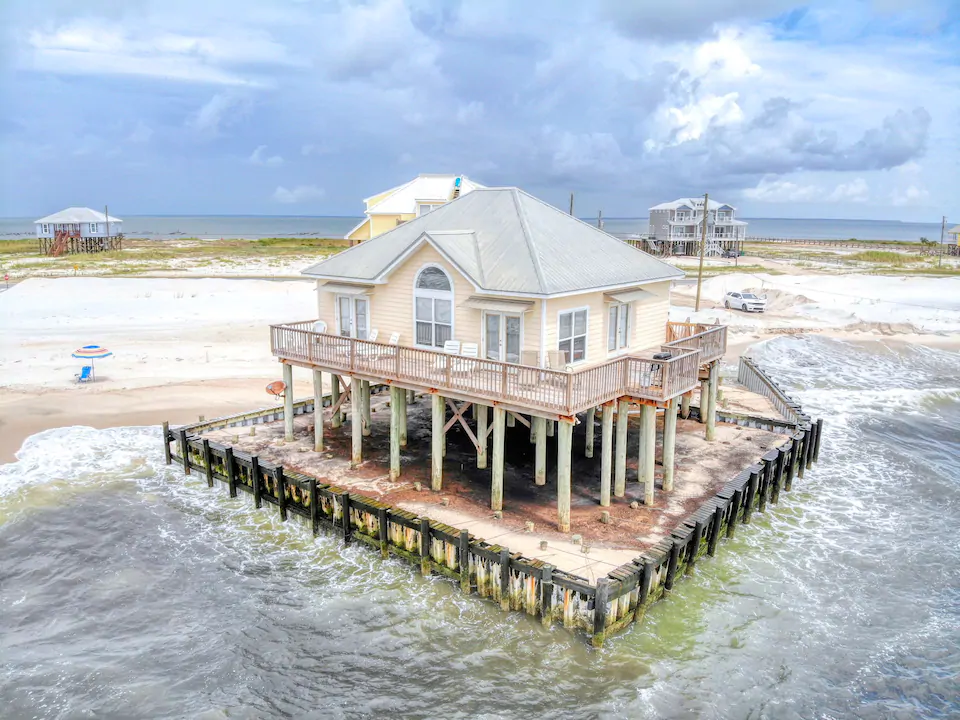 Crane Hill Treehouse
Live your childhood fantasies by staying in this gorgeous treehouse Airbnb located in Crane Hill, Alabama. Become one with the forest as you soak in the unique bird's eye perspective this Airbnb offers. This secluded treehouse has one bedroom and can accommodate up to two guests, making it an excellent intimate getaway!
This treehouse sits on forty acres of private property, which is the perfect escape for those wanting to connect with nature. Access to hiking trails is an added benefit, and guests are even able to use the property's paddle boat to check out the lake if they feel inclined.
This Airbnb includes a cozy indoor fireplace, an outdoor fire pit, and private outdoor showers. It is located about an hour outside of Huntsville and Birmingham, making it a forest oasis for those looking to get away from the city.
Check Rates: VRBO.com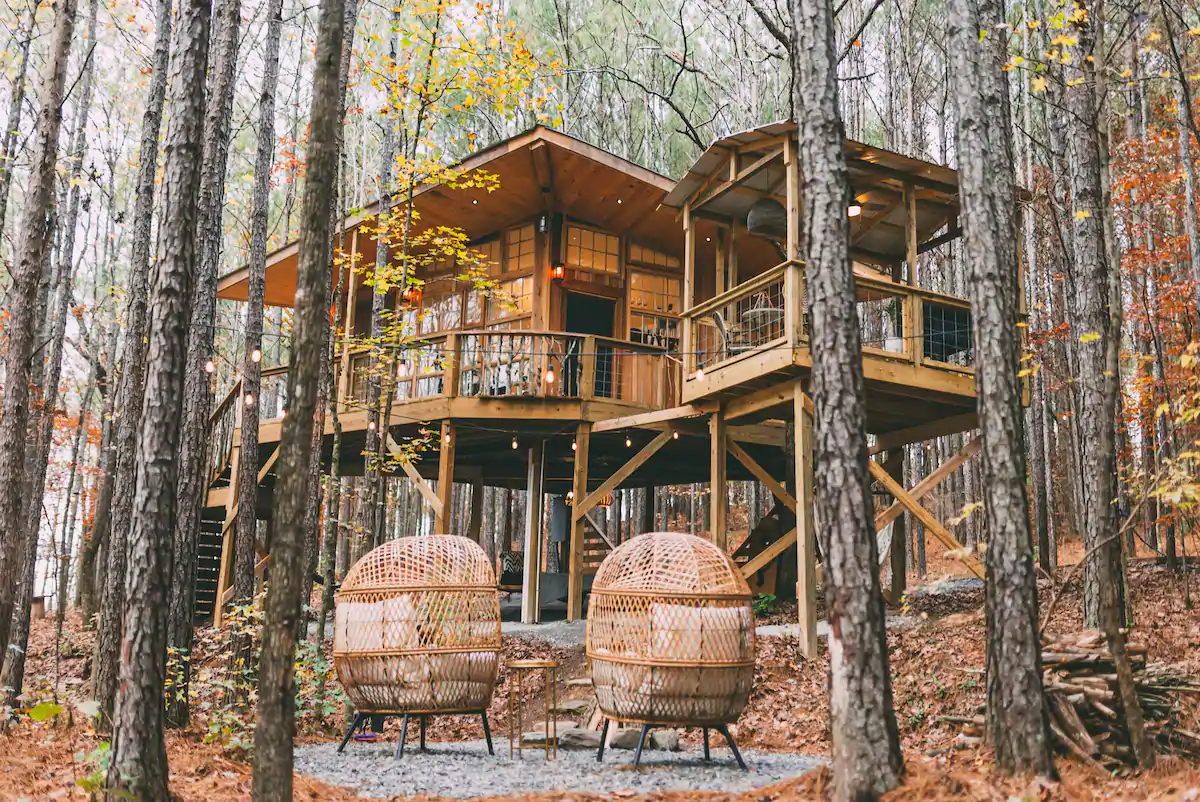 Lake House at Emerald Cove
Luxury meets nature at this stunning Lake House located off of Lewis Smith Lake. Designed specifically to host large groups of people, this property is ideal for families or retreats and can accommodate up to 24 people.
This home is unparalleled for anyone looking to enjoy time on the lake. Located at the end of a channel, it sits in a quiet cove making it the ideal location for swimming, kayaking, or paddle boarding! Or, if you prefer to enjoy the lake without getting wet, be sure to check out the views from the screened in patio.
In addition to lake access, guests have access to a gas fire place, outdoor kitchen and entertainment space, fire pit, on site parking and a telescope for viewing the Milky Way.
Check Rates: VRBO.com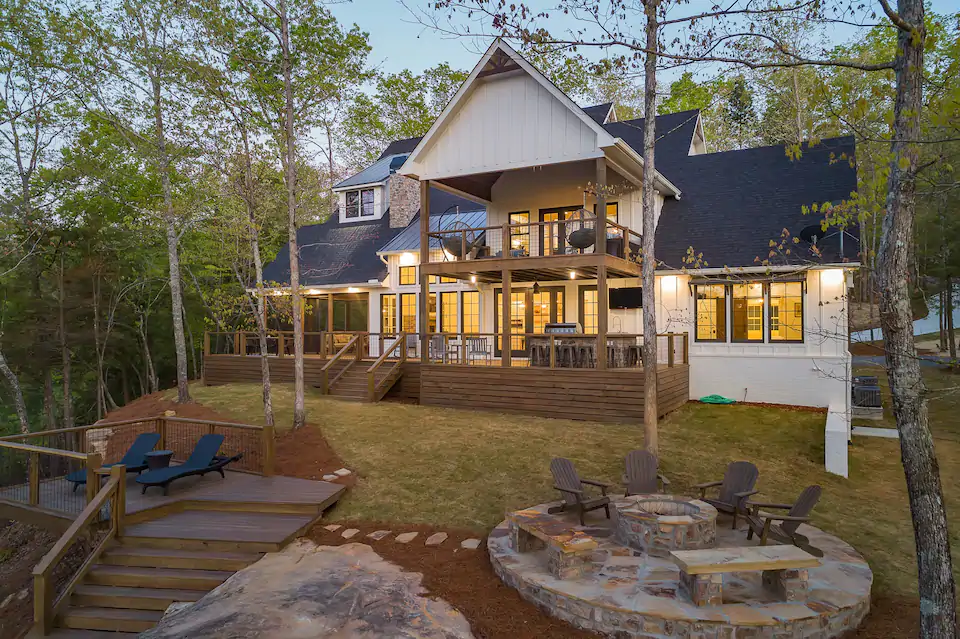 Historic Home in Mobile
Mobile Alabama has been called "the Paris of the South" and is known for it's lively energy as the city's rich history and cultural influences unite. The proximity to the coast gives you the best of both worlds if you are looking for hip city vibes as well as beach access. Pro tip: Visit Mobile during Mardi Gras to check out the parade!
If you are staying in Mobile, you will definitely want to check out this adorable Historic Home! Recently renovated, this Airbnb is located in historic Hannon Park.
This beautiful 1260 square foot home was built in 1906 and has been lovingly updated to keep all that turn of the century character and charm. It has 2 bedrooms and 1 full bathroom. It can accommodate 4 guests. You'll love all the vintage touches like the records and record player, clawfoot tub, and original fireplaces.
Check Rates: VRBO.com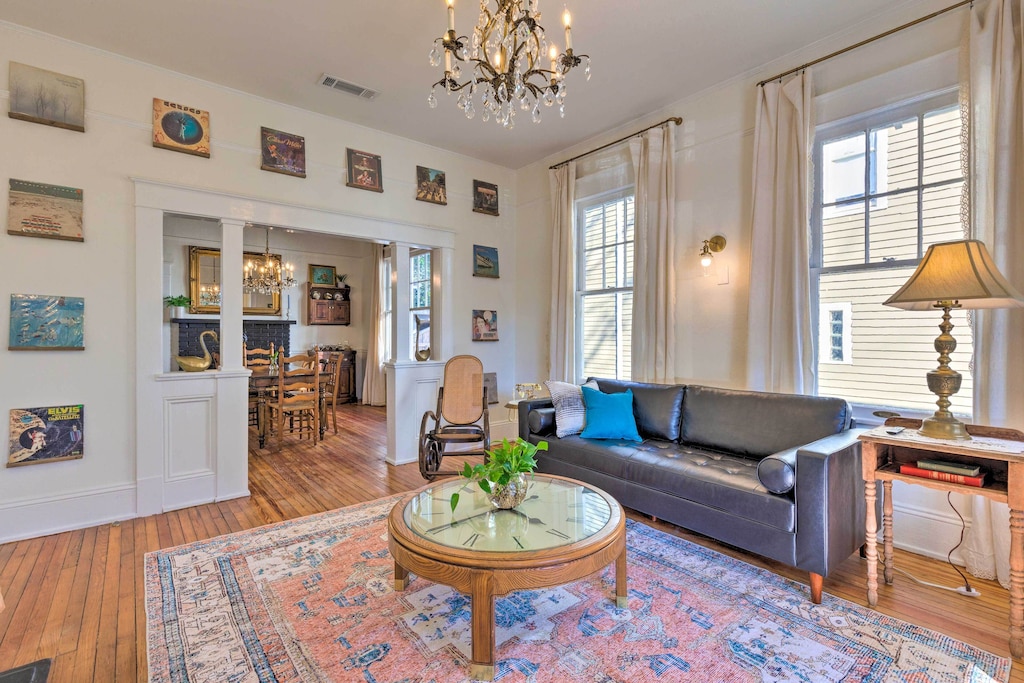 Chic Railyard Loft
If you are visiting Birmingham and looking for somewhere luxurious to stay, you won't want to miss out on this large modern loft overlooking the city.
Perfect for groups, this loft has 2 bedrooms and can have up to 5 guests. Staying here is a true first class experience, from the way this loft is styled to the amenities it offers. This is definitely one of the best Airbnbs in Alabama!
This 1700 square foot penthouse unit will make an amazing home base for your adventures in Birmingham. Click here for a list of our must-see things in the city.
Check Rates: Airbnb.com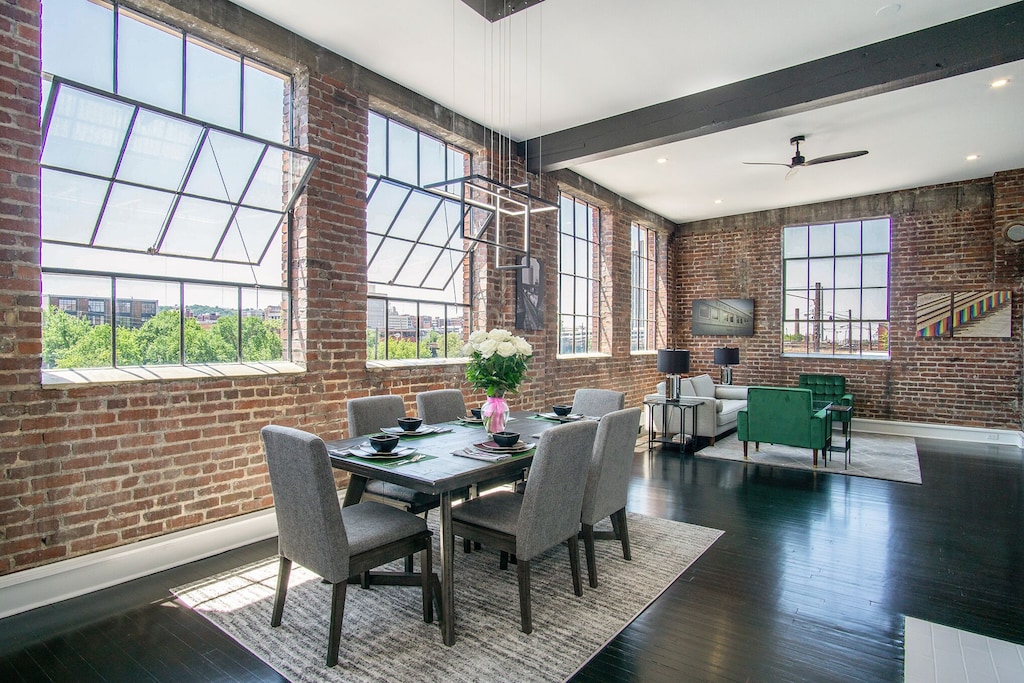 Little Farmhouse
Alabama is known as the "Cotton State" and this country farmhouse Airbnb allows guests the experience of staying on a cotton farm. Originally built in 1920, this farmhouse has been renovated to give you modern comforts in a rustic setting. This charming Airbnb has two bedrooms and can accommodate up to eight guests.
This property is located near the town of Snead, and is an hour away from Birmingham and Huntsville. This means guests can enjoy the small town charm without being far away from major cities! Additionally, the affordable price makes this a steal for the amount of space and privacy guests can expect compared to staying at a hotel.
This property has a lot to offer! Guests can check out the pond and barn on site, and enjoy viewing the lovely cherry and cotton blossoms from the front porch or back deck. Imagine sitting on the outdoor swing with your morning tea or coffee as you enjoy the quiet countryside.
This Airbnb includes a kitchen and a grill if you prefer to cook your own meals, or check out the local BBQ and Mexican restaurants nearby. You won't want to miss staying at one of the best Airbnbs near Birmingham!
Check Rates: Airbnb.com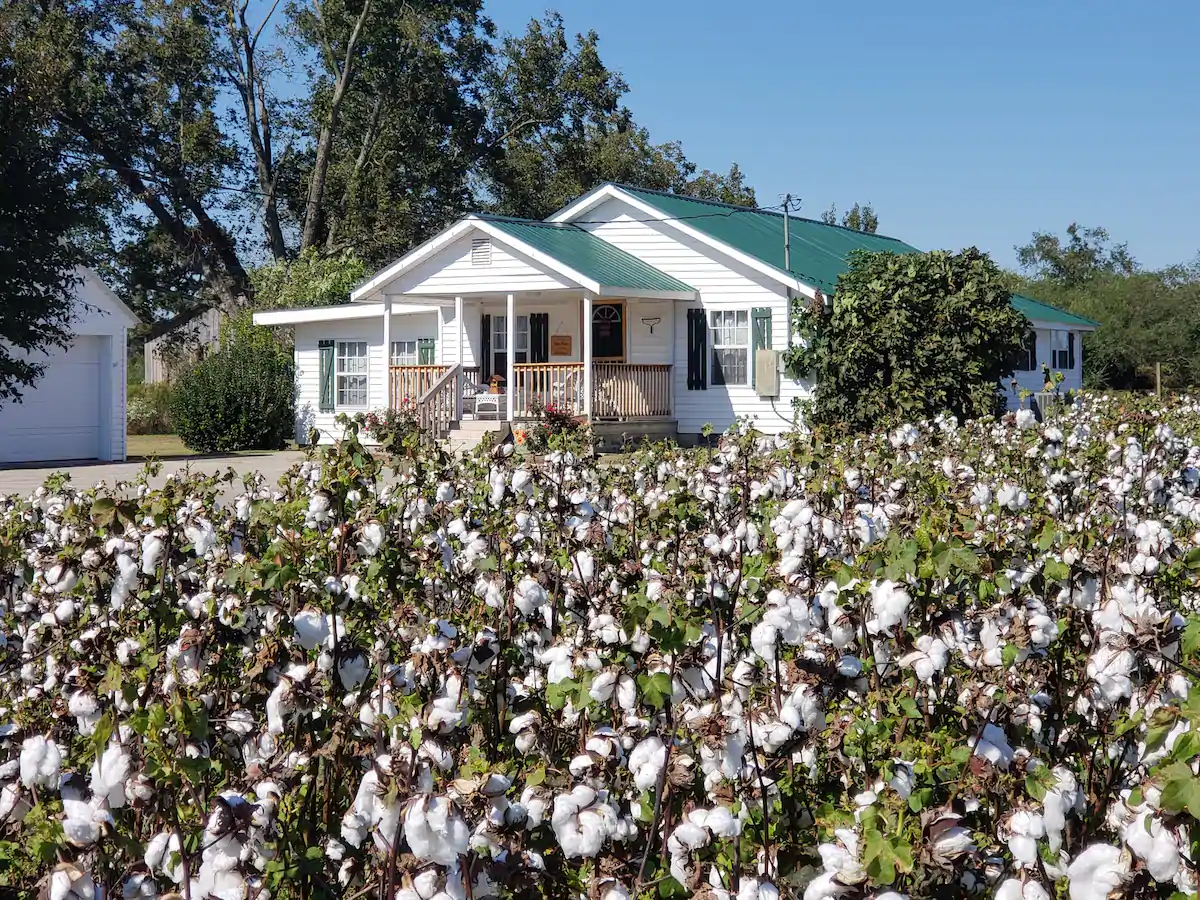 Waterfall View Cabin
This cabin in Alabama is the perfect way to escape the big city! Located in Northeast Alabama, this property has an unbelievable view of Desoto Falls, one of the prettiest waterfalls in the Appalachian Mountain Range.
The cabin has been thoughtfully designed to maximize waterfall views. There is a three season screened in porch along the back of the house. Both of the bedrooms boast a view of the falls as well. Imagine falling asleep to the sounds of this epic waterfall!
This VRBO can accommodate four guests, making it ideal for a family or a romantic nature getaway. There are multiple state parks near this cabin so be sure to check out the local hiking when you stay here!
Check Rates: VRBO.com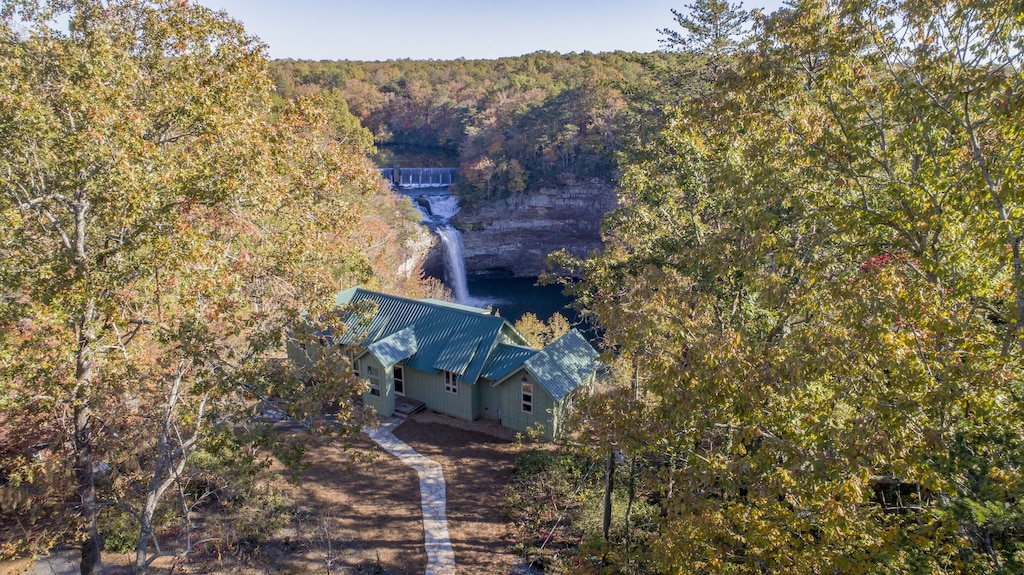 Historic Home in Selma
Experience the history of Selma when you book your stay at this historic family home. Selma is known for the 1960s Selma Voting Rights Movement. Visitors can see where civil rights leaders marched on Bloody Sunday to expand voting rights. This home is located in the heart of Selma, and is 1.8 miles from Edmund Pettus Bridge. It has a great walkable location. You'll be just steps away from museums and art galleries, as well as local shops and restaurants.
This property has a wraparound front porch and a lovely back deck, perfect for soaking up Alabama sunshine. It has a dreamy kitchen with a cute vintage window seat. The home has 3 bedrooms and can sleep 9 guests in 5 beds. It has 3 full bathrooms, a rare luxury for a home of this historic area!
Check out the local farmer's market to make yourself a home cooked meal! You definitely won't want to miss this historic town as you plan your next Alabama vacation.
Check Rates: VRBO.com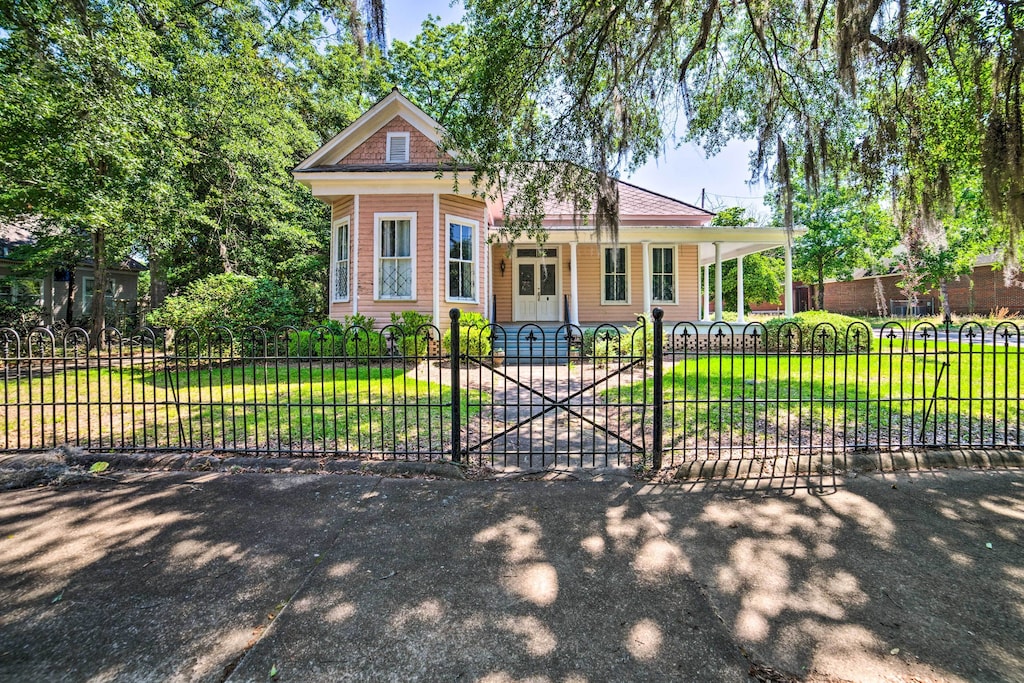 Silver Star Glamping
Experience a taste of glamping by booking the Silver Star. If you've ever wanted to see what vintage airstream life is like, this is the perfect way to partake in the highlights without the stress. This property is located in picturesque Baldwin County, Alabama. It is just a short drive from the stunning southwest Alabama coastline.
This retro VRBO can sleep three guests in a king bed and a bonus twin bed. There is a bathroom including a shower inside the airstream. There is also an epic outdoor seating area including a bar, grill, and an outdoor TV!
Imagine looking at the stars from this hammock, or catching the game on the outdoor tv with a margarita in hand. This airstream certainly stands out on our list of the best Airbnbs in Alabama.
Check Rates: VRBO.com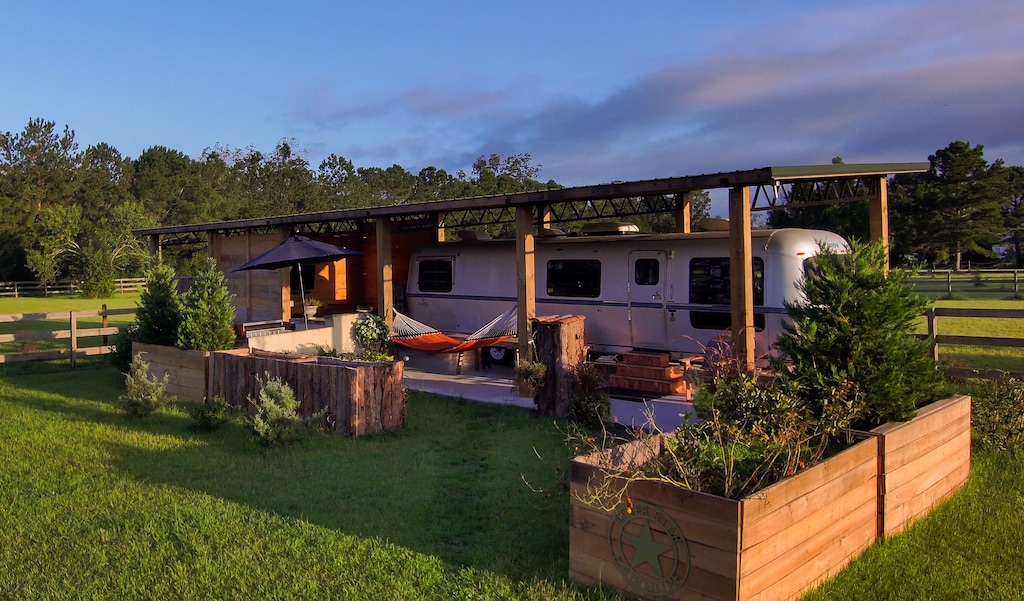 Storybook Castle
If you thought castles were reserved for fairy tale stories, think again! This Storybook Castle Airbnb in Fairhope Alabama gives you a chance to turn fairy tales into reality. Become King or Queen of the castle by booking your stay here!
This Airbnb is surrounded by beautiful gardens which give the property vibrant pops of color. It is registered as a historic home, which adds to the uniqueness. Sheldon Castle is across the street from an Art Center and downtown Fairhope, giving visitors easy access to explore this quaint part of Alabama.
The castle sleeps up to three guests at a time, and includes breakfast. For a truly one of a kind vacation, why not book this castle and have a royal time!
Check Rates: Airbnb.com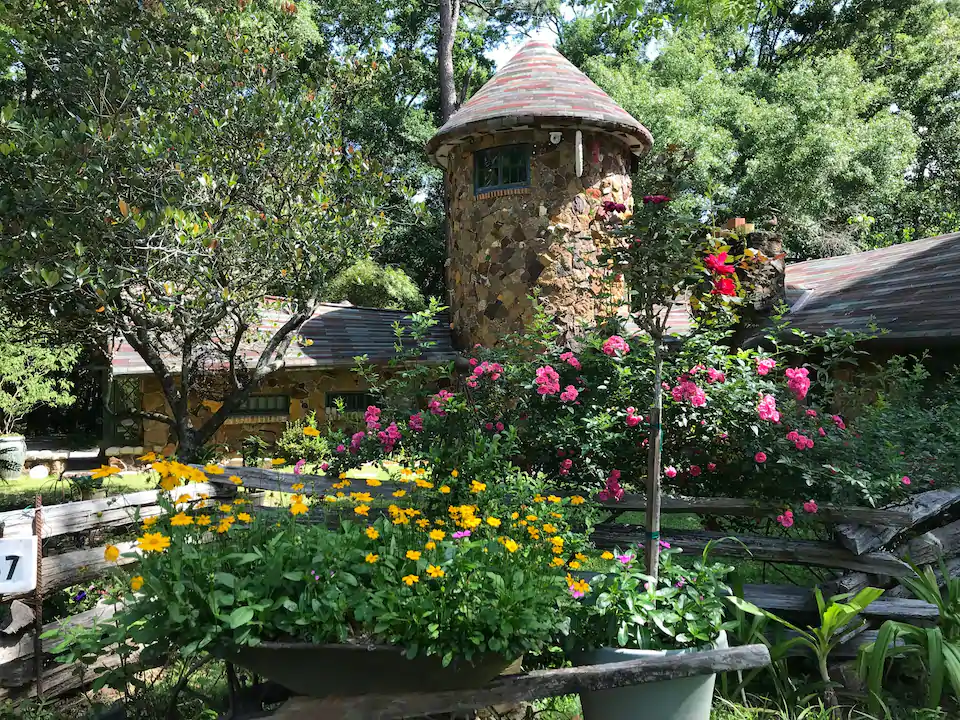 Reunion Beach House at Laguna Key
Looking for a quintessential beach house to book for your next vacation? Look no further than this incredible Gulf Shores Beach House! Ideal for big groups, this home can host up to sixteen guests at a time.
This spacious three story home has many amenities, including a private pool and hot tub for guests to use, two fireplaces, garage parking, a massive kitchen and washer and dryer.
With so many amenities you may not want to leave the house, but the real draw of this home is private access to West Beach. Check out the boardwalk and Gazebo on your way to this stunning white sand beach. This truly is one of the best Gulf Shores Airbnbs!
Check Rates: VRBO.com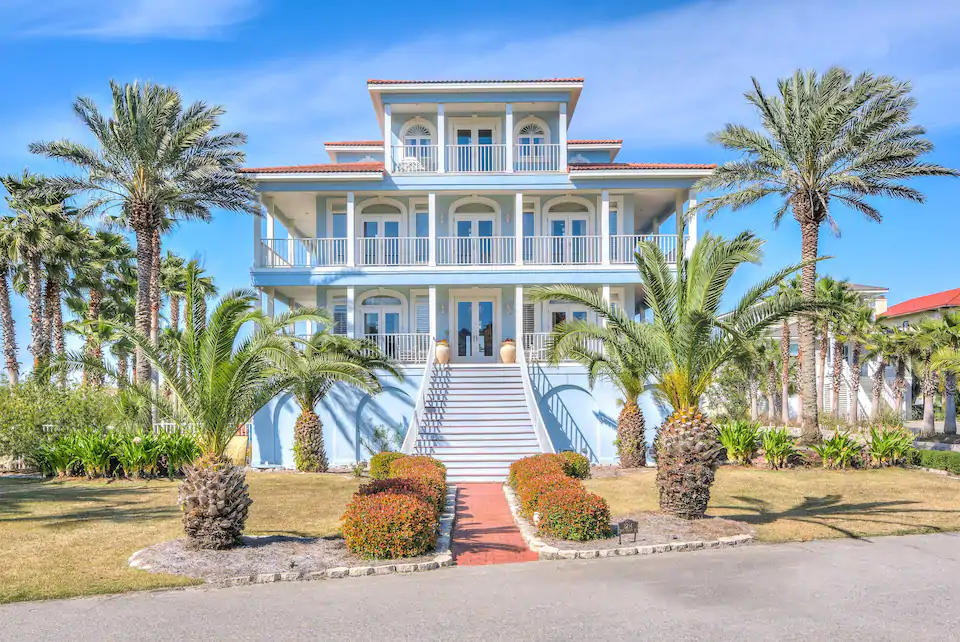 Pet Friendly Gulf Shores
Everyone knows pets love the beach. Don't leave your furry friends at home on your next Gulf Shores getaway! Book this pet friendly VRBO and let your pets get some sand and sun too.
This two bedroom two bath home is only a block away from the famous Gulf Shores Beach. This VRBO can comfortably host 5 guests and 1 pet. The interior has a cozy feel you'll definitely appreciate after a long day frolicking on the beach.
We love the Gulf Shores area. Click here to learn about our favorite things to see and do there!
Check Rates: VRBO.com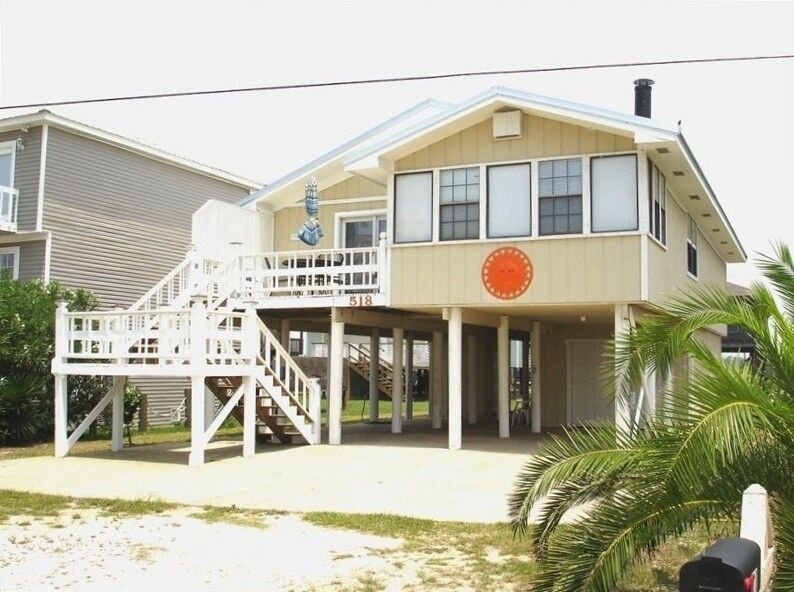 Bluff Cottage
Add a touch of sophistication to your next trip by booking your stay in this charming Bluff Cottage located in downtown Fairhope. This cottage is airy and filled with natural light, giving it a beautifully clean aesthetic.
This cottage overlooks the bay, giving visitors picturesque views. It can host up to five guests, making it perfect whether you are planning a romantic getaway or your next family vacation!
This home has so many amenities you won't want to leave! It has a spa pool, access to a breakfast courtyard and backyard overlooking the bay, a private patio, full kitchen, and a luxurious soaking tub. Be sure to check out additional options such as private cooking lessons if you want to upgrade your vacation. With so much to offer, this is undoubtedly one of the best Airbnbs in Alabama!
Check Rates: VRBO.com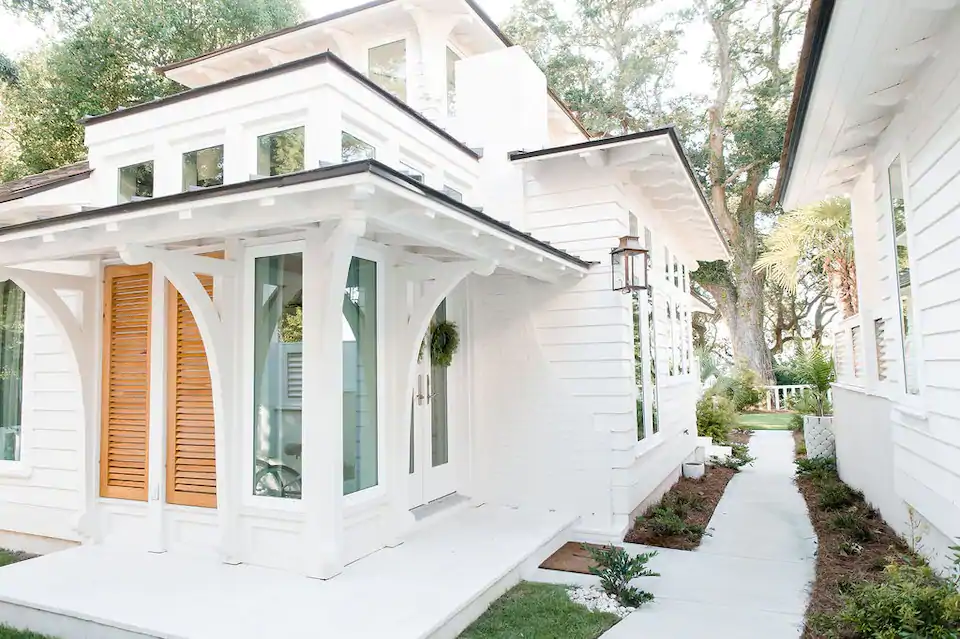 Beachside A-Frame
If you are looking to escape to an A frame in Alabama, consider booking a stay at this one on Dauphin Island. Dauphin Island is home to one of our favorite beaches in Alabama. This VRBO would make a perfect home base for up to eight guests to have an amazing time on the island.
This unique, airy, A frame cabin has three bedrooms and two full bathrooms. The huge wall of windows perfectly compliments its beachy interior design. The covered picnic area is a great way to make the most of the Gulf Coast sea breezes. A nice bonus is that you can bring your dogs along for a small additional fee. Come have an amazing time at one of the best Airbnbs in Alabama!
Check Rates: VRBO.com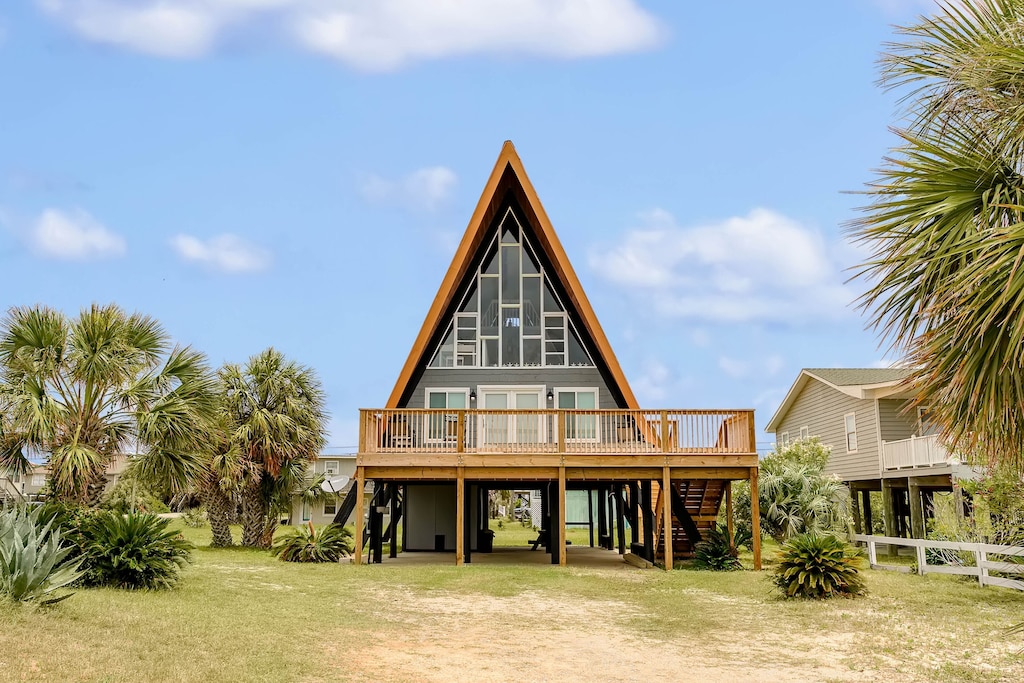 Lazy River Condo
A lazy river is an excellent cherry on top to a relaxing vacation. The Wharf in Orange Beach, Alabama has a wave pool and lazy river system that the whole family can appreciate!
This waterfront two bedroom two bath condo is a spacious 1248 square feet. It has tropical themed indoor and outdoor seating areas. The condo can host up to seven guests.
All seven guests are sure to have an amazing time at this VRBO. There is just so much to do at the Warf! Enjoy beach access and luxury amenities like whirlpool hot tubs, a wave pool, a lazy river, and a tiki bar. This condo is also walking distance to the Wharf's ferris wheel and Sharky's Family Adventure Park.
Check Rates: VRBO.com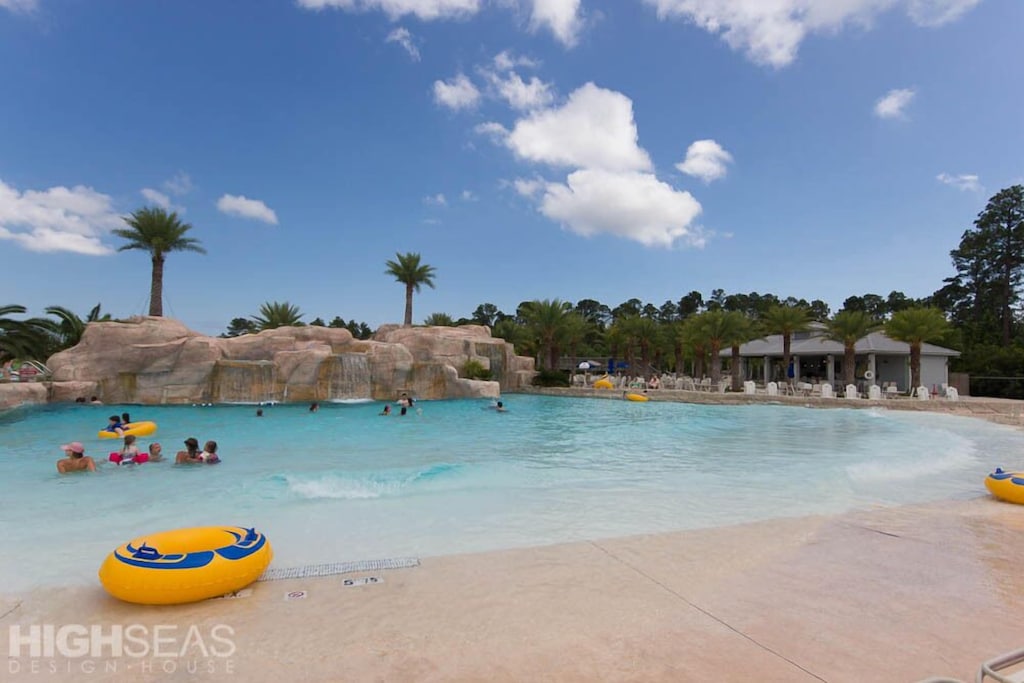 Lakeside Retreat
Finishing off our list of the best Airbnbs in Alabama with a simply breathtaking lakeside property. This place has it all: indoor & outdoor swimming pools, a water slide, a dock, lake access, a pool table, a gourmet kitchen, a soaking tub in front of a fireplace, the list goes on. You definitely want to click through these listing photos to check out all the amenities and special details of this lake house!
This would be an amazing rental home for a family or friend group reunion as it can sleep a whopping 28 guests! This lakeside mansion is a luxurious 7500 square feet. It has six bedrooms and five full bathrooms.
One unique feature I have never seen before is a circle of swinging benches surrounding a lovely outdoor fire pit. What a great place to tell stories under the stars!
Check Rates: VRBO.com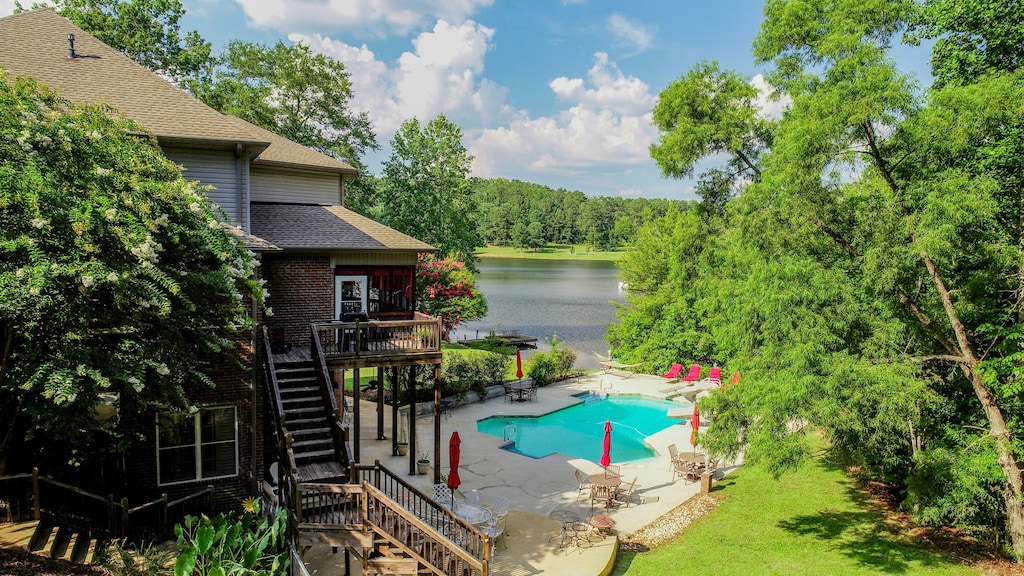 No matter what part of the state you are planning to visit, or what activities you are hoping to do, there is an Airbnb to meet your needs. Whether you want to explore historic cities, swim in the ocean, or get lost in the forest, these are some of the best Airbnbs in Alabama. Enjoy your next trip and take your vacation to the next level in any of these amazing places to stay!