Are you looking for your next great adventure at one of the amusement parks in the South? Then look no further because we have you covered!
While the southeastern United States is often known for its strong agricultural ties and vast historical charm, the theme parks in the south are some of the best amusement parks in the U.S.A. From Carowinds in North Carolina to Morgan's Wonderland in Texas, here are the best amusement parks in the southern U.S.A. that you must visit!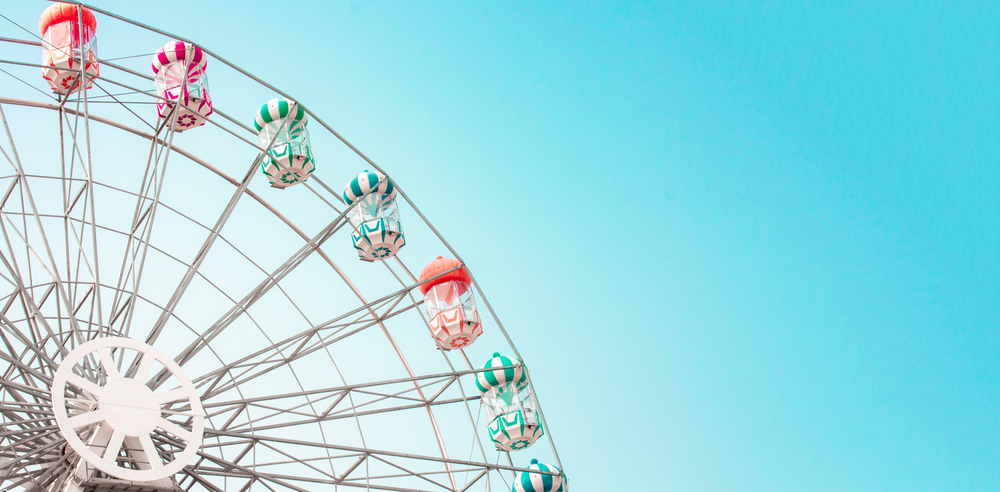 15 Best Amusement Parks In The South USA You Must Visit
Alabama
Alabama and Splash Adventure
Alabama and Splash Adventure is one of the best amusement parks in the south. This is one of the theme parks in Alabama that features two sides to its charm that will give you lots to explore and enjoy: land and water.
The amusement park side of this park has rides for all ages, including a wooden roller coaster, drop tower, swing ship, and a tilt-a-whirl. The water park side of this park includes a lazy river, a wave pool, and several water slides including Twister, which is a water slide that will take riders through a variety of twists and turned that will make your feel a little bit dizzy by the end.
This park also offers two different stunt shows that showcase acrobats and stunt coordinators that are a must-see! Stop by the Island Pizza Restaurant and order a pizza to share, or grab something sweet from the Sweet Tooth Candy shop to enjoy throughout the day.
Alabama and Splash Adventure is worth a spot on our list of best amusement parks in the south!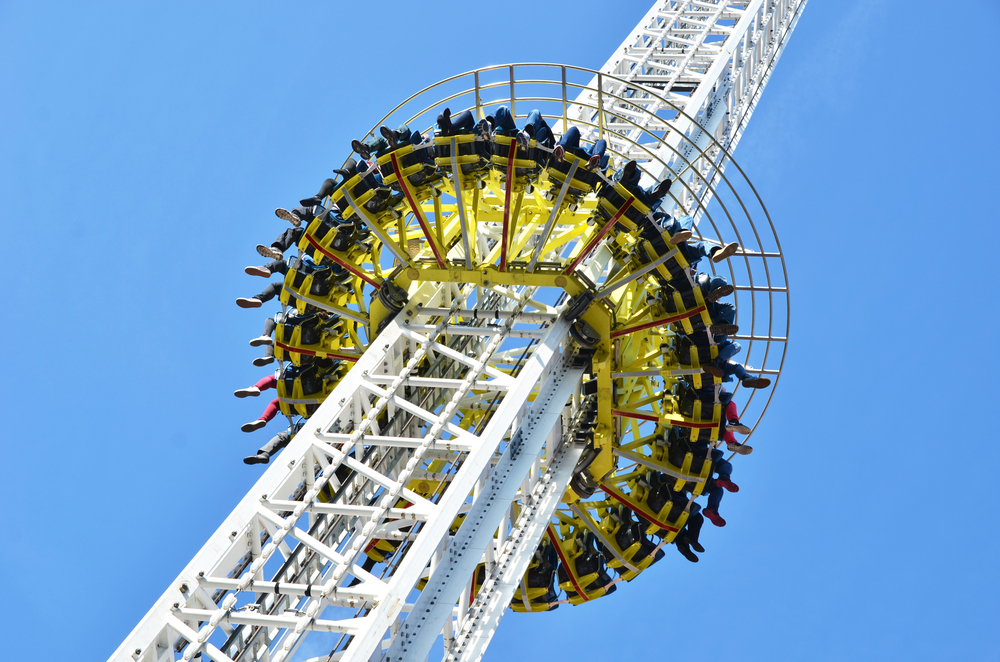 Arkansas
Magic Springs
Magic Springs is one of the amusement parks in Arkansas that needs to top your list next time you visit this fun state!
As one of the best amusement parks in the south, this park offers thrill, family, and kid rides- and that is not even mentioning the attached water park rides! Some of the featured rides here include Plummet Summit- a splashing plunge into a tidal wave, The Hawk- a steel coaster that has you lying down and traveling parallel to the tracks, and The Gauntlet- a steel coaster that takes riders through five inverted loops! Other rides this park includes bumper cars, a swinging pirate ship, and a classic carousel.
This is one of the amusement parks in the southeast that has a lot of dining options. Some of these fun eateries include a Mexican-style restaurant (which has AC!) called Trejos in the Park, a Goodie Gallery where you can get soft pretzels and ICEEs, and two different pizza places!
With so much to do, it is without question that Magic Springs makes our list for one of the best amusement parks in the south.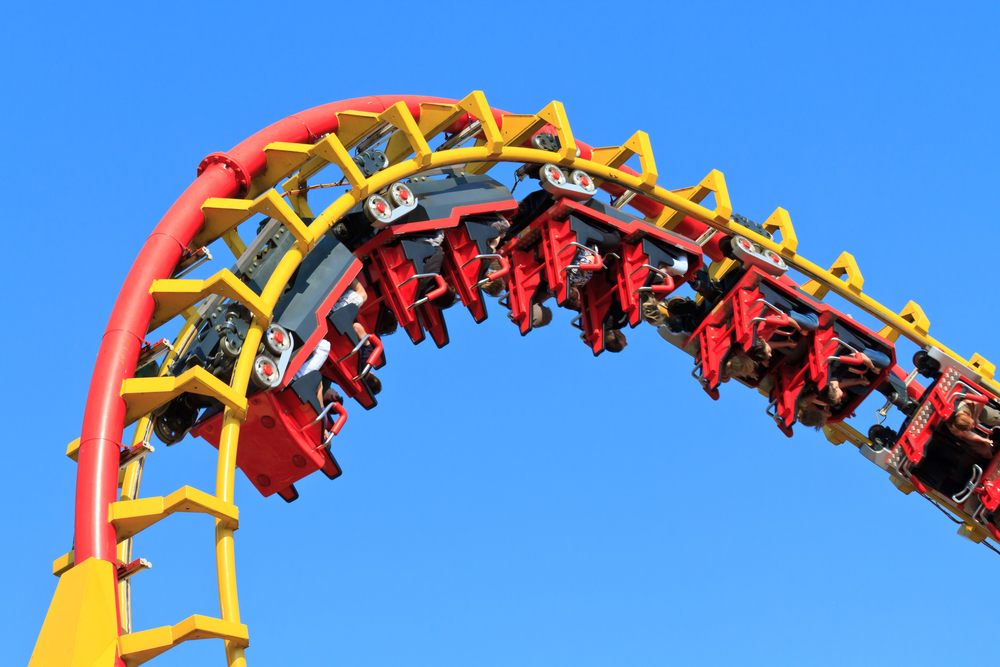 Florida
Universal Studios Orlando
If you are a fan of Harry Potter movies or classic Universal IPs like ET or Jurassic Park, then this is going to be one of your favorite southern amusement parks! Universal Studios has 3 parks- Studios, Islands of Adventure, and Volcano Bay, and is one of the best theme parks in Florida.
Featuring over 51 rides and attractions, this 3-parks combo is going to have some familiar faces and fun adventures for everyone in your party. Some fan favorites of these parks include The Hulk- a launch start of 64 mph that has you looping through an inverted zero-gravity maneuver that will leave your heart racing, Harry Potter and the Escape from Gingotts Bank- a indoor coaster that will show you the secrets of the Wizarding World, and Krakatau Aquatic Coaster- a four-person canoue that will twist and turn you through the inside of a volcano and sailing through a waterfall.
The park's newest coaster is the Velocicoaster, where you race alongside the velociraptors (including Blue) from the Jurassic World films through a series of loops and high speeds. The park also offers seasonal events like Halloween Horror Nights, Grinchmas, and Mardi Gras, so make sure you check out the calendar on their website when planning your trip in case you want to join in on the adventure!
This is one of the best amusement parks in the southern USA for good reason, and when you visit, you will see why!
Walt Disney World
As one of the largest amusement parks in the south, Walt Disney World in Orlando, FL is a must-stop that should be on everyone's bucket list!
With six parks (two of which are exclusive water parks), this massive theme park in Florida is full of magic and wonder for all ages.
If you are looking for classic rides, then Magic Kingdom is going to be your place. This park has classic dark rides like Peter Pan and It's a Small World, and rides that Walt Disney himself had a hand in creating like The People Mover and The Carousel of Progress. Fun fact: the Carousel of Progress was actually presented at the 1964-65 World's Fair in New York, before it was later moved to Disneyland, and then Disney World where it has been ever since.
If you are looking to expand your food palate, the EPCOT is your park. Origially designed as the Experimental Prototype Community of Tomorrow (or EPCOT as it is now referred to), this park has morphed into a park focused around food and beverages with shows that highlight cultures from around the world. Try the Lily Margarita at the bar in the Mexico pavilion, or a handful of Maple Popcorn from the Canada pavilion. Make sure you stop in the back of the France pavilion as they have some of the best pastries on Disney Property.
If you are looking to learn more about the wildlife on different continents, then Animal Kingdom is the place to be. Featuring a safari of the Harambe Wildlife Reserve, and a roller coaster where you try to outrun a Yetti in the mountains (Expedition Everest) this park also home to Pandora, the land of blue aliens based on the popular film franchise created by James Cameron. The restaurants here are going to be more 'health' concous than some of the others you may find on property, so if you are a
But if you are looking for more high-flying adventure, then Hollywood Studios is your park. Based on the golden age of Hollywood, this park features lots of shows and the only Brown Derby Resturant that is still in existence. Be sure you reserve your table ahead of time as this restaurant fills up fast! There is a Toy Story land as well as a Star Wars area where you can meet characters from the films and build your own light saber!
Sound complicated and overwhelming? Don't panic because we have you covered! Check out our sister site, Disney Trippers, for all of our best tips and tricks to help you plan the best vacation at this southern amusement park.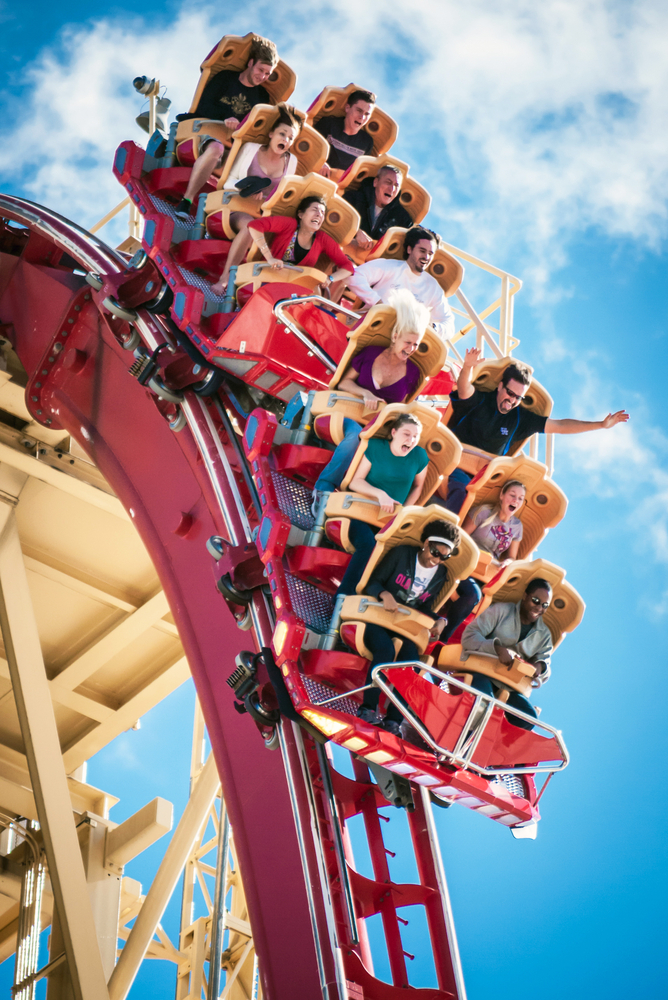 Georgia
Wild Adventures
Wild Adventures may not be as well known as other amusement parks in Georgia, but this converted zoo stays true to its roots. A combination of a water park, theme park, and safari, Wild Adventures is a fantastic amusement park in the south that will have you excited for your next vacation! There is a safari train that takes you across the zoological part of the property and allows you to interact with some of the animals on site.
Some other highlights of this park are the roller coasters like Swamp Thing- a feet-dangling steel coaster that takes riders on a series of twists and turns over a pit of a very hungry gator, and the Bonzai Pipeline- three tracks of water slides that will send your racing over dips and hills. This is an amusement park in the south that you do not want to miss.
Six Flags Over Georgia
As one of two locations in the state, Six Flags Over Georgia is one of the best amusement parks in the south for good reason. Many thrill-seekers travel from across the USA to ride some of the coasters that are unique to just this park, and several of these rides have a Batman theme based on various villains and heroes.
Some of those themed rides at this location include The Riddler Mindbender- a steel-looped roller coaster that has several inversions and top speeds of 50 mph, The Joker Chaos Coaster- a single track inverted loop that carries you 72 feet into the air, and Justice League: Battle for Metropolis- a 4D experience on a motion-based vehicle where you are given "a stun gun" to help protect the city from attack.
Are you looking for other amusement parks to stop at during your Georgia trip? Check out our list of best amusement parks in Georgia that you must visit!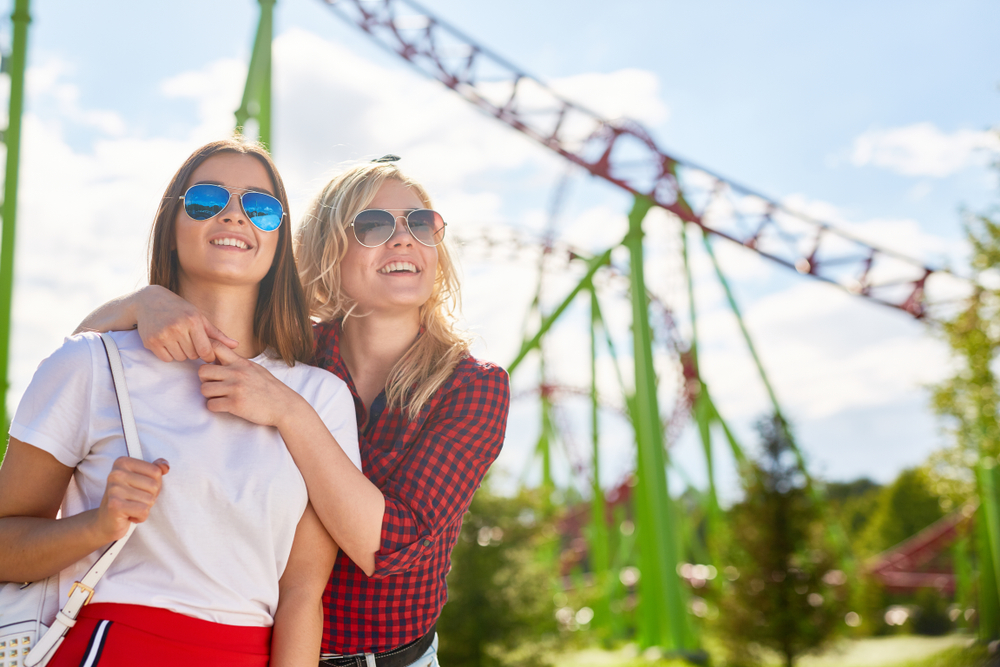 Kentucky
Kentucky Kingdom
The Kentucky Kingdom is a theme park in the south that has many activities to choose from. With 35 rides, a combination of steel and wooden coasters, both thrill rides and family-friendly rides, modern and classic rides, this park will have something for everyone on your next visit.
Thunder Run is one of the classic wooden coasters that will take you up, down, and around 3,000 feet of track and descends 74 feet. If you have been on this coaster before, you may want to try it again. After undergoing a refurbishment after the 2021 season, there were several tweaks to this ride that makes it flow smoother but doesn't take away that classic wooden coaster feel.
This amusement park in Kentucky is also home to the tallest coaster in the state and is partnered with one of the water parks, Hurricane Bay, which features 12 different sides, wave pools, and splash zones.
If theme parks aren't your thing, then check out these scenic trails for hiking in Kentucky that will make you forget all about the hustle and bustle of the city.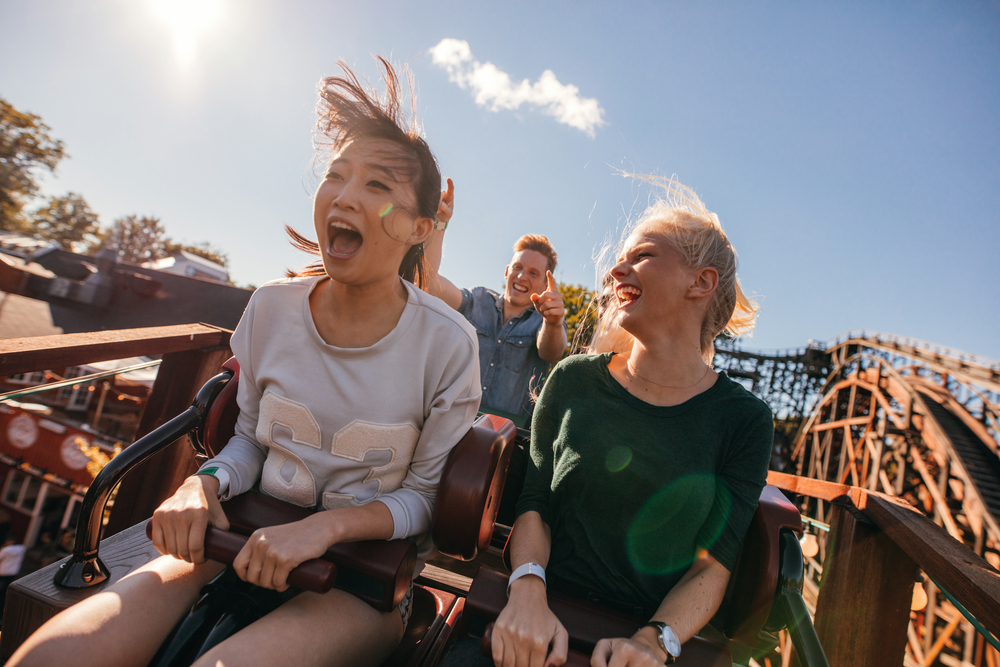 Louisianna
Blue Bayou & Dixie Landing
Blue Bayou & Dixie Landing is one of many amusement parks in the southeast that combines both land-based attractions as well as water-based attractions, having combined what used to be two separate parks.
Blue Bayou is a theme park in Louisiana that focuses on water rides and attracts a large crowd during the summer. With Mambo- a four-track water slide, and Mad Moccasin- a twisted tubular ride that spirals you several feet down, these water attractions will draw in people from all over the state during their open season.
Dixie Landing is the amusement park side of the park that has more of your traditional rides like a tilt-a-whirl and a carousel that will have you remembering happier times and making new memories with your party. Ragin Cajun is their highlighted thrill coaster that sends riders through inverted loops and racing across the elevated track.
Featuring a variety of classic and modern family-friendly rides in both parks, this is one of the best combinations of water parks and theme parks in the USA, and we recommend that you check it out.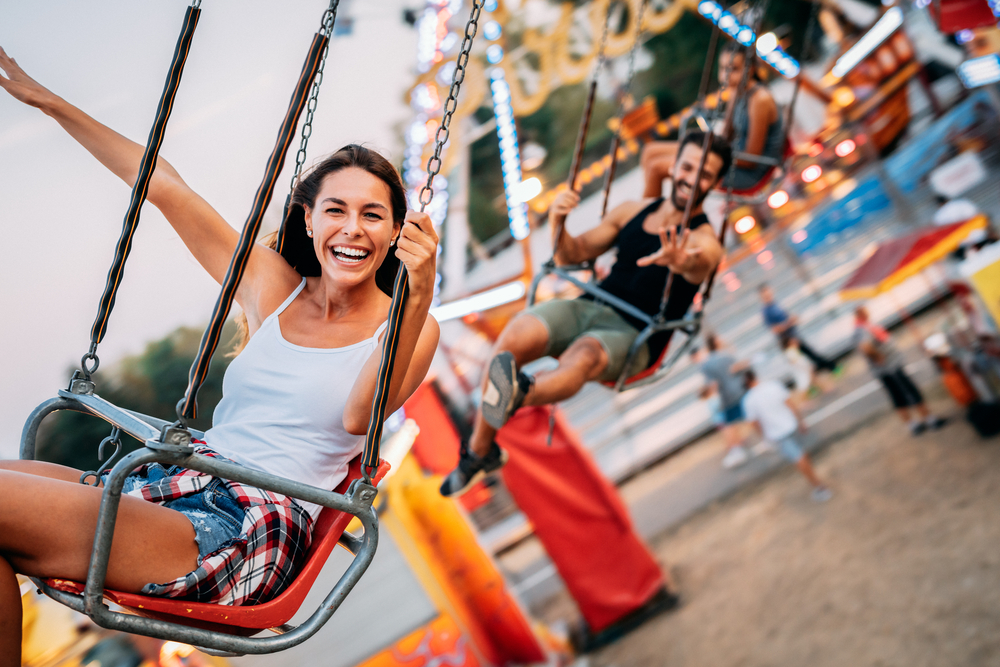 Mississippi
Geyser Falls Water Theme Park
As one of the water-based amusement parks in the south, Geyser Falls Water Theme Park is one of the best southern amusement parks you are going to find in Mississippi.
This family amusement center is spread out over 23 acres with 8 of those acres being beautiful sandy beaches. There is a lot to do at this theme park in Mississippi for everyone in your family- children, teens, and adults! There are specifically sectioned-off areas of the park featuring attractions that are only available to each age group, making your party feel even more special.
Check out one of their 12 featured water slides, or take a relaxing dip in the lazy river that will transport you from one side of the park to the other. If you plan on hanging out by the pool, make sure you get to this park early as reserved seating areas go fast during their peak seasons.
Looking to grab a bite to eat while staying in Tupelo, MS? Then check out our list of best restaurants in Tupelo that you shouldn't miss!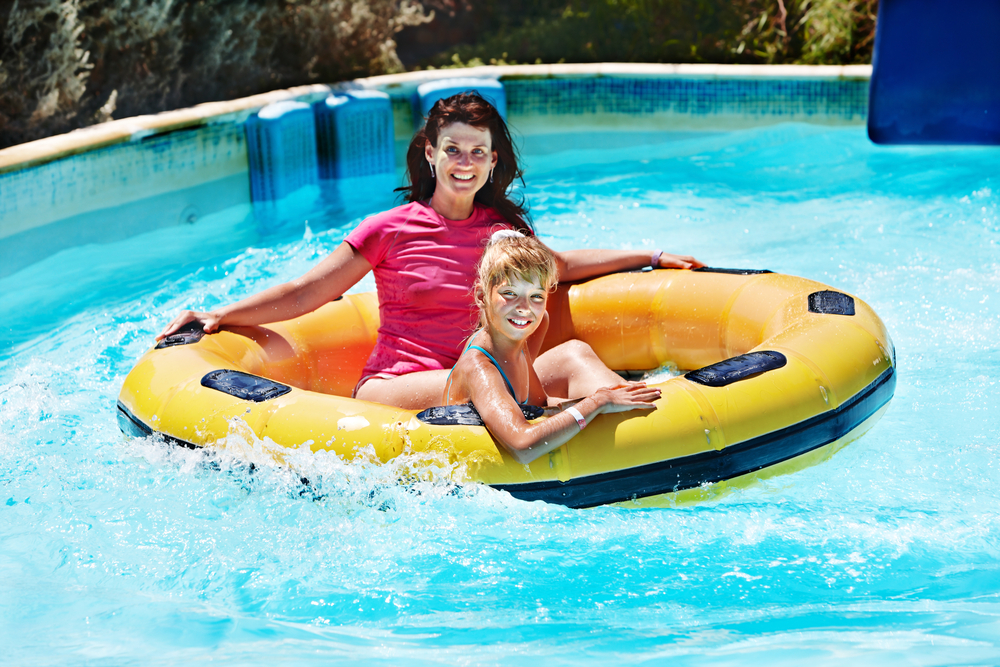 North Carolina
Carowinds
Opened for over 45 years, Carowinds is one of the amusement parks in North Carolina that will have your jaw-dropping to the floor! There is so much to do at this southern amusement park that it has been referred to as a premier destination in two states- North Carolina and South Carolina!
Try some of the down-to-earth southern-style cuisines at Blue Ridge Country Kitchen or Harbour House. Or experience some of the 60 plus rides currently in operation like Afterburn- a six-inversion looped coaster that reaches speeds of 60 mph! Make sure you check out their Fast Lane ticket system before you go, so you can minimize your wait times but still enjoy all of your top rides!
Looking for a place to spend the night? Then visit one of their modern campgrounds or their on-site hotels which are packed with amenities and could save you big on park tickets! Wind down the day with some of their live entertainment and catch a glimpse at the sunset over some of the more scenic views of the hills and mountains. This is one of the best amusement parks in the south that you have got to visit.
Do you want to try out an ocean view during your next visit to North Carolina? Then check out our list of best beaches in North Carolina that will help you to relax on your next weekend get-a-way!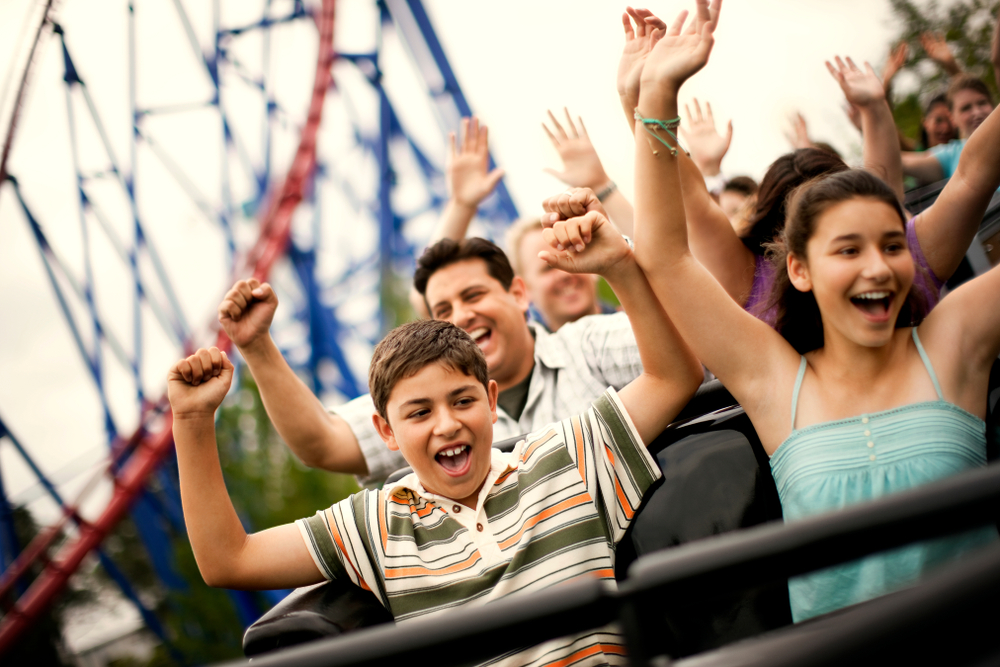 South Carolina
Pedroland
Pedroland is different than many of the other theme parks in the south, but it is a must-stop when you are traveling down the highway heading home! This theme park in South Carolina is different than your average park.
As one of the amusement parks in the south that focuses on the entire family, this amusement park has 2 championship mini-golf courses, an arcade at the top of a 200-foot sombrero tower, and several kid-friendly dining options. Plus, this location has an indoor reptile exhibit featuring 15 species of crocodiles and over 50 species of snakes that you can learn all about walking around and chatting with their handlers. Several of these animals are on the endangered species list and are hard to find elsewhere, so be sure to visit them before they disappear!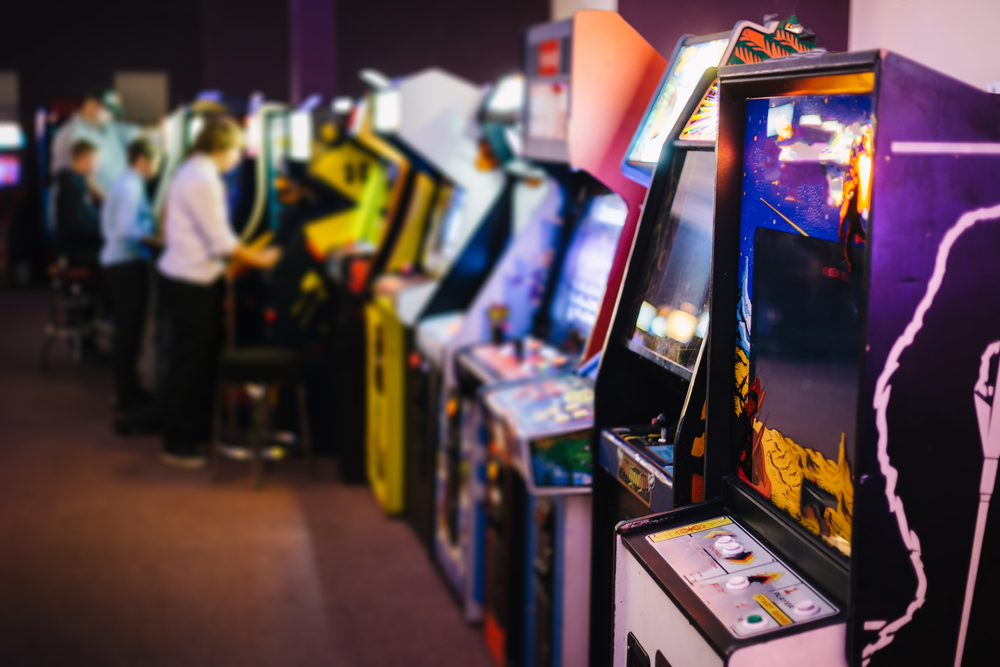 Tennessee
Dollywood
Dollywood is one of the amusement parks in the south that you have to visit. As one of the most charming theme parks in Tennessee, this adventure land is owned by America's sweetheart and award-winning Country singer Dolly Parton, and it shows how much she loves her home state through her care of this park.
Dollywood prides itself on providing the best experience for all of its guests, whether it is your first time visiting or your 100th time. Some of their amenities feature award-winning dining experiences and lots of entertainment with true southern hospitality that will have you calling this park the friendliest of the amusement parks in the southern USA.
The park also features over 40 rides, including fair classics like The Scrambler or newer steel coasters like the Tennessee Tornado. They also have tours of Dolly Parton's Home-on-Wheels and a sneak peek as to what her Tennessee home looks like. It is no wonder why this theme park makes our best list of amusement parks in the south!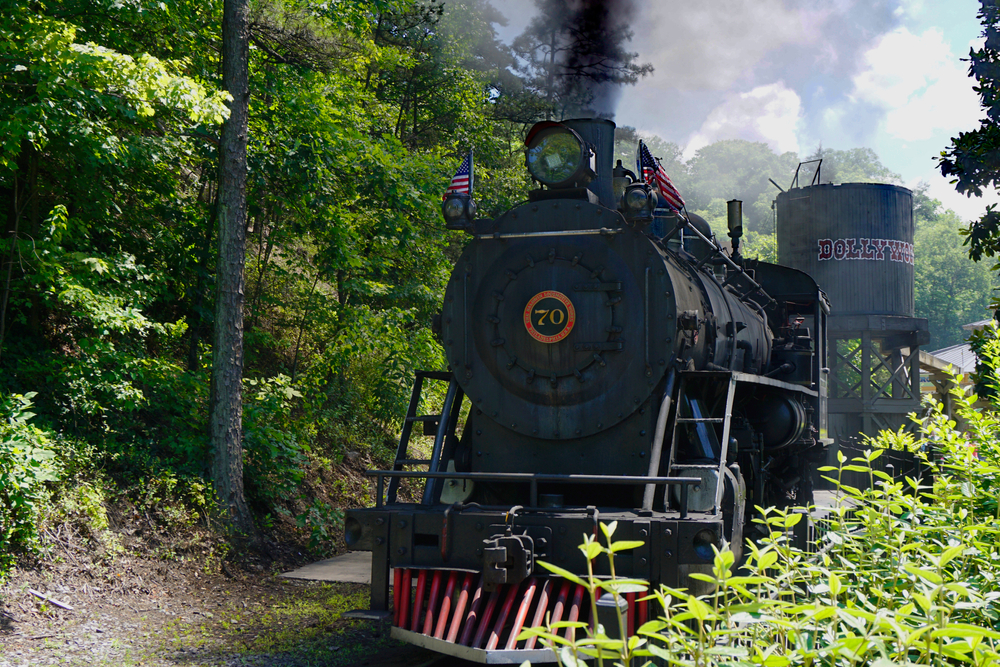 Texas
Morgan's Wonderland
Morgan's Wonderland was named by Time Magazine in 2018 as one of the "World's Greatest Places" for good reason! Unlike other southern amusement parks, this theme park in Texas boasts that it is the first all-inclusive park, but what exactly does that mean?
Originally designed to create a fun space for families who had both disabled and abled children, this park pays close attention to individuals who may process the world differently and/or have physical limitations that make going to a more thrill-seeker-style amusement park difficult. Some of the amazing features of this amusement park include an exclusive sensory village- where kids can play creatively in 5 different areas including a grocery store and newsroom complete with a green screen, swings that are completely wheelchair accessible, and fishing off The Warf- where kids get to catch and release the fish from the 8-acre lake.
Morgan's Wonderland is one of the best amusement parks in the USA for families with special needs family members!
Six Flags Fiesta Texas
Would this be an inclusive "best amusement parks in the south" list if we didn't include Six Flags Fiesta Texas? We think not!
While you may think you are seeing double as the Six Flags over Georgia already made this list, the Six Flags Fiesta Texas location is very different from its counterpart. One of the unique things about Six Flags Theme Parks, in general, is that most of their locations are take-overs of local theme parks that were already established, but the company wanted to preserve the unique feel of the area at the different parks.
There are many rides and experiences that are exclusive to this amusement park in Texas that you cannot find anywhere else! For example, Poltergiest is the park's only launch rollercoaster that takes you on a series of inversions that ends with a corkscrew maneuver. A fan-favorite at this park is the Superman Krypton Coaster, which is a floor-less coaster that has six inversions and two "weightless" opportunities on the track. None of the other Six Flags locations in the USA feature these rides, making this one of the best amusement parks in the south.
And, opening in the summer of 2022, the world's steepest dive roller coaster called Dr. Diabolical's Cliffhanger, is going to debut at this park! Be sure to mark this on your calendars and get ready to have a thrilling time on this new coaster at one of the best theme parks in the USA.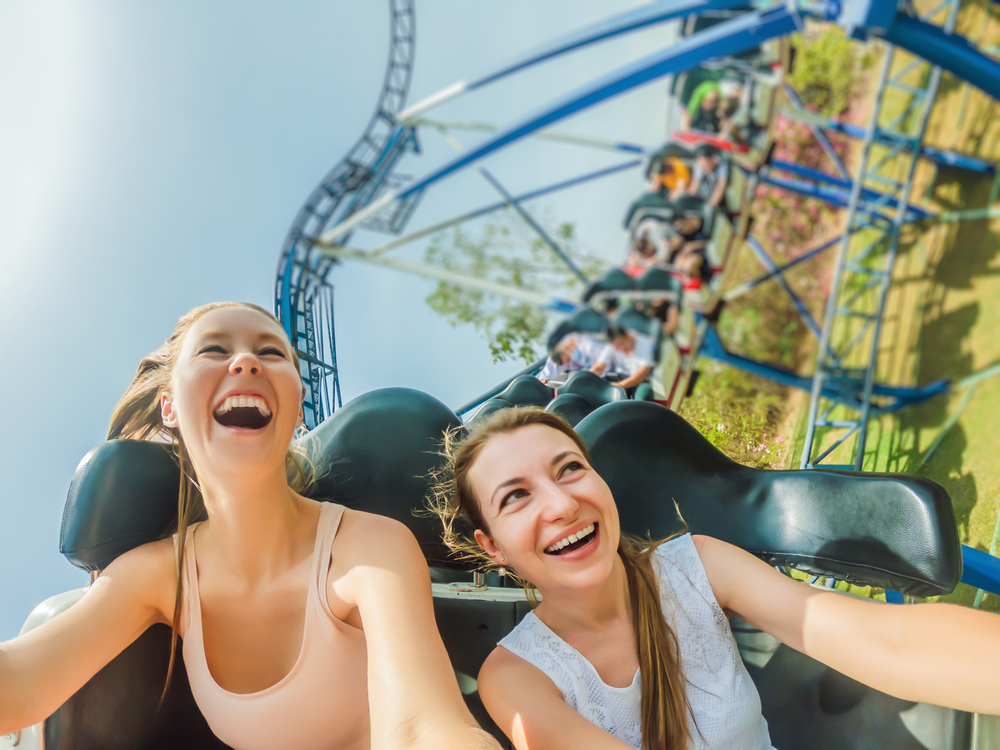 Virginia
Busch Gardens Williamsburg
Voted the "Most Beautiful Theme Park" 30 years in a row by the National Amusement Park Historical Association, it was without a doubt that we included Busch Gardens Williamsburg as one of the best amusement parks in the south.
As one of the best amusement parks in the USA, what makes this Busch Gardens different are the animal greeting with Clydesdale Horses and other animals, as well as the uniquely themed roller coasters and rides that are offered.
Several rides like the Pantheon, Apollo's Chariot, and Escape from Pompeii offer thrill-seekers a sneak into the historical past with a modern twist. Of course, Invadr is the park's wooden roller coaster that sends riders down a 74-foot drop and gets air time over a series of hills and drops.
Needless to say that this theme park in Virginia is packed with thrills for everyone in your party!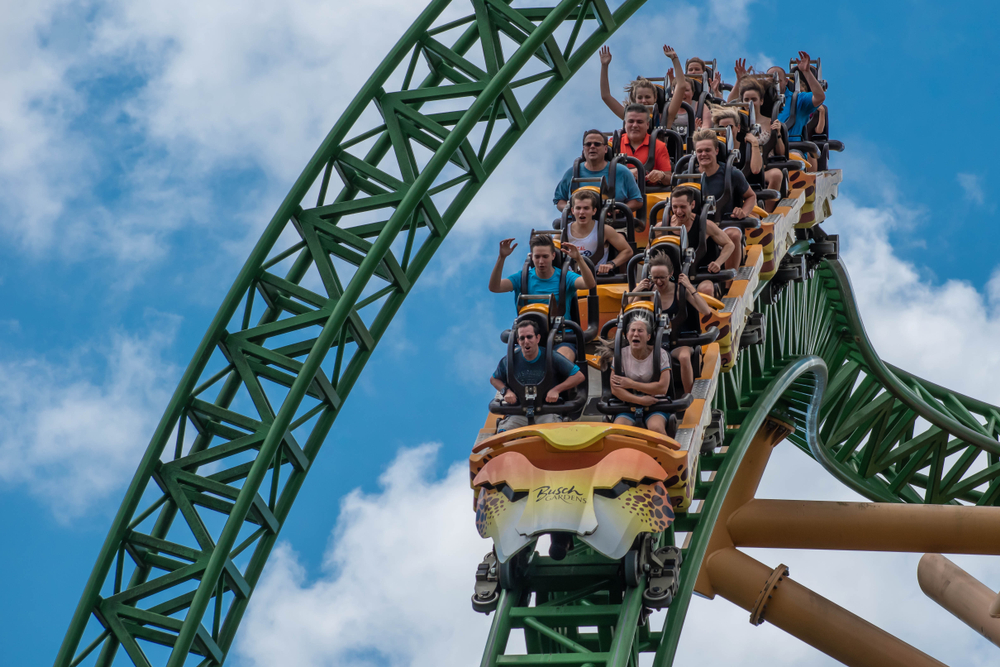 When you are ready to go on your next adventure be sure to check out the amusement parks in the southeast. These theme parks are packed full of thrilling rides, lively shows, and fun foods that you can't find anywhere else.
From Dollywood in Tennessee to Busch Gardens Williamsburg in Virginia, this is our list of the best amusement parks in the south that you must visit!
Don't forget to check out our main site, Southern Trippers, for more activities to do, places to visit, and foods to try when you are coming down to the southern USA!