Are you looking for the best Christmas towns in Georgia to visit this holiday season? You have come to the right place! We have a whole list of adorable Georgia towns that go all out during Christmas time and there are so many things to do!
Visiting GA Christmas towns is one of the best things to do in Georgia in December. Combining Southern charm with Christmas cheer makes for a magical time! Georgia may not get the stereotypical heavy holiday snowfall, but they find ways to get into the holiday spirit.
Whether you are watching colorful light displays, visiting Santa, or attending a Victorian Christmas celebration, you will surely have a "wonderful Christmas time" in any of these Christmas towns in Georgia. You may even feel like you're in a Hallmark Christmas movie!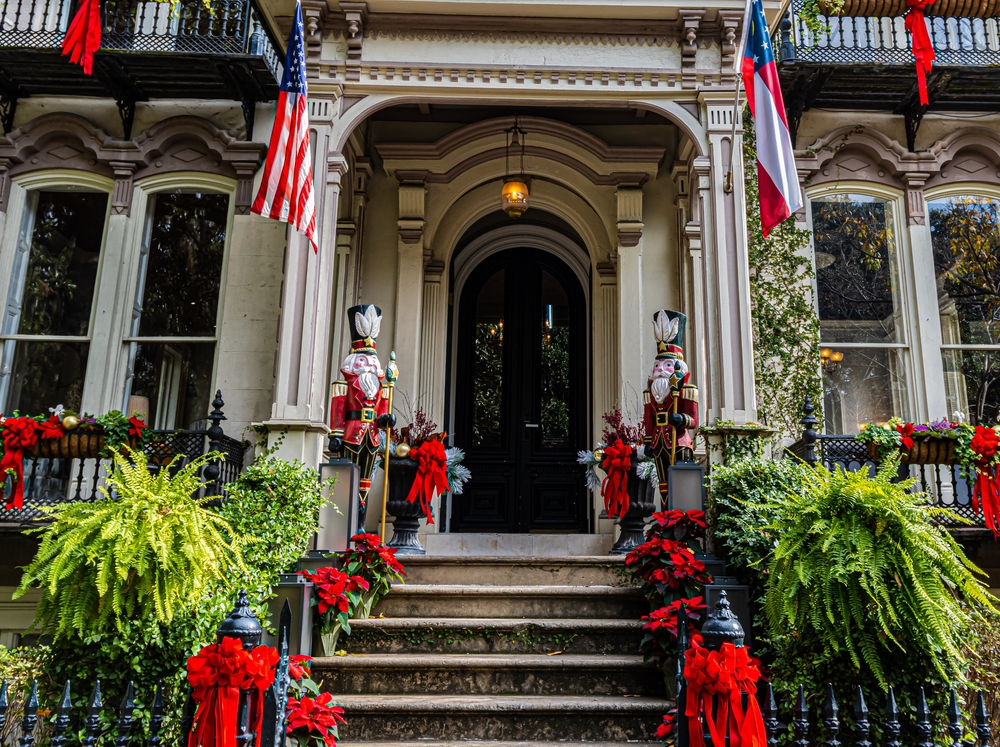 10 Festive Christmas Towns in Georgia You Must Visit
Helen
You'll find Helen, GA on any list of the best Christmas towns in Georgia because it is one of the most magical! This Bavarian-themed Appalachian town is one of the most visited towns in Georgia, thanks to its Christmas traditions.
One of the best ways to celebrate Christmas in Helen is to visit the Christkindlmarkt Christmas Market. This German holiday market pops up every November/early December and is full of food, sweet treats, drinks, toys, and gifts.
A Christmas parade heralds the season's beginning with Christmas characters and floats marching down the streets of Helen. With twinkling lights lining the timber eaves of the Bavarian architecture, the town looks like a Christmas card!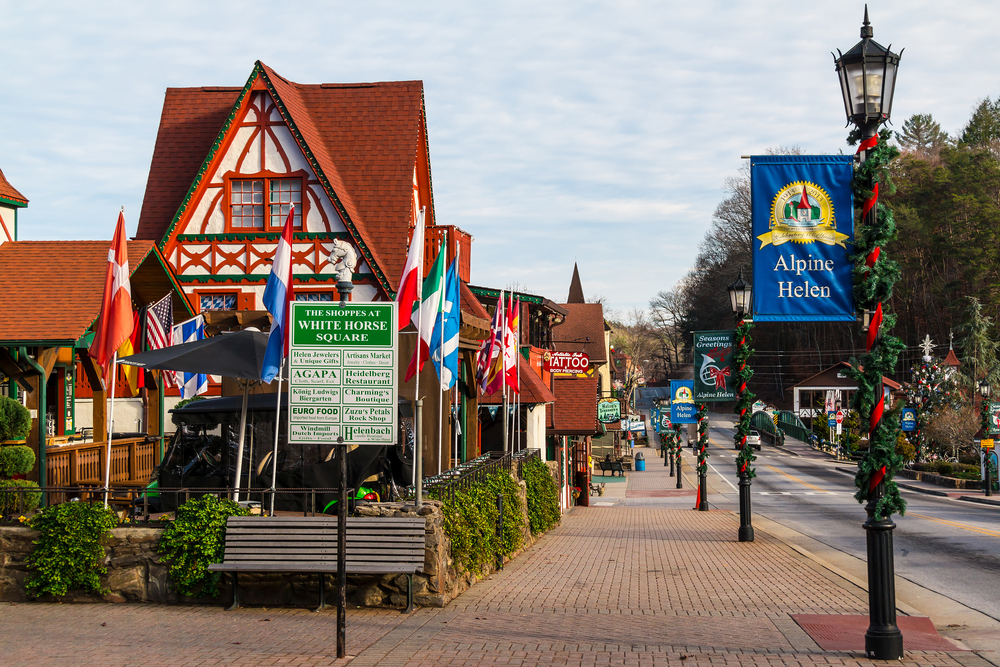 Savannah
Savannah is a charming city to visit at any time of year, but one of the best things to do in Savannah is to celebrate the holidays! The city is draped in lights and cheer, plus it's not as hot as in the summer months. While it may be bigger than other of the best Christmas towns in Georgia, Savannah manages to still have that small-town charm.
There are many festive ways to celebrate Christmas in Savannah, which include Christmas markets, park strolls, and decorations covering the beautiful Southern architecture.
One of the best Savannah Christmas traditions is Christmas on the River. Each year, this three-day festival takes place along the Savannah waterfront on the first full weekend of December. It features live music, lights, and a visit from Santa.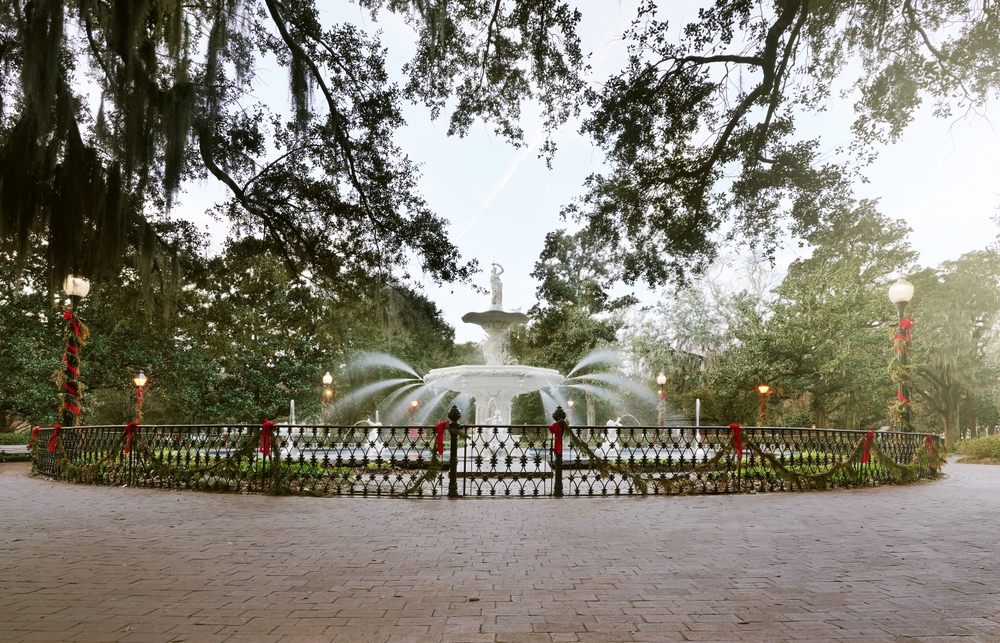 Dahlonega
One of the best Christmas mountain towns in Georgia has to be Dahlonega. Located at the foothills of the Blue Ridge Mountains, this small town takes Christmas very seriously with its "Old Fashioned Christmas" event.
Dahlonega grew as a town during the 1828 gold rush and the town still feels like it is from another era. At Christmas time, you can find carolers in costume serenading the historic town square, which is covered in decorations and lights. You can even take a ride in a horse-drawn carriage!
If you like Hallmark Christmas movies, you'll be happy to know that Dahlonega is one of the Hallmark towns in Georgia! They filmed Christmas in the Smokies and Christmas in Homestead in Dahlonega, which came out in 2015 and 2016 respectively.
Walking through town you can pretend you too are the main character in a magically perfect Hallmark Christmas movie!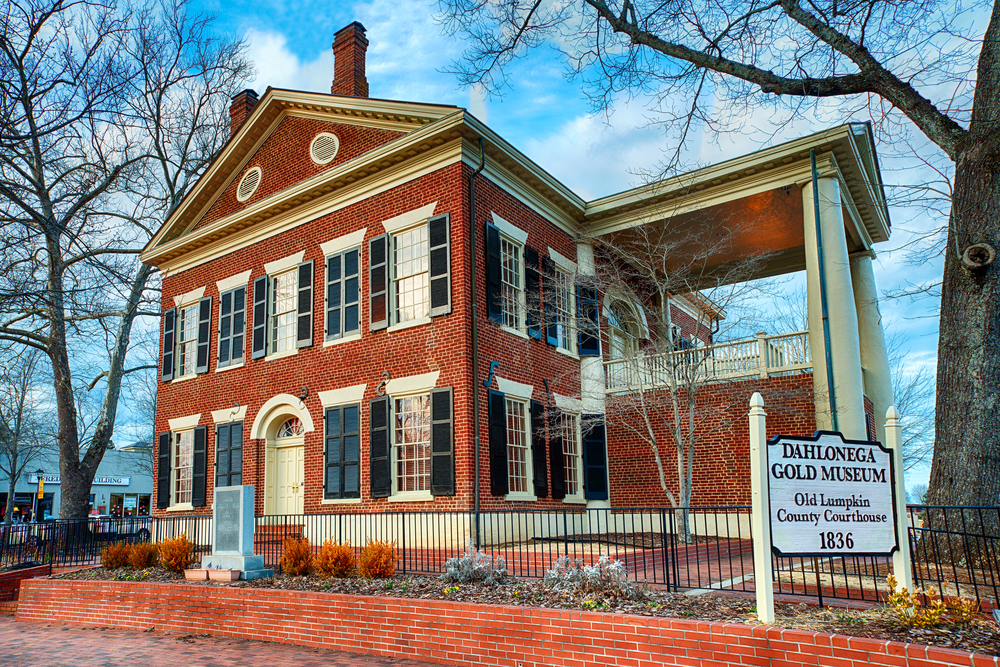 Blue Ridge
Another of the best place to spend Christmas in the Georgia mountains is Blue Ridge. It's especially one of the best Christmas towns in Georgia to visit with kids.
Blue Ridge was founded thanks to the Marietta & North Georgia Railroad. In keeping with the town's history, the Blue Ridge Scenic Railway hosts a Holiday Express every holiday season. This family-friendly train ride winds through the beautiful mountain scenery while you listen to Christmas carols and stories. (Mr. and Mrs. Claus even make an appearance!)
While in Blue Ridge you can also attend the "Light Up Blue Ridge" event right after Thanksgiving and stop by the Arts Center to see impressively-decorated gingerbread houses.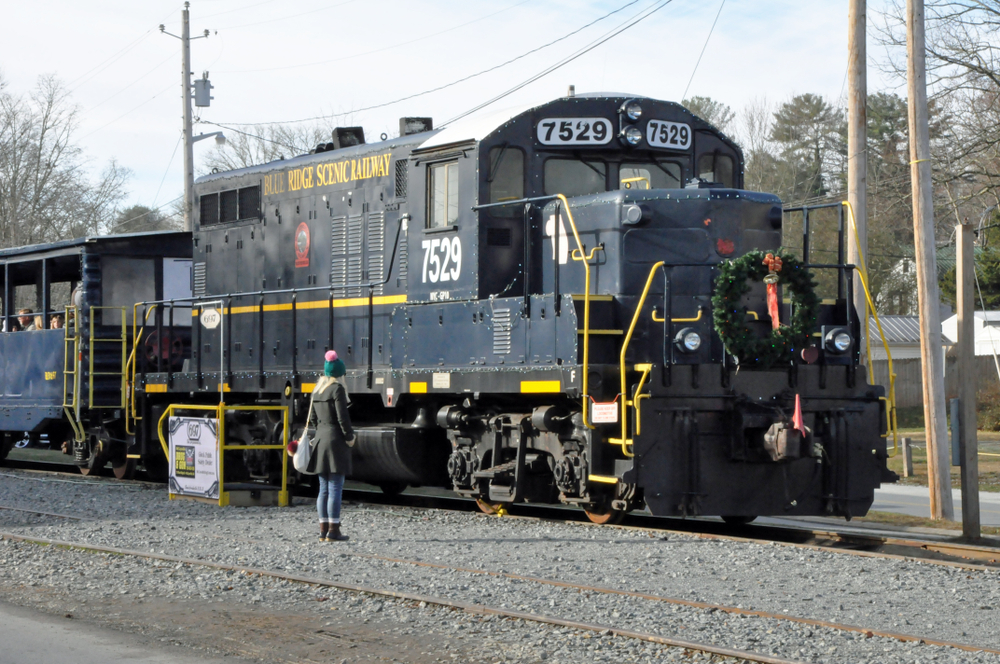 Jekyll Island
While the beach may not be what immediately comes to mind when you think of the best Christmas towns in Georgia, Jekyll Island is lovely during the holiday season! There are plenty of things to do on Jekyll Island, even at Christmas time.
What Jekyll Island lacks in cold weather, they make up for in stunning light displays. "Holly Jolly Jekyll" means festive lights wrapped around giant live oaks, a light parade, and fireworks. Hop aboard a jolly trolley to take a tour of the island's fantastic lights!
Children of all ages can have fun at the ice skating village or putt-putting their way through Peppermint Land at Jekyll Island Mini Golf.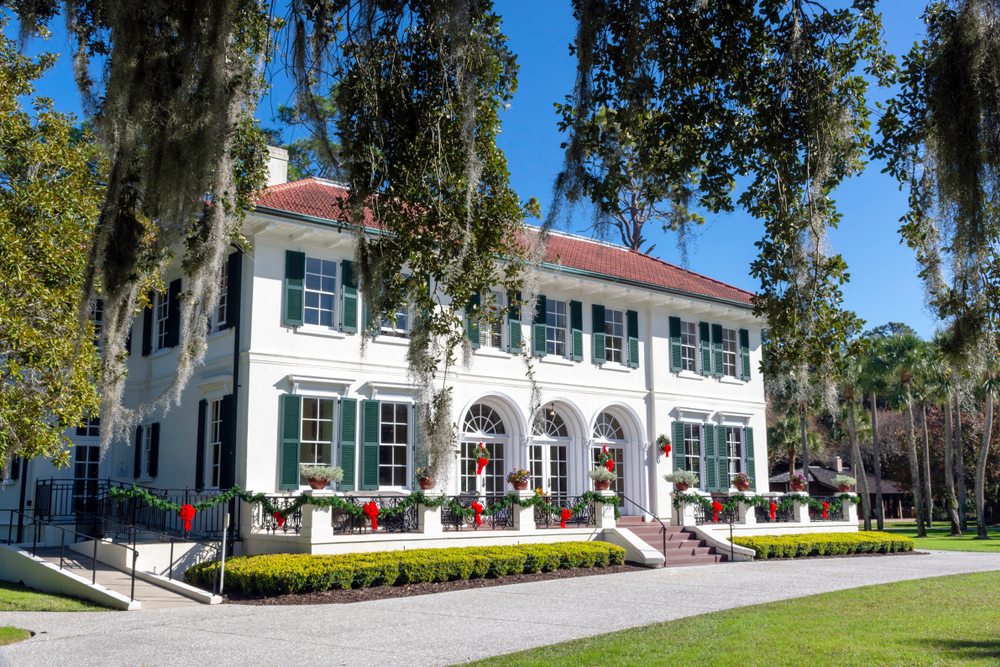 Pine Mountain
One of the best Christmas towns in Georgia for light shows is definitely Pine Mountain. Each year, Callaway Resort & Gardens hosts "Fantasy in Lights", an epic light show that makes Pine Mountain one of the best places to spend Christmas in Georgia.
Fantasy in Lights uses 10 million lights to create over a dozen Christmas scenes. (It's one of National Geographic's Top 10 Light Displays!) Take a trip along the seven-mile drive to see lights dancing over trees, lawns, and archways.
Then explore Callaway Christmas Village on foot and wander through a forest of Christmas trees and giant snowflakes, with a cup of hot chocolate in your hand. You can meet characters like Rudolph and Santa!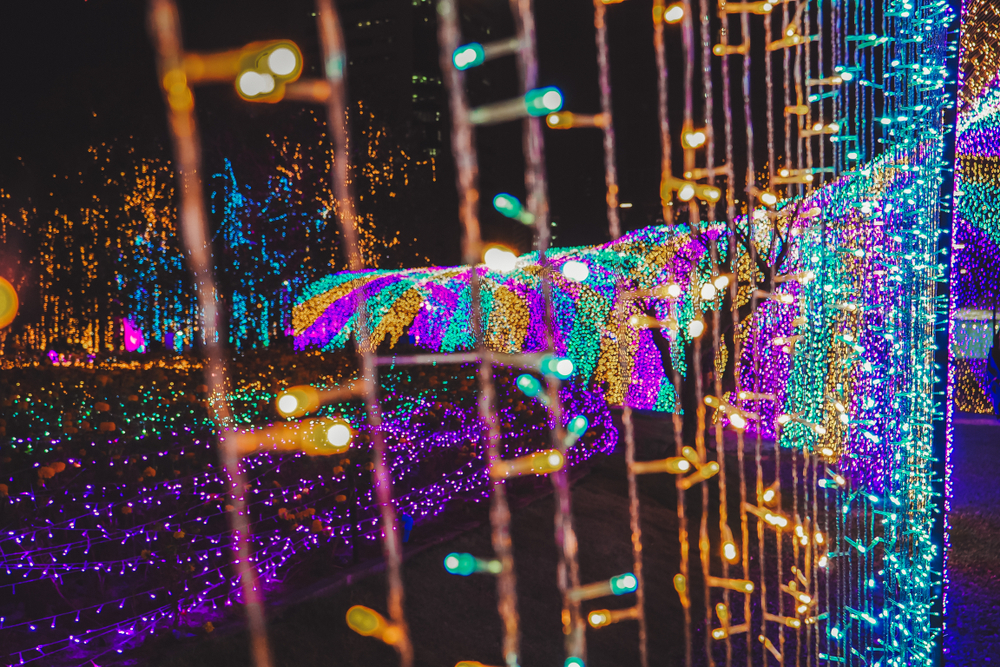 Thomasville
For those who love some old-fashioned holiday traditions, one of the best Christmas towns in Georgia is Thomasville. This little town in the Red Hills, with its brick-paved downtown, is quaint at any time of year but especially at Christmas.
Stores and restaurants in downtown Thomasville go all out with holiday decorations. Finish your Christmas shopping by ducking into beautifully-decorated independent shops. You'll feel like you're in a Christmas song with "busy sidewalks dressed in holiday style".
Thomasville is most known for its annual two nights of Victorian Christmas. Carolers in costume will serenade the streets while horse-drawn carriage rides trot by. There's also a live nativity scene at the First Baptist Church.
Santa Claus
Of course one of the best Christmas towns in Georgia would have to be a place named after the big man himself! Santa Claus, GA does actually exist, and (as one would hope) it's all Christmas-themed!
Many of the roads in Santa Claus are named after his famous reindeer, such as Rudolph Way and Prancer Street. The town hall remains decorated for Christmas all year long and has a special box for letters to Santa. Santa Claus is one of the best Georgia Christmas towns from which to mail Christmas cards since they'll receive a Santa Claus postmark.
This town in Toombs County may be small, but it's full of cheer. On Christmas Eve, many of the 200 residents of Santa Claus, line up along Sleigh Street with luminaries to create a "runway" for Santa's arrival!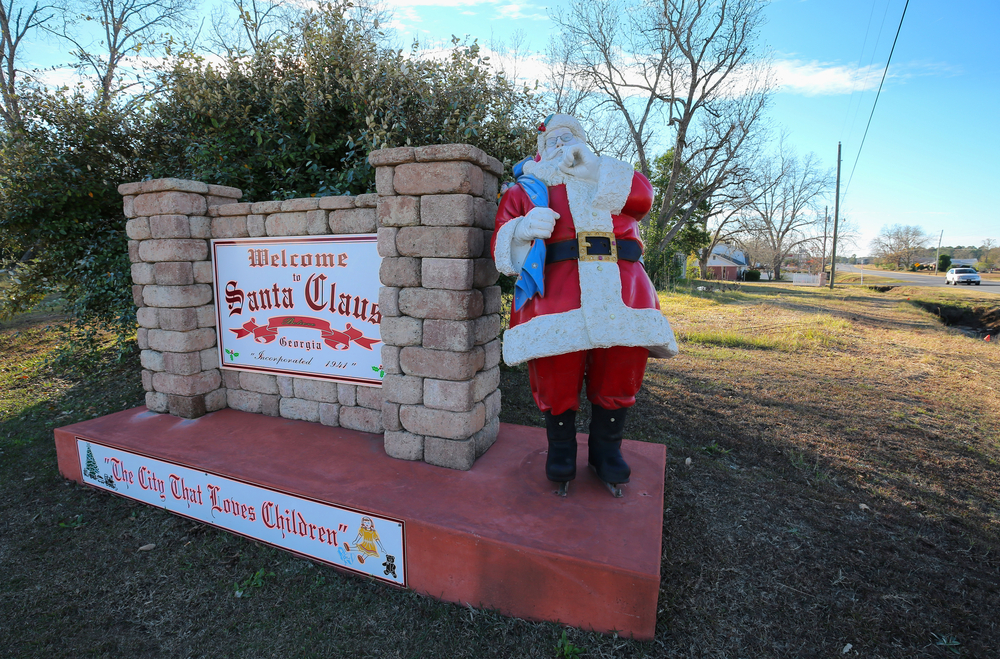 Gainesville
Gainesville is another one of the best Christmas towns in Georgia. While technically a city, Gainesville has all the small-town charm you need during the holidays.
The big event in Gainesville during the holiday season is Christmas on Green Street. This annual parade includes a procession of antique cars, marching bands, and holiday-themed floats. After the parade, Green Street remains closed off to traffic so folks can enjoy food trucks, miniature train rides, magicians, and storytellers.
The Rotary Club then hosts an annual tree-lighting event at the intersection of Green Street and West Academy Street.
Wander around historic homes in Gainesville, and check out their lights and decorations. Sing along as musicians play from front porches or enjoy refreshments at open houses.
Stone Mountain
Another of the best Christmas mountain towns in Georgia is Stone Mountain. Located near Atlanta, the town is most known for Stone Mountain Park, aptly named for the giant monolith in the center. The park hosts all kinds of events throughout the year, including Christmas time!
During Stone Mountain Christmas, you can enjoy spectacular light shows that include both drones and fireworks, set to your favorite holiday hits. You might even glimpse Santa flying overhead during the Enchanted Tree Lighting Ceremony!
Stone Mountain is one of the best Christmas towns in Georgia for those with little ones. Families will enjoy walking through the Musical Frosted Forest, with light-covered trees, and meeting Santa in his office. There are also family-friendly live musical and theatrical performances.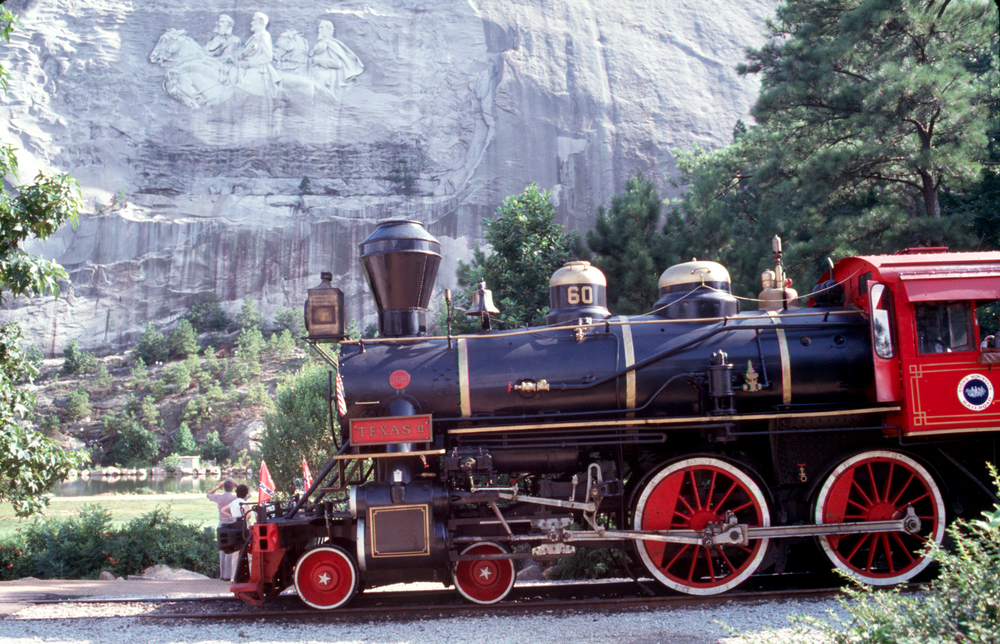 We hope you've enjoyed this list of Christmas towns in Georgia and that it's put you in the holiday spirit! There are so many quaint places to spend Christmas in Georgia that you can't go wrong wherever you end up. You can be sure Santa will find you in any of these GA Christmas towns!