The best Christmas towns in North Carolina know how to bring the holiday spirit to the Tar Heel State! There are festivals, events, dinners, and Christmas decorations in these stunning NC towns that will leave you in awe.

You can find Christmas parades, walk-through and drive-through light displays, perfectly decorated hotel lobbies, delectable Christmas meals, and more when you explore North Carolina towns at Christmas time.

Let's get started and learn about some of the best places to spend Christmas in North Carolina!
10 Festive Christmas Towns In North Carolina
Asheville
Christmas in Asheville is simply stunning. It is one of the best places to see Christmas lights in North Carolina! The most prominent display of Christmas spirit and what really makes Asheville one of the best Christmas towns in North Carolina is the Biltmore Estate.

This historic home is the largest home in The United States and each holiday season the inspiring displays and festivities that are here at the Biltmore have surprised and awed guests for more than 120 years.

Over 100 Christmas trees are decorated on the estate, hundreds of thousands of lights, nearly 2,000 poinsettias, and more than 1,000 feet of fresh Evergreen garland are all used to create a dreamy Christmas atmosphere.

Each year there is a different theme and color scheme at the Biltmore, making it new and exciting each year. Perfect for return visitors! Of course, there are more Christmas activities to participate in while in Asheville other than the Biltmore.

There is a beautiful light display at the North Carolina Arboretum during the holiday season, gingerbread-making contests, holiday carriage rides through the main streets in Asheville, Christmas tree farms to visit, and lovely winter hikes in the area that you can enjoy while you are in town at this time of year.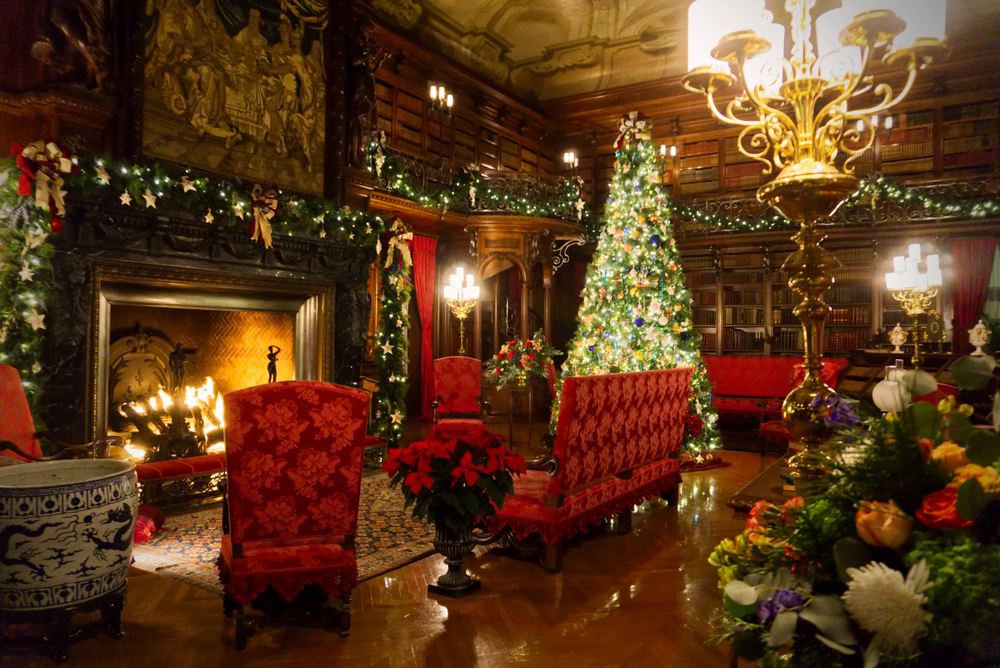 Banner Elk
Christmas mountain towns in North Carolina are a must-see while in the Tar Heel State. Banner Elk is one of the best North Carolina mountain towns and it is by far one of the best to visit at Christmas time as well.

Banner Elk offers a small-town Christmas vibe for visitors that you will fall in love with. This Blue Ridge Mountain town offers beauty, holiday spirit, and fun Christmas activities to guests.

Some of the best ways to enjoy your time spent in Banner Elk at Christmas are to watch Christmas tree lightings, enjoy caroling and hot chocolate in the Corner on Main Park, watch the A Banner Elk Christmas show, run in the 5K Reindeer Run, visit Christmas at Apple Hill Alpaca Farm, or have a Breakfast with Santa at the Banner Elk Presbyterian Church.

What makes Banner Elk one of the best Christmas towns in North Carolina is the variety and natural beauty that the town offers. On top of the most popular Christmas activities in town, there are other smaller events that you can research and check out as well.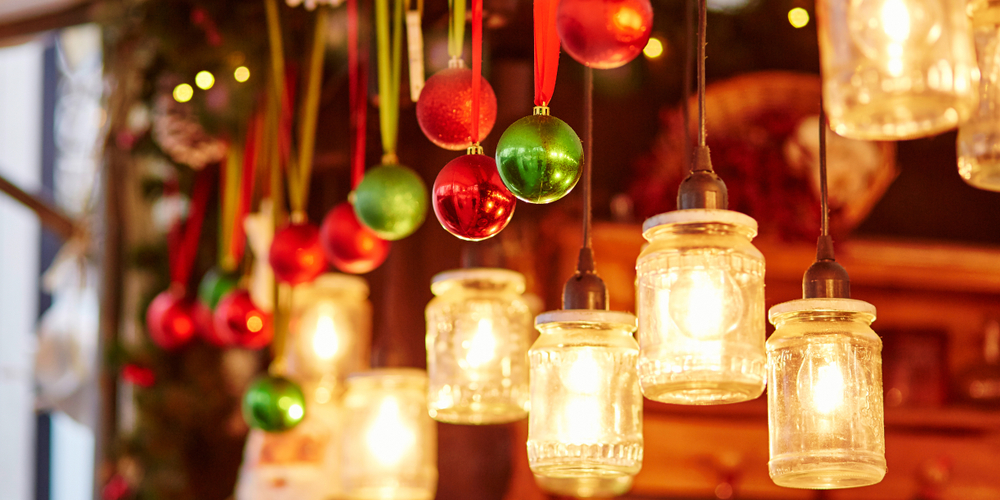 Blowing Rock
Blowing Rock's Christmas in the Park & Lighting of the Town is one of the top festive places to celebrate Christmas in North Carolina. If you have your heart set on spending Christmas in the NC mountains, Blowing Rock is a great place for it.

This dreamy storybook town is just two hours from Charlotte, NC, and offers visitors unique restaurants, art galleries, antique shops, and boutiques on top of the stunning beauty of the mountains around the town. At Christmas time, the town comes alive and gives visitors a snowy wonderland to explore.

Christmas in the Park in Blowing Rock happens on Main Street and is the center point for Christmas activities in town. Games, crafts, caroling, and other activities are all there at Christmas in the Park. There's also the Festival of Trees where they are displayed around town at shops and businesses for onlookers to enjoy.

Skiing and hiking are also super popular here in the wintertime! Appalachian Ski Mountain has skiing and apres ski activities while the Blue Ridge Parkway and area parks offer great hiking opportunities.

With the Christmas events and activities here along with mindblowing landscape, it is easy to see how Blowing Rock is placed among the best Christmas towns in North Carolina.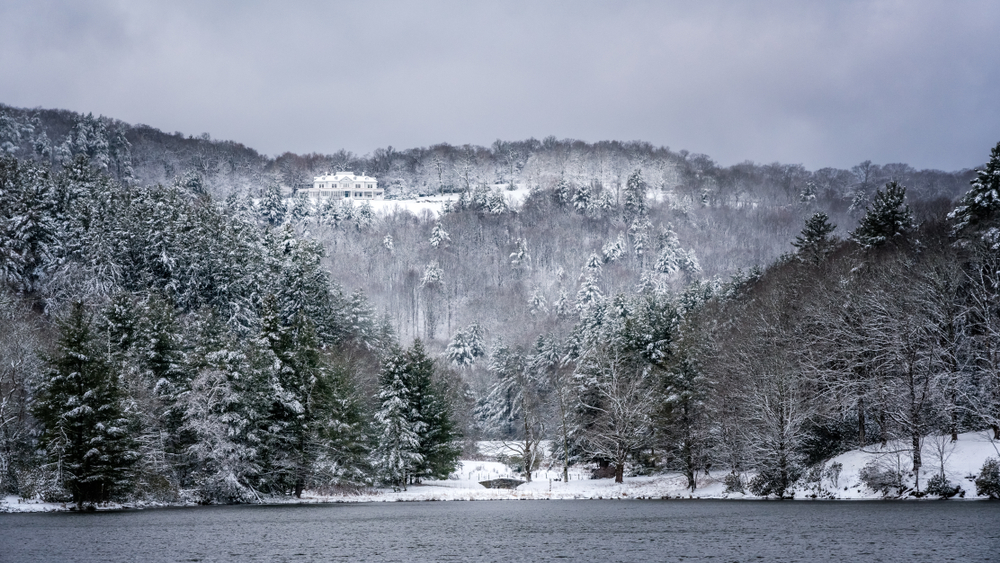 Boone
Boone, NC is among the top Christmas towns in North Carolina. A popular mountain town in The Tar Heel State, Boone serves as a base for travelers visiting the mountains in eastern North Carolina.

It is in a spectacular location near Beech Mountain, Banner Elk, Blowing Rock, Grandfather Mountain, Linville Falls, and other points of interest in this part of the state.

At Christmas time, one of the best things to do is to ride the Tweetsie Railroad which can be found between Blowing Rock and Boone. This is a family-friendly event that is loads of fun for all ages. The train is decorated with Christmas lights, as is the train station, making for an exciting holiday attraction.

There are holiday events at the Apple Hill Farm, Christmas tree lightings, and Christmas shows at Mountain Home Music. Boone is also home to one of the best Christmas Tree farms in North Carolina if you live nearby, grabbing a tree here is awesome!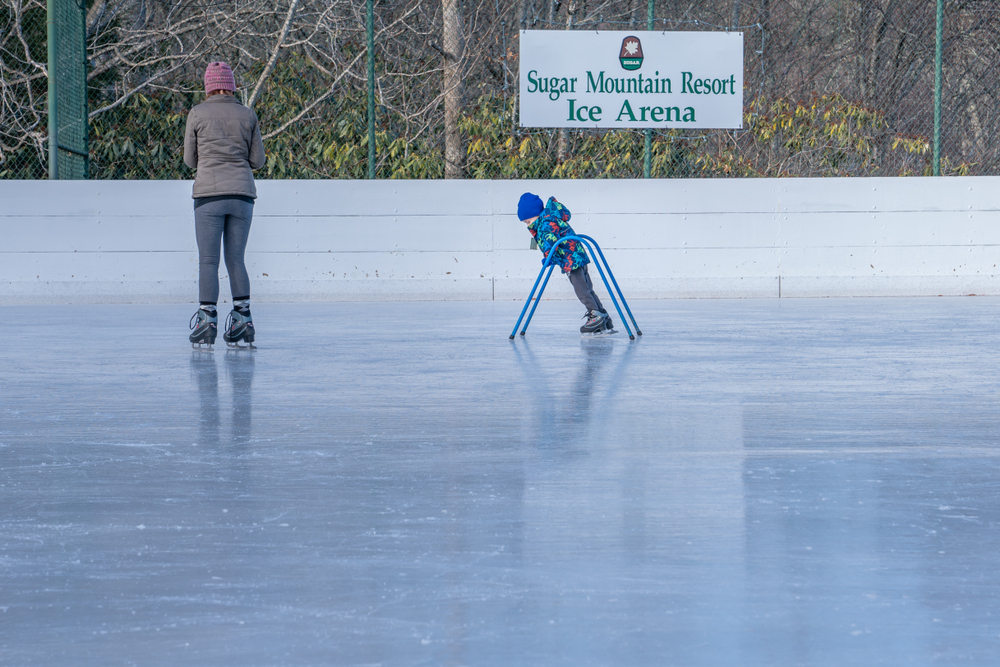 Bryson City
Bryson City is among the best Christmas towns in North Carolina. And checking out all of these incredible things to do in Bryson City during Christmas time is something that you won't want to miss out on if you find yourself traveling in the area during the holiday season.

Without a doubt, riding the Polar Express is the top thing to do in Bryson City at Christmas time for families. You can sing Christmas carols, have warm cocoa, listen to children's Christmas stories, meet Santa, and more while on the Polar Express.

While in town, you can also enjoy the beautifully decorated streets. Lights, garlands, figurines, and trees decorate Bryson City during December for the holidays. A twenty-foot tree graces the town square near the visitor's center. At the center, kids can go write letters to Santa as well as pick up cookies and hot chocolate.

Bryson City is also home to a holiday market from mid-November to mid-December, Christmas hay rides at Darnell Farms, an annual arts and crafts drive-about tour, Christmas tree lighting, a Christmas parade, and more for you to check out. This town knows how to have Christmas in the mountains!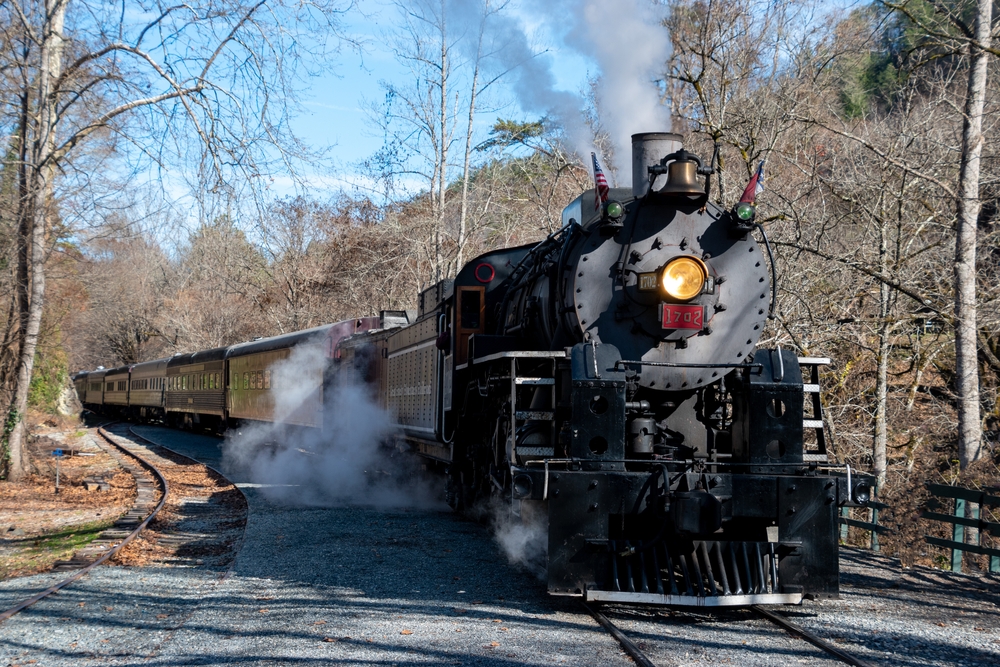 Charlotte
Charlotte's holiday activities place it firmly on the list of the best NC Christmas towns. There are loads of sensational things to do in Charlotte, especially at Christmas time.

This NC town is bursting at the seam with activities and events for Christmastime. A couple of performances you can watch while in Charlotte include the Charlotte Ballett where you can watch The Nutcracker or go to the Knight Theatre where you can listen to jazz renditions of Christmas classics.

The Christmas parade in Charlotte is a part of what makes it one of the best Christmas towns in North Carolina. Live music and floats on display make a fun event for visitors and locals alike. If the idea of an on-water Christmas parade sounds exciting, you can see them at Lake Norman and Papa Doc's Shore Club.

If tree lighting events are something you want to experience, there are many at different times throughout Charlotte including the Bank of America Stadium and Light The Knights at Truist Stadium. The Light The Knights event also has a tubing hill, a lights show, and European foods and drinks for guests to enjoy.

It would be a shame to talk about Christmas in Charlotte and not talk about Speedway Christmas. This is an annual event that happens at the motor speedway where you drive through a spectacular light show. More than four million lights decorate this four-mile course!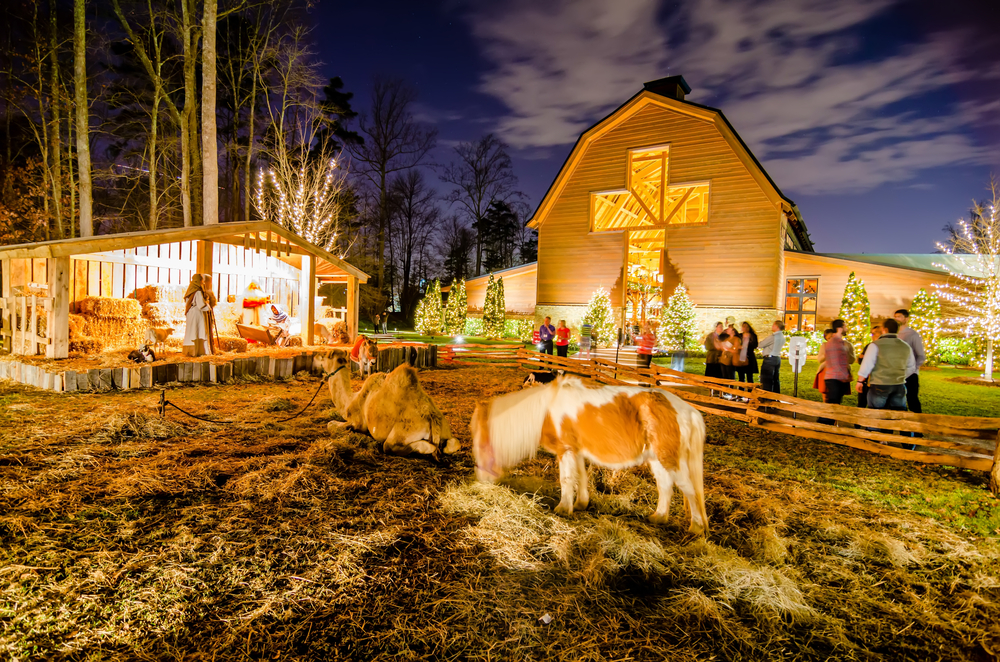 Hendersonville
Hendersonville is easily one of the best Christmas towns in North Carolina. From November to New Year's, this NC town is a special place to be in the Blue Ridge Mountains. With the shops, boutiques, restaurants, and galleries on Main Street decorated for the holiday season, you will feel like you stepped into a Hallmark movie.

You can take a carriage ride, meet Santa, browse markets, watch the Christmas parade, watch Christmas performances, enjoy Christmas shopping events, and participate in the Peppermint Bear Scavenger Hunt.

Some of the best things to do in Hendersonville at any time of the year include the Mineral & Lapidary Museum, the Children's Museum, and the Appalachian Pinball Museum. Be sure to check out some of the coolest places in town while you are there!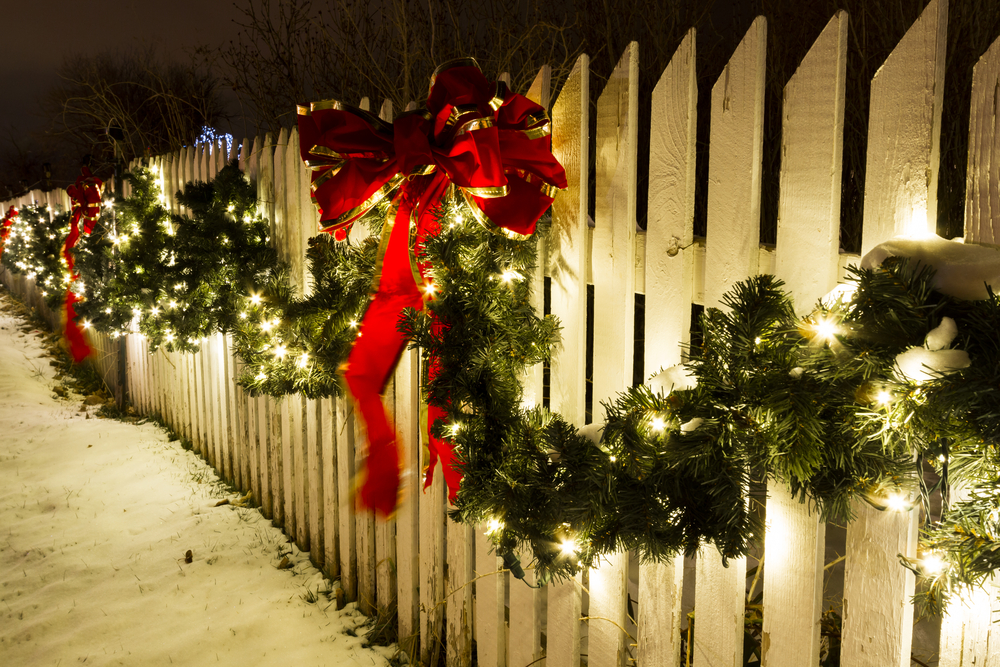 Raleigh
Easily one of the best places to spend Christmas in North Carolina is in the capital city of Raleigh! Effortlessly finding its way onto the list of best Christmas towns in North Carolina, Raleigh has more Christmas activities than you can do in just a couple of days.

Skate the Square at Fenton is an outdoor skating rink on the outskirts of
Raleigh where you are surrounded by lovely Christmas decorations, fantastic doos, and holiday spirit. For something a little more unique, The North Carolina Chinese Lantern Festival is a cultural celebration complete with acrobats, martial arts shows, light displays, and more.

Other popular events included Magic of Lights which is a drive-through light show, the annual Christmas tree lighting where there will be a kids train ride, Santa visits, music, and more, and the Nights of Lights at Dorthea Dix Park which is another drive-through light show.

While you are in the area you can check out the many exciting things to do in Raleigh like the museums, parks, restaurants, breweries, historical sites, and more. If you have time, stop by Taverna Agora for incredible Greek food!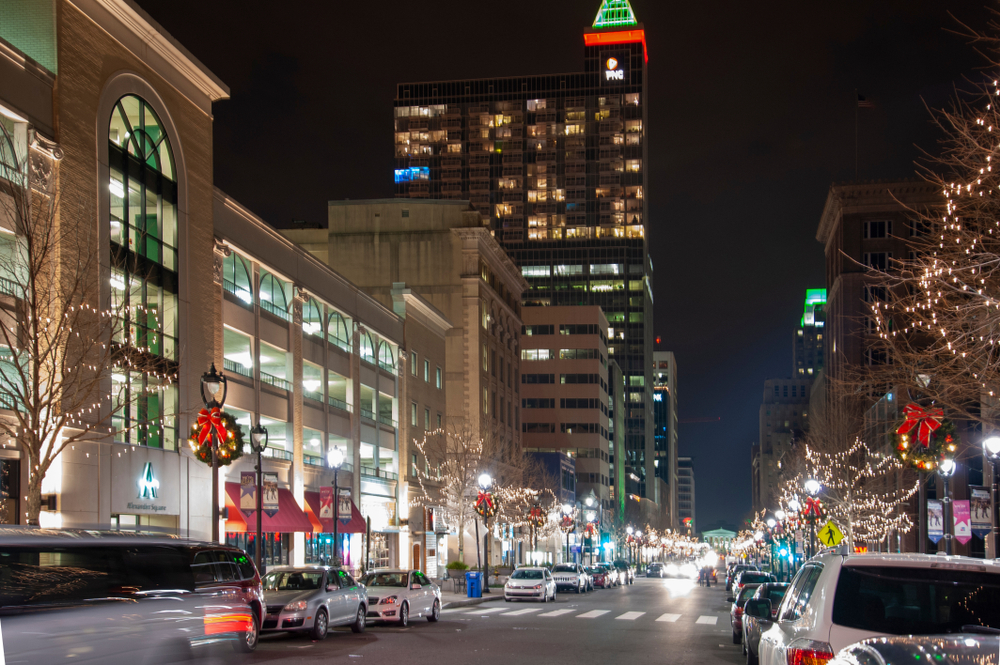 McAdenville
McAdenville is among the best North Carolina Christmas towns, in fact, it is known as Christmas Town, U.S.A. With a small population of less than one thousand people, it is amazing how this small town pulls together to create such a remarkable and memorable Christmas display for visitors each year.

So, what exactly makes McAdenville one of the best Christmas towns in North Carolina? It's their Christmas spirit! USA Today has called this town's holiday display one of the top ten displays in the country for three years in a row!

You can watch the tree lighting ceremony, take part in the Yule Log Ceremony, drive around town to see all of the houses decorated for the holiday season, see the nativity scenes, walk through town, and participate in the ChristmasTown 5K.

Once you have checked out the awesome Christmas festivities in Christmastown USA, consider visiting one of the barbecue places in town. Mcadenville has some of the best barbecue restaurants in North Carolina.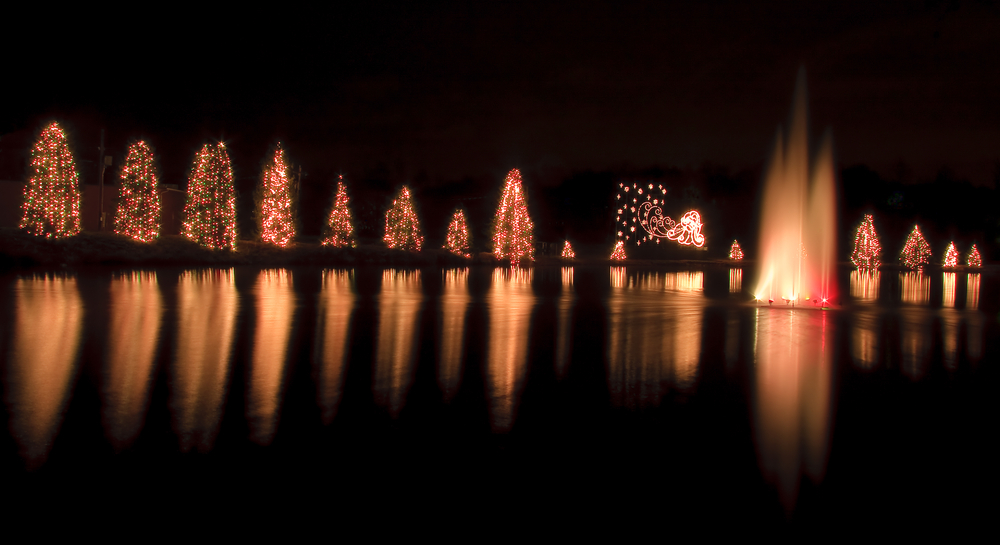 Wilmington
With all of the incredible things to do in Wilmington, the great coastal eateries, and stunning natural beauty, it is easy to see why this is one of the prettiest Hallmark towns in North Carolina.

To celebrate Christmas in Wilmington, a show at the Thalian Hall is in order. Ballets and plays are performed here to celebrate the holiday season and they make for a great addition to your Christmas festivity itinerary.

You can also tour the Nights of Lights at The Bellamy Mansion Museum, see the decorations at the Wilmington Railroad Museum, visit Santa at Mayfaire Town Center, and shop holiday markets at the Mayfaire Towne Center Holiday Market Extravaganza and the Really Cool Stuff Holiday Market.

Something special that you can do in Wilmington at Christmas is take a ride with Santa on a horse-drawn carriage. In December "reindeer" pull Santa's carriage through downtown Wilmington; this fun activity is fun for all ages!

If you are a fan of film, it is always cool to check out some filming locations on your adventures. While you are in Wilmington, you can visit the USS North Carolina where some of the scenes for the Hallmark movie USS Christmas were set.

Not only is Wilmington among the best Christmas towns in North Carolina, but it is also one of the most highly visited places in The Tar Heel State. If you have the opportunity to check out some of the top attractions in the area and enjoy the nearby beaches while you are there, don't miss the opportunity!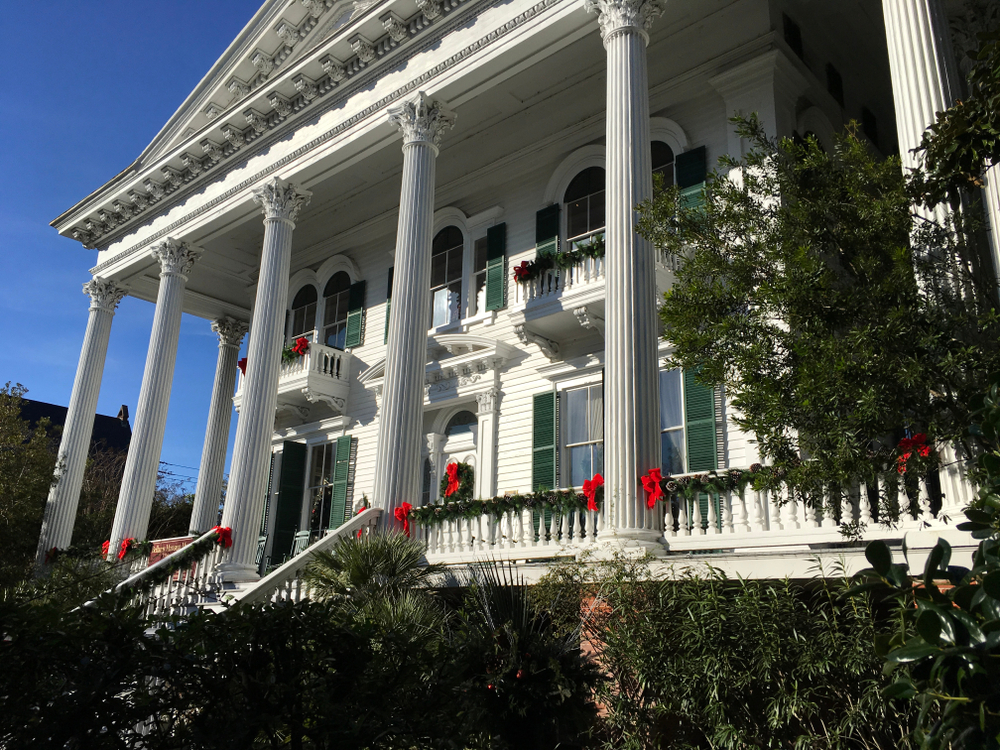 From coastal Christmas light displays and Christmas dinners to drive-through light shows and Christmas parades, North Carolina knows how to enjoy the holiday season. When choosing which of the best Christmas towns in North Carolina to visit this year it can be a little tricky when you have so many great options.

No matter how you choose to spend the holiday season in The Tar Heel State this year, you are sure to have a blast! Which of these lovely NC towns will you be visiting first?