Christmas in Helen, Georgia is a Bavarian dream! The iconic wooden details on the buildings in Helen are made even more beautiful by the Christmas lights and festive atmosphere in December. Helen may be small, but it is mighty. It's the third most visited town in Georgia after Savannah and Atlanta. The festive spirit of the city at Christmas time is one of the driving factors that make it one of the most highly visited cities in the state.

Helen hasn't always been the Bavarian-themed town that we know it as today. After the logging industry failed, two businessmen brainstormed ideas on ways to give the town a facelift. This is truly one of the cutest Christmas Towns In Georgia!
They decided to bring the Alps to Appalachia by employing a local artist to redesign the buildings in town. Thus, Helen became a German-themed town. This facelift worked, and the town became a tourist destination. Today, experiencing Christmas in Helen is one of the top things to do in Georgia!

There are many ways to experience the holidays in Helen; which will you do first?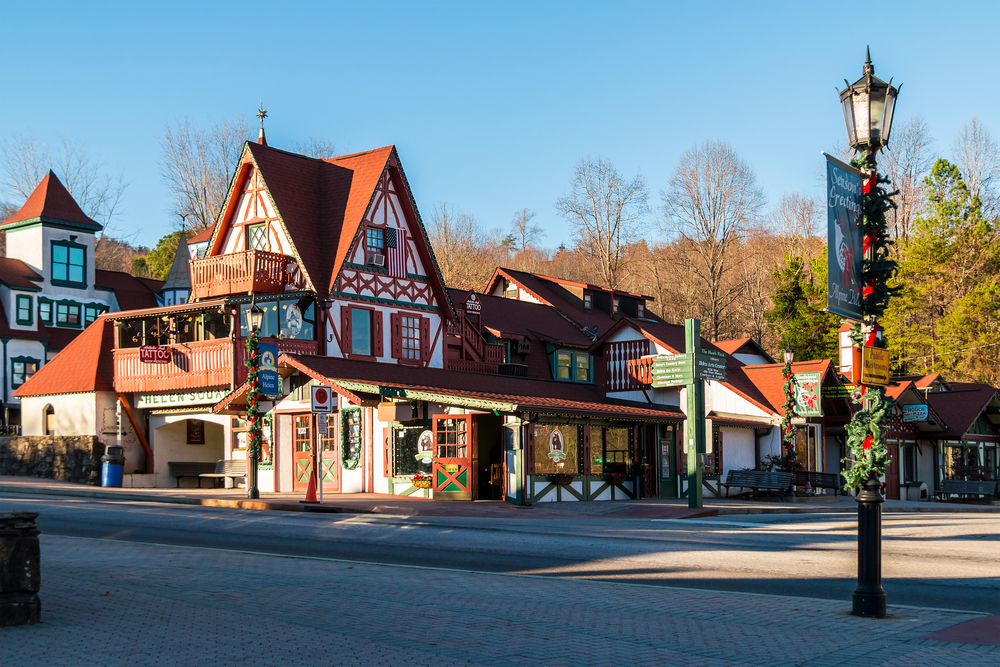 Is Christmas a good time to visit Helen Georgia?
Visiting Helen during Christmas is one of the best times that you can visit this cute little Appalachian town! This little town is already known for being a beautiful and fun place to explore in the state of Georgia. At Christmas time, the town is full of amazing decor and festivities for you to enjoy

There's something special about seeing the Bavarian architecture decorated with Christmas lights, garland, and ornaments while Christmas music fills the streets. Of course, the festival, Christmas activities, and delicious drinks and foods at this time of year make visiting Helen GA at Christmas all the more special! Even those who don't generally enjoy holiday events will be able to find something fun to do in Helen around Christmas time.
Helen GA Weather In December
December in Helen is a little chilly. (For Georgia standards, anyway.) In general, winter in Helen has temperatures hovering somewhere between 50 and 30 degrees Fahrenheit. When planning on visiting Helen, Georgia in December, you should know the temperature will likely be somewhere in the 53-32 degrees range. You can expect several days of rain in December as well. Overall, December is the slowest month for tourists in Helen.

Packing for the winter in the south is a bit different than packing for winter in other parts of the country. When you visit Helen in December, you may want to pack some shoes that are good in the rain, a waterproof jacket, scarf, hat, and gloves. Although Helen Georgia in winter is not as cold as other places in the south during the winter months, you will still need some winter clothes for a visit in December.
Does it snow in Helen at Christmas?
While rain is much more common in Helen than snow, it does occasionally have snow. On average, it will snow around two inches a year. There are normally around 21 days in the month of December where the temperature drops below freezing, so snow at Christmas is definitely possible! However, this is the southeast after all, so there definitely isn't a guarantee that it will snow during your visit.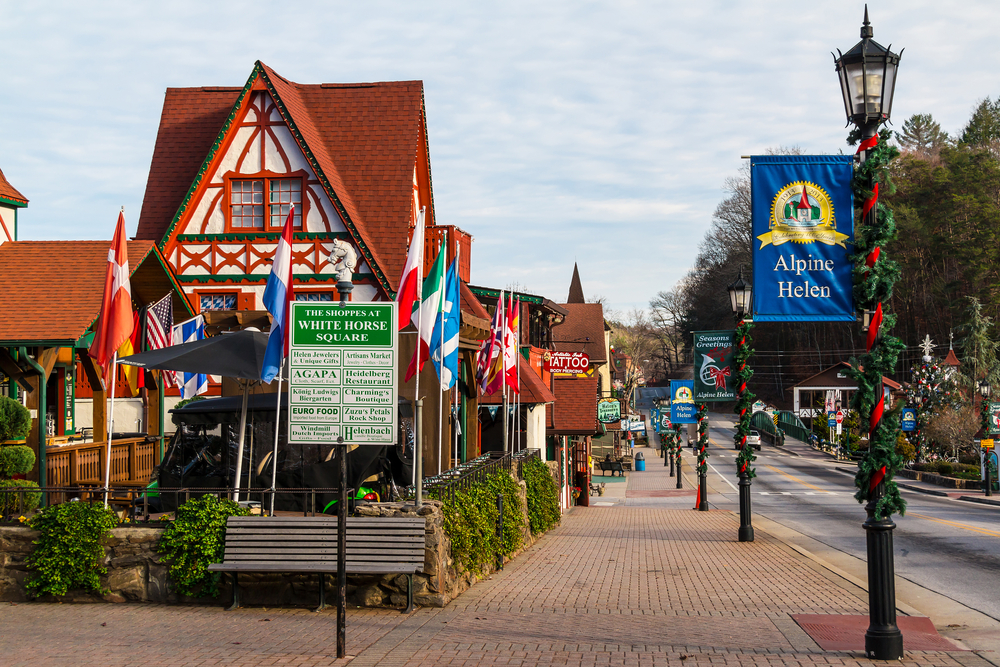 Best Christmas Things To Do In Helen Georgia
Christkindlmarkt Christmas Market
The Helen Christmas Market is the most popular things to do for Christmas in Helen. The market is a traditional German event that is held at the end of November and the beginning of December each year. The market draws thousands of visitors each year, which is really saying something as Helen is a super small town at just over two square miles in size.

There's free admission to the market, and once there, you can enjoy the festivities and unmatched Christmas spirit. The market has unique gifts that you can buy for Christmas presents and souvenirs, savory and sweet foods, drinks, candied treats, and a jolly atmosphere in which to enjoy the event. This Christmas market is a must-do Christmas activity in the southeastern United States!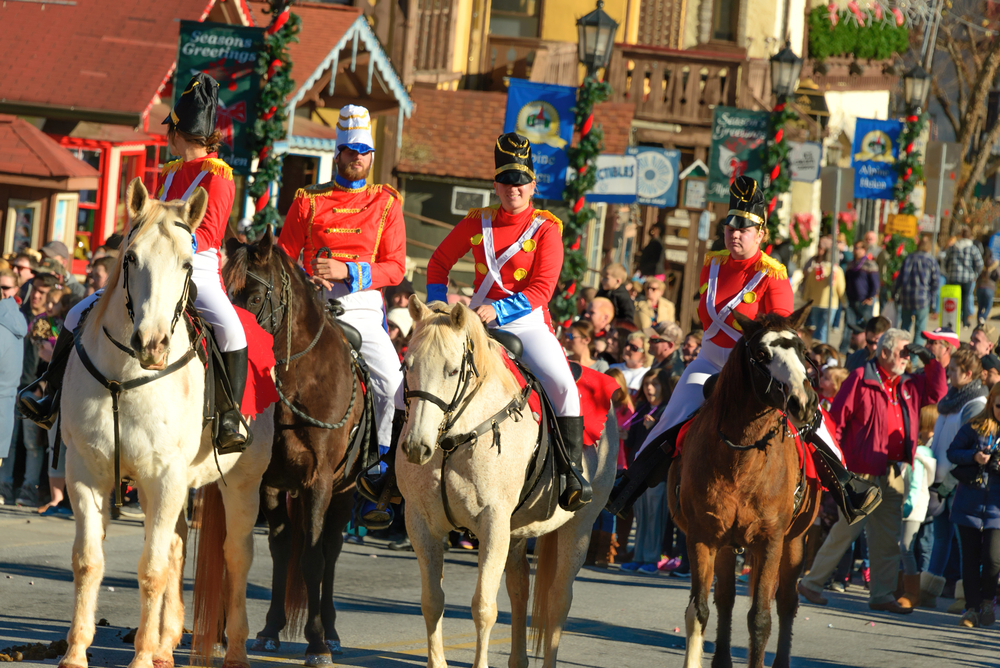 Christmas Shops
There are two Christmas shops in Helen where you can shop for festive decor and buy Christmas gifts. One of the shops, the Christmas Shoppe, is super easy to spot by the huge Santa statue that stands waving in front of the building. In the shop, you can find unique ornaments, snow globes, and other Christmas decorations.

Then, there's also Christmas & More. This shop is a bit larger and has everything from signs and Santa cutouts to ornaments and picture frames. If you love to decorate for the holidays, this shop should be on your bucket list for experiencing Christmas in Helen! If you aren't visiting Helen during the times when they have Christmas events and activities going on, you can make your own holiday fun by visiting these cool Christmas shops.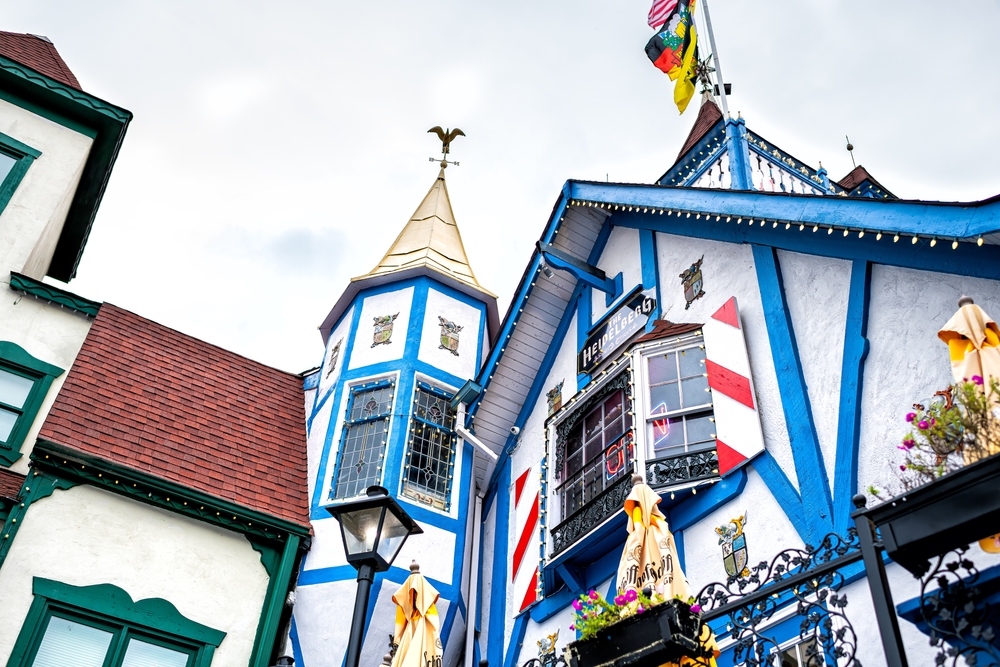 Helen Christmas Parade
One of the best ways to really enjoy Christmas in Helen is to watch the Christmas parade. For those traveling with kids, the parade is one of the best Christmas activities in Helen. You can watch Santa drive by, enjoy some candy, and enjoy all of the fun vehicles and costumes you see passing by.

Other than fun cars, motorcycles, and floats, you will also love all of the Christmas lights and decorations that people use to decorate their transport (and themselves)! For little ones, they will love seeing the elf and Santa costumes and getting to catch candy being thrown from the floats. Of course, adults have an amazing time as well! You will want to be sure to check the date of the parade each year as it changes. However, it's usually always around two in the afternoon.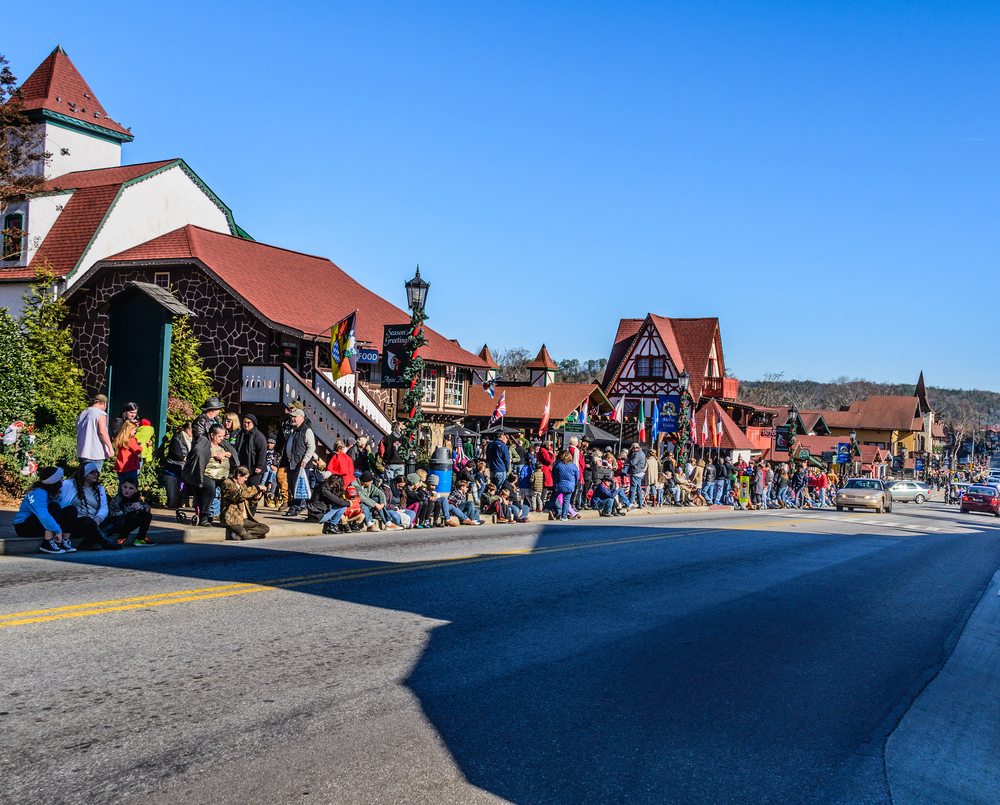 The Lighting of the Village
One of the fun Christmas events in Helen, Georgia is the Lighting of the Village. Every year at the end of November, the town of Helen is lit up with beautiful Christmas lights. If you happen to be visiting around Thanksgiving time, you may be able to see this fun event for yourself! Actually, you can experience quite a bit of Christmas fun when you visit at the end of November. This is great for those who can't make it to Helen around Christmas time.

At the event, there will be an appearance by Santa and Mrs. Claus! So, if you are traveling with kids, this is something that can be fun for the whole family. There are also local groups who attend the Lighting of the Village to give musical performances. Everyone can enjoy some good food, listen to music, and enjoy the frivolity of the event. During this time, Helen is lively, and it's so much fun to be walking the streets of the town.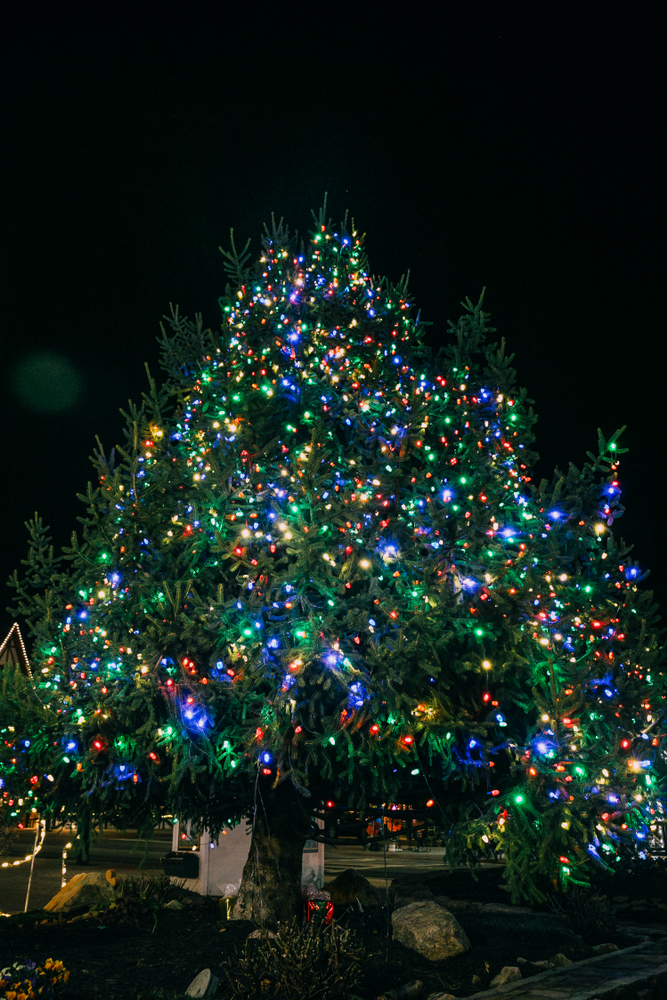 Victorian Christmas at Hardman Farm State Historic Site
Hardman Farm State Historic Site in Helen is a popular site to visit in Helen. There's a mansion and the Sautee Nacoochee Indian Mound at the site, and it's a great place to learn about the history of the area. When you are enjoying Christmas in Helen, GA, you can head over to Hardman Farm to enjoy an event called Victorian Christmas at Hardman Farm.

The mansion is adorned with holiday decor, and the site offers you opportunities to learn about the Victorian Christmas traditions that would have taken place in the past. You will see docents dressed in 1870s garb as they explain to visitors what the holiday was like for those living during that time period. If you happen to visit on Friday or Saturday nights in December, you will get to experience twinkling candle lights and live music as well. This is such a magical experience to have in Helen!
Cimmi's Courtyard Cafe
Cimmi's Courtyard Cafe is one of the most popular restaurants in Helen, Georgia. It opened in 2013, and as it grew in popularity, the restaurant had to be moved to a larger location in 2018. They are famous for their all-day breakfast!
You can find delicious Appalachian country cooking; food like biscuits and gravy, crispy hashbrowns, grits, and more are all on the menu. Of course, you can also lunch items like barbecue, wraps, burgers, and other meals as well.

During Christmas in Helen, heading over to Cimmi's Courtyard Cafe is one of the best things that you can do.
The holiday spirit thrives at Cimmi's during Christmas. You will see the walls and the shelves absolutely covered in Christmas decor. Reindeer, gingerbread houses, jingle bells, and snowmen all congregate in the dining room.
You will also enjoy the fact that the staff dresses up in festive clothes during the holiday season. You can enjoy genuine Christmas cheer when you visit this cute little mountain cafe! Don't forget to check out to some of the best Restaurants In Helen!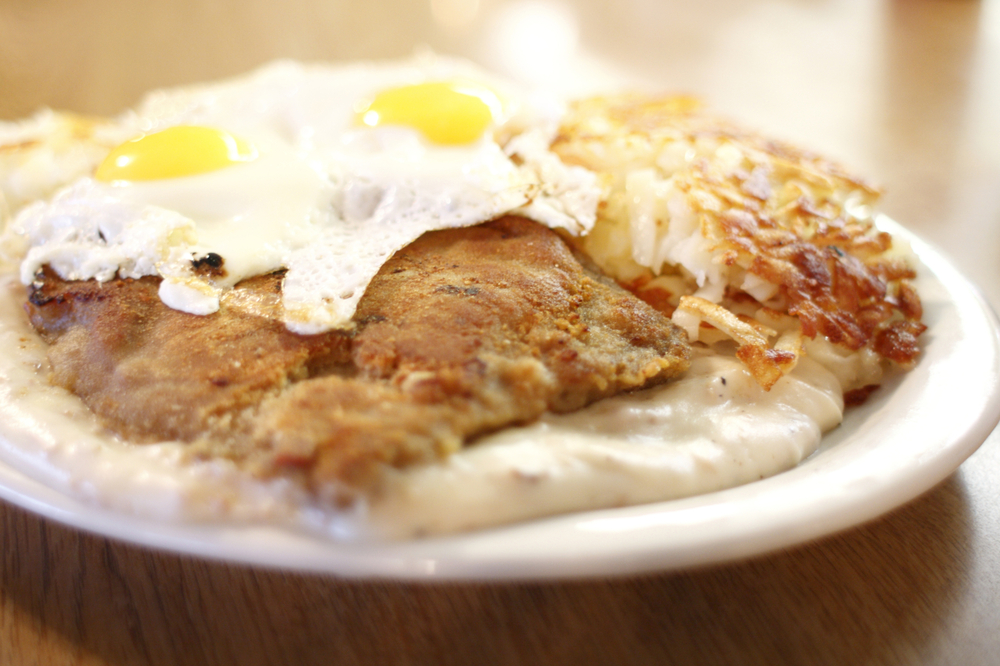 Georgia Mountain Coaster
When looking for Christmas things to do in Helen, Georgia, the Georgia Mountain Coaster offers a unique experience. This is the first alpine coaster in Georgia and is so much fun, no matter what age you are! A few things to know before you go: the coaster is open seven days a week, kids must be three years old to ride, and there is a weight limit of 375 pounds per cart in dry conditions and 330 pounds in wet conditions.

Now, visiting the coaster around Christmas time is extra special! The coaster, like the rest of the town, gets all decked out for the holiday season. When you zoom down the mountain on the Georgia Mountain Coaster, you will be surrounded by Christmas lights. If you are traveling to Georgia to experience Christmas in Helen, taking a ride down the mountain on the Georgia Mountain Coaster is an exciting way to enjoy the town.
Christmas at the Brewing Company
When you think about Christmas in Helen, you probably think of the Christmas festivals, Santa Claus and Christmas lights. Well, if you love a good beer tasting, here's an activity that you will love. In the nearby city of Cleveland, Georgia, you can enjoy Tantrum Brewing Company's Christmas activities.

Tantrum Brewing Company has events and activities all year long for their guests. From trivia nights and live music to contests and bingo, there's always fun to be had at Tantrum. At Christmas time, you can find fun Christmas events going on. Around the holidays, they have ugly sweater contests, Christmas trivia, and other fun holiday theme nights. Their Facebook page is the place to be to stay up to date about Christmas their Christmas events.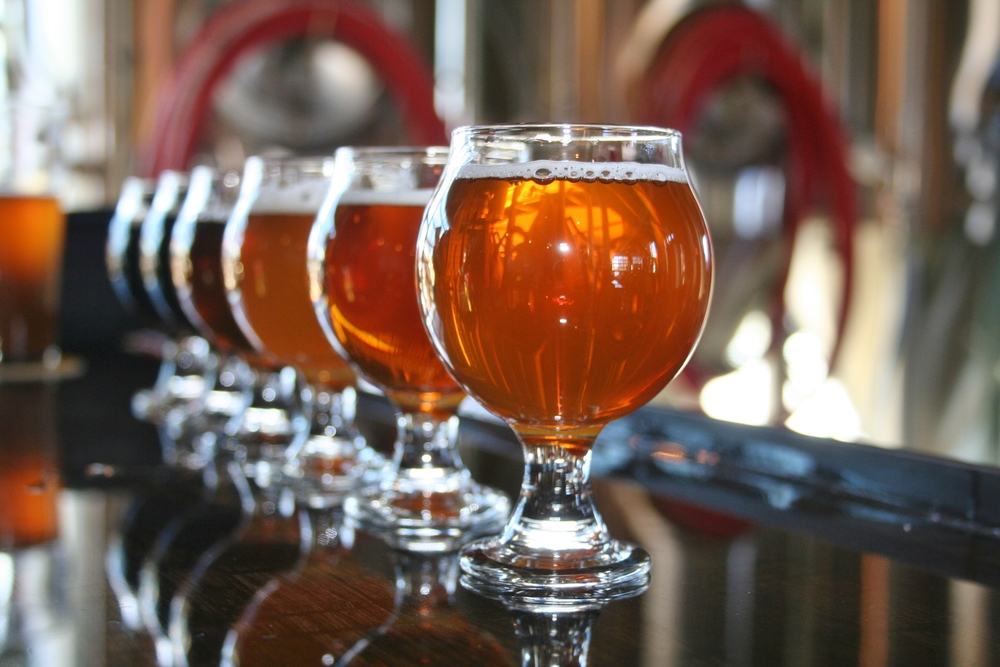 Rent a Cabin
There are so many beautiful cabins in Helen, Georgia. If you are going to be experiencing Christmas in Helen, incorporating a dreamy cabin getaway will make your trip even sweeter. Helen is a beautiful Appalachian town surrounded by mountains, trees, waterfalls, and other stunning natural features. The town itself is wonderful, and renting a cabin to also enjoy the natural beauty in the surrounding area really allows you to get the most out of your visit to Helen.

If you have ever wanted to stay in one of the luxury cabins in Georgia, consider staying around Helen! If camping and sleeping in a cabin in the woods with minimum amenities don't appeal to you at all, you can always go for a more luxurious accommodation. You can find luxury cabins around Helen with pools, saunas, hot tubs, pool tables, movie rooms, and more!
Anna Ruby Falls
The first thing you think about when planning to visit Helen at Christmas is probably not a hike. You should still take a look at this! This beautiful waterfall in Helen is one of the best waterfalls in Georgia. You can find the waterfall in the Chattahoochee-Oconee National Forest. The hike to reach the waterfall is short, just shy of a one-mile round trip. The path is paved, and there are some observation decks as well.

This trail to Anna Ruby Falls is both dog-friendly and kid-friendly. Although the falls are beautiful at any time of year, visiting around Christmas time is particularly magical. In the summer, you have lush green vegetation, and in the fall, you get to see the beautiful orange, red, and yellow colors that fill the trees. But, in the winter, when the leaves have fallen and the area around the falls has thinned and opened up, you can really enjoy the beauty of the falls themselves. If you like to stay healthy and enjoy nature when you travel, Anna Ruby Falls should be on your bucket list!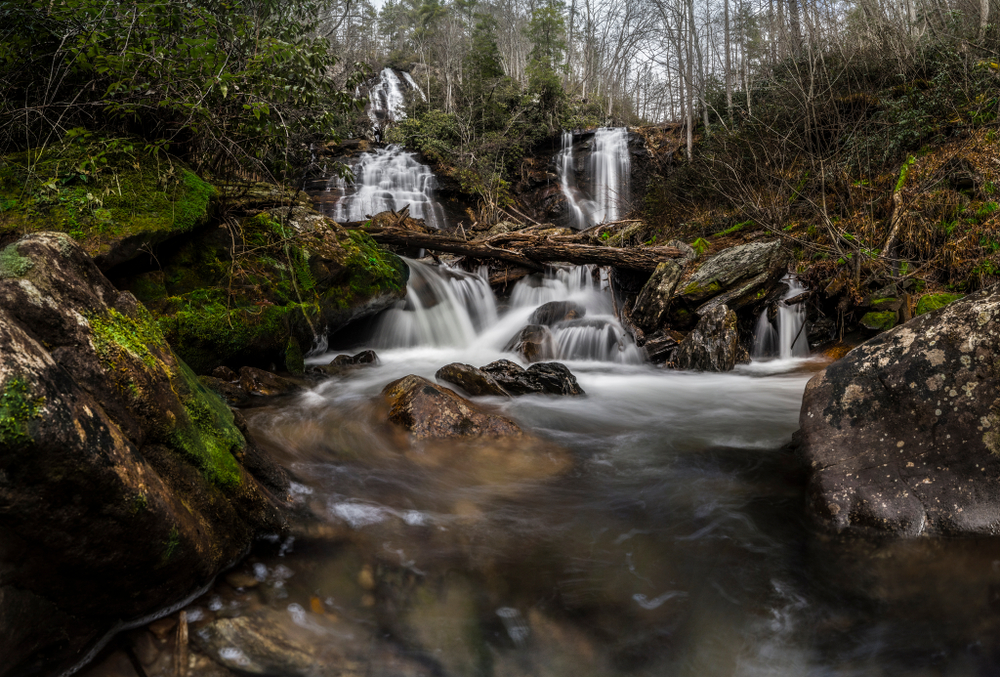 As you can see, Christmas in Helen is something that you won't want to miss. With all of the Christmas activities, events, good food, and picturesque decorations, you will feel like you've entered into a winter wonderland.

The town has an interesting history that has shapeshifted over time. As the town has changed and the residents and visitors have adapted alongside it, this wonderful little hub in the Appalachian Mountains has transformed into an absolute wonderful around the holidays. Visiting Helen at Christmas time is a major southeastern bucket list item! So, tell us, do you plan on visiting Helen this year? What would you like to do first?