Have you ever been traveling and noticed all of the historic Civil War battlefields in Georgia?
Maybe you were having an adventure while working through all of the things to do in Georgia and you wanted to find something that peaked a specific interest for you, or maybe you love sports and wanted to check out the best golf courses in Georgia!
If you're here, you probably love history, or you want to know more about the historic locations that played a huge role in America's history. But maybe you don't know where to start. That's okay! We've got a list of Georgia Civil War sites that you won't want to miss out on seeing!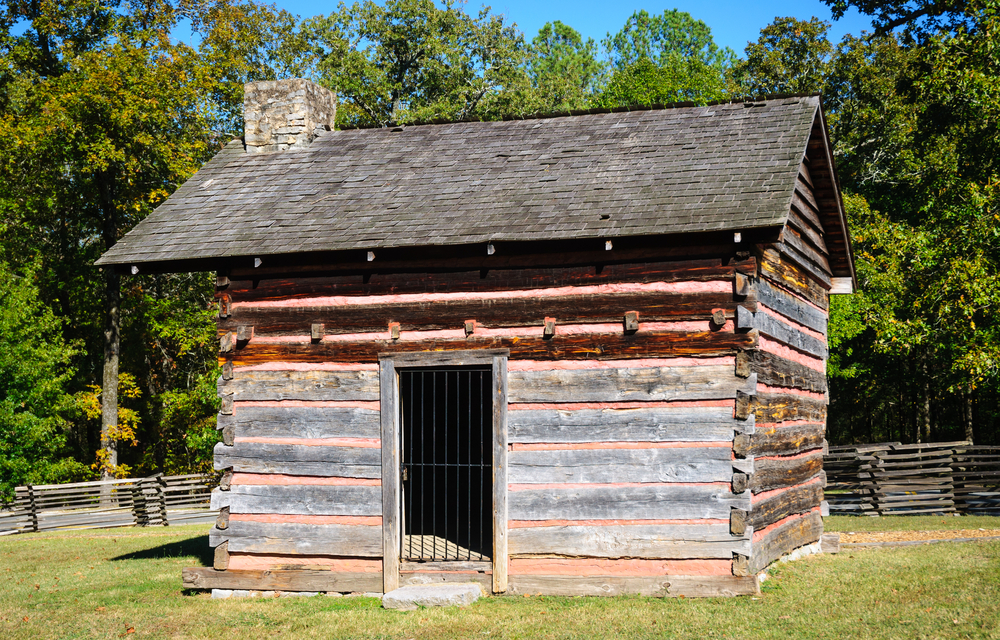 How Many Civil War Battles Were Fought In Georgia?
It's important to understand just why Georgia played such a big role in the Civil War and get a glimpse of why Georgia had so many incidents take place.
Georgia was one of the original slave states that formed together to make the Confederate States of America. While it's a piece of history that isn't glamorous, it's important to understand where Georgia started and the role played in the Civil War to appreciate how times have changed.
That being said, there were over 550 skirmishes. Of course, these aren't all out battles, over 500 is still a lot to consider when you think of Georgia's historic role in the Civil War!
But what you're really here for are the full battles! There were 27 full battles that took place on Georgia soil during the Civil War, with most battling happening after 1863. Considering the Civil War started in 1861, it's interesting to think how many years passed before Georgia took on a bulk of battling!
This is why there are numerous Civil War battlefields in Georgia for you to visit!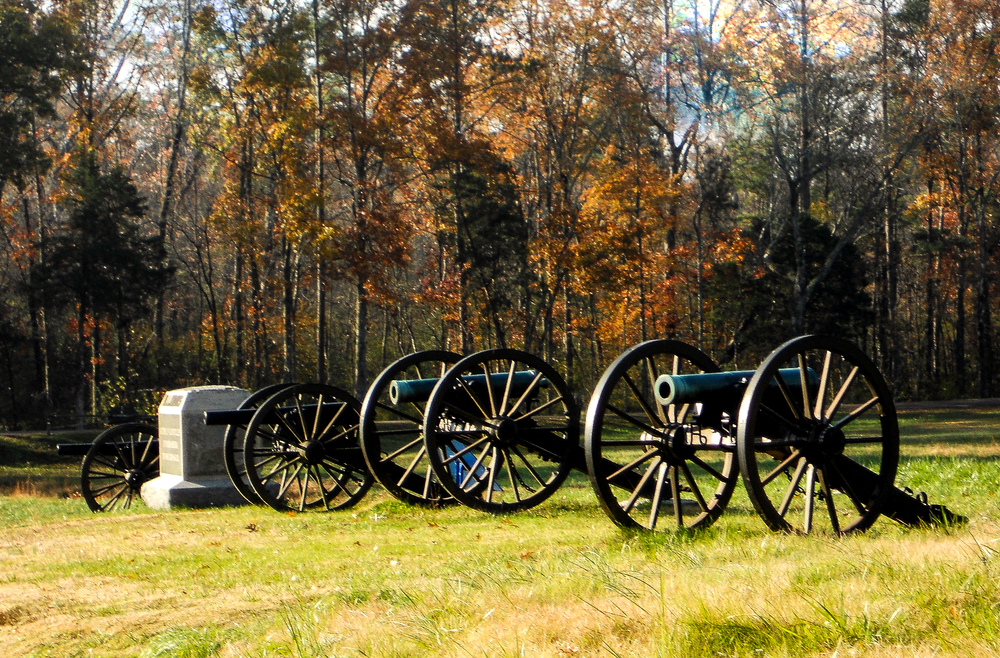 What Is The Largest Civil War Battle In Georgia?
The largest Civil War battle in Georgia is not only the largest of the Civil War battles, it also remains the largest battle in Georgia of all time!
The Battle of Chickamauga lasted a duration of 3 days, from September 18, 1861 until September 20th. Even though this battle lasted 3 days in comparison to some battles that continued for what appeared like forever, the Battle of Chickamauga has been named one of the bloodiest in the western area at the time!
This battle occurred because of Confederate soldiers' numerous attempts to seize Chickamauga Creek crossing points. The largest bulk of this battle occurred because the Major General sent out troops to eliminate what he believed at the time to be a small, secluded force of Confederate soldiers.
Once the Union soldiers arrived to the area, they were ambushed by a large group of Confederate men. This ambush lasted an entire day, and stretched across a 4 mile battleground.
Now that we've covered the largest battle, we're sure you can't wait ti visit other Georgia Civil War sites!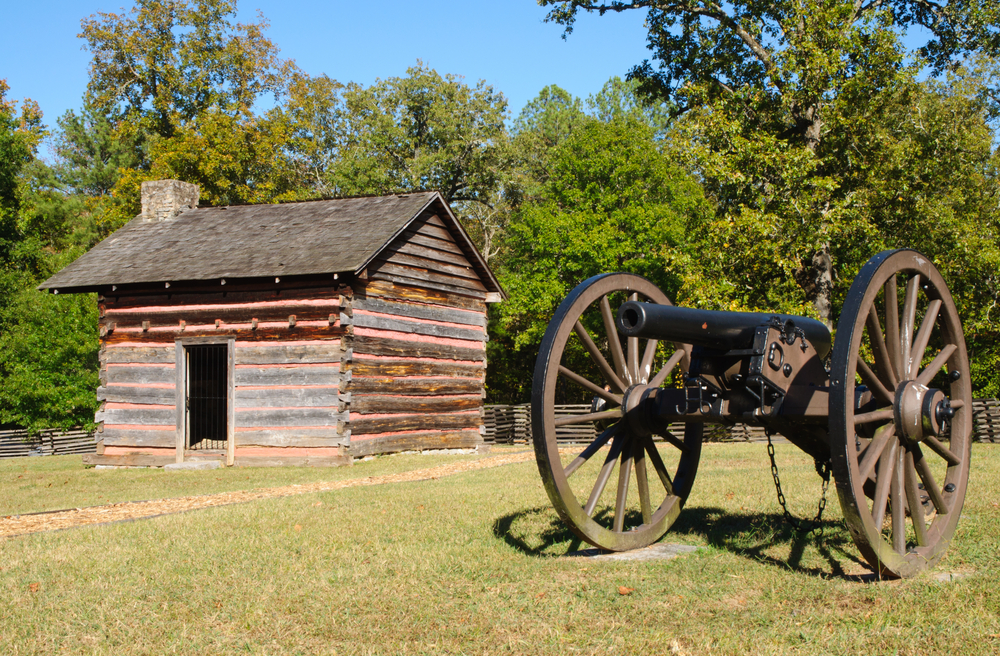 Civil War Battlefields In Georgia To Visit
Gilgal Church Battle Site
History buffs won't take a single chance at missing something as historic as the Gill Church Battle Site!
This is one of the coolest Civil War sites in Georgia because you can see a rework of the logs that Confederate soldiers used to construct Gilgal Church! While the original logs are no longer there, it's still incredible to be able to see what it might've looked like during the Civil War!
Not only can you catch a glimpse of the reconstructed Gilgal Church, you can also take a look at the large stone marker that commemorates the Battle of Gilgal Church!
This battle took place after the Confederates left Pine Mountain in June, and created a new defense line near what was then Gilgal Church.
If you make a trip to any of the Civil War historical sites in Georgia, you'll get to see straight into history, but at Gilgal Church Battle Site, you will also get to see the Kennesaw Due West School that was relocated to this site in 1980!
You'll love this piece of history!
Dug Gap Battle Park
Dug Gap Battle Park took place at Dug Gap Mountain and is one of the battles in Georgia during the Civil War that led to a great location to spend a day sinking into history and enjoy the day outside!
This park is open 7 days a week until 5 every evening and is a great family outing for anyone that wants to experience the history that took place here! If you are traveling with someone that may not love history as much as you, the view from Dug Gap Mountain will be enough to entice them!
One of the exciting things to see at this site is the stone fortifications that create lookout points throughout the trail and provide great views of Whitfield County!
You can come here for the day and hike the trails of the mountain all while exploring some of the Civil War's most important battles in Georgia!
This site is not only family-friendly, pets are also welcome! So this can definitely be an event for the whole group!
You won't want to miss this experience at Dug Gap Battle Park! This is one of the Civil War battlefields in Georgia you can't experience anywhere else!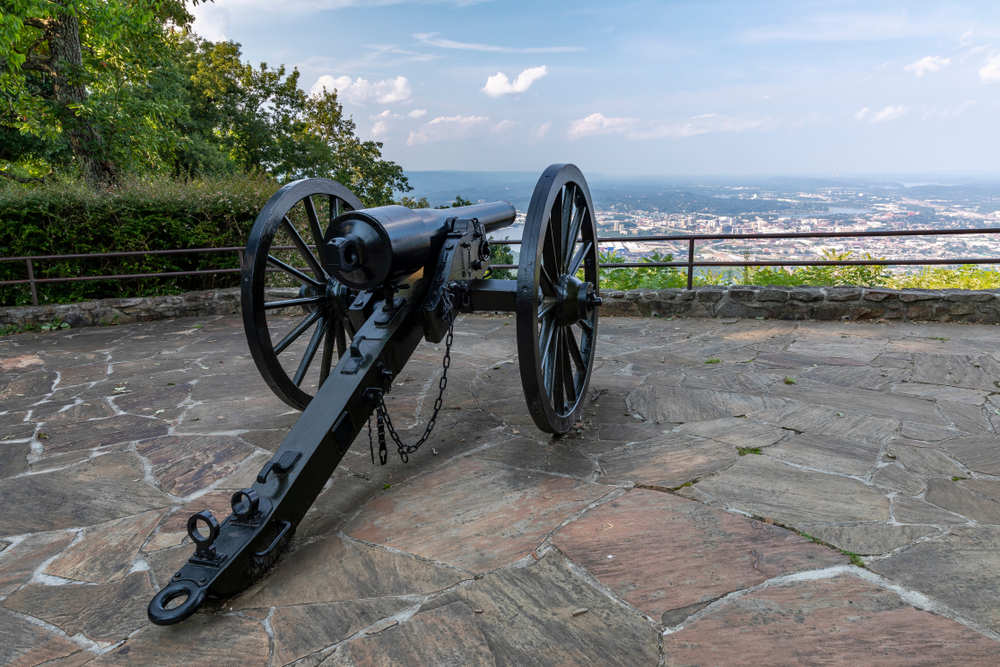 Jefferson Davis Memorial State Historic Site
This historic site is also the location of one of the best Civil War museums in Georgia!
Located in Fitzgerald, GA, which is just under a 3 hour drive from Atlanta, this area marks the spot where Confederate President, Jefferson Davis, was arrested and held for 2 years during the Civil War. This area measures 13 acres and has become one of the most popular locations for history buffs to come and explore the trails. You can also get a great view of the countryside while visiting this area!
More than the trails, though, the Jefferson Davis Memorial State Historic Site also is home to a Civil War Museum. While visiting the museum, you will be greeted with a lot of interesting information about Jefferson Davis' life. Before his historic role in the Civil War, he also had many other stepping stones in his military career before this!
There's also a gift shop on the grounds so you can purchase a souvenir for yourself or the history buff in your life! The best souvenirs are the ones that are unique to the places you visit, which is true for this gift shop!
You can also picnic on the grounds. This is great for a quick lunch break before you continue to explore, or even better if you are traveling with a group. This is a great place to stop while you're looking for some of the best things to do in Atlanta, GA!
There is a small fee to get into one of the coolest Civil War battlefields near Atlanta, so make sure you check online before heading out so that you're prepared for any fees and times of operation!
We know any history lover will enjoy this Civil War site!
Pickett's Mill Battlefield Historic Site
This is one Georgia Civil War site that is known for being one of the best preserved in the nation!
Pickett's Mill Battlefield Historic Site is considered one of the Atlanta Civil War sites because of how close it is to Atlanta and how many people take short trips from Atlanta to experience what this historic site has to offer.
While visiting this area, you can walk the same trails that troops from the Civil War walked, and can see earthworks constructed by these men that are still intact! You can even see an authentic cabin that is still standing with full furnishings inside to get a real view of what it was like during the 1800's. For something a little more deep, you will also be able to see the ravine where numerous troops lost the fight.
There is a museum on the grounds that, at the moment, has one of two original cannons used at this battlefield on display. This cannon is on loan from the Atlanta History Center!
This is one of the battles in Georgia during the Civil War where the Federal soldiers lost over 1,500 troops and the Confederate troops lost 500. This battle marked one of the Confederate victories during the Civil War and marked a delay in Federal troops making it to Atlanta.
Pickett's Mill is open every day of the week with a small fee to get into the park. The trails are included with admission to the park, and we know you won't want to miss out on experiencing this iconic location of this Civil War battlefield!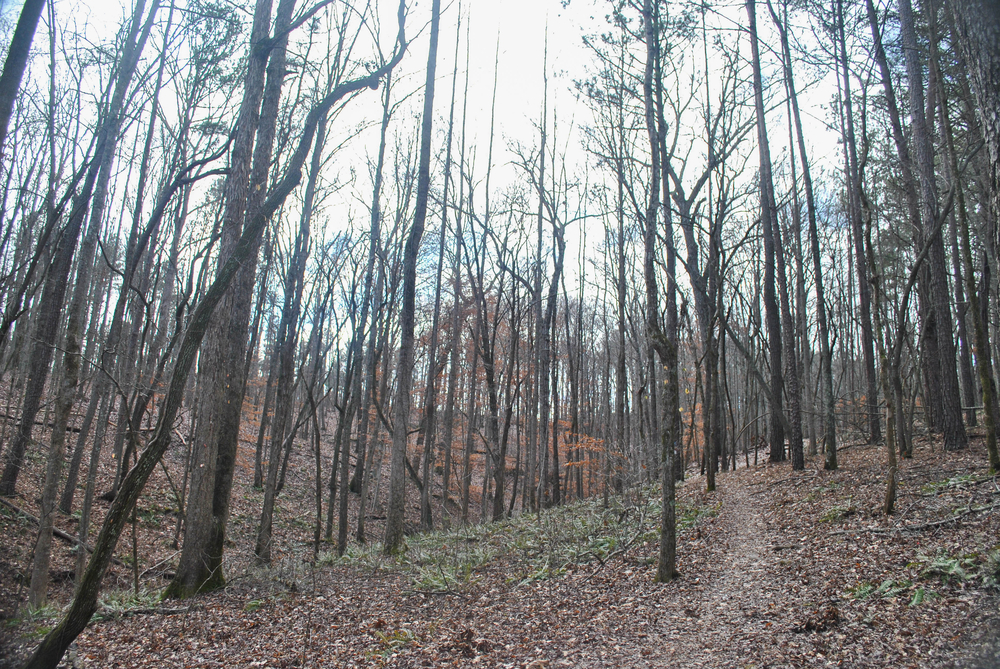 Kennesaw Mountain National Battlefield Park
If you're looking one opportunity to have a Civil War reenactment in Georgia, Kennesaw Mountain National Battlefield Park has a great Living History experience you must check out!
The Living History aspect of one of the most popular battles in Georgia during the Civil War, Kennesaw Mountain battle, is easily one of the coolest parts of being able to visit this park! You can choose between artillery firing, the medical tents, infantry, or even cooking and participate in a living demonstration of what it would have been like during the Civil War!
If you're planning on making a trip here for the Living History, make sure you plan ahead as they post the calendar online for their Living History events!
While here, you can take a hike and just experience the outdoor life! There are over 22 miles of trails that you can take a leisurely stroll on. You can even bring your pet as long as they are leashed!
They also offer horseback riding through the park if you'd rather ride instead of walk! The options are endless!
The best way to see what happened during this battle is to take a ranger-led hike! The rangers will take you along trails and give you history and stories about the events that happened during this major battle during the Civil War.
We know this would be a great experience for you if you want to understand more about the Kennesaw Mountain Battle! This is one of the Civil War battlefields in Georgia you shouldn't miss!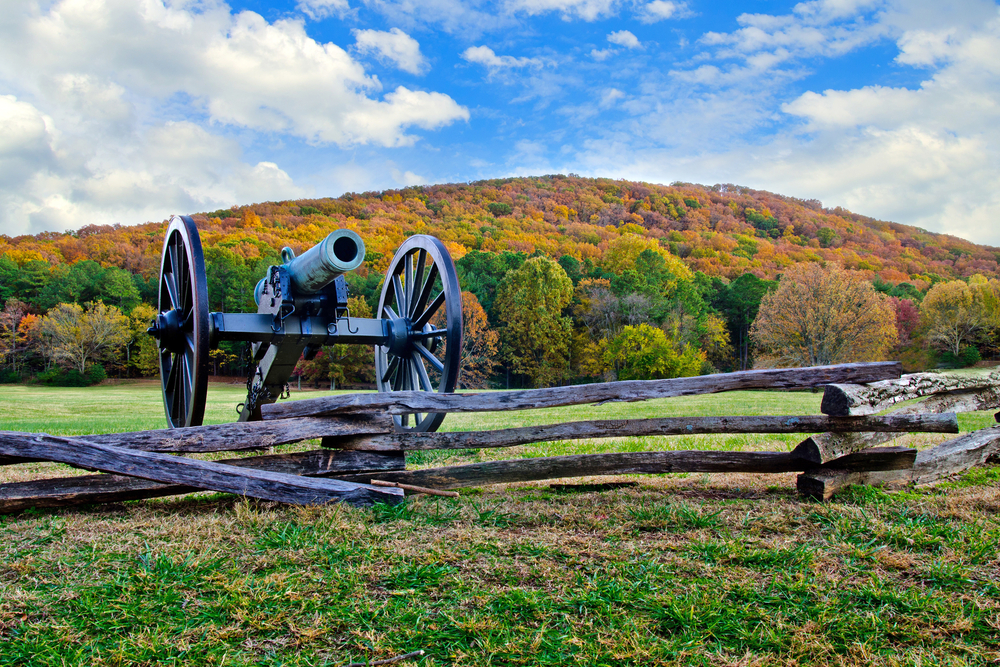 Fort McAllister Historic Site
The Fort McAllister Historic Site is one of the Civil War sites near Savannah that is popular for people all over to come visit! You should definitely stop here during a break from testing out all the best restaurants in Savannah!
This is knowing for being one of the best preserved earthworks that shows just how tight the Confederate forts were during this time. This site was attacked nearly 7 times and didn't collapse until 1864.
Beyond being able to see what happened during the Civil War, you can also partake in numerous outdoor activities. These include camping, fishing, even boating and fishing! This is a great place to take a historical visit and then just enjoy the area that was left after the battle.
There is a Civil War museum on the grounds where you can see real artifacts from the battles that took place at Fort McAllister. If you love history, you will definitely want to check out the museum for a real view at what once was! There is also a gift shop to buy a souvenir for yourself or other history buffs in your life!
We know this is a great place for history lovers to come and experience a piece of the Civil War in Georgia!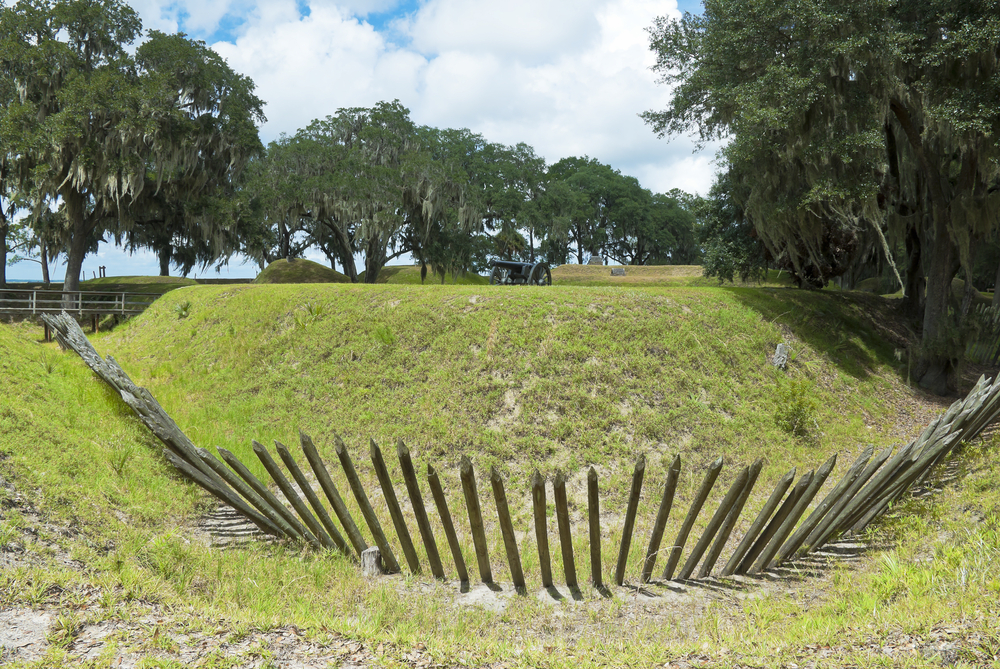 Georgia was a big location for the Civil War. That's why having the experience to visit any of the numerous battlefields in the area is such an incredible opportunity to learn and get a real glimpse of what happened here during the Civil War.
The Civil War is a huge part of American history which is why it's always a great idea to learn more when you can, especially if you can be hands on during the experience!
Whether you want to just see the area, or visit a museum. For those invested, you can even spend a few moments doing Living History for a small reenactment of Civil War times.
If you're joining along with your history buff friend or significant other, you can get something from any of these locations as well as there are options to hike, fish, boat, or camp.
Any of these locations provide a lot of history and a lot to do outside. Each of these Civil War battlefields in Georgia will give you something unique to take back! We know you won't want to miss out!