Are you looking for a great lake to soak up the sun on your trip to Georgia? You've come to the right place! We've compiled a list of all the lakes in Georgia and which ones you have to make time for!
Georgia is home to 31 lakes both man-made and natural! Whether you're looking to fill a day with a little sun, swimming or even fishing, there's something for every kind of adventurer! There are haunted, private and public lakes in Georgia that deserve all the attention and in our list, there are plenty of options for you!
So, pack a beach towel and plenty of sunscreen and get ready to enjoy our list of the 12 best lakes in Georgia!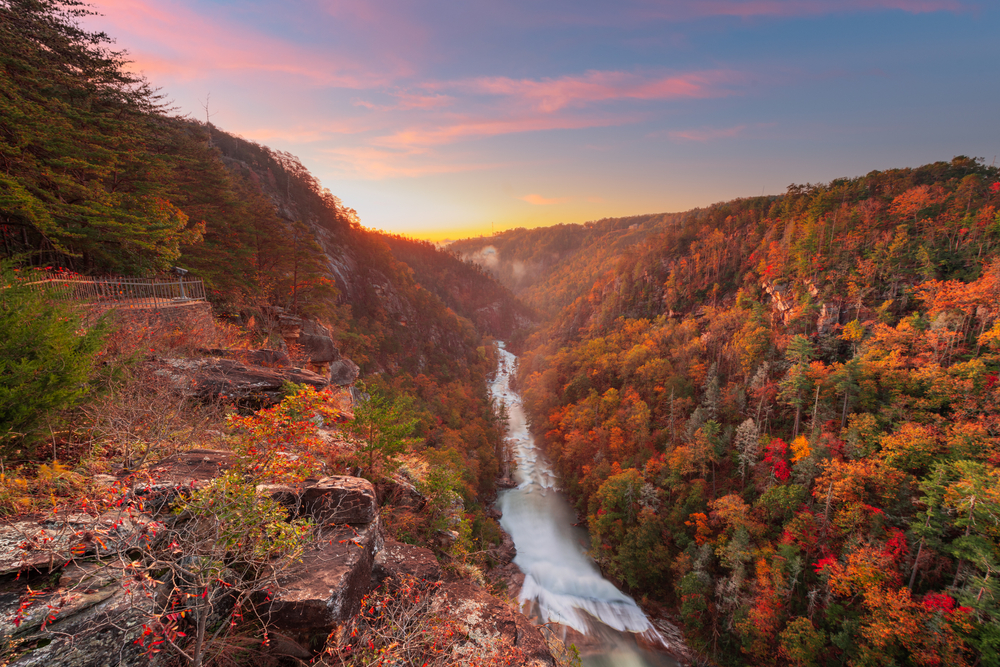 12 Best Lakes in Georgia You Must Visit!
Lake Allatoona
Lake Allatoona is one of the lakes in Georgia that is managed by the US Army Corps Engineers!
It's split between Bartow County, Cherokee County, and Cobb County, placing it directly between Acworth, Emerson, Cartersville, and Canton! It's located 30 minutes away from Atlanta, making this one of the great Georgia lakes near Atlanta that has a whole bunch of fun!
Lake Allatoona is home of 25 parks, 8 marinas, and 10 campgrounds! Meaning that no matter what kind of traveller you are, there's something for you to enjoy! Don't forget to check out some of the best places for camping in Georgia while you are at it!
Staying a few days in Georgia? Here's our list of the Best VRBO Listings in the State! Where will you stay first?
Lake Arrowhead
Located 2 miles Southwest of Waleska in Cherokee County, Lake Arrowhead is one of the lakes in Georgia that offers great golfing!
Don't miss the Highlands Golf Course, it's gorgeous and you'll be able to take a few hours doing a round and then enjoy the rest of the lake!
This is one of Georgia mountain lakes that has plenty of trails, and a great community to enjoy them with! It's East Southeast of Bear Mountain, meaning that even if you aren't a trail person, you'll love the views!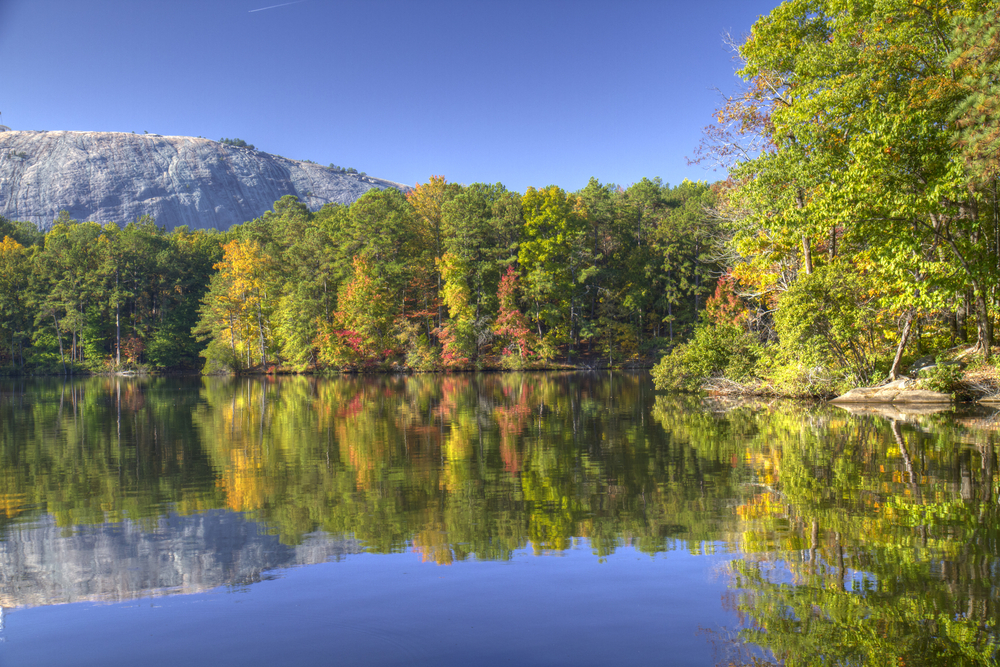 Lake Rabun
Lake Rabun is the third in a six-lake series following the original course of the Tallulah River, making this one of the historically rich lakes in Georgia.
Located in Rabun County, it's a short drive from historic Clayton, Georgia! This is one of the North Georgia Lakes that offers fishing, boating, camping and lodging! Making for an amazing weekend getaway!
During the year the community offers tours of homes for tourists. They sell around 600 tickets and all their money is raised to create scholarships and donate to the community! This is truly one of the best things to do in North Georgia!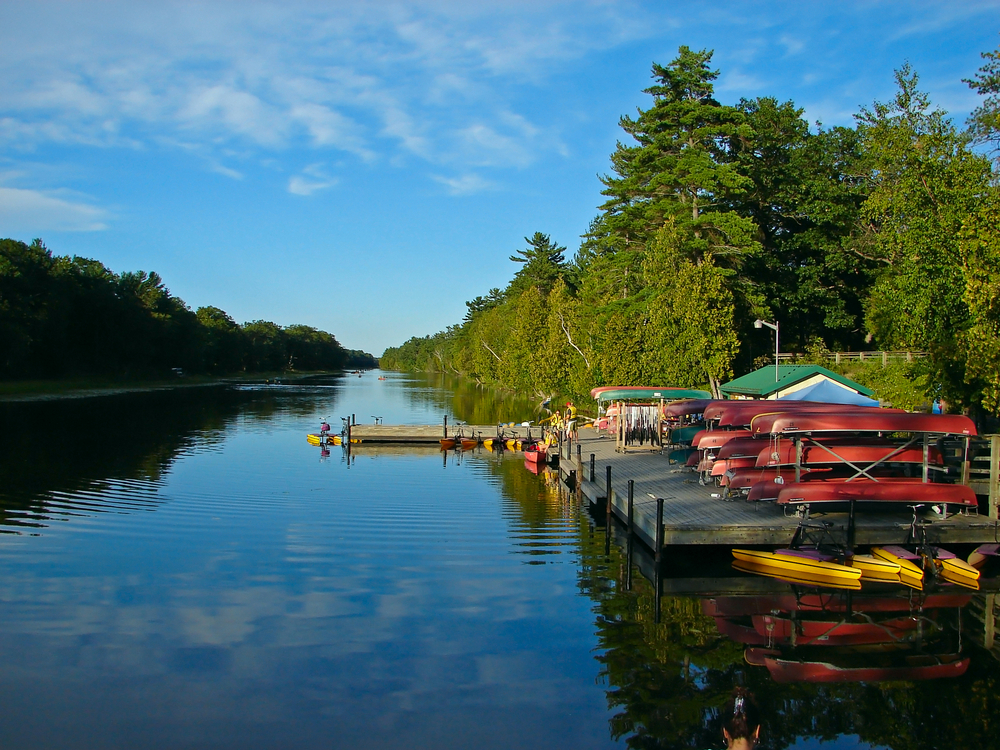 Lake Oconee
Lake Oconee is another of the lakes in Georgia that is a reservoir! It's one of the awesome Georgia lakes near Savannah that gives you the chance to escape from city adventures for a couple hours and enjoy nature!
It is officially the sister lake to Lake Sinclair, and has almost 375 miles of shoreline! This is one of the lakes in Georgia that has great golfing courses! They're known for their golfing communities and their courses are gorgeous.
Are you a movie buff? Do you want to recreate a scene from your favourite movie? Here's our list of Movies Filmed in Georgia and their locations!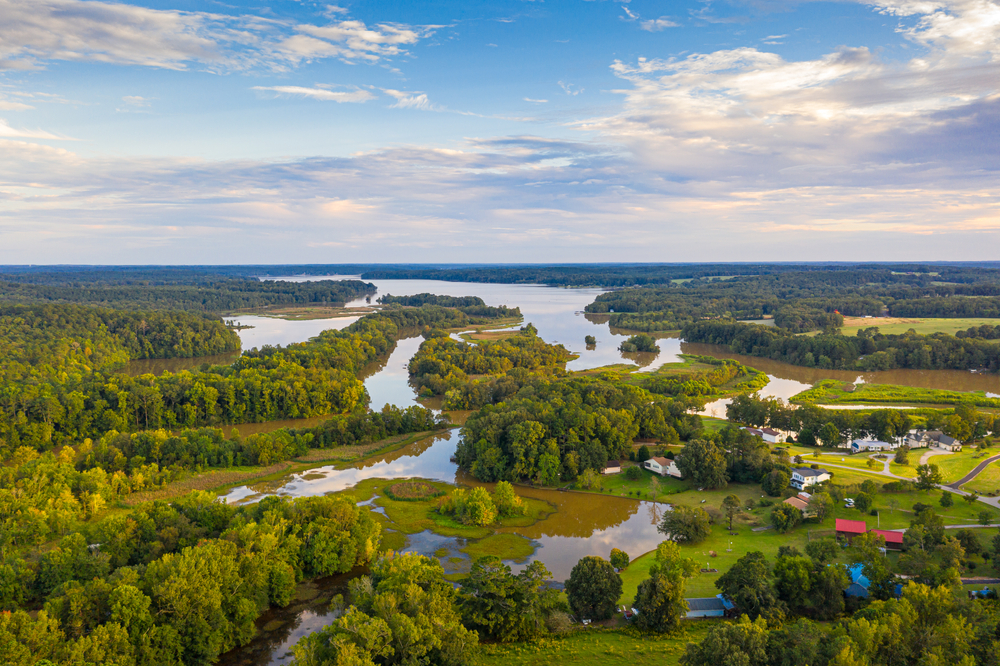 Lake Burton
Located in Rabun County, Lake Burton is one of the public lakes in Georgia!
This is one of the gorgeous Georgia mountain lakes, located in the Blue Ridge Mountains and home to Lake Burton Fish Hatchery and Moccasin Creek State Park! To enjoy the scenery, you can swim, camp, picnic, fish and go boating!
It's 2,775 acres of land, making it the largest of Georgia's Power North Georgia lakes! The admission is free, and while you're there take the time to go to Jones Bridge Park which is a lovely scenic overlook!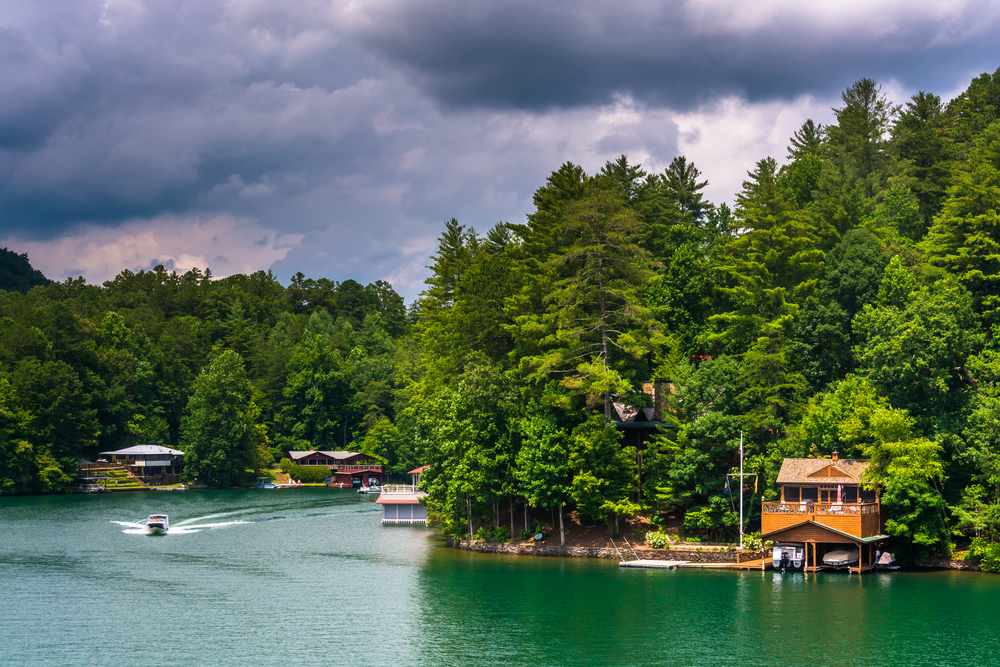 Lake Lanier
Officially listed as Lake Sidney Lanier, on our list of lakes in Georgia this is another that's used by US Army Corps Engineers for flood control and water supplies!
This is another of the man-made lakes in Georgia, officially created when the Buford Dam was finished in 1956. This is one of North Georgia lakes and it is famous for multiple reasons!
It was used in the 1996 Summer Olympics for rowing and sprint canoeing! From November to January, the Islands are decorated with Christmas lights! They have the largest animated light show in the Southeast of the states!
Lake Lanier is also rumoured to be haunted because of the displaced cemeteries and unmarked graves submerged!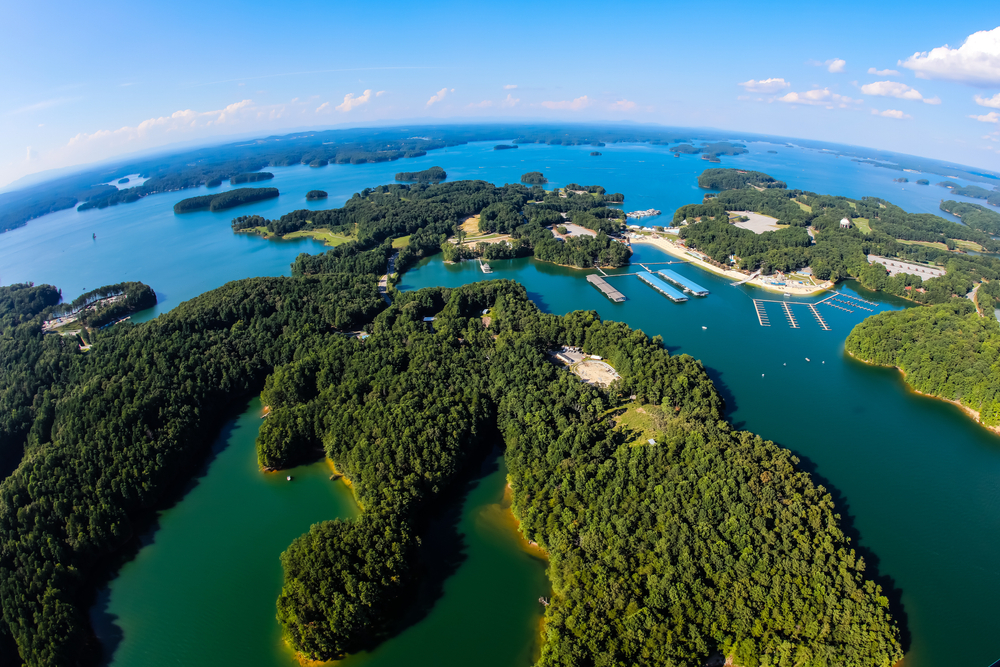 Lake Sinclair
Lake Sinclair is one of the Georgia lakes near Atlanta! It's surrounded by winding caves, open water and endless fun!
This lake is one of the man-made lakes in Georgia located near Milledgeville and it was named after Benjamin W. Sinclair.
It's waters make it a prime fishing location on our list of lakes in Georgia! With Flathead, Blue, and Channel catfish, Large and Smallmouth bass, these waters have plenty to fish from! It's even the home to several international and national fishing tournaments!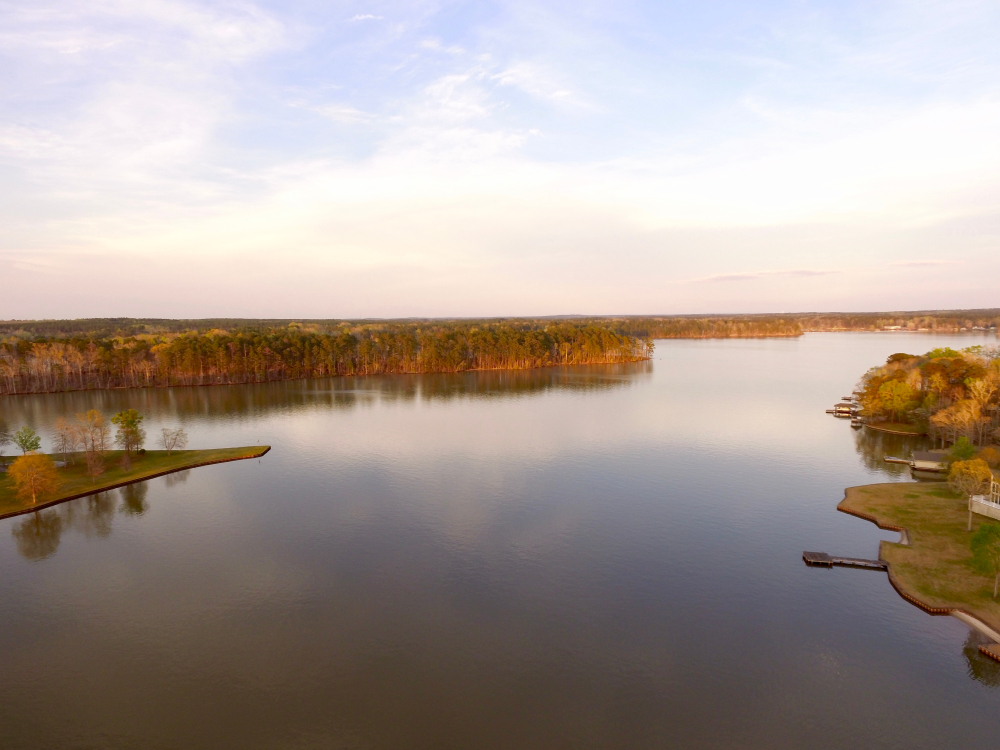 Lake Acworth
Lake Acworth is located next to Lake Allotoona, making them sister lakes in Georgia!
This is another man-made lake located Southwest of the city of Acworth and features fishing, boating, picnicking and a golf course! It's in the Northwest part of Cobb Country, making this one of the close lakes to Atlanta! In 2010, it was added to the Register to Historic places!
Are you always looking for things off the beaten path? We have you covered! Here's our list of the Hidden Gems of Georgia!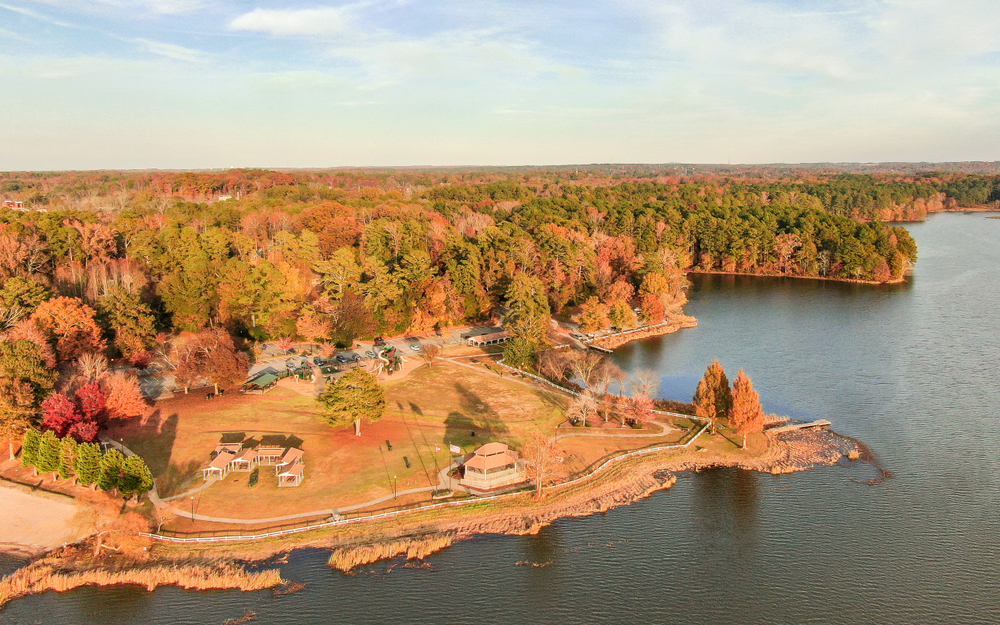 Chatuge Lake
Chatuge Lake is another one of the man-made lakes in Georgia! It was created with the completion of the Chatuge Dam in 1942.
This is one of the highest major lakes in Georgia! It has beaches, boating, swimming and water-skiing with rentals in all of it's marinas.
Located in Hiawassee, Georgia and has 132 miles of shoreline decorated with coves! It's open year round and has free admission so no matter when you're adventuring to Georgia lakes, it fits even the smallest of budgets!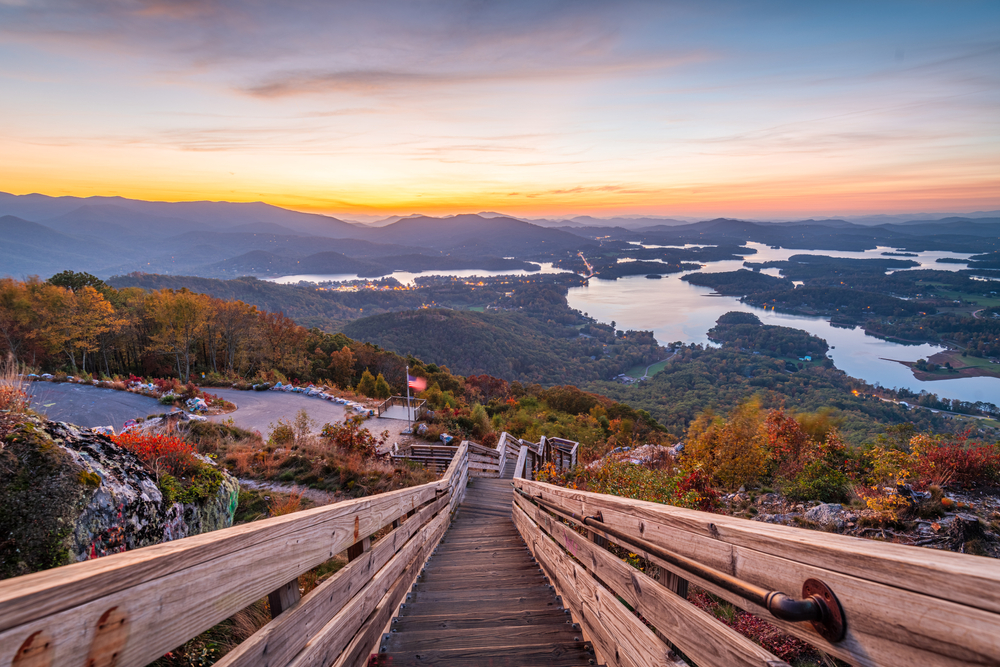 Blue Ridge Lake
Blue Ridge Lake is next on our list of lakes in Georgia! It's 11 miles long, with 65 miles of shoreline and is one of the great Georgia mountain lakes!
It was formed after the Blue Ridge Dam finished it's construction in 1930 on the Taccoa River! It's nearest to Chattahoochee National Forest which is managed by the US Forest Service! It's a year round lake and has picnic areas, free parking and is absolutely family friendly!
Lake Seminole
Lake Seminole is located in the Southwest corner of Georgia!
This is one of few lakes in Georgia where two rivers, the Chattahoochee and Flint Rivers, join! This is a lake known for it's hunting and fishing so if you're travelling for that, it's definitely the top destination on our list of lakes in Georgia!
It's waters are home to Redear Sunfish, Striped Bass, Black Crappie, Bluegill and Chain Pickerel! It offers bass fishing in summer and duck hunting in the winter! But it's particularly known for its goose hunting. It even has been the primary shooting location of Bassmasters.
There are 35 parks available for other recreational activities, but there are never any limits for fun at Lake Seminole!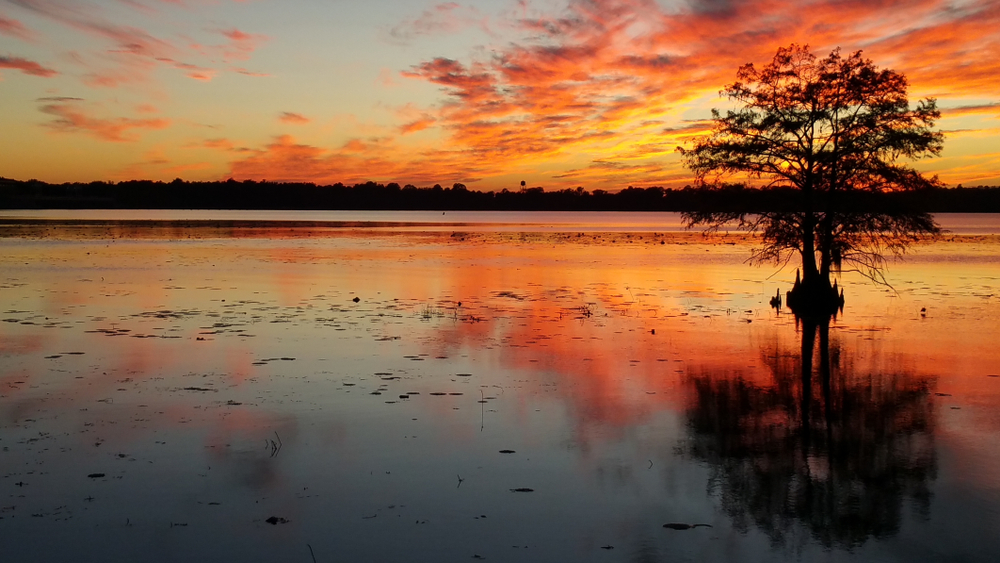 Lake Trahlyta
Lake Trahlyta is the last on our list of lakes in Georgia that you can't miss!
It's a man-made reservoir located in Union County, Blairsville, Georgia! Lake Trahlyta is one of two state parks and it was named for a Cherokee maiden who was buried a few miles from Storepile Gap.
Lake Trahlyta is one of the lakes in Georgia that is best for families! The designated swimming areas are shallow with nothing higher than 4 feet! Outside of the swimming areas you'll see plenty of non-motorized boats and fishers who are enjoying nature around them!
Looking for more to do in Georgia? Here's our Ultimate Bucketlist of Activities for every kind of trip!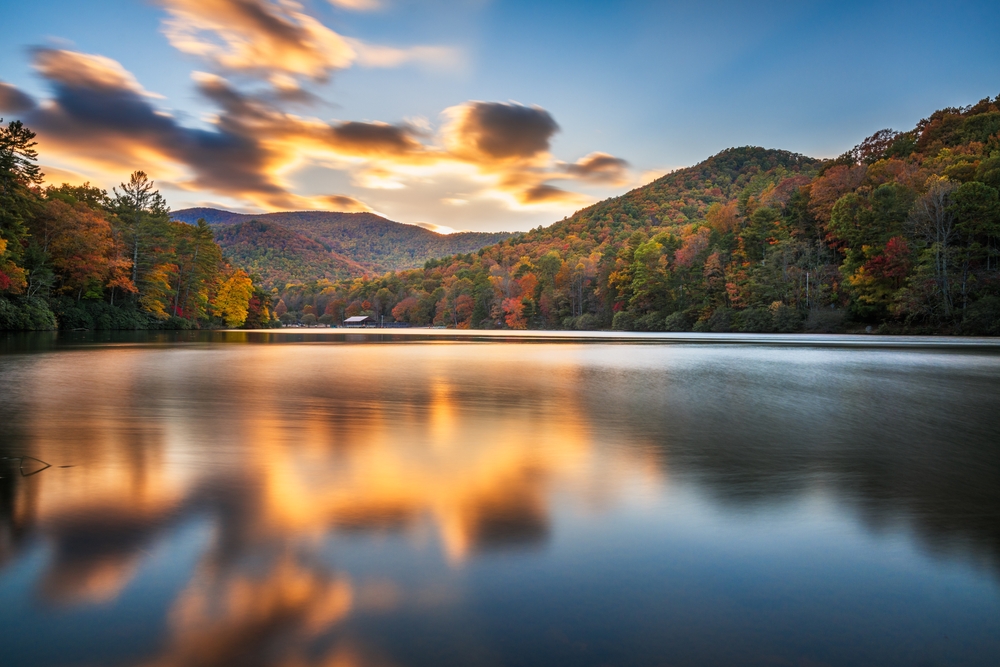 The state of Georgia is amazingly rich in history, nature, and adventure. No matter what kind of trip you're planning and no matter who you're planning to go with, there's the perfect lake destination for you!
Now that you've seen our list of the best lakes in Georgia, which one will you visit first?