For those looking for the best restaurants in Charlotte North Carolina, we have you covered! Check out our list below for the best places to dine in Charlotte.
Charlotte is a great city to explore. In fact, Charlotte makes our list for one of the best weekend getaways in North Carolina! Whether you are an art-lover, history buff, or outdoor enthusiast you are sure to work up an appetite!
As a foodie city – there is so many different cuisines to try. The Restaurants in Charlotte North Carolina range from down-home souther cooking, soul food, seafood restaurants, steakhouses and American cuisine, to Thai and Italian. Or for the looking to relax and enjoy the view visit on of the many rooftop restaurants of Charlotte. There is sure to be something for everyone on this list!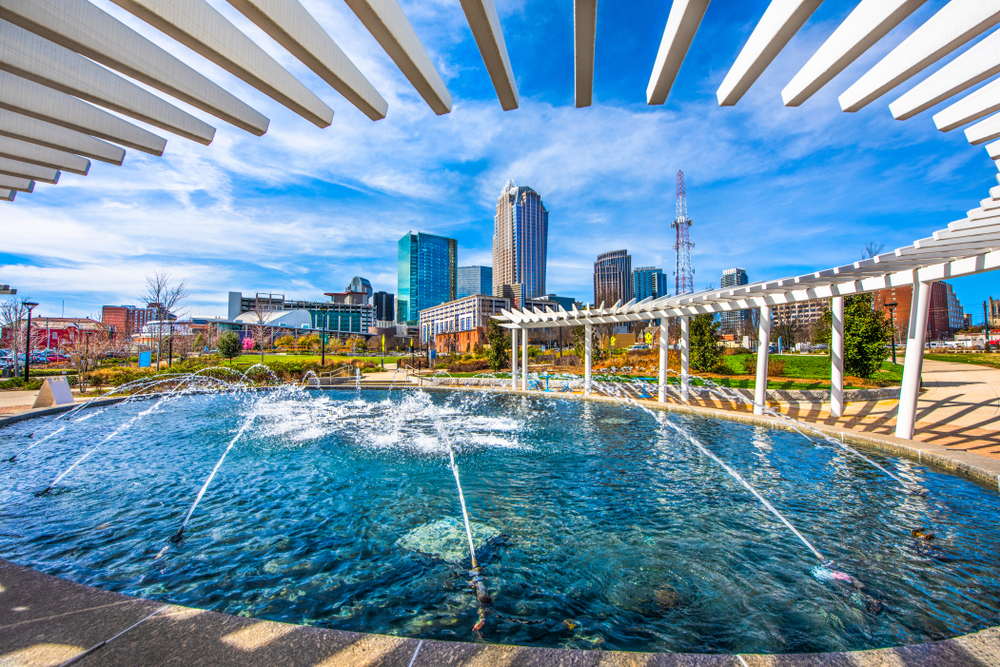 15 Best Restaurants in Charlotte NC You Must Try
Kid Cashew
Are you looking for a spot to grab the best brunch in Charlotte? If so, check out Kid Cashew. They also serve a lunch and dinner menu plus it is one of the best places for vegan dining in Charlotte.
On the brunch menu you will find all the traditional favorite like avocado toast, shrimp and grits, and French toast.
But try one of the southern specialities like a croque-madame sandwich with ham and cheese in a béchamel sauce with eggs, a cashew stack egg and cheese soufflé's with bacon and avocado or a pork chop white beans served with egg soufflé. Pair brunch with a carafe of mimosas! Don't forget to check out our list of Best Things to Do In North Carolina!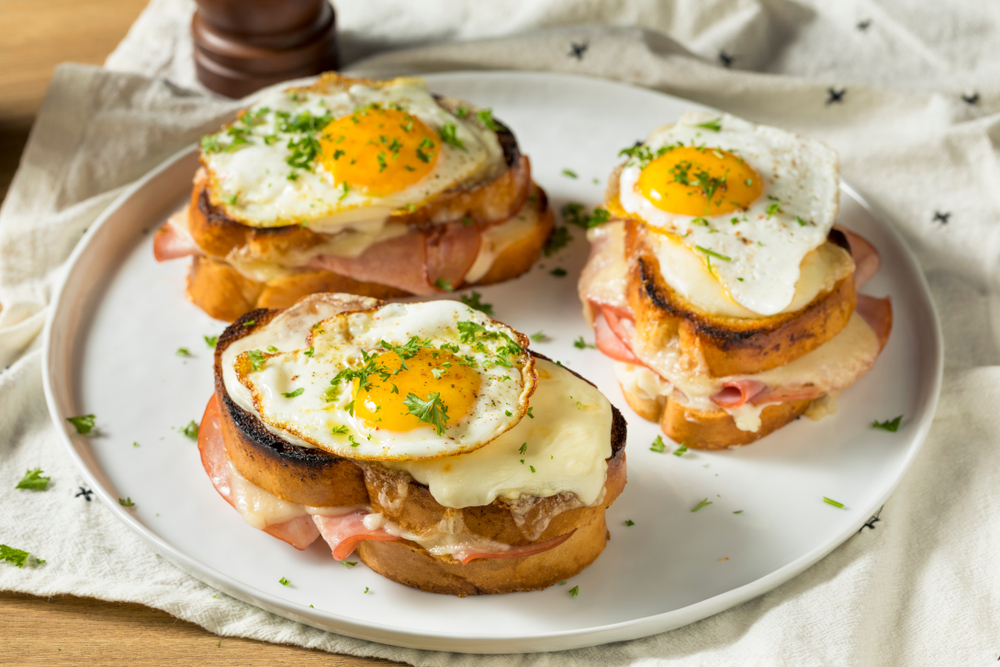 Snooze AM
Snooze is one of the restaurants in Charlotte with 3 locations (South End, Midwood, and South Park) to choose from. Plus they offer one of the best breakfasts in Charlotte. Best of all you can join the wait virtually from their website ( especially helpful on weekends!)
Choose from the traditional menu with eggs, omelets, pancakes, breakfast burritos, or plant based fare like a sweet potato veggie smash, or tofu scramble. They offer a seasonal menu that changes, but offers pancakes with season fruit, burrata and prosciutto toast , monte Cristo brioche French toast, crab cake Benedict, and Buddha bowl with roasted veggies and black rice topped with goats cheese! Yum!
For vegetarians looking for restaurants in Charlotte, this is your place for breakfast with a wide variety of plant based dishes, and faux meats such as tofu or soyrizo options! Plus all their ingredients are locally and ethically sourced.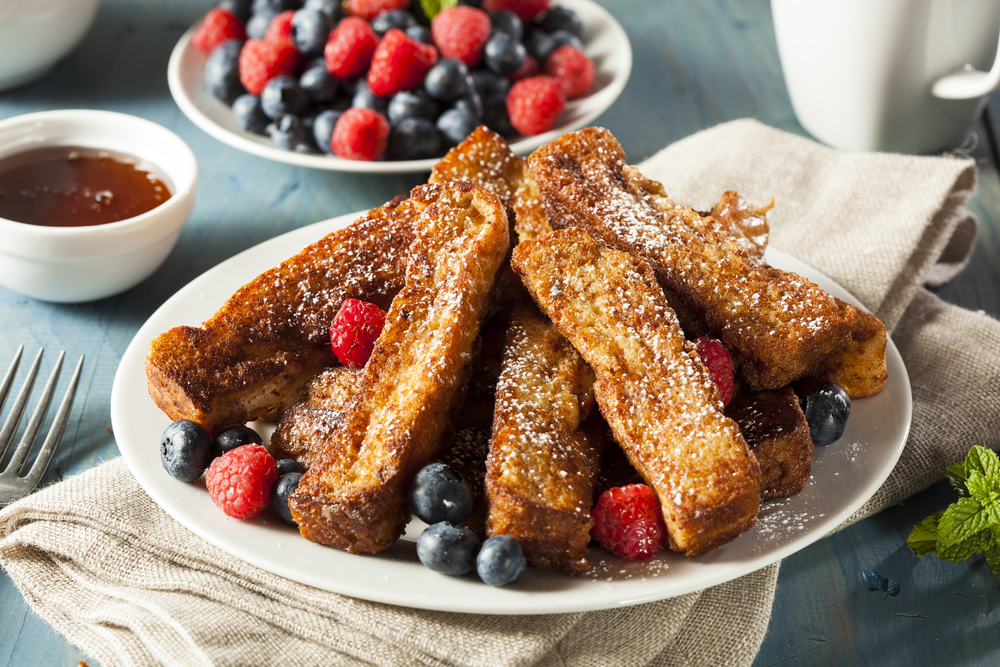 Pisces Sushi
Pisces Sushi is one of the lunch places to eat in Charlotte! They offer a great lunch special, and we think they are best lunch in Charlotte for those looking for sushi! Lunch is served Tuesday to Sunday from 12 pm to 3 pm.
On the lunch special you can choose any two rolls for under $13 and any three rolls for $17, they are served with miso soup. Choose from a crunchy roll, salmon avocado roll, sweet potato roll, spicy roll, or a yellowtail jalapeño roll to just name a few.
They also serve sushi combos, and lunch hibachi options. Choose from your choice of protein with rice, veggies and miso soup!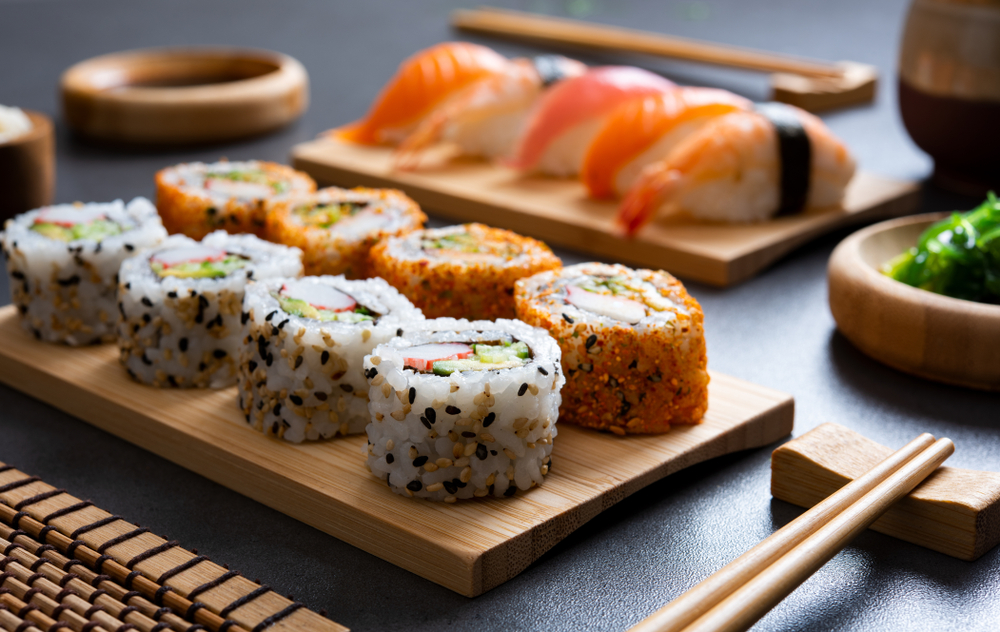 Leah & Louise
Leah & Louise is one of the restaurants in Charlotte whose chef was nominated for the James Beard award. The menu here features southern classics from along the Mississippi River with a modern twist! The ingredients here are locally sourced with a changing menu at one of the colonial Charlotte restaurants.
Menu items include things like turnip greens over spiced potato skins, a chefs soup of the day, fried turkey wings with smoked rub and slaw, down and dirty grits with turkey, pan seared local fish with smoked pecans, milk tea pheasant breast with chestnut polenta and a beef grass fed steak.
Save room for unique and flavorful cocktails like a Carolina Gold Coast whiskey and dessert! For those who want fine dining but can't afford the price tag they offer a Pay what you can dish – that changes!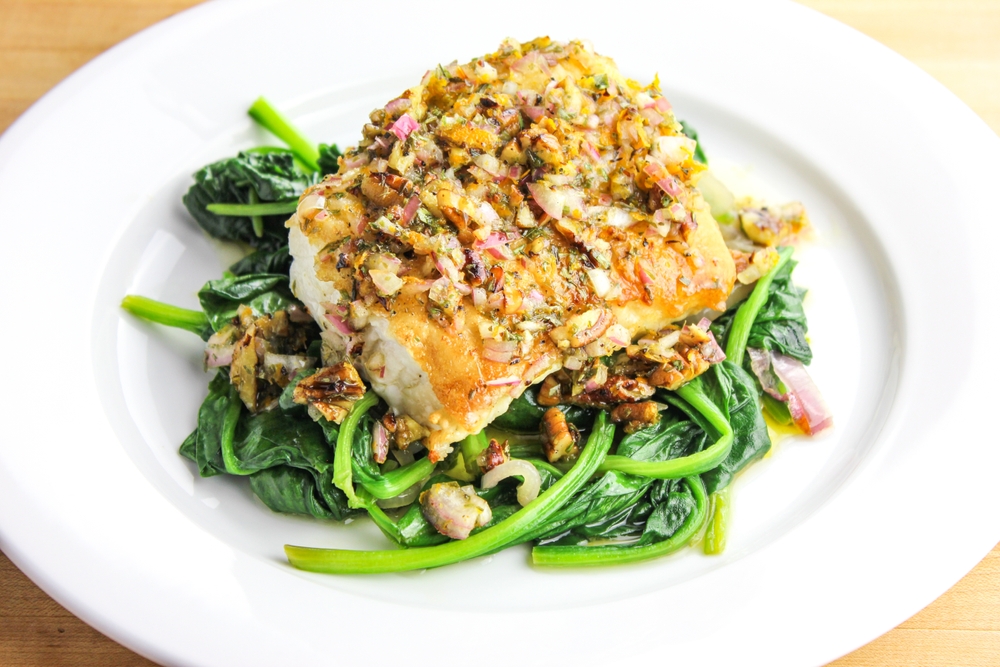 Sea Level
Sea Level has been voted the best seafood in Charlotte! On the menu you will find sustainable caught seafood, with an amazing weekday happy hour from 2 to 6 pm, plus an amazing lunch menu.
We think Sea Level is one of the all around best Charlotte restaurants! On the lunch menu you can find catfish rueben, east coast shrimp po-boy, Atlantic salmon with root vegetables and fish tacos!
The dinner menu features some of the freshest seafood in Charlotte. Start with the calabash shrimp for the table, corn fritters or the smoked salmon dip. House favorite entrees include a grilled swordfish with smashed potatoes, scallops in a basil pesto risotto or east coast shrimp and grits.
For those in the mood for oysters, they get fresh deliveries daily, with a list of locations and type for your selection either served raw or cooked. Other raw bar menu items include a tuna ceviche, a chefs seafood tower with oysters, mussels, shrimp and clams, as well as a shrimp cocktail.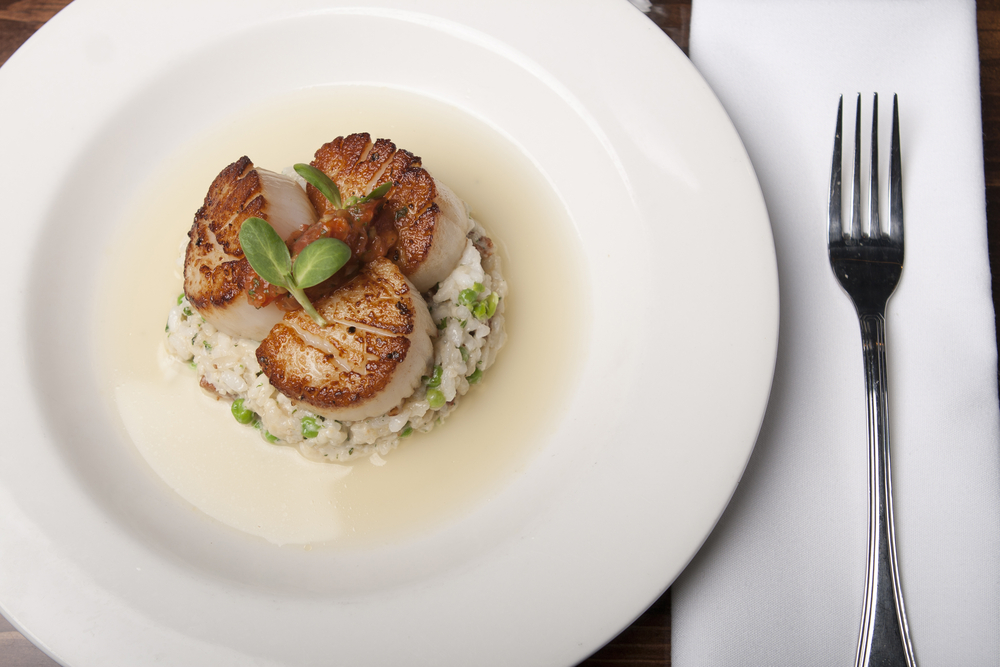 Haberdish
Haberdish is a mill town southern style restaurant in Charlotte North Carolina. They enjoy serving up delicious Carolina cuisine and craft cocktails! They are one of the NoDa restaurants just a few miles north of Uptown and well worth the drive! They are a one stop shop if looking for where to eat in Charlotte for brunch, lunch or dinner!
Lunch is served weekday, while brunch is served on weekends. On the lunch menu find hushpuppies and deviled eggs to start, with lunch dishes like a fried chicken sandwich, cast iron trout sandwich or chicken and waffles.
A great option for one of the best dinner in Charlotte, the menu builds on lunch menu with added starters like a pb&j bacon plate, shrimp and grits cakes, and Nashville hot shrimp skewers. Try the fried chicken or chicken tender plate, bbq ribs or the vegetarian option of a cauliflower steak!
The sides here are mouthwatering from sweet potato dumplings, to pan charred cauliflower, braised rainbow carrots, creamy cheddar girts and a kale salad.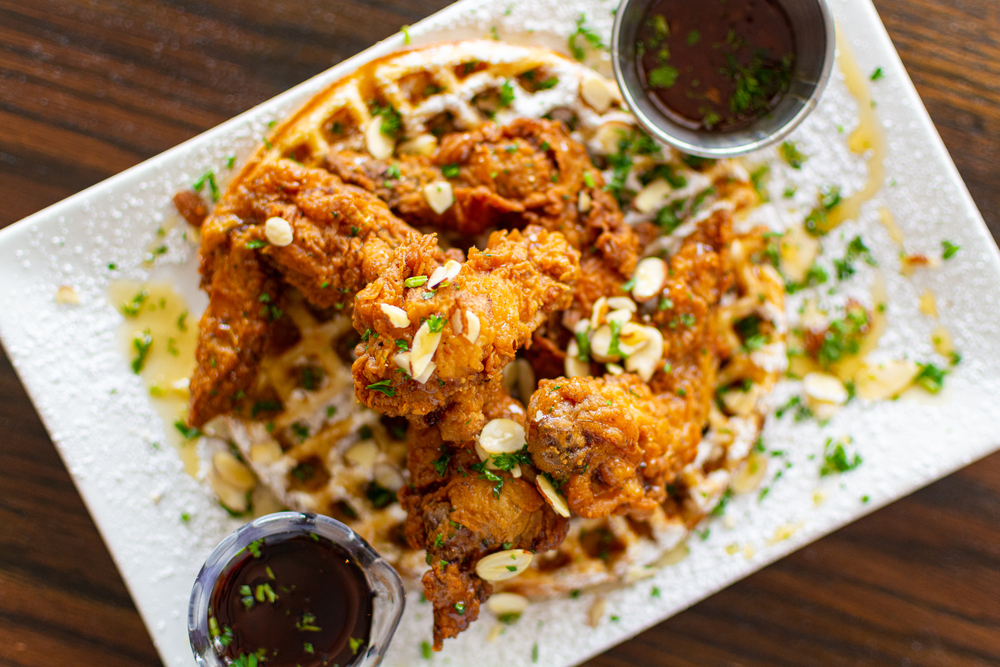 Fahrenheit Charlotte
For those looking for rooftop restaurants in Charlotte NC, head to Fahrenheit Charlotte. This rooftop bar and restaurant features panoramic views over the city, and is located inside the Hyatt place downtown. Relax on the rooftop terrace surrounded by lounge sofas and cozy fire pits while dining on amazing southern cuisine.
* There is a dress code* here like many of the restaurants in Uptown Charlotte NC. Open Sunday to Friday at 5 pm, and Saturday at 4 pm, with a Sunday brunch 11 am to 2:30 pm.
Order tapas style plates like Wagyu short rib steamed buns, ahi poke nachos, miso eggplant, lobster kimchi rice, or oysters on the half shell. Heartier fare try the hand cut filet, crispy whole fish, or wok tossed lobster.
Pair with a craft cocktail, like a coconut, melon or strawberry mule, frozen margaritas, or one of the delicious hand crafted unique cocktails.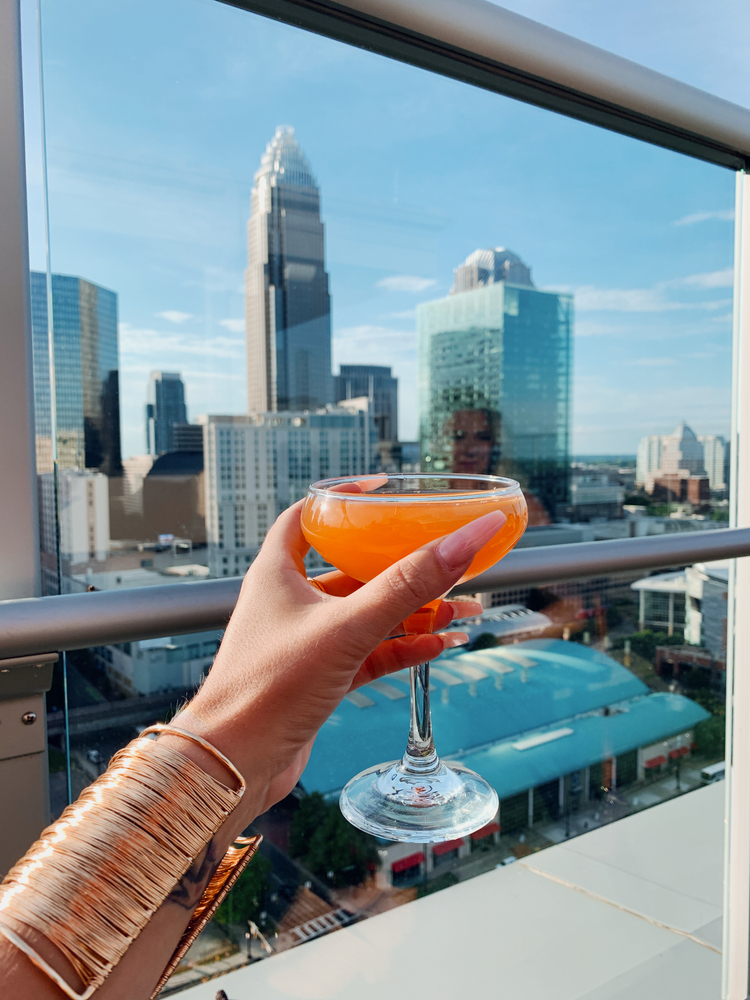 Supperland
Supperland's motto is " southern steakhouse meets church potluck". What does that mean you ask, well this speakeasy/restaurant/cocktail bar in Charlotte NC is known for hosting a speakeasy Thursday through Saturday at 6 pm and 8:30 pm where you will have a cocktail and meal paring .
The speakeasy, bar and restaurant all server different menus, so why not try them all for some of the best dining in Charlotte North Carolina.
In the main dining room the menu is served family style and features brie bites, sausage gravy croquettes and roasted oysters, paired with poulet rouge or prime ribeye with chimichurri sauce with sides like charred carrots, mushroom risotto or smashed potatoes.
If you are a cocktail lover, they have a varied and unique menu that is sure to surprise you! Leave room for dessert – like the key lime pie or seasonal sundaes.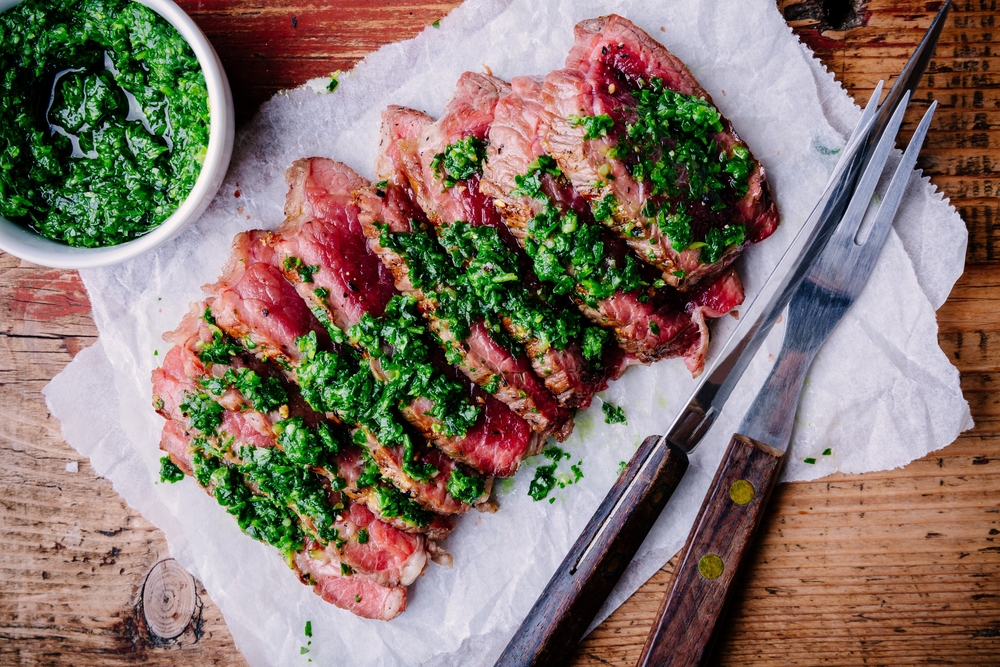 Let's Meat Korean KBBQ
Are you looking for all you can eat Korean bbq in Charlotte? If so, Let's Meat serves up some of the best food in Charlotte! They are open daily from 11:30 am to 11pm, and adults eat for $38 and kids 4 to 10 for $12
On the all you can eat menu, try a variety of pork dishes like lemon garlic or jalapeño pork belly, shrimp, fire squid, spicy or soy chicken, beef brisket or bulgogi and steak, mushrooms, paired with dumplings, noodles, pineapple, rice, zucchini, onions and more!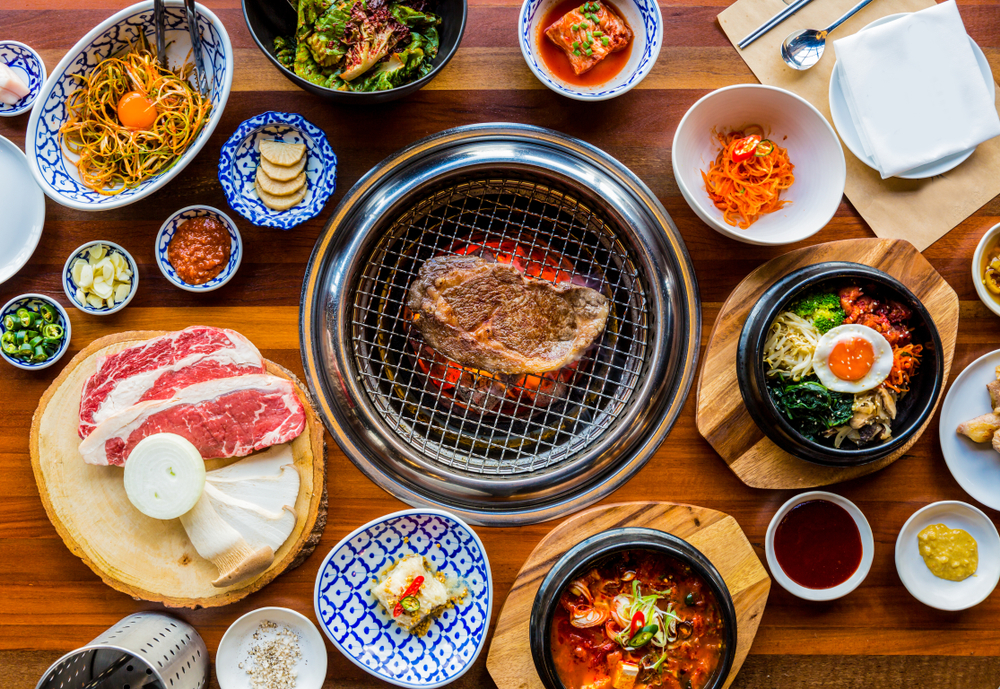 North Italia
For Italian food, North Italia provides some of the best dining in Charlotte, NC. Not only do they serve up some of the best Italian food, they serve some of the best pizza in Charlotte! Come for brunch, lunch, or dinner!
The weekend brunch menu here features butterscotch pancakes, farmers market scramble, pollo fritto with Italian sausage gravy, breakfast carbonara pasta, and a short rib hash.
Lunch is serves small plate style, with prosciutto bruschetta, beef carpaccio, meatballs and entrees such as daily pizza, sandwiches – spicy Italian grinder or meatball sandwich, and fresh pasta dishes ranging from spicy rigatoni to chicken pesto.
The dinner menu includes all the lunch dishes plus entrees like roasted salmon, grilled beef red wine tenderloin, grilled branzino with charred lemon butter, and chicken parmesan.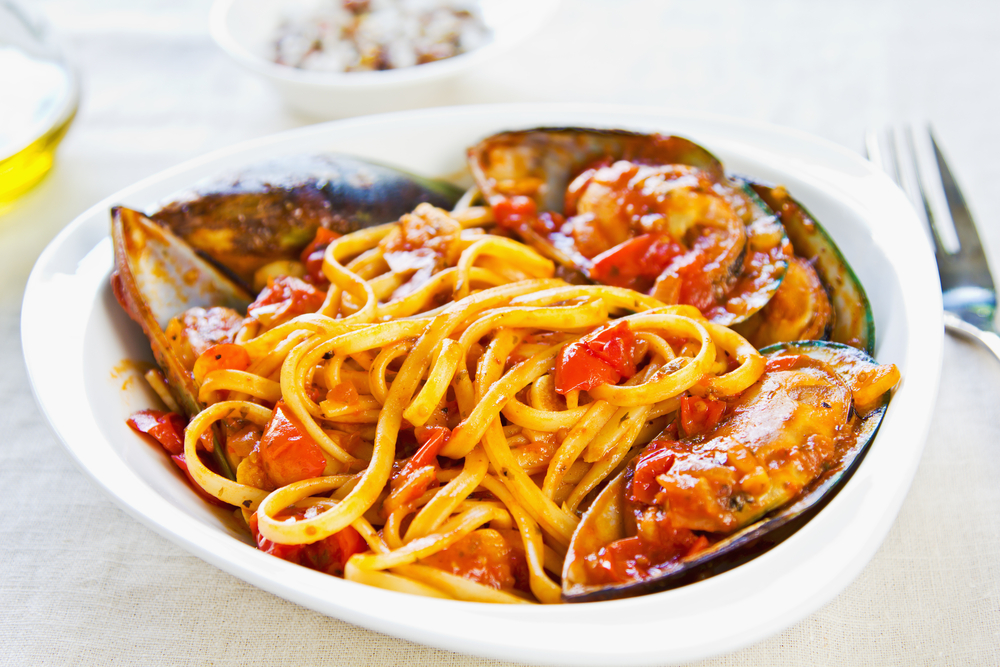 Midnight Diner
Are you trying to decide what to eat in Charlotte, and craving comfort food? Midnight Diner serves everyday comfort food at great prices.
For those craving a giant salad, they have an entire salad menu! They have Cobb, greek, bleu wedge, apple walnut, picnic salad and shrimp salad to name a few. As well as a veggie platter, chicken salad, and veggie wrap.
Choose from burgers, grilled cheese, sandwiches ( philly cheese, chicken salad, cool ranch wrap), fish or shrimp tacos, a NY strip steak, chicken tenders or chef lee's famous fried chicken , chicken wings, chicken and waffles, seafood platters or shrimp and grits there is sure to be something for everyone on this variety menu.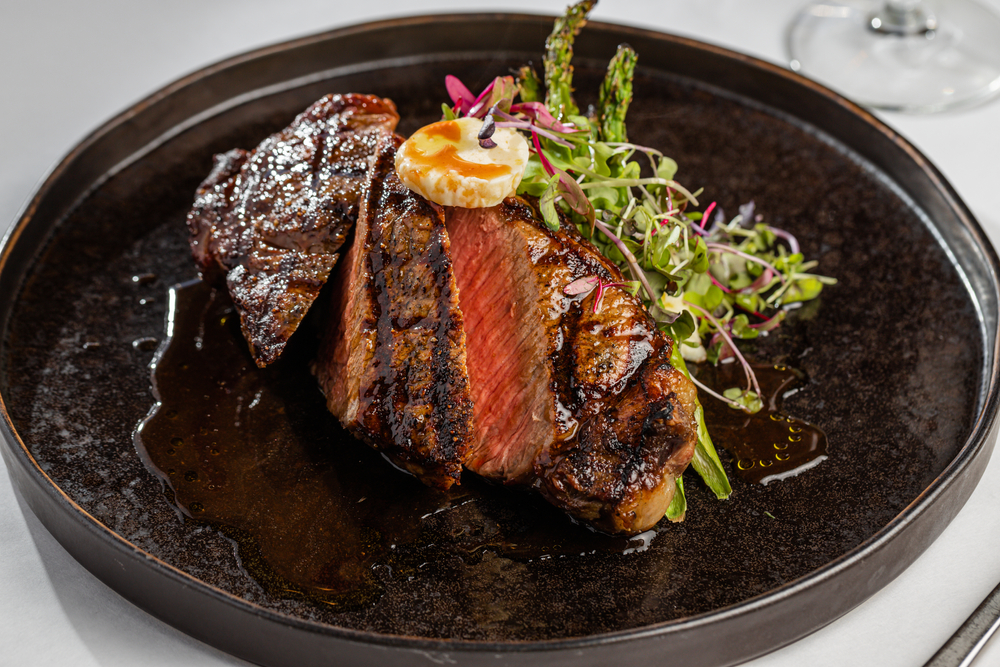 Indaco
Indaco is one of the serving up a great happy hour from 4:30 to 6: 30 weekday and dinner starts at 5 pm daily. They serves some best Charlotte food for those craving authentic Italian.
Pasta dishes here include black pepper tagliatelle, orecchiette with beef bolognase sauce, bucatini with shrimp, spicy soppressata pizza, roasted lemon Parmesan chicken, cab flank steak with charred broccoli and fingerling potatoes.
IF you are looking for an Italian brunch restaurant in Charlotte, try the ricotta or burrata toast, a roady plate with two eggs, bacon and toast, parma ham and eggs, a breakfast pizza pie, or salmon bagel pizza, or those with a sweet tooth can choose between Nutella pizza or cinnamon waffles.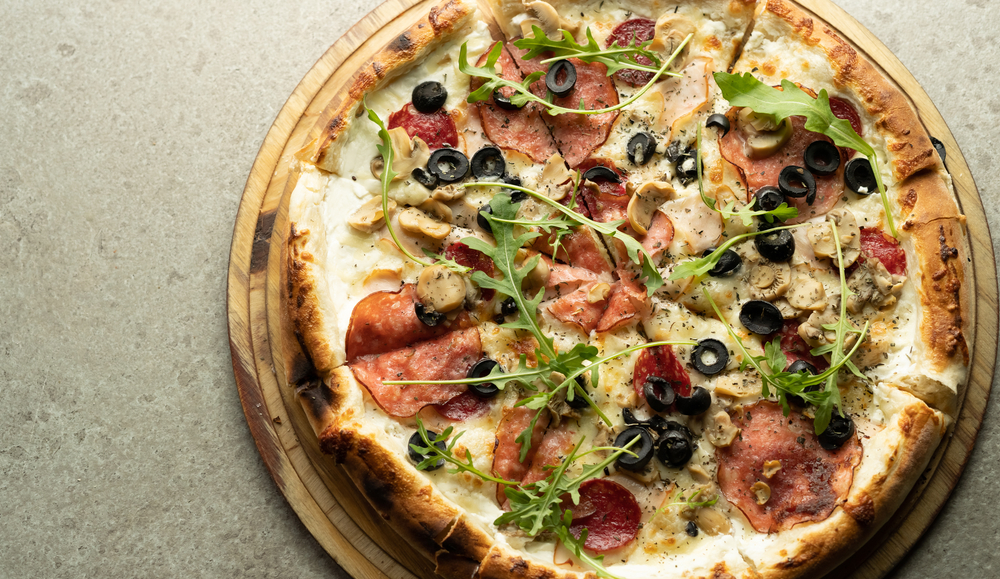 300 East
300 East is located in the Dillworth neighborhood of Charlotte and has been locally owned and operated for the past 40 years. Whether joining for a weekend brunch until 3, or 1/2 priced glasses of wine on Tuesday. They are open Monday to Friday from 11 am to 9 pm and weekends from 10 am.
Try one of the sharable plates: chicken and biscuits, spicy pimento cheese or chicken salad, or sweet potato ravioli and baked goat cheese. The fall salad comes with port cherries, goats cheese and candied pecans.
Sandwiches range from a salmon burger, to a grilled shrimp or avocado BLT, Grass fed burger to mouthwatering entrees like the pan seared airline breast (only served after 5 pm) stuffed with ham, cheese and a rosemary gravy, shrimp cakes and a blacken and chicken tortilla with lime crema.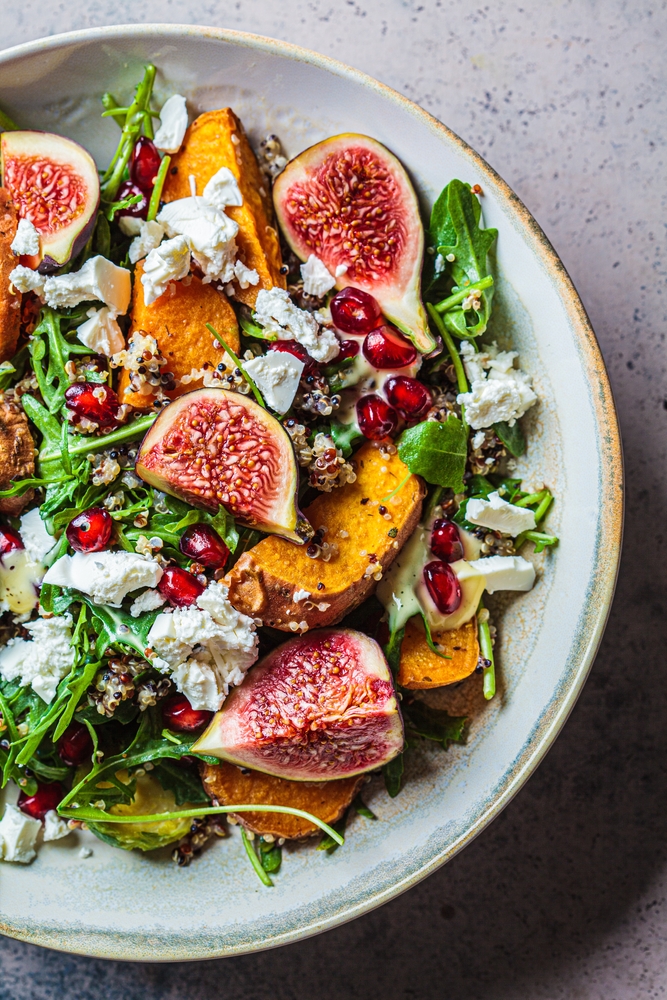 Floyd's
For those who have soul food in Charlotte on their list, head to Floyd's. They served up home southern soul food for breakfast, lunch and dinner.
Popular fishes here are the hand rubbed slow cooked ribs, the same recipe that has been used for last 50 years, the stewed beef, fried cooker, meat loaf, fried or baked chicken that is often described as delectable and crispy! All dinners are served with your choice of sides and cornbread.
If you want something to go, try one of the Floyds family meals like the 10 piece chicken or pork chop meal, served with sides, cornbread or rolls and sweet tea!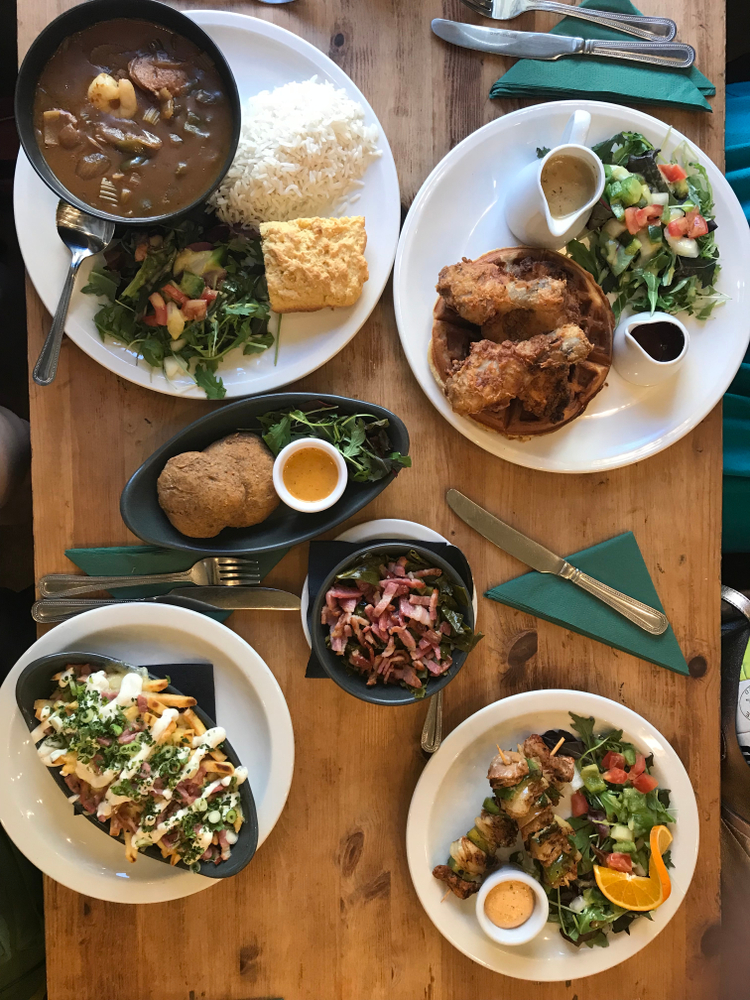 Fig Tree Restaurant
For those special occasions, where you are looking for a upscale restaurant in Charlotte, Fig Tree is that place! Located in Elizabeth's neighborhood, this bungalow is a historic landmark which now provides a unique dining experience with expansive outdoor seating.
On the dinner menu, appetizers include a fried oyster and brown sugar pork belly, escargot, grilled octopus with chorizo and burrata with watermelon and pickled onions.
For main courses the mountain grouper with jumbo crab cakes in lemon beurre blanc is popular as is the black truffle Yukon potatoes and seared seabass, a grilled elk chop with elk sausage, or the housemade fettuccine with broccoli squash served over a ricotta basil peso sauce.
Save room for dessert here! From the Chèvre Basque cheesecake with pickled peaces, to a lavander black tea poundcake with blackberry curd, to a key lime ginger curd sponge cake served with peppercorn butter creme to a banana cake with Carmel mousse, yum!