If you are looking for the best things to do in St Simons Island Georgia, you will find all the info here in this ultimate guide! St Simons is a part of the barrier islands in GA and is always rated at the top of the list. This is because it is full of interesting history, has amazing beaches, salt marshes to explore, plenty of delicious restaurants, and a cute pier village where you can shop till you drop.
Getting to St. Simons is easy to get to and moving around town is just as simple. You do not have to take a ferry to the island, the highways run right into town. Plus this quaint island is only 12 miles long and still has that small-town charm. If you are planning on staying a while the nearby Jerkll Island is definitely worth a visit. If not there is plenty to keep you entertained on St. Simon Island! Get ready to pack your bags and have an amazing trip!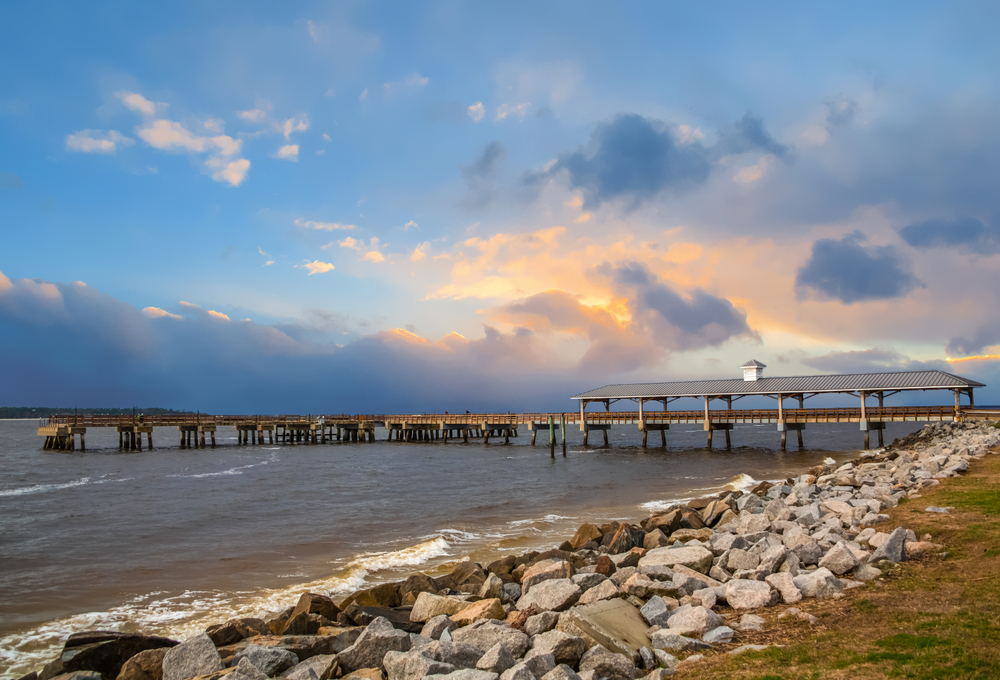 What is the Best Time to Visit St Simons Island?
For the perfect St Simons Island vacation you will want to visit during the spring or fall. This is when the weather is mild and there are fewer tourists and everything is pretty much open. However, if you want the warm weather and do not mind crowds summer is also an amazing time to visit St. Simons Island.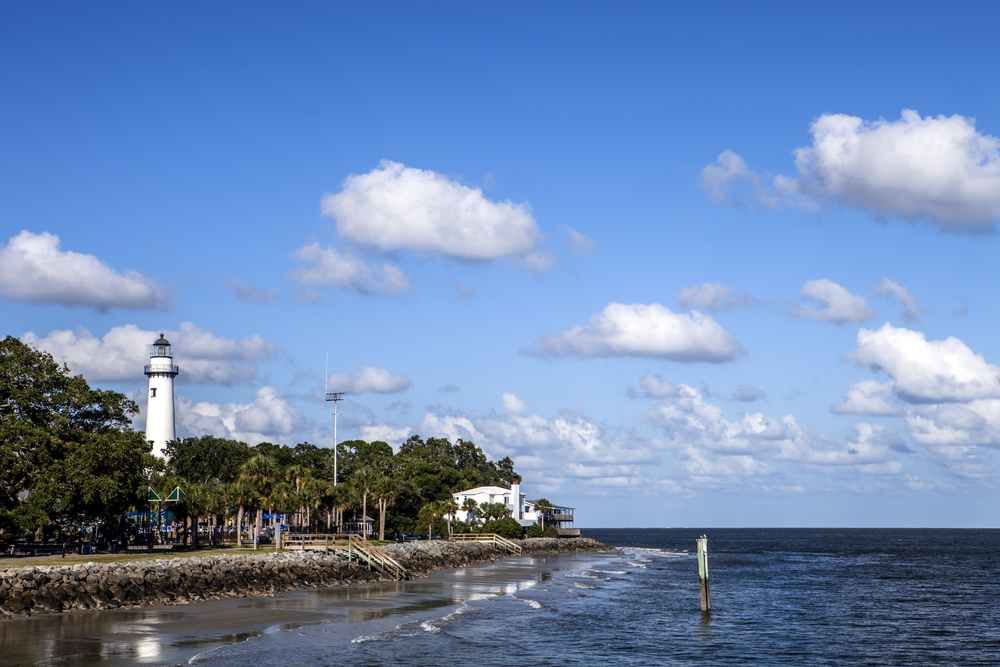 How Much Does it Cost to Visit St Simons Island?
To enjoy your St Simons Island trip you have to make a budget! You can find budget-friendly accommodations or stay in a 5-star resort. On average you should budget around $1,500 for a cheap trip and up to $4,000 per person per week for a more luxurious stay. Most places are free to park, and there are a few things on this list of the best things to do in St. Simons Island that are free.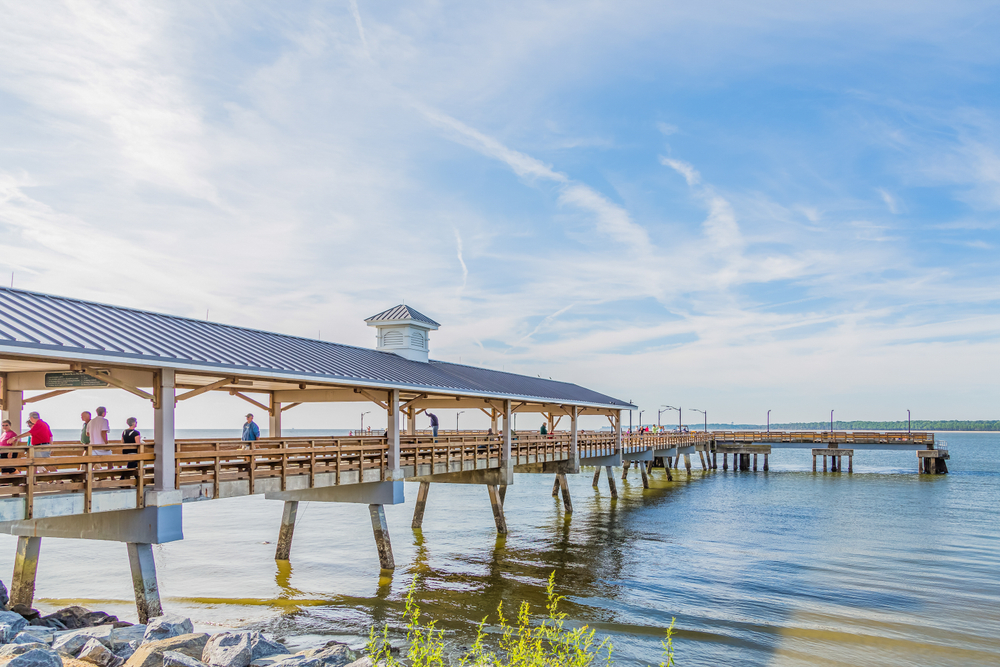 10 Best Things to do in St Simons Island
Visit the St Simons Lighthouse Museum
First up for things to do in St Simons Island is you must visit the beautiful white and black Lighthouse. It was first built back in 1810 but was destroyed during the Civil War. It was rebuilt in 1872 into what is there today, and has been helping sailors find their way for over 200 years! You can climb to the top of the lighthouse for free from 10 am to 5 pm every day.
There is also a small museum in the keepers dwelling that shows the history of the lighthouse. You can take sunset tours and they always have fun events around the holidays. You will love the dreamy views from the top 104 feet in the air.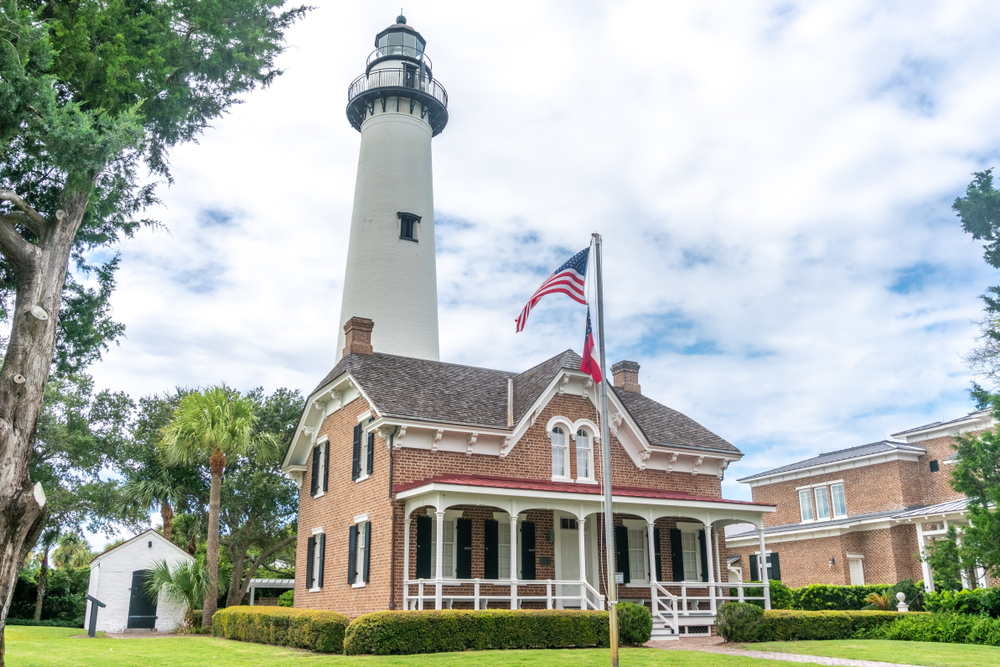 Relax on the Beaches
You are on an island so you must visit the beaches, right? And St. Simons Island has plenty to choose from. The most popular has to be East Beach. It is on the eastern side and has a white sandy shore with gentle waves. There are picnic tables, plenty of space for sunbathing, and restrooms close by.
Another beach to check out is Gould's Inlet. This is on the northern side of the island and is a secluded beach that is a bit more peaceful than East Beach. You can only reach this beach on foot or bike, but it is totally worth the extra effort.
Next up is Massengale Park Beach. This is on the southern side of the island right by the lighthouse. You can enjoy the fishing pier, and have a picnic at one of the many tables, and is a great place for swimming.
Coast Guard Beach is another one to check out and it is near the southwestern end of St. Simons Island right by the Coast Guard Station. This is another beach you can only reach by bike or foot. It has amazing views of the marshes and river. Be sure to bring your own water and snacks here. Visiting the beaches never costsa any money to park and is one of the best free things to do in St Simons Island.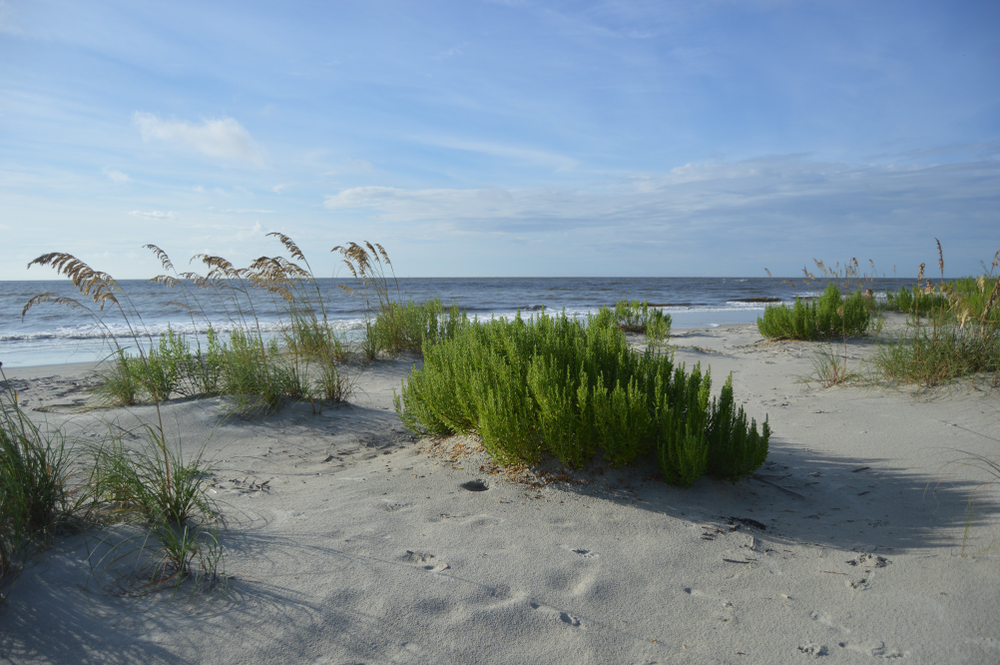 Explore the Fort Frederica National Monument
If you are looking for what to do in St Simons Island GA the Fort Frederica National Monument is perfect for you. This old Fort was established back in 1736 and served an important role in the early history of Georgia. There are only remains left today but you can still explore and check out the visitor center. There are films and interactive displays that show daily life back in the colonial era.
It is always free to visit, and you can go from 9 am to 5 pm every day, except on major holidays. After you are done exploring you can check out the nature trail behind the Fort on foot or bike. It will take you through the maritime forest and give you a unique view of the marshes.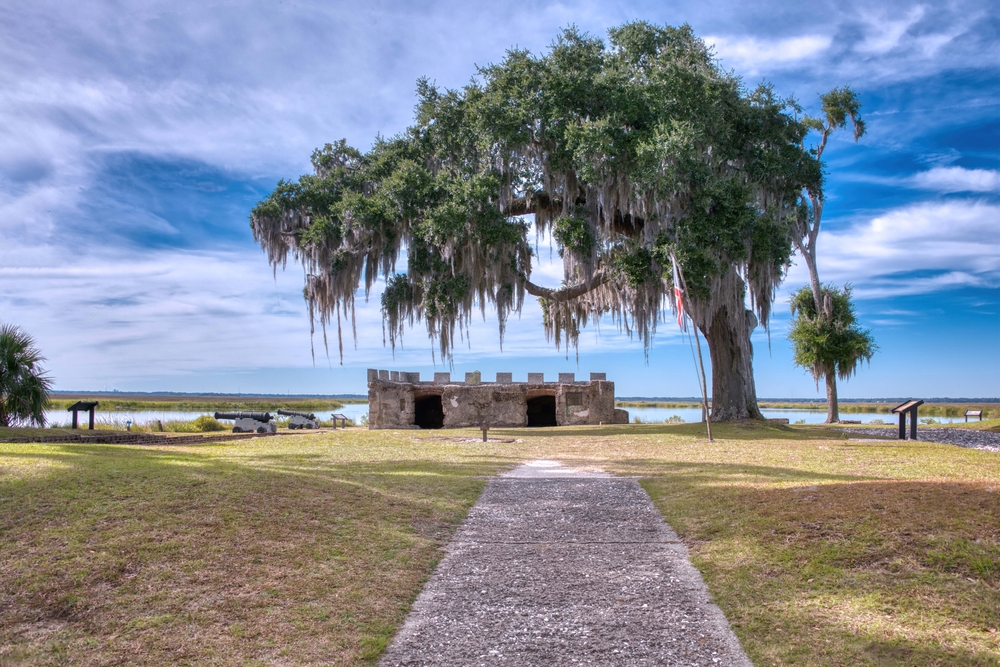 Walk Around the St. Simons Island Pier Village
The St. Simons Island Pier Village is one of the best places to visit in St Simons Island. It is on the southern side of the island right by the lighthouse and Massengale Park. Here you can do your vacation shopping at one of the cute clothing boutiques and at the gift shops. There are also art galleries filled with local beach art and other special finds.
This is also where you will find some of the best restaurants in St. Simons. Many have outdoor seating with views of the ocean. Or you could try your hand at fishing off the pier, or book a fishing charter for some deep-sea fishing. Throughout the year you can also hear live music being played. The Pier Village is a great place on the island to visit day or night.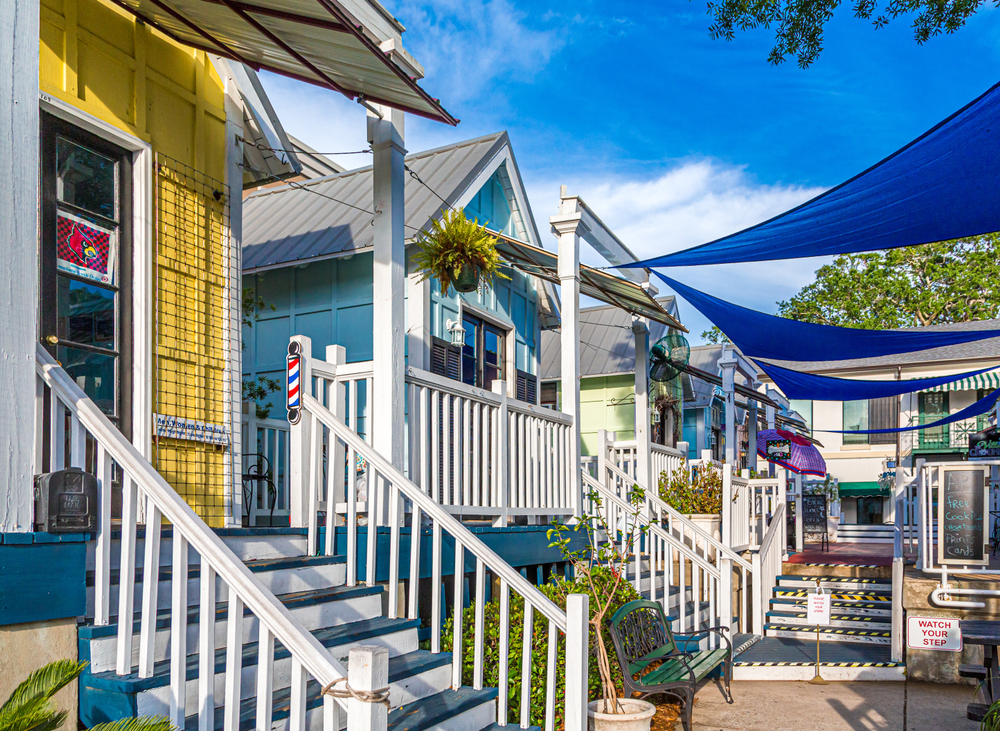 Take a Bike Ride Around the Island
St. Simons Island has over 30 miles of bike paths and trails! There are several bike rental shops where you can rent beach cruisers, and electric bikes, or grab a cute tandem bike to ride. Try finding one near your accommodation, many will drop it off and pick it back up when you are done.
The most popular biking trails are the East Beach Causeway. This connects the village area to East Beach. Or try the St. Simons Trail System. This is a trail with a big network of paths and trails throughout the neighborhoods, and parks, and will take you to the best activities. For a picturesque area try the Frederica Road Trail, this is the prettiest ride on the whole island. Riding bikes is one of the best things to do in St Simons Island with kids, and it is very safe!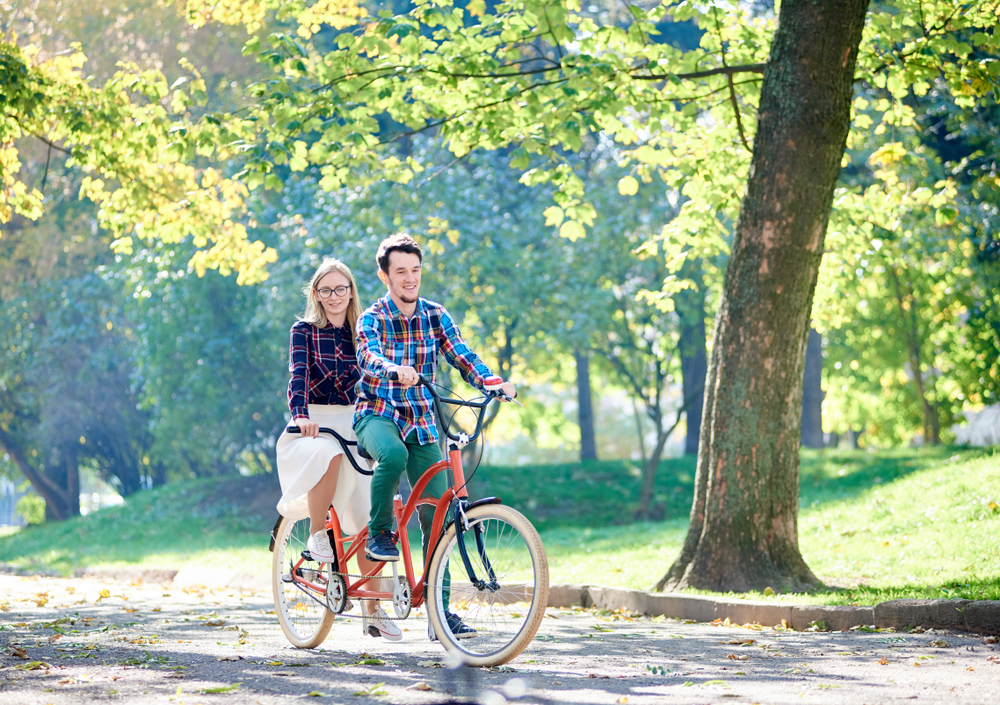 Go on a Kayaking Tour
Next up is renting Kayaks for the day. No matter what your experience level is there is a spot to put your kayak in the water. The island's marshland offers a perfect place to see animal life. The most spotted creatures are a large variety of birds and dolphins, and you may even see a few sea turtles.
There are also a few rivers to explore and if you are an experienced kayaker the coastline is always an option. You can find kayak rentals on the more popular beaches or book a tour in town. You do not want to miss out on kayaking if you are looking for fun things to do in St Simons Island Georiga.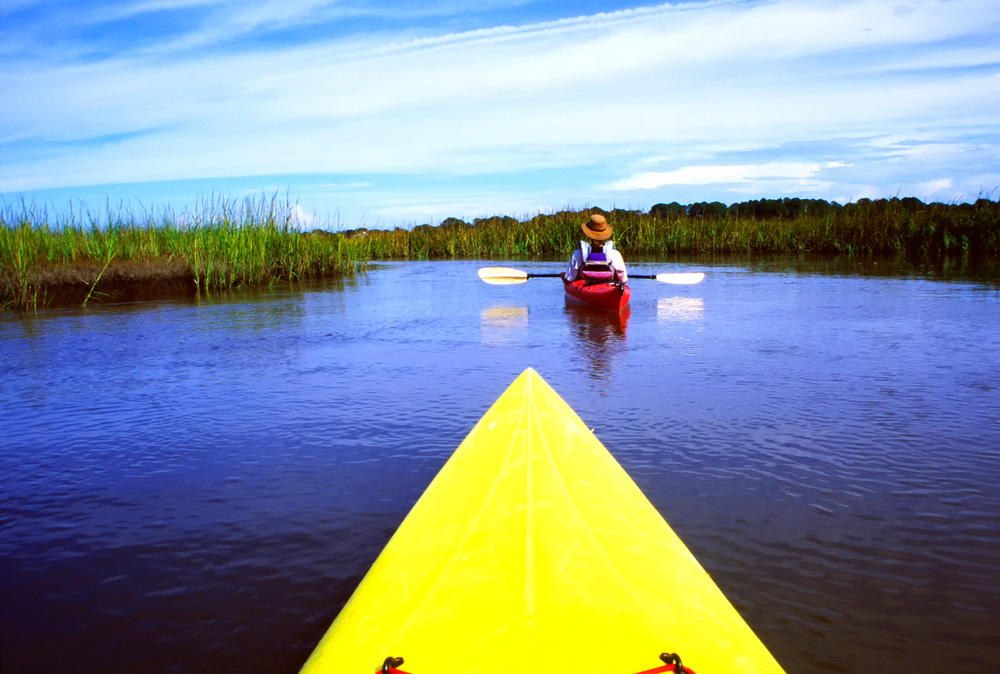 Visit the WWII Home Front Museum
For all the history buffs out there, you will want to head to the WWII Home Front Museum. It is dedicated to how the local people of St. Simon experienced life and how they contributed from the home front. You will see exhibits from their point of view. From how they rationed their food and grew gardens, some information on the local shipyard, and how women stepped up and ran things.
There are also really cool things like an old Jeep used in WWII and a collection of the uniforms worn. Take part in the interactive exhibits where you can play food rationing games and try on the old uniforms. It is open from 10-5 every day, except on Sundays when it opens at 12. This is one of the best things to do in St Simons Island for all ages.
Play a Round of Golf
There are several golf courses on the island. Head to the Sea Island Golf club to take your pick from three championship courses. The Prince, King, and Sea Island. Each one has its own features and challenges. There are wooden fairways and oceanfront tee boxes to take in the views. You can rent a few clubs from the pro shop, or bring your own sticks.
There are also a few driving ranges on the island if you are not up to a full 18-hole game. If you are visiting in November the PGA tour has an annual event at the Sea Island Golf Club. Be sure to check their website for tickets and more information on how to watch. This is a great way to get a workout in and is one of the best things to do for adults in St Simons Island.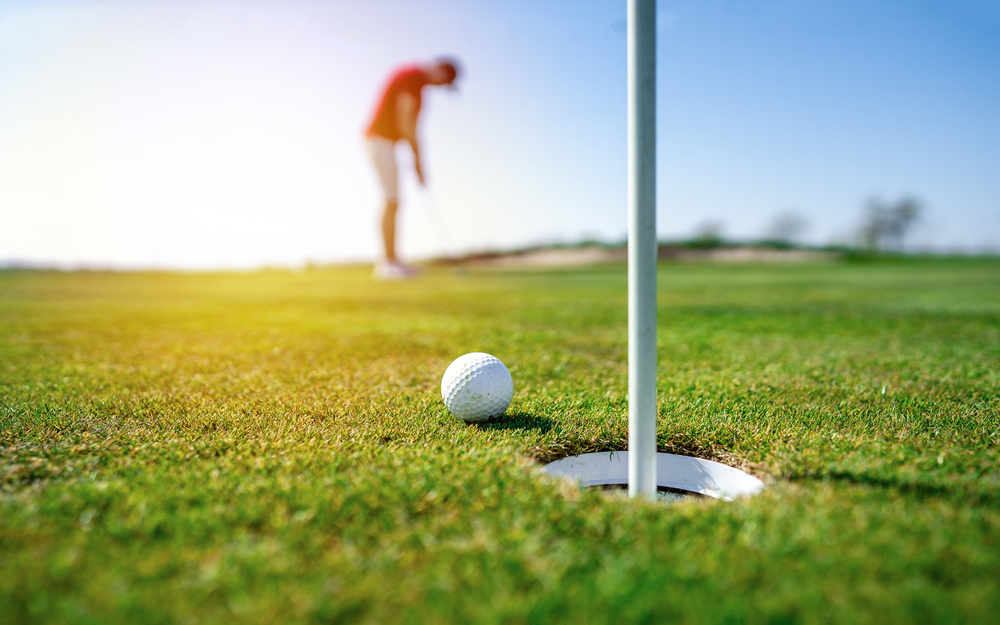 Visit the St. Simons Farmer Market
One of the top weekend attractions in St Simons Island Georiga is the Farmers Market. It opens every Sunday at 9 am and goes until 1 pm. Try and get there early too because some vendors close down when they sell out. You can find locally grown produce, fresh seafood, handmade crafts, and even a few sellers with freshly made baked goods.
During the warmer months of the year, there is a stage with live music and cooking classes. During the winter you will find it decorated for Christmas. This is a great way to support small businesses and the local community while on your vacation. Grab your favorite goodies and head out for a beach day, you are going to love it.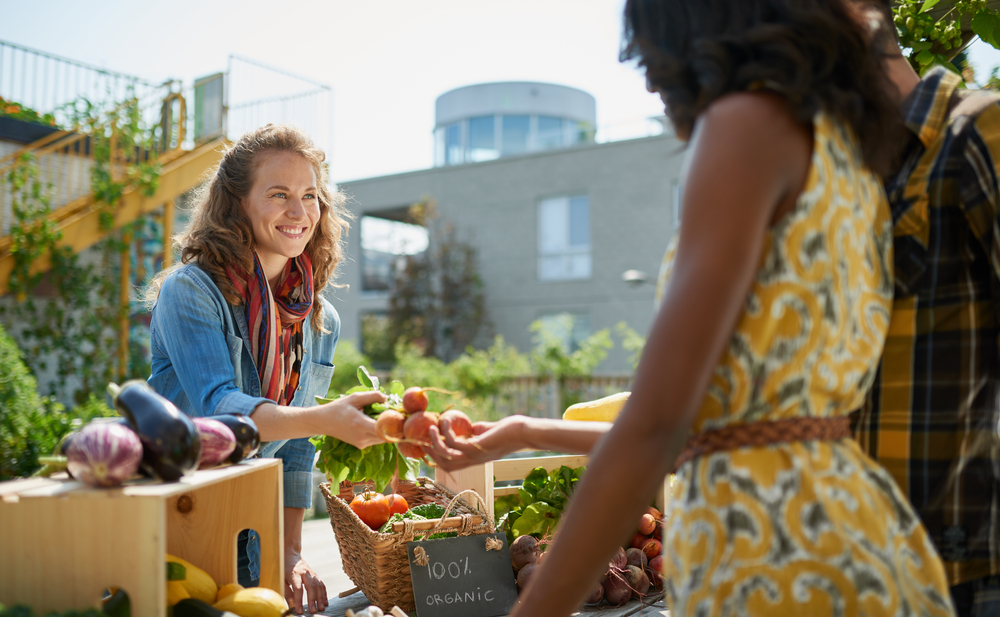 Take a Ghost Tour
Want to learn about the things that go bump in the night? St. Simons is one of the best places to do just that! There are several companies offering ghost tours and they all have their own itinerary. But most of these tours will take you around to the most haunted places on the island.
You will make stops at the old lighthouse, city jail, and the bloody marsh battle site. Your guide will most likely dress in colonial clothing and provide both entertaining and factual information along the way. If you are looking for things to do in St Simons Island at night this is one of the most unique and scary adventures.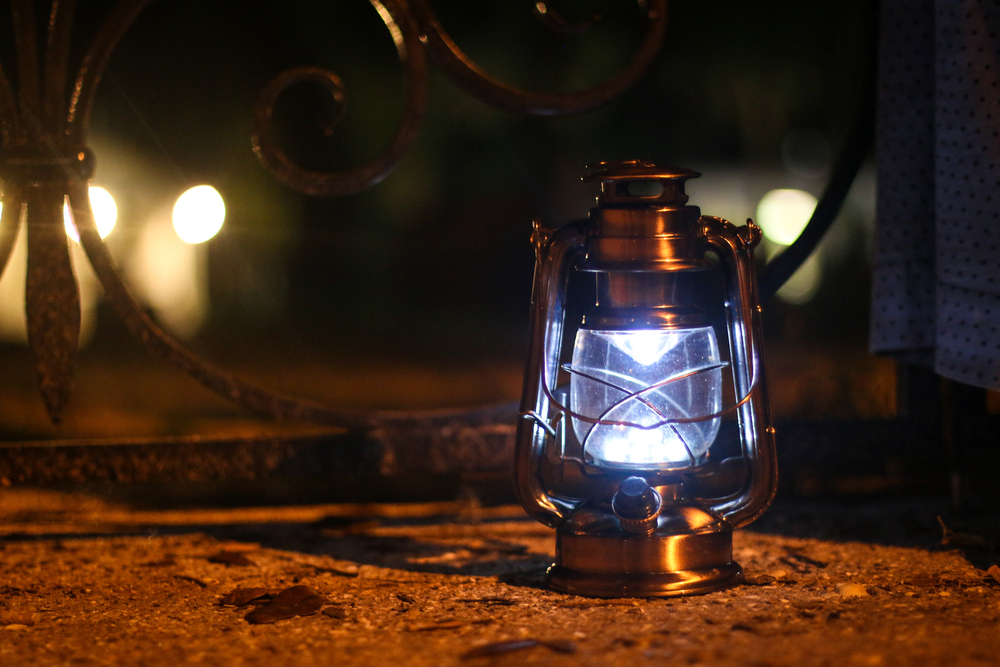 Where to Stay on St Simons Island
Best Western Plus St. Simons
Staying at the Best Western Plus St. Simons is always a good idea. You will be near all the best St Simons Island activities like the Lighthouse and a few beaches. They have a bunch of different room options to book from small twin rooms to a big king suite big enough for a party of 6!
Enjoy the outdoor pool, hot tub area, and a complimentary breakfast every morning. They also provide plenty of towels during your stay to use on the beach so you can pack light. When booking your room make sure you grab a room with a pool view, you are not going to regret it.
Check rates here: Booking.com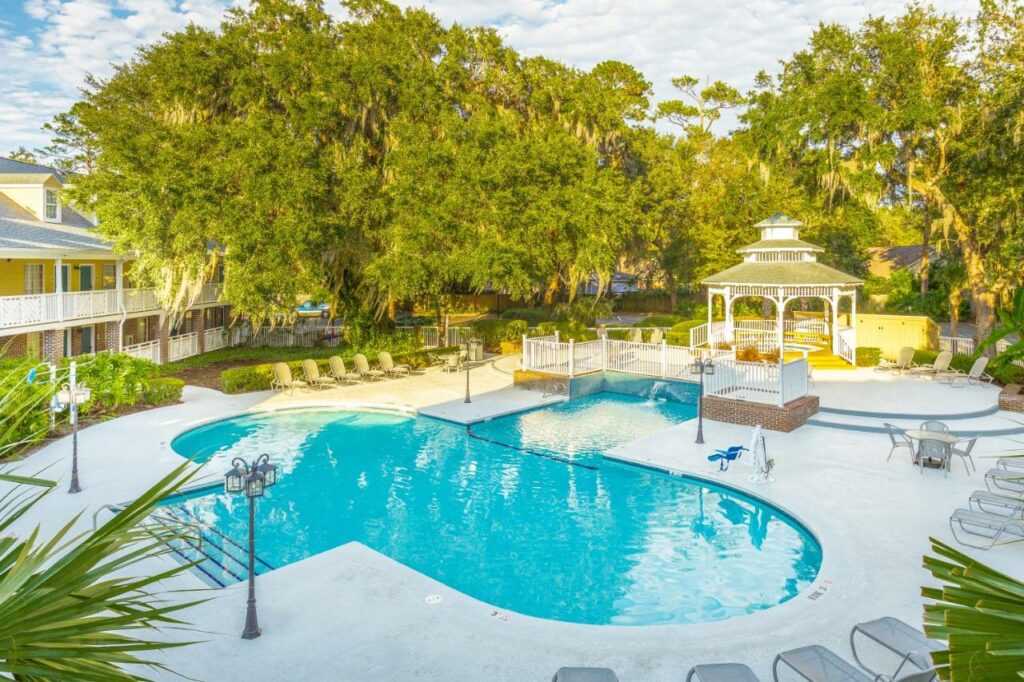 The Inn at Sea Island
The Inn at Sea Island is the perfect place to stay for a luxurious vacation full of fun. Not only do they have indoor top golf, but there is also a game to play with baseball pitching machines, hockey shots, and dodgeball zombie themes.
On top of all that, there is also a beautiful outdoor area with a spacious pool and bar on-site. The rooms are all chic coastal-themed and big and have comfy beds. You will be just a short drive away from the most popular beaches, but The Inn at Sea Island still has a very quiet atmosphere. Book your room today, you are going to love staying here.
Check rates here: Booking.com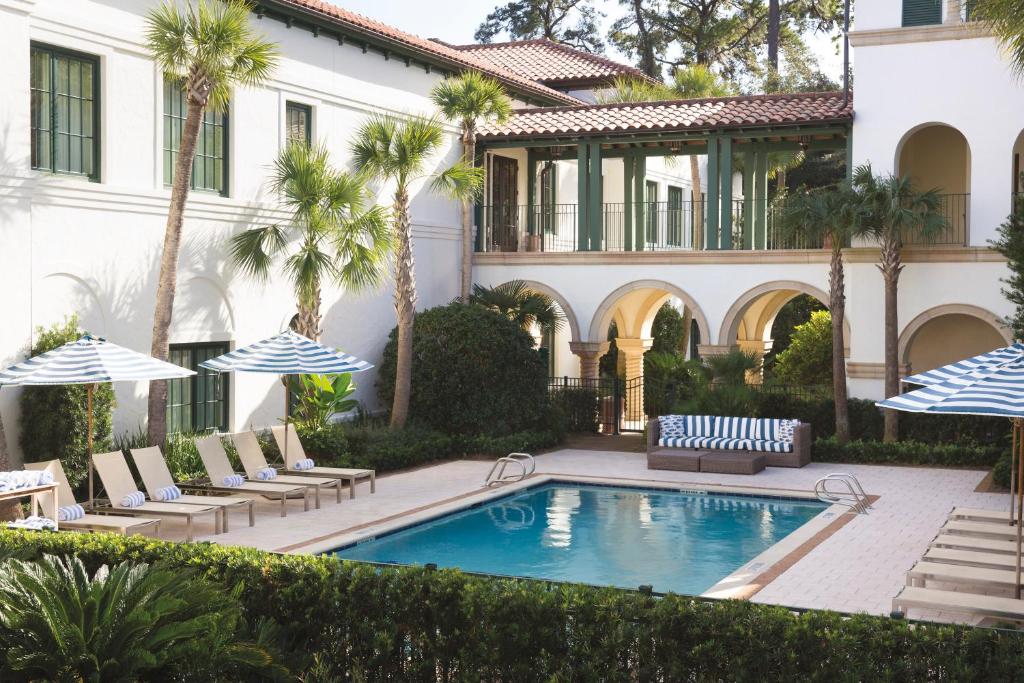 Best Restaurants in St Simons Island
The Georgia Sea Grill and Wine Bar
The Georgia Sea Grill is a laid-back seafood restaurant with an amazing wine list. They grow all of their own herbs and veggies to ensure the freshest and high-quality ingredients. And when it comes to seafood, they get it straight out of the ocean almost every day. Popular dishes include southern classics like shrimp and grits or for a fun mix of flavors try the bacon poached salmon.
They are only open for supper from 5 pm to around 10 and close on Sundays. It is best to make a reservation for the day you want to dine because they do get busy.
Barbara Jeans
For a classic diner experience, you will want to head to Barbara Jeans! This cute diner is best known for its crab cakes and serves authentic southern food. Every table gets a basket of freshly made bread and soft butter. Order a bowl of shea crap soup, or a big juicy burger because everything is done right here.
The portion sizes here are big and you definitely get your money's worth. It's okay to splurge a little you are on vacation after all! Check out Barbara Jeans from 11 am to 8 pm every day for a fantastic meal.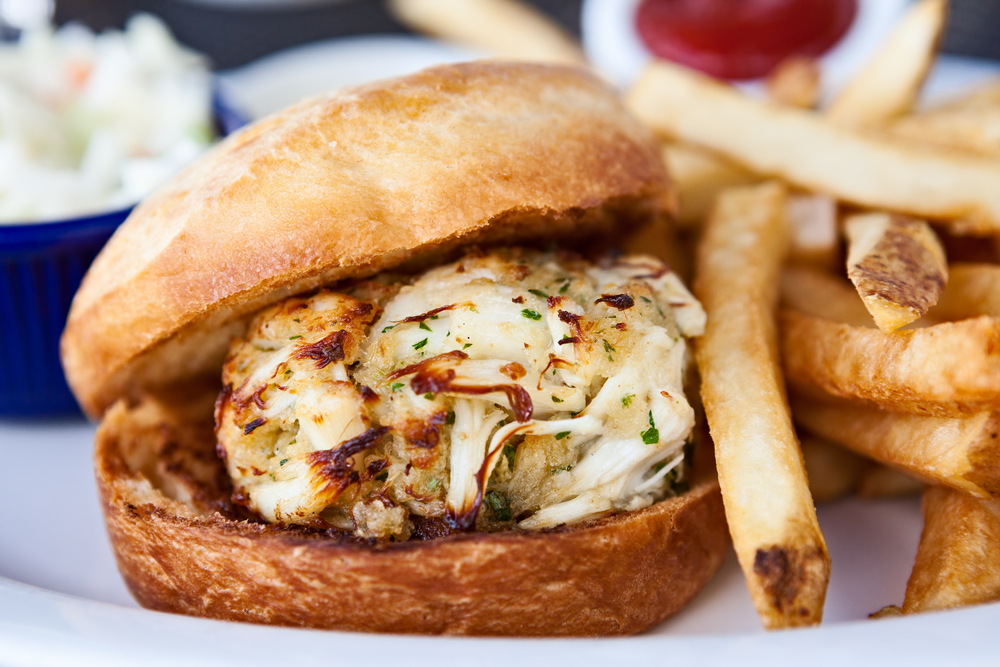 Southern Soul Barbeque
There is so much to love about Southern Soul Barbeque. From their old-timey lime sodas to the big selection of craft beers. Order anything from slow-roasted BBQ ribs, brisket, BBQ sandwiches, and sides like mac and cheese and beans.
For a bit of a healthy choice, you can order the okra or green beans on the side. They also offer catering if you are heading to town with a large party and want to order it for the whole house! If you are craving any type of BBQ Souther Soul is where you need to head.