Fall in Alabama is the perfect time to explore the beautiful hidden gems of the state. Alabama is filled with waterfalls, state parks, covered bridges, and mossy canyons that come to life when filled with Alabama fall foliage. It doesn't matter if you're wanting an adventurous experience or a relaxing one, you're sure to find the perfect place and activity level for you with our list of recommended ways to experience fall in Alabama.
The vibrant colors as the leaves change seasons also bring the perfect weather for hiking and camping. With many of the being trails open year-round, you'll be able to see what fall in Alabama looks like up close and in person. Even the drives to the trailheads are filled with scenery that will make you look at fall in Alabama in a whole new way!
10 Best Places to Experience Fall in Alabama
Clarkson Covered Bridge Park
Clarkson Covered Bridge is one of the best places to visit in Alabama in the fall. It's one of many covered bridges in the state, but this one is a must-see because it's one of the largest in Alabama. Its intricate lattice-style woodwork will let you see the beautiful fall views as you walk across the bridge.
The bridge was built in the early 1900s and was used by farmers to cross Crooked Creek. After a storm tore the bridge in two it was restored and added to the National Register of Historic Places. The park was expanded to encourage visitors to visit and enjoy this historical location.
The great thing about Clarkson Covered Bridge is that there is a park attached to this scenic location. As you explore, you'll come across a log cabin, an old grist mill, hiking trails, and plenty of spots for a fall picnic. Visiting this covered bridge will give you an enjoyable afternoon enjoying fall in Alabama.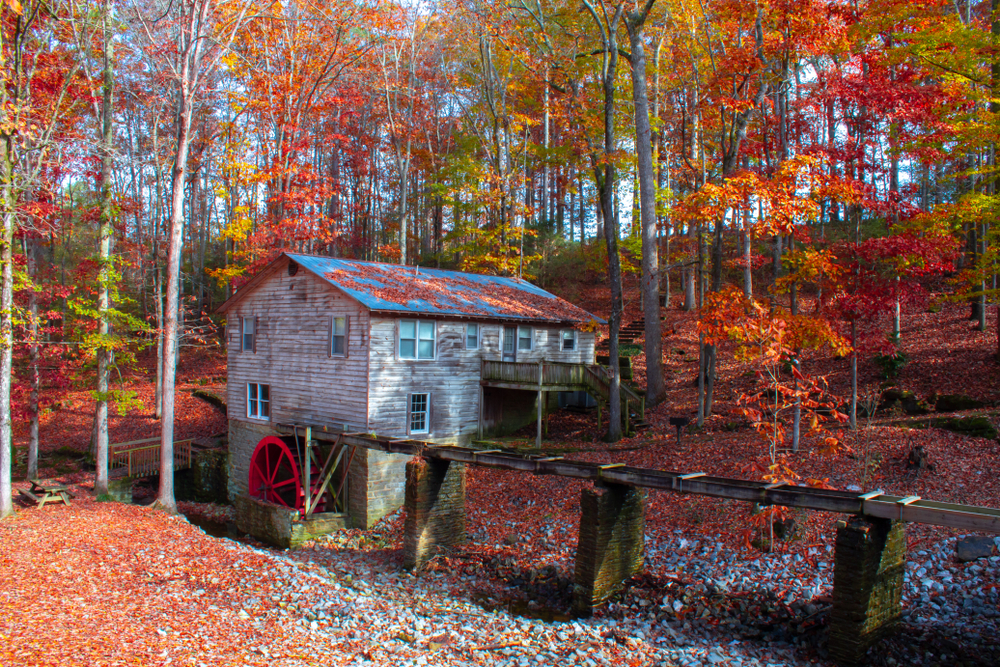 Cheaha Falls
Cheaha Falls is one of the hidden gem Alabama waterfalls you can visit in the state. Located in Cheaha State Park, it's surrounded by the Talladega National Forest, which means that when fall foliage in Alabama is in full bloom you won't want to miss it!
The hike to the falls is 2.1 miles and great for hikers of all ages and abilities. There are plenty of large rocks at the waterfall that you can sit on and enjoy the view. During the summer you can swim in the pool at the bottom of the falls, but we don't recommend it in the late fall!
There is a $3.00 fee to view the Cheaha Falls, but it's well worth it.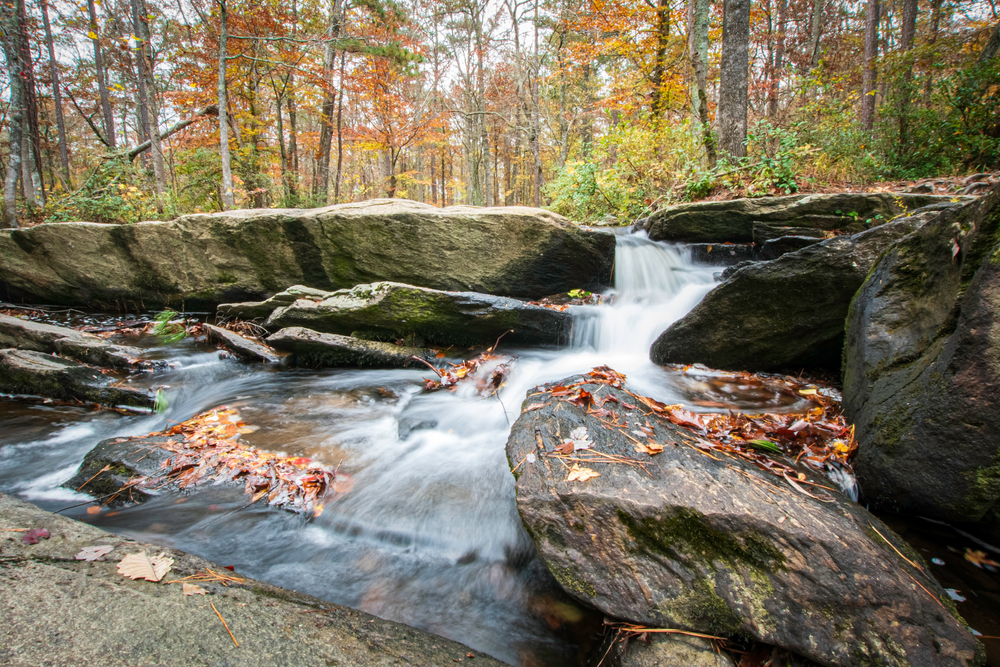 Road to Kinlock Falls
Kinlock Falls may be your destination, but don't discredit the beauty of the road to Kinlock Falls! You'll only be on Kinlock Road for about 3.5 miles before you reach the fall, but you'll feel encircled by the best fall colors in Alabama. Because the Falls are most popular in the summer (due to the option of swimming in the Fall's pool) the seclusion will only add to the feel that you're embarking on a memorable adventure.
Once you reach the "trailhead" (it's not officially marked), the hike to Kinlock Falls is a 0.3 mile loop. Don't let the short distance fool you as it's considered a moderately difficult trail as the path can get steep as you walk down to the waterfall.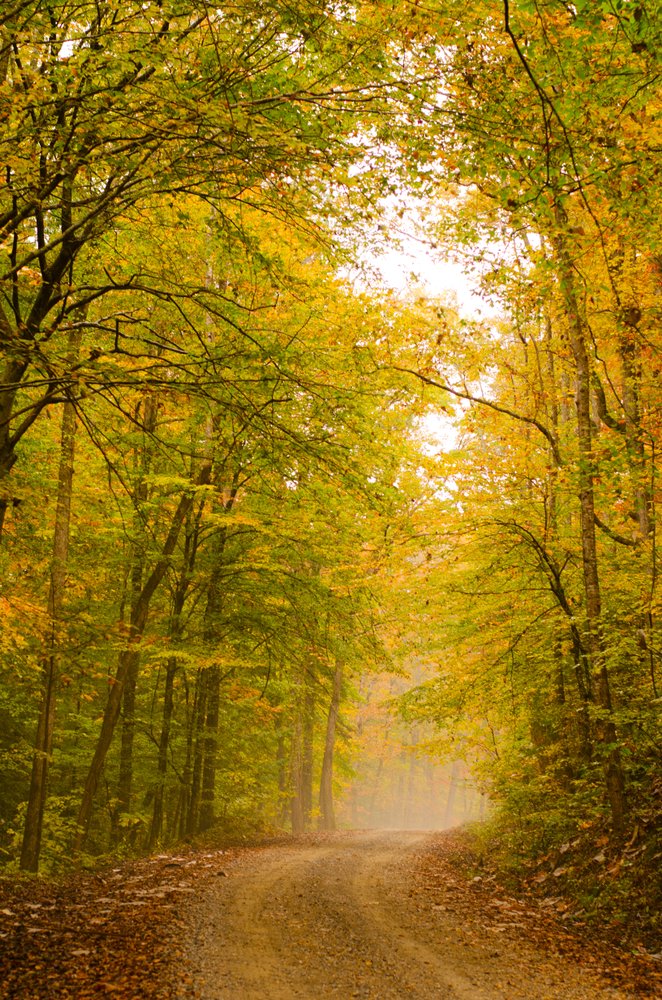 Dismals Canyon
Dismals Canyon is an otherwordly place to experience fall in Alabama. You won't just be viewing the best fall colors in Alabama, but walking through, under, and around it. A short 1.5-mile trail will take you along the canyon floor where you can explore a maze of forests, waterfalls, mossy boulders, and caverns. Add in a range of vibrant fall foliage, and you have the perfect mix for a hike you'll never forget (and want to come back and hike again).
If you want more time to take in all that Dismals Canyon has to offer, you can stay in one of the two cabins on-site. They're made of Western Red Cedar, making you feel like you're sleeping in part of the forest. And if you do decide to stay after dark, be sure to keep an eye out for the "glowworms" that give off a bluish neon light at night. They're known as Dismalites in Alabama and are similar to the famous glowworms found in New Zealand. Guided night tours can take you to prime Dismalite sighting locations.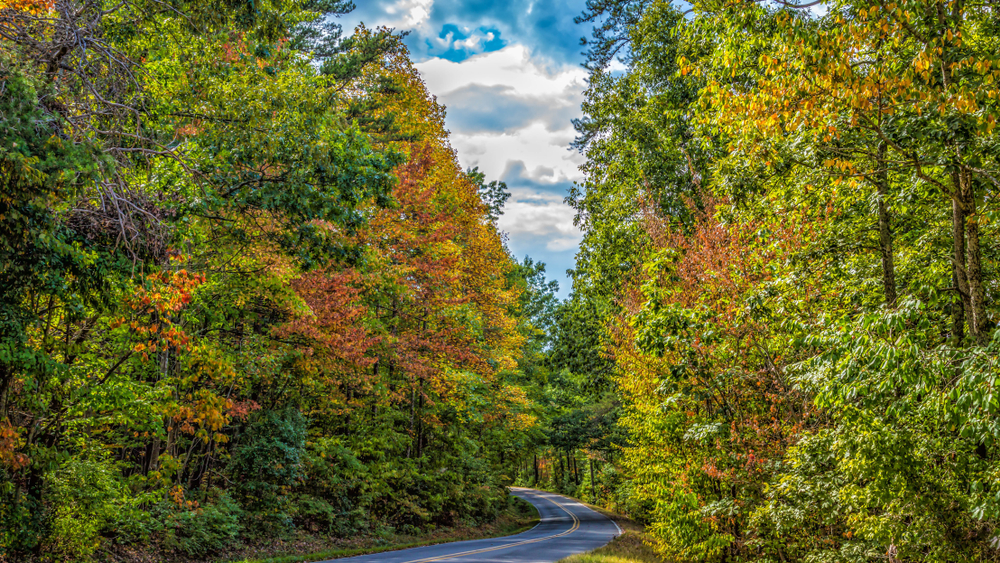 Alum Hollow Trail
A great trail for hikers of all abilities and skill levels can be found near Huntsville, Alabama. Alum Hollow Trail is located in the Green Mountain Nature Preserve, so you're guaranteed some great views of Alabama fall foliage. The hike is 2.2 miles in total, making it a great distance for families with younger kids.
Alum Hollow Trail takes you through forests, over a small creek, to a hidden waterfall, and past Alum Cave. The Trail is named after the alum stone that makes up the cave that was used for shelter by Native Americans. It's definitely one of the caves in Alabama that you'll want to check out. The trail is well-marked, so you'll be able to explore along with path without fear of getting lost (especially if you're hiking with younger adventurers).
This Trail is heavily trafficked, so it's best to visit on a weekday. Because it's heavily shaded, this is one of the few hikes that is great no matter what time of day you start at the trailhead.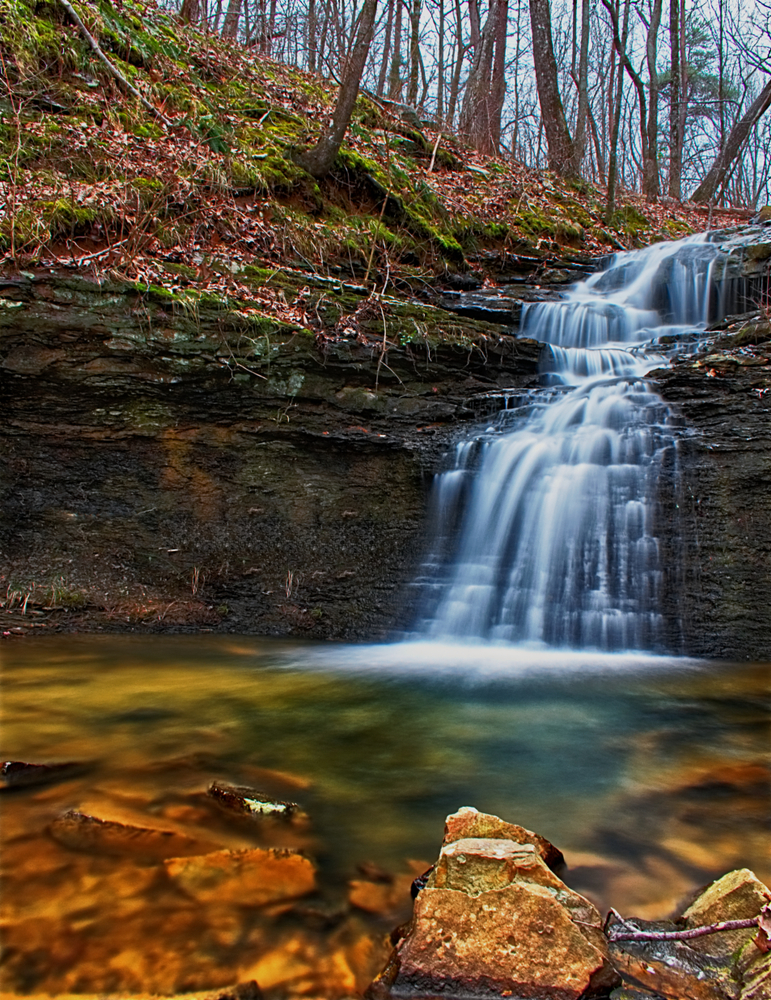 Green Mountain Nature Trail
If you're looking for a quick escape into nature from the city of Huntsville, all you have to do is head to Green Mountain. You'll leave behind the lights and noise and enter a place filled with some of the best fall colors in Alabama. The best part about the Green Mountain Nature Trail is that it's located in a park that's free to the public!
The Trail is a manageable 1.5 mile walk that will take you around Sky Lake (well named since it reflects both the colorful fall foliage in Alabama and crisp sky). Fishing in the lake is allowed but only if you're younger than 16 or older than 60 and pay a $3.00 fishing fee.
The Green Mountain Nature Trail will take you over footbridges, through a covered bridge, and past a log cabin, chapel, and greenhouse so there is plenty to explore along the way. Add in the bright autumn leaves and you'll have several great locations to take pictures at.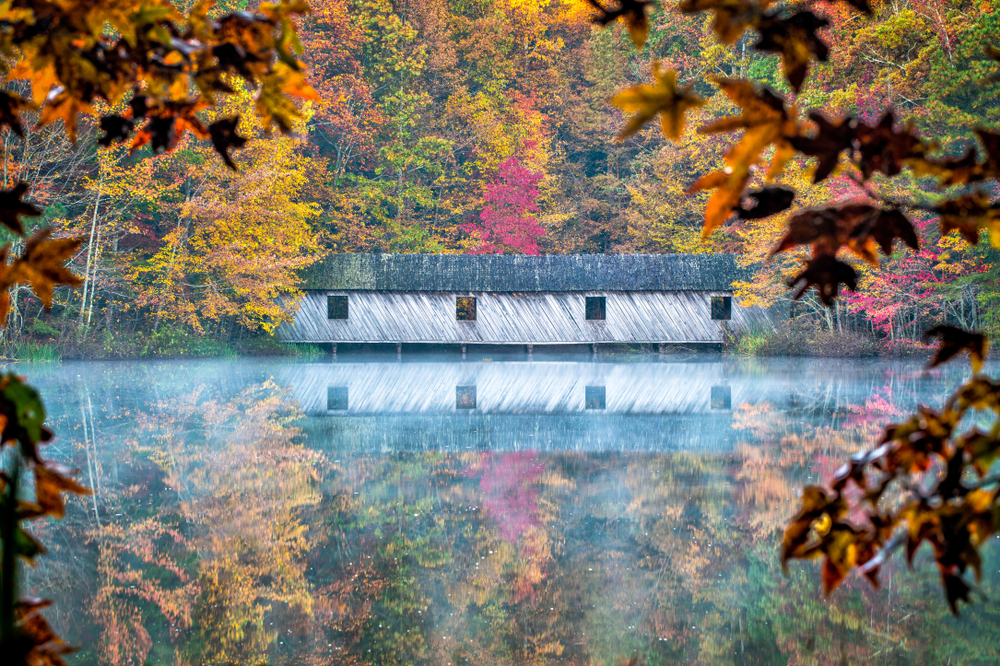 Little River Canyon
This national preserve is part of the Southern Appalachians and is filled with waterfalls, cliffs, and of course beautiful Alabama fall foliage. The canyon runs through Lookout Mountain and was carved out through millions of years of erosion. It's one the more popular fun places in Alabama that visitors love to explore!
There are three waterfalls in Little River Canyon that you'll want to check out: Little River Falls, Graces High Falls (the tallest waterfall in Alabama), and Little Falls. Waterfall season is at its peak during late fall, so if you time it just right, you can get some epic photographs of roaring waterfalls and bright colors of fall in Alabama. You can even view the foliage from the water as kayaking is a popular sport in this national preserve.
If you want to get as much leaf-peeping in as you can, you'll definitely want to take the Scenic Drive. You'll get to stop at eight overlooks on the eleven-mile drive, so you're guaranteed the best overlooks and views of fall in Alabama.
History buffs will also love the tributes to the past. Little River Canyon was home at one time or another to Native Americans, Civil War troops, and workers of the Tennessee, Alabama, and Georgia Rail Line.
Make sure to check out our list of the best cities and small towns in Alabama for inspiration on where to visit next!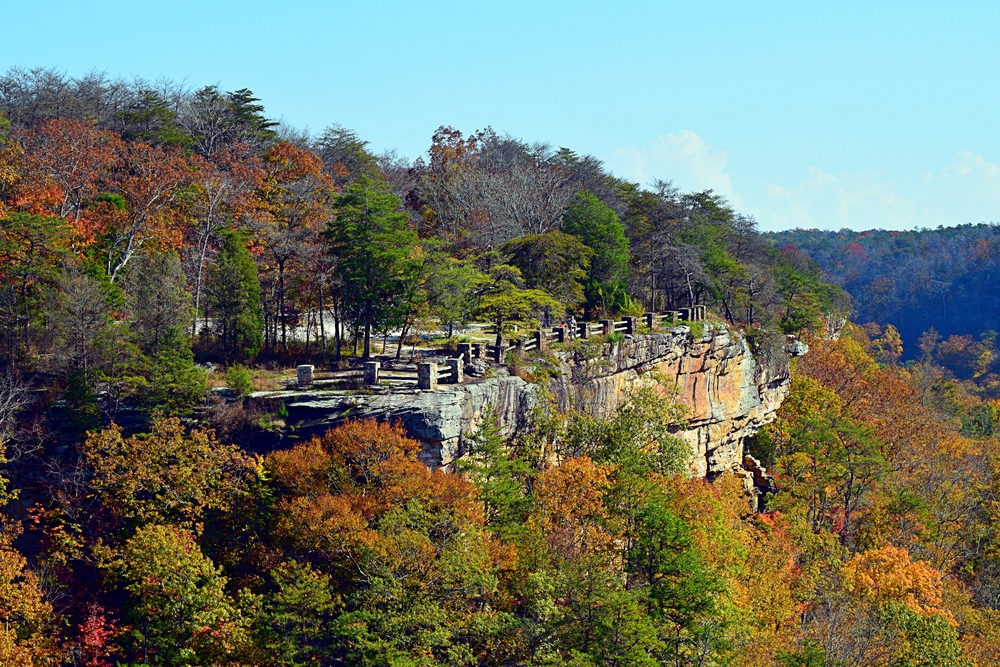 Cheaha State Park
Halfway between Birmingham and Atlanta is the beautiful Cheaha State Park. It's one of the best places to see Alabama in the fall because Cheaha State Park is the highest point in Alabama. It's the oldest and one of the most diverse State Parks when it comes to the natural elements that can be found within it. Plus, it's surrounded by the Talladega National Forest, so it's filled with a beautiful sea of Alabama fall foliage.
There are plenty of locations to do some leaf-peeping in Cheaha State Park. If you want to see fall in Alabama up close, you can choose between a number of hiking and biking trails. Most of the hiking trails are under 1 mile, so they're easy but beautiful. There are also 5 waterfalls nearby CCC Reservoir Falls, Laurel Falls, Cheaha Falls, High Falls, and Devil's Den.
If you want to make a day at this State Park, there are plenty of picnic spots where you can spread out your lunch under some Alabama fall foliage. If you don't pack your lunch, you can always stop by the Vista Cliffside Restaurant for a to-go order of some American staples like pizzas, burgers, hotdogs, and more.
Two museums are housed within the State Park, the Walt Farr Native American Museum and the Civilian Conservation Corps Museum. If you'd like to learn more about the history of Cheaha State Park, be sure to visit!
There are also several accommodation options at Cheaha State Park, so if you want more time to enjoy the beautiful fall in Alabama, you can choose from lodge rooms, cabins, chalets, or bringing your own tent and camping by Cheaha Lake.
And of course, we have to mention the dog park! So feel free to bring your adventure buddy to Cheaha State Park.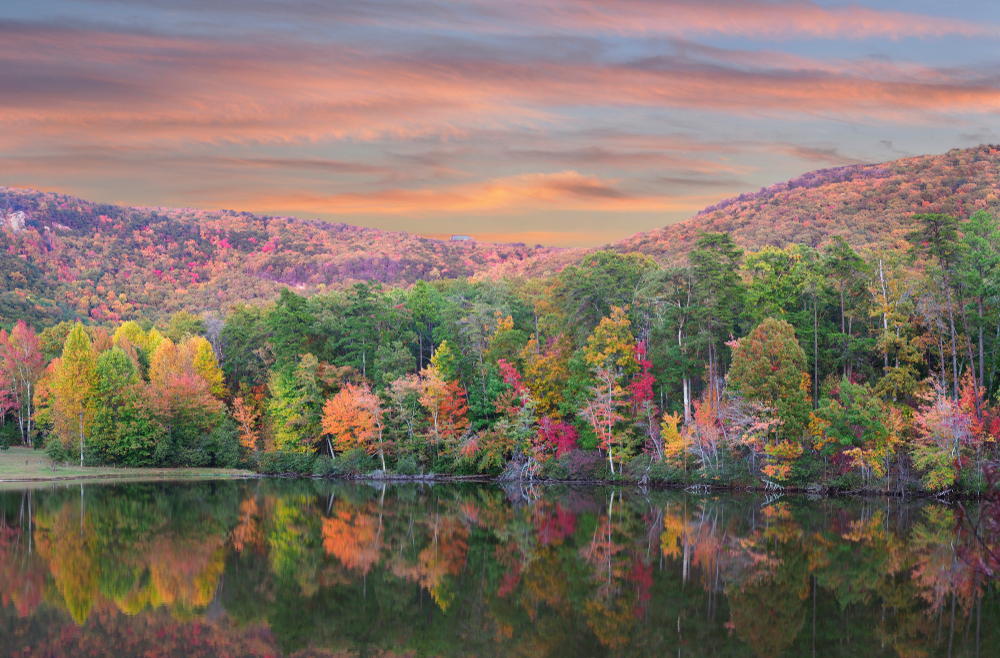 DeSoto Falls
Located inside DeSoto State Park, the DeSoto Falls are the perfect place to see fall in Alabama at its finest. One of the tallest and most popular waterfalls in the state, late fall is actually one of the best times to visit this waterfall. Not only is it surrounded by beautiful fall foliage, but the water flow is at its peak making this 107 foot falls a must-see!
There are no bad views of DeSoto Falls, but the park has two designated look-out points for visitors. The lower falls overlook can be reached via stairs, but the upper falls overlook is accessible to all visitors. If you want a little more time to enjoy the rushing sound of the waterfall with its beautiful surroundings, you can pack a lunch for the DeSoto Falls Picnic Area.
DeSoto Falls is only one of eight waterfalls that you can visit in DeSoto State Park, but make sure you stop by the park's namesake first!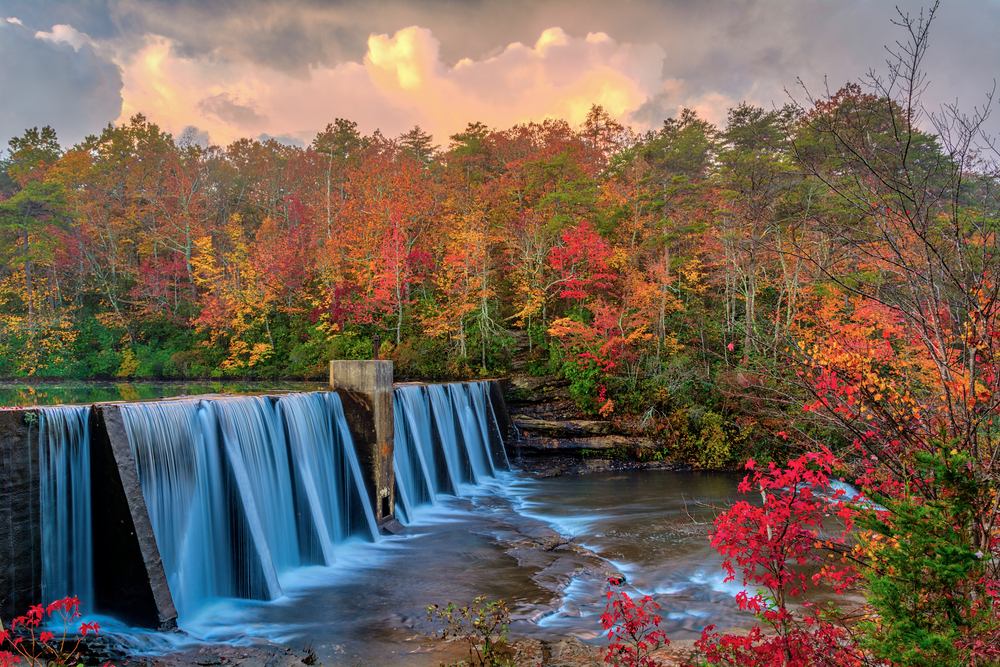 Oak Mountain State Park
Oak Mountain State Park is the largest state park in Alabama and with just under 10,000 acres is filled with unbeatable locations to view fall in Alabama. Since it's located close to Birmingham (the state's largest city), this state park is a perfect getaway to escape the city for a day and explore Alabama's nature.
Leaf peepers will love the peaceful vastness of this state park. There are over 50 miles of trails to choose from! But for the more adventurous visitors, there is also mountain biking, boating, fishing, horseback riding, and an 18-hole golf course.
Bird watchers also flock to Oak Mountain State Park to visit the Alabama Wildlife Center that specializes in the rehabilitation of native birds. Birds being cared for by the center can be watched among the Alabama fall foliage via the Tree Top Nature Trail. This boardwalk was built elevated, so you can get a bird's eye view of the forest. There are six enclosures for birds of prey that are permanent residents of the Center due to their injuries.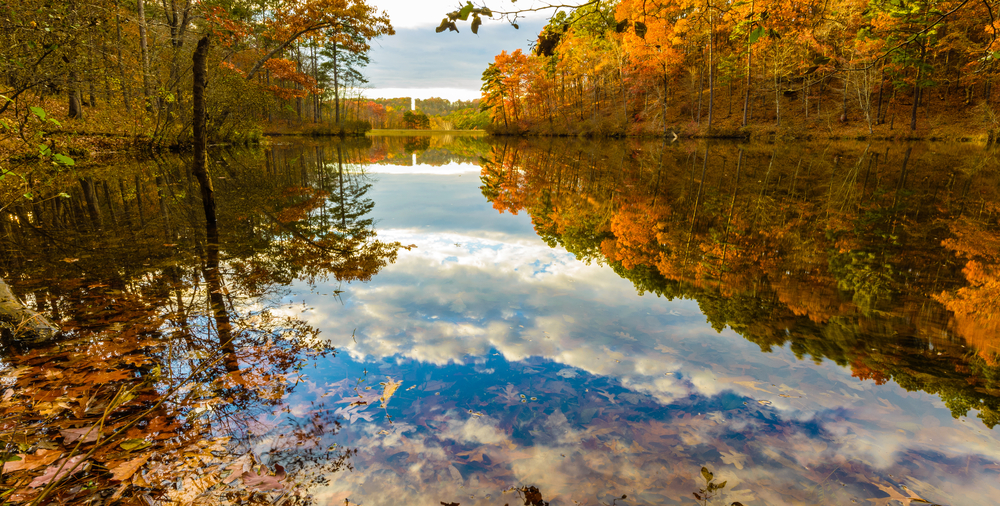 If you're looking for things to do on your next trip during fall in Alabama, be sure to stop by any of the locations listed in this article. You'll be able to really experience the best fall colors in Alabama while also enjoying the nice cool autumn weather. So if you're into hiking, mountain biking, waterfalls, or historical sites, Alabama has them all and if you come when the leaves are changing, you'll get the added bonus of some pretty spectacular views of fall in Alabama.