Are you on the search for fun things to do in Alabama? We've got you covered!
Alabama may be infamous for its dedicated college football fans (it's the state's most beloved spectator sport) and the delectable Southern comfort cooking (if it's not fried, do you really want to eat it?), but don't let their Southern hospitality keep you in a food coma for too long.
From spots where some of the most pivotal moments of Civil Rights history went down to stunning geological formations, this list includes plenty of cool places in Alabama just waiting for you to explore them.
As the 22nd state to join the union, this state has plenty of surprises as well as history, culture, and nature to explore. You won't run out of fun things to do in Alabama.
If you think Alabama doesn't have the type of adventure you're looking for, let us prove you wrong.
Here are the best places to visit in Alabama!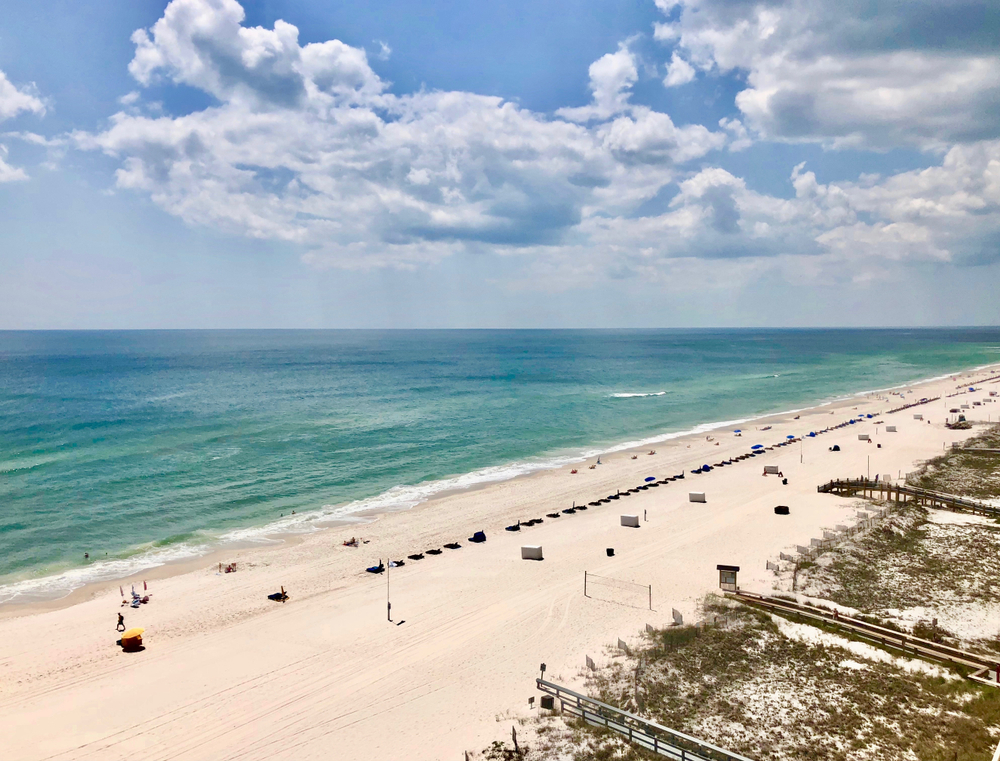 17 Best Things To Do In Alabama: The Ultimate AL Bucket List
Honor Civil Rights History in Birmingham
One of the best things to do in Alabama is to take the time to step back in time and go where history actually happened.
In 2017, officials designated the Birmingham Civil Rights National Monument to honor the lives of Black women, men, and children who stood up for their Civil Rights in the 1960s.
There is too much history to cover here so we recommend taking the time to learn about it on a walk-through. Stroll through Kelly Ingram Park where history was made, stop by the A.G. Gaston Motel, and honor the lives lost at the 16th Street Baptiste Church (these sites are only a few steps away from each other).
You can also visit the Birmingham Civil Rights Institute. With so much to see, touring the Civil Rights history sites is one of the best things to do in Birmingham.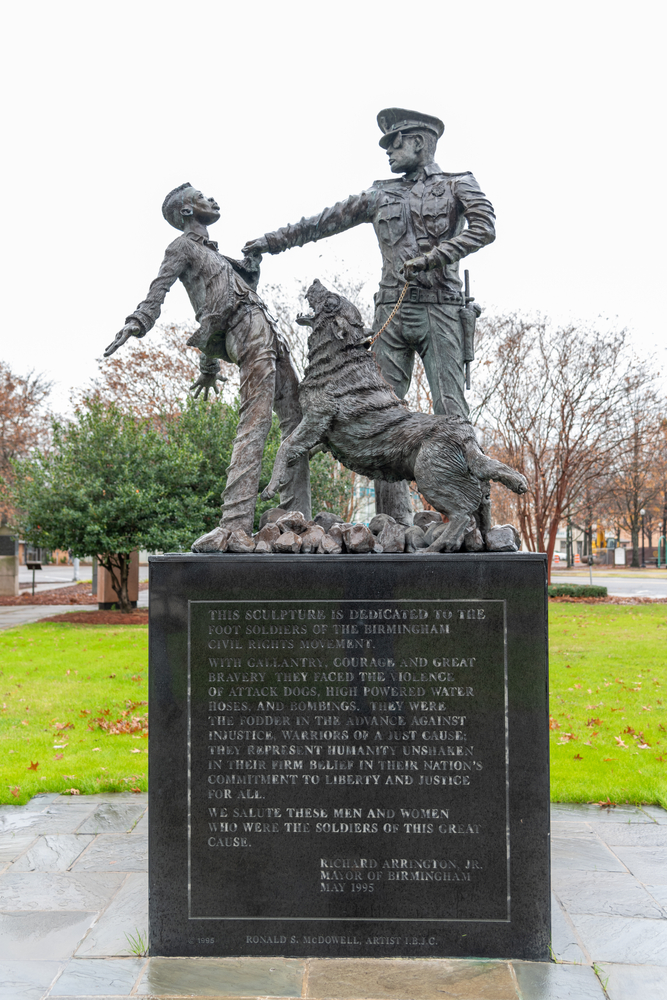 Visit the Little River Canyon National Preserve
If anywhere you go nature always seems to beckon, then adventuring through the Southern Appalachians is one of the most fun things to do in Alabama.
Established in 1922, Little River Canyon National Preserve offers explorers over 26 miles of hiking trails in Alabama! Enjoy a serene walk through the forest or by the river. For a little added fun download their bird sighting guide to see how many friends of a feather you can spot.
Take the time to visit the state's deepest canyon, Little River Canyon, and if you're there at the right time you can also admire Alabama's highest seasonal waterfall, Graces' High Falls, which drops 133ft directly into the canyon!
Wondering when you can visit? Great news, the park is open from sunrise to sunset and operational every day including holidays! This is one of the best national parks in Alabama!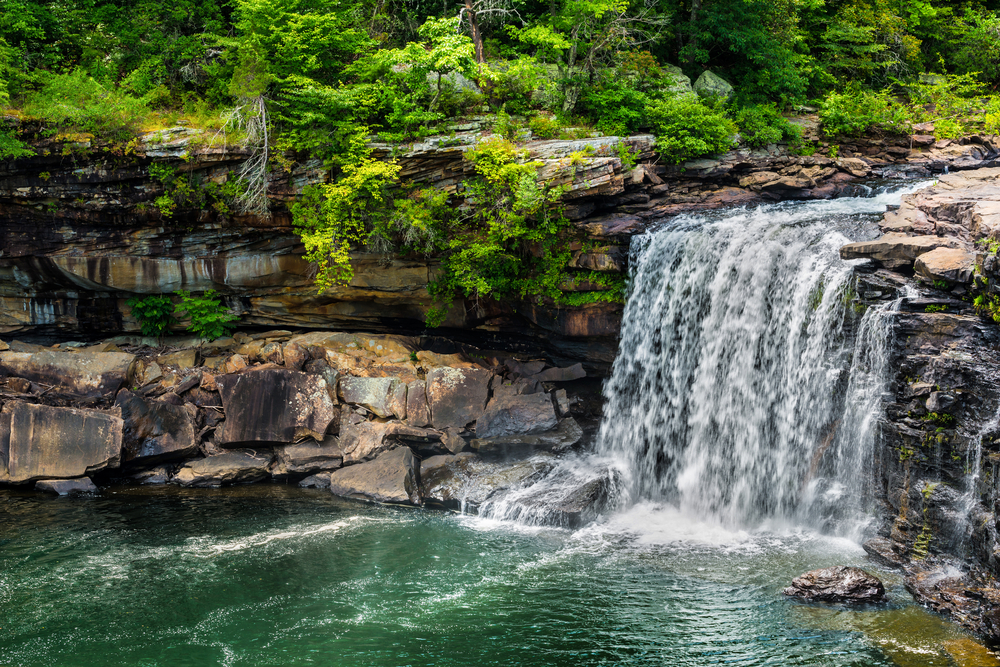 Learn at the USS Alabama Battleship Memorial Park
Taking the day to explore a little-known slice of WWII history at the USS Alabama Battleship Park is one of the best things to do in Mobile.
Have you ever stepped foot on a decommissioned WWII battleship? Now's your chance! Walk through a self-guided tour of the ship's facilities and don't forget to take a look through the USS Drum submarine too!
If you thought a submarine and a battleship were enough to entice a visit, you should also know the Memorial Park houses an aircraft collection, tanks and artillery, and a lovely picnic area. It might be hard not to spend the whole day there!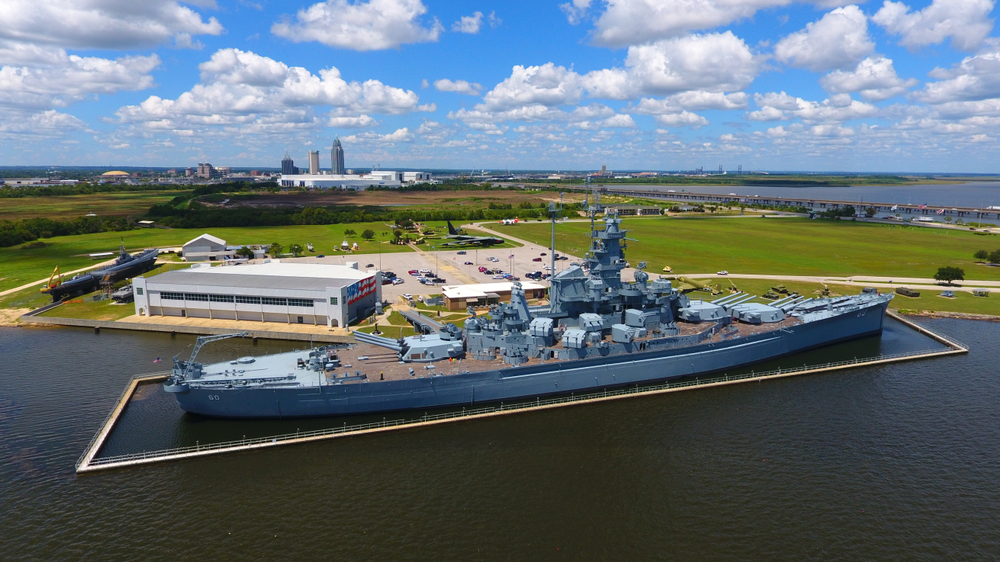 Explore Bankhead National Forest
There is plenty to do and lots to admire in the 181,230 acres of mixed woodland that make up this national forest known locally as "the Land of a Thousand Waterfalls."
With hiking, horseback riding, hunting, swimming, canoeing, bird watching, waterfalls, the Sipsey Wilderness, petroglyphs, prehistoric drawings, and a Native American site thousands of years old, you might have to come back to try and explore as much as you can.
Even better stay the night at one of the campgrounds! Stargazing here is one of the best things to do in Alabama at night.
All but one of these Alabama waterfalls are active year-round and fairly easy to access. First-time visitors should try heading to Kinlock Falls, Caney Creek Falls, Turkey Foot, and Mize Mill Falls (these last two are very close to each other).
Bankhead National Forest is truly one of the most adventurous attractions in Alabama.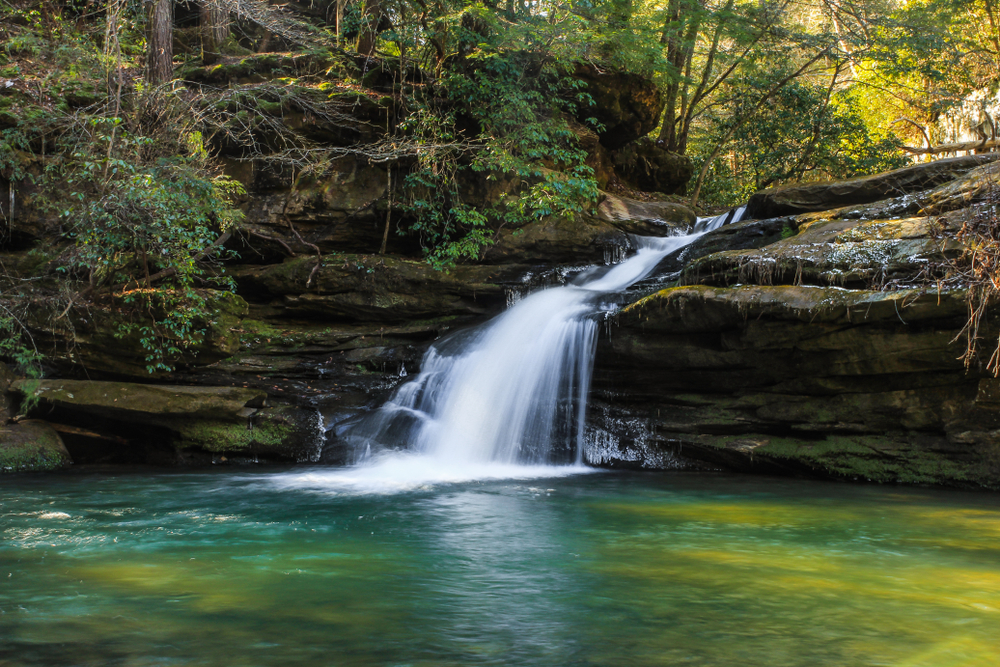 Take a Dolphin Cruise at Orange Beach
If you're tired of going to Gulf Coast beaches to suntan, try taking a dolphin cruise instead! It's one of the best things to do in Orange Beach.
Before heading to the Wharf to ride the vintage Ferris wheel or stopping at Adventure Island for some retro go-kart action, take the day to go enjoy the sun and all the beauty of the shining sea on a family-friendly dolphin cruise!
There are plenty of boat tours you can enjoy but if you're looking for a special adventure we recommend trying a Glass Bottom Dolphin Tour! We'd never miss out on the chance to watch dolphins swim beneath the beautiful turquoise waters.
While you're out trying to spot these friendly creatures why not multi-task and take a snorkeling adventure too? You never know what the sea has in store for you with these Alabama activities!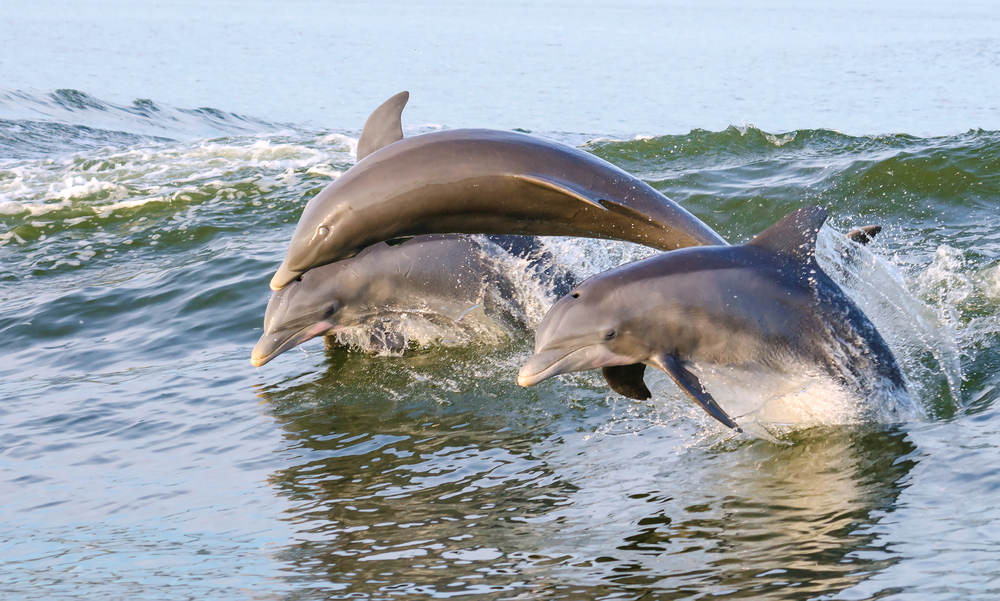 Enjoy Nature and a Fine Meal at Cheaha State Park
There are plenty of hiking trails to explore around the state, but you can't miss out on the stunning view atop Cheaha Mountain, which is accessible all year long. Taking the time to reach the mountaintop and enjoy the surrounding Talladega National Forest is one of the best things to do in Alabama.
As the highest point in the state, the mountain's peak is at an elevation of just a little over 2,400 feet so don't forget to pack a snack and some water! It's a long way up!
Once you've worked up an appetite, we recommend taking a detour to the nearby Vista Cliffside Bistro (open Thursdays through Mondays), which is actually within the park's bounds so you can keep enjoying the mountain view but with a full stomach this time.
This state park has been open since 1933 and has been welcoming visitors ever since. Don't miss out on one of the prettiest places to go in Alabama!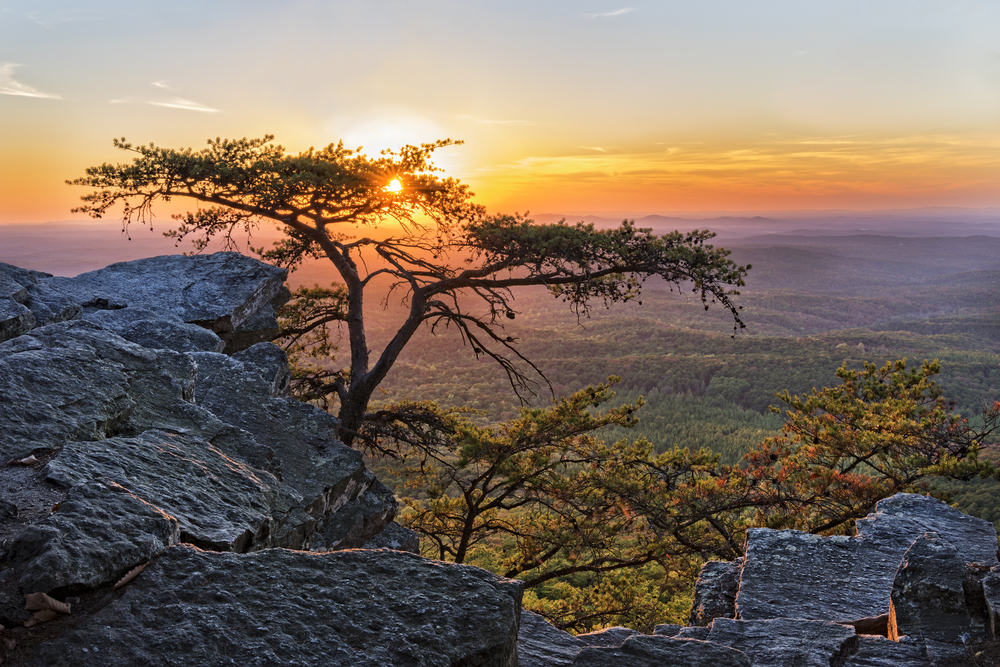 Celebrate a Legacy at the Rosa Parks Library and Museum
Step into the shoes of one of the heroes of the Civil Rights movement. Honoring Rosa Parks' bravery is one of the best things to do in Montgomery.
As part of the United States Civil Rights Trail, the Rosa Parks Museum is a must-see for anyone stopping in the city. Visitors can see the very spot where she refused to give up her seat and instead got arrested for standing up for her rights.
Along with other artifacts, the museum offers patrons the chance to experience "The Cleveland Avenue Time Machine," a permanent exhibit featuring a restored bus made to look like the ones in 1955 when the Montgomery Bus Boycott would have happened.
Stop by the museum, take a seat, and learn about one of the women who changed this country's history forever.
Make sure to check out our list of the best cities and small towns in Alabama for inspiration on where to visit next!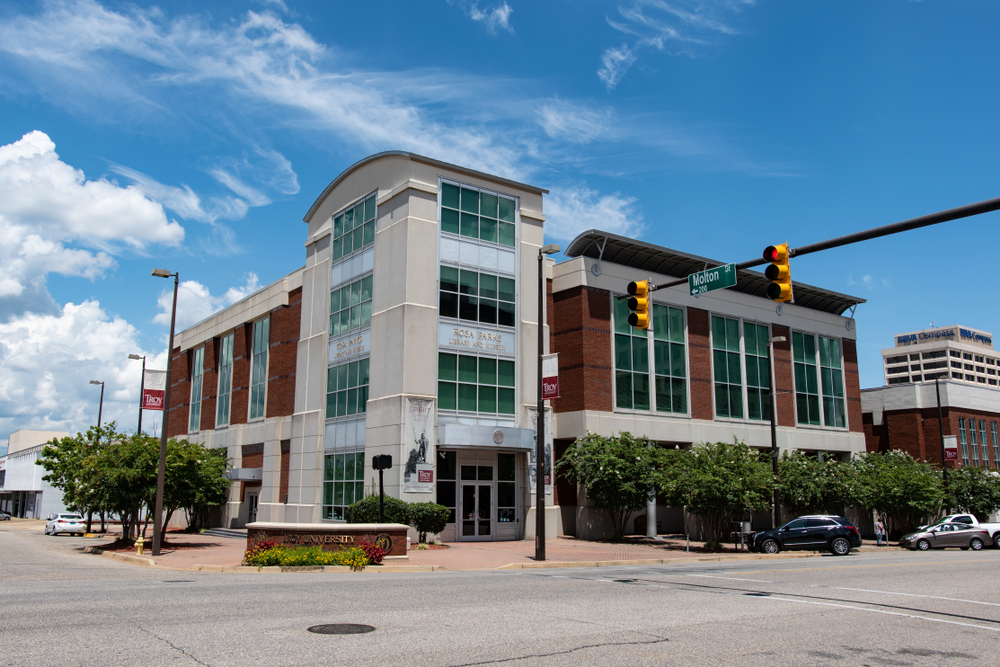 Wonder at the McWane Science Center
Do you love dinosaurs? Who doesn't?! If you do, then you definitely need to visit the McWane Science Center! It's one of the best things to do in Birmingham!
If you thought dinosaurs didn't make it all the way to Alabama, you were dead wrong (no extinction pun intended)! There's a whole exhibit about these extinct creatures found all around the state.
The Center is open Wednesday through Sunday. With three different floors to explore you're sure to spend a good afternoon full of learning! From their Weather Lab to their Shark and Ray Touch Tank, everyone is sure to have all their senses engaged.
And don't worry– touching is encouraged! Let your kid's (and your own) curiosity go wild. There is no need to worry about ruining the valuable art at this museum. This is one of the cool things to do in Alabama.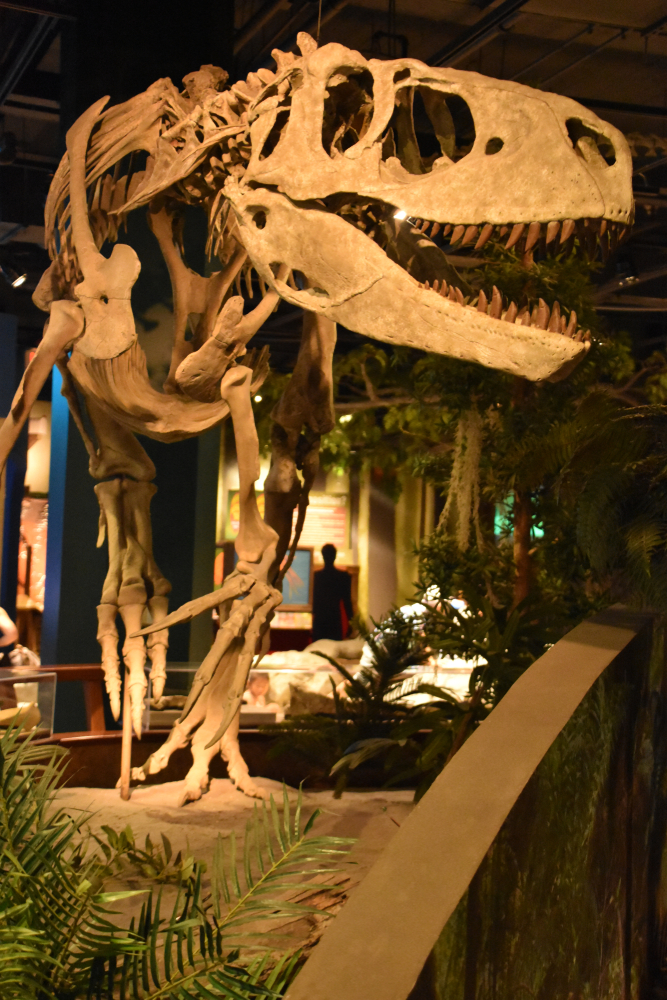 Take a Walk Around the University of Alabama
The University of Alabama campus ranks among one of the most beautiful in the country so why not stop by and check out one of the best things to do in Tuscaloosa?
The charms of the south are undeniable at the University of Alabama's campus. If you're visiting in the spring you'll be greeted by white tulips while the Alabama fall will paint the campus in deep oranges and yellows.
While you're there why not stop at some of the museums on campus? At the Alabama Museum of Natural History, visitors can learn about the flora and fauna of the state.
The University offers visitors the chance to walk around campus and see what a student's life looks like. You can find a campus map available on their website.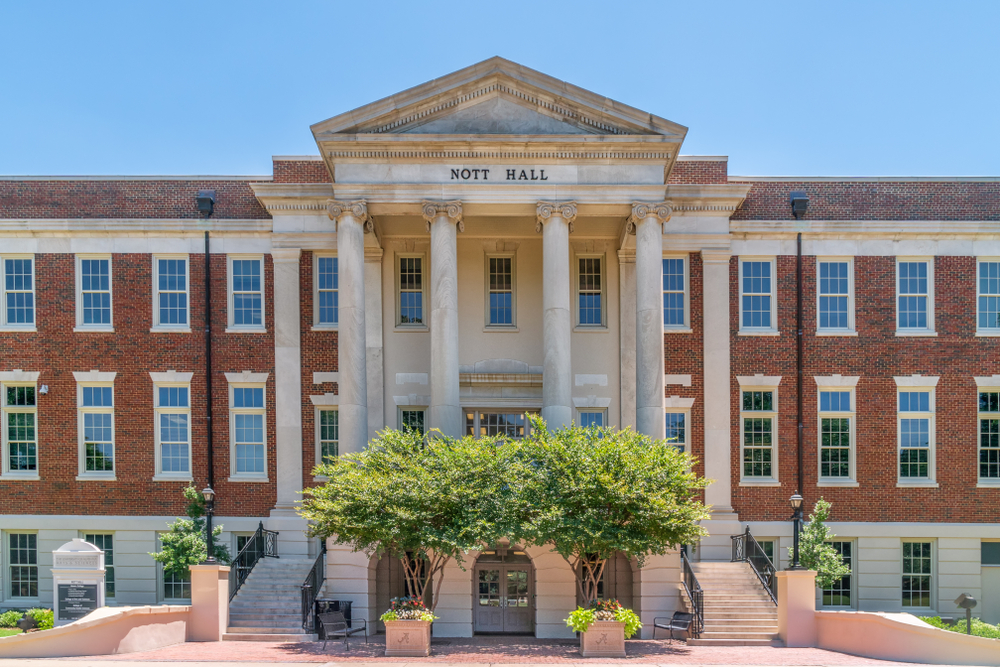 Marvel at the Weirdness of Bamahenge
If what you're looking for is a weird roadside attraction, Alabama has that too. There really is no shortage of what to do in Alabama. The exhibit was built by Virginia artist, Mark Cline, at the request of Alabama billionaire, George Barber.
Although this version wasn't built by Druids, and it's made out of fiberglass instead of stone, the sight is no less impressive to behold. It is also a few thousand years younger than its inspiration.
He also commissioned the artist to build a brontosaurus, a T. rex, a stegosaurus, and a triceratops near Bamahenge so when you're done admiring the work of non-druids you can go on a little car hunt to find the four giant fiberglass creatures!
Since there is no admission to see the dinos and wacky fiberglass recreation this is one of the best free things to do in Alabama! Just make sure to follow your GPS to Barber Marina and when you see the sign head in and stop when you see the giant stones!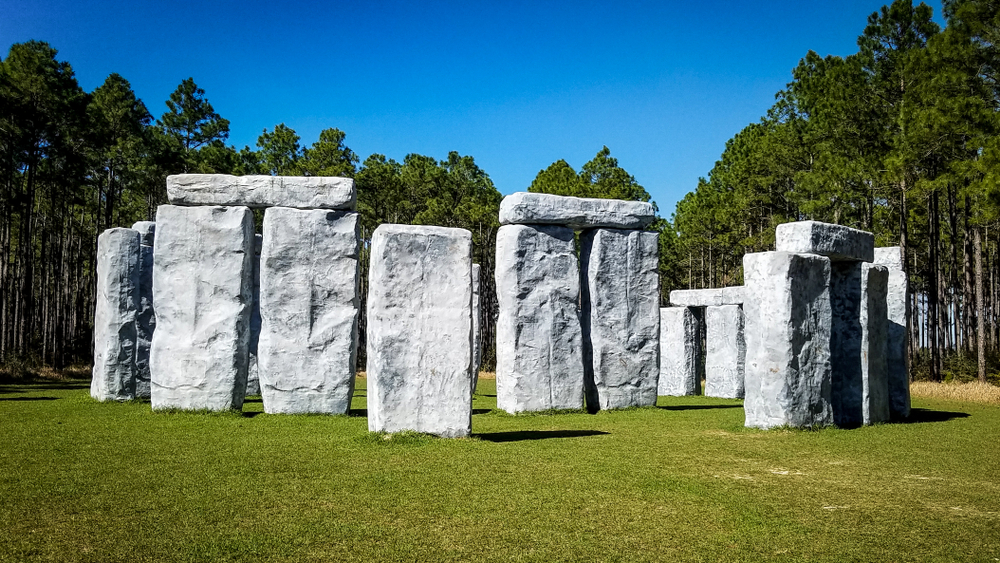 Camp at Monte Sano State Park
You won't run out of gorgeous scenery and sublime nature to enjoy while visiting Alabama. In addition to the other parks we've mentioned, we'd recommend staying the night at Monte Sano State Park! It's one of the best things to do in Huntsville.
The park has 21 primitive camping (aka just a tent) campgrounds, 59 water and electric sites, and 15 full-hook-up sites so no matter what kind of camping you're looking to do, you can do it here.
If you're staying the night you won't have to rush through exploring Monte Sano's 340 acres, 14 rustic cottages, hiking areas, planetarium, and an outdoor amphitheater.
For an entrance fee, you can feel like you've visited Japan when you step into the park's hidden Japanese Garden!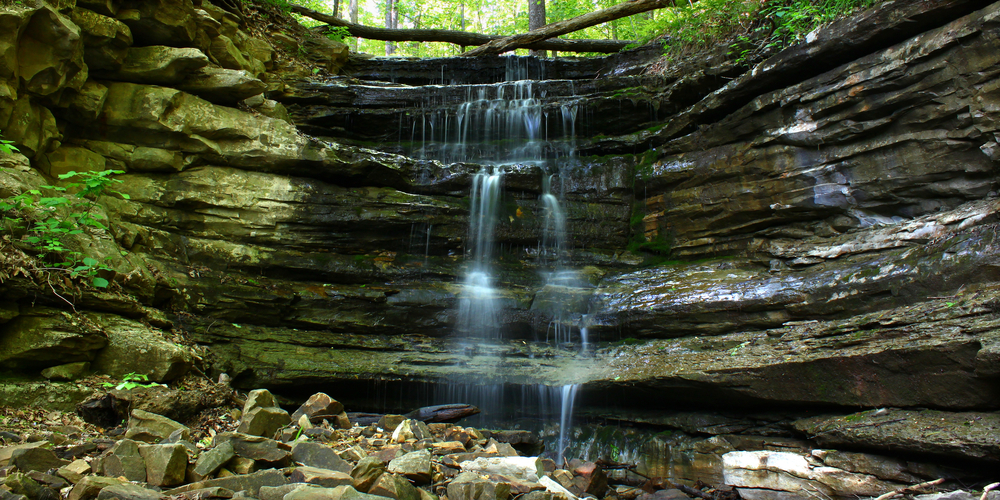 Tour the Dexter Avenue King Memorial Baptist Church and Dexter Parsonage Museum
As another stop on the US Civil Rights Trail, you really shouldn't miss out on taking on more chances to see some of this country's past. Seeing the Dexter Avenue King Memorial Baptist Church and the Dexter Parsonage Museum are some of the best things to do in Montgomery.
The church was designated a National Historic Landmark in 1974 because of its importance in the Civil Rights Movement. It was here that Martin Luther King Jr. has his pastorage during the Montgomery Bus Boycott.
The Dexter Parsonage Museum, now holding a permanent exhibit so visitors can see where Dr. King and his family lived between 1954-1960, is just a few blocks away.
The home has been renovated after it was bombed on January 30 in 1956 while his family was still inside. Luckily no one was harmed in the attack, and visitors can experience its original charm.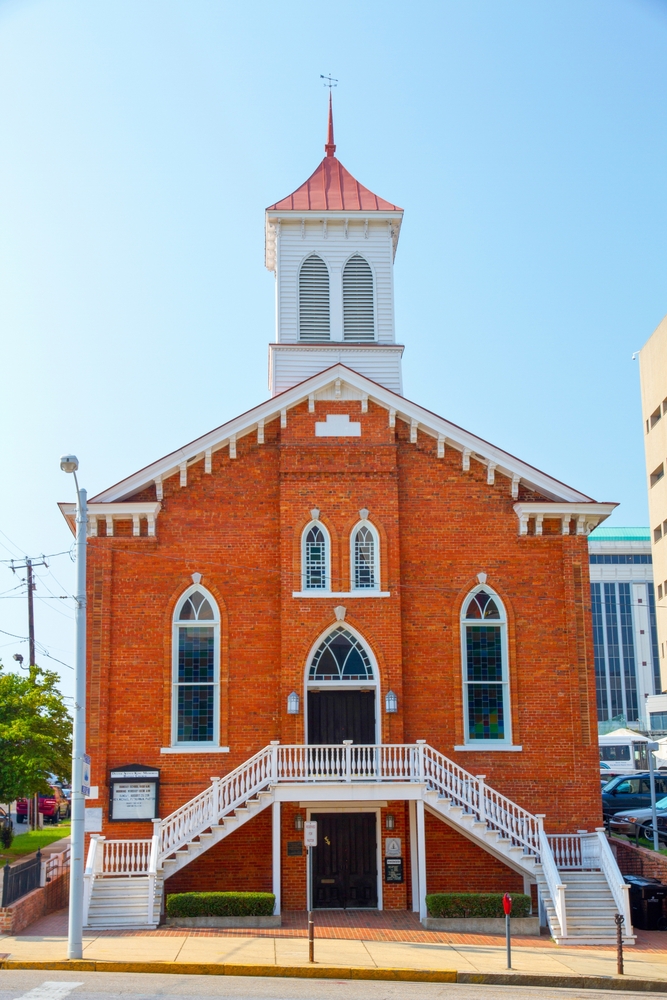 Check Out the Moundville Archaeological Park
People have lived in Alabama for much longer than you might think! Learning about the prehistoric Mississippian people who lived in the ancient site of the Moundville Archaeological Park is one of the best things to do in Alabama.
The site is a little bit of a mystery! Scholars don't know how to explain the rise and fall of this small town or how the population interacted with Native American tribes.
The park is made up of 326 acres and 29 flat top mounds where the ancient Mississippian people would hold civic and ceremonial occasions.
Make sure to visit the museum after exploring the ancient monuments that have stood there for over 800 years. This is one of the best things to do in Alabama for adults interested in history.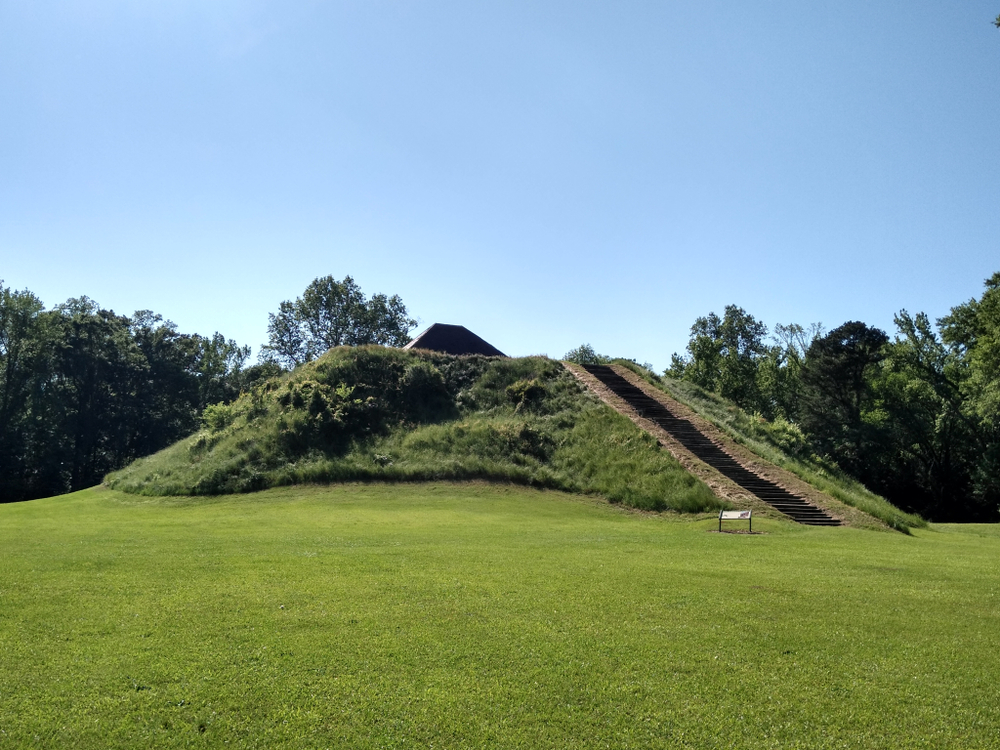 Visit the Mobile Carnival Museum
For a quirky and unexpected experience, make sure to stop by the quaint Mobile Carnival Museum. It's one of the best things to do in Mobile!
You may assume Mardi Gras is only celebrated in New Orleans, but Alabama also has a rich history of celebrating this ostentatious holiday, and they have the museum to prove it.
The beautiful southern mansion displays the opulent jewelry, costumes, and even parts of floats that have been part of the Mobile Mardi Gras celebrations of the past.
Don't let them hear you say that New Orleans was the birthplace of Mardi Gras or you might get a history lecture you didn't expect!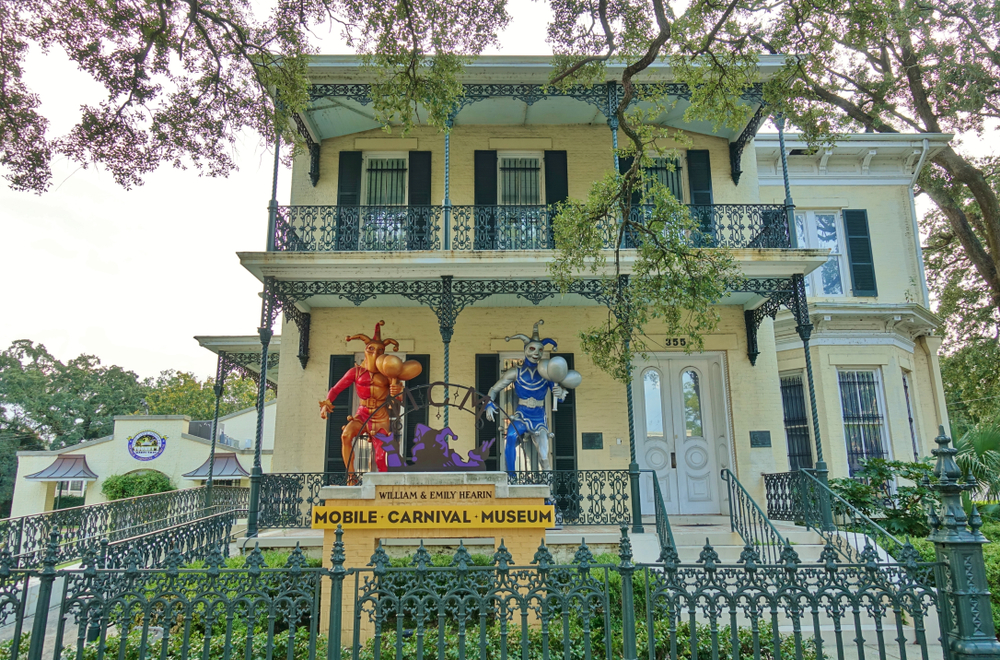 Enjoy a Beach Day at the Gulf Shores
Alabama does not have a long coastline, but there is still a great beach opportunity at Gulf Shores, Alabama. This is one of the best beach towns in the South and holds so much fun for the family!
One of the best things to do in Gulf Shores is a relaxing trip to the Gulf Shores Public Beach. You will be mesmerized by the white sand and pretty, blue water. This is a great place for swimming, sunbathing, and playing beach volleyball. You'll find this is one of the best beaches in Alabama.
For more beach and nature fun, visit Gulf State Park. This is one of the best Alabama state parks for a family beach vacation. There are two miles of sandy beaches. Spend time swimming, parasailing, kayaking, and surfing. Hiking and camping are popular activities here too.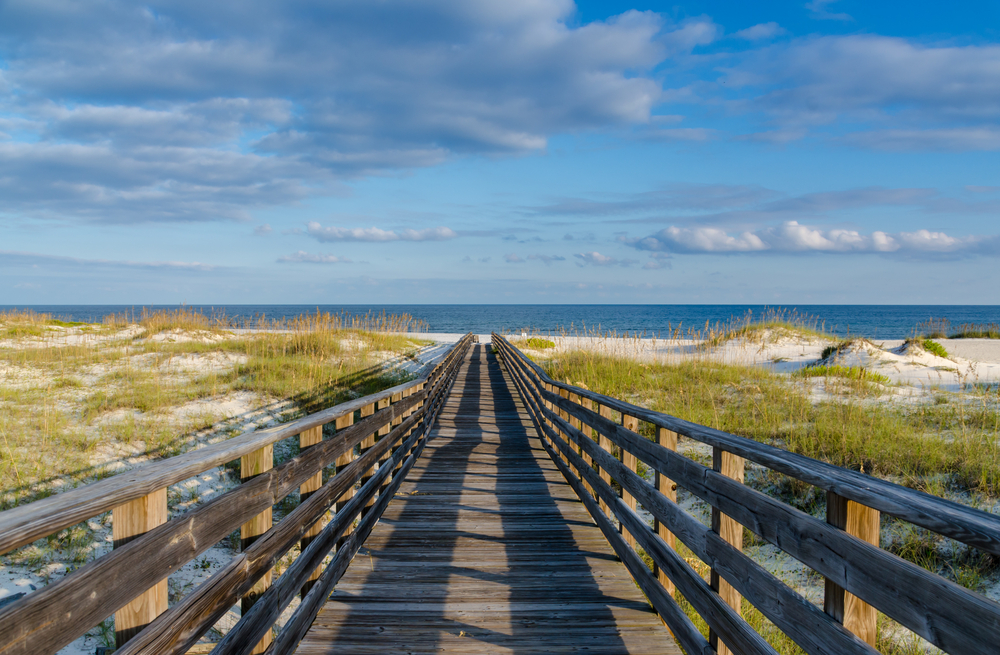 Learn at the U.S. Space & Rocket Center
The U.S. Space & Rocket Center in Huntsville is one of the best Alabama attractions for anyone interested in NASA and space exploration.
A visit to this amazing place will make you feel like an astronaut! Head into the sky with the Flight Simulator Experience, feel the power of gravity with the G-Force Accelerator, or walk in space with Apollo 11 Virtual Reality. This place is one of the fun things to do in Alabama with kids!
There is also a state-of-the-art Planetarium with shows that will leave you awed! A ride on the Moon Soot will lift you 140 feet up in the air in just 2.5 seconds!
Grab a bite to eat at the Mars Grill. The center also hosts launch parties and other cool events throughout the year. There is so much to see and do here, so make sure to add it to your Alabama bucket list!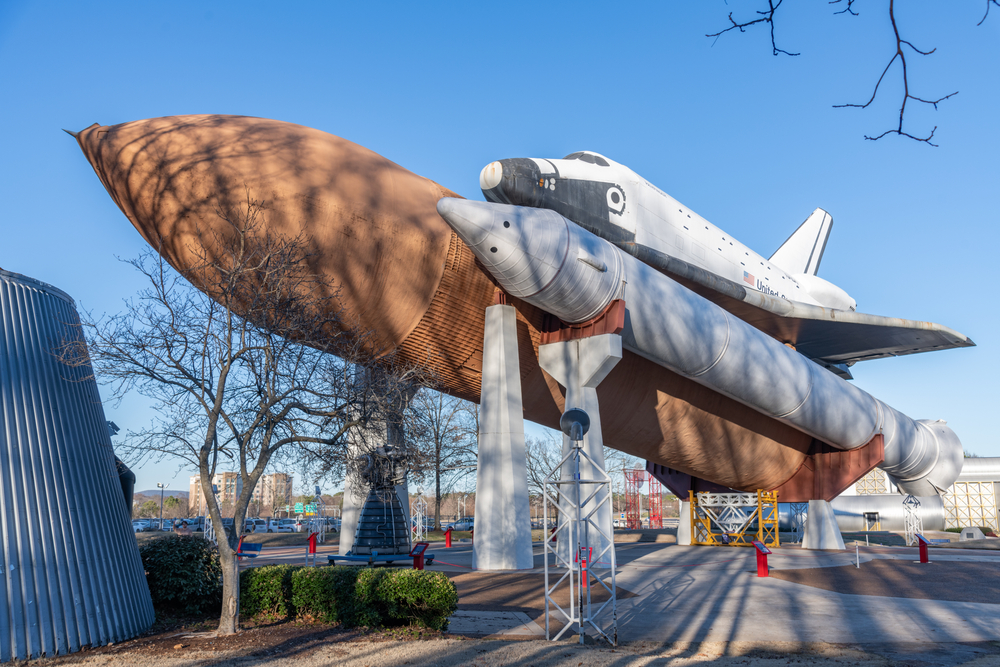 Go Underground at Cathedral Caverns State Park
There are many cool caves in Alabama and one of the best is found at Cathedral Caverns State Park in Woodville. This cave system is 1.3 miles. The impressive entrance is 126 feet wide and 25 feet high, one of the largest in the world
Take a guided tour to experience the beauty of this cave. You will be able to see a 45-foot stalagmite known as Goliath. With a circumference of 243 feet, it is one of the largest rock formations of its kind in the world.
Gemstone mining and hiking can also be enjoyed at this state park. It is one of the most interesting places in Alabama.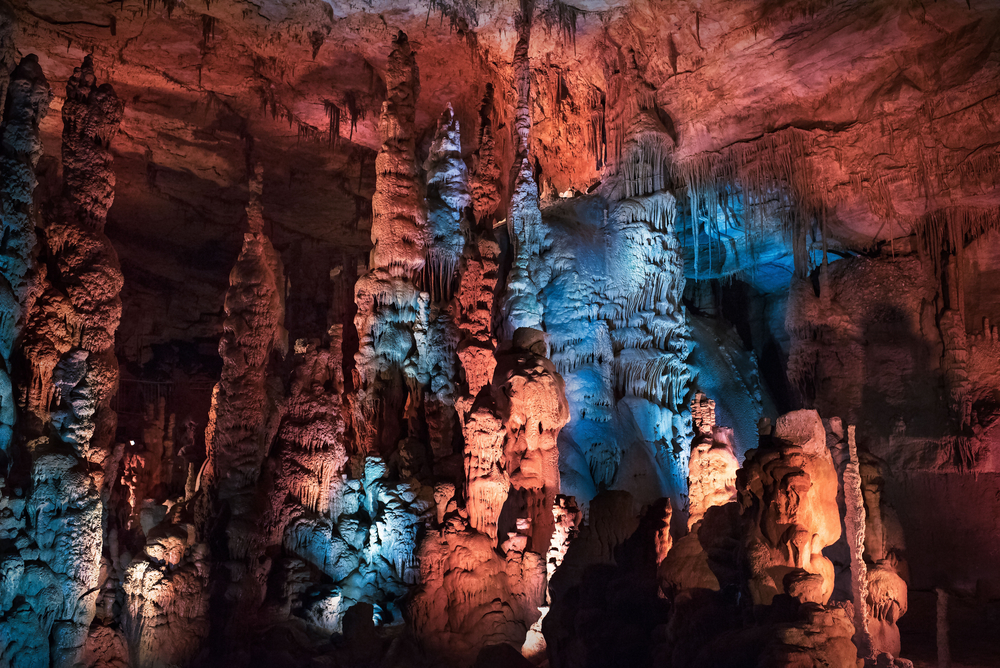 Hopefully, you found some of the best activities in Alabama for your next trip! Alabama has so much to offer visitors from historic locations to beautiful nature. It is time to plan a fun weekend getaway in Alabama!