Are you ready to explore some of the best gardens in North Carolina? These gardens are enchanting and really show off the diversity of natural beauty in the state. From rose gardens and dessert plantlife to Asian gardens and native species, you can find gardens with beautiful flowers and vegetation that create relaxing spaces for visitors to enjoy. If you are looking for a place to take beautiful photos as you travel around The Tarheel State or if you are looking for a beautiful place to fully enjoy nature while you travel, these gardens will make the perfect addition to your North Carolina bucket list!

You can find gardens in North Carolina from the most western parts of the state in the Outer Banks, in the central farmland, and all the way to the mountainous eastern parts of the state. No matter which of these gardens you decide to visit, you are sure to leave feeling relaxed and with a new appreciation for the beauty of the state. Which will you visit first?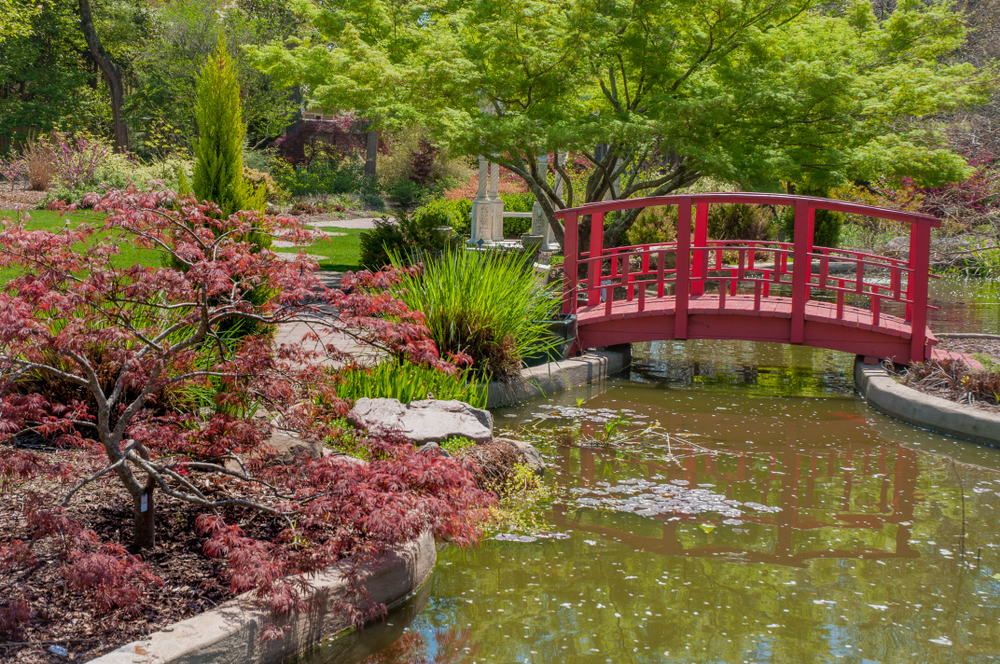 Best Botanical Gardens in North Carolina You Must Visit
Airlie Gardens
If you're looking for the best botanical gardens in Wilmington, look no further than Arlie Gardens. It's seriously magical! This sixty-seven-acre garden is a public space that is complete with dreamy hanging Spanish moss, vine-covered tunnels, water features, and beautiful floral displays. Arlie Gardens has a history that goes back to 1884 when the Jones' purchased the property and transformed it into a stunning garden.
The county bought the garden in 1999, and today it is enjoyed by more than 100,000 people a year! You can choose to walk through the grounds yourself or take a guided tour where a volunteer will teach you about the rich history of the gardens.

Admission is affordable, and there are discounts available for children, residents, and service members. (Keep in mind that tickets must be purchased online before visiting the gardens.) A trip to Arlie Gardens is a great addition to a trip to Wilmington.
You can enjoy the area even more by spending time on Wrightsville Beach or taking a Cape Fear Riverboat Tour where you can see river otters, learn about the history of Wilmington, and, if you're lucky, spot some dolphins that have made their way into the river! It is truly one of the best things to do in Wilmington!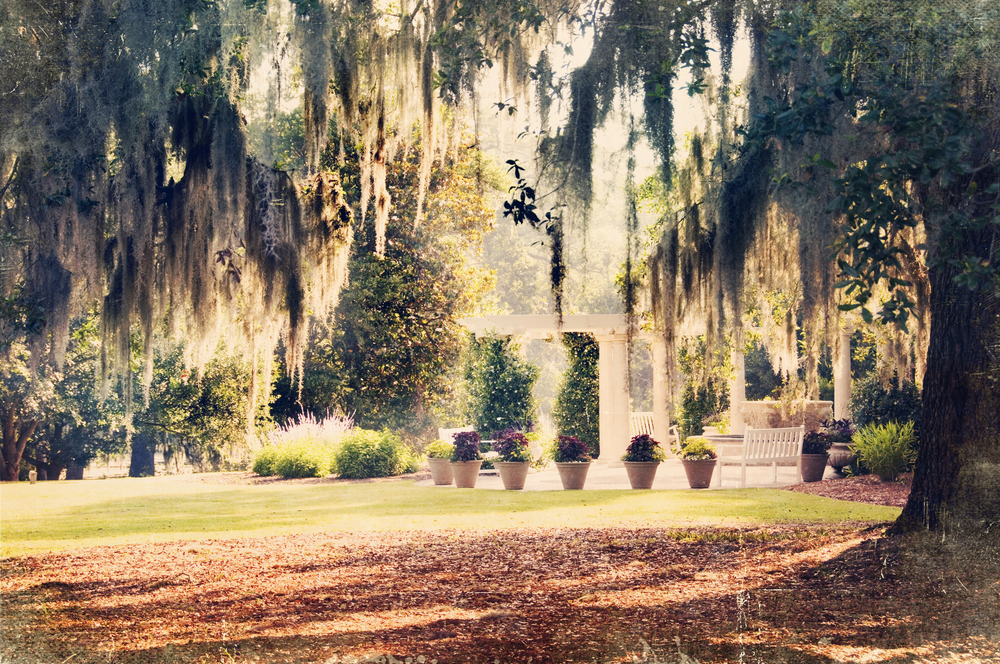 UNC Botanical Gardens
If you're looking for botanical gardens in Charlotte, you will want to head to the University of North Carolina botanical gardens. The gardens have been beautifully designed and set up for guests to enjoy. The grounds tell a story and are sure to add a bit of peace and relaxation to your time spent exploring North Carolina. As you walk through the gardens, you will notice three distinct garden sites that hold sixteen collections, one of them being the rarity that is Titan Arum.

You will also find a dreamy greenhouse on-site that will make you feel like you are in the rainforest or perhaps on the set of your favorite movie. This is one of the best gardens in North Carolina, as they proudly state that it is always free to the public. You can find free parking spots near the greenhouse, restrooms, and water fountains on the grounds, and of course, the employees give you general information. However, if you want a more in-depth history and information about the gardens, you can take a staff-guided tour. In addition, the gardens offer staff-guided kids tours, garden highlights tours, and special request tours for special occasions.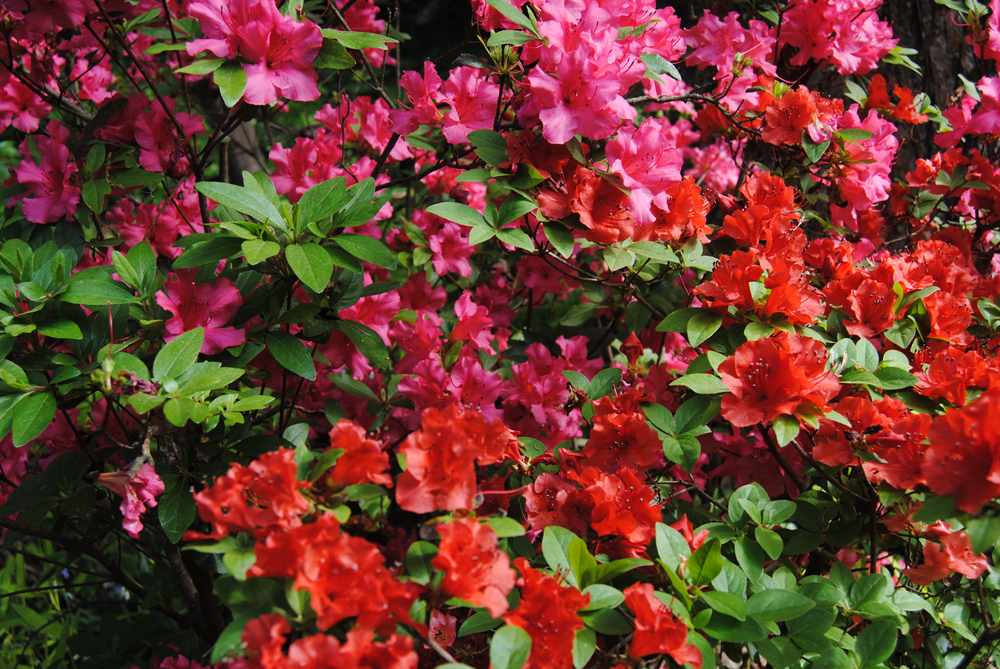 Greensboro Botanical Gardens
Greensboro Botanical Gardens is out of this world with its overwhelming natural beauty and is by far one of the most beautiful gardens in North Carolina! The area within the gardens and surrounding areas is a natural wetland. There you will find an elevated wooden boardwalk, a waterfall, beautiful plant life, and of course, some of the lovely North Carolina wildlife. You will feel as though you are in paradise as you walk among tall bamboo stalks, through the canopy encompassed boardwalk, and over that Hudson Bridge.

The Greensboro Botanical Gardens are a great place to escape in nature and stay healthy as well. There are several trails on the grounds for you to check out; make sure to keep your eye out for wildlife as you will have the opportunity to see a variety of cranes, snakes, owls, ducks, other birds, and other wildlife as they are thriving in the area. Once you're done at the garden, you may want to take a quick drive down to the Greensboro Arboretum, where you can find fourteen plant collections in a beautiful setting where admission is free and there's tons of free parking.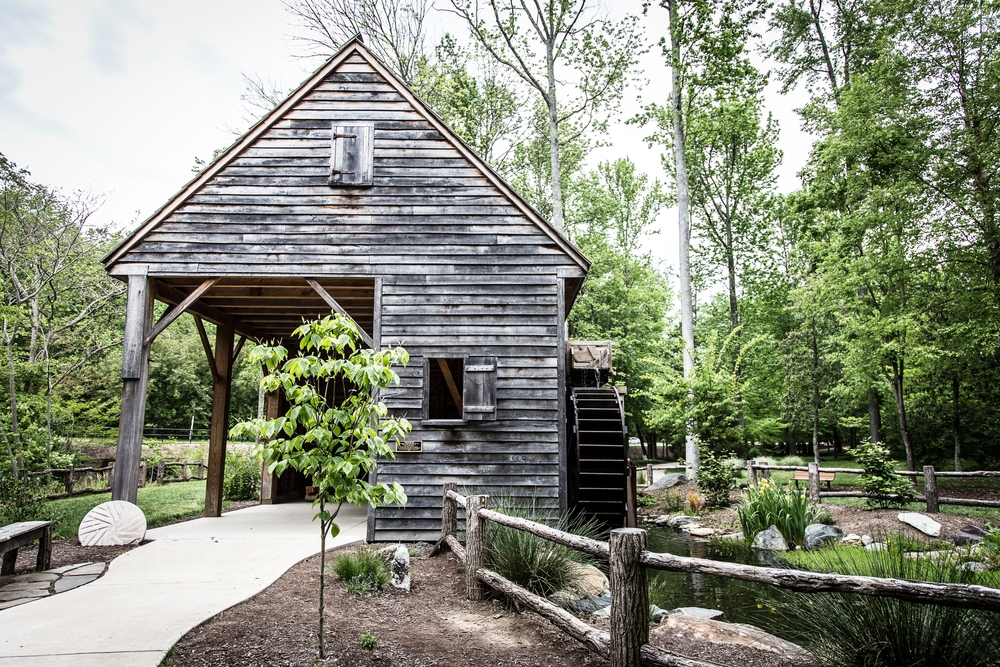 Duke Gardens
Duke Gardens is one of the public gardens in North Carolina that has an unbelievable ambiance. Also called the Sarah P. Duke Gardens, the gardens have approximately 55 acres of wooded and designed land. This site has been artistically and expertly designed. As soon as you enter the gardens, you will be blown away by the serenity and stunning design of the garden. This is a garden that should be on everyone's North Carolina bucket list!

There are five miles of walking trails for you to try out, as well as an amphitheater and koi pond that comes complete with floating lily pads. The Sarah P. Duke Garden is arguably the most popular garden in N.C. due to its striking features, colorful flowers, wide expansive trails, and general beauty. One of the best things about this garden is that it is, shockingly, free. While you're at the gardens, you'll need to pay a small fee for parking near the university. You will find restrooms throughout the gardens, and dogs are welcome, with some restrictions. ( Dog walking is welcome but only before 10 a.m. and after 5 p.m.) You're sure to fall in love with this N.C. botanical garden!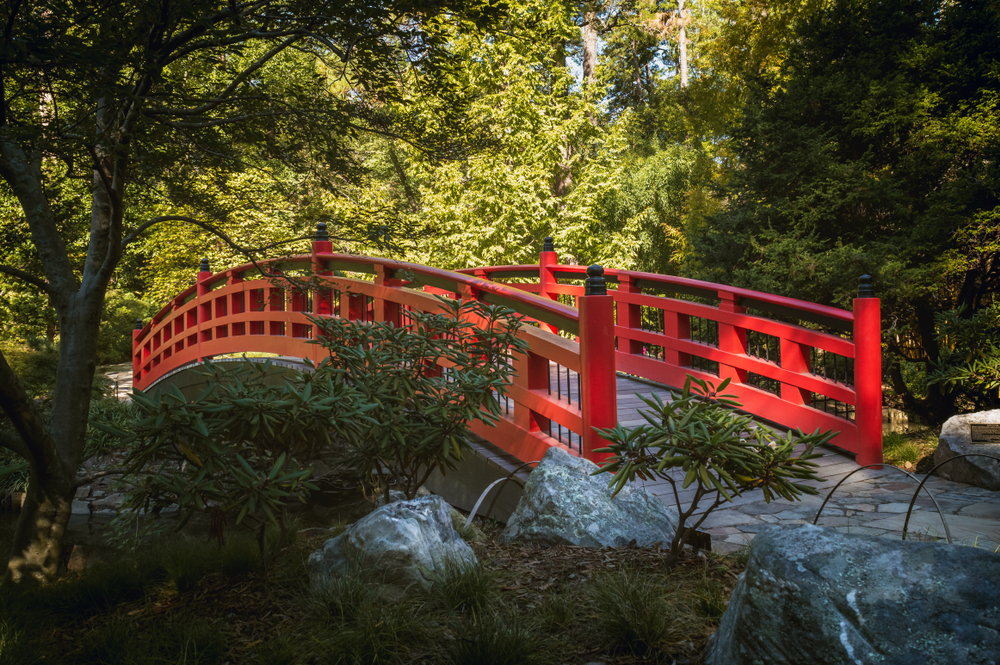 Asheville Botanical Gardens
The Asheville Botanical Gardens are pretty unique. Although only 10 acres, the garden is dedicated to promoting and studying plants and habitats that are native to the Southern Appalachian Mountains. You will find that the Asheville Botanical Gardens are another one of the gardens in North Carolina that offer free admission, which is such a fantastic gift to visitors as the gardens are so beautiful! Of course, donations are encouraged and appreciated so that they can stay in operation.

The trails in the gardens are great for leisurely walks with a friend or family member in the warm N.C. sun. This is a great place for couples and those traveling with kids. The gardens have many features that add to the serene nature of the area, including a rock outcropping, gazebo, springhouse, a green bridge, and the Hayes Cabin. A walk along the 1/2 mile loop trail will allow you to see most of the features of the garden. However, if you want to step out into nature a bit more, consider taking the UNCA Perimeter Trail.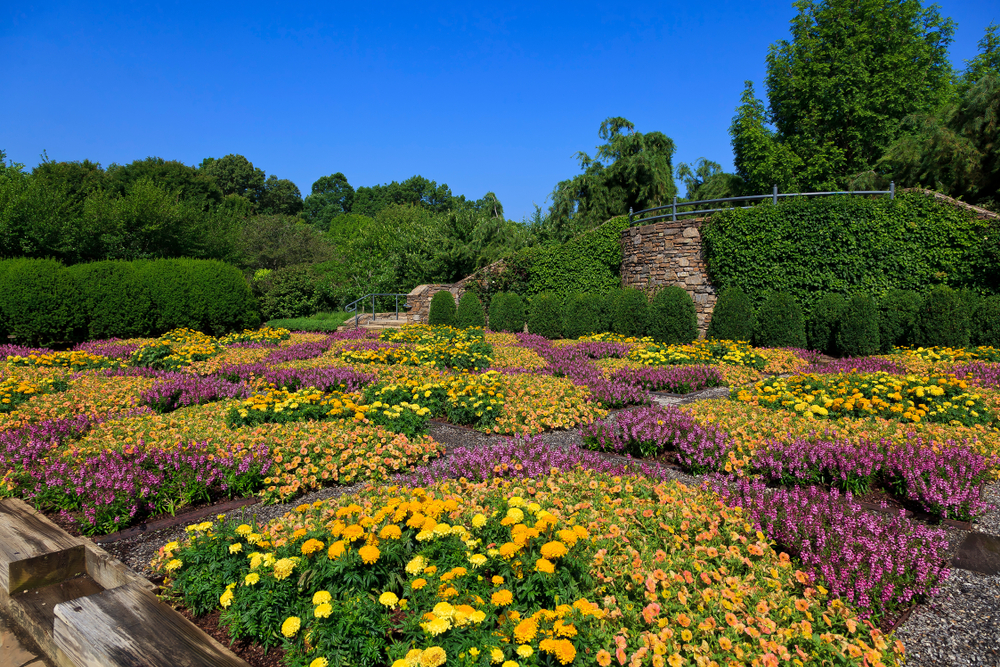 Biltmore Conservatory and Rose Garden
If you are looking for gardens in Asheville, you don't have to look any further than the Biltmore. More than just a stately home, you can find a conservatory and a rose garden on the grounds of the Biltmore that are both absolutely stunning. The conservatory was completed in 1895 and is home to many exotic plants. The arched windows that look out to the butterfly garden and the Walled Garden are elegant and something that you really must see for yourself. You will also enjoy the natural light that flows into the conservatory as you saunter through the exotic plants!

The Biltmore Rose Garden is also spectacular. It is home to a collection of roses from more than 250 varieties. These roses are in a formal garden and are from all around the world, making this one of the best gardens in North Carolina! The Biltmore is magnificent at Christmas time, and it has more than twenty miles of trails for your to explore during your visit at any time of the year.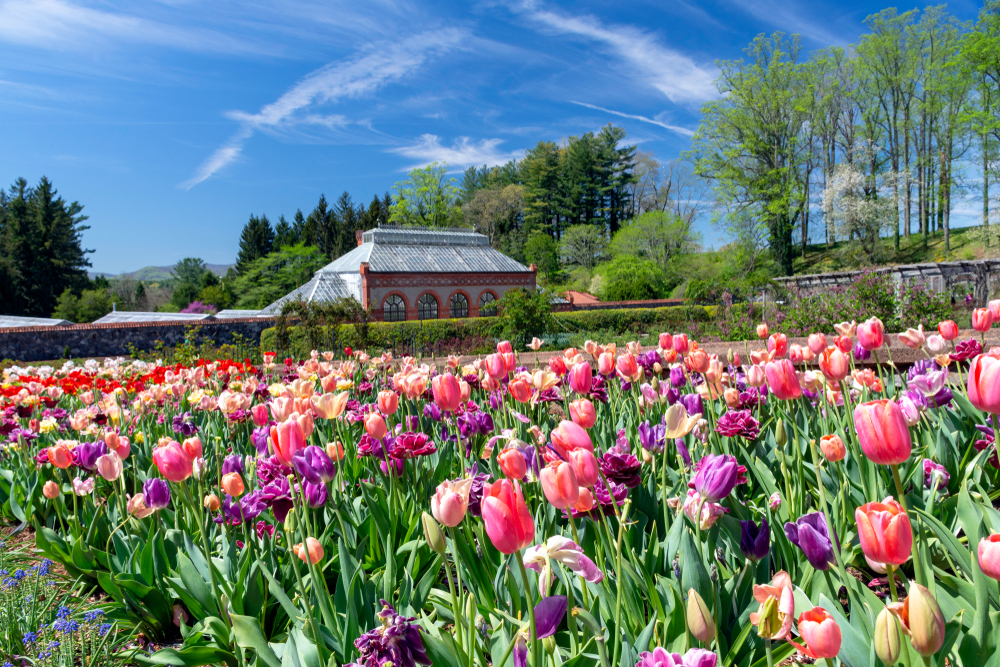 Elizabethan Gardens
When looking for great gardens in N.C., you couldn't possibly skip the Elizabethan Gardens. Perhaps the most mesmerizing gardens in the Tar Heel State, the Elizabethan Gardens, were built in memorial to the time that Walter Raleigh and his lost colonists lived in the very place that the gardens stand today. The Lost Colony and its inhabitant were there more than 400 years ago, and today you can walk in their footsteps through the gardens. The gardens are in Manteo, North Carolina, which is a part of the Outer Banks. Manteo is one of many great towns to visit in the Outer Banks. After exploring the gardens, you have a lot of choices nearby on what to do next.

If you've seen a picture in the past of a North Carolina garden, there's a good chance that it was from the Elizabethan Gardens. The grounds are immaculate and aesthetically pleasing to the eye, therefore, highly photographed. This is a wonderful place to take amazing travel photos! You will find brick-lined paths, water features, statues, a plethora of plant life, and water views from the garden. The Elizabethan Gardens are indeed a step back into time as they encompass an era that is long gone.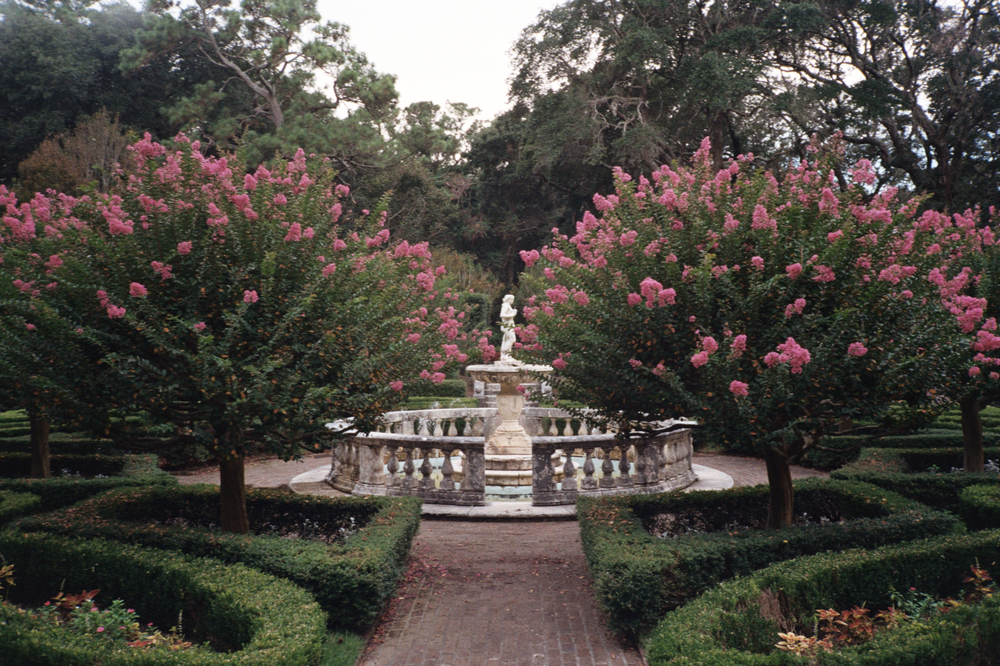 WRAL Azalea Gardens
Looking for gardens in Raleigh? Try the WRAL Azalea Gardens! The calm and quiet Azalea gardens are on the site of a TV studio, and it's here that you can find winding paths through the beautiful flowers, shaded benched to sit and relax in the garden, and beautifully designed and manicured grounds. Although you can enjoy the gardens any time of the year, visiting in the spring or summer will ensure you see the flowers at their peak. The vibrant shades of pink, purple, and red are striking against the brown and green landscape of the area.

Of course, you can also find other flowers in the garden; hydrangeas, tulips, roses, and other well-known flowers are there as well. You can follow along brick-lined pathways through rows of brightly colored flowers as you meander through the gardens and enjoy the relaxing water sounds from the water features in the gardens. After the Azalea Gardens, you can head over to the Gardner Arboretum, which is just a seven-minute drive away, or the Rose Garden, which is just across the street from the arboretum.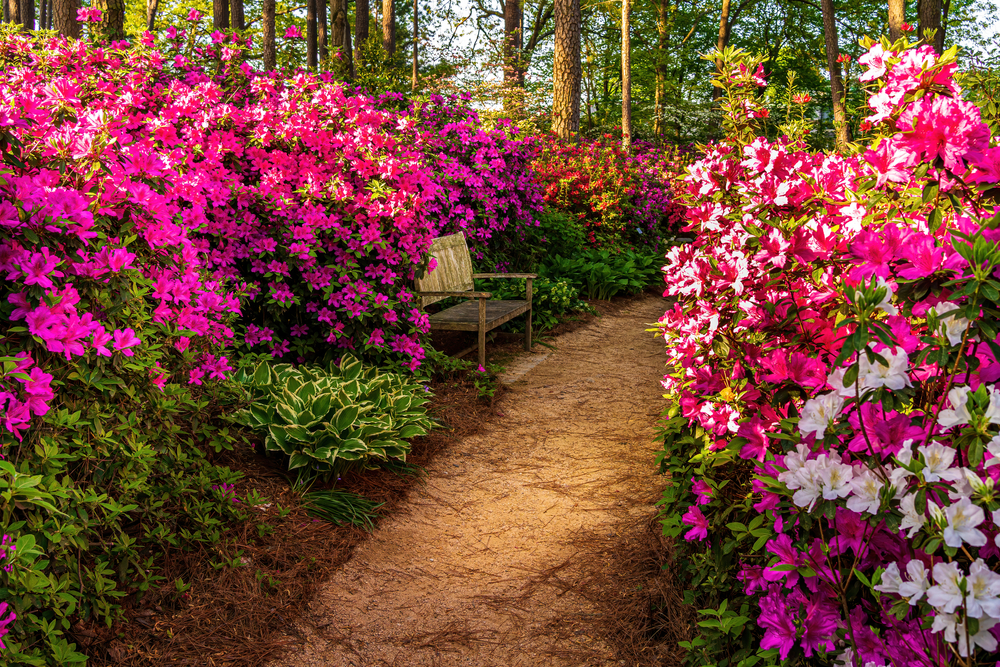 North Carolina Botanical Gardens
The North Carolina Botanical Gardens are in Chapel Hill, N.C. These botanical gardens are operated by the University of North Carolina, and they have the primary goal of researching, cataloging, and promoting the native plant species in the state. In these gardens, you will find rich flora and plant species that can't be found anywhere else in the world. The gardens have been around for more than fifty years, and their dedication to conserving the botanical legacy can be seen during a visit to the gardens.

There are more than 1,100 acres of conservation areas, gardens, and safeguarded plants. They have a poisonous plants garden, water gardens, sandhills habitat, children's wonder garden, a courtyard garden, a Native American garden, and many other carefully curated gardens. You can also enjoy the three miles of trails on site that follow along the creek and wind around hills on site. Keep your eyes peeled for wildflowers along the paths and wildlife in Morgan Creek!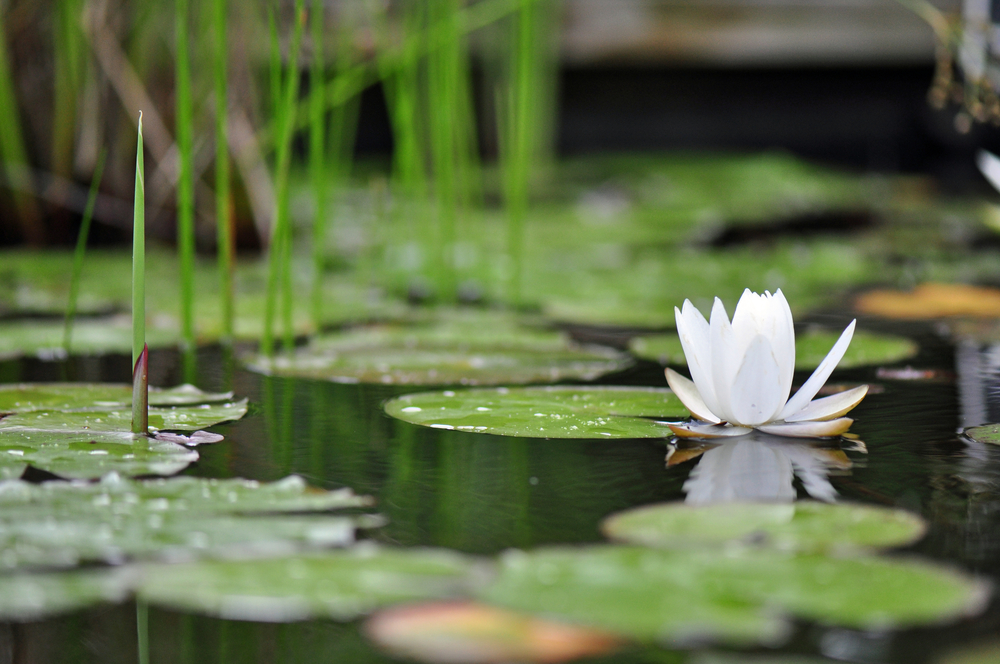 Daniel Stowe Botanical Garden
Of all the botanical gardens in N.C., this one may quickly become your favorite! The Daniel Stowe Botanical Gardens sits on 380 acres of woodland, meadows, and lakefront land in the town of Belmont. The garden is open Wednesday through to Saturday each week and is open for all seasons! You will find sparkling fountains, amazing gardens, the stunning Lake Wylie, nature trails, and more at these gardens in North Carolina.

There are many striking features on-site; however, the Orchid Conservatory will blow your mind! It is more than 8,000 square feet and dive stories tall. Made of glass, it displays tropical plants and orchids, but that's not all it has. It's also home to a beautiful waterfall, a cocoa tree, and a general feeling that you are stepping into another world! Other gardens at this site include the cottage garden and the canal garden. The Canal Garden is particularly beautiful as it has a long canal stretching the length of the garden with a fountain on each end. The canal is surrounded by flowers, tropical ginger, Elephant Ears, and other beautiful plant species.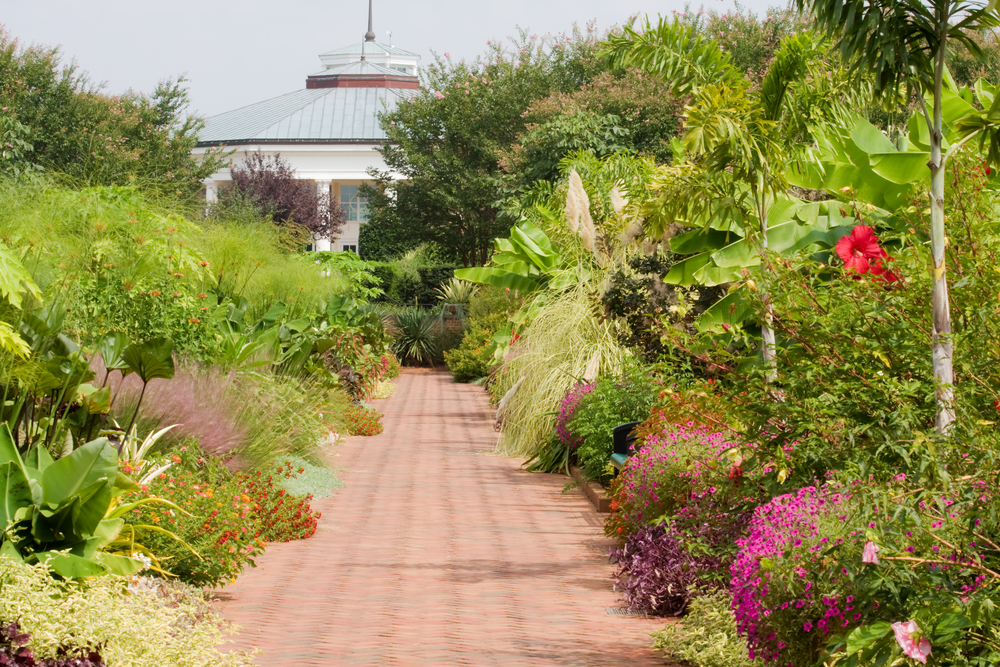 Paul J Ciener Botanical Garden
The Paul J Ciener Botanical Garden is a seven-acre garden that is open year-round. It is located in Kernsville, so if you are traveling in the northern part of the state, it is worth a visit as it is one of the best gardens in North Carolina! You can explore the Xeric Scree Garden, which is full of cacti, flowering bulbs, and other arid-zone plants, the Pattern Garden, which is whimsical and wonderfully designed with Korean boxwoods, the Tropical Garden that showcases plants like bananas and ginger, and the Grotto and Hourglass Garden that features an arch, water lotus, and more in a beautiful rock-detailed area.

The Paul J Ciener Garden also has a kitchen garden that was constructed in 2011. This garden is a replica of what an 18th-century American southern garden would have been like, including seasonal fruits, herbs, and vegetables. Admission is free, but like most non-profits, donations are greatly appreciated to keep the organization up and running. After a tour through the garden, you can head one minute down the road to check out Korner's Folly. It's a 19th-century house museum that has twenty-two furnished rooms that vary from funny or quirky to intriguing or elegant.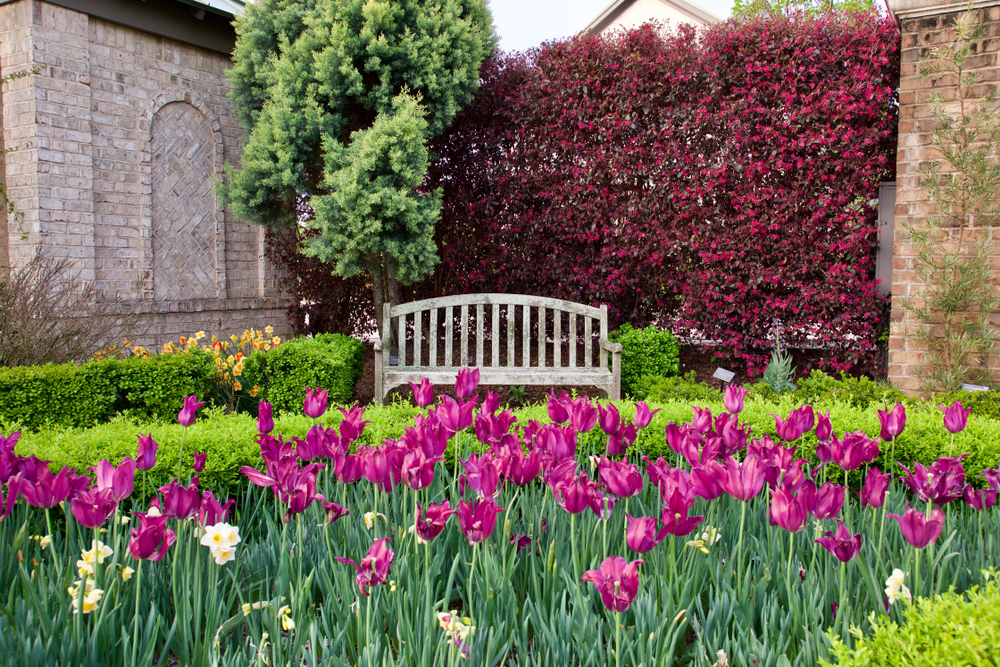 Cape Fear Botanical Garden
North Carolina botanical gardens can vary from less than ten acres to sprawling sweeps of land encompassing woodlands and wetlands. The Cape Fear Botanical Garden in Fayetteville, N.C. is eighty acres of land that's next to the Cape Fear River. There's a lovely cafe and seating area indoors at the gardens where you can purchase small bites during your visit. They have smoothies, cupcakes, gluten-free options, and vegan options as well.

The garden was founded in 1989 and has been a place of serenity and relaxation for visitors ever since. There's a large pond with a fountain, a butterfly stroll, a heritage garden, and a children's garden on-site. The Cape Fear Botanical Garden is one of the best places to relax in Fayetteville. For the whole experience, grab yourself a juice and a cupcake from the cafe and enjoy them on the garden patio that overlooks the Cypress Pond. You're sure to fall in love with this N.C. garden!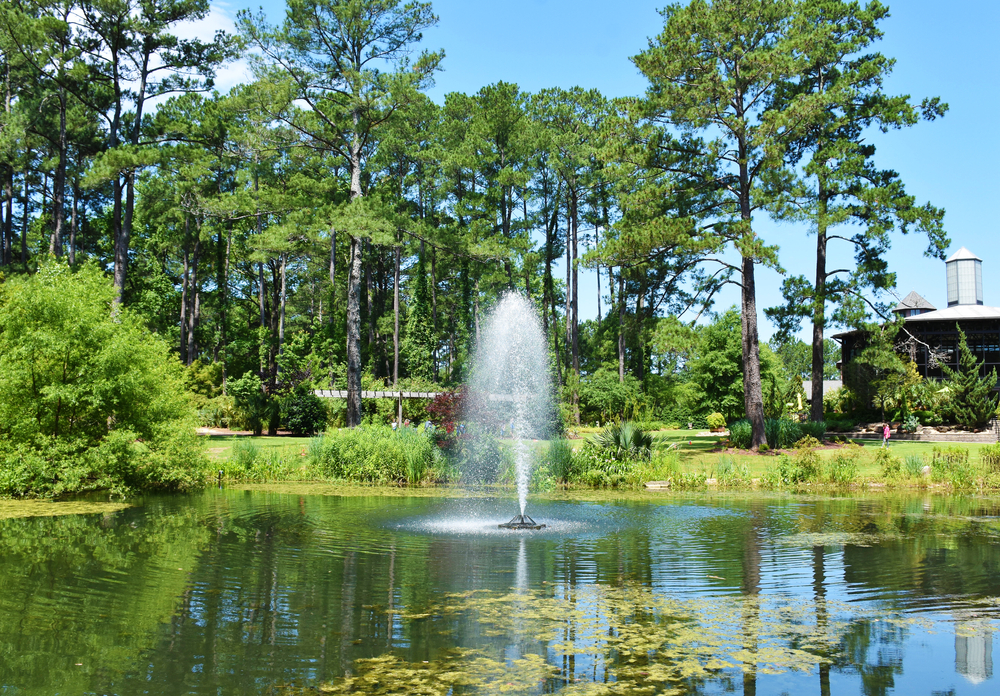 Wilson Botanical Garden
Located in east-central North Carolina, the Wilson Botanical Garden is a beautiful place to visit with kids. Of course, it's a place for everyone, but this garden is particularly kid-friendly, which is excellent for all the family travelers exploring North Carolina. The garden is home to the Venus flytrap, which is only naturally found in the Carolina's. More specifically, it is only found naturally within a seventy-five-mile radius around Wilmington, North Carolina.

Wilson Botanical Garden has a wonderful children's garden full of lush and bold foliage where little ones can find little hidden hiding spots and tunnels, a dino dig, a rain wall, banana split sundae garden, and more exciting things that any young traveler will love. There's also a bird garden, arboretum, medicinal and culinary herb garden, and a greenhouse. The grounds are stunning and make for a great addition to your North Carolina bucket list!
Wake Forest Reynolda Gardens
Reynolda Gardens is a free garden that expands more than 130 acres. This North Carolina oasis has been around for more than a century and features a sixteen-acre lake, golf course, greenhouses, gardens, and woodlands. The Reynolds family home is on-site and now showcases more than 6,000 historical objects and a world-renowned collection of American art. Some artists shown in the home include Georgia O'Keeffe, Martin Johnson Heade, Grant Wood, Fredric Edwin Church, and Lee Krasner.

Like most gardens in North Carolina, admission is free at this little slice of heaven in Winston-Salem. Water fountains, waterfalls, a greenhouse, unique pillar features, and countless flowers and various plant life call the Reynolda Gardens home. In Reynolda Village, you can find charming historical buildings that are not restaurants, shops, boutiques, and services. The structures were initially modeled after an English village and included a cowshed, school, smokehouse, and other essential buildings. A visit to Reynolda Gardens, Reynolda Village, and the museum and store is a big event. You can easily spend hours exploring everything they have to offer!
These gardens in North Carolina show the importance of the conservation and protection of these amazing plant species. Traveling can be hectic and stressful, but a trip to a garden to relax, enjoy the scenery, and soak up some sunshine can be just what you need to feel renewed and ready to start exploring again!