If you're looking for the best places to visit in North Carolina, you've come to the right place! North Carolina is a beautiful state with a fantastic variety in its landscape. Starting in the western part of the Tarheel State, you will have many opportunities to chase waterfalls, hike, and see breathtaking views. Meanwhile, there are fun cities, hiking, wineries, and more in central North Carolina. Then as you move to the coast, you will find saltwater marshes, The Graveyard of The Atlantic, and a rich history complete with pirate treasure!

With the beautiful variety in the state, you will be sure to find unique, beautiful, and exciting places to visit. No matter your travel style, you will find a city, site, or activity that will make for a unique and memorable vacation. While you're in North Carolina, you should take the opportunity to try some of the food in the area. In towns across the state, you can find yummy foods like pimento cheese, seafood, fried green tomatoes, barbecue, and more!

As you plan your trip to North Carolina, you will find that there is such an abundance of beautiful towns and sites to choose from, it can be hard to decide what to see first. This list of places to visit in North Carolina will help you determine what sites in the state are must-visits for you. So, get your bathing suits and hiking boots, and get ready to explore the beautiful state of North Carolina!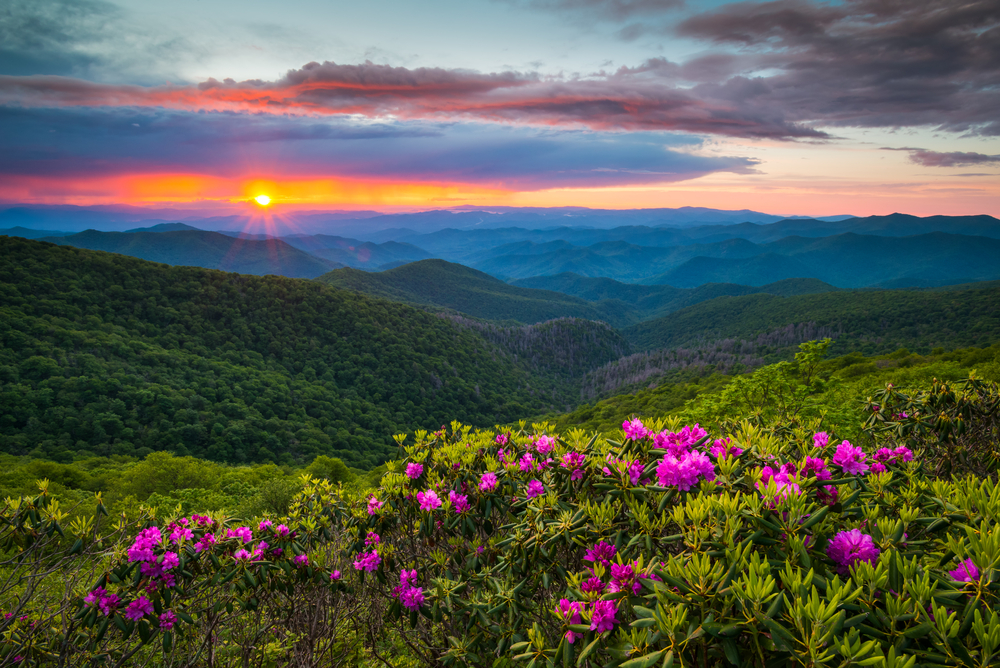 15 Best Places To Visit In North Carolina
Little Switzerland
When looking for places to visit in North Carolina, you won't want to miss Little Switzerland! Little Switzerland is an unincorporated community in both the McDowell and Mitchell counties, just an hour northeast of Asheville, NC. You could easily spend a few hours here enjoying the views and the atmosphere of the area.
Little Switzerland is truly one of the best Mountain Towns In North Carolina!

Make sure you take the Blue Ridge Parkway to Little Switzerland so you can drive through the Little Switzerland Tunnel. Located at milepost 333.1 on the Blue Ridge Parkway, the tunnel is one of the most incredible things to do in the area. Keep in mind that if you follow directions to Little Switzerland that have you coming in on a road that isn't the Blue Ridge Parkway, you will end up driving over the tunnel instead of through it.

There's a lot to do in the area, including hiking, shopping, and eating delicious food! The Switzerland Inn Chalet Restaurant has a beautiful stone terrace where you can eat outside and take in the surrounding views. After you eat, you can grab sweets from The Swiss Shoppe. Here, you can try ice creams, candies, and fudge, and more. This is an excellent opportunity to buy a souvenir to take back home. (The Little Switzerland General Store is another great option!) There is also a church, museum, and the famous road known as the Dragons Backbone nearby.

Where to stay: Entire Guest Suite in Haus Edelweiss on the Blue Ridge Parkway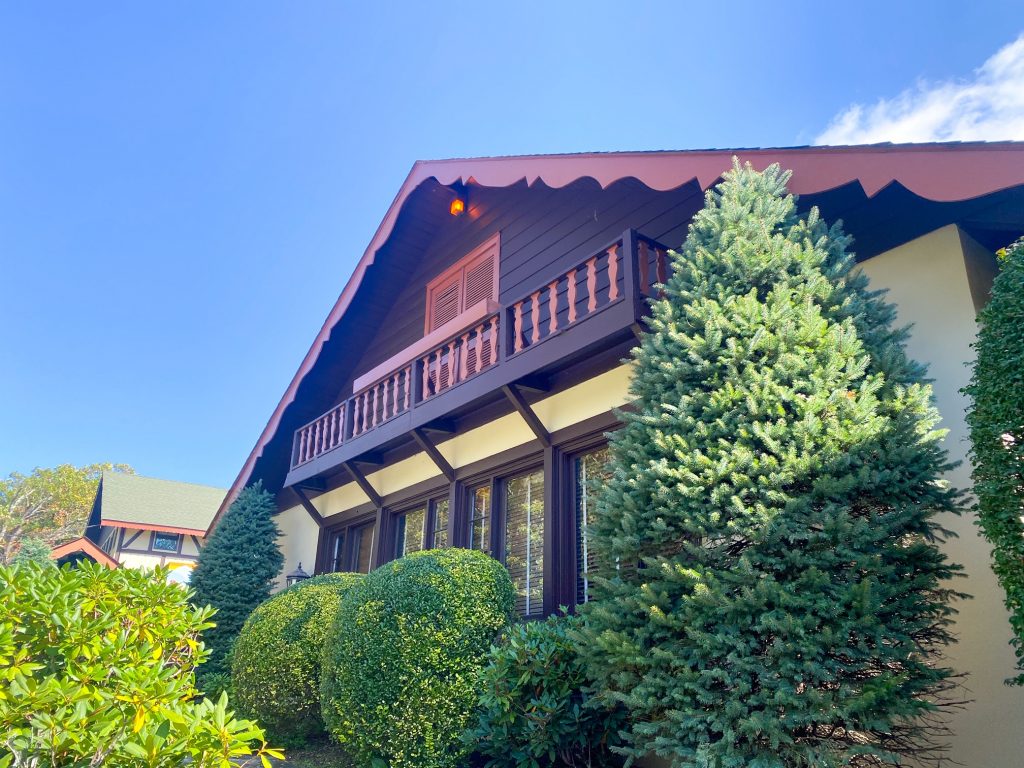 Boone
Boone is one of the most beautiful places in North Carolina and is easily one of the best places to visit in North Carolina as well. Boone, North Carolina, is known for its beauty and outdoor adventures. The town is an excellent place for winter sports during the winter months. Appalachian Ski Mountain is the perfect place to be for winter sports enthusiasts and beginners alike. Of course, visiting for the views and atmosphere is just as great!

Just a few minutes outside of Boone, you will find the Grandfather Vineyard & Winery. Get a taste of the local delicacies while enjoying the spectacular views! From the mountain overhead to the river that flows alongside the vineyard, this winery and vineyard is the perfect place to be to enjoy the beauty of the town of Boone.

Arguably the most popular thing to do in Boone is to visit Grandfather Mountain. The mountain stands at 5,945 feet and has eleven trails for you to explore the area from. Black bears, otters, cougars, eagles, and more can be seen around Grandfather Mountain. Of course, you can't miss the Mile High Swinging Bridge. The bridge will give you 360-degree views of the area. The path to and through the bridge is wheelchair accessible, and the bridge itself is 228 feet long. You will love this North Carolina vacation spot!

Where to stay: Alpine Log Cabin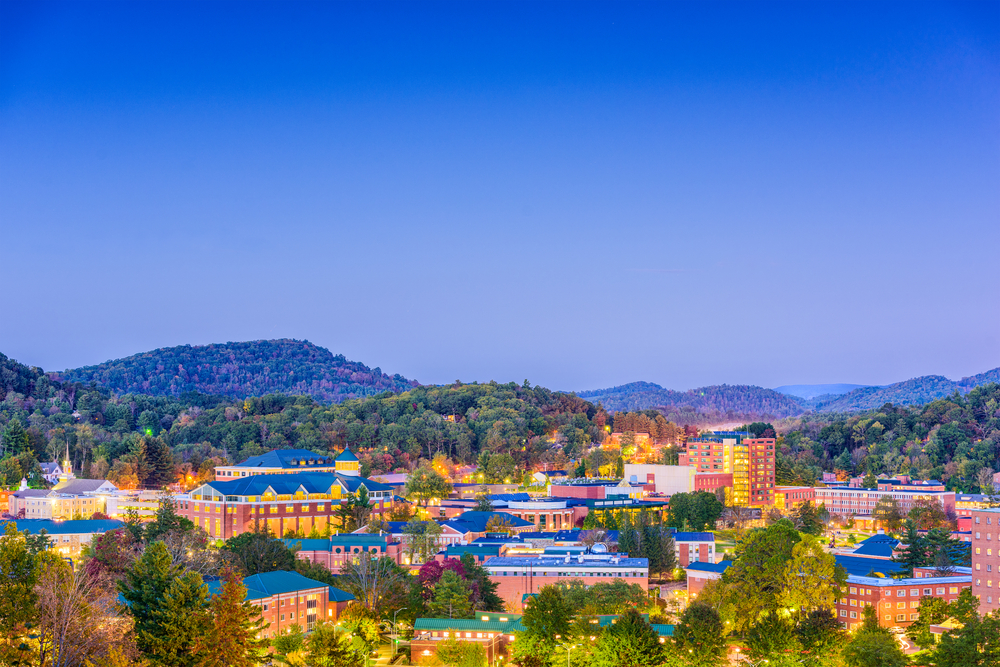 Rough Ridge Overlook
There are tons of natural wonders to see and experience in North Carolina. The natural beauty of the state is hard to beat! The Rough Ridge overlook is a perfect addition to any North Carolina road trip when deciding on places to go in North Carolina. Rough Ridge is a stunning natural feature in the Blue Ridge Mountains that has been an inspiration and a spot of solace for millions of people each and every year.

There are three viewpoints along the Rough Ridge Trail, each offering a different view of this popular Ridge. The Rough Ridge Trail is actually a part of the Tanawha Trail, which is 13.5 miles in total. However, the Rough Ridge trail is just a 0.8-mile stint of the Tanawha Trail. This is a great trail for those who aren't interested in hiking long distances, as you can hike less than a mile and still take in some of the most awe-inspiring views in the state.

With that being said, you do not have to walk the full 0.8 miles of the trail to get to see the views of the Ridge. If you don't want to walk the full length of the trail, that's no problem at all! The first viewpoint on the trail is actually the most popular, and it is very easy to get to, even for inexperienced hikers, making it one of the best places to visit in North Carolina! The first Rough Ridge overlook has a series of wooden boardwalks built along the mountain, and they act as viewing platforms for the overlook. You will see for miles, catch a glimpse of the viaduct and the Blue Ridge Parkway that is built into the mountainsides.

Where to stay: Renovated Mountain Home, 5 Mins to Downtown Boone!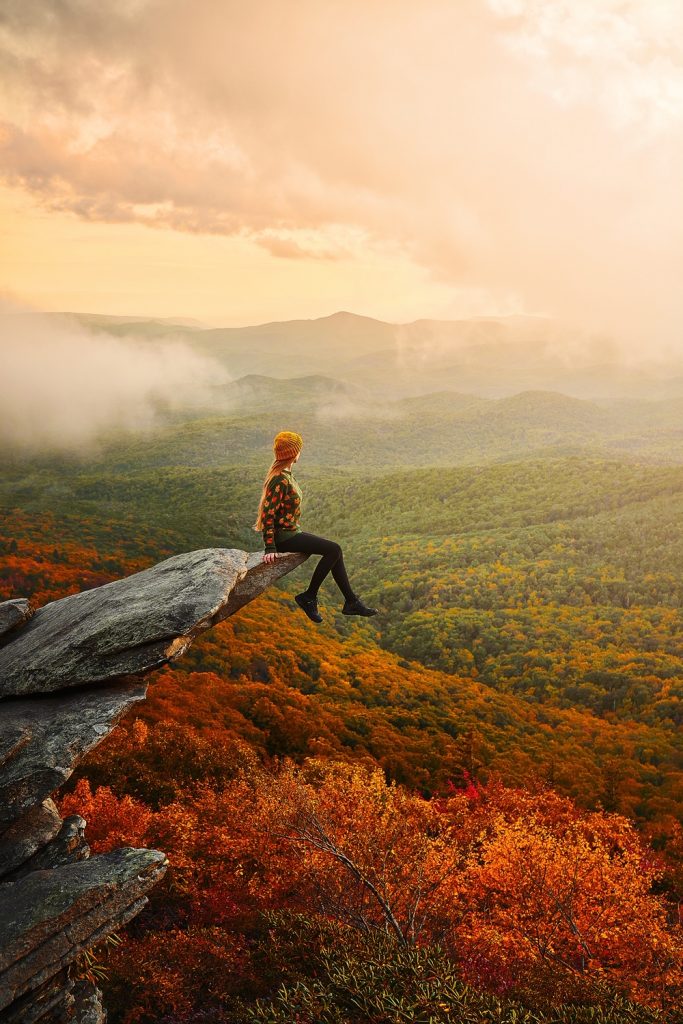 Catawba Falls
Catawba Falls is a beautiful waterfall is around 25 miles east of Asheville, North Carolina, near Old Fort. This waterfall in the Pisgah National Forest is just three miles off of I-40. You can reach the falls via a 1.5-mile hiking trail. This trail is ranked moderate and is great for kids, dogs, and hikers of various experience levels, making it one of the best places to visit in North Carolina!

The Catawba Falls Trail takes you through a relaxing and serene wooded area where you will make several small water crossings and see several smaller waterfalls before reaching Catawba Falls. The waterfall is 100 feet tall, has multiple tiers, and is surrounded by large rocks and a moss-covered cliff. The area around the waterfall and the waterfall itself are both stunning and make for a perfect place to enjoy nature, with the sounds of the waterfall helping you to feel relaxed and renewed.

For adventurers and experienced hikers, you may want to belong gate your hike past Catawba Falls and take the strenuous hike to the beautiful Upper Falls. Upper Falls is 50 feet tall, and the hike, although strenuous, is only half a mile long. Whether you choose to only go to Catawba Falls or if you take it a step further and visit Upper Falls, you will be sure to have an amazing time exploring the beautiful North Carolina woods.

Where To Stay: Jarret Creek Cottage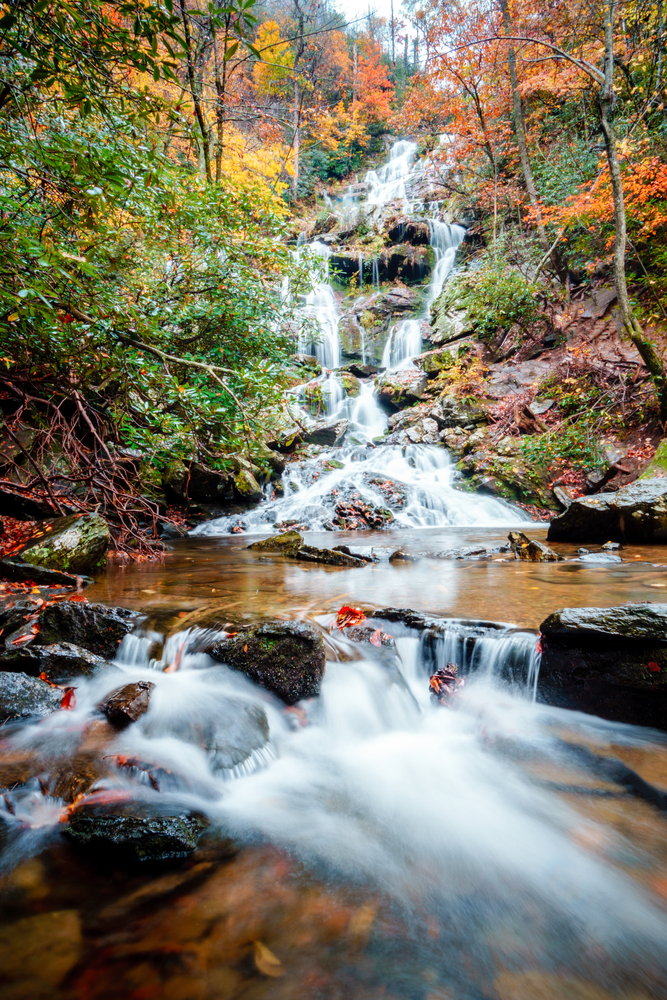 Charlotte
The city of Charlotte is one of the coolest places to see in North Carolina! There is so much to see and do that all types of travelers will be satisfied. Art-lovers, history buffs, foodies, and nature enthusiasts can all find the activities in Charlotte that they will be excited about. During the summer months, a visit to Carowinds may be right up your alley! Carowinds has all sorts of roller coasters and other rides for adrenaline junkies, and a waterpark as well.

For those who like to check out museums when traveling, Charlotte has plenty for you to choose from! The Nascar Hall of Fame, Mint Museum Uptown, and the Levine Museum of the New South are all great options. Another exciting thing to do in Charlotte, North Carolina is the Whitewater Center where you can go rafting and kayaking along with other activities out of the water. There are many popular activities including ziplines and ropes courses, outdoor yoga, rock climbing, mountain biking, hiking, and more!

Charlotte is one of the best places to visit in North Carolina for many reasons. One of the biggest reasons is the food. Southern delicacies like fried green tomatoes, pimento cheese, fried chicken, and seafood can all be found in Charlotte. Good Food On Montford, Sea Level NC, Haymaker, and Brick Top's are all restaurants where you can get a taste of some North Carolina goodness.

Where To Stay: Hilton Charlotte Uptown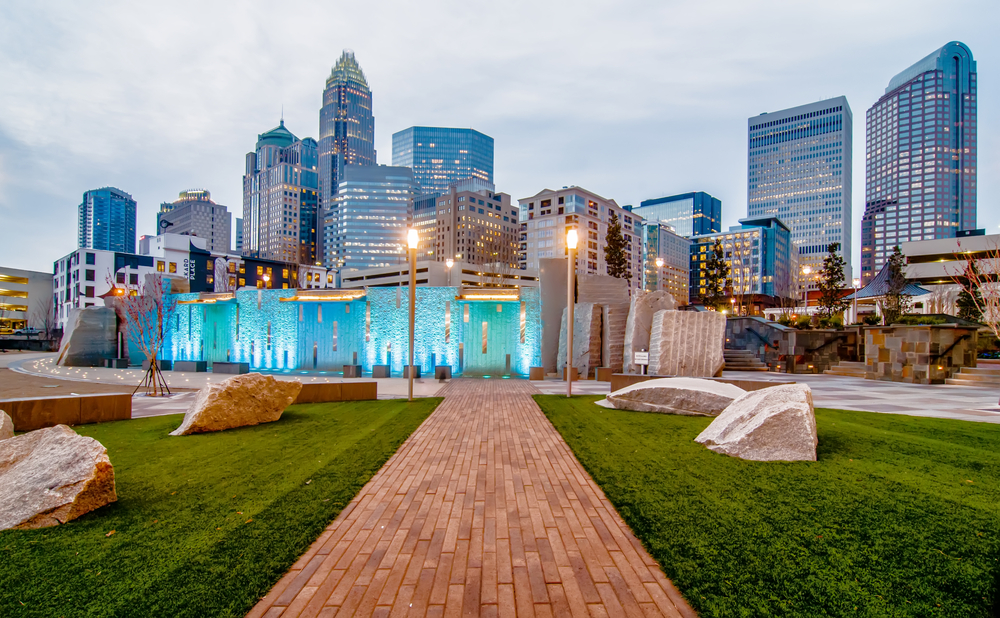 Chimney Rock
If you are a nature lover, there are many places in North Carolina that will pique your interest, one of the best of those is Chimney Rock State Park. The state park is located twenty-five miles southeast of Asheville. Chimney Rock is an outdoor enthusiast paradise. The rock is one of the most iconic sites in the state. It stands at more than a thousand feet high and draws in around a whopping 17 million each year.

For hiking, you have a choice of ten hiking trails in the park. For those traveling with kids and for non-experienced hikers, you will be happy to know that you can find several trails in the park that are less than one mile. These shorter trails still offer views and serenity in the park despite their short length.

For those who love to hike, the Weed Patch Mountain Trail is the longest trail in the park and is a great way to explore the remote wilderness of the park. The trail is 8.5 miles long and will take you over rough and rugged mountain terrain and you may find yourself sharing the trail with rock climbers and mountain bikers. These activities along with fishing are all possible in the park as well. There's also a concession stand and a restaurant in the park that is open year-round near the front gate of the park.

Where To Stay: The Chimney Rock Inn & Cottages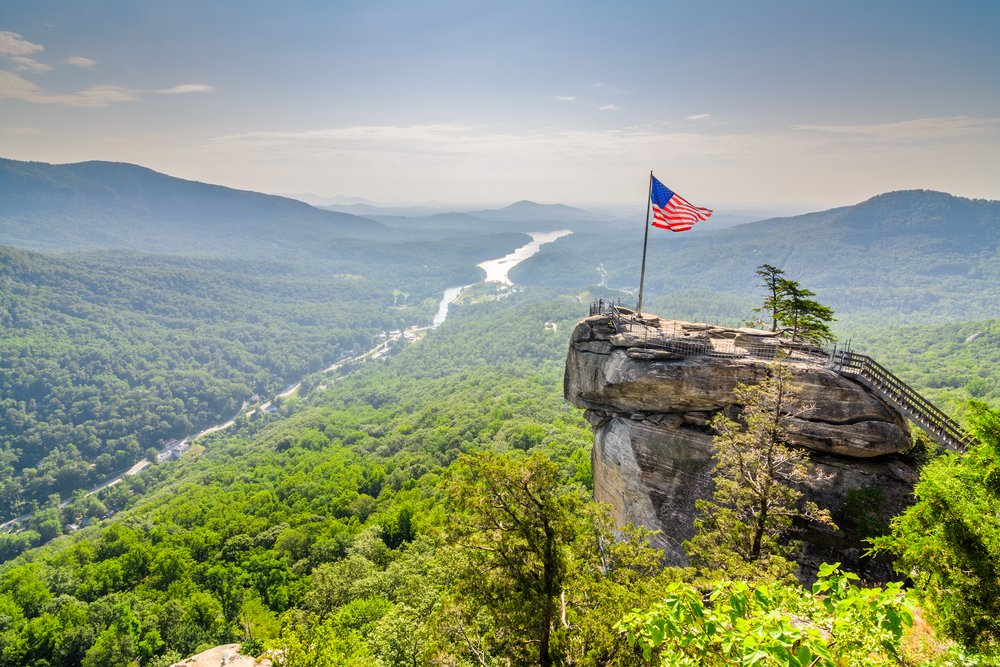 Drive The Blue Ridge Parkway
A drive on the Blue Ridge Parkway is a must-add to any North Carolina road trip bucket list! The Blue Ridge Parkway starts in Northern Virginia, just south of the Shenandoah Valley and it crosses through 29 counties in both Virginia and North Carolina. The parkway runs for 469 miles and showcases one of the most beautiful areas of the United States.

You could easily spend days exploring the Blue Ridge Parkway and the surrounding areas. The ideal time to drive the parkway is either the summer or fall months. Fall foliage along the Blue Ridge Parkway is legendary. The fall colors typically pop sometime in October and millions of visitors come from around the world to see their splendor.

There are many popular stops along the Blue Ridge Parkway. You will find Mount Mitchell at milepost 355.4. Mount Mitchell is at 6,684 feet and is the highest peak in the Appalachian Mountains. It's a great stop along the parkway where you can get incredible 360-degree views from the observation deck. Some other great options for your drive on the Blue Ridge Parkway include Craggy Gardens at milepost 364.1, the Folk Art Center at milepost 382, and Sliding Rock at milepost 411.8. The Blue Ridge Parkway is by far one of the best places to visit in North Carolina!

Where To Stay: Carter ridge- On The River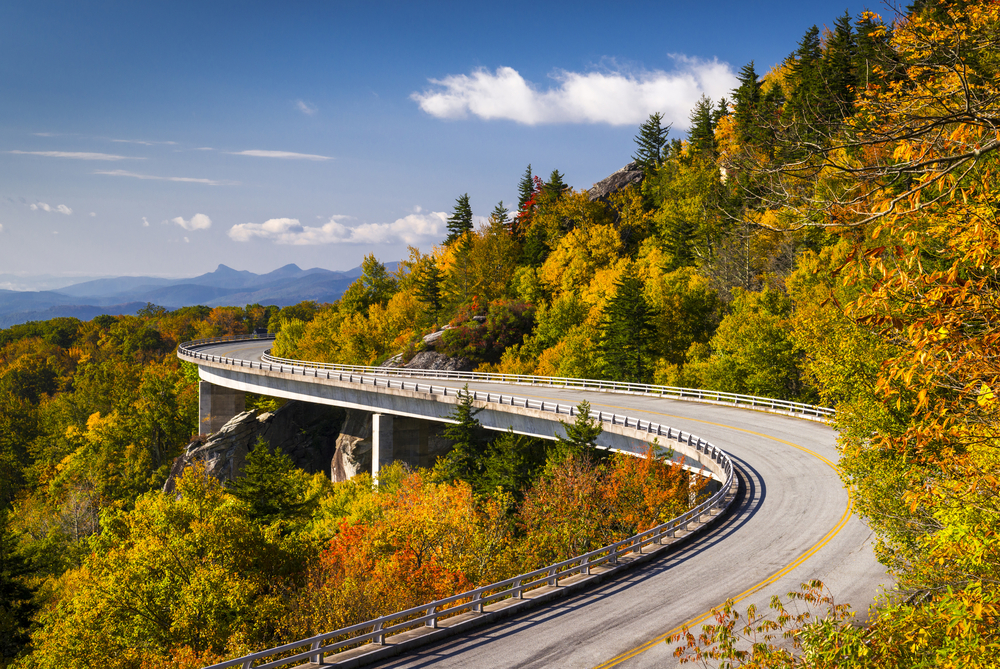 Nags Head
When looking for North Carolina vacation spots it's only natural that beach towns come to your mind. Nags Head is one of the best beaches in the Outer Banks and one of the most pristine beaches in the South. The Outer Banks are a beautiful part of the state of North Carolina that has a vast and interesting history as it pertains to the state and the country as a whole.

Nags Head is beautiful and had many exciting things to do. One of the most iconic and exciting things to do is to visit the Bodie Island Lighthouse. At this lighthouse, there is a long wooden boardwalk and viewing deck where you can get truly awe-inspiring views over the marshlands and the lighthouse which are particularly wonderful at sunset. Don't forget to check out some of the best things to do in Nags Head.

Jockey's Ridge State Park in Nags Head is another must-see in town. The state park is home to the largest living sand dune along the east coast of the United States. The park is free and is perfect for travelers of all ages. The park is perfect for hang gliding, flying kites, hiking, or watching the sunrise or sunset. If you have never hang glided before, no worries! You can take lessons and try your hand at it yourself with help from experienced hang gliders. Nags Head is a fun and beautiful town along the east coast and is one of the best places to visit in North Carolina!

Where To Stay: Oasis Suites Hotel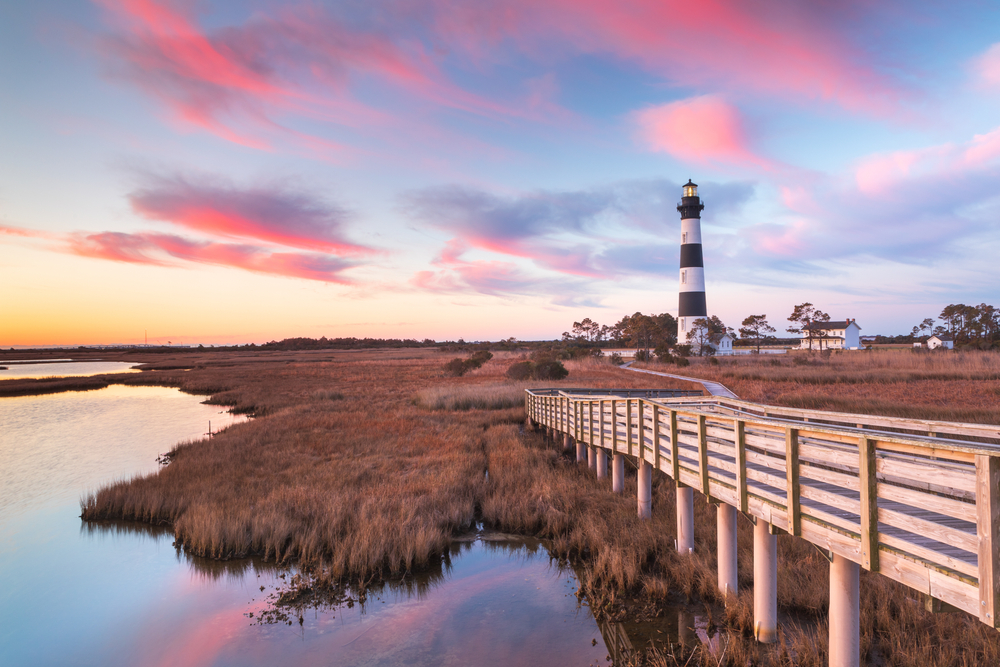 Visit The Biltmore
The Biltmore Estate is a private home located in Asheville, North Carolina. The home was built in the late 1800s. The home is massive and has 250 rooms, including 35 bedrooms, 43 bathrooms, and 65 unique fireplaces. Given the size of this estate, you could spend hours at the estate exploring the rooms and grounds. The estate is quite iconic in the state of North Carolina and has found its way onto many North Carolina Bucket Lists as it's one of many cool places to visit in North Carolina.

At the estate, you can take an audio tour of the house which is included in your ticket price. (The audio tour lasts for 40 minutes.) You can also explore the gardens around the home. The estate has an Italian Garden, an Herbal Garden, and a Walled Garden. The most popular of the three is the Walled Garden as it has something blooming year-round, depending on the season.

One of the coolest things about the Biltmore is that has a Christmas Store that is open all year long. It's there that you can find turn-of-the-century style decorations and ornaments. This is a great place to get souvenirs while in North Carolina. The Biltmore Estate also has a well-loved conservatory. It's a large greenhouse building that is warm year-round, making it a favorite place to visit during the winter months. The conservatory is full of exotic plants and has great views of the terrace Butterfly Garden and the Walled Garden. These are just a few of the exciting things to do at Biltmore that all add up to making the estate one of the best places to visit in North Carolina.

Where To Stay: Cottages On Biltmore Estate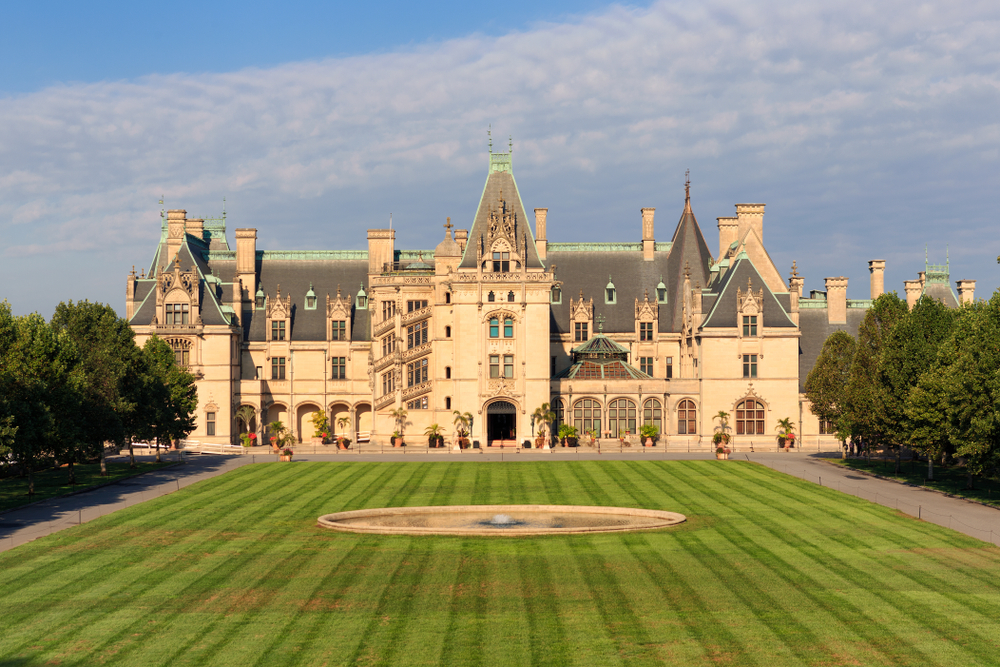 Blowing Rock
Blowing Rock is one of the cutest small towns in North Carolina and one of the best places to visit in North Carolina as well. Blowing Rock has amazing shopping in the historic downtown. Walking around and shopping at the shops is a lot of fun when in town. There are jewelry shops, antique shops, galleries, and more for you to check out while you're there. You may also want to check out the Blowing Rock Art and History Museum while you're there as well as it is a super informative museum that teaches about local culture and traditions in the area. Plus, it's free!

You will find many beautiful churches in town that play an important role in the history of the area. They are great places to take pictures and learn a little about the history of the town. During non-service hours you can usually take a step inside the buildings to see the beautiful interiors. If you find yourself running on fumes, head to Bald Guy Brew for an eco-friendly and socially responsible cup of Joe!
Make sure to check out our list of the best Breweries In North Carolina to find some of your favorite local craft beer.

The Linn Cove Viaduct near Blowing Rock is a huge attraction in the area. It's situated on the face of Grandfather Mountain. It's a beautiful feature that is built into the mountain and is a popular place for photographers. Last, but not least, you may want to also check out the Tweetsie Railroad. (especially if traveling with kids) The Tweetsie Railroad has amusement rides, entertainment, and two historic trains. You can ride the trains during regular park hours or during special events. There are holiday events each year that add extra fun to a visit to Tweetsie.

Where To Stay: Chetola Resort at Blowing Rock (lodge)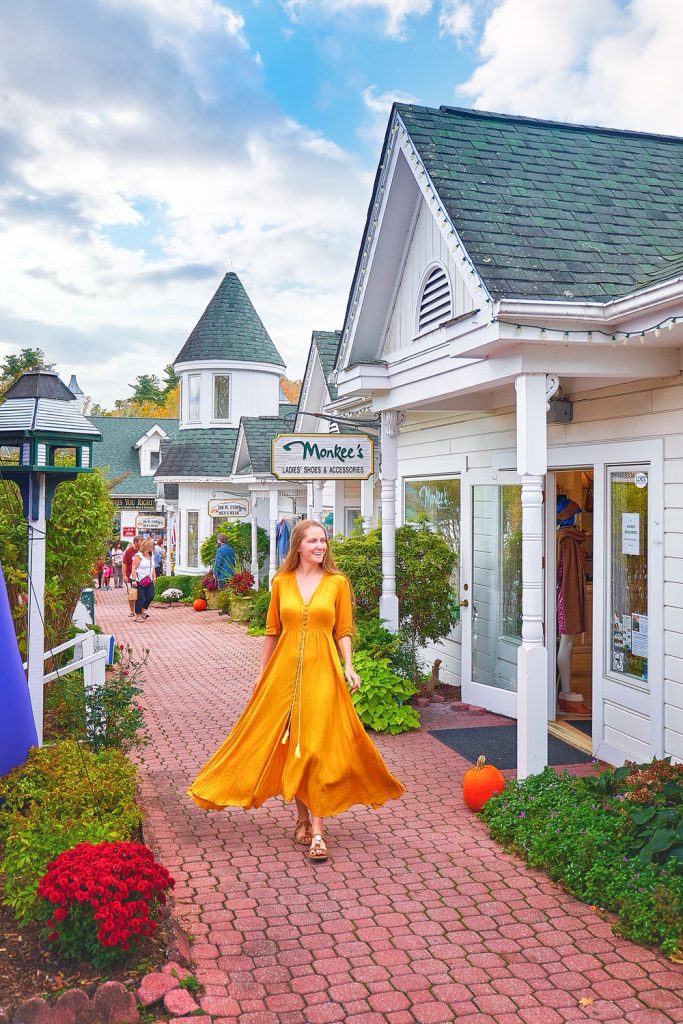 Carolina Beach
Carolina Beach is a coastal town along the central portion of the North Carolina coast. The town is a popular vacation spot for those living in central North Carolina and people from visiting out of state as well. The town is known for its boardwalk. The Carolina Beach Boardwalk has restaurants, amusement rides, and more fun waiting for its visitors. If you are traveling with kids, a short drive to the Aquarium and Fort Fisher is a great option to add to your itinerary.

Fort Fisher State Historic Site is a site near Carolina Beach that has indoor exhibits and the remains of an old Civil War fort. For history lovers, this is one of the best places to visit near Carolina Beach. If you are looking for a place to hike in the area, picnic, or maybe just have a piece of sandy beach to yourself, then Carolina Beach State Park is the place to be! You can find small beach accesses near trails and picnic areas within the park that make for a great way to get away from any crowds that might be in the area during the summer months. Carolina Beach is one of the best places to visit in North Carolina!

Where To Stay: Carolina Beach Inn
Asheville
Asheville is easily one of the best vacation spots in North Carolina! This town in N.C. has a plethora of sites, trails, and attractions to keep every type of traveler happy during their stay. Asheville is known for many things. One of those is its art scene. That art scene is so vibrant and healthy that it is overflowing onto the streets of Asheville, make sure to check out the street art during your visit.

For outdoor lovers, you will find many hiking trails in and around Asheville. The easy to moderate Craggy Pinnacle Trail is one of the most popular ones trail around Asheville. The trail typically takes about 20 minutes to hike and offers hikers 360-degree views of the valley below. There are also many waterfalls in Asheville that nature lovers will love.

There's also an amazing food scene in Asheville. Restaurants in Asheville are plentiful and they serve a variety of palates. You can find international cuisine, fine dining, and local-focused menus in town. There are also plenty of breweries in Asheville to visit as well, like the Bhramari Brewing Co. You may also be interested in checking out some of the coffee shops in town, like the Liberty Cafe. You're sure to fall in love with Asheville, as it is one of the best places to visit in North Carolina!

Where To Stay: Cambria Hotel Downtown Asheville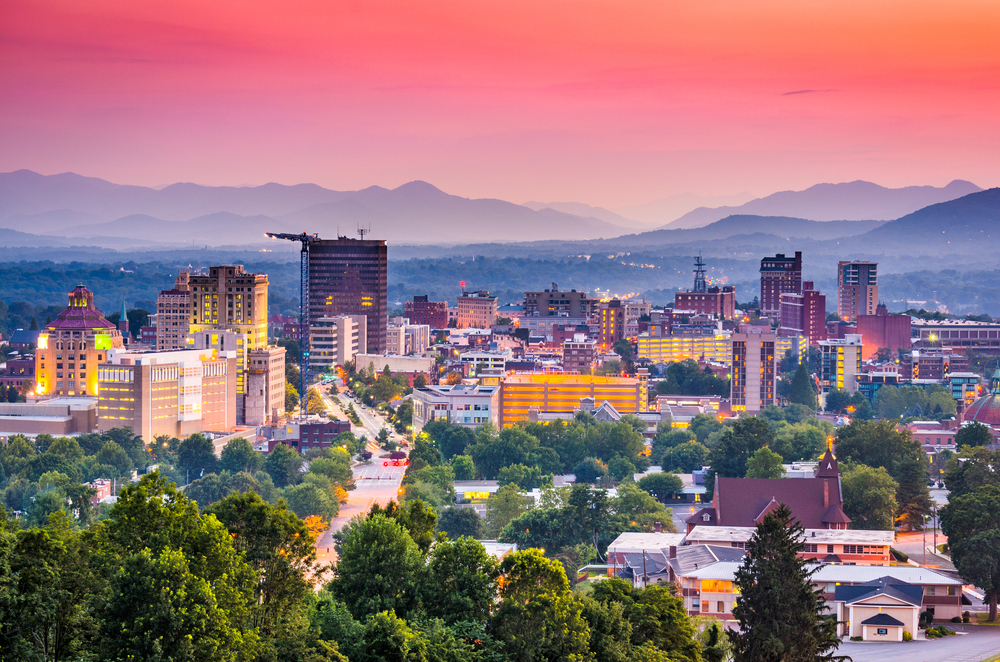 Crabtree Falls
If you ask around about where to visit in North Carolina, you will definitely hear people recommending the beautiful waterfalls in the Tar Heel State! Of all the waterfalls you have to choose from, Crabtree Falls should be a top contender! Crabtree Falls is simply one of the most breathtaking waterfalls in North Carolina! Thanks to the cool mist that comes from the waterfall, the surrounding area is full of thriving greenery, including moss, ferns, and wildflowers galore. This makes for spectacular mystic vibes at the base of the waterfall!

There are two ways for you to get to Crabtree Falls. You can take a 3-mile out and back trail that has a steady slope you will need to ascend on your return from the waterfall. Your second option is to take the more strenuous 3.5-mile loop trail that climbs rocky terrain up a steep ridge over the falls. Both will allow you to experience this fantastic North Carolina waterfall!

Where to stay: La Petite Chalet Cottage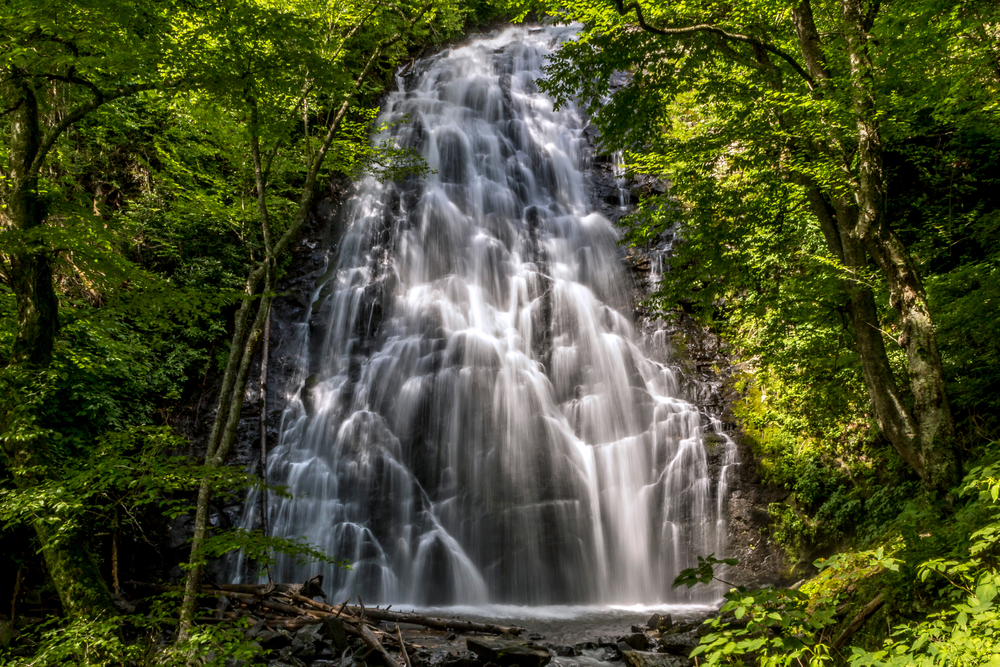 Climb Clingmans Dome
When looking for North Carolina attractions, take a look at the North Carolina and Tennessee border. At the border, you will find the Clingmans Dome. At 6,643 feet, Clingman's Dome is the highest point in the Great Smoky Mountains National Park. The observation tower at the top is a highlight of any trip to this mountain range. From the parking lot, you will walk up a very steep half-mile trail before you reach the observation tower. With how steep this trail is, you will want to make sure you leave enough time for breaks on the way up to the tower.

The observation tower provides jaw-dropping, 360-degree views of the mountains. On a clear day, you can see for a hundred miles and into all seven states of Kentucky, Tennessee, North Carolina, Virginia, Georgia, Alabama, and South Carolina. Clingman's Dome is one of the best things to do in the Smoky Mountains and also one of the best places to visit in North Carolina as a whole. Make sure not to miss this cool North Carolina attraction!

Where To Stay: Stonebrook Lodge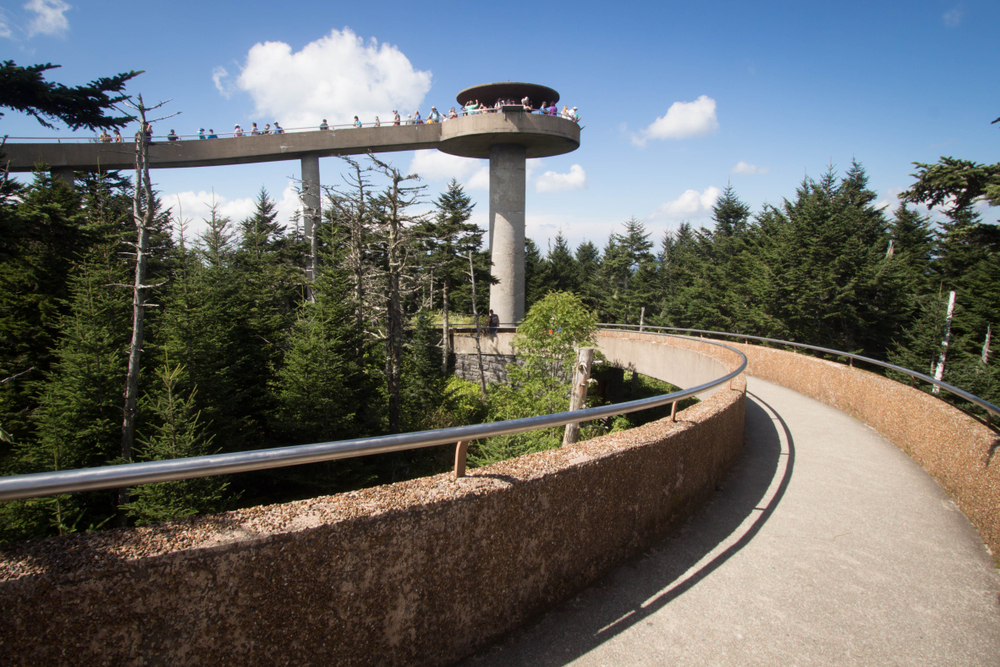 Raleigh
Raleigh is easily one of the best places in North Carolina to visit! Raleigh is a lively city that is full of history, delicious food, and other fun things to do! Due to the central location and cool attractions, the city welcomes millions of visitors every year. Whether you are a foodie, history buff, or love outdoor activities when traveling, you will find tons of cool things to do in Raleigh!

There are many cool museums in Raleigh, many of them free. First, you want to make sure you don't pass up the North Carolina Museum of Natural Sciences. The museum is the largest natural history museum in the southeast. It spans more than two city blocks and has four levels of interactive exhibits to entertain people of all ages.

The North Carolina Museum of History shouldn't be overlooked either. The museum is next door to the North Carolina Museum of Natural Sciences and the capitol building, making it a great place to visit if you are walking around downtown Raleigh. Other fun things to do in Raleigh include visiting the Raleigh Farmer's Market, Pullen Park where family travelers can have fun at the 5th oldest amusement park in the country, and the Raleigh Brewing Company where you can enjoy food trucks and local brews.

Where To Stay: Clarion Pointe Raleigh Midtown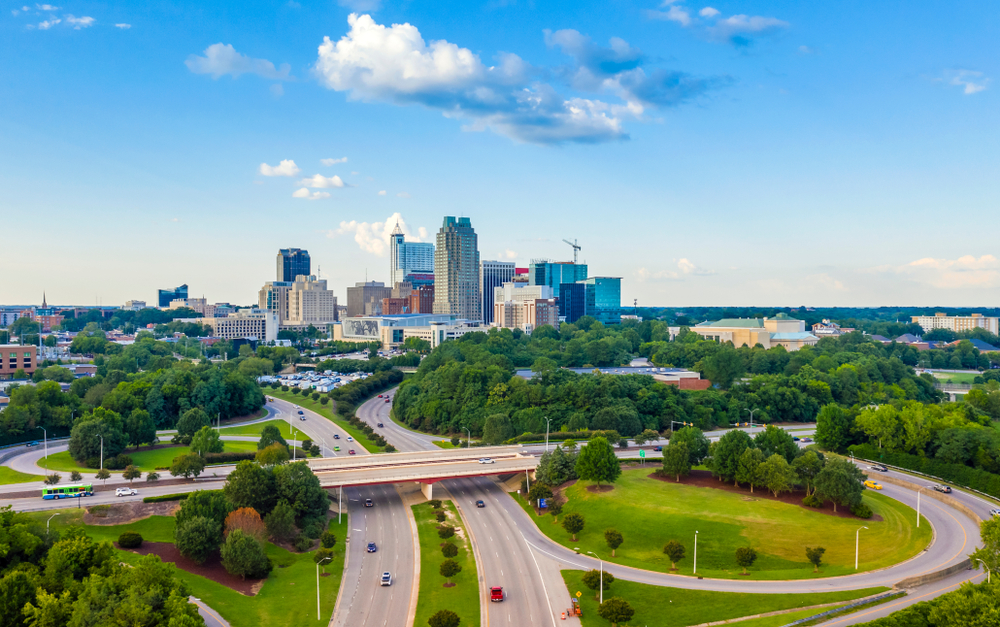 North Carolina is a wonderfully diverse state with loads of memorable activities to participate in and beautiful sites to see. Without a doubt, the state caters to all types of travelers. From coastal wetlands and pirate history to mountain views and bustling cities, get ready for your exciting and memorable trip to North Carolina! Which of these best places to visit in North Carolina will you visit first?