If you are looking for the ultimate guide for planning your next weekend in Asheville then look no further. Asheville is one of our favorite mountain towns to explore in North Carolina. It has a really unique and eclectic mix of art, history, and natural beauty.
Planning your trip to Asheville last minute?
Make sure to book your hotels and tours in Asheville in advance to ensure availability! The longer your wait, the more difficult it gets. ESPECIALLY during Fall Foliage! Here are our top picks for Asheville:
Top Places To Stay In Asheville:
Top Experiences And Tours In Asheville:
In Asheville you can find yourself admiring street art at one minute and hiking along the Blue Ridge Parkway the next. That is one of the things that makes Asheville so one-of-a-kind. There is something for every type of traveler coming to visit Asheville. It attracts a wide variety of visitors every year and is one of the most visited cities along the Blue Ridge Mountains.
Whether you are looking for art and culture, a thriving food scene, boutique breweries, or mountain vistas, there is something for you to do during your 3 days in Asheville. It's a beautiful city to visit year round and there is always something happening. So, lets take a look at the ultimate weekend in Asheville itinerary.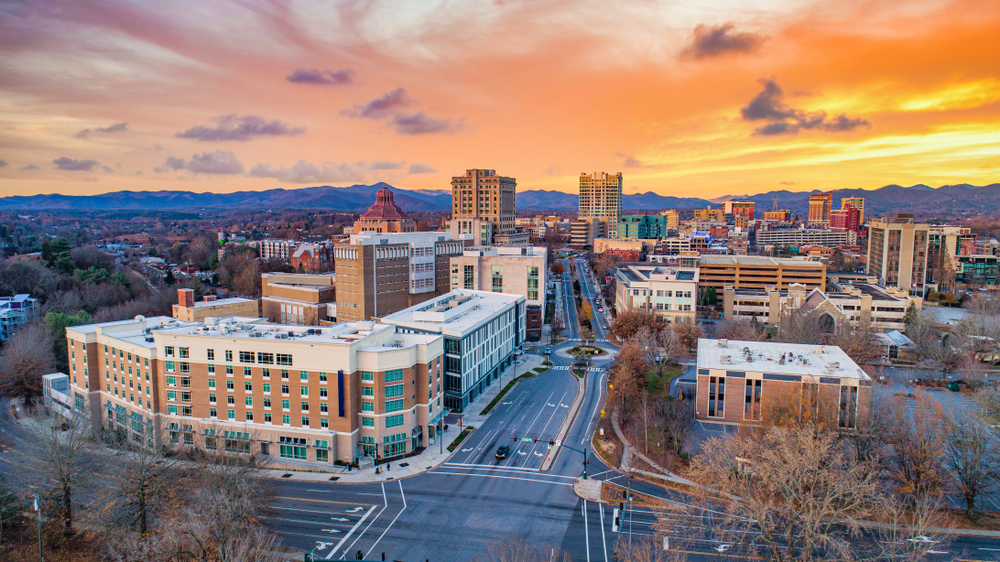 Getting To Asheville
It is fairly easy to get to Asheville. If you are traveling from out of state, the easiest option is to fly in. Asheville has it's own airport and there are several major airports that have direct flights to Asheville. As far as airports go, Asheville is one of the calmest. Despite the amount of travelers that flock to the area, it never feels too busy or crowded, which is something out of state visitors love.
If you don't want to fly into Asheville, or you're adding Asheville to another trip, like Tennessee, there are a few other airports you can fly into. Other options for getting to Asheville include driving or even taking the train. It is very easy to get to Asheville and there are plenty of options available.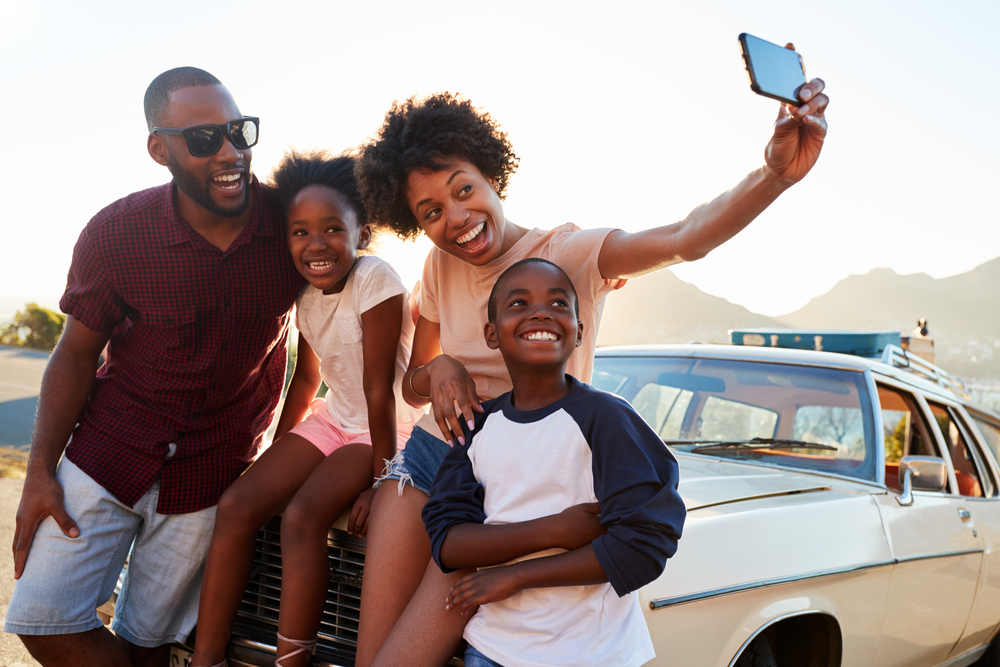 Getting Around During Your Asheville Weekend Getaway
If you plan on driving the Blue Ridge Parkway or going to the Biltmore Estate, you'll want to have a car at your disposal. Both are near Asheville, but you'll have more flexibility to see what you want and for how long if you have your own vehicle. For those that fly into Asheville, you can easily rent one at the airport. Parking in Asheville is pretty easy as well.
For getting around the rest of the time, Asheville is a pretty walkable city. If you can't or don't want to walk too far, you can use a rideshare app like Uber or Lyft to get around. We haven't tried it ourselves, but we have seen that you may be able to use a rideshare app to get to the Biltmore Estate. But you probably won't want to do that to drive the parkway.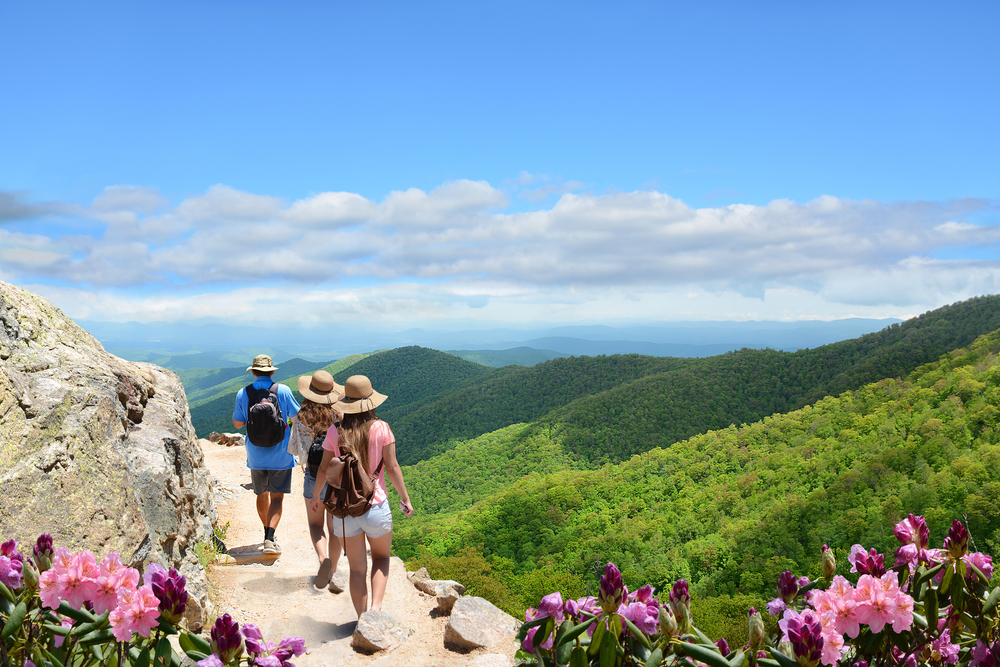 The Ultimate Weekend In Asheville Itinerary
Day 1: Explore Downtown Asheville
Spend your first day on your Asheville itinerary exploring the most popular part of the city. The Downtown district of Asheville is incredibly popular and full of fun things to do. On your first day, you'll hit all the highlights, so you'll leave your weekend in Asheville knowing you saw everything.
Stop 1: Walk The Urban Trail
If you want to see Asheville in your own unique way, walk the Urban Trail. It takes about two hours to walk the trail at a more leisurely pace. There are several stopping points along this completely self-guided tour. All of the stops relate in some way to Asheville history.
Whether that is spots where famous artists and authors once lived and worked, famous architecture in Asheville, or just generally interesting spots in the city. It is one of the best ways to feel like you've seen all the most important bits of the city on your Asheville weekend getaway.
If you'd like to walk the Urban Trail, but want a knowledgeable tour guide, consider the Insider Guided Walking Tour. You'll see all of the best spots in Asheville, but with a trained guide showing you around. You'll be able to ask them questions and get a more in-depth tour than the one you might have done on your own.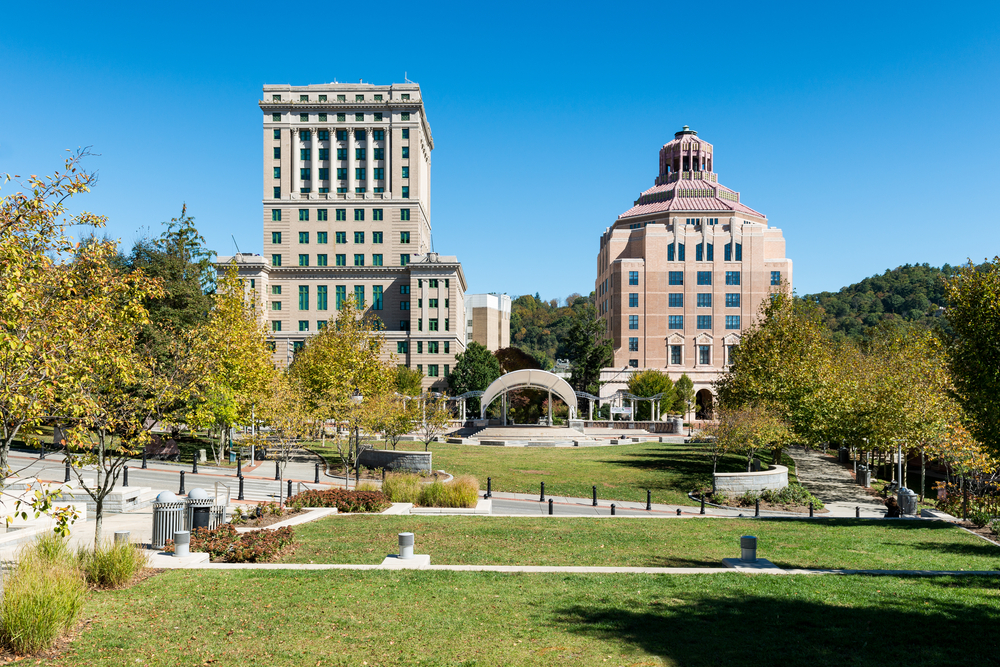 Stop 2: Admire Some Street Art
This is really something you can do the entire time you're walking around downtown Asheville, but there are several more notable murals that you may want to stop at. Asheville is a city with tons of street art on the side of buildings just waiting to be found.
There are more than 15 murals that you can find around the city. They are a really cool spot for a photo. The murals feature famous icons like Dolly Parton, famous quotes, or just beautiful paintings. While you are walking around the city, keep your eye open for some great Asheville street art.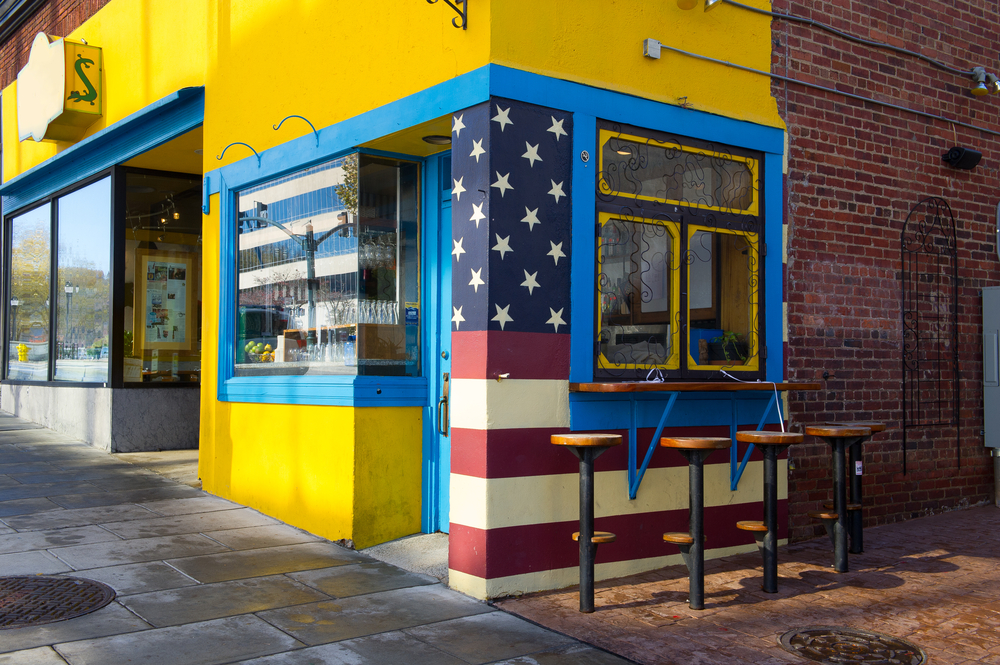 Stop 3: Explore The River Arts District
After walking the streets of downtown Asheville, head to the area that is now considered the River Arts District. The River Arts District was once the industrial area of Asheville. Often referred to as the RAD, the River Arts District is along the French Broad River.
The buildings that were once abandoned warehouses and mills is now home to one of the best art scenes in the South. They have been transformed into artists studios and galleries as well as restaurants and distilleries and breweries. The RAD is also a great place to find a super cool and unique souvenir to take home.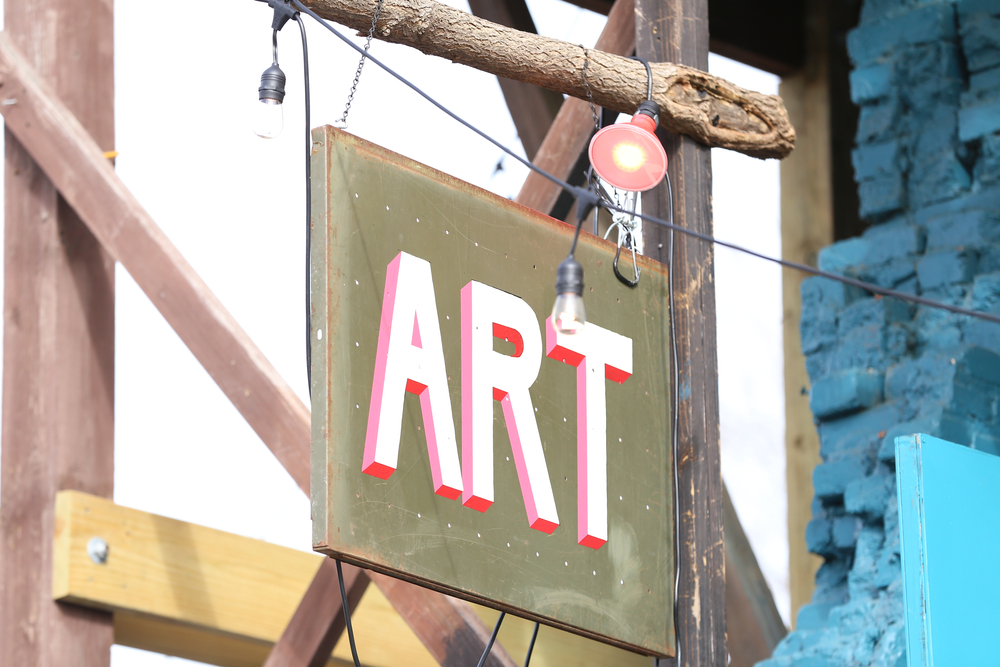 Stop 4: Asheville Art Museum
After lunch, head to the Asheville Art Museum. The Asheville Art Museum has a large collection of American artwork that dates from the 20th and 21st centuries. It is a fairly extensive collection and you can easily spend a good bit of time strolling through the exhibits. One of the main focuses of the museum is to largely feature local artists.
In particular, the museum has a large collection of works from professors and students of the Black Mountain College. The Black Mountain College was open from 1933 to 1957 and was a major art institute in the area. The Asheville Art Museum has the largest collection of Black Mountain artists. It also has a growing collection of Native artwork from Indigenous peoples from the Cherokee Nation.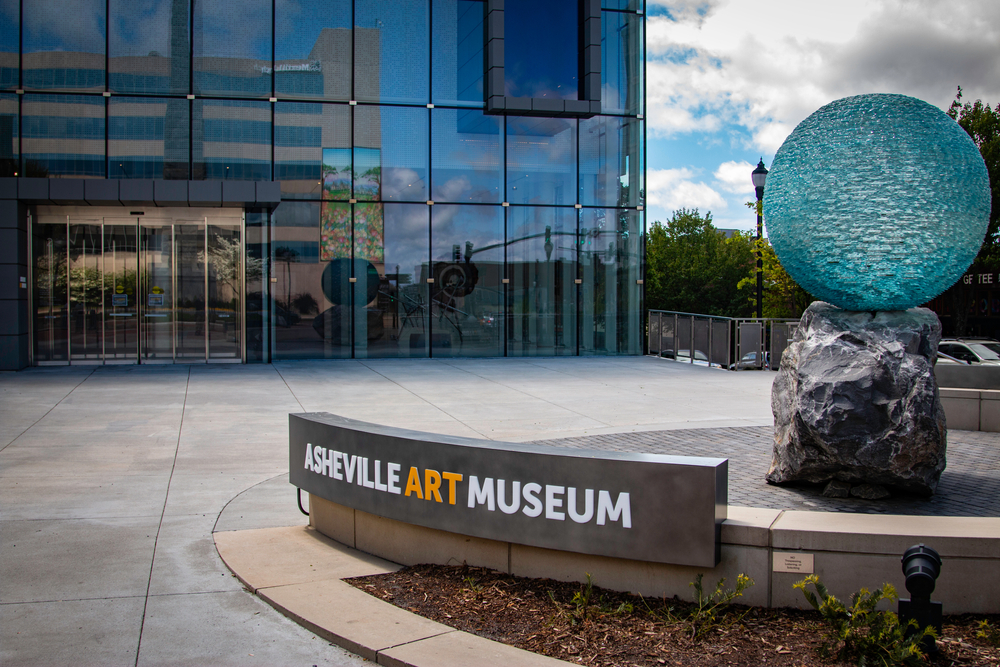 Stop 5: Stop At A House Museum
There are a few House Museums in Asheville. The two most prominent are the Thomas Wolfe Memorial State Historic Site and the Smith-McDowell House Museum. At the Smith-McDowell House you'll get to step inside a restored Victorian home that looks much like it would have at the time the Smith-McDowell family lived there.
The Thomas Wolfe Memorial State Historic Site is a house museum that is in the boyhood home of famous author Thomas Wolfe. Wolfe immortalized his family home and hometown of Asheville in a few of his novels. The home has been restored to look like it would have when Wolfe was a child. It's a cool and interesting addition to any Asheville itinerary.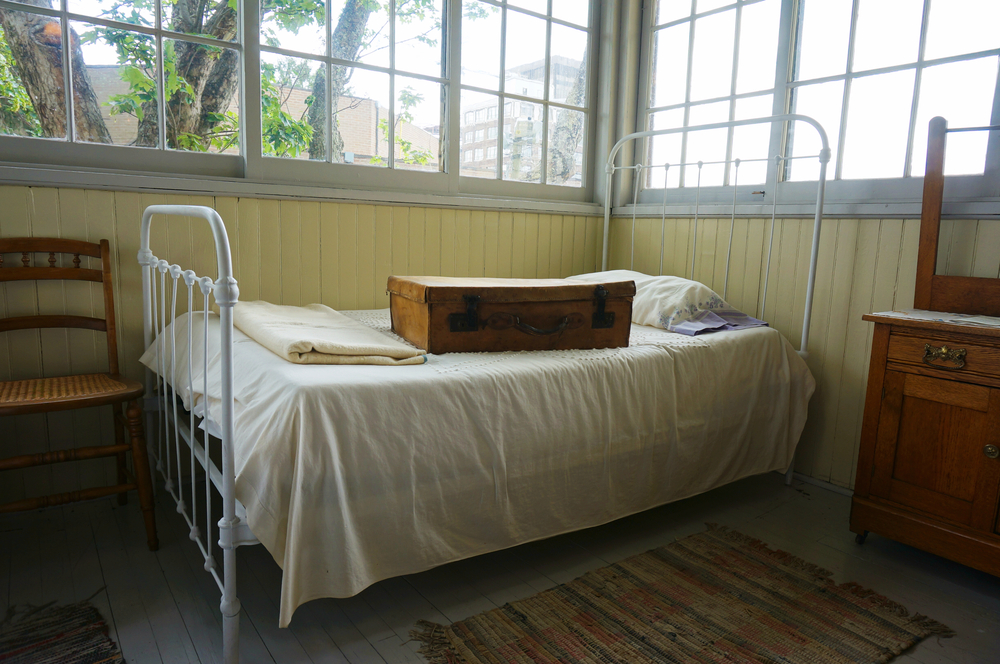 Stop 6: The Asheville Museum of Science
The Asheville Museum of Science is a fairly small science museum in downtown Asheville. But what it lacks in size it makes up for in experience. This is a perfect stop if you are spending your weekend in Asheville with some kiddos.
The museum is very hands-on. So kids get to experience science, not just see it. There is an interactive STEM lab, a hall of minerals, and more. The kids will also be able to get up close to fossils, dinosaur skeletons, and there is even a 'Toddler's Nest' for the very young travelers in your group.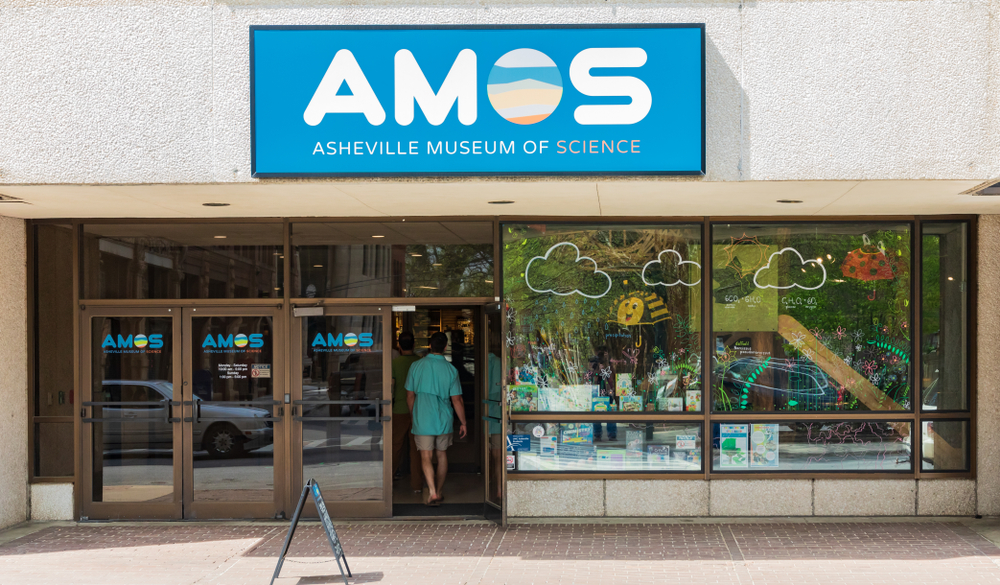 Stop 7: Games And Dinner At The Asheville Pinball Museum
End your first day at the Asheville Pinball Museum. This is a fun activity for any age, but it's especially fun for adults. For a flat fee you can have pizza and drinks while you get to play over 35 vintage pinball machines. They also have a selection of vintage gaming systems.
You can stay as long as you want and it really is a great time. After a day of walking and exploring the city, pizza, drinks, and some pinball is a fun way to end the day. The Pinball Museum is pretty popular, so you can 'check into' the museum a few hours ahead of when you actually plan to visit if you are worried that the wait to enter will be too long.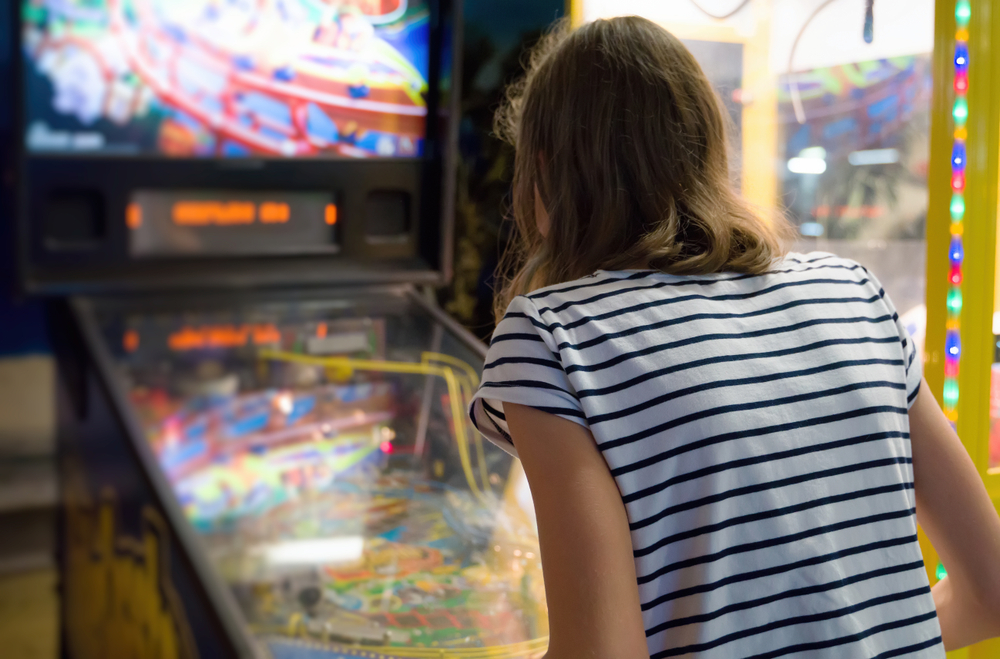 Day 2: Drive The Blue Ridge Parkway
For Day 2 on your Asheville itinerary, make sure you plan ahead a little bit. You'll want to make sure you have plenty of gas in your car. Since you'll be spending the day on the Blue Ridge Parkway, pack snacks, plenty of water, and a picnic lunch. In order to see everything on this part of the itinerary, make sure you get an earlier start. You can't spend a weekend in Asheville without driving on the Blue Ridge Parkway.
Stop 1: Mount Pisgah And Pisgah National Forest
Just outside of Asheville you can head on to the Blue Ridge Parkway around Mount Pisgah and the Pisgah National Forest. Once you're on the parkway, your first stop is Milepost 408.6 for the Mount Pisgah park parking area. There you'll find several trail heads you can take to explore the Pisgah National Forest. A little up the parkway, at Milepost 407.6 you'll find the Mount Pisgah Overlook and trail head.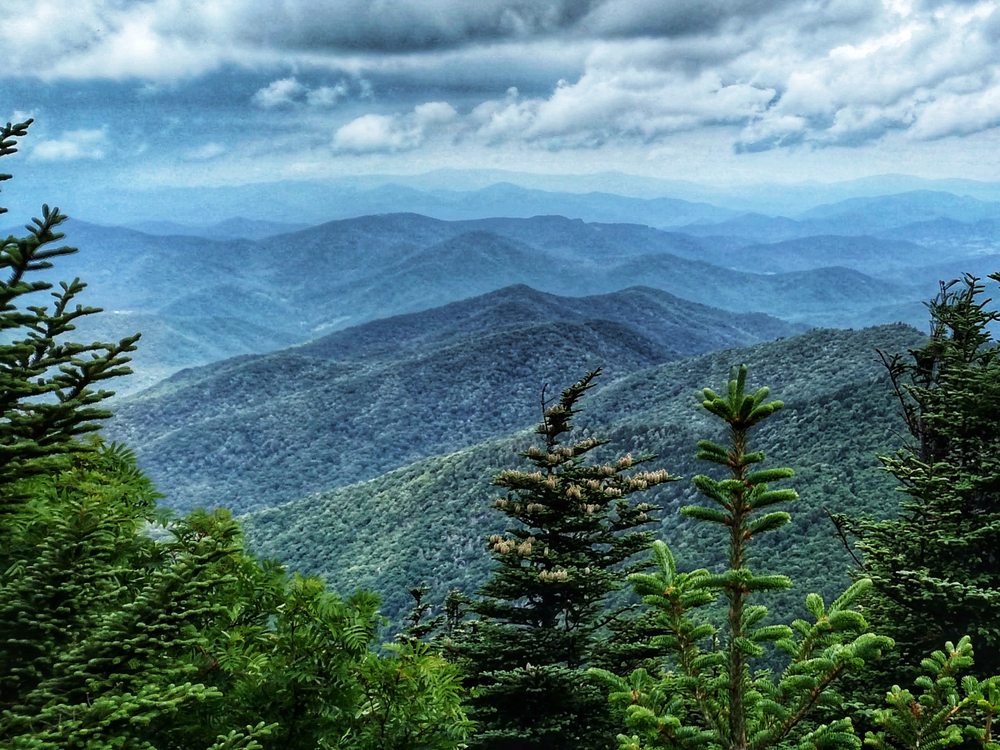 Stop 2: North Carolina Arboretum
From Mount Pisgah, continue North on the parkway. The North Carolina Arboretum is just off of the parkway, across from Milepost 393. There are over 430 acres of gardens and trails for you to explore. It is free to enter the arboretum and you'll find plenty to do there. The best time to visit the arboretum to see the flowers and plants blooming is from April – October, but it's a beautiful place to visit all year round.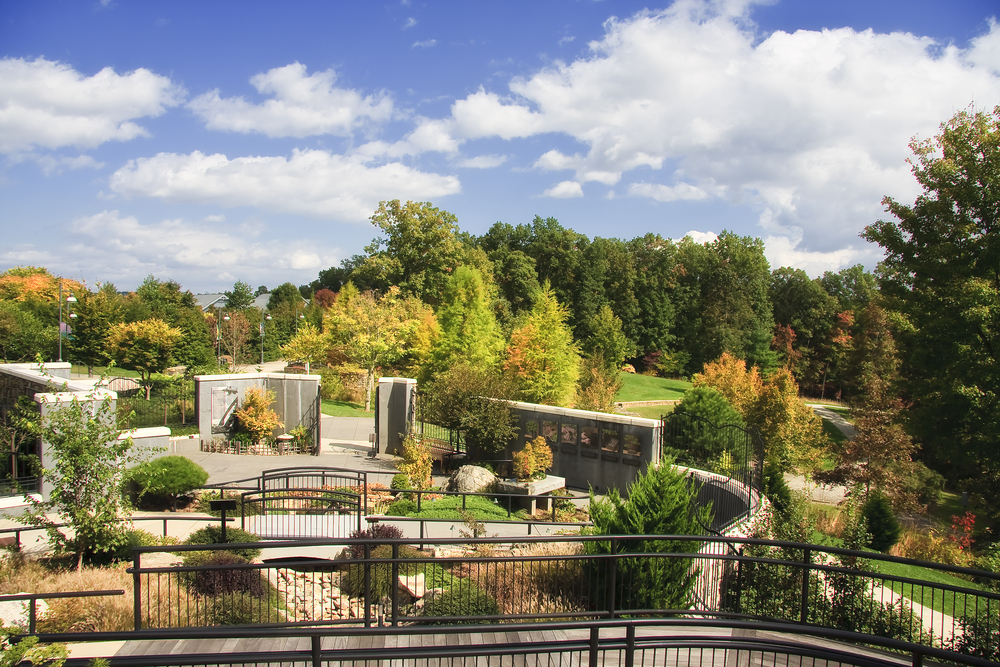 Stop 3: The Folk Art Center
Your next stop is the Folk Art Center at Milepost 382. The Folk Art Center is a space where you can find works from over 900 artists in several galleries and shops. This is the main gallery for the center, however you'll find smaller galleries at different stops along the parkway. But this is where you can find everything.
The Folk Art Center is the most popular stop on the Blue Ridge Parkway every year. So you can expect it to be crowded, but it's worth it. Not only are there galleries and shops, there are also artists studios. Depending on when you visit the center, you may be able to see an artist at work in one of the studios.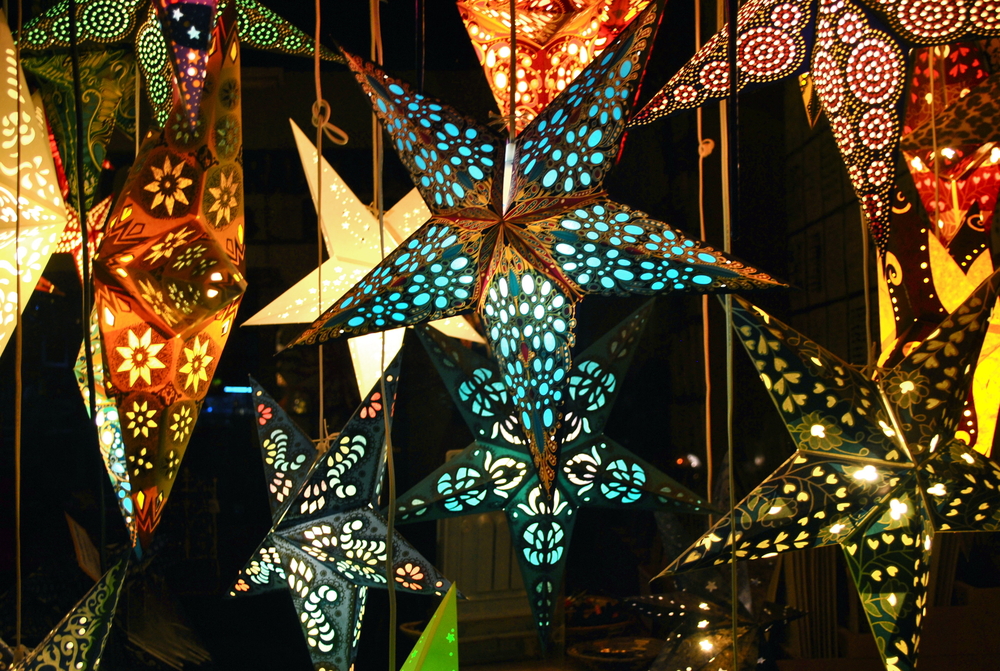 Stop 4: Craggy Gardens
After admiring all the art at the Folk Art Center, continue heading North on the parkway. Your next stop is Craggy Gardens at Milepost 364.6. The Craggy Gardens are another popular stop on the parkway. The best time to see the main attraction of the gardens, the pink and purple Catawba Rhododendron blooms, is in June.
However, the gardens are beautiful all year long. The area will definitely be the most crowded in June and July though. So keep that in mind when you are planning your drive. A little farther up the parkway, at Milepost 364.2 there is a trail that takes you through the gardens. You'll see some stunning views along the hike.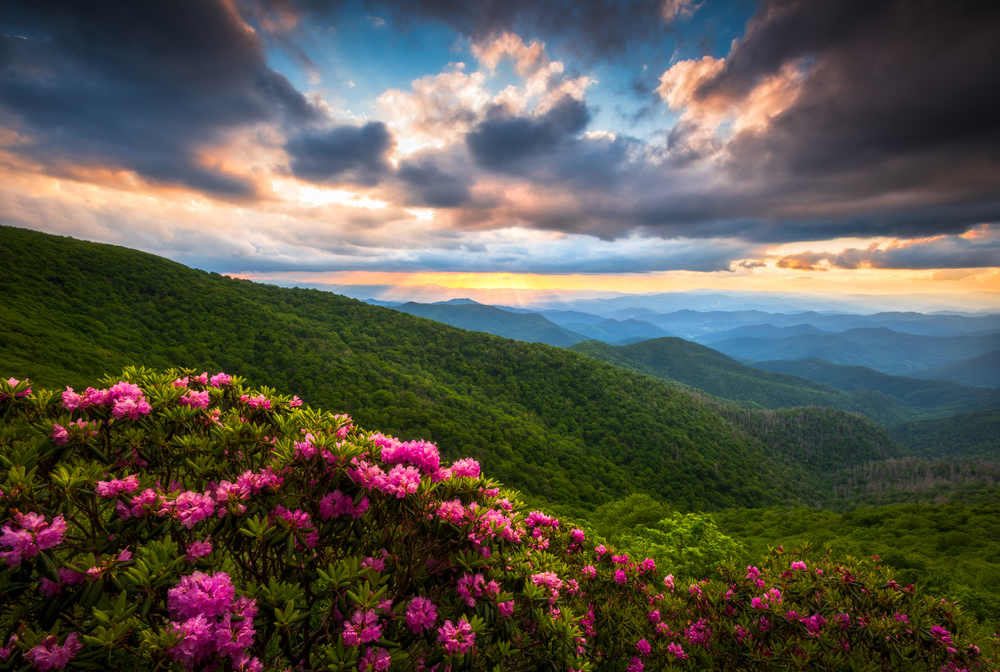 Stop 5: Mount Mitchell Overlook
Next stop at Milepost 349.9 which is the Mount Mitchell Overlook. Mount Mitchell is the highest peak East of the Mississippi and was one of the first State Parks in the United States. From the overlook you'll be able to get a view of the famous tall peak. If you want to visit the Mount Mitchell State Park, you'll need to take a detour of the highway.
It is only about 5 miles away from the parkway and the Mount Mitchell Overlook. But if you're interested in getting a better look or hiking Mount Mitchell, the State Park is a great detour from this Asheville itinerary. At the park you'll find hiking trails, a nature center, and a museum.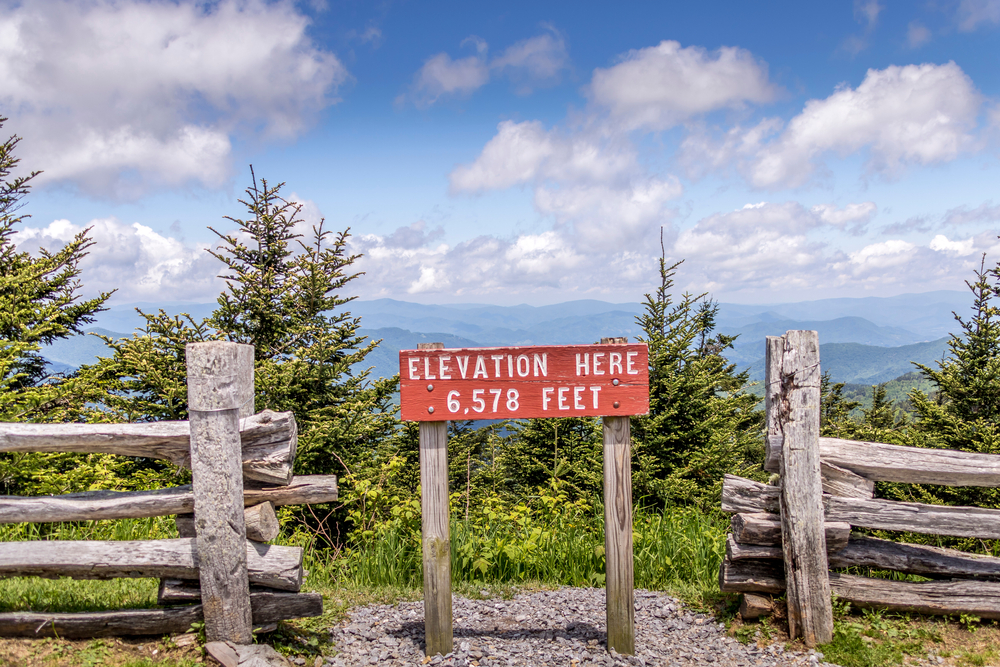 Stop 6: Crabtree Falls
One of the prettiest waterfalls near Asheville is the Crabtree Falls, at Milepost 339.5. To see the falls, you'll need to hike three miles on an in-and-back trail to get to this impressive waterfall. The waterfall is fairly wide and 70 feet tall.
The nearby bridge that crosses over the creek offers great views of the waterfall. One of the best times to hike the falls is during the spring. It will be a bit muddy from all the rain, but the hike to the falls is surrounded by beautiful wildflowers.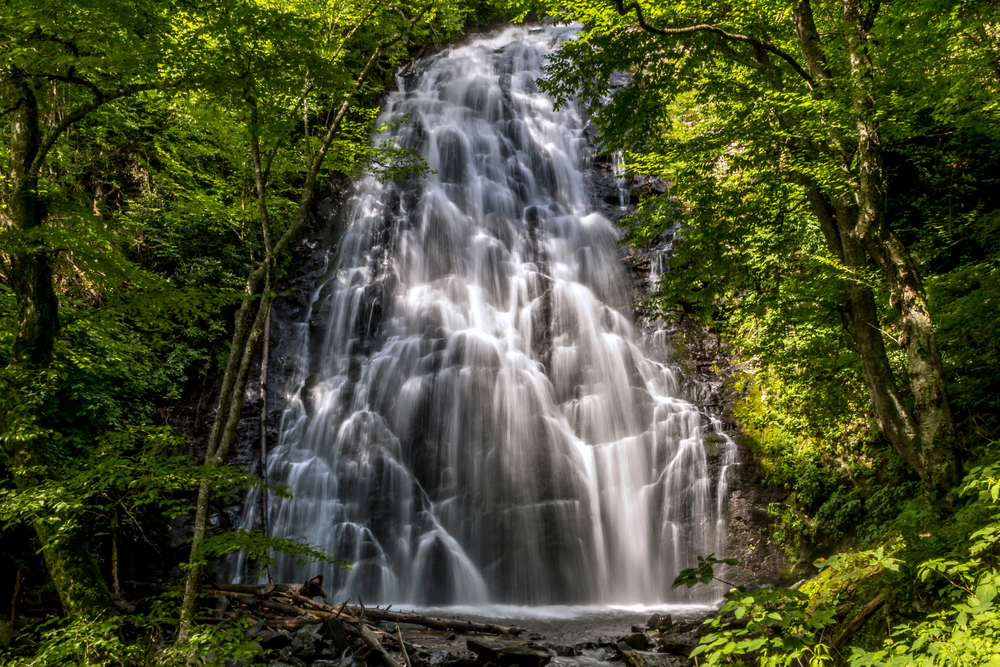 Stop 7: Museum Of North Carolina Minerals
Another fun stop on your drive of the Blue Ridge Parkway is the Museum of North Carolina Minerals. You can find this cute museum at Milepost 331. It is housed in a small stone building on the side of the the parkway. The museum is a favorite Asheville itinerary stop for kids.
Inside you'll find an interactive museum about the rocks and minerals that can be found all throughout North Carolina. There is a particular focus on minerals that are found within the area's Blue Ridge Mountains. Its a great stop to stretch your legs, learn more about the ecology of the area, and more.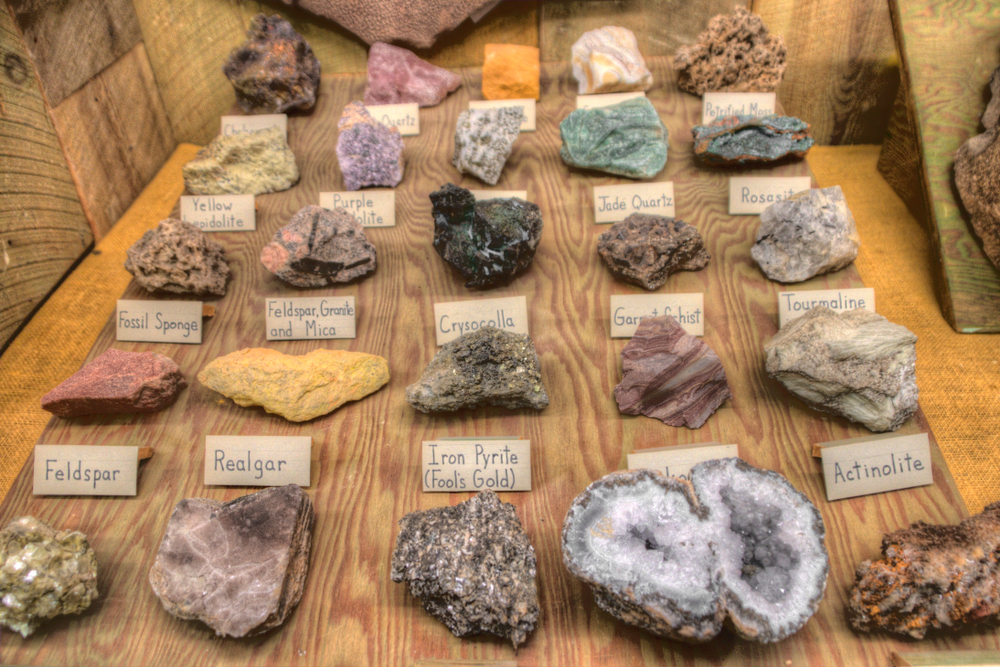 Stop 8: Linville Falls
Your next stop is another popular waterfall near Asheville on the Blue Ridge Parkway at Milepost 316.4. The Linville Falls are one of the most photographed waterfalls on the parkway and are a frequently visited. There are two falls that run into a gorge, the Upper and Lower Falls. The hike to the Lower Falls is much easier and is also the most popular.
You can continue on to a view of the Upper Falls and the gorge, but that is a more strenuous hike. At the visitor area for the falls there is a parking lot, but it quickly gets filled up. So you may need to park on the side of the parkway and walk a short distance to the visitor center and trail head. Keep that in mind as you approach this stop.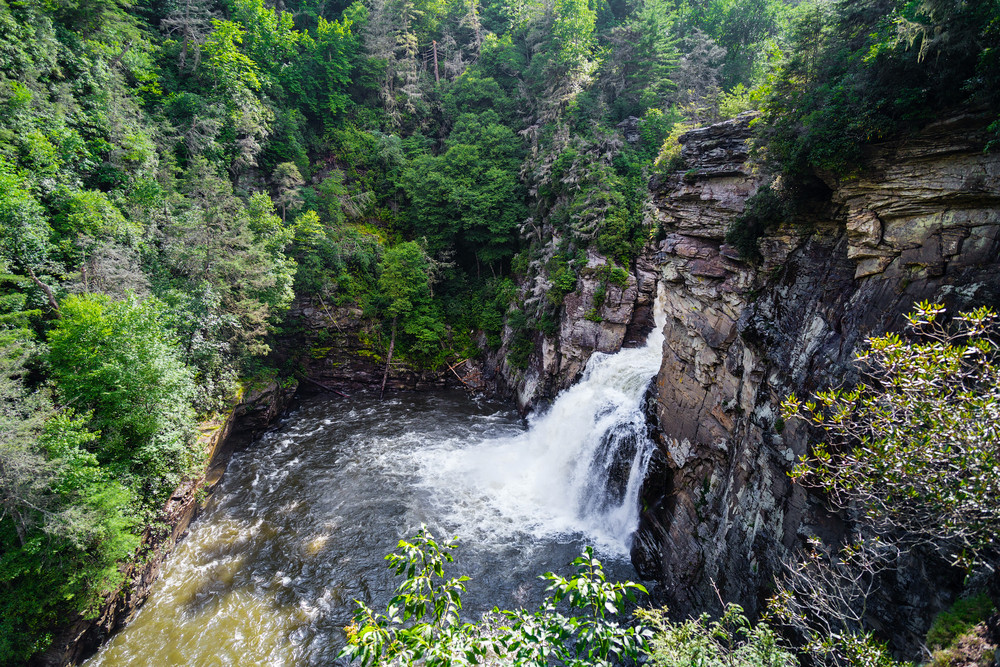 Stop 9: Grandfather Mountain Overlook
The second to last stop for your second day of your 3 days in Asheville is the Grandfather Mountain Overlook. Grandfather Mountain is one of the most iconic mountain peaks of the Blue Ridge Mountains. If you want to hike on Grandfather Mountain, you'll need to head off the parkway to the private Grand Father Mountain park.
But at Milepost 306.6 you'll find the Grand Father Mountain Overlook that shows the peak of the mountain. Its always a pretty view, no matter the weather. Grandfather Mountain Overlook is just a few miles from your last stop, so feel free to take your time admiring the view.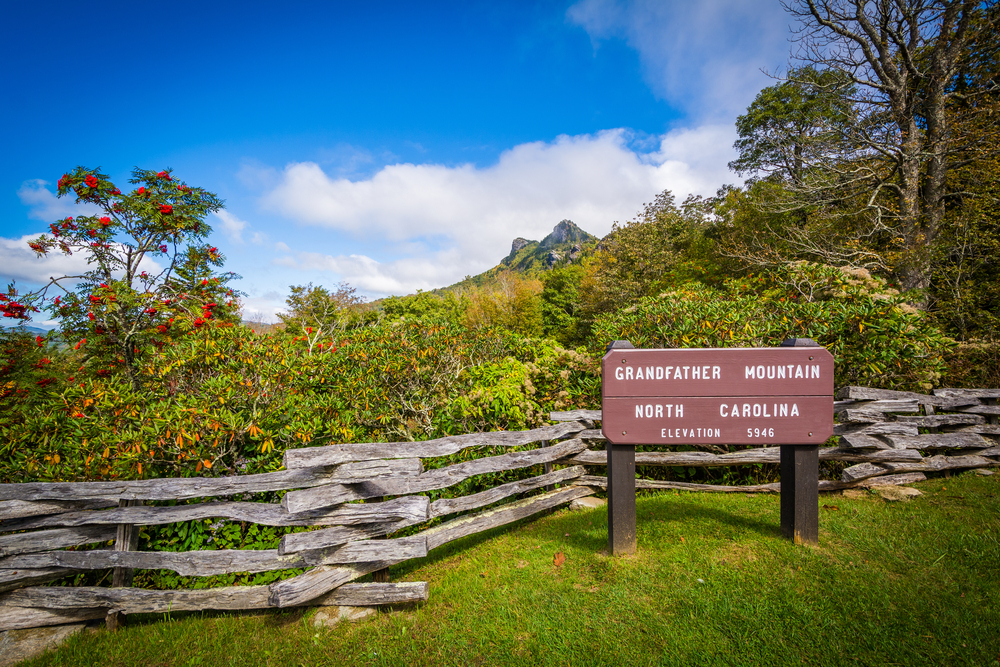 Stop 10: The Linn Cove Viaduct
You can't drive the Blue Ridge Parkway and not see the Linn Cove Viaduct. That is why Milepost 304.4 is our last stop on the parkway. The Linn Cove Viaduct is probably the most photographed area of the Blue Ridge Parkway because of it's unique design and engineering.
There are a few places you can pull over near the viaduct to get different views of the part of the road. There is also a visitors center where you can find a hiking trail that snakes under the viaduct and information on how it was built. After you've seen this iconic piece of the Blue Ridge Parkway, head back to Asheville. You can continue to stop at different overlooks, but if you drive without stopping, it's a little over an hour back to the city.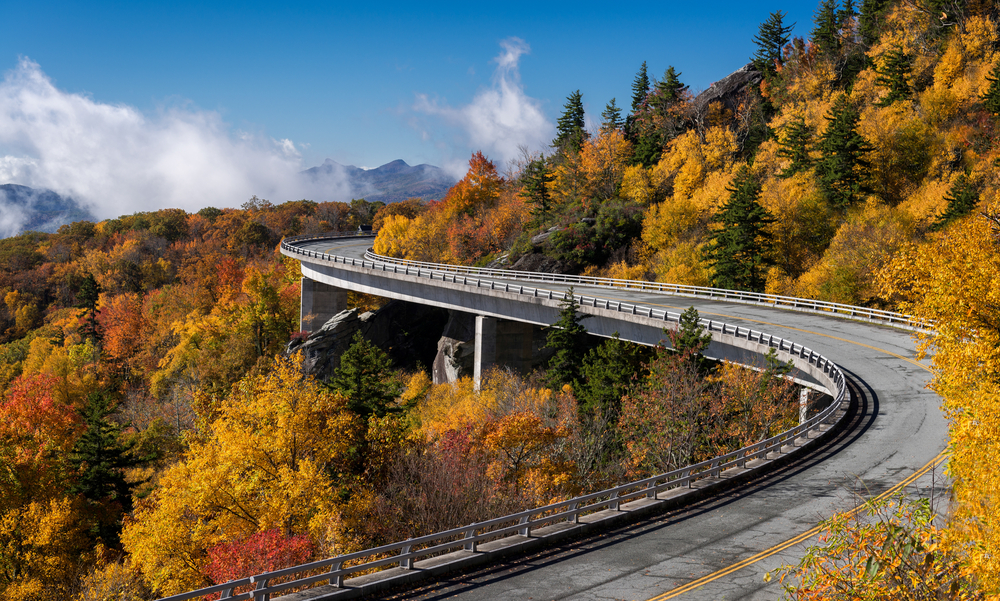 Day 3: The Biltmore And More
For your last day in Asheville you'll see the Biltmore Estate and spend a little more time exploring all Asheville has to offer. There is a lot to do and see at the Biltmore, so we highly suggest getting an early start to the day if you want to make sure you have plenty of time at every stop.
Stop 1: The Biltmore
The Biltmore Estate is a large privately owned estate that was built by George Vanderbilt, yes, those Vanderbilt's, in the late 1800s. The massive home is full of original furniture, art, and tapestries. It is a beautifully designed home both inside and out and you can take tours throughout almost every level of the house.
You will see a grand dining room, a massive private library, the original bedrooms, and more. On the lower floors there is of course the kitchens, but there is also a bowling alley, indoor pool, and a Halloween Room. It is a really unique piece of Asheville history that you absolutely will want to see at least once.
On the grounds directly around the home, you'll find a few shops, casual dining and cafes, and extensive gardens. There is also a conservatory full of exotic and tropical plants as well as hiking trails. It's an absolute must-see on any weekend in Asheville.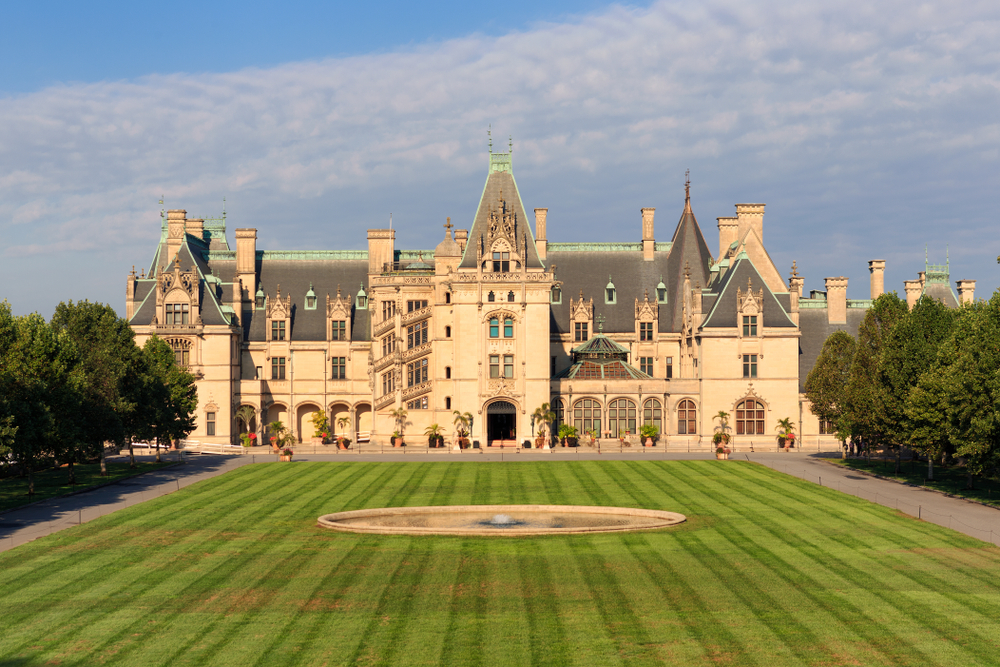 Stop 2: Antler Hill Village
After touring the estate and the surrounding gardens, head down the hill the to the Antler Hill Village. If you were going to skip anything at the estate, it should be the Antler Hill Village. It has restaurants, the estate's winery and wine sampling room, and a few shops. While it is cool, it's the most 'touristy' area of the estate, so if that's not really your thing, feel free to skip it.
The one thing we do suggest see at the Antler Hill Village is the Biltmore Legacy Museum. There are frequently exhibits being displayed in the main estate house that relate in some way. In the past they have done an exhibit with costumes from Downton Abbey and famous period fashions from Hollywood and pop culture. The Biltmore Legacy Museum is where the exhibits extend further and there is usually some really interesting stuff to check out in there.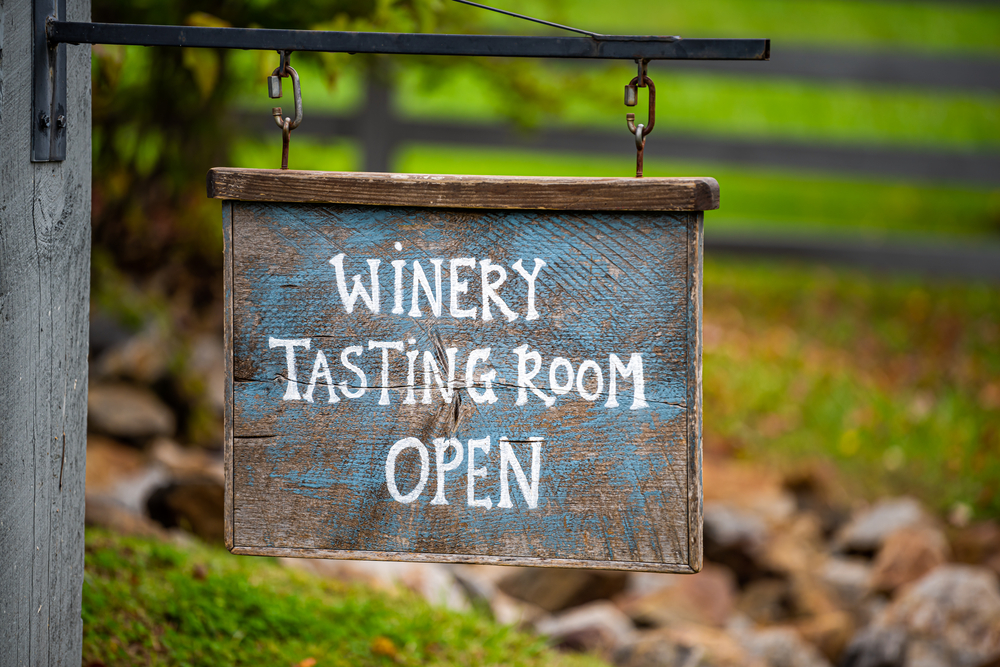 Stop 3: The Biltmore Village
Directly off the grounds of the estate, across the street, is the Biltmore Village. The Biltmore Village was originally built as homes for the servants who worked the estate. Now it is shops, art galleries, and restaurants. The buildings are all original and have been restored and cared for.
It's a really unique shopping experience and it feels like you're walking down a cobblestone street in Europe. If you haven't picked up a souvenir yet, this is a good place to do it. You'll want something to remember your weekend in Asheville. There is a little bit of everything here. It's also another great place to stop for a quick bite to eat.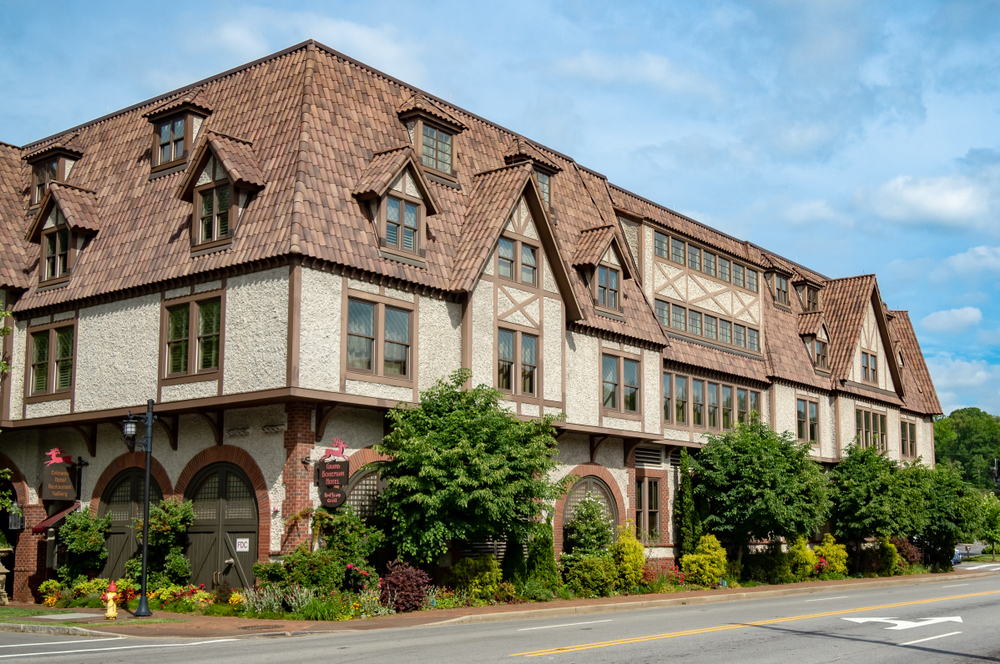 Stop 4: Asheville Brewery Tour
Asheville is becoming known for it's many breweries. So you should absolutely add a brewery tour to your weekend in Asheville plans. You can do a self guided tour yourself, or you can do a fun guided one like the Electric Bike Brewery Crawl. The guided tour lasts about four hours and takes you to some of the most popular Asheville breweries.
If you decide to do a self guided tour, you'll have a bit more flexibility. The city also offers a few options for planning your own brewery crawl. If you spend most of the morning at the Biltmore, a self guided crawl might be a better option for you. That way you can make it as short or as long as you need or want to.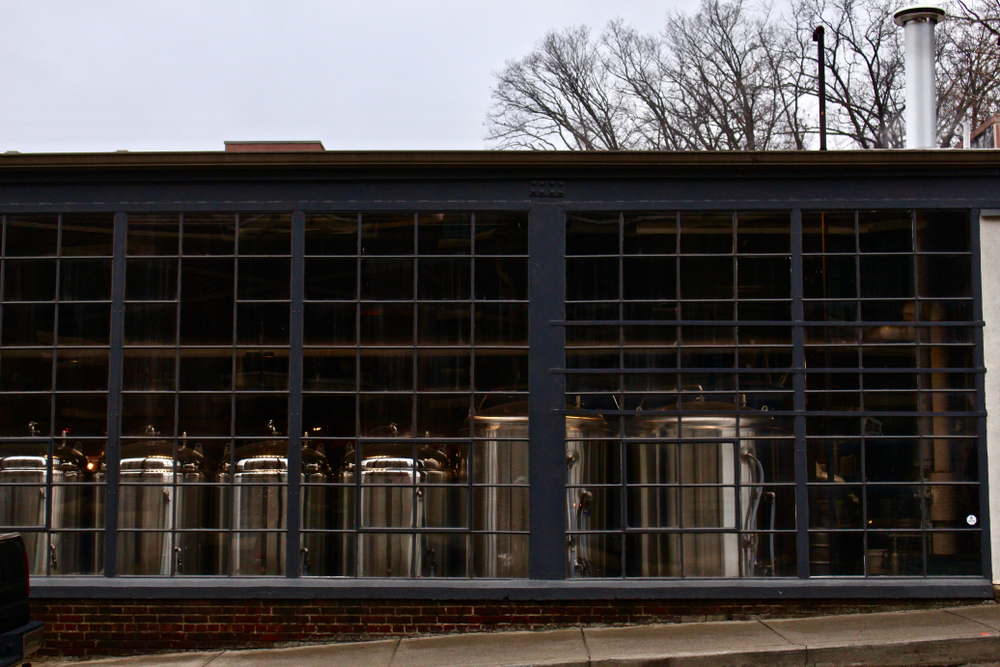 Stop 5: Pack Square Park
Walk off your drinks in Pack Square Park. Pack Square Park is a community park that began construction in 1901. It is a popular part of the city as it is around some of the most popular and iconic architectural landmarks in Asheville.
Depending on when you visit for your weekend in Asheville, you may find a live performance taking place in the park. There is a permanent stage and in the warmer months, you'll frequently find live entertainment. The park is a beautiful place to wander before heading to dinner.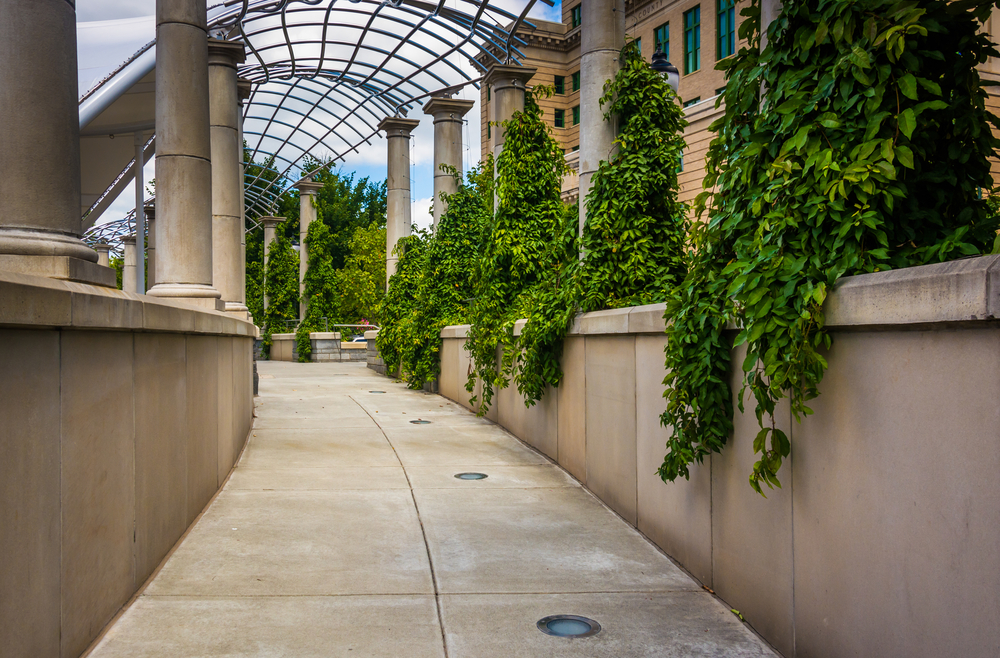 Stop 6: Dinner At Omni Grove Park Inn
Omni Grove Park Inn is one of the most popular resorts in the United States, and it's in Asheville. It is a very pricey resort that was built in 1913, shortly after Asheville started to become a popular mountain resort town. The inn has had ten presidents, countless famous actors and actresses, athletes, writers, and artists stay in it's opulent Arts and Crafts style rooms.
If you want to experience a bit of the glamorous and historic Omni Grove Park Inn before you head home, we suggest a reservation at one of the many restaurants. There are bars, terrace restaurants, and even casual dining options in the hotel. So while it will still be a bit pricey, you can find a restaurant at this famous Asheville hotel that best fits your price range. It's a really nice way to end your weekend in Asheville.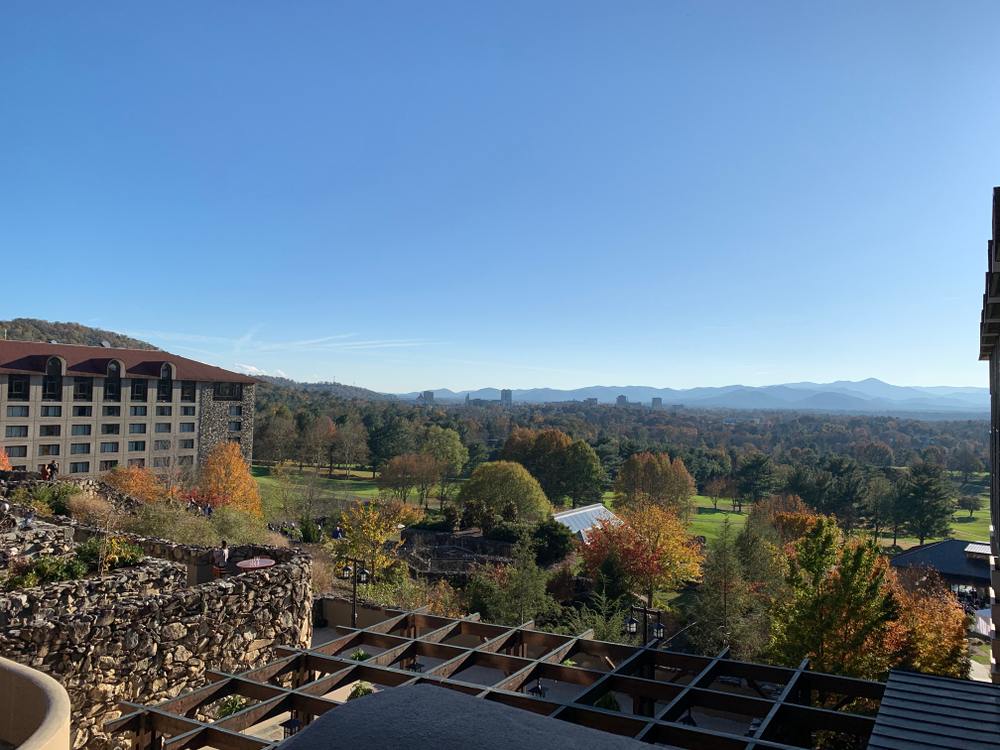 Where To Stay For A Weekend In Asheville
Asheville Studio Cottage
The Asheville Studio Cottage is a super cuter Asheville VRBO. It's a great option for a couple looking to make their trip to Asheville a more romantic one. It's a studio, so the bedroom, living room, and kitchen are all in one space. It is just a mile north of the downtown area and centrally located.
Click here to check rates on VRBO.com
Aloft Asheville Downtown
The Aloft Asheville Downtown is a fun modern hotel in the heart of downtown Asheville near the River Arts District. You'll be within walking distance to the Art Museum, several breweries, and Pack Square. It's a really fun hotel that is perfectly located. Don't forget to check out our list of the best boutique hotels in Asheville!
Click here to check rates on Hotels.com
Luxury Downtown Loft
The Luxury Downtown Loft is a one-bedroom loft apartment at the historic S&W building in downtown Asheville. The Art Deco building has been beautifully restored and inside you'll find a gorgeous Asheville VRBO. There is one bedroom, a fully equipped kitchen, and a cozy living room.
Click here to check rates on VRBO.com
The Beaufort House Inn
The Beaufort House Inn is a classic Bed and Breakfast in Asheville. It is about 1/2 a mile from downtown Asheville on a beautiful 1.5 acres of land. The home was built in 1894 and is a stunning and quiet place to stay in Asheville. You'll be close to some of the best attractions in Asheville and get to stay in a historic home.
Click here to check rates on Hotels.com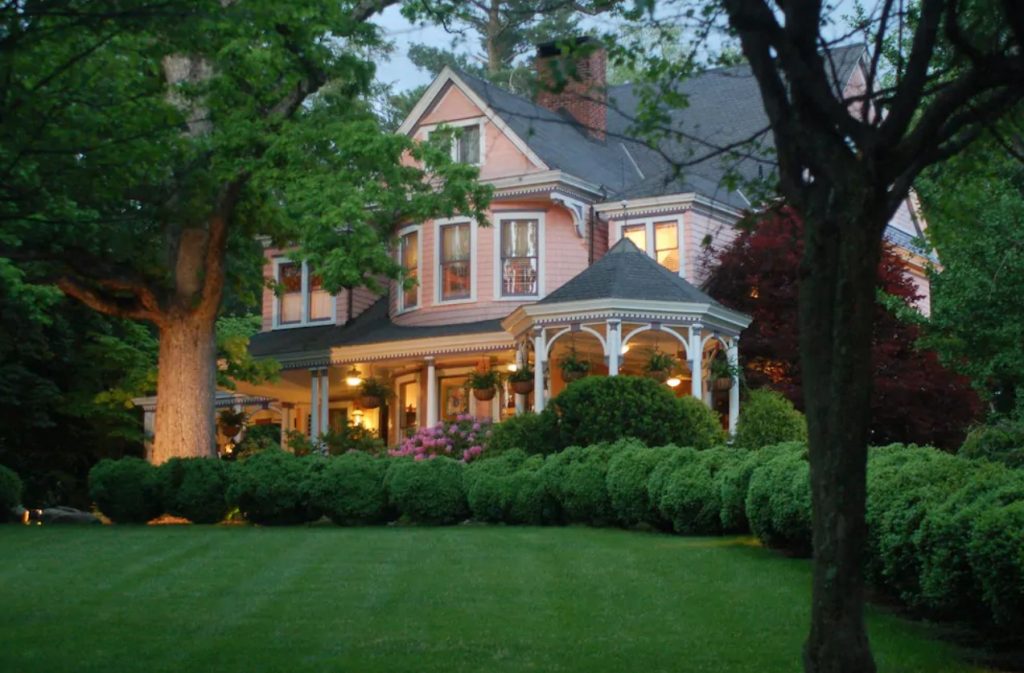 Where to Eat During Your 3 Days In Asheville
There are tons of tasty restaurants in downtown Asheville. From southern comfort food, delicious and authentic Mexican cuisine, and eclectic fusion restaurants there is something for everyone. Asheville is a city made for foodies and you'll find some super unique eateries around the city. Here are some of our personal favorites!
Early Girl Eatery
For an amazing breakfast you'll want to stop by the Early Girl Eatery. It is a great little restaurant that serves classic southern comfort food daily from 8 am to 8 pm. It has been open for 20 years, so it is a staple for visitors and locals traveling to Asheville. From classics like omelets and coffee to biscuit French toast, it's a super tasty place for breakfast in Asheville!
Mellow Mushroom
If you are in the mood for pizza, head to Mellow Mushroom. Mellow Mushroom is a popular pizza restaurant in North Carolina and is known for it's 'hippie atmosphere' and fun menu. You can completely customize any pizza or choose from one of the house favorite recipes. If you're not in the mood for pizza, they also have wings, sandwiches, and even burgers. Mellow Mushroom is a great casual dining option in Asheville.
Limones Restaurant
Asheville has some really interesting fusion restaurants. One of those is Limones Restaurant. Limones is run by Chef Hugo who mixes classic Mexican cuisine with French and Californian influences. It is a super unique dining experience in Asheville. You can find menu options like Lobster Mac and Cheese, Lamb Ragout Chile Relleno, and Vanilla and Orange Flan. If you want to try something different while you're visiting Asheville, Limones Restaurant is a great option.
Tupelo Honey Cafe
Tupelo Honey Café is one of the best restaurants in Asheville, especially if you are in the mood for southern food. The ingredients are locally sourced and very high quality, yet you'll find it's all very affordable. It is open daily for breakfast, lunch, and dinner, so you can really stop by anytime and get a delicious meal. They have biscuit sandwiches, fried chicken, and so much more. Tupelo Honey Café is a must-eat restaurant during your weekend in Asheville.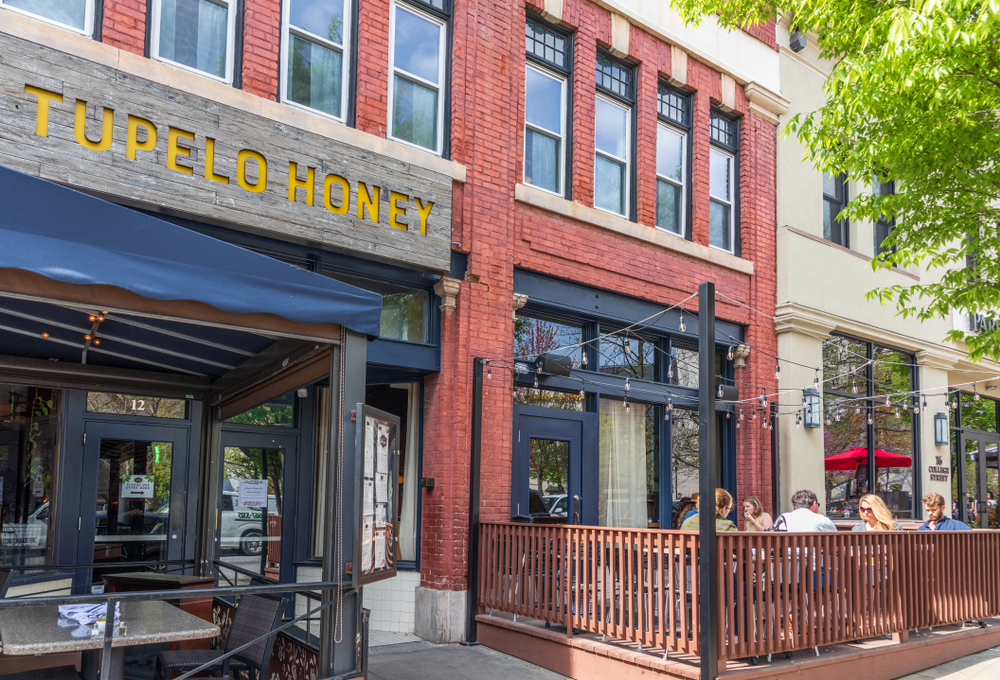 There are so many fun and interesting things you can do during a weekend in Asheville. It is a great city in the mountains that has a little something for every type of traveler. We hope this Asheville itinerary has inspired you to visit this beautiful mountain city and explore all it has to offer.