If you're looking for a fun North Carolina road trip, then you've come to the right place. Southern Trippers has researched, mapped out and detailed every single best North Carolina road trip you could possibly take!
Whether you're looking for a family-friendly North Carolina road trip through the big cities, or an adults-only romp in the vineyards, there's something for you!
Artists and history buffs will love trips that feature the North Carolina Pottery Center and even stops at some of the state's most historic sites. You can even see some of the most beautiful waterfalls!
At the very least you can enjoy a North Carolina road trip to see the leaves change. There could be nothing more romantic! So pack up the car and hit the road for these very best North Carolina road trips.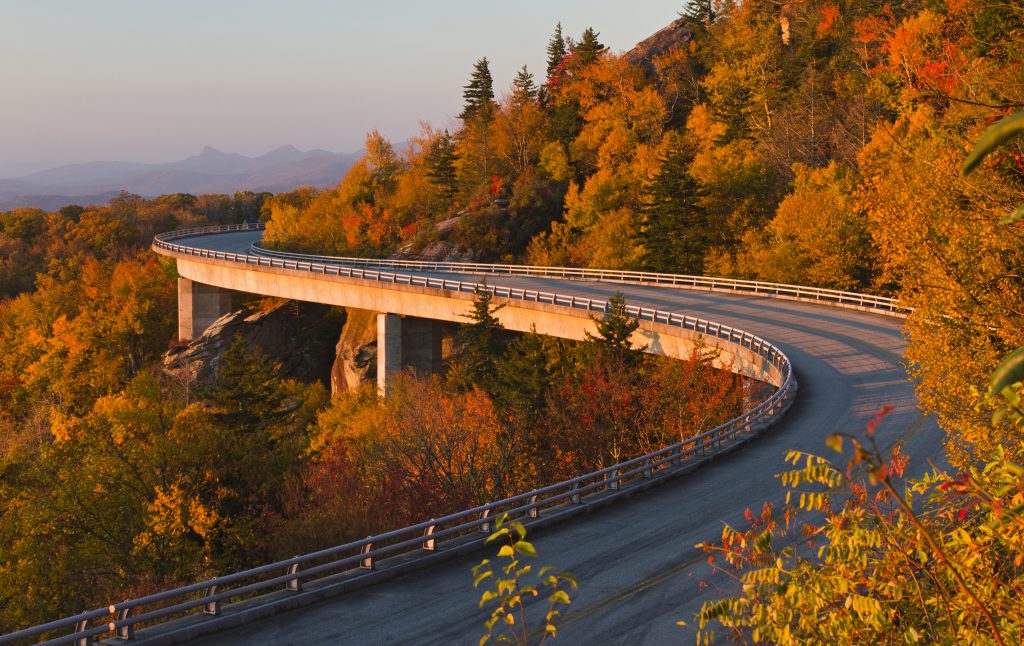 15 Fun North Carolina Road Trips For Your Bucket List
Cape Hatteras National Seashore
Highlights
Roanoke Island
Cedar Island
Points Harbor
As you drive the Cape Hatteras National Seashore on the coast, you'll be be able to see some of the most beautiful beaches, museums, and even lighthouses!
Start in Points Harbor and head towards Ocracore. Make sure your camera has space for the stunning vistas of US-158. Then hit up Jockeys Ridge State Park!
Then head west to Roanoke Island to learn the area's spooky history. You can even tour a reproduction of the Elizabeth II, a merchant ship. You can set the sails, swab the deck, and raise the anchor with actors in costumes.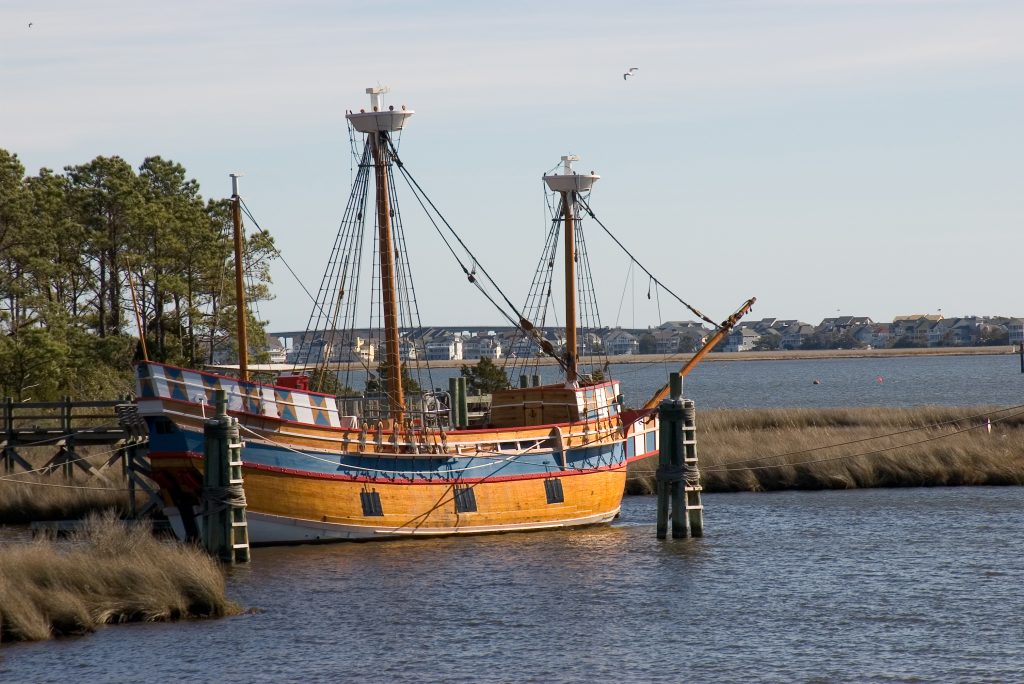 NASCAR Road Trip
Highlights
Charlotte Motor Speedway
Dale Trail
Moorseville
No doubt if you love NASCAR, then your next North Carolina road trip needs to start at the Charlotte Motor Speedway. Even though races are in May, the track will still be open to visitors.
Then in Kannapolis, visit the hometown of Dale Earnhardt. Take the Dale Trail through his childhood neighborhood to see his racings humble beginnings.
Lastly, head to Moorseville, where you can see the racing garages of Penske and DEI. Many other racing teams' garages are open with huge showrooms with their winning cars.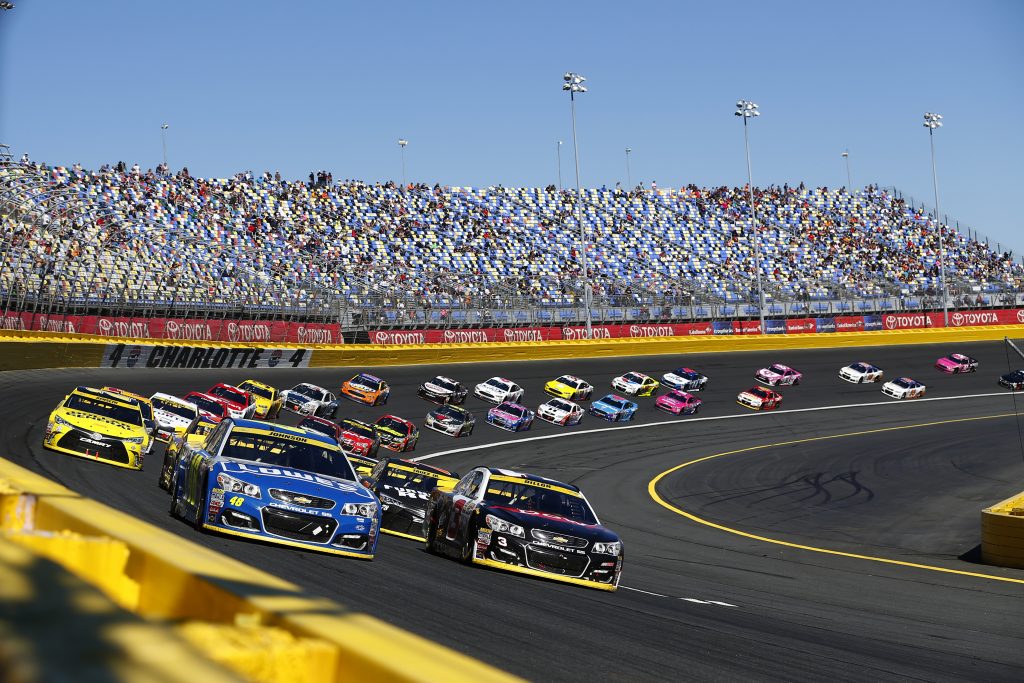 North Carolina Waterfalls Road Trip
Highlights
Linville Falls
Crabtree Falls
Looking Glass Falls
Moore Cove Falls
This North Carolina road trip will take you north to south across the state to see some of its most breathtaking waterfalls! Definitely bring your camera, and don't be afraid to get a little bit wet!
First, begin at Linville Falls near the Blue Ridge Parkway. There is a relatively easy four-mile hike, but then you're afforded views from five different lookout points. Crabtree falls isn't too far away either, and is equally beautiful.
Then head down to Looking Glass Falls, where you can actually take a nice swim in the hot summer months. Next hit up, Moore Cove Falls. This waterfall looks like something out of a video game where you can walk behind the falls.
Cove Creek Falls will be your most family-friendly waterfall for kids and adults! Finally, take in the awe of Whitewater Falls. 811-feet high, this is the highest waterfall east of the Rocky Mountains!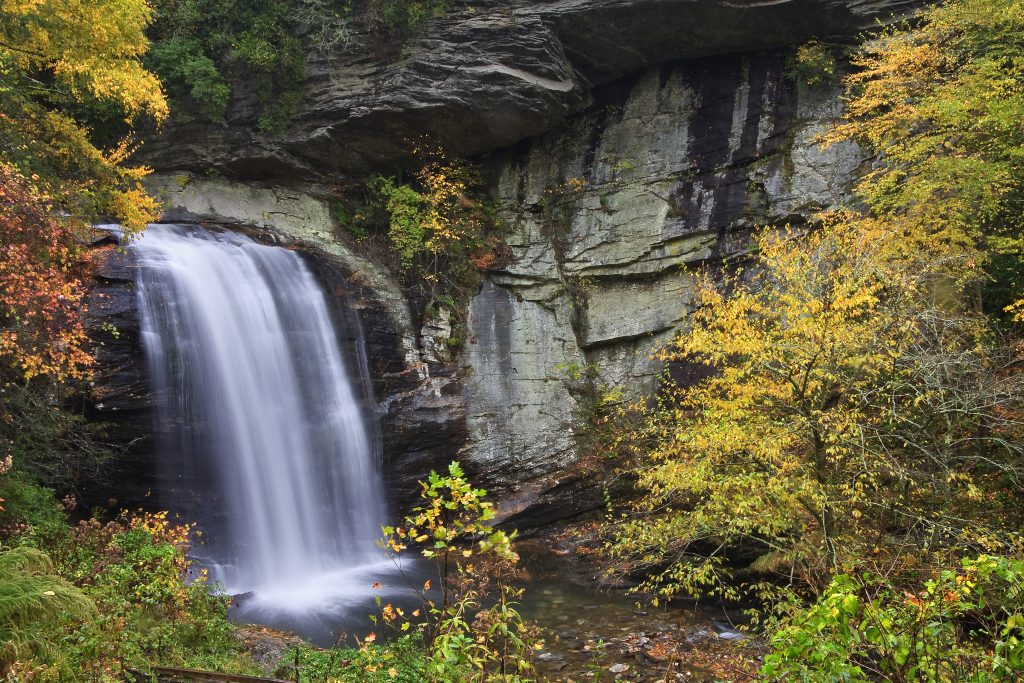 Haunted Road Trip
Highlights
Great Dismal Swamp
Maco Lights
Devil's Tramping Ground
Grove Park Inn
You'll experience some history on your other North Carolina road trips, but it's time to get get spooky! This North Carolina road trip is best taking in the fall months to get ready for Halloween!
First, visit the Great Dismal Swamp. Dreary and dead-looking, this site inspired novelist Harriet Beecher Stowe. An overnight stay at an Airbnb will make your time here extra spooky. You might hear sounds or see a ghost!
Next, stop at the Maco Lights, where a man named Joe Baldwin was decapitated by a train. Then, head to Cry Baby Lane where a fire destroyed an orphanage outside of Raleigh.
Visit the Devil's Tramping Ground, a circle where nothing will grow. Finally, stay at the Grove Park Inn where the infamous Pink Lady fell to her death from a fifth-floor balcony.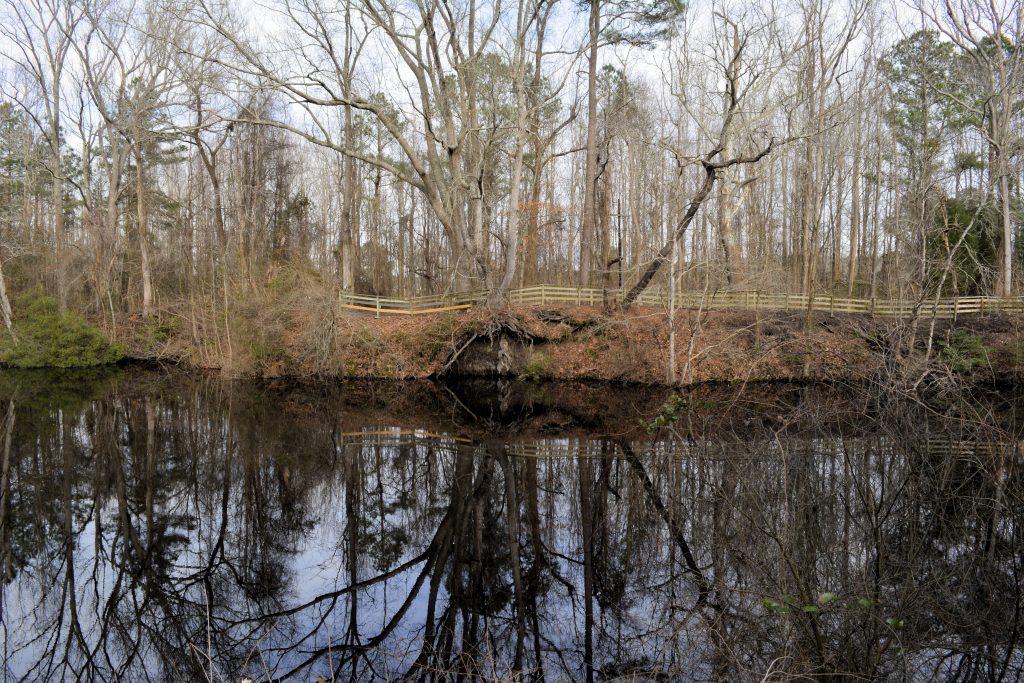 Blue Ridge Parkway Road Trip
Highlights
Cumberland Knob
Rough Ridge Trail
Crabtree Falls
Little Switzerland
Of the road trips in North Carolina, the Blue Ridge Parkway may be the most infamous. Running 469 miles through the state, you'll see the Great Smokey Mountains, waterfalls, and more!
Along America's longest National Parks Unit road, stop at Cumberland Knob with scenic views and a beautiful recreation area. Linville Falls is just down the road as well!
Make sure to visit the Moses H Cone Memorial Park, a beautiful park with cross-country skiing, horseback riding, and more! There's even a gorgeous mansion to tour.
Next up, make sure to hit up the jewel of the Blue Ridge Parkway, Little Switzerland. It perfectly channels the area with quaint shops, charming eateries, and an infectious atmosphere. Then down the road, get your cameras ready for Crabtree Falls.
Little Switzerland is truly one of the best Mountain Towns In North Carolina!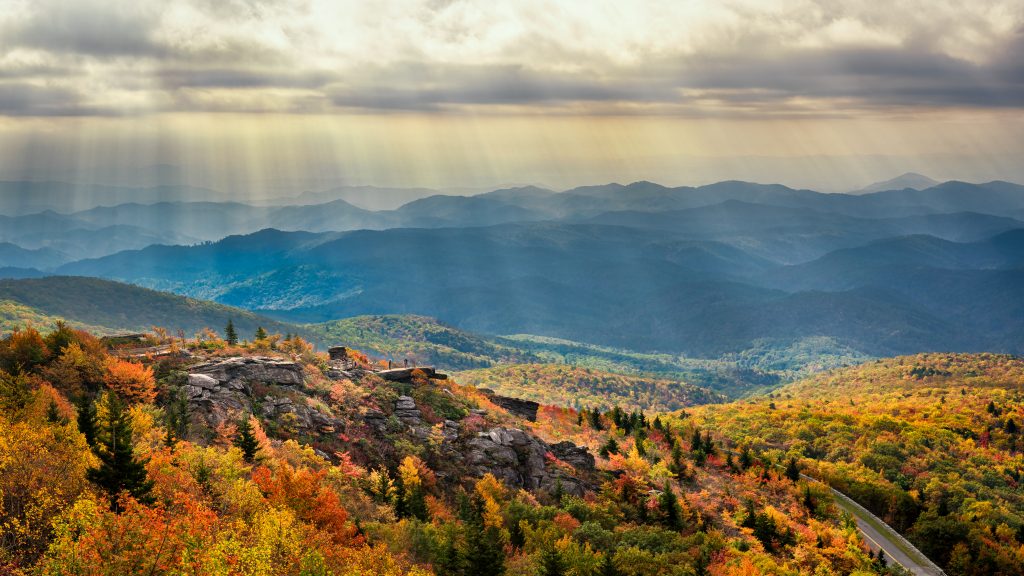 Forest Heritage Scenic Byway Road Trip
Highlights
Looking Glass Falls
Pink Beds Hike
Cradle of Forestry
This next North Carolina road trip not only affords you views of some great waterfalls, but it's an excuse to visit Brevard!
Start in the Sycamore Flats Picnic Area where you'll head past Looking Glass Falls. Then you'll pass some other waterfalls like Moore Cove and Sliding Rock.
As you near Asheville, make sure you stop at the Cradle of Forestry. Rhododendrons cover the Pink Beds that make up the area, making a truly beautiful photo opportunity.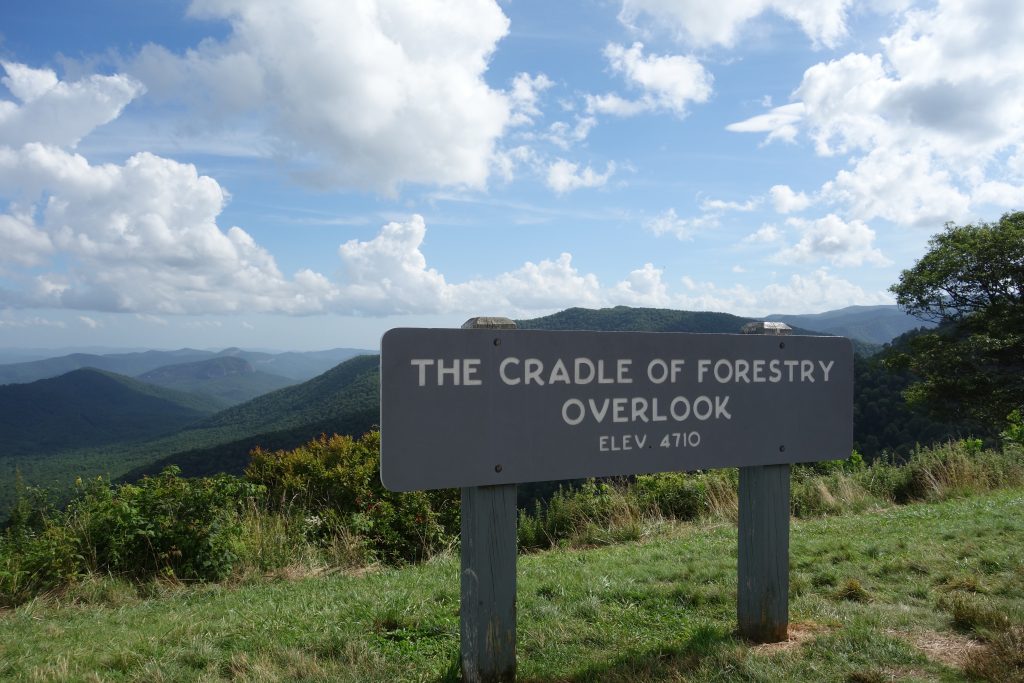 Little Parkway Road Trip
Highlights
Mile-High Swinging Bridge
Green Mountain Creek Falls
Moses H. Cone Memorial Park
This North Carolina road trip takes place on US 221 between Blowing Rock and Linville. You're on the Little Parkway! While short, this curvy stretch of the highway connects some beauties on the side of Grandfather Mountain.
Pass the entrance to Grandfather Mountain State park and then you'll find the Mile-High Swinging Bridge. While horrifying to some, you can walk across this terrifyingly high bridge with a spectacular view of the mountain.
Next, hit up the roadside Green Mountain Creek Falls. It's a small stop and its not out of your way, so it's definitely worthy of the stop.
Lastly, continue on and you'll pass the charming town of Westglow to get to the Moses H. Cone Memorial Park. Here enjoy horseback riding, and a lovely tour of the mansion that calls this park home.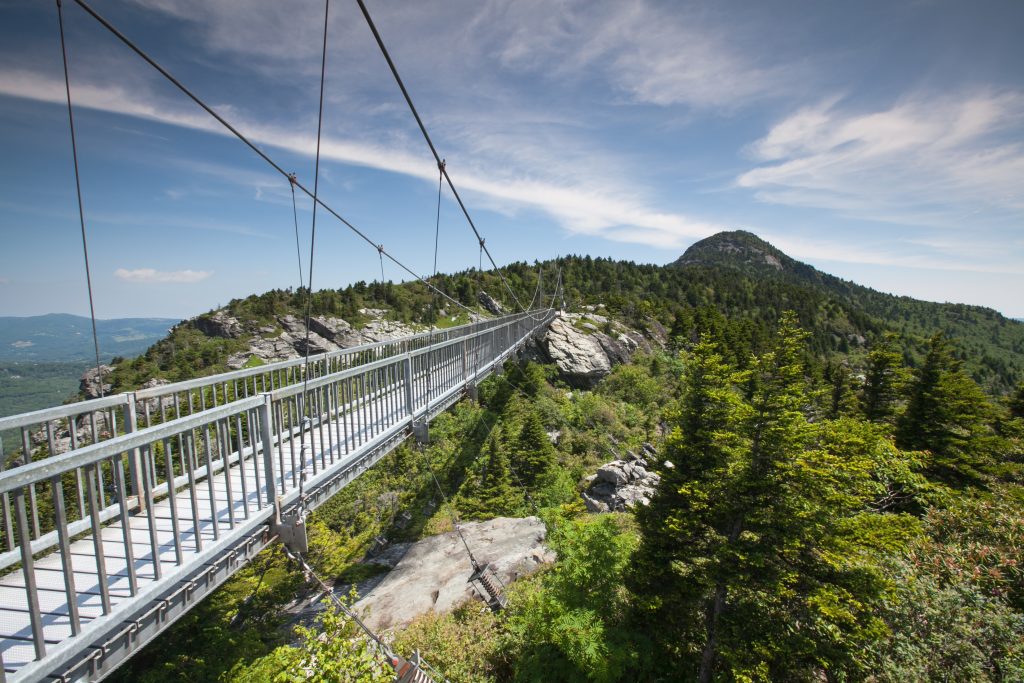 Mount Mitchell Road Trip
Highlights
South Toe River Valley
Madison
Yancey
Blue Ridge Parkway
This North Carolina road trip will take you to the top of Mount Mitchell. While you climb thousands of feet in your car, your ears will definitely pop, so bring some gum for the ride!
You'll pass the South Toe River Valley, where you can enjoy fishing. You might even see a few neon orange-red eft salamanders, yourself!
Make sure to stop off in Madison and Yancey for some delicious breakfasts and to pick up some homemade jellies and jams. You'll ascend further on the Blue Bridge Parkway and its views before turning onto NC 128 for the final, breathtaking ascent.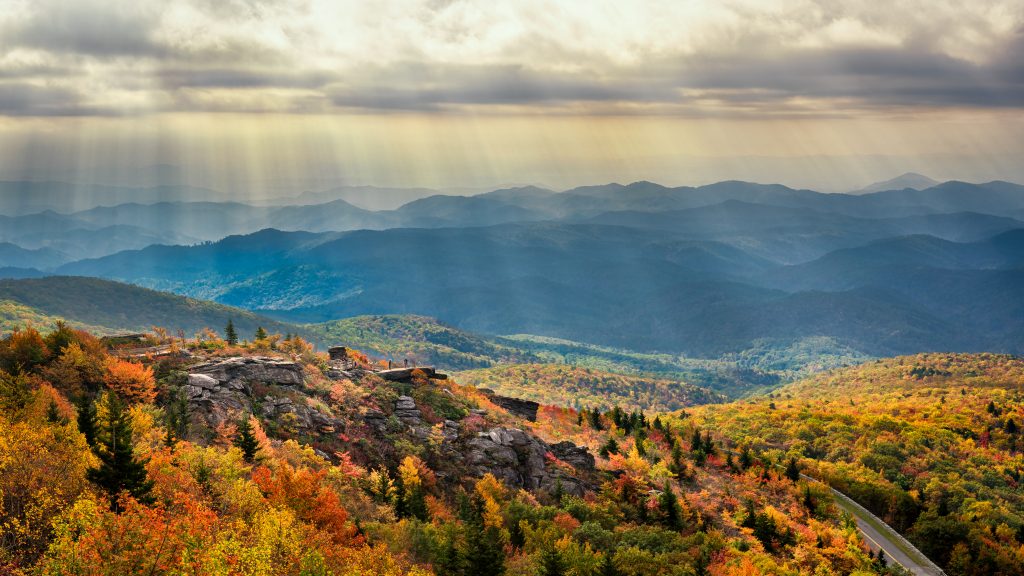 Pisgah Loop Road Trip
Highlights
Pisgah Loop Scenic Byway
Linville Falls
Wisemans View
History buffs, rejoice, this North Carolina road trip will take you along the Pisgah Loop Scenic Byway. Here you'll be following the same path used by Kirk's Raiders in the Civil War
As you get to Pisgah National Forest, you'll be able to see Hawksbill and the gorgeous Table Rock Mountain. You'll cross the Linville River, then continue onto the Kistler Memorial Highway.
As the road turns to unpaved areas, don't worry. Keep going and you'll explore Linville Falls and Wisemans View. Make sure to check out the High Country hikes here, too.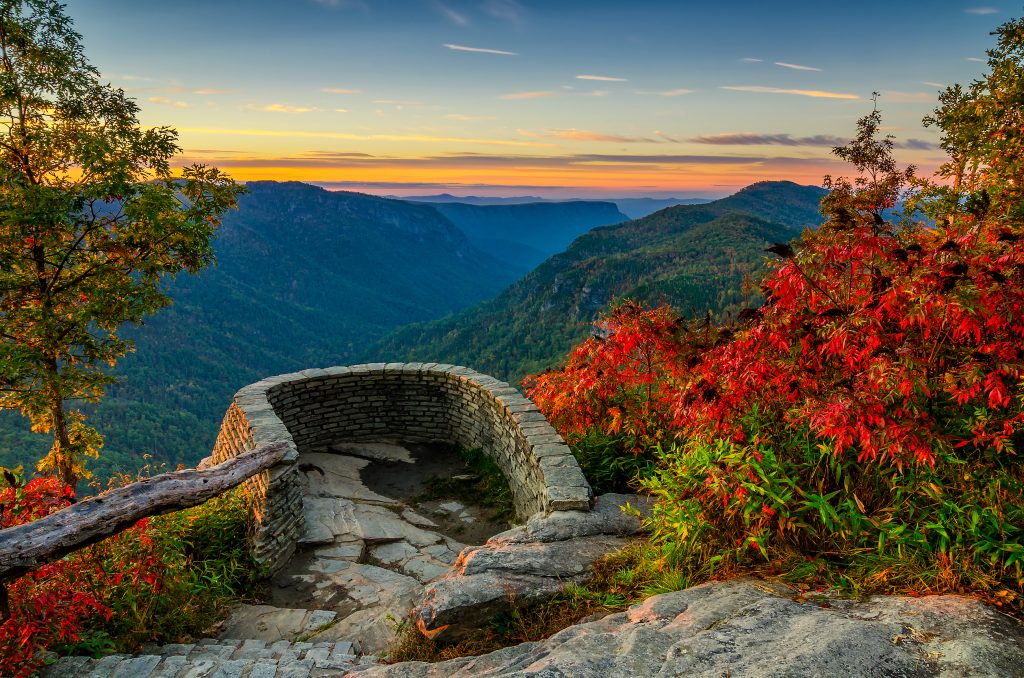 Vineyards Road Trip
Highlights
Brushy Mountain Winery
Shelton Vineyards
Pilot Mountain
This North Carolina road trip is not for the kids, so find a sitter. If you like a little scenic road trips with your wine, then you'll want to take the Yadkin's Valley Scenic Byway with time on farmlands, foothills, and mountain terrain.
As you begin in Elkin, you'll cross the Yadkin River and hit a slew of North Carolina wineries! Up comes the Brushy Mountain Winery, RagApple Lassie Vineyard and Winery, and Shelton Vineyards
Make sure you check each wineries' special offers, tours, and tastings. Some have restaurants on the premises, and others will allow you to bring a picnic lunch while enjoying a glass on the grounds.
Inbetween every vineyard, you'll be able to see lush, rolling mountainside. Look out for the Amish-owned general stores for some true oddities. You'll also be able to grab a sighting of Pilot Mountain along the journey!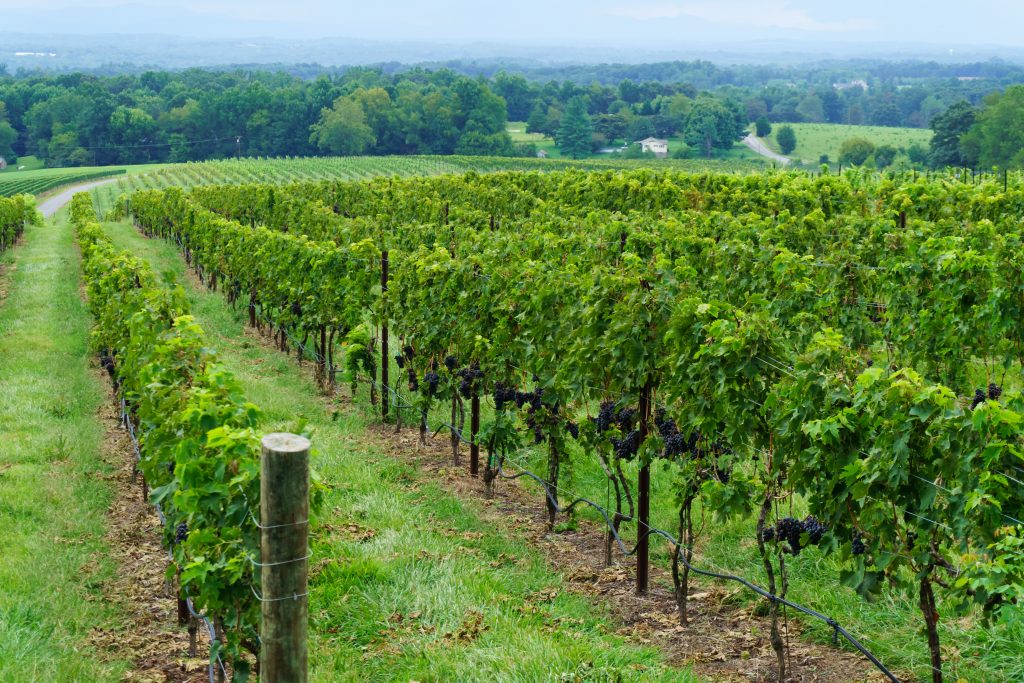 Pottery Road Road Trip
Highlights
North Carolina Pottery Center
Whynot community
Cedar Road
Pinehurst
This North Carolina road trip is perfect for art lovers, especially potters. The Pottery road trip will give you a hands on look at the area's first potters and their creations.
Start at the North Carolina Pottery Center. The docents will give you information about which specific potters and studios to visit on your drive. You'll also see an incredible collection here, and have the ability to take classes.
Then continue on 705 where you'll pass the well-known potters of Seagrove and Randolph County. You'll also pass the Whynot community. People there couldn't decide on a name for their post office, so they agreed on "Why not!"
Finally, you'll ass through Westmoore and Robbins. Ask the locals about the town's interesting history before driving through the tree-lined Cedar Road and Eagle Springs.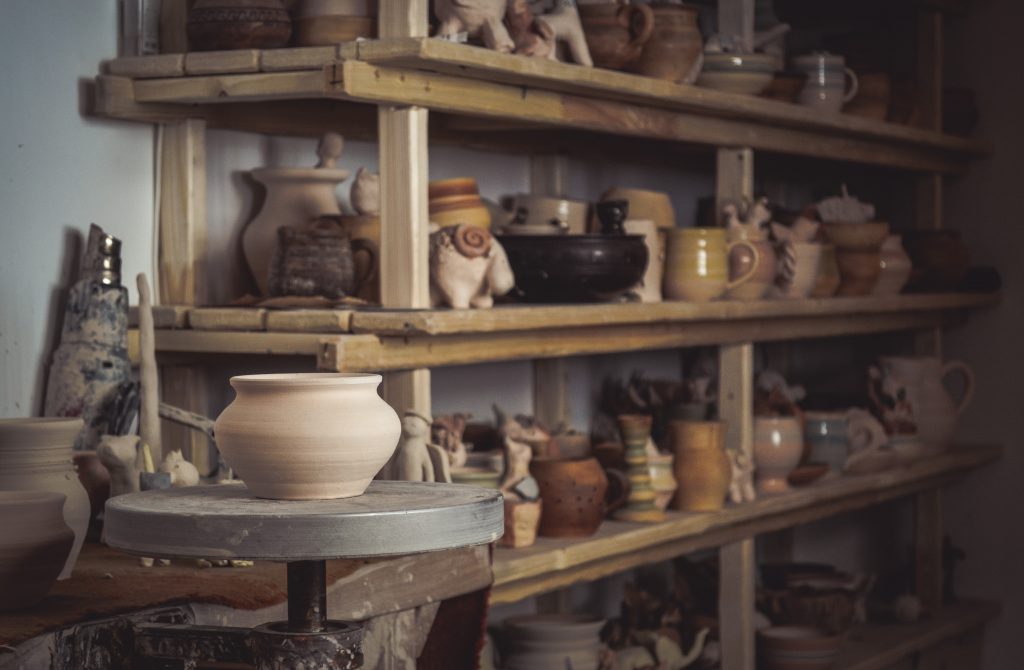 Uwharrie Scenic Road Trip
Highlights
Southern Grace Distilleries
Reed Gold Mine
Lick Creek Baptist Church
North Carolina Zoo
When you need a break from the hustle and bustle of Charlotte or Greensboror, hop off around Concord County. You'll be lead to Asheboro and the Uwharrie Scenic Road.
Along the way, you'll see the beautiful Uwharrie Mountains and Mount Pleasant. Make sure to stop off at Southern Grace Distilleries for a tour and a tasting.
Then you can check out the Reed Gold Mine in Midland, where you can walk through the old mine! Then you can go to Lick Creek Baptist Church, one of Davidson County's oldest landmarks.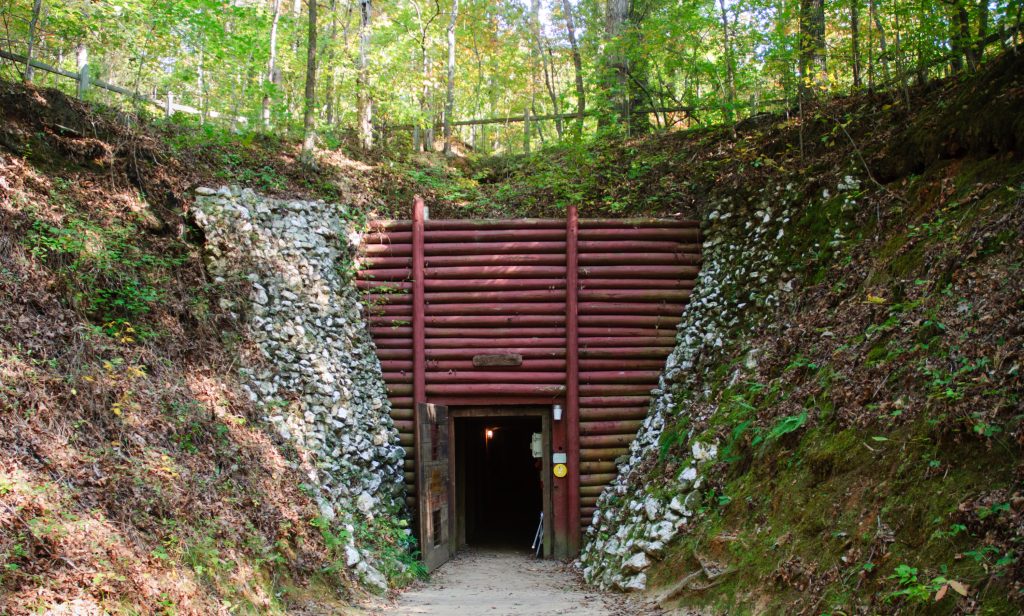 Meteor Lakes Road Trip
Highlights
Cape Fear River
Turnbull Creek Valley
Jones Lake
Singletary Lake
On this North Carolina road trip, you'll take the Meteor Lakes Byway where it meets Elizabethtown at US 421. Here you'll see some of the most beautiful bodies of water North Carolina has to offer.
The road first crosses the iconic Cape Fear River (try not to hum those four notes from The Simpsons) into Bladen Lakes State Forest. This is where your waterway journey begins.
These three great Carolina bays, or meteor lakes, are believed to have been formed from meteor showers many years ago. Here you'll find Jones Lake, Singletary Lake, White Lake, and just outside the park, Lake Waccamaw.
NC 242 between Elizabethtown the highway's intersection with US 421 is also known as the Meteor Lakes Byway. The road crosses the Cape Fear River and passes through Bladen Lakes State Forest.
That's where you'll find three Carolina bays or meteor lakes. They are believed to have formed following meteor showers many many years ago. The bays give this Eastern North Carolina byway its name and include Jones Lake, Singletary Lake, and White Lake inside the park and Lake Waccamaw just outside it.
For additional fun, you can just continue west on NC 242 from Elizabethtown to go on the North Carolina's Green Swamp Byway for some more watery goodness.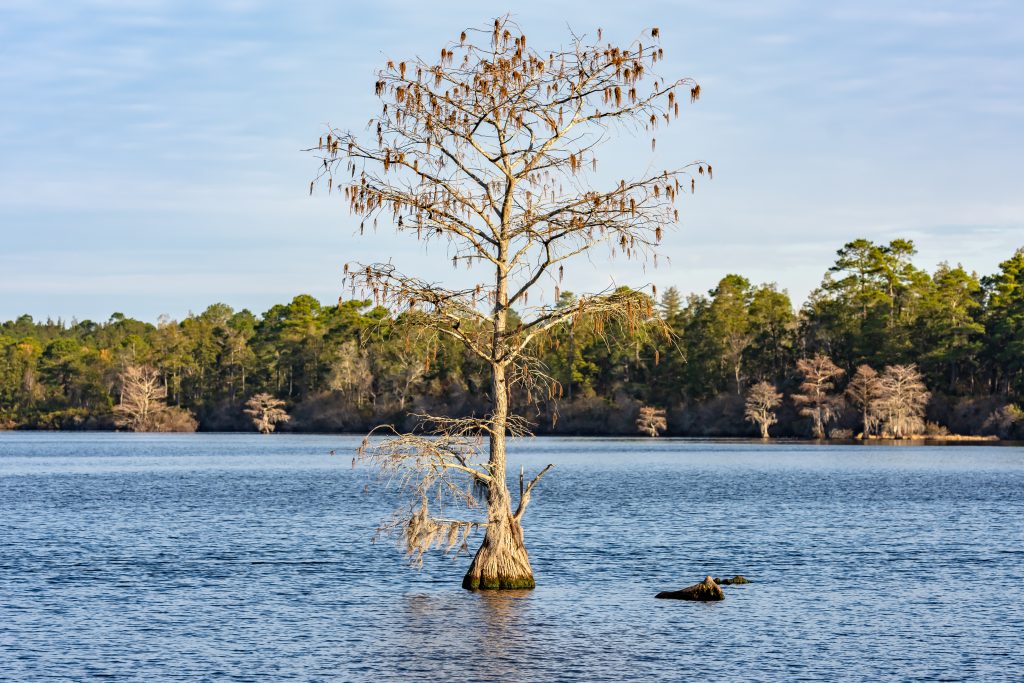 Fall Foliage Road Trip
Headings
Chimney Rock
Linville Gorge
DuPont State Forest
Let's face it, there's nothing better than watching the leaves change colors in the fall, and this North Carolina road trip will let you see the best of the best. Start at Grandfather Mountain and head south.
As you head towards Asheville, then veer east for Chimney Rock. A 535-million-year old granite monolith, its totally climbable. From here, you'll get a 75-mile panoramic view of the leaves of Hickory Nut Gorge and Lake Lure.
Then you'll head south to DuPont State Forest. Here you'll find waterfalls, hiking trails, camping spots. This is truly the best place for a weekend of fall foliage.
Finally head to Max Patch for something completely different. Near the Tennessee border, this is a grassy bald. From the top of this completely open field, lay down a picnic blanket and take in 360-views of the mountains and the leaves.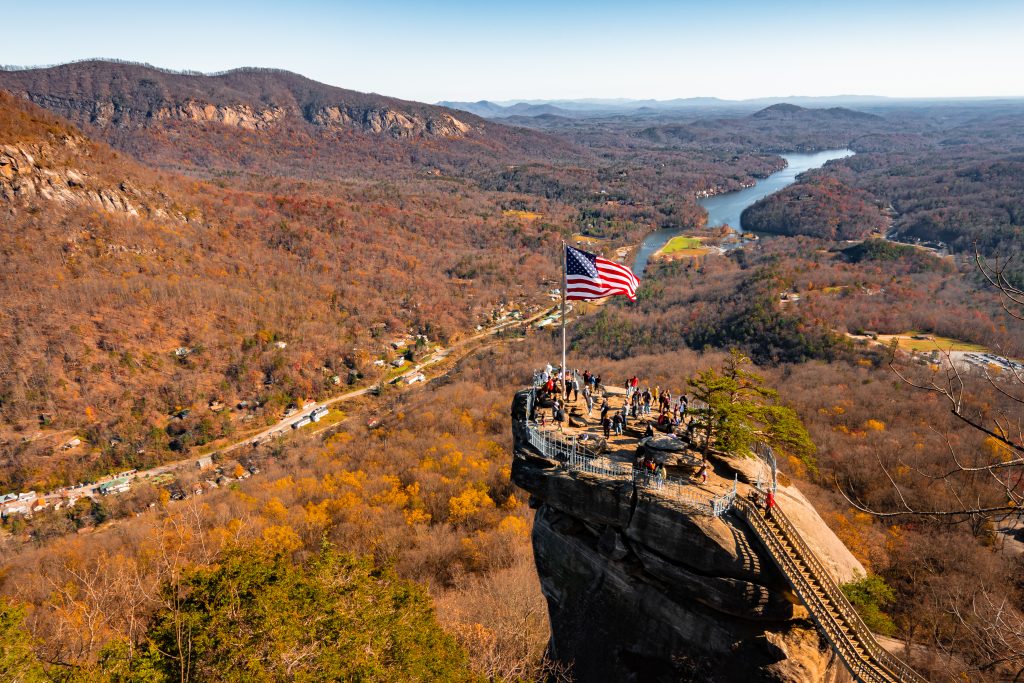 Piedmont Triad Road Trip
Highlights
Andy Griffith's childhood home
Old Salem
Bennett Place
Duke Homestead
The Piedmont Triad road trip will take you through three of North Carolina's largest cities. But on this North Carolina road trip, you'll get to truly appreciate the small, rural surrounding towns and their charm.
Start in Mount Airy to see Andy Griffith's childhood home. Here, history still has a strong foothold on the community. Make sure to grab the famous pork chop sandwich at Snappy Lunch.
Then head on US 52 to Old Salem. Founded by the Moravians in 1766, this colonial village represent living history. Stop by the Winkler Bakery for Moravian sugar cookies to take with you on the road.
Then you'll head to Durham for two major sites. First visit Bennett Place, where the largest number of troops surrendered in the American Civil War. Then head to the Duke Homestead, where Duke University's namesake grew up and created the largest tobacco company.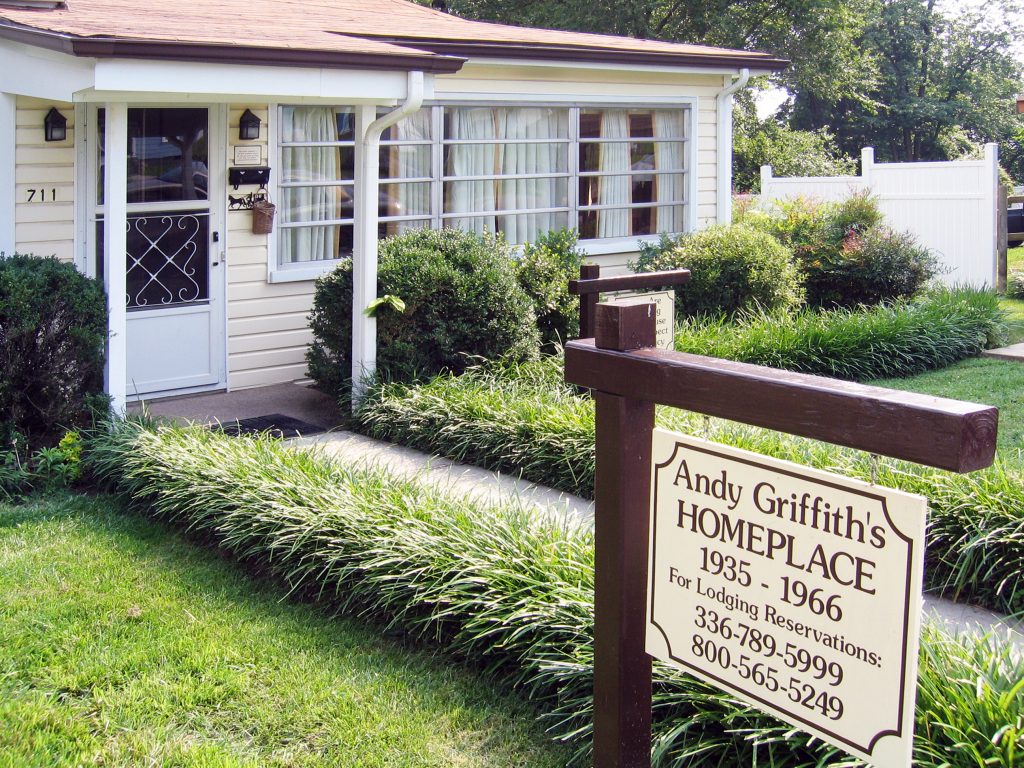 We hope that you've enjoyed any and possibly all of our North Carolina Road Trips! Each one is special to us, and we hope they bring joy to you and your families