Are you looking for wildly romantic getaways in the South? Then you'll love this list of vacation spots for couples in the South.
The South is a very diverse area of the country, especially when it comes to landscapes and activities. In one state, you can explore the mountains, cities, and even beaches as well on occasion. That means that there is an endless amount of things to do.
This list has some of everything, for every kind of couple. There are large cities for those looking to explore a new city. Small towns and mountain retreats for couples looking for a little more adventure. There are even coastal cities and beautiful sandy beaches.
So, lets take a look at the 15 Wildly Romantic Getaways in the South USA.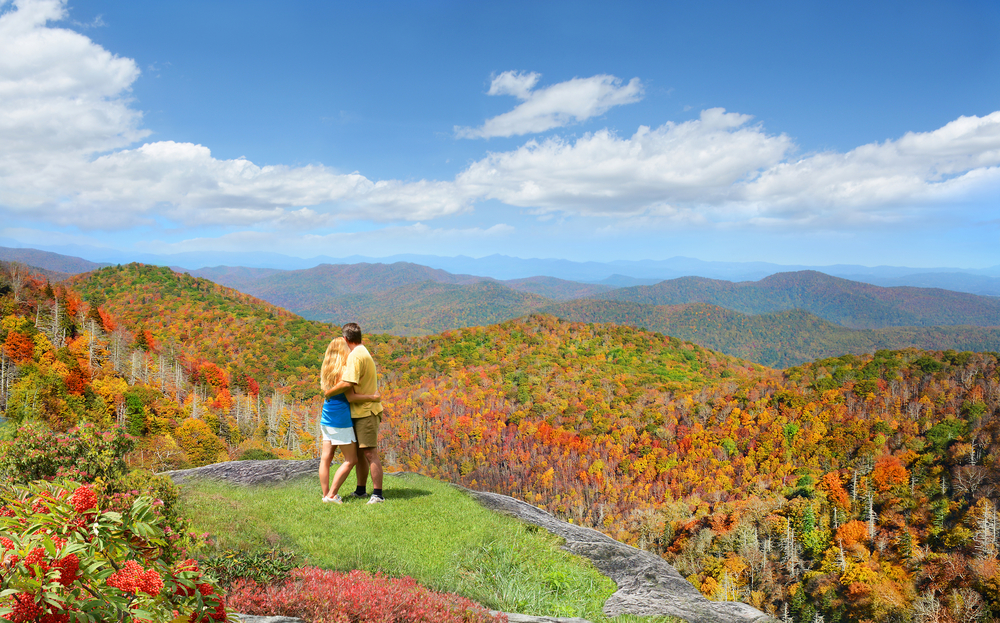 15 Wildly Romantic Getaways in The South USA
Lovers Key, Florida
With lover in its name, you know that Lovers Key Florida is going to be a perfect romantic getaway. Lovers Key consists of a beach and then the Lovers Key State Park. Both offer plenty of opportunities for romantic excursions. At the State Park, there are plenty of hiking trails where you can enjoy the local flora and fauna.
The beach is 2.5 miles of white sand and has spots for picnicking and restrooms. So you can stay the whole day and enjoy the warm waters of the Gulf of Mexico. Visitors can also take their boat out onto the Gulf and enjoy fishing. If you just want to relax on the beach, you and your partner can enjoy a leisurely stroll as the sunsets.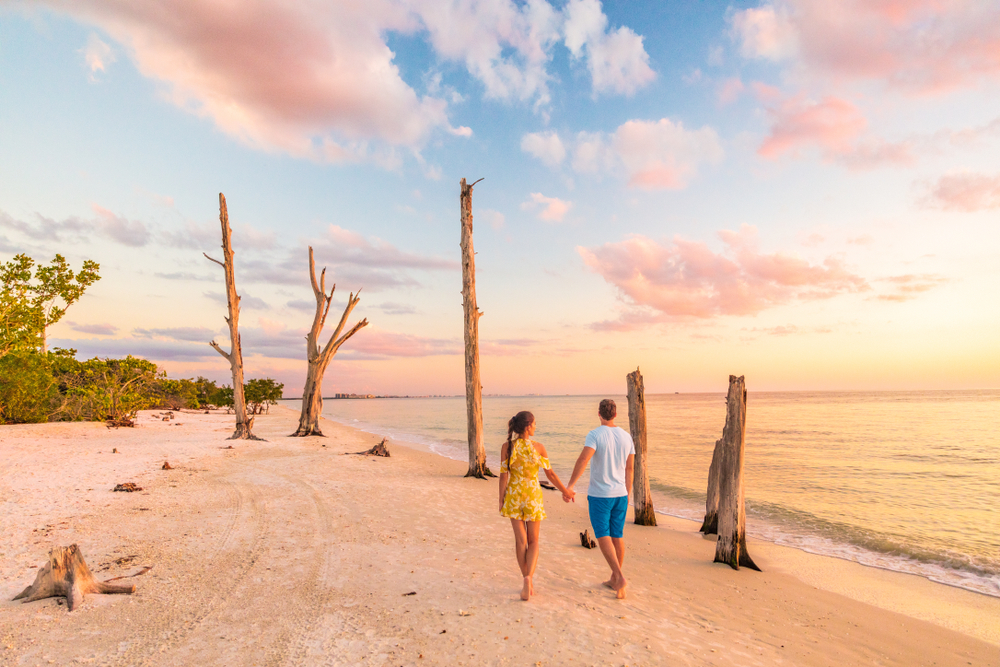 Roanoke, Virginia
There some great romantic things to do in Roanoke Virginia. Roanoke is a city in the Blue Ridge Mountains of Virginia, which means it's great for hiking and outdoor adventures. You can hike the Appalachian Trail or explore nearby Natural Bridge. There are also beautiful overlooks you can stop at, or hike to, and enjoy.
If you don't want to explore the great outdoors, there are other things to do in Roanoke as well. You can take a Roanoke Food Tour and explore some of the best restaurants in the city. Or stroll hand in hand while you explore the Roanoke City Market. There you can enjoy the sights and sounds of this unique Southern city for a wonderful Virginia romantic getaway!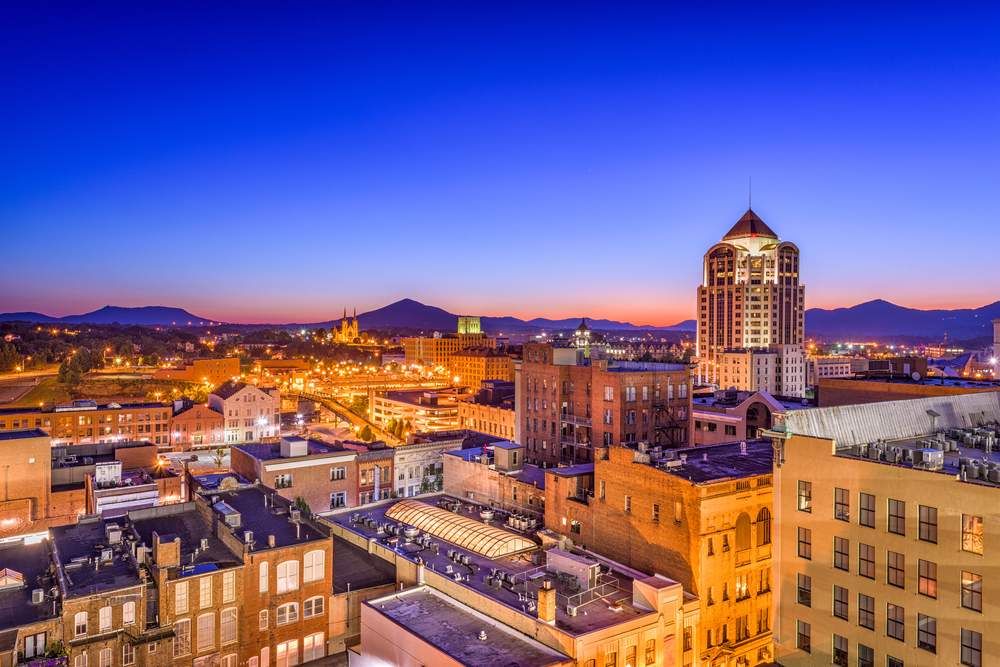 New Orleans, Louisiana
A trip to romantic New Orleans wouldn't be complete without a stop at the French Quarter. It is full of amazing shops, delicious restaurants, and more. Pop into one of the stores that sells jewelry you can only find in New Orleans or grab a beignets and a cup of coffee.
You can also take a romantic tour of New Orleans in a horse drawn carriage. On your carriage ride you'll learn about the city's history in a romantic setting. Check out our post on 3 Days In New Orleans if you want to see an example itinerary!
If you're feeling a bit luxurious, take some time at the Ritz Carlton for a bit of a spa day. They offer full and mini size spa packages for couples. After your spa trip, have dinner in one of New Orleans amazing restaurants.
From Michelin star restaurants to small locally owned places, no matter where you pick, you're guaranteed to have a good meal. End your night going to one of the fun bars or nightclubs for a drink and a night of dancing.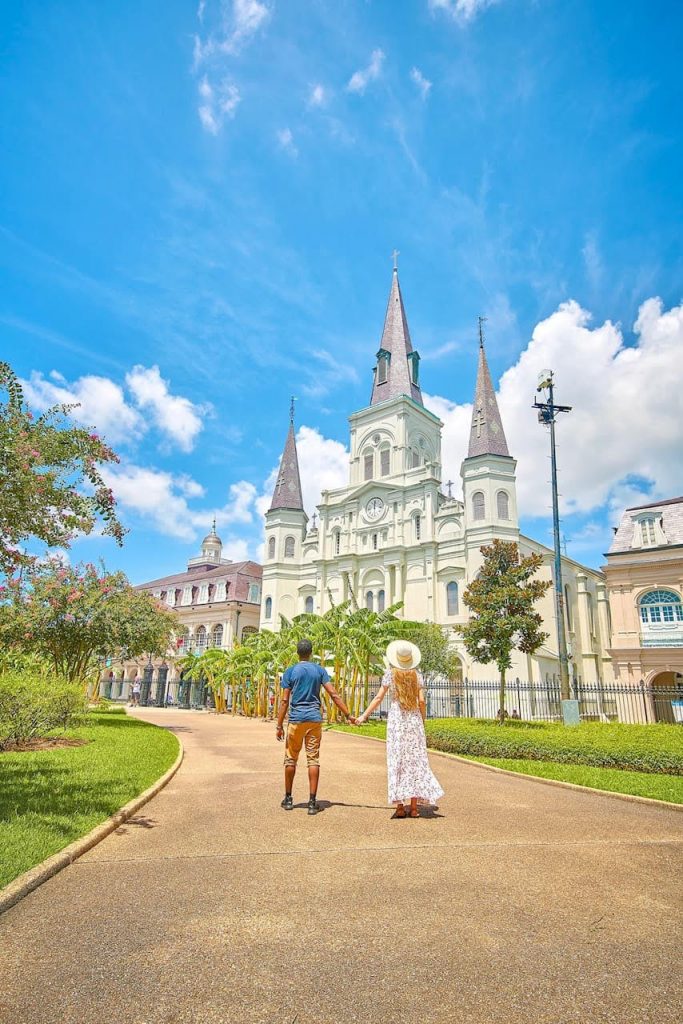 Mississippi Beaches
For couples looking for a bit of fun in the sun, consider checking out the beaches of Mississippi. The state has a small coastline compared to most Southern states. But what coastline they do have is beautiful. There are a few different beaches in Mississippi and each has something different to offer. The most famous of Mississippi's beach is Biloxi, but there is also Gulfport Beach, and Horn Island.
Biloxi is full of things to do. You can take a romantic steamboat tour, watersports, casinos, and even a lighthouse. After a day spent relaxing on the soft sands, head to one of the many great restaurants for a romantic candle-lit dinner. Gulfport is considered a local favorite beach and for good reason.
Biloxi is also home to some of the best Resorts In Mississippi, including beachfront ones!
It's perfect for a romantic getaway because it is rarely crowded and there is still plenty of great things to do. Horn Island is another beautiful Mississippi beach that is rarely crowded and full of stunning beaches. It's perfect for a couple looking to escape it all and experience one of the most romantic getaways in the South.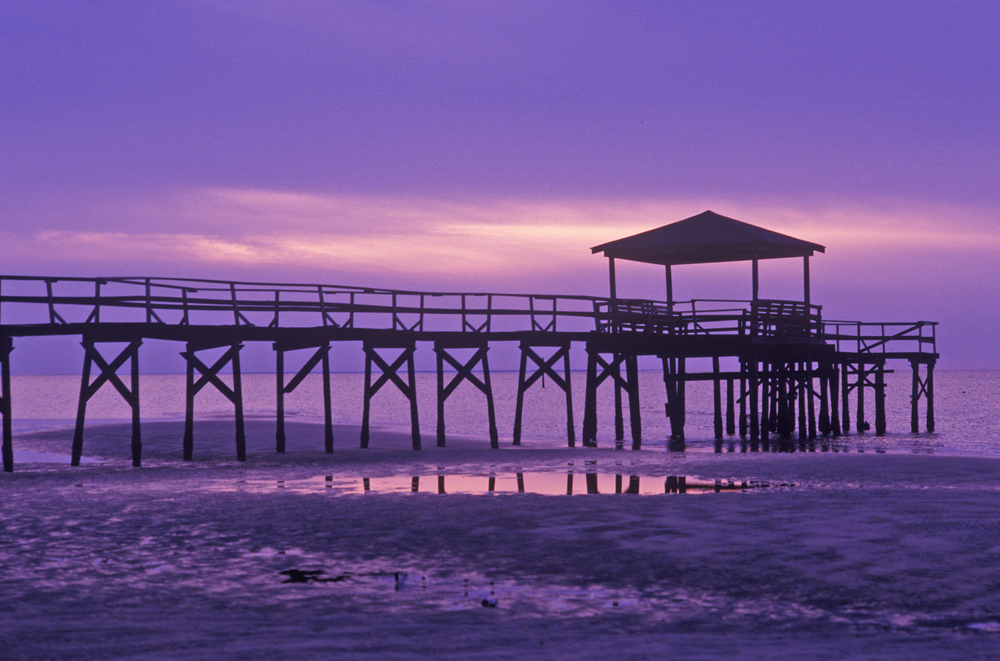 Savannah, Georgia
Savannah Georgia has long been considered one of the most romantic cities in the South. It's easy to see why as you stroll down the streets hand in hand with your partner. There is no end to the romantic things you can do in Savannah. Explore the botanical gardens or visit the Oatland Island Wildlife Center. If you like architecture and history, walk around Savannah's famous Historic District. Or maybe even take a day trip to Tybee Island.
Foodie couples will find plenty of romantic activities in Savannah. You can start the night off with rooftop cocktails and take in the view of Savannah.
Then head to the Historic District for a plethora of dining options. There are farm to table restaurants, restaurants that do modern takes on Southern classics, and even an upscale restaurant in a mansion in Forsyth Park. Savannah is one of the best vacations spots for couples in the South.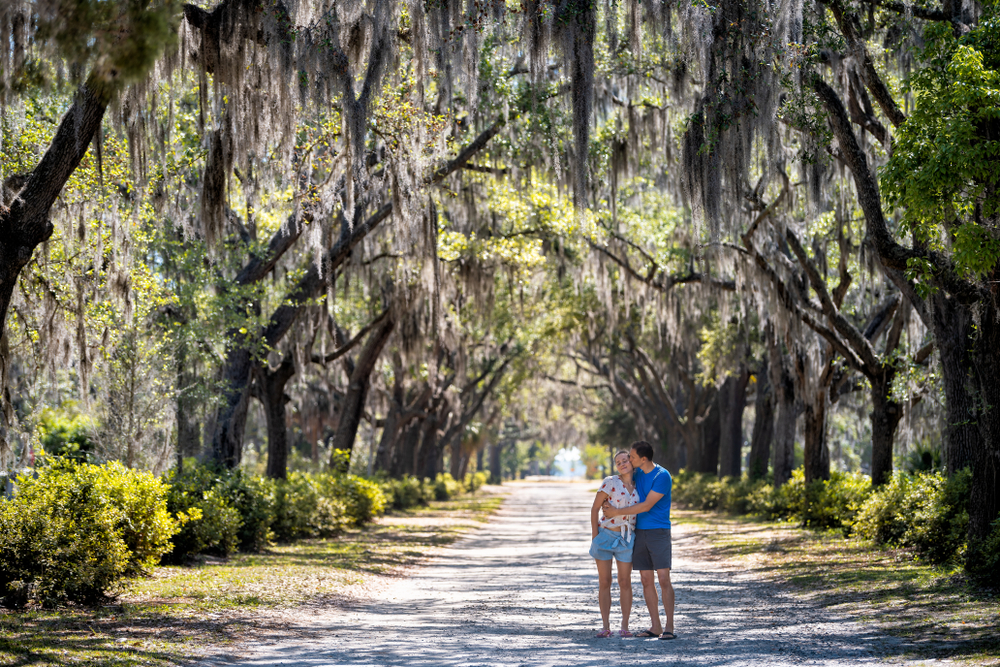 Hot Springs, Arkansas
Hot Springs Arkansas is located just outside of Hot Springs National Park. This is one of the best romantic getaways in the South that combines outdoor adventure and city romance.
It is somewhere you can visit year-round and still find something romantic today. However, the best time of the year to come explore the city of Hot Springs is in the Fall. There will be breathtaking views of the leaves changing at the park and there is an endless amount of Fall activities.
You will obviously want to visit the National Park and take a soak in the natural thermal hot springs. You can also take a romantic carriage ride through the city.
Or maybe spend some time walking through the streets, grab a bit to eat, and explore the many unique shops. If you like spending time outside, you may also want to visit the Garvan Woodlands Gardens. No matter what you like to do, there are plenty of romantic things to do in Hot Springs.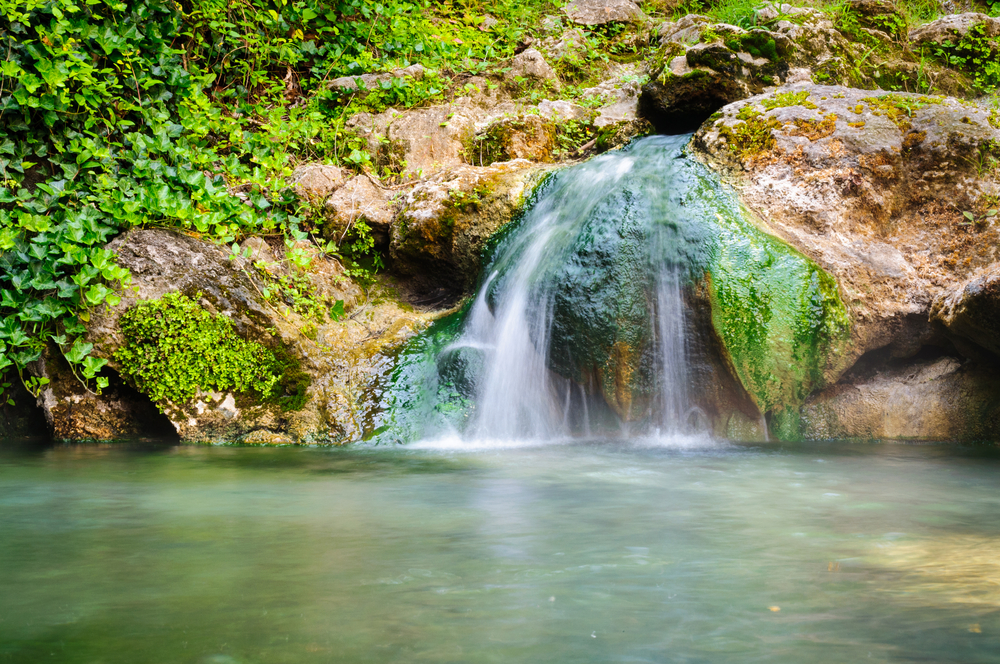 Charleston, South Carolina
Charleston South Carolina is another Southern city perfect for a romantic getaway. It is a city full of history that makes it so unique. While you're there, you'll want to grab tickets for a show at the historic Dock Street Theater.
If you want to learn about Southern cooking, take a cooking class with your partner before enjoying an amazing dinner. You can even take a southern BBQ Road Trip In South Carolina!
For romance in the outdoors, head to the Cypress Gardens. There you can walk through bird and butterfly habitat greenery. You can also explore the swamp area, go kayaking in the creek, or explore beautiful blooms in one of the many gardens. Or, you and your partner can enjoy a sunset cruise around the Charleston Harbor. You and your partner will love exploring Charleston, one of the most romantic places in the South.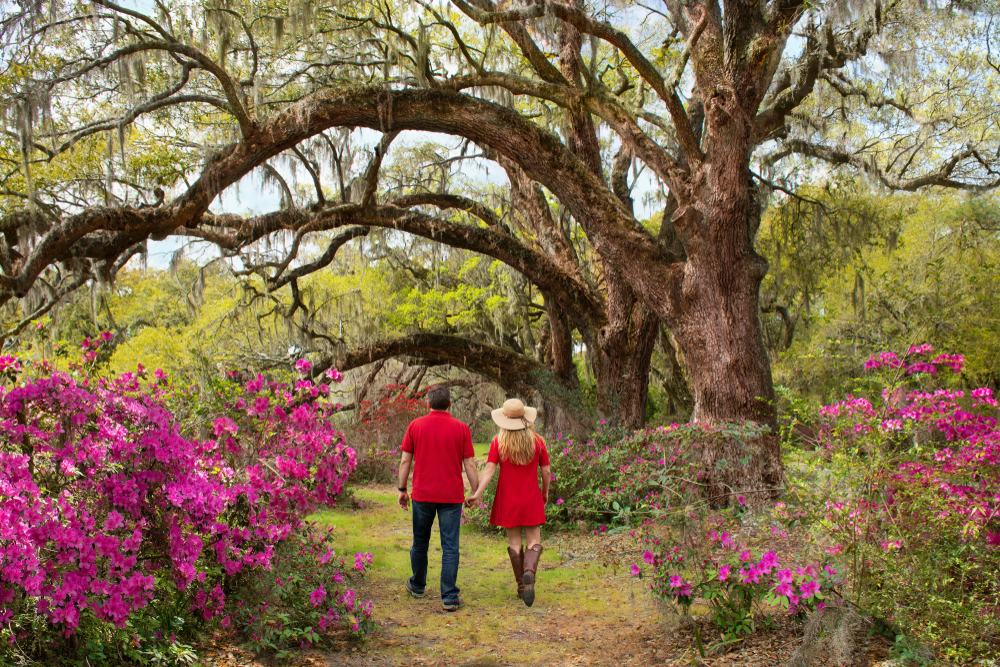 Texas Hill Country
The Texas Hill Country is one of the most beautiful and romantic vacation spots for couples in the South. It is full of beautiful natural views and amazing cities. Because it is such a large part of the state, there are plenty of romantic things to do. Depending on what time of the year you visit, you may find yourself surrounded by Blue Bonnets, the state flower. There are several parks where you and your partner can pack a picnic and sit amongst the Blue Bonnets.
For a unique date night activity, head to Boerne and experience a concert inside a cave. Music lovers will love seeing a show in the Cave Without A Name. If you like camping and hiking, head to Enchanted Rock. There you can hike and see breathtaking views or camp out. The campsites include a full setup, and you can even choose a more secluded campsite, perfect if you and your partner want to feel a little more secluded.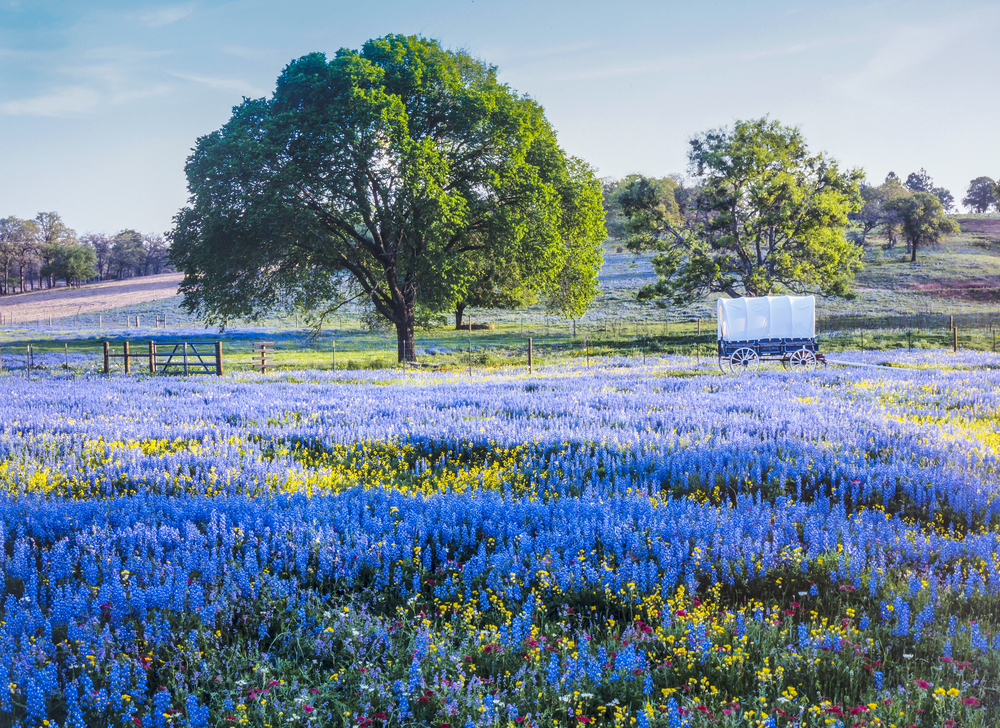 Blue Ridge Mountains Road Trip
The Blue Ridge Mountains is a mountain range that spreads across several states in the South. This makes it perfect for a romantic Southern road trip. Where you go on your road trip entirely depends on what states you want to cover. If you start in North Carolina you can see the Blowing Rock in Blowing Rock, the cute city of Boone, and Grandfather Mountain.
In Georgia, you can visit one of the cutest small towns in the South, Helen. Helen is an adorable Bavarian-inspired town full of fun activities and shops. You can also take a road trip through the North Georgia Mountains, which are part of the Blue Ridge Mountains.
The Blue Ridge Mountains run through Virginia, North Carolina, Tennessee, South Carolina, and end in Georgia. Whether you drive the whole parkway or just explore a road trip through one state, a Blue Ridge Mountains Road Trip is one of the most romantic road trips in the South.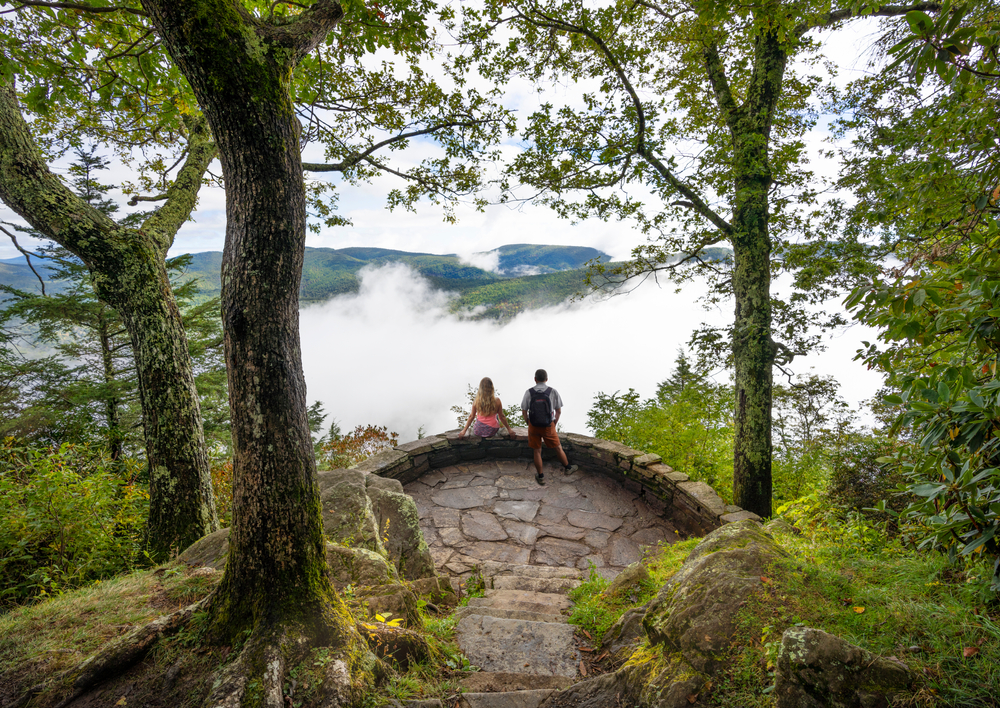 Memphis, Tennessee
In Memphis Tennessee, you can find an endless amount of romantic activities. It is a bustling and lively city in the Southwest corner of Tennessee. Art-loving couples will enjoy strolling through the Memphis Brooks Museum of Art. You'll be able to view works by Italian Renaissance artists, French Impressionists, the master of the Baroque period, and even Modern and Postmodernists.
No trip to Memphis is complete without a trip down the city's historic Beale Street. If you go at night, you can fully experience the street's unique array of neon lights and just as unique shops and restaurants. Or, you can take a romantic carriage ride through the city and learn more about its history.
Even though Memphis is a large city, there is even something for outdoor lovers. You and your partner can enjoy a day of walking through the Memphis Botanic Garden. With over 100 acres, you can easily spend the whole day exploring and admiring the gardens.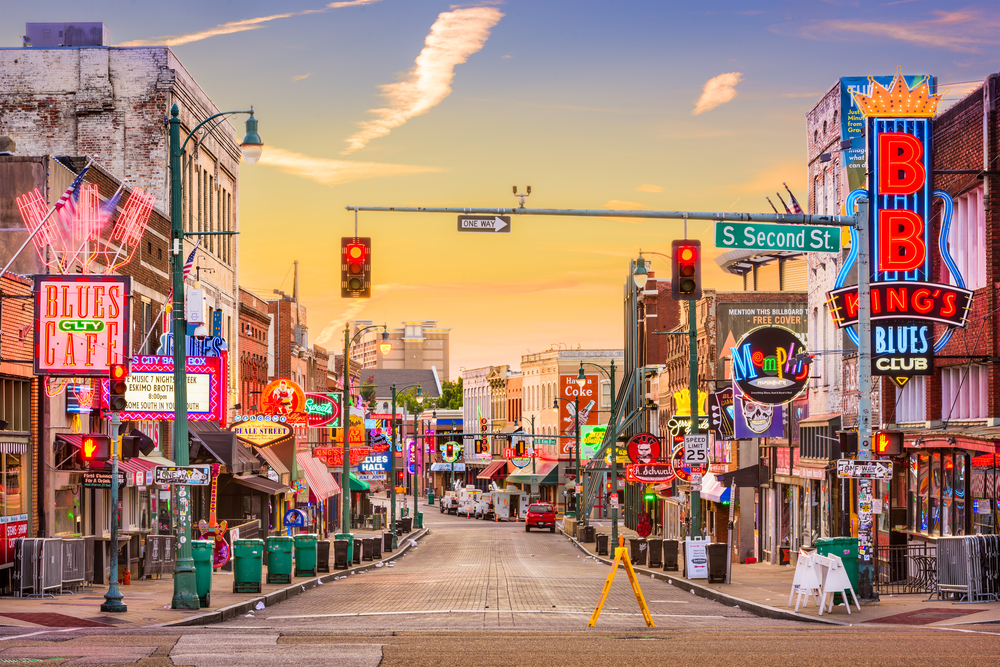 Gulf Shores, Alabama
If you and your partner are looking for a romantic beach vacation in the South, then you may want to think about heading to Gulf Shores Alabama. With 32 miles of white sandy beaches, Gulf Shores offers one of the best romantic getaways in the South. Spend your days relaxing on the beach and stay at any one of the amazing beach resorts or homes.
After relaxing on the sand, head to a gourmet dinner at one of Gulf Shores many delicious restaurants. If you need a break from the beach, take some time to explore the unique shops on the main streets of Gulf Shores. For those who are a little more adventurous, you can book a sunset helicopter flight. Up in the air, you and your partner can take in the beautiful views and experience a unique and romantic adventure.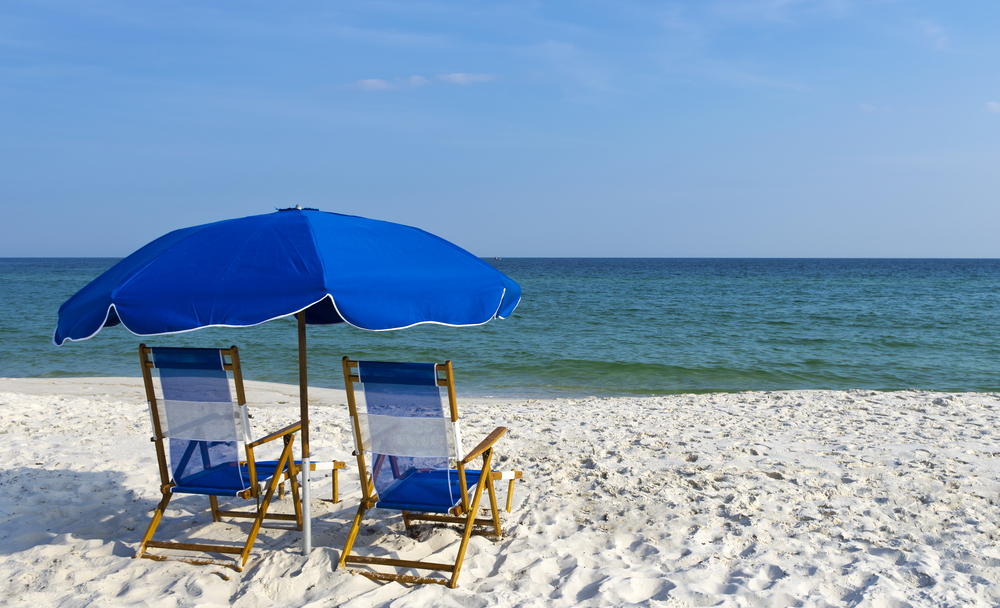 Lexington, Kentucky
Lexington Kentucky is a unique city in the South that is full of fun activities. If you and your partner are looking for a blend of romance, history, and bourbon, make sure to explore Lexington. In Lexington, make sure you and your partner take the time to walk around one of the many beautiful parks. Take a romantic stroll through the Arboretum, take a hike at the Raven Run Nature Sanctuary, or ride a paddle boat in Jefferson Park.
For history-loving couples, there are several awesome museums. You can learn about the 16th First Lady, Mary Todd Lincoln, at her childhood home. Or explore Ashland, the Henry Clay Estate.
A trip to Lexington also means a chance to taste bourbon. You and your partner can try the local brews at the James E. Pepper Distillery, the Lexington Brewing and Distilling Co., and so many more. Lexington is one of the best romantic getaways in the South for couples looking for a unique city to explore.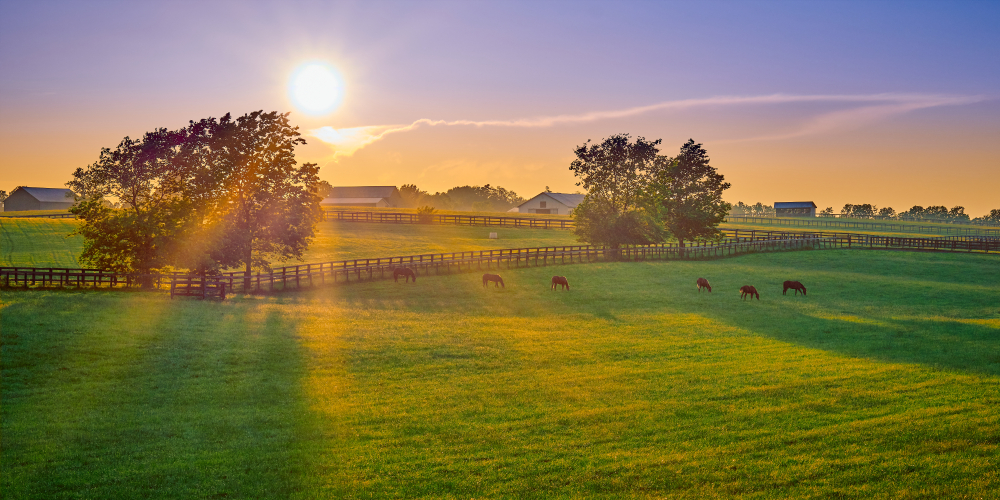 Asheville, North Carolina
Asheville is a beautiful city in North Carolina in the Blue Ridge Mountains. It is a city perfect for art-loving couples as it has a thriving art scene. That art scene includes art galleries, shops with local artists' works in them, and even the culinary arts. There are some tasty restaurants in Downtown Asheville that foodies will love to explore.
Asheville is also home to the Biltmore Estate. The Biltmore Estate is a beautiful mansion that is still a private house, but is open daily for tours. Built in the late 1800's, the home is full of history, beautiful original antiques, and more.
It is located inside Pisgah National Forest, so you can also explore the grounds and experience some stunning views. The estate is also home to a winery and mini village. Romance is everywhere you look in beautiful Asheville North Carolina. This is truly one of the most romantic getaways in North Carolina!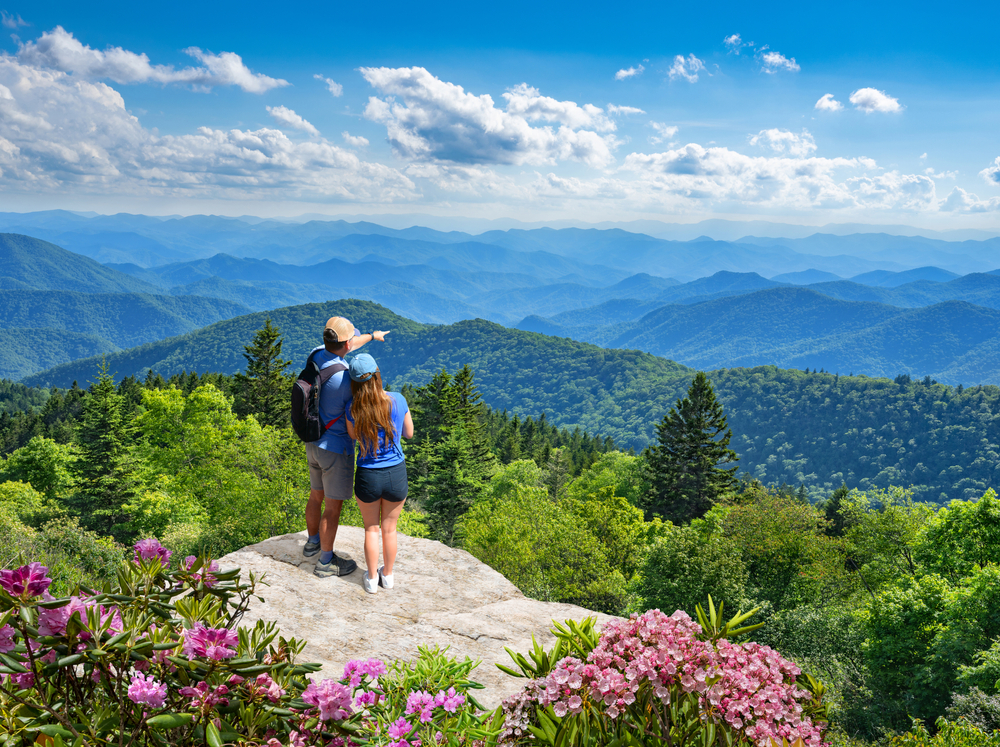 Shenandoah Valley, Virginia
If you are looking for an outdoor adventure that is also one of the best romantic getaways in the South, then think about visiting the Shenandoah Valley in Virginia. Shenandoah Valley is a National Park in Virginia, as well as the name of the town. You'll find plenty of opportunities for hiking, biking, kayaking, and even horseback riding.
Pack a lunch, or get something to go from one of the amazing restaurants, and head out on the road. On the Skyline Drive, you can stop at the many overlooks and enjoy breathtaking views of the valley. You and your partner can even go below ground and explore the Luray Caverns. For a romantic afternoon, head to one of the area wineries for an afternoon of winetasting. No matter what you do in Shenandoah Valley, you and your partner will enjoy a romantic vacation in the South.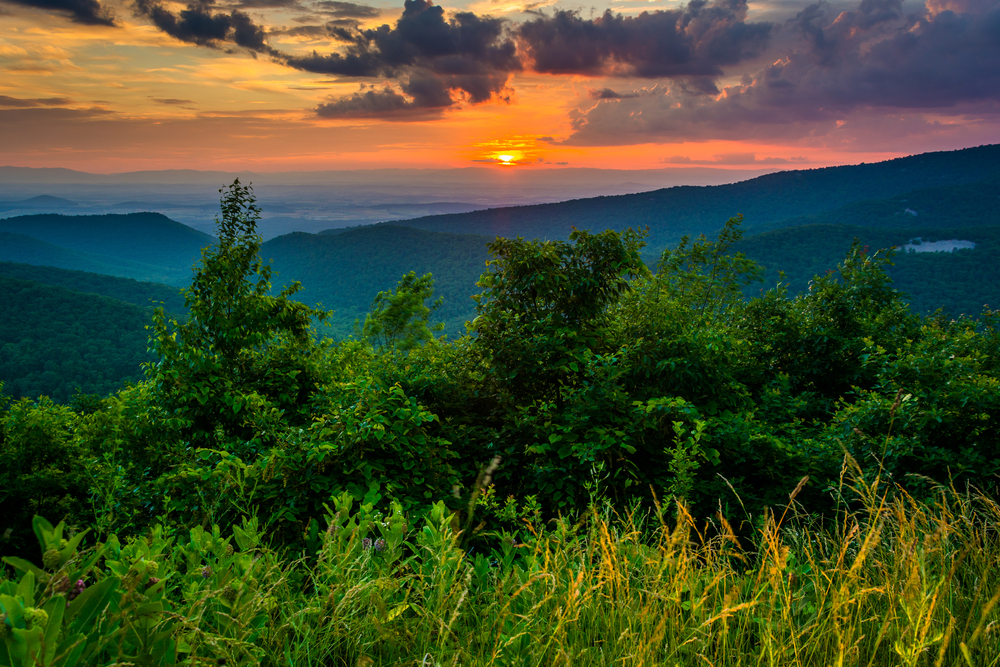 Islamorada, Florida
Islamorada is another one of Florida's Keys, a small island off the coast of Florida. It is one of the most perfect tropical romantic getaways in the South. There are of course miles of beautiful white sandy beaches. But there are other things to do in Islamorada as well. Islamorada is also home to a few local breweries. For couples who like to enjoy craft brews, make sure you take a trip to the Islamorada Brewery and Distillery for a bite to eat and a drink.
If you want to learn more about the ocean and the creatures in it, take a boat tour and learn about the dolphins, fish, and other sea creatures that call Islamorada home. Couples who love diving will enjoy snorkeling and scuba diving around the area's reefs. There is even a museum of the History of Diving. Explore the Rain Barrell Village to see art by local artisans, and take home a trinket to remind you and your partner of your trip.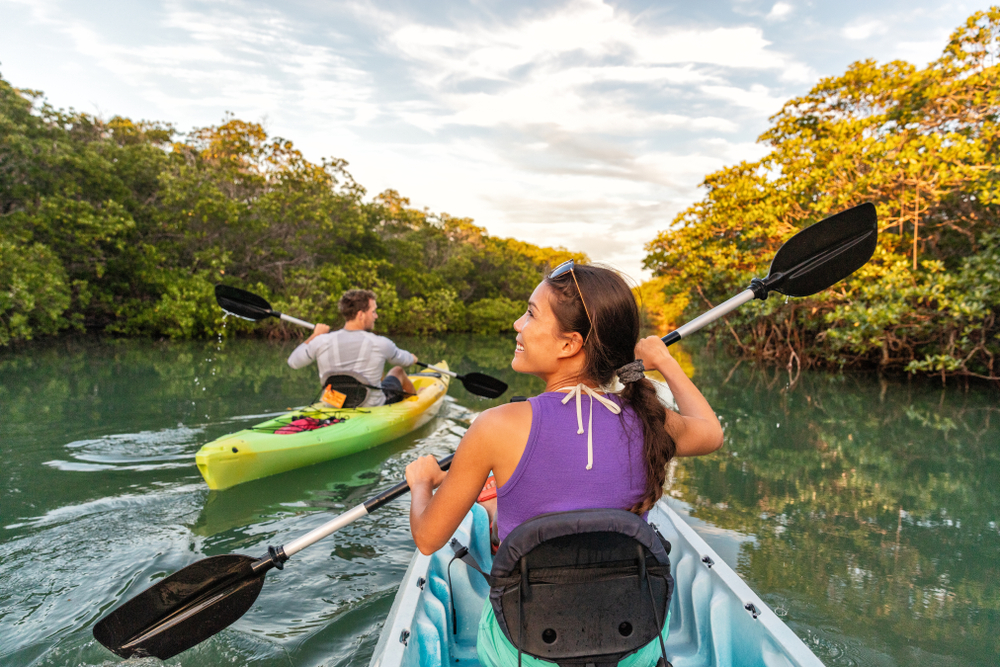 Have you and your partner ever been to one of these amazing romantic getaways in the South? If you have, we'd love to hear about it in the comments!