Searching for the best Texas road trip? We've got you covered! As the largest state in the continental US, there is so much to do in Texas. This can be quite overwhelming for many tourists and locals alike! There is no need to worry, though, as we have compiled a list of some of the best road trips in Texas.
Texas is best known for its barbecue and its proud history. However, there is so much more that this great state has to offer. Whether your passion lies in majestic waterfalls, scenic drives, or anything in between, Texas is the state for you!
With so much to see and do in this state, it is very easy to get lost. That is why we have categorized each road trip by theme, so you are able to see exactly the sights you want to see. So grab your travel partners, hop in the car, and go find your perfect Texas road trip.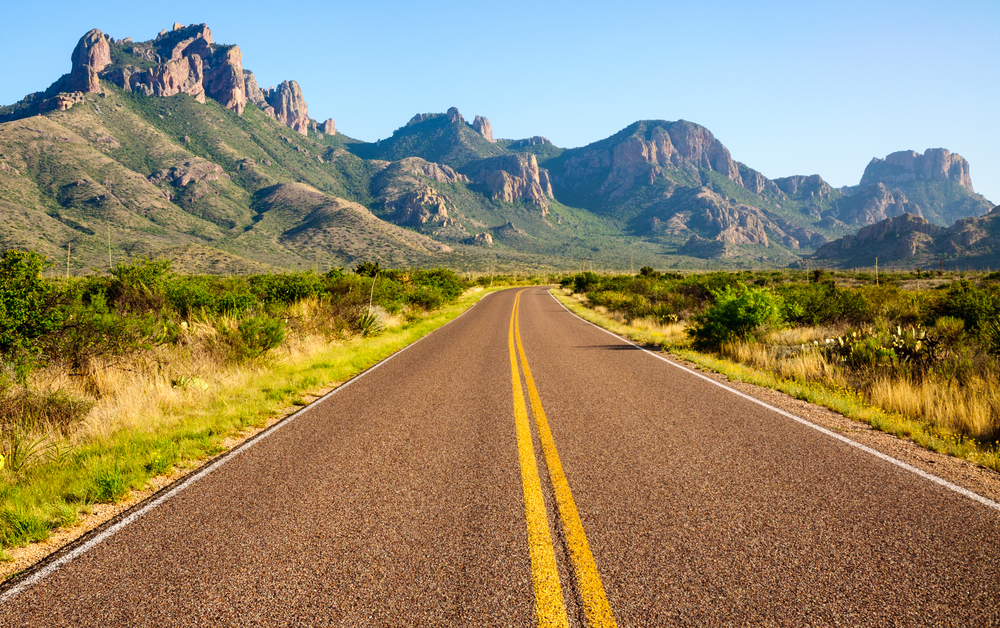 15 Fun Texas Road Trips For Your Bucket List
Small Towns in Texas Road Trip
Highlights
Wimberley
Luckenbach
Marble Falls
Nacogdoches
Texas is well known for sprawling cities like Dallas and Houston, but this state is full of hidden gems. Texas is littered with cute small towns, and this Texas road trip will take you right through the best of them!
The small towns in Texas each have their own unique personality. Wimberley is the perfect chic spots for nature lovers, while Nacogdoches has the quintessential Texas small town feel. Each small town feels like its own little world, and this is the perfect road trip for those who want to stray from the beaten path.
Starting out of Austin, this road trip has relatively short round trip time of 11 hours. This gives you ample time to explore these small towns to their fullest. The Small Towns in Texas Road Trip is one of the best road trips from Austin if you want to explore the more local side of Texas.
This is truly one of the Best Things To Do In Texas to put on your Texas bucket list!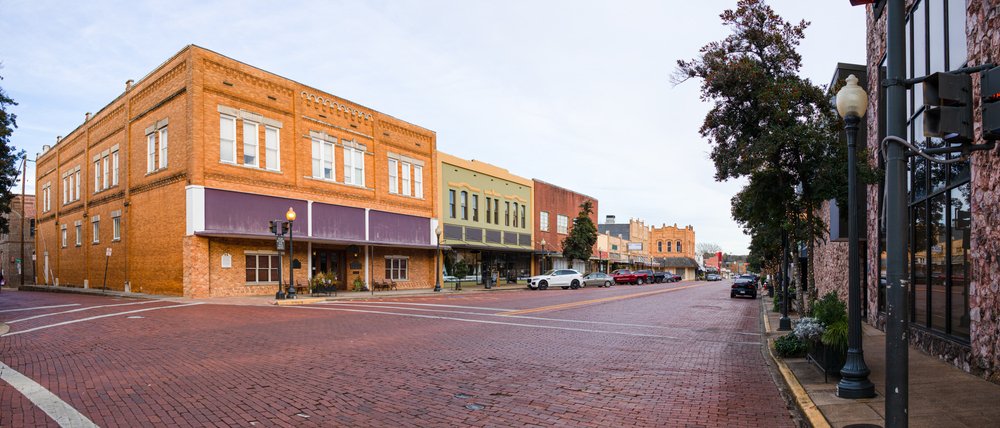 Haunted Texas Road Trip
Highlights
Yorktown Memorial Hospital
Lobo
Marfa
Terlingua
With all of the history in Texas, there's bound to be a few haunted hide outs. There have many instances of the strange and unnatural in the Lone Star state. If you're brave enough for a little night driving on this Texas road trip, you might see something you can't explain.
Come to Lobo to experience a true Texas ghost town. This once thriving farm city was left abandoned after the area dried up. Terlingua is also a famous ghost town in Texas. Complete with a ghost town cemetery, this is one city you might want to bring a friend, or a safety blanket, to.
However, Texas is not just ghost towns. The Yorktown Memorial Hospital is your textbook haunted, abandoned hospital. If ghosts are not your thing, Marfa may be a cute small town, but it is home to some close encounters of the third kind. The Marfa Lights were a serious of mysterious glowing orbs seen in the west Texas sky.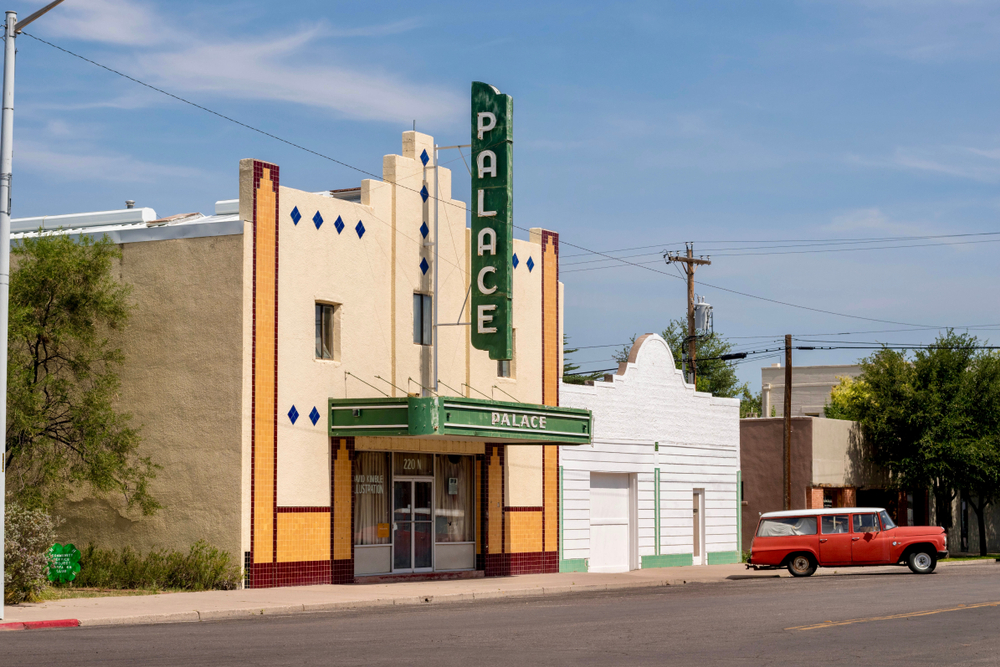 Texas Waterfalls Road Trip
Highlights
Spring Falls
Gorman Falls
Pedernales Falls
Dripping Springs Falls
While waterfalls are not the first thing that comes to mind when thinking about Texas, the state boasts some of the prettiest waterfalls in the country. The many rivers flowing through Texas combing with a deceptively hilly terrain to create some majestic waterfalls. Start in Dallas, and work your way down to Austin with this amazing Texas road trip.
Much of the water in Texas is spring-fed, making it exceptionally blue and cool year-round. This water looks especially nice cascading down a smooth or directly off a cliff. One this road trip, you will be able to visit all kinds of waterfalls. From the sheer drops of spring falls to the gentle decline of Pedernales, Texas has it all.
The waterfalls might be the stars of the show, but there is much more to this road trip. Many of these waterfalls reside in beautiful state parks. Take some time to tour these parks and enjoy one of the most beautiful road trips from Dallas.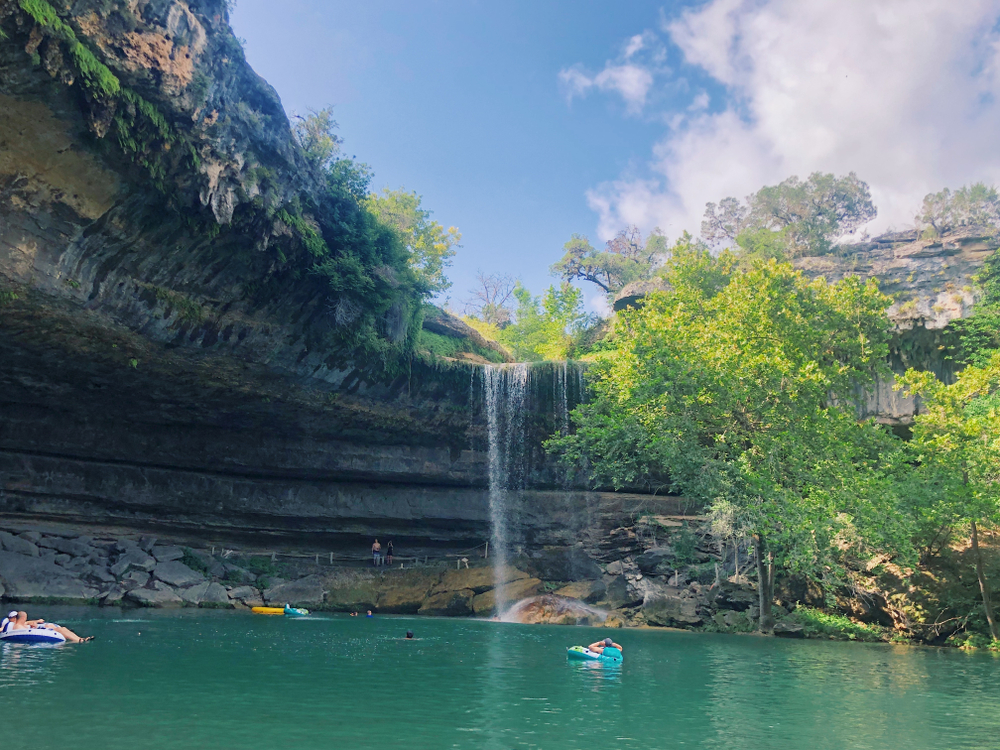 Coastal Texas Road Trip
Highlights
Galveston
Matagorda
Corpus Christi
South Padre Island
Let the top down and take a drive down the iconic Texas coast. There are many fantastic cities and towns along the Texas coast that are perfect for a leisurely trip. The beaches along this trip are perfect for soaking up some sun, or taking a relaxing dip in the water.
Thanks to the warm Gulf of Mexico currents, the Texas coast has some of the warmest water in the US. This is perfect for those who can't quite get time off in the heat of the summer. Ditch the huge crowds in Miami and cruise along one of the most relaxing road trips in Texas.
The cities and towns along this trip are also very unique. From the giant glass pyramids of Galveston to the amusement park of South Padre Island, there is so much to do in these cities. Be sure to take some time and explore the vibrant cities along the beautiful Texas coast.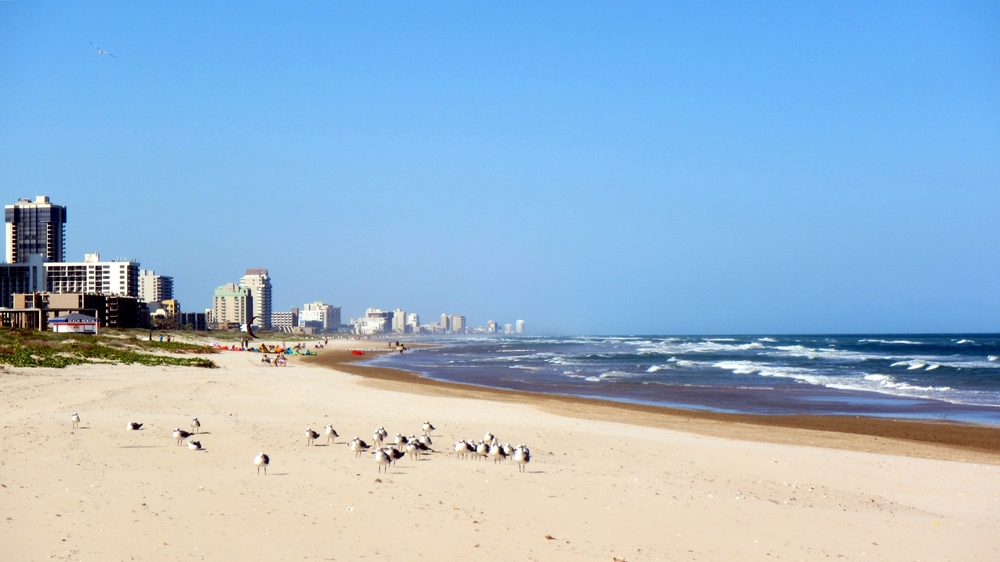 Texas National Park Road Trip
Highlights
Guadalupe Mountains National Park
Fort Davis National Historic Site
Big Bend National Park
San Antonio Missions National Historic Park
One of the most naturally beautiful states in the US Texas boasts fourteen individual lands managed by the US National Parks Service, including two national parks. Both of these parks are on the west side of Texas, making this west Texas road trip a must for all nature lovers.
Texas may be better known for its prairies and deserts, but the state features one of the most stunning mountain ranges in the US. The stunning Guadalupe Mountain Range is the perfect combination of desert and mountain. Watching the sun set over this mountain range is most certainly a bucket list item.
These national sites and parks are also perfect for exploring. There are many hiking, biking, and walking trails in each one of these stops. Be sure to take your time and soak in the natural beauty of Texas.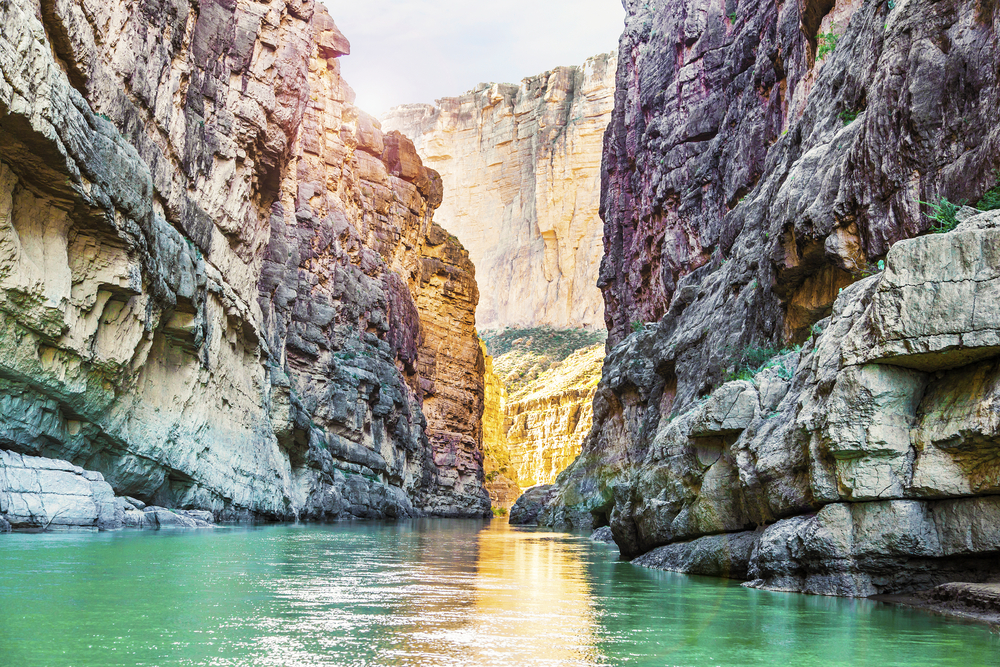 Epic Nature Road Trip
Highlights
Bayou Big Bend Collection and Gardens
Caverns of Sonora
Santa Elena Canyon
El Capitan
This is one of the most involved Texas road trips on this list. The lengthy road trip time is more than justified, though, as this trip takes you along a greatest hits tour of nature in Texas.
Start in Houston and visit the Bayou Big Bend Collection and Gardens. Here you will be able to see much of the wildlife and flora specific to this great state. After this warm up, you will be ready to see all of the natural wonders of Texas.
This trip has too many highlights to list. However, El Capitan stands out as one of the most awe inspiring spots in Texas. The peak of this formation seems to rise up out of nowhere to pierce the Texas sky. If you are in the area want to see the natural beauty of Texas, be sure to embark on one of the most stunning road trips from Houston.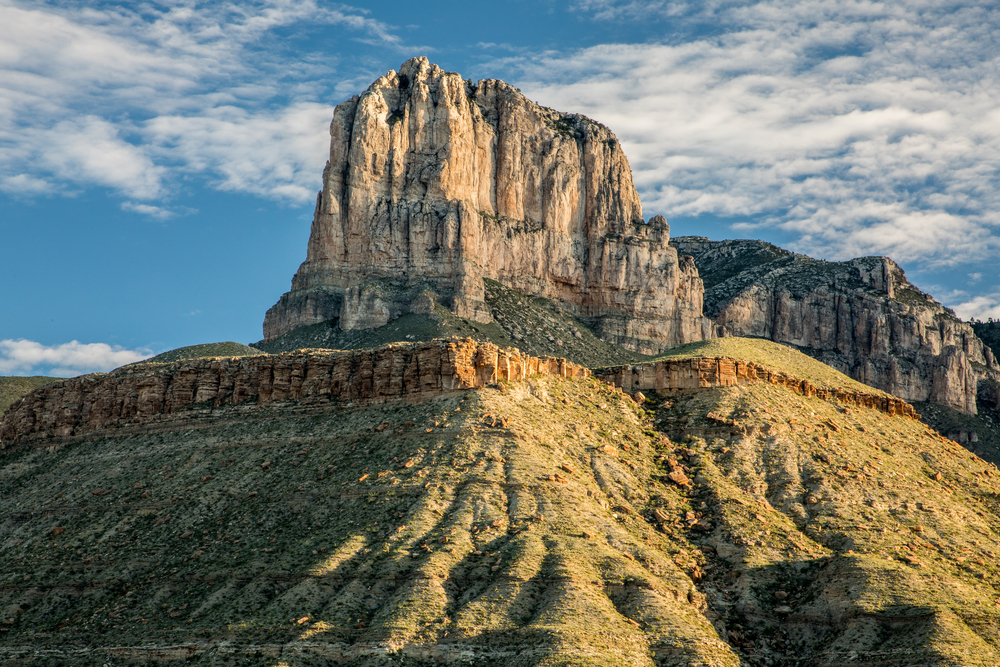 Abandoned Places Road Trip
Highlights
Patient Buildings at Terrell State Hospital
Baker Hotel
Walnut Ridge Mansion
The Rig Theatre
Step in to Texas history without the need for a museum. These abandoned buildings will transport you back into the old days of Texas. This eerie road trip is equal parts fascinating and spine chilling.
Who doesn't love an abandoned hospital? Terrell State Hospital closed in 1985, but it still serves the public as nightmare fuel. However, you can go during the day to get a much more calming glimpse of what hospitals were like in the past.
The other spots along this Texas road trip highlight the everyday aspects of early life in the state. From old hotels to movie theatres of yesteryear, this road trip will let you peek through the curtain of history. Museums often gloss over mundane aspects of history like this, so visiting these sites will be very refreshing for history lovers.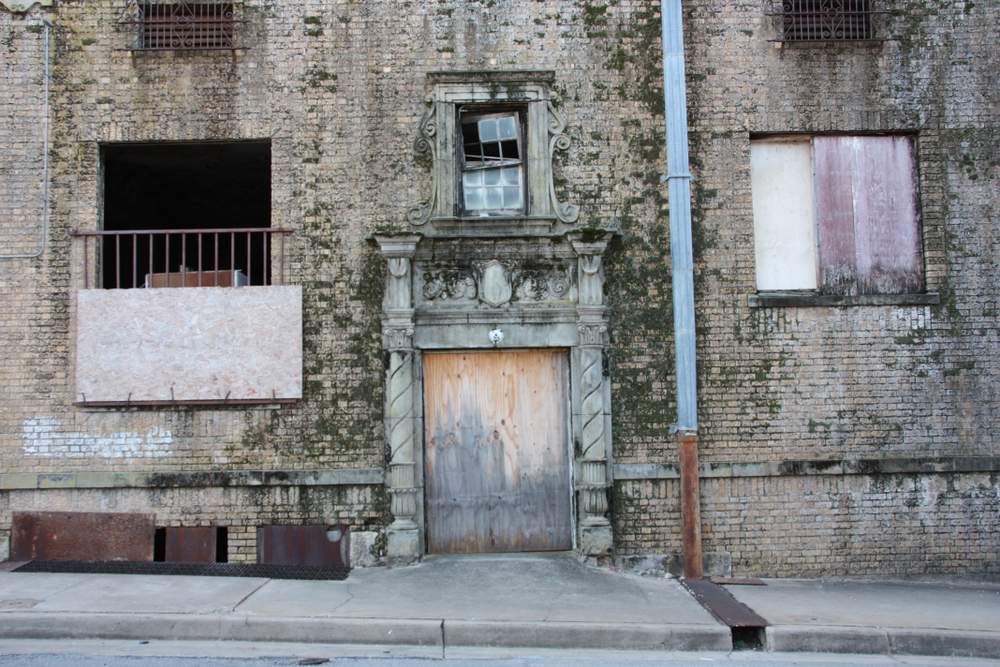 Texas Hill Country Road Trip
Highlights
Ennis Bluebonnet Trail
Mahomet
Marble Falls
Willow City Loop
Bluebonnets are the official state flowers of Texas, and it is clear to see why. There is nothing more Texan than a field covered in the beautiful Texas Bluebonnet flower. These flowers grow abundantly in the hill country region of the state, making this Texas hill country road trip is full of the best places to see bluebonnets.
Texas is very proud of their bluebonnets, and will take any opportunity to show them off! There is actually a rumor that it is illegal to pick these flowers, since they are sacred to Texans. This is not true, however, it is illegal to trespass on private property to hunt for these flowers.
One of the highlights of this road trip is the Willow City Loop. Within the already beautiful Willow City there is a famous 13 mile trail perfect for viewing bluebonnets. This is one of the most scenic drives in Texas, and provides some of the best bluebonnet viewing in the state.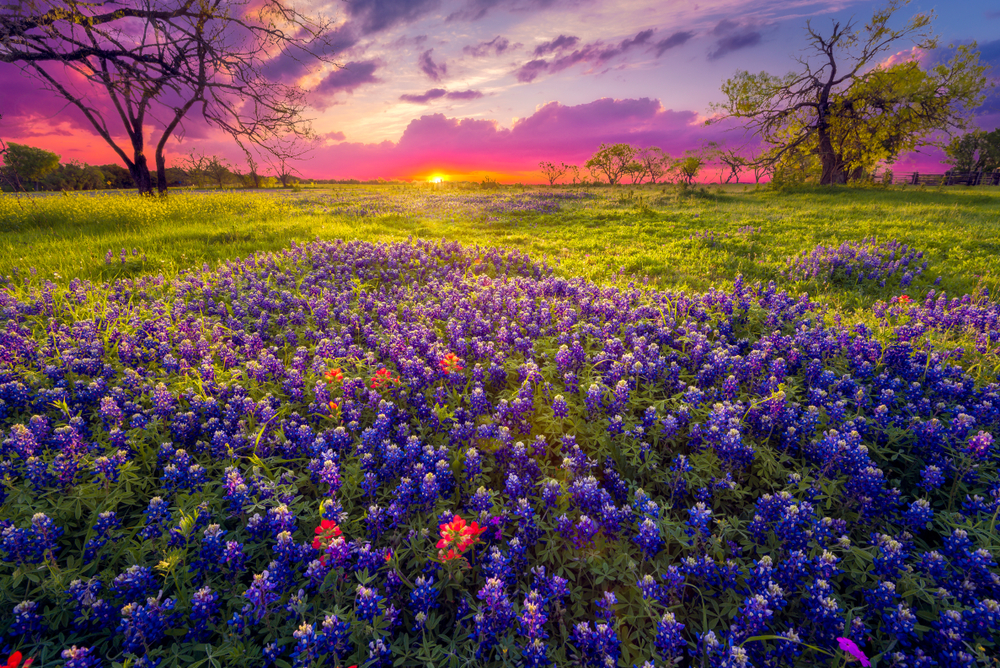 Texas Castles Road Trip
Highlights
Bishop's Palace
Newman's Castle
Falkenstein Castle
Castle Avalon
Castles in Texas? Finding a fairytale castle in Texas seems as likely as finding a fish in the Sahara desert. However, this state features an abundance of beautiful castles, as long as you know exactly where to look.
Start at the scenic Bishop's Palace. This castle is located right on the water, giving it a pristine view of the Gulf of Mexico. Dating back to 1892, this wonderful historic castle offers tours through its dazzling three story layout.
The other castles along this list mix everything you love about your favorite fairytale castle. Newman's Castle features a moat and drawbridge. Falkenstein Castle features historically accurate German flair and is one of the best castles in Texas. Castle Avalon greets you with a fantastical two story gatehouse. Texas may not conjure images of fantasy castles, but these ones are definitely worth a visit.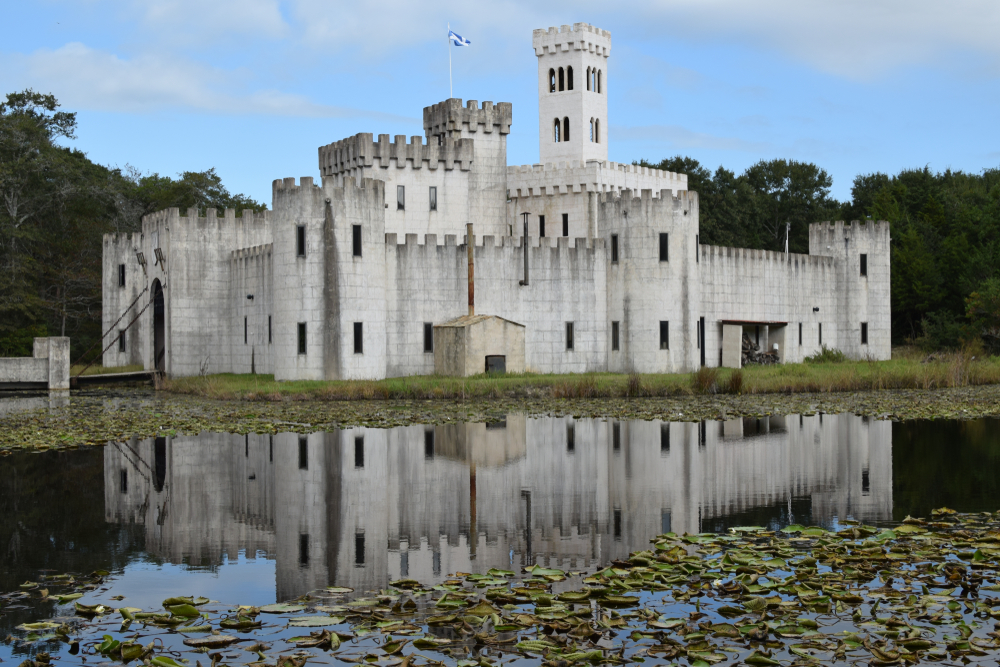 Texas Spirits Road Trip
Highlights
Hill Country Distillers
Shiner Brewery
Deep Eddy Vodka Distillery
Firestone & Robertson Distilling Co.
Texas produces some of the finest drinks in the entire US, and this road trip will take you along some of the finest breweries and distilleries the state has to offer. If you want to drink in all the state has to offer, this boozy Texas road trip is perfect for you.
Some of the finest distilleries in the US can be found in Texas. With a wide range of drinks that can cater to any palette, Texas is perfect for a boozy road trip. Deep Eddy specializes in fantastic flavored vodka, Firestone and Robertson supplies authentic Texas whiskey and bourbon, and Hill Country Distillers offers fantastic moonshine.
This trip also takes you into the town of Shiner, Texas. The birthplace of Shiner beers, this brewery offers extremely interactive tours. Complete with multimedia experiences and a "big new honky-tonk bar," this brewery is not one you want to miss.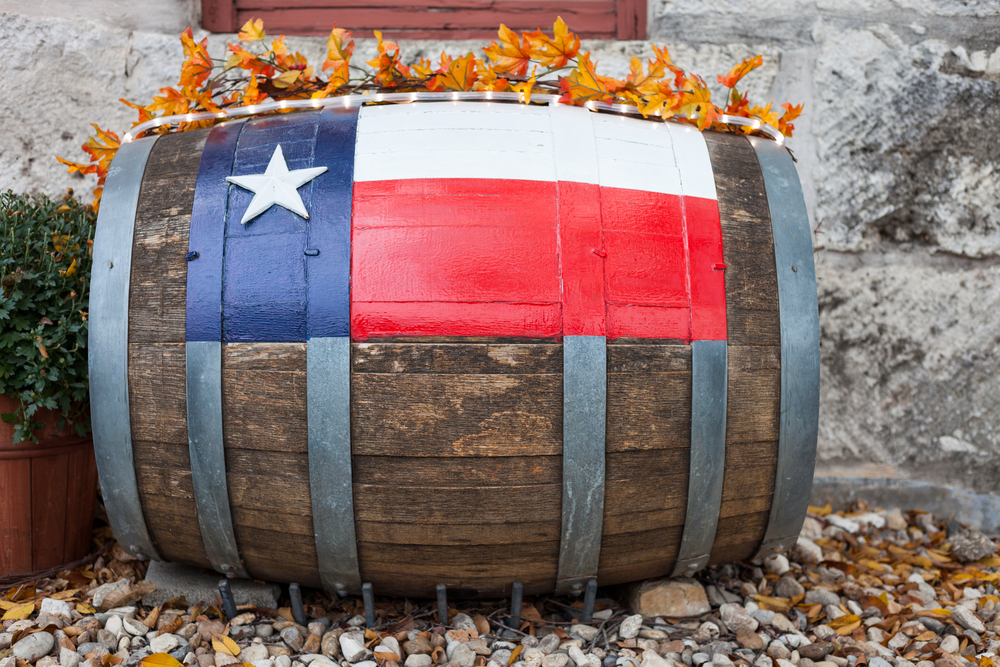 Texas International Road Trip
Highlights
West
Dublin
Fredericksburg
Castroville
People of every race and nationality have come to Texas looking to start a new life. This has been great for Texas, as each new addition to the state has added to the broad identity of Texas. There are many cities and towns within Texas that make it feel like you are entering a whole new country.
The story of Texas is composed of many different cultures. West is Czech, Dublin is Irish, Fredericksburg is German, and Castroville is French. Each city offers a new experience, and this Texas road trip is perfect for those who do not have the time to traverse Europe.
Each of these stops offers unique highlights that you must check out. There is a roadside stop called Slovacek's in West that serves as an amazing Czeck bakery. Walking through downtown Castroville transports you to a quaint town in the wine country of France. While in these cities, be sure to talk to locals to find the best places to stop to get the full cultural experience.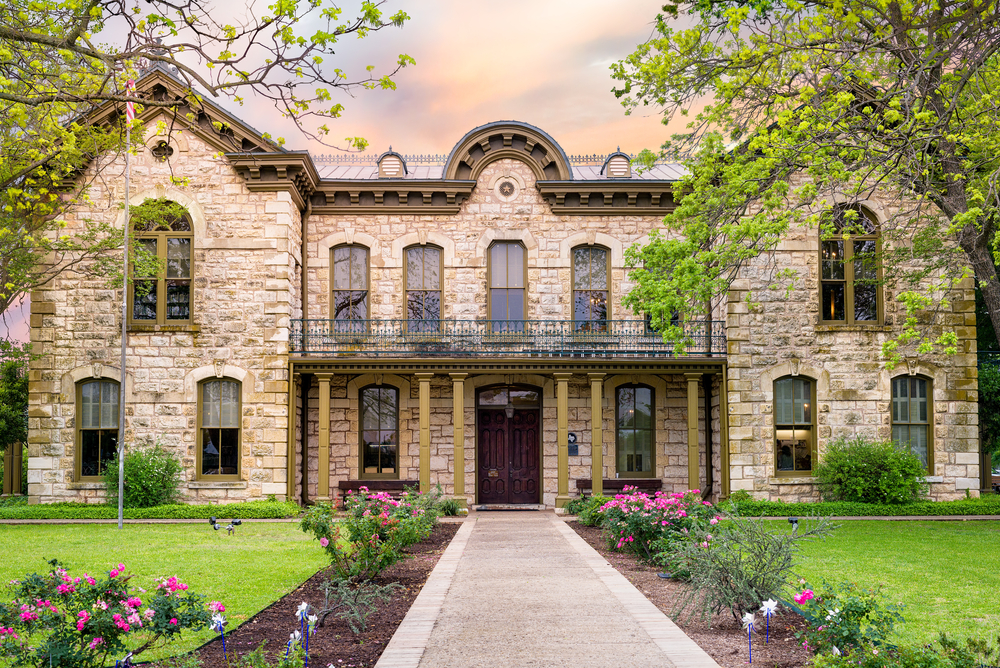 Everything's Bigger in Texas Road Trip
Highlights
World's Largest Cowboy Boots
World's Largest Pecan
Buc-ee's New Braunfel
Moontower Pizza Bar
Everything is bigger in Texas! This state is well known for it's never ending pursuit to be the largest. From arbitrary records to functional size, Texas features all kinds of colossal attractions worth visiting.
Texas features many "World's Largest" attractions, and they are very serious about them. The World's Largest Pecan was briefly leapfrogged by a rival pecan statue, and the state of Texas quickly came together to snuff out this competition. The World's Largest Cowboy Boots are a bit more safe, though, as no one has even attempted to compete with this 35-foot-tall pair of footwear.
There are also many other, more functional giant attractions in Texas. Buc-ee's is an iconic gas state and convenience store in Texas, and its giant New Braunfel location is also the world's largest convenience store. Moontower Pizza serves the world's largest commercially available pizza, perfect for a road trip of you and your 40 closest friends.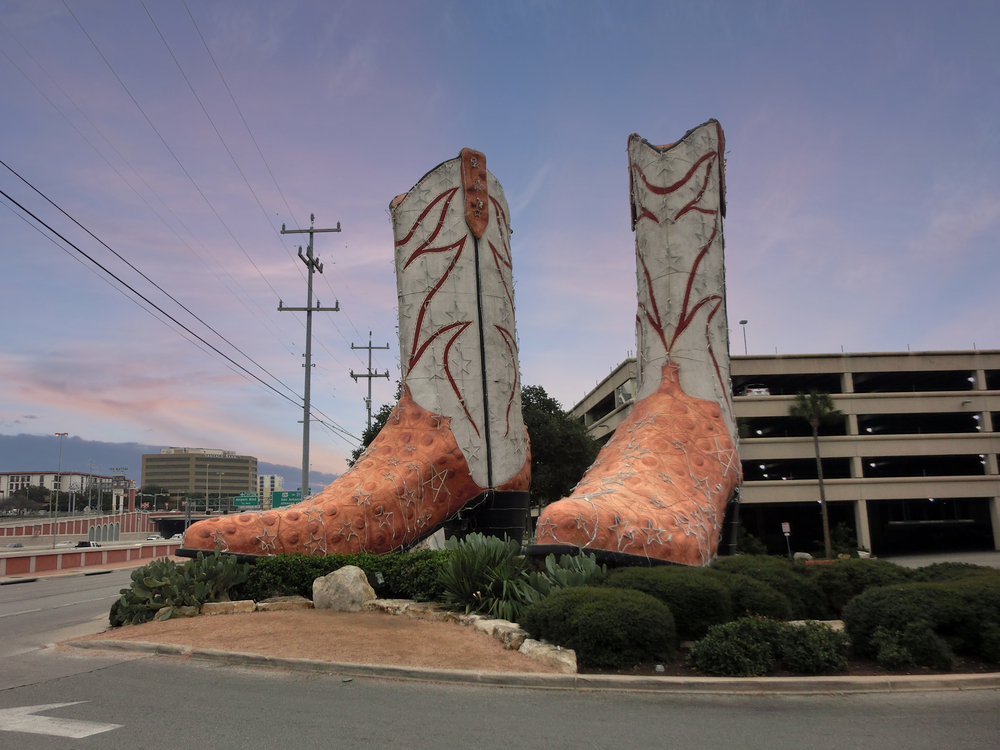 Texas Museum Road Trip
Highlights
Space Center Houston
Museum of Fine Arts, Houston
The Alamo
Bullock Texas State History Museum
Texas is a treasure trove of science and history, and these wonderful museums let you explore it all. This state is more than happy to show off their accomplishments in science, art, and history. This is one of the best Texas road trip ideas for anyone who has a passion for learning.
Texas boasts a very unique history. The state has been occupied by the French, Spanish, and Mexican, and even spent a brief period as its own country. This history is on full display at both the Bullock State History Museum as well as the Alamo.
The Space Center Houston shows off Texas' deep ties with NASA, as well as highlighting the technological advancements in space travel. The Museum of Fine Arts, Houston is the perfect place to view works from throughout the world, from antiquity to the present. This museum road trip is perfect to experience the nerdier side of Texas.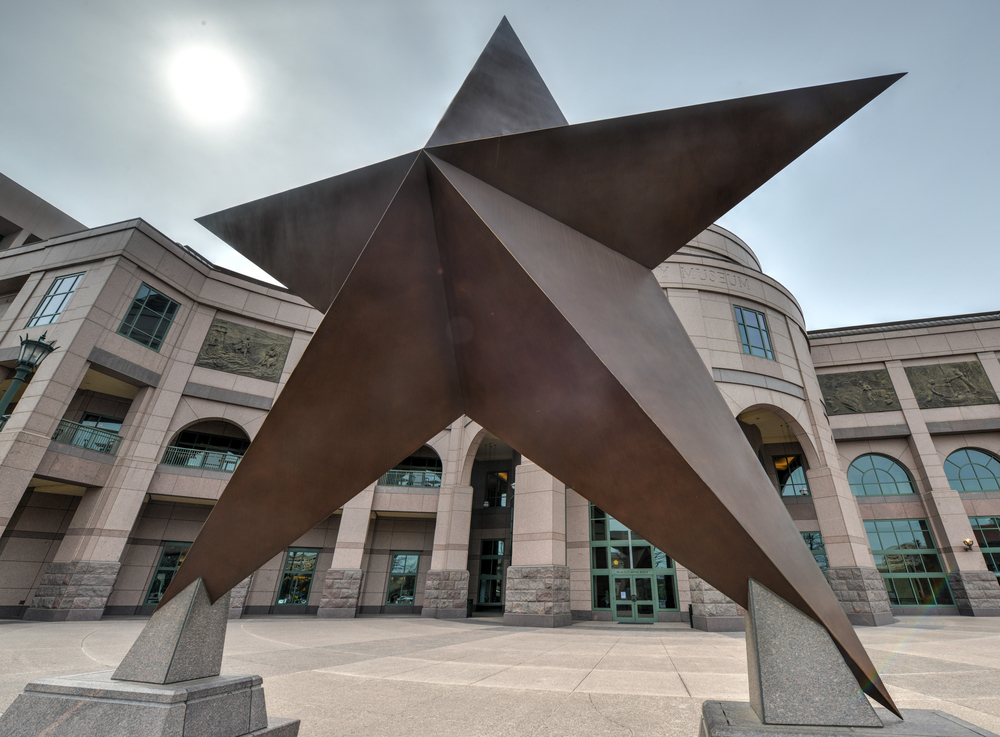 Texas Springs Road Trip
Highlights
Hamilton Pool Preserve
Barton Springs Pool
Jacob's Well Natural Area
Hancock Springs
Some of the finest natural springs in the US can be found in Texas. Natural springs are known for their consistent temperature year-round, which is perfect for cooling off on a summer day or warming up on a winter's day.
Many of these springs are very popular swimming holes for the locals. Barton Springs is a prime spot for the residents of Austin to cool off. Many of them are very friendly and will gladly fill you in on some of the hidden gems of the city.
Many of the other springs are less tourist destination and more natural wonder. Jacob's Well is the second-largest completely submerged cave in Texas and is one of the most epic places in the south. Along with swimming, Jacob's Well is a great place for hiking and bird watching. It is also possible to go on an hour-long tour with a naturalist guide.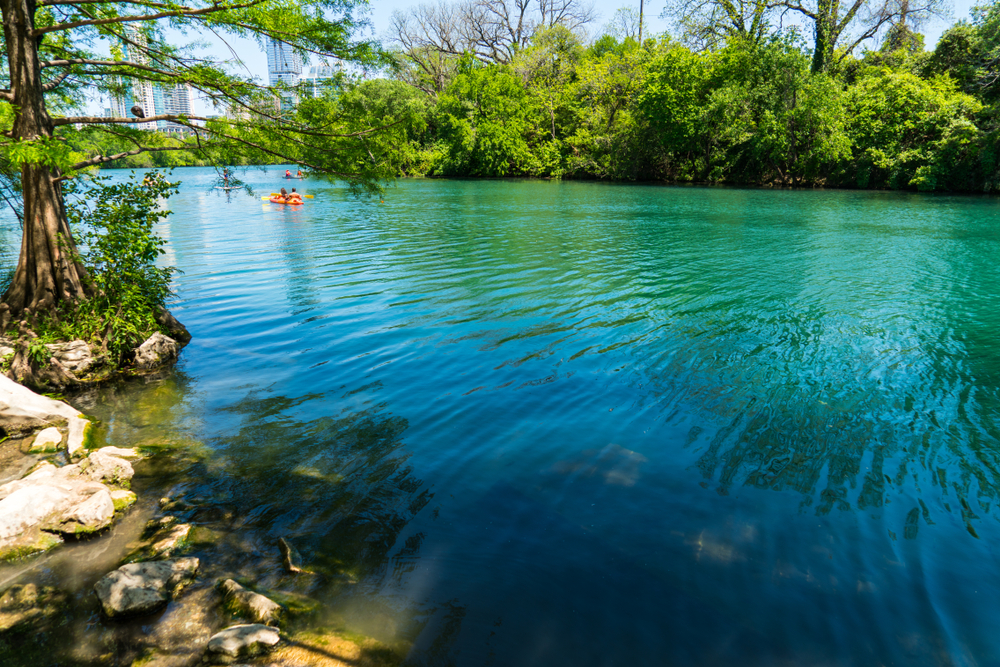 Texas BBQ Road Trip
Highlights
Tejas Chocolate + BBQ
Stanley's Famous Pit Barbecue
Harris Bar-b-que
Hutchins BBQ
When you think of barbecue, you are most likely thinking of Texas barbecue. This state is well known for smoky brisket and delicious pulled pork. It is no wonder why barbecue heavyweights like Houston and Austin are some of the best food cities in the south.
This trip starts at Tejas Chocolate + BBQ. This specialty shop pairs smoky brisket with rich chocolate truffles to create a unique experience that you won't soon forget. Be sure to save some room, though, as this Texas road trip is sure to leave you with a full stomach.
All of these barbecue restaurants boast awards too numerous to mention, and each one comes with its own unique specialty. Stanley's does an excellent pork rib dish, Harris Bar-b-que serves iconic Texas brisket, and Hutchins invented the uniquely Texan dish called a "Texas Twinkie," which is a brisket-stuffed jalapeño wrapped in bacon.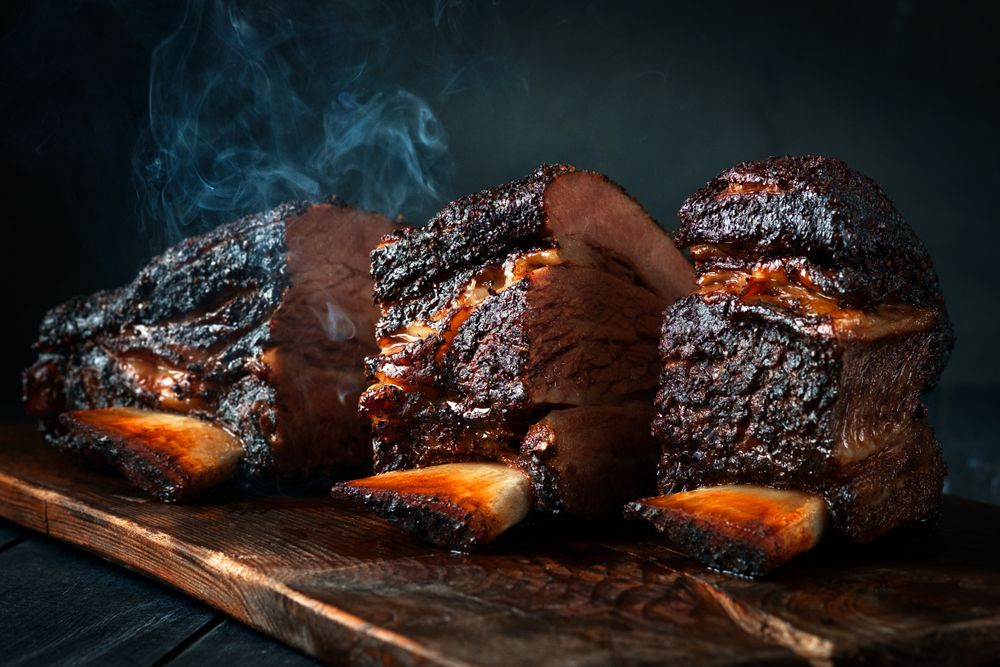 It is easy to feel overwhelmed with all there is to do in Texas. This state has everything from natural wonders, to delicious food, to man made marvels. There road trips in Texas will be your guide through this amazing state and help you experience the wonder of Texas.