If you are looking to spend 3 days in Savannah, Georgia you'll love this itinerary. It is absolutely packed with things to do. We've found some of the best spots around this amazing city, and we can't wait to share them with you.
Planning your trip to Savannah last minute?
Make sure to book ahead! Hotels and tours often sell out the closer you get to your trip. Here are our top picks for Savannah!
Top Experiences And Tours In Savannah:
Top Hotels In Savannah:
We have packed these days full of activities and there are probably still things we may have missed. Savannah is a large city where there is just so much to do. With 3 days in Savannah, you can easily see the most iconic things and leave feeling like you fully explored the city.
Whether you are looking for historical sites, modern shopping districts, or some amazing food, there is an activity on this list for you. This Savannah itinerary was made with every type of traveler in mind. So, lets take a look at the ultimate 3 days in Savannah itinerary!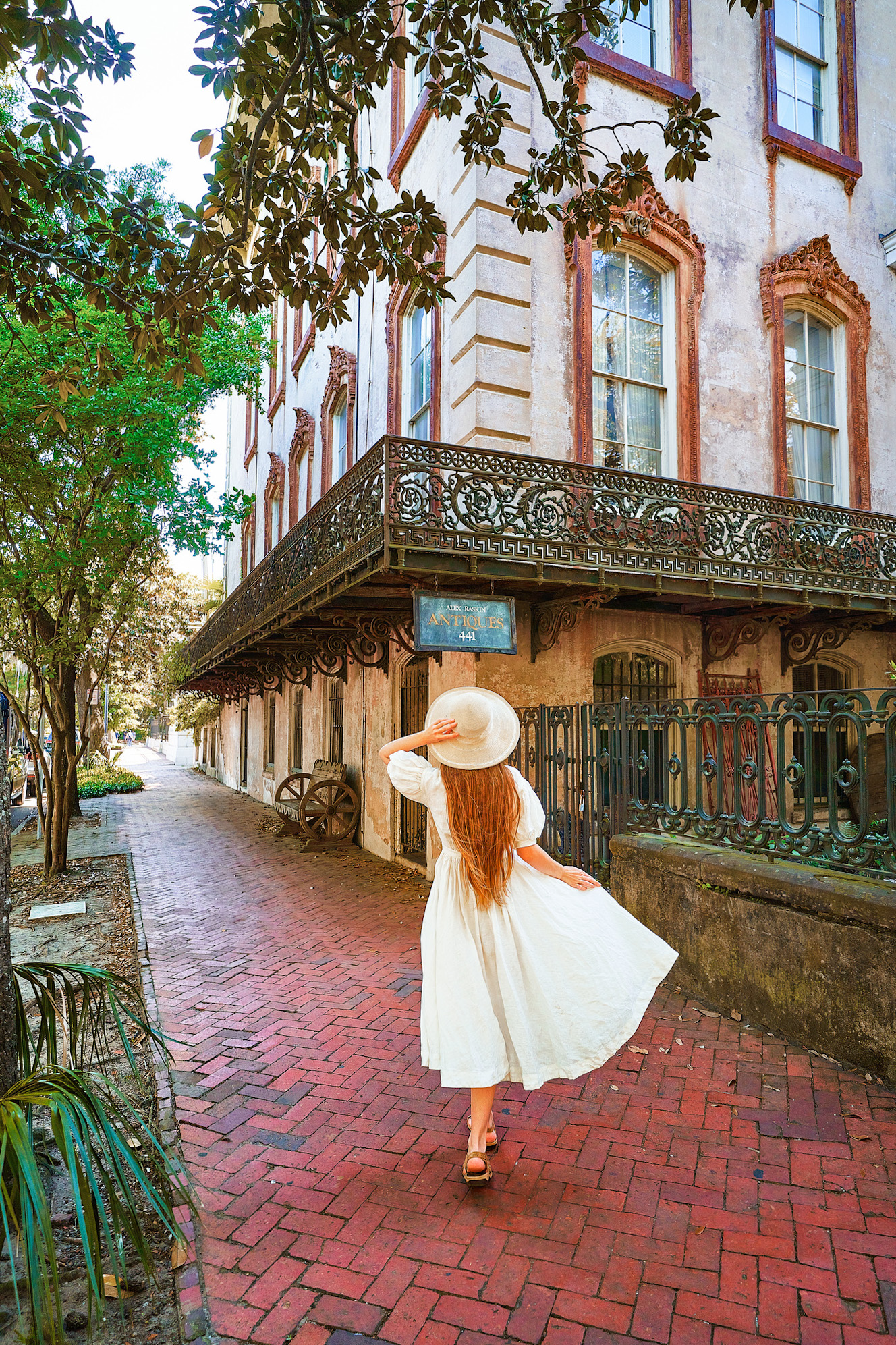 Getting To Savannah
There are a few options for getting to Savannah. If you want to fly into the city, there are a few different options. You can fly directly into Savannah at the Hilton Head Airport and it's only about a 20 minute drive to get into Savannah. Or you can choose to fly into Charleston South Carolina or Jacksonville Florida which have larger airports. If you do that, be prepared to drive at least another 2 1/2 hours to get to Savannah.
Savannah is also a great city to road trip to. Depending on where you are coming from, you'll likely get to see some other great cities along the way. Savannah is near Atlanta, Georgia and Charleston, South Carolina, two of the most popular southern cities to travel to. So that is definitely something to keep in mind when you plan your trip.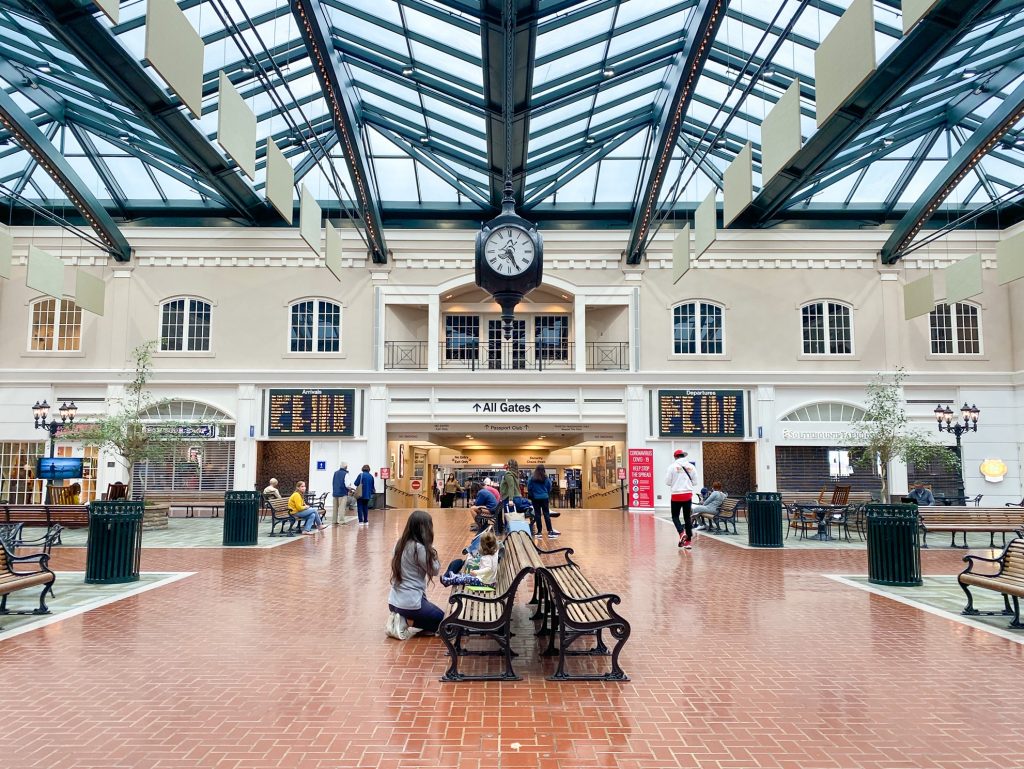 Getting Around Savannah
Savannah is a very, very, walkable city. If you are interested in doing day trips around the Savannah area, you will probably need to rent a car. But you can also use rideshare programs like Uber of Lyft around the city if you don't like to or can't walk for long periods of time.
The city also has free DOT transportation that visitors can use. There are also hop-on-hop-off bus tours that you can pay for. You'll get a bit of knowledge about the area in a convenient way. It's something we highly recommend if that sounds like something you'll enjoy.
Click Here: Savannah Hop On Hop Off Trolley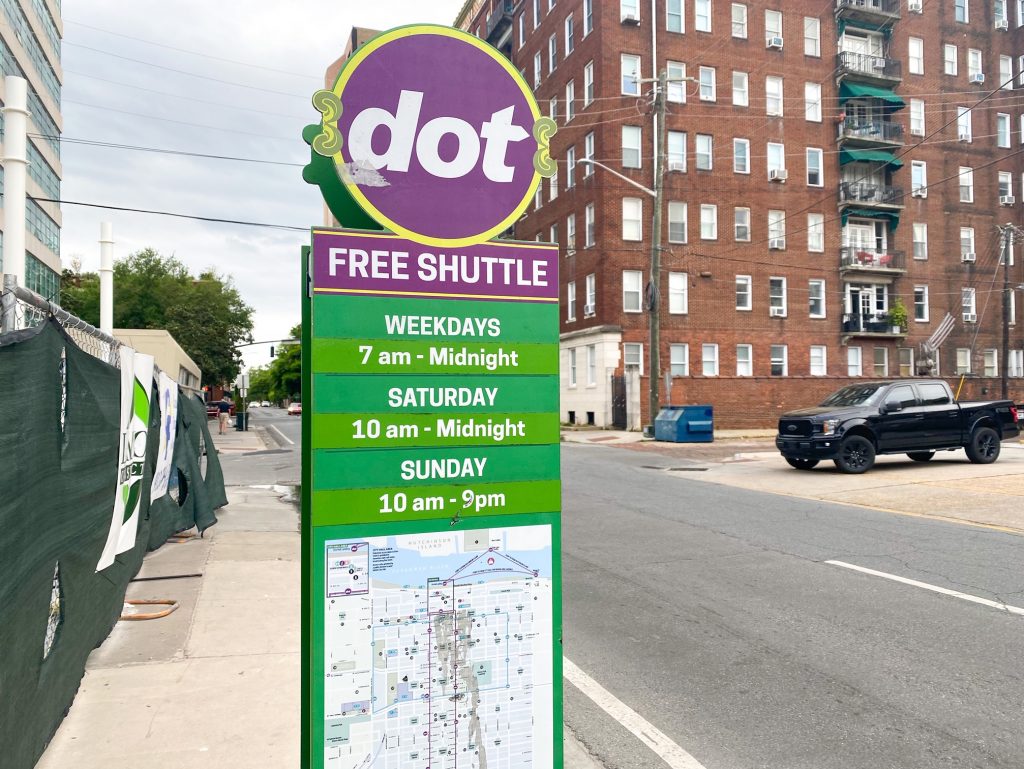 Parking In Savannah
If you have rented a car or brought your own, you'll want to know what the parking situation is. You'll be happy to know parking in Savannah is very affordable. The street parking is especially affordable. Street parking is free after 5 pm in most areas.
In the historic district south of Liberty street, street parking is free for the entire weekend. You'll also be able to find parking garages and parking lots scattered throughout the city where you can park as well.
The Ultimate 3 Days In Savannah Itinerary
Day 1: Intro To Savannah + Historic District
On your first day in Savannah you'll be walking a lot, so make sure to wear a pair of comfortable shoes. Day one is all about seeing Savannah's most iconic landmarks. From historic buildings, the amazing 22 squares, and more. After your first full day in Savannah, you'll have seen some of the most admired destinations and learned a lot about the city itself.
Stop 1: Breakfast At Mirabelle Savannah
Start your 3 days in Savannah with breakfast at Mirabelle Savannah. Mirabelle Savannah is a delightful coffee shop known for its Liège Waffles, which are traditional Belgian-style waffles. You can add a variety of toppings to your waffles. Like, Fluffernutter, Peach Cobbler, and Lemon Zinger.
They are absolutely delicious and pair amazingly with their fresh roasted coffee menu. They are known for sourcing their beans from the best and most unique bean roasters around the world. If you don't like coffee, that okay. They also have beverages like hot and cold tea, Matcha Lattes, and Chai Lattes.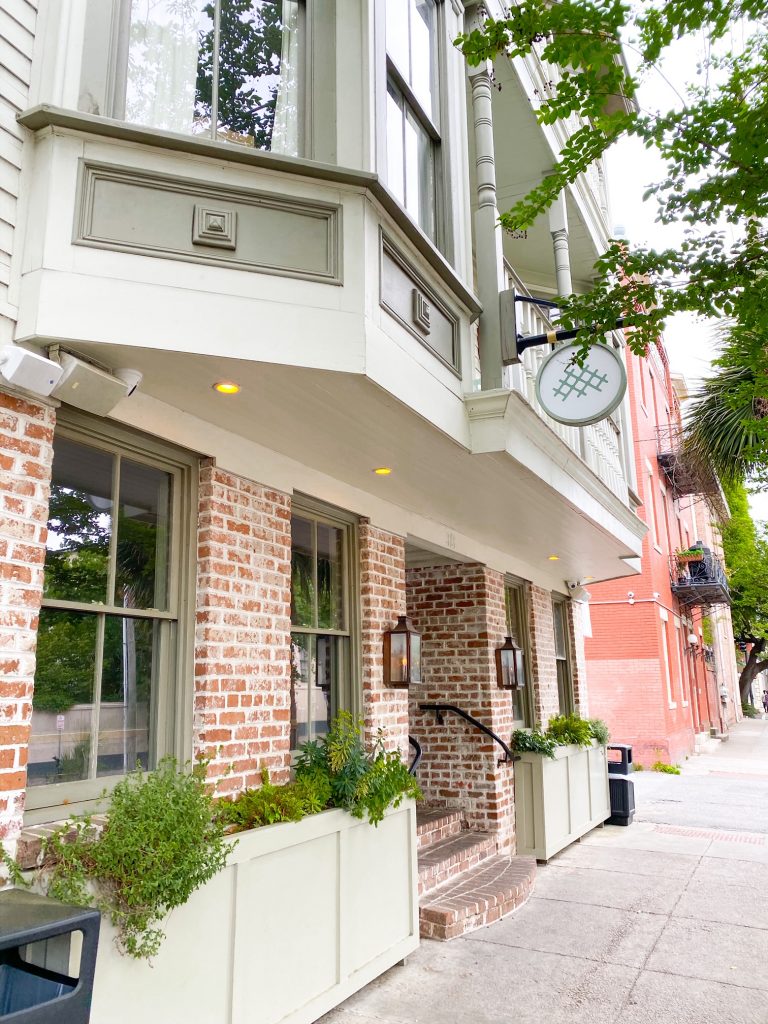 Stop 2: Explore Cathedral Basilica Of Saint John The Baptist
After you've had your fill of amazing waffles head to the Cathedral Basilica of Saint John the Baptist. It is the home of the first parish established by the French immigrants after the Haiti uprising at the end of the 18th Century. It continued to grow when French nobles started to flee the French Revolution. Due to this growth, the Basilica was built in 1835.
After a devastating fire in 1899, most of the Cathedral was rebuilt to look how it does now. The church is open Monday through Saturday at various times for self-guided tours. However, if you want a docent-led tour to dive fully into the Cathedral's history, they have daily options as well. It is a stunning building full of beautiful architecture and art that has become an iconic building in Savannah.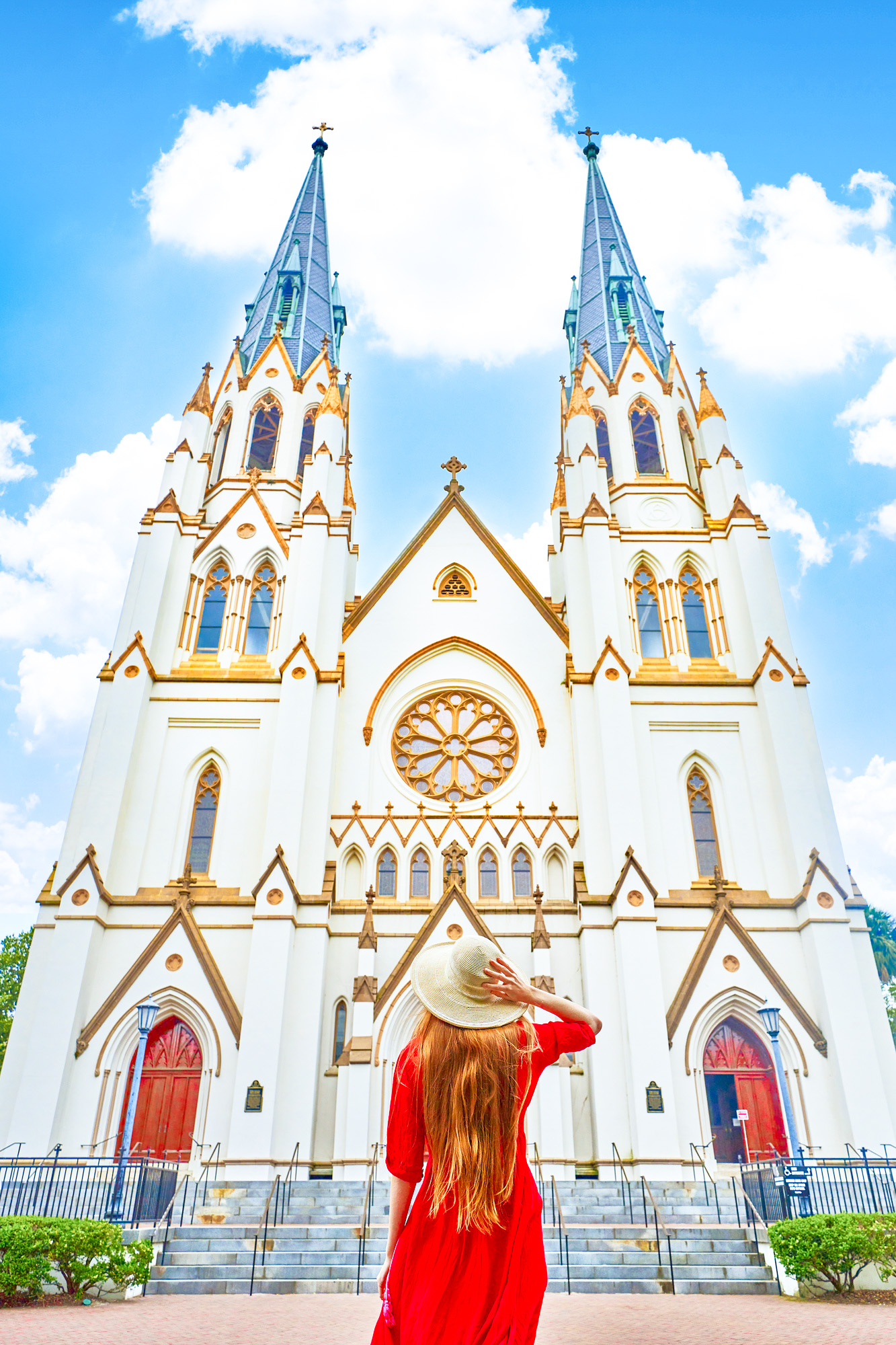 Stop 3: Relax In Lafayette Square
The massive square outside of Cathedral Basilica of St. John the Baptist is known as Lafayette Square. After some time exploring the Basilica, it's a great place to relax and rest your feet. The Square itself is historic and was laid in 1873 in honor of Marquis de Lafayette.
Lafayette was a French General under George Washington during the Revolutionary War. The beautiful centerpiece of this gorgeous Square is the Semiquincentenary Fountain that was presented by the Colonial Dames of America to mark the 250th anniversary of the founding of the city.
There is plenty of green space where you can stretch out and relax and benches where you can sit and people watch. If you walk around the Square, you'll find tons of historic homes. Many of them are actually House Museums, so if you feel up to it, think about stopping in one for a tour.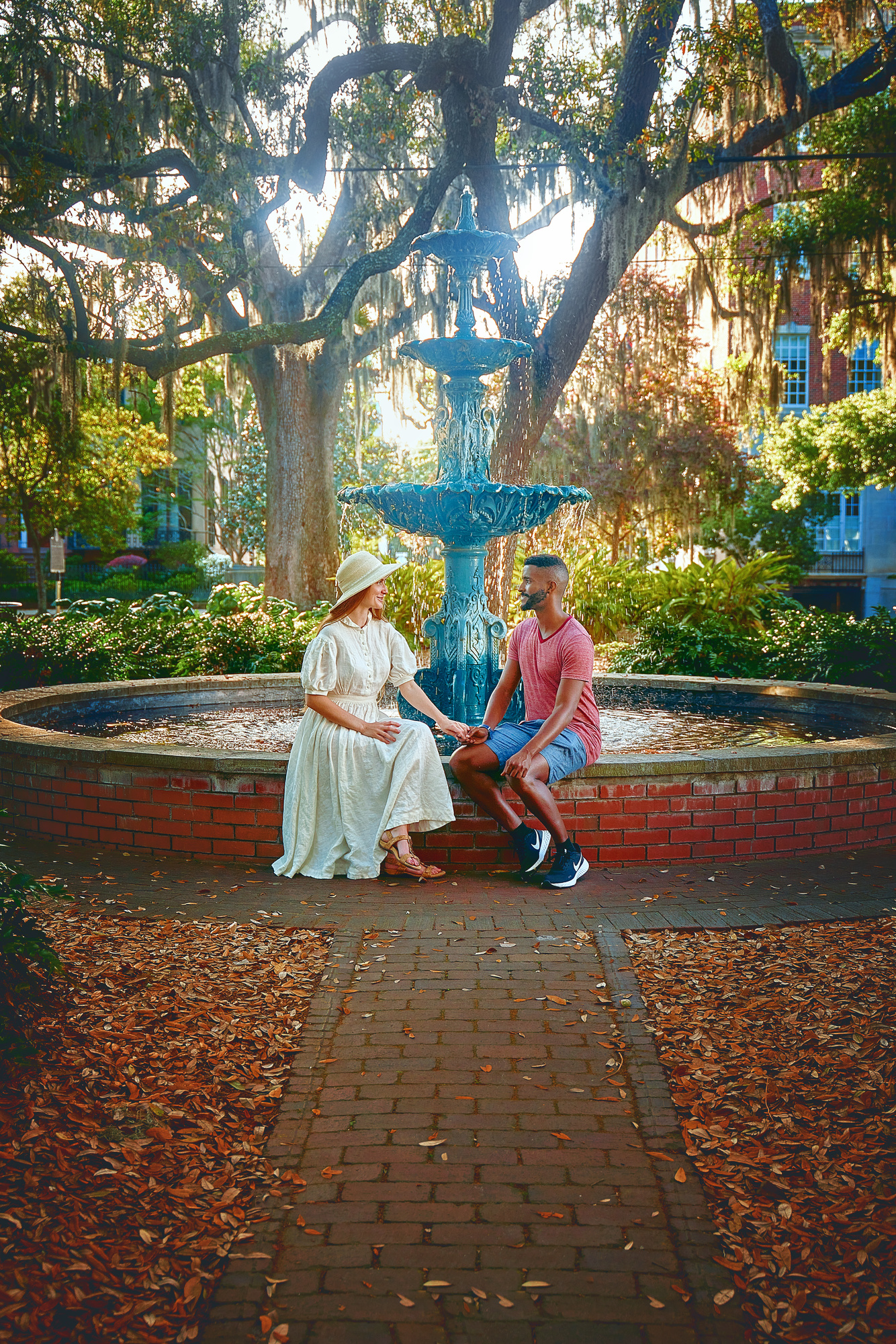 Stop 4: Grab A Refreshment At Fox And Fig And Stroll Troupe Square
You've spent the morning exploring and you're probably starting to get hungry. So we absolutely suggest a stop at Fox and Fig Café. We loved Fox and Fig so much we made a stop almost every day of our trip. Fox and Fig is a Vegan restaurant that is absolutely delicious.
We particularly enjoyed the Yerba Mate Limeade with a pump of Lavender. They also have unique Lavender Coffe beverages and their Cinnamon Rolls are massive and so so good.
While you're sipping on your Limeade and munching on your Cinnamon Roll, stroll around Troupe Square. Laid out in 1837, it is a beautiful green space and park. While you walk around you'll see historic markers, buildings, and even cemeteries.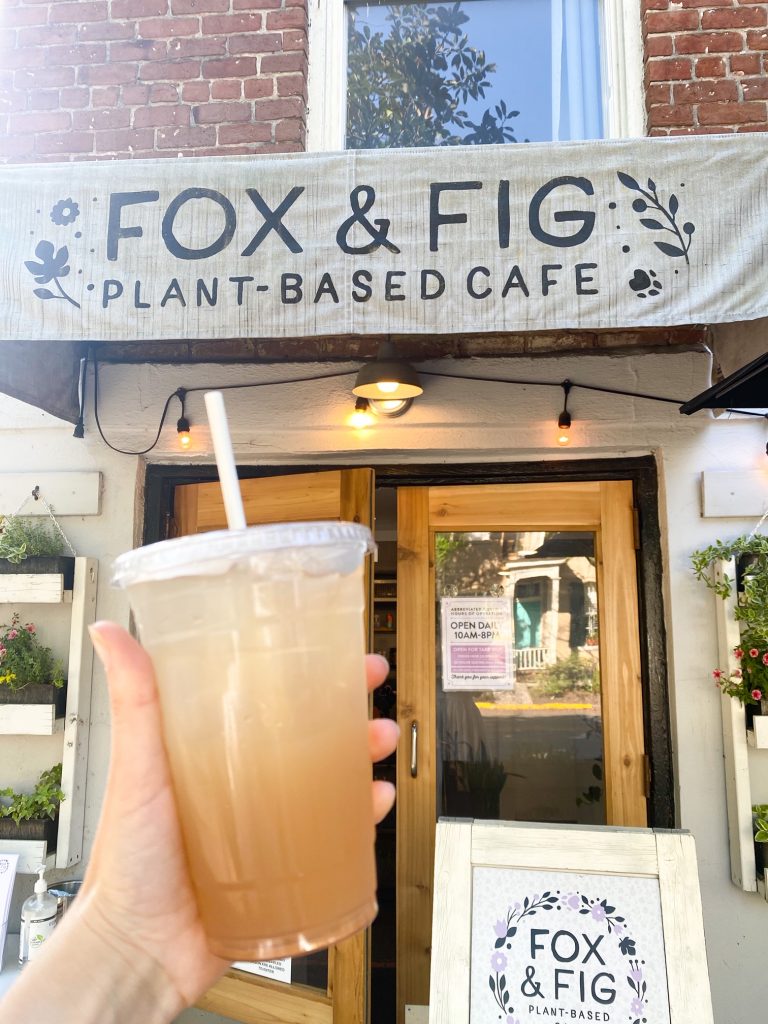 Stop 5: Explore East Jones Street
If you are interested in seeing some beautiful historic homes, explore East Jones Street. There are tons and tons of beautiful houses for you to admire. It's also mostly in the shade, so really great if you want to keep exploring the city but need a little break from the heat. The street is also near some of the oldest squares and buildings in the Historic District of Savannah.
Most of the homes on East Jones Street are registered on the register for National Historic Homes. They are all beautiful, making this one of the best streets in Savannah for admiring historic homes. East Jones Street is also great for photo stops, but please keep in mind these are private homes. You should not walk up the steps of the private homes and just admire them and photograph them from the street!
Click Here: Guided Segway Tour Through Historic Savannah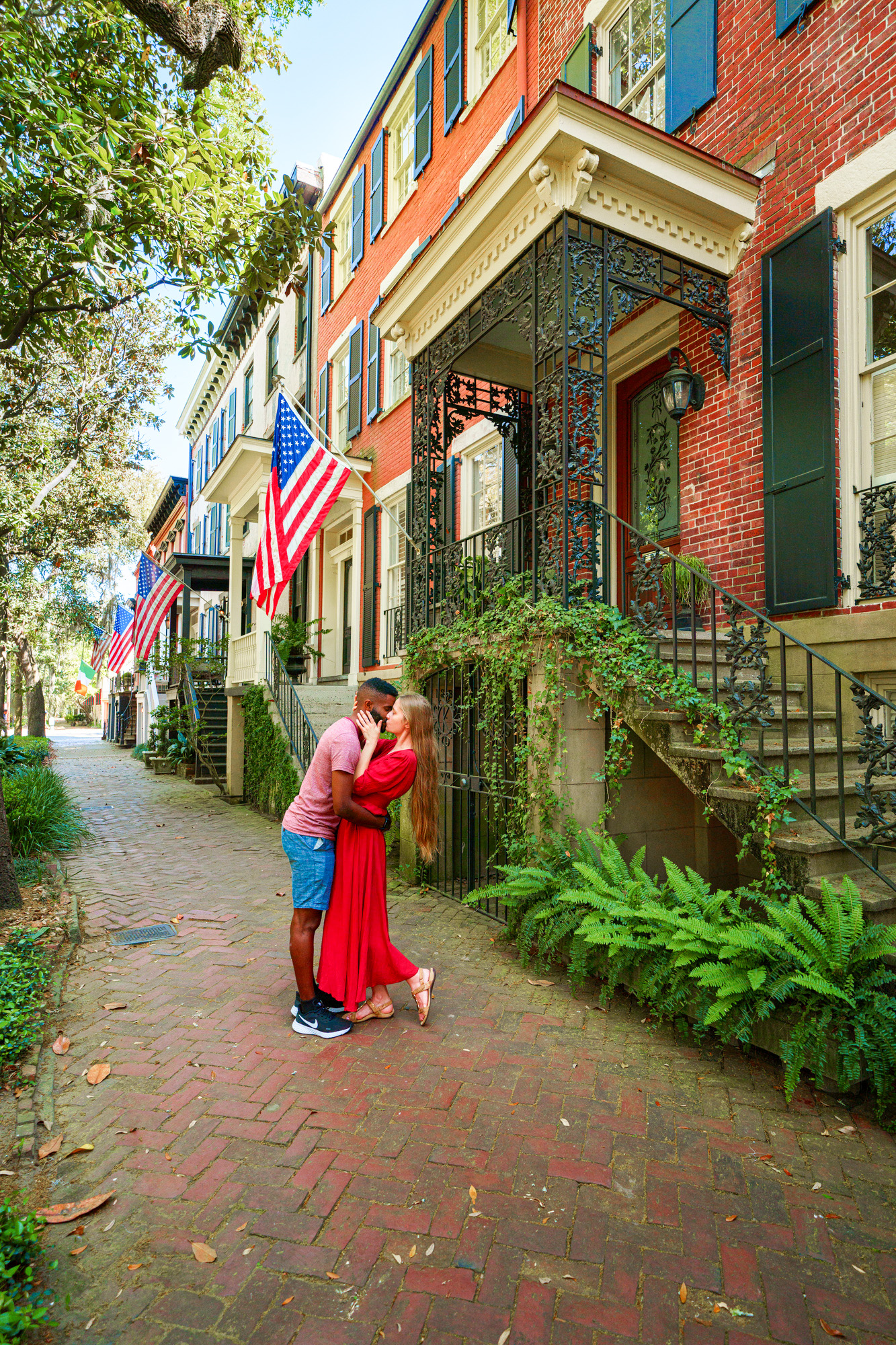 Stop 6: Walk Bull Street And See The Squares
Bull Street is a great way to see Savannah's iconic Squares. It is one of the streets that runs through most of the Squares, so you'll be able to see most of them while you are walking. There are also a ton of boutiques along the street, so it's a great place to look for some fun things to bring home from Savannah.
Some of visitor's favorites are The Book Lady, Folklorico, and Red Clover. The Book Lady has over 50,000 gently used books in over 40 genres. Even if you don't need any new books, it's a really cool store to peruse.
Folklorico is another unique boutique on Bull Street. It is a Fair Trade store, meaning it has ethically sourced items from over 30 different countries. Red Clover is another unique shop that is full of small clothing brands featuring vintage styles. These are just some of the fun shops waiting for you to explore on Bull Street.
Click Here: Savannah First Squares Food Tour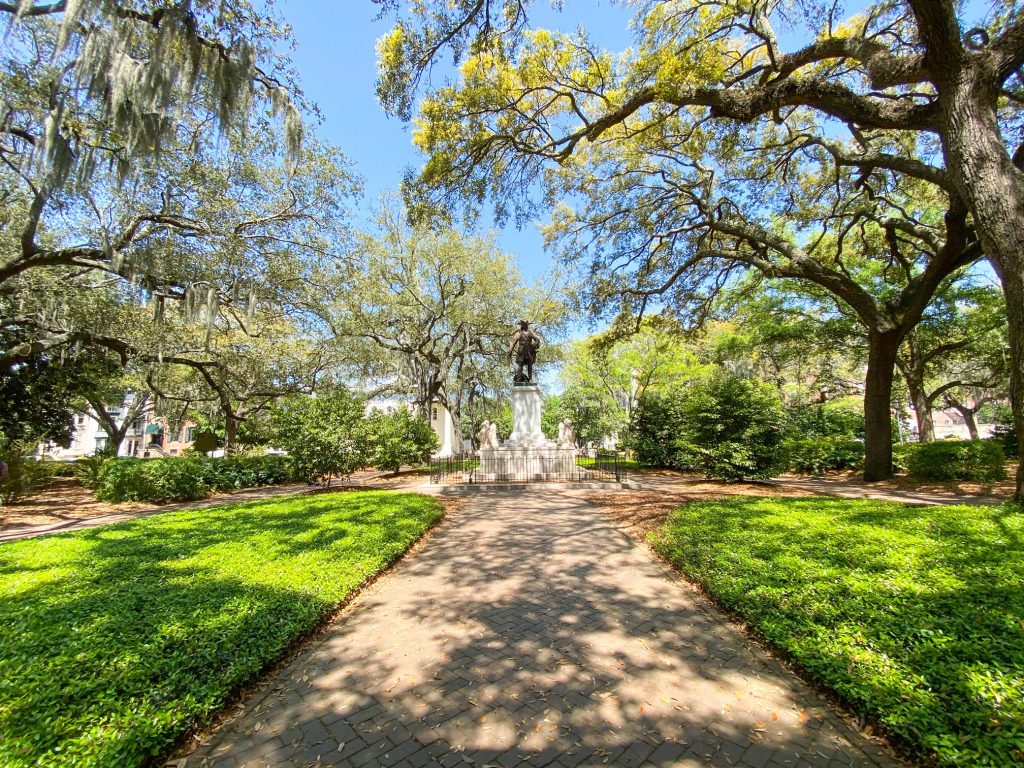 Stop 7: Six Pence Pub and Chippewa Square
While you're exploring the city's squares, make sure to spend some time in Chippewa Square. The square honors the battle of Chippewa, an important battle in the War of 1812. It's a beautiful green park that is also home to some unique eateries, like the Six Pence Pub.
The Six Pence Pub is a super charming British-style pub in the middle of Savannah. Outside the pub, you'll find an authentic British Telephone Box which is a fun spot for a quick photo.
Click Here: Drag Queen Guided Pub Crawl in Savannah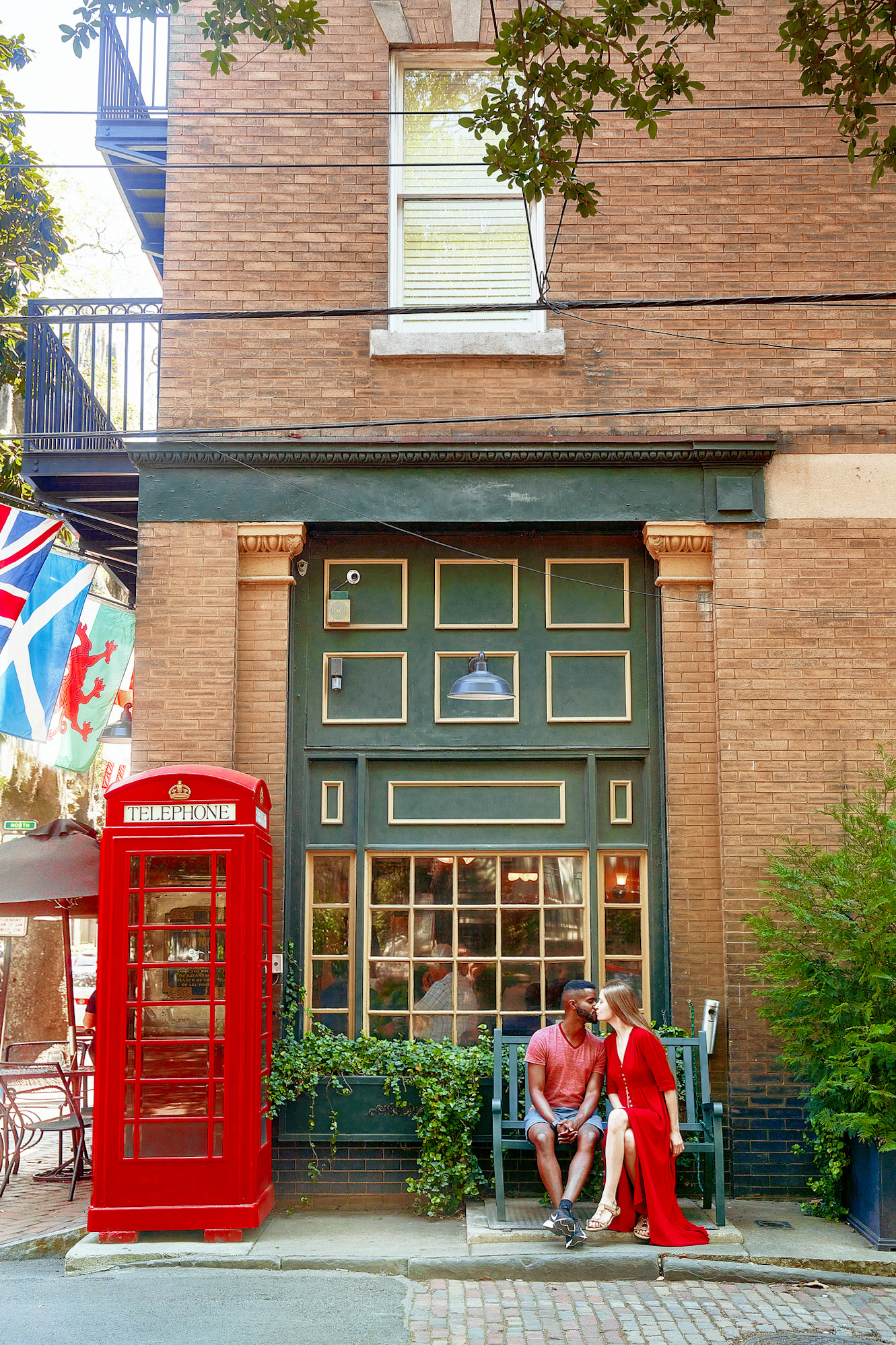 Stop 8: Lunch At Kayak Kafe
For lunch, on your first day, we highly suggest the Kayak Kafé. Kayak Kafé is absolutely delicious and we seriously recommend everything on the menu. Some of our favorites were the Greek Salad, the Jerk Chicken Sandwich, and the Taco Bowl.
Everything was absolutely delicious and it's a great place to fuel up before hitting the streets for the rest of the afternoon.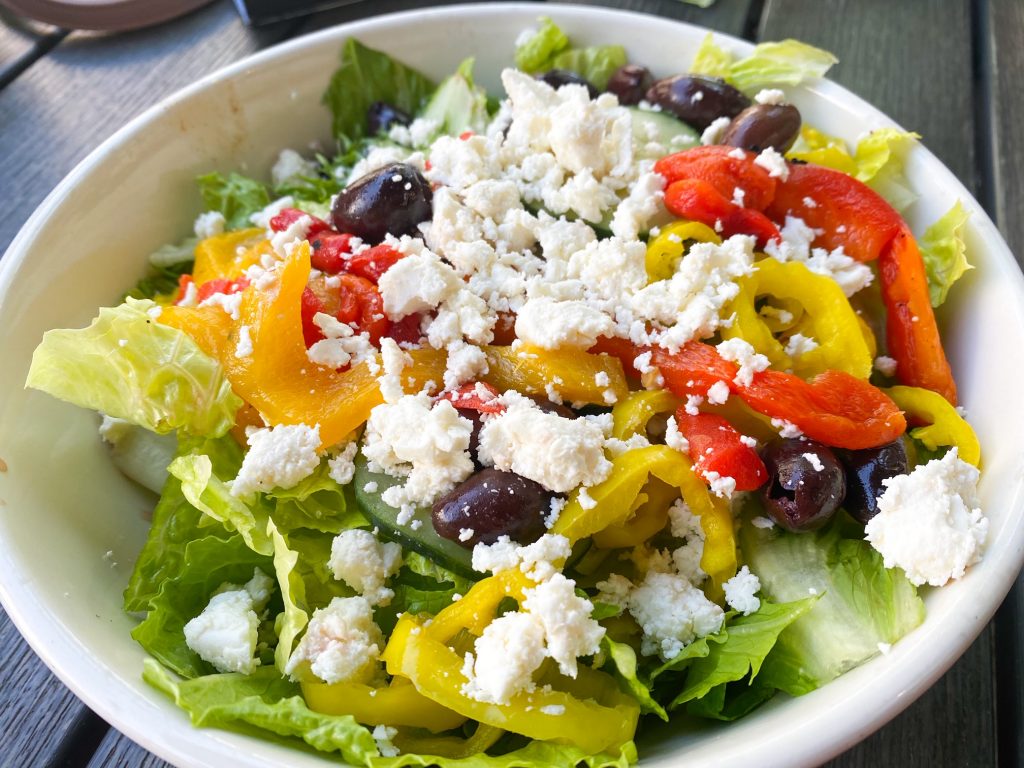 Stop 9: Shop on Bourghton Street
One of the best streets for shopping in Savannah is Broughton Street. Broughton Street is famous for being the best street for shopping in Savannah. Like Bull Street, it is full of some really charming boutiques, art galleries, and eateries. Broughton Street has even more unique stops than Bull Street though, and you can easily spend hours exploring all the unique places.
You can stop into the Gutstein Gallery, enjoy some ice cream from Leopold's Ice Cream, or experience some Parisian charm at Paris Market. A lot of the shops on Broughton Street feature locally made or acquired goods, so you'll be supporting the local economy and small businesses whenever you shop. It's a great place to find one-of-a-kind souvenirs, interesting art pieces, and more.
Click Here: Savannah Champagne And Shopping Tour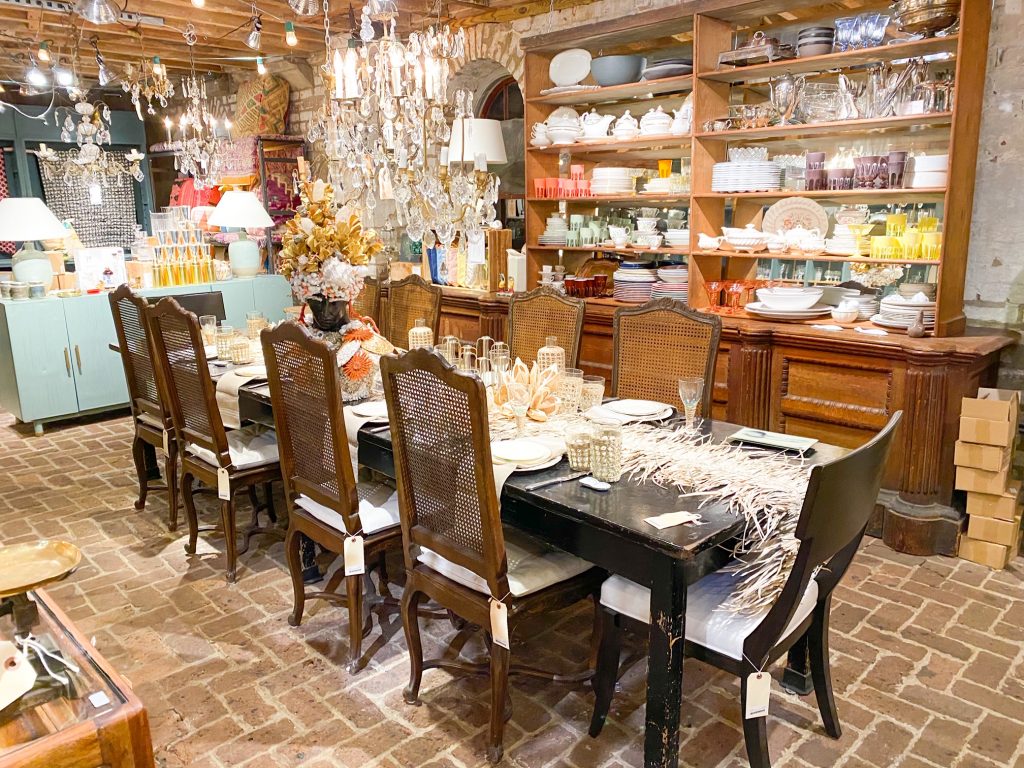 Stop 10: Consider A Hop-On Hop-Off Bus Tour
If you need a break from all the walking, consider a Hop-On Hop-Off Bus Tour. Savannah has a few options and the tickets are typically good for a whole day, sometimes two. The most popular options are the Historic Trolley tour which is focused on mostly historic sites or the regular Trolley Tour.
Whichever one you choose, they are a great way to rest your feet while also exploring the city. The tickets are a great option for your 3 days in Savannah because you'll be able to use the bus to get around the city any time during the day.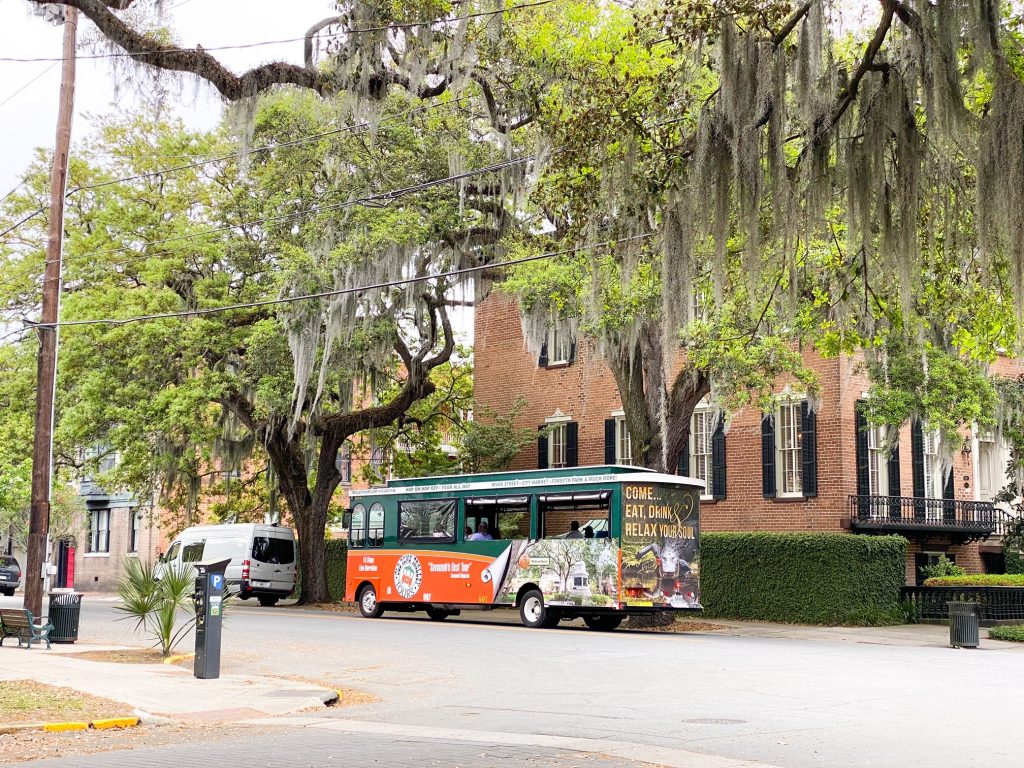 Stop 11: Juliette Gordon Low Birthplace
Juliette Gordon Low was the creator of the Girl Scouts of America. At the Juliette Gordon Low Birthplace, you can tour Low's home and learn about the origins of the Girl Scouts. She had a strong upbringing that emphasized community service, kindness, and the importance of education. In the early 1900s, after the death of her beloved husband, Gordon Low began looking for some meaning in her life.
That meaning in life turned out to be the Girl Scouts of America. The Juliette Gordon Low Birthplace is now a museum that focuses on her early life in Savannah, her marriage, and her subsequent founding of the Girl Scouts of America. Her childhood in Savannah had a large impact on her, and in turn, had a large impact on creating the Girl Scouts of America.
Inside the House Museum, you'll also find a brand new shop. The shop focuses on selling items from Women-Owned businesses only. So you'll be supporting women around the country and world when you buy an item from the shop.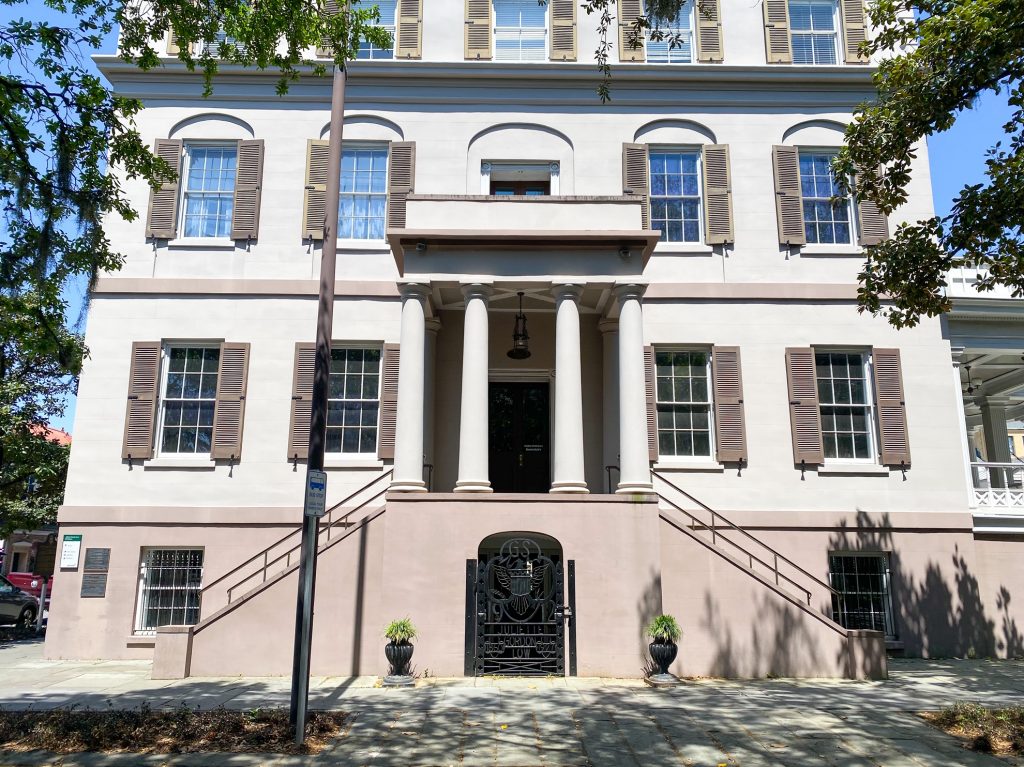 Stop 12: Franklin Square And First African Baptist Church
After learning all about the Girl Scouts, head to another historical area of the city. Franklin Square was named after founding father, Benjamin Franklin. In the center of the square is a monument honoring Haitian's who fought in the Revolutionary War during the infamous siege of Savannah.
It's also where you'll find the First African Baptist Church, which was established in 1773 by enslaved person, George Leile. It is the oldest Black church in America and a truly interesting Black history site. The church is now open daily for self-guided tours at various times throughout the day.
While you tour the church, you'll get an in-depth history of the church's early founding, and its survival during the American Revolution and the Civil War. Franklin Square and the First African Baptist Church is a great place for your weekend in Savannah to learn about the people of color who long called the city home.
Click here to check rates for First African Baptist Church Tours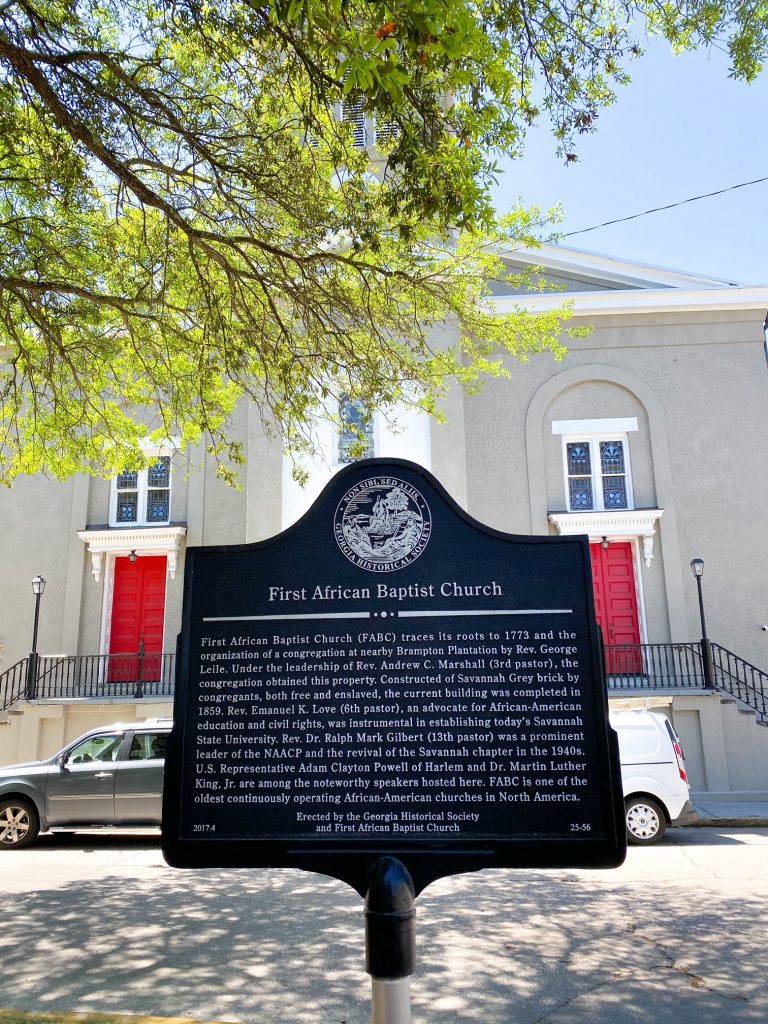 Stop 13: Sunset Paddle Wheeler Cruise
You've been walking all day so you're probably looking for a way to relax and rest your feet a little. As the day winds down on your Savannah itinerary, head out onto the water on a Sunset Paddle Wheeler Cruise.
The cruise around the city's waters lasts about two hours, so you'll have plenty of time to rest your tired feet. While on the cruise, you'll get stunning views of the city. We have a blog post on some of the best tours in Savannah and this is really up there!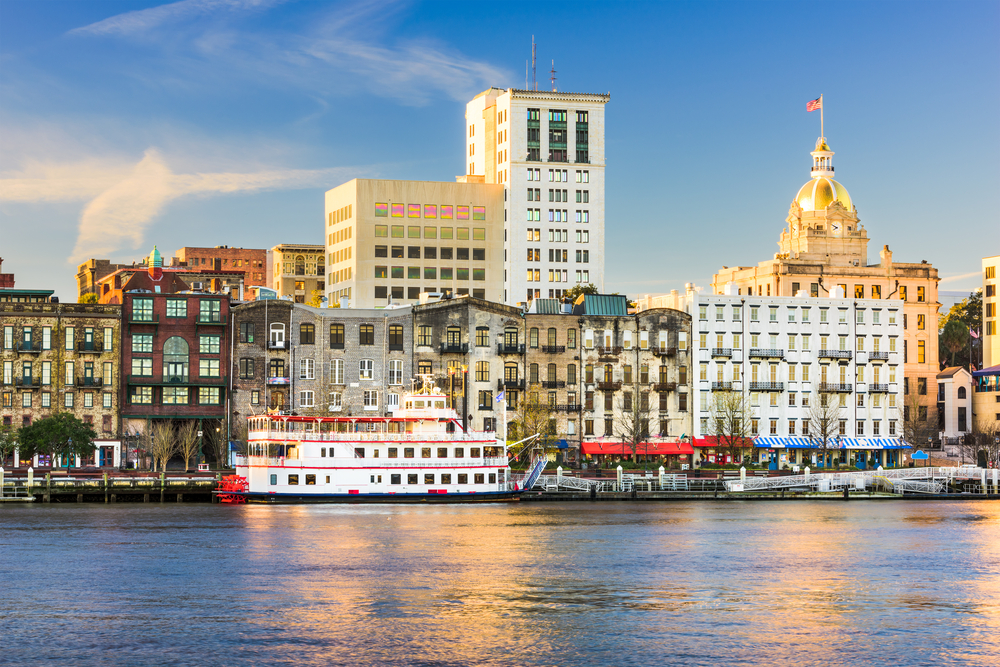 Stop 14: Dinner At Flying Monk Noodle Bar
End your first day of your 3 days in Savannah with dinner at the Flying Monk Noodle Bar. Flying Monk Noodle Bar is an Asian restaurant that was one of our favorite restaurants during our Savannah trip.
We suggest trying the Na Na Noodles, the Edamame Dumplings, and the Singapore Noodles. They have beautiful indoor and outdoor seating options and are a delicious way to end your first day.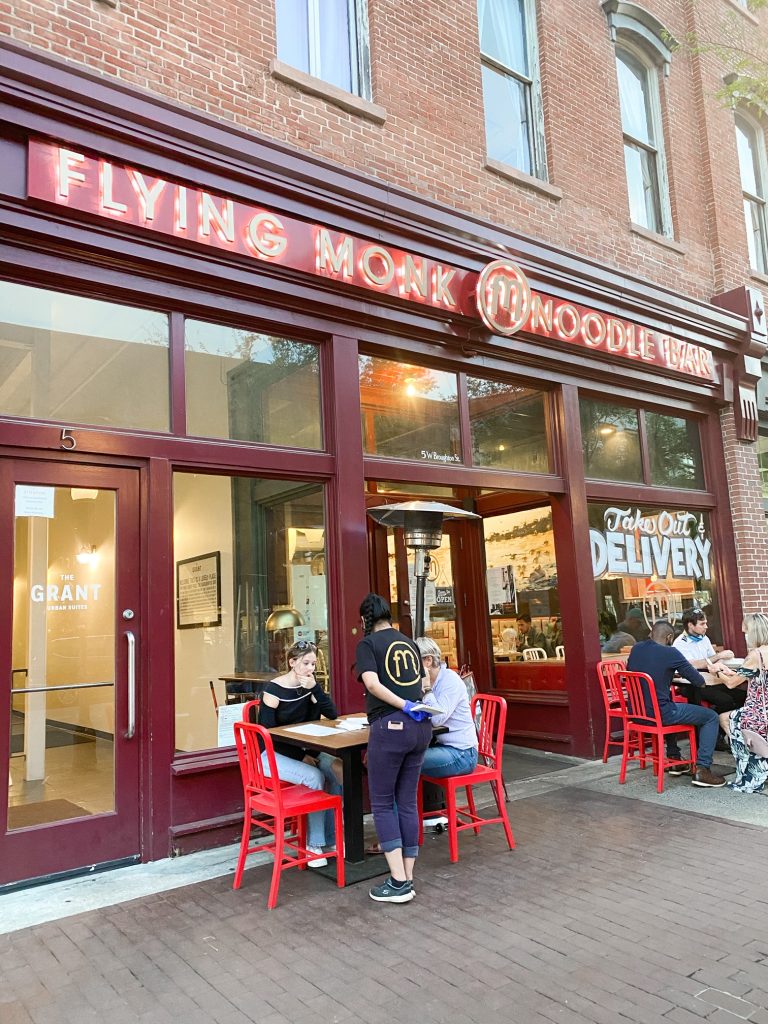 Day 2: Old Meets New
For Day 2 of your 3 days in Savannah, you'll be exploring more historic sites, but also the newer districts in Savannah. While you explore the historic districts, you'll see how the newer districts have effortlessly merged with them to create a charming experience for visitors. There is less walking than day one, but you'll still be out all day enjoying this Savannah itinerary.
Stop 1: Breakfast At Two Cracked Eggs Cafe
Start the second day of your 3 days in Savannah with breakfast at Two Cracked Eggs Café. With tons of egg dishes, massive biscuits, and even waffles, you'll be full as you start your second day on your Savannah itinerary.
They also have delicious coffee, fresh-squeezed juices, and hot and iced tea options.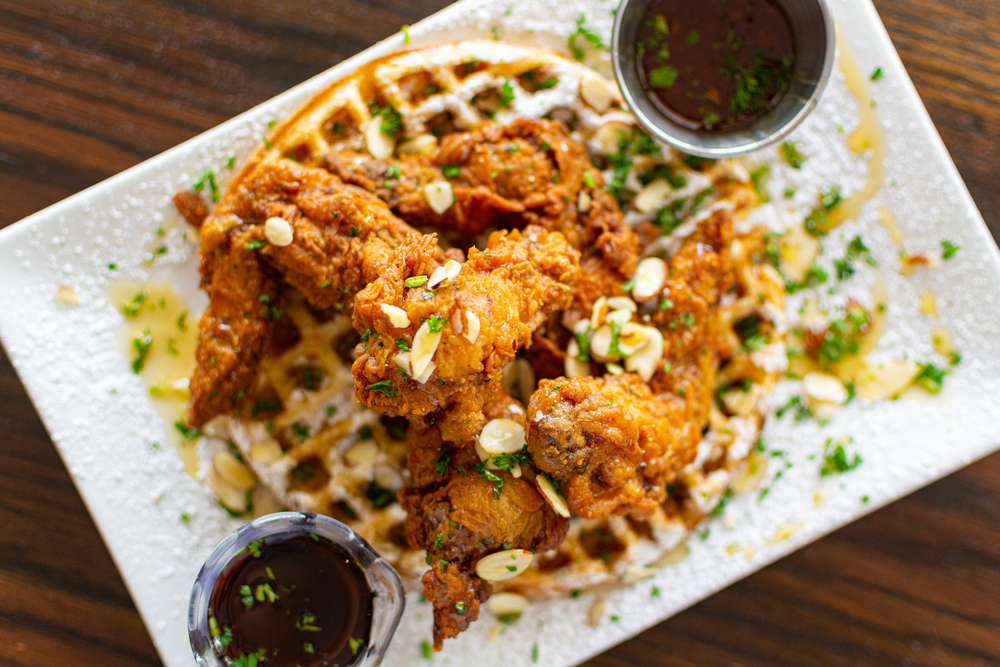 Stop 2: Explore Wormsloe Historic Site
The Wormsloe Historic Site is about 20 minutes outside of Savannah. So you'll either need a car or to head to it via a rideshare program like Uber or Lyft. It's the only time you'll really need your car on this trip, but it's worth the drive outside of the city.
The famous oak tree-lined road is 1 1/2 miles long and is an amazing tree tunnel. It's a great spot for photography and is very pretty. Now, the road is a part of what was once the Wormsloe Plantation, which had enslaved peoples working on it.
It is the home of the oldest standing structure in Savannah and you can take tours of the nature trail that is set up to show Colonial life at the time. But be wary of its dark history, and keep that in mind if it's something you don't feel comfortable touring.
Click Here: Wormsloe Plantation And Bonaventure Cemetery Tour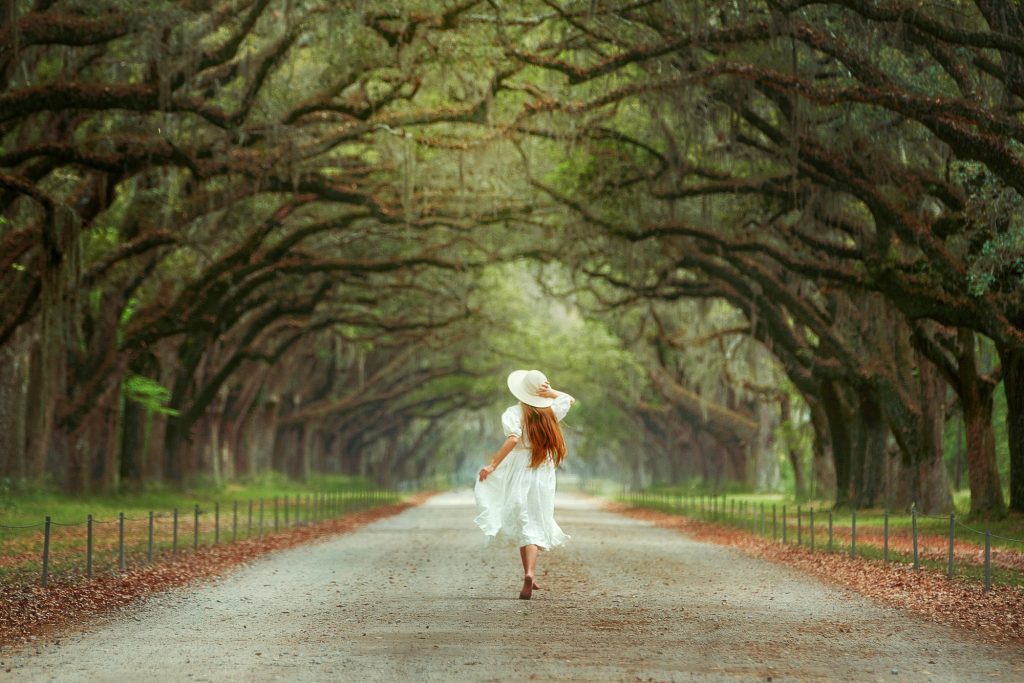 Stop 3: Back To Savannah For Lunch At Zunzis
After a morning spent exploring the grounds of the Wormsloe Historic Site, head back to Savannah for lunch. We suggest grabbing lunch at Zunzi's, a South African Inspired restaurant. It has a pick-up window and outdoor seating for you to use while you enjoy your meal.
Be warned, it can get very busy at lunchtime, but you can order in advance, which we absolutely suggest doing. You can't go wrong enjoying the Johnny Roll or the Conquistador.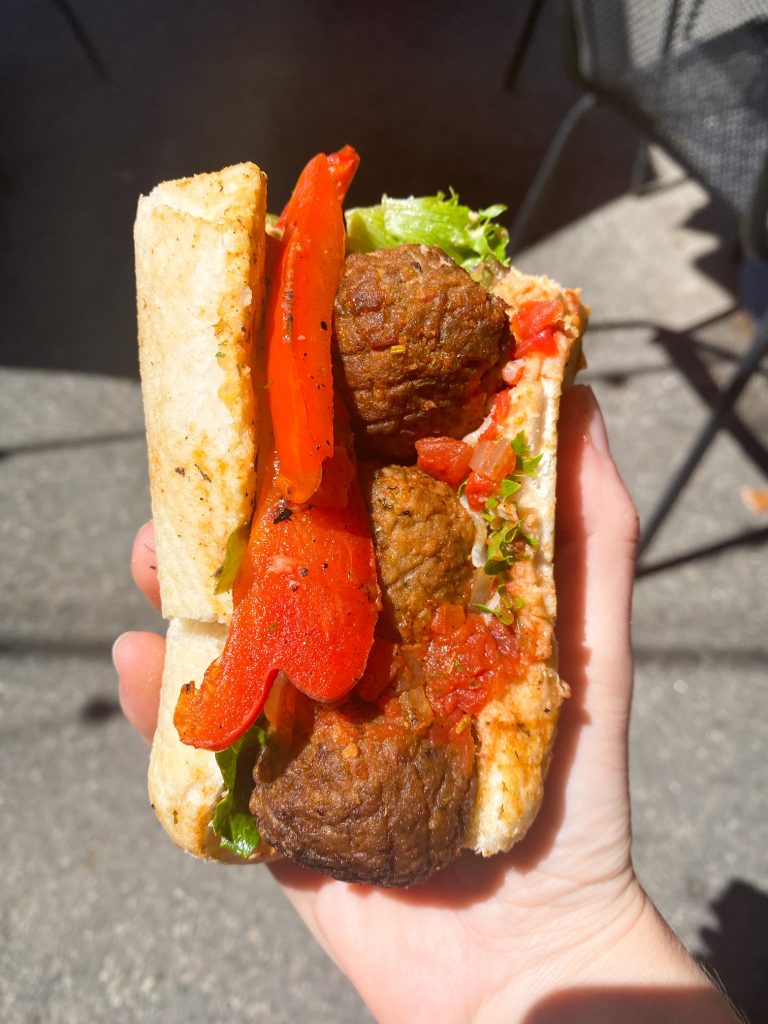 Stop 4: Check out Oglethorpe Square
From there, head to Oglethorpe Square. Oglethorpe Square is one of the six original squares that were laid out by Savannah's founder, General James Oglethorpe. The Squares were laid out in 1742. Unlike most of Savannah's squares, Oglethorpe Square is very modest in design. You won't find any monuments, fountains, or other structures within it.
Oglethorpe Square is a beautiful park full of green spaces, charming paved walking trails, and plenty of benches to sit out and relax while you enjoy the park. It was originally named the Upper New Square but was later renamed in honor of Savannah's founder, and was kept simply designed and decorated.
On the sides of the square, you'll find some of Savannah's iconic historic buildings, such as the Owens-Thomas House. You can tour the Owens-Thomas House, or simply enjoy the simple beauty of one of Savannah's oldest squares.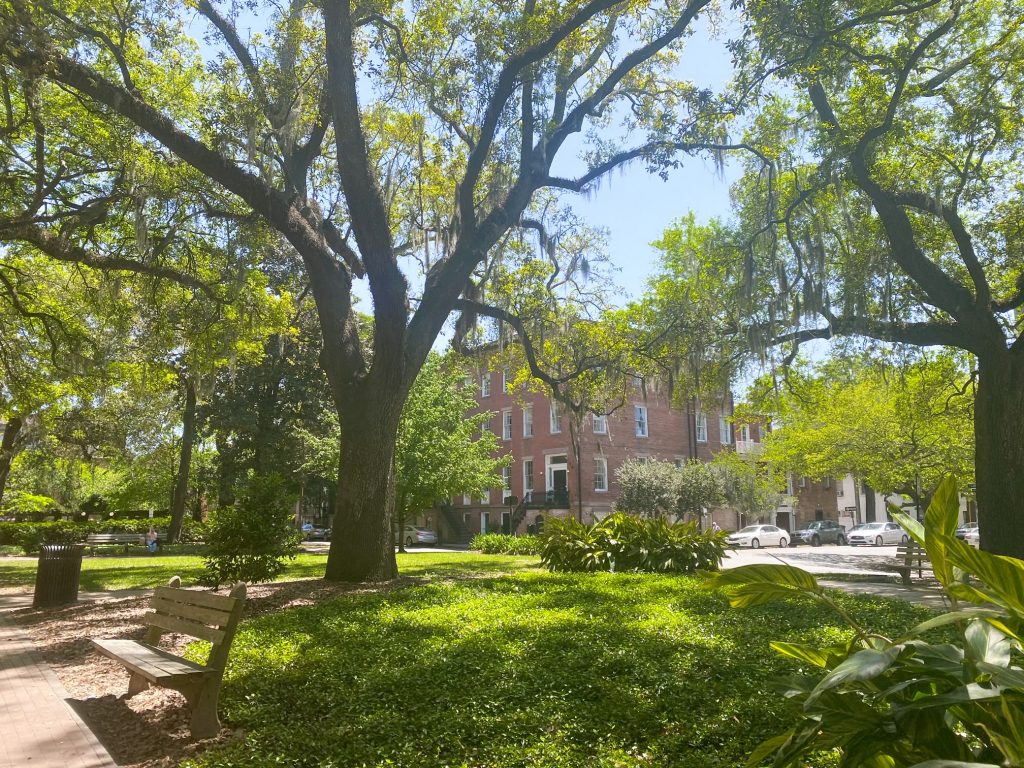 Stop 5: Try Some Desserts in Savannah
While spending 3 days in Savannah, make sure you check out some of the city's delicious desserts. We suggest Leopold's Ice Cream or the Ben and Jerry's Ice Cream Shop for a nice cold treat.
If you are looking for something more like baked goods, head to Marche de Macarons. Marche de Macarons is a shop dedicated to delicious French Macarons and you'll find tons of daily flavors and seasonal flavors to enjoy.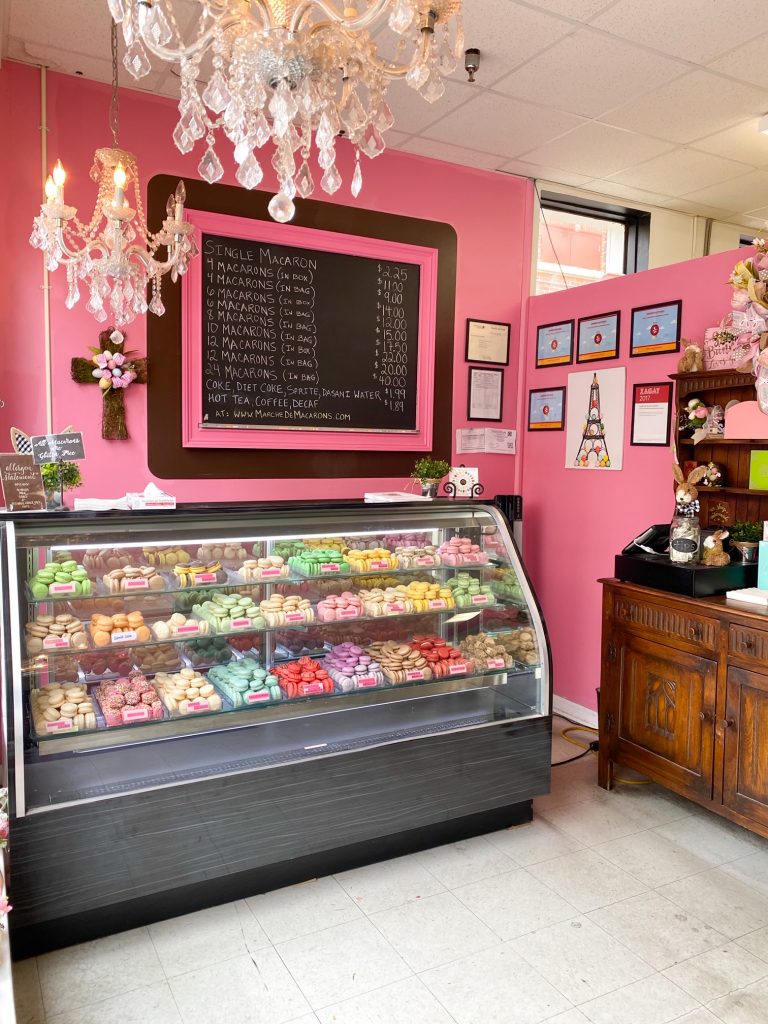 Stop 6: Reynolds Square And The Olde Pink House
Next, you'll head to another one of Savannah's 22 historic squares. Reynolds Square is another beautiful park lined with historic buildings.
The square was originally built in 1733 and was later renamed in honor of the first Royal Governor of Georgia. In the middle of the square is a monument of John Wesley, the founder of Methodism.
Along the sides of the square is one of the most iconic buildings in the square is The Olde Pink House one of the best Seafood Restaurants In Savannah!
The Old Pink House was built in 1771 and was originally white. But when the soft brick began to bleed through the plaster on the outside of the home, it turned pink. Since then, it has been an iconic home in Savannah's Historic District.
The Olde Pink House is actually a restaurant, so you can go up the stairs and get some fun photos in front of it. It's a great place to keep in mind for future meals, but for now, we'll just admire it.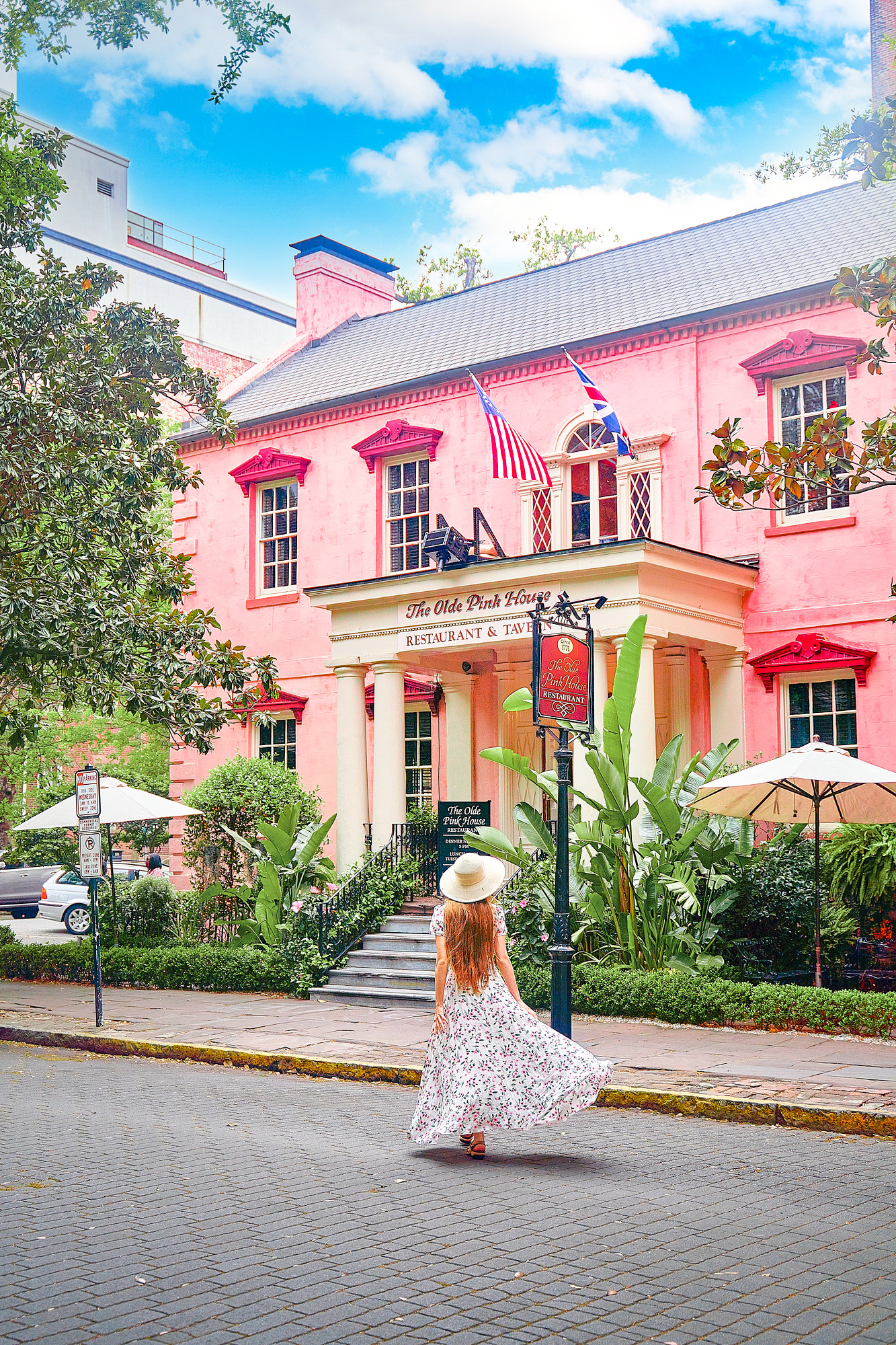 Stop 7: Walk Along River Street
One of Savannah's best historic streets is River Street. River Street was once home to the area's many cotton warehouses. The area has a unique history because cotton was one of the major exports for Savannah and Georgia as a whole. River Street is now one of the newest up-and-coming Districts in Savannah that aims to marry the old history of Savannah with new attractions.
While you walk along River Street you'll see beautiful views of the Savannah River, as well as new and historic hotels along the street. The street is home to over 75 new galleries, boutiques, restaurants, eateries, and even artist's studios. Because it is also part of Historic Savannah, you can find monuments along the street.
You can explore unique boutiques and then stop at the African American Monument or the World War II Monument. It's the perfect place to see old Savannah and new Savannah creating a unique and diverse experience.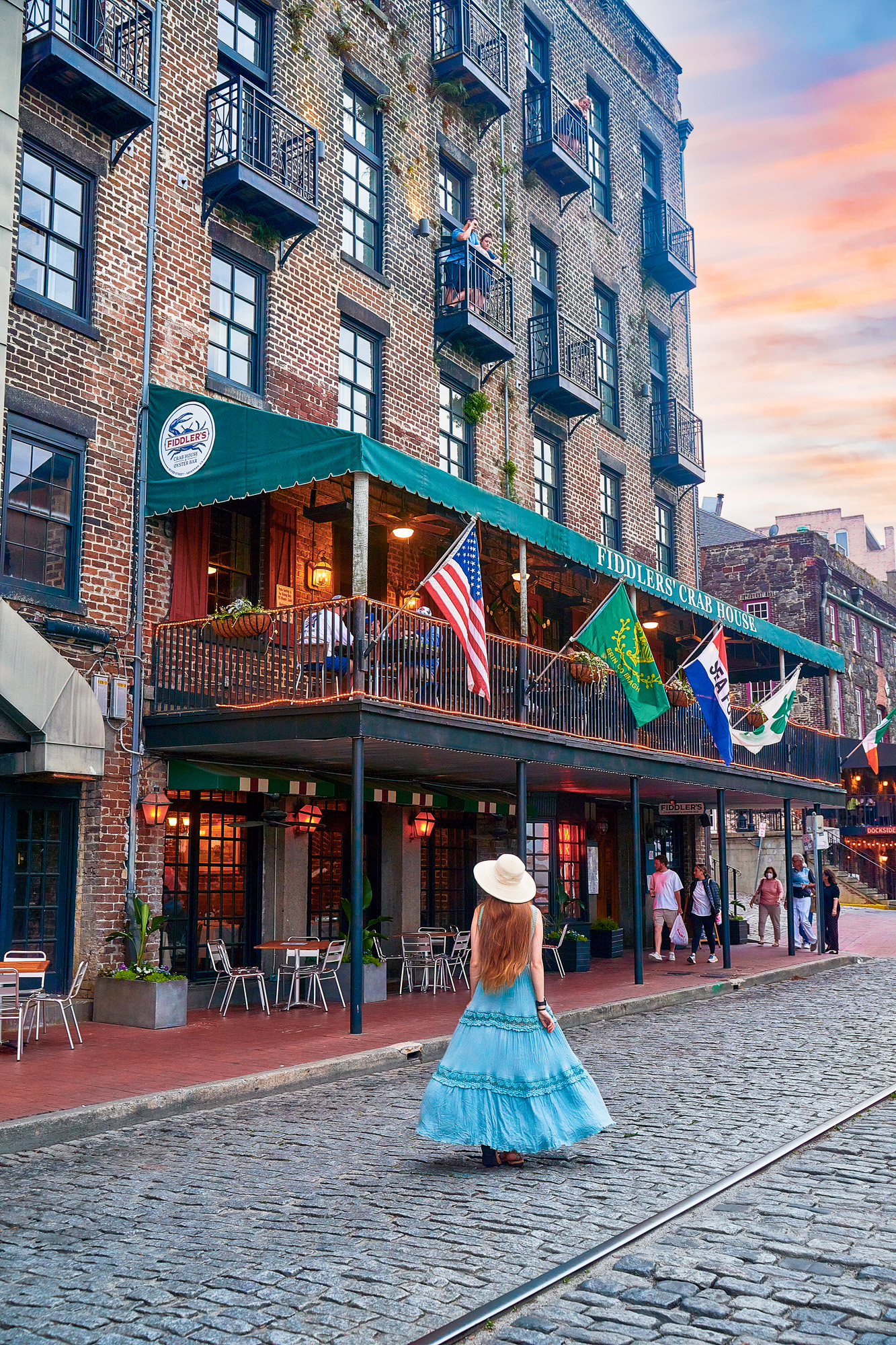 Stop 8: Explore The New Plant Riverside District
Near River street is the new Plant Riverside District. The area is considered Savannah's "Entertainment District" and for a good reason. It is bursting with things to do. It is quickly becoming a popular destination for those visiting Savannah. Like River Street, it combines the architecture and buildings of Historic Savannah with new shops, restaurants, and hotels.
The new Plant Riverside District is becoming most known for being the home of some of the newer luxury hotels, high-end retail shops, brand-new restaurants, and so much more. There are luxury hotels, inns, and more all around the city of Savannah. But the Plant Riverside District is quickly becoming the hub for high-end luxury in the city. It's a really cool place where new meets old in Savannah.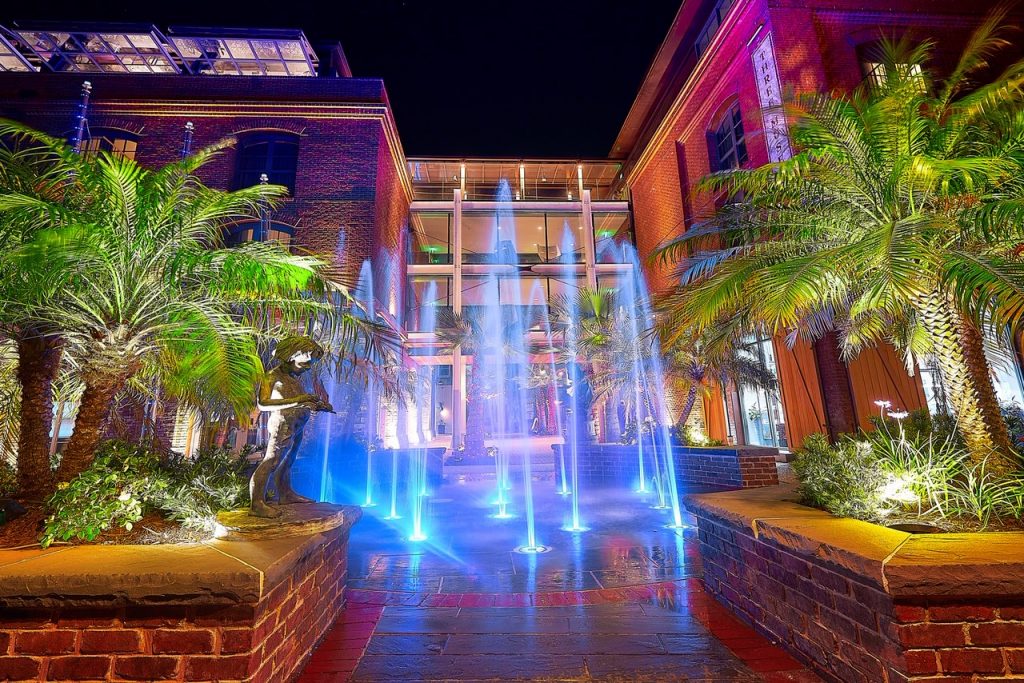 Stop 9: Dinner at Plant Riverside District
While there, grab dinner at the Plant Riverside District. There are currently 12 dining options in the district and they range from quick eateries and high-end restaurants. All of the restaurants in the district are very new and there is something for every palette. It is quickly becoming the district with some of the best restaurants in Savannah, so you should definitely give one of the restaurants a try.
We particularly enjoyed pizza at Graffito and tacos at Savannah Tequila Co. But you can also find steakhouses, seafood, a smokehouse, and more in the area. Along with amazing restaurants, it is also home to a unique German inspired Beer Garden and a shop full of different kinds of cookies.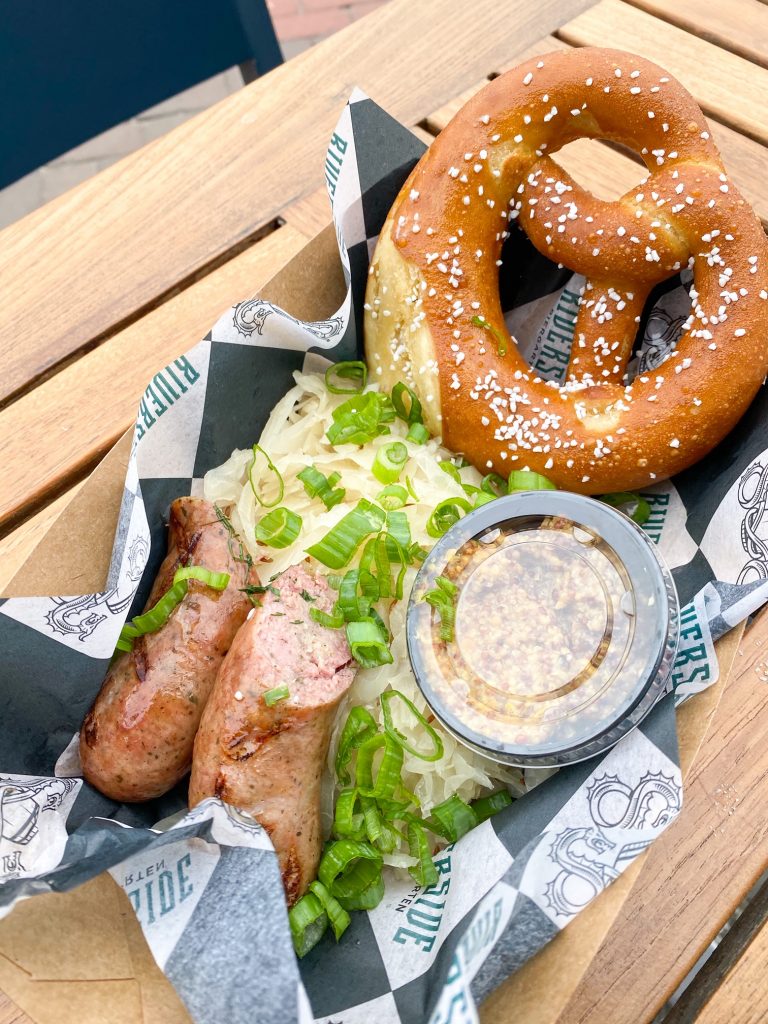 Stop 10: Visit Savannah's Rooftop Bars
End the second day of your 3 days in Savannah at one of their newer rooftop bars. In the Plant Riverside District, there are two rooftop bars. They are Electric Moon Skytop Lounge and the Moon Deck or Myrtle and Rose Rooftop Garden. They both have different vibes but are really fun rooftop bars.
Electric Moon is a fun playground-like experience where you can feel like a kid again. There is a slide, lawn games, and beautiful views of the river. Myrtle and Rose has a more romantic vibe and is full of flowers, lanterns, and cozy spots for relaxing and enjoying the views. You can also head farther into the city and enjoy a drink at the rooftop bar at the Perry Lane Hotel. Perry Lane Hotel has long been one of the favorite rooftop bars for visitors in Savannah.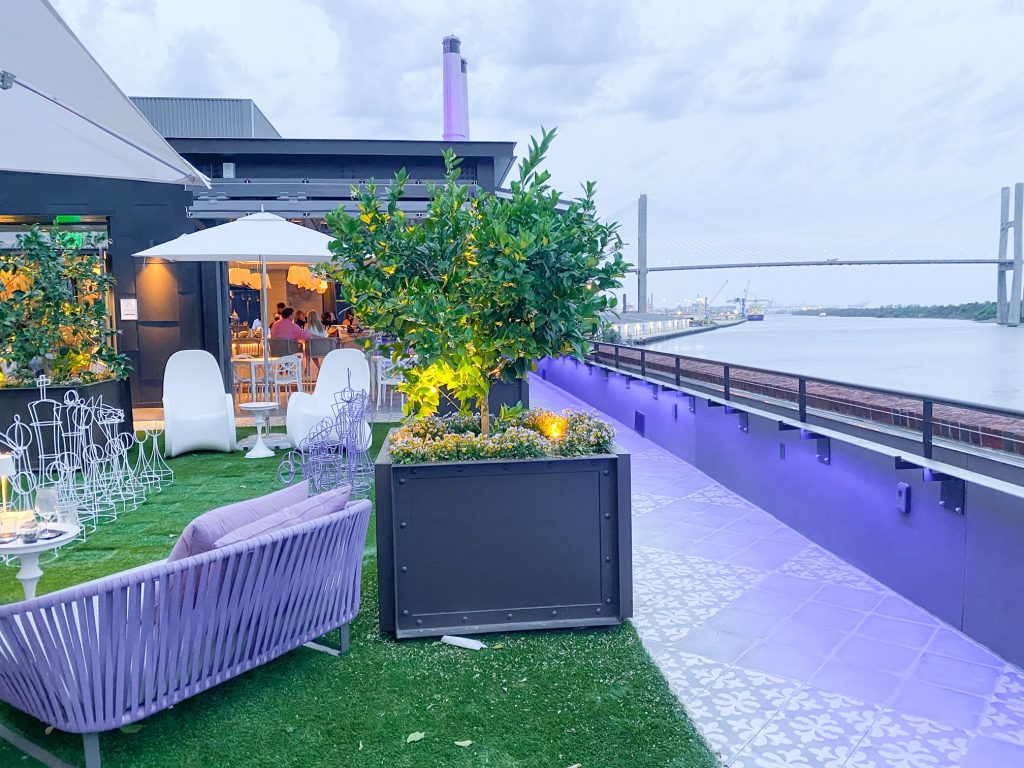 Day 3: Forsyth, Ghosts, And Antiques
For your last day, you'll be exploring the famous Forsyth Park area of Savannah. This area has some of the city's most iconic architecture, ghost stories, and a famous antique store. Its a great way to end your 3 days in Savannah.
Stop 1: Breakfast At The Collins Quarter At Forsyth Park
Start your last day of your 3 days in Savannah itinerary with Breakfast at The Collins Quarter at Forsyth Park. During the weekdays you can enjoy delicious meals like Avocado Toast, Cured Salmon Toast, or a Bacon and Egg Roll.
On the weekends, they have a special Brunch Menu. The Brunch Menu includes classics like Raspberry French Toast, Shrimp and Grits, and of course Mimosas.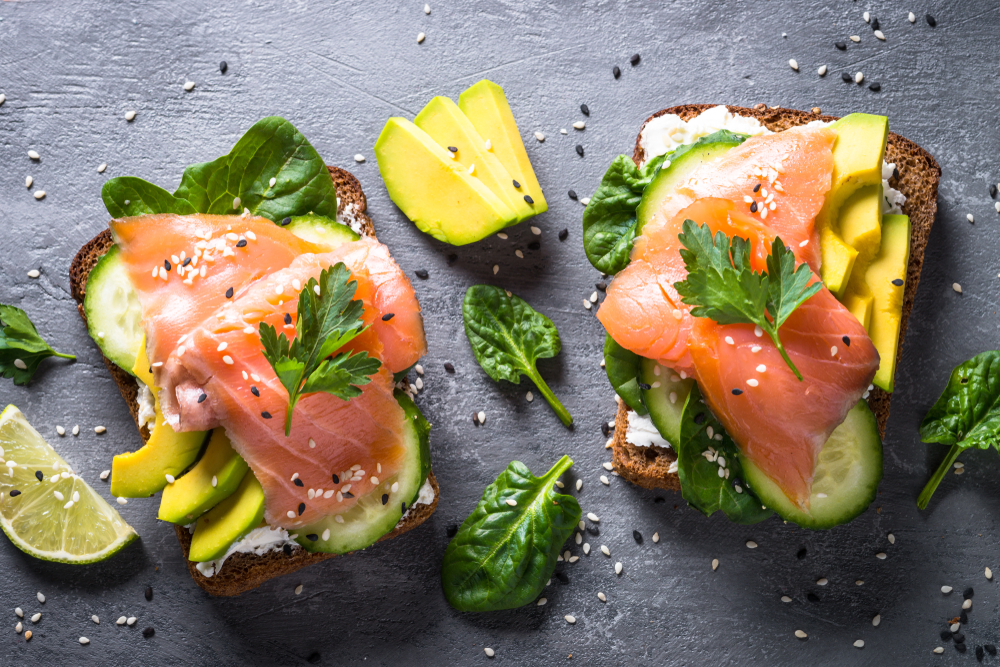 Stop 2: Take Photos Of The Mansion On Forsyth Park
One of the most iconic historic buildings in Savannah is the Mansion on Forsyth Park. It is absolutely beautiful and looks like a castle on the outside. It's a great place to take photos to commemorate your trip to Savannah. It's actually a hotel that has afternoon tea, an art gallery, and a spa.
It is one of the more expensive places to stay in Savannah, but if you want to take a peek inside, the art gallery is free to enjoy. Or you can come back and take the time for Afternoon Tea to enjoy a more luxurious experience.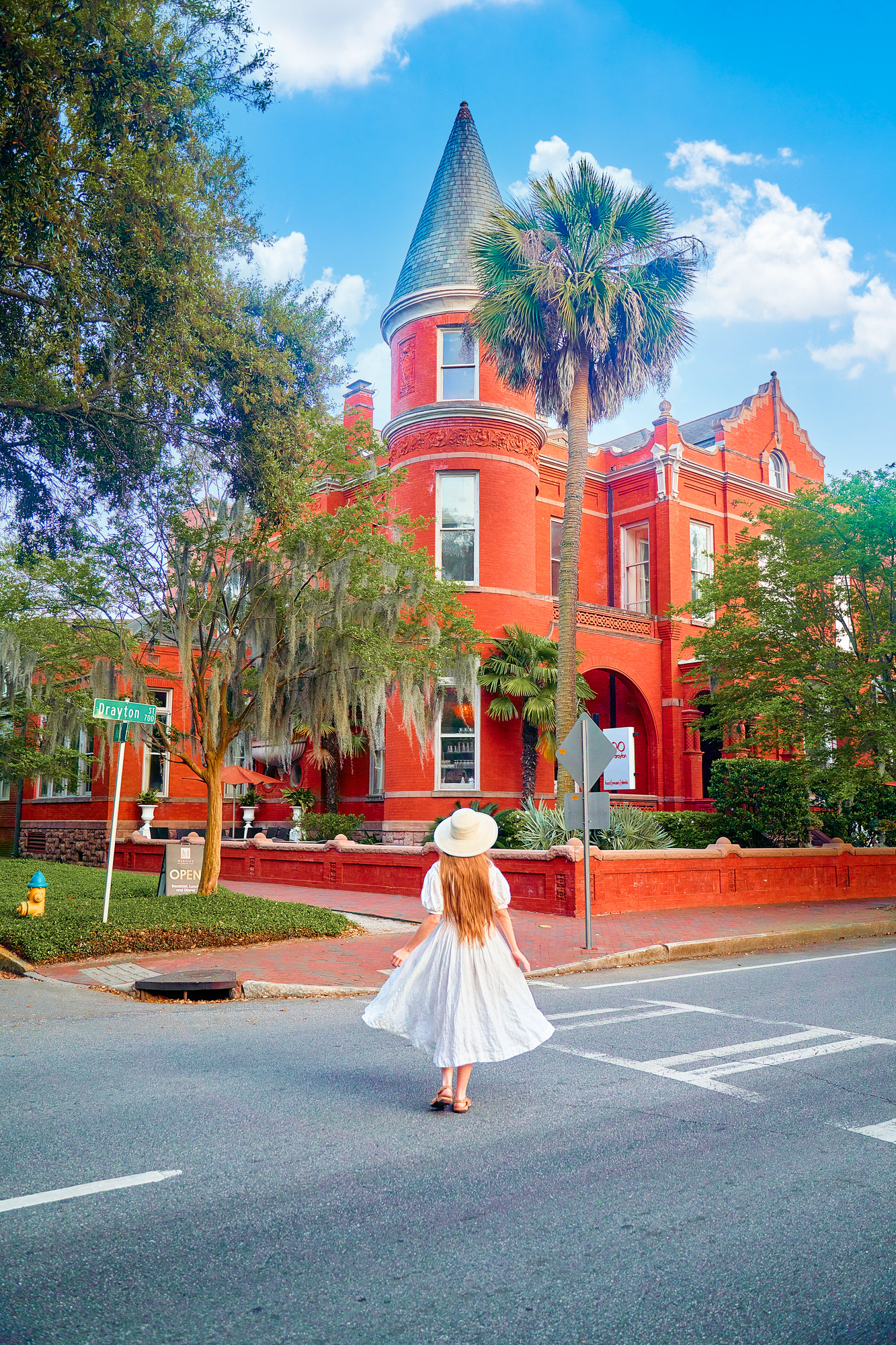 Stop 3: Wander Forsyth Park
While there, make sure to wander through Forsyth Park. Forsythe Park is a large city park in the middle of Savannah that is 30 acres of the Historic District. It is possibly one of the most iconic places to visit in Savannah and is known for it's beautiful landscape and iconic fountain. The Forsyth Park Fountain was installed in 1858 and has been one of the city's most visited spots ever since.
In the park you'll also find playgrounds, fragrant gardens, and even basketball and tennis courts. On Saturdays the Famer's Market takes over a large chunk of the park and you can find local crafts and fresh produce. During the year, it's also home to the Savannah Jazz Festival, the Sidewalk Arts Festival, and the Rock 'N Roll Marathon.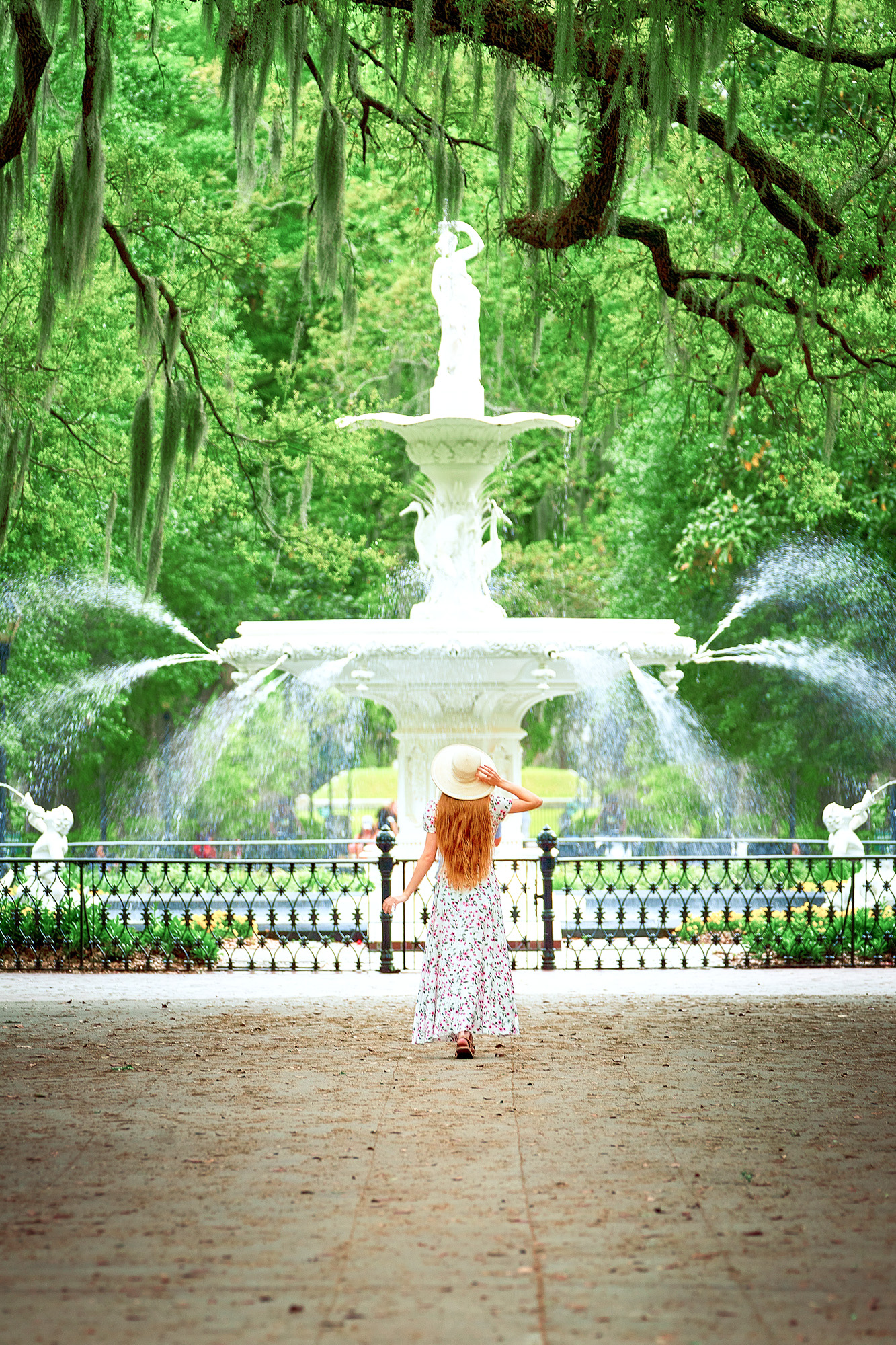 Stop 4: Explore Pretty Houses On Gaston Street
Gaston Street is one of the main streets that borders Forsyth Park. The homes on Gaston Street rival the ones you can find on Jones Street. One of the prettiest houses ever can be found at 120 Gaston Street and the street is also home to the Amethyst Garden Inn.
The Amethyst Garden Inn is a historic hotel, so you can walk up the stairs for photos. But please keep in mind most of the homes on the street are private homes, so please don't walk up their stairs for photos as it is rude to do so!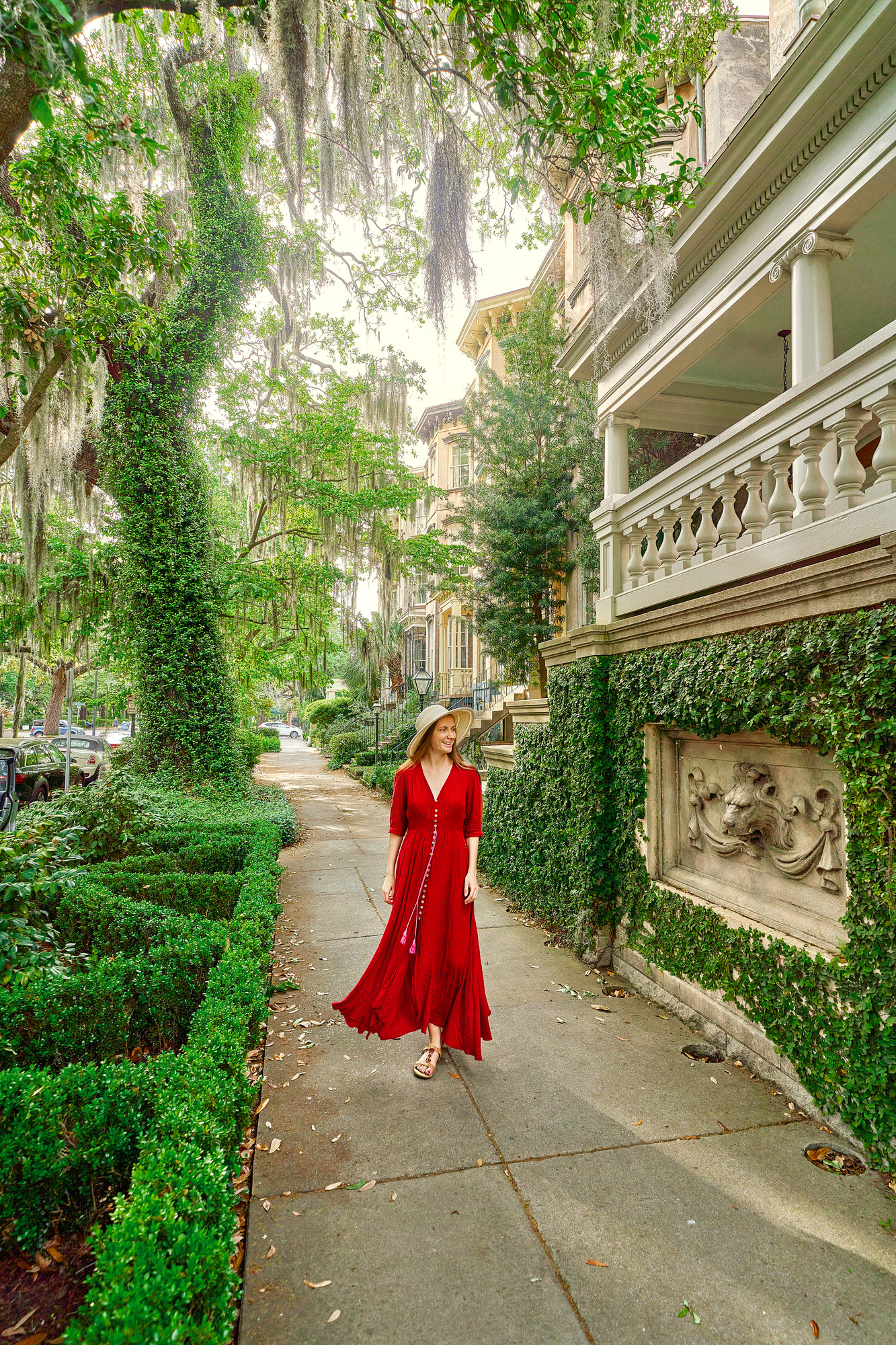 Stop 5: Go Antique Shopping At Alex Raskin Antiques
After admiring the beautiful homes, head to Alex Raskin Antiques to do some antique shopping. The historic building is full of beautiful antiques to admire, but it is also rumored to be haunted. The home is advertised as the 'Last Unrestored Grand Mansion in Savannah' which makes it a particularly unique place to explore.
You'll get a glimpse into what one of Savannah's oldest mansions once looked like while admiring unique antiques. So you'll get to explore some of Savannah's haunted history, an untouched mansion, and cool antiques all in one stop.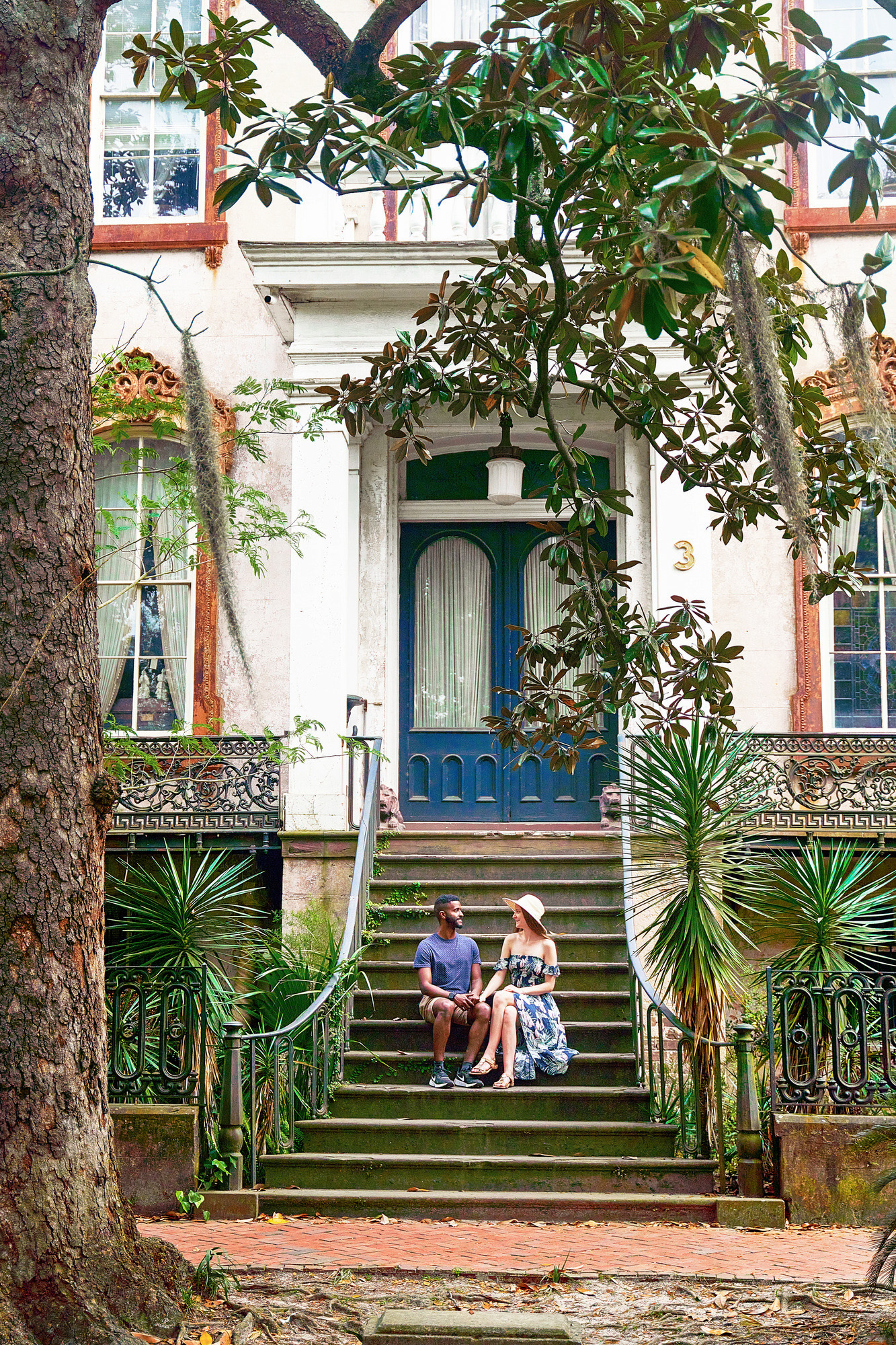 Stop 6: Visit Mercer Williams House
Right by Alex Raskin Antiques is the Mercer Williams House, which is one of the coolest things to do in Savannah. The Mercer Williams House is a beautiful historic home that has long been one of the crowning jewels of Savannah's historic architecture. It was built in 1868 and is rumored to be haunted after several deaths happened on the property.
The most famous death is the murder of Danny Hansford in 1981. The murder became the topic of the popular novel Midnight in the Garden of Good and Evil and made the home somewhat notorious. The home's owner at the time was tried four separate times before eventually being acquitted of the murder.
You can take tours of this historic and possibly haunted home daily. Whether you are interested in its historic architecture or its spooky past, the Mercer Williams House is absolutely worth a stop on your Savannah itinerary. It is truly one of the best Museums In Savannah!
Click Here: Midnight In The Garden Of Good And Evil tour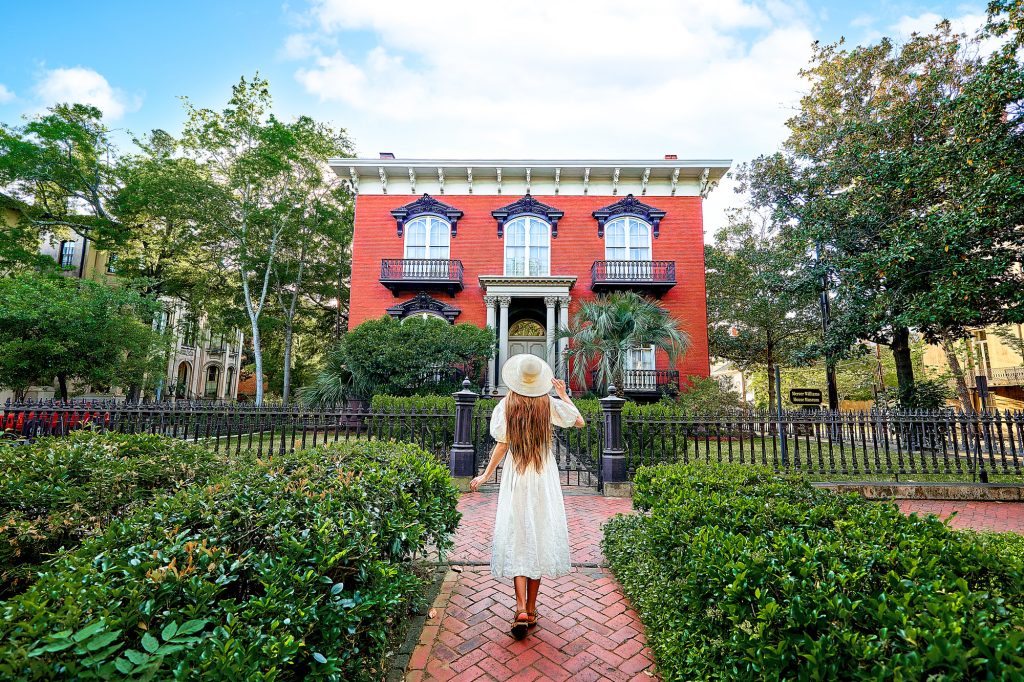 Stop 7: Savannah Food Tour
On your last day in Savannah, instead of picking one restaurant for lunch, we suggest going on a Savannah Food Tour. The three-hour food tour will have you sampling delicious foods from six of Savannah's specialty food stores and restaurants.
While on the tour, you'll also learn more about the cities history, architecture, and unique cultural background.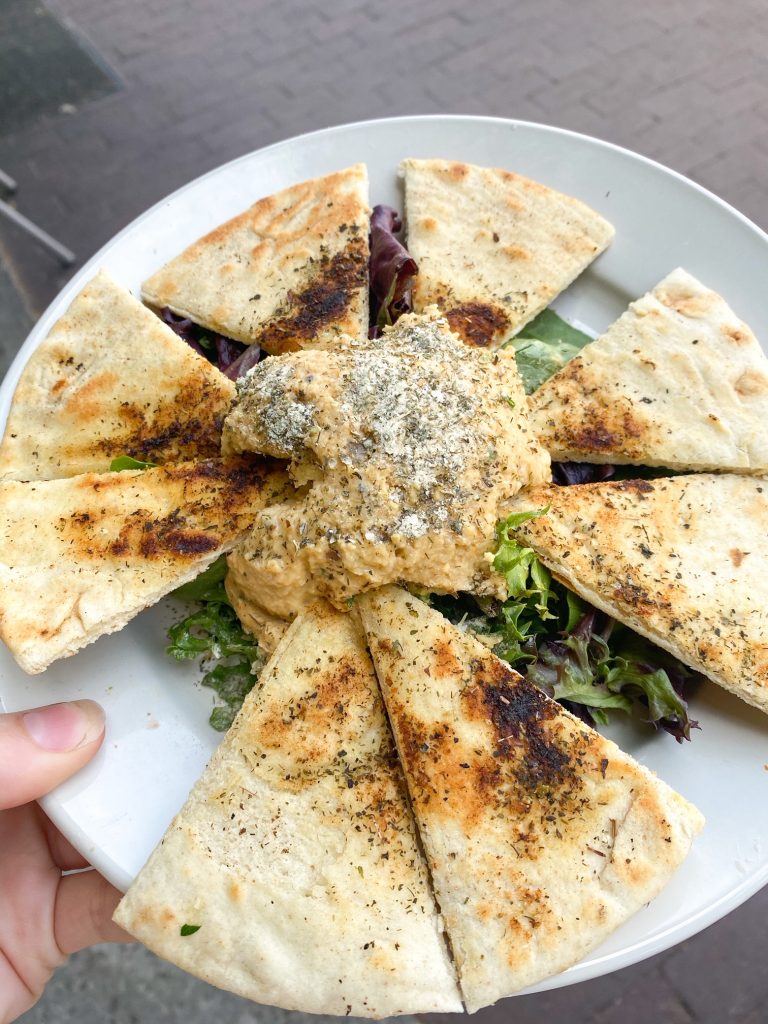 Stop 8: Explore City Market
After your food tour, head to the City Market to explore one of the cities most iconic gathering places. The City Market is full of unique shops, more dining options, and more. Upstairs, there is an art center where you can purchase and admire art from local artisans and crafters.
If you haven't found something to bring home to remember your trip to Savannah, this is a great place to find something unique.
Click Here: American Prohibition Museum Ticket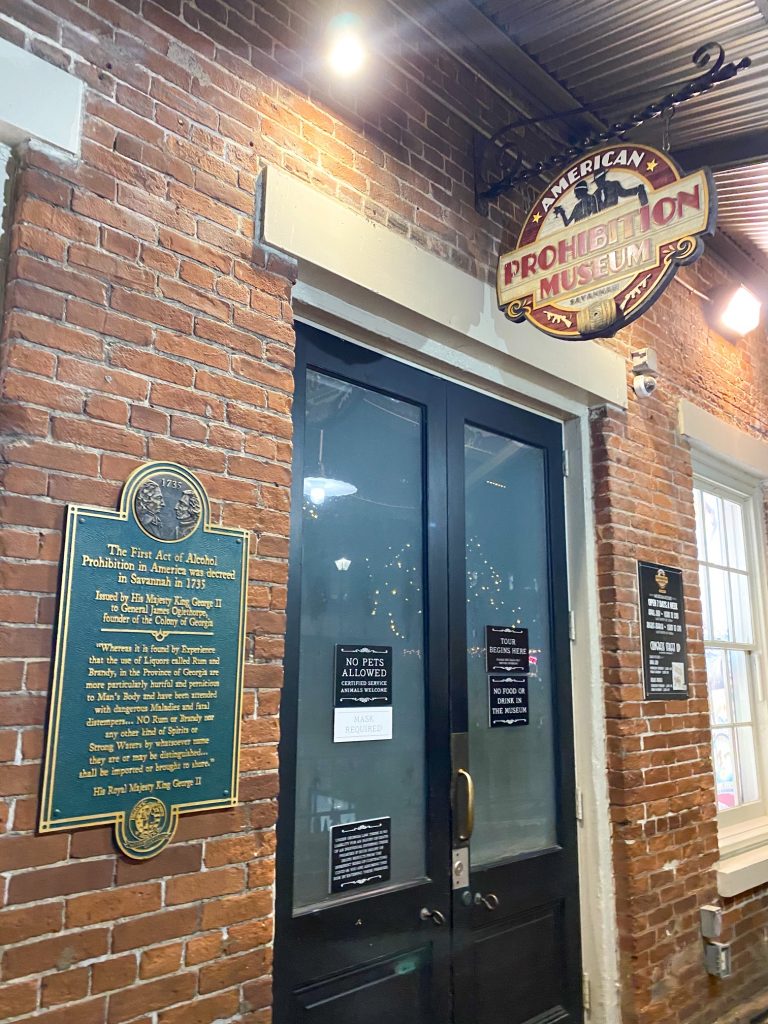 Stop 9: Jalapenos Mexican Grill For Dinner
For your last meal in Savannah, we suggest heading to Jalapenos Mexican Grill for dinner. It is an authentic Mexican restaurant and everything on the menu is so so good.
The menu is very affordable and includes Mexican staples like Fajitas, Nachos, Burritos, and Enchiladas. If you love a good margarita, you will also really enjoy Jalapenos' nice sized margarita menu.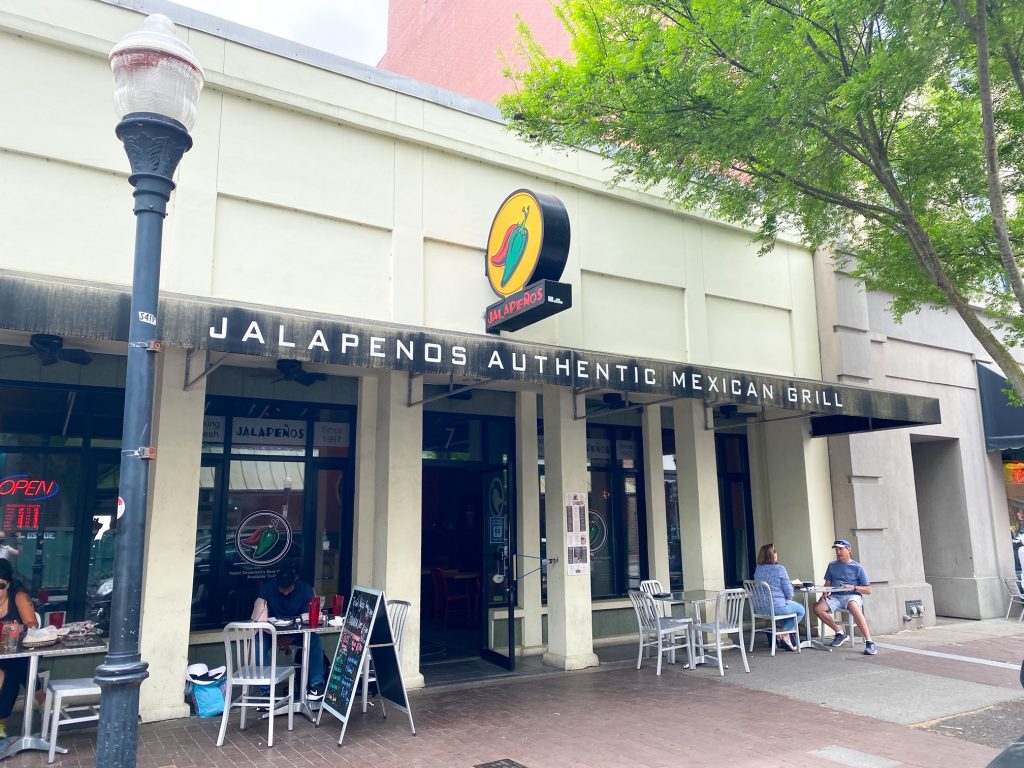 Stop 10: Explore Haunted Savannah With A Ghost Tour
The best way to end your 3 days in Savannah is with a Ghost Tour. Savannah is said to be America's most haunted city, so no surprise, there are a ton of options for Ghost Tours. You can ride a trolley on the Savannah Ghosts and Gravestones Trolley Tour or take a walking tour on the Haunted Savannah Paranormal Ghost Tour.
If you are looking for a super spooky adventure, take the 90-minute Savannah History and Haunts Candlelit Walking Ghost Tour. No matter which one you choose, you'll have a good time.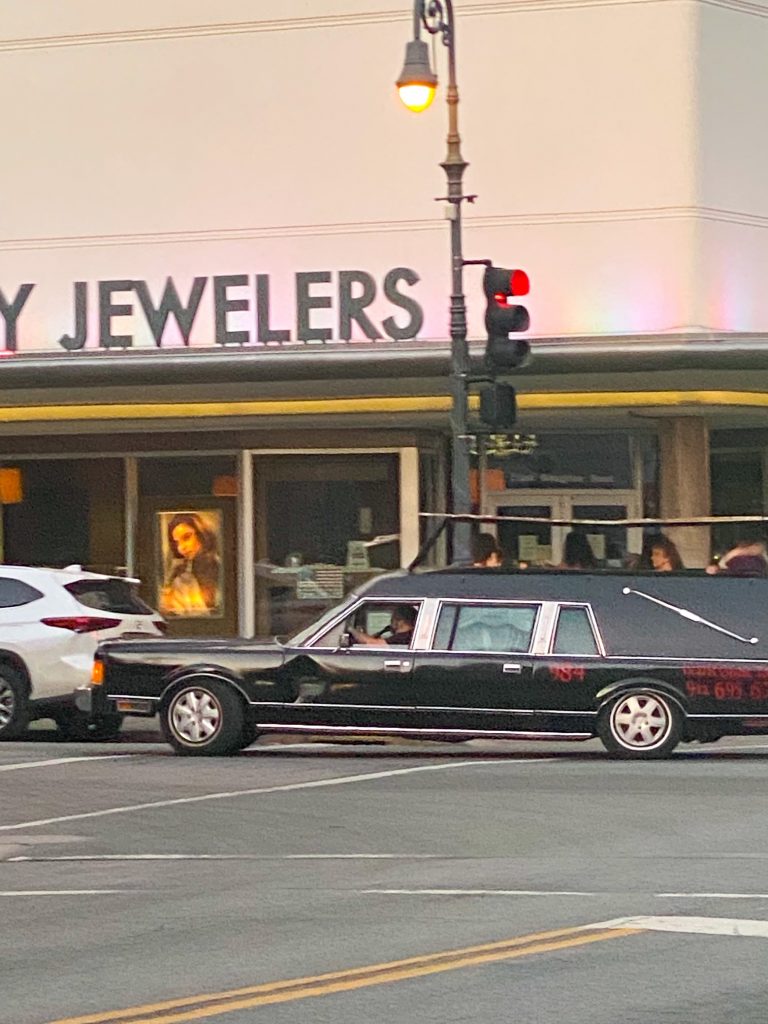 Where To Stay In Savannah
JW Marriott Plant Riverside
The JW Marriott Plant Riverside is one of the newer hotels in Savannah. It is a super cool hotel, and actually where we stayed during our trip. In the lobby, you'll find a mini-museum full of large gemstones and dinosaur artifacts.
The rooms are beautiful and you can enjoy views of the Savannah River or the cityscape. It's a great hotel if you are interested in spending a lot of time in the Plant Riverside District.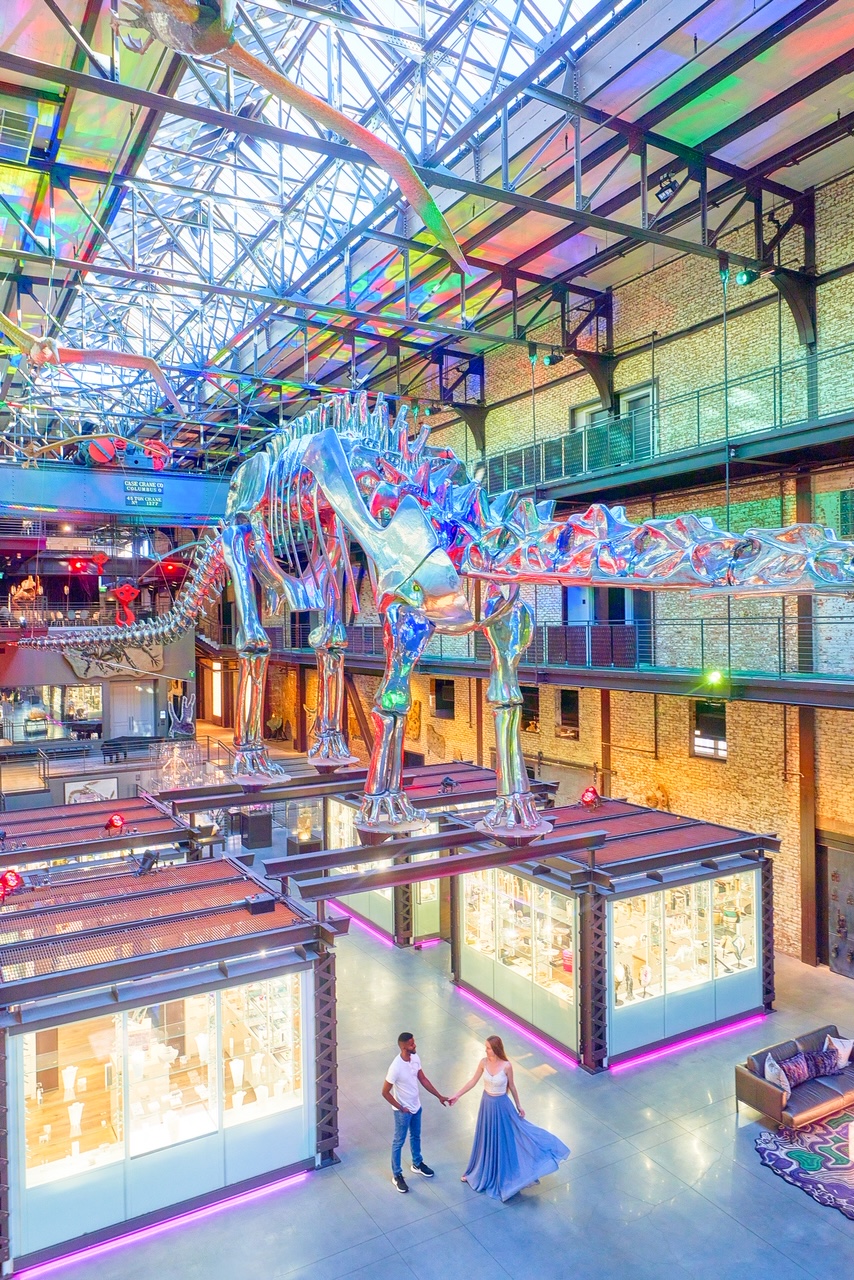 The Manor on Jones
If you are planning to visit Savannah with a group, consider staying at the Manor on Jones, a beautiful VRBO in Savannah. The Manor house has two bedrooms, two bathrooms, a gorgeous living area, and a fully equipped kitchen.
It is a beautifully decorated home that makes you feel like you're enjoying Savannah in luxury. Don't forget to check out some of the best Haunted Hotels In Savannah!
Jones Street is often called 'the Prettiest Street in America' and is in the heart of Savannah's Historic District. The Manor on Jones is the perfect location for a VRBO in Savannah during your 3 days in Savannah.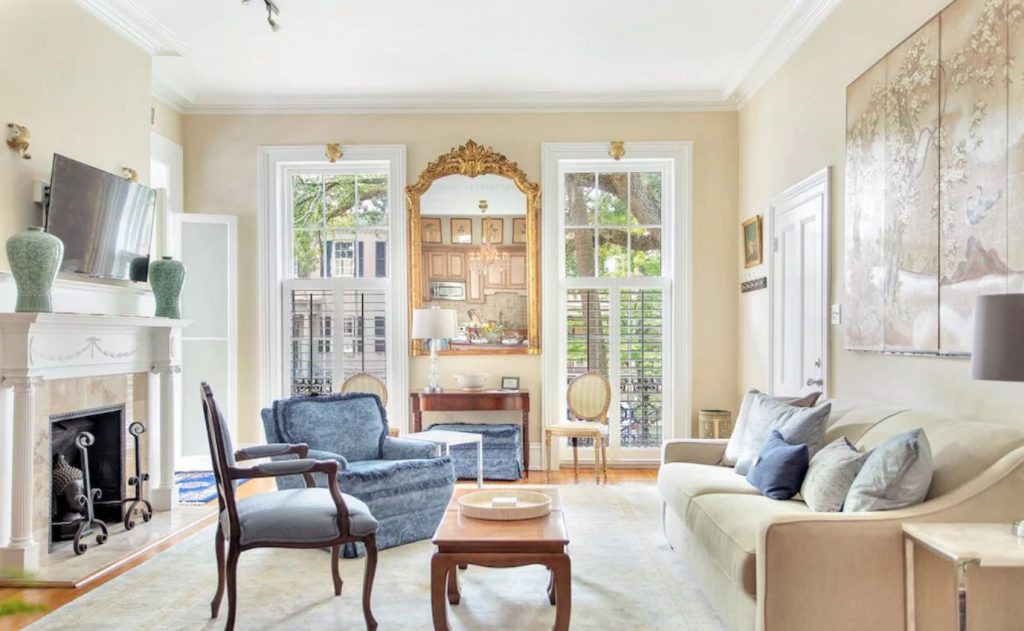 The Amethyst Garden Inn
The Amethyst Garden Inn is a beautiful Bed and Breakfast in Savannah that is centrally located. It is near Lafayette Square, the Cathedral of St. John the Baptist. There is also a private garden and terrace that you'll have access to while staying there.
If you are looking to stay in a Historic Bed and Breakfast in Savannah that is centrally located, then this is the place for you.
Click here to check rates on Booking.com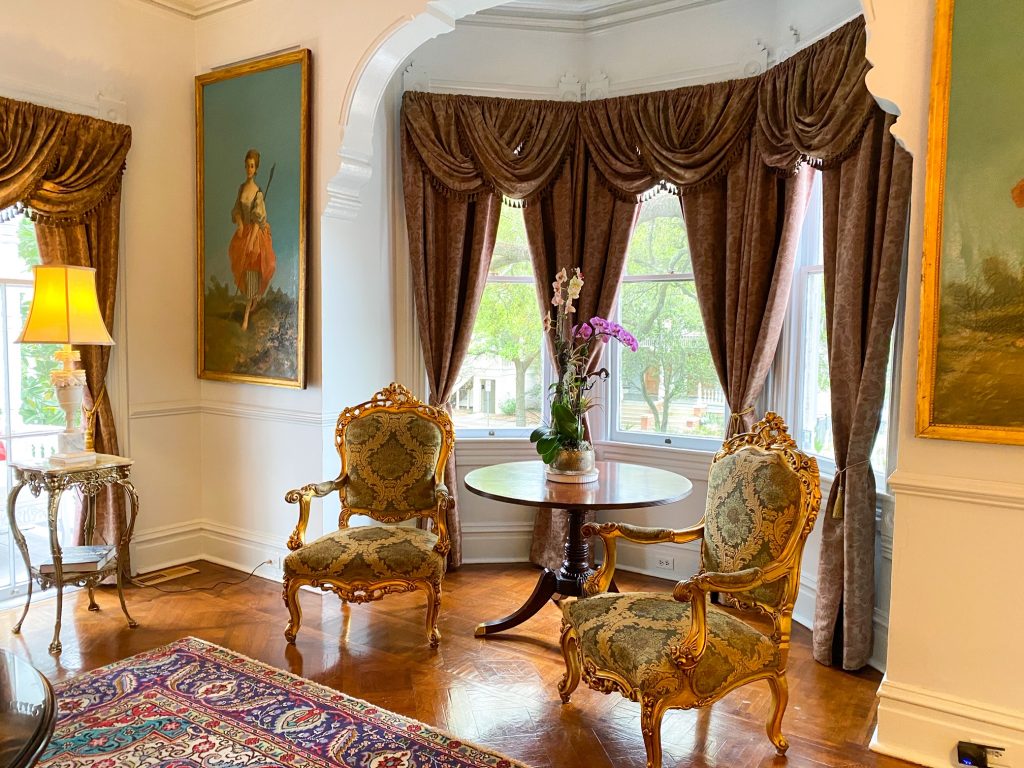 Savannah is an amazing city full of history and culture just waiting to be explored. After 3 days in Savannah, you'll come to love the city and all it has to offer. We hope you enjoyed this Savannah itinerary and it inspires you to take a trip to this beautiful Southern Historic City. It's unlike any other and easily one of our favorites to explore.