If you are looking for the best things to do in Mobile Alabama we have you covered. Check out of list of the Mobile Attractions you must visit.
Mobile was founded in 1702 and is the oldest city in the state. As the oldest city, there are a ton of historical monuments and museums to visit. From a decomissioned battleship, to museums ranging from art to history to maritime, Mobile offers visitors a wide variety of activities. Stroll through period homes, estate gardens, and botanical gardens, town squares and more.
The downtown area is surrounded by water and provides a picturesque backdrop for dining, shopping or just strolling though town. Whether visiting for a day trip, the weekend or a longer trip Mobile is the perfect destination for everyone from a couple wanting a romantic get-a-way to a family friendly vacation.
14 Best Things To Do In Mobile AL You Must Try
USS Alabama
The USS Alabama Battleship, or "Mighty A" is one of the best Mobile attractions. This battleship from WWII was home to over 2500 Americans who went into battle at Tokyo Bay in 1945. In 1962, a group from Alabama purchased the ship to anchor her at Veterans Memorial park which has been open since 1965 to the public. Admission is free to military members.
As a visitor you can walk on the deck, inside the ship and through the museum to get an idea of what life aboard the ship was like. Also at the Veterans park you can visit the USS Drum submarine, the aircraft pavilion, a WW1 exhibit, as well as a variety of tanks and artillery.
To Purchase Admissions Tickets: Click Here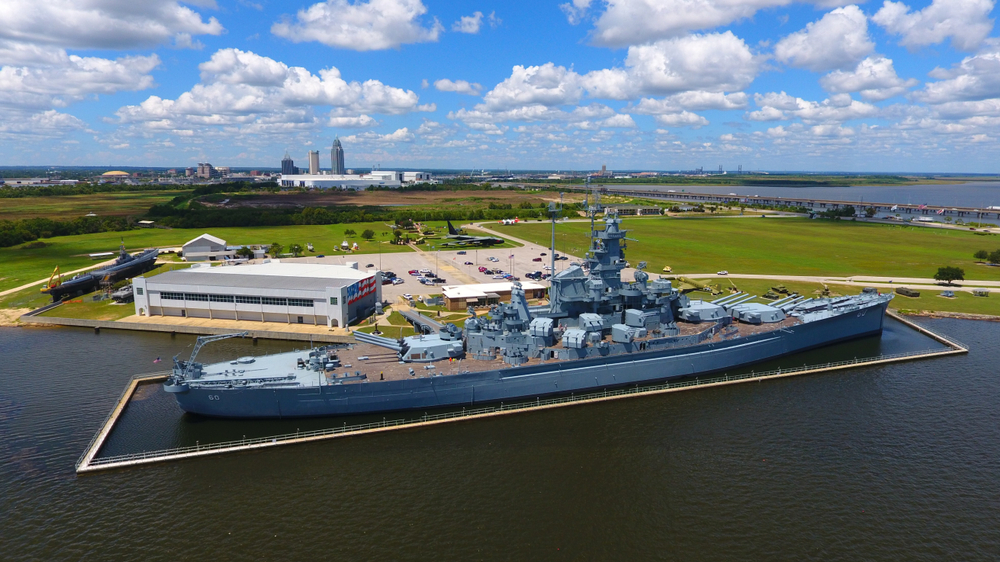 Gulf Coast Exploreum Science Center
For the past 35 years, The Gulf Coast Exploreum Science Center has been one of interactive things to do in Mobile for adults and kids. It is worth noting they are closed on Sunday and Mondays, but otherwise open daily from 10 am to 4 pm. Admission for the museum and IMAX theater is $16.50 for adults and $10.50 for children.
This interactive science museum aims to provide over 150 hands on exhibits to get visitors excited about science. With permanent exhibits such as Hands on Hall, My BodyWOrks, Curiosity Wonder, in addition to seasonal and rotating temporary exhibits. Make sure to visit the Porch Creek Indian Dome theater where a myriad of IMAX films play throughout the day. Check the website for the schedule.
Mobile Carnival Museum
The Mobile Carnival Museum is one of the things to do in downtown Mobile, Alabama that first opened in 2005. The museum is dedicated to all things Mardi Gras, from the history to display items and a theater. The museum is open Monday, Wednesday, Friday and Saturday from 9 am to 4 pm. Guided tours are also offered at set times, as well as self-guided tours via your phone.
Mobile is considered the birthplace of Mardi Gras otherwise known as the oldest carnival in America. You will learn the history and traditions throughout the 14 galleries. Exhibits include the crowns, robes, costumes, floats from the Mardi Gras Monarchs as well a videos of past parades. There are photographs dating back to 1886, and you can even board a float to experience a virtual street party.
To Purchase Admissions Tickets: Click Here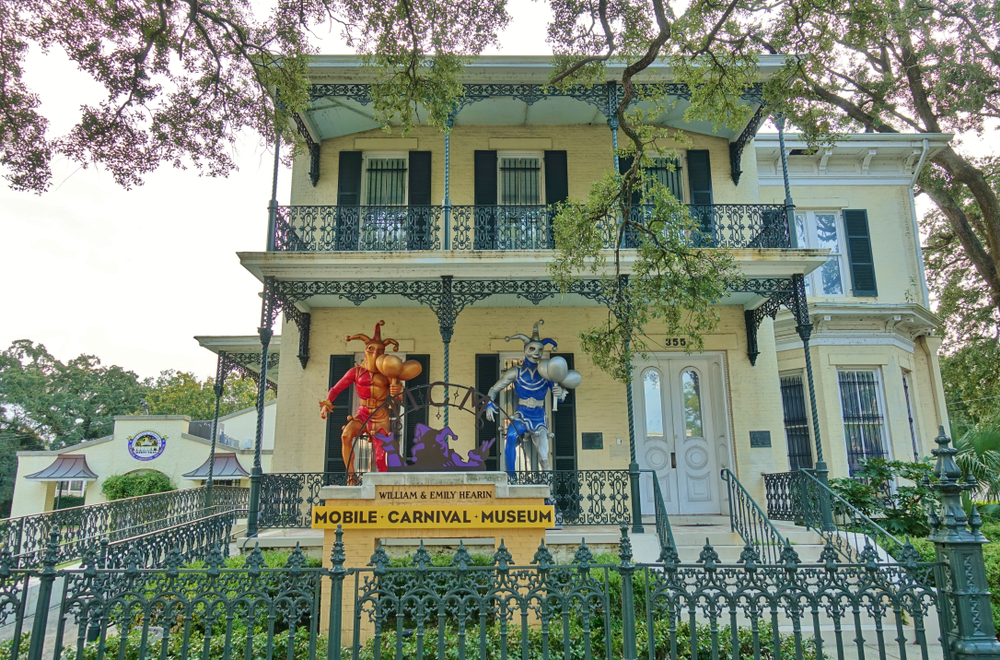 Bellingrath Gardens and Home
Bellingrath Gardens and Home is a 65 acer year Southern Estate garden that was once the home of Walter and Bessie Bellingrath. Open daily from 8 am to 5 pm you can purchase admission to the home, garden or a combo of both. There are also seasonal events such as Halloween Boo at Bellingrath , Winter Wonderland, Fall festival.
The 15,000 square foot home was built to look like a modern home not a mansion, and in 1935 was one of the most modern homes of the area and showcases the 1930's time period. From furniture, crystal to artwork. The gardens features year round blooms, with over 400 varieties of Camellias the Alabama State flower.
From Ornamental kale, parsley, Swiss chard to winter berries, daffodils,Magnolias, Tulips, Azaleas, Daisies, and in the Rose Garden you will find over 2000 plants with 36 varieties of roses. These are just a few of the many species of flowers and fauna you can expect to see through the 65 acer garden and ponds.

Colonial Fort Conde
Fort Conde is one of the historical places to visit in Mobile,AL. The fort was built in 1723 by French explores and had many names from the different colonial powers that ruled. It was not until construction of the Wallace Tunnel in 1966 the remnants of the fort were found. A replica fort was opened in 1976 where part was reconstructed and opened to the public.
When the Fort was discovered in 1966, there were ons of artifacts from the 18th and 19t century. In 2001 the History Museum of Mobile began with repairs and restorations of the property and reopened it to the public in 2013.
If you are visiting on the first Sunday of the month, admission is free from 1 to 5 pm.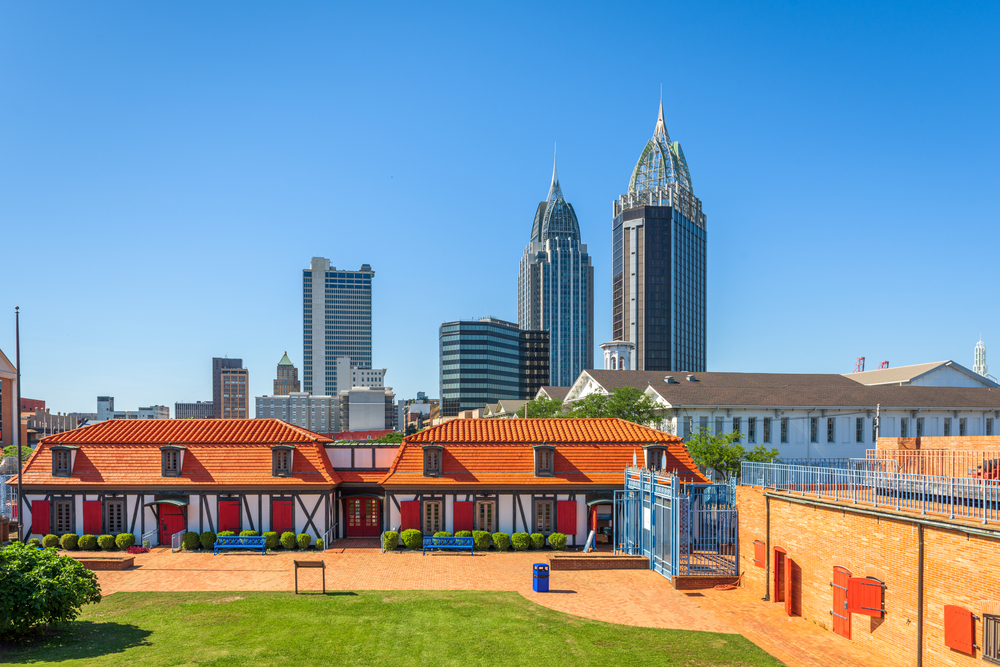 Meaher State Park
Meaher State Park is one of the outdoor nature things to do around Mobile. This 1327 acer Alabama state park is located on the Mobile Bay and is part of the second largest Delta the Mobile-Tensaw Delta in the continental United States. There are many lakes, creeks, bayous, and rivers to explore.
Walk along the beautiful boardwalk and enjoy the flora and fauna surrounding you. For those who are more adventurous, boat out into the bay to fish or just enjoy some fun in the sun or even for a sunset boat ride. Or enjoy birdwatching and fishing as you take in the unique environment. There is a $2 entry fee per person.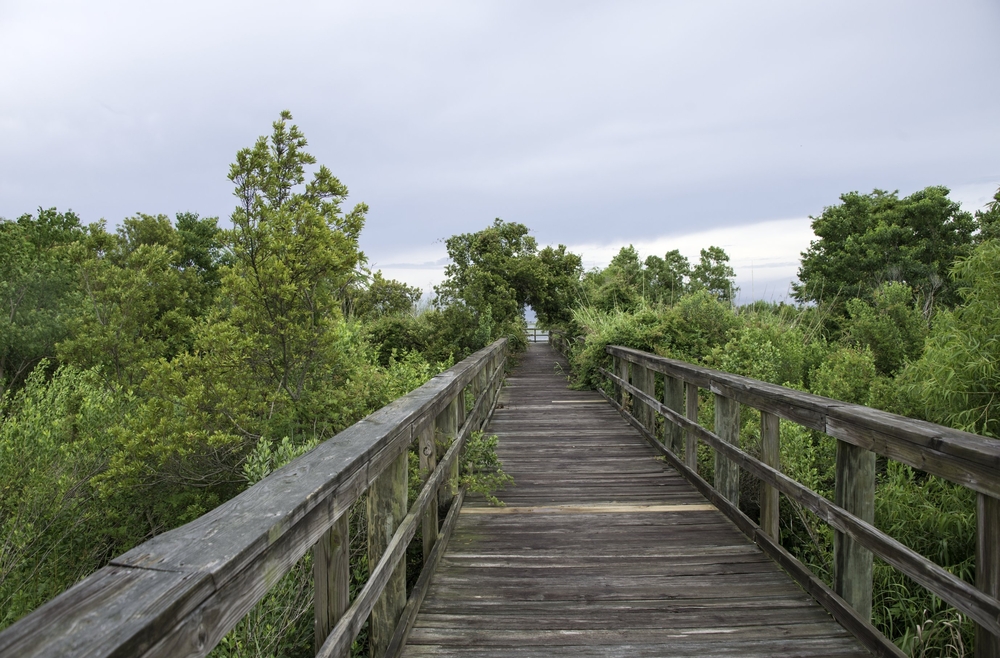 Dauphin's Restaurant
From the stunning panoramic views on the 34th floor from 424 feet in the air, Mobile's best Happy hour and and serves up delicious Southern cuisine, Dauphin's the place to eat in Mobile. They serve a bunch, lunch, dinner and bar menu.
On the dinner menu you can expect to find appetizers like Delta cakes a crab and crawfish mix with a Beurre blanc sauce, and Fort Conde blue crabs. Entrees include fresh fish served a variety of ways, Alabama Gulf Shrimp with shrimp and grits, or served in a Pasta, and Filet Mignon or Prime Rib.
On the brunch menu find Southern Classics such as Beignets, fried green tomatoes and Gulf Shrimp, a Breakfast Paella bowl, Eggs Alabama with fried green tomatoes, Banana Dock's french toast and a shrimp omelet.
The Happy Hour Menu is served weekdays from 3 -6 pm, and includes appetizer's such as pot roast slider, a Cheese plate, Barbacoa tacos, as well as craft cocktails. Try the Thyme out with vodka, thyme infused lemonade, a Top Floor Margarita, or a Dauphin's Manhattan.
This is truly one of the best restaurants in Mobile!
Delta Wildlife Kayak Tour
While visiting the Meaher State Park, why not take a kayak tour of the Mobile Tensaw Delta. Not to worry this kayak tour is perfect for all skill levels. You will kayak along the swamplands getting an up close look at wildlife such a eagles and gators as well as the fauna of the wetland ecosystem. This tour is one of the fun things to do in Mobile for families and even includes transportation to and from your hotel!
The guides on the tour a very knowledgeable as well as engaging while guiding you through the delta.
To Purchase: Click Here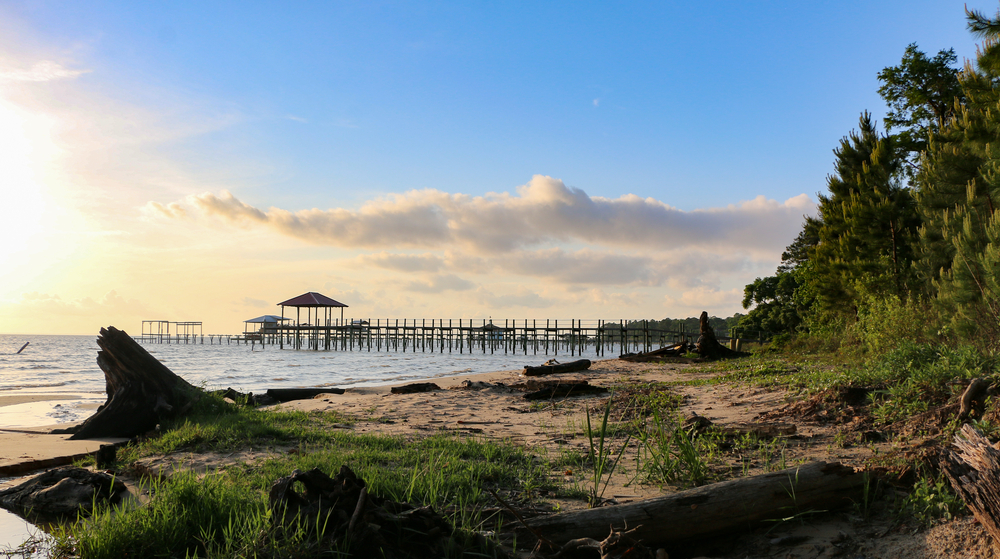 Mobile Botanical Gardens
If you are looking for what to do in Mobile, and want somewhere outdoors head to the Mobile Botanical Gardens. At over 100 acres it has one of the largest collections of plants on the Gulf Coast. Since 1974, visitors have been able to wander though paved paths in this garden, or one of the various trails including the largest Japanese Maple collection in the Southeast.
From the kids garden, art garden, a large picnic area, you are free to explore by yourself or you can take one of the guided tours through the gardens. Open Wednesday through Sunday, tickets are $8 for adults, $3 for children, and $6 for senior and students.
Gulf Quest National Maritime Museum
The GulfQuest National Maritime Museum is an interactive museum with over 90 exhibits showcasing maritime history in the Gulf Coast area. Open Wednesday to Saturday from 10 am to 4 pm, admission is free for those 5 and under, $10 for adults and $6 for children.
The museum is set up a replica of a container ship with 8 decks to explore exhibits, simulators, displays and movies while showcasing the view of the Mobile River and Port from the bridge wings. This is the perfect things to do in Mobile for kids, with navigation games, a theater and more. Not to worry, adults won't be bored you can learn about early settlements and archaeology, marine life as well as navigation knowledge.
During the summertime they host a Maritime Academy for children 7-12 to learn though STEM programs.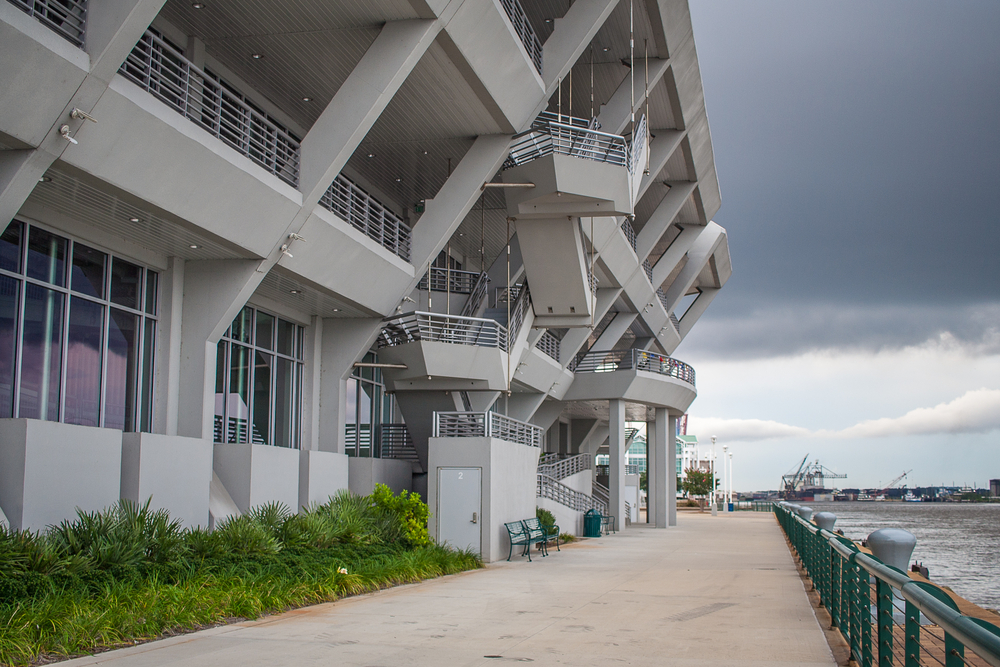 Downtown Mobile
Downtown Mobile, is known for its shops, restaurants, art galleries, and bars. On the weekends you will often find markets, concerts and other events. This is a great area to explore for lunch or dinner after exploring ll the Mobile attractions. If you happen to be in town during Mardi Gras, since 1830's they have hosted a parade.
Surrounded by water, and the 12th busiest port in the US, the downtown area is the picture perfect backdrop. There are over 50 different restaurants, tree lined parks and gardens, beautiful buildings, and nightlife on Lower Dauphin Street.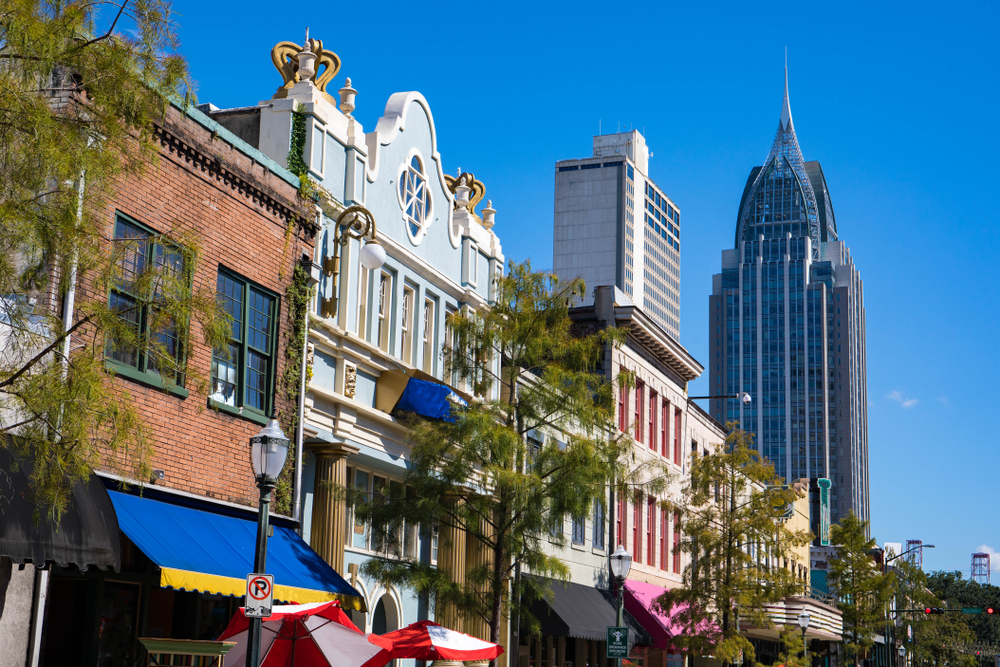 Richards DAR House
Richards DAR house is a southern historic landmark located on the Richard Tonti Square. This 1860's townhouse has over 10,000 square feet and is decorated with period pieces. It was once the home of Captain Charles Richards and his wife and is a showcase of what downtown Mobile homes were like during this time.
As your tour the home you will see iron lace and Carrara marble fire places, Baccarat chandeliers, a grand piano, hand carved wooden furniture as well as a formal dining room. The museums can be rented to host private parties, as well as hosts various events throughout the year. It is only open for tours on the weekends.
History Museum of Mobile
If you are in Mobile the first Sunday of the month and looking for free things to do, the History museum is free from 1 to 5 pm. Admission to the History Museum also grants access to Fort Conde. Admission is $10 for adults, and free for children under $5.
The museums takes visitors on a journey through the history of Mobile and the Gulf Coast area. Located in the downtown area, from Civil War Cannons, to a Hank Aaron signed baseball. Visit the permanent exhibits like the Faces of Mobile that walks visitors though life and history of those men and women in Mobile of the last 300 years. The CSS Cannon a Confederate Naval History gallery with one of the cannons from the CSS Alabama, and the Old Ways New Days, that transports visitors back to the Native American history in the area.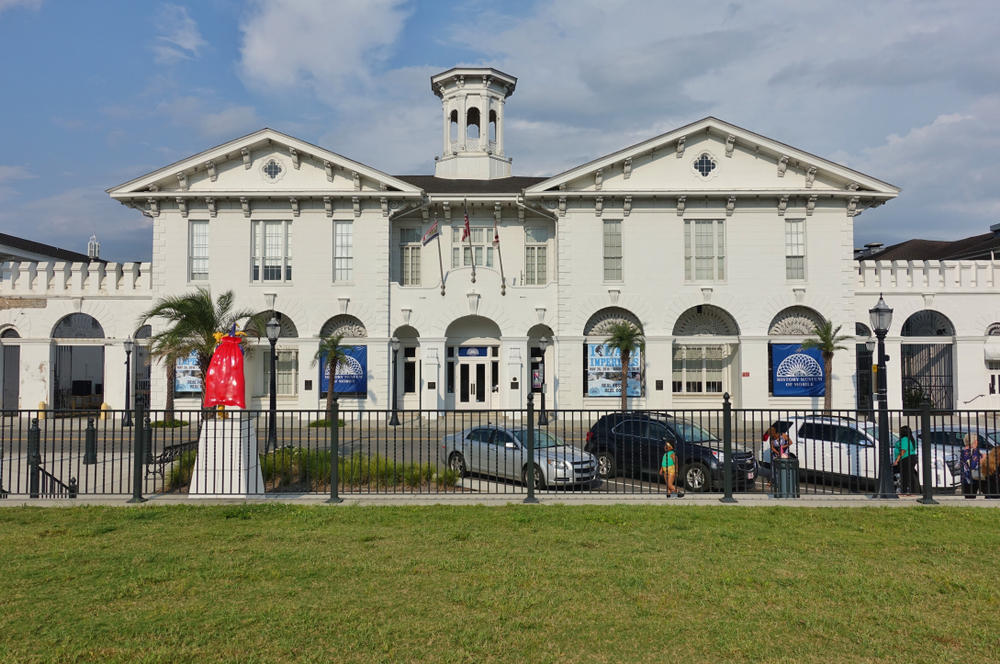 Dolphin and Whale Watching Cruise
If looking for unique tourist attractions in Mobile, Alabama why not take a Dolphin and Whale Watching cruise. The Gulf of Mexico offers views of the Alabama coastline from a different vantage point. There are also sunset cruise options for those wanting a more romantic outing.
On the cruise you will get a chance to watch dolphins swim next to the boat while in their natural habitat, and day cruises you can often spot other aquatic wildlife and birds. There are several departures daily and this is a family friendly activity as well. During daytime cruises, crew pulls up crab traps to show the children the daily catch! All the cruises leave from nearby Orange beach. There are a variety of boat and cruise options that best suit what you are looking for.