Have you dreamed of spending Christmas in the South, but didn't necessarily know where to go? Well not to worry, we have picked our favorite festive spots in the south to share with you. There are plenty of places in the south where you can still experience snow. Or if you want a warmer Christmas, we've got you covered there too.
From Christmas lights, charming historic buildings, fun Christmas parades, and miniature Christmas villages, the south has it all. Christmas vacations in the south can vary so much. Which is one of the things that makes it such a fun place to spend the holidays. Each state has something unique to offer when it comes to celebrating the holidays. All you have to do is pick the best Christmas towns in the south for your next trip.
We've made sure to have a selection of both small towns and big cities to choose from. Because small towns in the south sometimes still have residual racism leftover from the days of segregation, not everyone feels comfortable visiting them. That's okay and if that is something you're worried about, we'd suggest spending Christmas in one of the larger cities in the South with equally spectacular Christmas displays and traditions. So, with all that in mind, let's check out 15 festive vacation destinations for Christmas in the south USA.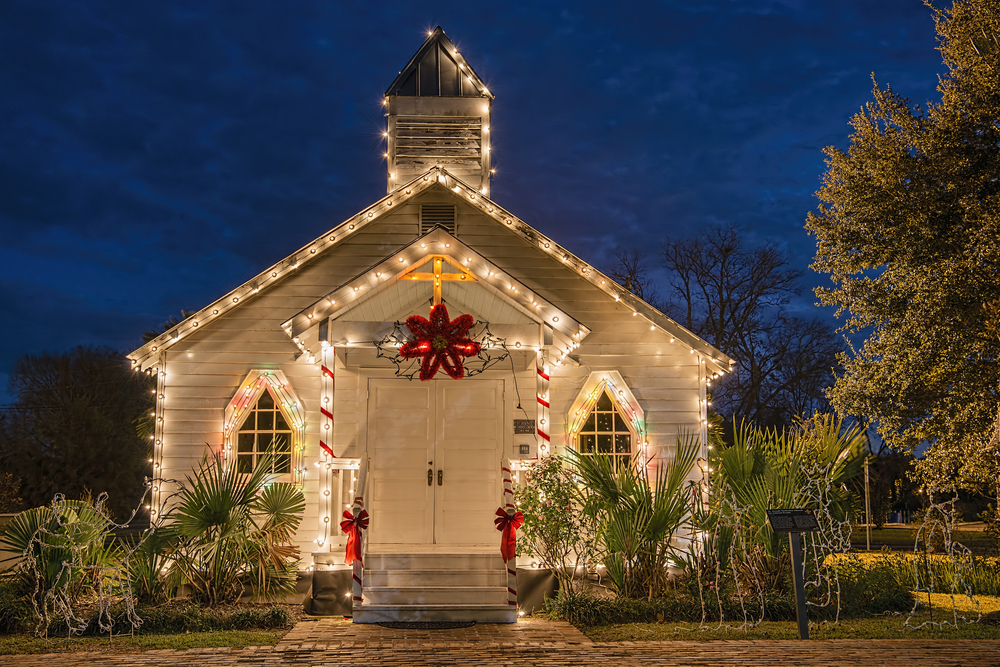 15 Festive Vacation Destinations For Christmas In The South USA
Savannah, Georgia
Savannah Georgia is easily one of our favorite cities in the south. It's extremely charming all year round, but it's especially stunning at Christmas. It is truly one of the best places to visit for Christmas in the South. You'll find that the famous historic district is completely decked out. It looks like a scene from A Christmas Carol and it is absolutely magical. So make sure you've packed your camera for some epic photos.
You won't find snow, but you will find some comfortable mild weather. In the Plant Riverside District, there are typically tons of activities and events taking place throughout the month of December. Stop into the City Market to get your holiday shopping done or grab a coffee and pastry at The Paris Market while you admire their window display. If you are looking to experience an understated, elegant, and classic Christmas in the southern USA, then Savannah is the city for you.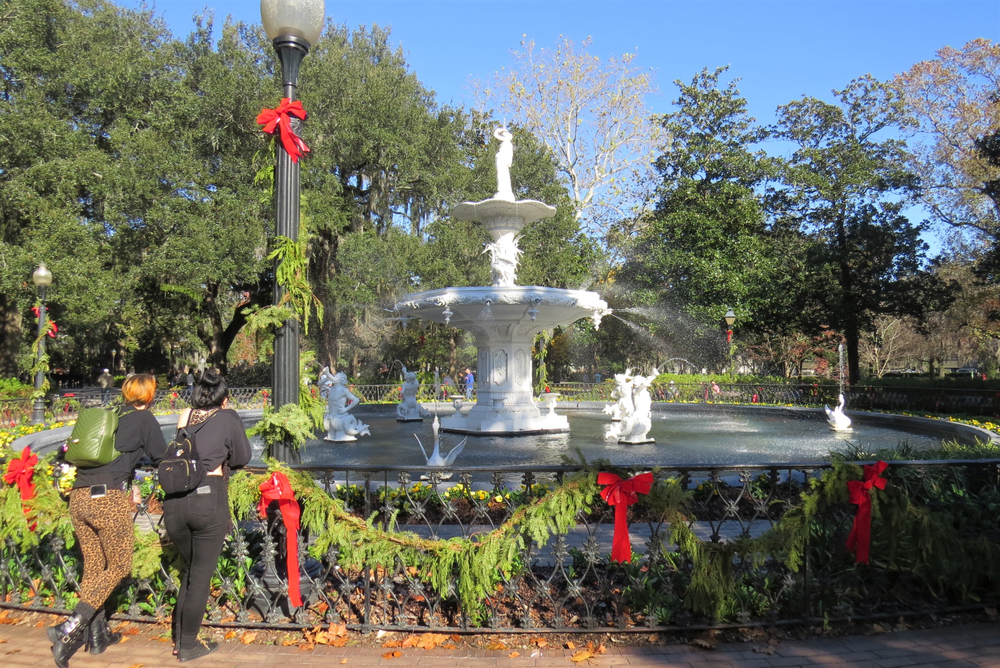 Key West, Florida
Dreaming of tropical palm trees covered in Christmas twinkle lights? Then head to Key West Florida! For some of the best Christmas lights in the south, take a ride on the Conch Tour Train Holiday Lights Tour. As you ride around in the trolley you'll be able to munch on Christmas cookies, drink cider, and get an hour-long tour of the best Christmas lights in Key West. It is one of the oldest Christmas attractions in Key West and has been spreading Christmas cheer since the 1950s.
Depending on when you're visiting, you may get a chance to see one of the coolest Christmas parades in the south! Every year, Key West locals put on a lighted boat parade. Another fun, uniquely Key West activity is the annual Christmas Classic Car Show. At the car show, you can bring unwrapped toys to give children at the Domestic Abuse Shelter have a magical Christmas. Key West is one of the best Christmas vacations in the South if you're looking for something a little bit different this holiday season.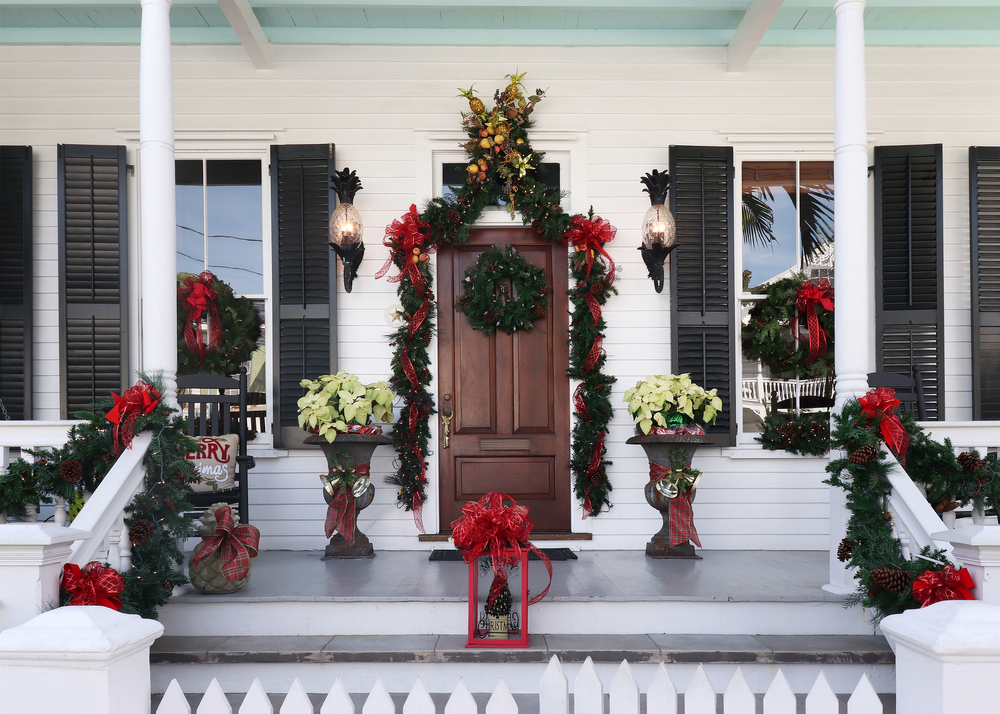 Asheville, North Carolina
Asheville is one of the best Christmas towns in the south for many reasons. It is part of North Carolina's 'High Country', which is the Christmas Tree Capital. So if you aren't traveling far from home to visit Asheville, you may consider bringing home one of the area's gorgeous Christmas trees for your living room at one of the Christmas Tree Farms In North Carolina!
Staying in Asheville is also a great option if you want to explore the area's many charming southern USA Christmas towns.
Drive to nearby smaller towns like Forest City, Banner Elk, Bryson City, and Hendersonville to experience small-town Christmas. It's like stepping into a Hallmark movie! Make sure to check out all of the Best Things To Do In Hendersonville while you are at it.
All around Asheville itself you'll find plenty of Christmas spirit. You can take a horse-drawn carriage ride throughout the city to admire lights. Or stroll through the Biltmore Village to pick up last-minute Christmas gifts. If you have plenty of time during your stay, we highly suggest taking a day to explore The Biltmore Estate all decked out for Christmas.
The estate offers daytime and candlelight tours of the home, starting in November and ending shortly after Christmas. This is a super popular Christmas attraction in Asheville, so make sure to get your tickets well in advance!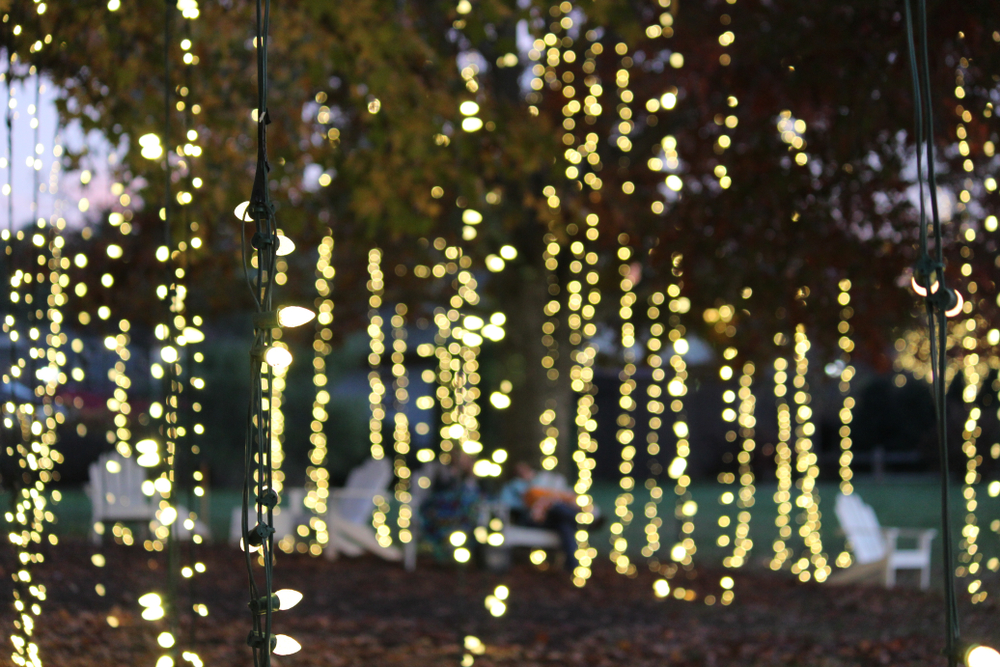 New Orleans, Lousiana
If you want to visit New Orleans, but you want to beat the heat and avoid all the Mardis Gras festivities, then Christmas is a perfect time to go. New Orleans is a really unique city that has its own culture, heritage, and history. That unique experience is reflected in how the Big Easy celebrates the holidays.
If you want to see some of the best Christmas lights in the south, then make sure to check out the Celebration in the Oaks in City Park. You'll ride a train through 25 acres of light displays surrounded by oak trees that are over 600 years old!
Of course, the French Quarter also comes alive for the holiday season. Many of the historic mansions and buildings within the French Quarter get decked out and open up for special holiday tours.
You can tour many of them by candlelight, which is something you can only experience at Christmas in New Orleans. If you'll be in town for Christmas Eve, you absolutely need to take part in the bonfires on the levee. This tradition has been taking place for a very long time. The bonfires are said to guide Papa Noel, the Cajun Santa Claus. With so many unique traditions and activities, it's no surprise that New Orleans is one of the coolest Christmas vacations in the south.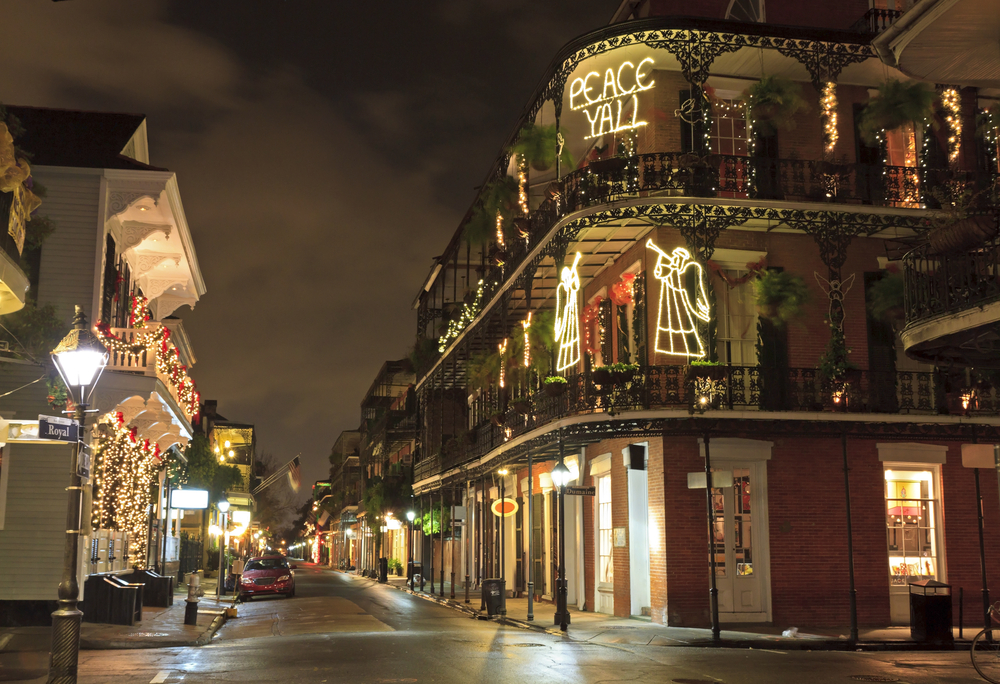 Charleston, South Carolina
Another one of our favorite southern towns is Charleston, South Carolina. Charleston is a little less than 2 hours away from Savannah, Georgia. Both cities celebrate Christmas in a similar way, but with their own personal flair. Charleston, like Savannah, is a city best known for its historic district. So you can expect to enjoy beautiful old homes and buildings decked out in elegant holiday decor. One of the most popular things to do in Charleston is the Christmas on the Battery event.
Christmas on the Battery is a ticketed event where you'll get to explore the historic Edmondston-Alston House while it is decorated for the holidays. The event takes place at night, so the historic home is lit with candles.
While there, you'll get to see a performance by a local caroling choir. In the courtyard of the home, a performer tells Gullah Christmas stories while you sip mulled wine or hot cider. Elsewhere in Charleston, you can also enjoy some of the best Christmas lights in the south at the Holiday Festival of Lights. Get your holiday shopping done at the Charleston Christmas Market, watch the Holiday Parade, and so much more.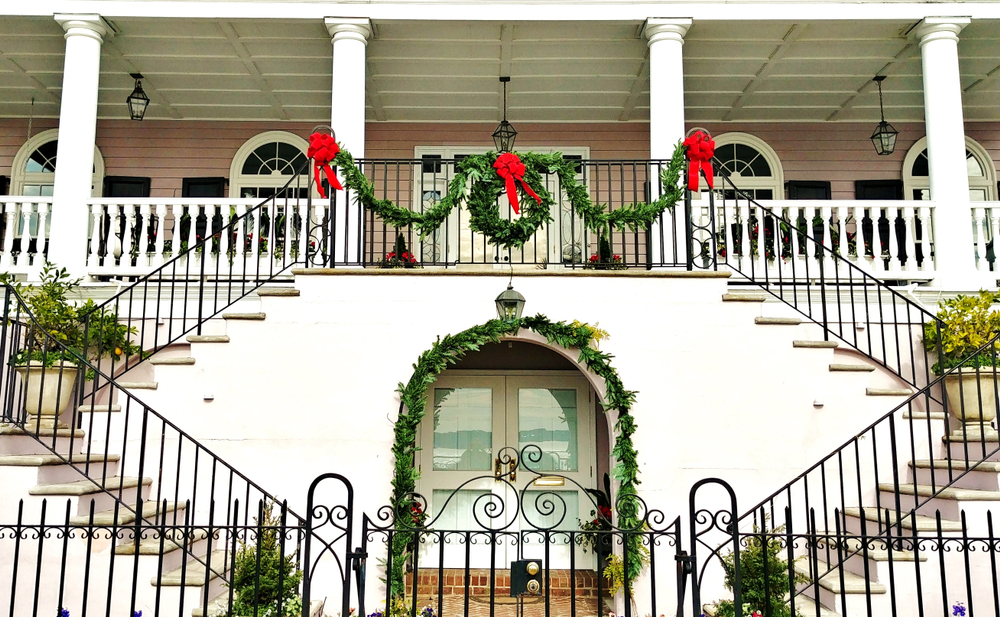 Austin, Texas
For those who are all about light shows, Austin may be one of the places with the best Christmas lights in the south for you to visit. There is not one, not two, but five different iconic ways to experience Christmas light displays in Austin. They recently started a drive-through light experience called the Peppermint Parkway.
But there are also some classic light displays as well. Visitors and locals love the Austin Trail of Lights and the Luminations walk. You can also take part in the annual Holiday Sing-Along and Downtown Stroll. Or enjoy sipping cocoa and watching the choreographed light display at Mozart's Coffee Roasters.
Other favorite Austin holiday traditions include shopping at one of the many different Christmas markets. Many of them benefit a charity and they all feature local and small businesses. If you love holiday movies, then you'll want to head to Alamo Draft House to relax, order some food and beer, and catch a screening of movies like 'A Christmas Story'. This is one of our favorite Christmas towns in Texas!
Austin is also home to Christmas-themed bars, elaborately decorated historic hotels and mansions, and so much more. It's one of the best places to visit for Christmas in the south!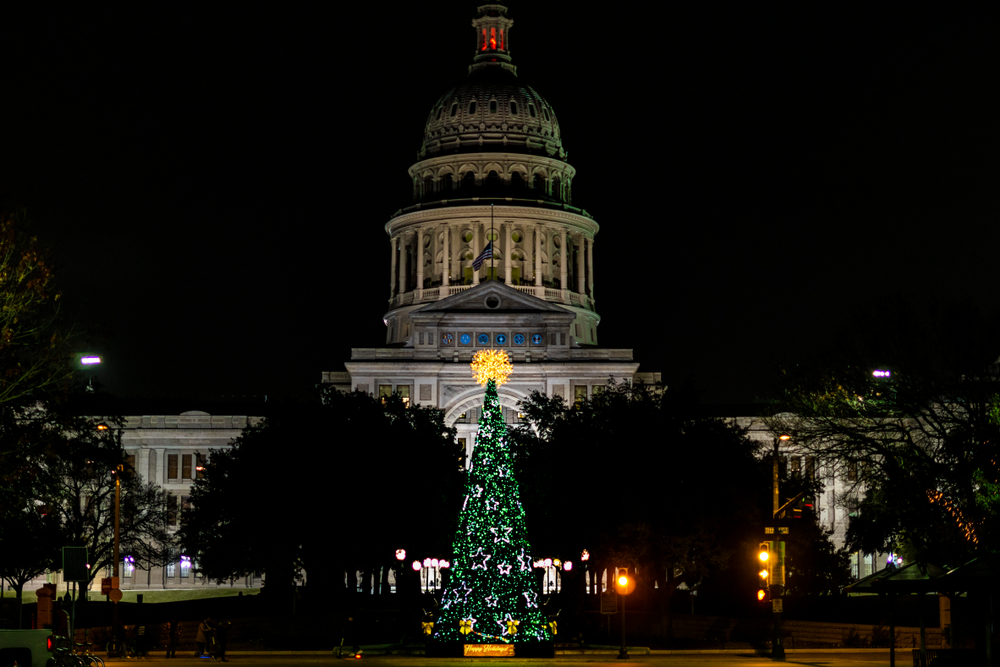 Richmond, Virginia
Visiting Richmond, Virginia during the Christmas season is a must. Richmond is another southern USA Christmas town that is full of historic buildings and homes. You can expect to see tons of beautiful holiday decorations adorning these architectural gems.
Most of them are open for special tours throughout November and December to show off their Christmas decorations. In particular, the Holiday Merriment at Maymont is one of the best things to do in Richmond during Christmas. The Victorian home is decorated with period-accurate splendor that is absolutely breathtaking.
Richmond also has some great light displays. The two most popular light displays in Richmond are the Dominion Energy Gardenfest of Lights and Kings Dominion's Winterfest. Gardenfest takes place in the beautiful Lewis Ginter Botanical Garden. Truly one of the top places on our list of places to visit in Virginia at Christmas!
It features over a million twinkle lights, family-friendly activities, food vendors, and more. Kings Dominion's Winterfest is a total takeover of the Kings Dominion amusement park. There are light displays, special holiday treats, wandering performers, and the rides are even open. Richmond is a wonderful destination for Christmas in the southern USA.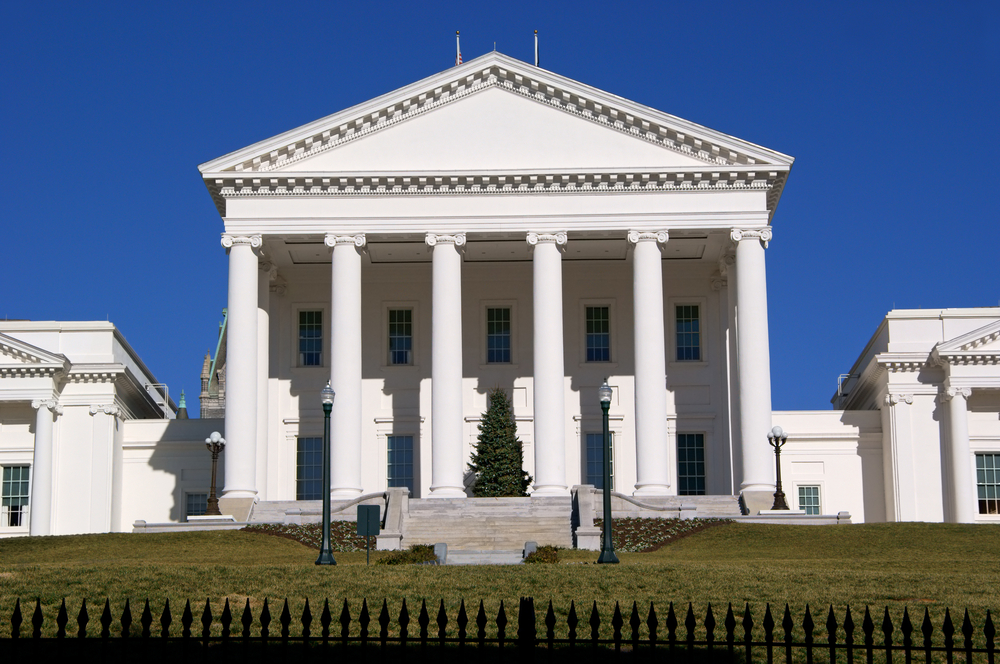 Fayetteville, Arkansas
Another city known for having some of the best Christmas lights in the south is Fayetteville, Arkansas. When most people think of Fayetteville at Christmas, they think of the Lights of the Ozarks Festival.
This massive light display brings in visitors from all over to come and admire it. The festival typically opens around Thanksgiving and remains open until New Year's Day. There are over 400,000 lights that take over Downtown Square in Fayetteville.
All throughout the festival's season, there are food trucks as well as a special mailbox to sent letters to Santa. Rumor has it, Santa may even write back if you include your return address on your letter's envelope.
The town also hosts classic holiday movie nights, a craft show full of goods made by local artisans, and more. There is also a local family that has become well known in Northwest Arkansas for their super cool light display. So check out the Stewart Family Christmas Light Display if you want even more opportunities to see fun Christmas lights.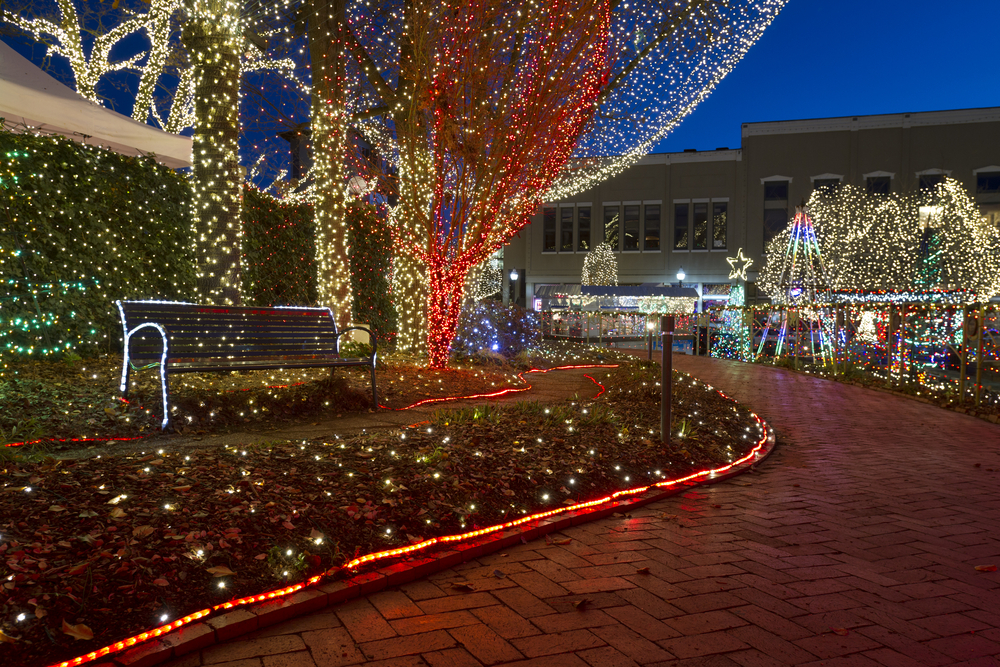 Gatlinburg, Tennessee
There are few experiences like spending Christmas in the Smokies. If you've always dreamed of a cozy mountain Christmas vacation, then consider visiting Gatlinburg, Tennessee. Because it is a mountain town, you may even get a white Christmas! But even if it doesn't snow, this small Tennessee town is bursting with charm during the holidays.
There are plenty of things you can do while visiting one of the best Christmas towns on the East Coast. Like most cities, Gatlinburg has quite a few light displays. It is truly one of the best places for Christmas in Tennessee!
We suggest taking the Gatlinburg Trolley Tour of Lights if you want to get the most out of your trip. On the tour not only will you get to admire the light display from the comfort of a heated trolley, but you'll also learn a little bit about Gatlinburg history.
If you head to the Gatlinburg Skylift Park you'll get to see thousands of lights and look down at the lights illuminating the downtown area. There are also pop-up Christmas Markets and the Village of Gatlinburg if you need to find some gifts. You can also go skiing and snowboarding or see a showing of Gatlinburg's Winter Magic Tunes and Tales.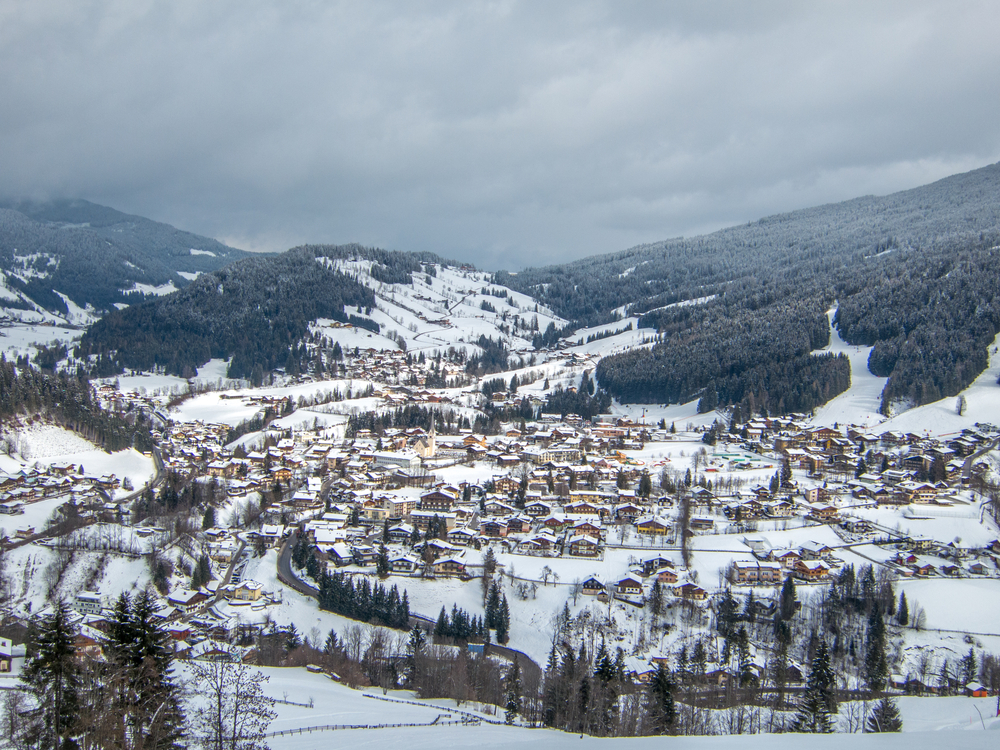 Lexington, Kentucky
Downtown Lexington, Kentucky is a hub for all things Christmas during the holiday season. Lexington is charmingly decorated and the shops and restaurants really get into the festive spirit. It's especially one of the most family-friendly southern USA Christmas towns. The area also has tons of unique activities and experiences for the little ones in the family. Lexington will provide a truly magical experience for you and your family.
One of the most popular Christmas activities for kids in Lexington is the Christmas Brunch with Santa at the Kentucky Castle. Throughout the holiday season, the castle opens up for a special brunch with a kid-friendly menu. They'll also have an opportunity to spend some time with the big man himself. After brunch, you can go ice skating at the pop-up rink in Triangle Park. At night, head to the Kentucky Horse Park to see the largest light display in the state! There are over 4 miles of lights on display that you can admire as you drive through the park.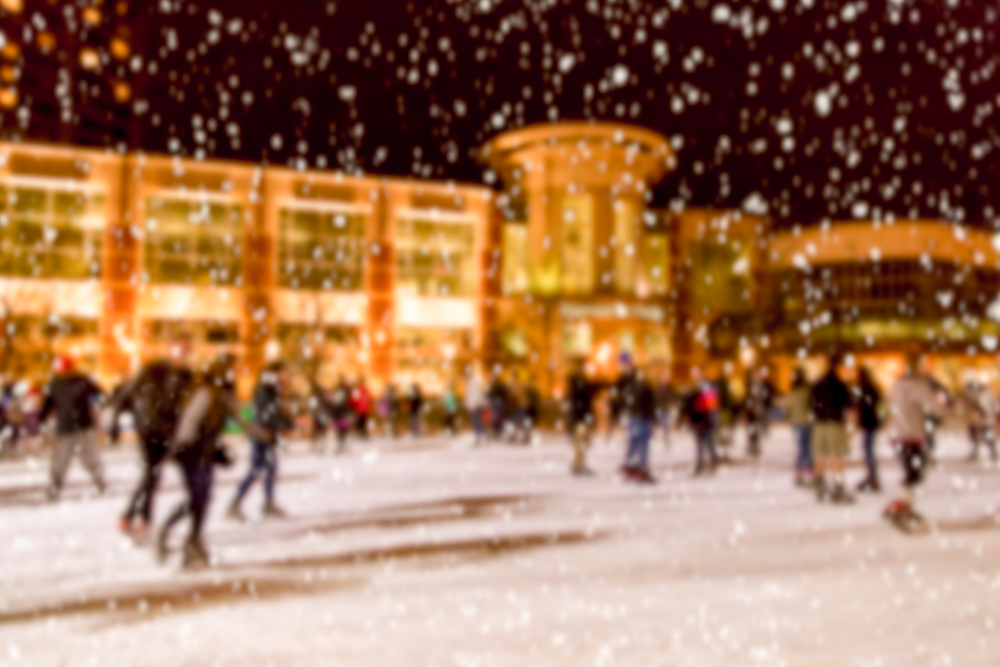 Oxford, Mississippi
Southern Living Magazine has declared that Christmas in Oxford, Mississippi is just 'as magical as it's football season'. For those who aren't aware, Oxford is home to Ole Miss, or its formal name, the University of Mississippi. You may think a college town isn't the ideal place to experience some Christmas magic, but you'd be wrong. It's one of the best Christmas towns in the south!
The charming town has a spectacular Christmas Market, an ornament auction, and a fun Christmas Parade. But the truly unique thing that makes Oxford one of the most magical Christmas vacations in the south is its Gingerbread Village. Yes, a Gingerbread Village. The Gingerbread Village is located inside the Ford Center of the Performing Arts and features hundreds of different village displays made entirely of gingerbread. After admiring the artistry of the village, head out and explore the magical lights on display on Oxford's main street while sipping a cup of delicious hot cocoa.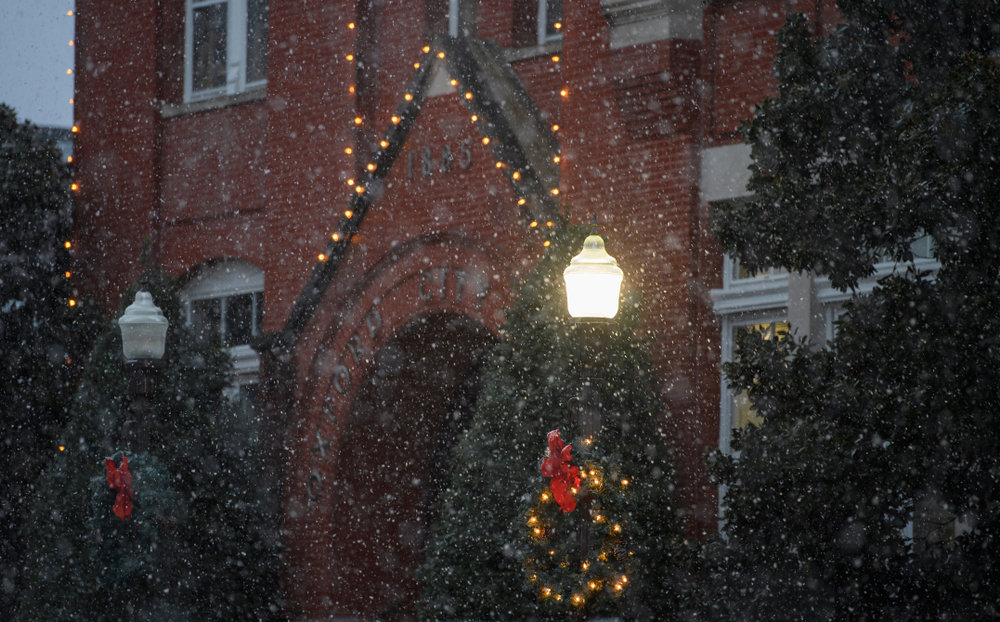 Childersburg, Alabama
If you're looking for a Christmas activity you can't experience anywhere else, consider visiting Childersburg, Alabama during the month of December. The town itself is full of decorations and pretty twinkle lights. Historic buildings like the Old Rainwater Historic Site decks themselves out in period-accurate decorations, both inside and outside.
You can tour many of them and experience what a Victorian Christmas was like. But the coolest thing to do in Childersburg at Christmastime is Christmas at the Cave in the Desoto Caverns.
On select days in December, you can purchase tickets for a true one-of-a-kind holiday performance and experience. On the grounds around the caverns, there are food vendors, street performers, stories with Santa, and so much more.
When you descend into the caverns you'll be able to see a spectacular Christmas performance. The caverns act as a natural performance center with amazing acoustics. There are carol singers, a laser light show, and even a little bit of fire. It's like nothing you've ever seen before, which is what makes Childersburg one of the coolest southern USA Christmas towns.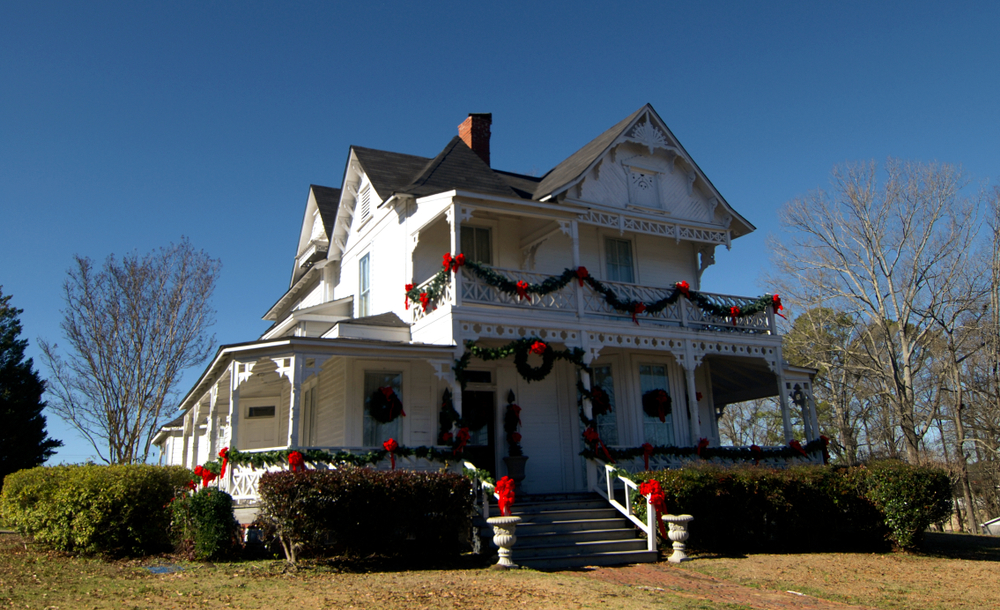 Helen, Georgia
Celebrate Christmas in the Alps without ever having to leave the south. Helen, Georgia is an Applachian mountain town that is known for its Bavarian atmosphere. This Bavarian charm is especially magical during the Christmas season.
The town gets completely decorated around the end of November, just in time for the Lighting of the Village. For the official kick-off of Christmas in Helen Georgia, local music groups perform and Mr. and Mrs. Claus even pay a visit.
During the rest of the season, there are tons of different activities in Helen. Spend the evening touring the Hardman Farm State Historic Site to get a taste of what a Victorian-era Christmas was like. There are so many things to do for Christmas in Helen and you really shouldn't miss it!
On the first two weekends of December, there is also a classic German Christkindlmarkt that takes place in the town. There you'll find the perfect gifts to bring home, all made by local artisans. As you walk through the small town in Georgia you can admire Christmas lights, sip hot cider or cocoa, and enjoy one of the most charming southern USA Christmas towns.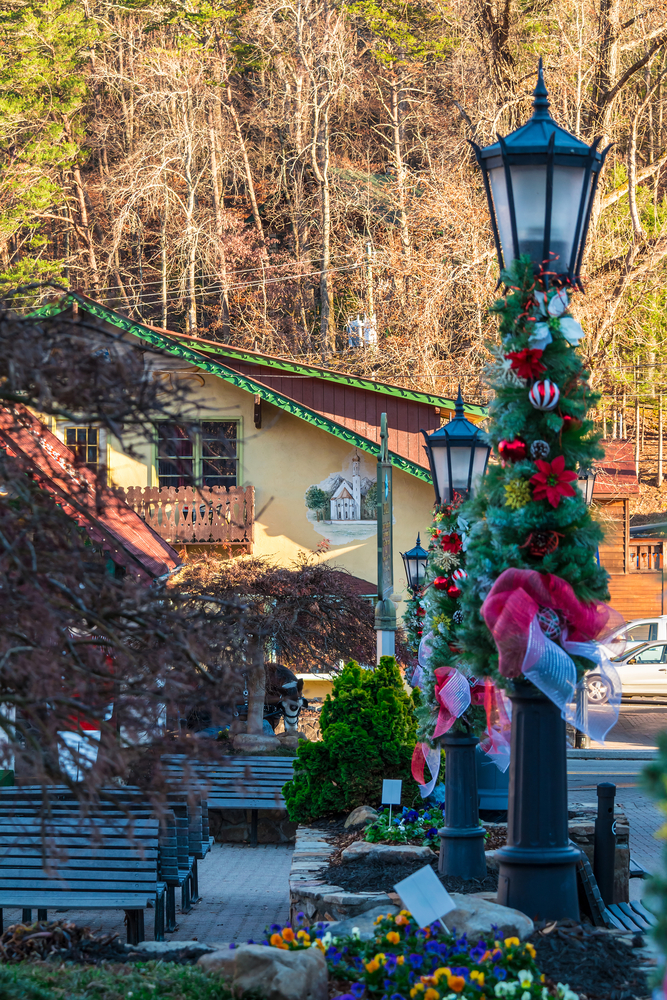 Raleigh, North Carolina
North Carolina's capital city, Raleigh, is one of the places to celebrate Christmas in the Southern USA. In the heart of the city, you'll find plenty of activities, but there are also some great things to do just on the outskirts of Raleigh as well. Raleigh is part of the 'Triangle Area' of North Carolina, which is where most of the state's major events are held throughout the year. If you want to explore Raleigh's historic area at Christmas, consider taking the Walking Historic Oakwood Candlelight Tour. You'll get to learn about the area as well as admire the historic homes decorated for Christmas.
Throughout the month of December, there are a number of other holiday-themed activities and events. There are several options if you want to see a light display. From drive-through light display fields or synchronized light shows on major buildings and churches. The area also has a number of Christmas Markets, a huge Christmas Parade, and even a laser light show that you can enjoy from the warmth of your car. For the adults, there are also Christmas-themed bar crawls, screenings of holiday classics like 'National Lampoons Christmas Vacation', and more.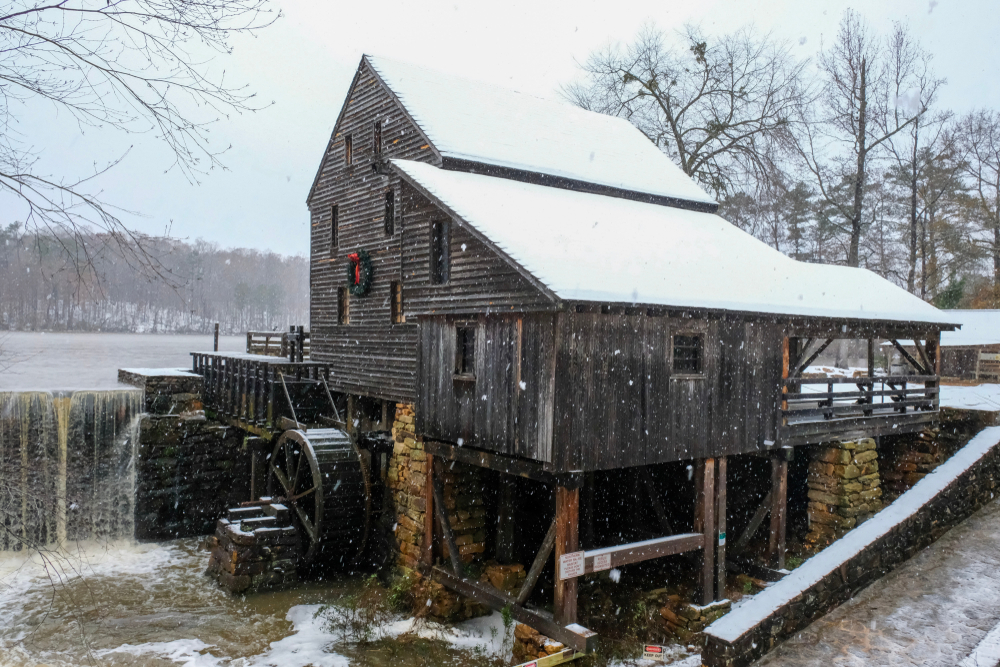 Colonial Willimasburg, Virginia
Have you ever wondered what Christmas was like for the colonial immigrants of the south? If so, then a trip to Colonial Williamsburg for their Christmas celebration is a must! Be prepared though. Williamsburg is a very popular destination for Christmas vacations in the south, so plan ahead of time. You'll want to book your lodgings and purchase tickets for the grounds of Colonial Williamsburg well in advance. If there are any ticketed events you'd like to attend while you're there, we suggest getting those tickets early as well.
The entire living history museum gets fully decorated for Christmas in period-accurate decor. It's a one-of-a-kind experience to see the historic shops, restaurants, and homes all decorated how 18th-century people would have originally experienced them. Stroll the cobblestone streets of the historic village and sample period-accurate foods, see street performers, and learn more about the European immigrants who started the colonial village. You can also enjoy ice skating, shopping in the Christmas Market, and more.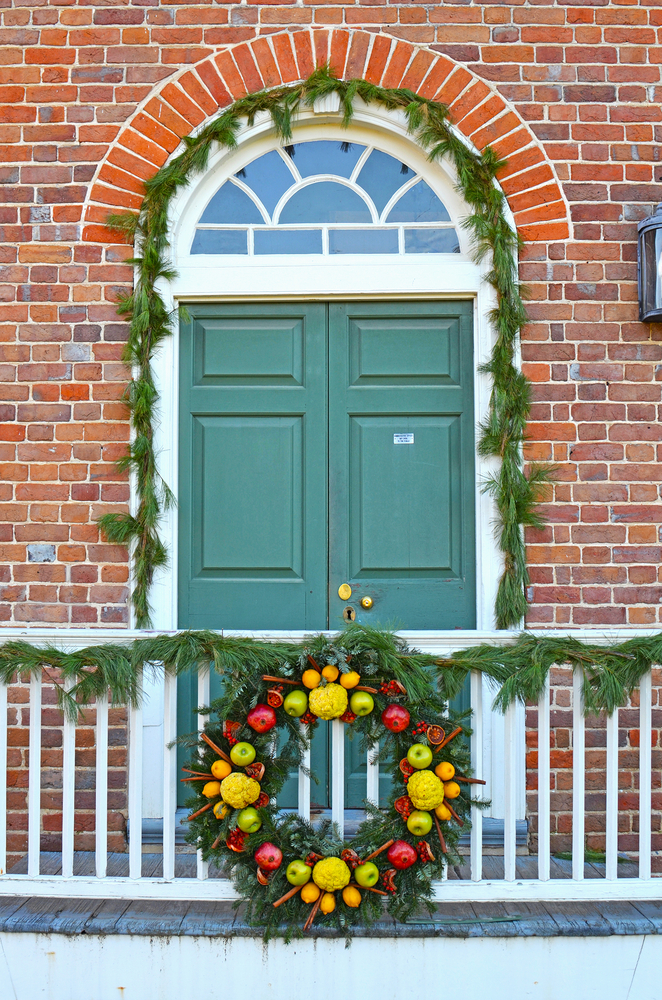 Christmas in the south is a truly magical time of year to explore. You'll be able to beat most of the heat and generally, the daily temperatures are very comfortable for walking around. With so many amazing southern USA Christmas towns on this list, it's hard to pick just one to visit. Have you had the opportunity to experience any of these magical Christmas towns in the south? We'd love to hear about your favorite in the comments!