If you are searching for the best places to visit in Tennessee, you have come to the perfect place! We are going to provide a list of some of the premier cities, landmarks, and sites that are a must-do.
Because of the diverse landscapes and cities in the state, there are a number of cool places to visit in Tennessee. We are going to focus on the absolute best so you won't miss out. Whether you are flying in or you are a resident of Tennessee looking to venture across the state, you will want to visit the popular destinations on this list.
There is something for everyone to enjoy. Want to get away for a romantic weekend? Or maybe you are seeking to enjoy a nice cabin in the mountains with your family. You are sure to find what you are looking for in this comprehensive list. Get ready to start planning your trip to enjoy the best places in Tennessee to visit!

17 Best Places To Visit in Tennessee (+ Unique Vacation Spots!)
Cummins Falls State Park
At 282 acres, Cummins Falls State Park is a picturesque paradise for those that love the outdoors. It is located nine miles north of Cookville on the Blackburn Fork State Scenic River. The rugged landscaping, idyllic waterfalls, and popular swimming hole make it one of the best places to visit in Tennessee.
If you plan to visit the waterfall, be sure to bring the appropriate gear. To reach the waterfall, guests will need to hike, wade through water, climb rocks, and cross slippery rocks. If you're up for it, the views are worth it!
The gorge area of the park is also one of the popular Tennessee tourist attractions. Like most of the park, it is unaltered by man. Travel by foot to see this beautiful, natural area.
Whether you decide to take a day trip here or want to stay a weekend, make sure to stop by and experience this place for yourself! Looking to see the best waterfalls around the state? Check out our article on the Prettiest Waterfalls in Tennessee.
Where to Stay: The Old Schoolhouse- Gorgeous Newly Renovated early 1900s Residence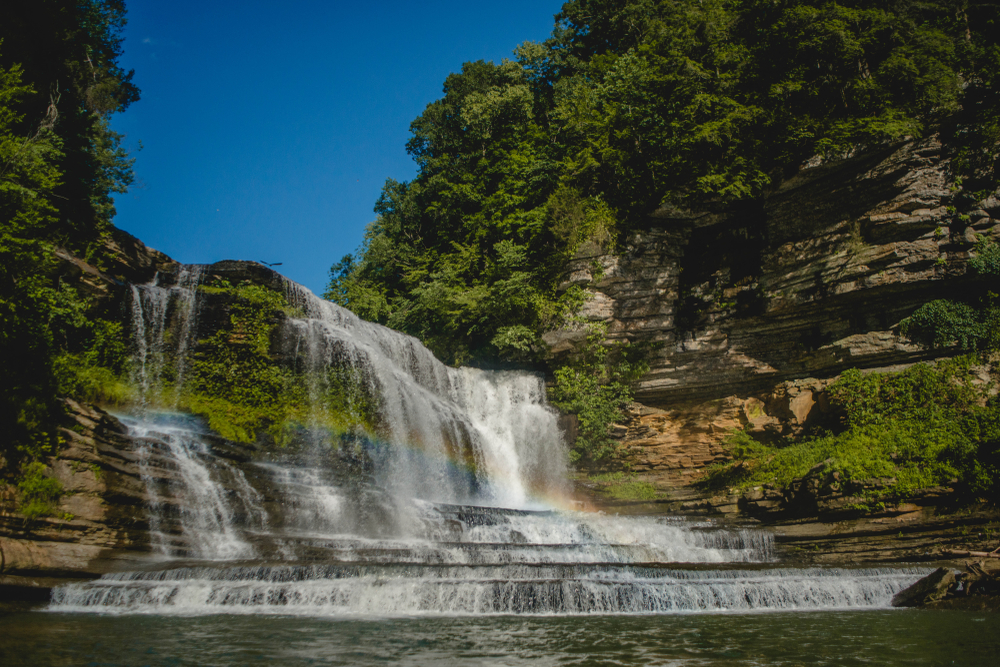 Roaring Fork Motor Trail
One of the best places to visit in Tennessee, Roaring Fork is a narrow, winding trail that invites visitors to enjoy the beautiful forest and historic buildings. The popular 5.5-mile trail is a favorite for those that often visit the Great Smokey Mountains.
Guests have the opportunity to see rushing mountain streams and Rainbow Falls, one of the park's most visited waterfalls. The hike to the waterfall is a strenuous 5.4 miles roundtrip so be sure to wear the appropriate gear. Don't forget to pack plenty of water and sustainable snacks!
Before you enter the trail, be sure to check out the Noah "Bud" Ogle self-guiding nature trails. It is a walking tour of a real mountain farmstead that is surrounded by lush forest. You won't want to miss the stream-side tub-mill and Ogle's handcrafted wooden flume plumbing system! This is also one of the best places for Fall Foliage in Tennessee!
Place of a Thousand Drips, a "wet weather" waterfall offers the perfect ending to your hike. Be sure to pick up a booklet that is available at the beginning of the trail that will provide further details of landmarks. This is perfect for a weekend getaway to one of the most beautiful places in Tennessee!
Where to Stay: Roaring Fork Lodge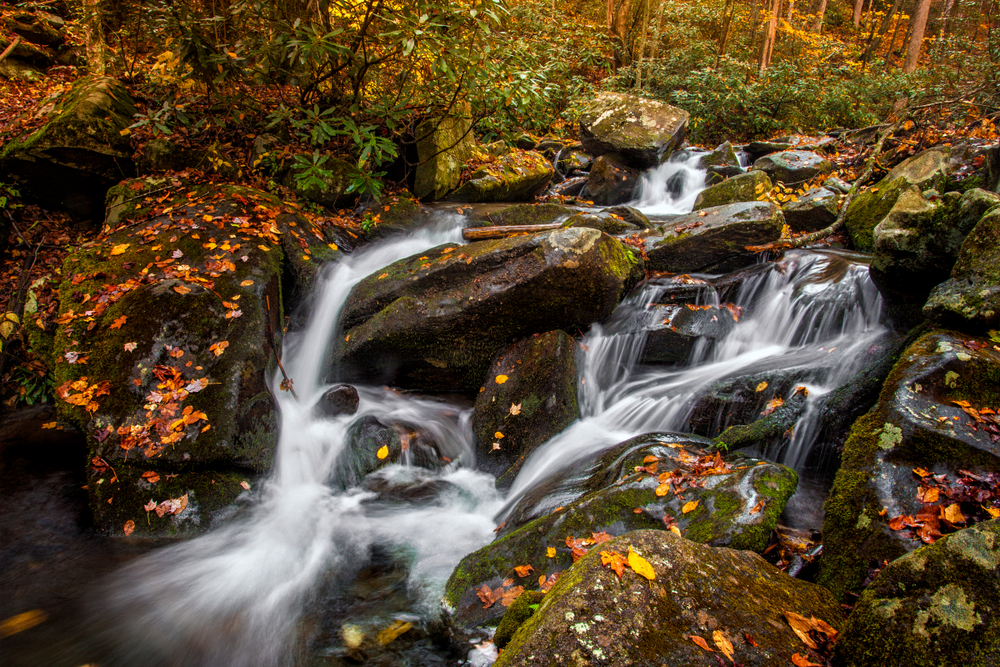 Big South Fork National River and Recreation Area
The Big South Fork boasts some of the most rugged terrains in the Cumberland Plateau. Encompassing around 125,00 acres, the wide variety of habitats and landscapes make it one of the best places to visit in Tennessee!
Plants and animals thrive in this park. The Big South Fork contains over 138 miles of fishing streams with 92 species of fish. In addition, there are over 170 species of birds! Black bear sightings are also common.
A number of fresh and clean streams flow into the Big South Fork of the Cumberland River. Years of moving water created sandstones on the plateau into cliffs, arches, and chimneys. This is definitely one of the best places to visit in Tennessee!
Where to Stay: Inviting Family Abode with Dock on Norris Lake!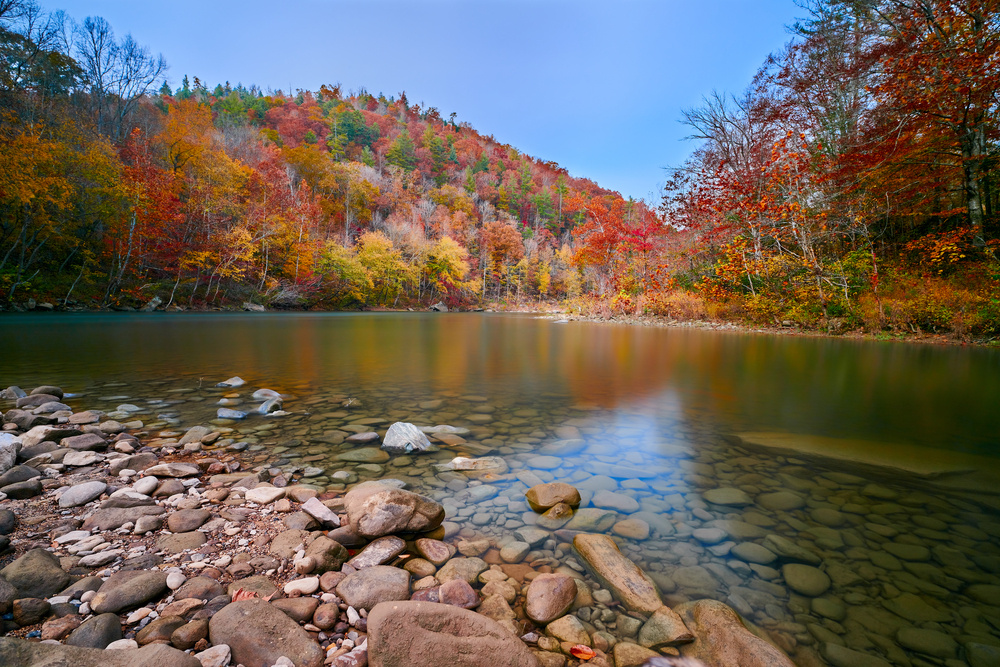 Falls Creek Falls State Park
One of Tennessee's largest and most popular state parks, Fall Creek Falls State Park, covers over 29,800 acres of the rugged Cumberland Plateau. Filled with cascades, gorges, streams, and waterfalls, it is one of the best places to visit in Tennessee!
The lush stands on the timber beckon nature enthusiasts to enjoy all that the park has to offer. Fall Creek Falls, one of the highest waterfalls in the eastern United States, stands at 256 feet. Visitors flock to see it in all its beauty. There are even more waterfalls to enjoy, too. Piney Falls, Cane Creek Cascades, and Cane Creek Falls are also beloved by visitors.
Do you love camping? Fall Creek Falls State Park has options for tents, RVs, and backcountry campsites. If you prefer a cabin, those are also readily available. This is one of the ideal places to go in Tennessee for the weekend!
Where to Stay: Grandview Experience Lodge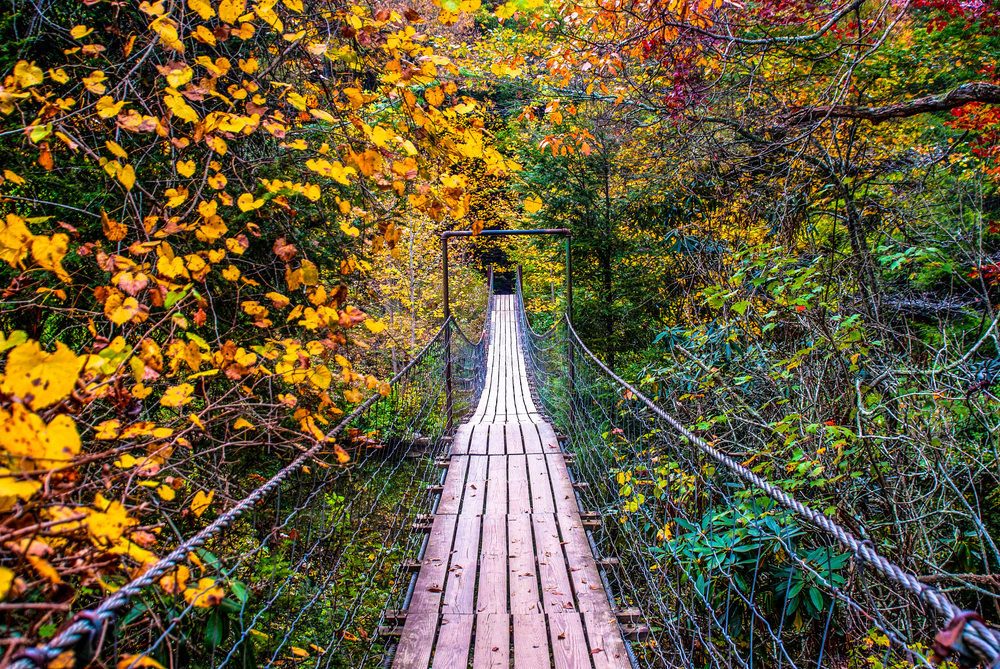 Ruby Falls
Taking a journey inside Lookout Mountain will lead you to one of the best places to go in Tennessee! As the tallest and deepest underground waterfall open to the public in the United States, Ruby Falls welcomes guests from around the world to see spectacular views.
Ruby Falls was actually discovered accidentally when Leo Lambert took an unexpected journey deep into Lookout Mountain. He named the striking falls after his wife, Ruby, and opened the attraction to the public in 1929.
Descend 260 feet in a glass front elevator to check out ancient formations along the trail and the breathtaking falls. Tours are available but sell out quickly. So make sure you reserve your tickets days in advance.
The Lantern Tour can't be beaten. The after-hours tour is illuminated by handheld lanterns as guides share stories exclusive to this tour. Reservations are required. As one of the best places to visit in Tennessee, planning ahead is crucial!
Where to Stay: The Read House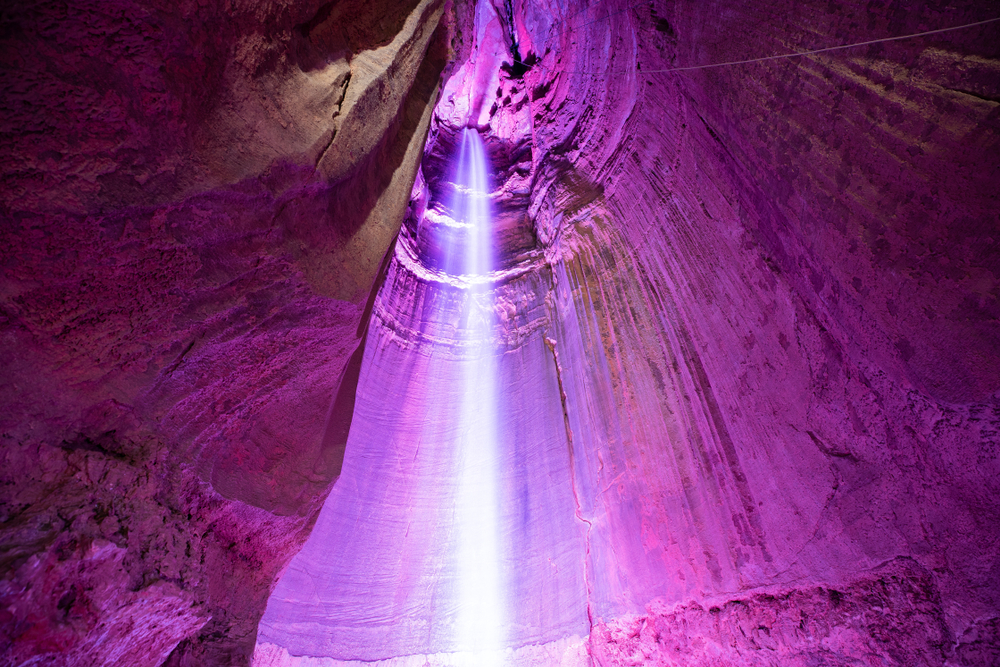 Gatlinburg
Gatlinburg, one of the best places to travel in Tennessee, is one of the most popular mountain towns in the eastern U.S. Every visit here will provide you with unforgettable memories.
Adventure awaits everyone in Gatlinburg. There are so many Fun Things To Do. Ride to the top of the Anakeesta Mountain with serene views on a gondola. Take a walk across the longest pedestrian Skybridge in the States. Visit the Gatlinburg Space Needle to catch spectacular views of the Smokies. If possible, visit in the fall or winter months to see an indescribable transformation
Families, friends, and partners flock to Gatlinburg to enjoy it all. With a plethora of attractions, famous restaurants, and adventures, there is so much to offer. As one of the best places to travel in Tennessee, visitors can zipline, white water raft, golf, fish, hike, horseback ride, and so much more!

Where to Stay: Greystone Lodge on the River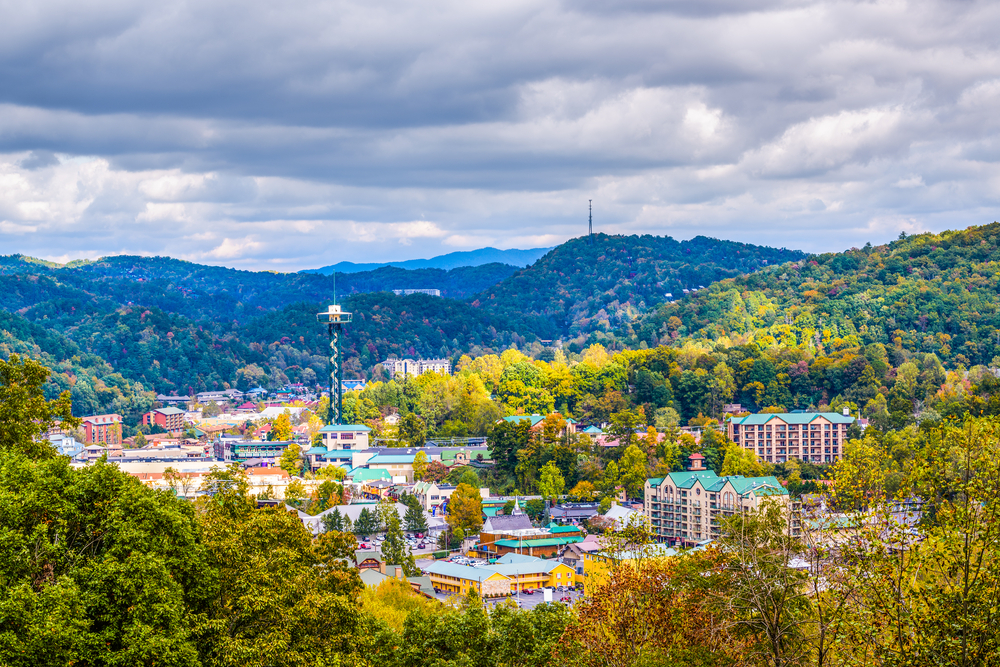 Pigeon Forge
Pigeon Forge is another of the popular Tennessee destinations. This mountain town is located in eastern Tennessee and is home to Dollywood, country music revues, and dinner theaters.
A family-friendly destination, Pigeon Forge is filled with fun activities. Visitors can enjoy thrilling attractions, award-winning shows, shopping, and numerable dining options.
If you love shopping, be sure to check out the outlet mall. There is almost always a festival or event taking place in Pigeon Forge so do your research before you go so you don't miss your favorite entertainment! Pigeon Forge is one of the best places to visit in Tennessee.
Where to Stay: The Resort at Governor's Crossing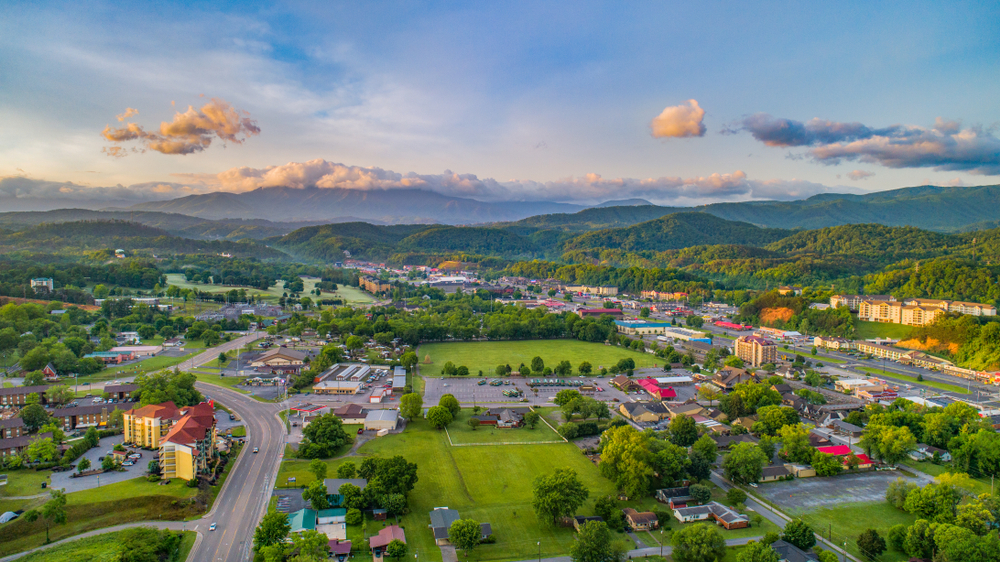 Music Row
Known as the heart of Nashville's country music industry, Music Row is home to numerous record labels, publishing houses, radio stations, and video production houses. The iconic studios where legends like Elvis Presley and Dolly Parton recorded hits make Music Row one of the best places to visit in Nashville.
A must-see attraction is the RCA Studio B. Open for public tours, you can visit the site where legendary artists recorded hundreds of hits. The lights are still there from when Elvis recorded a Christmas album! Stop by the Belcourt Theatre, which used to serve as the Grand Ole Opry. Live performances as well as the annual film festival if held there.
Music Row is jam-packed with attractions, shopping, restaurants, and entertainment. You don't want to miss one of the best places to visit in Tennessee!
Where to Stay: Renaissance Nashville Hotel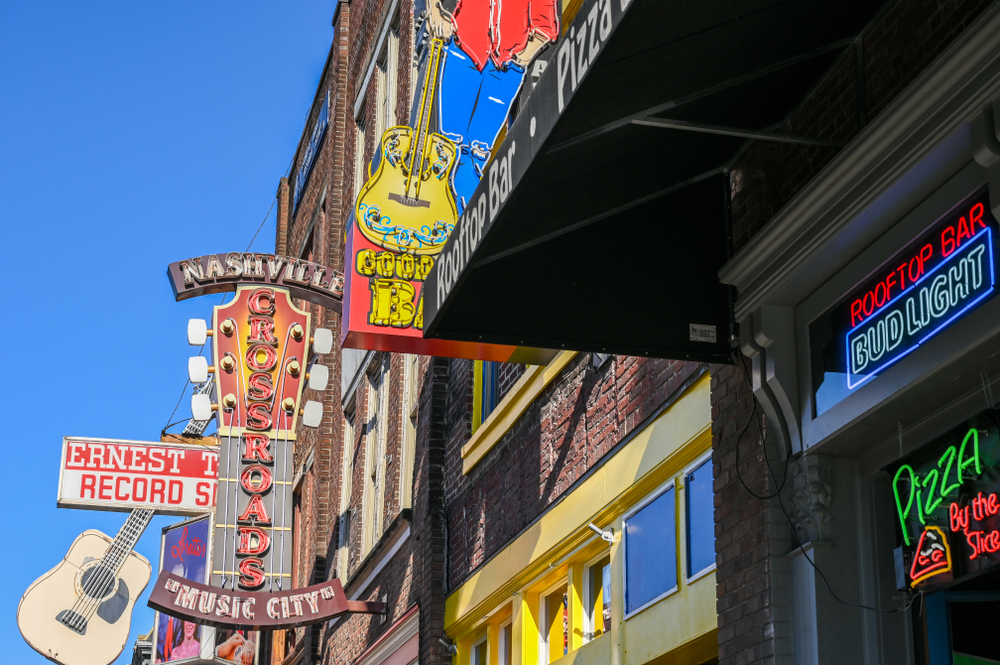 Radnor Lake
Radnor Lake State Park is a 1,368-acre park. It is beloved by guests because of its plethora of wildlife, environmental education programs, hiking options, and proximity to the city, making it one of the best places to visit in Nashville.
The park and 7.75 miles of trails can only be accessed during the day. It is used for hiking, photography, and wildlife observation. The Otter Creek Road trail is open to pets, jogging, and bicycling. The Lake Trail is accessible to those with all-terrain wheelchairs.
Outdoor lovers and nature enthusiasts gravitate to this area to see the owls, herons, waterfowl, amphibians, and reptiles that inhabit the area. Visitors have also been able to observe mammals such as mink and otter. In addition to wildlife, guests can see the hundreds of species of mosses, wildflowers, fungi, and other lush plants.
Before you go, check out the Tennessee State Parks site to view the ranger-led programs that are planned throughout the year. Some adventures include canoe floats, wildflower walks, programs on snakes, and astronomy night hikes. The countless opportunities to explore nature make Radnor Lake one of the best places to visit in Tennessee!
Where to Stay: Hyatt Place Nashville Downtown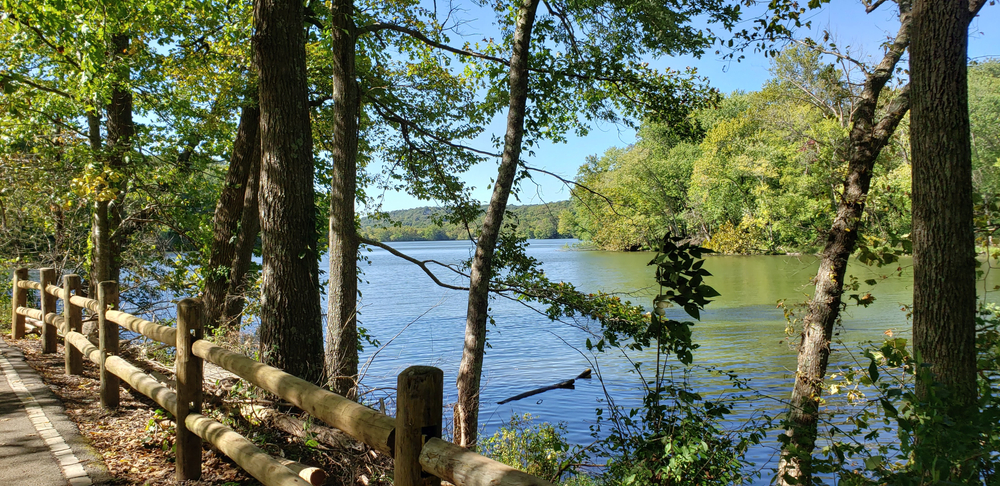 Beale Street Entertainment District
Beale Street Entertainment District is known for its iconic music venues, clubs, bar, and shops. Spanning three blocks, it is a melting pot of music: blues, jazz, rock 'n' roll, R&B, and gospel are ingrained in its history.
Beale Street is easily one of the best places to visit in Memphis. As you stroll under the neon lights, you will hear music spilling out of clubs and restaurants. Be sure to stop by one of the many bars to grab a drink as you enjoy the Beale Street Flippers.
Memphis in May is a fan favorite where major headliners like Snoop Dogg, The Killers, and St. Vincent participate in the Beale Street Music Festival. Located at the end of Beale Street, festivities are held the entire month of May.
Not only is Beale Street known for its music, but it is also home to the historic Orpheum Theatre. Deemed as the "South's Finest Theatre," guests can go see everything from Broadway productions to famous comedians. You are sure to have a great time in one of the best places to visit in Tennessee!
Where to Stay: Hotel Indigo – Memphis Downtown, an IHG Hotel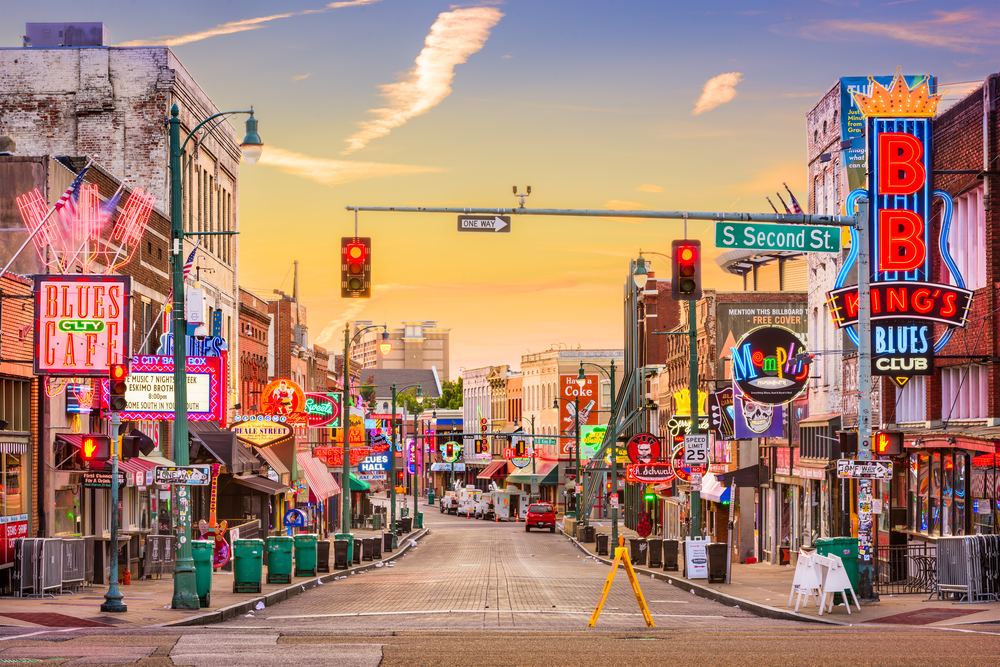 Memphis Botanic Garden
The Memphis Botanic Garden is a 96-acre property that includes 30 specialty gardens that provide a thorough look into the diverse families of plants, flowers, and trees. Its goal to connect people with nature makes it another one of the best places to visit in Memphis for nature lovers.
The Garden is open daily to the public, where guests are free to take a stroll through the various gardens on the grounds. The peaceful gardens offer picturesque views all year round.
Be sure to grab a map. It's a must for both seasoned and new visitors as the Garden has so much to offer. The guide shows guests where they can access each garden, walking trails, restrooms, pavilions, and more. One of the best places to visit in Tennessee, guests will want to spend hours enjoying this Memphis staple.
Where to Stay: Kasa Memphis Downtown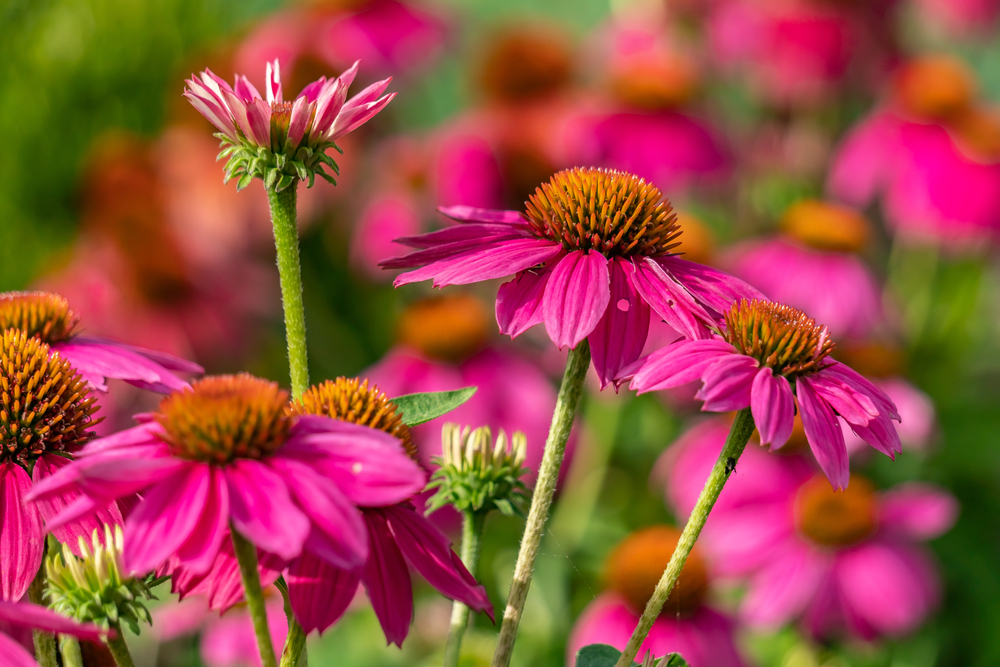 Grand Old Opry
Looking for places to visit in Tennessee for couples? The Grand Ole Opry is located in Pigeon Forge and has been showcasing the past, present, and future of country music for over 95 years!
The Opry is full of history. It's where Johnny Cash met June Carter, Bill Monroe and his band created bluegrass, and countless famous acts have made unforgettable shows. The Opry hosts a mix of country legends and current chart-toppers making it the perfect place to enjoy a date night with your partner!
Every year thousands of people make the trip to see their favorite acts. The atmosphere is truly indescribable. It's one of the best places to visit in Tennessee!
Where to Stay: The Hermitage Hotel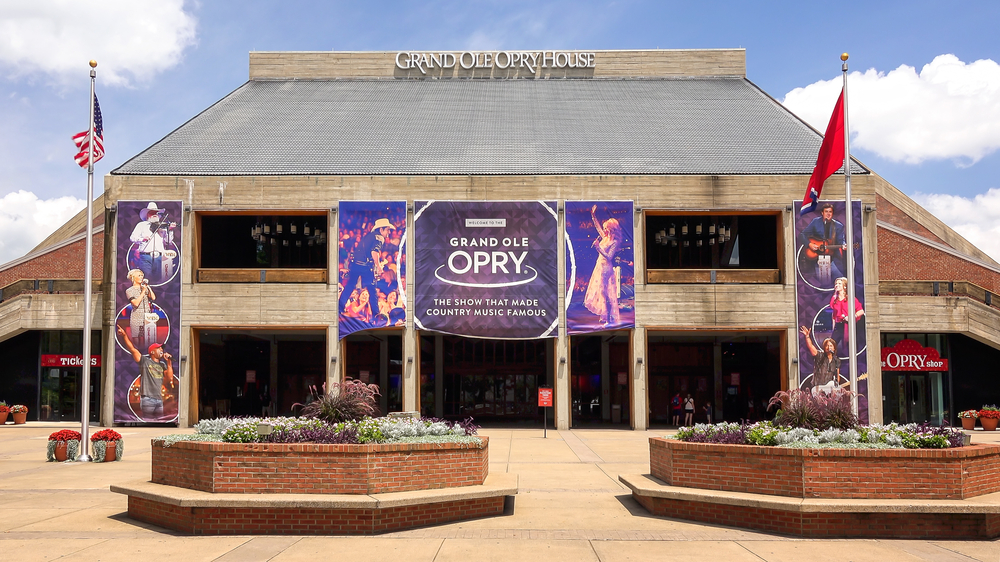 Sugarlands Distilling Company
Sugarlands Distilling Company is another one of the places to visit in Tennessee for couples. The rustic, industrial-chic moonshine maker is tucked into the Smoky Mountains and serves as one of the best vacation spots in Tennessee.
You and your partner will love sampling the award-winning spirits, canned cocktails, whiskey, and moonshine. Try out the Distiller Workshop where you will be able to take a private tour and learn everything about making distilled spirits. It is an enjoyable, hands-on experience!
Sugarlands Distillery also offers indoor and outdoor tours and live music. Spend a few hours here before or after dinner as it doesn't close until after 10! You and your loved one are sure to enjoy one of the best places to visit in Tennessee!
Where to Stay: Honeymoon Hideaway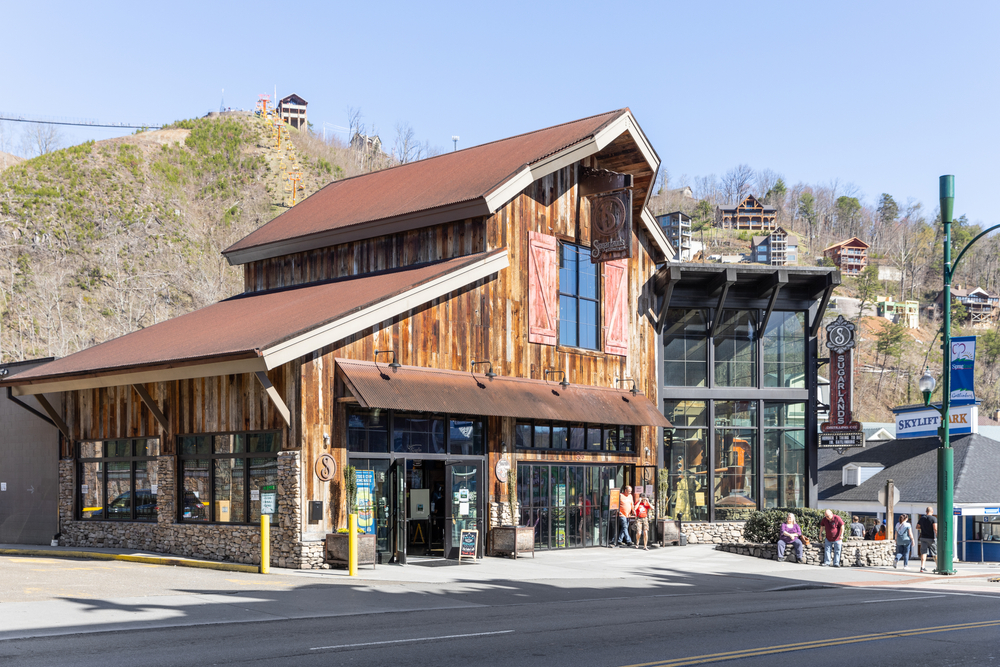 Tennessee Aquarium
As one of Chattanooga's top attractions, the Tennessee Aquarium is one of the best places to visit in Tennessee for families. The aquarium is home to over 1,000 animals and an IMAX theater!
It is accessible and inclusive friendly. Guests will have the opportunity to meet otters, penguins, giant catfish, alligators, sharks, and more! Called "From the mountain to the sea," visitors are able to take a river journey that leads to an ocean journey in order to see animals in their "natural" habitat.
The IMAX offers several viewing options. From movies to IMAX with laser, there are several viewing options for you to choose from. From outside the aquarium, you can see the beautiful backdrop of the city making it one of the best places to visit in Tennessee AND one of the pretty places in Tennessee to view.
Where to Stay: Holiday Inn Hotel & Suites Chattanooga, an IHG Hotel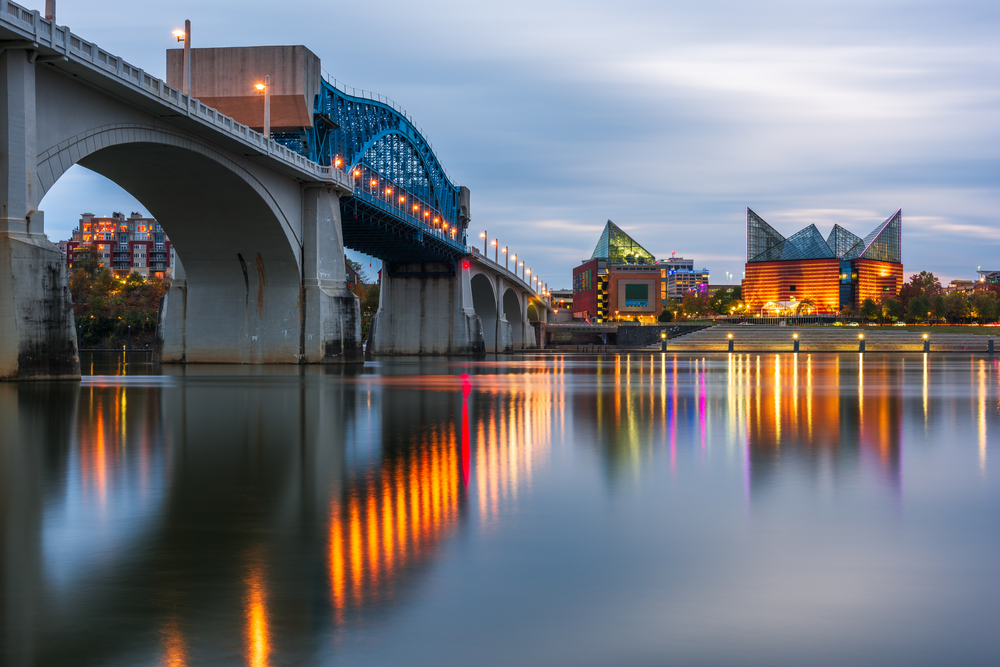 Dollywood
Dollywood Parks and Resorts is a staple destination and one of the best places to visit in Tennessee. Located in Pigeon Forge, it is a family theme park that is jointly owned by the beloved Dolly Parton and ranked as one of the world's best theme parks.
Within the Dollywood area, there are resorts, a theme park, a water park, cabins, and dinner shows. There is so much to see and do making it perfect for both families and couples looking to have a fun time!
Festivals, events, and shows are also held in Dollywood such as flower festivals, food festivals, and holiday-themed festivals. One of the premier Tennessee vacation spots, visiting Dollywood is a must-do!
Where to Stay: Bearskin Lodge on the River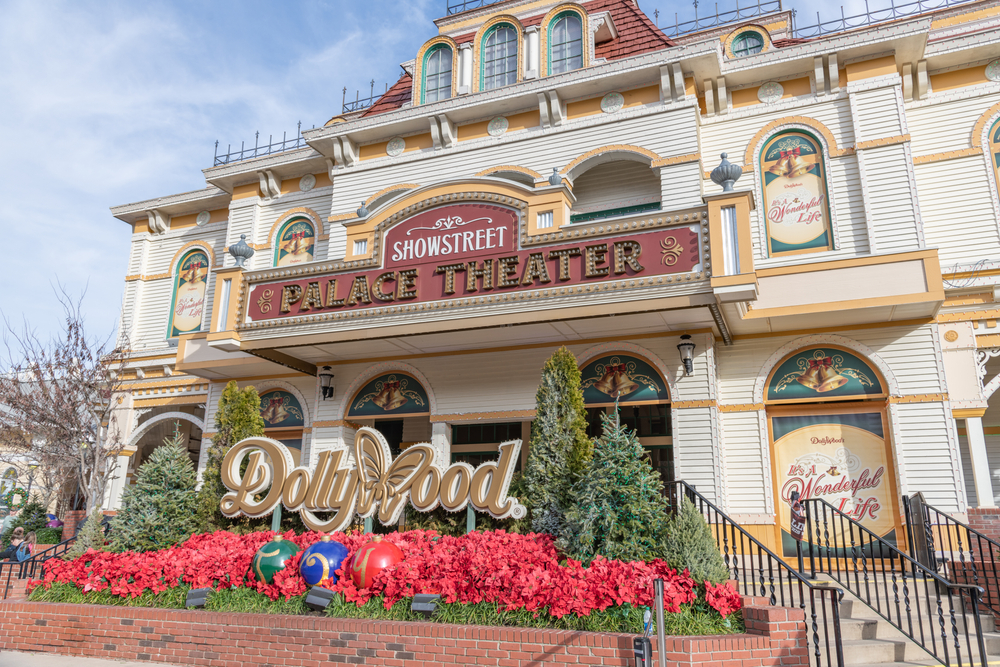 Great Smokey Mountains
The Great Smokey Mountains make up a vast mountain range that rises along the Tennessee, North Carolina border. They are a subrange of the Appalachian Mountains and make up a part of the Blue Ridge Physiographic Province.
The mountains are surrounded by some of the most popular cities in Tennessee. Rent a cabin for the weekend and enjoy the picturesque views and all the Smokies have to offer. Cascading waterfalls, wildlife, and lush greenery cover the 500,000 acres.
As one of the country's most visited national parks, guests flock to the Smokey Mountains to hike, enjoy a picnic, and become with nature. Visiting the Smokies is a must-do if you are visiting. It is one of the best places to visit in Tennessee.
Where to Stay: Historic Tapoco Lodge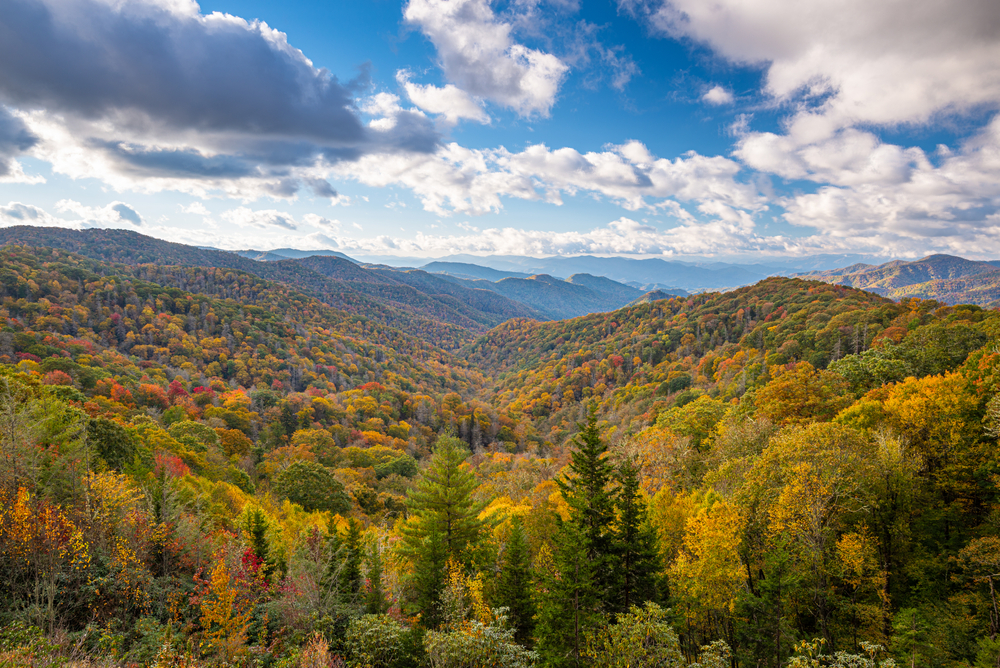 Market Square
Market Square is one of the best places to visit in Knoxville. It is a vibrant city that boasts a variety of entertainment, shopping, and dining options.
The beautiful outdoors and great weather make it perfect for outdoor concerts, events, festivals, and more. Check out Shakespeare on the Square, which features live performances of Shakespeare's plays. Visitors from all around enjoy the entertainment.
Market Square is also known for its authentic southern-style cuisine, steak, and sushi. It is also home to a number of downtown breweries. The best part is that you are able to walk to the restaurants and attractions. Book an eccentric hotel and enjoy one of the best places to visit in Tennessee!
Where to Stay: Graduate Knoxville