There are so many amazing waterfalls in Arkansas waiting to be discovered!
If you love hiking in gorgeous natural landscapes, then Arkansas needs to be on your travel bucket list. This Southern state is known as the Natual State for a reason. You will be awed by its natural, raw beauty.
There are a ton of waterfalls dotted throughout Arkansas, and you can easily do a road trip to see as many as possible. An Arkansas waterfall hike can also be a great weekend getaway for couples or a group of friends.
Keep in mind that the best time to see the waterfalls is in the rainy season. In summer, many of the falls dry to a trickle. Plan your Arkansas trip accordingly so you are not disappointed. But, no matter the time of year, the hikes are beautiful and each season offers something different.
If you are planning on photographing the waterfalls, consider bringing a tripod for stabilization. This helps when you do long exposures to get silky water. A neutral density filter can help avoid overexposure.
Without further ado, here are some of the best Arkansas waterfalls!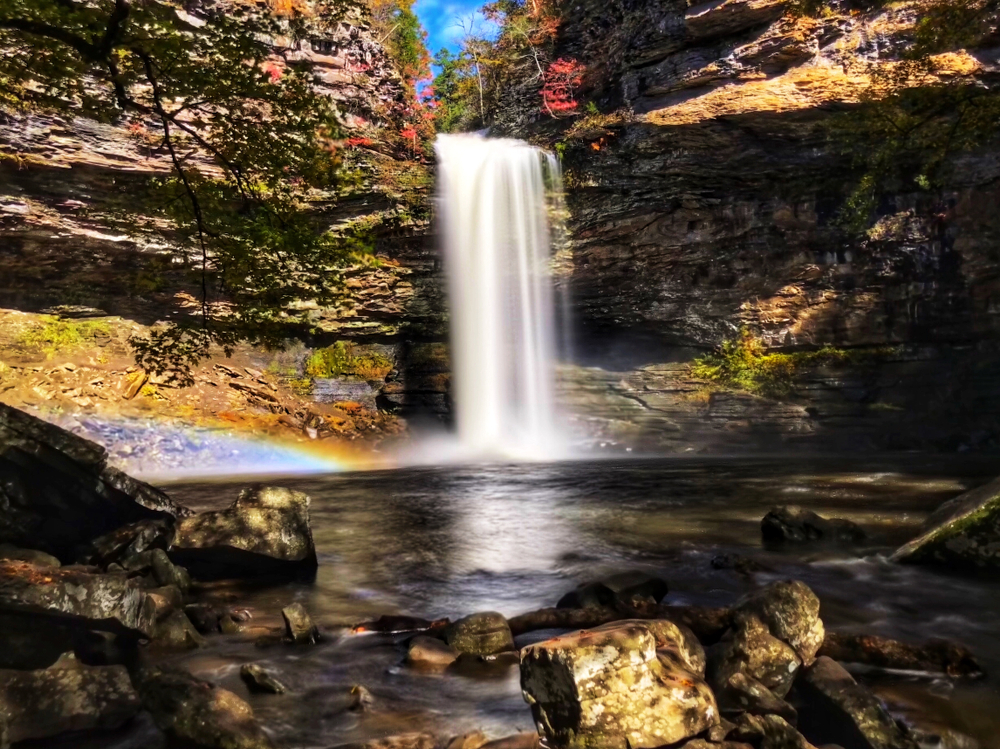 15 Best Waterfalls In Arkansas You Must Explore
Glory Hole Falls
Glory Hole Falls is one of the most popular waterfalls in the Ozark Mountains because of its unique structure. This 30-foot waterfall flows down through a hole in a cave to create a cool atmosphere.
The two-mile round trip hike is so worth it to see one of the coolest waterfalls in Arkansas. The hike is moderate with some rocky areas. Make sure to wear good hiking boots.
You can walk completely around the waterfall or even stand under it for a natural shower. In winter, it often freezes into a pillar of ice. This is an epic, natural phenomenon you would love to see in person.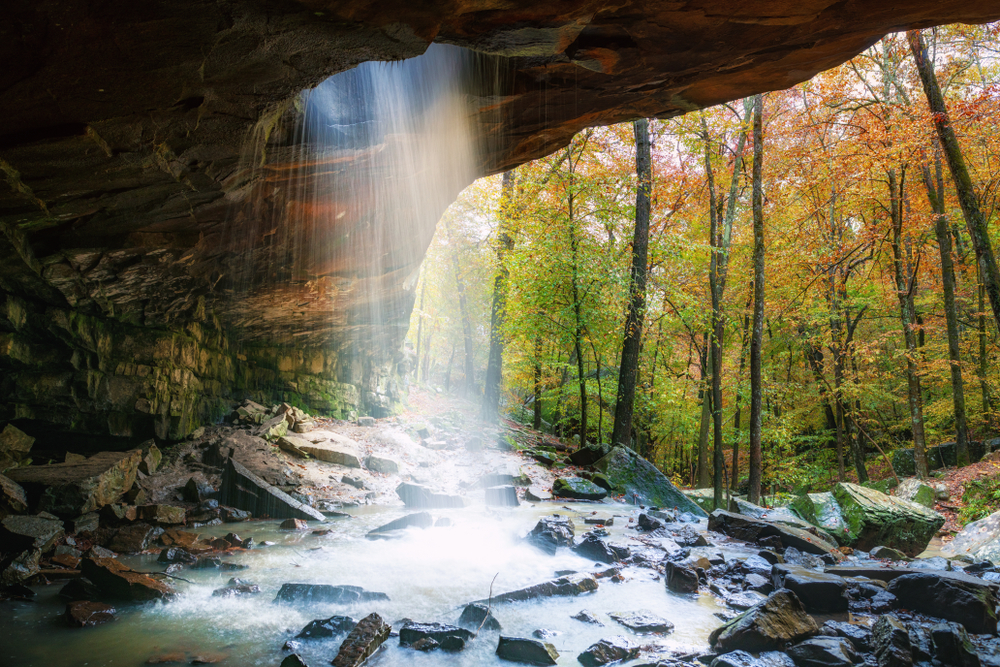 Twin Falls
Twin Falls, also known as Triple Falls in the wet season when another stream appears, is one of the most beautiful waterfalls in Arkansas. There are actually two waterfalls in Arkansas with this name. Here we are discussing the one near Mt. Sherman.
The hike begins on the road to the Camp Orr Boy Scout Camp. While the trail is open to the public, the Boy Scout camp is not so be careful not to trespass. The trailhead is found near a creek before the camp's entrance. The drive here is bumpy and steep so a 4WD or AWD vehicle is recommended.
This hike is only a half-mile roundtrip and is easy enough for the whole family. This is a really popular waterfall, so do not expect to have it to yourself.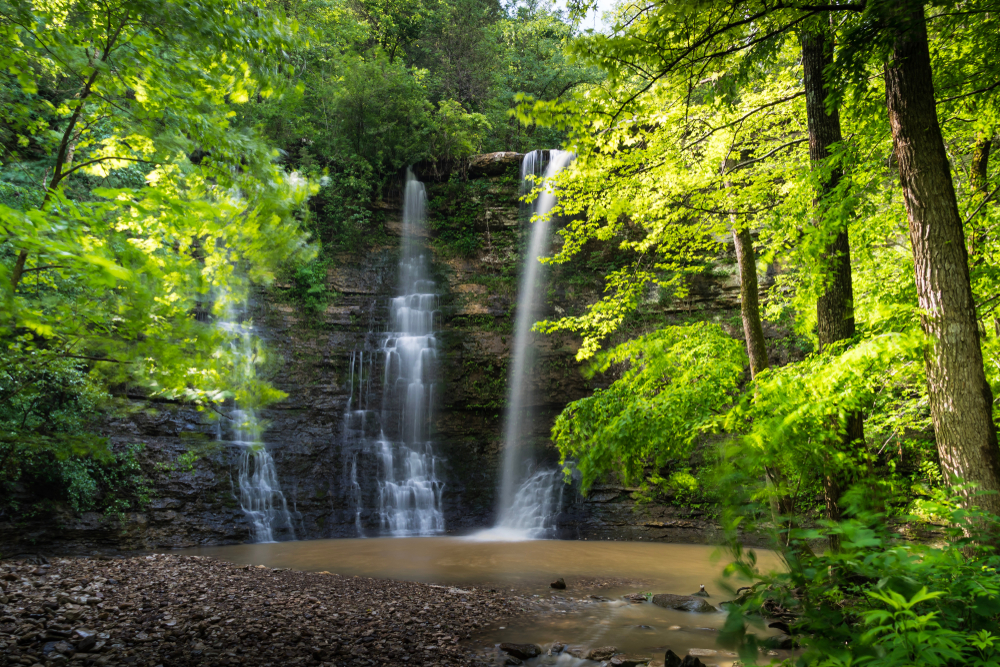 Falling Water Falls
Falling Water Falls is on Richland Creek in the Ozark National Forest. This is an easily accessible waterfall just off the Falling Water Scenic Drive. With no hiking required, this is a great place to visit for all ages.
The area has cool rock formations and is surrounded by beautiful woodland. The waterfall is only around ten feet tall but is worth a visit because of the great swimming hole beneath it.
The water is a pretty green color and there are plenty of trees and rocks to climb on. Come in winter to see cool icicles hanging on the rocks.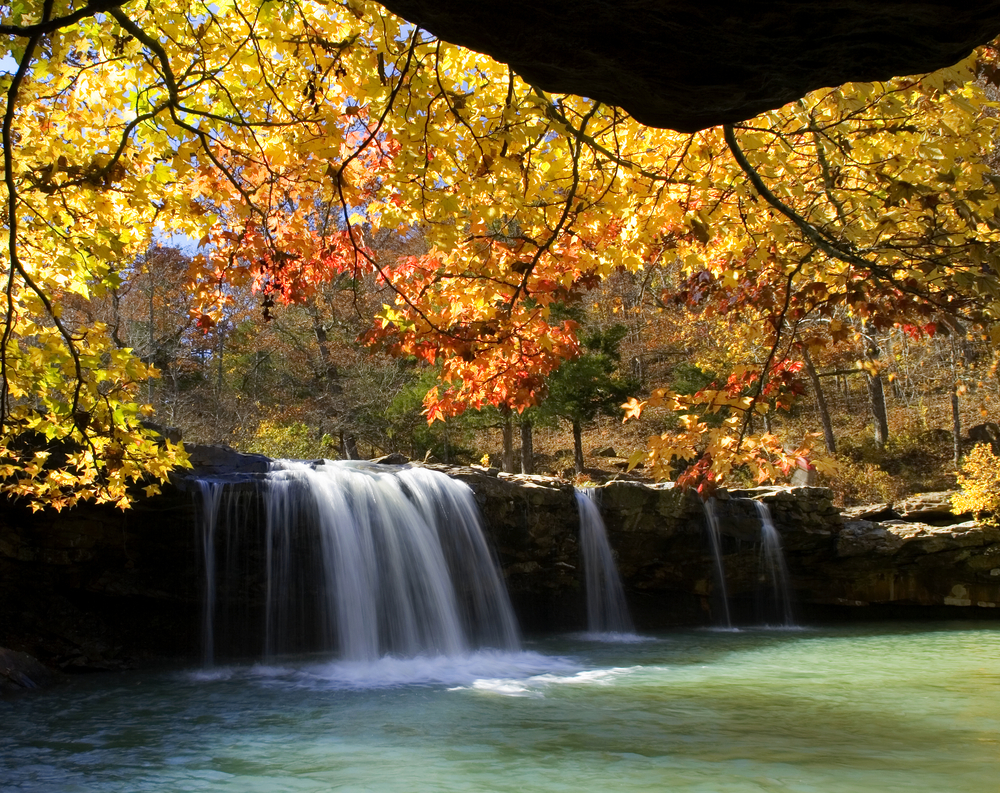 Six Finger Falls
Six Finger Falls is found near Falling Water Falls in the Richland Creek Wilderness. This cool waterfall is about two hundred yards from the road, so it is not hard to reach.
This waterfall gets its name from the six sections of falls that span the rocky creek. The waterfalls are about ten feet tall on average. If it rains enough they join to form one waterfall.
This is a popular waterfall because of the unique rock formations and its photographic quality.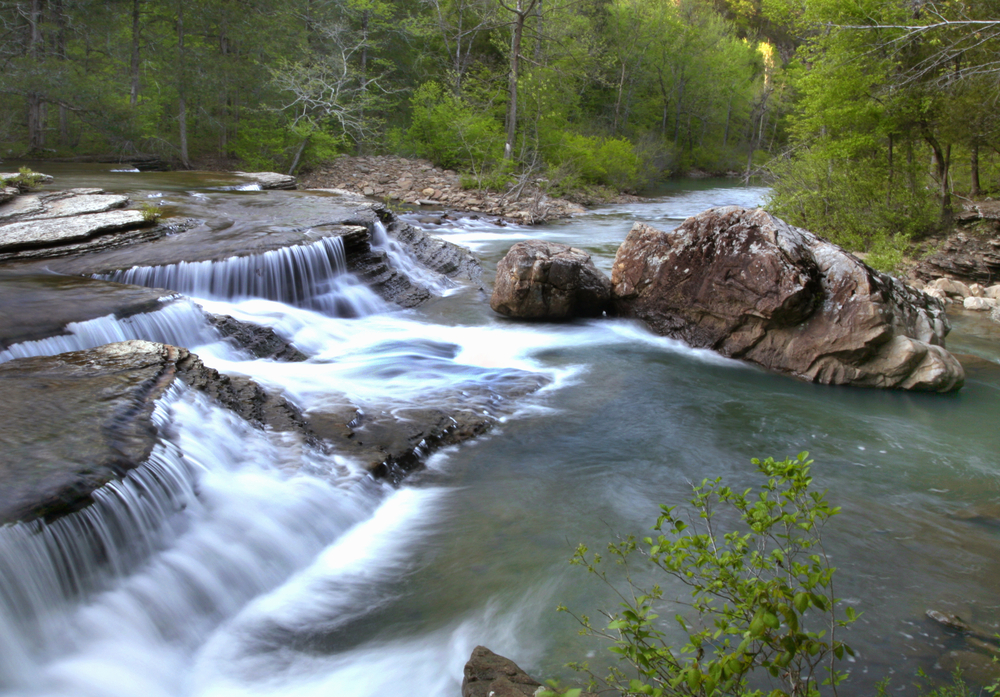 Fuzzy Butt Falls
Only around one hundred yards from Six Finger Falls and down a horse trail is Fuzzy Butt Falls, which might win the funniest waterfall name award! You do need to cross the creek, so wear waterproof shoes.
The 16-foot waterfall is part of the Falling Water Creek in Richland Creek Wilderness. The creek flowers down into a beautiful box canyon. This area is known to be muddy, so make sure to watch for slick spots.
If you continue to explore the Richland Creek Wilderness, you will find many more of Arkansas's best waterfalls, including Terry Keefe Falls, Richland Falls, and Horsetail Falls.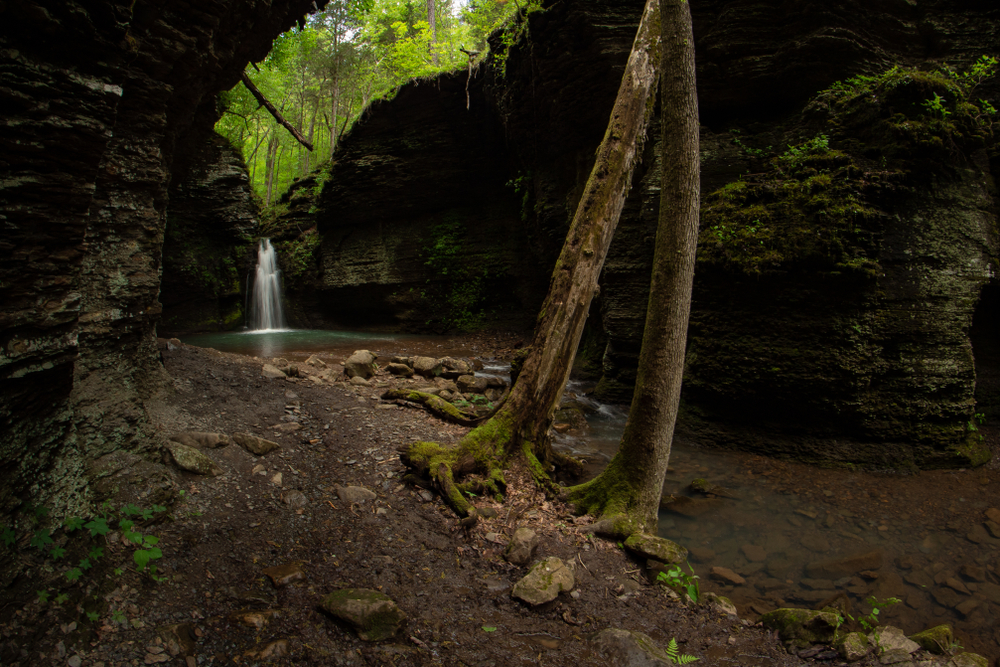 Eden Falls
Head to the Buffalo National River and the Lost Valley Trail to find Eden Falls. The entire trail is just over two miles roundtrip, but you do not need to hike quite the whole thing to get to Eden Falls.
The first half or so of the trail is gravel and very easy, but then it gets more difficult. There are many stairs and some rock scrambling. There are multiple waterfalls, but Eden Falls is the main one.
Eden Falls cascades 53-feet into a small canyon. If you keep going on the trail, you will arrive at Eden Cave. If you have a flashlight and no claustrophobia, you can climb in to find a hidden waterfall!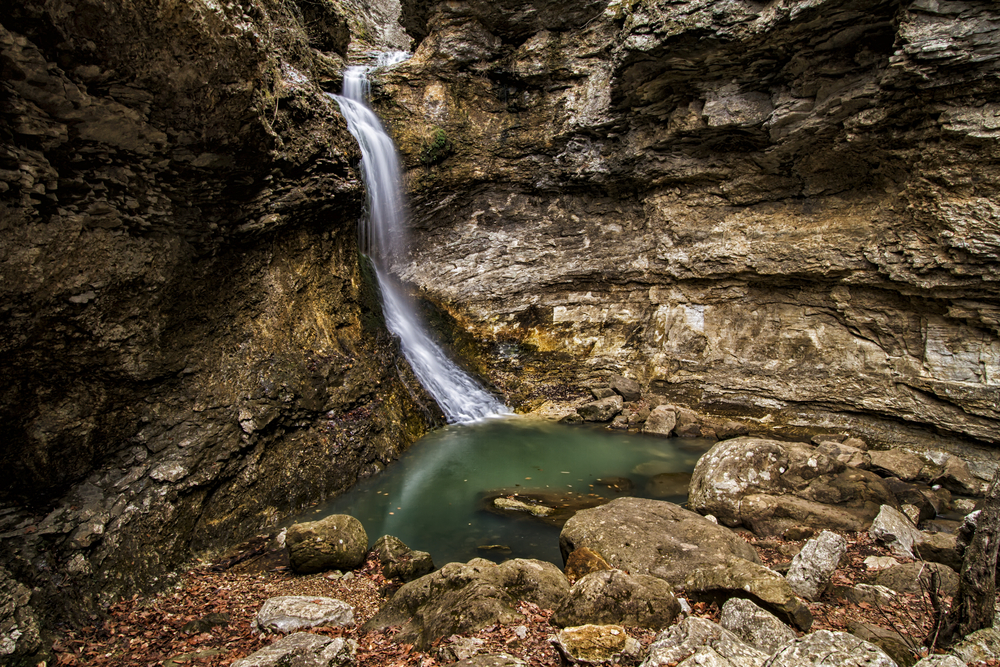 Cedar Falls
Cedar Falls is found in Petit Jean State Park, which is one of the most beautiful state parks in Arkansas. The hike to this waterfall begins behind the Mather Lodge and is about two miles roundtrip.
The hike will lead you down into Cedar Creek Canyon among boulders and large trees. The trail is rated moderate to strenuous, but it is still one of the most popular waterfall hikes in Arkansas.
The whole hike is beautiful, but when you arrive at the 95-foot Cedar Falls, you will be awed. The water cascades over a cliff and down into a big pool. This is one of the best waterfalls in Arkansas because it actually flows well year-round.
Petit Jean State Park is also one of the best places for camping in Arkansas. There are plenty of hikes with epic overlooks, lakes for kayaking, and caves to explore. This state park is also only about an hour from Little Rock.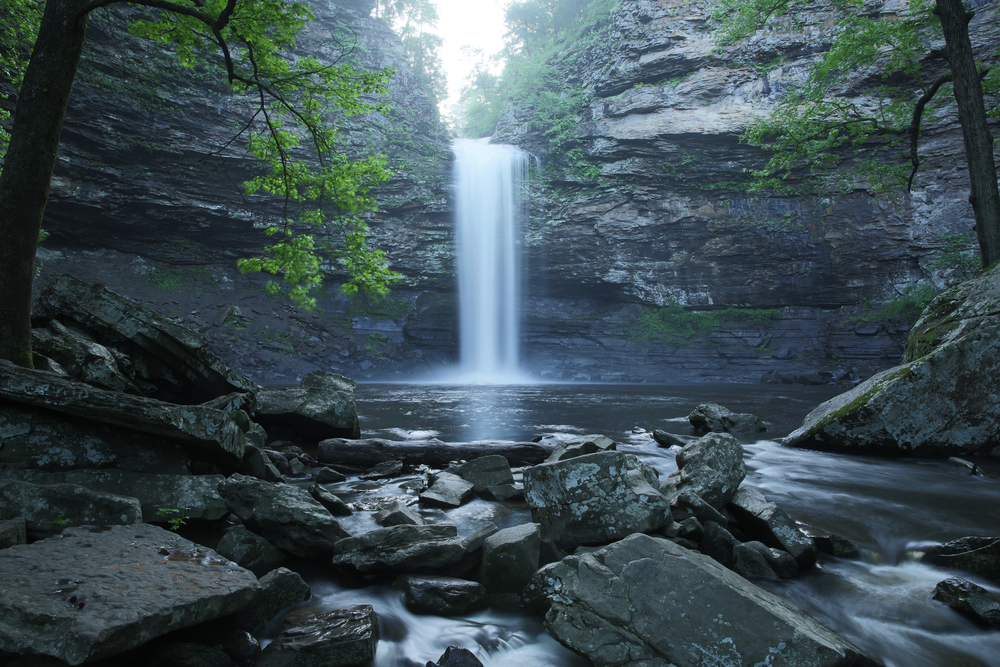 Pam's Grotto Falls
Pam's Grotto Falls is nestled among giant bluffs in the Ozark National Forest. This epic waterfall is 40 feet high, and it is possible to walk completely around it.
To get to the falls, first park at the Haw Creek Falls Campground and then walk across the road to the trailhead. The trailhead can be hard to spot, so make sure to save directions before you head out. Cell service is spotty here, too.
The trail is moderate and is about a one-mile round trip. There are some uphill portions that will get your blood pumping. This area is also popular with rock climbers because of the amazing bluffs.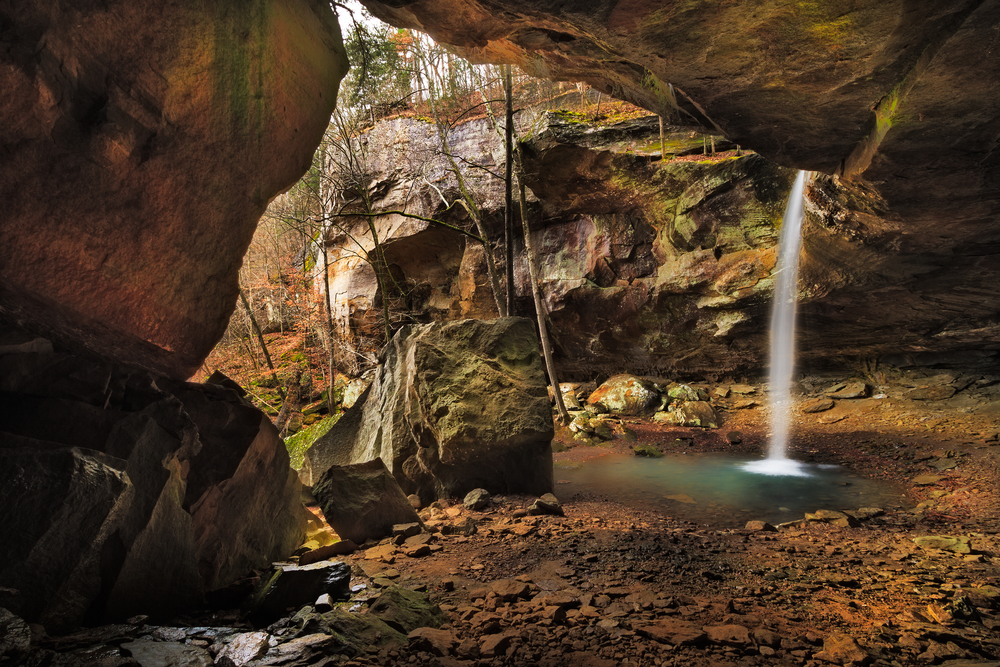 Haw Creek Falls
After exploring Pam's Grotto Falls, you can head to Haw Creek Falls which is right across the road where you parked. This waterfall is not super tall at only around six feet, but it makes up for that with its 40-foot width.
From the nearby campground, the hike is short at less than a quarter-mile out and back. This is a perfect hike for people of all skills.
The creek forms little pools perfect for cooling off in the summer heat. Explore the creek to find other, smaller falls but be careful of slippery rocks. Haw Creek Falls is one of the best waterfalls in the Ozark Mountains since it is great for the whole family.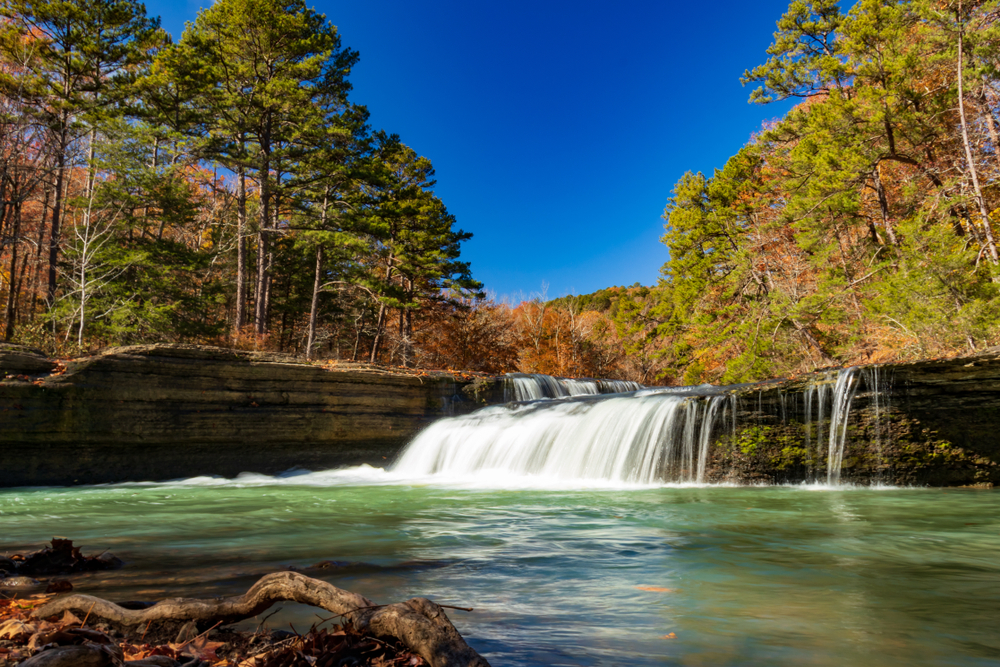 Mirror Lake Falls
Mirror Lake in the Blanchard Springs Recreation Area is known for its amazing reflections and magical turquoise color. The lake and waterfall are manmade, but that does not mean they should be disregarded.
The Mirror Lake Trail is just under a mile out and back. It is a moderate and scenic hike that can be enjoyed by people of all skill levels.
This is a great hike year-round. Along with photographing the fall,s this is a great place to fish and bird watch. The nearby Blanchard Springs Caverns and Old Mill are also great Arkansas attractions.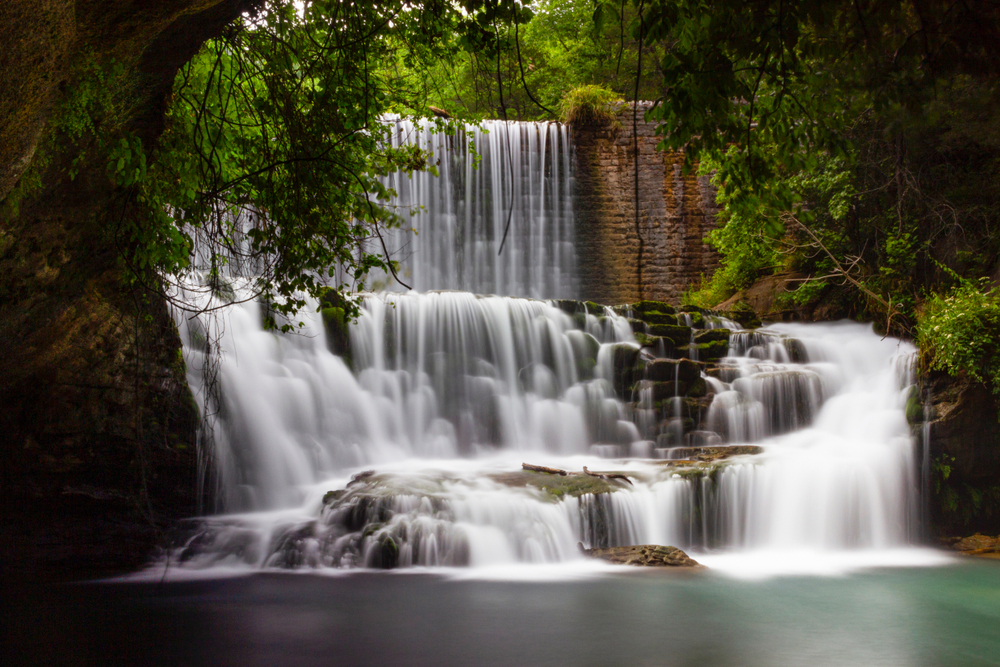 Natural Dam Falls
Natural Dam Falls is another short, but wide waterfall that is super pretty and photogenic. It is about eight feet tall, but nearly 200 feet wide! This is definitely one of the prettiest waterfalls in Arkansas.
This gorgeous waterfall is found in the Ozark National Forest on Mountain Fork Creek. This is one of the best waterfalls in Arkansas if you do not feel up to hiking. The falls are only a few yards from the road.
On hot days, make sure to bring a swimsuit since this is a great place for swimming. There are also picnic tables nearby so bring a lunch with you, too.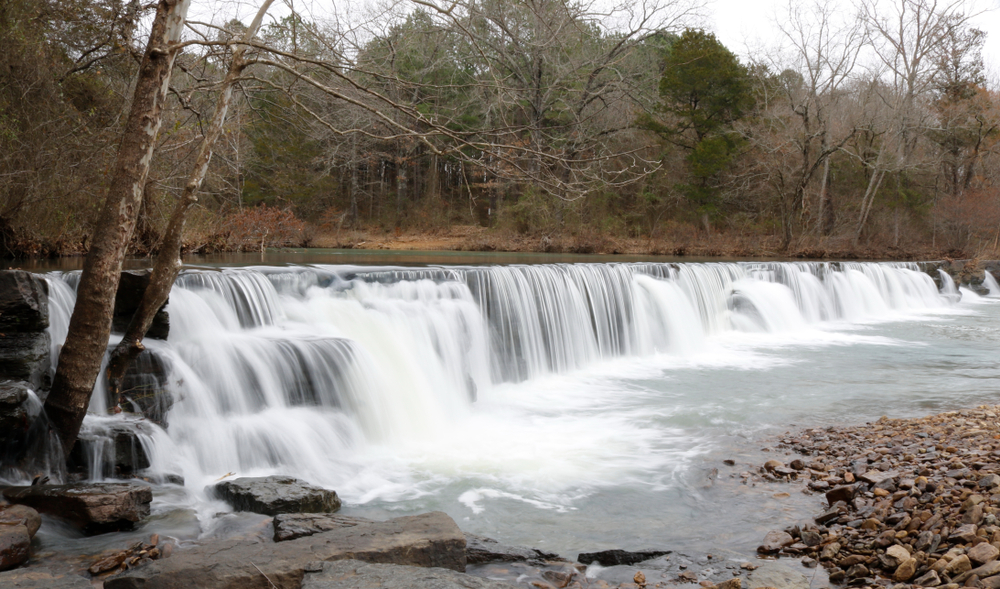 Magnolia Falls
Magnolia Falls is a hidden gem in Arkansas. If you are looking for a waterfall hike without a crowd, this is the one for you. Head to the Ozark National Forest to find this beautiful landscape.
You will find the trailhead near a Wilderness Access sign. The hike is just over two miles round trip. The trail is perfect for all skill levels and is easy to navigate. To get right down to the falls, you need to do a little rock scrambling.
The waterfall is 26-feet tall and is super pretty. It flows into a pool nestled among rocky bluffs. It flows well most of the year and may turn to icicles during the colder months.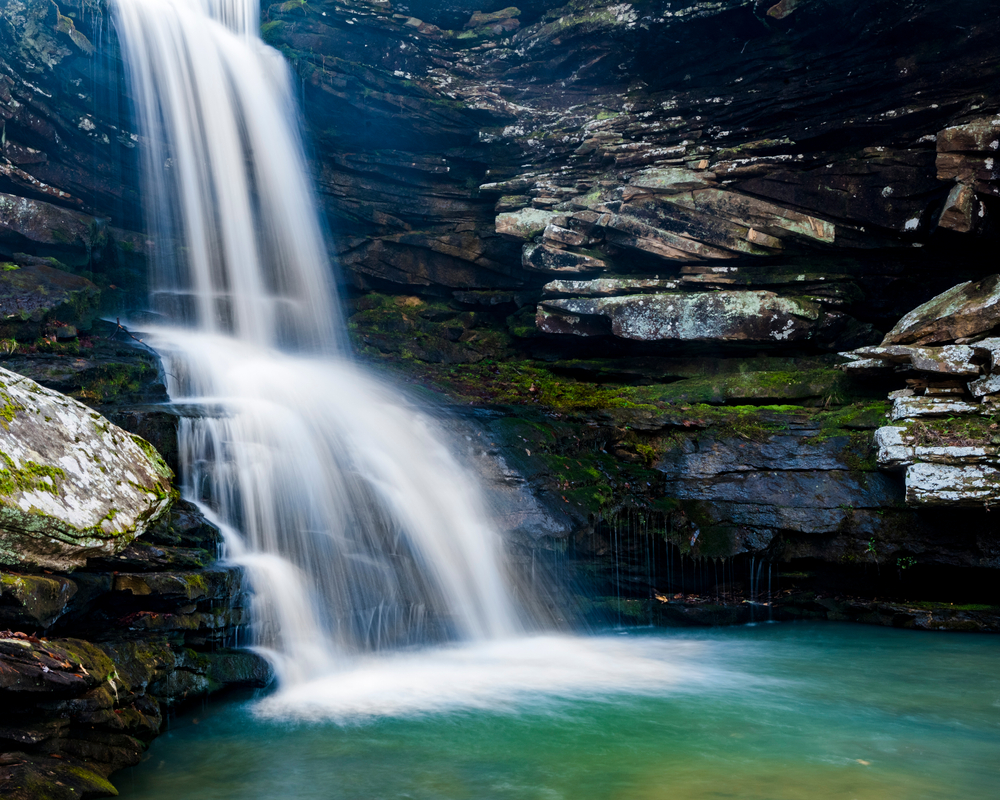 Tea Kettle Falls
Tea Kettle Falls is one of the best waterfalls near Eureka Springs. Since it is only a half-hour drive from town, it makes a great day trip.
The hike to this pretty waterfall is just under two and a half miles round trip. The trail is not well defined and you might need to do some bushwhacking, but if you follow the Warm Fork Creek, you should find it okay.
The 46-ft waterfall flows out of a hole in a bluff, which is how it got its name. Make sure to wear waterproof shoes because it can get very wet in this area.
Make sure to check out our list of Best Things To Do In Eureka Springs if you are planning to visit!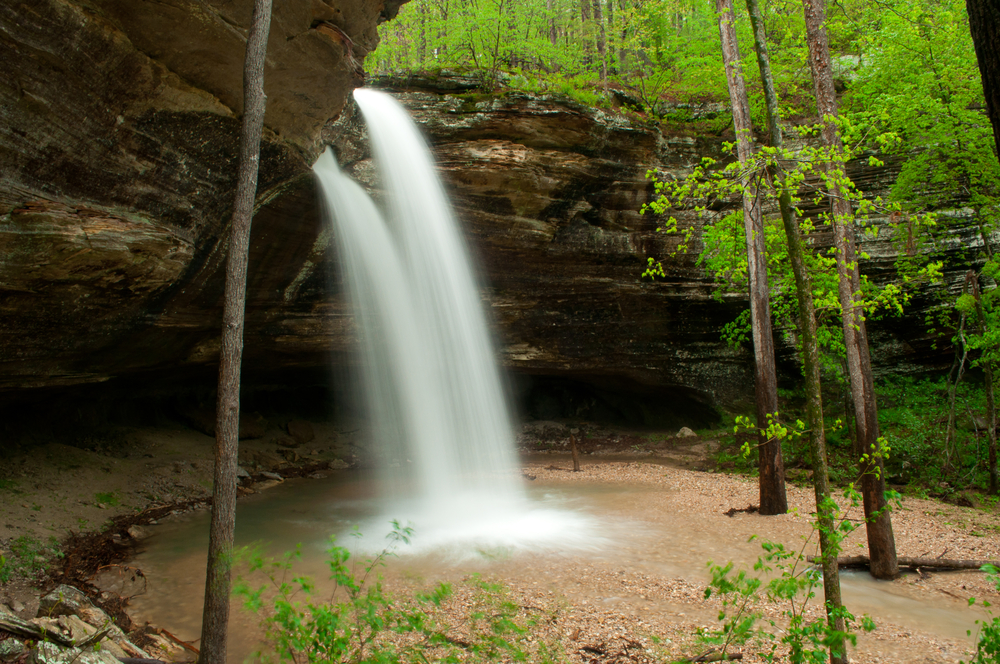 Tanyard Creek Falls
There are many awesome waterfalls in Bella Vista, Arkansas. The Tanyard Creek Nature Trail is a scenic two-mile loop where you can find the Tanyard Creek Falls.
The trail is well-maintain and made of gravel. Even young kids will have no problem keeping up. There is also a bridge over the creek for cool views.
The area is great for wildlife viewing. You may catch a glimpse of birds, deer, lizards, and snakes. In the water, you might spot crawfish, snails, and fish. Check the boulders for fossils.
Tanyard Creek Falls spills down from Windsor Lake and is about 12-feet tall. There are other, small waterfalls along the creek and places for kids to play in the water.
Tanyard Creek Falls is near the Missouri border and is also one of the best waterfalls near Fayetteville since it is only about a forty-minute drive from the city.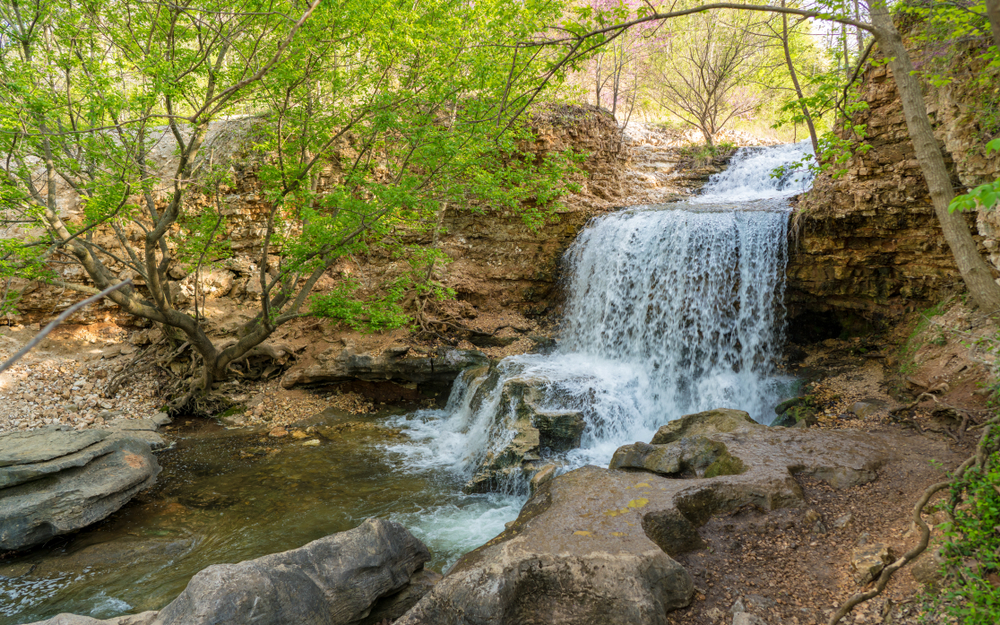 Mammoth Spring Waterfalls
Mammoth Spring State Park is right on the Aransas border with Missouri and is home to the state's largest spring. This is a great place to spend a day in nature.
The mile-long loop trail around the lake will bring you to three waterfalls. The biggest runs over a dam next to an old mill. It is not very tall but is much wider across.
This Arkansas state park has other fun things to check out as well. The 1886 Frisco train depot and museum will interest history lovers. There is also a playground and picnic area.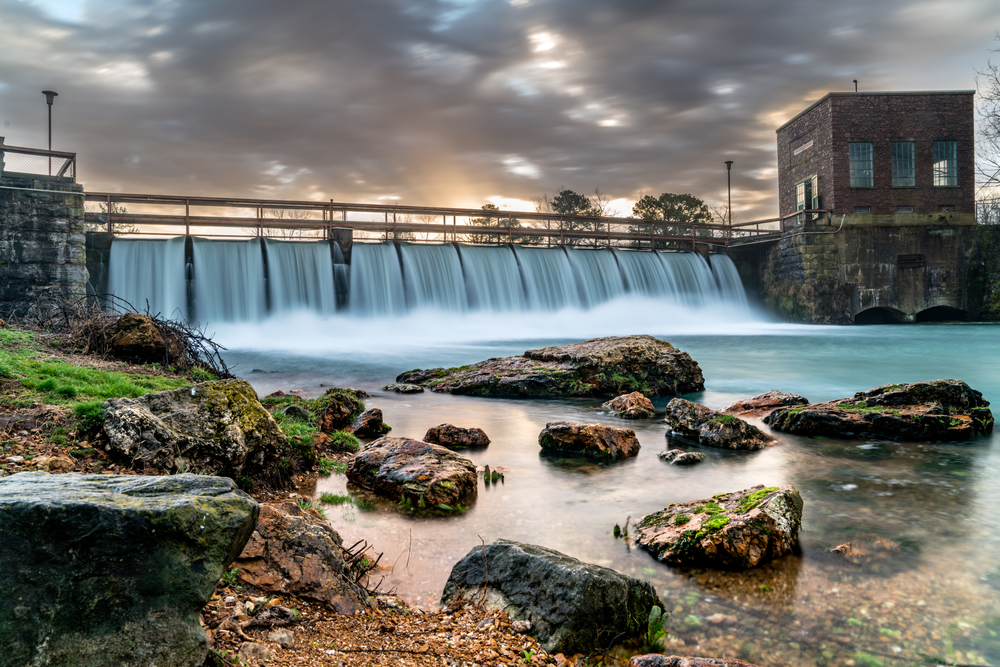 There are hundreds of waterfalls in Arkansas and this list only includes a few. If you love waterfall hikes, Arkansas is the state for you! From waterfalls right next to the road to ones deep in the mountains, there are waterfalls for all levels of hikers.
Because of the mountains and many rivers and springs in Arkansas, there are a ton of hiking trails in Arkansas with waterfalls. Pack your waterproof hiking boots and get ready for some amazing hikes.