Are you planning to spend a weekend in Virginia Beach? Well, you have come to the right place because here we are going to give you all the details on how to have a fun weekend trip to VB. There is so much to do in this beautiful southern beach city that you are going to help to fit in all in two days. No matter what time of the year you are planning to visit you are going to love the vibe and laid-back feeling that this coastal city has.
It may not seem like 2 days in Virginia Beach is enough time, but if you follow these plans you are going to be to squeeze it all in. There are so many local restaurants, coffee shops, and hotels throughout the many districts that is Virginia Beach itinerary is going to help you not miss the best ones.
You might be surprised to learn that even though it is in a beach town there are still so many things to do in Virginia Beach in a weekend in the wintertime. Almost nothing closes for the winter and there is still plenty of sunshine in the winter. Now, let's get started on how to plan a trip to Virginia Beach!
Getting To Virginia Beach
Plans, trains, and automobiles are all available to get you to your weekend in VB. The closest international airport is in Norfolk, which is just a short 20-minute car ride away from the Oceanfront. There are always taxis waiting there and Uber rides are always abundant. You can even schedule an Uber to pick you up when your plane lands making it so easy to get your Virginia Beach weekend getaway started.
There is also an Amtrak train station that lands in Norfolk with plenty of connections. And last but not least you could always drive to VB. The main highway is 264 and it is well connected to other highways on the east coast. If this is your first time in Virginia Beach you will quickly learn that there are plenty of places to park no matter where you end up going
Getting Around During Your Virginia Beach Weekend Getaway
The best way to get experience Virginia Beach in a weekend is to have a car. It is a large city with so many different neighborhoods and it is not built for you to walk around. If you wanted to just stay around the oceanfront you could get away with walking or renting a scooter or bike. But in the rest of the city, you are going to need a car for sure.
All the ride-sharing apps are available like Uber and Lyft or you could always rent a car. There are plenty of bus stations around the city as well. The Hampton Roads Transit known as (HRT) is the main bus that runs all over the city. You may still have to walk a bit if you choose the bus route because a lot of VB is suburbs.
While you are in the area, don't forget to check out all of the best things to do in Hampton!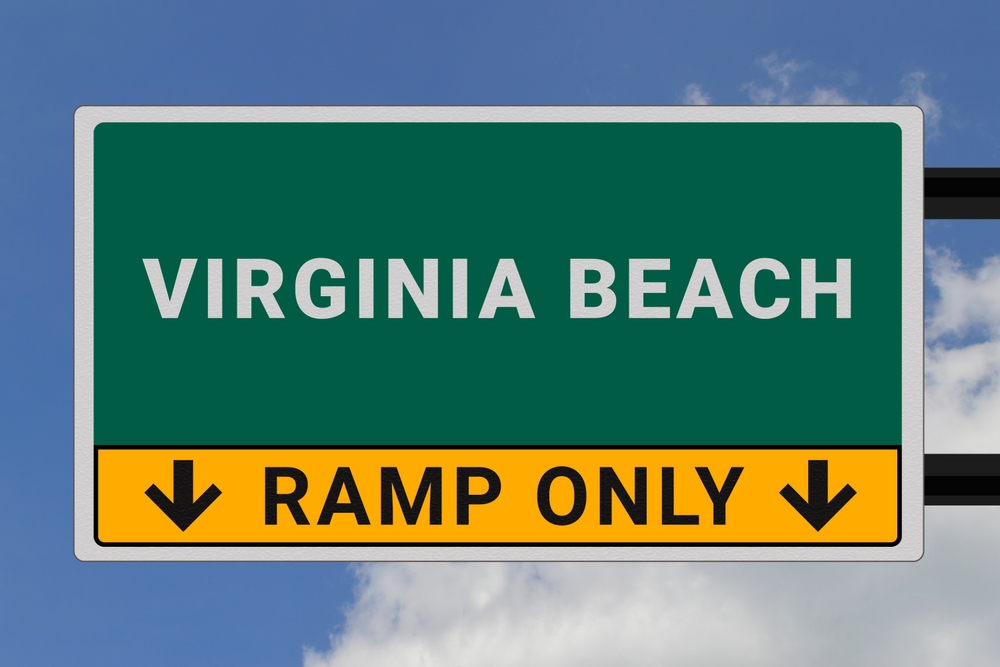 The Ultimate 2-Day Weekend In Virginia Beach Itinerary
Day 1- Welcome to Virginia Beach! Head down to the Oceanfront
On the first day of your weekend in Virginia Beach, you are going to need to head down to the Oceanfront. This is the most popular thing to do in Virginia Beach and you are going to love the 3-mile boardwalk on the Atlantic Ocean. You will knock out all the best things to do here on the first day, especially with these next few Virginia Beach tips.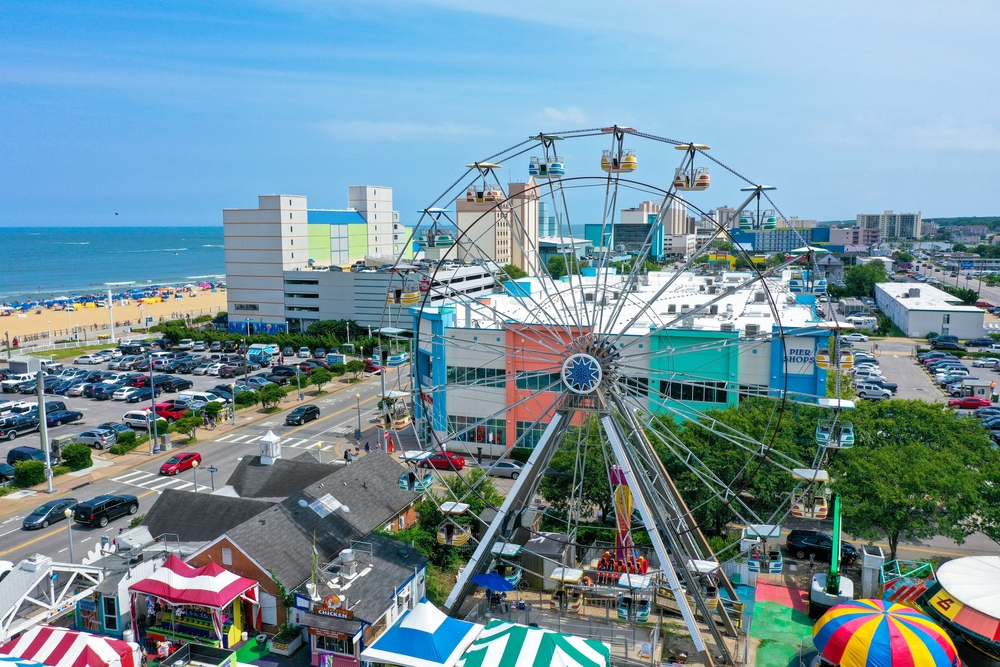 Stop 1: Breakfast at Bay Local
To start your day off the weekend in Virginia Beach off right you should start your day grabbing brunch at Bay Local. Here you will be able to experience all the best local food like a soft shell crab benny. Order a freshly squeezed juice, mimosas, or a bloody mary with all the fun toppings.
They have two locations one right at the oceanfront in the popular Hilltop shopping center and the other one is at Shore Drive, so no matter where you end up staying you should be close to one of the locations. Starting your day with breakfast or a bunch here will ensure that your Virginia Beach weekend trip starts with success.
Stop 2: Walk or Ride the Boardwalk
After you have filled up your belly your next activity should be to walk, bike, or skate down the boardwalk. It is 3 miles long and runs down the Atlantic Ocean. There are plenty of places to rent bikes and there is also a family-style bike called a surry that has bench seats and the whole family pedals.
It sort of looks like a golf cart but you pedal instead of it being electric. It is so much and there is a dedicated bike lane. You can hop off and park your bike and head inside one of the many shops along the boardwalk to find the best souvenirs. You can also walk along the sand until you find the perfect place to stop and set up for a beach day.
It is free to hang out on the beach and if you need to rent a chair or umbrella you will find plenty of places in the sand to do so. Your weekend in Virginia Beach would not be complete without exploring the boardwalk.
Check out some of our favorite beaches in Virginia Beach and nearby!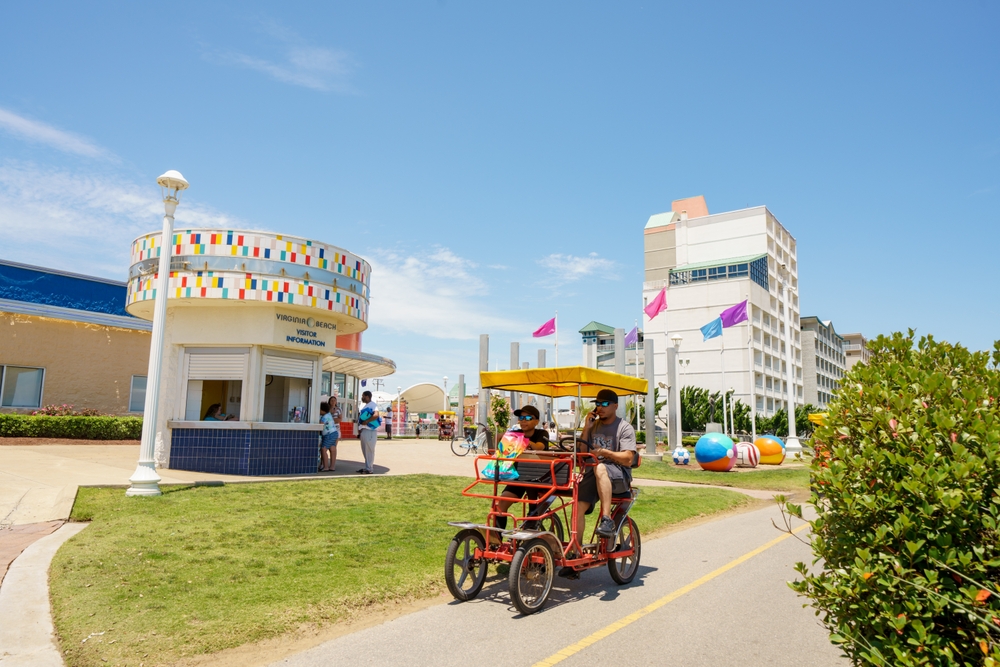 Stop 3 – Check out the Vibe Creative District
While you are down at the oceanfront you have to check out the Vibe District. This is an up-and-coming neighborhood in the heart of VB that is becoming more and more popular every year. The Vibe district is where all the creative businesses have set up.
You will find art museums, local boutiques and businesses, local coffee shops, bars, and anything else art or tech related that you can think of. There is always some kind of festival going on and farmer's markets on the weekends. The Vibe District is one of the best places to find handmade souvenirs and trendy fashion for you to remember your 2 days in Virginia Beach.
Stop 4- Rudde Inlet
Your next stop on your Virginia Beach itinerary would be to check out Rudde Inlet. You will find the inlet right off 5th street down at the oceanfront. This is where you will be able to go on a dolphin tour, rent a jet ski, go parasailing, fish from the shore, or take a fishing trip. There is something here for the whole family to love. There are also plenty of local restaurants here to grab yummy seafood plates or even just a cold drink.
If you were interested in taking a dolphin cruise or going out on a fishing charter it may be best to book it in advance but for anything else, you should be able to just walk up and rent. If this is your first time in Virginia Beach then it is recommended to go and check out Ruddee Inlet even if you do not plan on renting anything or doing any extrusions because it is a beautiful inlet and you will be able to watch all the boaters, jet skiers, and surfers along the jetty.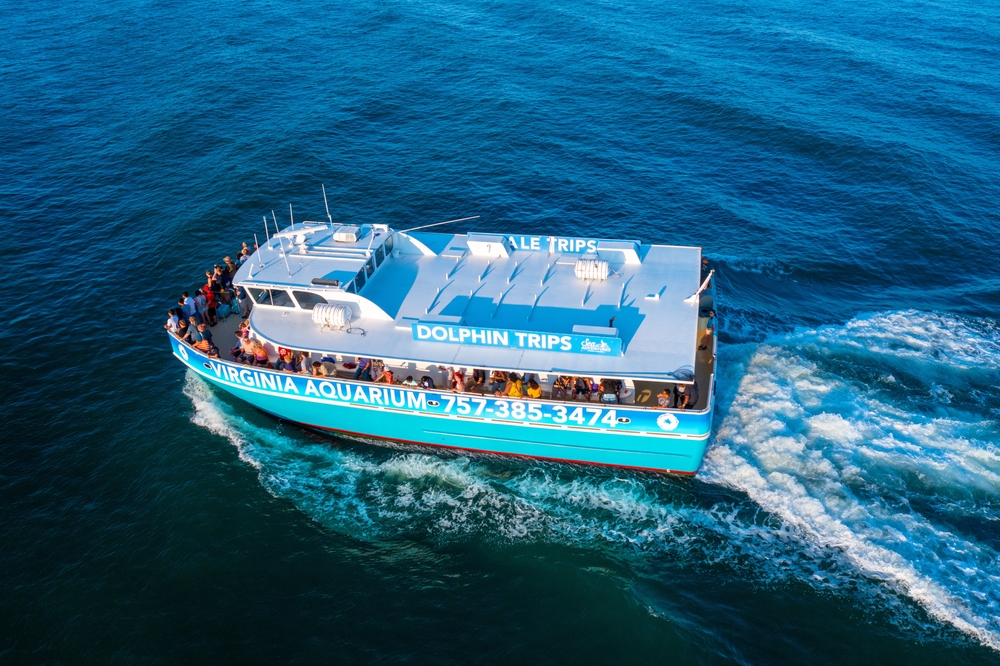 Stop 5- Virginia Museum of Contemporary Art
One of the best things to do in Virginia Beach on a weekend trip would be to go and check out the Virginia Museum of Contemporary Art, or MOCA. You will find them located at the very start of the Oceanfront area and they are open all year long from Thursdays to Sundays. It is always free to attend and currently, they have drop-by tours starting at 2 pm.
They also have audio tours, and you can request a group tour if you are traveling with a big group. The showrooms are always changing so even if you have been before you should always go back ad check out what is new. This would be a wonderful stop during your weekend getaway in Virginia Beach, especially in the summer when you can cool down and get out of the hot sun for a while.
Stop 6 – The Shack on 8th Street
To round our your first day on your VB weekend trip you should check out The Shack on 8th Street. This is one of the most popular places for couples, solo travelers, groups, locals, and tourists to go. You cannot miss it when you are walking passed. It is a big outdoor bar that has been transformed with a tiki bar kind of vibe.
This is where you can find the famous VB orange crushes all year long. During the summer they are always having DJs or some sort of festival. In the winter months, they transform into a Christmas market with local vendors and Christmas trees lined up for you to purchase.
You can order from the pizza place next store or they always have food trucks as well. So grab yourself a seat at one of the bar seats, picnic, tables, or swings relax and enjoy your Virginia Beach weekend getaway.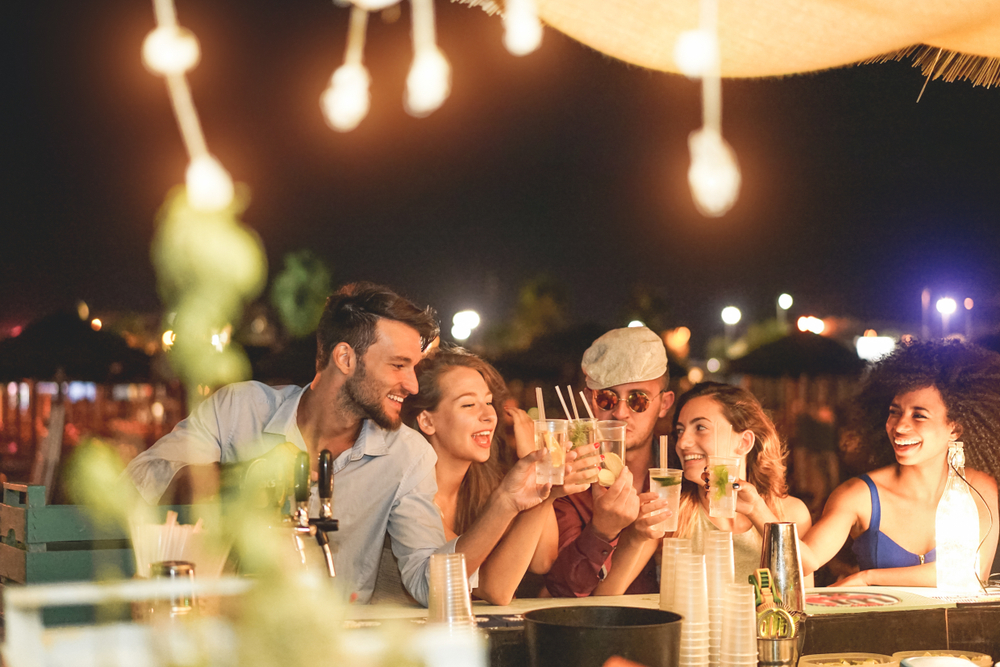 Day 2 – Virginia Beach Town Center/Shore Drive
On day 2 of your Virginia Beach 2 days tour, you should head out and explore the Town Center and Shore Drive areas of VB. This is where you will find the less touristy part of the city and it will feel more laid back than the oceanfront.
Stop 1- The Egg Bistro- Haygood to Start your Day
If you want to start your day off right then you should head to the Egg Bistro. This is a locally owned and operated Bistro right in the heart of the Town Center. They have all your favorite southern dishes for breakfast or brunch and stay open until 3 pm on the weekends.
You can order anything from a half-pound burger to chocolate chip pancakes here so everyone at your party will find something that they love. Plus, they have a full bar with local beers and so many different hot sauces to try, if that is something you are into.
Stop 2 – Mount Trashmore State Park
Okay, this next stop on your VB itinerary may sound a little crazy but it is so cool. Back in the 70s, VB transformed 640,000 tons of garbage into a beautiful and first-of-its-kind landfill park. When you arrive you would never know that this picturesque park with two lakes, a huge skate park, two different playgrounds, a track, and a workout center used to be a pile of garbage.
It is always free to play and park here and it is a very popular place for families to go. You will see people running, having picnics, flying kites, and walking their pups. Landfill parks are an amazing way of repurposing areas turning them into places people can enjoy again. You are going to love the story and the atmosphere when you visit Mt. Trashmore and it should definitely be high up your weekend guide to Virginia Beach.
Stop 3- Chicks Beach
Next up on your itinerary for Virginia Beach would have to be checking out Chicks Beach. This is known around town as a "locals only" place you can even find stickers in the local confident shops that say it. But do not be fooled you are so welcome to come and enjoy the beach. Chicks beach gets its name because it is located on the Chesapeake Bay.
Many people love coming here because there are no waves and you can swim out in the water much easier than at the oceanfront. There are plenty of places to grab a snack or a drink on the water and they range from little dive bars to fancy hotels. You will not find anywhere to rent chairs or umbrellas here so you will have to bring your own towels. If you only have 2 days in Virginia Beach you should definitely make it a point it stop by Chicks Beach.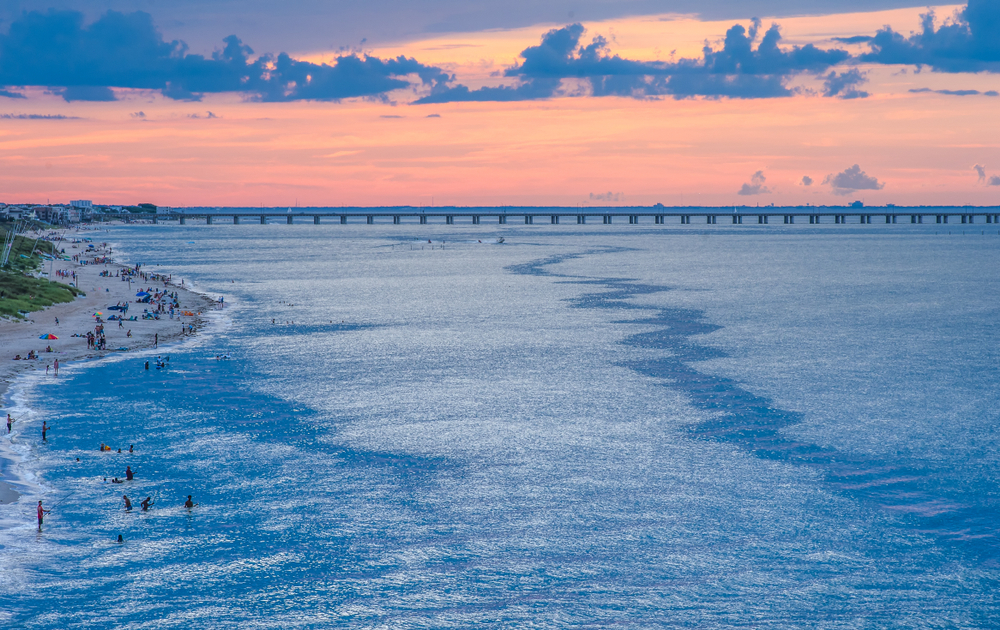 Stop 4- Cape Henry Light House
The next thing to do on your weekend in Virginia Beach is to go visit the historic Cape Henry Light House. The Cape Henry Lighthouse was the first lighthouse ever built in America and was used for over 100 years. Today there are two lighthouses the all-brick one is the original one and a new black and white one that is closed to the public.
You can visit this historic lighthouse every day of the week and they are open from 10 am to 5 pm. They are located inside a military base but all you have to do when you arrive is to tell them that you want to see the lighthouse. You will need an ID for all passengers and they might look over your car but nothing too crazy.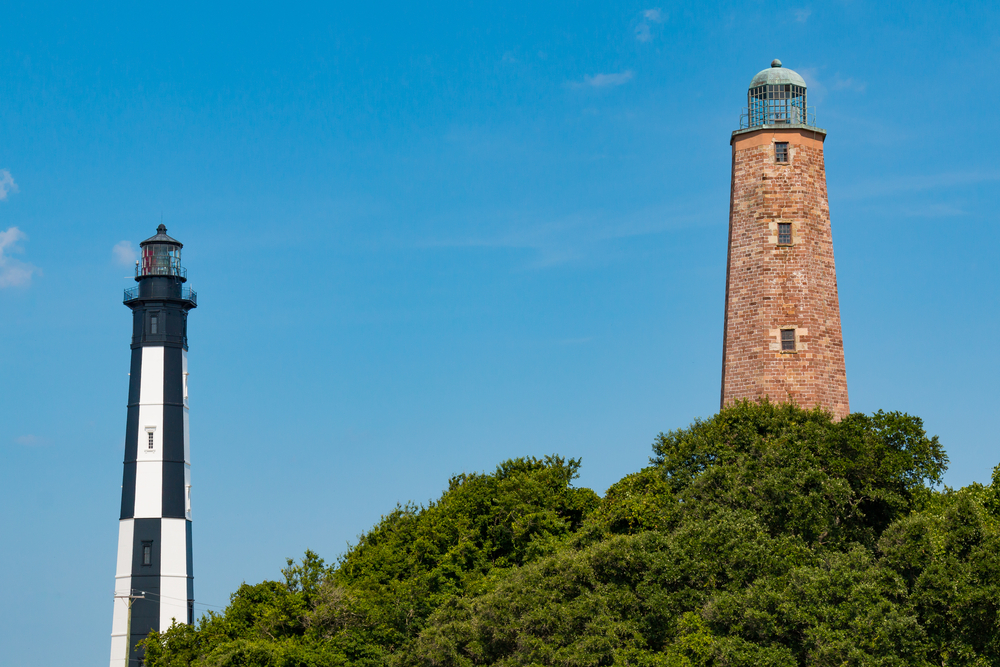 Stop 5- Mermaid Factory
After your fun day in the sun visiting all the best things to do in Virginia Beach you are going to want to chill out a bit. The mermaid factory is a perfect place to stop before or after you eat your supper. Here you will find a local souvenir shop with a twist.
You can pick out your favorite handmade plasters in the shapes of mermaids/mermen, sharks, starfish, turtles, seahorses, or a beach shell and paint them in any color/pattern you want. This is such a fun way to remember your fun weekend trip to Virginia Beach.
Stop 6- Chicks Restaurant
Finish your night off strong with one of the best local restaurants right on the water on Shore Drive. Chicks Restaurant is a wonderful place for families, couples, or big groups. The restaurant is divided into different sections for whatever kind of vibe you are looking for.
There is a dining room for families, a sports bar in the middle, and then a big outdoor section with picnic tables and sand under your feet. You can order yourself a yummy cocktail, or flavored iced tea here and watch the sunset. They also have a full kitchen and are always having new items on the menus.
The local's favorite is the mac and cheese with crab and a flavored orange crush. You will love visiting here and it would be a great place to wrap up your 48 hours in Virginia Beach.
What To Do With 3 days in Virginia Beach or More
If you are lucky enough to have a long weekend in Virginia Beach you may want to go and check out downtown Norfolk. It is just a short drive away and there is even a light rail that starts in Virginia Beach and will take you all the way downtown with plenty of stops along the way.
Downtown Norfolk is full of so many things to do. One of the most popular districts is the waterside. There is a big market here right on the water, hence the name waterside, and has plenty of different options for dining and entertainment. Don't forget to check out some of our favorite restaurants in Norfolk from seafood to brunch!
Granby Street in Norfolk is another super popular place to check out and the nightlife there is unmatched. Be sure to check out the local website because there is always some sort of festival going on at town point park.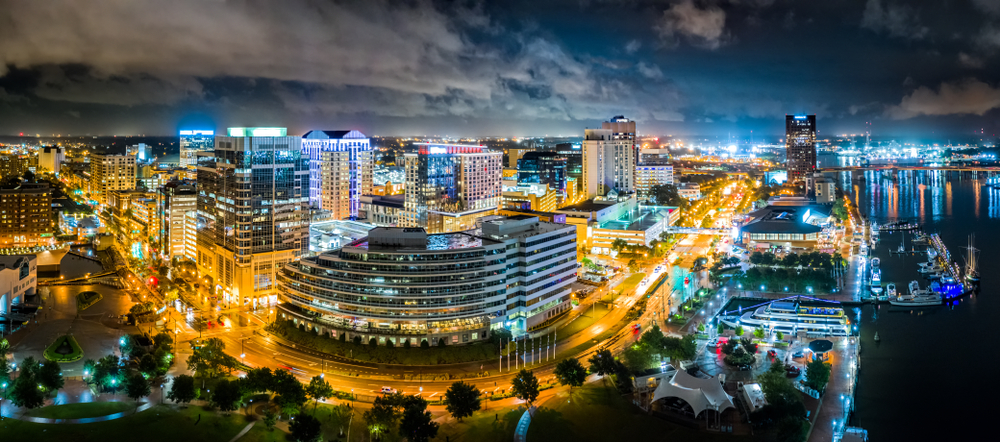 Where To Stay For A Weekend In Virginia Beach
If you are planning to visit, check out our list of the Best Oceanfront Hotels In Virginia Beach!
Marriott Virginia Beach Oceanfront
The Marriott Virginia Beach Oceanfront is located on Atlantic Ave and was recently remodeled and is one of the sleekest hotels at the Oceanfront. They have a beautiful outdoor pool, and lounge area lined with palm trees. They are in the middle of all the best places on the oceanfront making it easy to walk around and explore.
This would be a perfect place to stay for a couple's trip to Virginia Beach. When booking be sure to ask for a room with a balcony that faces the ocean you will love waking up and watching the beautiful colors at sunrise. They do have a restaurant and a bar on-site as well.
Check rates here: Booking.com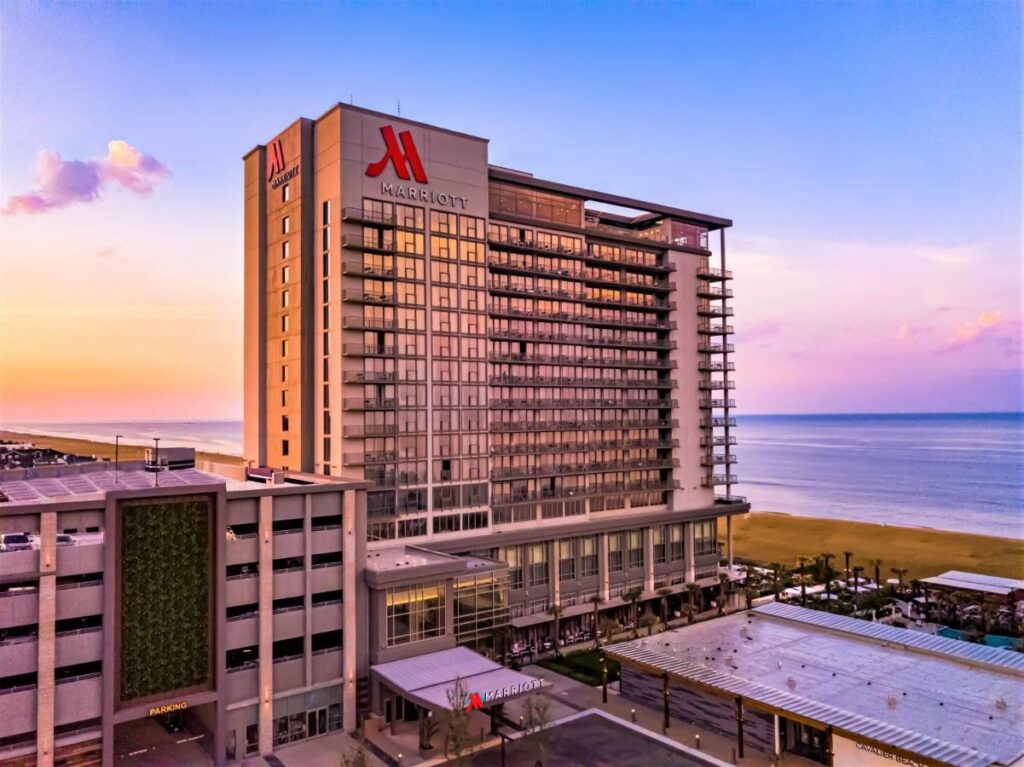 Hilton Garden Inn Virginia Beach Town Center
Hilton Garden Inn in the town center section of Virginia Beach is one of the best places to stay to explore the city. Here you will find plenty of different room types including a king suite with a whirlpool. This would be a wonderful place to stay all year long because they have a big indoor swimming pool.
You will be right next to all the best shopping and restaurants in the town center and the hotel has an in-house restaurant as well. If you are looking to get the most out of Virginia Beach in a weekend this would be a wonderful place to stay.
Check rates here: Booking.com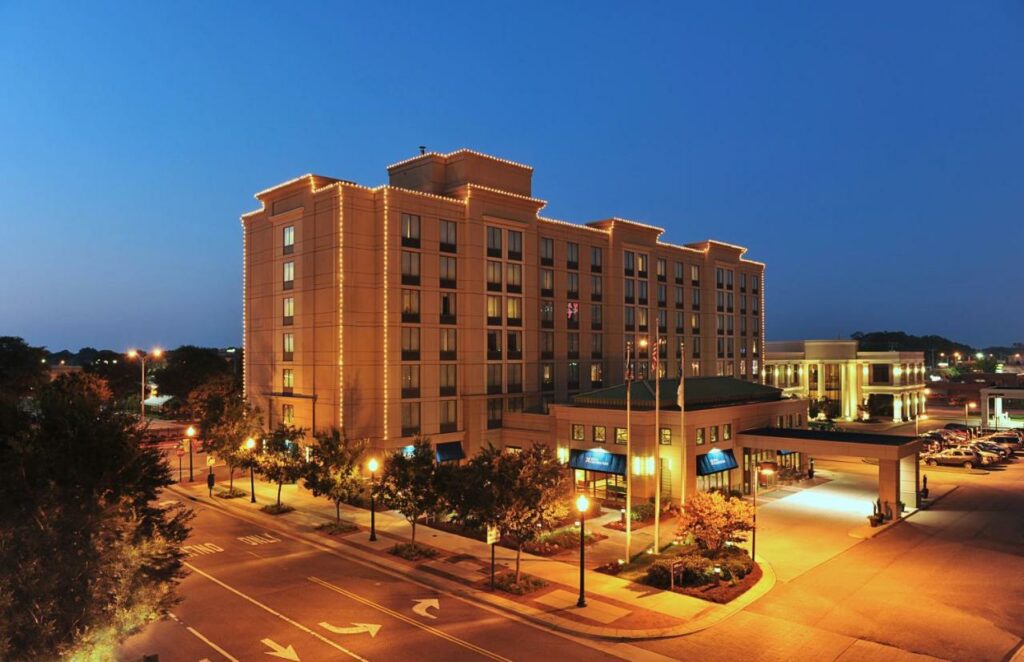 The Cavalier Virginia Beach
The Cavalier Virginia Beach is the most historic hotel on the oceanfront. You will have everything you need to have a wonderful weekend in Virginia Beach. They have four different restaurants to choose from when staying here and they even make their own whiskey.
Be sure to check out the Hunt Room during your stay. It is a cozy bar on the bottom floor of the hotel that is decorated with rustic touches throughout. There is also a garden-to-table breakfast restaurant Becca's. They also have a spa and indoor pool to enjoy during your stay making it such a wonderful place to stay for your 2 days in VB.
Check rates here: Booking.com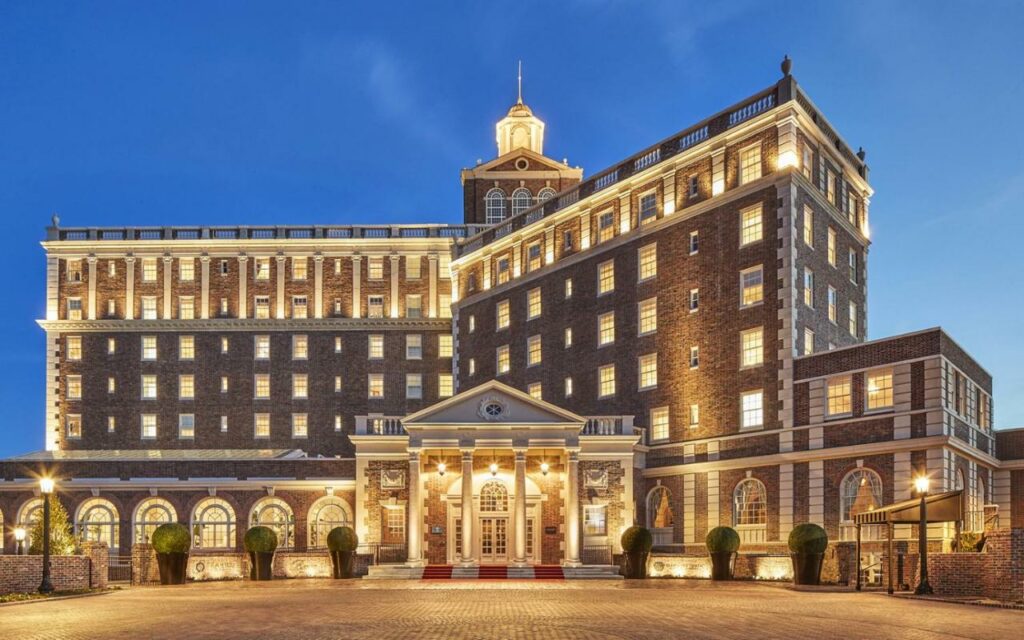 Where to Eat During Your 2 Days In Virginia Beach
Waterman's Surfside Grille
Waterman's Surfside Grille is home to the signature drink in Virginia Beach, the famous Orange Crush. You have to order an orange crush and sit on the deck of Waterman's looking out at the Atlantic Ocean. They even have had a special orange crushing machine they invented to make these delicious drinks faster.
They are open every day of the week with lunch and dinner options and open early on Sundays for some of the best brunches in Virginia Beach. The crab dip and crab cakes are the most popular option. Everything on the menu is made fresh daily, so you really cannot go wrong. Waterman's has more than just seafood they also offer burgers, salads, and pasta. If you had to pick just one Virginia Beach restaurant to go to, make it Waterman's it's a tradition.
Hot Tuna
If you are staying around Shore Drive on your weekend trip to Virginia Beach then Hot Tuna should be on your list of where to eat. They have the freshest seafood and are a farm-to-table restaurant using the best local ingredients they can find.
At night time they move the tables and bring out the best DJs making it one of the best places to dance during the night away. They are super casual and have an awesome outdoor seating area as well.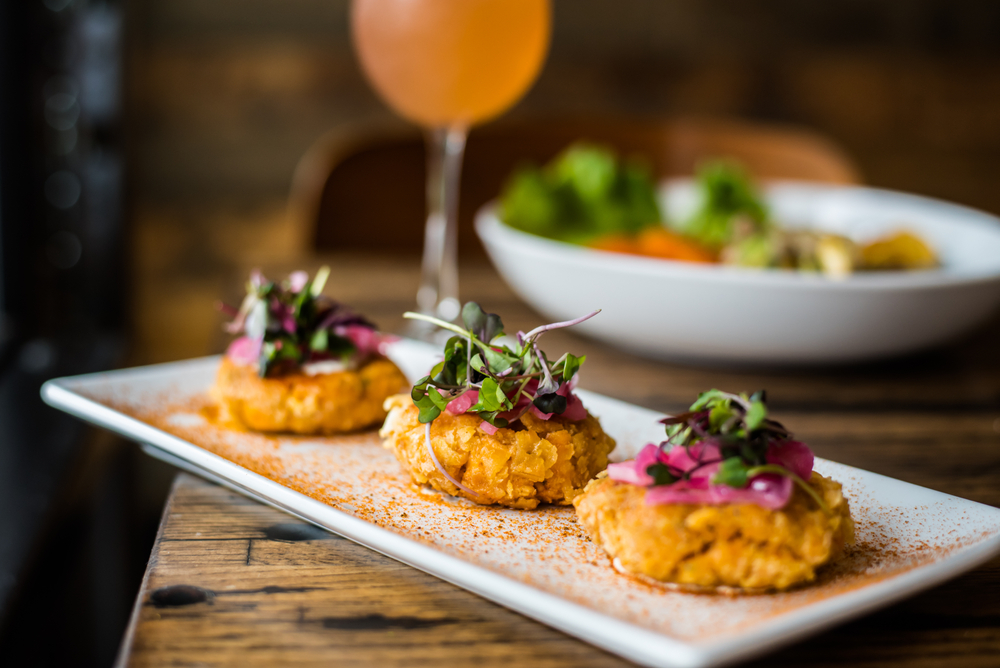 Orion's Roof
Orion's Roof has one of the best rooftop restaurants in Virginia Beach. You are going to love the view any time of the day here. They are an Asian-fusion restaurant overlooking the Atlantic Ocean you will be dining at 183 feet in the air. The menu is full of fun and traditional sushi, seafood, and Asian street food.
They are open every day of the week for lunch, dinner, and late-night drinks. If you can make it for lunch during the week you will not need to make a reservation, but any other time you should make a reservation early because it gets very busy on the weekends.