If you are looking for some of the best beaches in Charleston, we've got you covered! No matter what type of beachgoer you are, you can find something to satisfy your need to be on a sandy beach in the sun!

From expansive beaches where you can play games and sports to beaches good for swimming, shelling, and everything in between, you can find the perfect beach for you around Charleston. The sunshine and salty sea air are waiting for you at these amazing beaches in Charleston. No matter which beach you decide to venture out to, you will not be disappointed!

Pack your beach towel and your sunscreen and let's discover the best beaches that Charleston has to offer! Which will you visit first?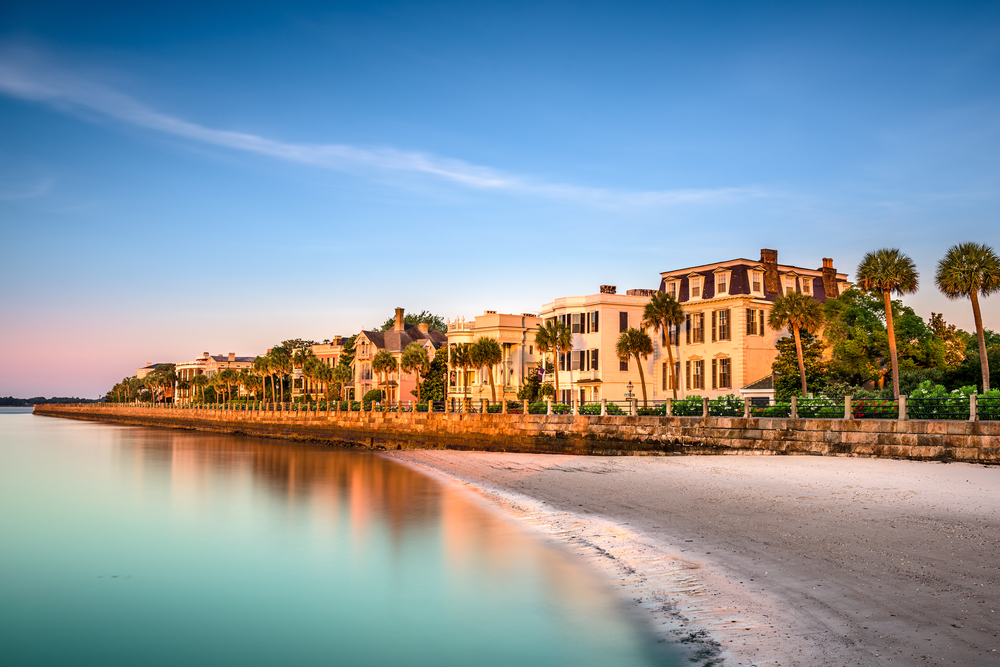 9 Best Beaches in Charleston SC [And Nearby!] You Shouldn't Miss
Folly Beach
Located on Folly Island, just south of Charleston, this South Carolina beach is amazing and should definitely be on your list of Charleston beaches to visit! Folly Beach is known as the Edge of America and has a population of less than three thousand! There may not be many residents in Folly Beach, South Carolina, but there are definitely plenty of visitors!

Folly Beach has been a haven for South Carolinians and many other visitors over the year. The famous pianist George Gershwin and writer Dorthea Frank are among the artists who also flock to Folly Beach to find inspiration and relax in the South Carolina sun around Charleston.

After relaxing on the beach, laying in the sun and swimming in the ocean, you can make your way to the streets of Folly Beach to dine at one of the ocean front restaurants. The BLU Beach Bar & Grill and the Pier 101 Restaurant and Bar both offer seafood-focused restaurants amazing ocean views behind Folly Beach. This is truly one of the best beach towns in South Carolina!

Surfers, keep in mind that there is a location along Folly Beach that offers some of the best surfing conditions in the state of South Carolina. Although this stretch of the East coast doesn't offer many good surfing spots, there is one spot in Folly Beach that is very popular. The Washout (also called Hollywood), has the best surfing around Charleston and the state as a whole. Hurricane Hugo washed away a block near the beach and now wind blow unrestricted across the beach and creates better waves for surfers.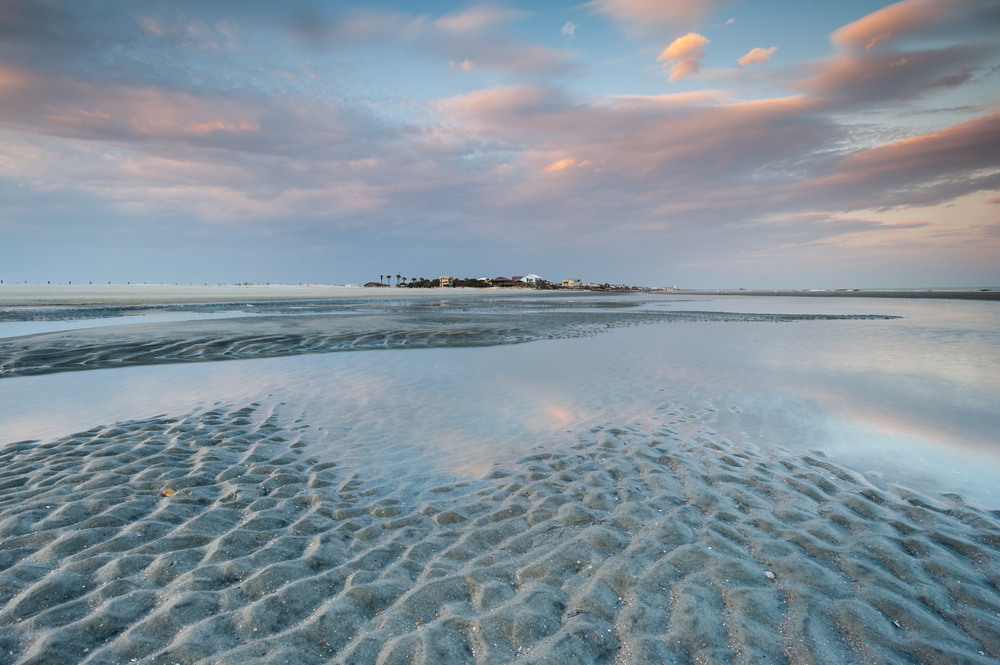 Botany Bay Heritage Preserve on Edisto Island
If you want to venture a bit outside of the city, consider visiting one of the islands near Charleston. The Botany Bay Heritage Preserve on Edisto Island is home to a driftwood beach. It offers a sandy beach with the most amazing shelling conditions that you would be hard pressed to find anywhere else. The beach is quite flat, has scattered driftwood, and you can find beautiful intact shells, including large conch shells. Don't be surprised if you see blue crabs, hermit crabs, fish, and more!

The heritage preserve itself is more than 4,600 acres in the northeastern corner of Edisto Island. There's the beach, maritime forest, freshwater ponds, and historical buildings on the property. The Botany Bay Plantation was formed during the 1930's with the merger of two plantations. Since 2008, it is now open to enjoyable by visitors to the beautiful Edisto Island.

For animal lovers, you may want to make a stop on Edisto Island at the Edisto Island Serpentarium where you can see snakes, turtles, tortoise, alligators, and an albino alligator. They have indoor displays, outdoor gardens, live shows, and alligator feedings twice a day. This is a great way to see wildlife local to South Carolina in a fun and safe way!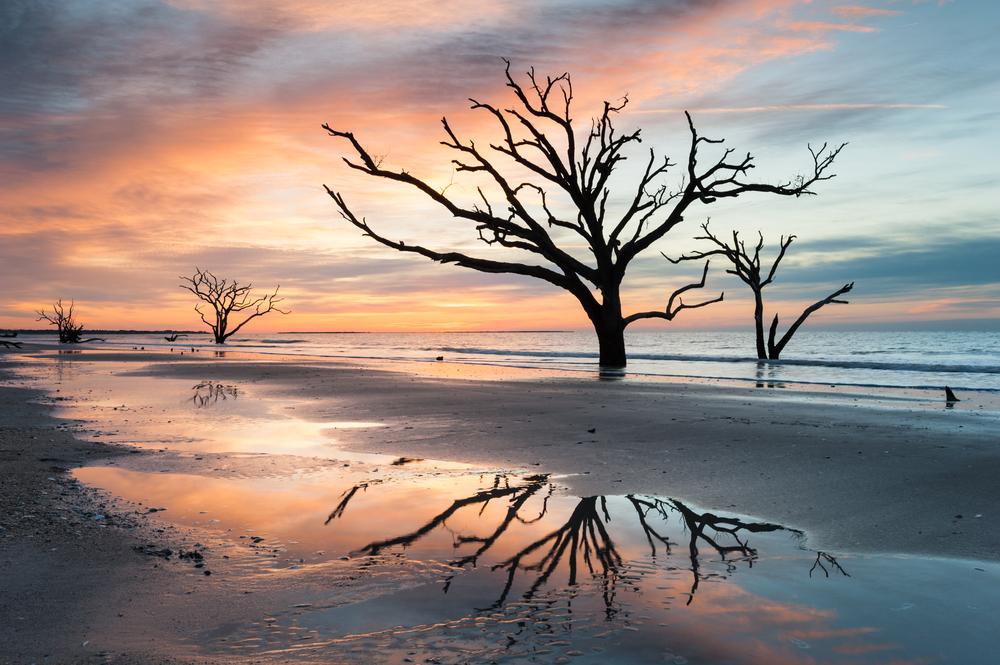 Sullivan's Island Beach
Arguably one of the very best Charleston beaches is the Sullivan's Island beach. This is because of its wide open beaches that offer plenty of room for everyone! Perfect for all of the sandcastle builders, skim boarders, and sun bathers. This is also a great choice for those looking to escape the crowds and have a quieter more serene beach experience in around Charleston.

There aren't any hotels or beachfront development along Sullivans Island Beach. This creates a more natural and relaxing atmosphere for visitors to the beach. Keep in mind that unlike other beaches around Charleston, there isn't a lifeguard on duty.

Sullivan's Island is home to one of the 11 lighthouses in the state of South Carolina. And home to one of the only two South Carolina lighthouses that are still in use by the U.S. Coast Guard.
The Charleston Light, is not open to the public, as it's still in use, but it does add to the atmosphere and experience that you get with a visit to Sullivan's Island Beach. Also great in the background of your beach photos! Don't forget to check out our list of the best Islands In South Carolina if you want to explore more!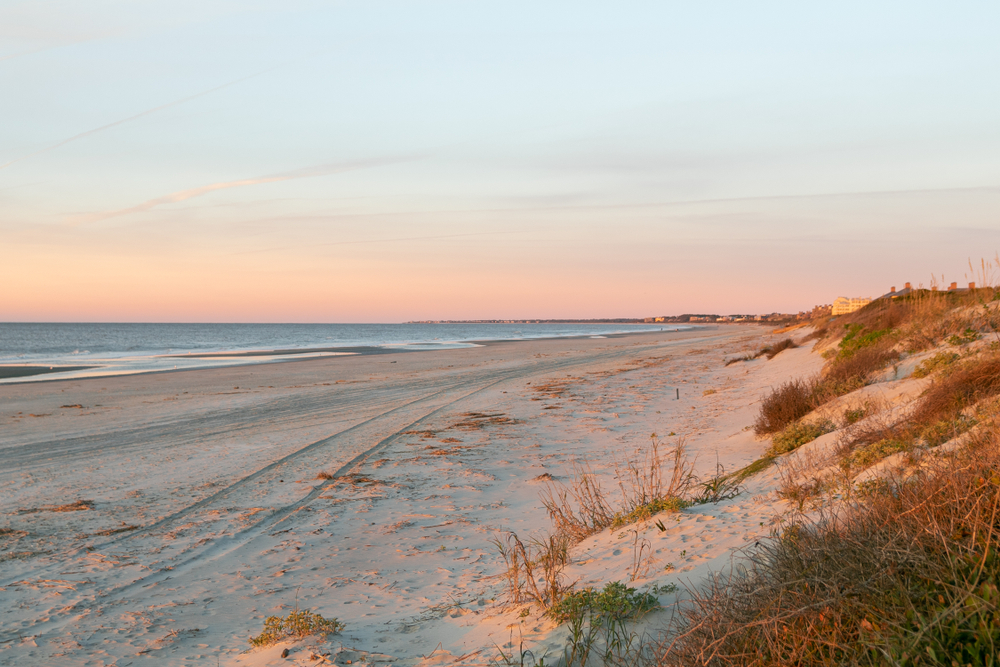 Morris Island Beach
Morris Island is located just north of Folly Island and just south of the historic Fort Sumter in Charleston. All of the islands around Charleston hold historical and cultural significance for the United States, but Morris Island may just be home to one of he most protected and coveted beaches in Charleston.

Morris Island has a history that includes important events in the Revolutionary War, Civil War, and even events involving pirates. Morris Island had its first settlers in 1673 and the first lighthouse was erected during 1762 from orders made by Kiang George III and was forty two feet tall! It was unfortunately destroyed in the Revolutionary War. A replacement was erected in 1838 that was sixty feet taller than the original, but that too was destroyed, this time during the Civil War.

Today, you can see the lighthouse that replaced the ones that once stood on Morris Island. It towers at 161 feet tall! It once was sat around 2700 feet away from the water during the 1880's, then in the 1930's it sat on the waters edge. You will see today that it is not 1600 feet off the shore of Morris Island thanks to erosion. Th lighthouse is a stunning feature off of the coast of the island its presence adds to the beauty and historical significance of this Charleston island.

The beach on Morris Island is undisturbed and unmarred by shops, real estate, and other modern normalcies. You can only access the island via boat. This can be done through one of the commercial boat tours that are operated out of Charleston. You can find departures from Folly Beach, Mount Pleasant and other popular areas around Charleston. This is the perfect beach to visit during your stay in Charleston if you love to step off of the beaten path.
East Beach on Kiawah Island
East Beach fits all of your beach-going hearts desires. Complete with a snack bar, restrooms, beach chair and umbrella rentals, and outdoor showers, East Beach ticks all the boxes. For those looking for beach-accessible wheelchairs, you can rent them there as well!

There is also an aspect of unspoiled nature that Kiawah Island has that will add a bit of tranquility to your time on East Beach. Kiawah Island has a total of ten miles of sandy shoreline and it has earned numerous awards each year, including landing on the Dr. Beach's Top Ten Beaches In America.

If you're looking forwards to getting some time out on the water, this is a great place to do it! Rent a paddle board, take a tour, take surf lessons, go boogey boarding, and more. It is also common t o see Bottlenose dolphins and Loggerhead sea turtles while on the beach. Nesting season is from May to October, so keep an eye out for hatching baby sea turtles while you're on the beach!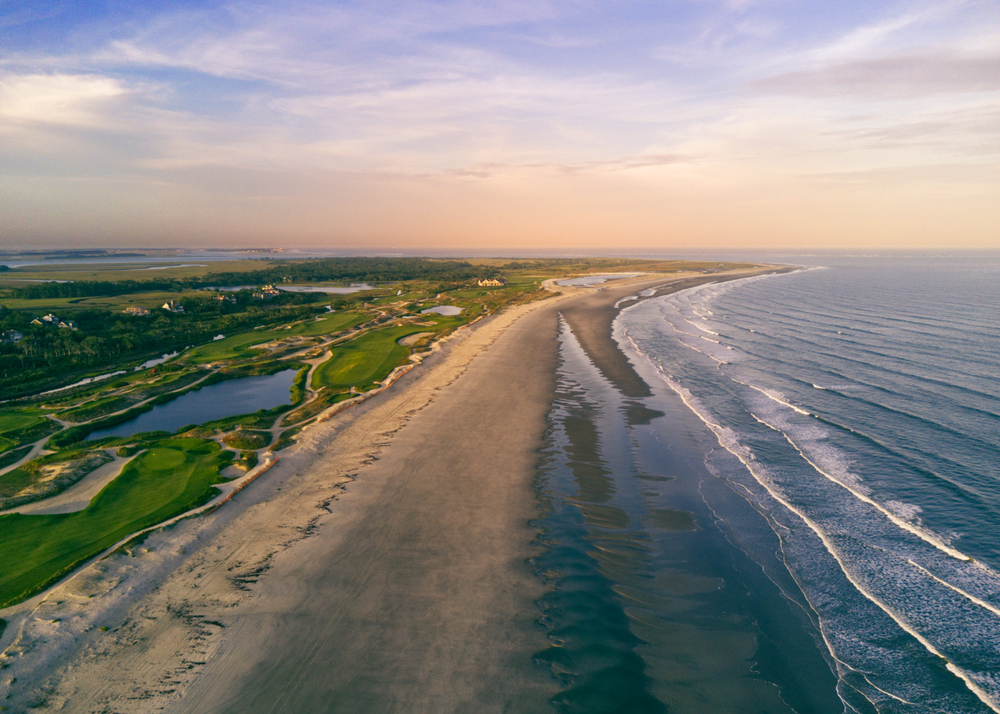 Pelican Beach
Pelican beach is another one of the most wonderful beaches near Charleston. You can find this lovely South Carolina beach on the idyllic Seabrook Island. If you are looking for the best sunsets on the beaches in Charleston, look no further than Pelican Beach! Travelers and photographers will love catching a glimpse at the stunning sunsets that you can experience on Pelican Beach. It's so common among sunset hunters that you will often hear it referred to as Sunset Beach!

The Edisto River meets up with the Atlantic Ocean at Pelican Beach, creating gentle waves and currents, making this beach the perfect spot for those who want to swim or those traveling with young kids. You can find your way onto the beach by using one of the primary beach access points. You can find these on the interactive map that is offered on the Sea Brook Island website.

For those traveling with their furry friends, there is a section of Pelican Beach called Pelican Watch where dogs are allowed. During your time enjoying Pelican Beach consider heading inland a bit to explore the nature trails that the island has to offer. You can find trails ranked beginner, intermediate, and advanced. The Camp St. Christopher trails, Lake House Nature Trail, Bobcat Dune Nature Walk, and Six Ladies Nature Trail are all great options to consider while you're on Seabrook Island.
North Beach on Seabrook Island
Located on beautiful Seabrook Island, North Beach is one of the best beaches in Charleston for active families and nature loving travelers. Those traveling with dogs will love North Beach as well as it is one of the most dog friendly beaches near Charleston. Dog parents can bring the their furry friends to North Beach for some fun in the waves and on the soft sandy beaches.

If you like wildlife spotting or photography, be ready to have a blast at North Beach! From dolphins and turtles to native birds that call Seabrook Island home, the opportunities for wildlife photography are amazing on North Beach.

You will also find that sunrises are particularly amazing on North Beach as it is the first place the sun touches on Seabrook Island. If you visit during the summer months and are up early to catch the sunrise, you may also catch a glimpse of some baby sea turtles. Although they prefer to make the journey to the ocean in the darkness of night, early risers may be able to see babies making their way to the water!

For those who like to spend their time in the water wading or swimming, this is the perfect place near Charleston to do it. The warm water temperatures and gentle currents make this the perfect place for swimming, especially for those traveling with young children. There is also a nearby beach club, the Seabrook Island Beach Club, that has an oceanfront pool, lounge furniture, cafes, beach access, and more for those who find this more their speed. If you are looking to add a bit more adventure to your time on North Beach, you're in luck! It is one of the few South Carolina beaches to offer horseback riding on the beach.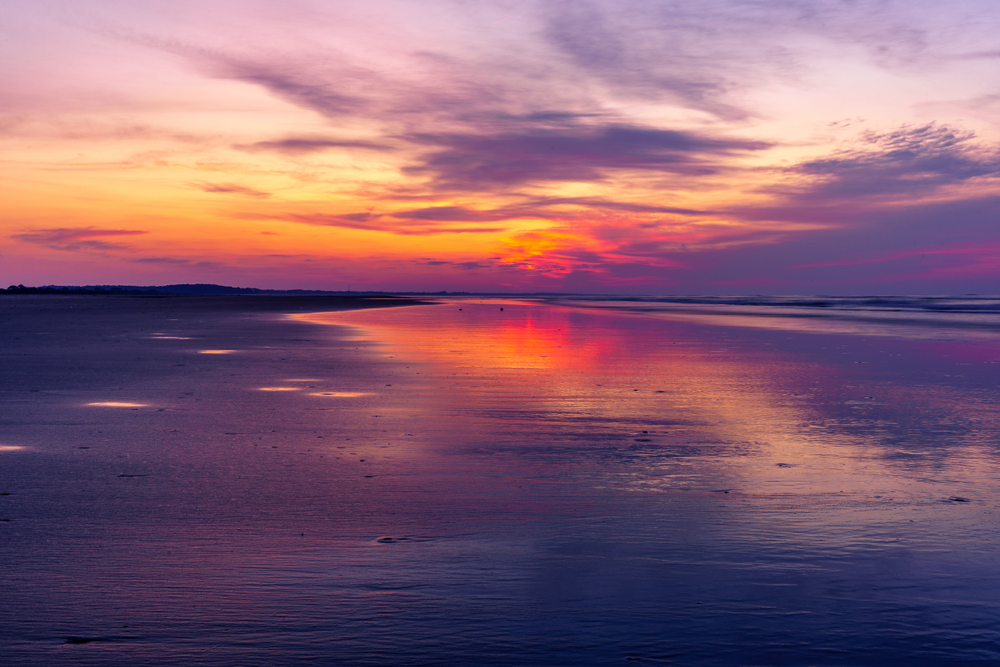 Beachwalker Park Beach
This beach on Kiawah Island offers lovely views of both the ocean and the river. You can find Beachwalker Park on the west end of the island. Life guards are on duty seasonally and they offer picnic areas over looking the marsh, grills, vending, restrooms, a boardwalk, and more. There is also beach wheelchairs available (call ahead) as well as and accessible beach ramp!

Parking does come at a cost, however walk-ins and those biking to the beach can get access for free. Umbrellas and beach chairs are available for rent at super reasonable prices! The Beachwalker Park beach was ranked #10 on the Dr. Beach Top Ten List in 2020 and ranked #9 on the Dr. Beach Top Ten List in 2021. As this beach is a less than forty minute drive from Charleston, it is well worth the drive from Charleston!

While you're on Kiawah Island, be on the lookout for alligators! The island has an incredible population of alligators that can be found in the islands freshwater and brackish ponds. Most of the gators you will see on Kiawah are no longer than eight feet, however larger ones can be found on some parts of the island; some as larges as eleven feet! Be on the look out around the edges of ponds as this is where they like to sunbathe. Keep in mind that although dogs are welcome they must stay on a leash.
Isle of Palms Beach
There's nothing like relaxing on one of the most stunning beaches in Charleston. There's a lot of debate about which Charleston beach is better, Folly Beach or Isle of Palms Beach.
While both of these beaches in Charleston are lovely, they offer there visitors a little something different. On the Isle of Palms beach, you will find that it is slightly more upscale, the homes and other buildings around the beach are well maintained, and there are some of the best restaurants that Charleston has to offer.

You will find more wide open space on Isle of Palms Beach and that it is relatively uncrowded as well. The island itself is seven miles long and just one mile long and was voted #6 on the Top 10 North America Islands by Conde Nast Traveler's Reader's Choice Awards. The Isle of Palms Beach is only about thirty minutes from Charleston and is very family friendly. You will find a snack bar, sand volleyball courts, grills for picnics by the beach, and much more in the area!

For history buffs, you will find your visit to the Isle of Palms Beach more interesting as you learn about the history of the island. For thousands of years the island was inhabited by the indigenous Seewee people.
Although landed upon by the English from time to time, the island remained free of permanent residents until the 19th century when inhabitants of Charleston used it as an escape from the summer heat.
Legend has it that pirates have buried their treasure on the island for safe keeping in the dunes and in the woods. None of this treasure has ever been found. Will you be the one to find it? This is truly one of the best places to stay in Charleston. This area is not to be missed.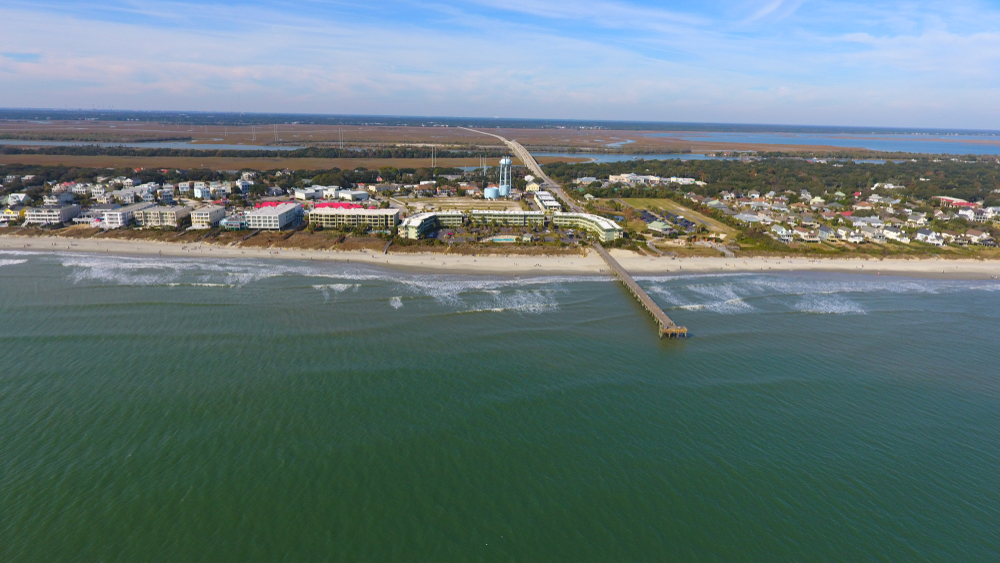 Charleston is full of amazing places to visit and makes for a great day trip from many other southern U.S. cities. Breathtaking and historical sites await you around every corner in this beautiful town and the beaches are no exception! No matter what you're looking for in a beach while visiting Charleston, you can find it there! Which of these beaches in Charleston do you think you will be visiting first?