While there are probably a thousand reasons to go when exactly is the best time to visit New Orleans? One of the most eccentric, vibrant, colorful cities in the South, the answer depends on you! With so much to experience, you're going to want to plan your trip around your own interests!
Planning your trip to New Orleans last minute?
Make sure to book your hotels and tours in New Orleans in advance to ensure availability! Here are our top picks for your trip!
Top Experiences And Tours In New Orleans:
Top recommendations for accommodation In New Orleans:
New Orleans is filled with friendly citizens, incredible live music, some of the best food in the South, and attractions that will create lifelong memories.
You can always find something to enjoy here! So when is the best time to visit New Orleans?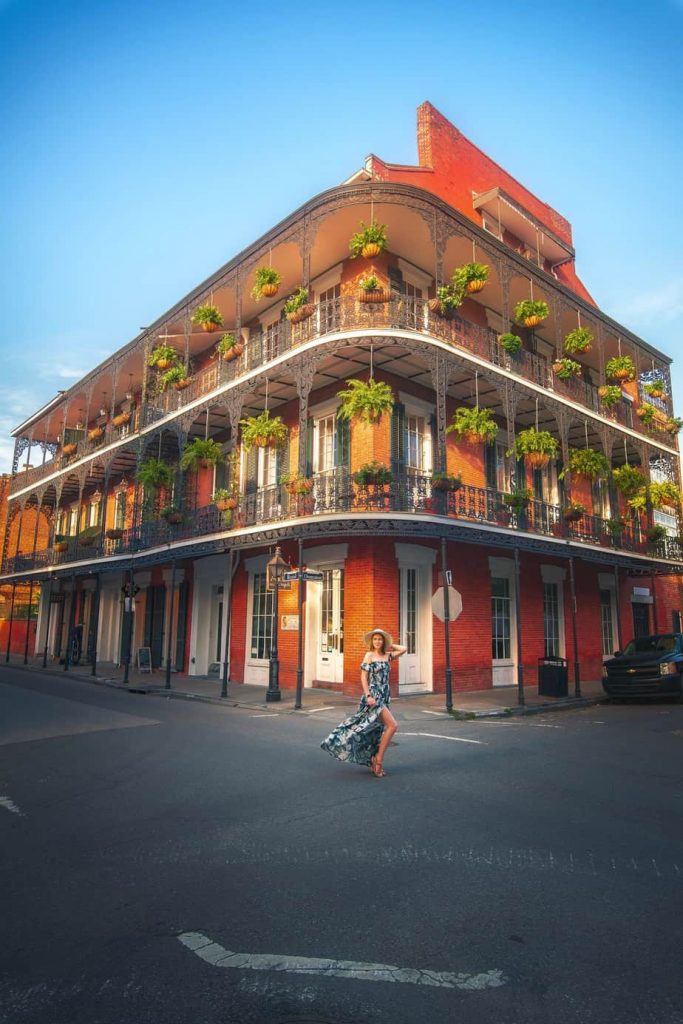 When Is The Best Time To Visit New Orleans?
The answer to this question will depend mostly on whether or not you're interested in attending Mardi Gras! If you want to get the most of the festivities, you're going to want to visit in early spring from February to May when the celebrations are in full swing. This will make a perfect weekend getaway!
If you want to attend actual Mardi Gras Day, that day usually falls either around the very end of February or the very beginning of March. Keep in mind that hotel rates during this time of year are very expensive. Expect to book your hotel and flight reservations at least a year in advance.
If you don't mind the heat and want to stick to a budget, keep in mind that the best time to visit New Orleans for your wallet will be during the summer months. To get the best deep discounts, plan to visit during July, August, and September.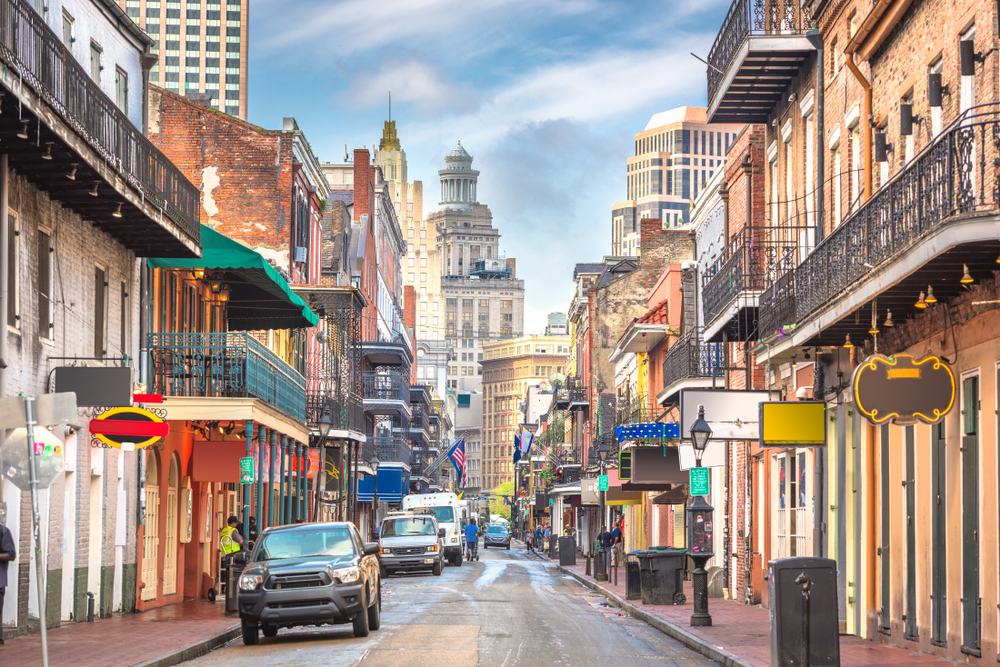 High And Low Season For New Orleans
Spring will always be the High Season for the Big Easy. The entire Mardi Gras season, or Carnival, runs for several weeks before actual Mardi Gras Day. Spring in general has the best weather, and is considered by most to be the best time to visit New Orleans. The summers can be hot and oppressive!
Because summers in New Orleans are long, swampy, and balmy, this is generally the low season for the city. While the summer months are difficult, you can definitely still survive. Just take it slow and drink plenty of water, especially if you're day-drinking too. The sun can and will dehydrate you quickly!
While July and August are hot, this is when you'll find the best hotel deals. The low season means fewer tourists, so airlines and hotels want to lure in travelers on a budget. You'll be super hot, but you'll love the deals!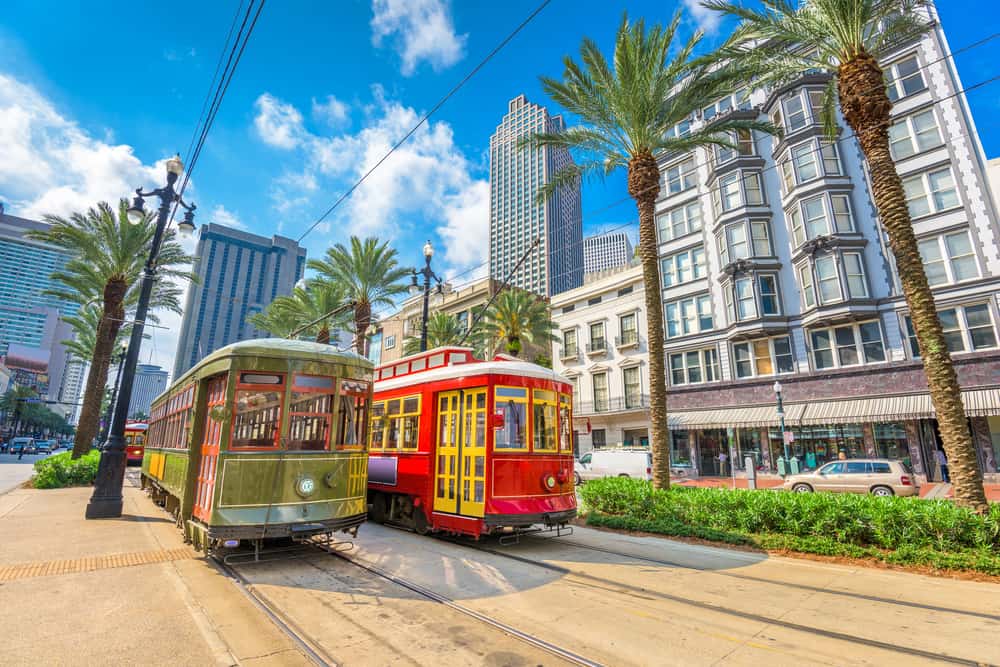 Visiting New Orleans In Summer
Summer in New Orleans is not for the faint of heart. Trust us, you need to be prepared for brutally hot days. But if you're hoping to avoid large crowds while saving a few bucks, this may be the best time to visit New Orleans for you!
July and August will be the hottest months. Average temperatures are 91 degrees Fahrenheit, but June and September aren't much cooler. The trade off will be less crowds because summer is the low season. Hotels and airfare will be cheaper as well to draw you in!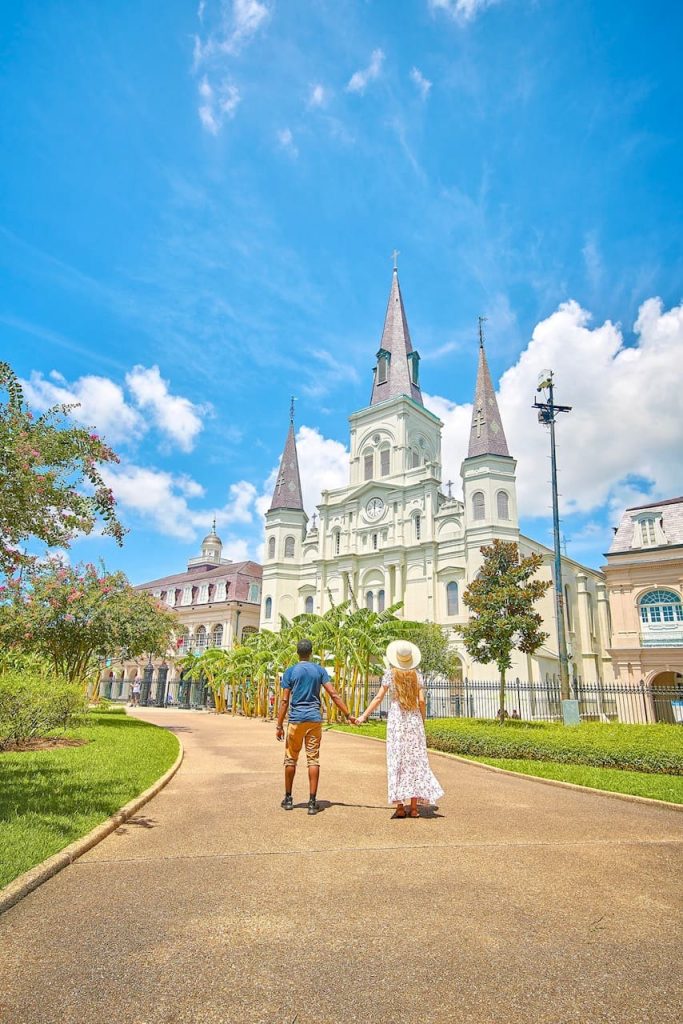 Visiting New Orleans In Winter
Winter is one of our favorite times to visit New Orleans! We're not big fans of that summer heat, and even spring can be oppressive. From late November to January, the city has had time to cool off to the 60s before the springtime festivals have started.
A New Orleans winter vacation will also be easy on your wallet. Fewer tourists will be in town, which translates to big savings for your wallet. Expect to find bargain hotel rates and airfare prices. If you don't have anywhere to be during the holidays, then you should try to visit in December during Christmastime when the city is decorated!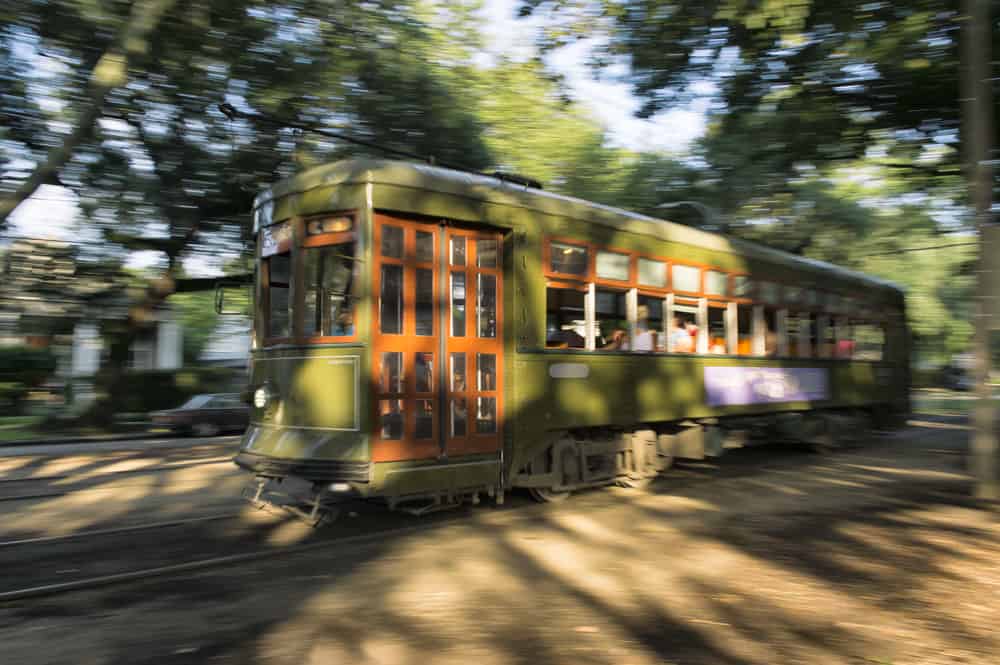 Visiting New Orleans In Fall
Not quite the high season and not quite the low season, autumn in New Orleans is a strange beast. While temperature have receded back into the 80s and mid 70s, you still need to pay attention to the weather.
Late August and September are the height of the hurricane season, which lasts from June to November. While hurricanes can be predicted in advance, a sudden formation can still throw a wrench into vacation plans. However, the reduced temperatures and many cultural events still make fall one of the best times to visit New Orleans!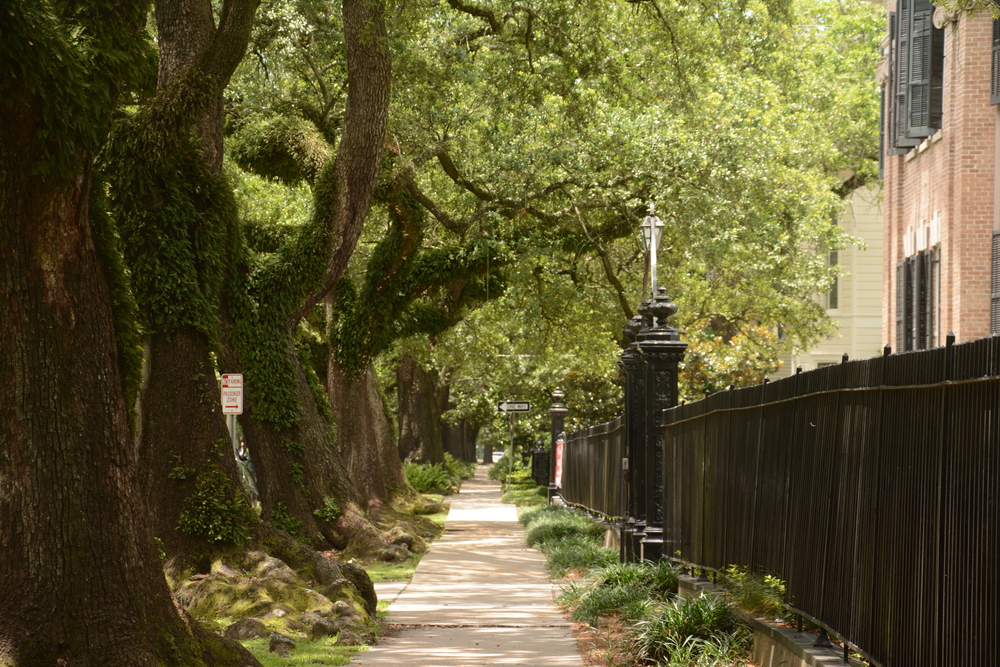 Visiting New Orleans In Spring
Ahh, springtime in the Big Easy. There's nothing like it. Comfortably warm weather in the low 70s to mid 80s brings the most major of festivals: Mardi Gras and the New Orleans Jazz & Heritage Festival. Many tourists and locals will tell you that spring is the best time to visit New Orleans.
Keep in mind that heavy tourist traffic due to these festivals means dramatically raised hotel rates and airfare. If you want to guarantee your attendance and go easy on your wallet, you'll need to book early. Just to secure a room at all? You'll want to book several months to a year in advance!
Remember too that if you visit in spring, many of the city's most popular attractions will be closed during Mardi Gras. If sightseeing is a priority, then you should try to plan a trip that doesn't coincide with the biggest events of the year.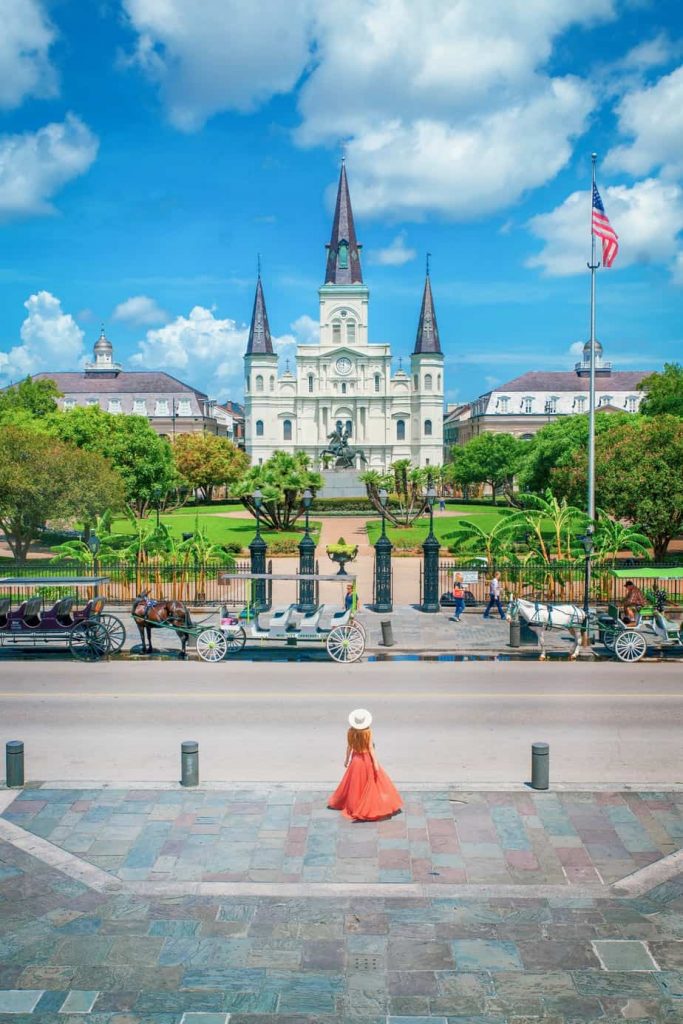 New Orleans By Month
If you still can't decide when to go, don't worry. We've broken down all the events in the Big Easy month by month so you can pick exactly when you want to vacation there! Although, with this many events and festivals happening, every month is the best time to visit New Orleans.
New Orleans In January
On New Year's Day, check out the Sugar Bowl, the annual college football playoff game. Even if you can't be in the Dome for the game, you can head to a local watch party at one of the sports bars downtown! You'll see fans flooding downtown from inside.
On Joan of Arc's birthday, January 6, you can catch the Krewe de Jeanne d'Arc parades which run annually downtown. The walking parade stars a medieval-themed procession through the French Quarter, ending with the first king cake of the Mardi Gras season!
Epiphany, or Twelfth Night, also on January 6 marks the official beginning of the Mardi Gras season! The first king cake of the season will make its way into local offices and parties until Fat Tuesday. Look out for the Phunny Phorty Phellows on the St. Charles Streetcar who herald the beginning of the Carnival Countdown during the best time to visit New Orleans.
This is one of our favorite things to do and you should add it to your Weekend In New Orleans Itinerary.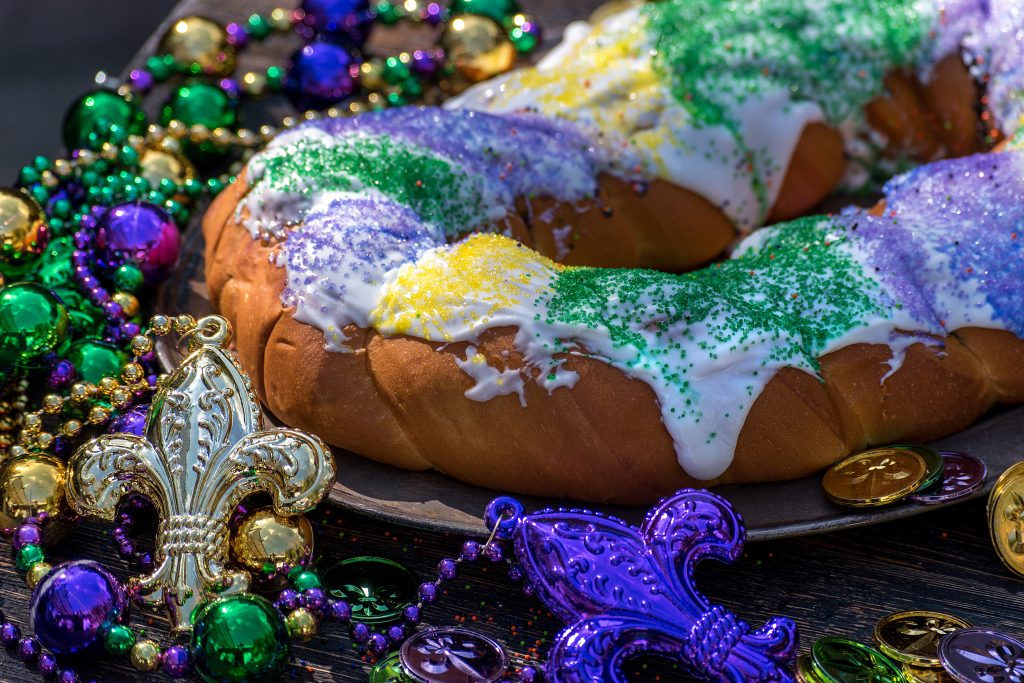 New Orleans In February
February is Black History Month, and there's no better way to start your celebration by attending mass or visiting the St. Augustine Church. Historically this was a place of worship for the black community of Treme. Then visit one of the many Black-owned restaurants in the area!
Look out for Mary Queen of Vietnam Church's three-day celebration which celebrates the Lunar New Year, Tet, and Vietnamese heritage. All are welcome to enjoy live music, amazing Vietnamese food, games, dragon dances, and fireworks!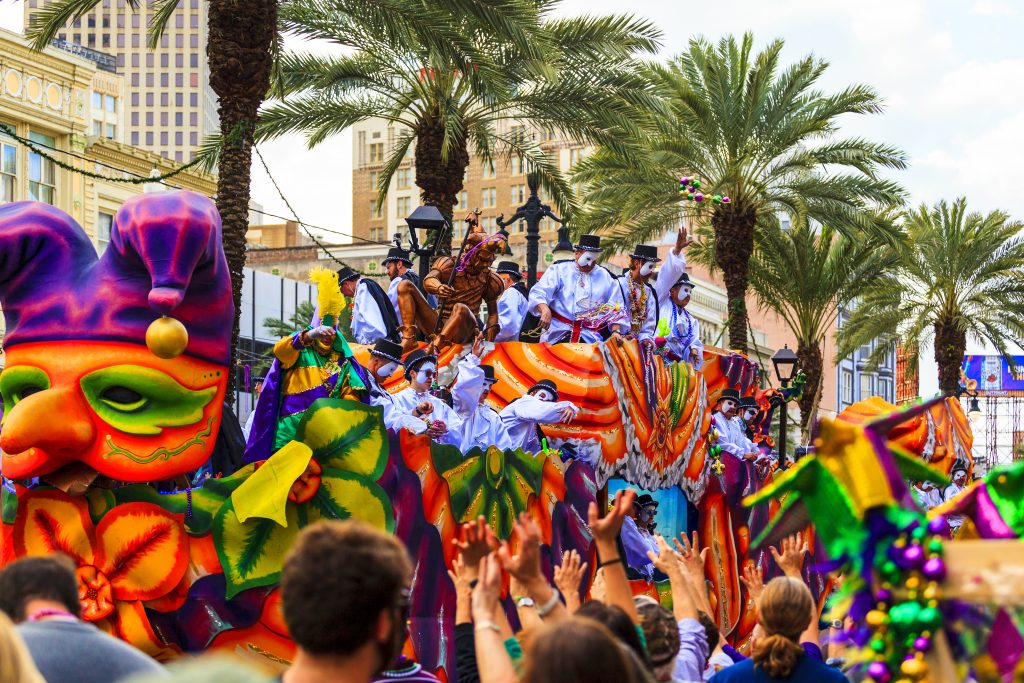 New Orleans In March
Every spring, starting in March, seasonal snowball shops reopen their storefronts and stands! Locals are incredibly loyal to their favorite stands who are neighborhood institutions. Bring cash and check out dozens of flavors at places like Hansen's and Plum Street Snowballs!
You can also check out the New Orleans Bourbon Festival, an annual tradition reminiscent of 1920s speakeasies. You can attend sessions on topics like Bourbon History, go to grand tastings, bourbon pairing dinners, and burlesque shows!
Of course, you can't forget BUKU, or the BUKU Music + Art Project. A music festival of EDM, hip-hop, and indie rock musicians unite in an underground/house party atmosphere. During this festival at Mardi Gras World, the best time to visit New Orleans, past performers have included Tyler the Creator, Glass Animals, and Megan Thee Stallion.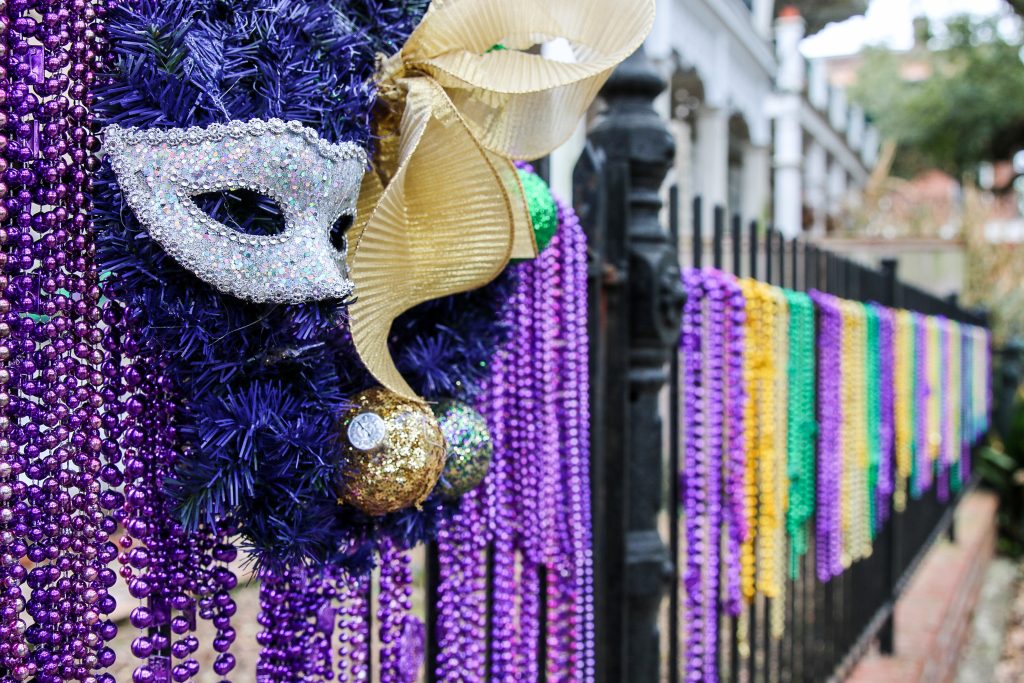 New Orleans In April
April is thought to be the best time to visit New Orleans, mainly because of the sheer number of festivals! First, on the first Saturday of April, check out the Freret Street Festival. Celebrating the local businesses, live music, and iconic food of the Uptown part of the city, this is the perfect way to start spring in New Orleans!
In one of New Orleans' most beloved neighborhoods, you can catch the French Quarter Festival. From Woldenberg Park to Jackson Square, you can take in live music, incredible food, and the culture of the area! This is truly one of the Best Places To Stay In New Orleans!
Then catch the New Orleans Jazz & Heritage Festival, or Jazz Fest. Drawing massive crowds from all over the world, only Mardi Gras can top this festival. Over two weekends, hear live music on 14 stages and taste signature Jazz Fest foods!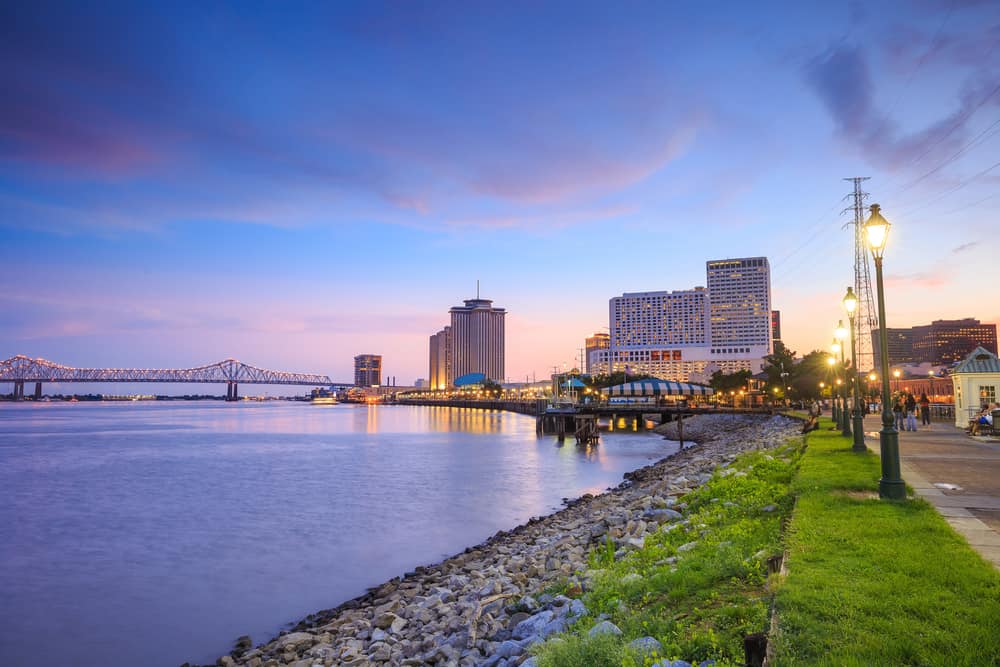 New Orleans In May
Simply because of the weather, many consider May to be the best time to visit New Orleans. You can also check out the Bayou Boogaloo, whose proceeds are reinvested in the Bayou Saint John community! Enjoy fun for the entire family, local food, and craft vendors!
May 10 hails as National Shrimp Day, and the local restaurants in New Orleans do seafood the best. You can also grab a frozen margarita on Cinco de Mayo from a local spot like Casa Borrega! If you're looking for a family vacation, Mom will certainly love being treated to New Orleans brunch for Mother's Day weekend!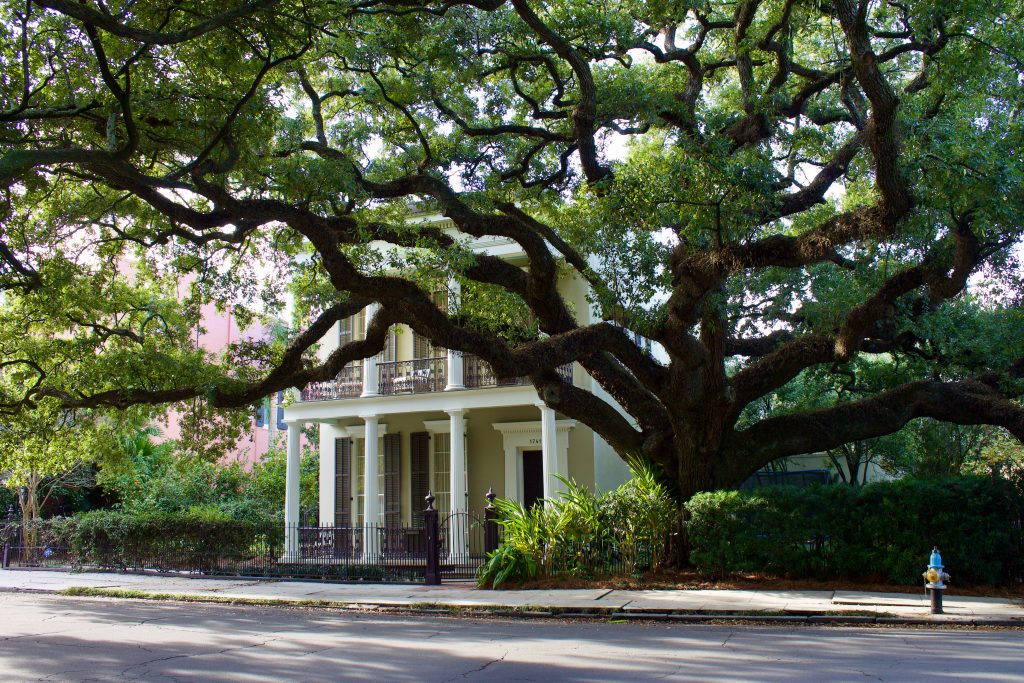 New Orleans In June
New Orleans' cuisine is famous, so you can expect great things from the city's annual Oyster Festival. Enjoy them chargrilled, fried, and raw while enjoying live music and browsing arts and crafts vendors! June also heralds one of the best Pride parades in the U.S., as New Orleans has been voted one of the most welcoming cities!
Then get your appetite ready at the end of June for Black Restaurant Week! You can patronize and taste the food of some of the best Black-owned restaurants in the city, all who feature special menus and deals!
This is also a great time of year to visit if you want to check out some of the best beaches Near New Orelans because it is so hot!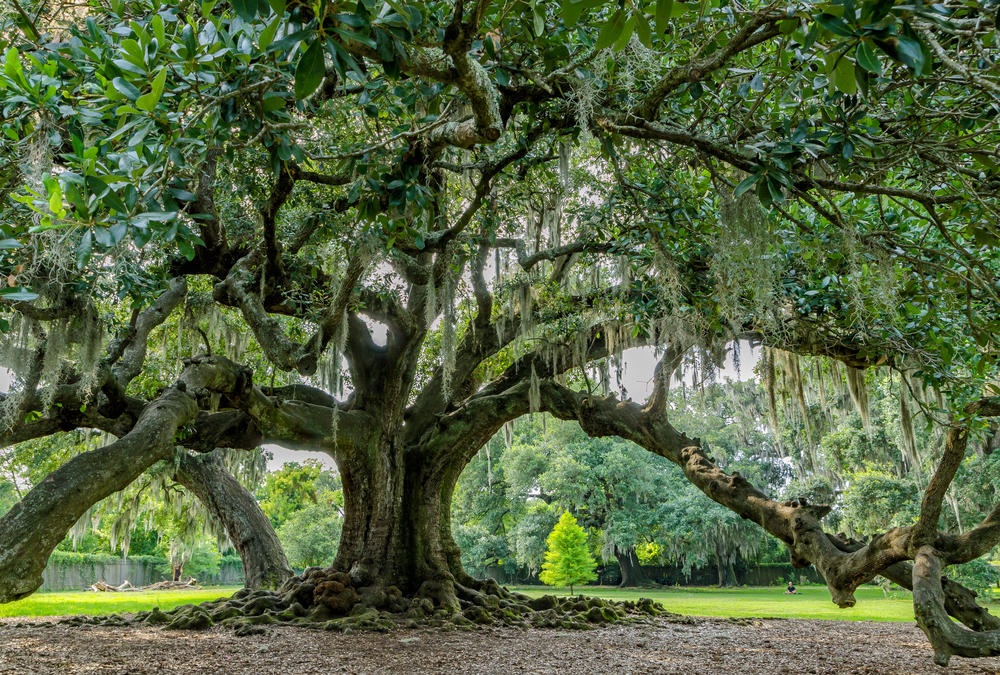 New Orleans In July
July means Independence Day, so that means gather your friends and family to watch the fireworks. You can get the best views from Crescent Park, Algiers Point, and Jackson Square! Host your own BBQ, or check out some of New Orlean's best places!
Then check out the annual ESSENCE Fest, one of the Big Easy's biggest festivals! Over three days, celebrate Black music, health, food, beauty, and culture with panel discussions and celebrity guests! Past performers have included Prince, Mary J. Blige, and Diana Ross!
Paying homage to the Spanish influence throughout New Orleans, head to the Arts + Warehouse District for the annual Running of the Bulls! Instead of living bulls, you'll run away from New Orleans Roller Derby Girls!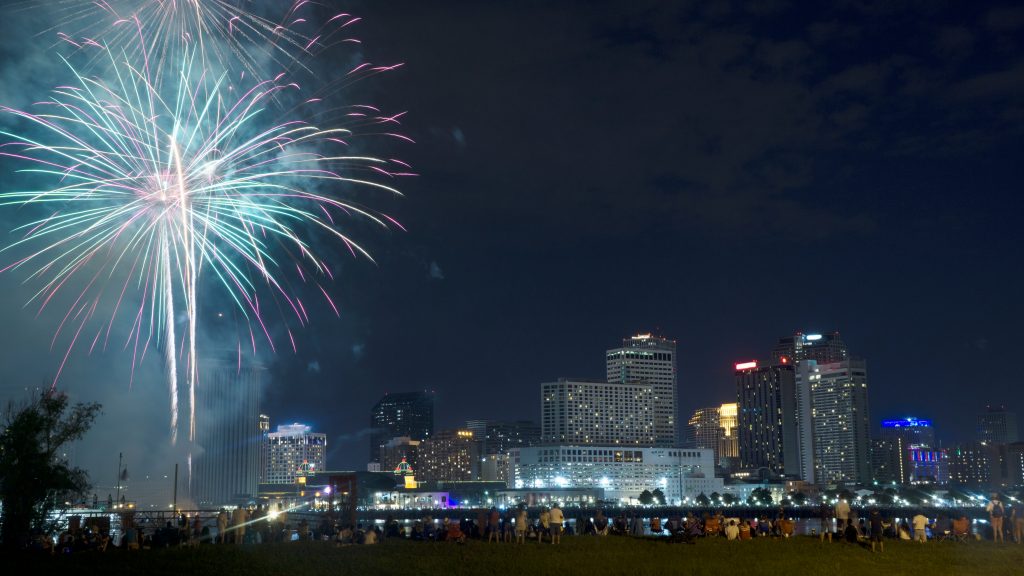 New Orleans In August
The Big Easy has a lot of famous natives, so the best time to visit New Orleans is during Satchmo Summerfest which honors the life of Louis "Satchmo" Armstrong. During the first weekend of August, the three-day celebration hosts many live performances, local food, and seminars about the great trumpeter.
Then catch Southern Decadence, the largest LGBTQ event in New Orleans. The celebration lasts six days through the French Quarter and beyond. A favorite for Labor Day weekend, enjoy parties, parades, and glamorous costumes!
Then don your best red dress for the Red Dress Run. A beloved Big Easy tradition held the second Saturday of the month, runners and walkers participate to support local charities throughout the area!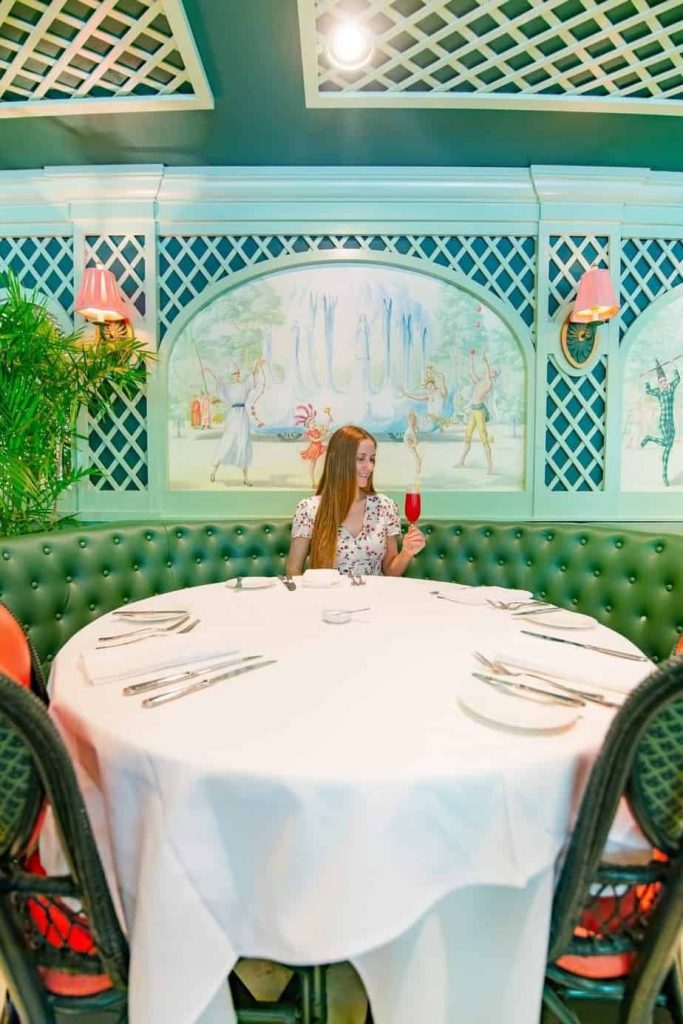 New Orleans In September
September is the best time to visit New Orleans if you're a foodie! Not only does the month bring cooler weather, but it also brings Restaurant Week from September 9-15. You can get 25% off regular prices at restaurants offering Prix-fixe menus!
St. Patrick's Day may be in March, but in September, New Orleans celebrates Irish Fest. Across two stages and fairgrounds, this celebration of Irish culture includes arts, dance, music, food, and crafts!
The Pirate's Alley Faulkner Society also annually celebrates William Faulkner's birthday with Happy Birthday, Mr. Faulkner, a birthday party and literary festival of sorts from September 24-27.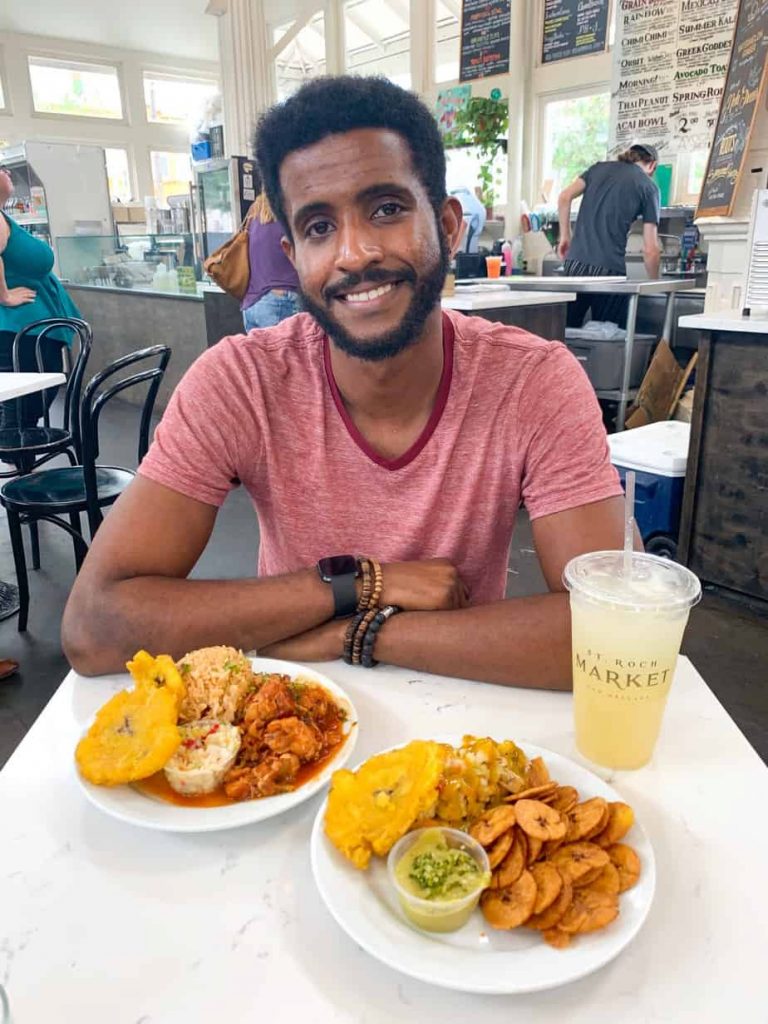 New Orleans In October
Throughout October, head to the Deutsches Haus of New Orleans for Oktoberfest! Paying homage to German presence and culture in the Crescent City, enjoy classics like sauerbraten, cabbage, Bavarian pretzels, and of course, BEER!
Memphis may be known for their blue and BBQ, but it has nothing on the annual Crescent City Blues + BBQ Festival. With over 20 local vendors specializing in BBQ, enjoy a lineup of live brass bands, blues, and gospel musicians. You can enjoy more food and music styles at the Voodoo Arts + Music Experience over the Halloween weekend!
With over 200 films from almost 120 countries, New Orleans earns its claim as the Hollywood of the South at the New Orleans Film Festival. Attend showings during the weeklong event in addition to exclusive events, panels, and parties!
Other events to experience include the Mac n Cheese Fest, Beignet Festival, Gentilly Fest, Treme Fall Fest, Praise Fest NOLA, and many more! Don't forget to check out some of the most Haunted Hotels in New Orleans!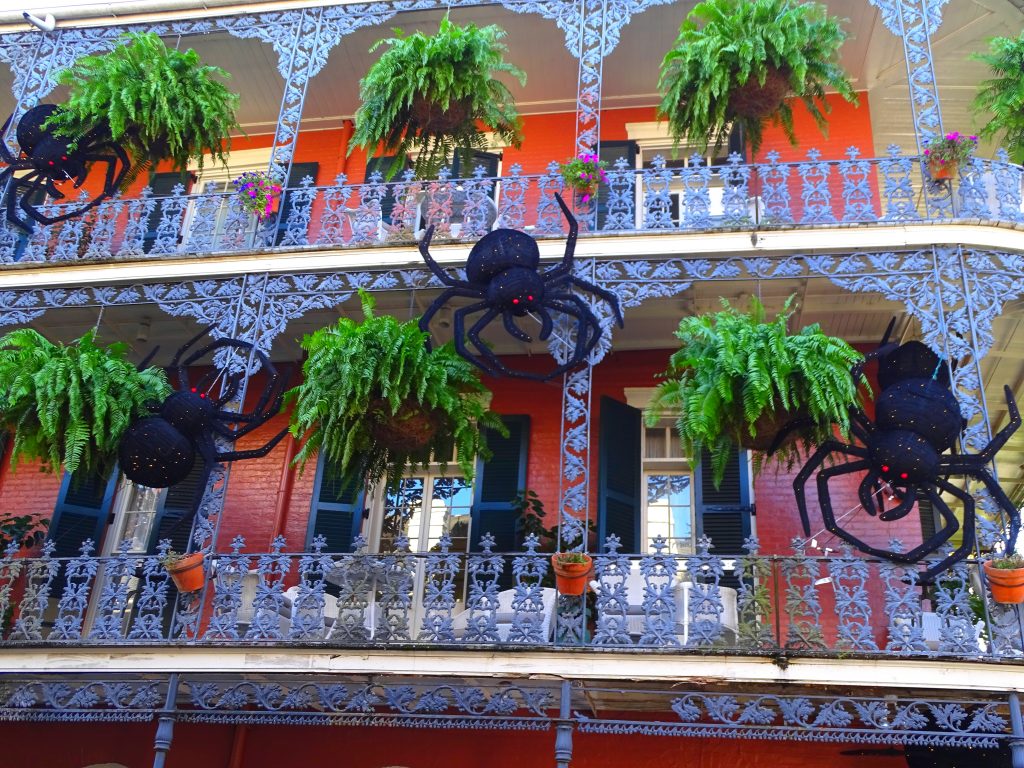 New Orleans In November
During the first weekend in November, arguably the best time to visit New Orleans, you can attend the Bayou Bacchanal! Celebrating Caribbean culture in the Crescent City, you can enjoy food and music from a number of Caribbean nations while the parade shuts down Canal Street!
Then get hungry for the Oak Street Po-Boy festival! Each year, Oak Street is transformed into a po-boy haven with 35 different vendors! Only you can decide who makes the best po-boy in the Big Easy! Then enjoy the Treme Creole Gumbo Fest to enjoy the New Orleans trifecta: brass bands, beads, and gumbo!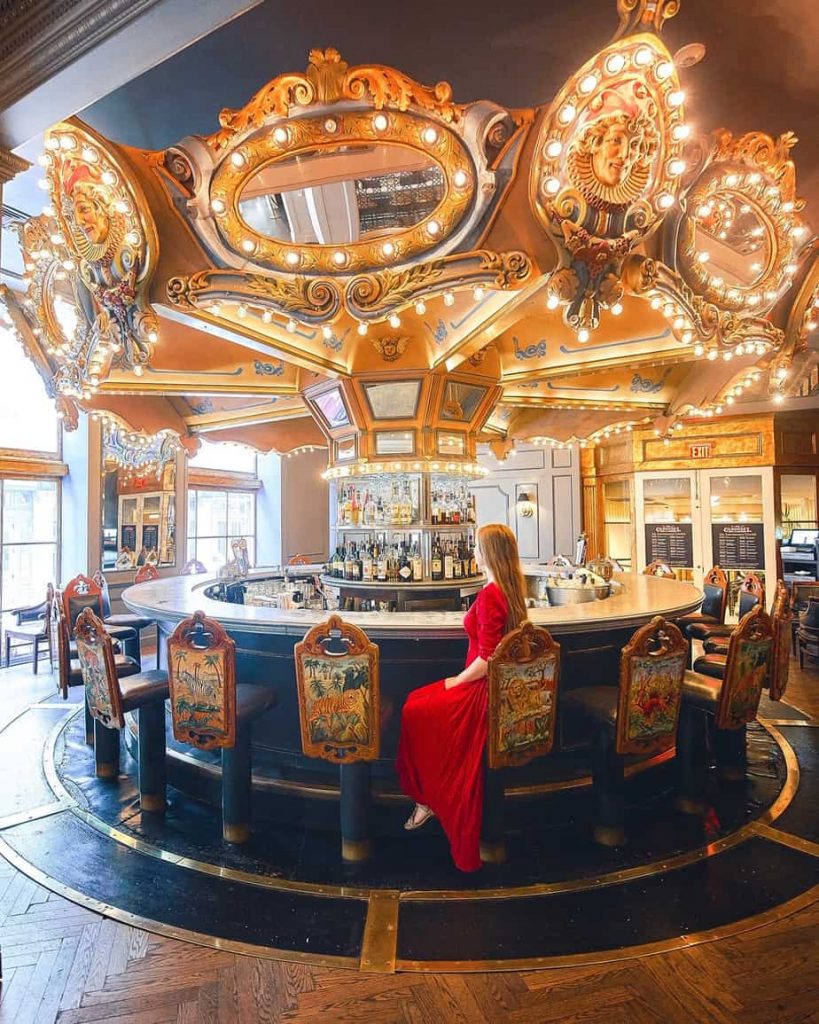 New Orleans In December
The holiday season is the best time to visit New Orleans with a flurry of Christmas celebrations! The Krewe of Jingle parade kicks off the season! Mr. and Mrs Claus make appearances, as well as Mr. Bingle, Rudolph, and more!
Then enjoy Celebration in the Oaks throughout the entire month. In City Park, you can take a romantic evening stroll with holiday-themed decorations illuminating the historic oak trees. Then head to the levees along the Mississippi River for the Christmas Eve Bonfires, which light the way for Santa and his reindeer!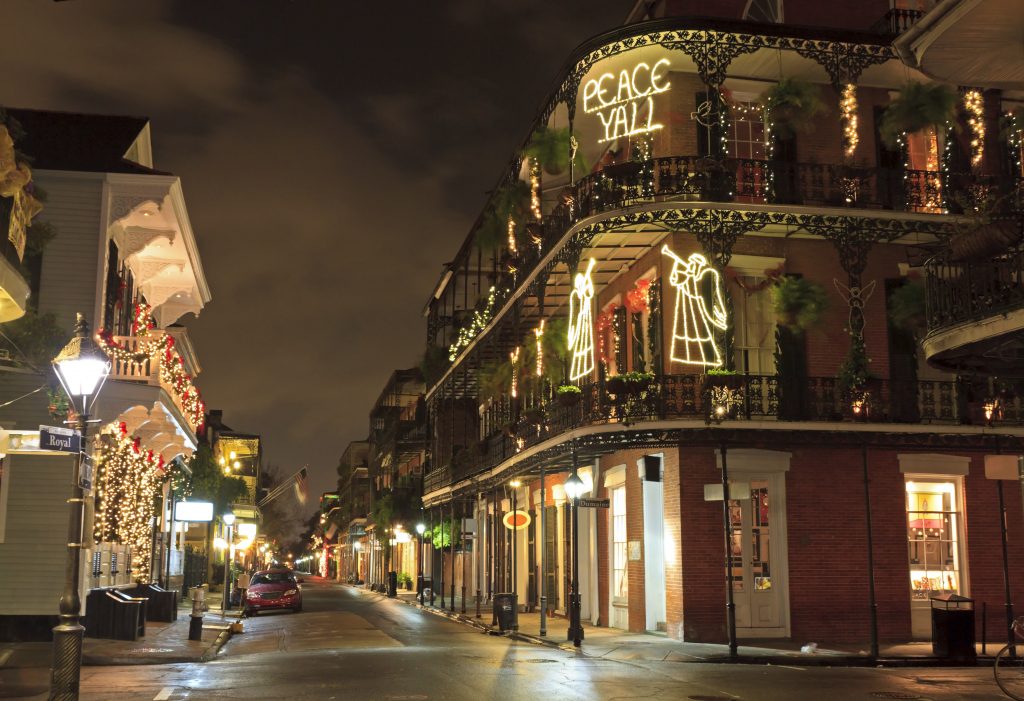 There's always a festival in New Orleans to enjoy, no matter what time of year you arrive! Even if you're not keen on attending Mardi Gras, the Big Easy will leave your belly full, your spirits lifted, and put a song in your heart! The best time to visit New Orleans? All the time!