Are you planning on spending Christmas in New Orleans? These incredible and festive ways to celebrate the holiday season in New Orleans are a must for anyone spending time in The Big Easy this winter. With all of the amazing things to do in New Orleans, you can rest assured knowing there will be tons of fun things to see and do while you are there!

From Santa encounters and gift shopping to Christmas tree light displays and floats, you can find everything you hope for in New Orleans and then some. No matter what type of traveler you are, a foodie, history enthusiast, or thrill seeker, NOLA has what you are looking for.

Let's check out some of the ways to spend Christmastime in New Orleans!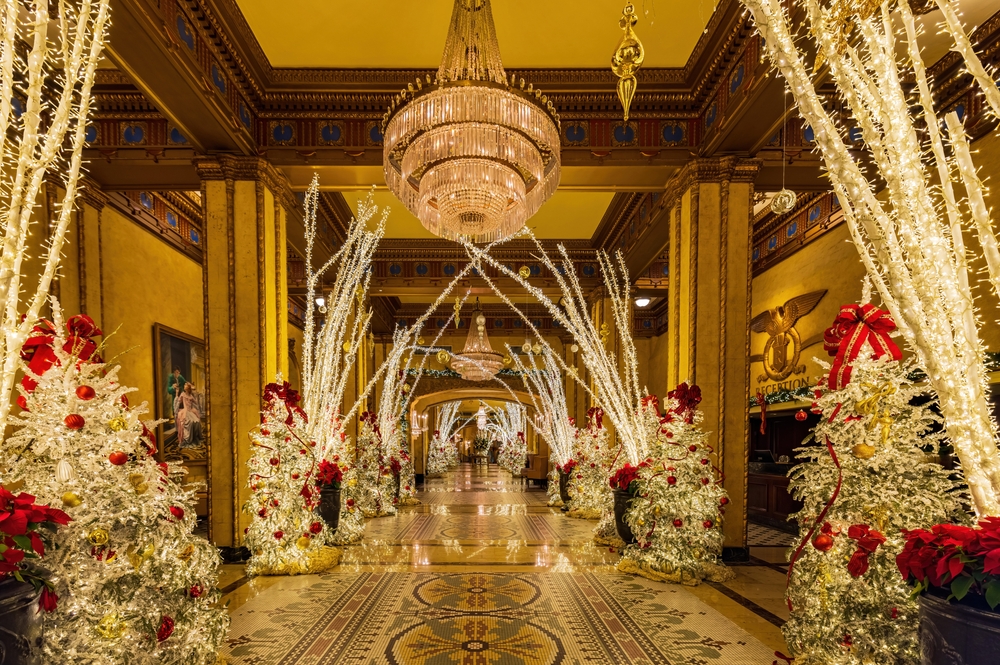 Is Christmas a good time to visit New Orleans
Absolutely! With all of the festivities, events, decorations, and activities during Christmas in NOLA, you won't want to miss out on all the fun. Historic and lively cities in the south are ideal destinations for spending the holidays. And it doesn't get much better than The Big Easy!
New Orleans weather in December
The weather in New Orleans in December is dreamy compared to other states during the same time of the year. With highs in the mid to high sixties during December, NOLA has sunshine and pleasant temperatures during the last month of the year that make it an even more appealing Christmas travel destination. You can expect rain around six days of the month with temperatures rarely falling below freezing.
Is New Orleans crowded at Christmas?
December in general is not peak travel season in New Orleans. So you will find lower prices and much fewer crowds when compared to Mardi Gras and other peak travel times in the season. However, during Christmas events, visitors do come out to enjoy the festivities so be prepared for plenty of people at parades and festivals.
How to say "Merry Christmas" in New Orleans
Many people consider New Orleans to be the center of the French language and culture in The United States. If you want to say Merry Christmas in French while you are in New Orleans, you say Joyeux Noël! (Jwah-yuh Noh-elle)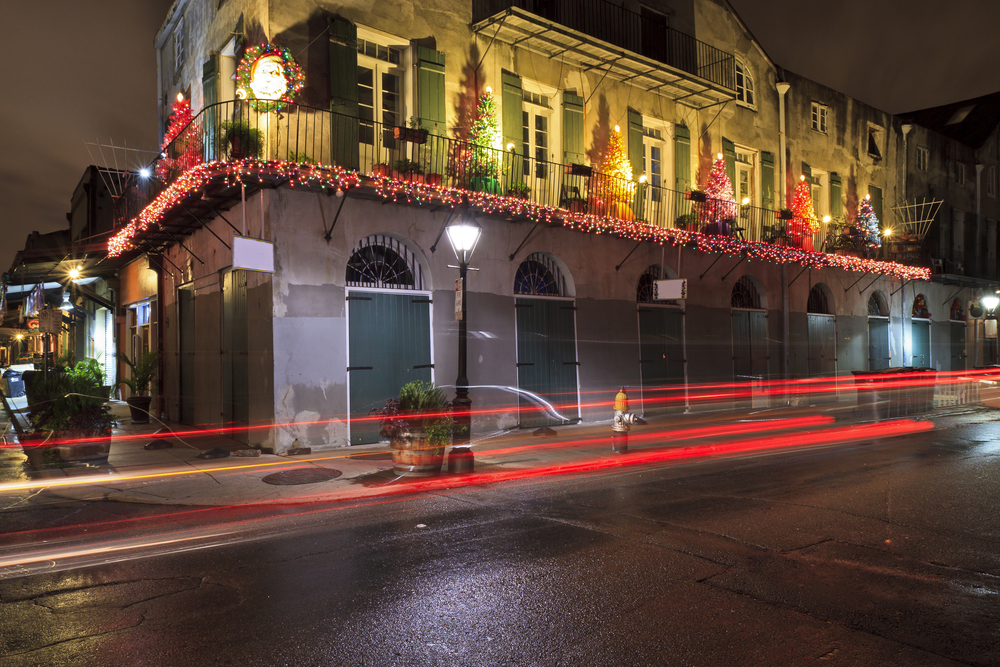 15 Festive Ways To Celebrate Christmas In New Orleans LA
Preservation Hall
In the NOLA French Quarter, you will find the famous Bourbon Street which, in December, screams New Orleans Christmas. One of the best things to do in the French Quarter at Christmas time is to check out Preservation Hall. The hall is a live music venue where you can bring the whole family to enjoy the sound of a New Orleans Christmas.

The live music during Creole Christmas at Preservation Hall provides a look at classic jazz right in the heart of the birthplace of this type of music. Immersing yourself in local culture is easy when you buy a ticket for Creole Christmas in New Orleans. You will find many more festive sights and activities on Bourbon Street in New Orleans as well so be sure to keep this area on your radar if you have a limited time in town around the holidays.
Santa in New Orleans
Christmastime in New Orleans is a blast! You can find Santa encounters all around town during your visit. One of the most popular Santas in NOLA is known affectionately as the Seventh Ward Santa or Chocolate Santa which can be found at malls, churches, stores, and other places around town each year. Meeting this icon while you are in town is a major Big Easy bucket list item!

If you have been wondering where to stay in New Orleans, The Seventh Ward has some incredible and historic options.

Other places to see Santa and Mr. Claus during Christmas in New Orleans include Fulton Street which turns into a glowing winter wonderland in December, Canal Place which holds an annual Selfies with Santa, Pat O'Briens where you can grab a cocktail and chill with Santa, and at Bourbon Orleans where you can have brunch Santa.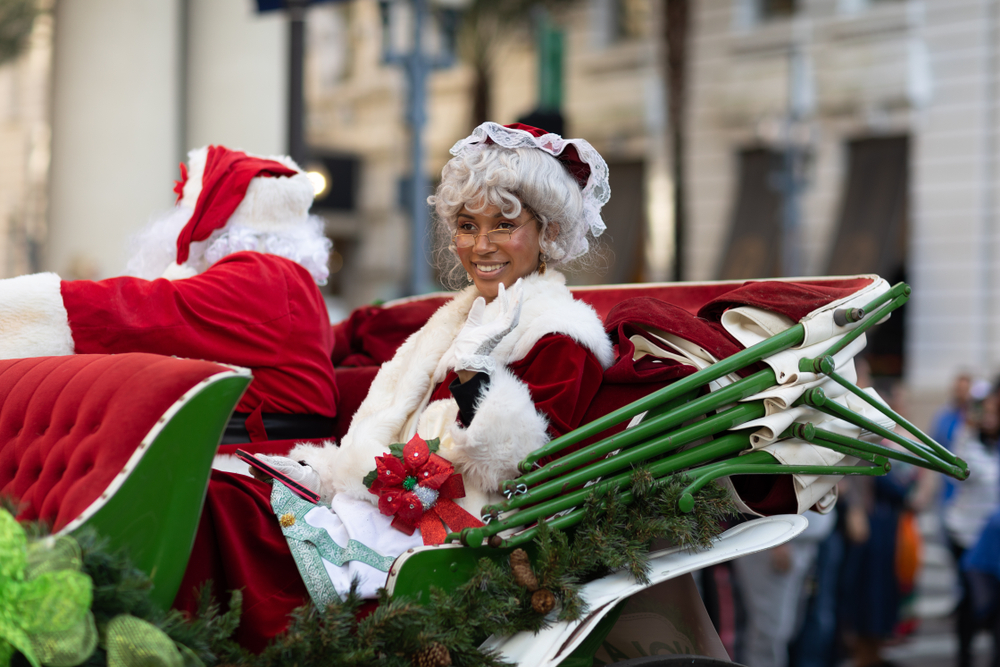 Christmas Fest New Orleans
Christmas time in New Orleans means Christmas Fest! This magical annual event is the place to be if you only do one thing for Christmas in New Orleans. For travelers of all ages, this event caters to the festive-seeking holiday lover as you can find an abundance of attractions to check out, dining options to explore, and decorations to enjoy.

Some of the fun attractions to check out include a frozen Boccee Court, ice skating, ice slides, spinning carnival-like rides, a giant Christmas Tree covered in twinkling lights, a carousel, the Polar Pub, a tiny tots zone, and a stage where you can watch performers, make crafts, and participate in STEM activities.

When it comes to dining at Christmas Fest, you have great options. You can find classic Christmas dinner options, sandwiches, burgers and hotdogs, hot candied pecans, beignets, ice cream, s'mores, smoothies, and of course, hot beverages like coffee and hot chocolate as well. If you only have a weekend in New Orleans this winter consider visiting Christmas Fest.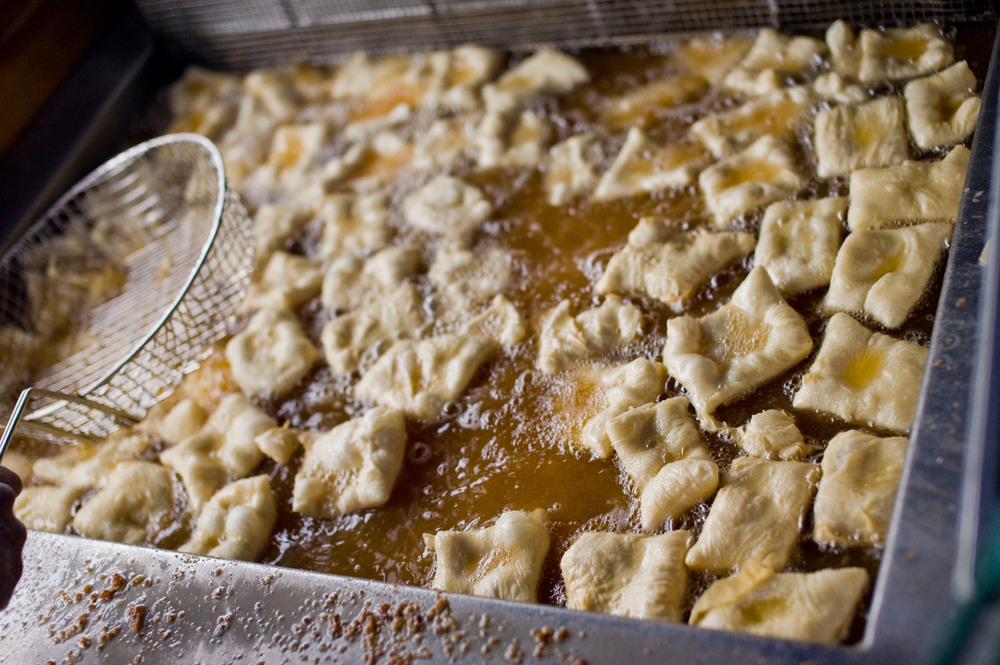 City Park
Christmas lights in New Orleans are abundant at Celebration in the Oaks in City Park. This incredible light festival has been around since the 1980s. Beautiful light displays hanging from the trees, lining the walkways, and covering the buildings are what draw visitors to City Park to see this festive holiday site.

With more than a million lights on the 2.25-mile driving tour and walking tour, you will fall in love with the Celebration in the Oaks. Amusement park rides, a botanical garden, a carousel, and more, make this a must-see at Christmas! You can find a lot of dreamy romantic hotels in New Orleans in this area around City Park. So, if a romantic getaway is on the menu for your Christmas in NOLA trip, be sure to check them out!
Caroling in Jackson Square
Caroling in Jackson Square is one of the top Christmas events in New Orleans. It is totally free and lasts only one night a year. A powerful performance is put on that includes singing carols by candlelight. Song sheets and candles are handed out to visitors so you can participate in the moving moment. Christmas in New Orleans really wouldn't be the same without a stop in Jackson Square.

Located in the French Quarter, Jackson Square is a popular point of interest in The Big Easy. The French Quarter is also home to some of the most haunted hotels in New Orleans, so if you are into the spooky and eery, consider checking into one of them while you are in the area!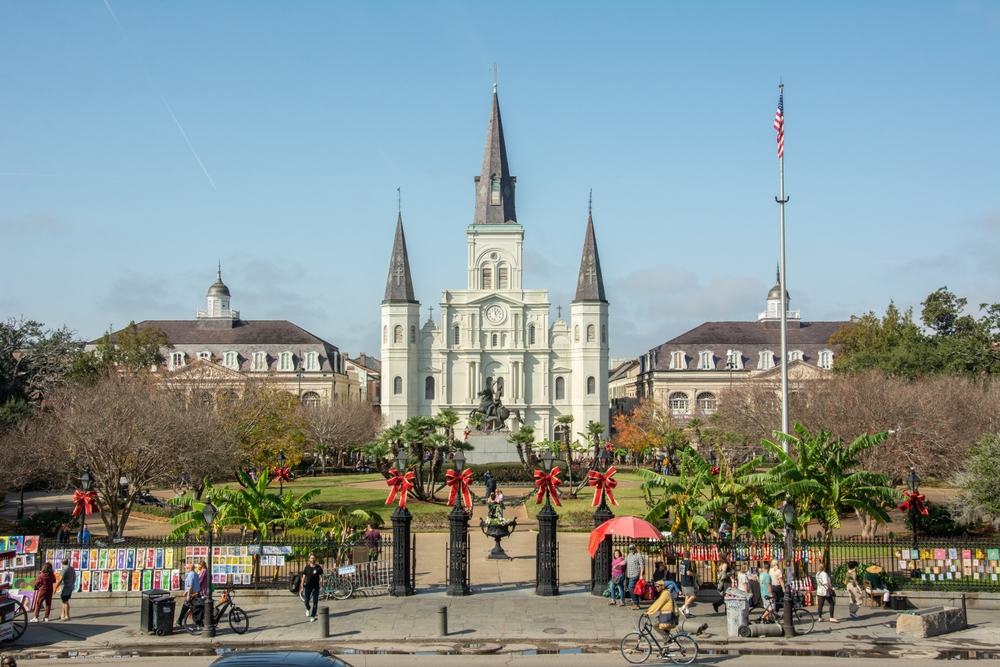 Go Christmas Shopping
New Orleans at Christmas means it's time to do some shopping! Holiday shopping is on another level in NOLA! The culture in town creates a great atmosphere for lifelong memories and equally as memorable gifts. Christmas in New Orleans is simply remarkable and taking a piece of the experience home to share with others is incredible!

One of the best places for Christmas shopping in town is the French Quarter. You will find a lot of breathtaking accommodations in this area as well. Be sure to check out some of the boutique hotels in New Orleans, as they create an even more exciting experience spent in The Big Easy!

Some other great Christmas shopping areas in NOLA include the Bywater where you can check out folk art and records, Uptown for six miles of shopping, the Warehouse District which is perfect for those doing some Christmas shopping for an art lover in your life.
Christmas Decorations Roosevelt Hotel New Orleans
Looking for some beautiful Christmas trees in New Orleans? The Christmas decorations at the Roosevelt New Orleans are quite the treat! The lobby is absolutely dazzling with lights and other decor around the holidays.

Christmas trees and birch branches grace the entryway, drawing in visitors and guests alike. If you are going to be spending any time at all during Christmas in New Orleans, everyone will want to know if you saw the Roosevelt!

While there, you will see the gingerbread village that depicts a "Cajun Night Before Christmas" where all of Santa's reindeer have been replaced by alligators. The icing on top of the cake comes into play when you learn that you can find some of the best places for breakfast in New Orleans in the area around the Roosevelt Hotel!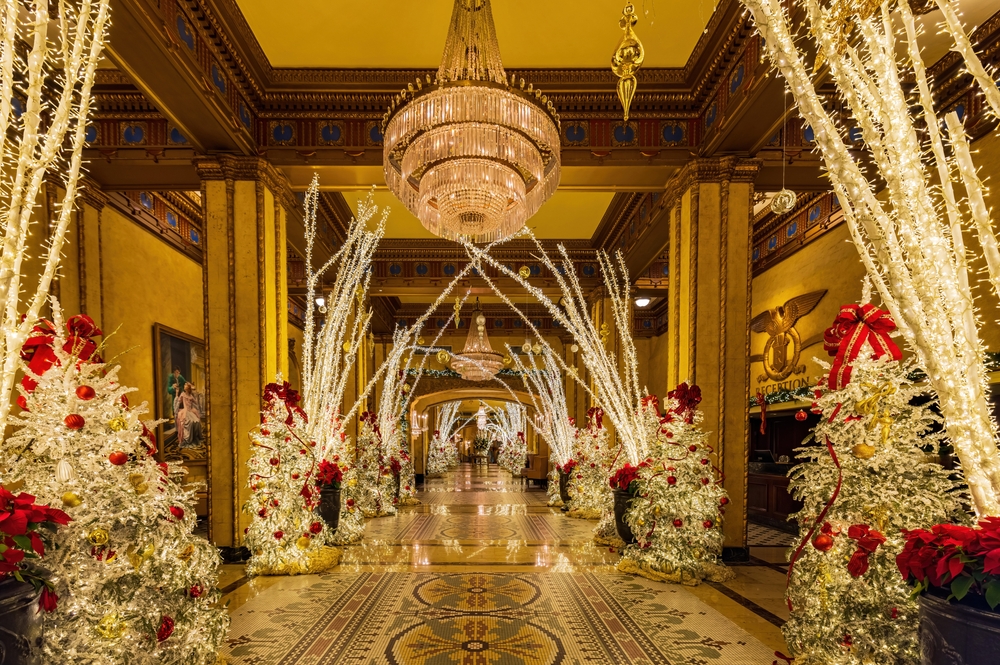 Enjoy a Reveillon Dinner
One of the most unique Christmas things to do in New Orleans is to have a Reveillion Dinner! This old Crescent City tradition is something that dates back to the 19th century. These dinners signal an awakening of the Christmas spirit. In the old days, the dinner would be a meal after people returned from midnight mass.

Today, you can enjoy a Reveillion Dinner while you are in NOLA as well! There are many restaurants that participate in this tradition in town. You can eat at Vacherie Restaurant in Hotel St. Marie for a four-course feast that includes gumbo and pecan pie or perhaps the Bombay Club in the Prince Conti Hotel for some winter squash bisque and eggnog creme brulee.

If you plan on spending the actual day of Christmas in New Orleans and you need a place to stay that makes you feel like you are having Christmas at home, check out the awesome Air BnBs in New Orleans so that you can have that at-home feeling even while you are away.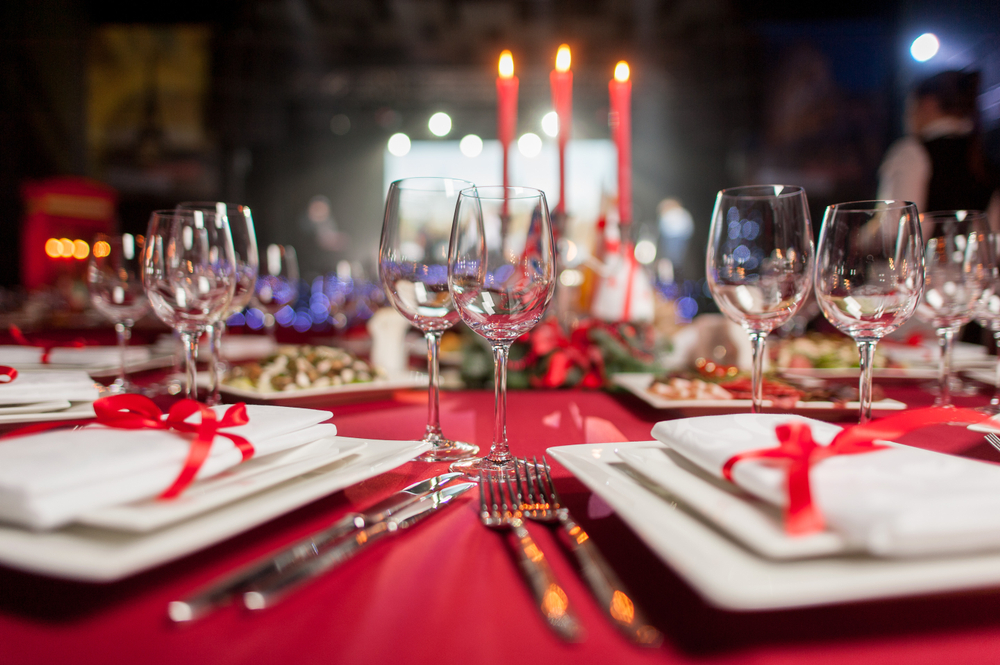 Watch some Holiday Parades
One of the best times to visit New Orleans is during Christmas and one of the reasons for this is the abundance of Christmas activities in New Orleans. Attending a holiday parade or two is a must-do while celebrating Christmas in New Orleans. A couple of parades that you can check out are the Mobile Menorah Parade and the Krewe of Krampus.

The Krewe of Jingle Parade is another one to check out. It goes through downtown New Orleans and features holiday-themed floats along with stilt walkers, marching bands, music, and more. You may even get to catch a glimpse of Mr. and Mrs. Klaus, the Gingerbread Man, or even Frosty the Snowman.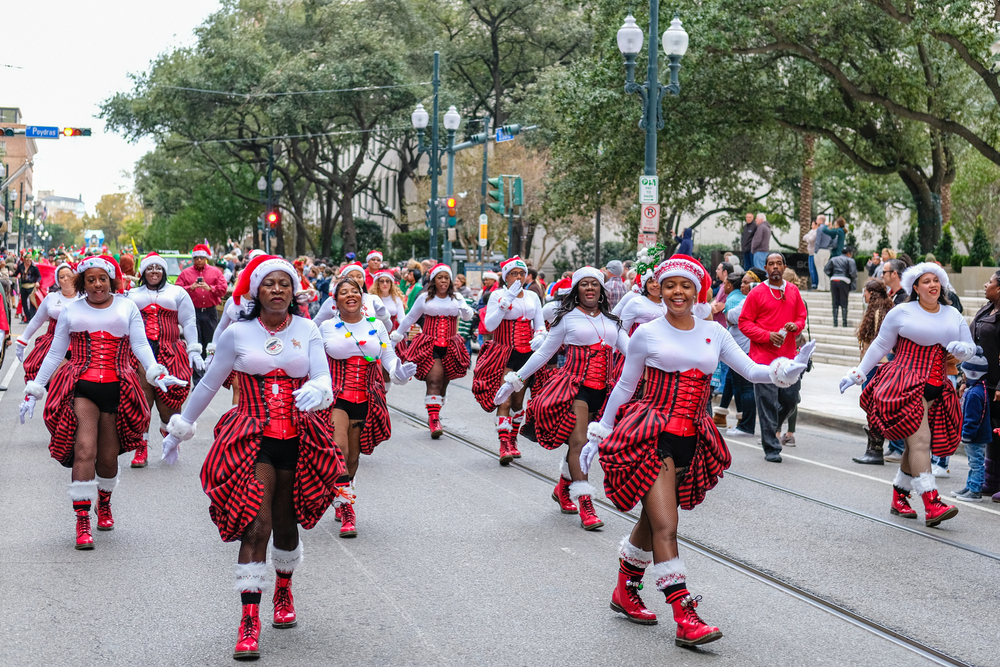 Christmas Decorations at The Ritz Carlton New Orleans
There are tons of places to stay in NOLA including breathtaking New Orleans VRBO vacation rentals, but if you are looking for a five-star experience, the Ritz Carlton is the way to go. During the holiday season, you can find stunning Christmas decorations at the Ritz that will blow you away with their festive beauty.

Christmas in New Orleans is all about extravagance and the Ritz is a fantastic example of this. On top of the mind-blowing decorations, the hotel also holds events like Build Your Own Gingerbread House, Holidate, Papa Noel Tea, breakfast with Papa Noel, Christmas Eve Dinner, and more!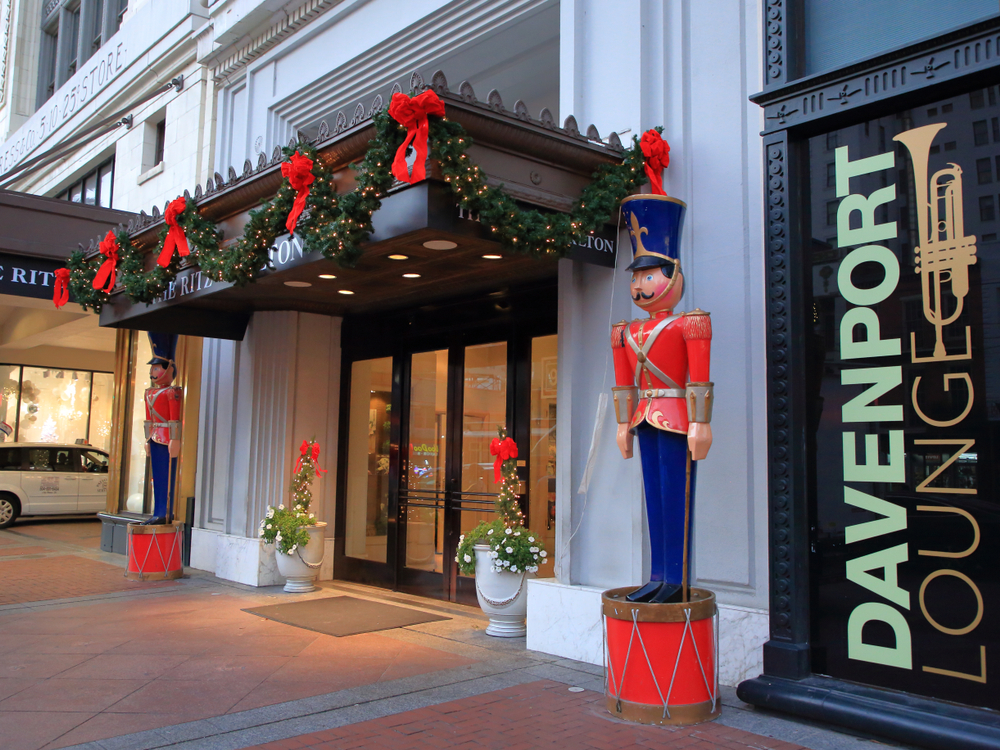 New Orleans Christmas Market
Looking for the New Orleans Christmas Market? Deutsches Haus holds an annual ChristKindl Markt that is a dream for anyone visiting during the holiday season. This is an outdoor street market that has food, drinks, handmade items, seasonal crafts, and more offered in open stalls. Music and singing will add to the festive atmosphere while you are there.

The market is modeled after the outdoor German markets from the Middle Ages and is totally free to visit. If you are planning on spending Christmas in New Orleans, a trip to the market for some gluhwein, sausage, hot chocolate, and more is something you won't want to miss.

For any travelers who have been interested in taking one of the New Orleans ghost tours, you will be around ten minutes from where most of the tours start in town when you are at the Christmas Market so keep that in mind if this is something that has been on your bucket list!
Have Christmas Dinner at Tujague's
If you are visiting New Orleans in December, consider having a Christmas dinner at Tujague's. It is easily one of the best restaurants in New Orleans, so if you are given the chance to visit during Christmas time, you should jump on the opportunity! They are open on Christmas Day and offer a breathtaking menu for visitors.

Your Christmas in New Orleans just got a whole lot better with a dinner at Tujague's! Your four-course Christmas dinner needs to be reserved so make sure you book ahead early to ensure you get your table.

Their holiday menu always includes something remarkable like roasted Maple Leaf duck leg, oyster eggplant soup, Gulf fish Almandine, and perhaps you will be graced with a dreamy southern sweet potato bread pudding as well. Whatever the menu, you are sure to love Christmas dinner at Tujague's!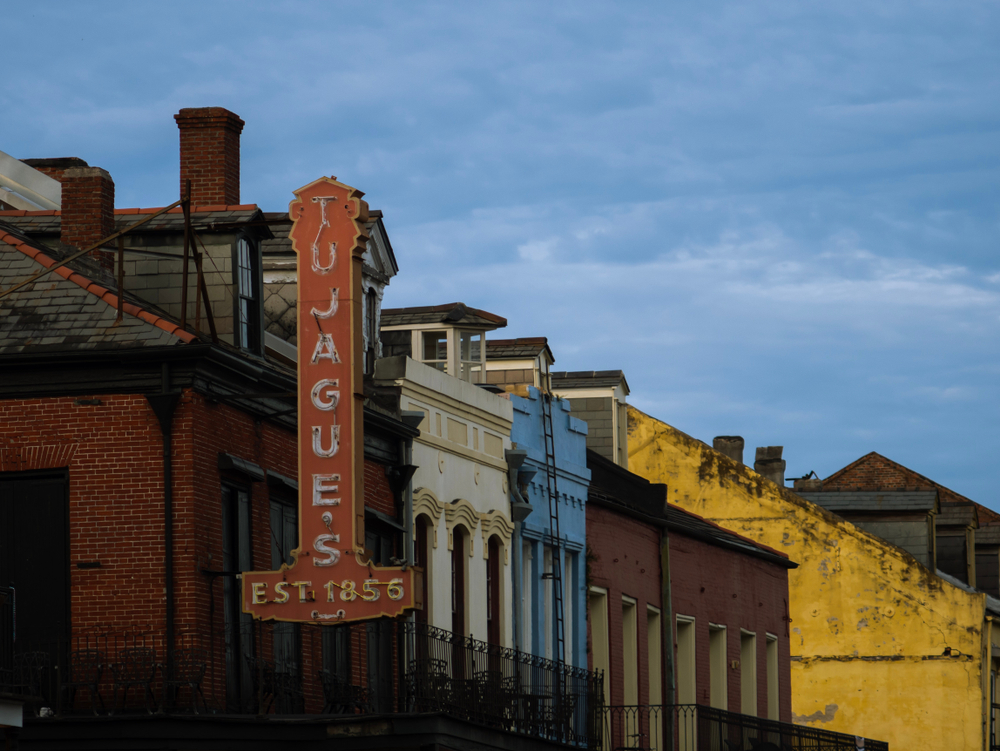 La Petit Theater Christmas Show
New Orleans in winter is idyllic and by far one of the best times of the year to visit. This is, in part, because of the iconic Christmas show at the La Petit Theater in the French Quarter. The theater was founded in 1916 and is one of the oldest community-based theater organizations in the United States!

You can amp up your Christmas in New Orleans experience by catching a Christmas show at the theater during your visit. Plus, while you are in the area, you can check out some of the fantastic black-owned restaurants in New Orleans that can be found within walking distance from the theatre.
Christmas Eve Bonfires on the Levee
An iconic part of New Orleans during Christmas is the lighting of bonfires on the levee. This tradition dates back to the earliest Cajun settlers. The fires were lit along the water to light the way for the Cajun Santa Clause, Papa Noel. There is also a story that says the lights were a way to light the path to the closest Catholic Church so people could find their way to Midnight Mass.

More than a hundred bonfires are lit and you can see them in St. James Parish. This is such an iconic Christmas in New Orleans activity, so be sure to put it on your Big Easy bucket list! And if you have been wanting to spend time near the water while you are in NOLA, you're in luck as there are tons of beaches near New Orleans that you can check out during your visit.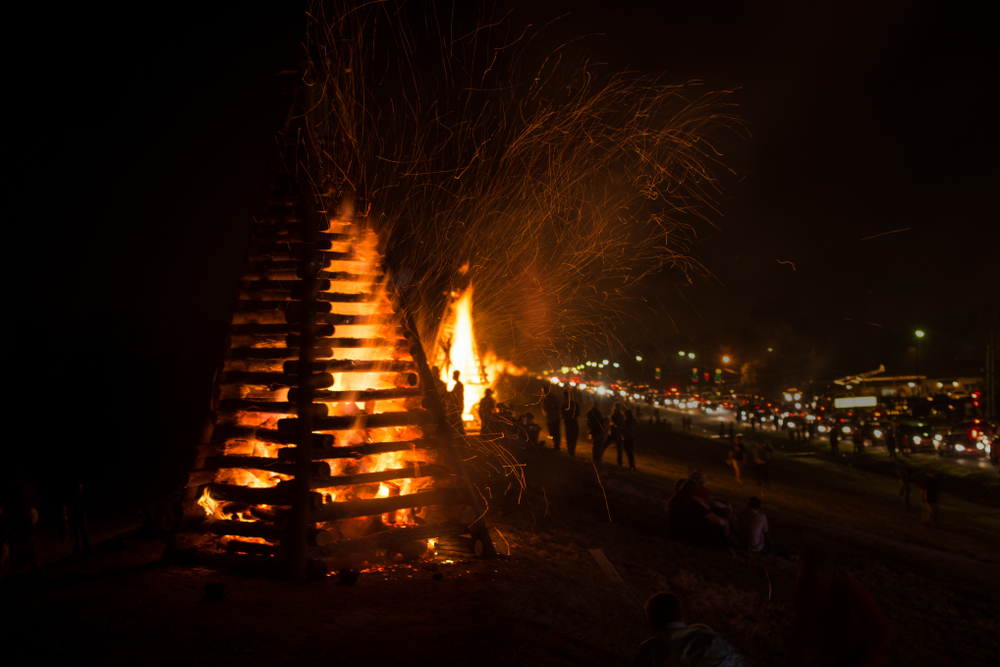 Holiday Concerts at St. Louis Cathedral
December in New Orleans is made better by catching a holiday concert at St. Louis Cathedral. The cathedral has an annual tradition of hosting free concerts around the holidays. The cathedral can be found in Jackson Square in the heart of the French Quarter.

St. Louis Cathedral is one of the best places to visit in New Orleans! While visiting any time of the year is a dream, it is particularly idyllic during Christmas in New Orleans. You can enjoy singers of jazz, gospel, classical, and pop genres along with church choirs and other performers. The church itself is one of the most architecturally significant in the United States and as such, has impeccable acoustics.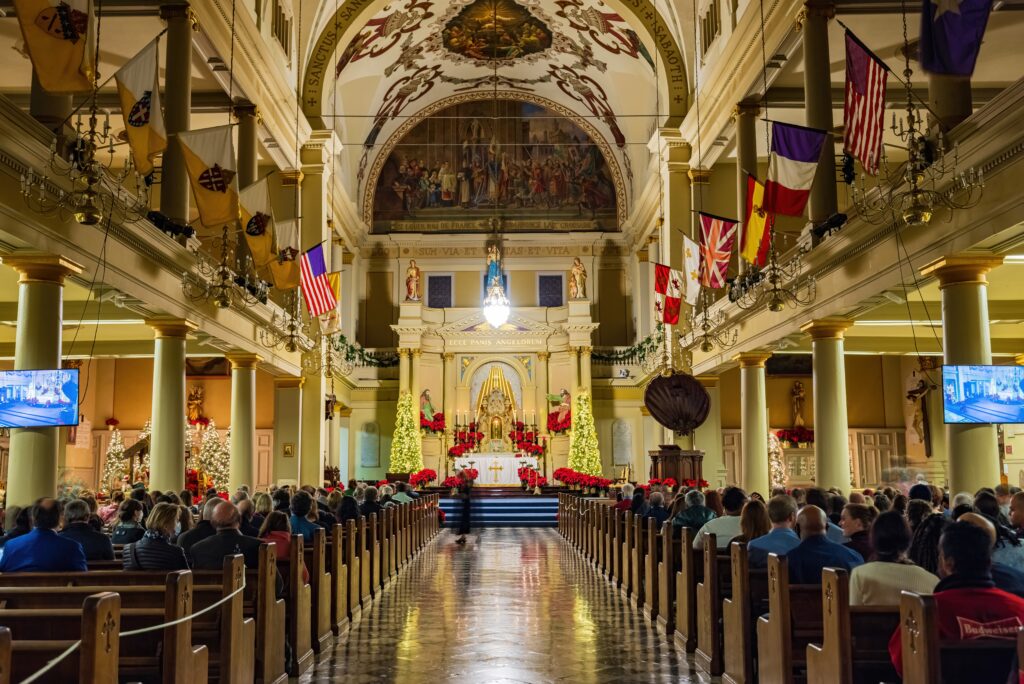 Christmastime in New Orleans is a dreamy and festive experience with events and Christmas lights and Christmas trees, parades, Santa encounters, and more! Now that you have learned about some of the best things to do during Christmas in New Orleans, what will you see and do first?