Thinking about spending Christmas in Asheville? You are in for a treat because, during the Christmas season, it transforms into a winter wonderland with festive decorations, holiday events, and unique experiences that will bring magic to visitors of all ages.
Asheville, North Carolina, is a city steeped in history and rich in tradition, especially during the Christmas season. The town was founded in the late 1700s, and its historic architecture is the perfect backdrop for the thousands of twinkling lights strung around town.
Planning your trip to Asheville last minute?
Make sure to book your hotels and tours in Asheville in advance to ensure availability! The longer your wait, the more difficult it gets. ESPECIALLY during Fall Foliage! Here are our top picks for Asheville:
Top Places To Stay In Asheville:
Top Experiences And Tours In Asheville:
Asheville is also known for its fun arts and culture scene. You will be able to visit numerous art galleries, theaters, and music venues, many of which offer special holiday events and performances. Book yourself a cute cabin in the blue ridge for the ultimate Christmas vacation this year!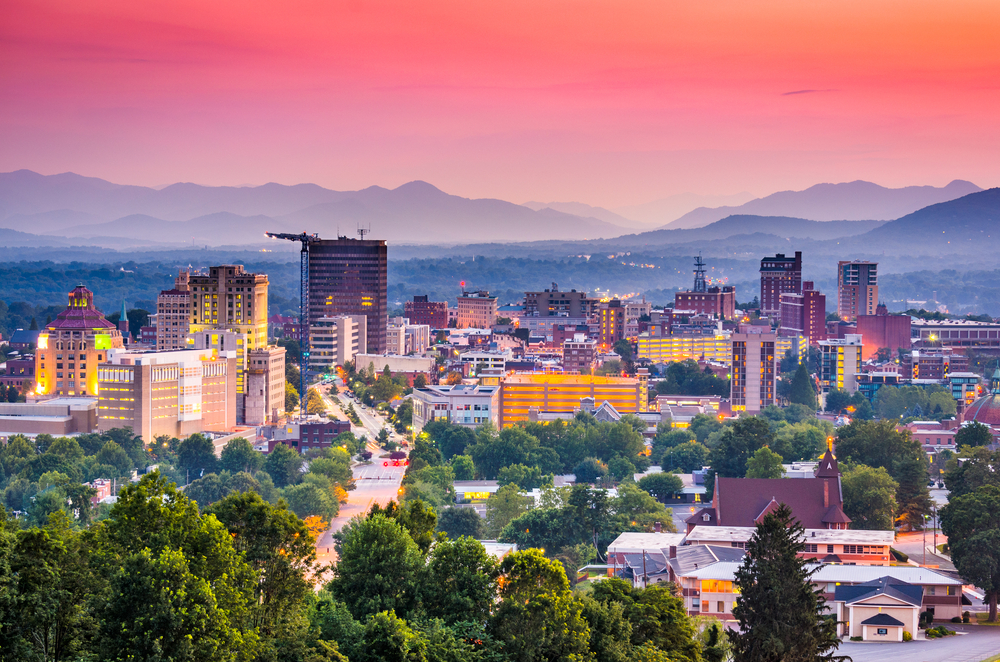 Is Christmas a Good Time to Visit Asheville NC?
Heck yes, it is! Asheville is amazing to visit any time of the year, but Christmas is when it really shines. This southern city is known for its beautiful Christmas decorations with many events and a high festive spirit. Christmas in Asheville is a great time to experience the charm and character and to enjoy all of the unique displays that the city has to offer during the holiday season.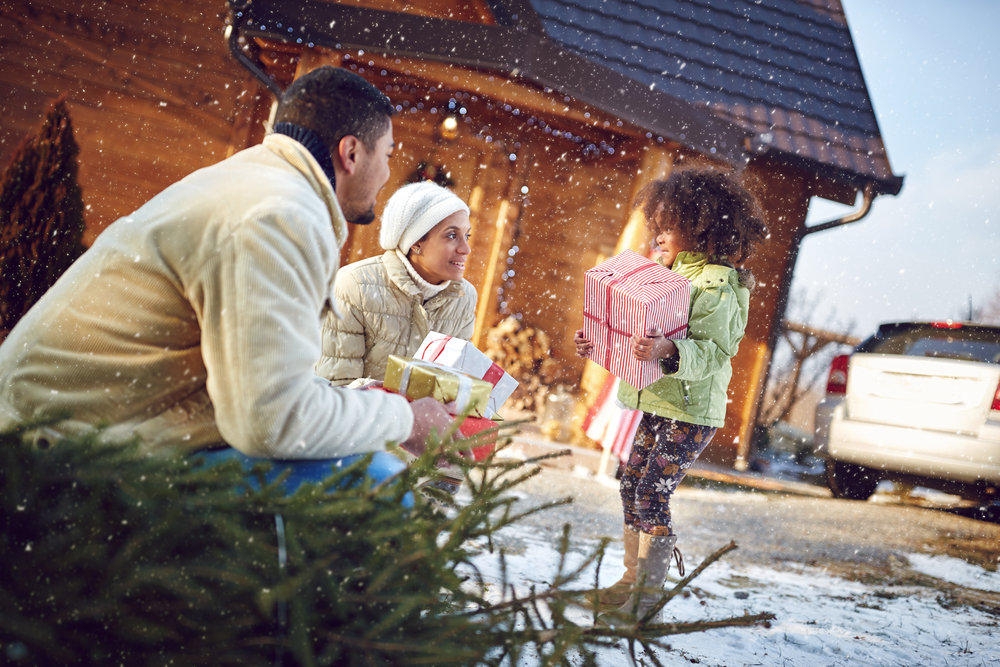 Asheville Weather in December
Asheville in December has winter weather with average high temperatures ranging from the mid-40s to low 50s with low temperatures ranging from the mid-20s to low 30s. If you are planning on visiting Asheville in December should plan for cold temperatures and the possibility of winter weather, including snow and ice. Pack your cutest winter clothes and get ready for an amazing trip to Asheville.
Does Asheville get Snow at Christmas?
During Asheville in winter snow is not uncommon, and the city typically receives an average of 4-5 inches of snowfall during December. You may get lucky and have a white Christmas in Asheville NC. Plus, the colder weather can also add to the charm of Asheville's many holiday displays and events, making it a great time to visit.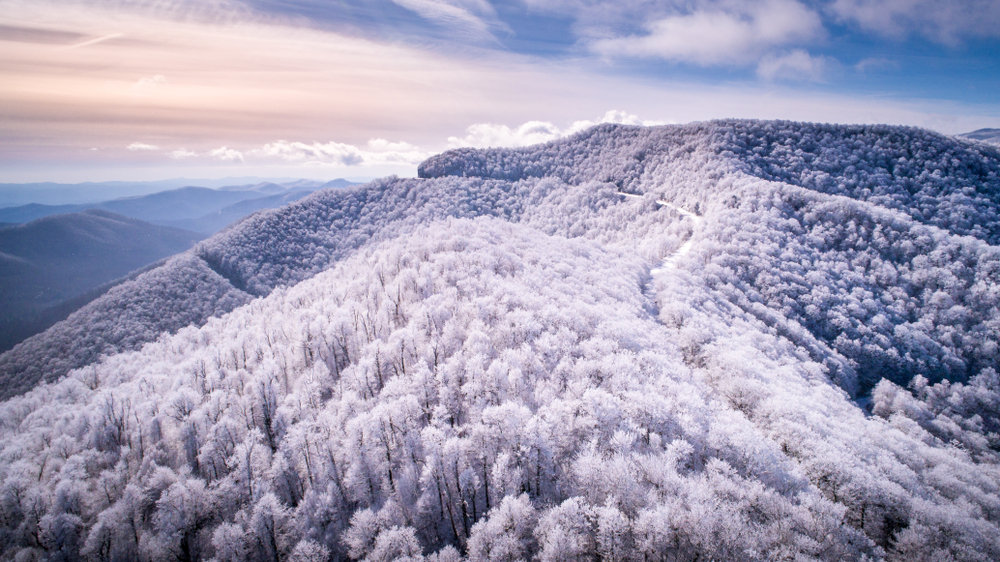 Best Christmas things to do in Asheville
Christmas At the Biltmore
It would not be an Asheville Christmas without a stop at the Biltmore. Starting in early November the Biltmore transforms into a winter wonderland during the day and at night. If you are planning to visit during the day you will be amazed at how the Bilmore shimmers.
When you arrive head straight to the Antler Hill Village to get some shopping done, and meet Santa. After that, you will want to check out the Banquet Hall tree. It is the tallest on the entire estate. Another spectacular room is George Vanderbilt's library. With the beautifully decorated tree and the crackling fire, there is no way you cannot get into the Christmas spirit at the Biltmore.
When the night falls the real party starts. You will see all the twinkling lights turn on and sparkle. The Antler Hill Village comes to life with thousands of light displays and ornaments. Whichever time of the day you decide to visit, you are in for a real treat. You should buy your tickets in advance to ensure that you can visit on the right day, check their website to purchase, and learn more about the events.
Make sure to check out our favorite Christmas Towns In North Carolina for more holiday cheer!
Asheville Christmas Markets
There are three main Markets to visit in Asheville during Christmas. The first one will be held December 3-4 and is the Big Crafty show. The main purpose of this event is for the local artists and makers to display their crafts for you to purchase. You will be able to check off your list and get a little something for everyone here. Head to Harrah's Cherokee Center in downtown Asheville to find the Big Crafty Christmas Market.
The next market to check out during Christmas in Asheville is the Uncommon Holiday Market on December 10-11th. This is both an indoor and outdoor market with uncommon finds and treasures. You can find antiques, local art, vintage decor, and so much more. It runs from 10 to 4 pm and admission is free! This year the event will take place at the Mission Health/A-B Tech Conference Center.
The last Christmas market in Ashville is the North Tailgate Market Holiday Bazaar. This bazaar runs every weekend but during the holiday season, it gets a makeover into a winter wonderland. Local craft makers will be selling Christmas presents, sweet snacks, and hot drinks waiting for you. This is one of the best ways to spend Christmas in Asheville and grab a few presents for your loved ones.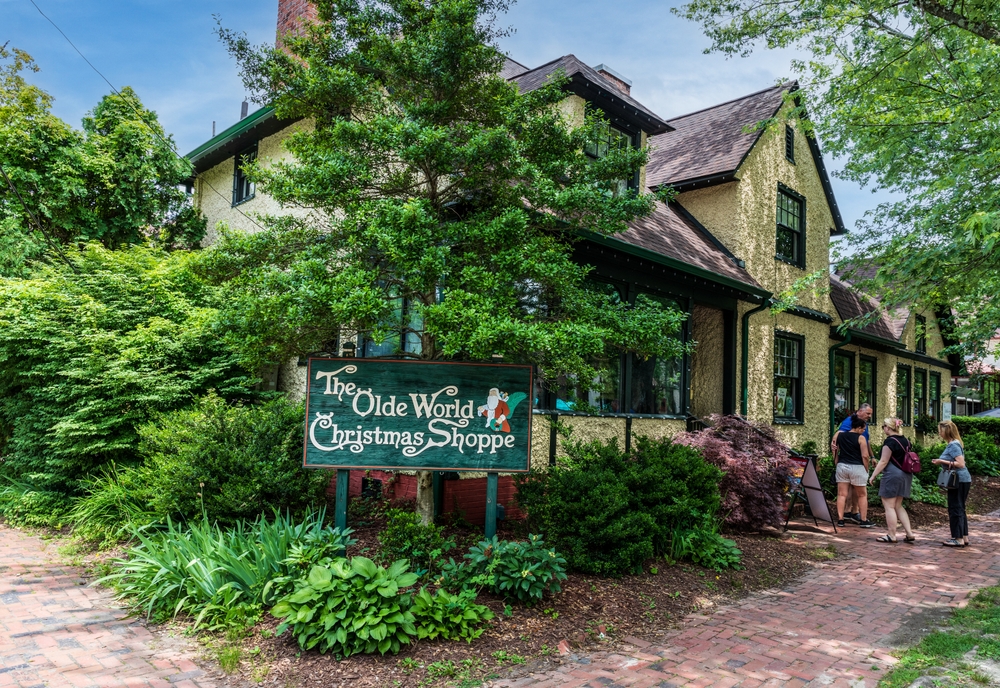 National Gingerbread House-Making Contest
If you visiting during Christmas time in Asheville you have to check out the Gingerbread making contest. This Christmas event has been a long-time favorite and will celebrate its 30 years of running in 2023. There is over $40,000 worth of prizes to win with participants from all over the world.
If you are thinking about signing up there are 4 categories adult, teen, youth, and children. All homes built must be made with all edible ingredients and at least 75% gingerbread. Head to one of the best hotels in Asheville the Omni Grove Park Inn to see this magical event take place.
Check out the beautiful gingerbread homes from November 28 to January 2 it is one of the best ways to get into the holiday spirit while enjoying some sweet treats.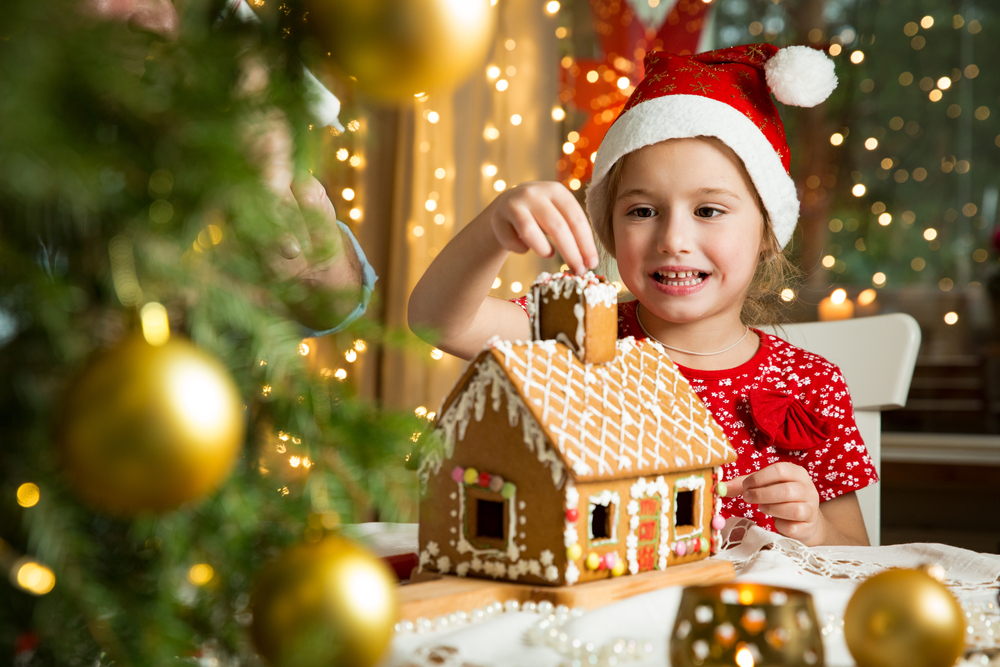 Winter Lights Tour in Asheville
The Winter Christmas Lights in Asheville is a walk-through light show at the North Carolina Arboretum with over 1 million twinkling bulbs. The favorite attractions include the 50-foot-lit Christmas tree and the beautiful Quilt Gardens.
On top of that, there are also nightly music concerts held at the Education Center. Also at the Education Center is an educational storytime that is fun for the whole family. And if that is not enough there is also a G-scale train ready to take you and your family to visit the North Pole! There is a little something for everyone to enjoy when visiting the Winter Lights in Ashville NC.
Dickens Festival
One of the most popular things to do in Asheville is the Dickens Festival. This lovely event takes place the first weekend in December and is held in the historic Biltmore Estate. On Friday the events start with a Christmas market with free carnival rides for the children. Followed by live music and a tree-lighting service around 5 pm.
On Saturday you can come early starting early around 11 am. You can enjoy Christmas dancers, chestnut roasters, and mimes. The Christmas market starts to come to life around 1 pm with food vendors and local craft makers setting up shop. This is one of the best events of Christmas in Asheville NC and fun for the whole family.
Asheville Christmas Jam
The Asheville Christmas Jam is a music fest that is held in early December and dates back to 1989 by Warren Hayes, a member of Gov't Mule. The lineup is never the same but it is always full of A-listers. Past performers include Bob Dylan, The Dave Matthews Band, Tyler Childres, and many more!
There are always a few warm-up shows from local bands and an annual art show to accompany the Christmas Jam Festival. You can also bid on a few treasures at the silent auction, and all the proceeds go to the local food banks and Habitat for Humanity. Tickets tend to sell out quickly as this is one of the most popular events in Asheville at Christmas.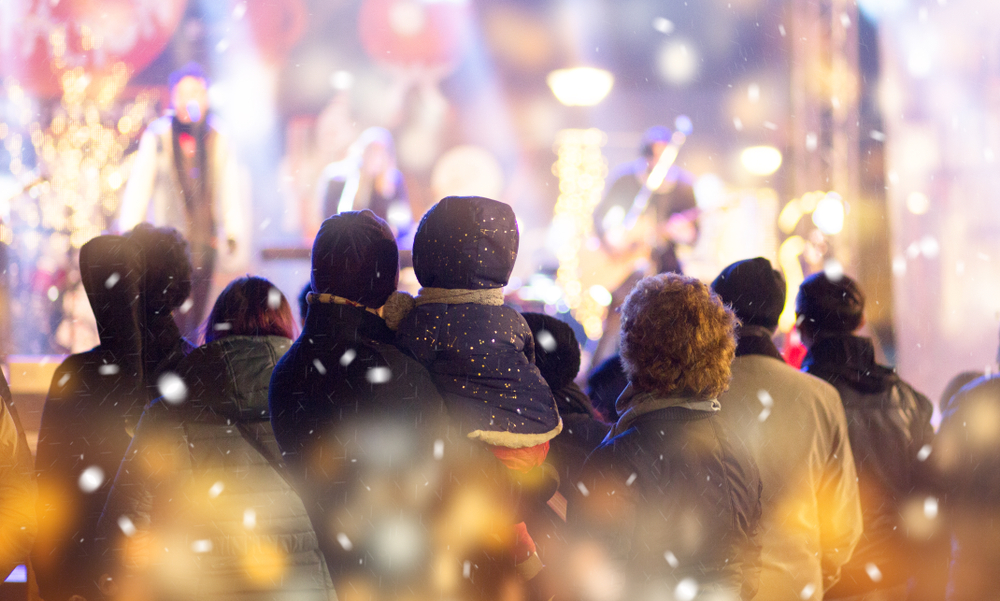 Brewery Christmas-Themed Tour
Asheville is known for its craft beer scene, and during the holiday season, many of the local breweries get into the holiday spirit with special events and festive beers.
Asheville has 12 breweries in the downtown area alone. During Christmas "The South Slope" area of downtown turns into a winter wonderland and makes a wonderful backdrop for a walking tour. Be sure to check out the 12 days of Christmas at the popular Hi-Wire brewery. They release a new beer every day for the 12 days leading up to Christmas.
The Wicked Weed Brewery hosts a Funky Christmas Party every year with a customer costume party with plenty of tasty beers and treats. Many other breweries host fun Christmas events in Asheville, be sure to check them out while you are in town.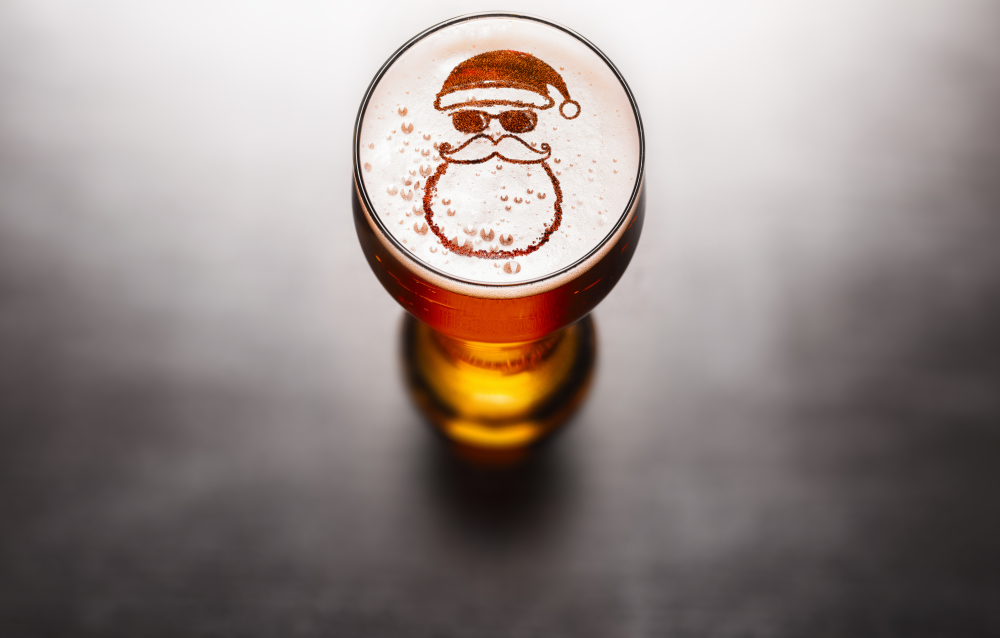 Tour, Play, and Shop at the Grove Arcade
The Grove Arcade is inside a historic building that was built back in the 1920s in the city's commercial center with over 35 businesses inside. Every winter in Asheville NC the Grove Arcade decorates for Christmas and hangs beautiful lights and festive decorations.
You can do all types of shopping here from local boutiques, to luxury designers. Stop by the Battery Park Book Exchange and Champagne Bar. Look through thousands of new and vintage books as you sip on a glass of bubbly.
The books here range in topics but they do try to focus on North Carolina stories, authors, and history. You can also order coffee, soft drinks, and small snacks here too. There is nothing better than cozying up with a new book during Christmas time.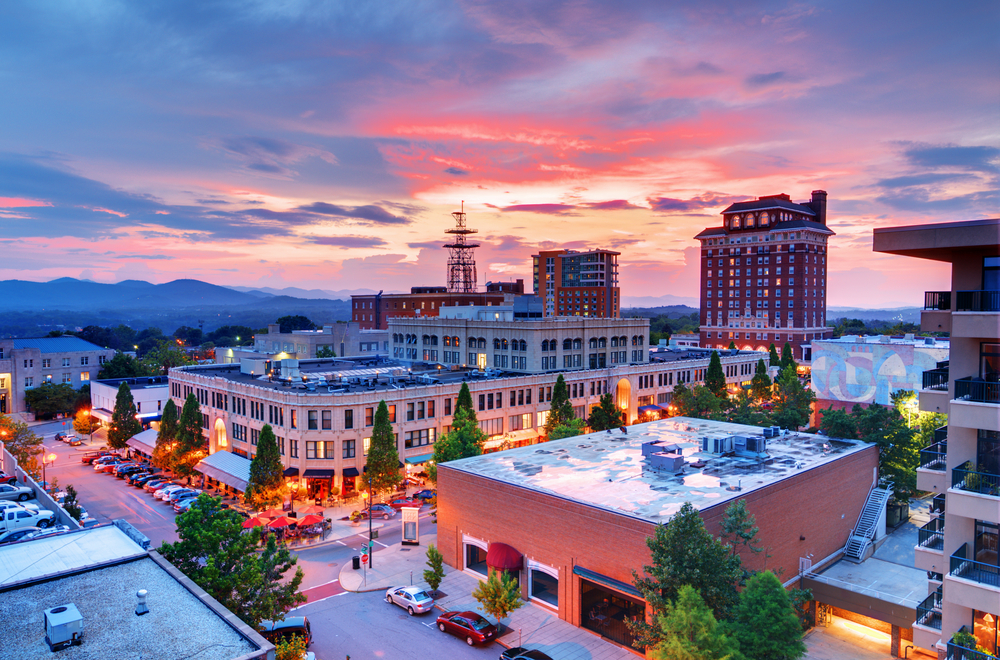 Go to a Christmas Tree Farm in Asheville
There are plenty of Christmas Tree Farms in North Carolina, and in Asheville, you will find one of the most popular Christmas tree farms the Boyd Mountain Christmas Tree Farm. Which is just a short drive 30-minute drive from Asheville.
This cute family-owned Christmas tree farm offers a variety of trees to choose from, including Fraser Fir, Canaan Fir, and White Pines. You can pick to cut down your own tree or pick it out and the staff will help you cut it down.
Another Tree farm to check out during December in Asheville is the Sandy Hollar Tree Farm. They are located in Leicester, about 20 minutes from Asheville. This farm offers a wide selection of trees, as well as wreaths, garlands, and other holiday decorations for your home. Visitors can also enjoy hot cocoa and snacks while finding the perfect tree.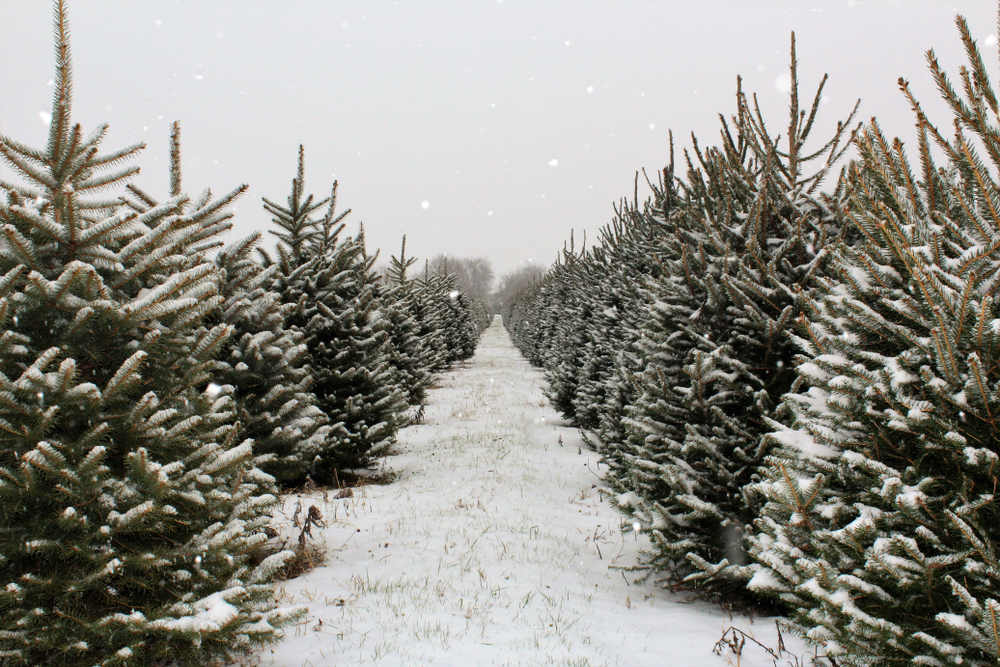 Watch the Asheville Christmas Parade
The Asheville Holiday Parade is one of the most beloved Christmas activities in Asheville NC. This festive parade is usually in mid-Novemeber and runs a mile down the Asheville Second Line. The route runs from Bilmore Ave to Charlotte Street.
The Christmas parade is a long-standing tradition and has been running for over 70+ years. There are over 100 participants including local bands, dance and cheer teams, festive floats, and a very special guest (Santa!!) rounding out the end of the parade.
Go to a Tree Lighting Ceremony
There is plenty of tree lighting ceremonies to see during Christmas time in Asheville North Carolina. One of the most popular and biggest trees at the Biltmore. You can see the tree come to life during the "Christmas at Biltmore" event.
The Grove Acarde also has an epic tree-lighting ceremony. They call it the Winter Wonderland event. After the beautiful tree is light, you can check out the shops and local food stalls.
Pack Square Park in downtown also hosts their tree lighting ceremony event known as the "Holiday Lighting Ceremony". This is the town of Asheville's official Christmas tree. During the festival, you can enjoy live music, carol singing, and Christmas shopping.